Scurfa Watches are relatively new, and still reasonably unknown. They starter out by Paul Scurfield, who announced his new watch brand on Watchuseek in February 2014. Paul is a saturation diver in the North Sea and was frustrated with the overpriced dedicated diving watches with poor specs. So, he set out to launch his own diving watch brand.
Of course, as this brand is based in the UK, I am in full support of them naturally. But, I honestly believe that the Silicon, the latest model of Scurfa's is a steal at only £124. This is mainly because of its excellent build quality, plus its impressive specs of Swiss movement (even if it is quartz), thick sapphire crystal with impressive AR coating, extremely strong lume, and also a ceramic bezel insert – making it possibly the cheapest watch to have one. 
Let's take a closer look to see why it's so good for the price.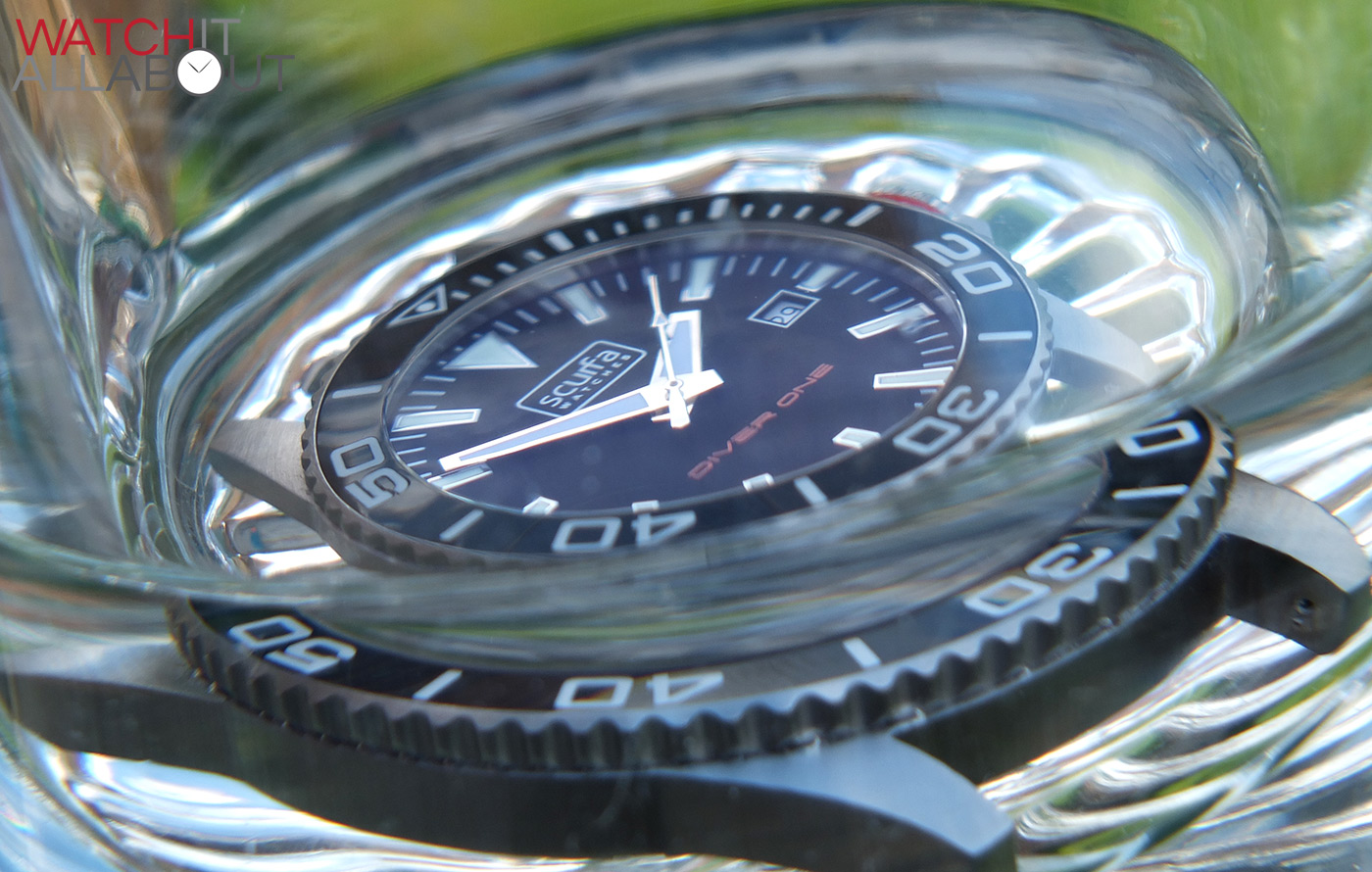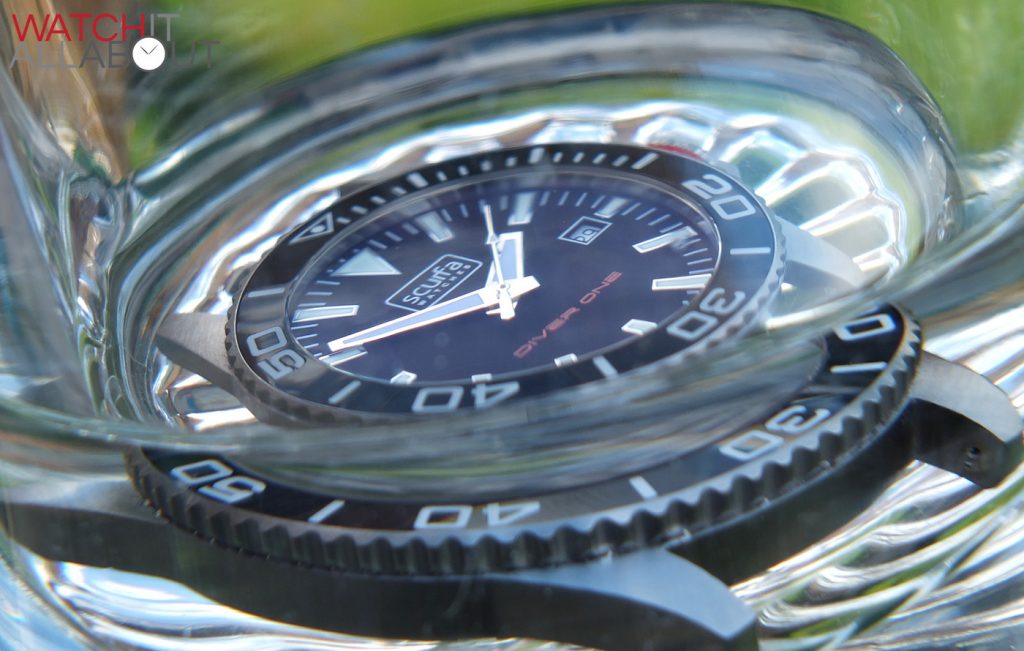 The case
The case is a simple, unremarkable affair. It's plain to see that the focus of the Diver 1 Silicon is function. Yet, it still manages to be pleasant on the wrist, and I actually quite like the rugged shape of it.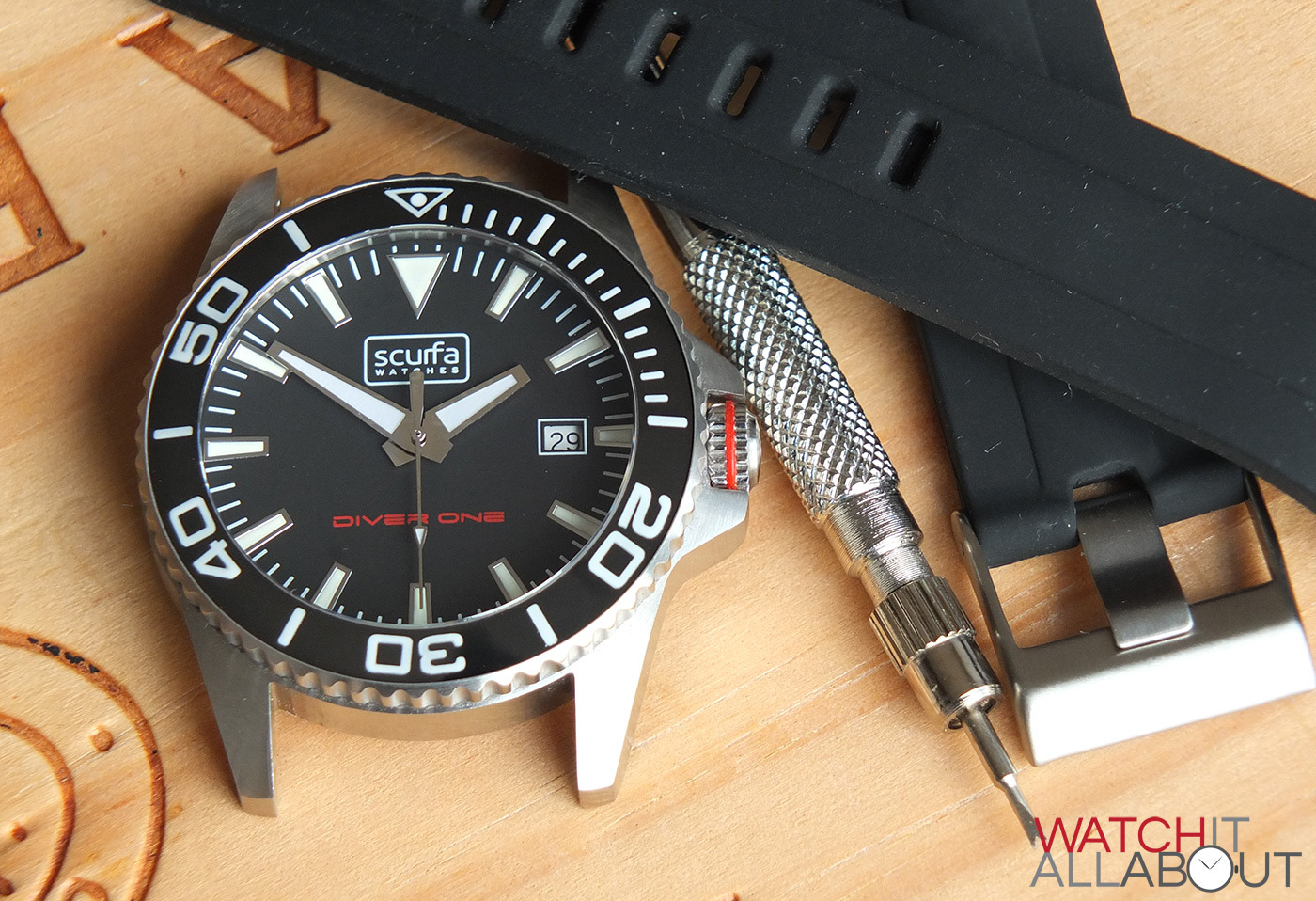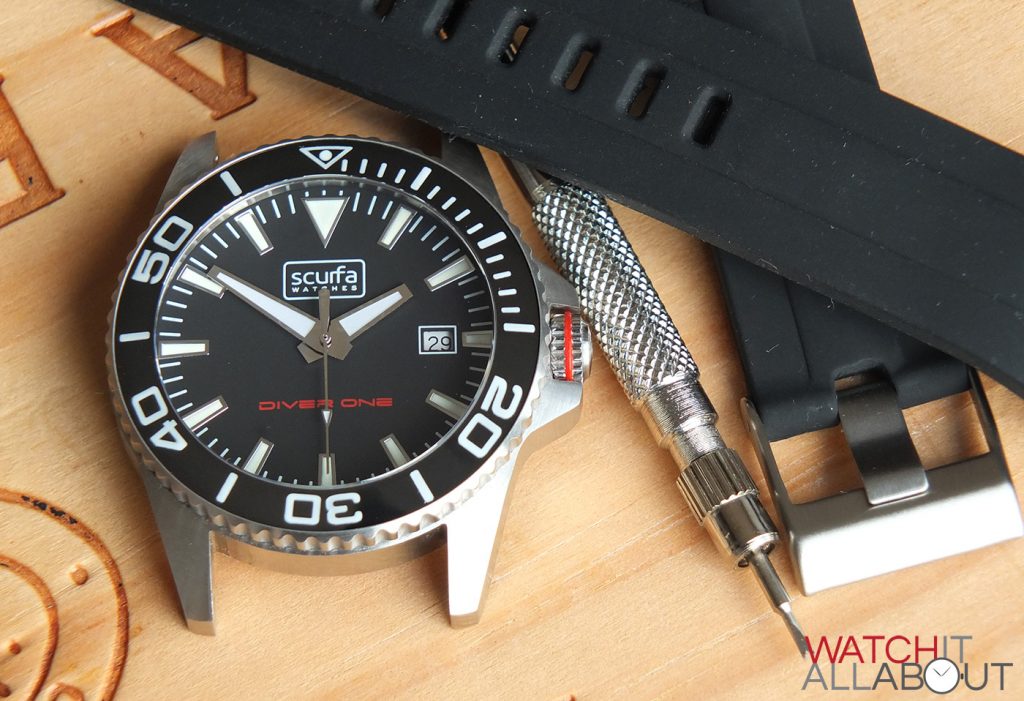 It's completely brushed, bar the polished caseback – a good idea for diving, as it'll be more scratch resistant and look smarter for a lot longer.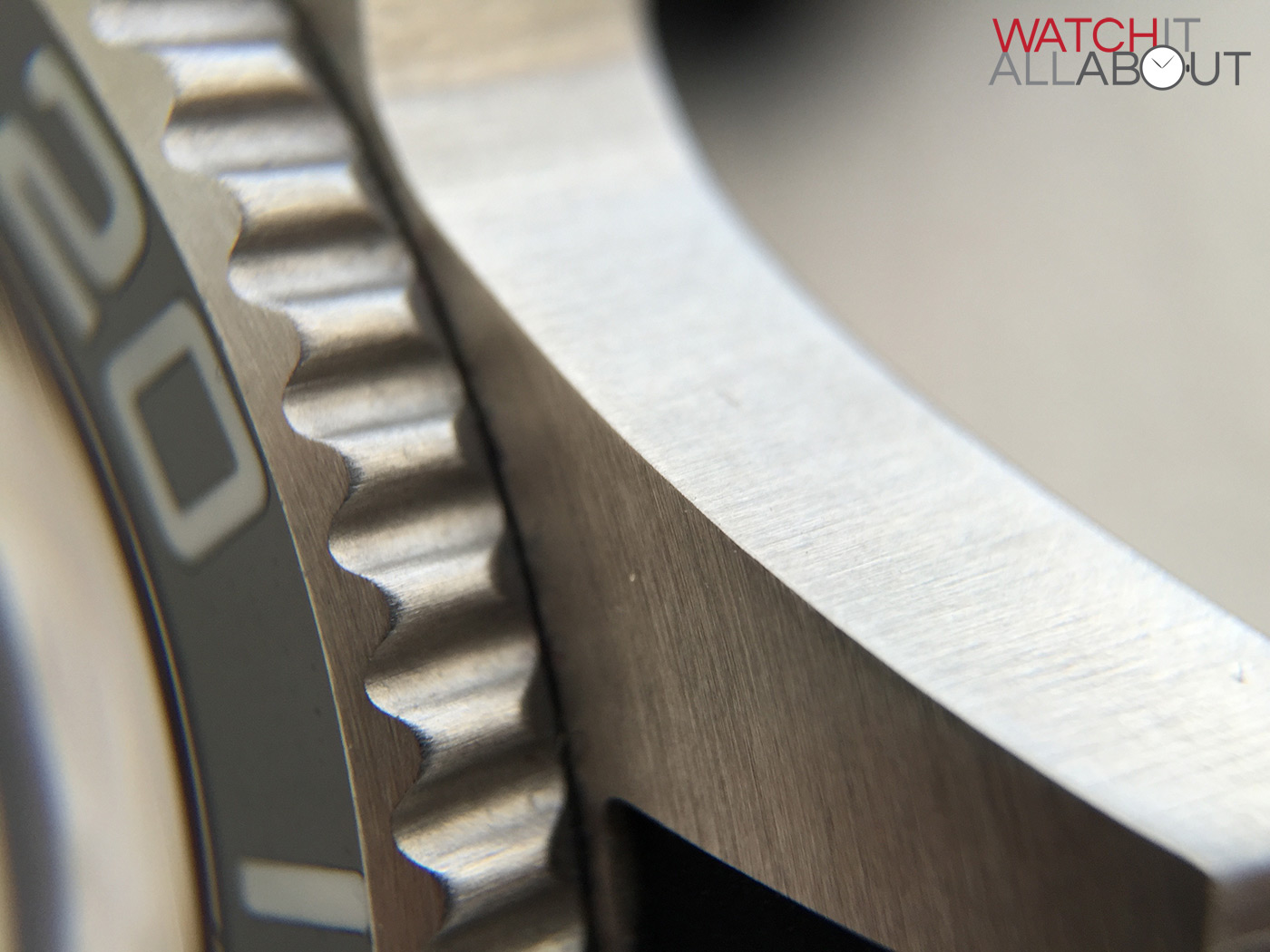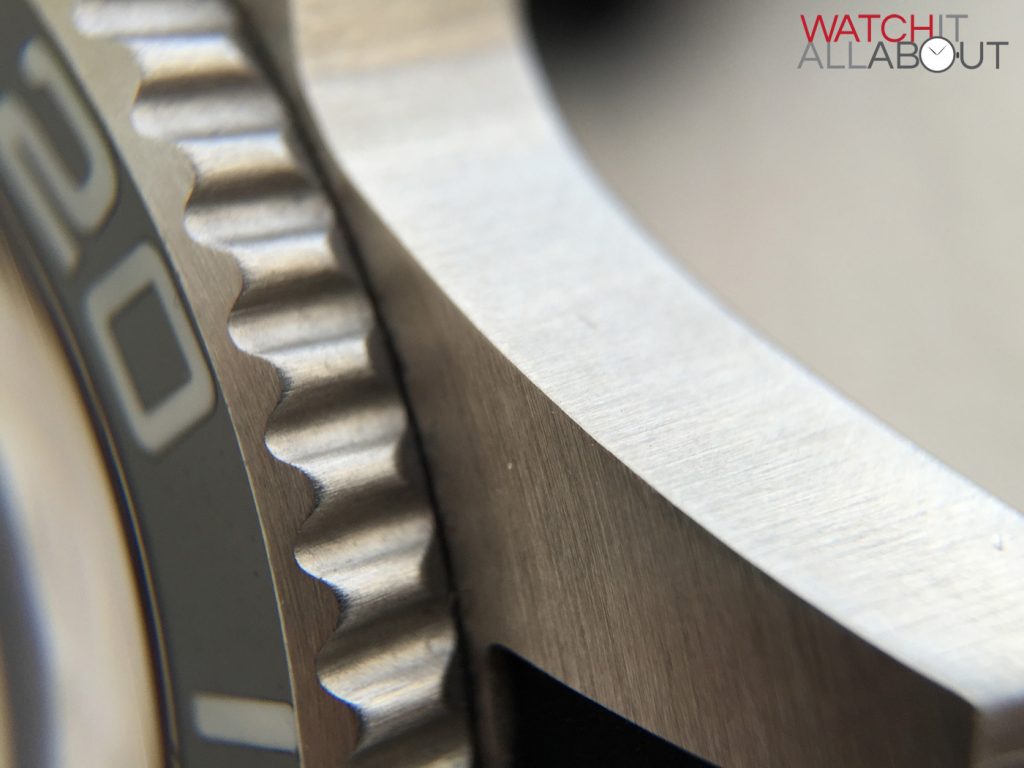 It's a fairly average size for a modern diver, with a 42mm diameter, 51mm lug to lug length and a height of 13.5mm. Although the lug to lug length is normal for the size, they do seem a bit larger, due to their aggressive angular cut-off at the ends. The height is good too, as its thick enough to provide a bit of heft to the watch whilst being thin enough for everyday wear. Then finally, the 42mm diameter is a size that's become almost the standard for dive watches recently.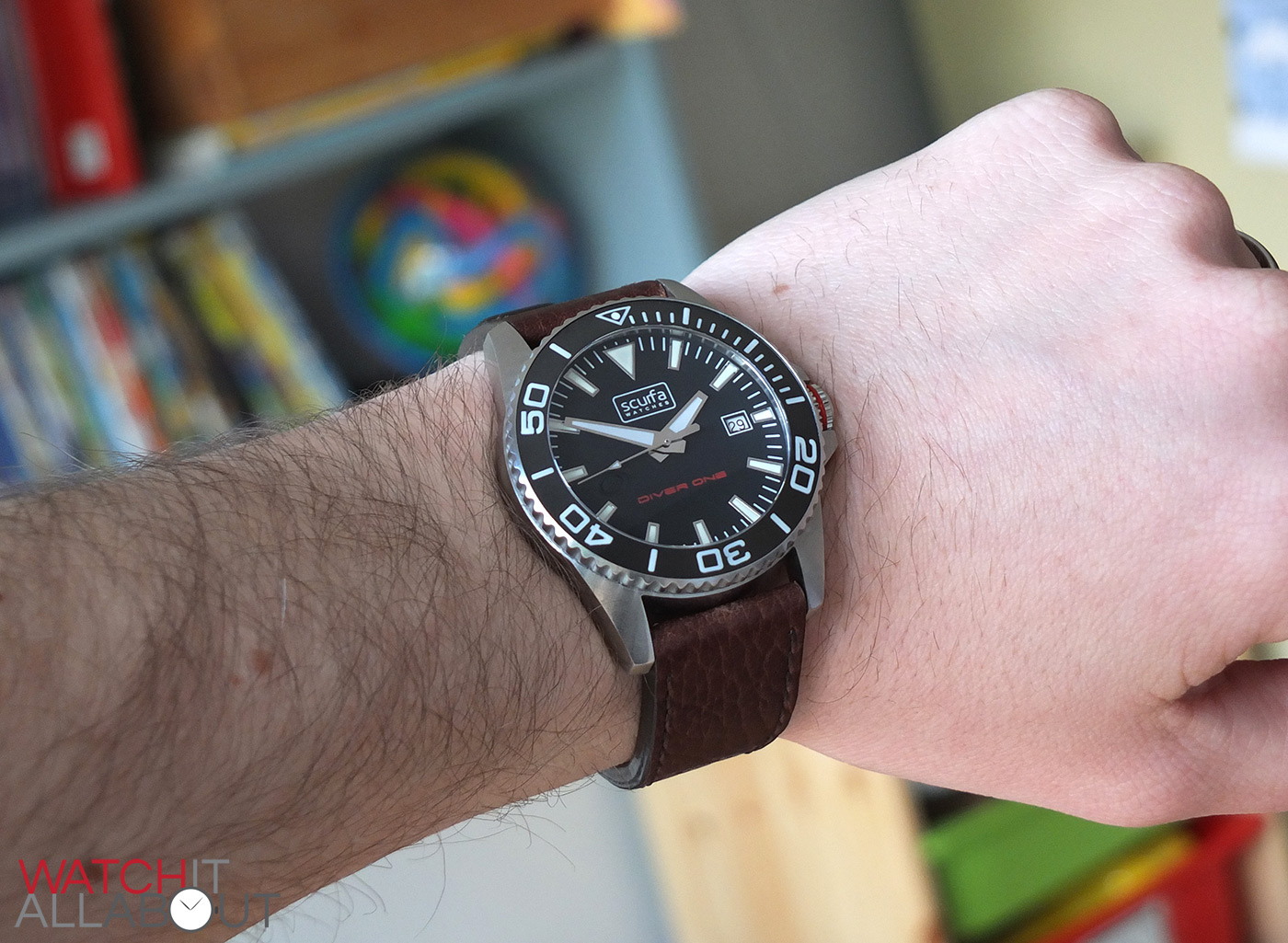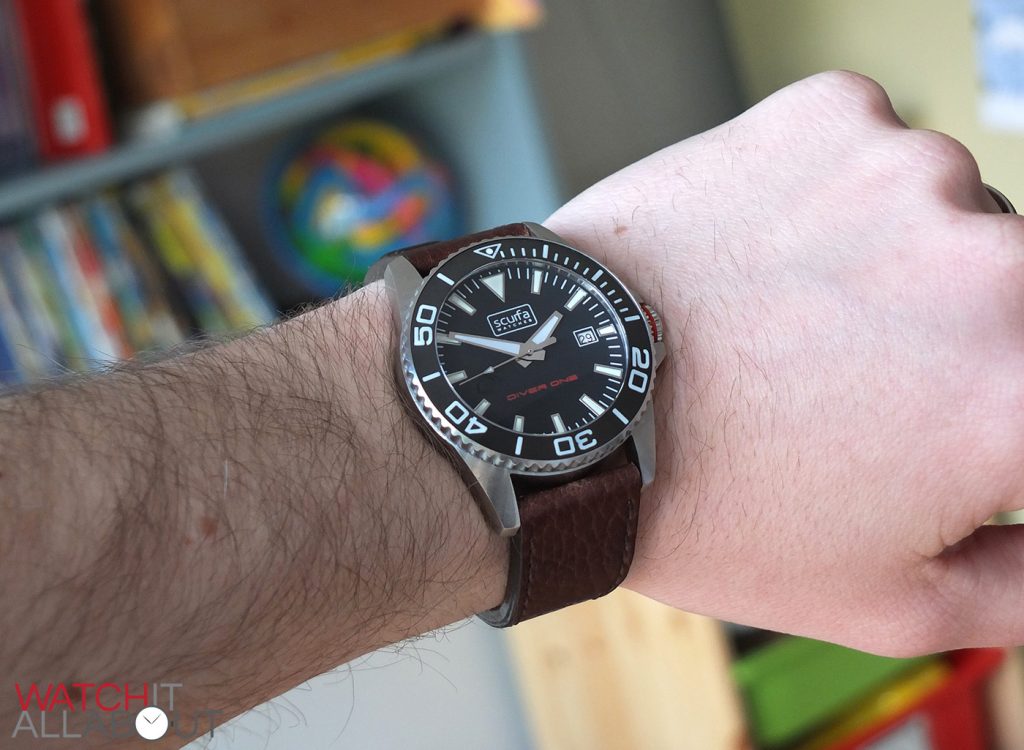 The Scurfa Silicon has a very thick sapphire crystal. It's domed, so although you get distortion at right angles, it means it doesn't reflect like a mirror under water as a flat crystal would. Being a dedicated divers watch, only a sapphire crystal with it its high level of 9 on the MOHs scale of hardness will do. For the price, it has a rather impressive anti-reflective coating on the underside which gives you a brilliant flash of blue when you catch the light.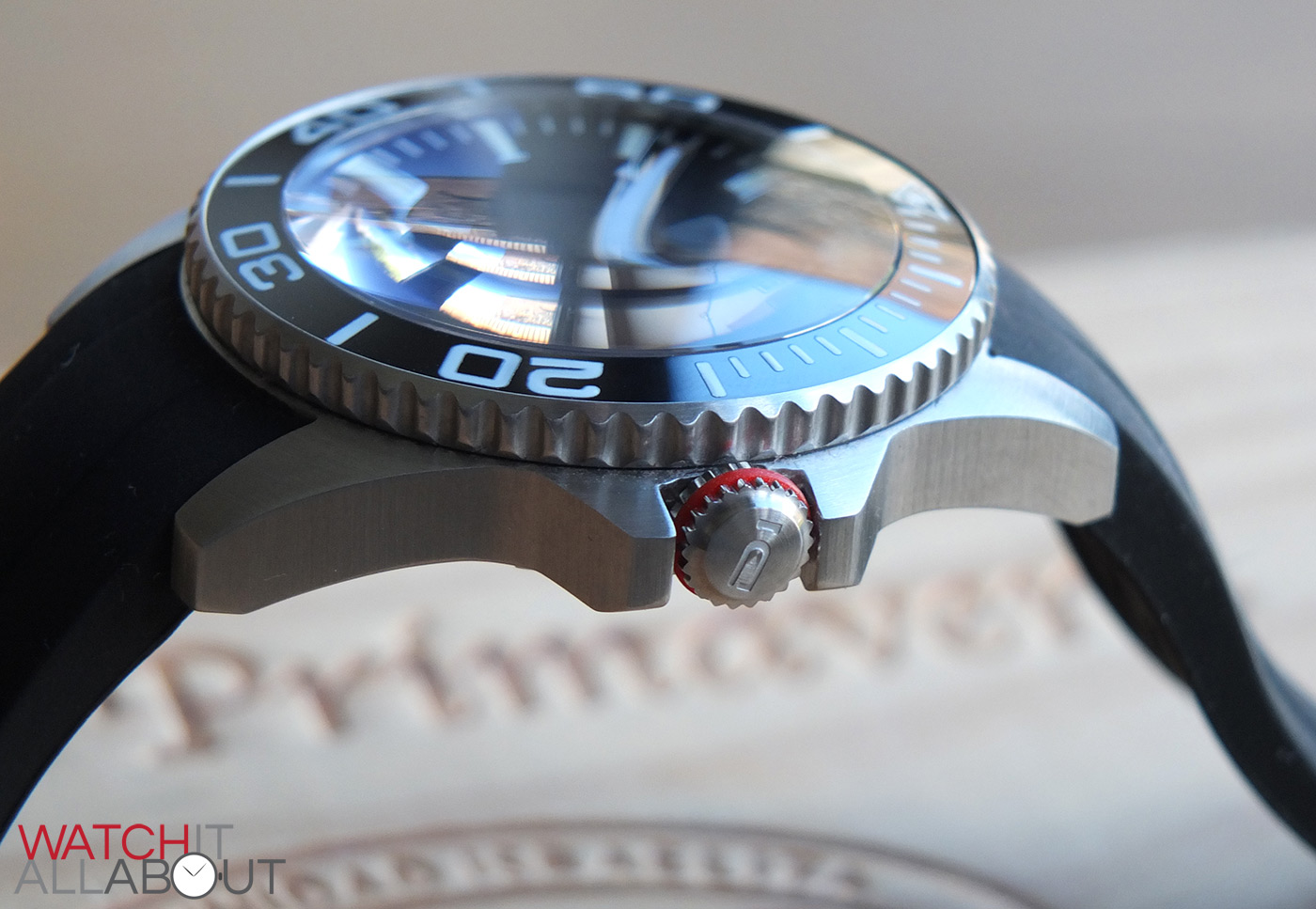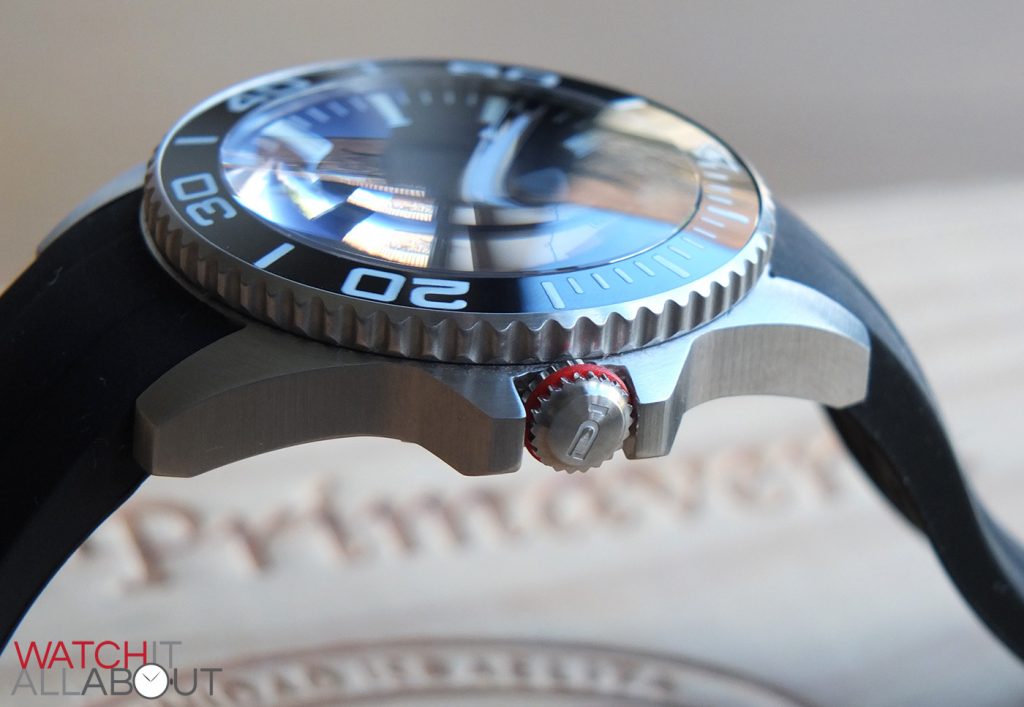 The bezel is quite possibly the most impressive part of the entire watch. It's 120 click, with a deliciously smooth action, providing suitable audible clicks at each point. But that's not the impressive thing – it's the ceramic insert that is. Only the Parnis watches with ceramic inserts are cheaper that I've found, so for a new watch brand to offer something like this on a watch costing £124 is great. The engraving within the insert are all surprisingly accurate too, much better than the usual Chinese watch such as the Parnis. The markings are all filled with seriously epic lume, which is the same colour and strength as the lume on the dial. Simply put, it's very good – in fact, I believe it's better than the lume found on the Seiko Monster and SKX007. And that's saying something. It's strong, charges in the blink of an eye, and lasts a very long time. This has been a real key feature to me.
The 7mm screw-in crown is brushed to match the case, and is accurately sculpted and is clearly made for purpose. It has sharp and clean teeth, perfect for gripping, but with the added characteristic of a red band around the centre. A small warning: I have found that the band can half come off when you use the crown, so always check it's fully on. It's a pleasant injection of colour, matching the only other red of the watch – the Diver 1 printed on the bottom half of the dial.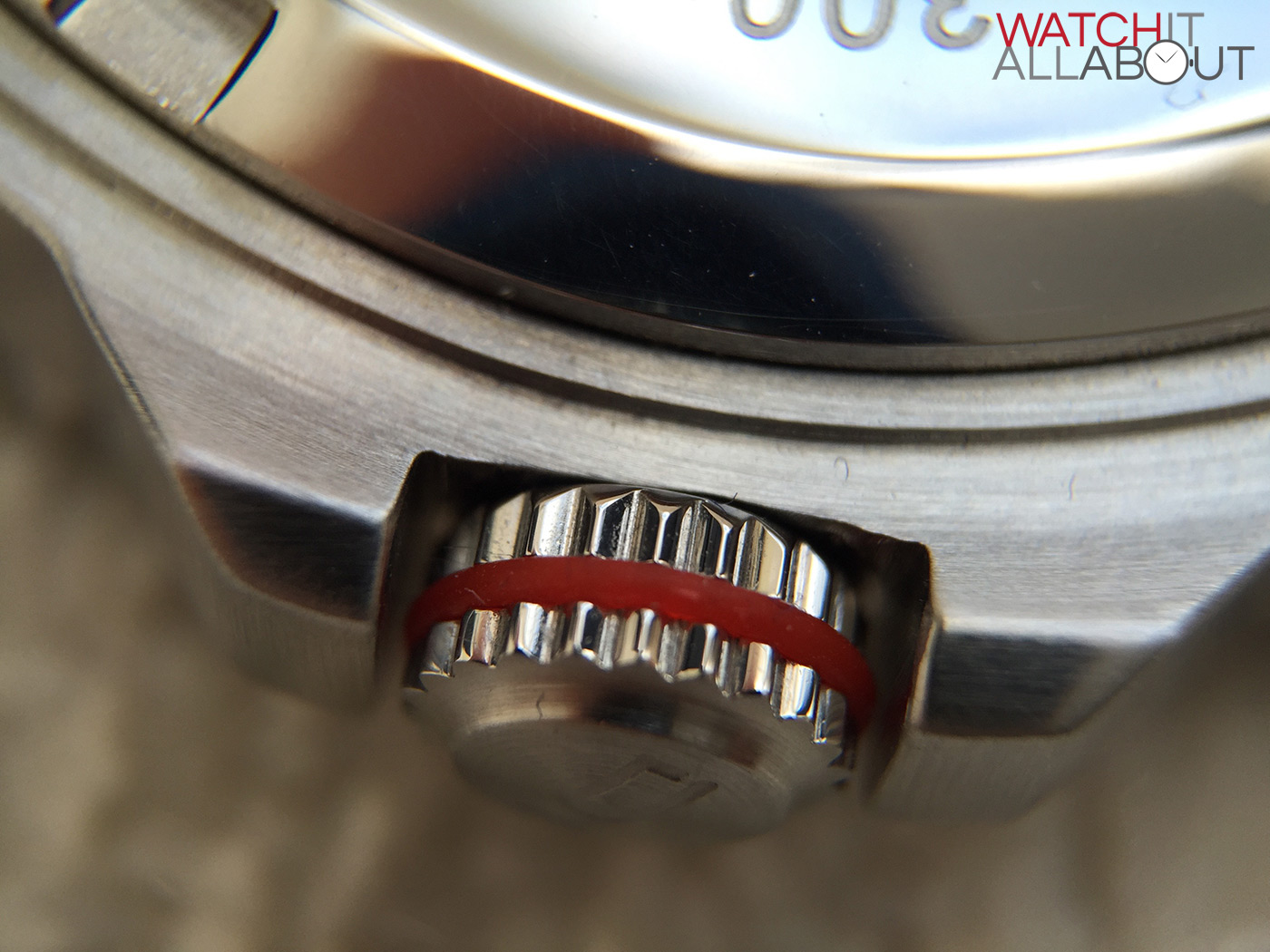 The crown has the D1 logo deeply etched in the end, which is in a fitting font style to match the watch.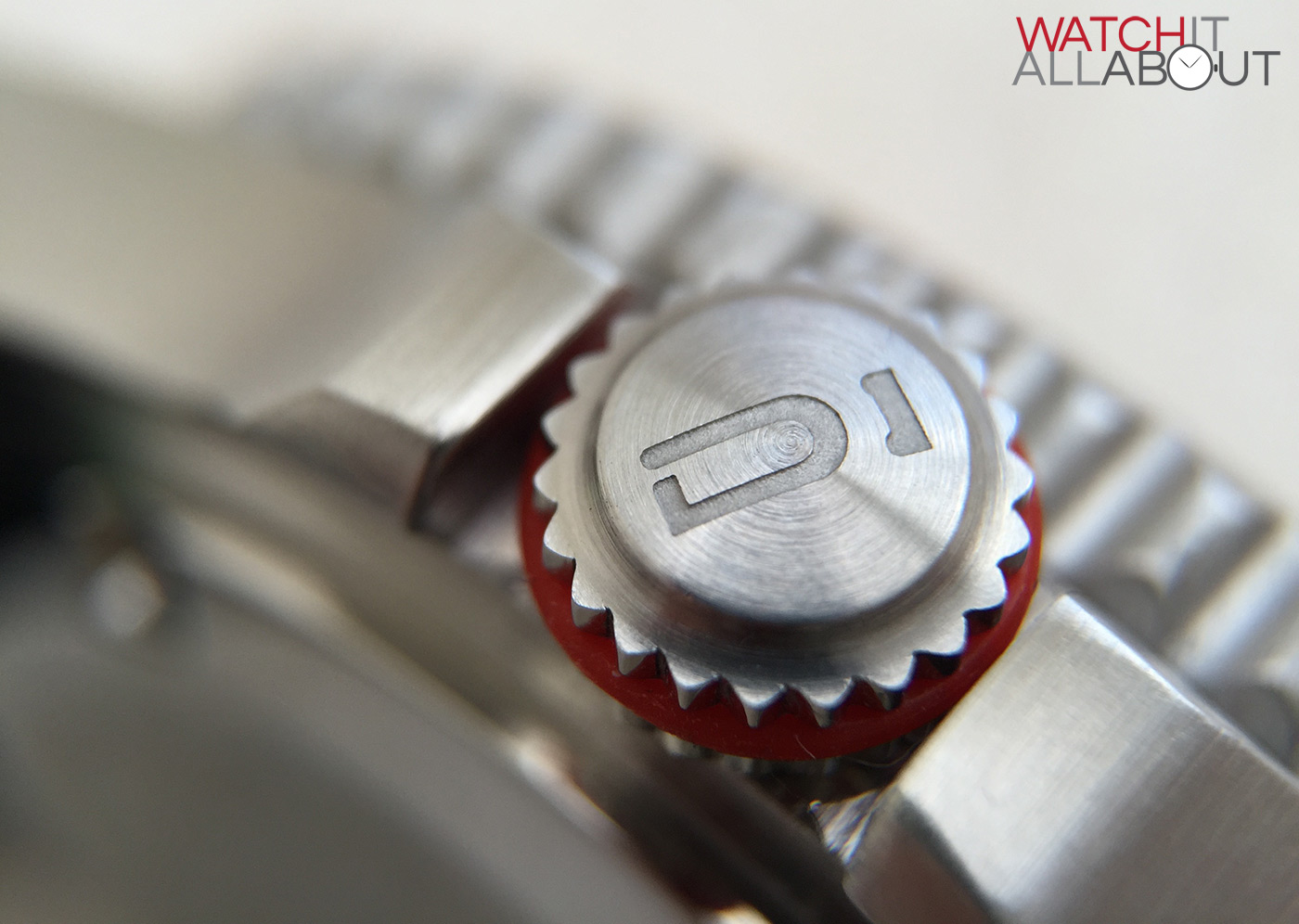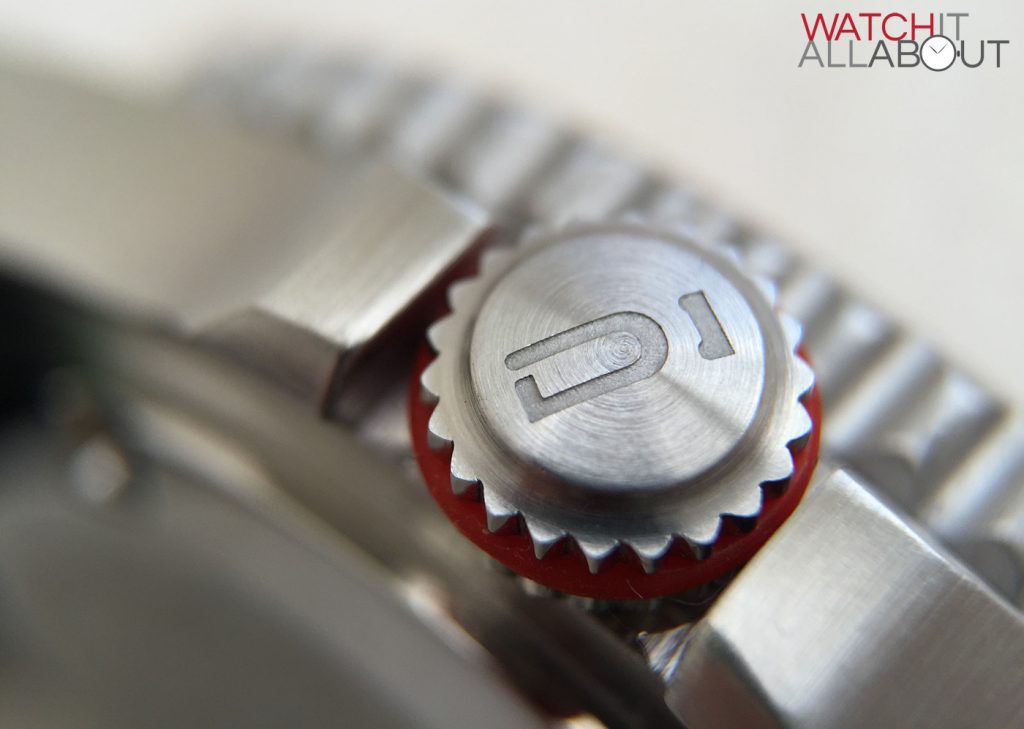 The Diver 1 Silicon has a screw-in caseback, which is required for the water resistance. It's fully polished, and simple in its design. In the centre, you find the Scurfa Watches logo, which is surrounded by various watch specifics around the outer edge, such as the water resistance, sapphire crystal, Swiss movement, and grade of stainless steel (316L). It's not really got a design as such, but it's acceptable in a purpose-fit watch such as this one. The engravings are all deep, accurate, and although the caseback is simple in looks, it's definitely not been left behind in quality of manufacture.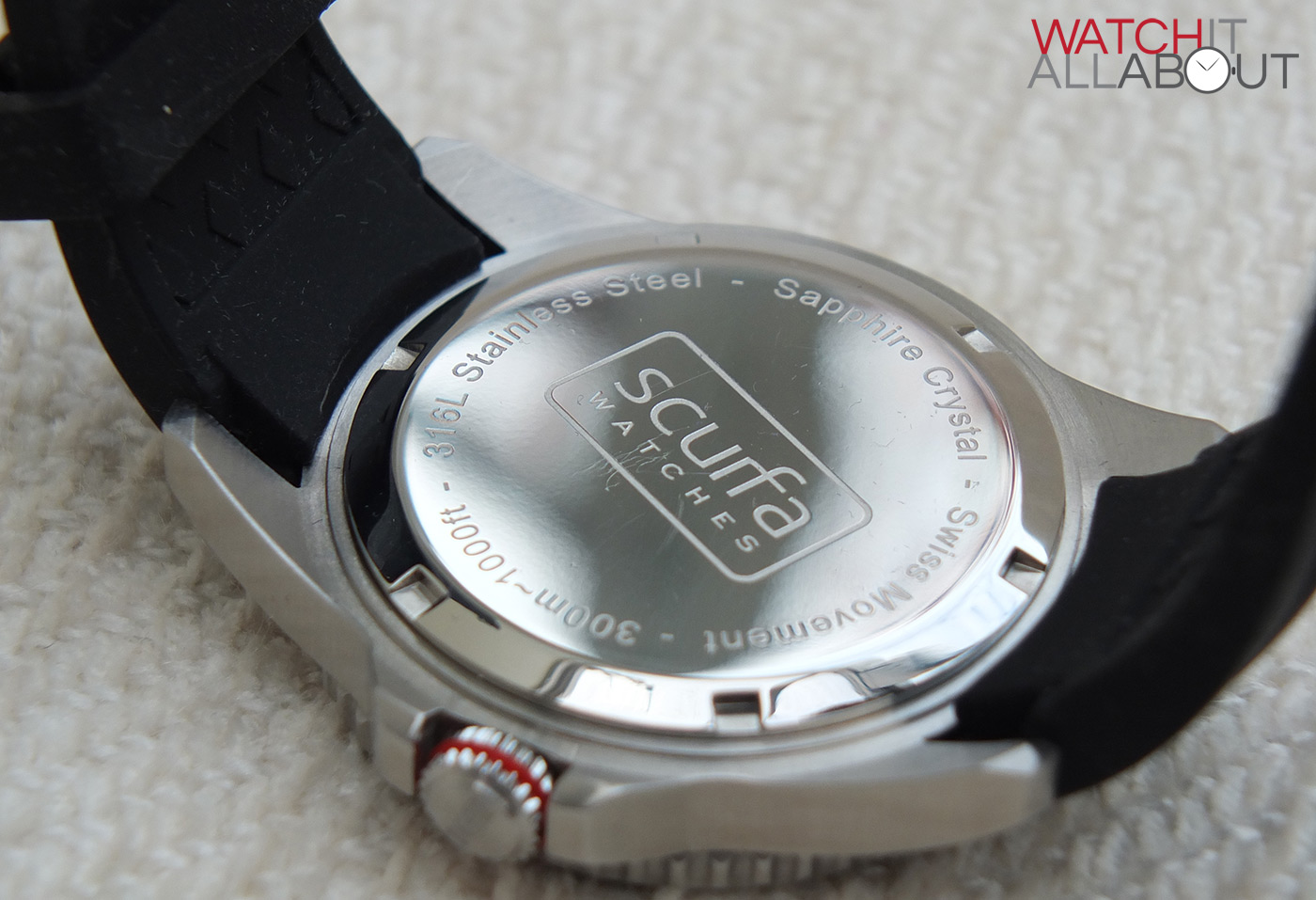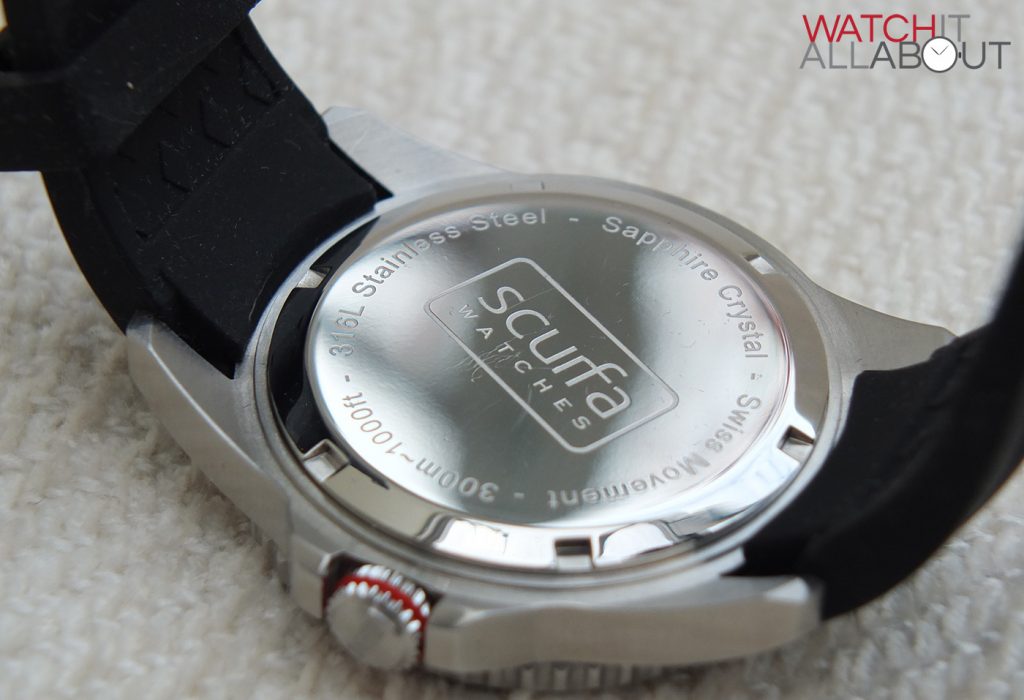 As a purpose built divers watch, the water resistance rating would have to be good enough – which it is at 300m. This is suitable for scuba diving and is good enough to cope with any usual depths.
Rugged and simple, the case has proved to be very good quality for the money. It certainly looks more expensive than it is – thanks to the brilliant appearance of the ceramic bezel and sapphire crystal with its AR coating.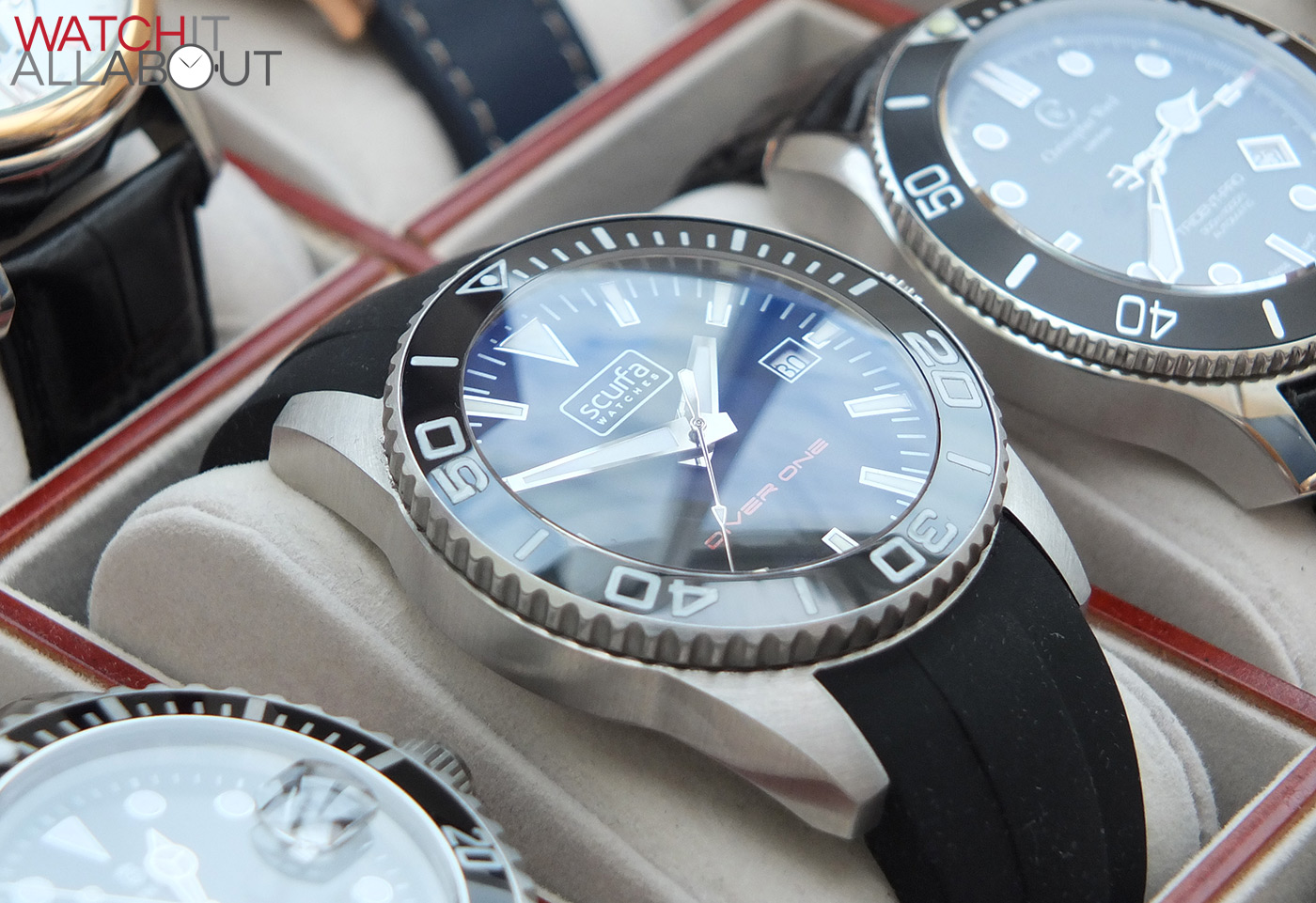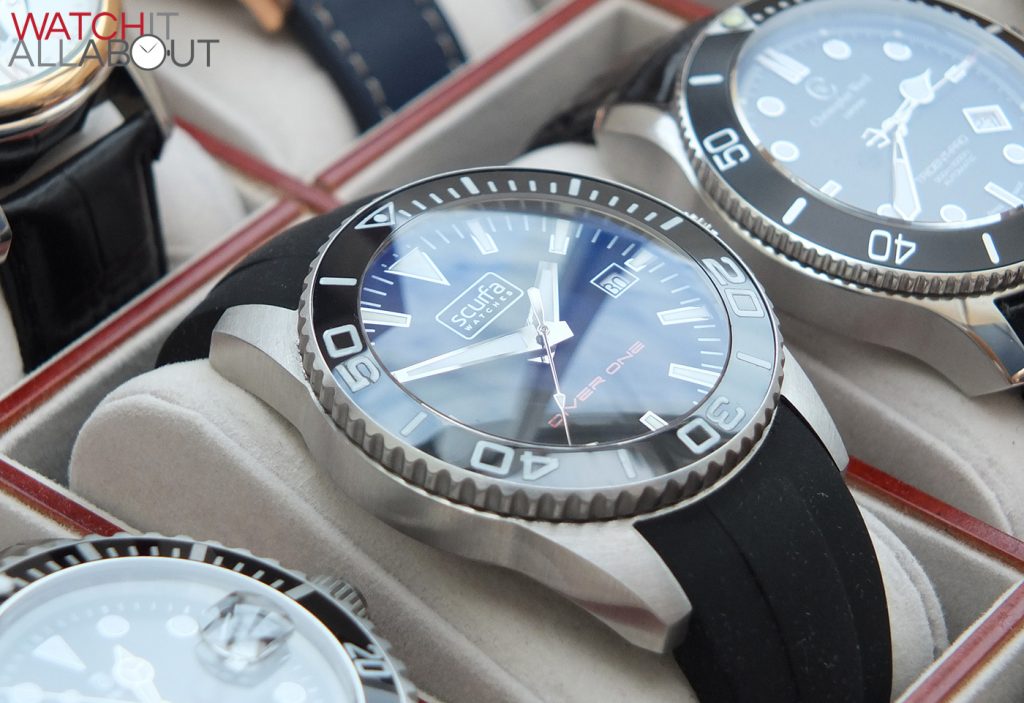 The dial
Let's be honest, the Scurfa Diver 1 Silicon is, in effect, a modern adaptation of the Submariner. But aren't many modern dive watches?
The dial is set off by its matt black base, which is offset well by the thick, chunky hands and hour markers. Readability is very high due to this, which no doubt is quite important during diving.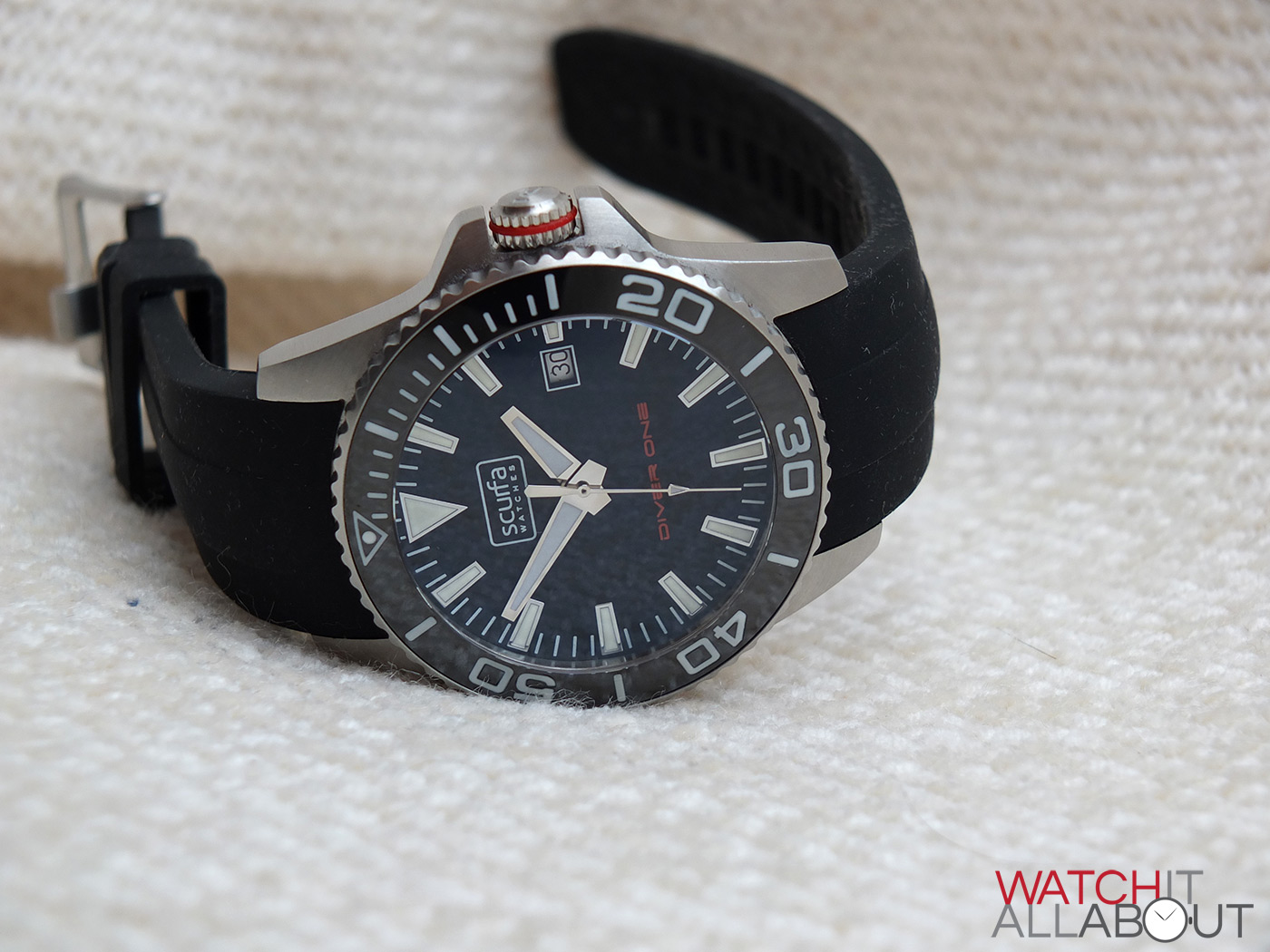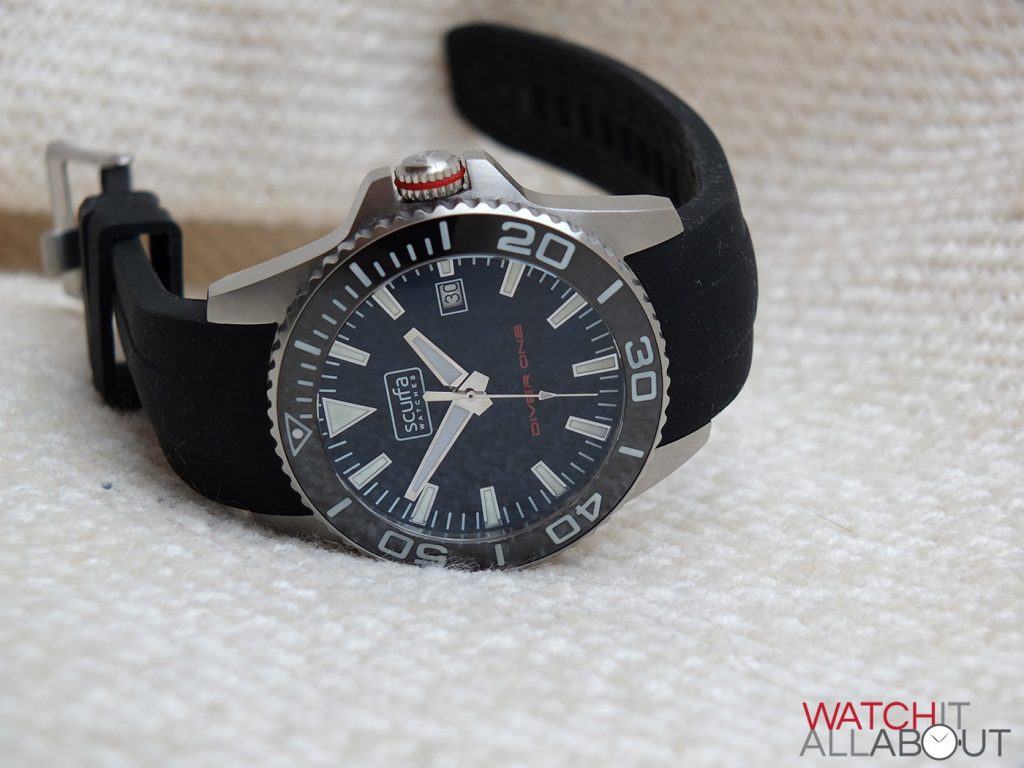 These aggressive hour markers and matching hands are all filled with the same exceptional lume as the bezel insert, with polished steel borders. They all reflect the light in an engaging way, that really catches the eye when coupled with the reflective bezel and the crystal. 
The hour markers are all batons, bar the triangle located at 12. Simplicity is best in many cases – this being one of them. The quality of the markers is flawless, both in manufacturing and application. Rather impressive for the price.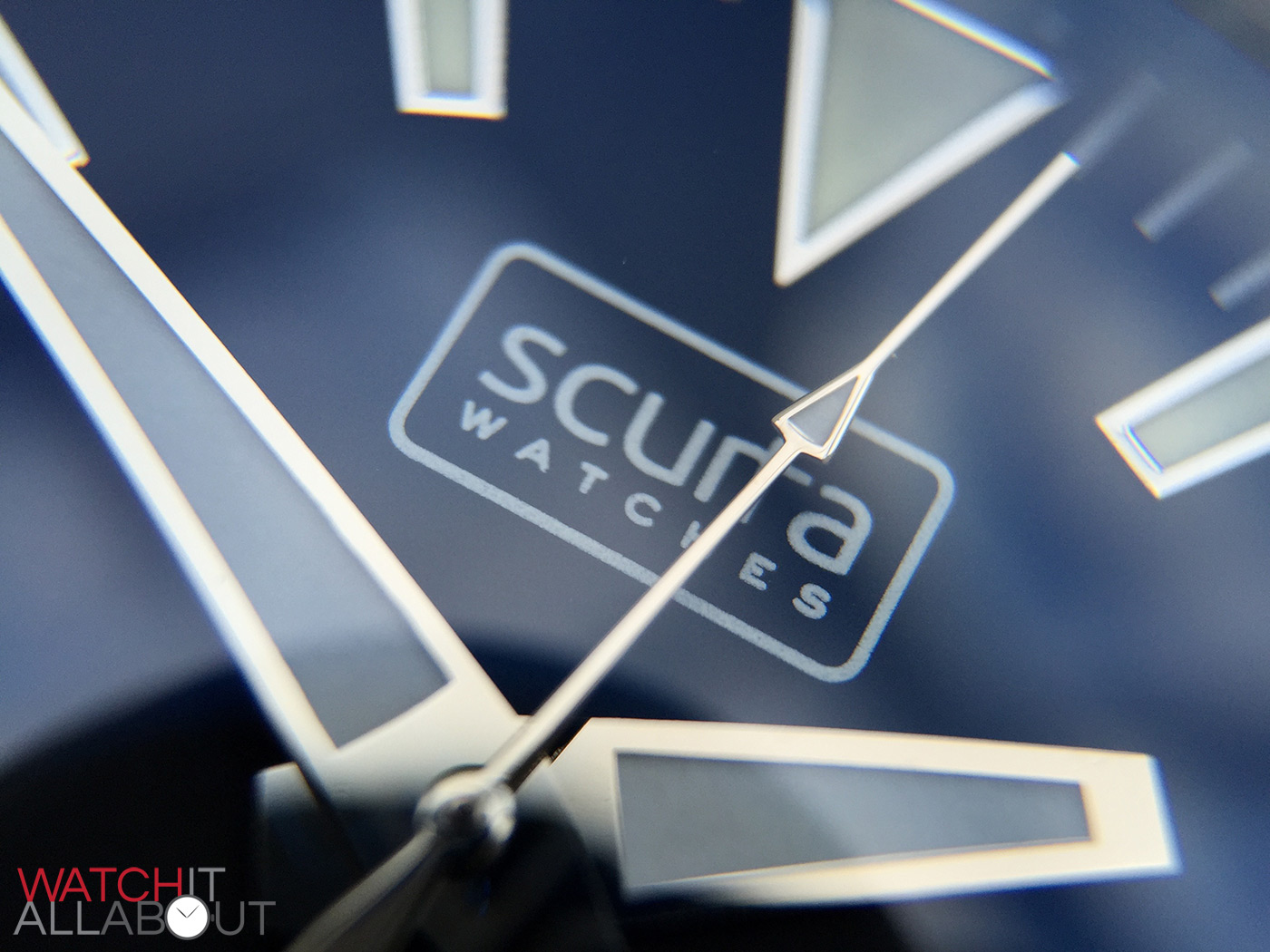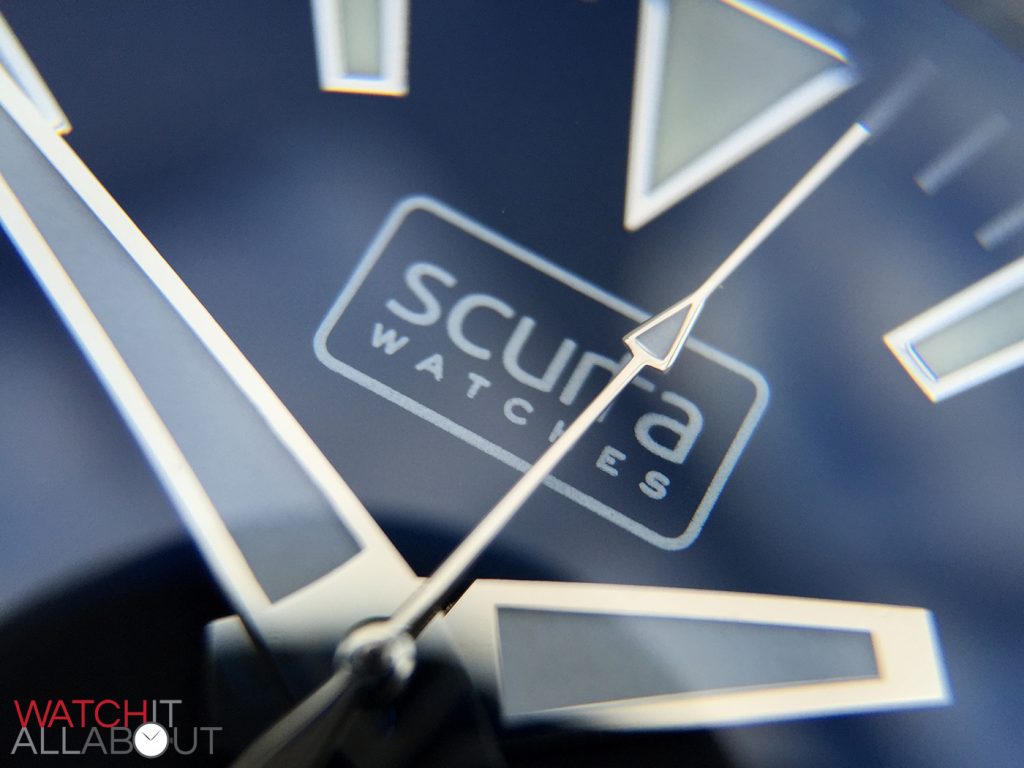 The hour and minute hands are both thick batons too, but with a slight pinch towards the end creating a stumpy point. The seconds hand is a simple thin stick, with a thin, elongated arrowed base. It also has a very nice touch of a lume filled arrow approximately two thirds up, which is equally surprisingly well assembled considering the small intricate nature of it.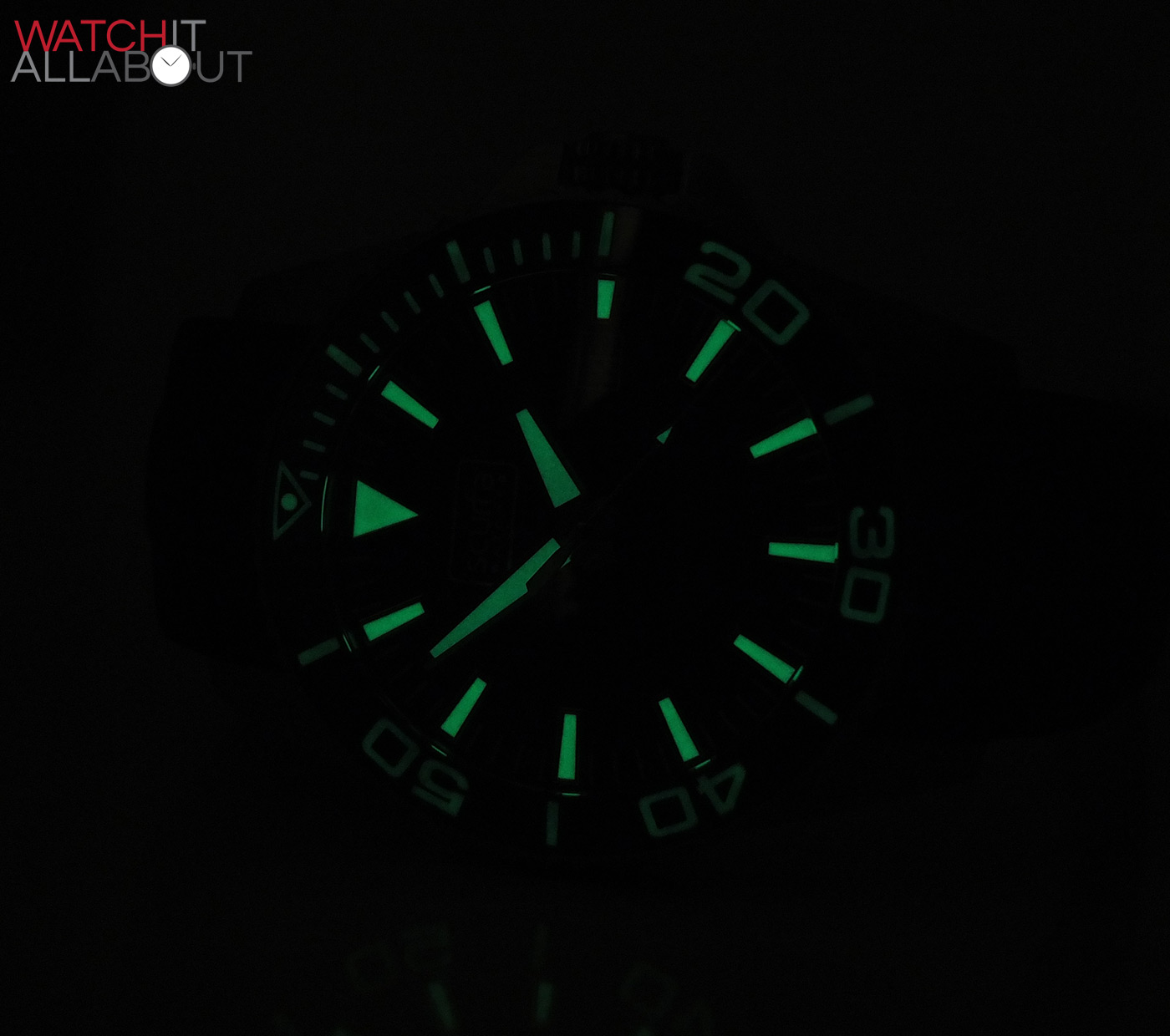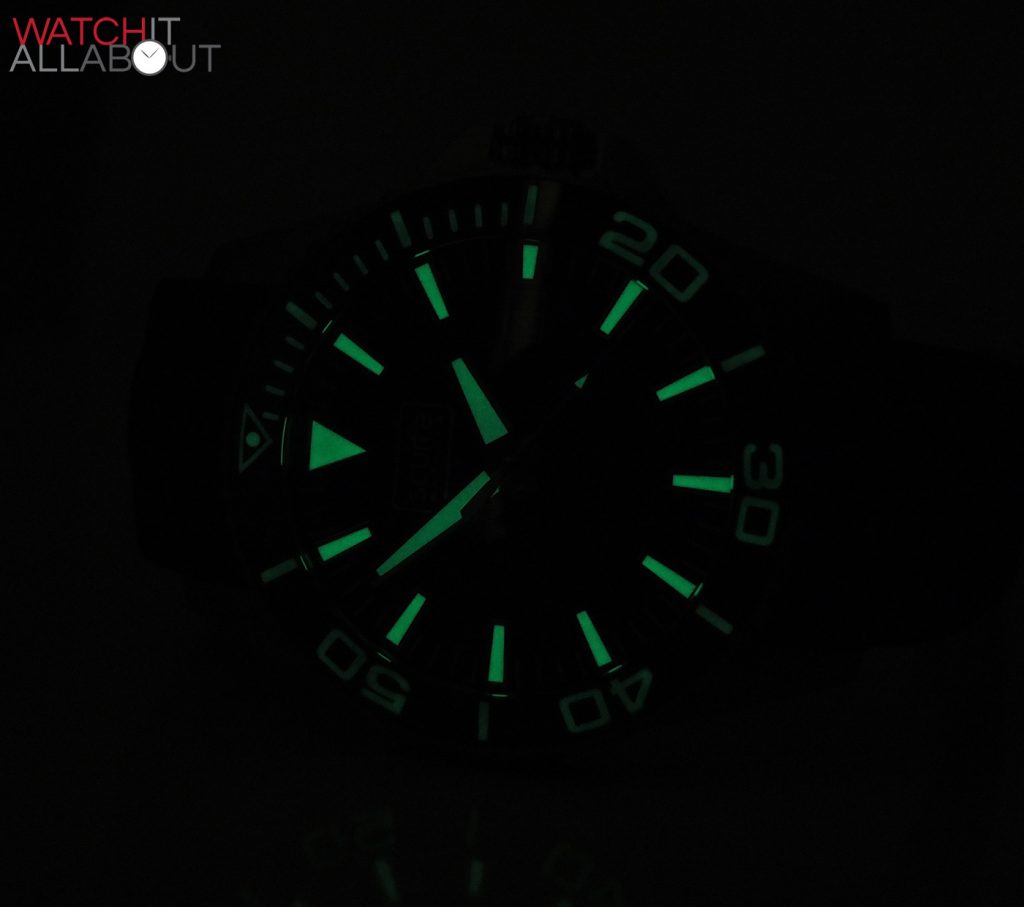 The date wheel will probably be the talking point of a fair few, as some prefer to have one that matches the dial colour (in this case black). But, I believe that white is the correct choice, as the Diver 1 Silicon is all about function as a divers watch. Therefore I believe the white date wheel provides better readability than it would do if it was black with white type, matching the dial and merging into it.
The date window itself is simply but accurately cut out of the dial, with a subtle yet interest arousing white border surrounding it.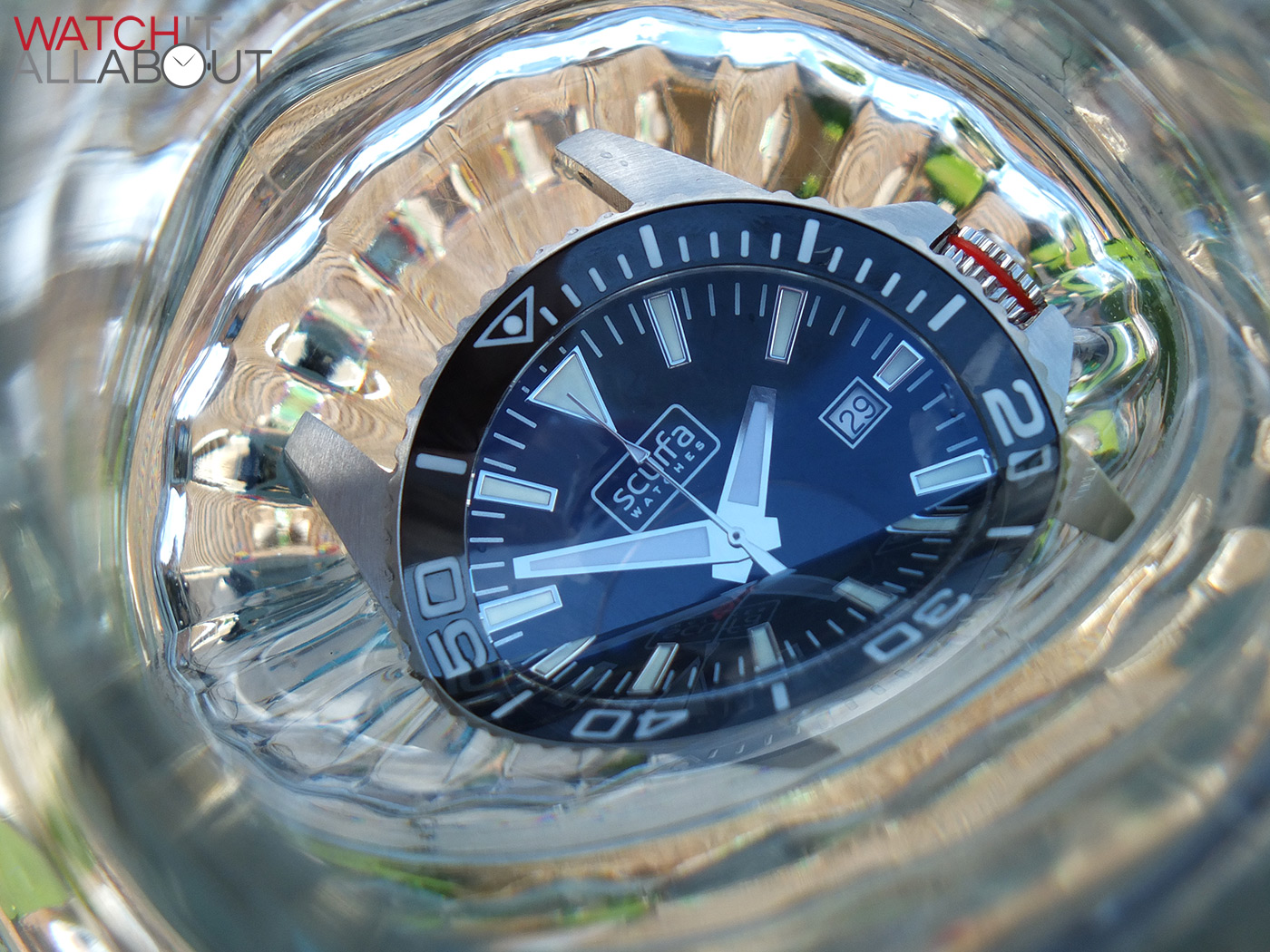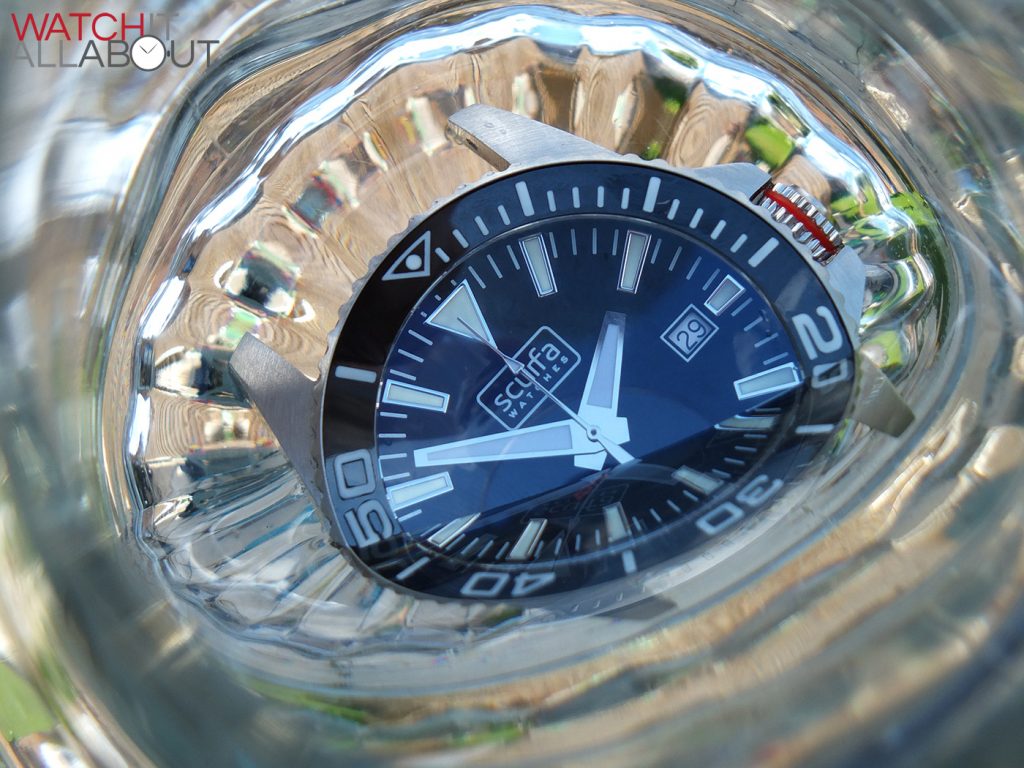 The printing throughout the dial is simple and kept to a minimum. We have the Scurfa Watches logo located in the top half, with "Diver One" in the bottom half. Then all that remains is a simple dashed minute track and the border around the date wheel. All printing is fine, crisp and precise.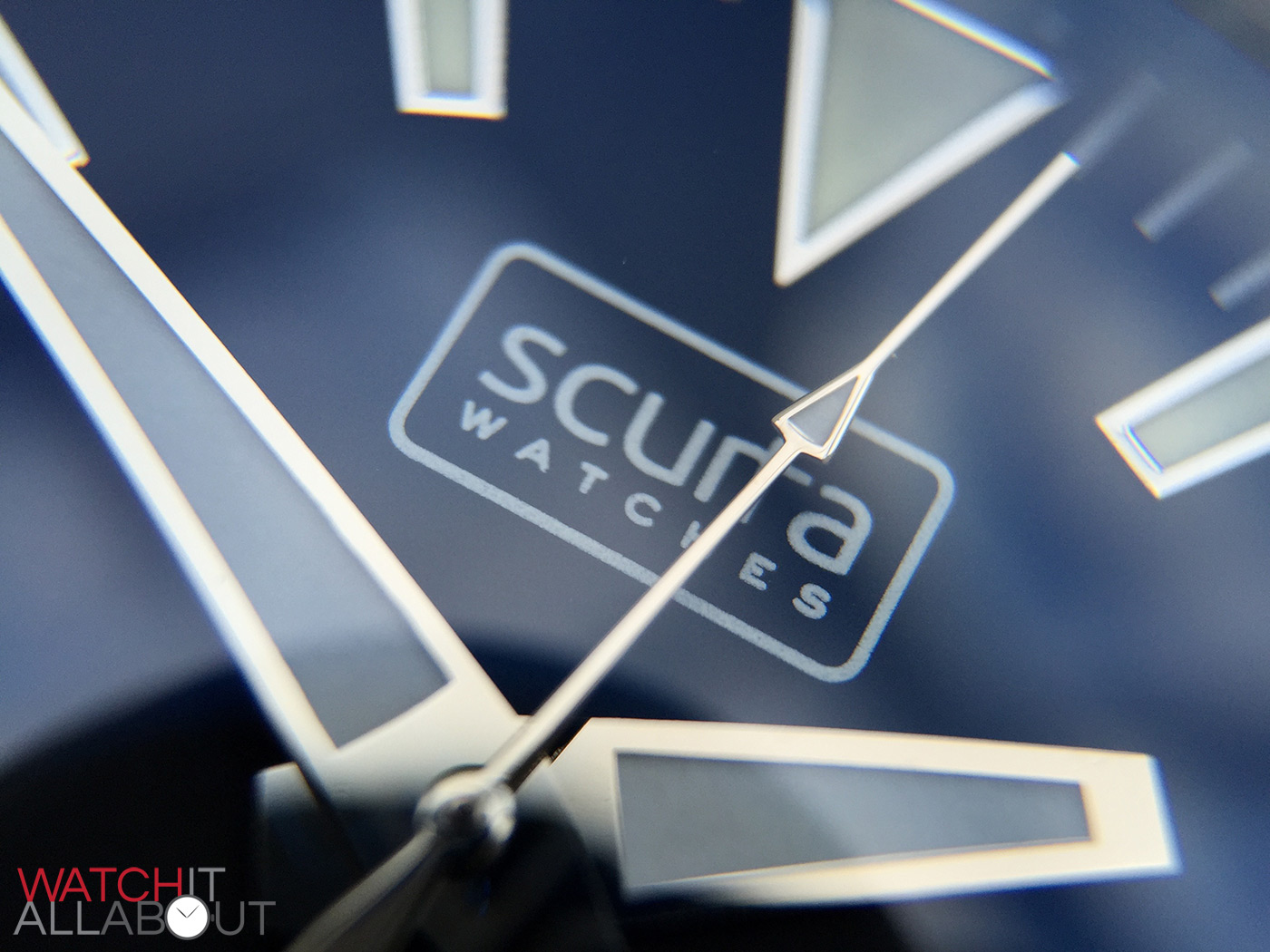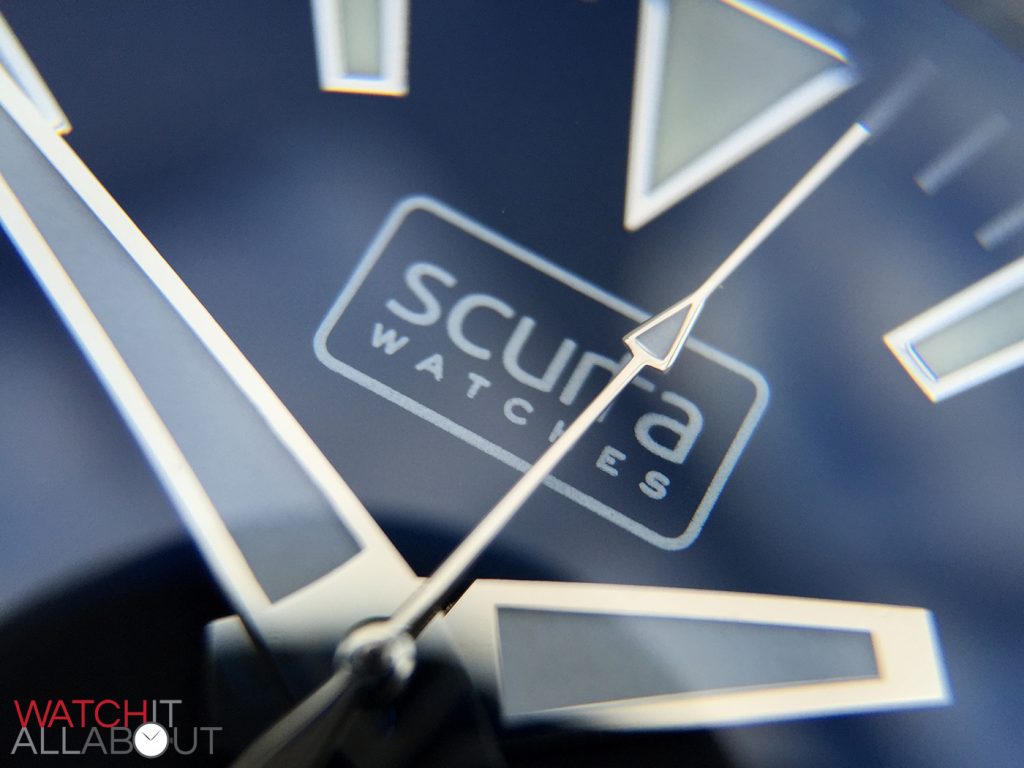 It's more clear than ever that the Diver One Silicon is meant for diving. Thanks to its bold hands and hour markers, staggering lume and simple design, it seems perfect for the job. I'm quite pleased that the practicality of the watch hasn't killed it visually though. I personally still think it looks cool and is well designed, even though it has been kept uncomplicated. The execution of the dial is highly impressive, especially for a watch at this price.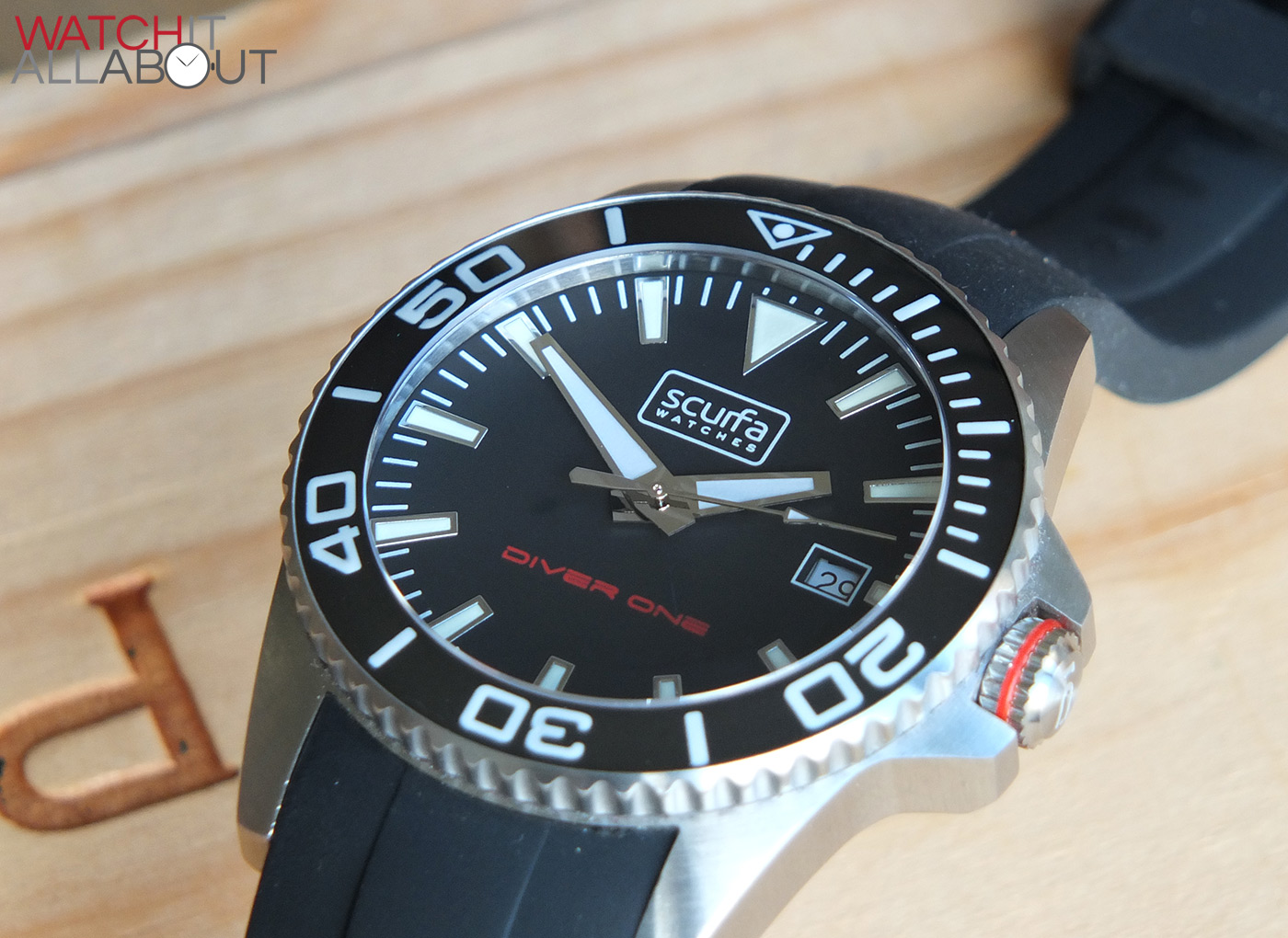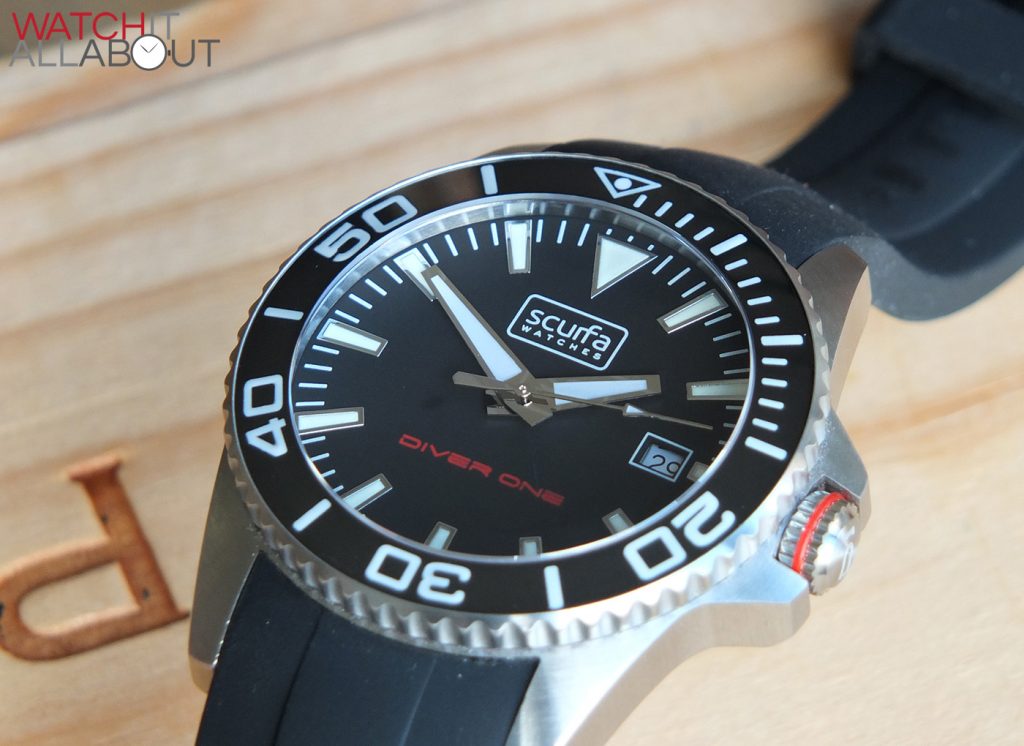 The strap
The strap provided on the Diver 1 Silicon is… funnily enough, silicon rubber. It measures in at 22mm wide at the lugs, reducing to 20mm at the buckle. It seems to be an after market strap, as there is no sign of any customisation or markings on it. This is a shame, as it almost gives it a feeling of being an afterthought, but let's be honest, straps on watches costing this much are usually pretty cheap and poor if they're customised.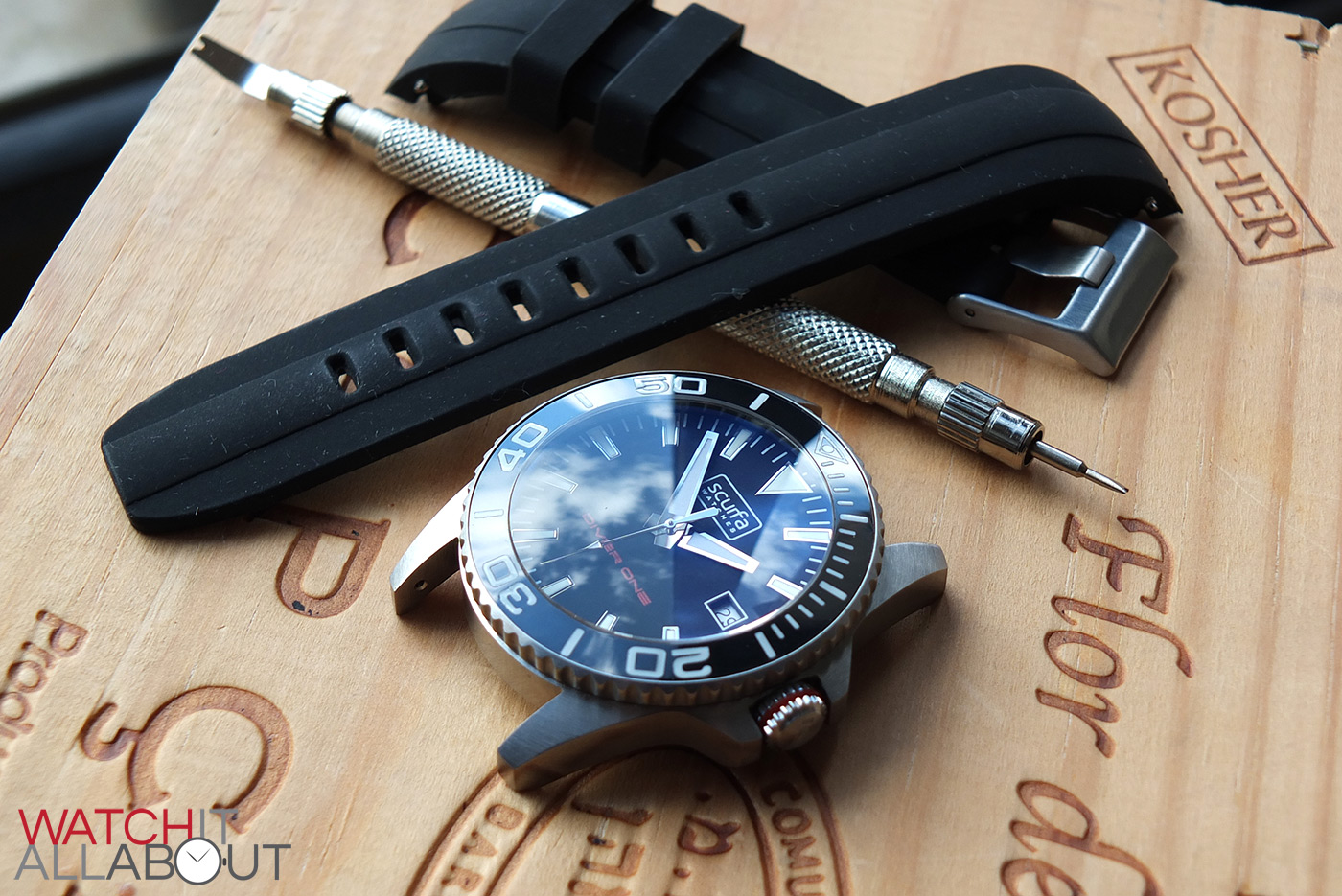 But, to be fair, the strap used here is definitely fit for purpose. It fits the curve of the case very well indeed and is such a tight for its a bit of a nightmare getting it back on if you like to swap your straps around.
The silicon does pick up fluff as is expected. It feels decent quality too, as it is soft to the touch, not stiff at all, but rather supple offering a decent wear. It's simple in design too, matching the rest of the watch. The only bit of detailing is a bulge down the centre of the top, and a criss-cross mesh pattern on the underside.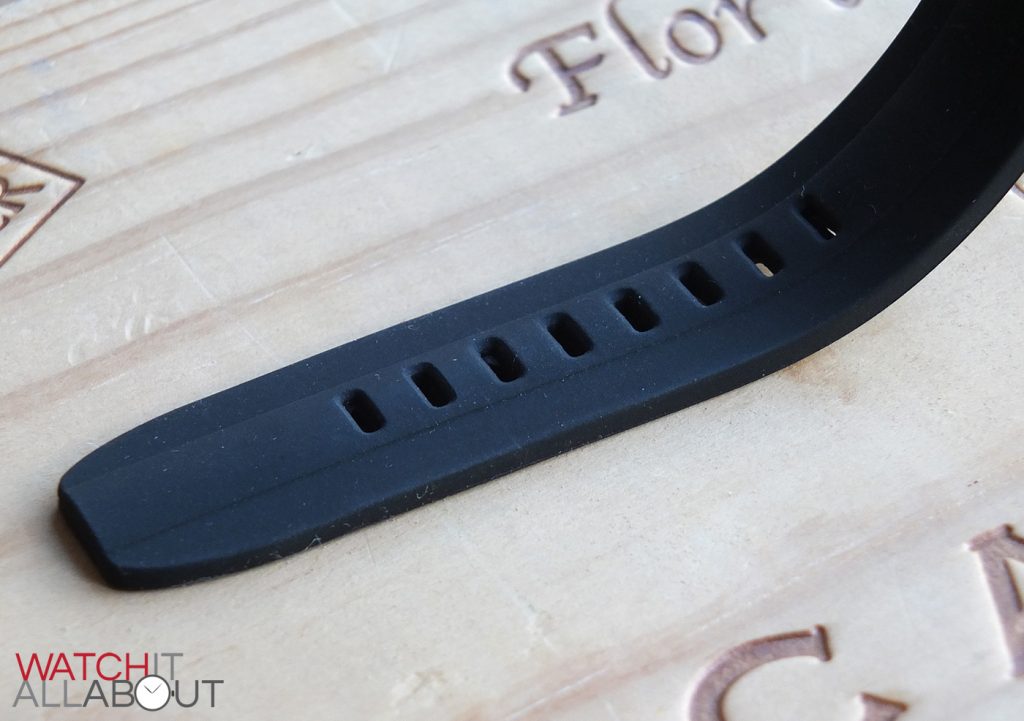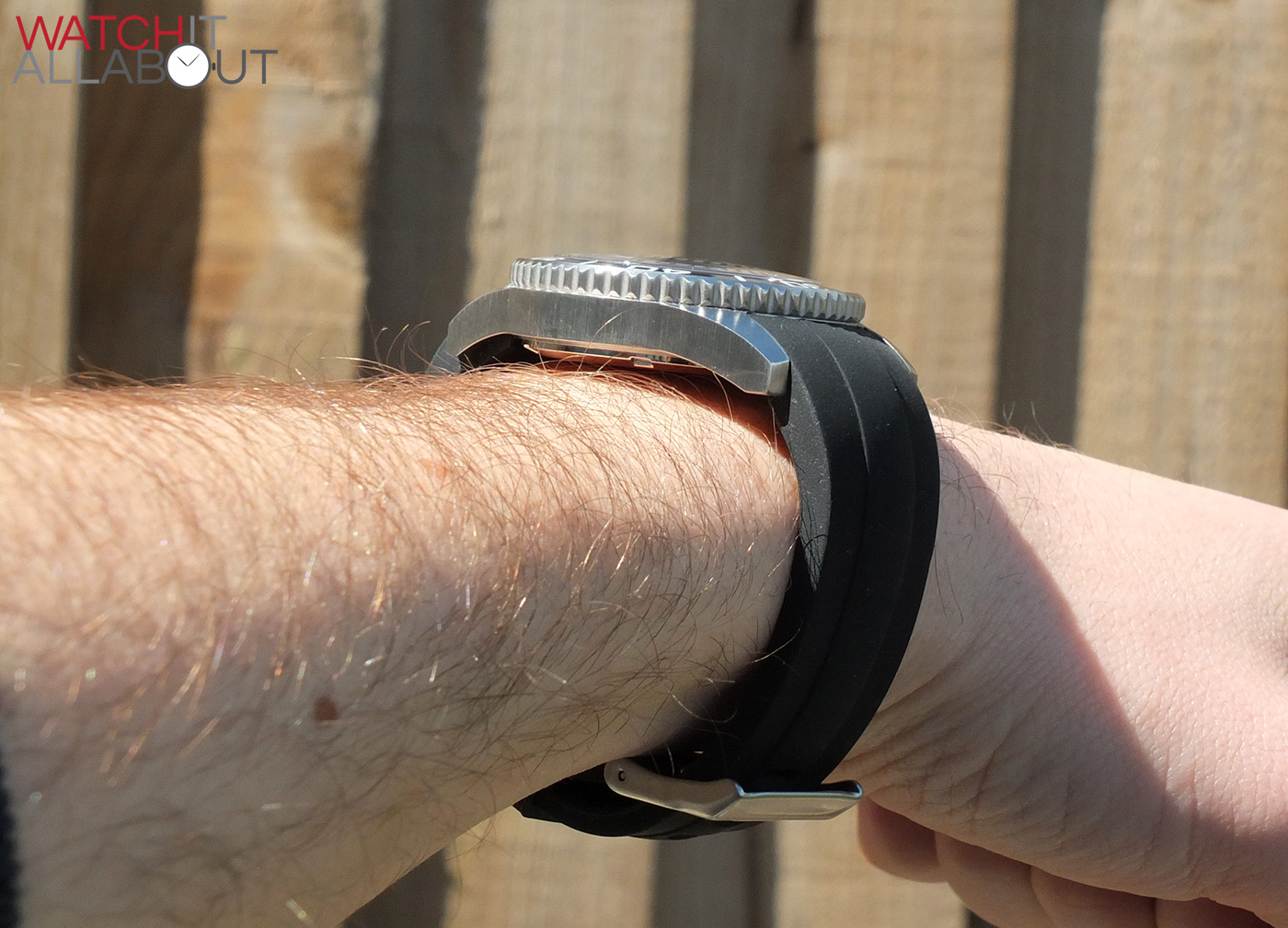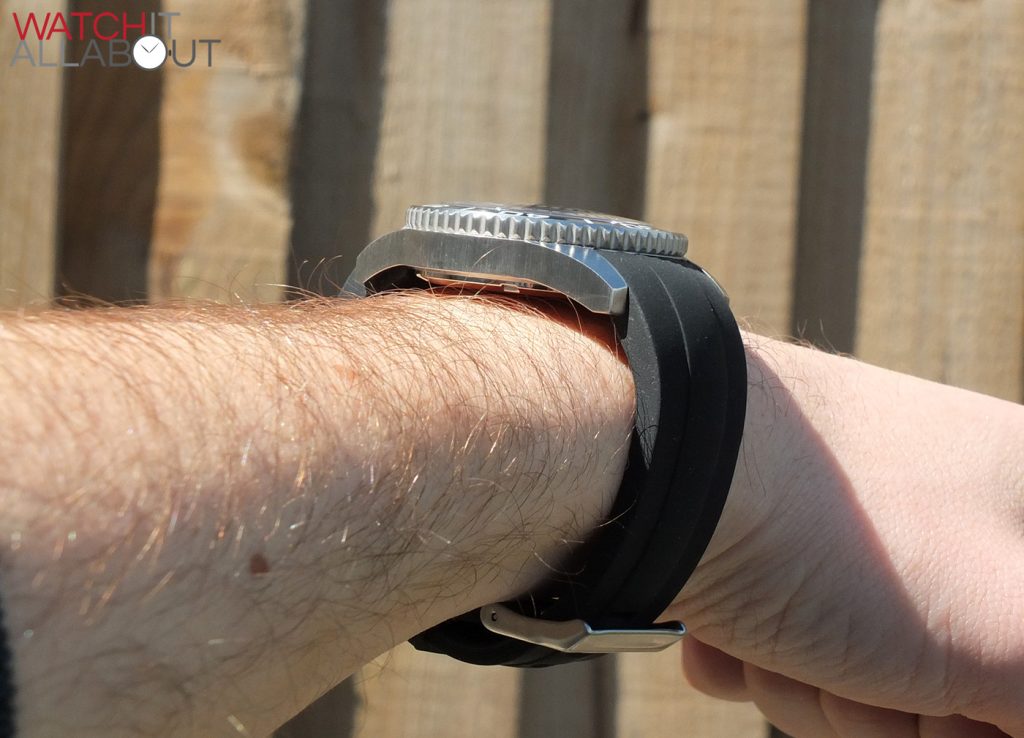 The buckle is also plain, devoid of any markings or design cues. It's chunky though, in a reassuring way that provides comfort that it won't let you down. It's fully brushed, and manufactured well.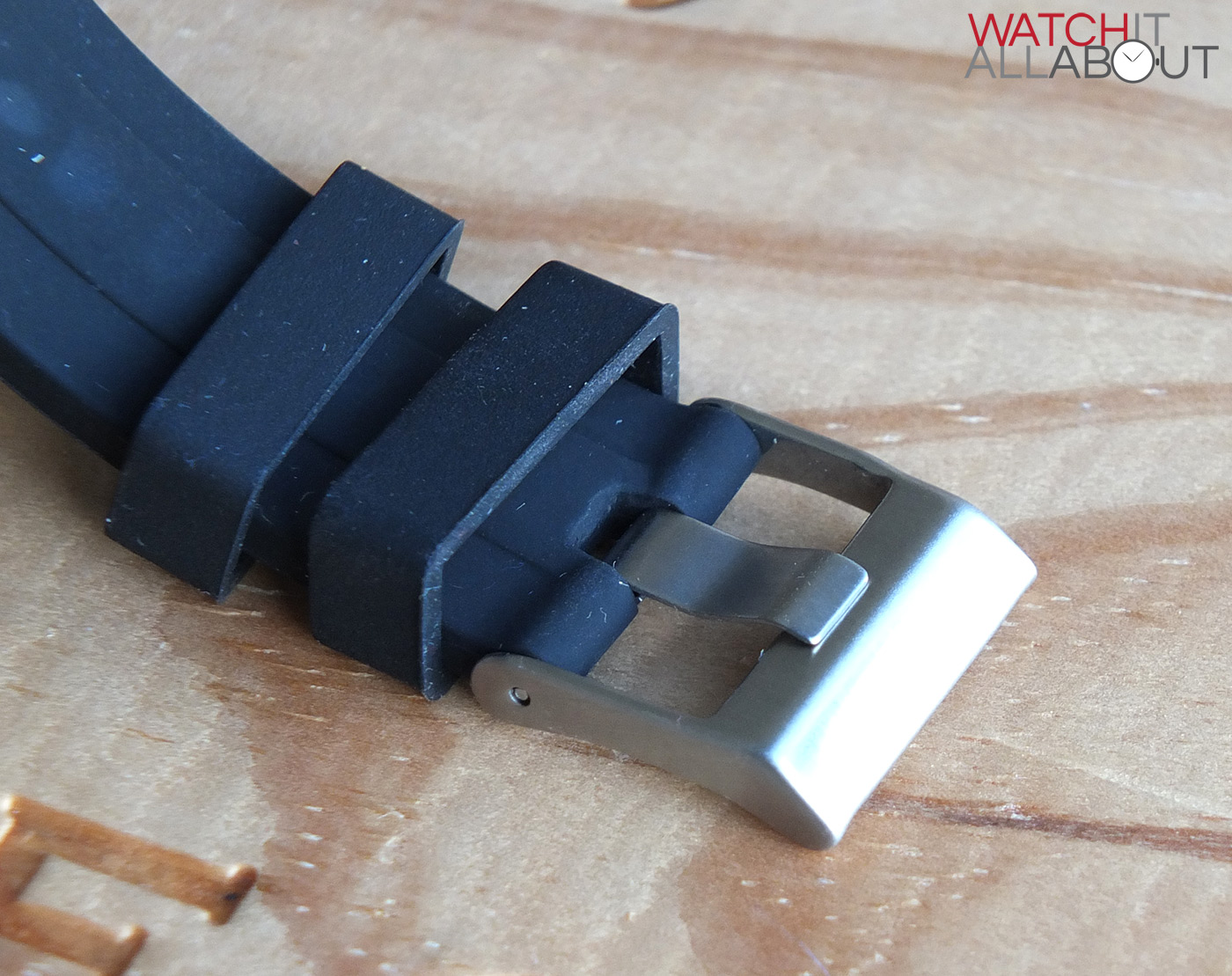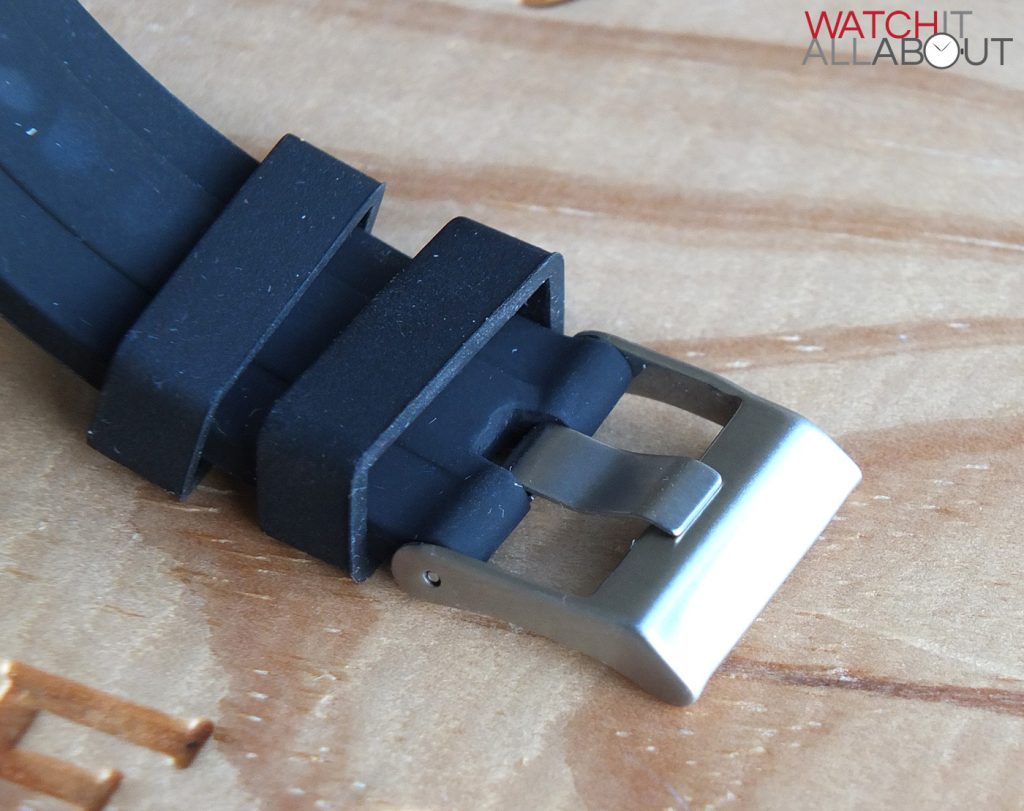 The strap used is definitely for practicality. Rightly so, too. This is a full-on dive watch after all. And for that, this strap will no doubt do a fantastic job. But, if you want to wear the watch in a more casual setting – then I would recommend putting it on a leather strap. I've put it on the brown leather strap from my Christopher award C11 chrono, and I think it look fantastic. Much like the Seiko SKX007, it seems to take on a different view demeanour when on a leather strap. It's much softer to the eye, and more attractive too I think. So there you go, a watch that will work well both in its main purpose and whilst you wear it casually too.
The movement
Paul specified that it had to be quartz in his diving watches. Mainly because of three reasons: they don't stop if you don't wear them, they aren't as fragile as autos, and they aren't effected as much by magnetism.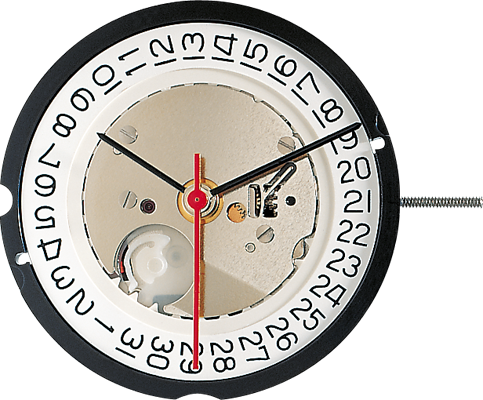 It's a pleasant surprise to have a Swiss Made movement within the Scurfa, namely the Ronda 515. This movement has a whopping one jewel and it ain't afraid to use it. The battery will last you approximately 4 years, and has an accuracy of -10/+20 seconds a month, which is about usual for a decent quartz movement. It's well regarded as a hard wearing workhorse movement, with no issues at all. It'll serve you for a good many years of diving with the Diver 1 Silicon. 
The competition
If you're looking at watches around the same price range of ~£120 then there's really no other option than the Seiko SKX007. Excellent build quality, tool-like appearance, certified ISO diver rating, and literally thousands upon thousands of supporters mean it's one you simple can't discount.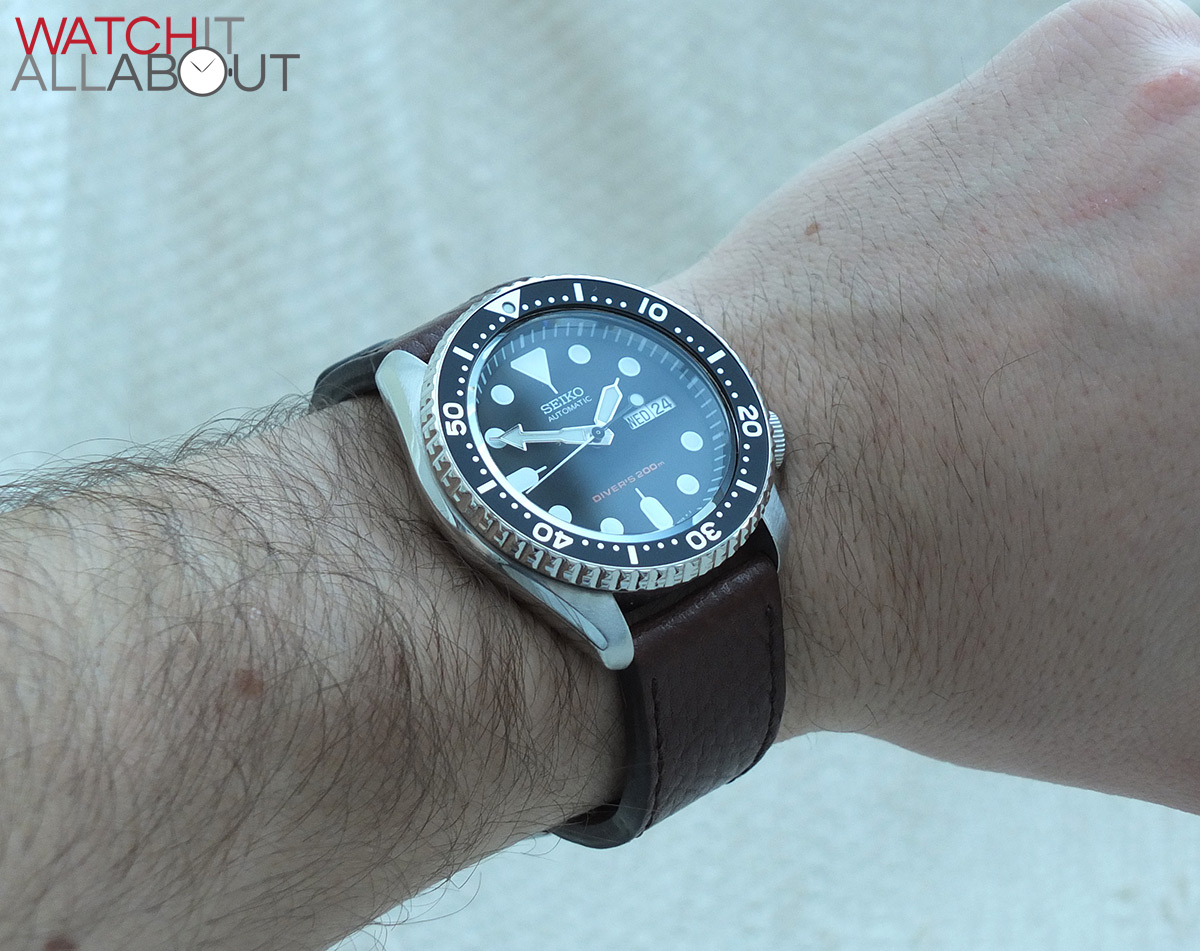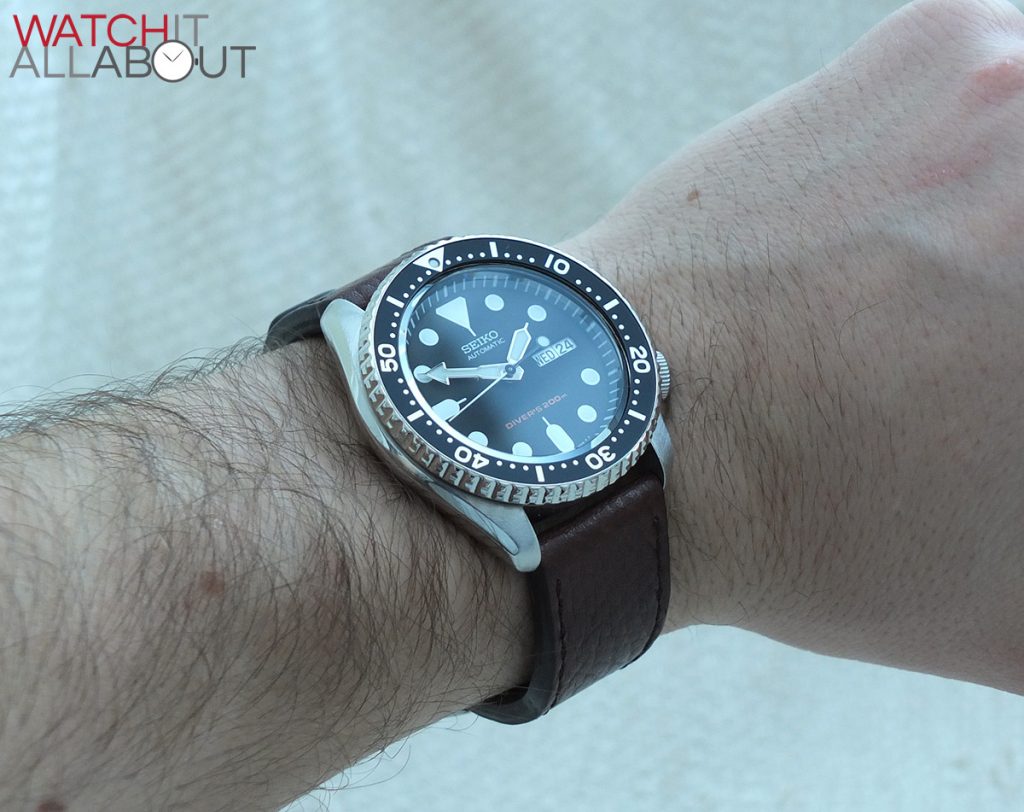 But that's not the only decent diver in this price range. There's also the Orient Mako, which also boasts an in-house automatic movement as does the Seiko. The Mako is a little smarter and more refined in appearance than the SKX007, so it's a perfect alternative.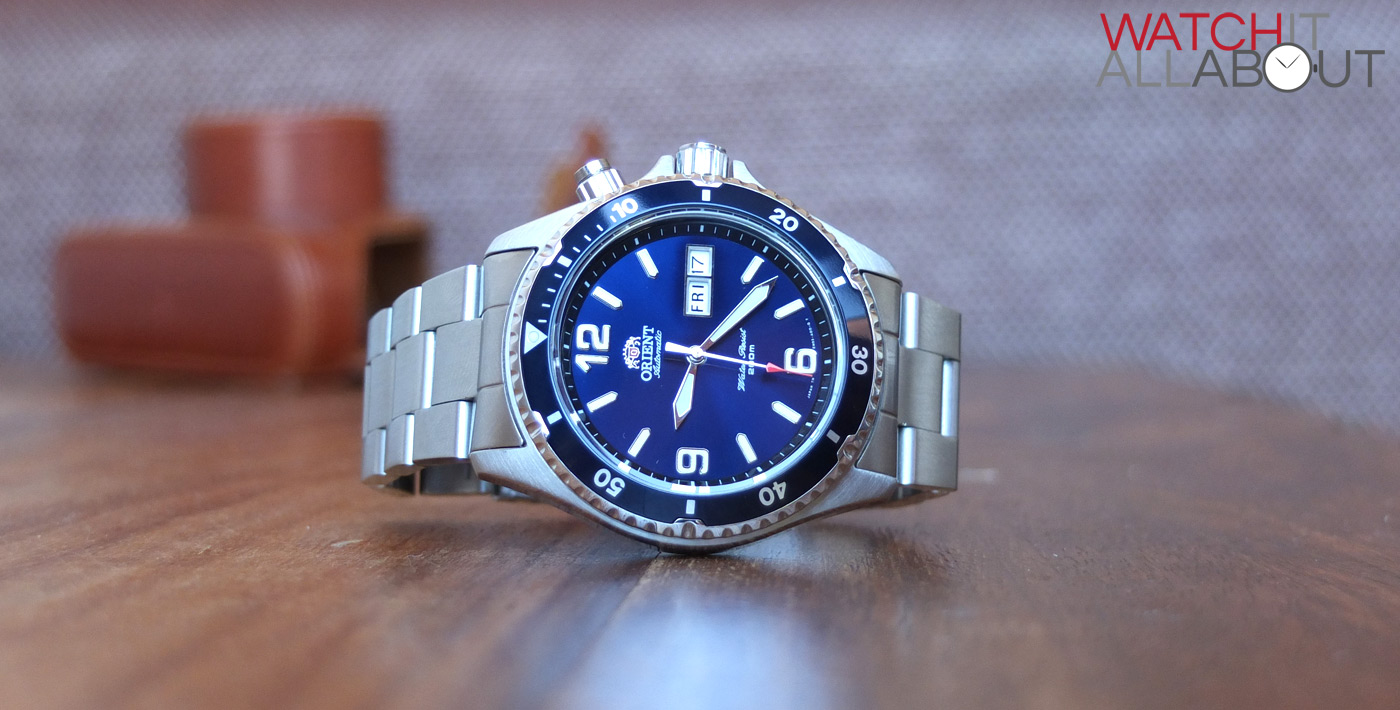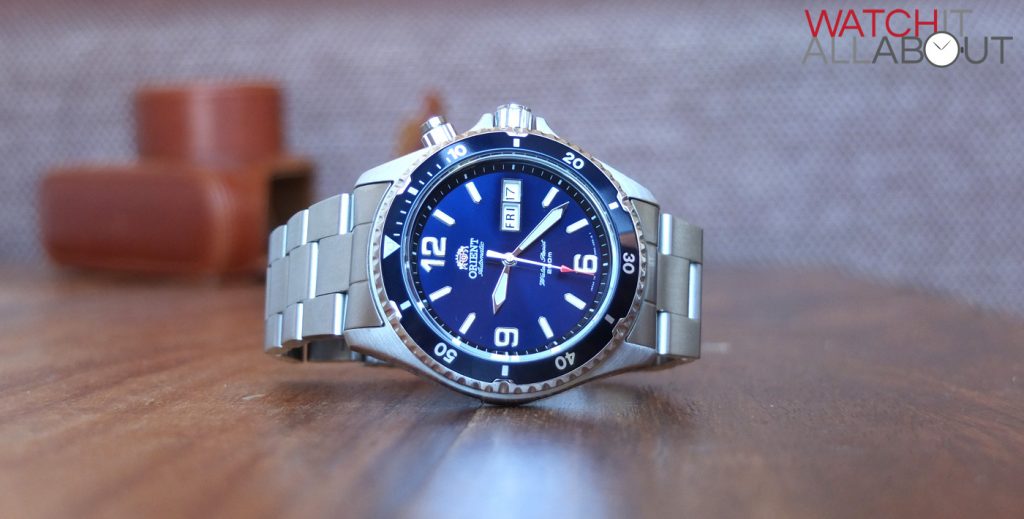 If you want a watch that is Swiss Made, and is on a higher level, then the Christopher Ward C60 Trident Pro 600 is an excellent option. Coming in at £600, it also has a ceramic bezel insert, but also has exceptional build quality. It boasts an impressive 600m water resistance.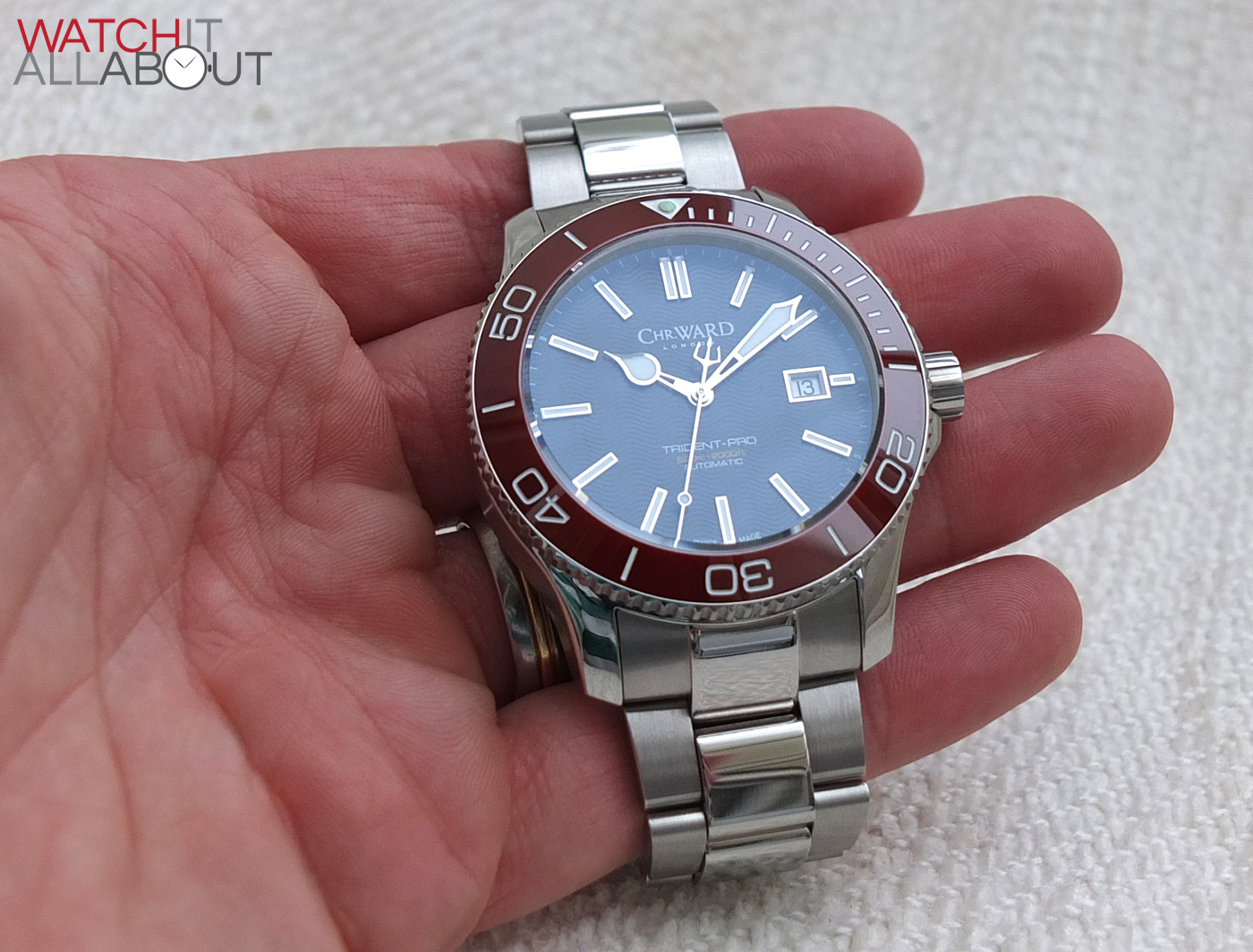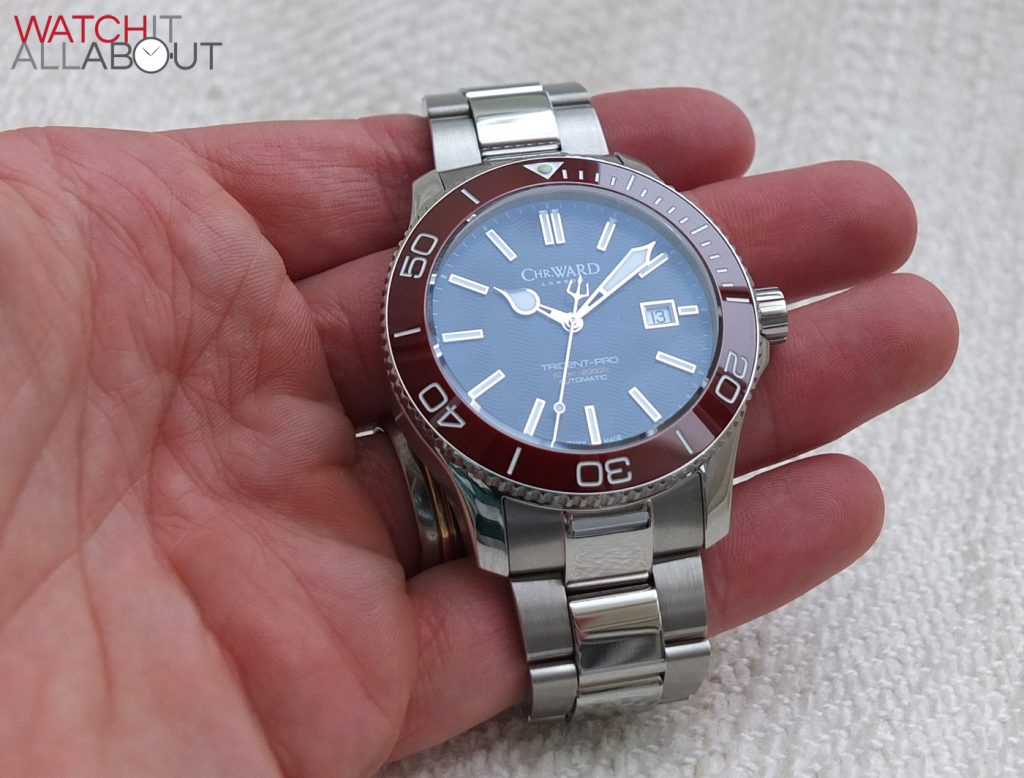 Final comments
There is talk that Paul will eventually release an automatic version. I feel that if that's true, that watch will become an incredibly popular watch as long as it stays affordable. In the meantime, though, I do believe that you'll be extremely hard pushed to find a better dedicated divers watch with these specs at this price. Yes there's the Seiko Monster and SXK007, but they're seen everywhere. It's always good to find a new, relatively unknown brand offering a watch that can genuinely take on the big boys.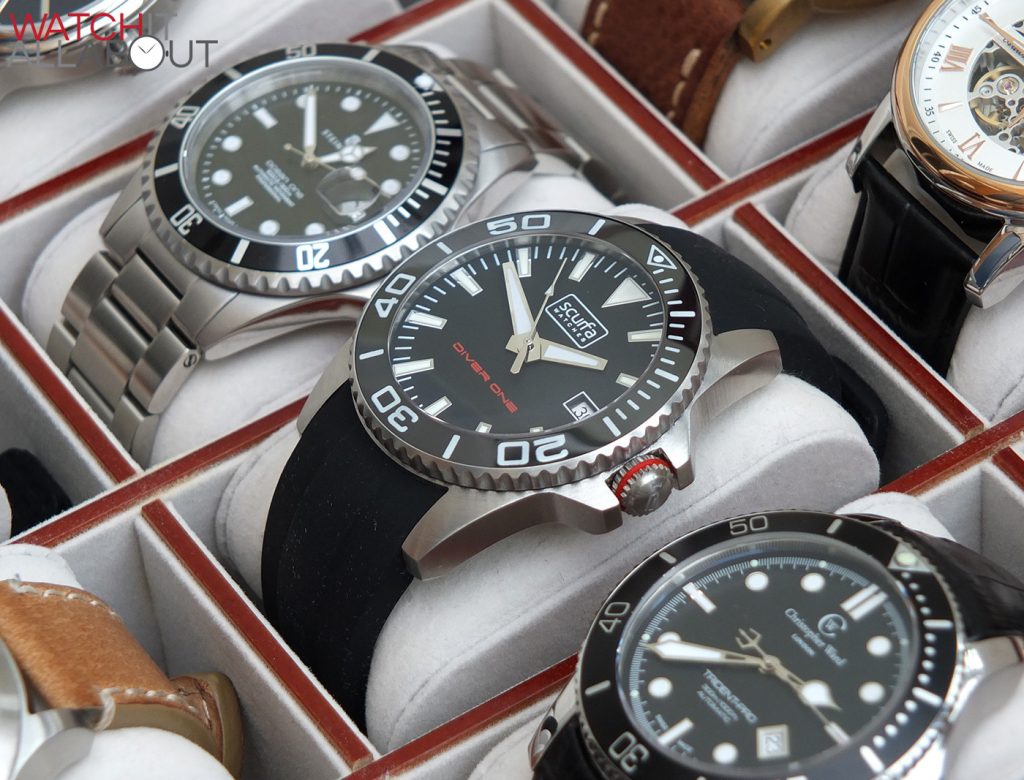 Therefore, with its Swiss movement, ceramic bezel insert, thick sapphire crystal, and extreme lume, the Scurfa Diver 1 Silicon is one hell of a watch for £124. If you dive, then I absolutely recommend one. If you like dive watches, but don't actually dive (like me), then still go buy one.