Melbourne Watch Co are still new to the watch world. Us at Watch It All About have been there supporting them since the start. We interviewed Sujain, the main man behind them before their first model was available. We then reviewed it, the Flinders, and it was very well received. Now we have the pleasure of reviewing their second model, the Hawthorn. The Hawthorn is more casual and sporty, and also cheaper, with an RRP of $395 AUD which equates to around £220. From the moment I opened the box, I knew the Hawthorn would be a favourite of mine. I'll admit, when I initially saw the pictures, they didn't really excite me that much. But in the flesh, it's a different story. Let's look into why this is the case.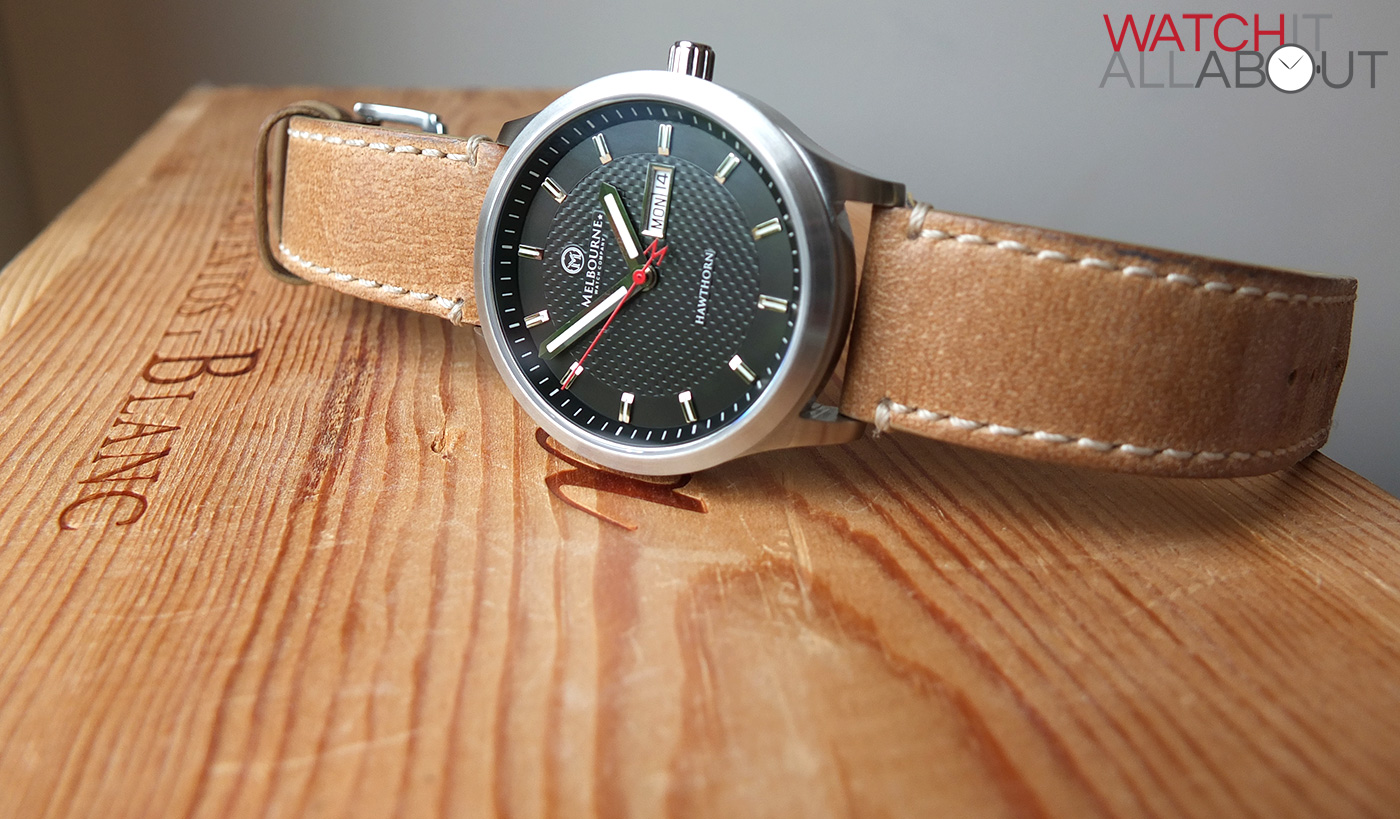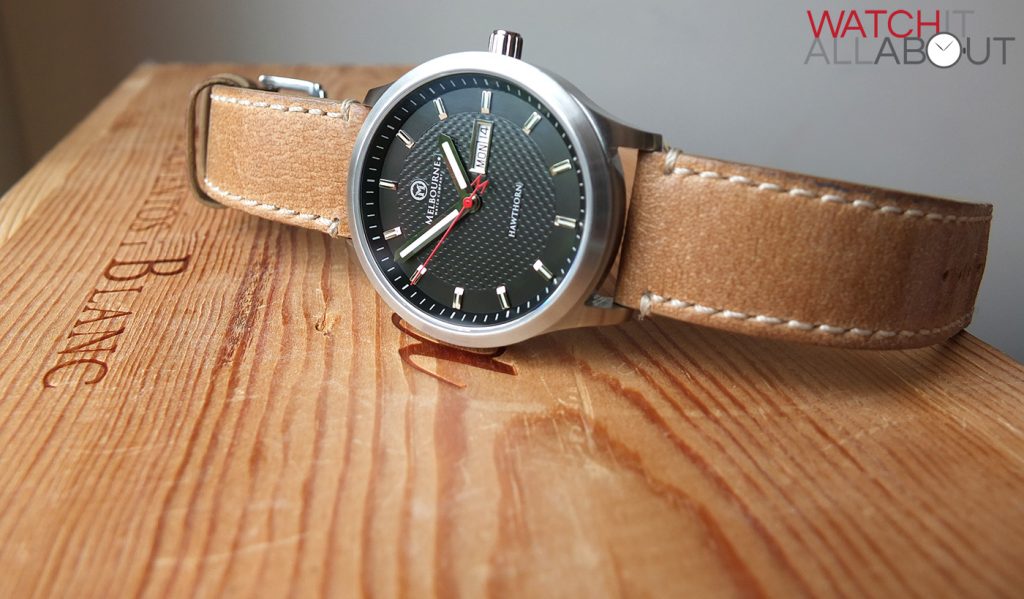 The case
The case is 42mm in diameter, with a 49mm lug to lug length and a height of 12mm. I find this to be a size that gives the watch a lot of presence without being overbearing. For me, it's ideal, as I like slightly larger watches. But it still maintains an impressive level of comfort despite this.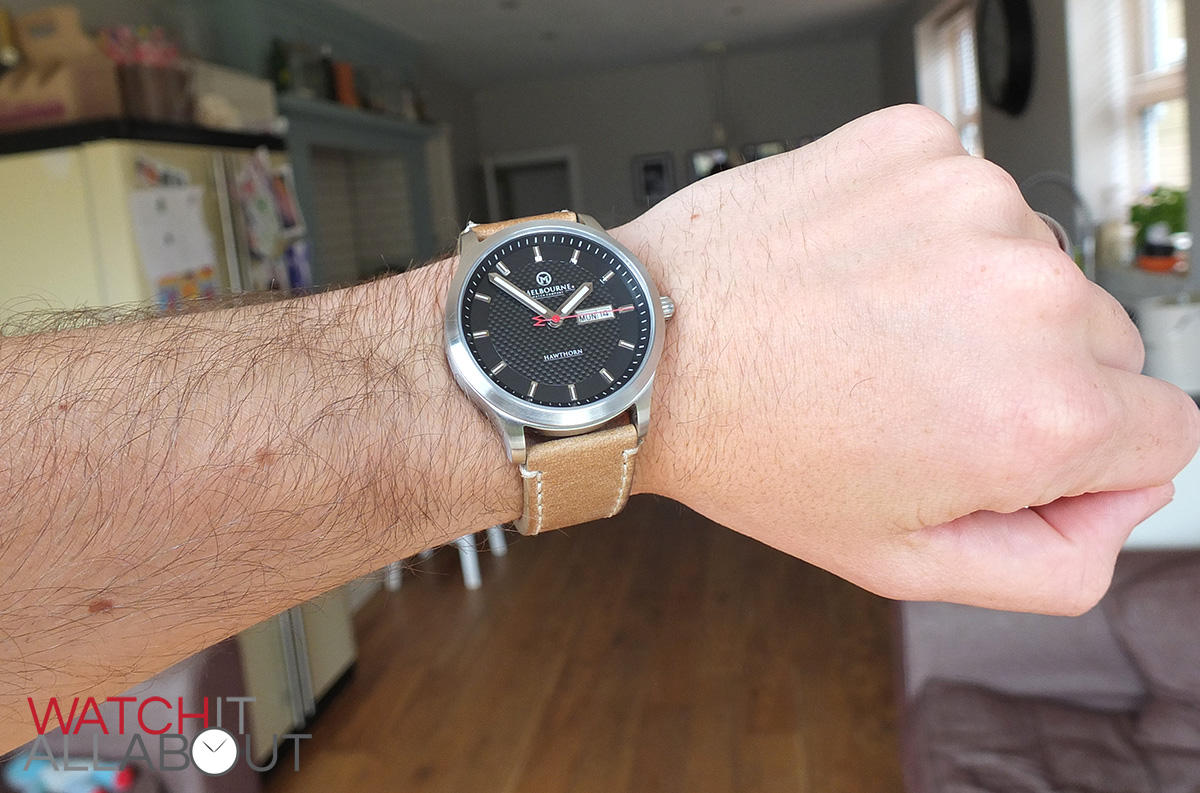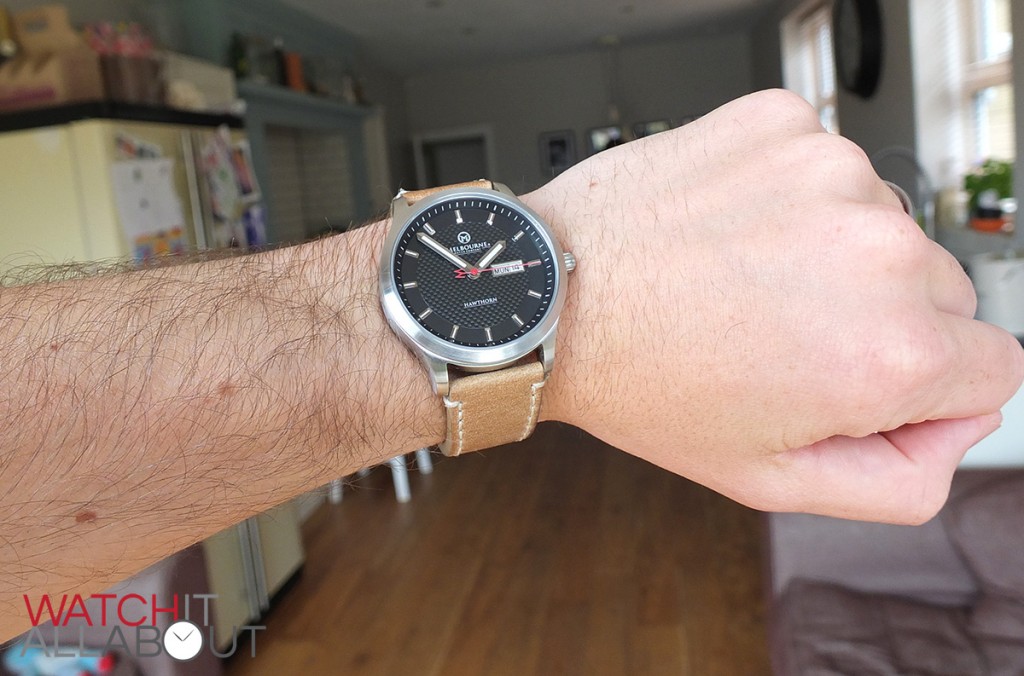 The lugs have a very soft design, with attractive and well machined cornering and edging. They're quite short and angled too, which is why the Hawthorn fits so well on the wrist.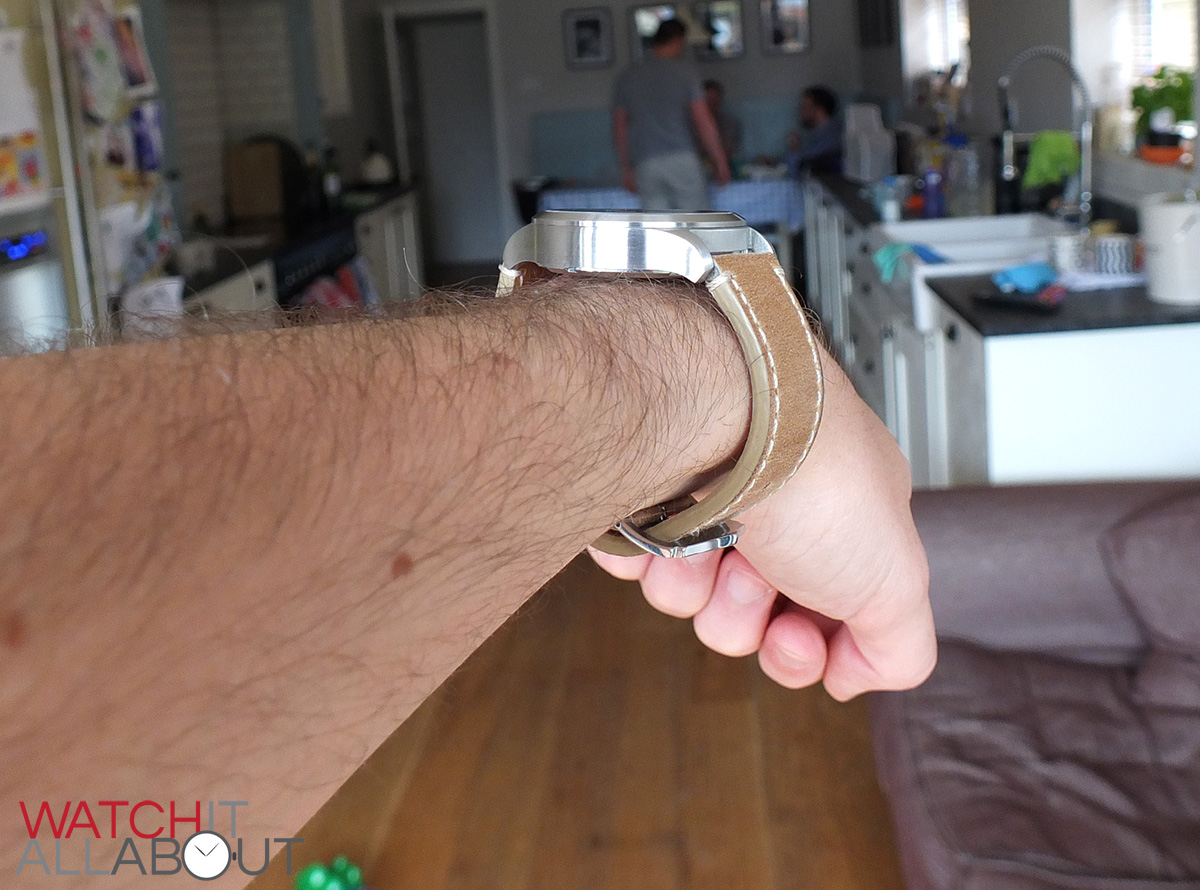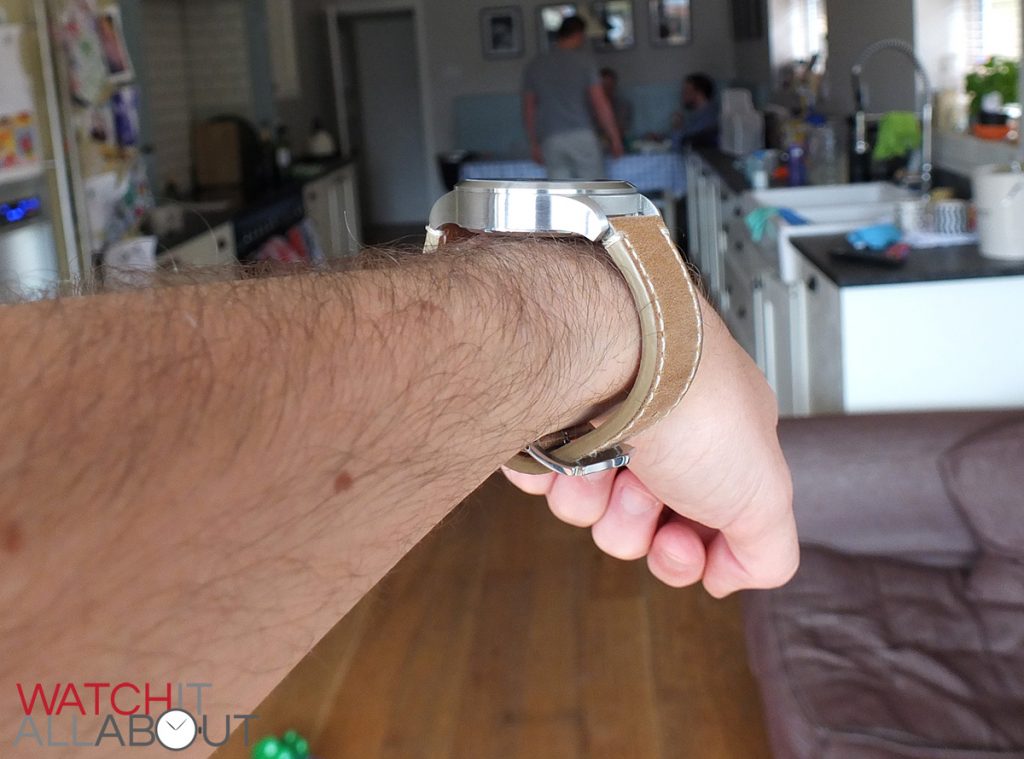 The screw-in crown has the Melbourne logo engraved in the end. Just like the Flinders, I think it's ever so slightly out of proportion, being only just slightly too small. But it's not a big deal, that's just my personal thought.
There are no crown guards present, so you'll have to be careful not to knock or damage the crown. This adds to the very simple, no-nonsense case design and build.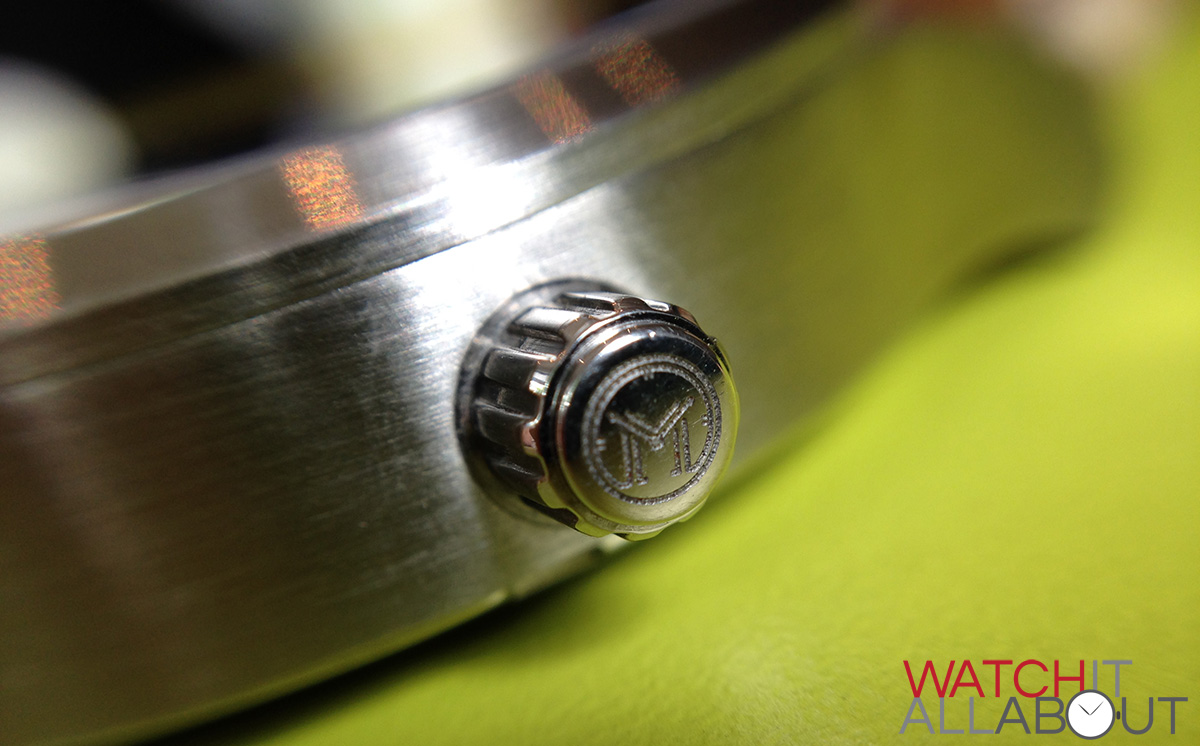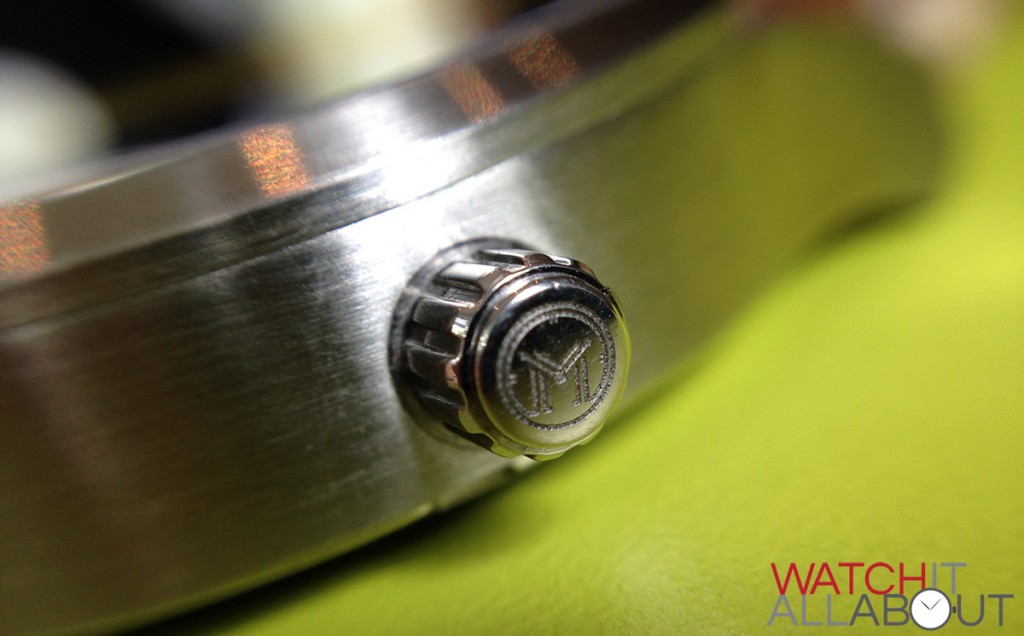 The Hawthorn has an exhibition screw-in caseback, where you can see the movement through the sapphire crystal. This is a very impressive feature for the price, as usually a watch manufacturer would use a mineral crystal there, as it's not likely to get knocked or damaged. As Sujain mentioned in his interview with us, he does this to make sure all Melbourne watches are timepieces you'd be proud to wear, and one that would last a long time. Good for him. The caseback has a brushed centre around the crystal, followed by a polished outer edging. This, and the crown, are the only bit of polished finishing on the whole of the watch so it's nice to see a bit of variety. All the writing (the logo, watch details and serial number) is engraved nice and deep, and done in a very clean and crisp way. It looks very tidy and feels good quality.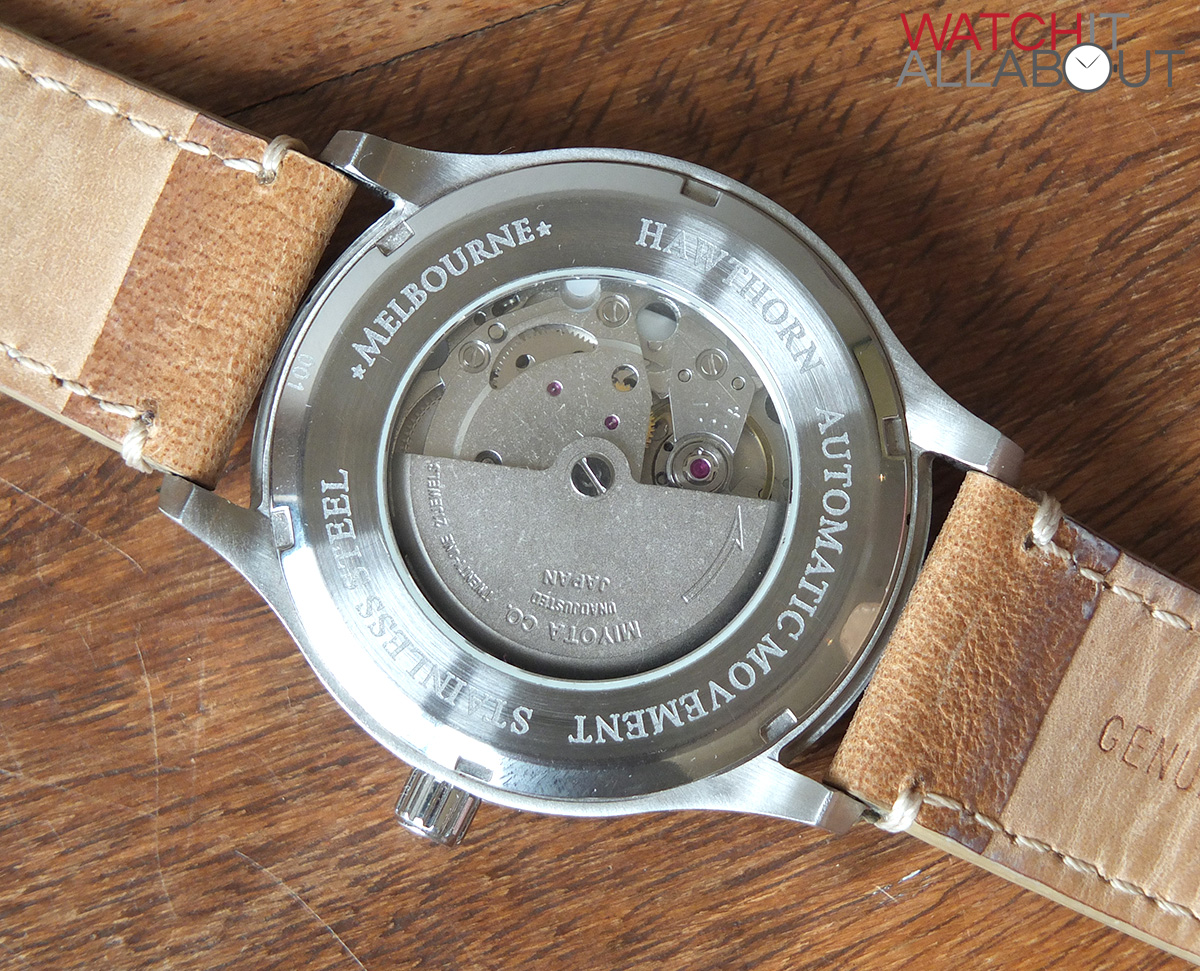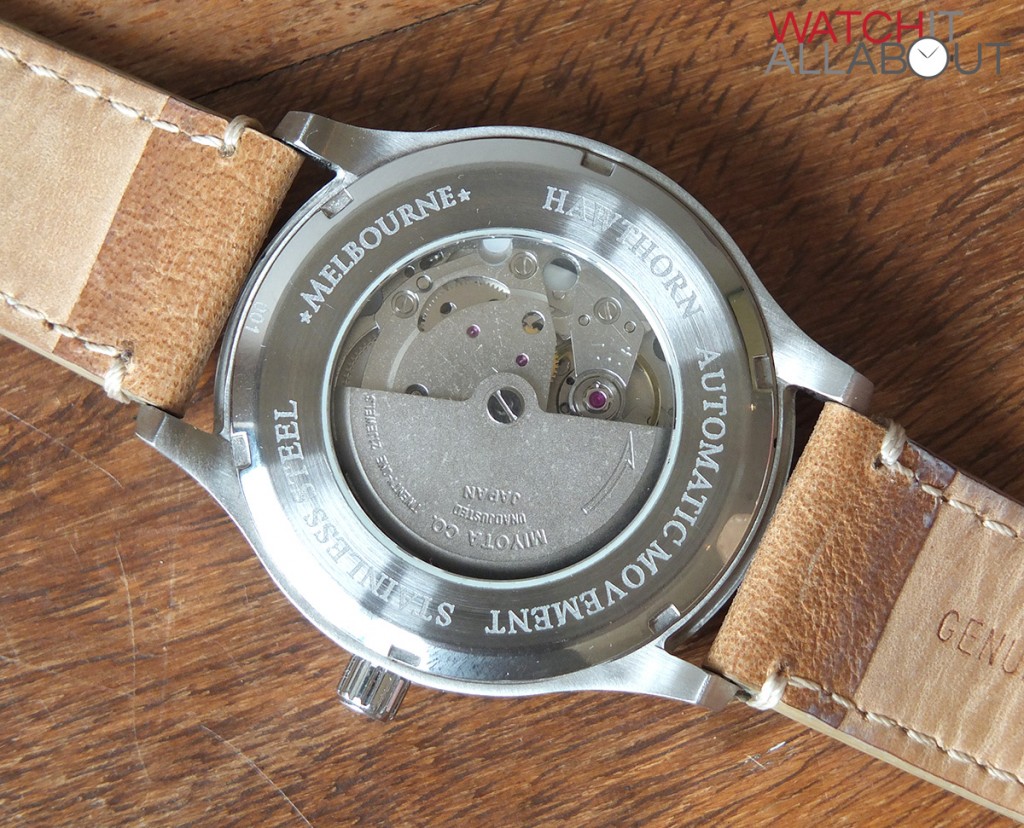 The case is all very well machined and finished, and feels impressive for the price. I really like the tool-like appearance it gives by the way that it is all brushed finishing. I think this is a watch that will prove to be an excellent addition to any watch box, especially for those looking for a casual tool or even a beater watch (although it will happily be a beater watch, I think it's a bit too nice to be used as one).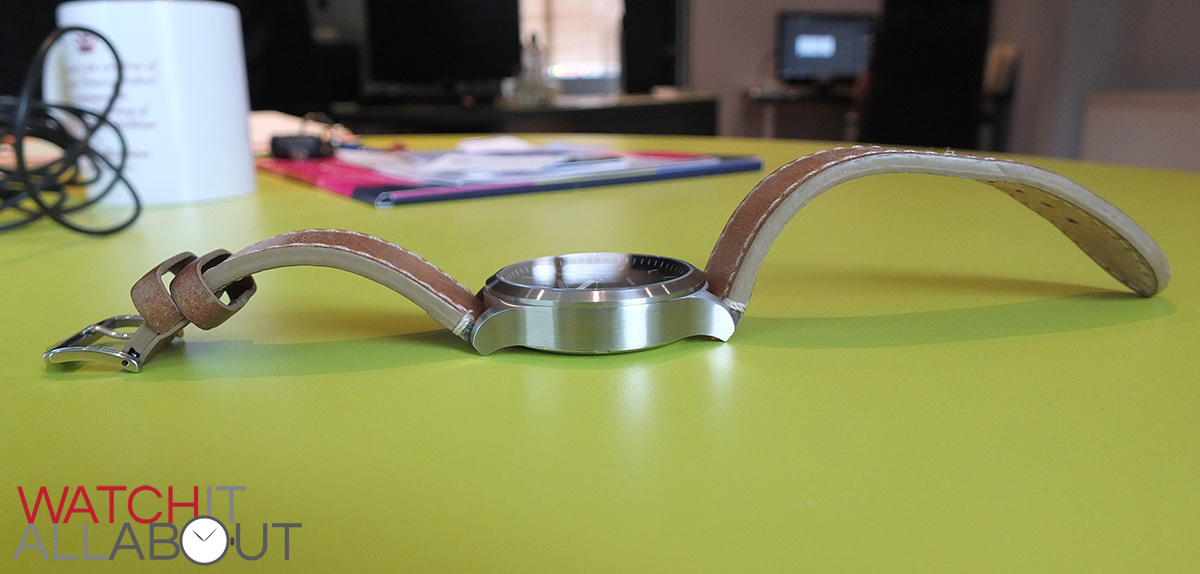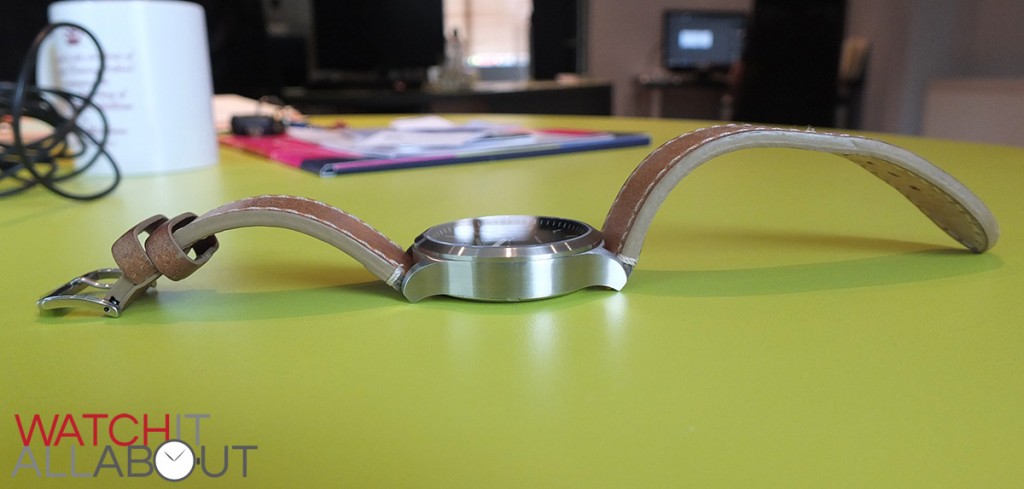 Sitting in top of the case is a sapphire crystal with excellent clarity and a very effective anti-reflective coating on the underside. It does a great job of reducing glare and reflections, as it should, but also delivers the nice slight blue hue when you get the light just right. I find that a decent layer of AR always makes a watch look expensive, even if it isn't. And this is the case with the Hawthorn, it definitely makes it look more expensive than it really is.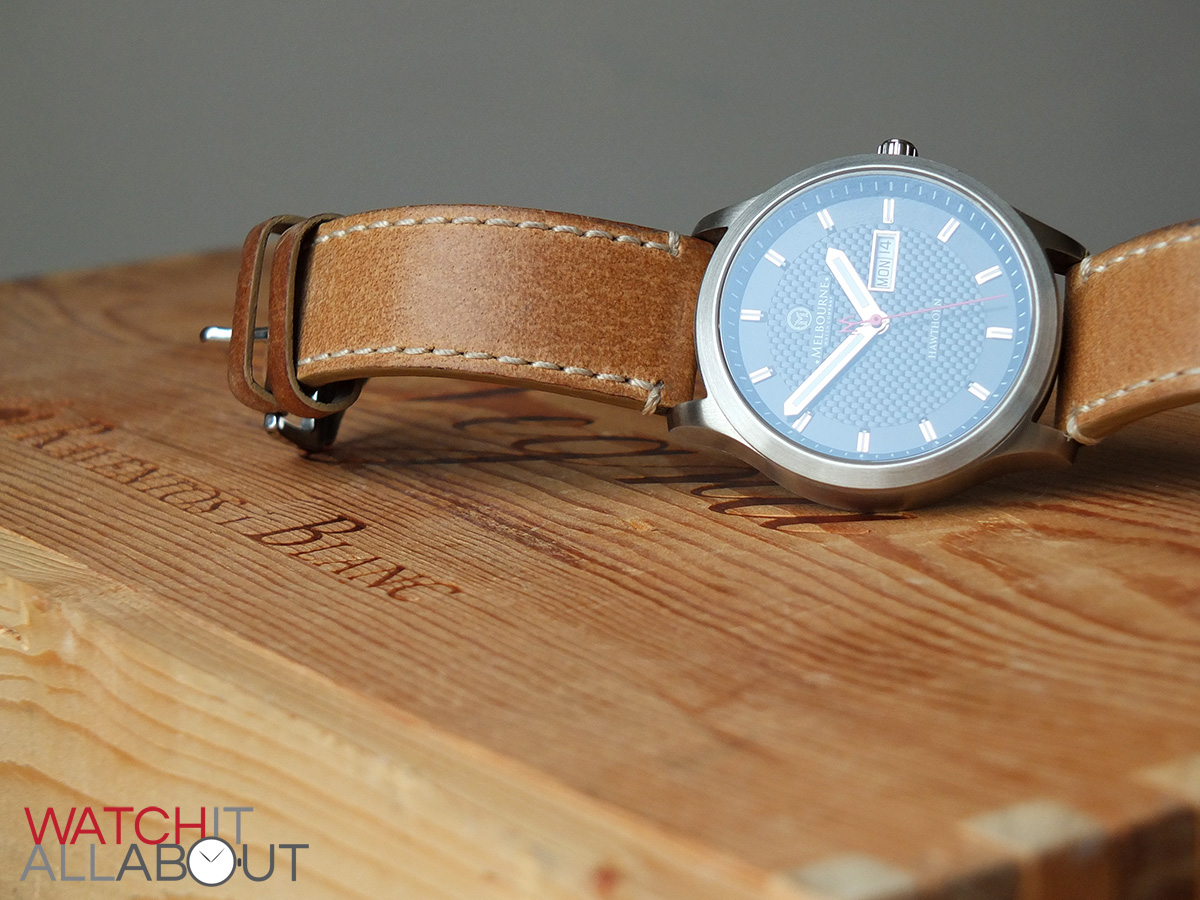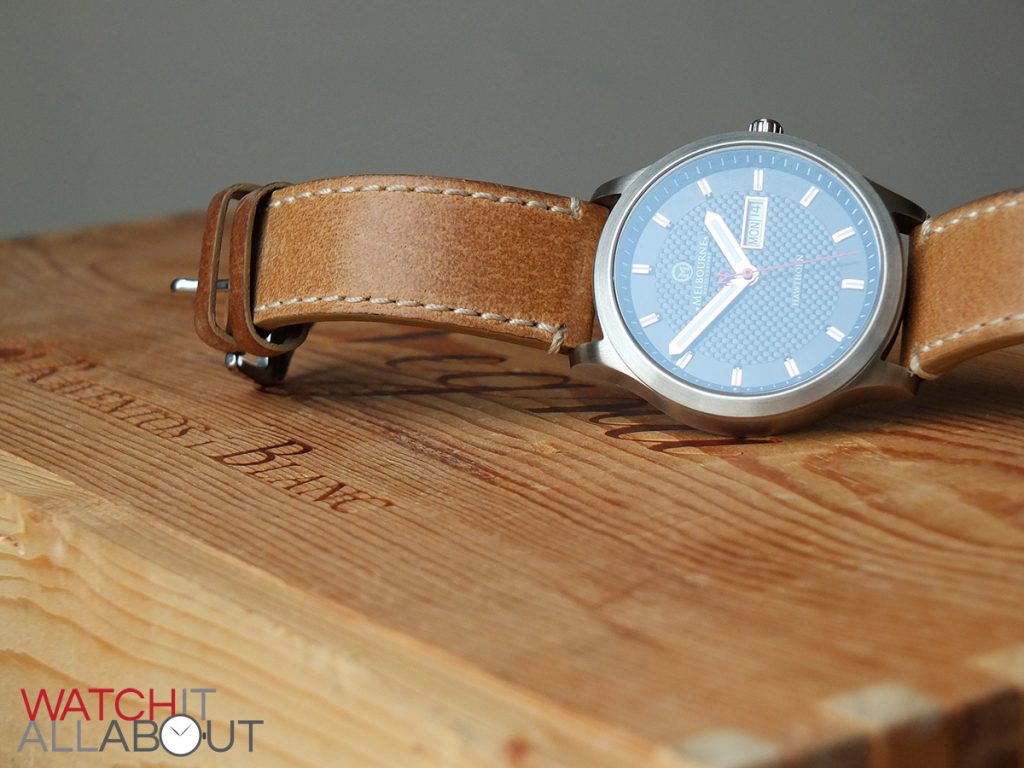 The Melbourne Hawthorn has a 10atm / 100m depth rating, thanks to its screw-in caseback and crown.
To finalise, whilst the case is very clean and simple, it is very well made and feels high quality. The design works well for the tool / casual / sporty type of watch the Hawthorn is.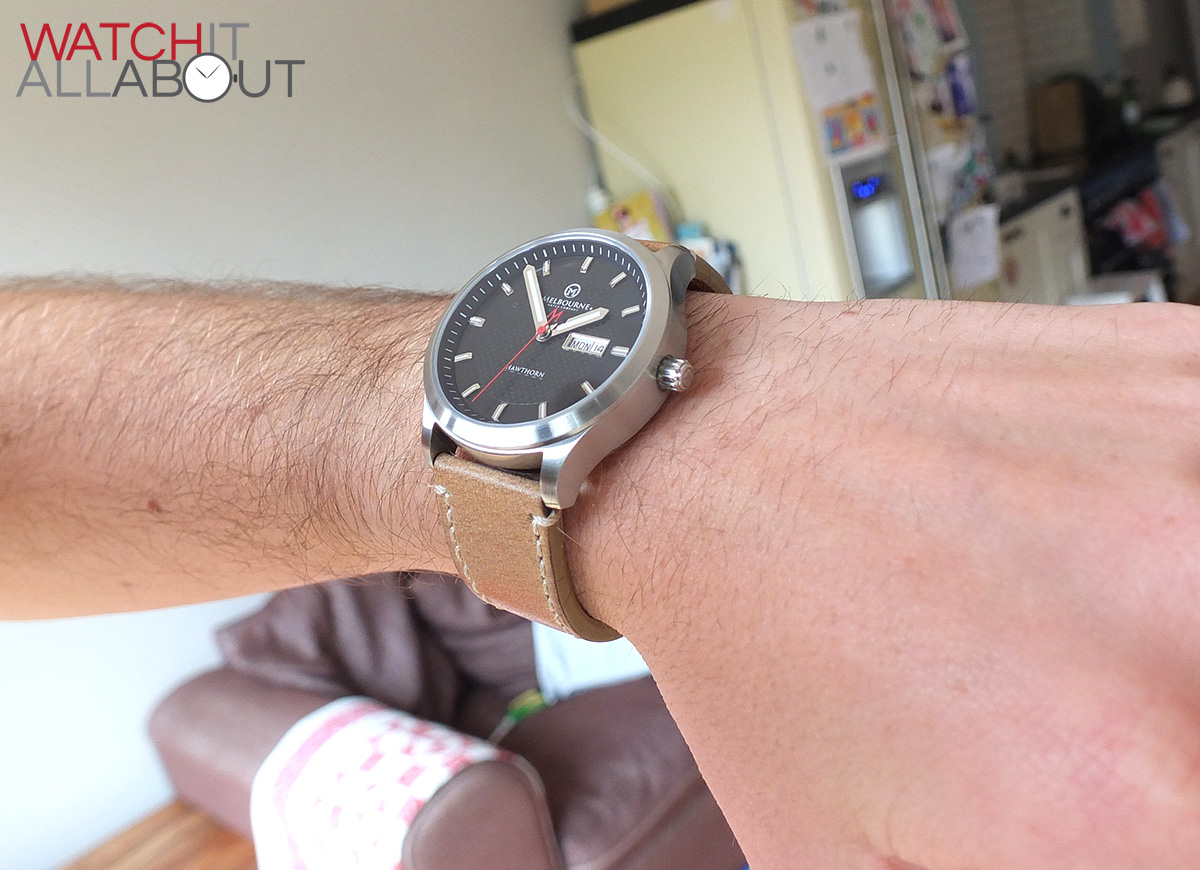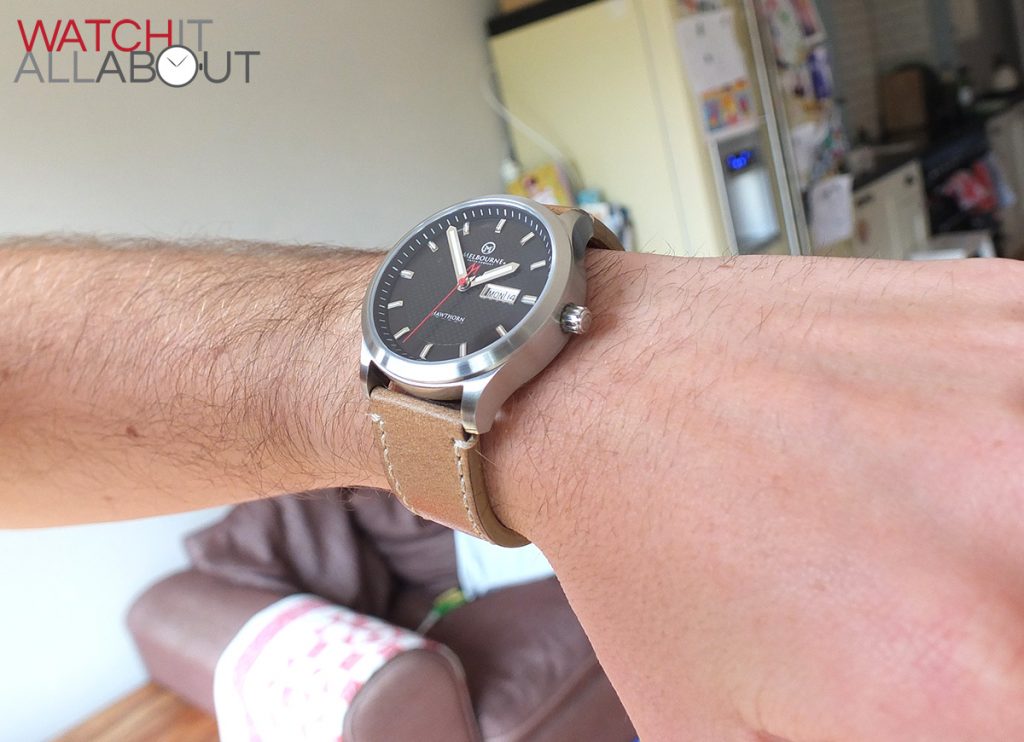 The dial
For me, I feel that the dial is very well designed. It's simple and bold resulting in an extremely easy read, yet has high attention to detail and neat little features which make it really attractive.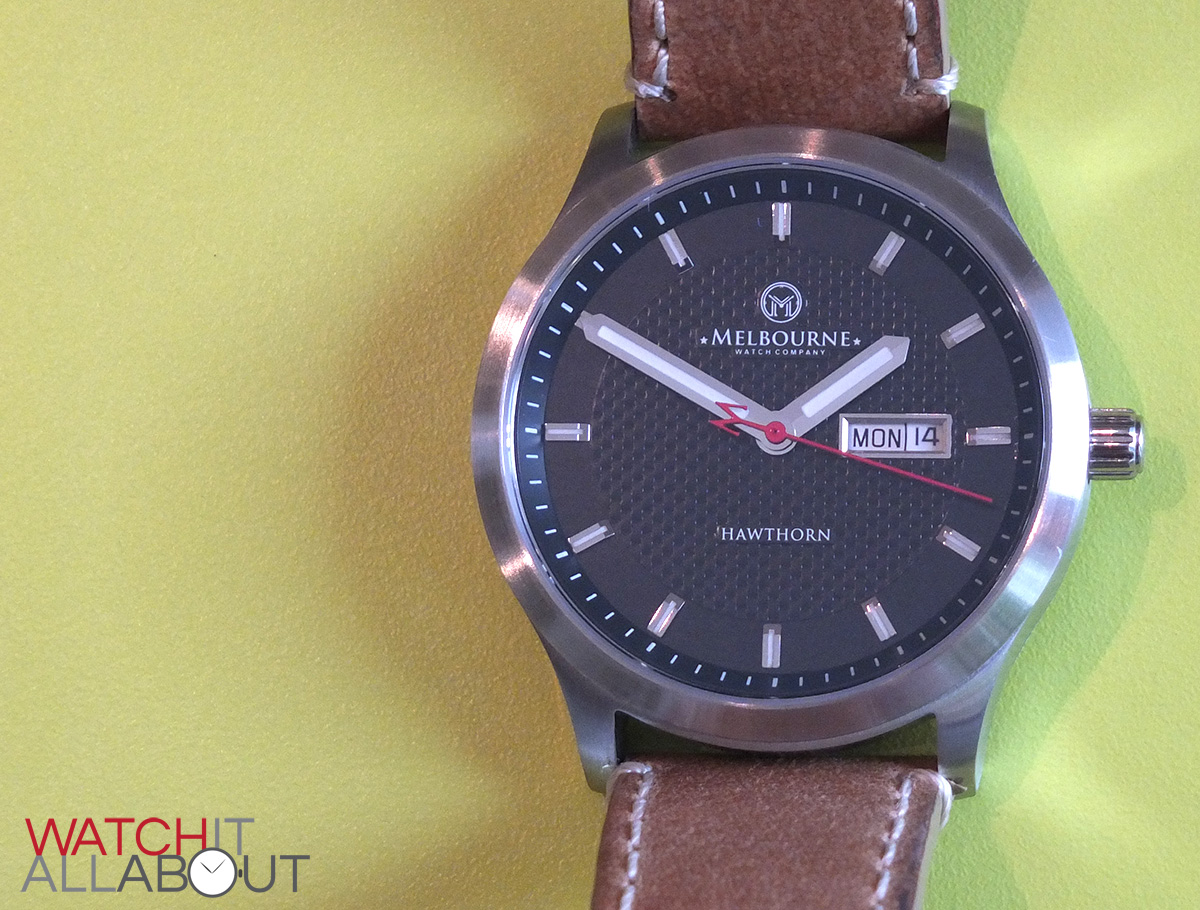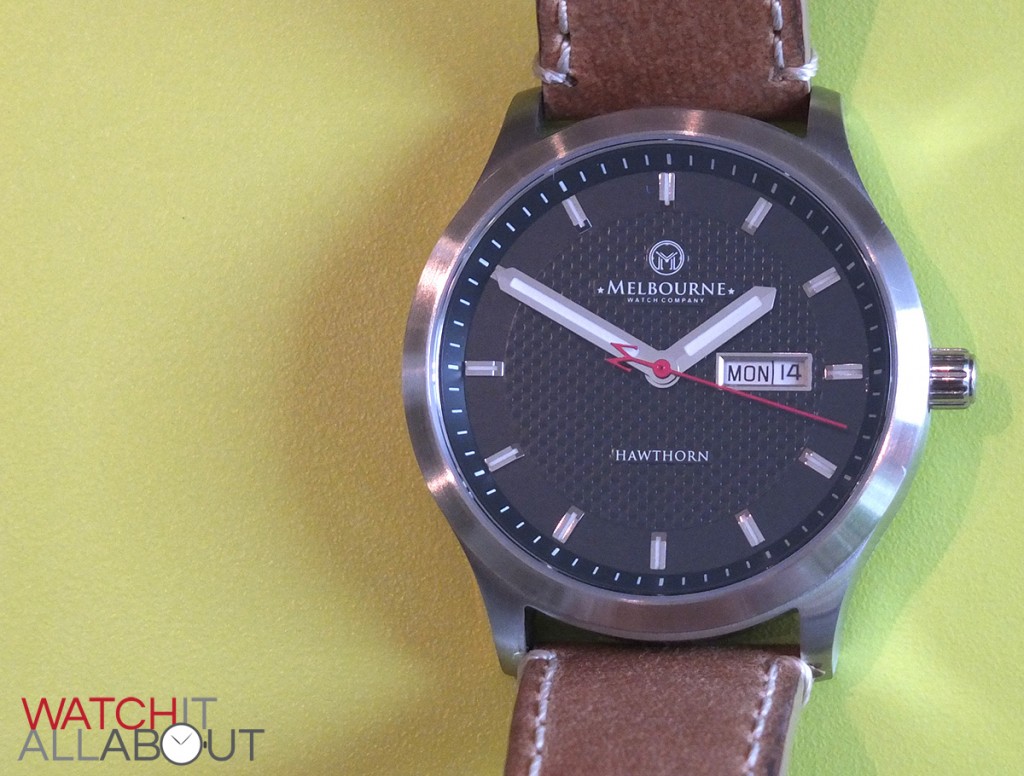 The main feature is the carbon fibre pattern in the centre. It's not overbearing or looks tacky, as some carbon fibre patterns can be, but rather it appears to be well made and matches the sporty feel of the watch perfectly.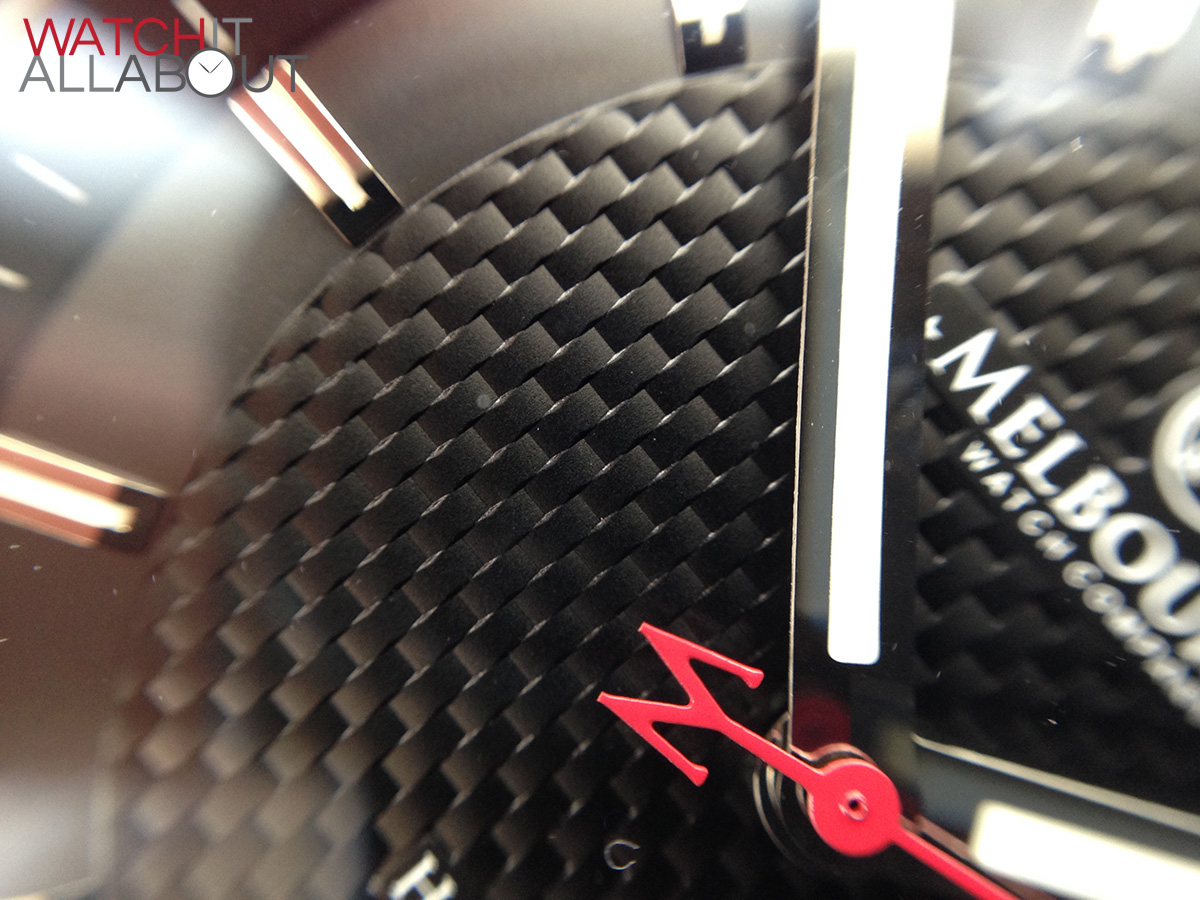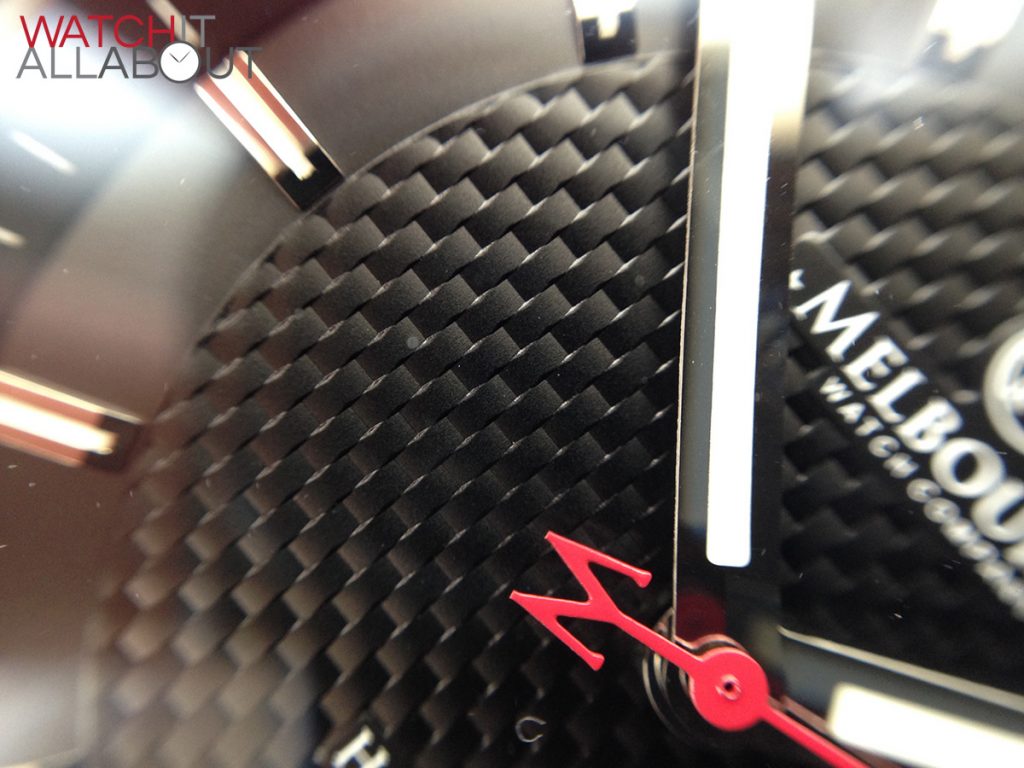 The logo and model name are positioned within the carbon fibre area, in the top and bottom halves. They are situated on their own little raised plaques, so they have a flat back to print on. A very nice feature, which keeps the dial looking clean and crisp. The printing would have looked terrible if it was done straight on top of the carbon fibre pattern.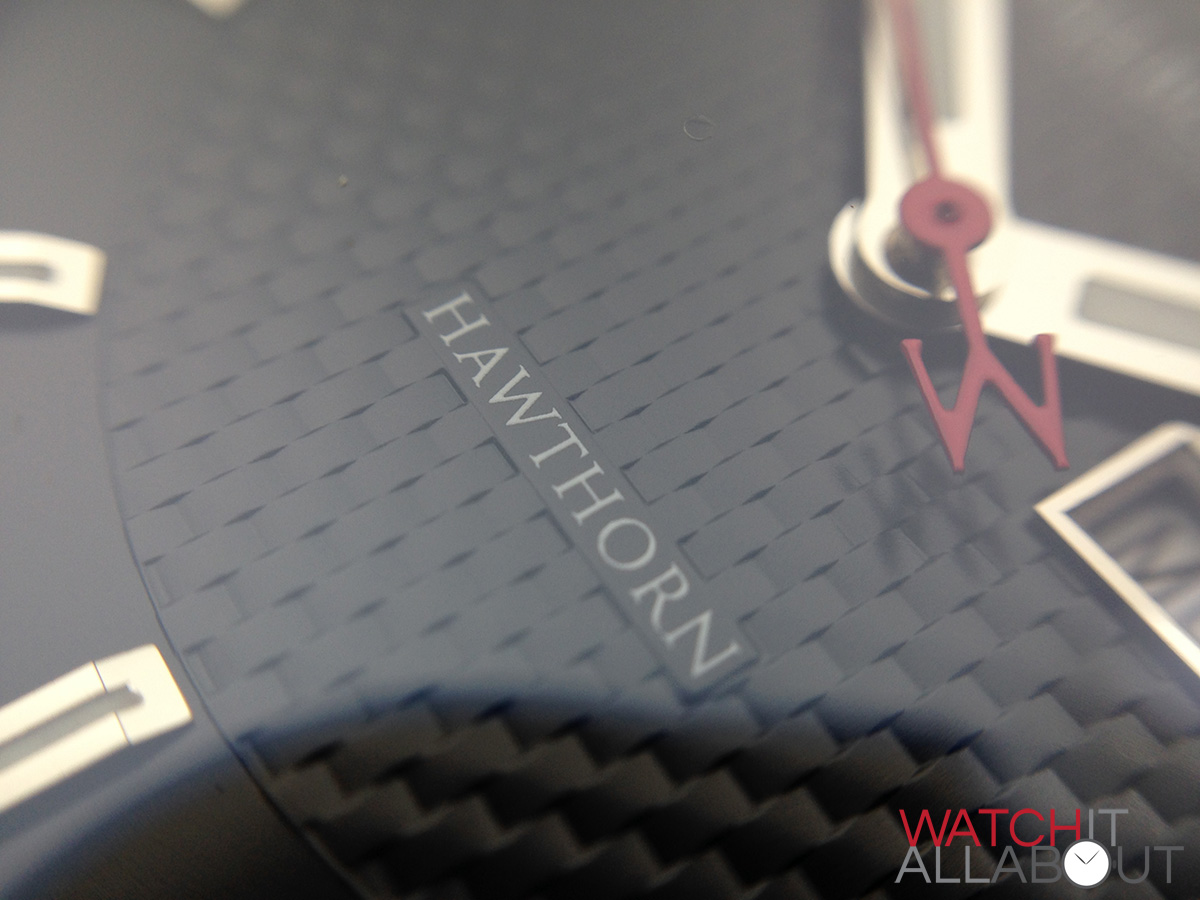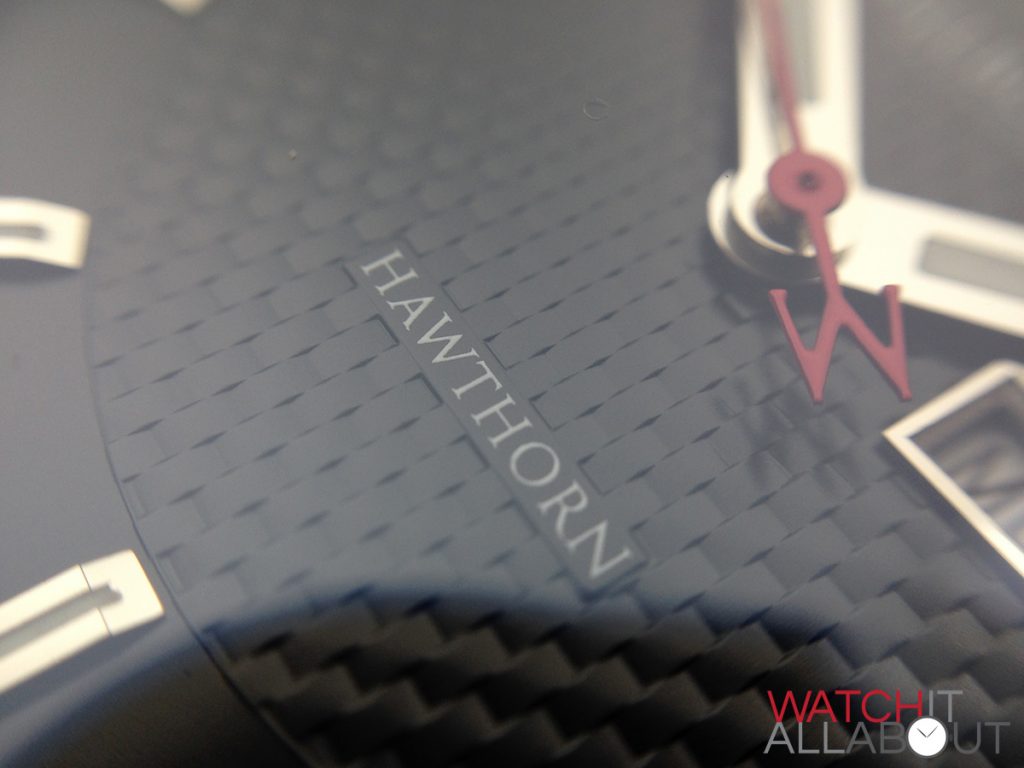 The dial also feature a large rehaut with a bold minute track. This is a great feature as it makes the dial look very large, especially when coupled by the reasonably thin bezel. One thing I have noticed with this is that the minute markers can be ever so slightly out of position around the dial when lining up with the applied hour markers. But this can only really be seen when you look very closely and only happens on a couple of them. Let's not forget the price we're paying for this watch. I still think it's great value for money.
The applied hour markers are the same all around, and are simple enough, but match the overall appearance of the watch so well. They're polished stainless steel, so they reflect and catch the light well. They are a 3-dimensional rectangular shape, with the inside bottom edge angled downwards, slanting in towards the dial. There is also a channel running down the centre, where the lume resides. I'm a big fan of the design and build quality of the hour markers, I think they're a great feature of the dial.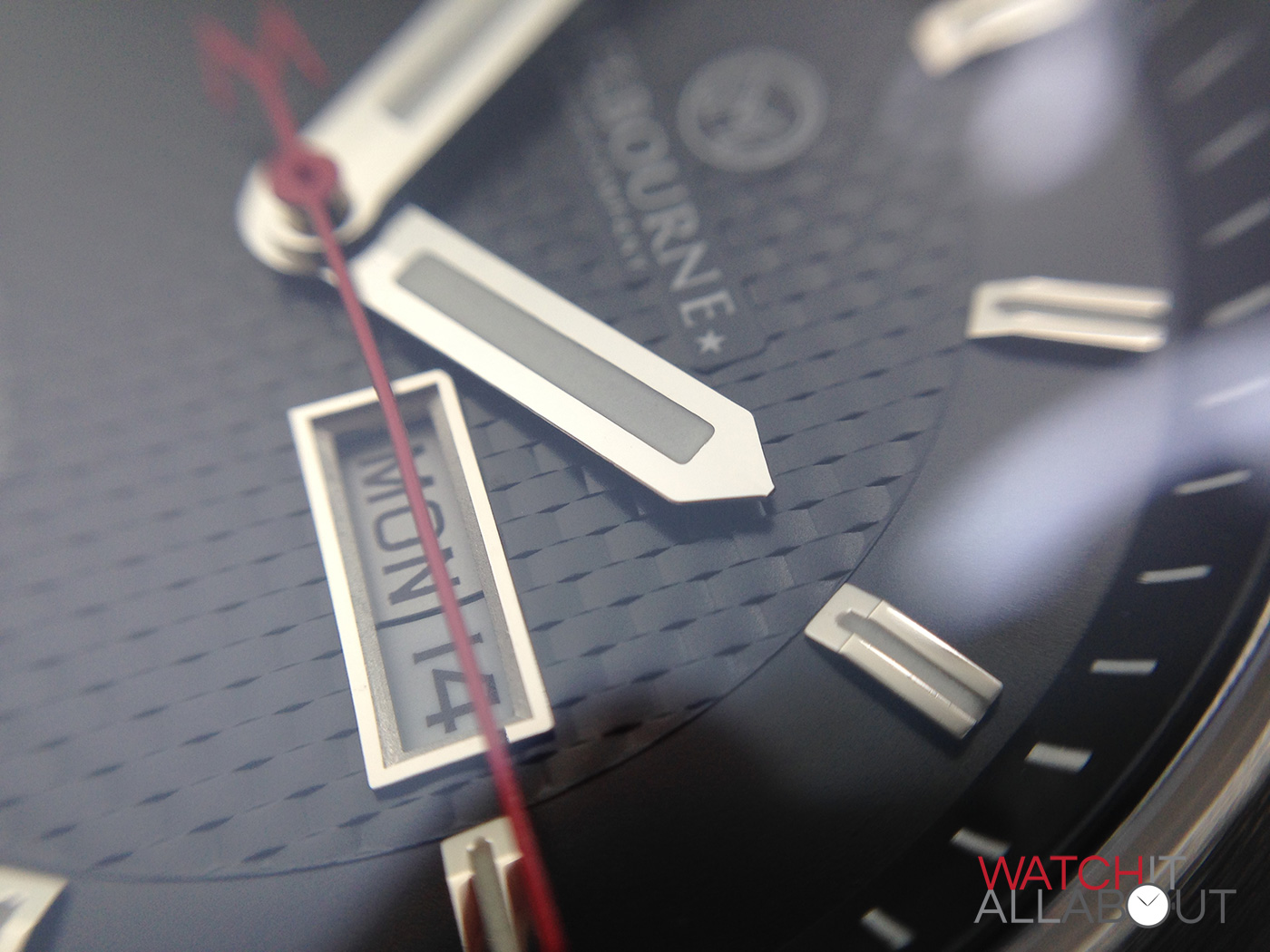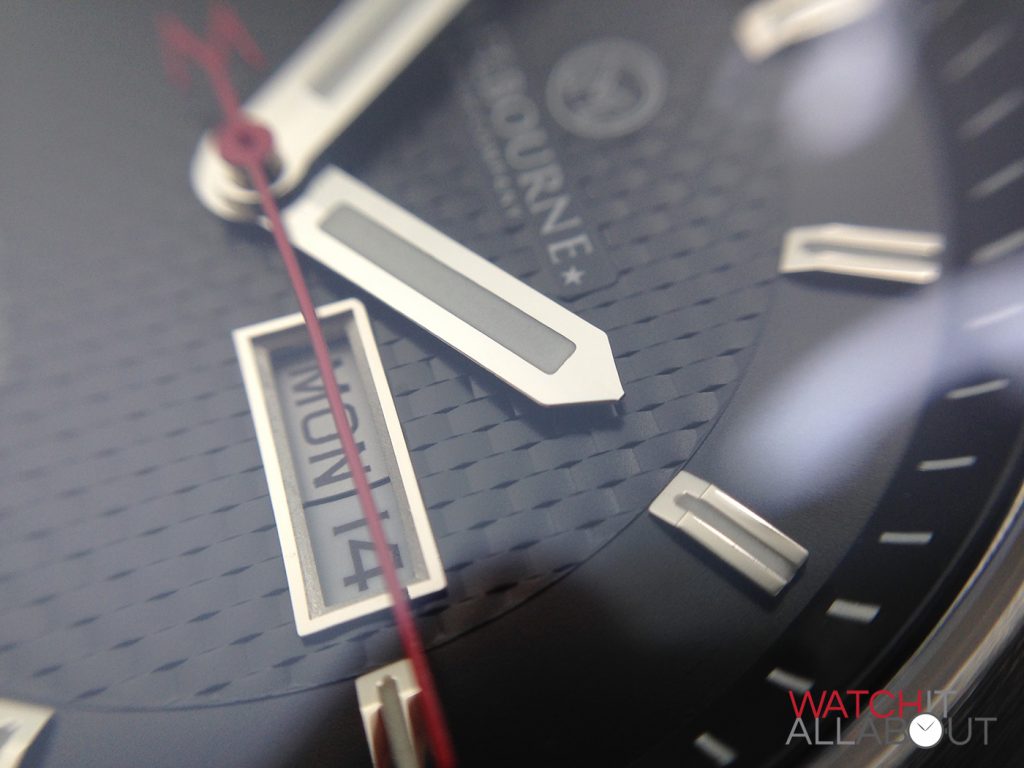 Another feature is the day / date window. You don't see these too often, as a plain date window is usually preferred, but it looks really well balanced on the Hawthorn. Sometimes they can be a bit overbearing, or make the dial look lob-sided. On the Hawthorn, it's done in a really subtle and elegant way. It has a very well executed and applied polished border surrounding it, which is a nice touch – it looks great when you look closely at it, very good attention to detail here.
The day and date wheels are no doubt the stock wheels that come with the movement, as the second language looks to be either Chinese or Japanese. Still, they fit the window and line up well.
All the printing on the dial is exceptionally clean, crisp and accurate. It seems to be much better than the Flinders.
The hands are all extremely simple, yet there's something so elegant to them that I love. The hour and minute hands are straight, with a small point on the end. They have a rectangular lumed centre, which matches the design of the hour markers. The second hand is also very simple, being a thin red point, but with the added design cue on all Melbourne watches, that being the "M" used as a counter-weight. As I mentioned in the Flinders review, some people think that the M is upside-down and should be the other way around. But it doesn't really make much difference to be honest, as it still shows up the correct way, just when the hand is pointing downwards rather than upwards. The second hand is a sporty red colour, and has just the right amount of lacquer on it. Some red painted hands can look really shiny and tacky, but I'm pleased to say that this is not the case here. All of the hands have no signs of bad machining or any tool marks, they all hold up very well when inspected under a macro lens.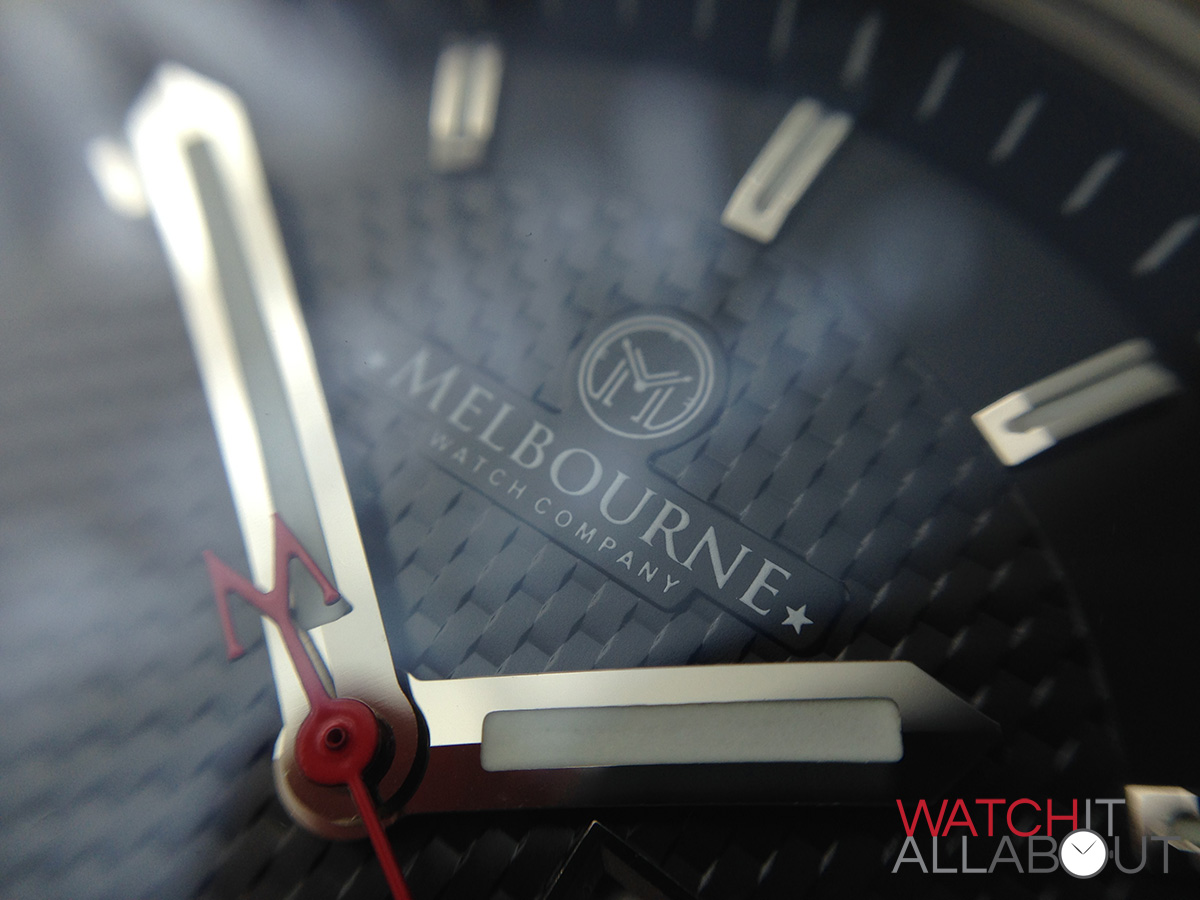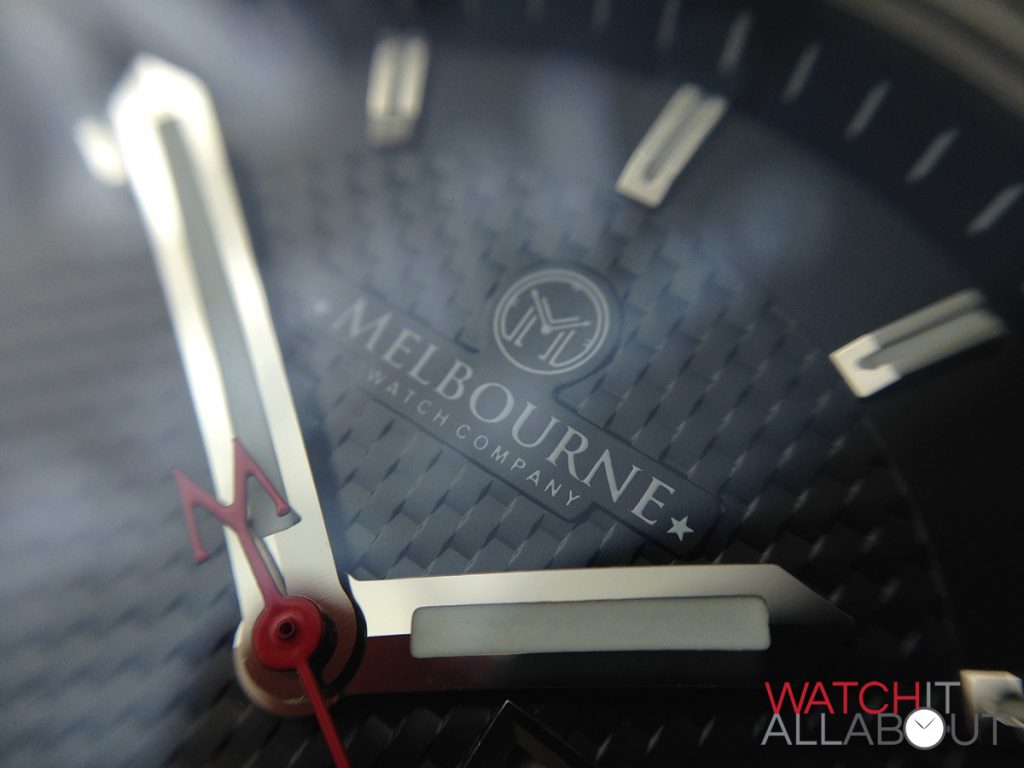 The lume used on the hands and hour markers is C3 Super-Luminova. It works very well, charging quickly, glowing brightly and lasting a good amount of time. To use this type of lume is impressive on a watch of this price.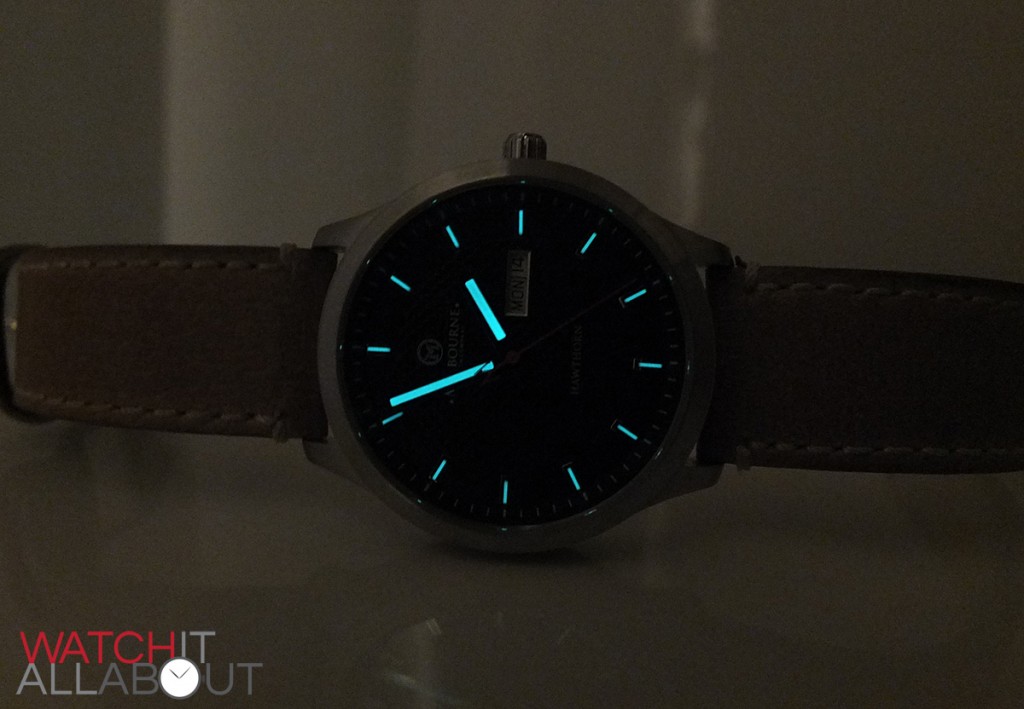 So the dial, although being simple, offers a sporty look which is well designed and made with great features.
The strap
The strap I have is the tan coloured strap, and boy is it awesome. It measures 22mm wide at the lugs, reducing to 20mm at the buckle.
The quality of leather is brilliant, it's lovely and thick, and the colour is fantastic too – being a sandy colour. This does mean that with time it starts to get some darker patches here and there after wearing it for some time, but decent quality leather gets better with age and that's what I've noticed with the strap on the Hawthorn. For instance, I wear my watches on my left wrist, and slightly down the very outer edge and corner of the strap some minor discolouration has appeared (it's gone a bit darker). I believe this is due to when I walk, my wrist sometimes rubs against the side of my trousers. But, I think it looks pretty cool having a strap with some character. It certainly doesn't detract from it.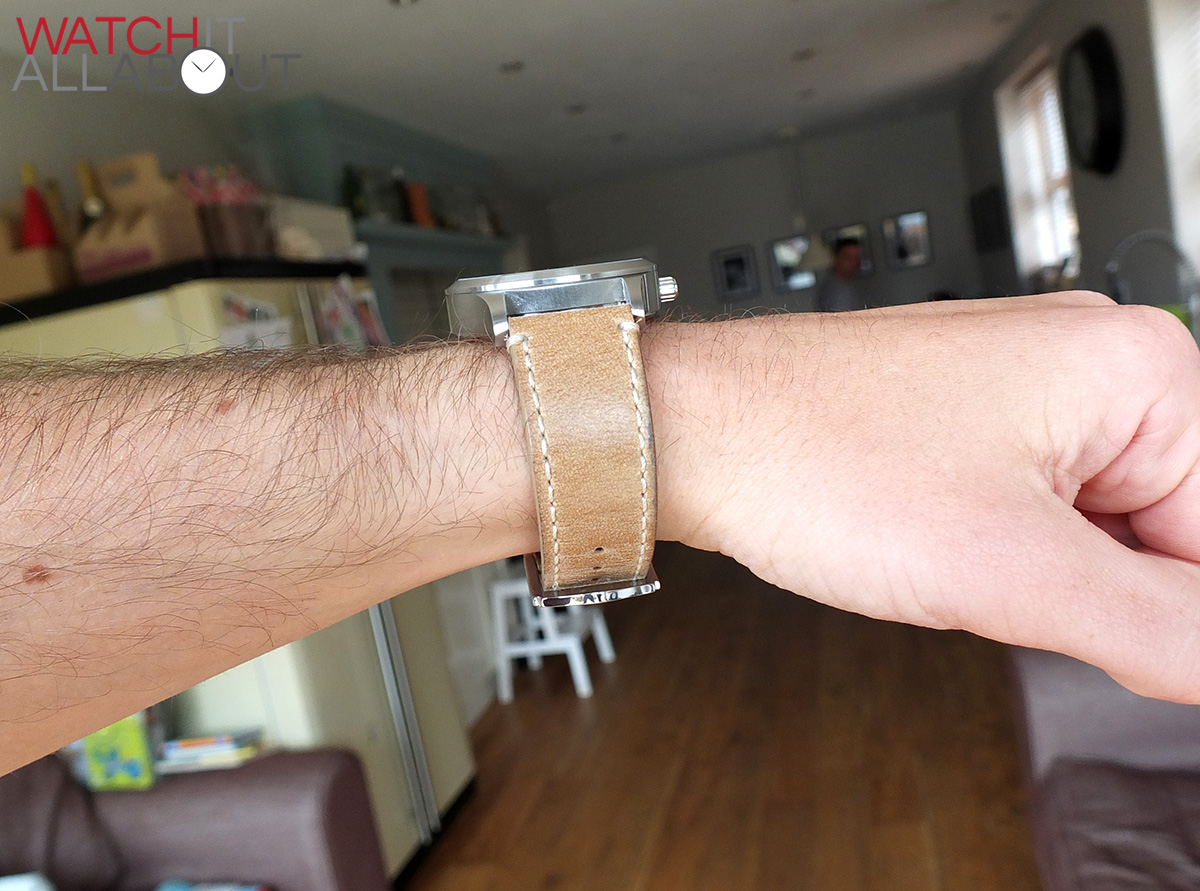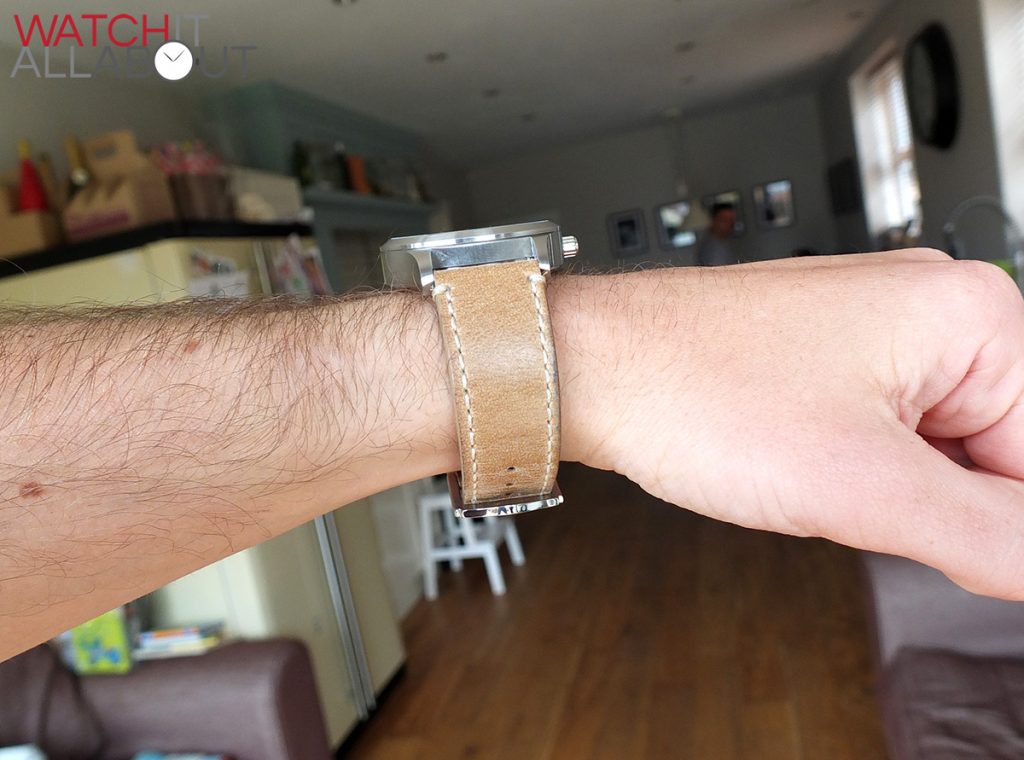 The strap has thick white stitching running along both sides, reassuring you that it's well made and not going to fall apart anytime soon.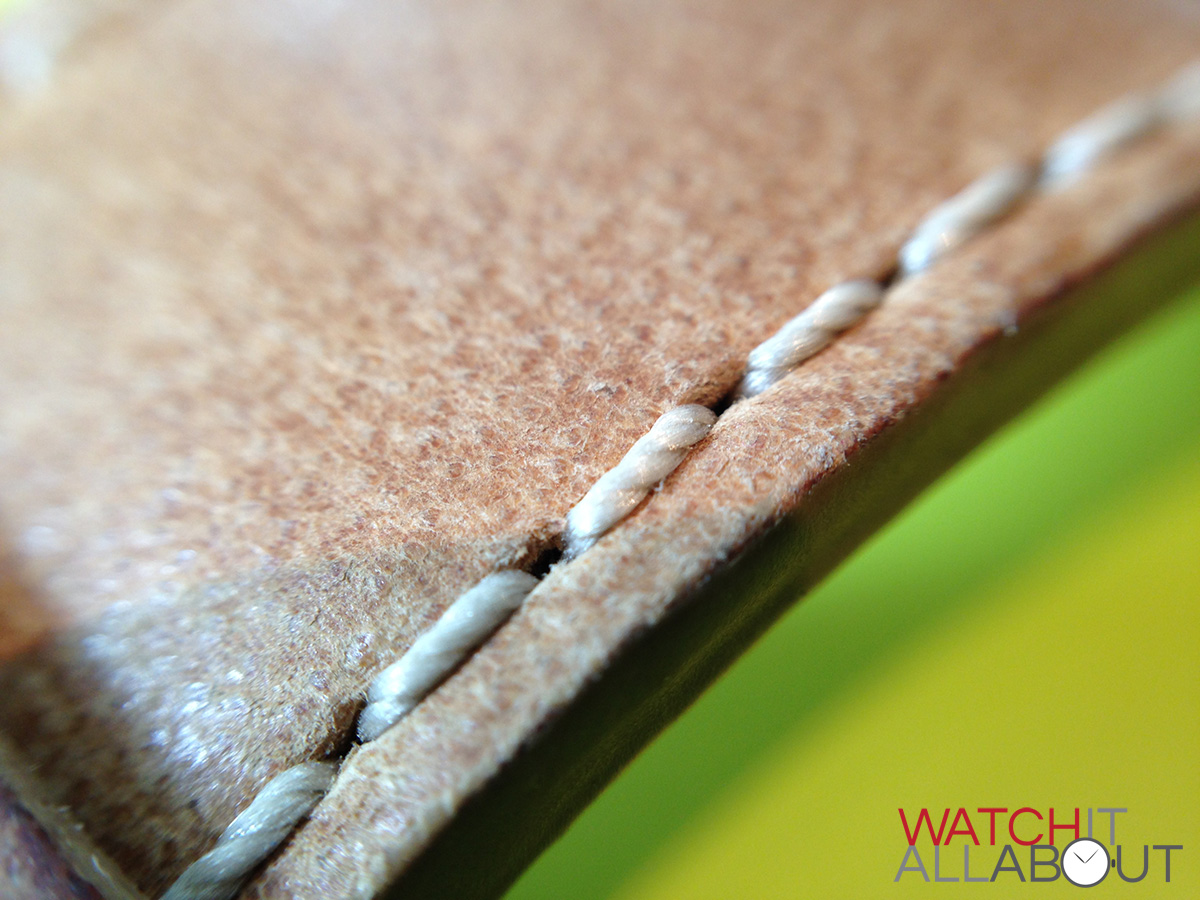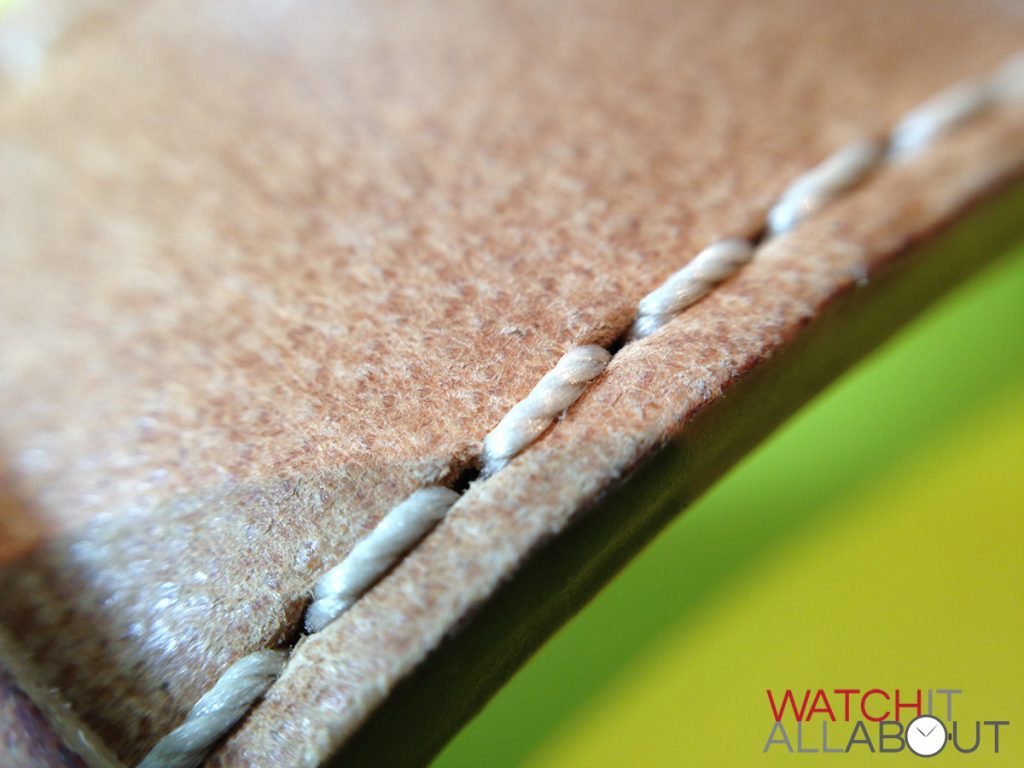 The feel of the strap is extremely soft – it's very supple and malleable too. This results in a very comfortable wear. So comfortable in fact, that I wore the Hawthorn almost everyday during my recent holiday to Italy. It was boiling hot, which usually means that the watch I wear comes straight off for being uncomfortable. But I found that it was ok with the Hawthorn.
The strap loops are a similar story, being very thick, high quality and sturdy. They do a fine job at what they're supposed to do – keep the strap in place!
The buckle is a similar design to the Flinders, being a slightly unusual shape, which I like. It has a bulbous centre on the top side, which houses the round Melbourne Watch Co's logo, which is deeply etched.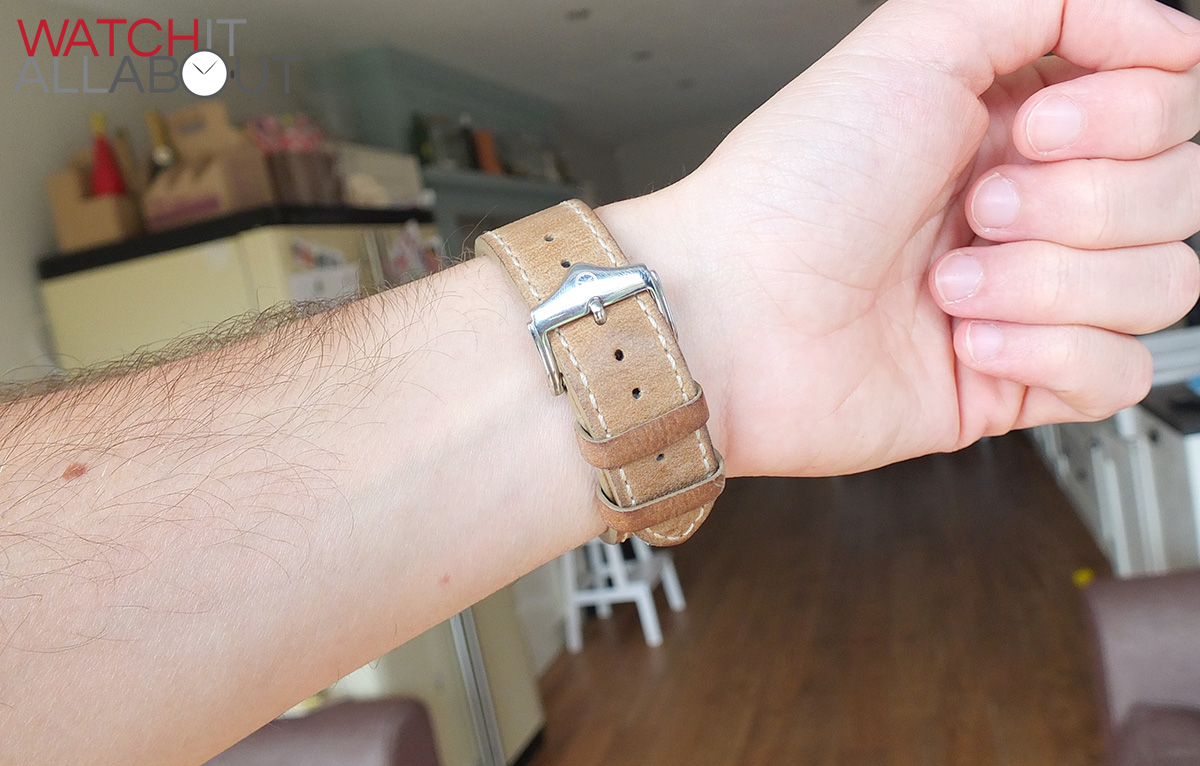 The whole buckle is polished stainless steel. Personally, I probably would have preferred it brushed – not only to match the case but also to increase it's resilience to scratches. It's picked up quite a few, and being that the Hawthorn is portrayed as a sporty / casual / tool watch, I think it would have made more sense. But nevermind.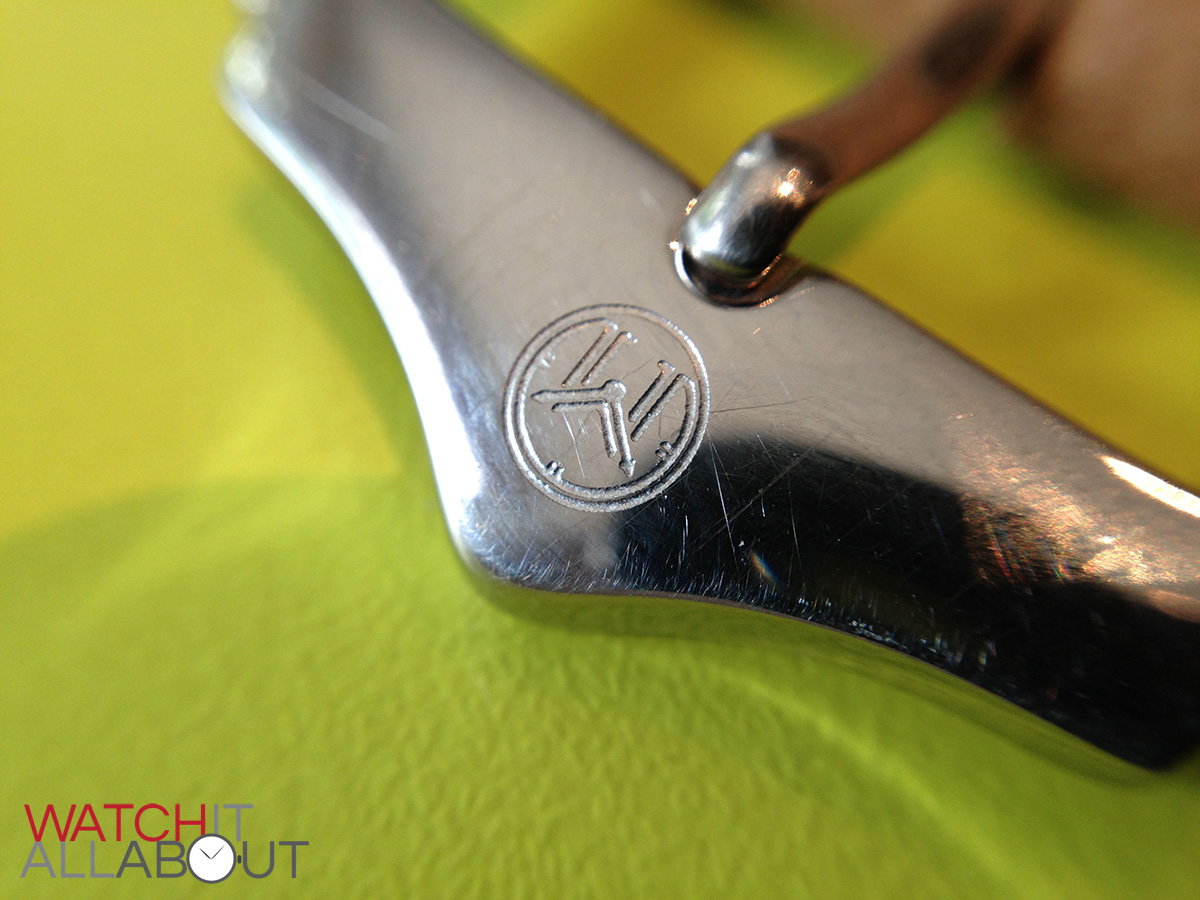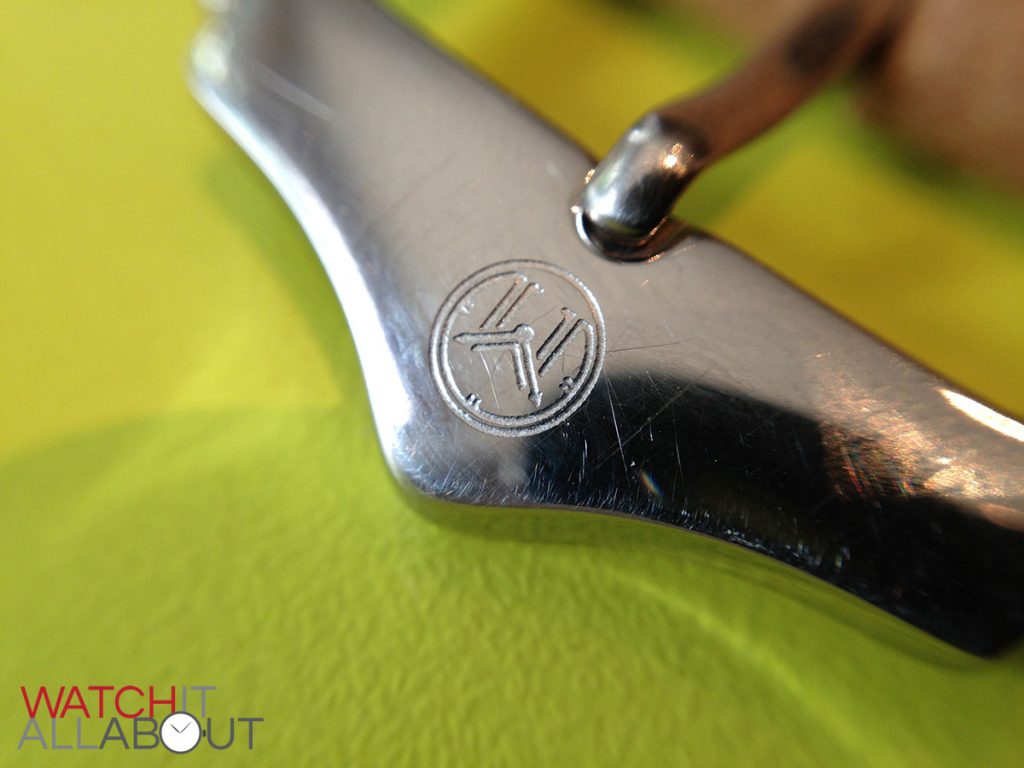 Size-wise, the strap is pretty well balanced. I've got an average 7.5″ wrist, and I wear it on the 4th out of 8 holes. So there's plenty of room for those with larger or smaller wrists.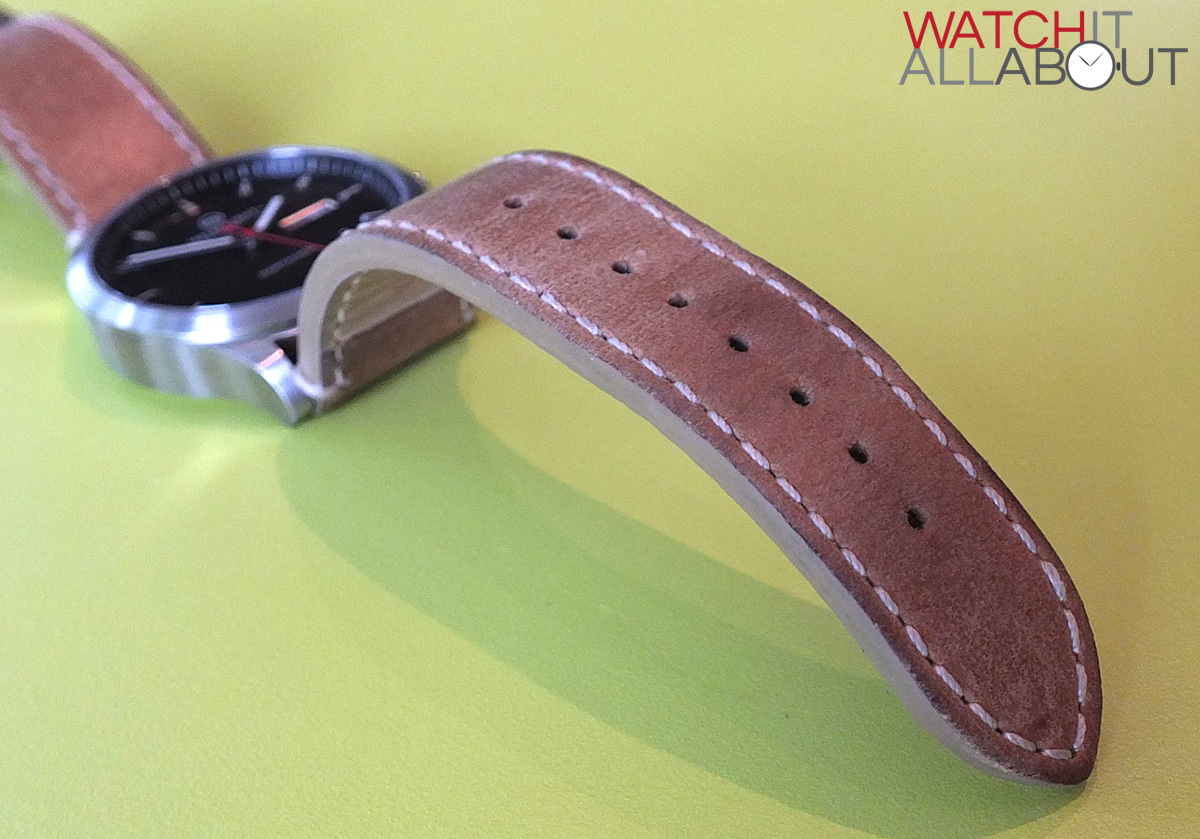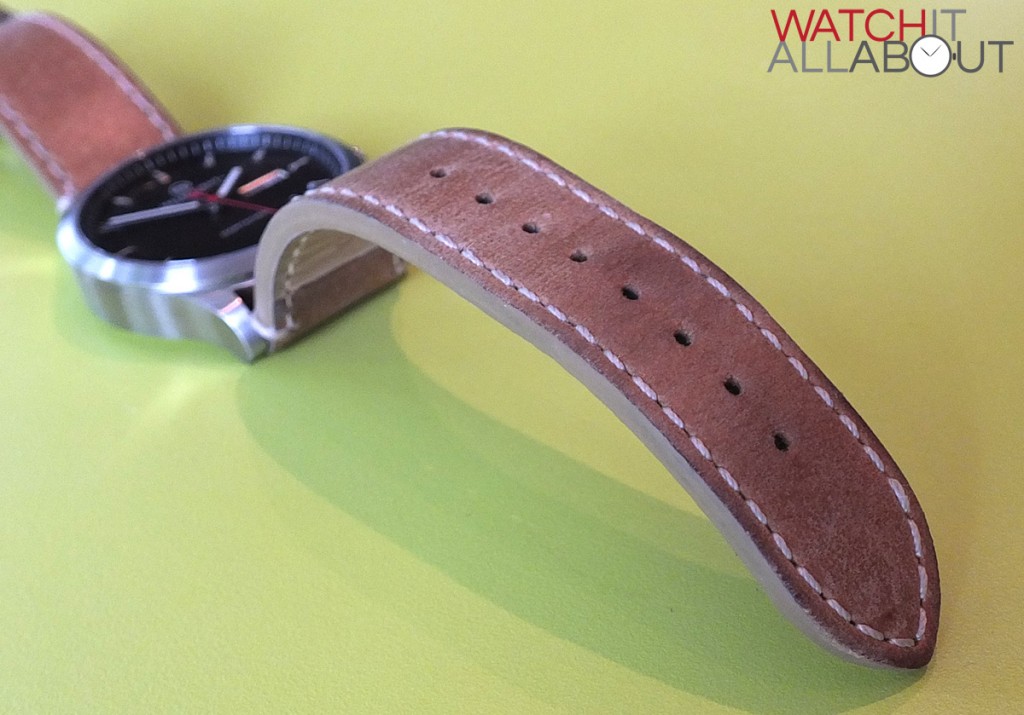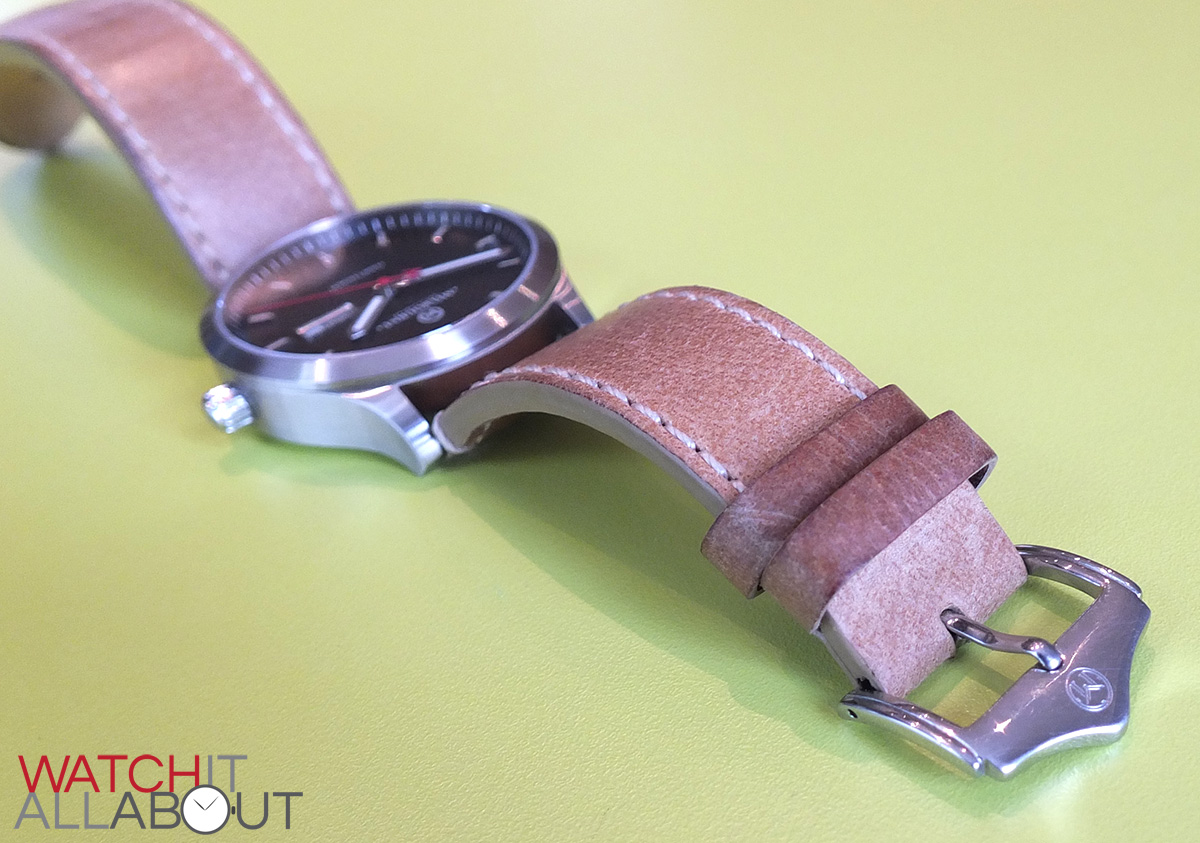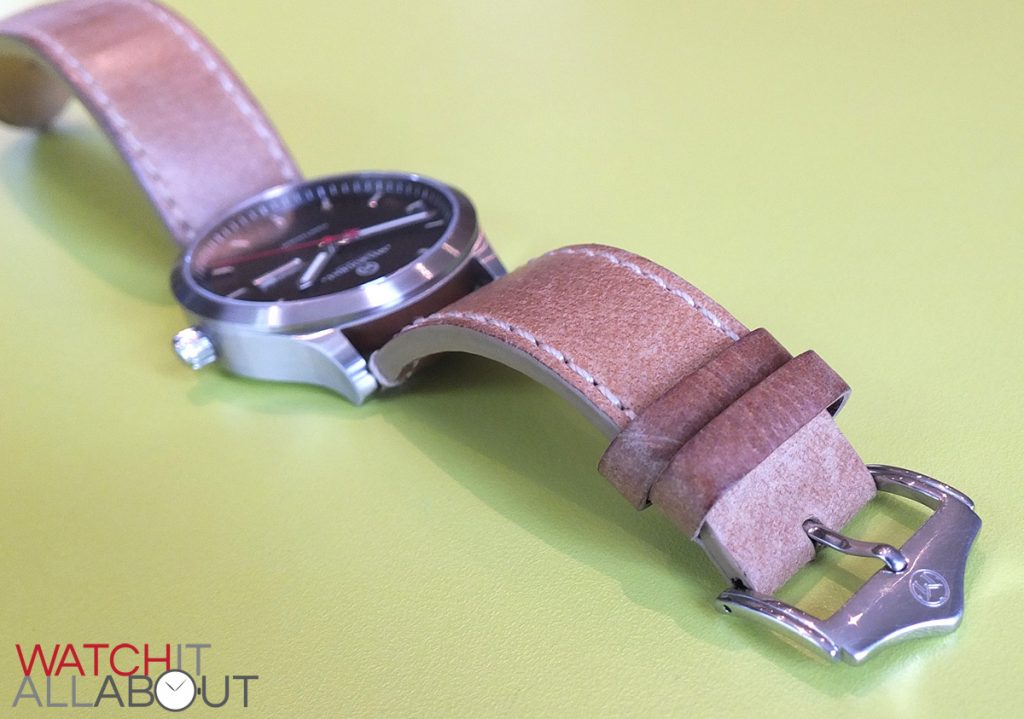 In many instances, the strap can make or break how a watch looks and the overall quality it conveys. Fickle really, as the strap can be changed so easily. But with the Melbourne Hawthorn, the strap is most definitely a key feature and just compliments the whole package. It really does the watch justice and I can honestly say it's one of the best straps I've seen on a watch in this price range. You won't be needing to change it when you take delivery of your lovely new Hawthorn.
The movement
The movement used in the Melbourne Hawthorn is the Miyota 8205. Miyota are owned by Citizen, and the 8100/8200 range of movements are know as their sturdy workhorse offerings, and are widely used in watches priced up to $500.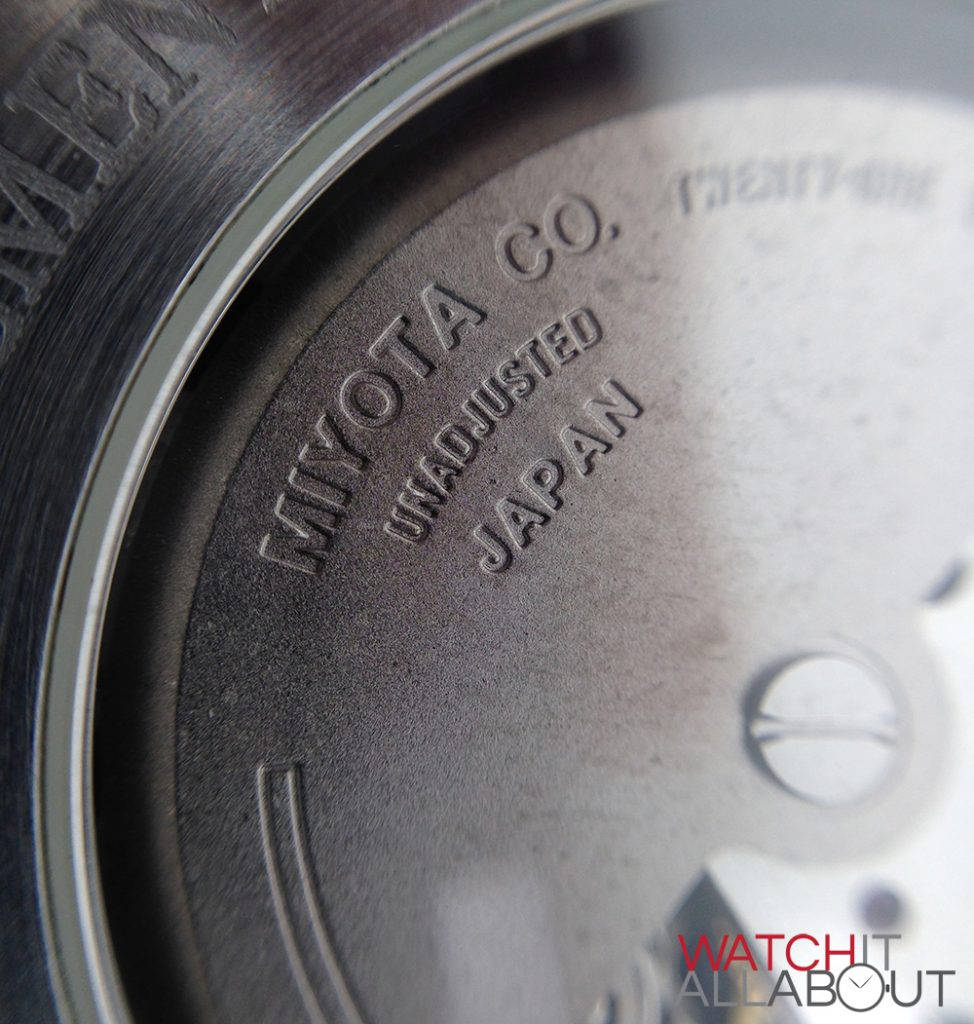 It runs at 21.6k bph, which equates to 6 ticks per second. Obviously not quite as smooth as 28.8k bph, so if you're used to a high beat mechanical you'll notice it being slightly more jerky, with a little more wobble. However, as far as this beat rate is concerned, the 8205 is fairly smooth.
The movement also features hand wind ability, but has a non-hacking second hand. This can put some off as the second hand doesn't stop when you pull the crown out to set the time, so you can't set an accurate time easily. Personally this doesn't bother me, but for some it does – so I thought it was worth mentioning.
The time keeping has been slightly fast, as in around 10-15 seconds a day. This is perfectly acceptable for an affordable automatic.
You're pretty much guaranteed a reliable movement which will go for a long time with the Miyota 8205. It's not the highest spec, or the most beautiful, but it'll do just as you ask of it.
Final comments
I love the Melbourne Watch Co Hawthorn, no exaggeration. As usual, personal preference means a lot when it comes to watches. Personally, I like a good no-nonsense tool watch, and this what I've got. For the price, you are getting a steal – great strap, sapphire crystal on the front and back, good AR coating, sturdy automatic movement, all put together immaculately. It looks and feels like it should be much more than it actually is (and we all love it when that happens). And let's not forget the company, Melbourne Watch Co and Sujain are great. So if you like the design, I would highly recommend the Hawthorn without a shadow of a doubt. An awesome watch at an awesome price.