In many ways, the tourbillon is horological advancement at its finest. I've always been mesmerised by them, but rarely get a chance to handle them. In fact, this and another watch by Manufaktur Waldhoff, the Imperial Diamond Silver, are the first tourbillons I've reviewed on the site. 
A tourbillon expands upon a standard escapement of a mechanical movement to make it more accurate and does this by negating the negative effects of gravity upon it. With a normal escapement, it usually behaves slightly differently depending on the position of the watch – so for instance, it'll be more or less accurate if the watch is face-up, down, or on its side etc. With a tourbillon, because the escapement is in a rotating cage, there's never one specific angle where the watch is more or less accurate.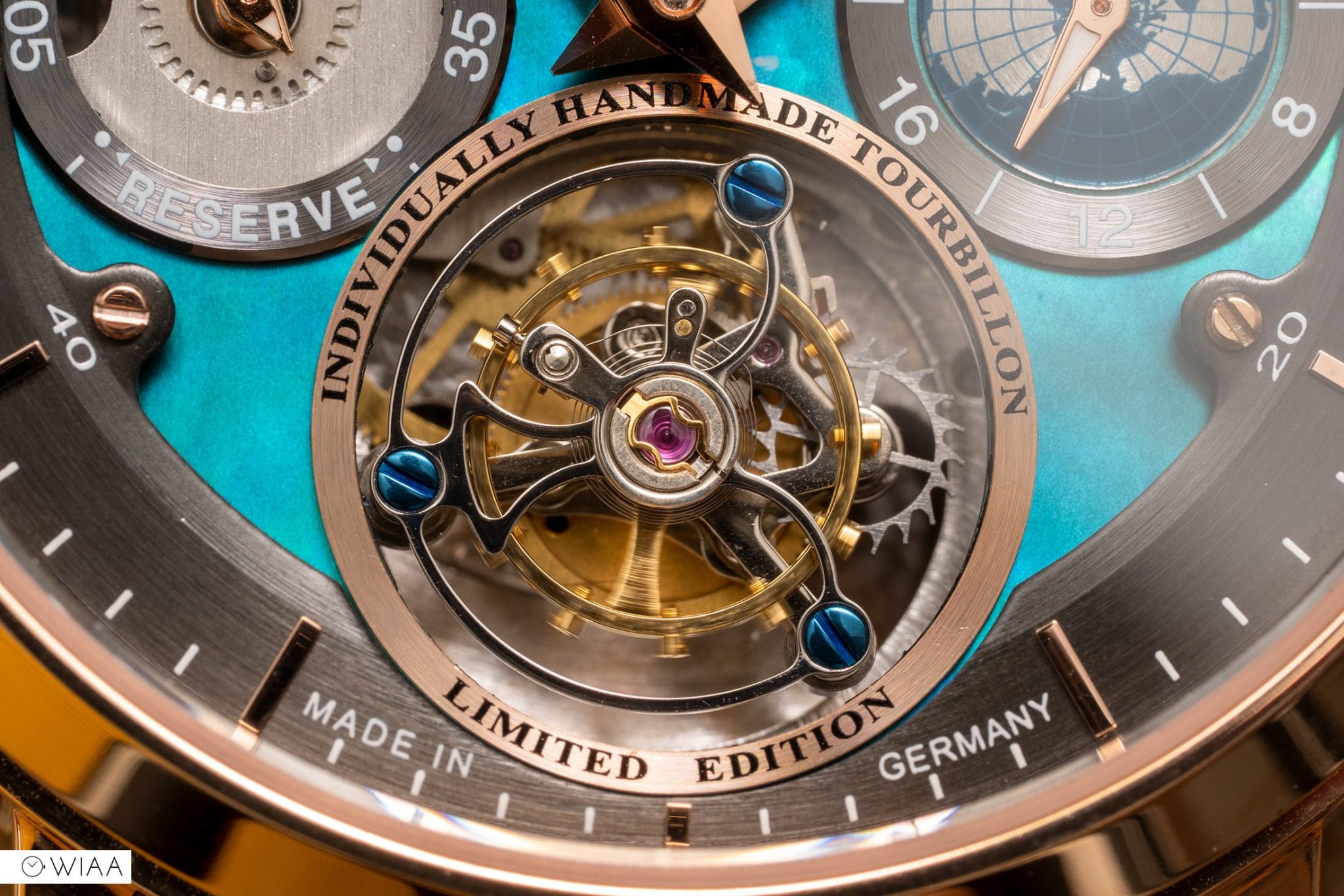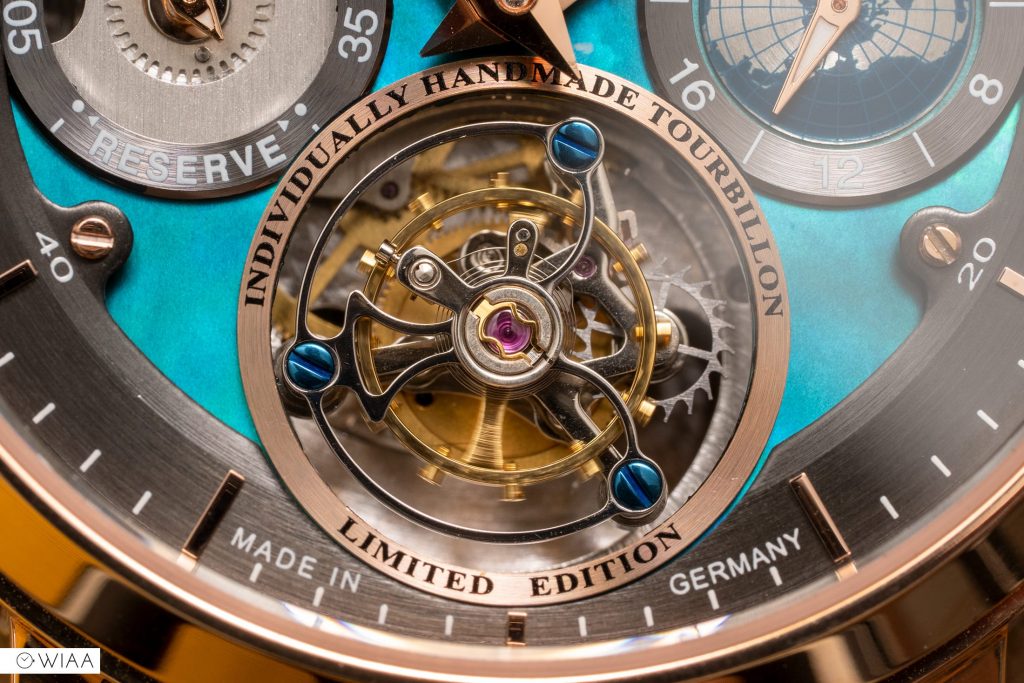 Anyway, enough about the technical aspect of a tourbillon, let's take a look at this watch we have in front of us. 
The video review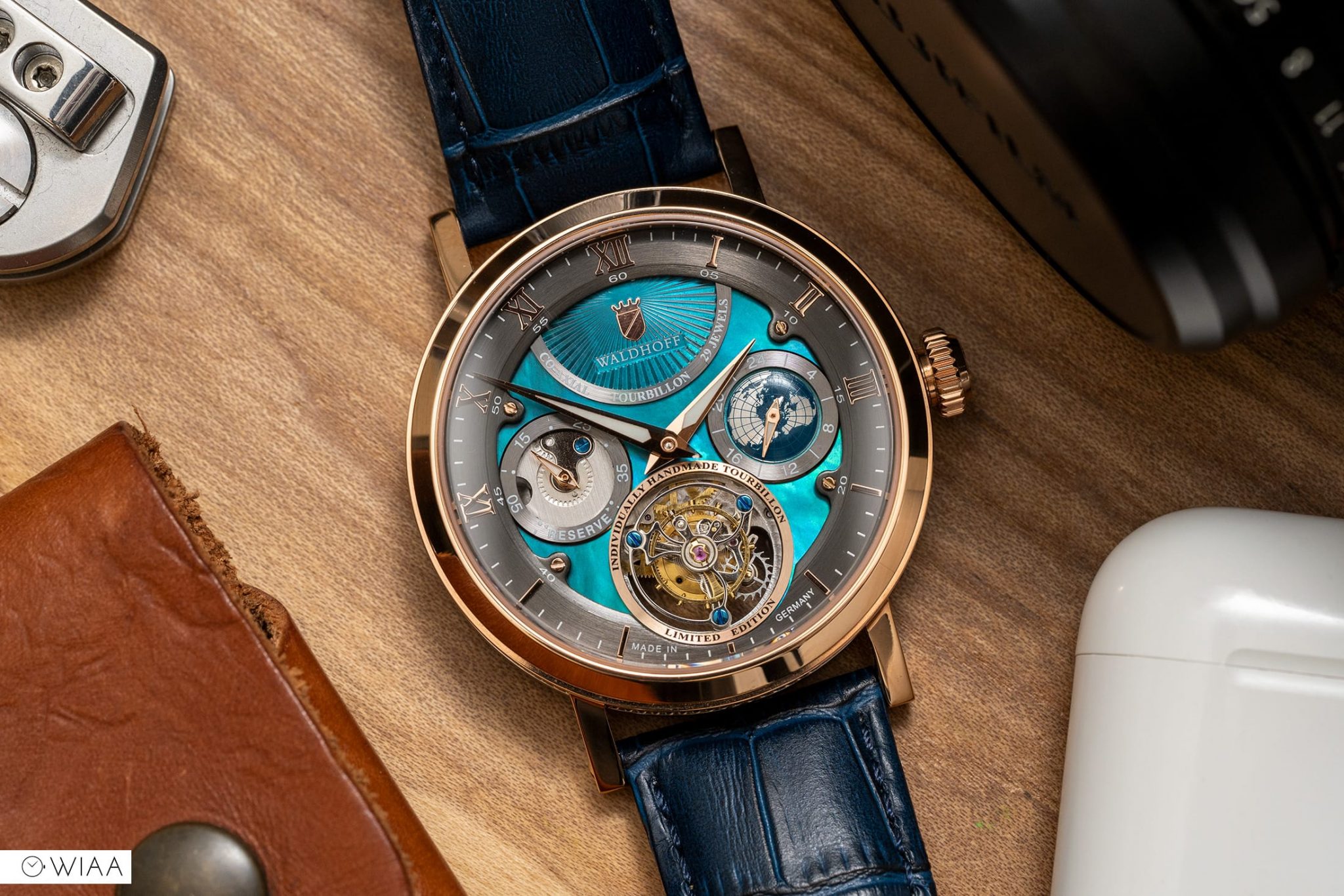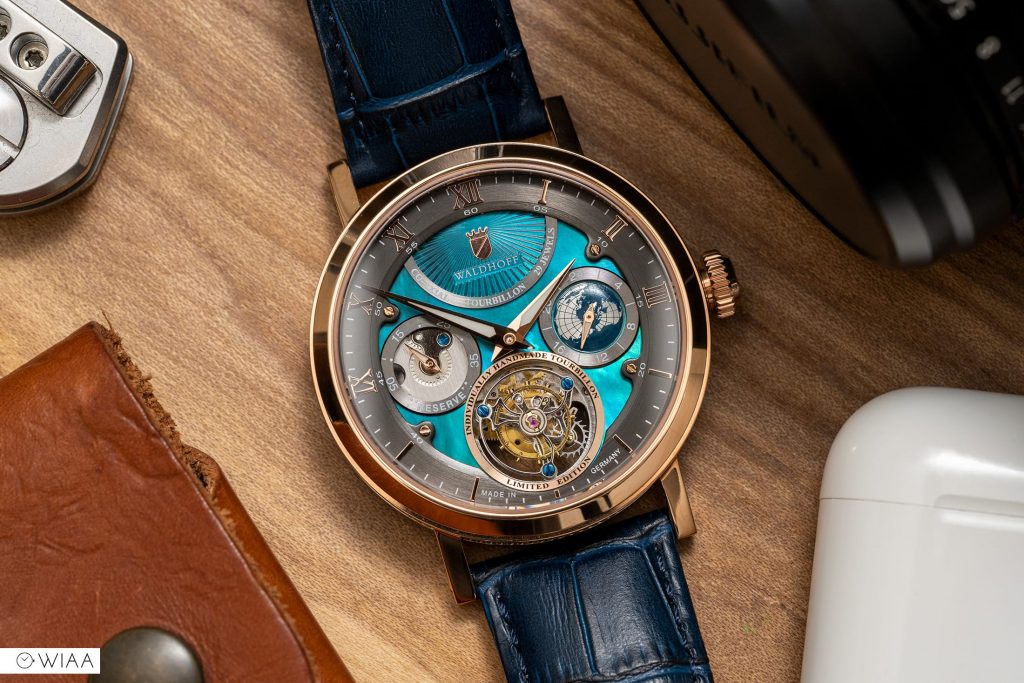 At slightly over £1000, it seems quite pricey at a glance, but tourbillons always demand a higher price; there's no way around that. In actual fact, it's a fairly reasonable price. Sure, there are cheaper tourbillons, but they tend to be extremely plain; certainly not to the same level of opulence as this watch. I mean, look at it. Gold, blue, and mother of pearl. All of these things equate to a luxurious appearance, and it does not disappoint.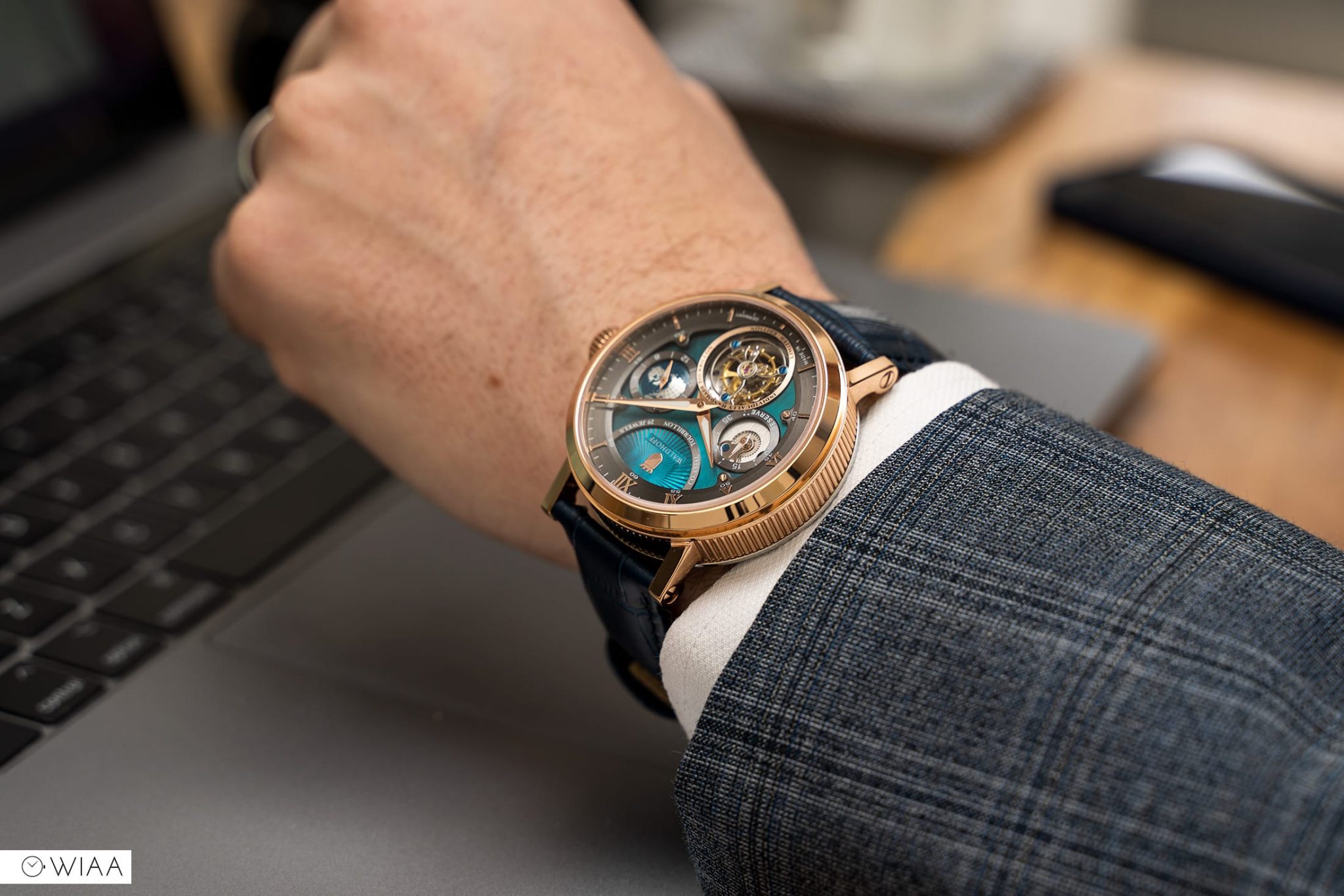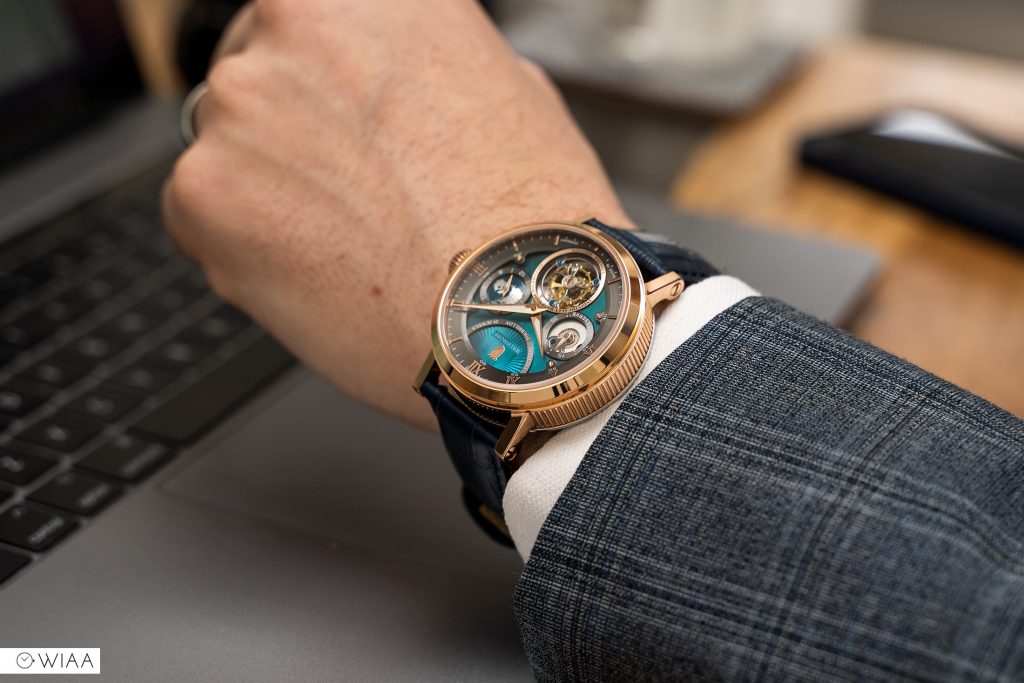 There is one thing worth highlighting before we get into the nitty-gritty. How could it say "Made in Germany" on the dial, but house a Chinese movement, the Peacock 5213? Well, the rules are not the same as "Swiss Made", which requires a Swiss movement. As long as it's physically manufactured in Germany, that's all that's required.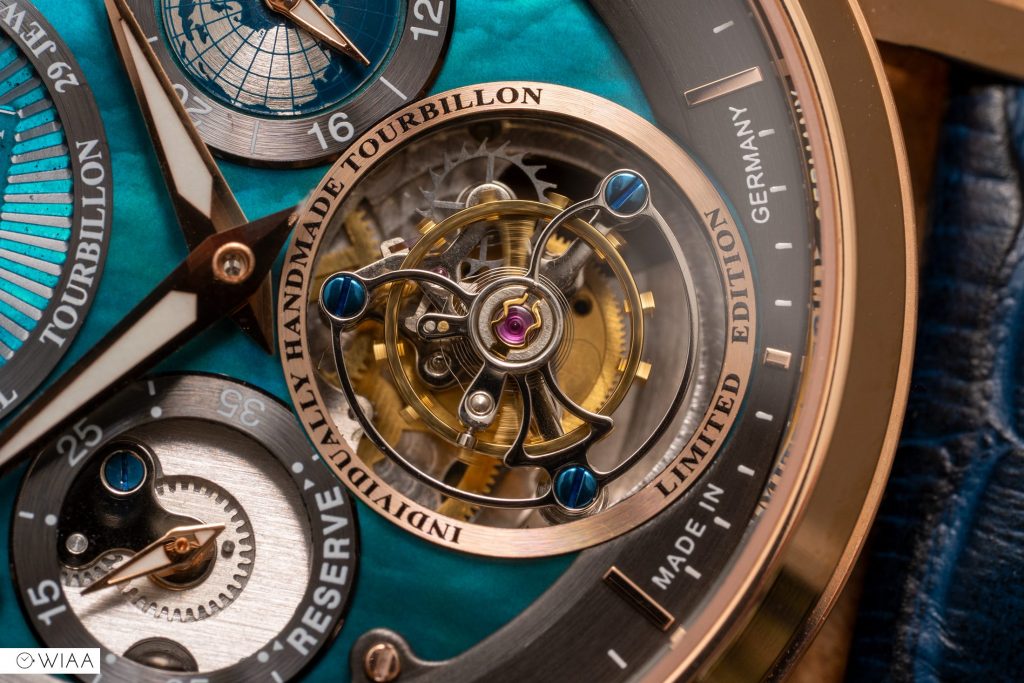 From the moment I laid eyes on the Ultramatic, I was mesmerised. A tourbillon is going to do that to most of us. But it's not just that central rotating focal point – the entire package is lavish.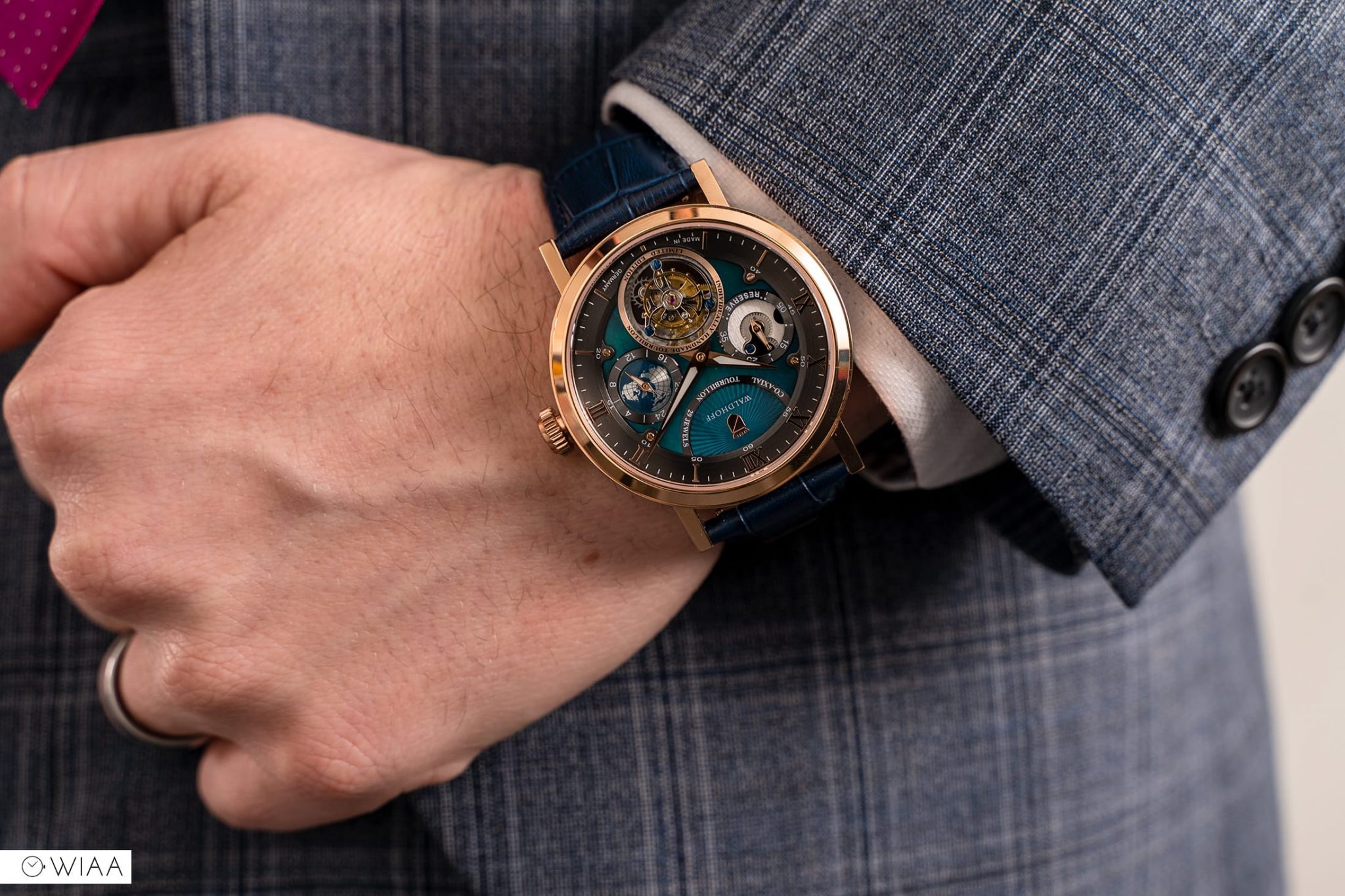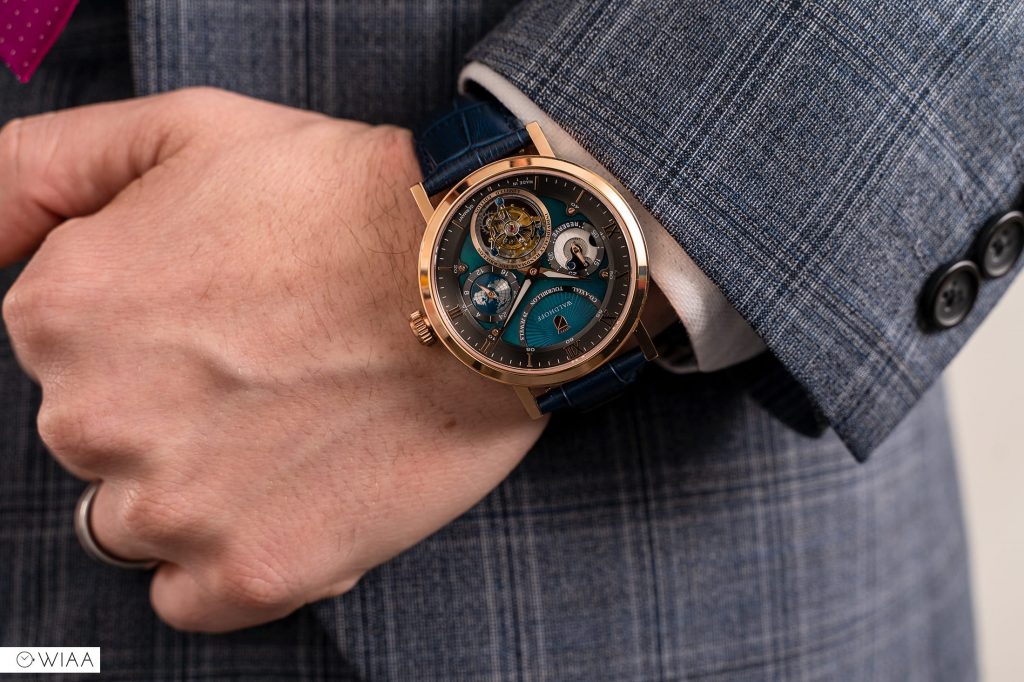 It's not a small watch by any means, but then again it's not the kind of watch that's designed to be "undercover" or "reserved". The 42.5mm diameter is about the limit of what I'm happy to go to comfortably with my 7" wrist, however, the lug to lug length in comparison is shorter than expected, which helps the wearability. The height of 13.8mm is on the tall side; it's not particularly slender so it won't easily slide under a shirt cuff.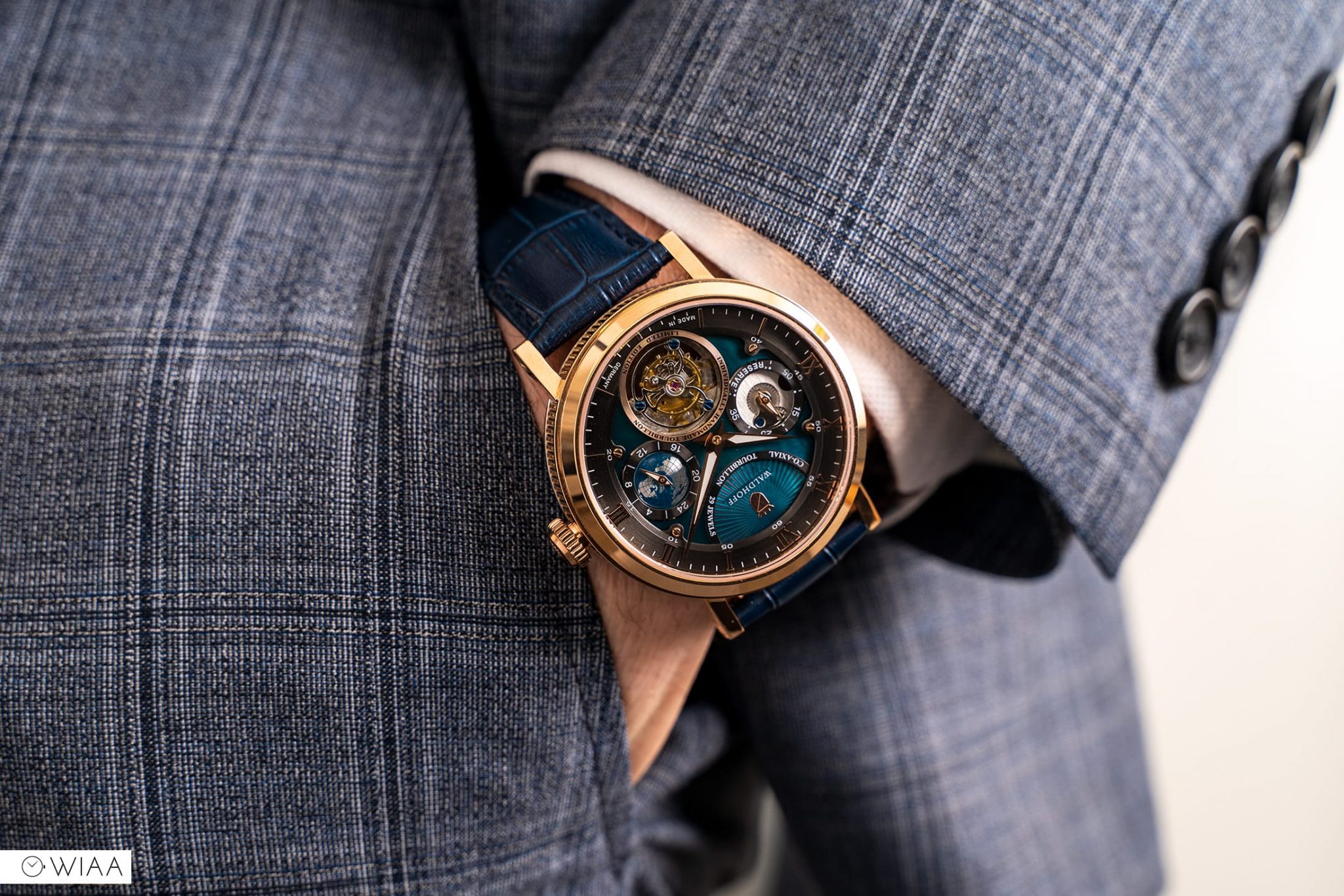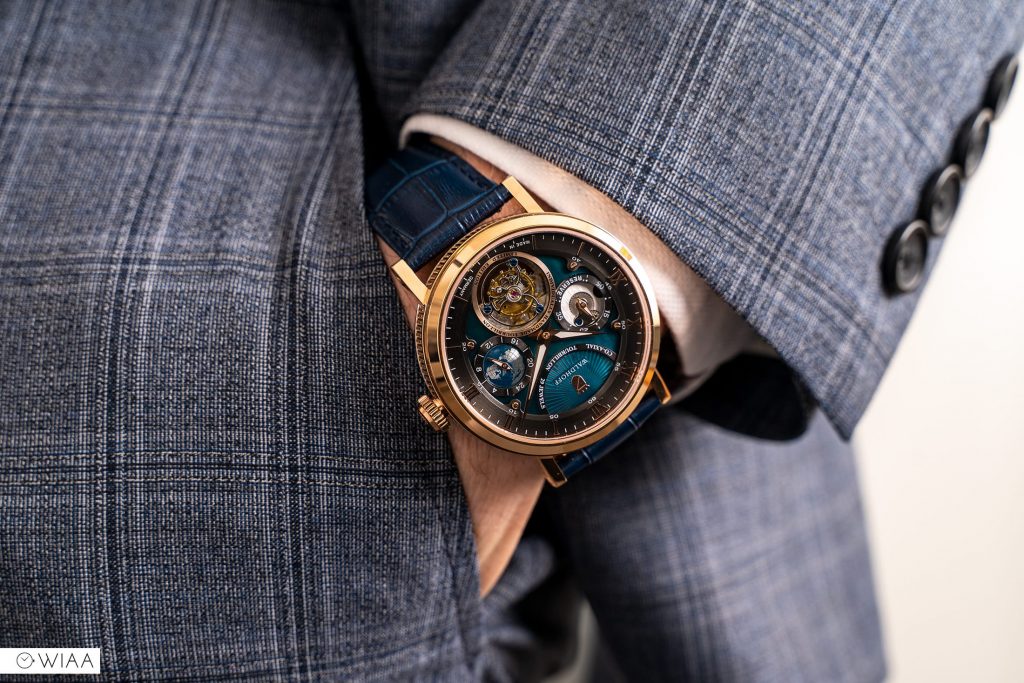 There's a great amount of depth to the dial, thanks to a higher outer layer with a bevelled inner edge, detailed deep-set subdials, and of course, the rotating cage of the tourbillon itself.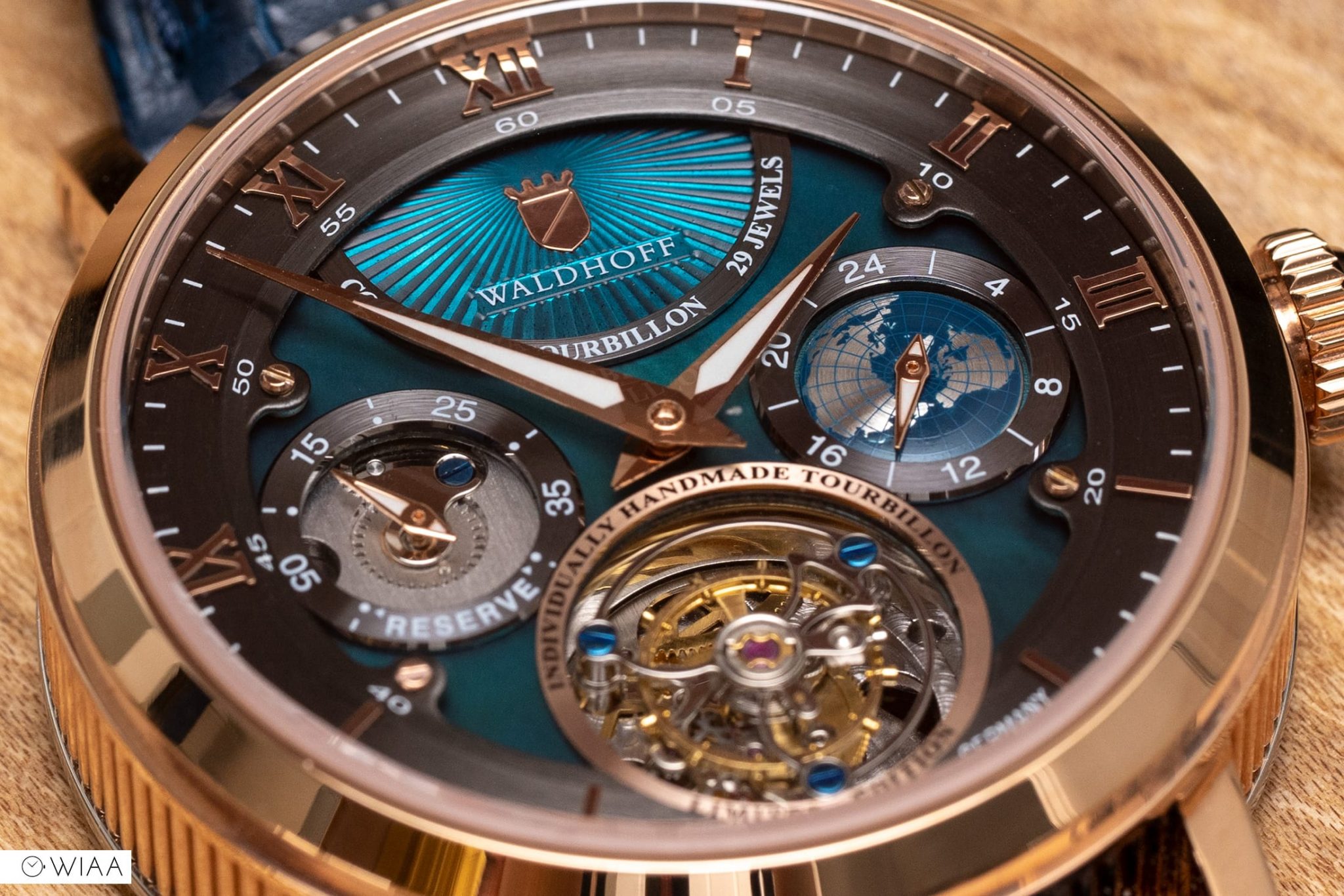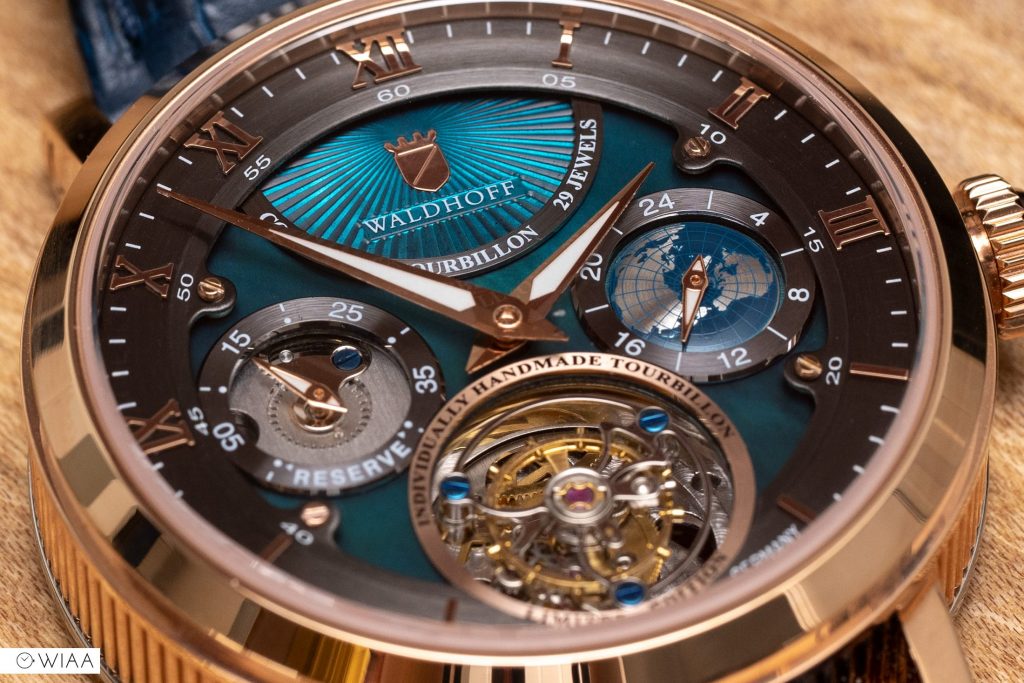 The hands are a strong, elegant pitched dauphine shape filled with lume. I like the way the minute hand-stretched more or less right to the outer edge of the dial. There's no running seconds hand, so no real way of setting it perfectly to the second.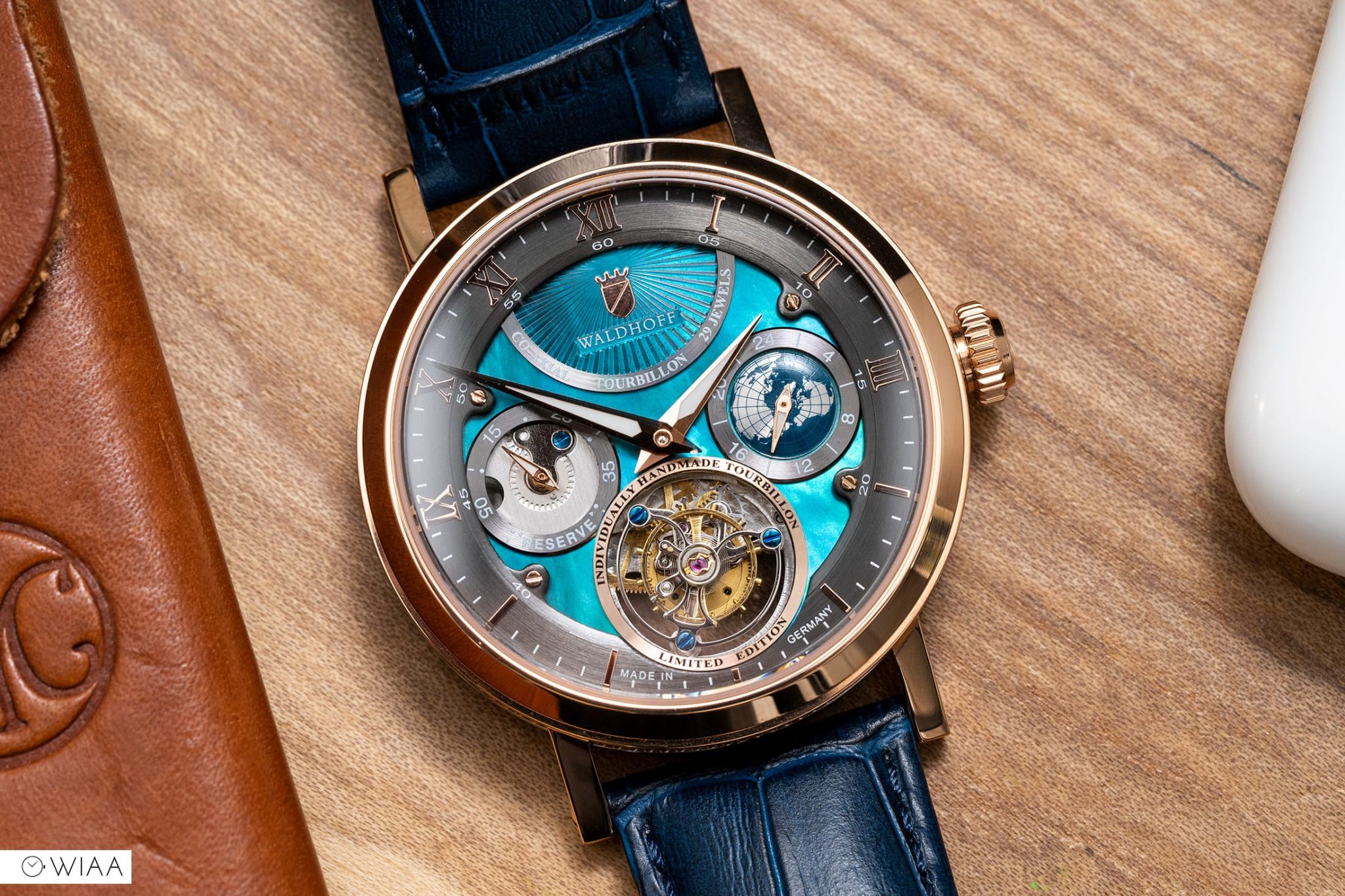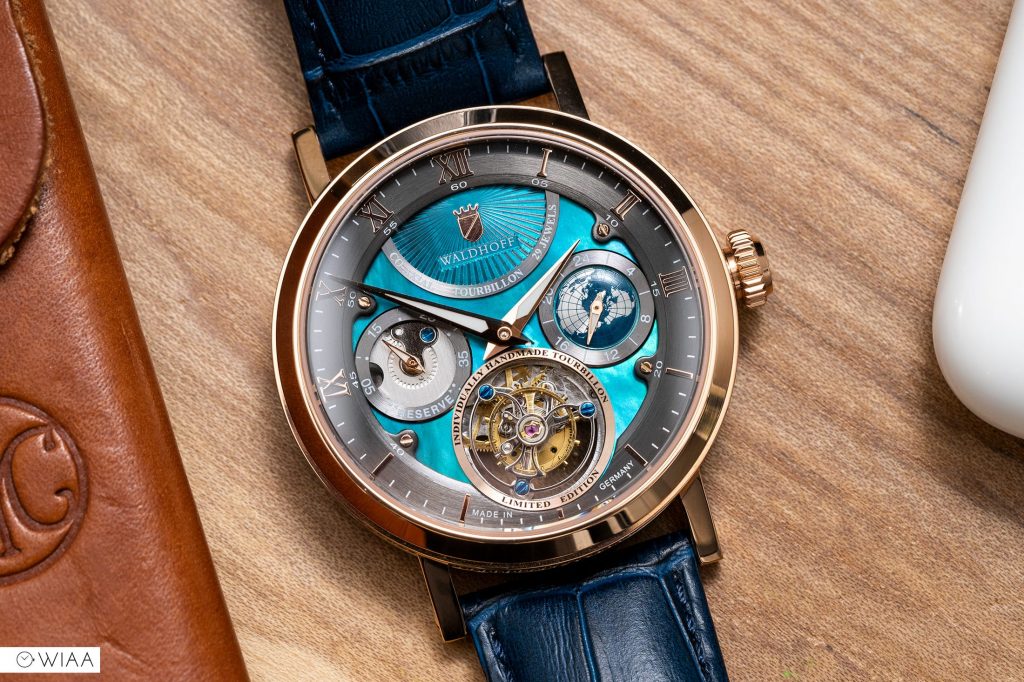 Usually, I can't stand 24-hour indicators (for me, they're the most pointless complication). But the artwork of the globe behind it is a delight to behold and an inspired design choice.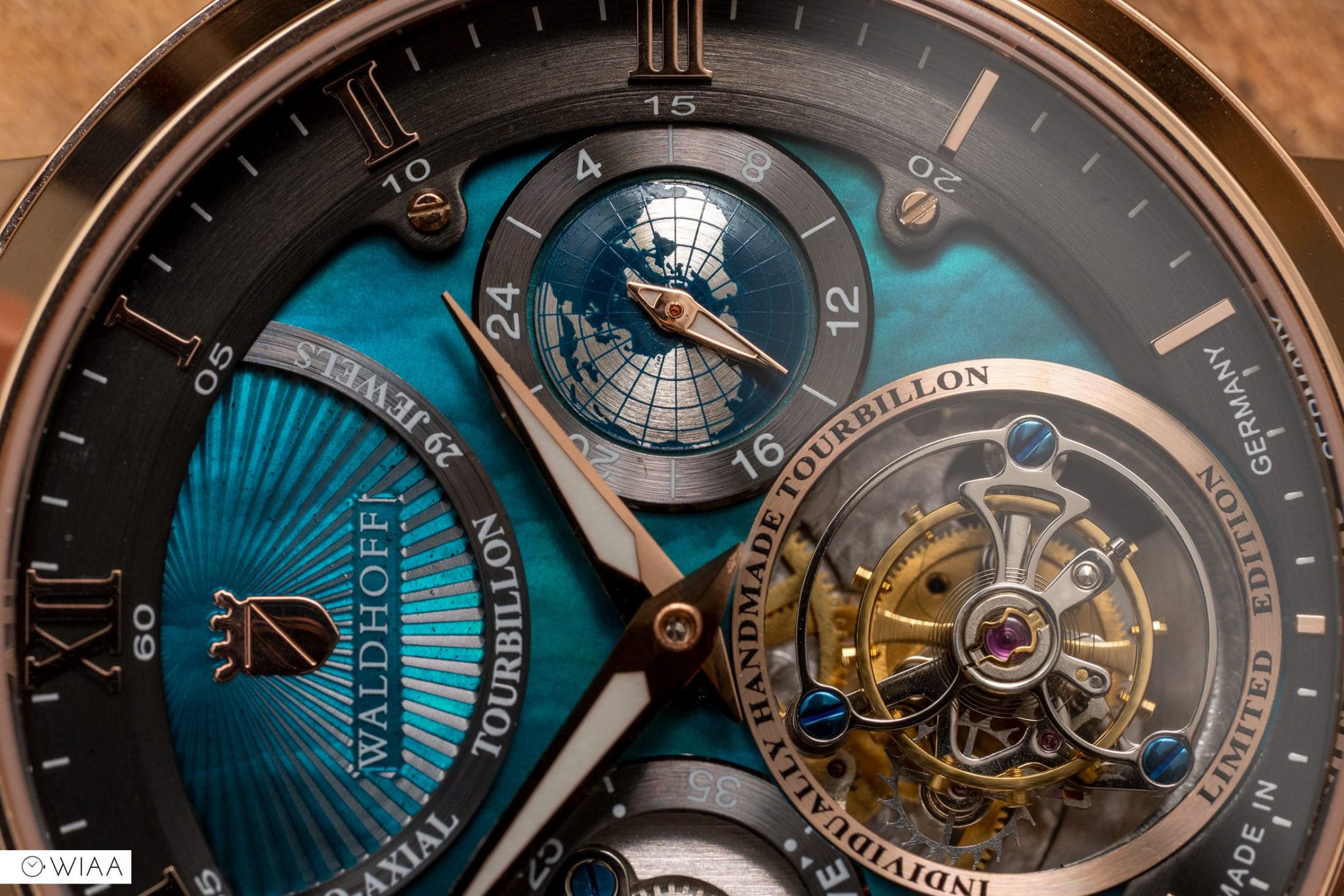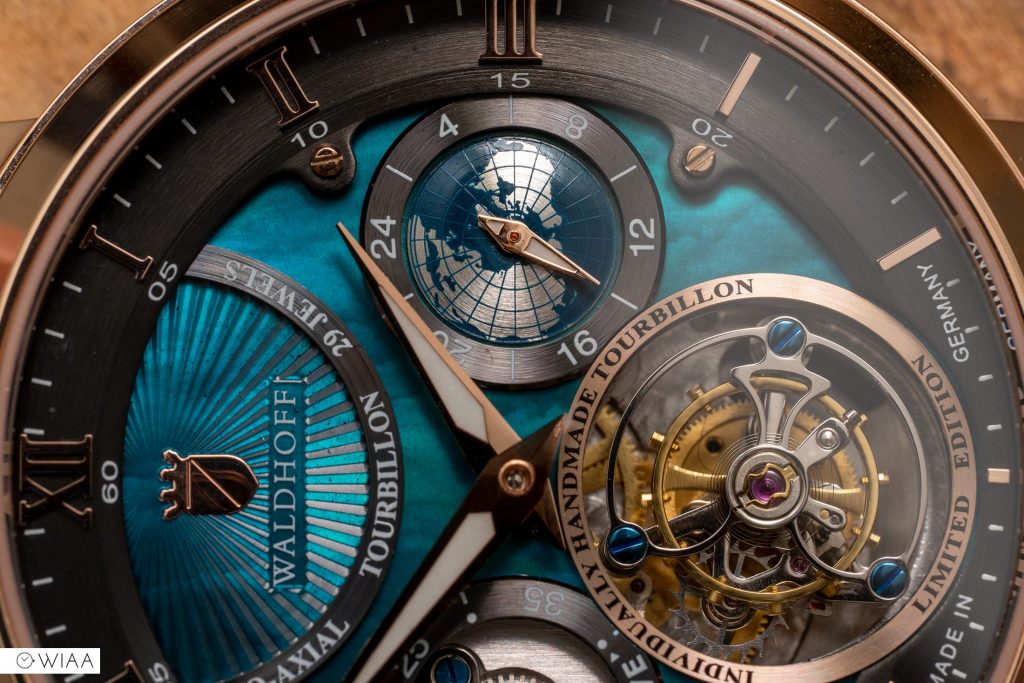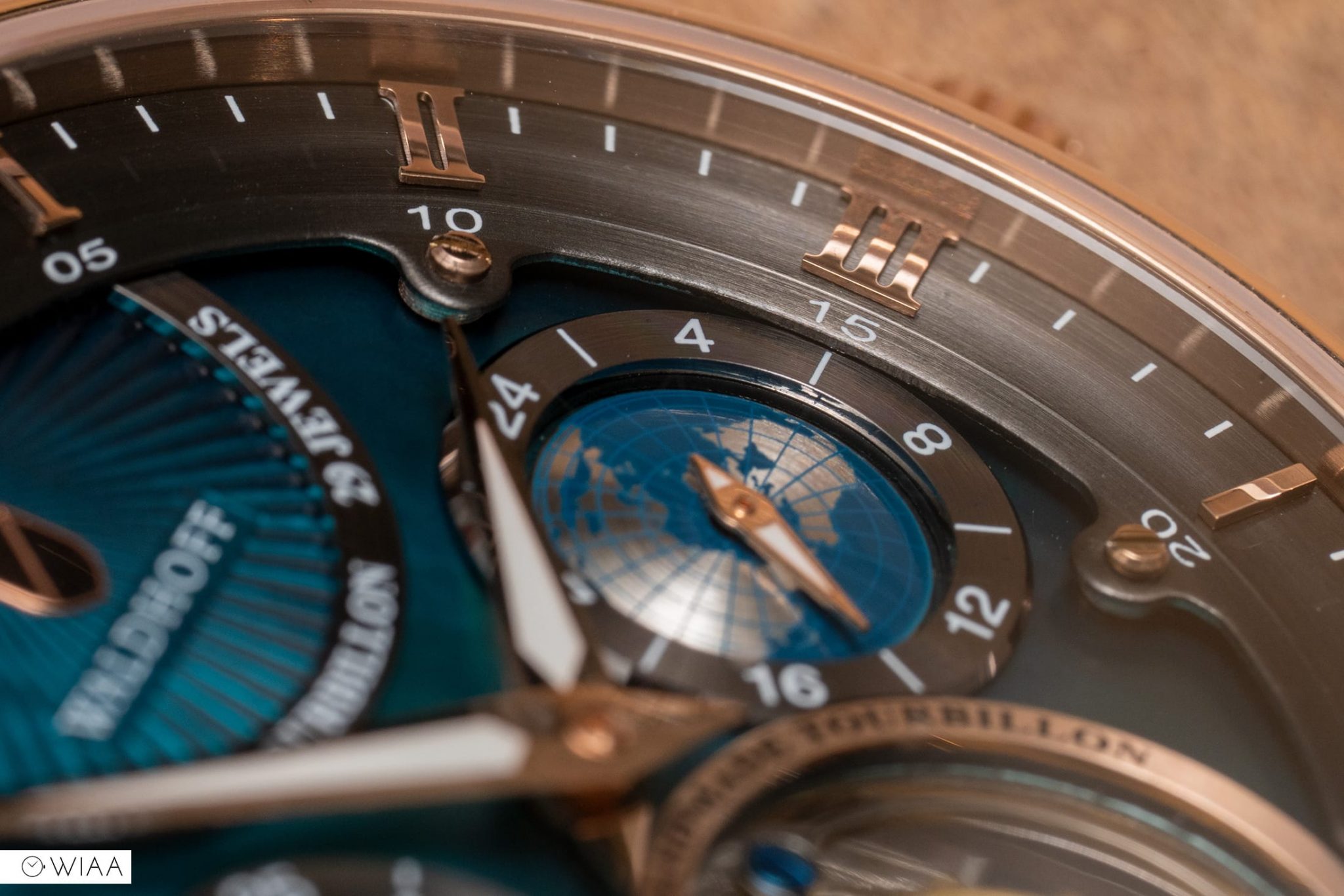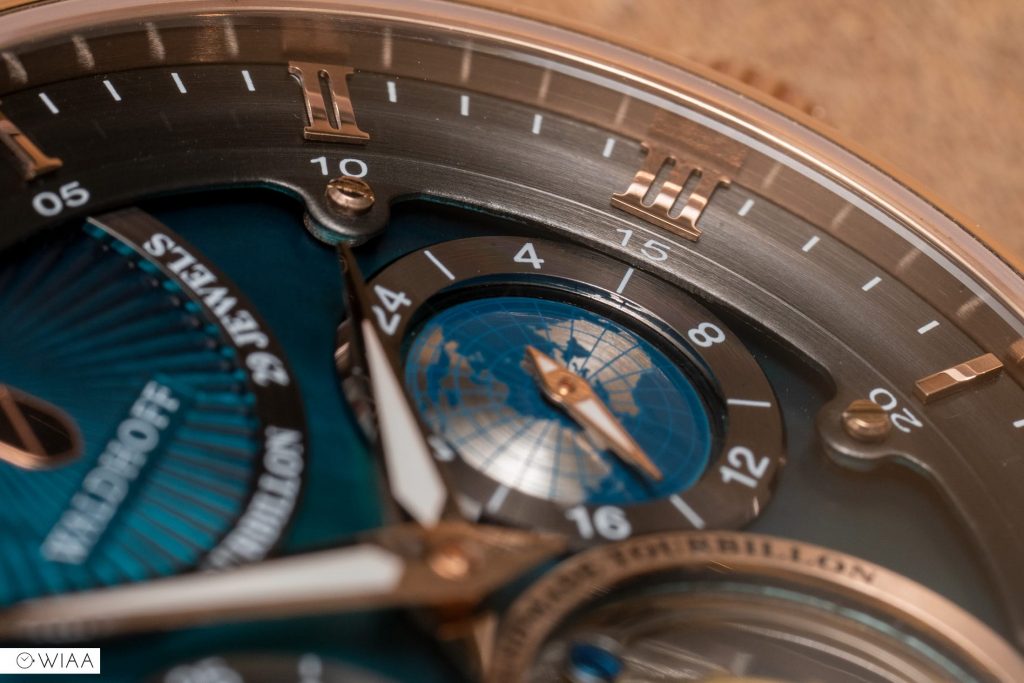 My main disappointment with this watch is the applied logo. It cheapens an otherwise stunning watch, as it's so flat and feeble looking, especially when it's sitting right next to the thicker applied hour markers.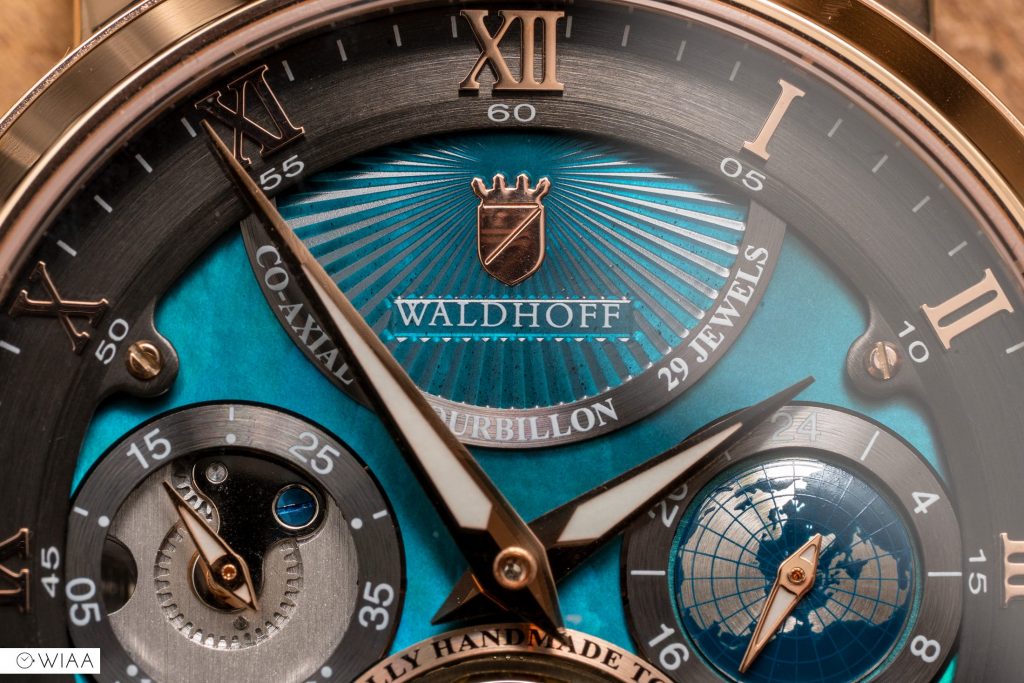 One surprisingly delightful aspect of the Ultramatic is the blue mother of pearl base of the centre of the dial. It's not overpowering or tacky looking, but rather, it provides a delicate array of markings and reflections, ranging from a deep blue to a searing teal.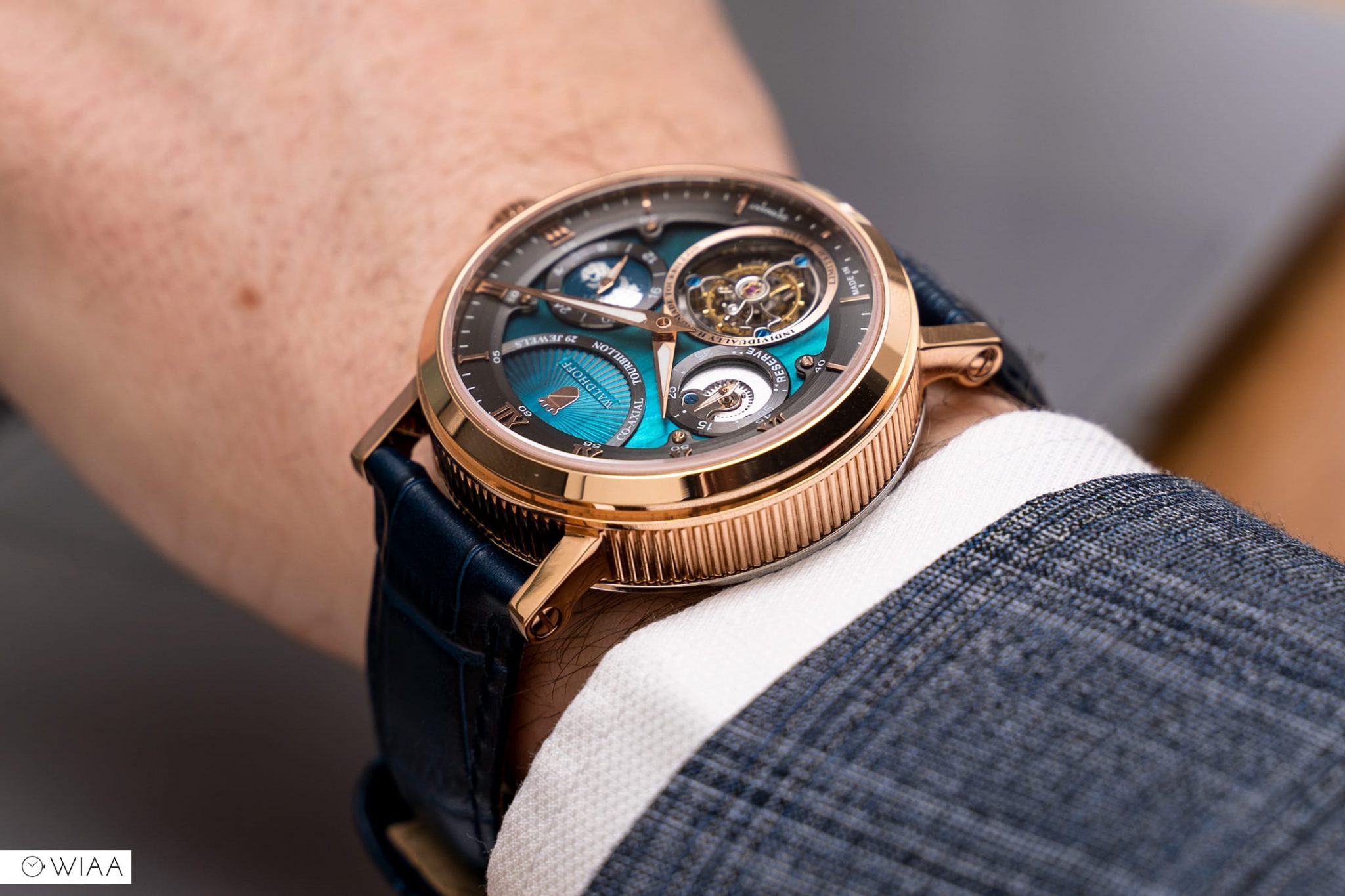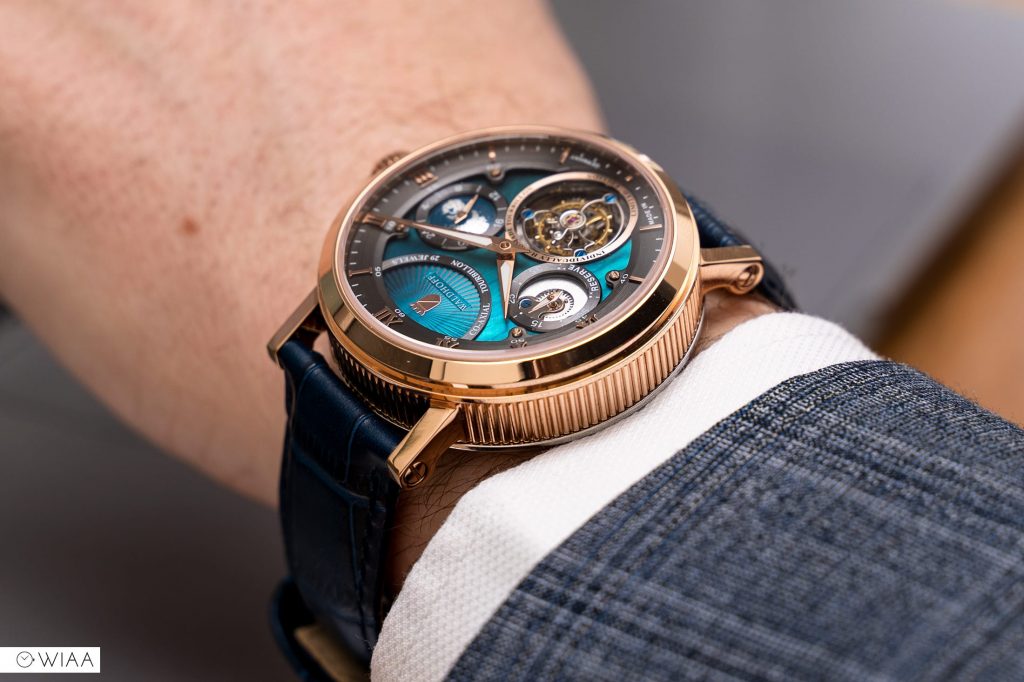 The gold plated case has a distinctive ribbed / coin edge around the sides, which reminds me of some serious Breguet vibes – that's certainly not a problem, as it supports the grand feeling the watch provides. The case has a really surprising water-resistance of 150m – I would have fully expected it to only have a poor rating of 50m.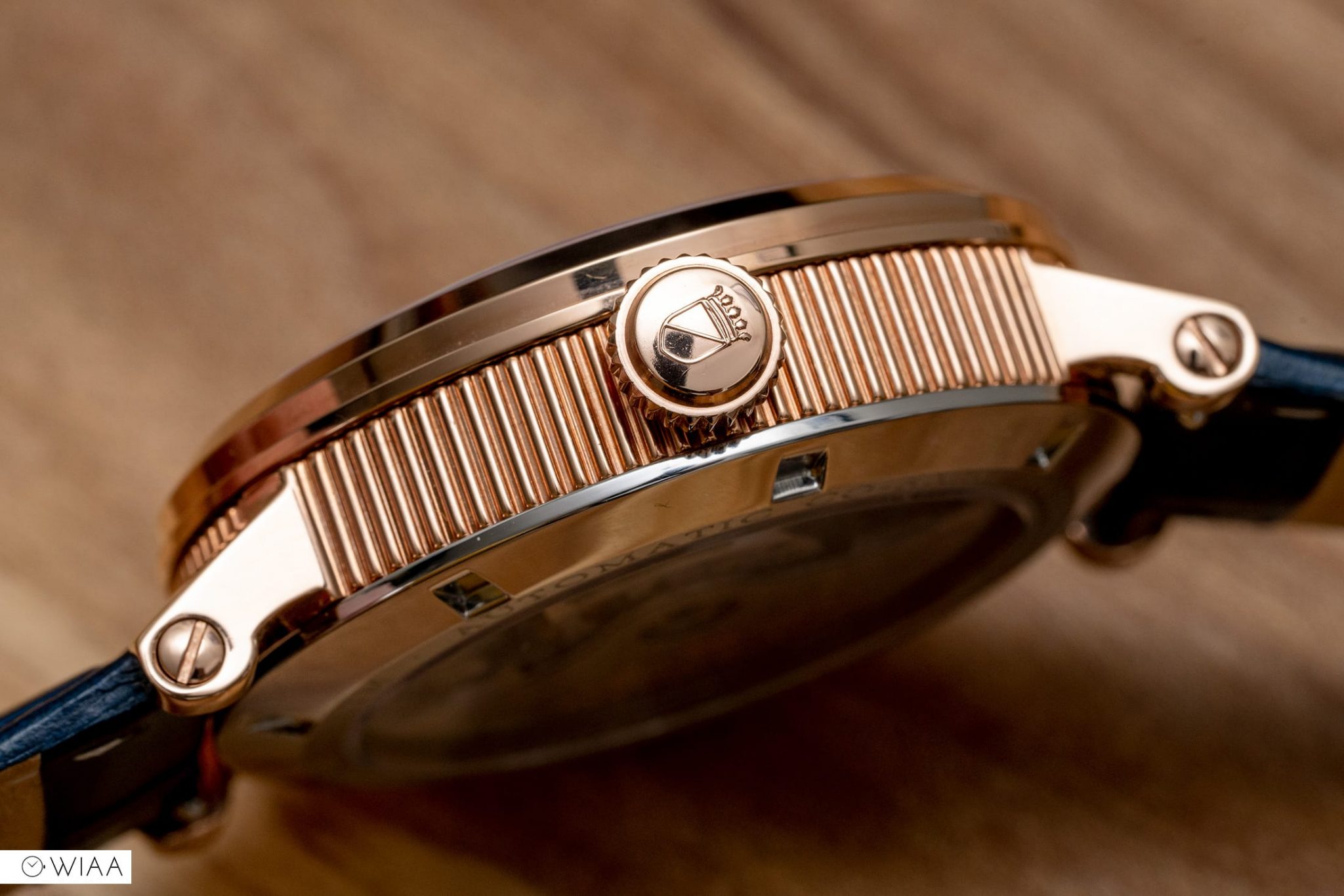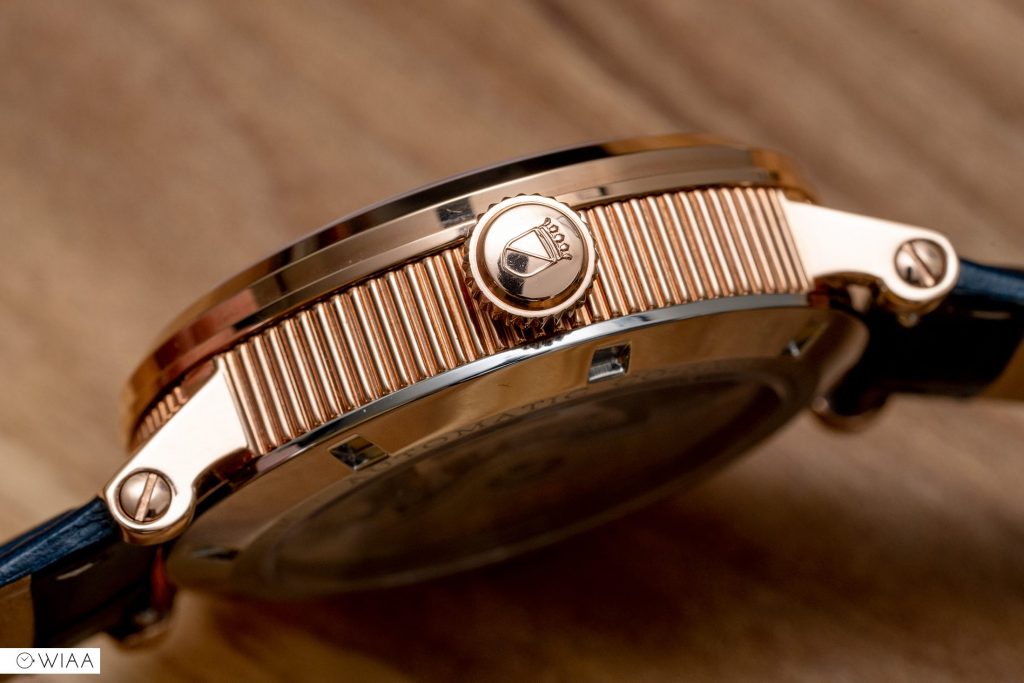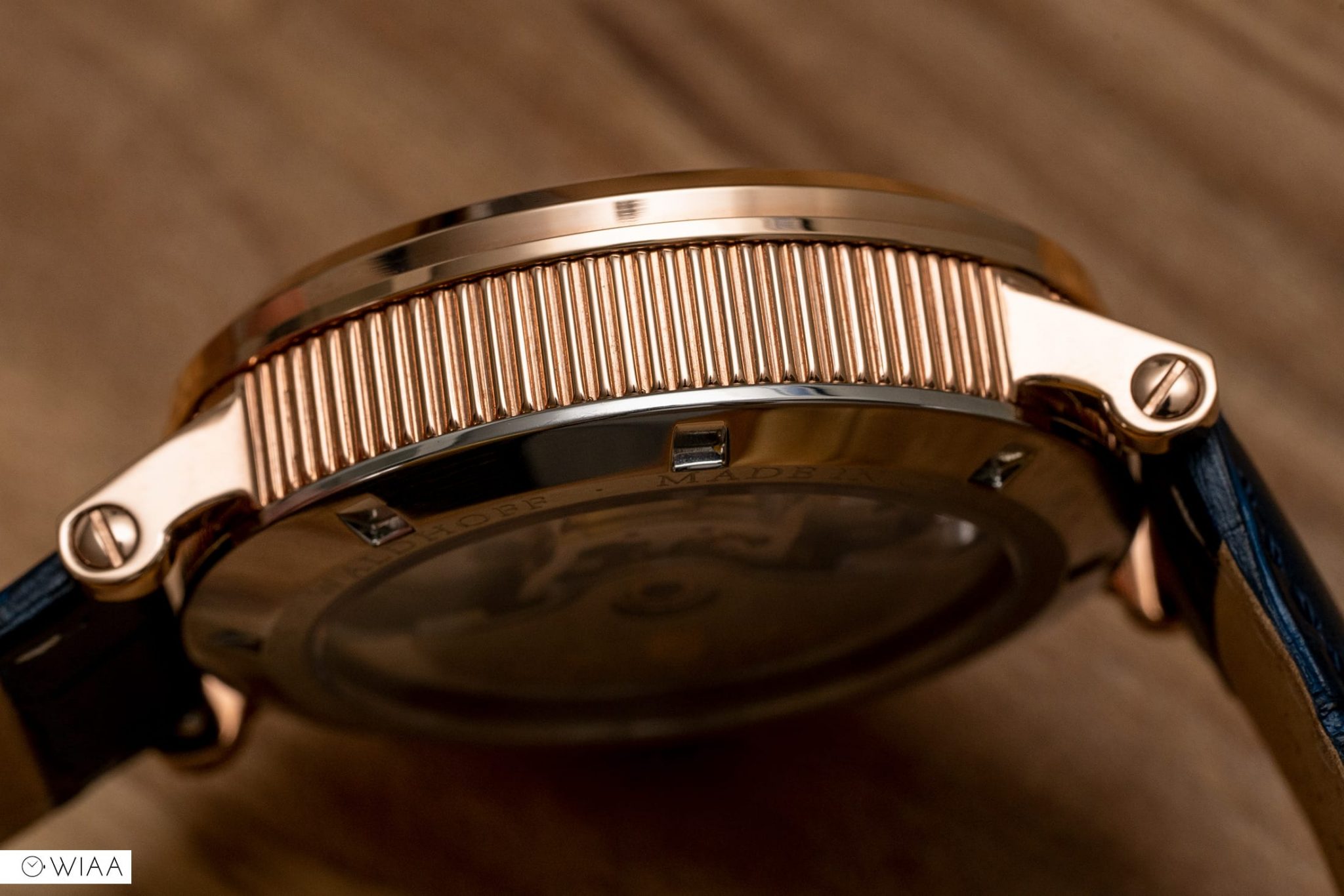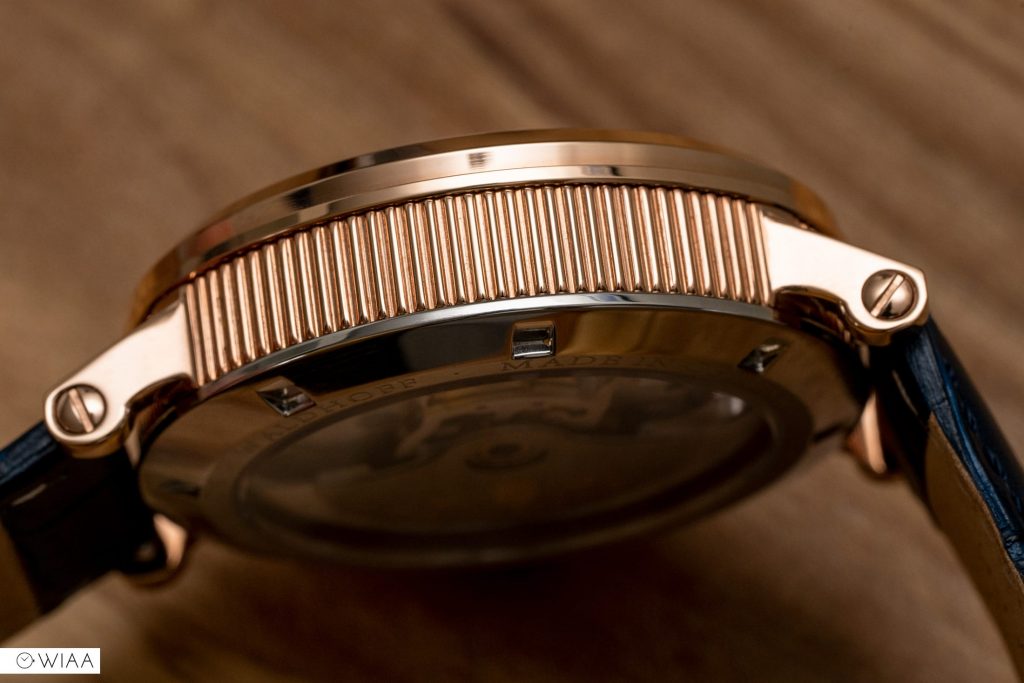 Whilst the Peacock 5213 Co-Axial Tourbillon movement is Chinese made, it is most certainly not "cheap-and-cheerful". Peacock has quite a good reputation, with high-quality control. It has a beat rate of 21.6k bph (6 ticks per second), 29 jewels, 40-hour power reserve, hand and automatic winding capabilities, and a custom sticker applied to the rotor. I would have preferred something a bit more fancy such as an engraving. Whilst I'm not expecting COSC specs, I would have preferred a better accuracy than the +13 sec/day this one is coming in at.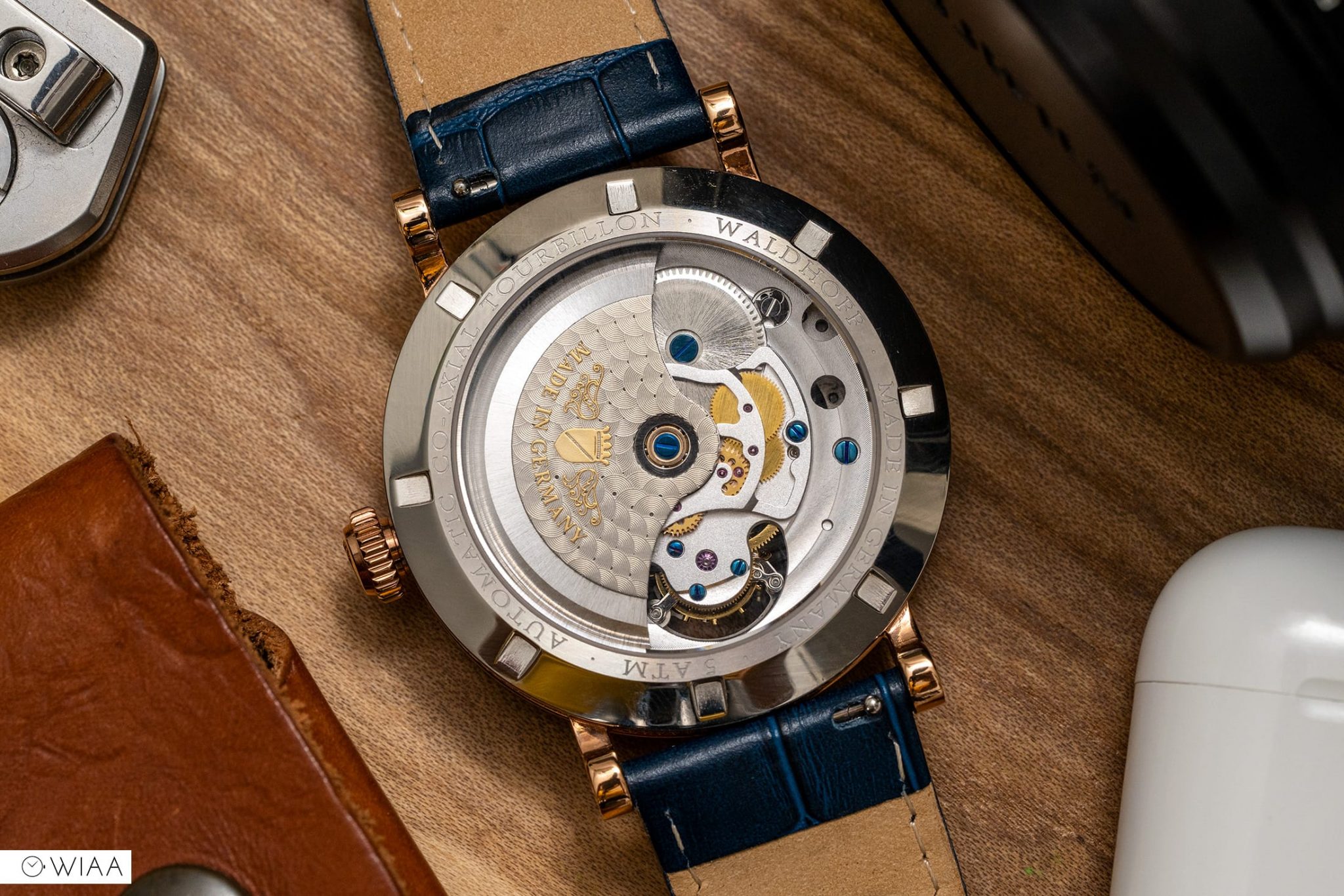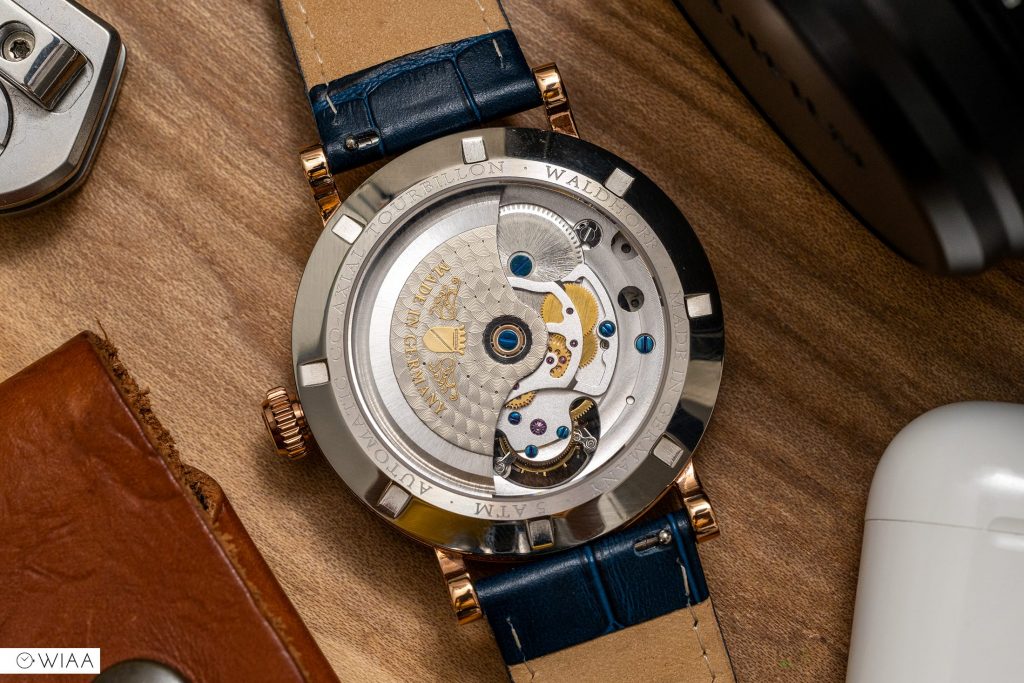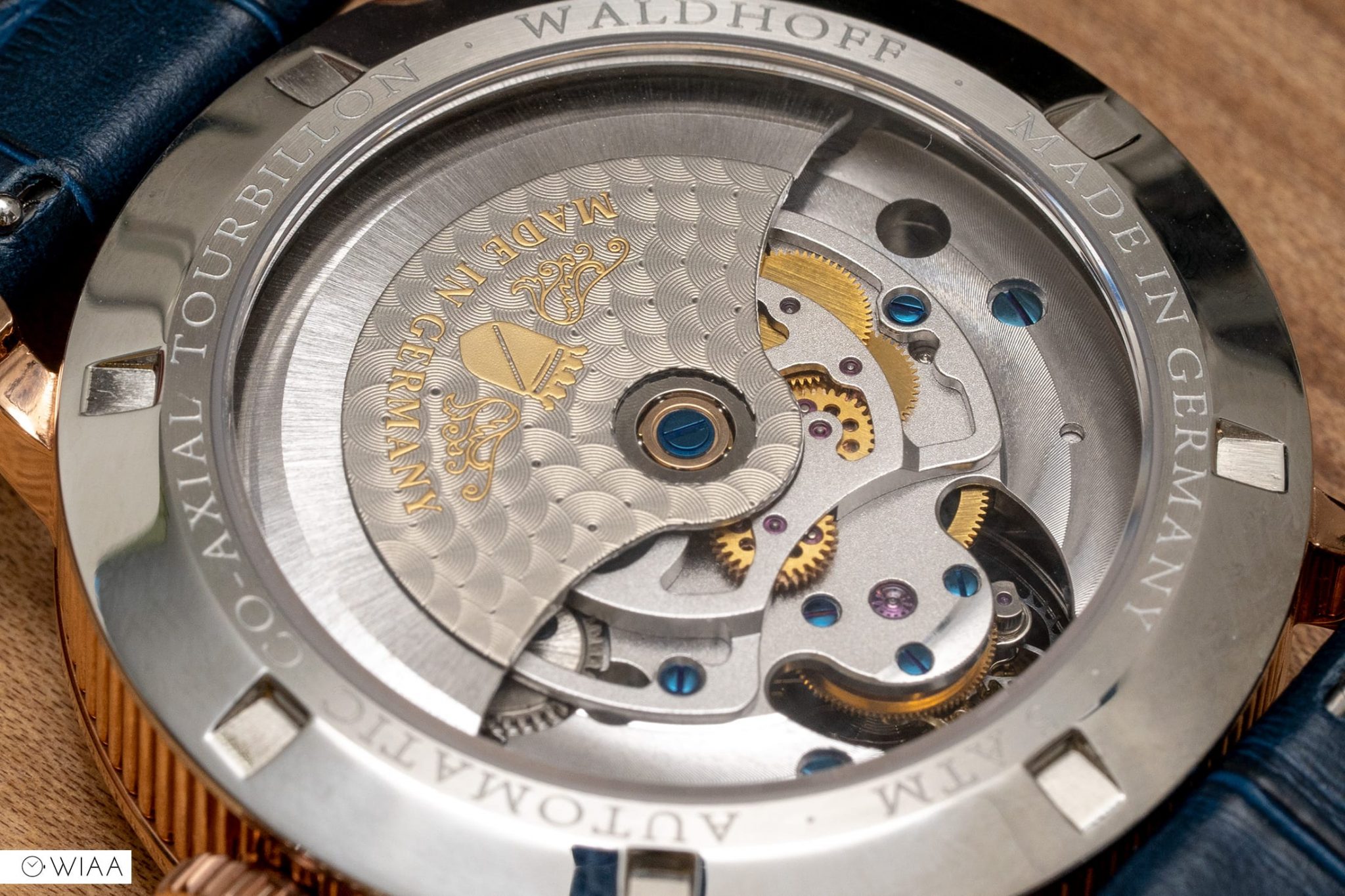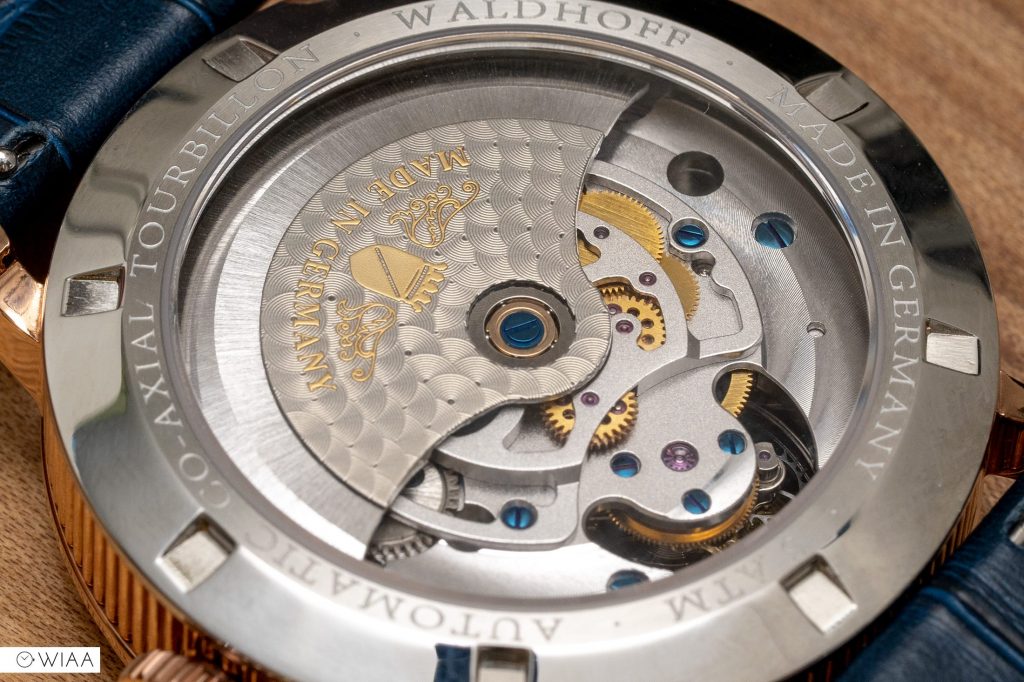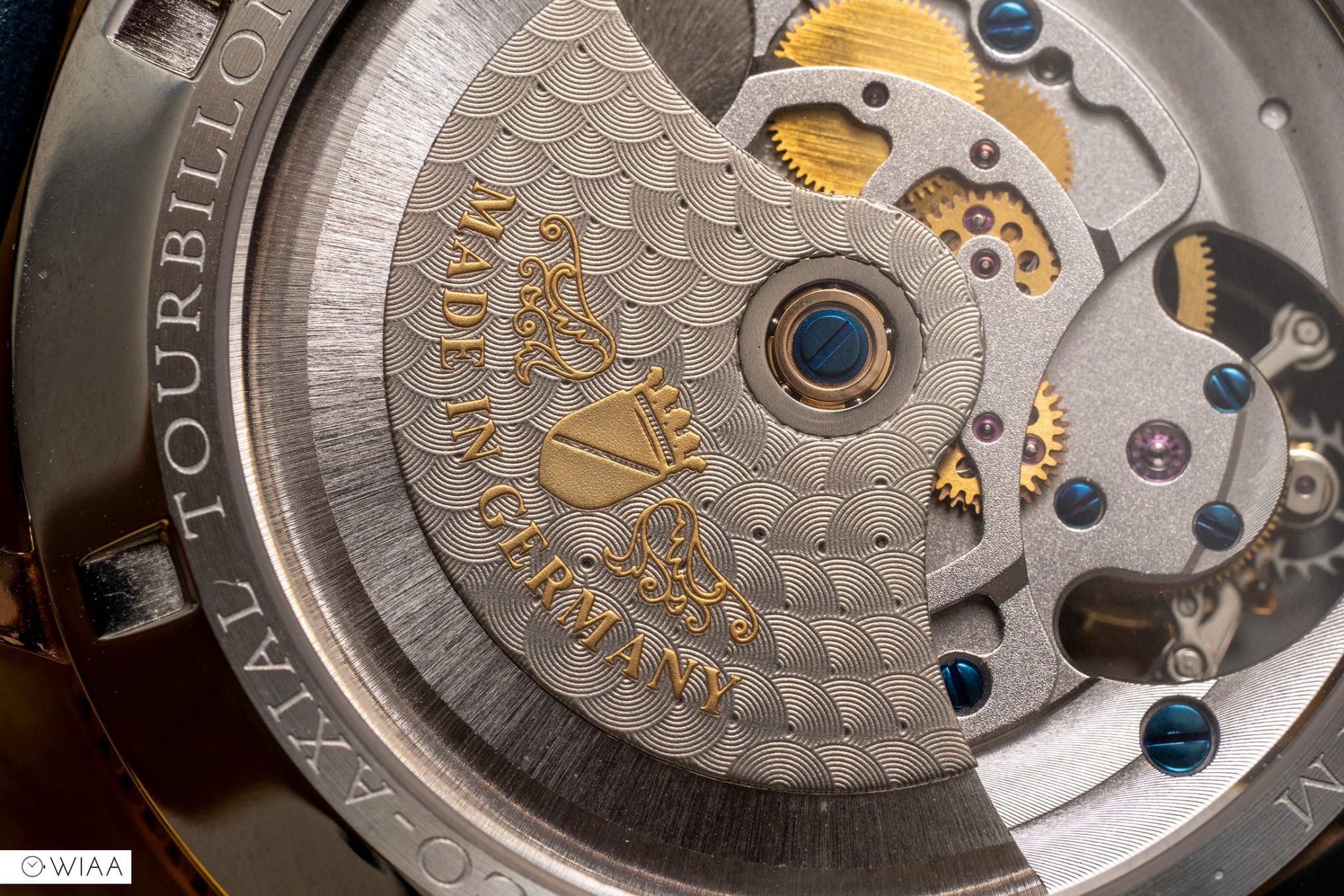 The strap is a deep, lavish blue that matches the dial to perfection. It works so well with the rose gold case, it's a refreshing alternative to the usual black and steel combo. The leather is thick, but also supple, it's comfortable, and I much prefer a matte finish like this to a shiny patent. The rose gold buckle is a slightly modified butterfly clasp – in that two sides open up, but one is larger than the other and contains the top bar, with the logo deeply engraved within. It's very secure, easy to use, and straightforward to adjust.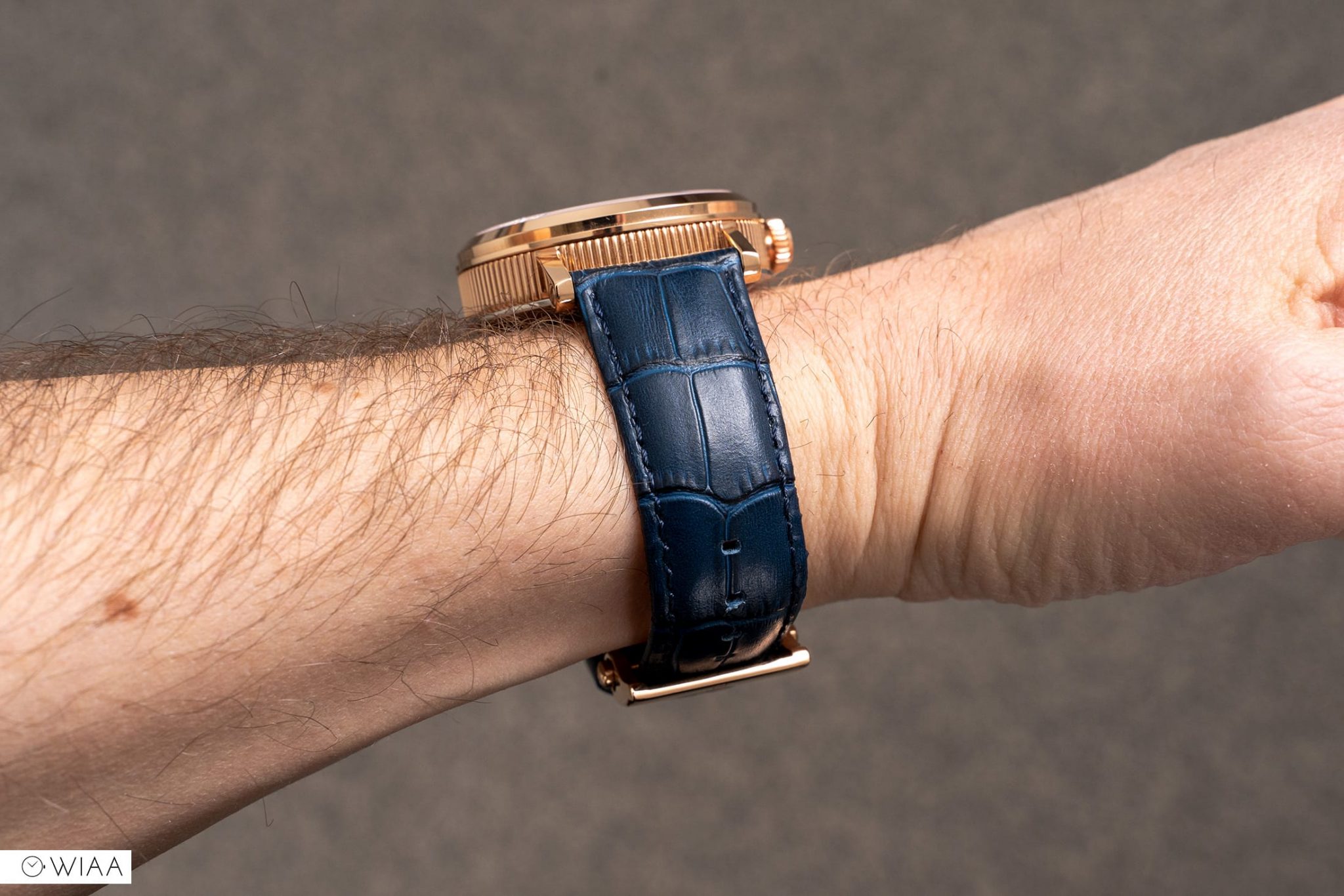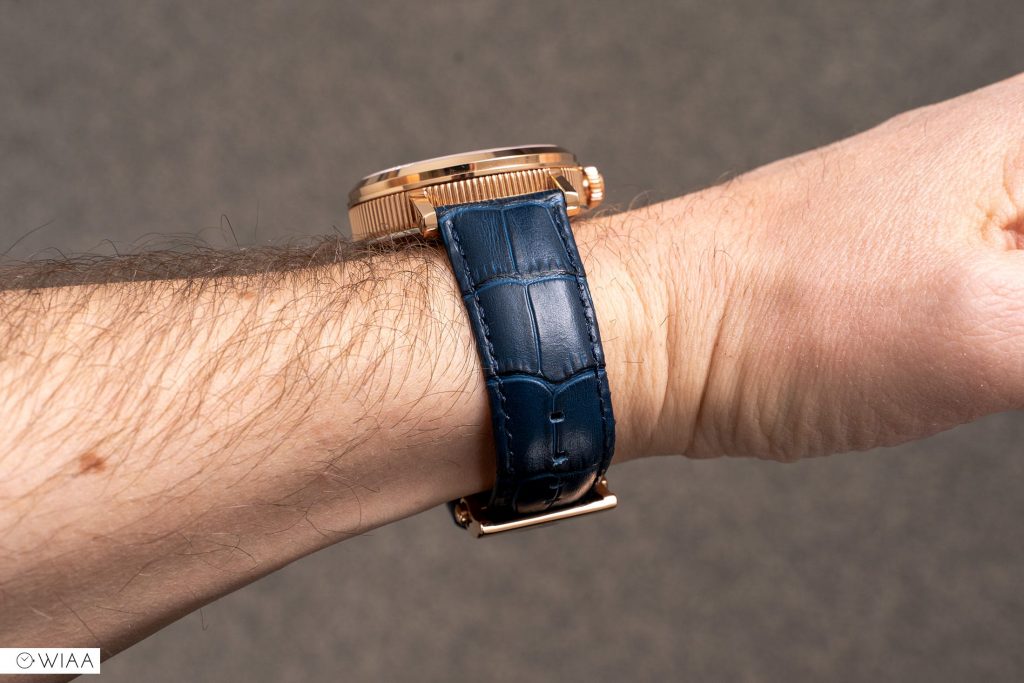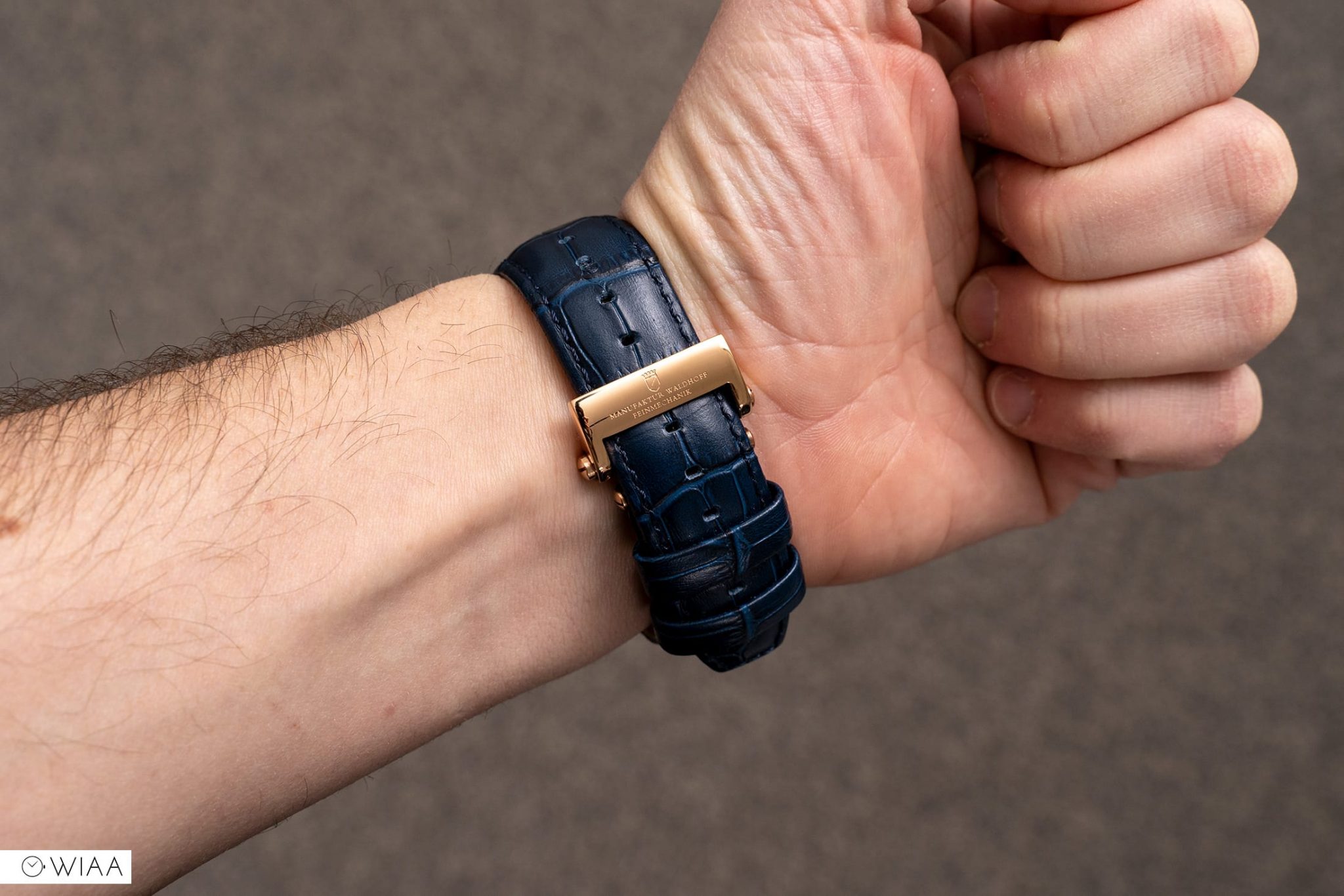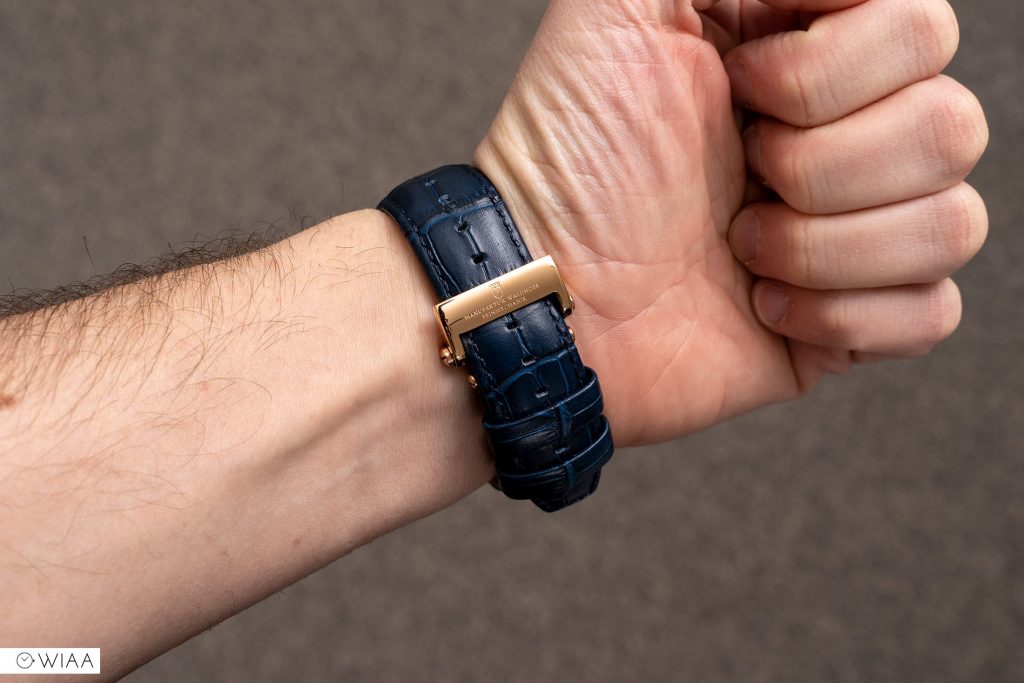 Final comments
This is a stunning example of a watch looking much more expensive than it is. Yes, I realise it still costs just over £1000, but for a tourbillon, built to this level? No punches have been pulled here, and it genuinely looks and feels fantastic.
The specs
Dimensions: 42.5mm diameter x 13.8mm height x 50mm lug to lug
Weight: 116g
Water resistance rating: 15ATM / 150m
Movement: Peacock 5213 Co-Axial Tourbillon 
Accuracy: +13 sec/day
Lug width: 22mm
Price: $1499 / ~£1080