A quick introduction to L'heure Luxe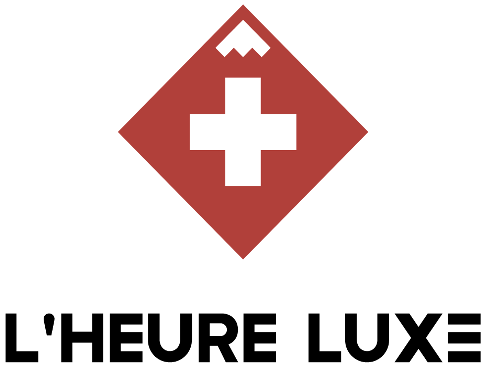 I did not hear about this brand until very recently when I stumbled on their "Mens Classic Chrono". Captivated by its dazzling white face and subtle yet captivating shine I decided to give it a go and make my very first watch review.
Located in Solothurn, Switzerland lies the heart of the brand. They promise timeless styles, high quality materials and craftsmanship, at a more affordable price – offering unrivalled value. Let us investigate whether this promise holds up to the test.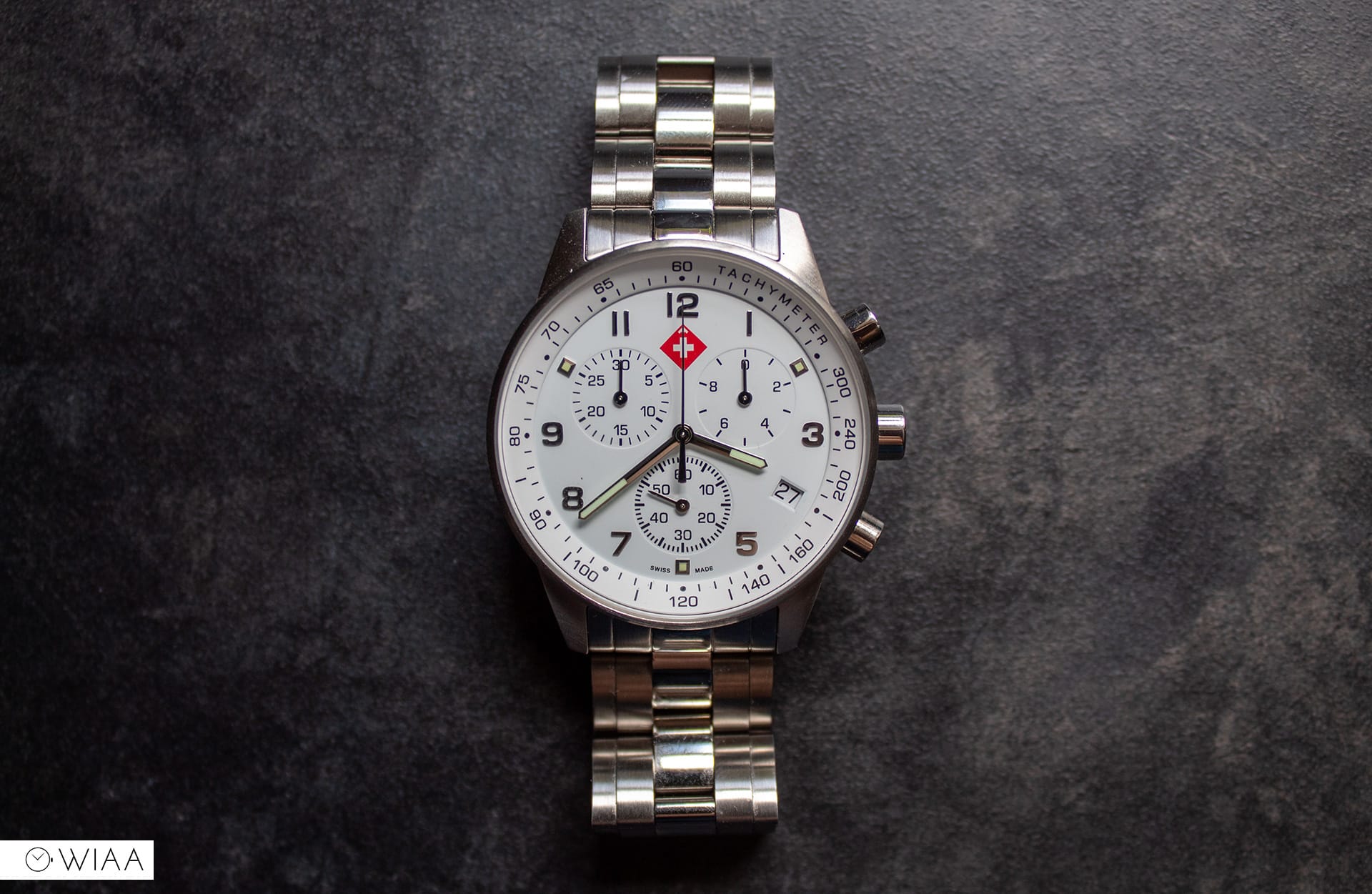 The specs
Dimensions: 41mm diameter x 10.9mm height x 47.9mm lug to lug
Case and bracelet material: Stainless steel
Weight: 124.41g
Water resistance rating: 5ATM / 50m
Movement: Quartz (ETA) G10.212
Functions: Chronograph 1/10, date, tachymeter
Accuracy: ± 0.1 sec/day
Lug width: 20mm
Warranty: 5 years
Price: £355 / €396 (as of 24/05/20)
The case
I dare not say I am a huge fan of the case, it is rather minimalistic, but there is no doubt in my mind that this style is exactly right for a lot of people. The stainless-steel sides are beautifully brushed with the top getting a gentler finishing. The chronograph buttons are mirror polished and feature a smooth design, again, something that will intrigue people. With an ever so satisfying snappy sound, the buttons operate effortlessly and consistent and the crown has just the right amount of clearance to pull it out easily and be secure at the same time, a nice touch.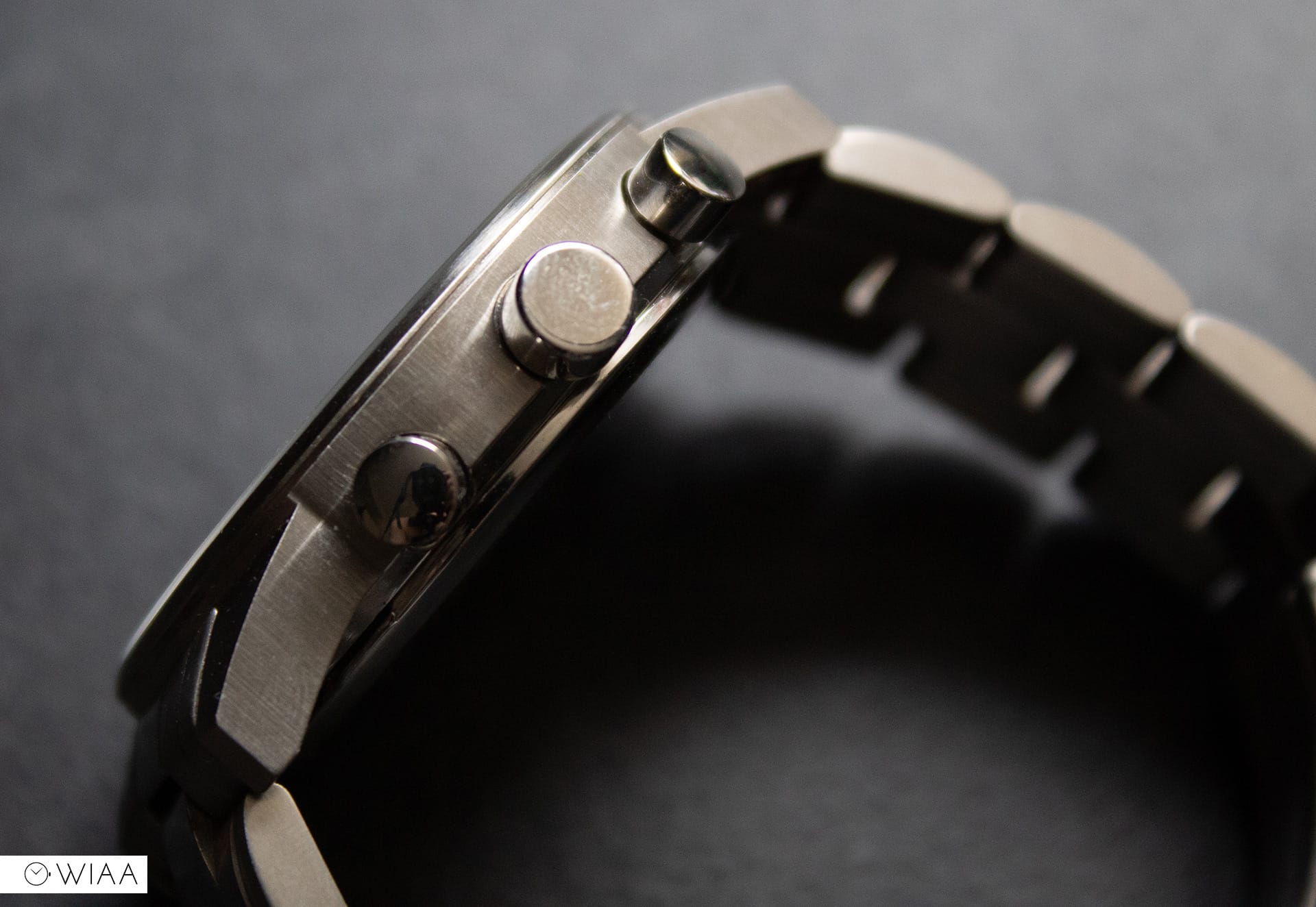 The absence of a screw-back case did not seem like too big of an issue to me given its 5ATM water-resistant rating, but it is something I like to see on every watch regardless.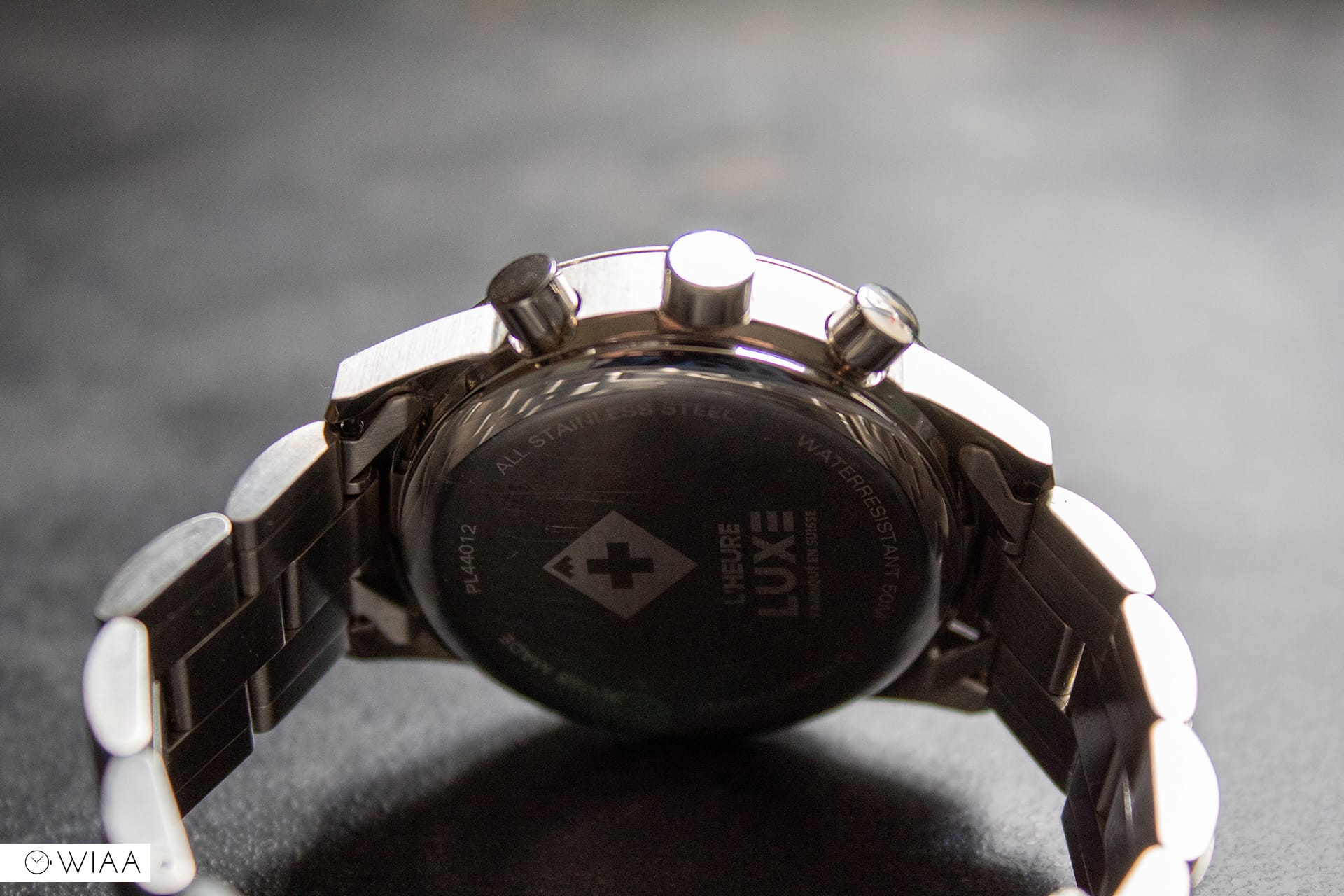 The movement
Inside we find an ETA 10.212 quartz movement, sporting 4 jewels and a theoretical battery lifetime of 38 months without the use of the chronograph. Someone like me who uses the chronograph very often is thus most likely bound to change it every year or so. It offers 1/10th of a second timing up to 30 minutes with a second's hand ticking away until you stop the timer. To save battery, the 1/10th timer stops ticking after a minute, but it keeps track of time 'in the background'. I must also point out that it is very loud, on par with the Ronda 5030.D in another watch I have. A very loud, but accurate movement indeed.
The dial
We have arrived at my favourite part of this watch although there is more to it, I will cover that in a minute. The first thing you will notice is likely to be the red logo just below the 12-hour marker and under the chronograph's second hand. After which your attention will be directed to the nicely polished indices and hands (remember what I said about its dazzling face?). 3 distinct square indices break up the numerals at 2, 6, and 10 o'clock. Quite uncommon on a watch. The date window is located at 4 o'clock, taking its place completely. I prefer to have it positioned at 3 o'clock but I find that on this watch it's just right, I also like that it is angled. K1 mineral glass with a sapphire coating provides a reflective-free surface that makes the shiny hour markers sparkle even more.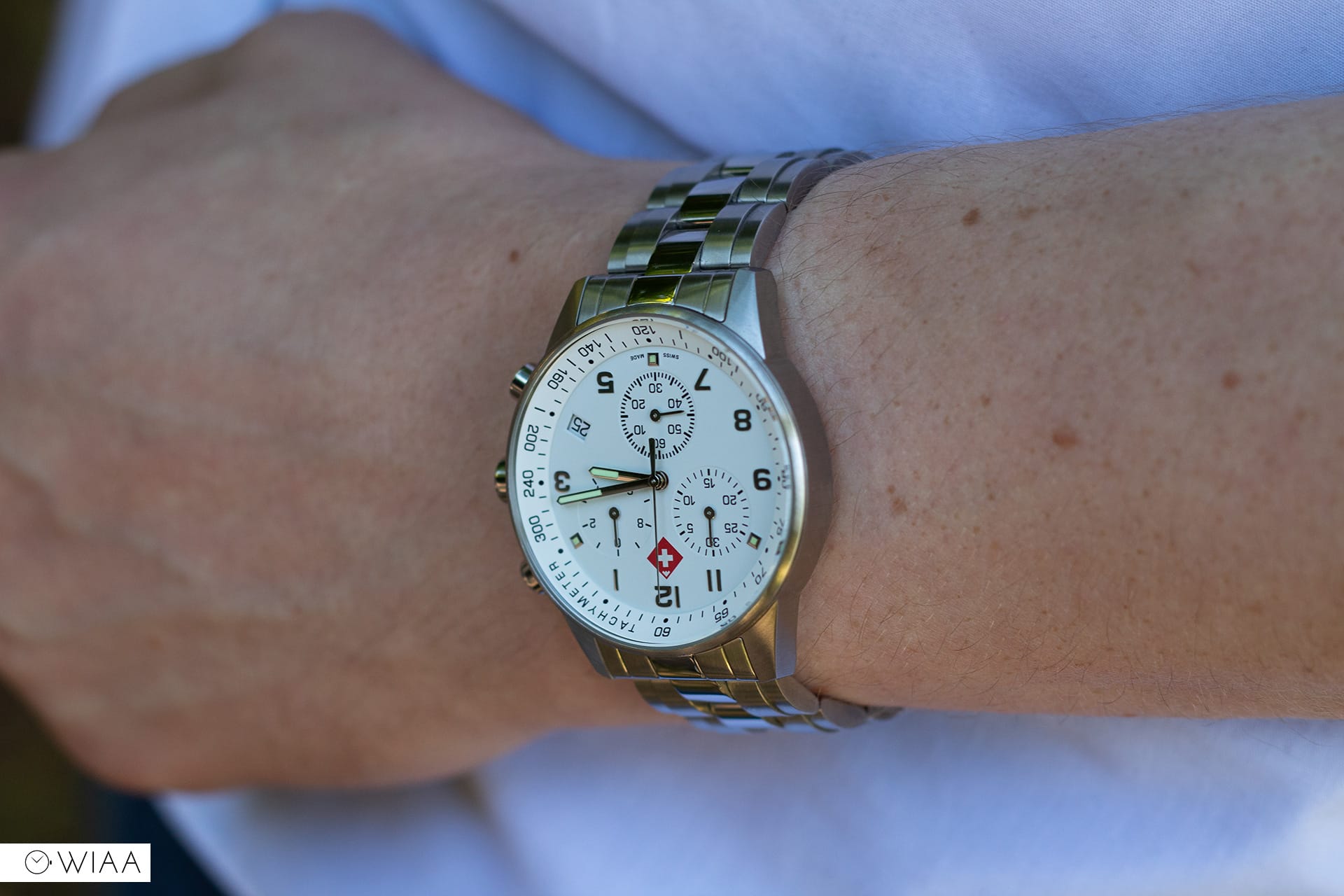 While I find the chronograph complication nicely positioned I would have loved to see it have some depth like the Bulova Lunar Pilot which Joshua reviewed a while back, here is a link to it.
The lume is a bit disappointing and is only applied to the 3 square indices, hour, and minute hand.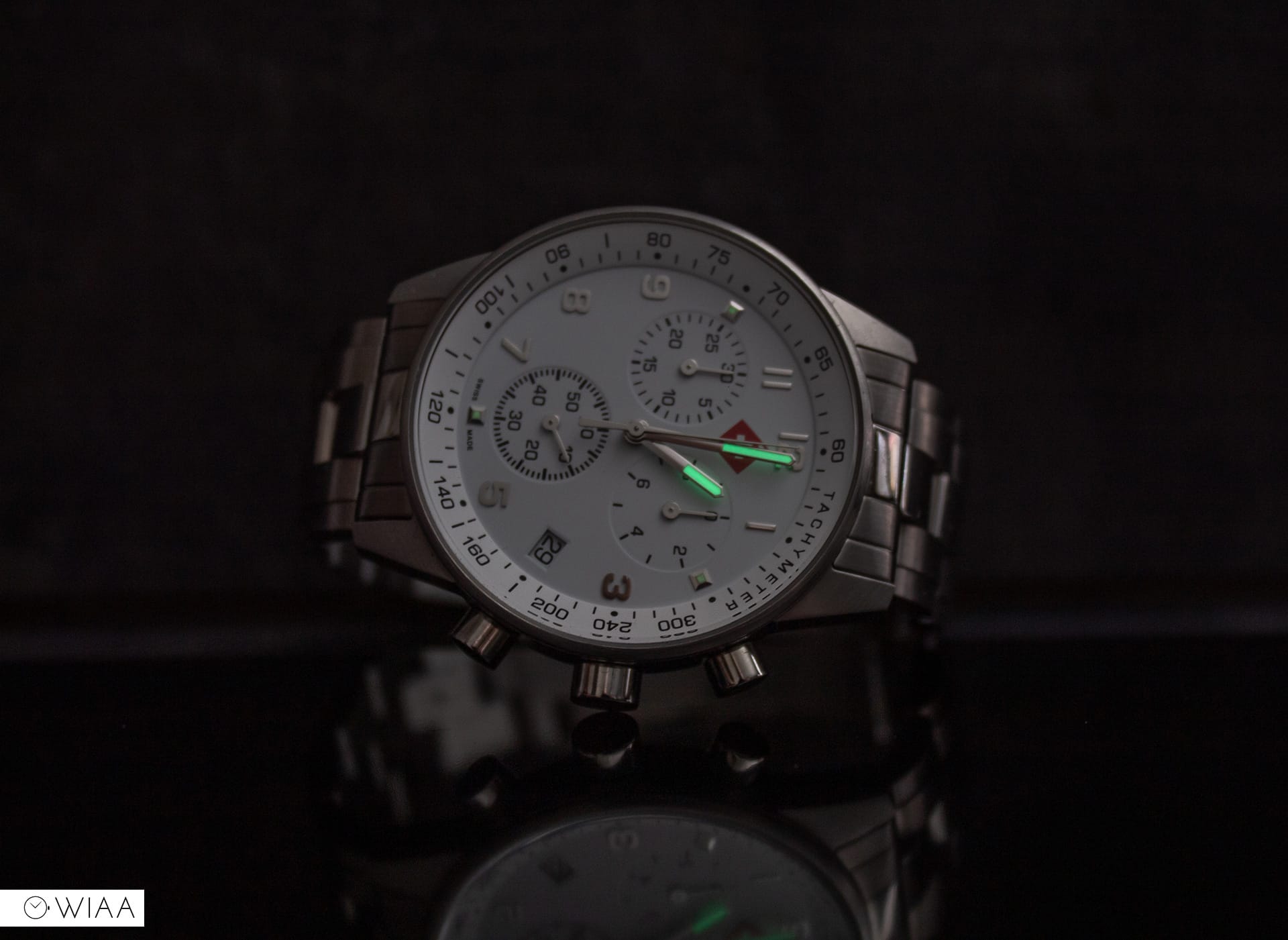 The bracelet
My second favourite aspect of this watch. Its two-toned, multi-layered, brushed and polished bracelet is what makes this watch worth every penny in my opinion. It is extremely comfortable to wear and sits securely on the wrist using a (folding) deployment clasp.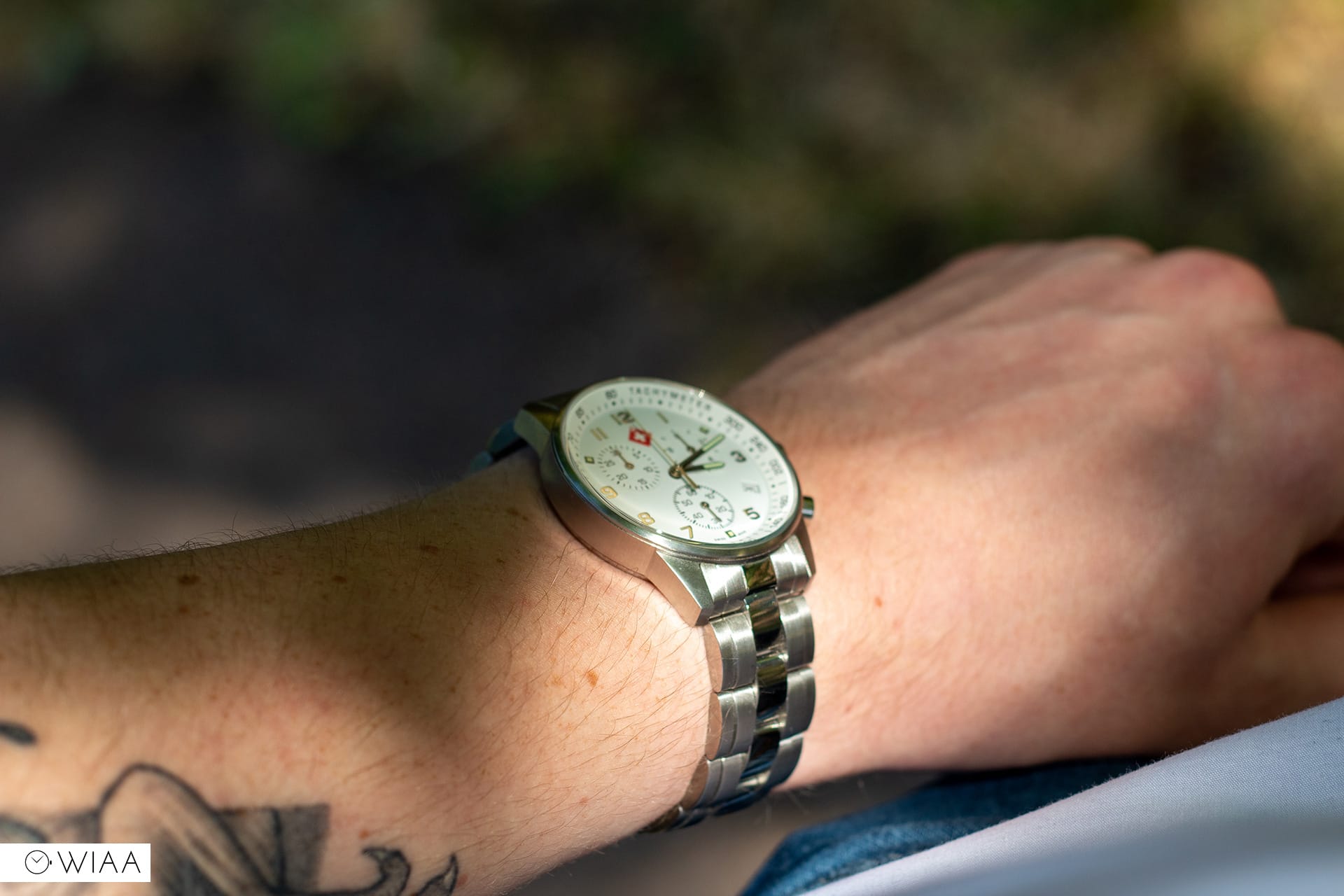 Whilst there are things I don't like about it like the hollow end links and the buckle that attracts scratches like honey attracts bees, it does tick other boxes. Micro adjustments, solid and reasonable thick links all score a lot of points with me but the most mention-worthy aspect is the finishing. At a total of 124.41g its right in the sweet spot, not too heavy, not too light.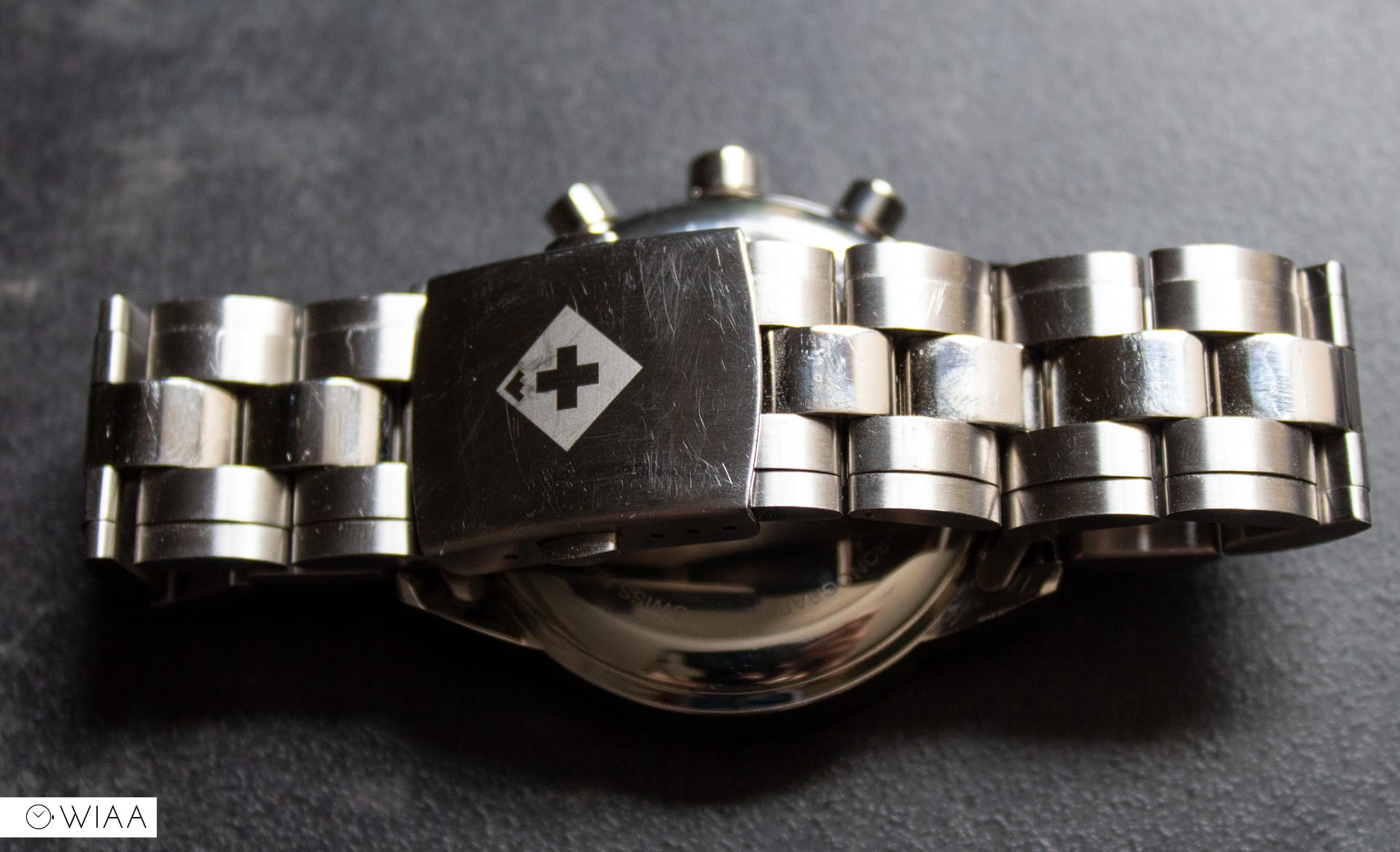 Conclusion
Now, do you think their promise of "timeless styles, high quality materials and craftsmanship, at a more affordable price" held up? I think they have delivered a beautiful watch at a very decent price without a crazy mark-up, so that is a yes for me. There certainly are things I would have loved to see differently, like a sapphire crystal instead of a coating, 10ATM water resistance and a screw case back, but in the end, these are preferences that differ from person to person. I would like to thank Joshua for allowing me to review this watch for him and I hope I will have the privilege to be doing it again in the future!