What would it take to get you noticed by 17 Government departments? By more than 350 private and public partnerships?  How would you stand out to 144 markets across the globe as a great British brand?
Would you need to be an authentic company drawing on century-old manufacturing techniques that shine a light on Britain's heritage? Certainly. How about a company that uses handcrafted methods to exemplify the highest level of craftsmanship? Most definitely. Independent watch manufacturers, Fears and R.W Smith are the only two to be selected to help represent the Great Britain Campaign.
The Great Britain Campaign hand-picks only the finest. Launched in 2012 it was designed to showcase the cream of the crop – the very best of what Britain has to offer in terms of business, heritage, culture, creativity, technology and sport among other things. More than 350 high profile businesses support the campaign which is constantly striving to extend the ultimate reach and impact overseas by refining marketing techniques.
From healthcare to business figures to some of the most iconic British brands we as a nation can proudly claim our own – the campaign's initiative is to stimulate jobs and promote growth, as well as to encourage the world to visit, study and do business with Britain. Its £113.5m investment has directly returned £1.2bn to the economy. Its framework incorporates outdoor advertising, social media, PR, exhibitions, events and TV. But what does it really take to be a company in this day and age deemed respectable and noteworthy enough to represent the entire country?
Well, brand consistency is one of GREAT's fundamental strategies in targeting audiences and encouraging them to respond and engage, which is why R.W Smith and Fears are independent watch manufacturers that stand out amongst some of the most vibrant, innovative and inspiring watch brands within the UK. Let's take a quick look at what underscores each company as a leading pioneer within the British watchmaking industry…
Defying the odds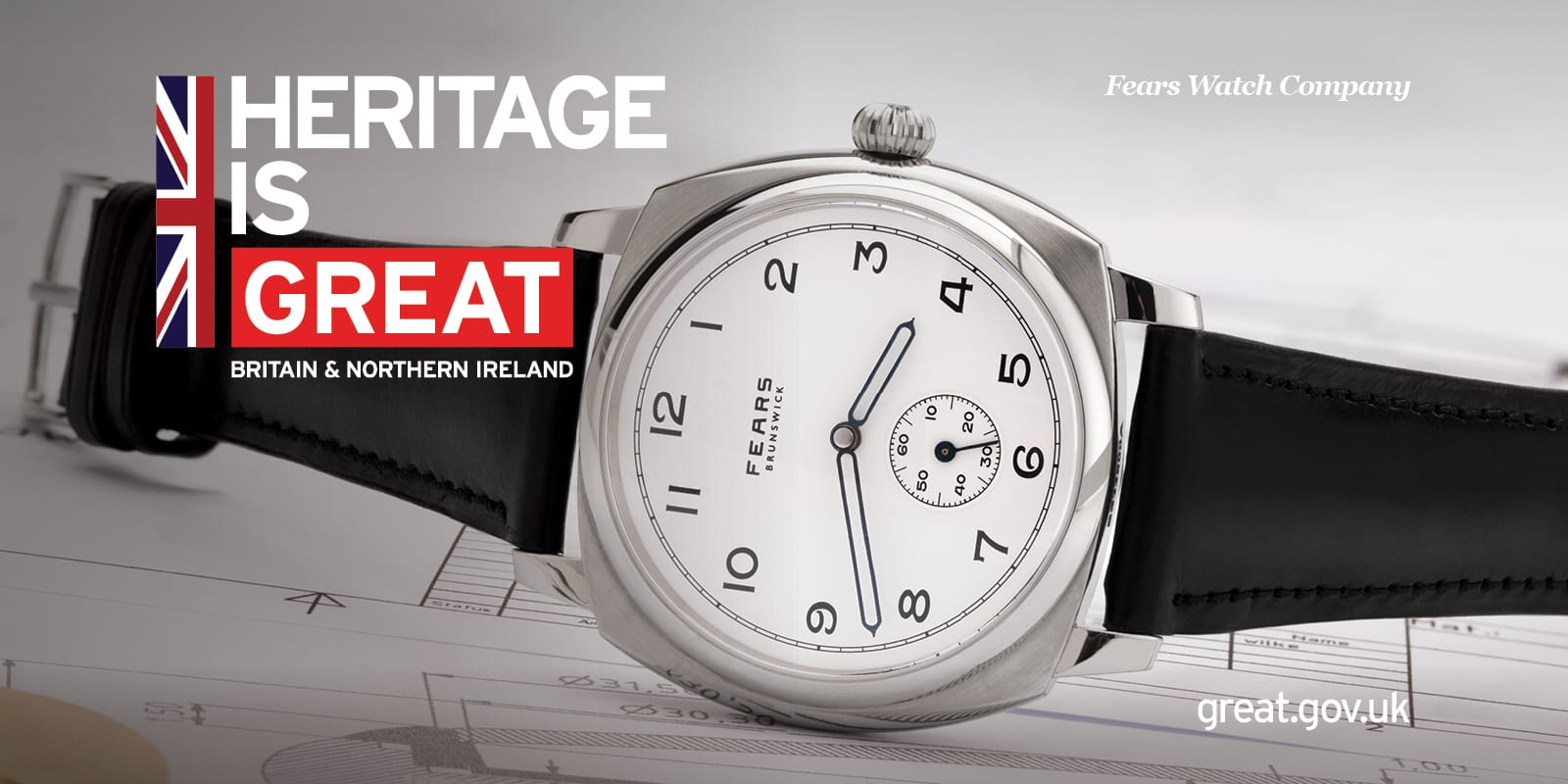 Fears is one of Britain's oldest family-run watch manufacturers still in business today.  Now into its sixth generation of watchmaking, its time-honoured methods are integral to the success of the business. It's what breathes life into the company's legacy. Edwin Fears established the business in 1846 in Bristol. Having survived testing times throughout the Wall Street Crash, Fears boomed during the end of the 1930s and was soon exporting to 95 countries worldwide. That wasn't the only storm Fears survived, however. When the Bristol Bridge headquarters was completely obliterated during the bombing of World War II, watchmaking resumed in a new premises in Clifton, Bristol. But here's where the brand's story gets even more interesting…
Around the time of the quartz crisis, Fears closes its doors in 1976 and would remain closed until 2016 when Nicholas Bowman-Scargill, the great-great-great-grandson of Edwin Fear turns his attention from watchmaking for Rolex in London to relaunching his great-great-great grandfather's business. The Redcliffe model was Fears' first 21st Century wristwatch. Just two years before becoming a partner of the UK Government's GREAT Britain campaign, Fears had designed a timepiece named after Brunswick Square in Bristol and a limited-edition model inspired by the company's 1946 original Streamline watch. Suffice to say this British watchmaker (who has in recent years phased out its quartz movements and now focuses solely on mechanical wristwatch manufacture) perhaps highlights values considered of utmost important to Britain as a nation – perseverance, determination and stamina.
Fears watches boast elegantly understated designs that certainly excite the hearts and minds of true connoisseurs that relish traditional craftsmanship. Distinguishable hallmarks like their "Fears" shaped hands propelled by exquisite hand-wound movements, and a variety of case materials, straps and 'onion' shaped winding crowns to choose from – these classic hand-finished instruments are British pedigrees with an avant-garde edge.
Cutting a path to the future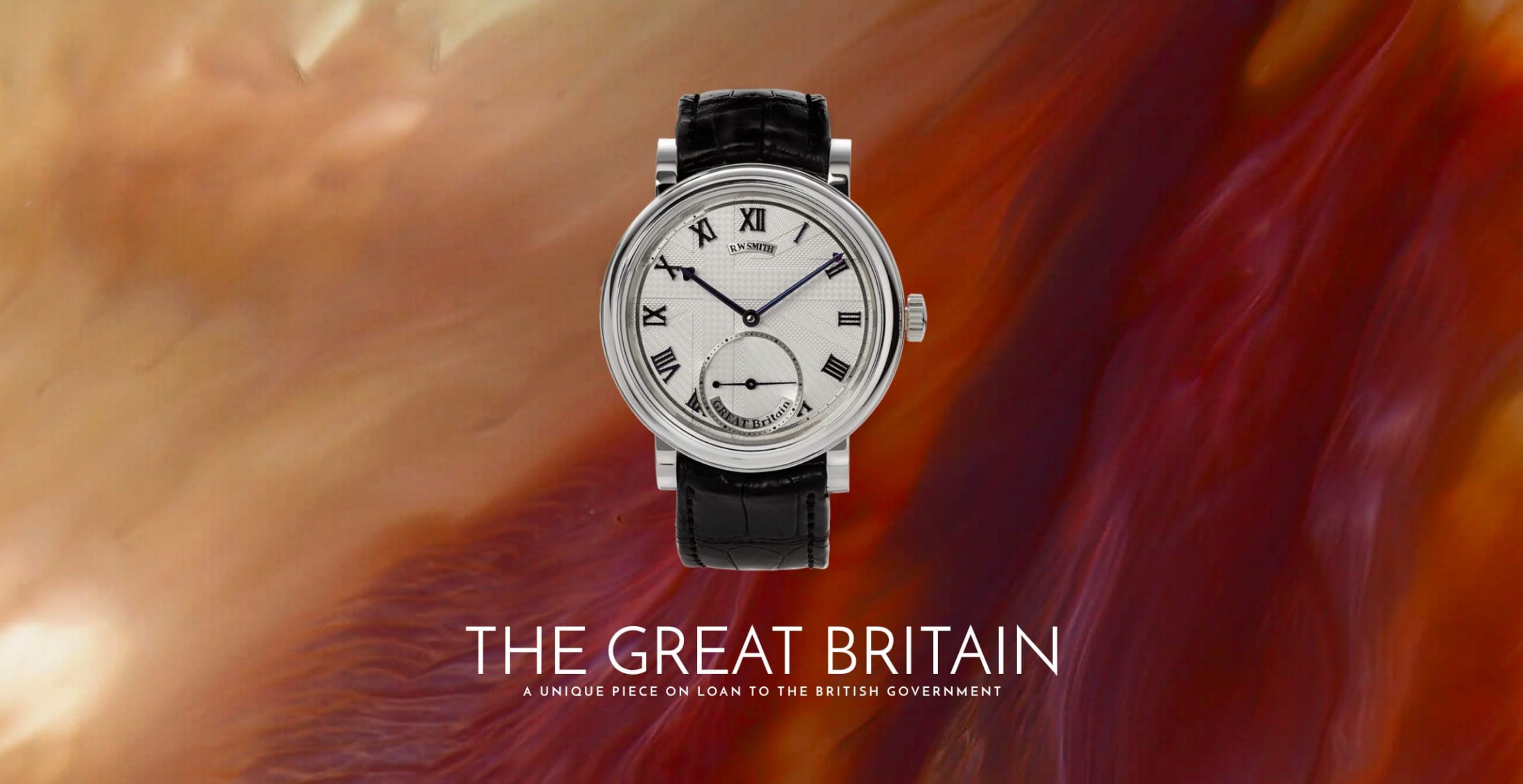 For R. W Smith, becoming an ambassador for the Great Britain Campaign was about cementing the importance of the industry's future.  It inspired Dr Roger W Smith OBE to design a special timepiece to honour this appointing. As with all R.W Smith watches, the Great Britain watch encompasses next generation science whilst still embodying traditional artforms.  What undeniably makes this watchmaker stand out from the rest is its quest to celebrate what is possible. R. W Smith, in many ways, is the future of authentic watchmaking.
Powered by a one-of-a-kind mechanism, the manually wound movement inside the Great Britain watch features a floral hand-engraved raised barrel bridge and an Isle of Man's Triskellion symbol. It also incorporates hand-engraved plates that have been gilded and frosted, along with blued screws, and a George Daniels Co-axial escapement modified and reinvented by Roger W Smith. The R. W Smith Great Britain Watch is based on the Series 2 watch – a design that displays hours, minutes, seconds and a power reserve dial.
Unfortunately, those dreaming of owning their very own piece of horological mastery will have to do just that. Dream. The timepiece is a one-off which took around 10 months in the making. Good reliable timekeeping to a watchmaker like R W Smith is all about making solid, robust movements. The depth of a movement like this one is a result of painstaking attention-to-detail.  These expertly developed engines are known and loved for their unapologetically thick dimensions – a design that feels and looks strong and noticeable on the wrist.
Promoting the best of Britain is as prestigious as it sounds. By selecting watchmakers like Fears and R. W Smith, the most ambitious international marketing campaign for the United Kingdom is illustrating a history-steeped British story of success and provenance.
From its heyday creating quality marine chronometers to the boundary-pushing horological engineering of today – British watchmaking is here to stay. A resurgence of interest in British craftsmanship, now at a time more than ever, looks to restore the importance of our heritage as a nation. In a competitive industry, Britain's fighting spirit will prevail.