One of the things I love about Oris is that it hasn't had the same exposure as the likes of Rolex, Omega and Patek Philippe. Its unblemished reputation in creating quality watches at an affordable price has flourished as a result of determination and perseverance. The company sits in the middle of the pricing scale. Founded just over a century ago, it only acquired its recognisable red rotor logo in 2002. The company has specialised in creating wristwatches for four sectors in particular; diving, motorsports, aviation and culture. That pretty much covers most reasons why you'd be looking at investing in a luxury watch without the extortionate price tag. One thing to note about Oris is that it used to create its movements in-house, then started out-sourcing before returning to the independent manufacture of its own movements – one reason why mechanical wristwatch lovers admire a self-sustained brand like Oris.
Watches developed to a high standard don't necessarily have to cause a devastating blow to your wallet, and Oris is a prime example to support this view. It exclusively develops mechanical watches, so if you haven't set your heart on a high-end quartz watch, you're guaranteed to find a timepiece from Oris' remarkably diverse assortment on offer.
If you're new to Oris watches, you're probably going to want to know how they wear on the wrist and what you get for your money? Although Oris watches aren't some of the most expensive watches you'll find on the current market, they certainly aren't an impulse buy. Considering what style of watch you require and what functions you need in a watch are paramount in choosing the right model for you.
Here's a rundown of the main watch collections by Oris and who they appeal to depending on style, functionality and wearability…
Oris Divers Sixty-Five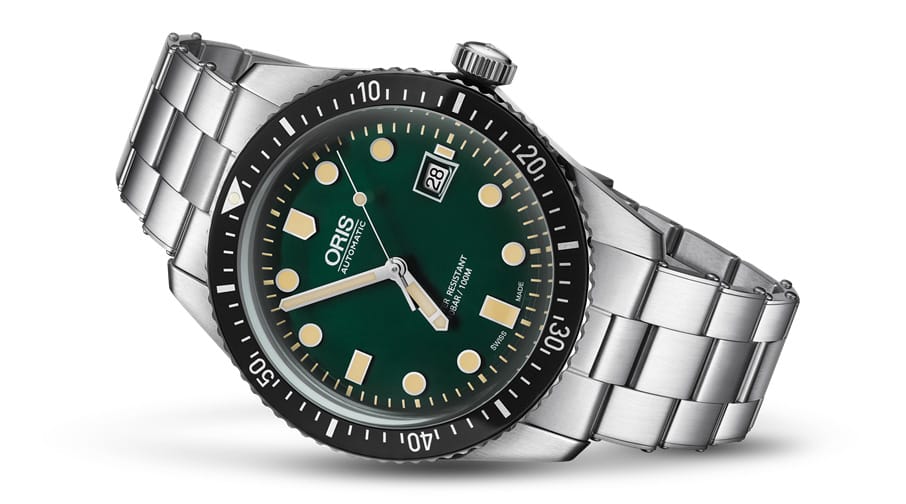 Two of the key features I love about the Oris Divers Sixty-Five watch is that it meets professional needs but embodies a retro-inspired aesthetic. This unique combination never fails to look cool when paired with smart attire or something more casual at the weekend. Inspired by the brand's original diving watches from the 1960s, these 40mm or 42mm models can be found for around a grand. New, you can expect to pay around £1700. Some highlights from the Oris Divers Sixty-Five collection include the Deauville model with a dial dressed in stunning blue-grey tones that underscore the vintage feel of this collection perfectly. There's also the Movember Edition, equipped with a Sellita-based movement powering a three-handed date dial. Key features of Oris' Divers Sixty-Five watches include; anti-corrosive stainless steel cases, bubble-curved anti-reflective sapphire crystal glass lenses, and rotating bezels.
Oris Big Crown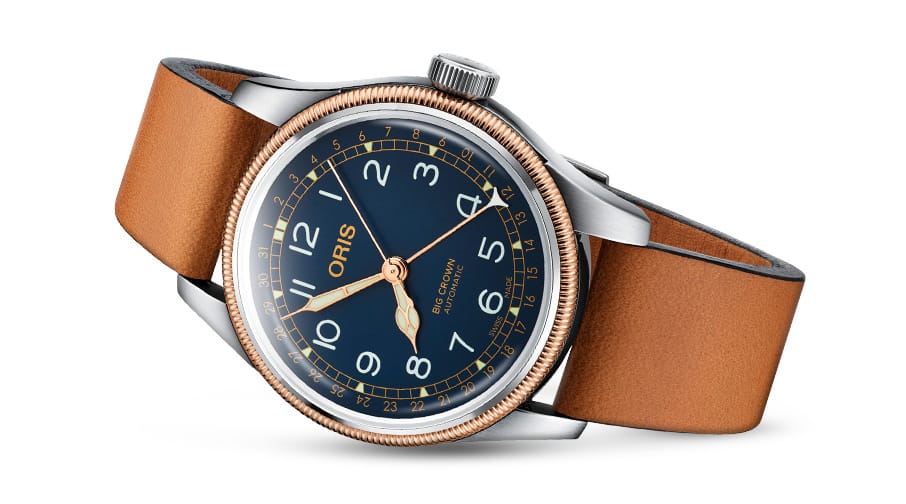 The thing to remember about the Oris Big Crown watch is that it's made by experts who have dedicated their entire career towards manufacturing wristwatches for professional pilots. That doesn't mean to say you have to be a pilot to own one – some collectors just love the look of a pilot watch. Oris has been specialising in this field of expertise since 1910 when it created its first pilot's watch. The Oris Big Crown is priced around £1500. Its design is beautifully proportioned and easy to reference the time from at a quick glimpse. Inspired by a design from 1938, it's no wonder these wristwatches look unmistakably vintage. Key features from the line include supple brown leather straps, unusually-coloured dials and Arabic numeral hour tracks identified by leaf-shaped hands. The pointer date hand is often executed in red, indicating the date around the outer rim of the dial.
Oris Aquis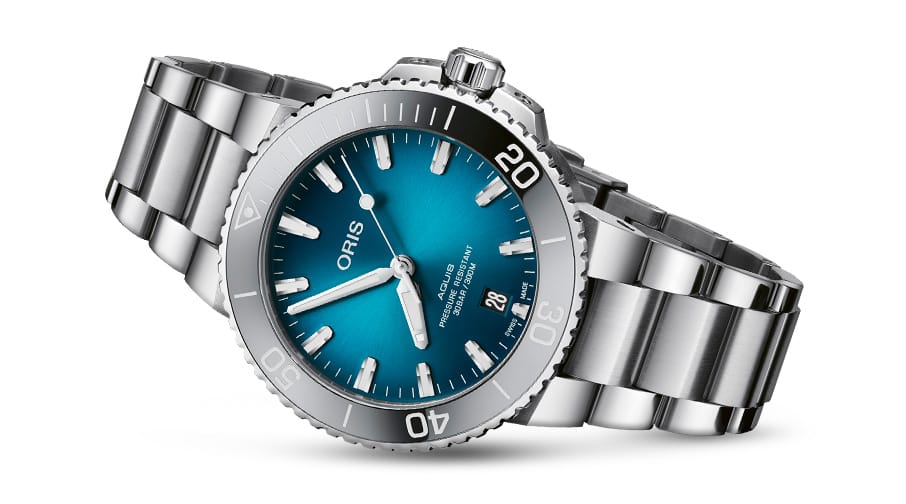 When you hear Oris Aquis watches think "diver's best friend". Compared to the Oris Divers Sixty-Five collection, Aquis watches are much more capable of being worn down to deep daring depths underwater. With a steel case integrated with 300-meter water resistance and Super-LumiNova markings – you can keep track of remaining dive time quite easily underwater. They have an urban look as well as exuding that archetypal diver's look on the wrist. The Oris Aquis Date starts at an average price of around £1600. As its namesake suggests, it comes equipped with a date aperture at 3 o'clock. Other models feature sporty chronograph dials against a rich blue backdrop, small seconds features or large day-date functions. For a lightweight feel on the wrist, you could opt for the Oris Aquis Titanium Date model, but variations with a black ceramic unidirectional rotating bezel look exceptionally sleek in conjunction with their black rubber diving straps. Oris Aquis watches wear large on the wrist – the current models from the catalogue measure 43.5mm in diameter.
Oris Formula 1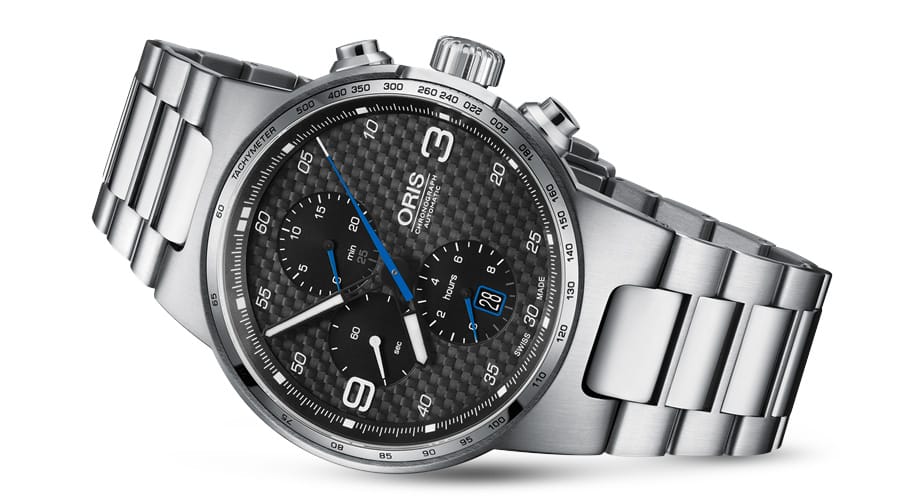 Oris is intrinsically linked with the motorsport industry, having created timepieces like the Chronoris (which harkens back to the '70s), the Audi Sport Limited Edition, and of course, the Formula 1 collection. Oris Formula 1 watches are geared towards professional racing drivers as well as those who love the excitement and power associated with the motorsport world. There are chronographs, day-date versions and even cases made from carbon fibre for a more dynamic feel. This is one of my favourite watch collections from Oris because it brings the speed, power and technology associated with the Formula 1 industry into the design of a wristwatch in a way that can't quite be put into words. Adrenaline-infused designs like the Oris Williams Engine Date models combine a skeletonised layout with design elements inspired by the engine of an F1 car. The date ring and injections of vibrant blue seen in places on the dial give this statement piece an unmissable aesthetic.
Oris Culture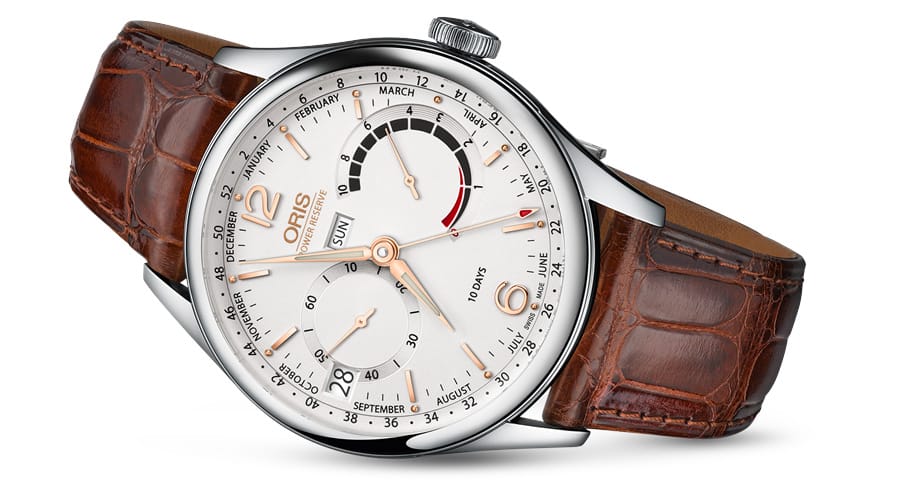 By collaborating with artists from the music and art industry, Oris can offer a varied selection of dress watches for those who love a more classic style. Within this collection is the popular Artelier design. Its slim case construction and understated style make it perfect for slipping underneath the cuff of a smart suit. If you like moonphase watches, simple three-handed date designs, mesh-style bracelets and pointer date models – you'll be wanting to explore this collection. You can also opt for skeletonised dials (that showcase elements of the watch's in-house developed movement through the dial side), chronographs and power reserve displays for a more technical-looking watch.
Final Comments
So, there you have it, all the important stuff you need to know about Oris watches at a glance. With in-house made movements and a myriad of different styles to choose from – these wristwatches are perfect for anyone wanting to kick their watch collection off to a great start, without the hefty price tag. You don't have to be a diver, a pilot or a racing driver to enjoy these timepieces. Their universally appealing case designs combined with technical features and impeccable engines make them a great option for mechanical watch lovers, businessmen and frequent travellers.
Lastly, the importance of being Swiss-made goes a long way today. All Swiss made watches made by an official Swiss Made brand are quality controlled to the highest standards throughout the entire manufacturing process. If you're looking for a reputable watch brand but don't want to break the bank – Oris is the way to go.