This week marks the end of the Battle of Britain.
To commemorate this historic moment, Zero West Watches have created a very limited release of just 50 H2 timepieces with the dial design based upon the slip-turn indicator of the iconic Mk1 Hawker Hurricane and the date code of the battle's Hardest Day – 18/08/40. Mounted in the watch back are discs of the rare and original metal, recast from the Rolls-Royce Merlin engine of P3708.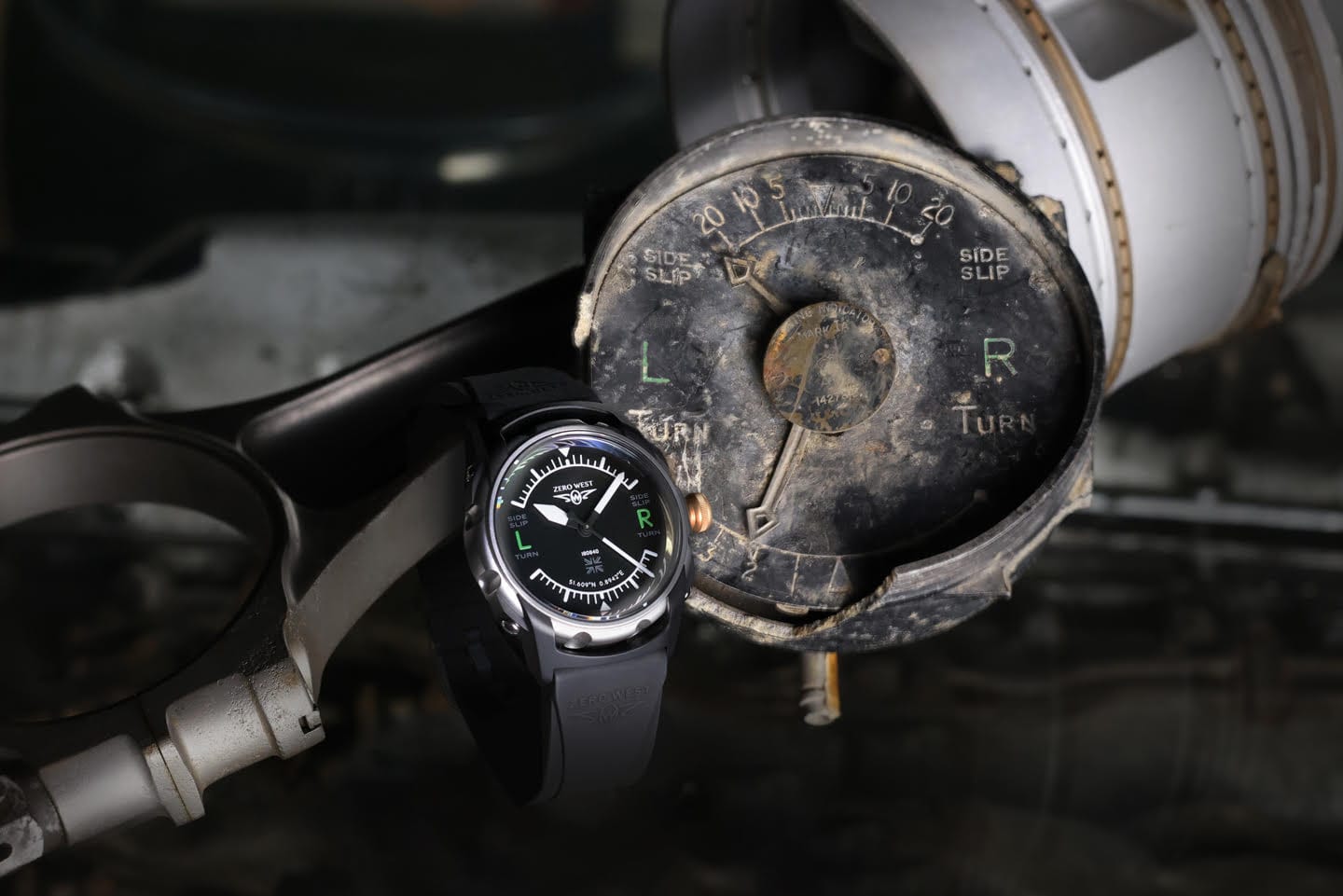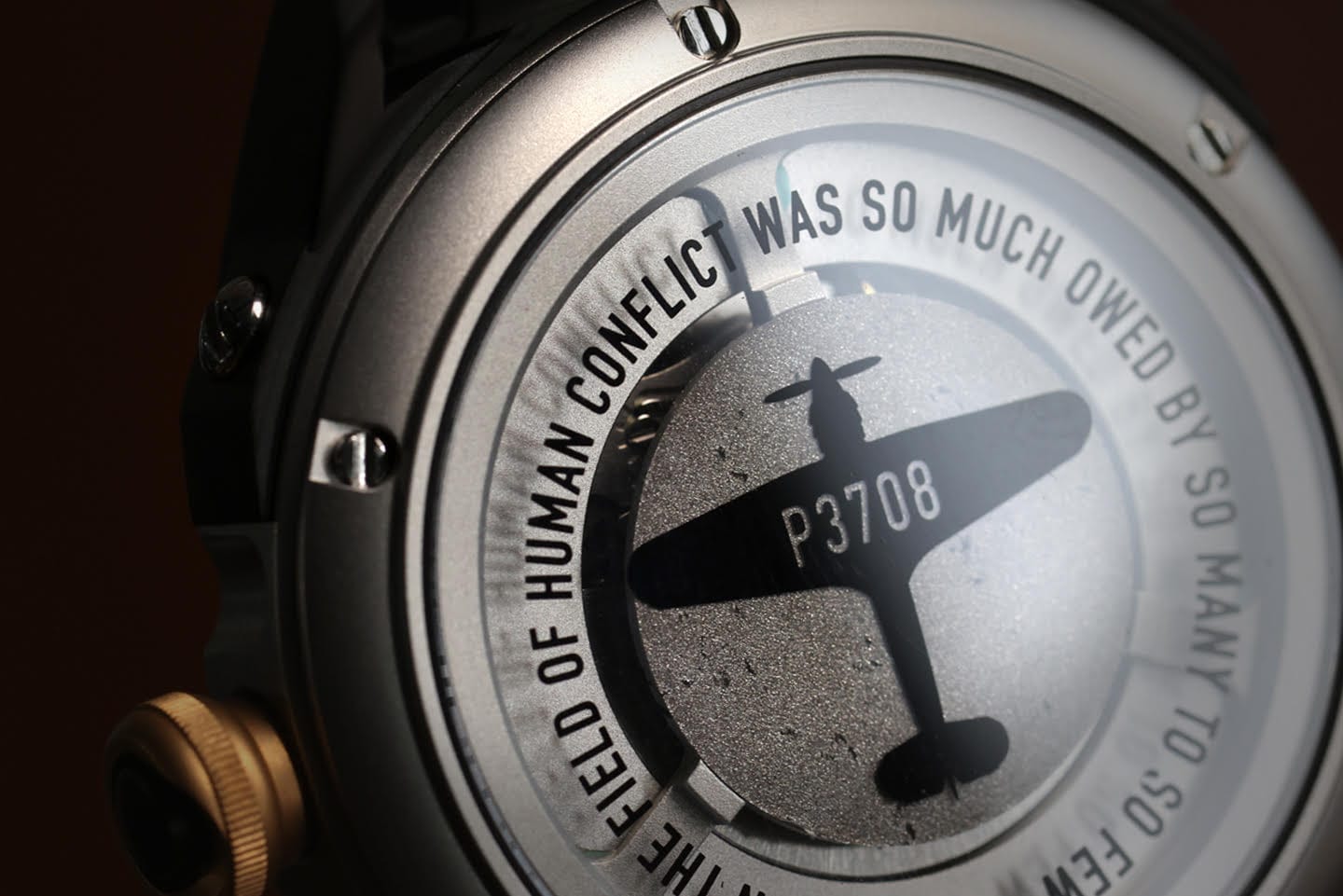 A turning point in WW2, this timepiece captures the epic story of the Battle of Britain, from its initiation by Germany's Luftwaffe on the 10th July 1940 to its conclusion on the 31st October 1940. It was a battle fought by the few in dogfights over British shores in planes designed by Britain's best aeronautical engineers. Sergeant Alexander Girdwood was one such pilot. Flying Hawker Hurricane P-3708 he engaged the enemy alongside legendary fighter ace Robert Stanford Tuck.
As part of 257 Squadron, Girdwood limped away from his burning plane during the Battle's Hardest Day on the 18th August 1940. He fought again but P-3708 remained buried where it crashed on Foulness Island until its excavation in 1990. Girdwood would not see the end of the Battle of Britain but his bravery is not forgotten.
This ultimate sacrifice by him and many other pilots will forever be honoured by Churchill's poignant words, 'Never in the field of human conflict was so much owed by so many to so few.'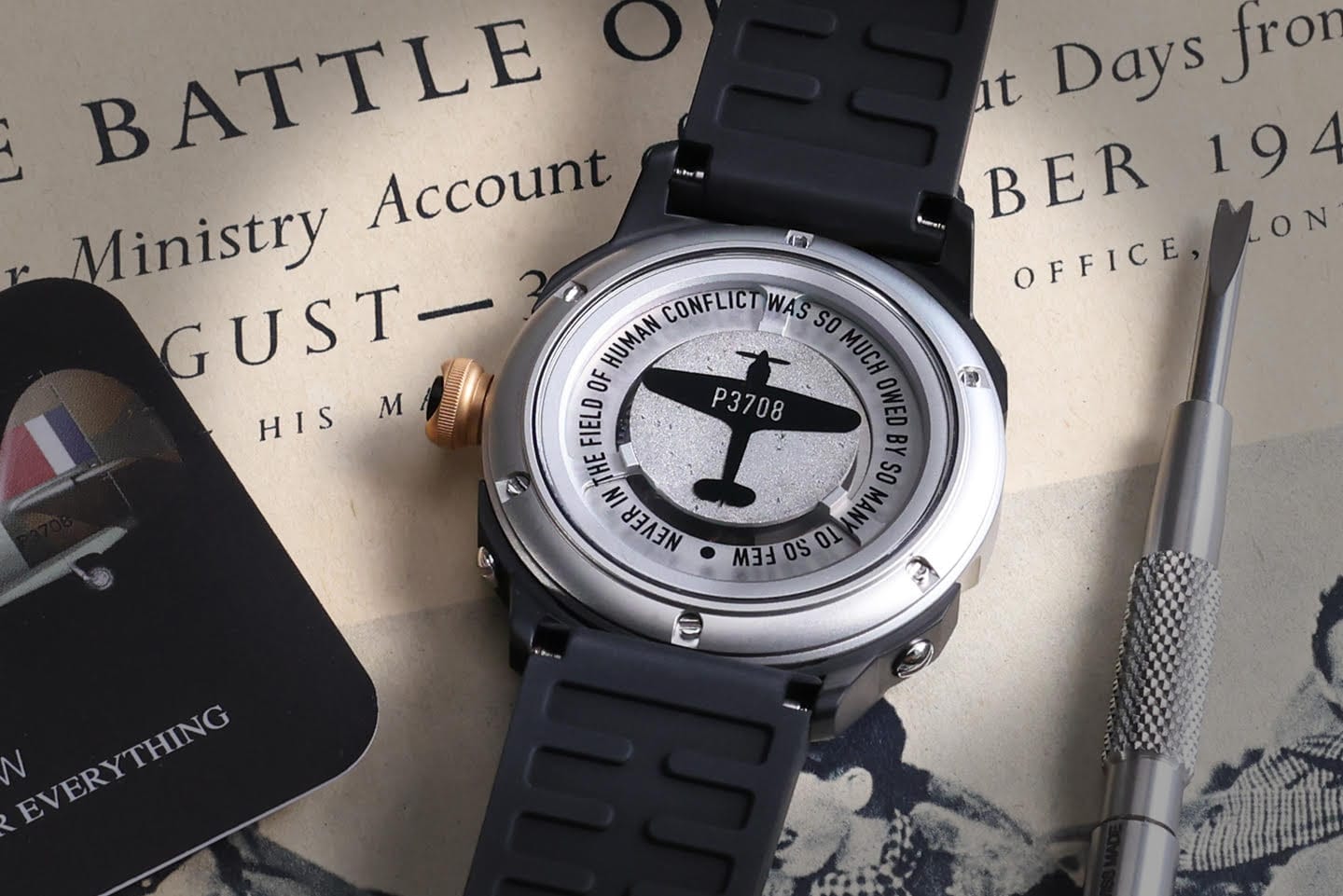 The Ticking of Time
The H2 is housed in a precision billet machined bead blasted case with black PVD Zero West DSL lugs. This 41mm timepiece has a distinct black dial with iconic L&R markings, period indexes with clearly defined avionics style hands. The classic dial is framed by a simple mirror polished bezel ring and the hands and dial are coated with SuperLuminova X1 pigment. The dial also references the date of Sergeant Pilot Alexander Girdwood's dogfight above the Essex coastline on 18th August 1940, The Hardest Day, and the lat-long coordinates of Foulness Island where Hurricane P3708 was recovered.
The back of the watch showcases a disc of the original metal recast and machined from the original Rolls-Royce Merlin engine of P3708. This precious casting is protected by a reverse printed sapphire crystal that records the plane and Churchill's famous words.
This rare watch also features a brass finished locking crown a replica of the joystick gun-platform fire button, a feature once so familiar to those brave young RAF pilots during the Battle of Britain.
Limited to only 50 builds this timepiece is powered by a 'Top Premium Grade' SW200-1 automatic movement ensuring it never misses a beat and is fitted with a custom ZW aerospace grade rubber strap and buckle and like the case all designed in-house.
For further information check out: https://zerowest.watch/product/h2-hurricane
£3,700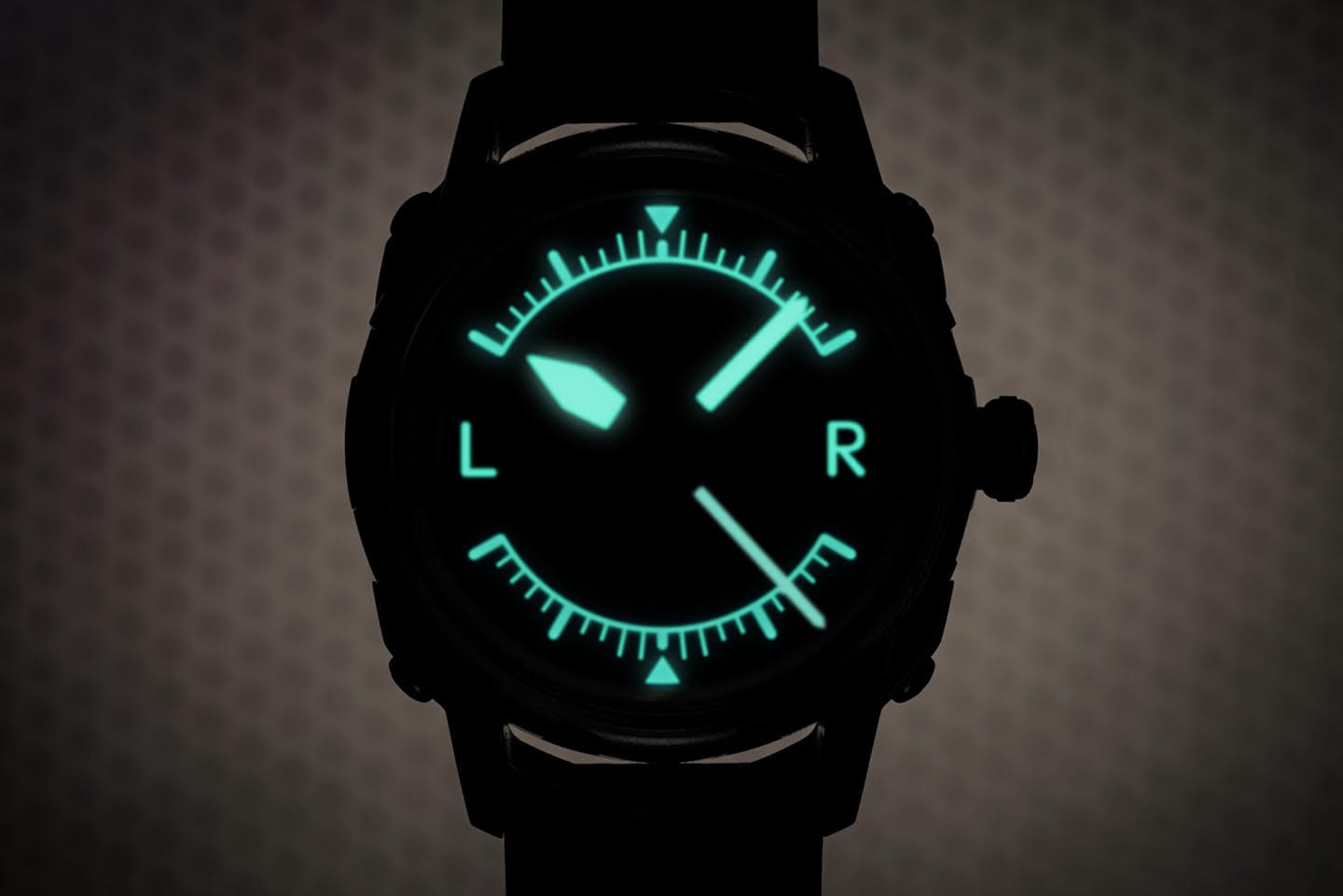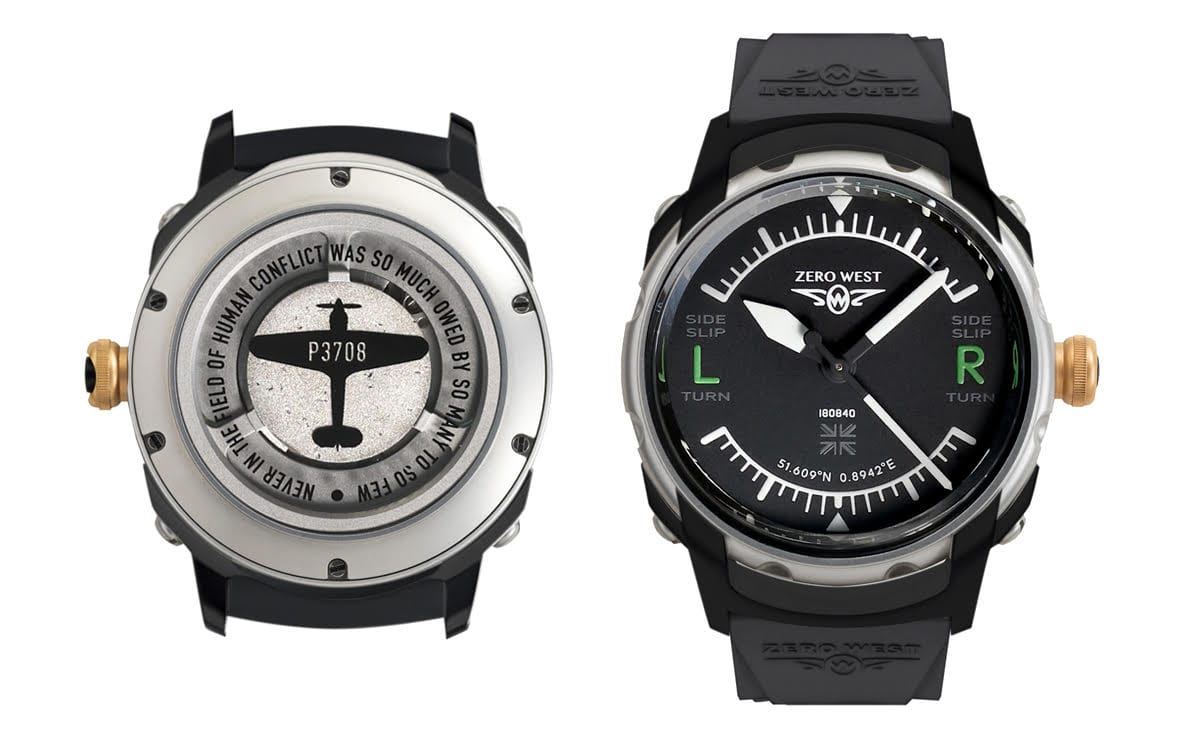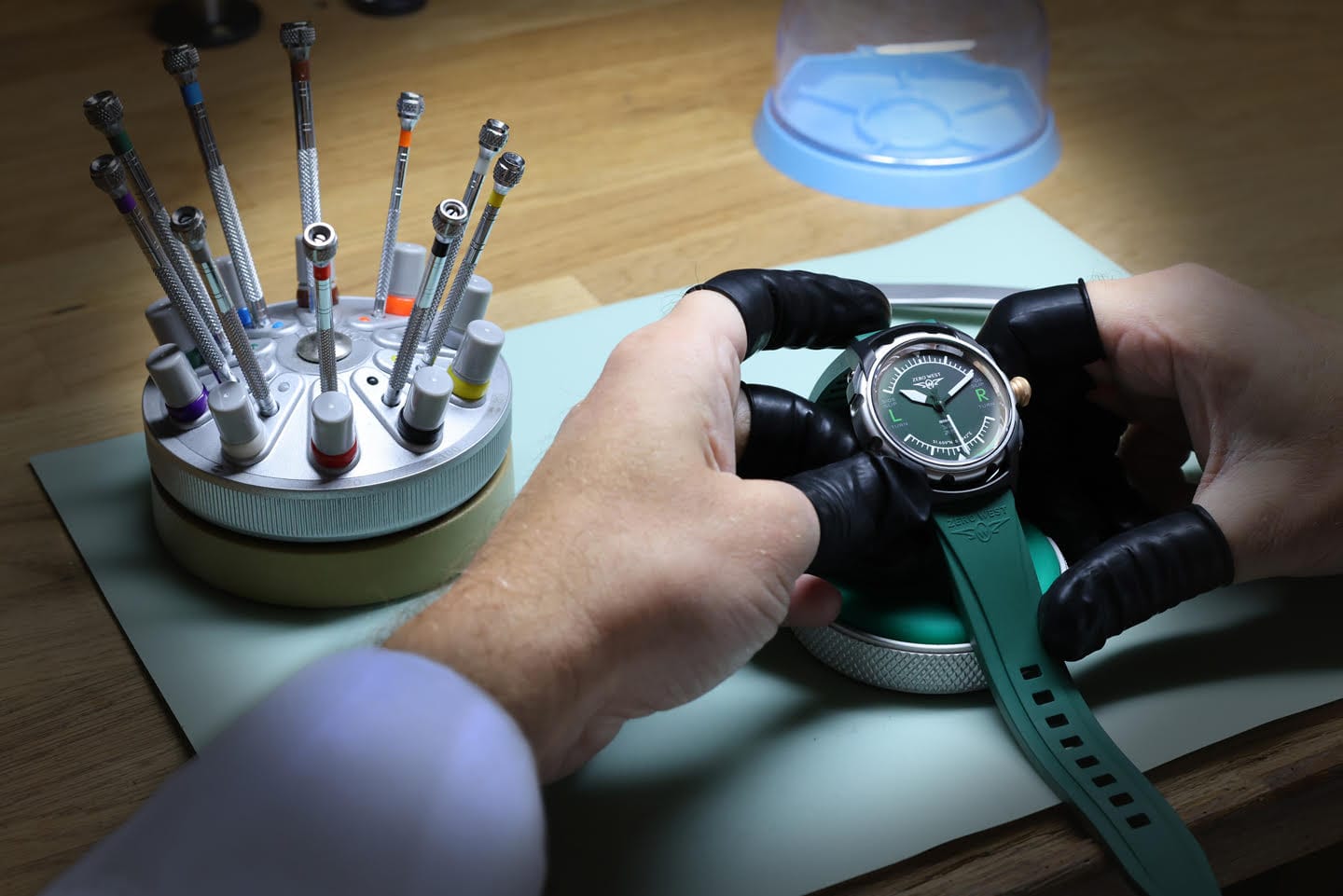 More on this independent watchmaker
Zero West create British engineered-British designed timepieces from their bespoke studio and workshop at The Boathouse, Emsworth, Chichester. Old friends and ZW co-founders, Graham Collins and Andrew Brabyn have an obsessive passion for 'time and place' and their limited edition watches embrace important moments of distinctly British engineering on land, sea and air. Zero West have successfully paid homage to many great British moments in engineering history, through timepieces like their DB-1 Lancaster (the Dam Busters raid in WW2) and the FS-1 Flying Scotsman celebrating 100 years of Britain's most famous steam locomotive. The brand are vertically integrated and distinctly different. Where else can you walk in to a studio, talk with the designers, see the watches being built in the workshop and look over a salvaged WW2 Spitfire Merlin engine?
If you would like more information or would like to visit the design studio,
please don't hesitate to call Andrew Brabyn on 01243 376 676.