I have had a good few watch boxes in my watch collecting life, from cheapo £10 from Amazon; to this offering by WOLF. Yes, the cheap ones will work as a mere storage device for your watches, but they're not the home they deserve. I often find the cheaper cases are never that large either, so if you like larger watches they tend to knock each other.
Enter the WOLF 1834 Savoy: a stunning watch box that looks tremendous and is beautifully made. Yes it costs £219, but as always, you get what you pay for. Let's check it out.
The specs
Exterior dimensions: Depth 24cm x Height 10cm x Width 31.5cm
Interior slot dimensions: Depth 8.5cm x Height 5cm x Width 4cm
Warranty: 1 year
Cost: £219
The video review
The Savoy is constructed of a rich burlwood exterior; which is tied with sharp, classy lines and edges making it a supremely deluxe piece of furniture that'll look great no matter where it's placed. One thing's clear: the build quality on this box is simply gorgeous.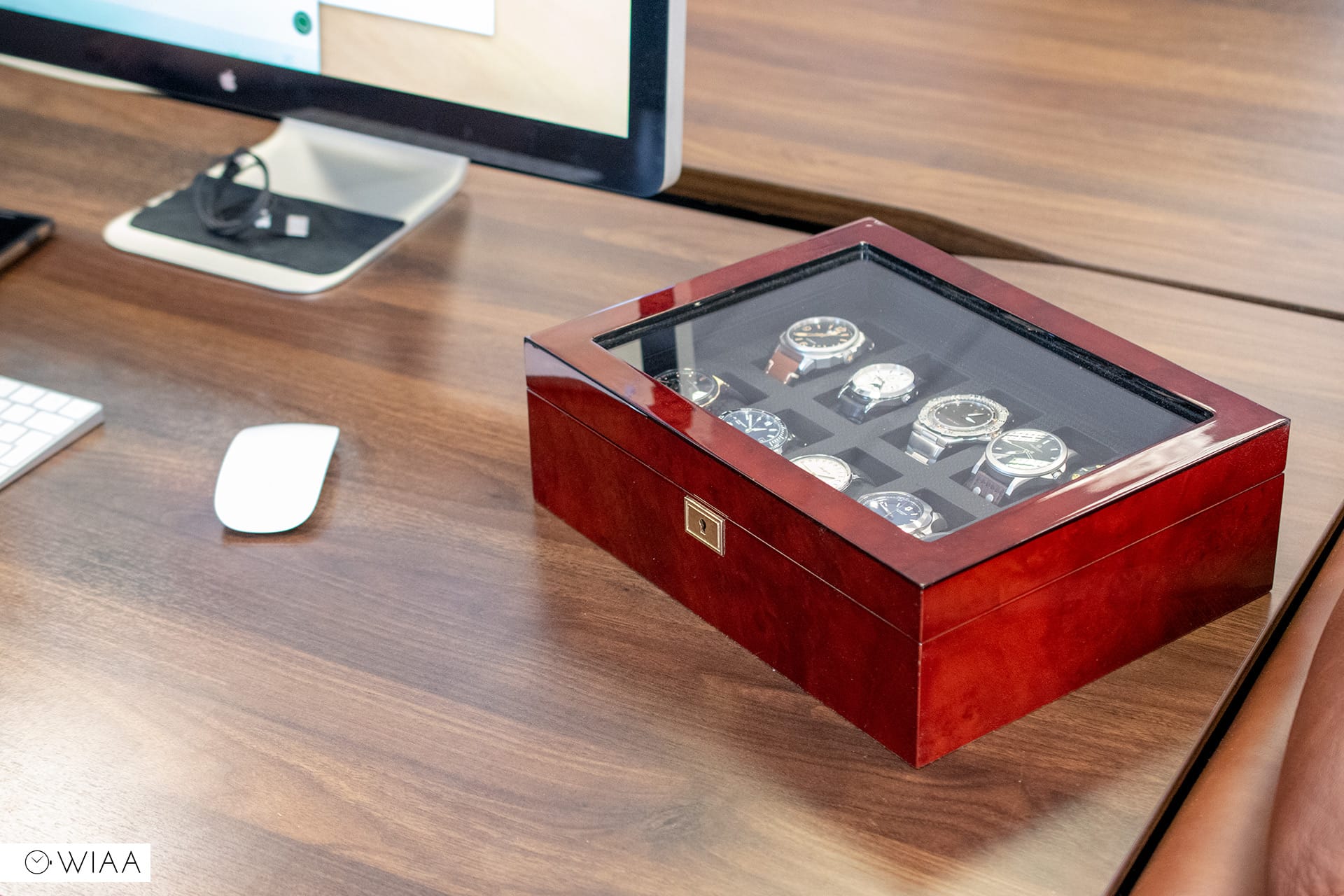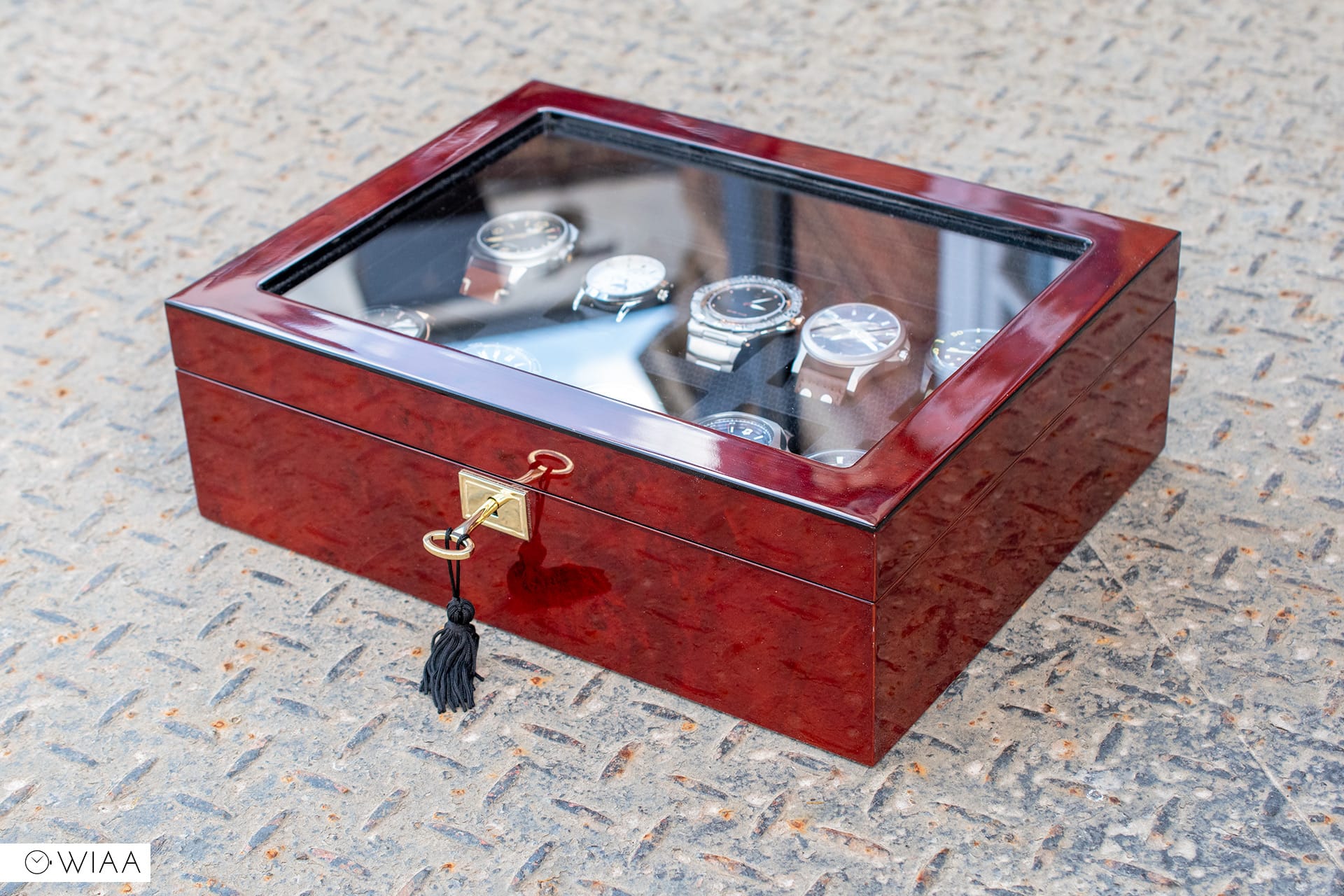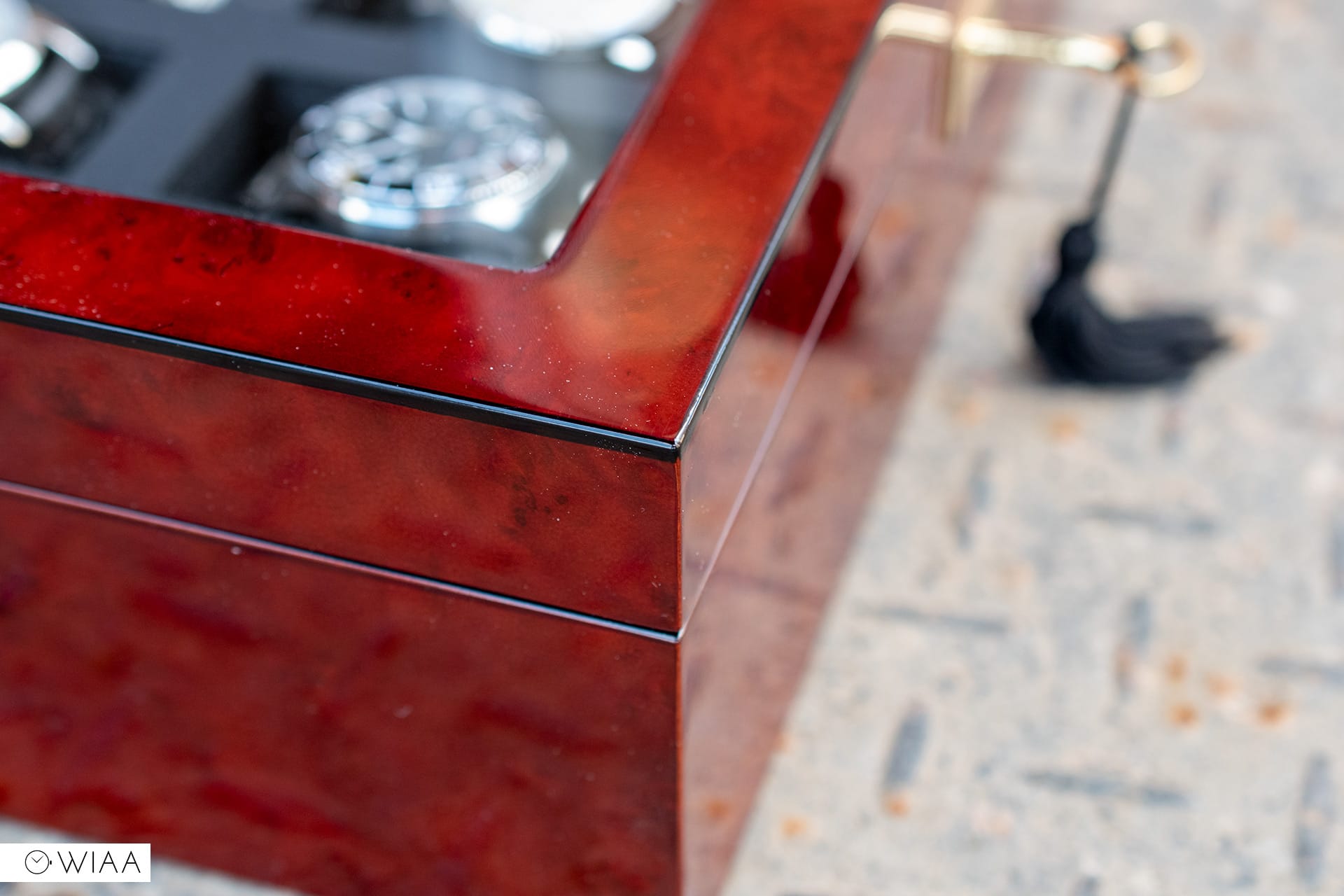 One interesting feature is their patented anti-tarnish lining. With age, all metals tarnish (how long it takes, I'm not entirely sure). However, Wolf have developed LusterLoc that supposedly stops that, so if your watches are stored for a long time, then there won't be that same thin layer of corrosion. This lining is an attractive black textured silk with a textured pattern. It's all neatly applied and looks good.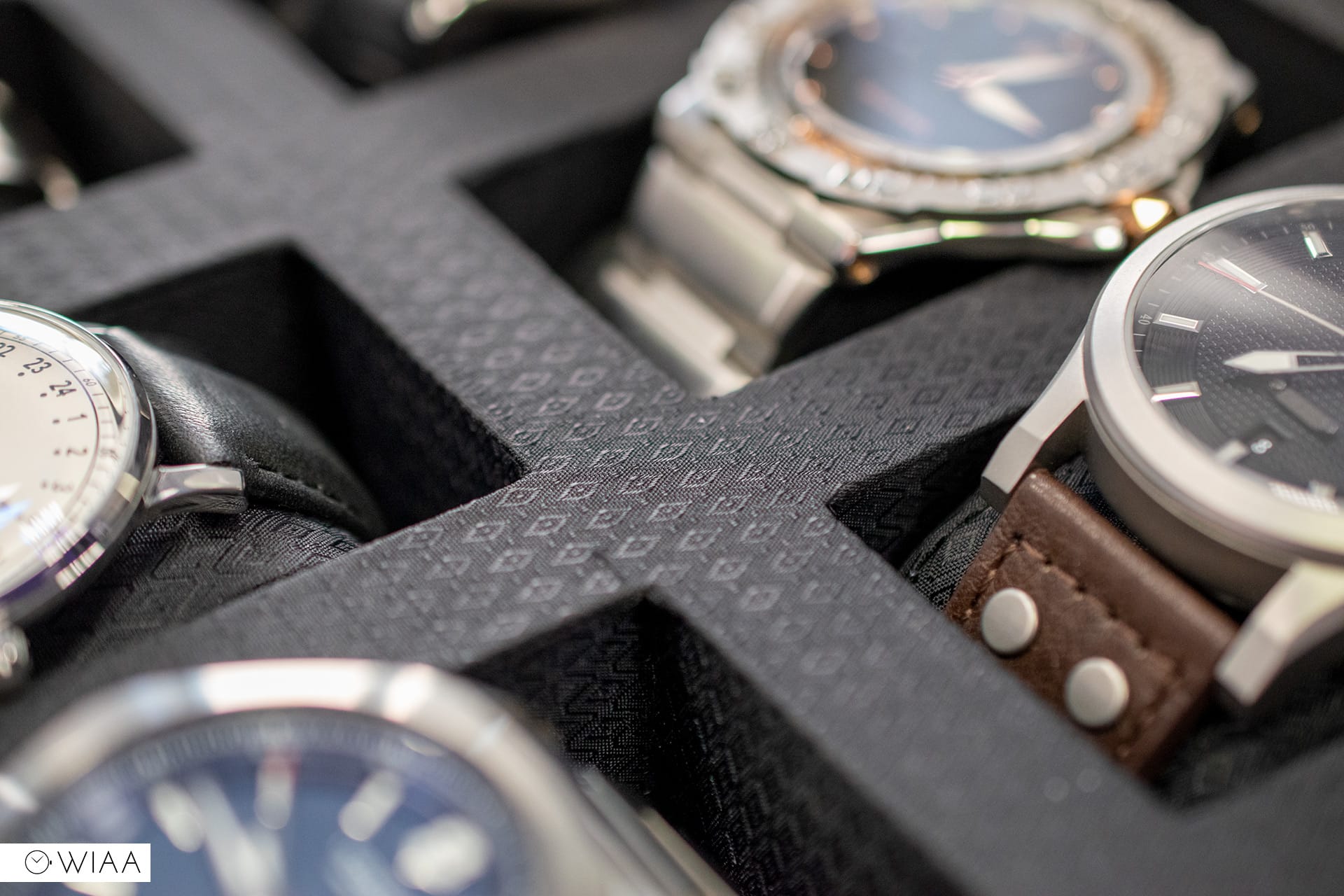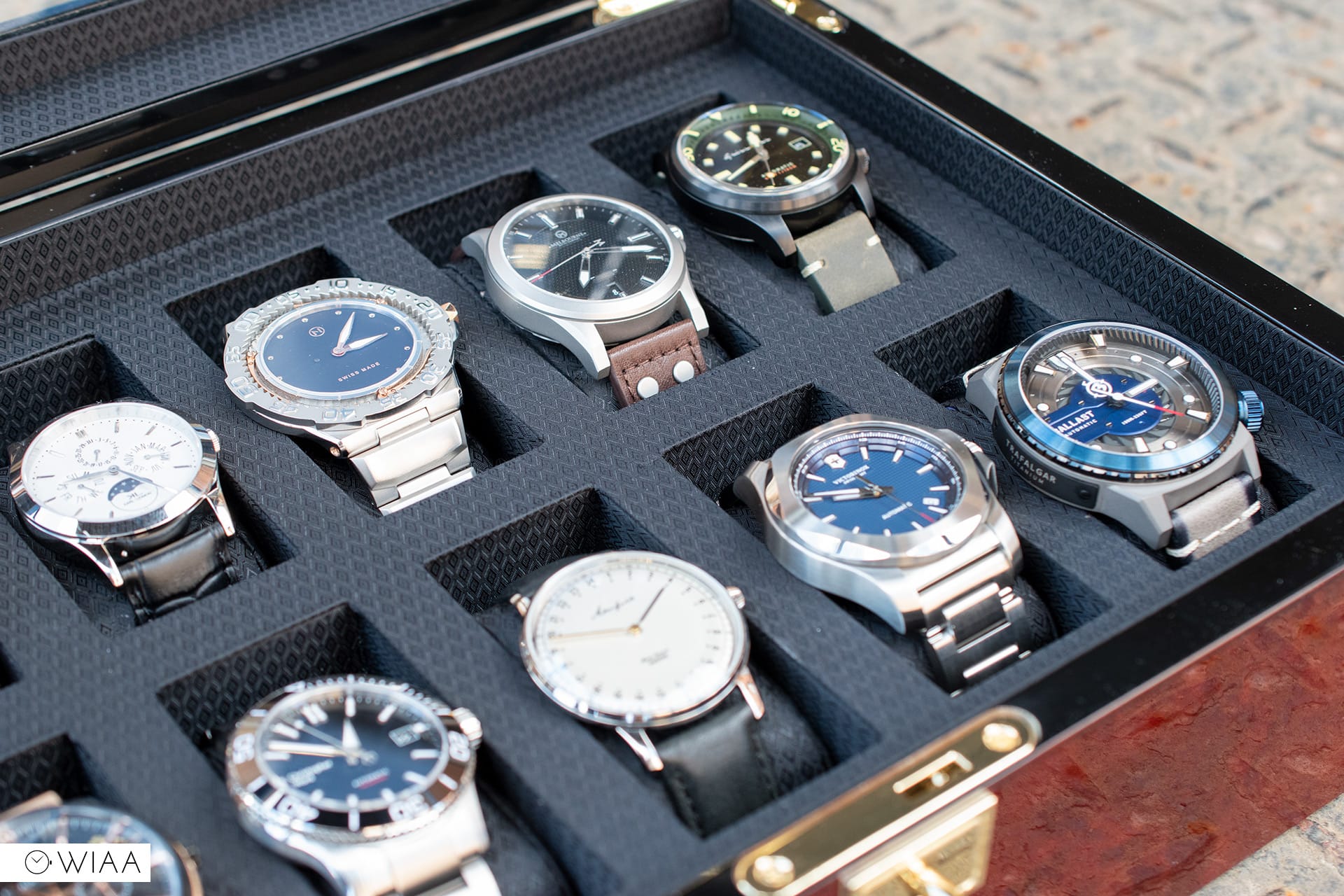 Sitting on top of the case is a pane of tempered glass, aka toughened or safety glass; ensuring if you do have an accident at all, it'll be harder to smash and if it does then it won't be huge, dangerous shards.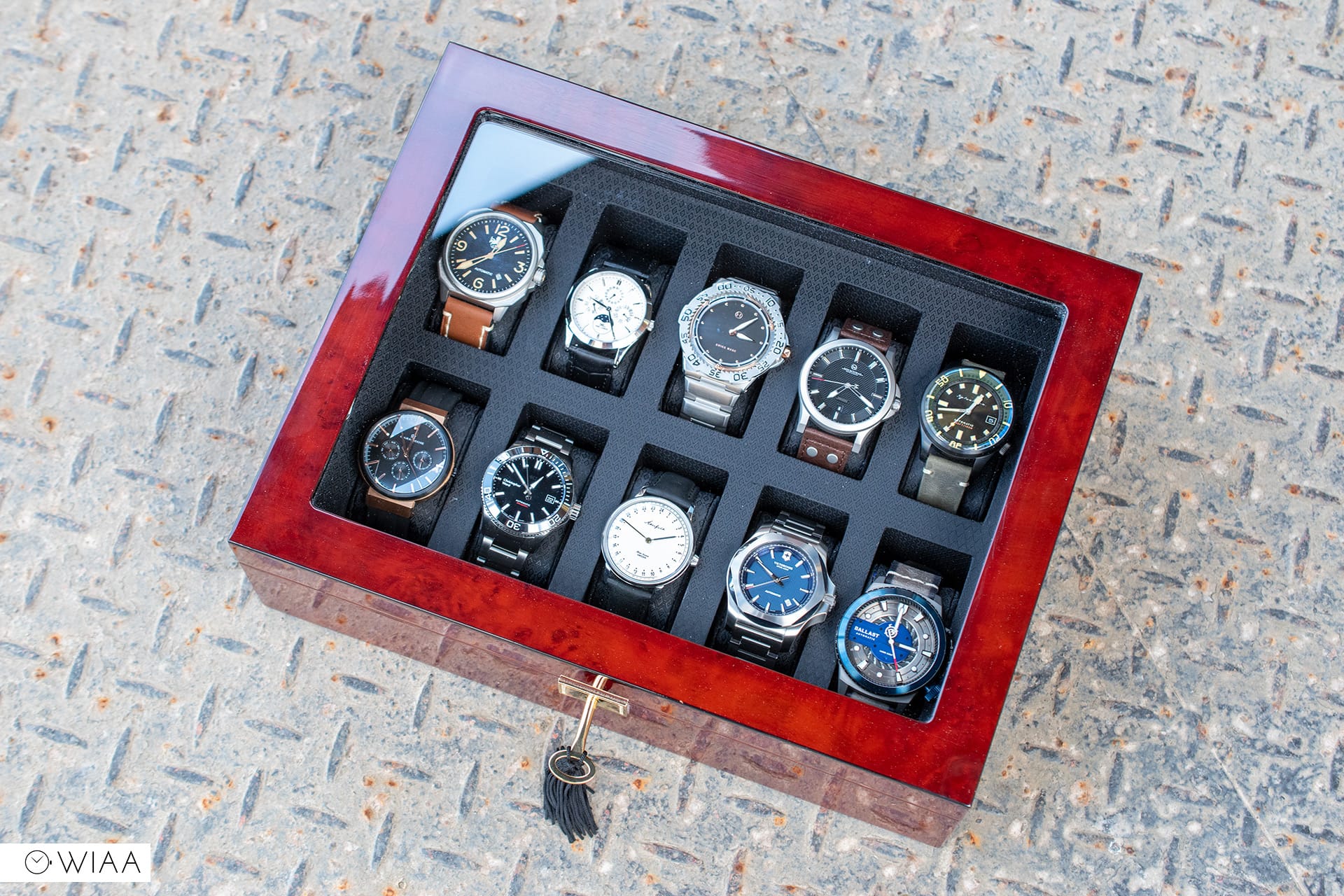 The gold plated hinges are recessed into the wood in a manner that displays great attention to detail. They also feature a delightful soft close that I wasn't expecting and makes an incredible amount of difference. The amount of times I accidentally knock the lid of other watch boxes and they snap shut is a lot, so knowing that'll never be an issue on the WOLF Savoy is great. Watch the video review to see this in action.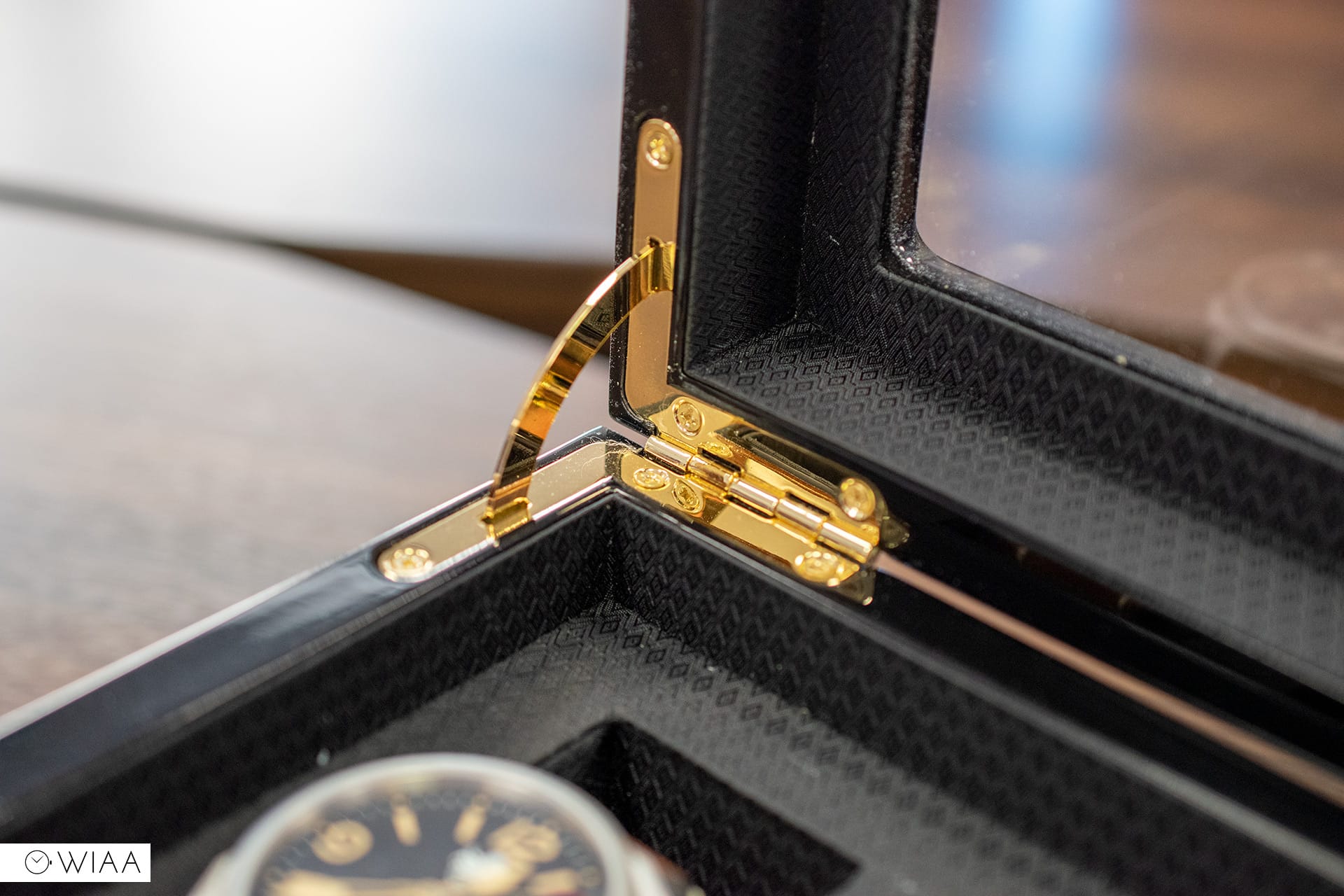 The gold plated key and lock are both fully polished and add to the luxurious appearance of the box. The key only has a single notch so I don't it'll be too secure, but it's still a deterrent of sorts at least.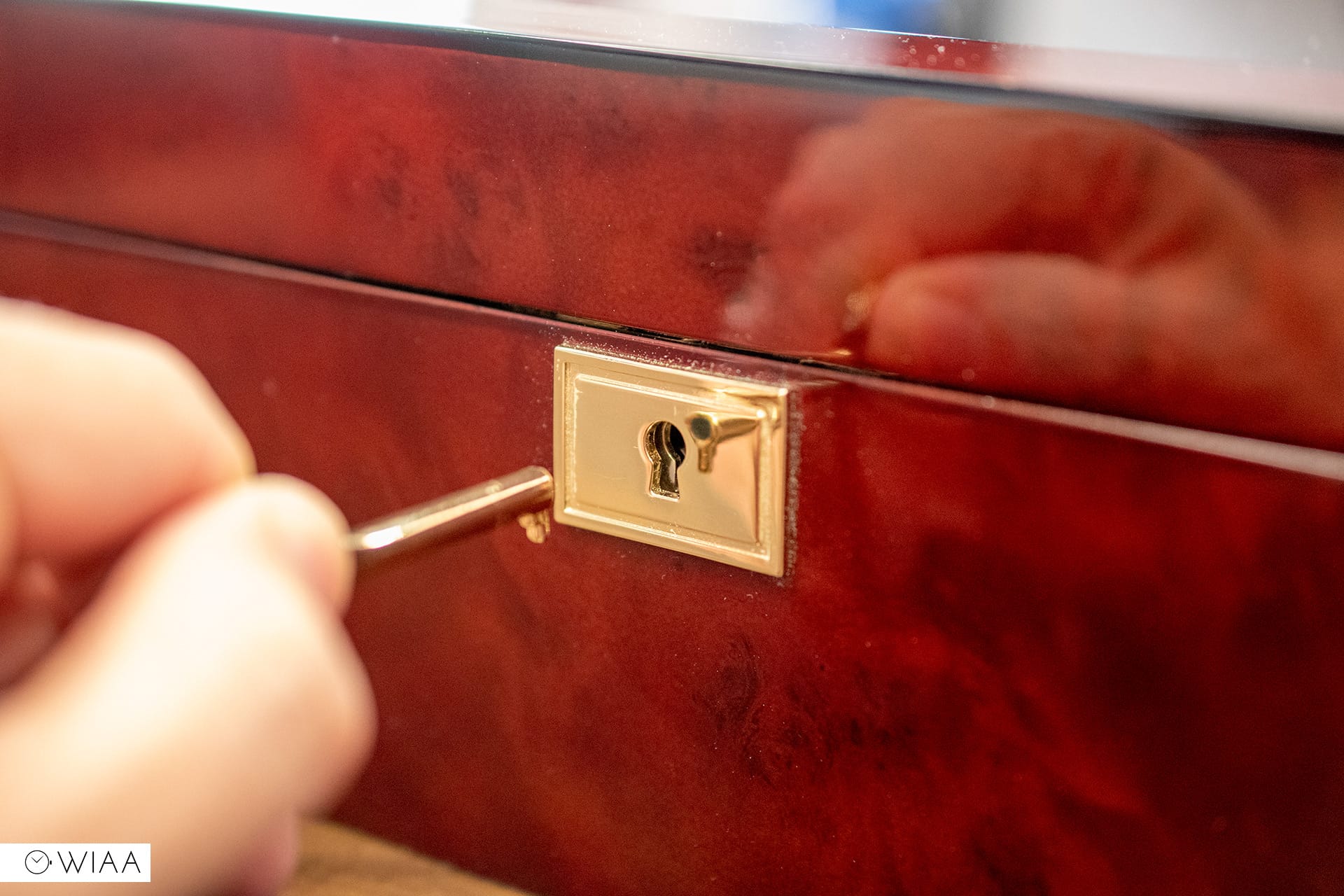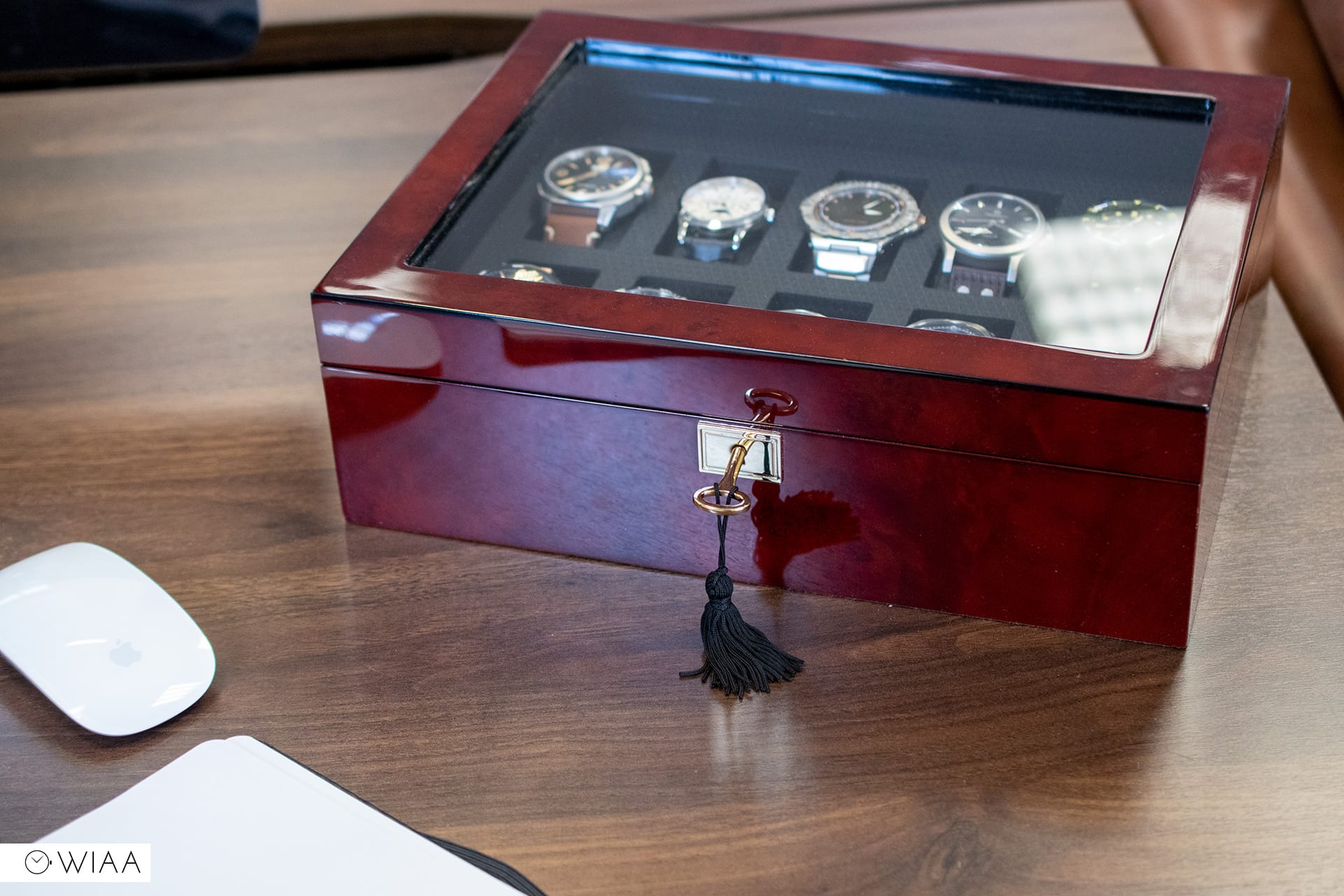 One great thing about the Savoy is that it can fit massive watches – up to 52mm diameter – thanks to the 55mm space for each slot. However, there's a small issue in that they're not so well suited for smaller watches (that's a diameter of less than 38mm), as they slip down into the slot rather that sit above it.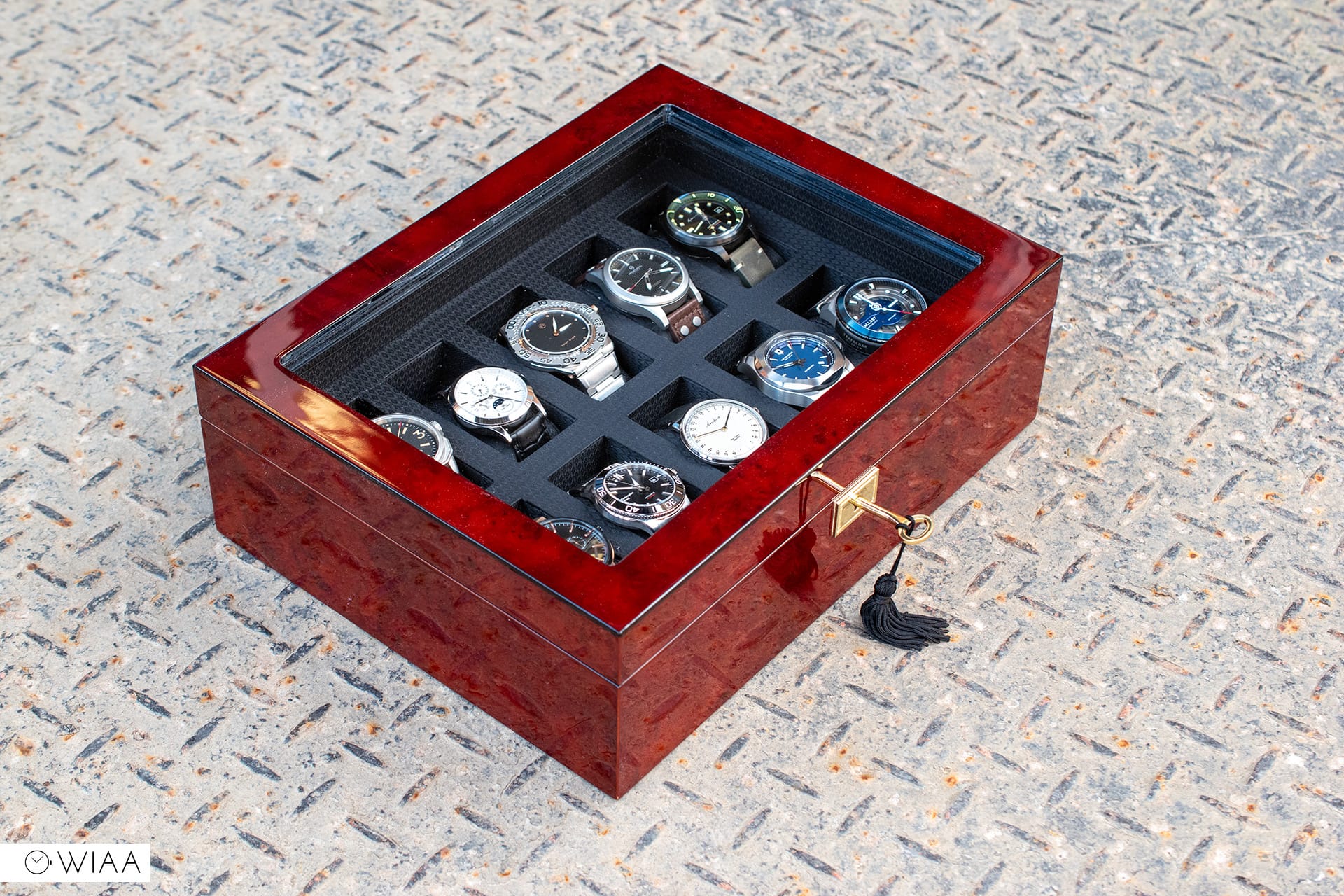 The cushions are made of the same lining, and are well sized for my slightly over 7″ wrist – so my watches with bracelets fit really well on them.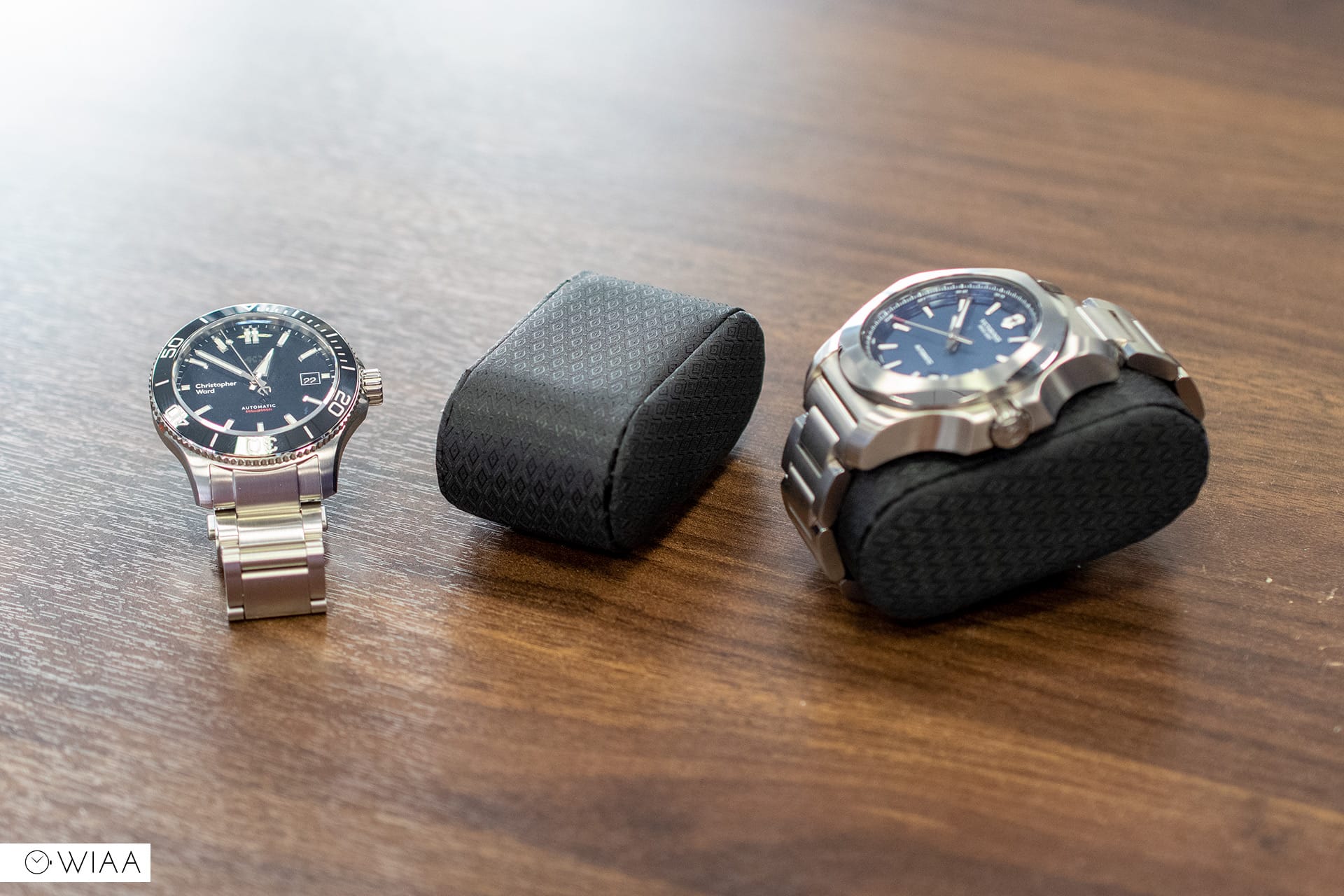 Final comments
£219 may be much more than many are willing to pay for – I know I was. However, now that I've handled the WOLF 1834 Savoy I can say that it's a beautiful example of exquisite craftsmanship; something that your prized timepieces deserve.
The burlwood is rich and colourful, the soft close hinges ensure a pleasant experience, and the spacious interior allows each watch plenty of space.
You probably wouldn't balk at spending £219 on a decent watch, and when you have 10 watches, you're likely to have a collection that's at least £1000. So when you put it into perspective, why wouldn't you spend the same as you would on one watch on an important accessory? Yes cheaper boxes are available, but often times they just don't cut the mustard and feel a lot cheaper.