William Wood was the name of the founder Jonny Garrett's grandfather, he served in the British fire service for over 25 years winning commendations for his acts of bravery. A real hero, in 1966 William and 3 other firefighters saved 5 children from a severe house fire and was awarded a certificate of merit for their bravery, the first of its kind to be awarded in the history of the Newcastle and Gateshead fire brigade.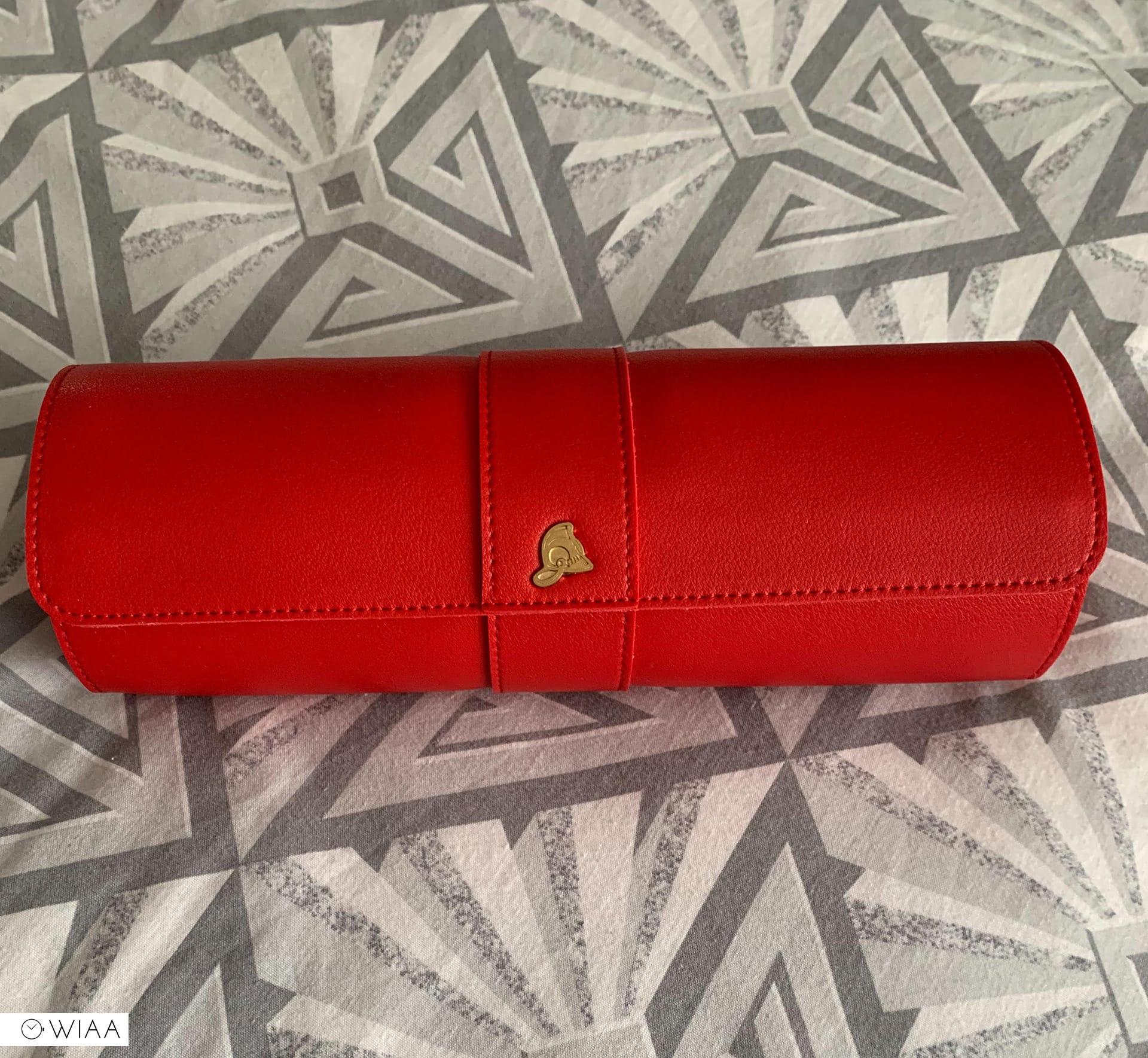 Jonny's vision is to be a leading sustainable watch brand that up cycles rescue materials and presents them in a great manner. The logo for the brand shows the side profile of a 1920s British firefighters helmet in dedication to the late William Wood.
The watch is presented in a beautiful red travel roll, which carries up to 3 watches, a truly beautiful addition and I can imagine this being a fantastic travel companion in the future.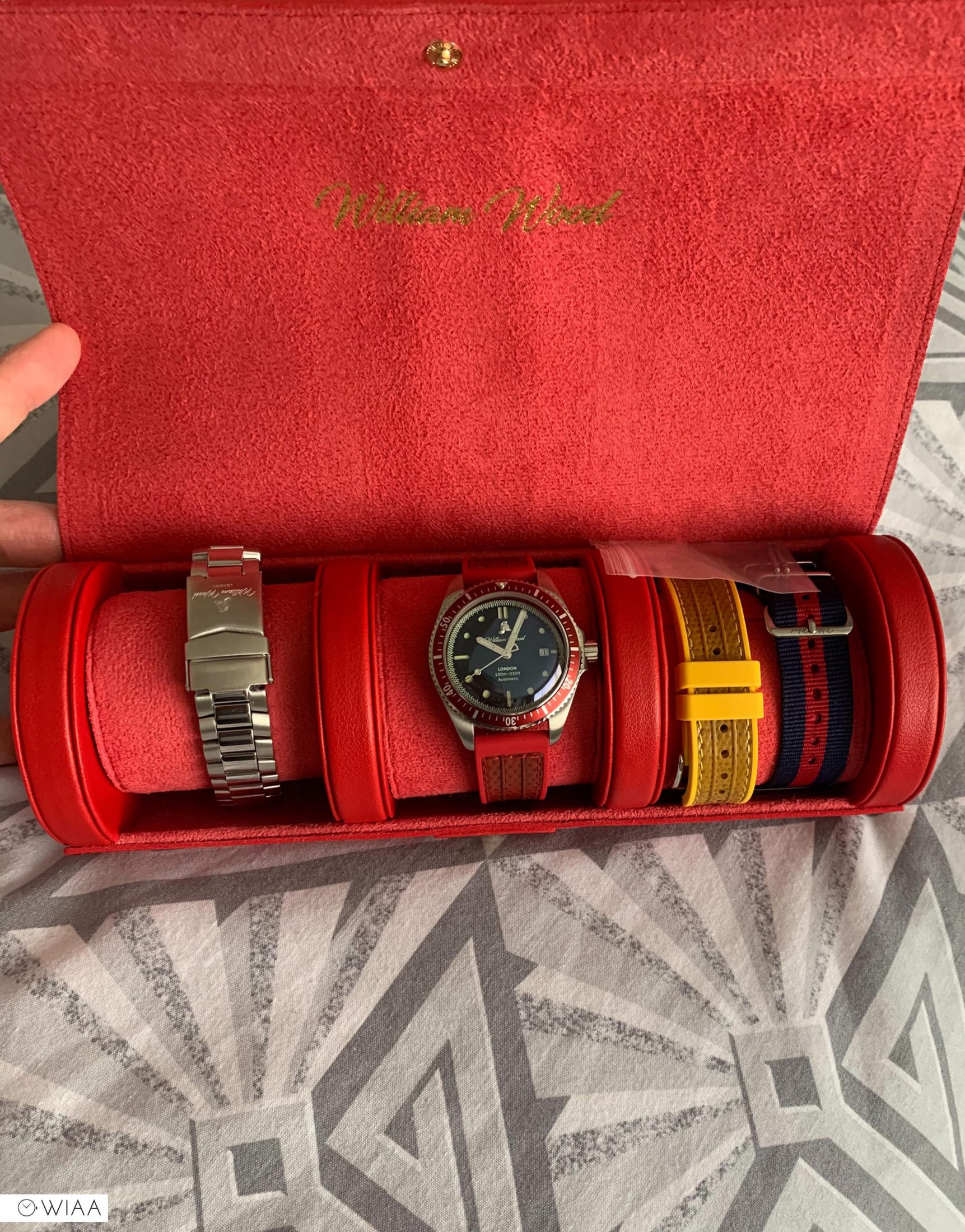 Case
The 316L stainless steel case measures at a comfortable 41mm in diameter and 16mm thick, that may seem thick but it sits nicely on the wrist and wears perfectly on my 7 inch wrist.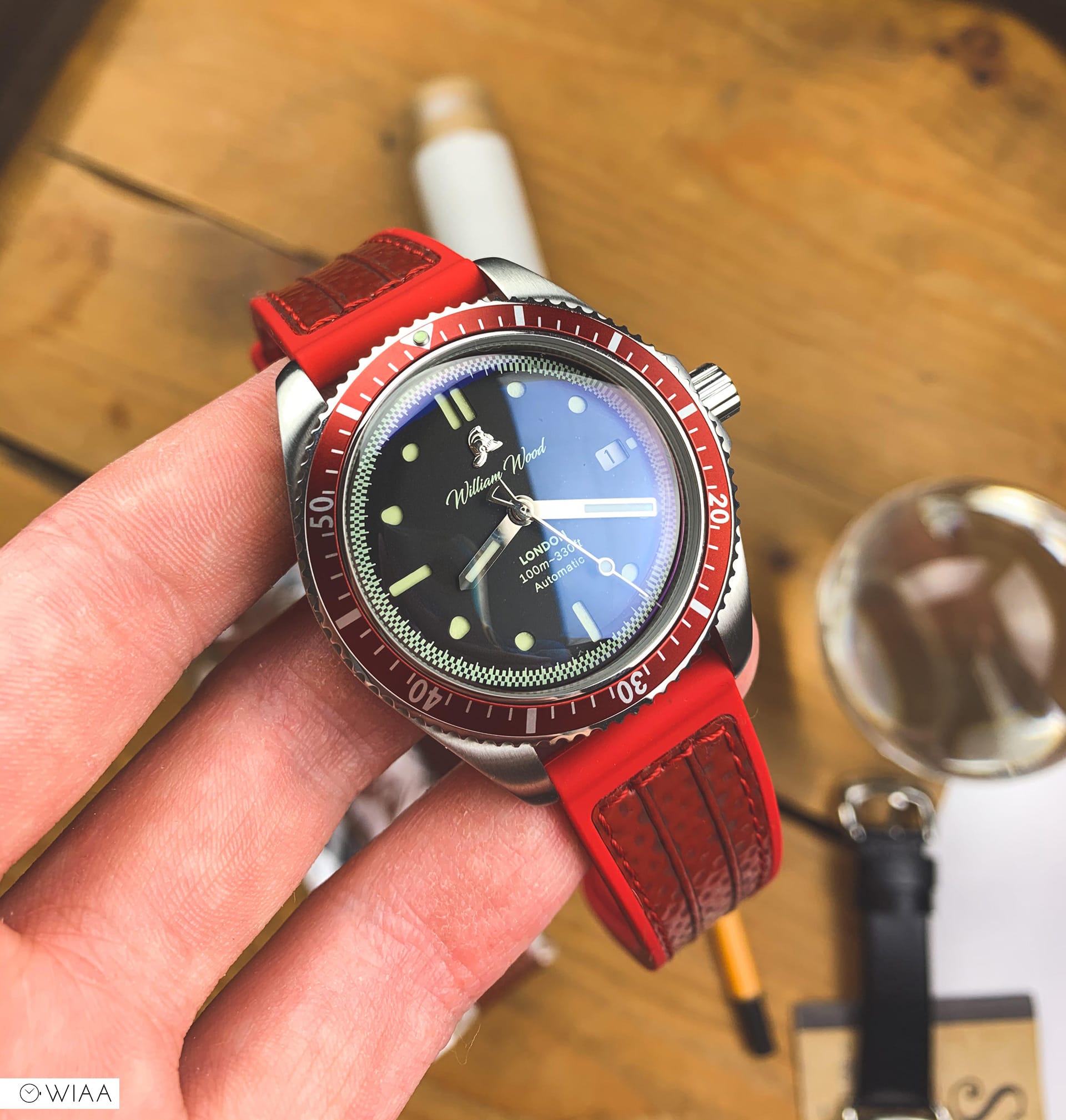 The sides are brushed nicely and they bevel into the short and compact lugs that give this watch a smaller appearance on the wrist.
The screw down crown giving the watch 100 metres of water resistance is a little too large for my liking but it is finished expertly and the crown is inset with from an original 1920s British brass firefighters helmet, the first sign of the beautiful up cycling taking place with this watch. All of the castings and craftsmanship is carried out in the heart of London's prestigious jewellery district of Hatton Garden and the crown is finished with the companies logo.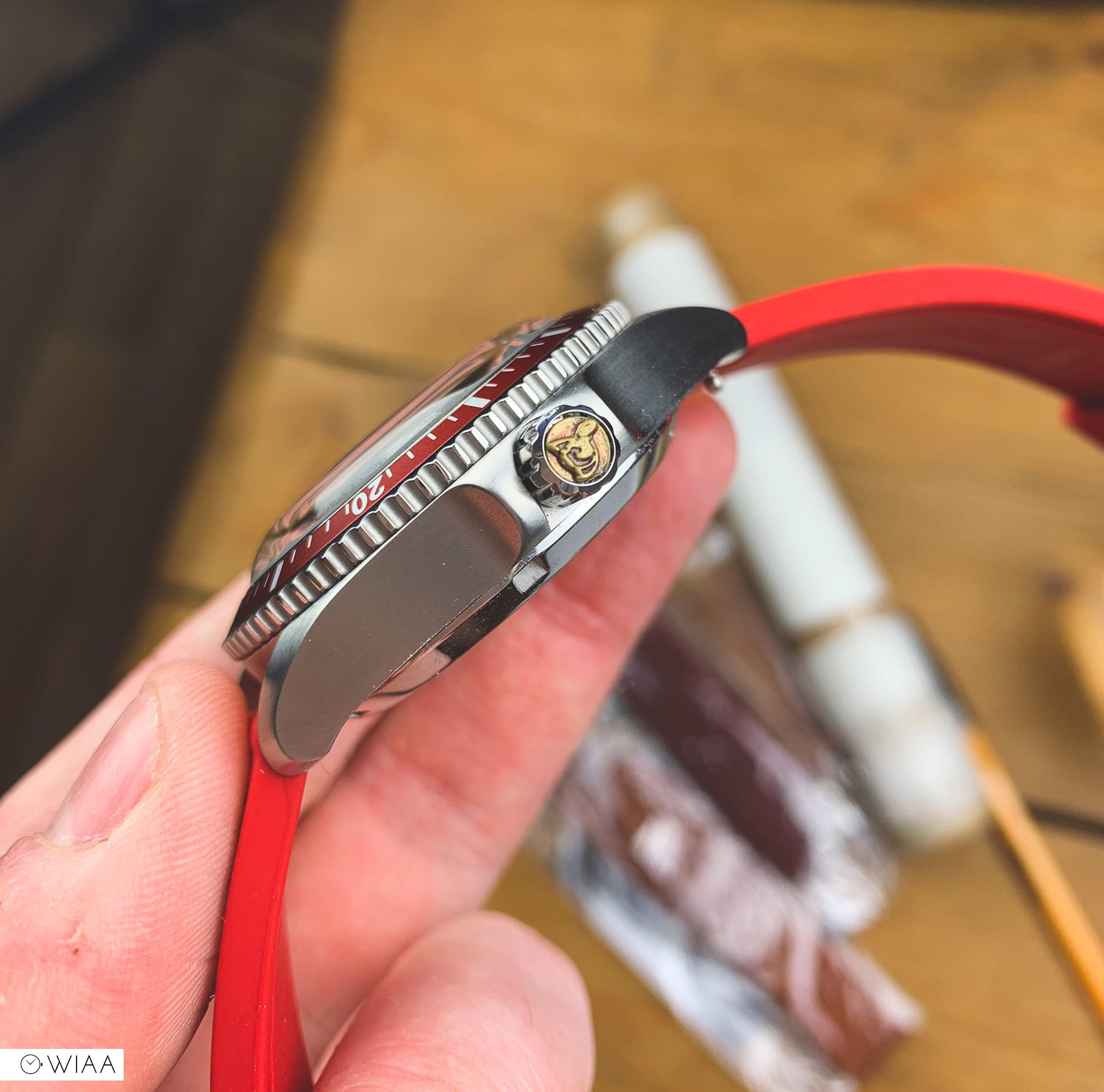 The vibrant red 120 click uni directional bezel is firm and stiff, I mean that in a good way, there is no back play on it and it is finished perfectly. The bezel is finished with a dot at the 12 o'clock position that is filled with Super-LumiNova.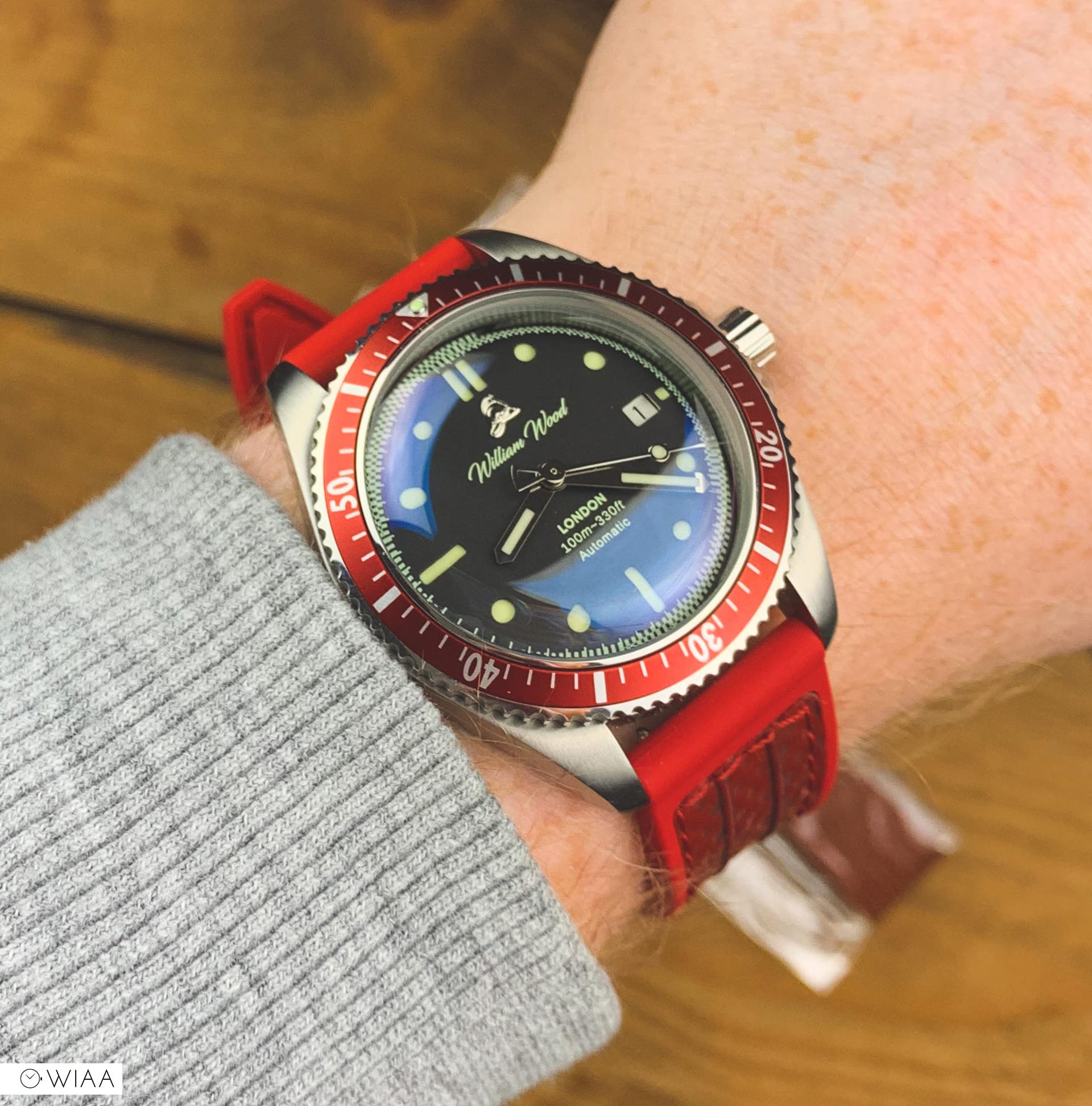 Dial
The dial is where we start to see more of the inspiration behind this company, the outer most part of the dial is adorned with the exact checkered markings design from the side of a British fire engine and it compliments the design well.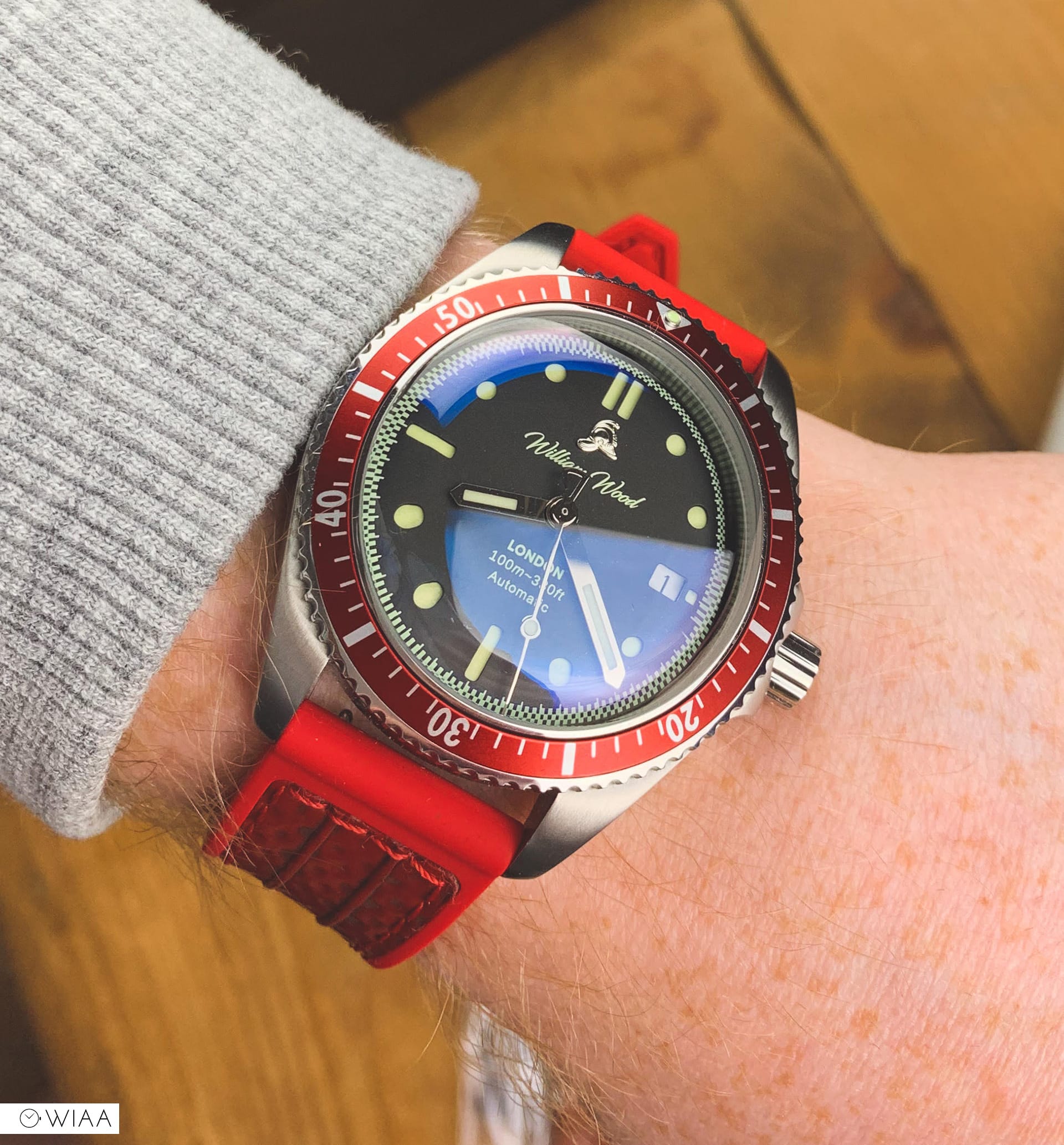 On the surface of it the 12 o'clock marker just looks like basic indicator but it is actually designed to represent the two stripe rank that would be shown on a crew managers uniform collar. Each marker around the dial is filled nicely with Super-LumiNova and shines brightly when required.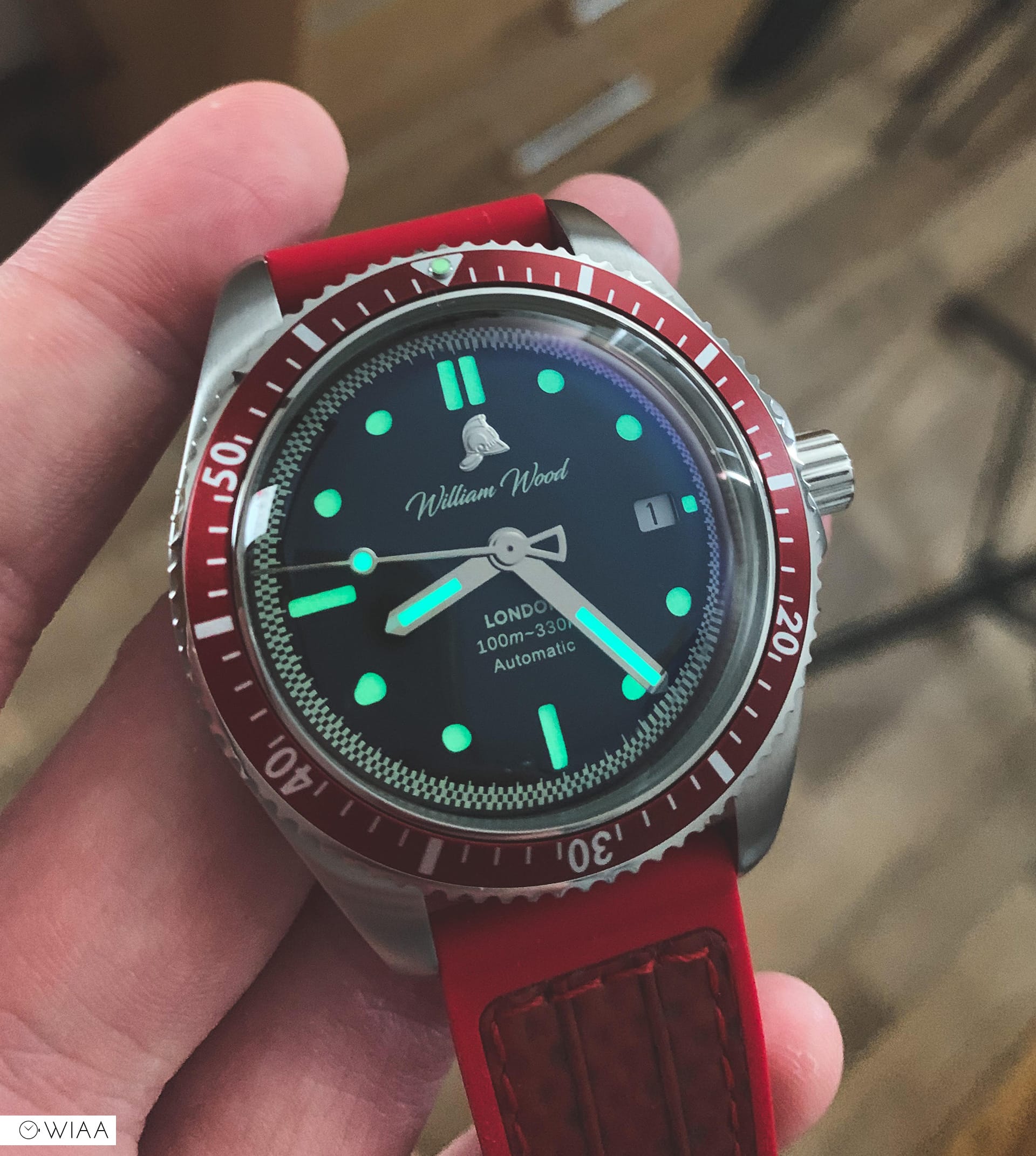 The stainless steel hands, which are also filled with Super-LumiNova compliment the design ethos nicely and feature a smooth sweeping seconds hand that is designed to resemble the chime from an old fire engine bell. I love the subtle nods to the fire service and its history, that, for example is something I would have never even noticed if I hadn't have been doing this review and done some research on it.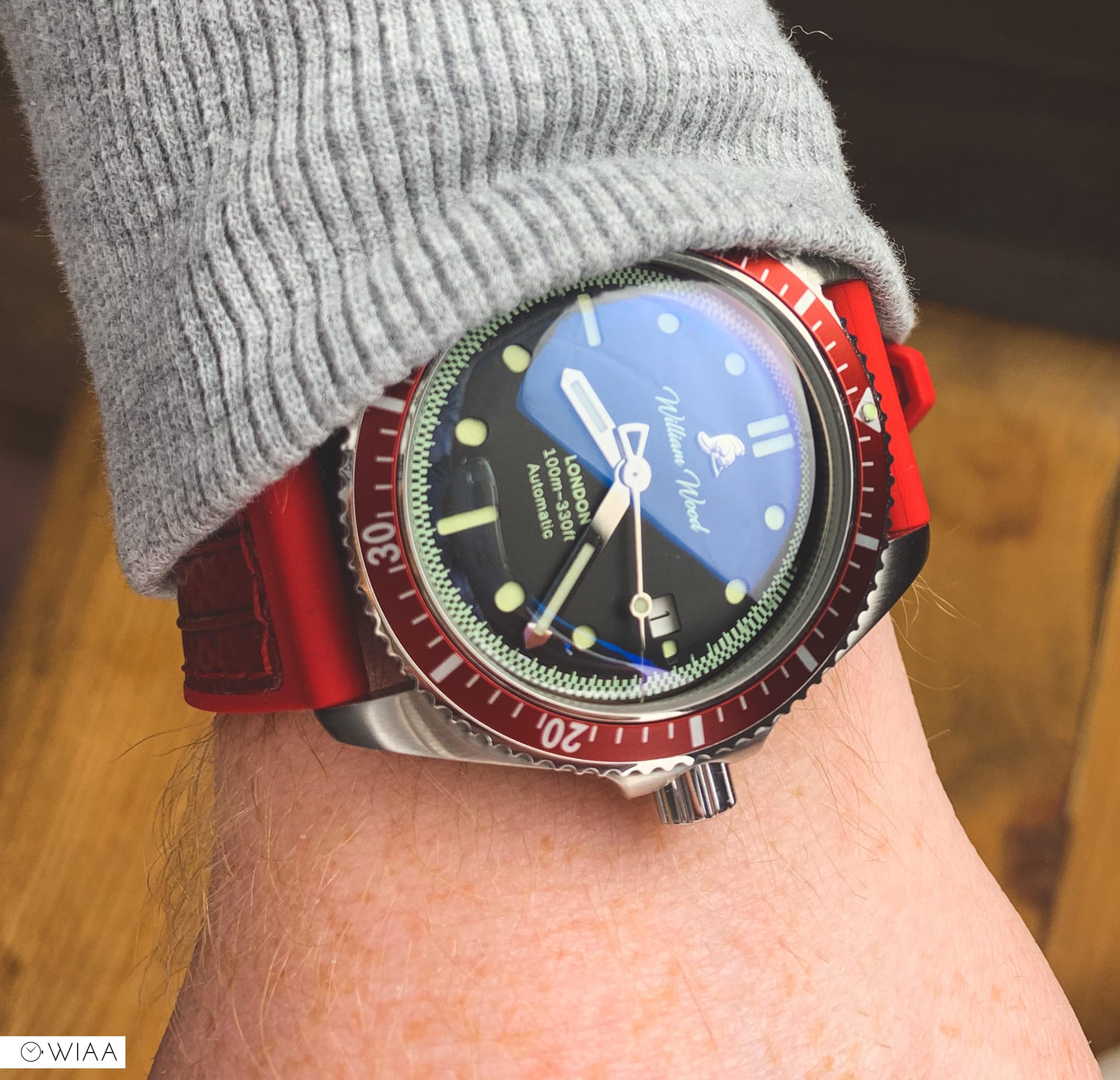 A feature that usually bugs me is a non colour matched date window but with this one I feel that the date window needed to be white, a black window with white writing wouldn't have looked right in my opinion.
Lastly, the dial is covered by a double domed sapphire crystal with anti-reflective coating and blue tint, which does make it slightly trickier to photograph but the beautiful raised dome brings back so many memories of all the vintage watches I used to have in my collection and keeps in with the theme that this watch is going for.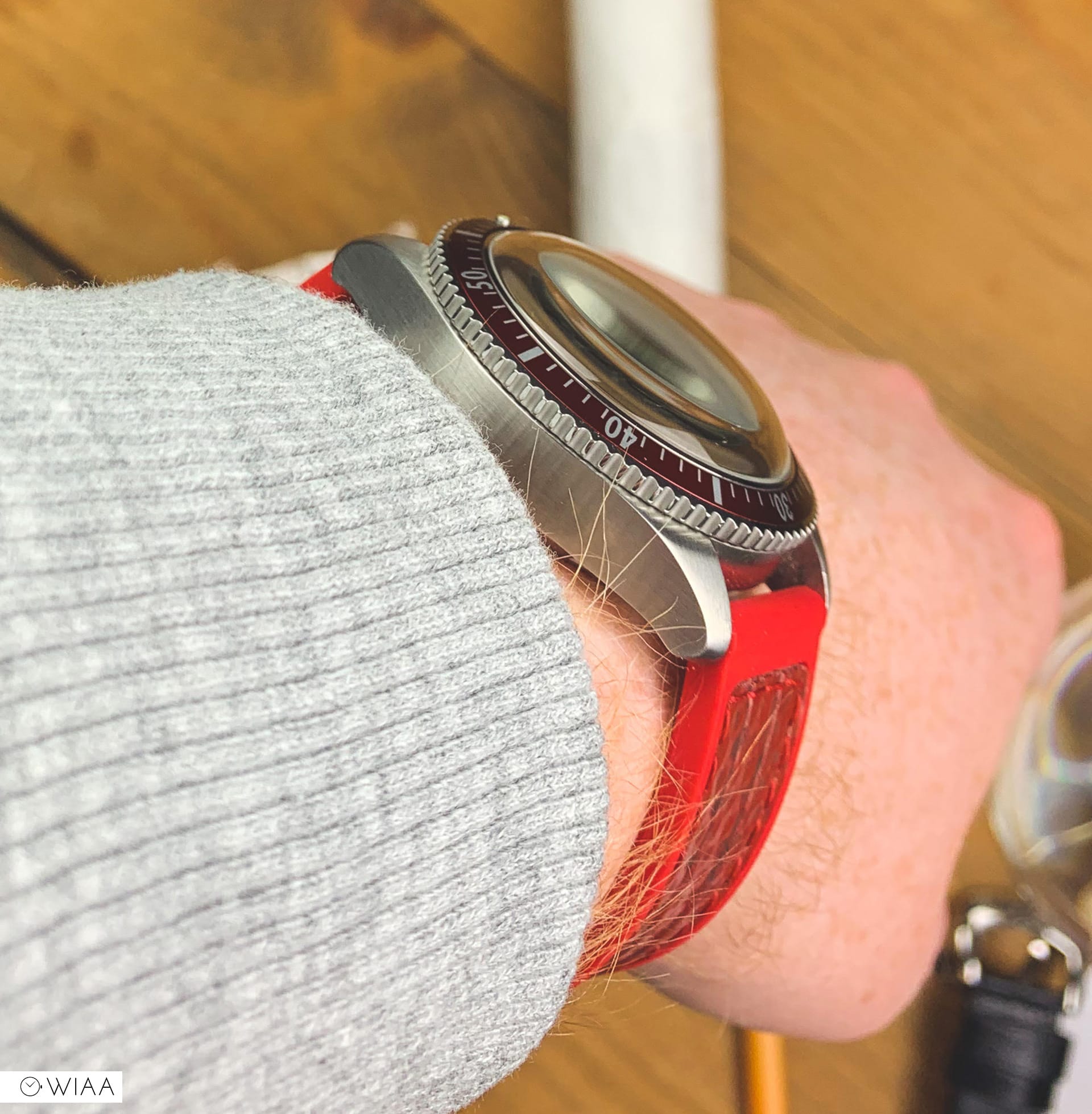 Strap
If you've ever read a review of mine before you know that I hate seeing micro brands produce very nice watches but then the effort drops off as soon as they get to the strap and it becomes a major let down for the whole watch.
But not with this watch, I'm very happy to report that the strap is a winner, and provides us with another nod to the British fire service and the up cycling that William Wood are committed to. The strap itself is made from cast off Angus Duraline British fire hose rubber, the bright red really stands out and you really can still smell the smokiness in the rubber.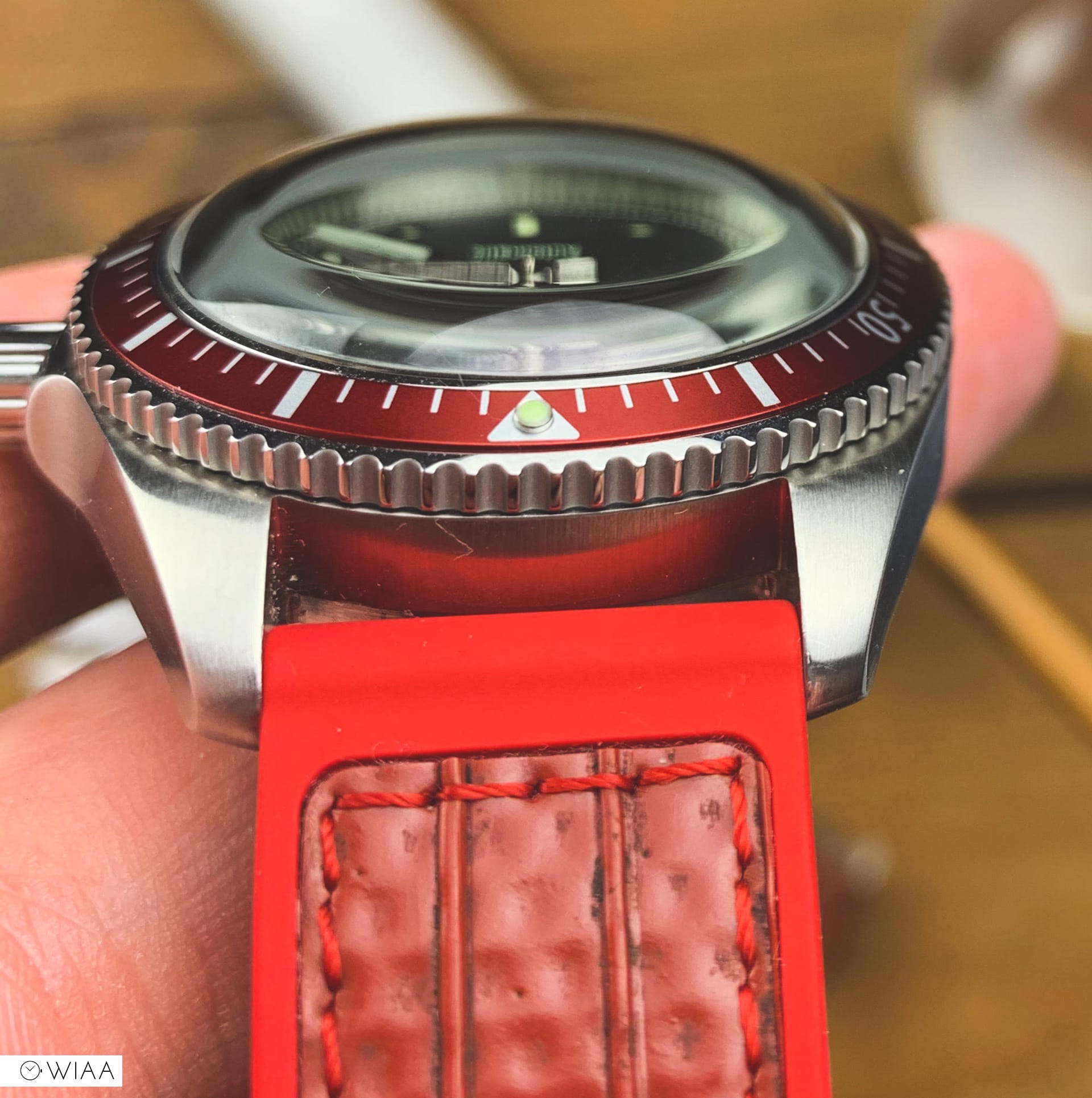 A 20mm strap that, I feel will only get better with time, quite the reverse to what you usually expect from a watch strap. The fire hose rubber is designed to be one of the most durable materials made to withstand extreme conditions. The Angus Duraline fire hose provided over 10 years of service and it has been cut and sewn into the red rubber strap giving it a unique finish.
Movement
The watch comes with two options for movement, the ETA 2824 and the NH35, the watch I have had the ETA 2824 fitted and it is visible through the see through case back. Not an extraordinarily pretty movement to look at, but its always an appealing point on a watch to be able to see it through a case back and it is nicely adorned with a William Wood signed rotor.
We all know and love the ETA2824, a self-winding movement with a 38 hour power reserve and has 25 jewels. A highly reliable movement that promises between +-12 seconds and +-30 seconds per day in its most basic form and the top grade promises between +-4 secs and +-15 seconds.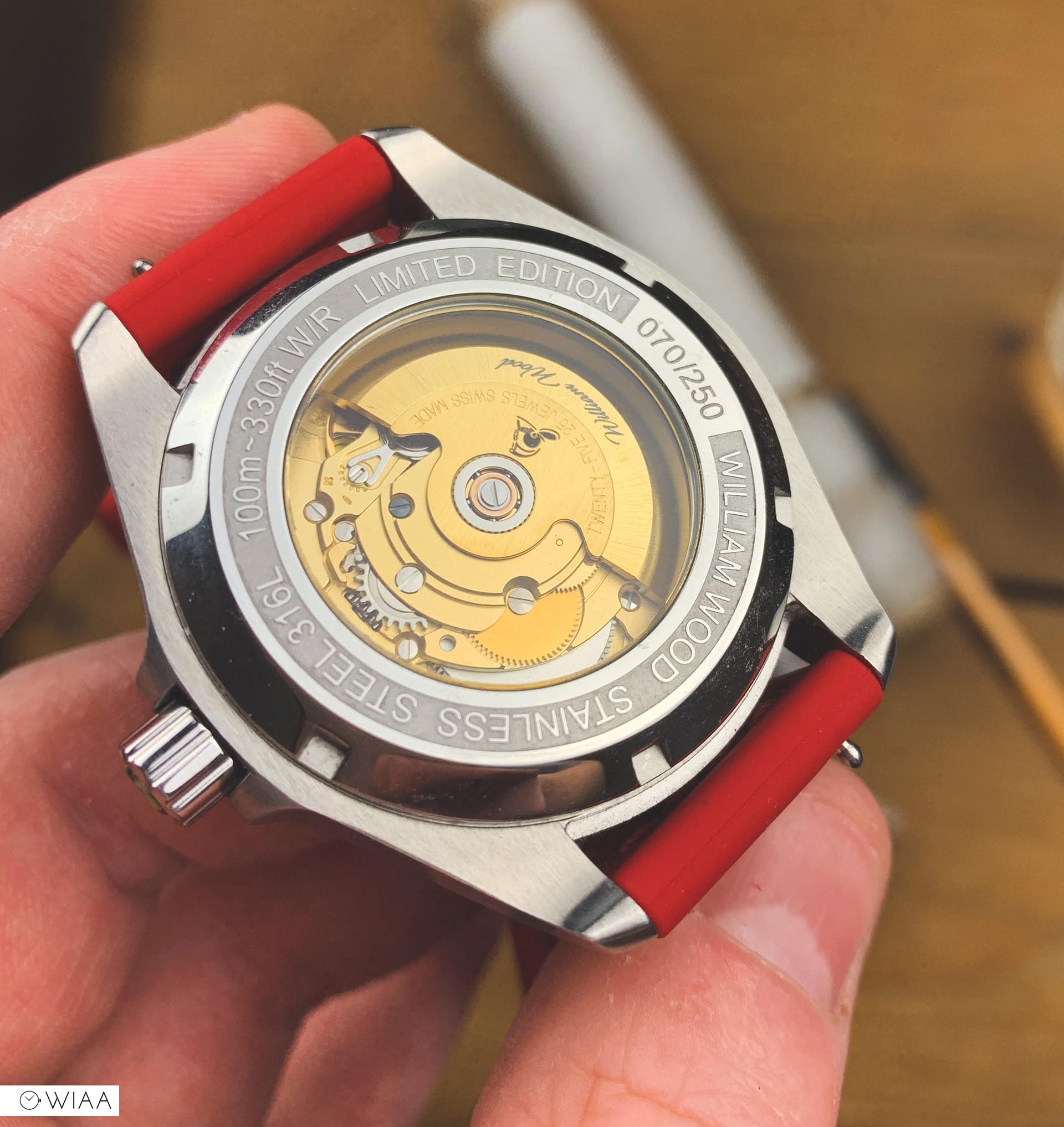 Closing thoughts
Before this review I had never heard of William Wood watches but I have been extremely impressed with it, from the moment I opened the box up and seen that very pretty watch roll I could tell it was going to be a pleasure to review.
We all know that the micro brand world of watches is extremely cluttered and too often cluttered with poor examples of watches but I really like the direction William Wood are going with their brand. In a world transitioning to be more sustainable in every day life it's very refreshing to see a watch brand adopt this and somehow manage to produce a fantastic watch through this vision.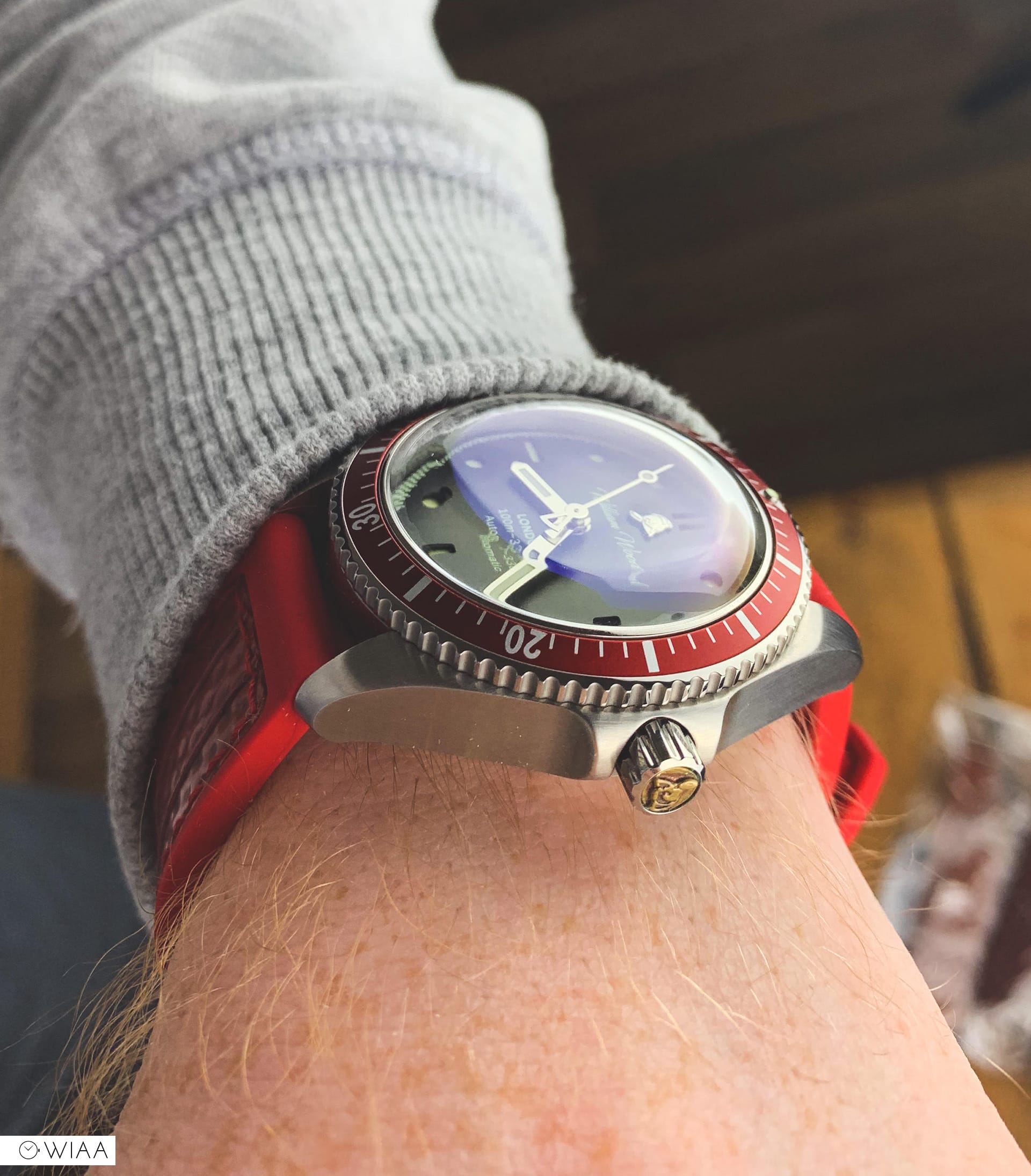 Technical Specifications:
Swiss ETA 2824 or Japanese NH35 Automatic movement
Case diameter 41mm
Case thickness 16mm
Lug width 20mm
Water Resistant 100 metres / 10 ATM
Double domed sapphire crystal glass with anti-reflective coating and blue tint
Rotating bezel with Super-LumiNova 12 dot
Super-LumiNova hands, indices and bezel 12 dot
Domed dial with date window and sweeping second hand
Crown inset made from original 1920's British brass firefighters helmet
Etched engravings on caseback with limited edition engraving number between 1 -250
Presentation box includes red travel roll which can hold up to 3 watches, instructions manual and warranty
3 year international warranty from the date watch received
Price: £695