Take one look at the Marathon Officer's Mechanical watch and even if you're new to watches, your spider senses would be telling you that it's definitely not a watch aimed at fashionistas. And you'd be right! There is no bling, no shiny surfaces, and no colour here. Instead, it looks purposeful and tough, a watch you can rely on, a watch that means business.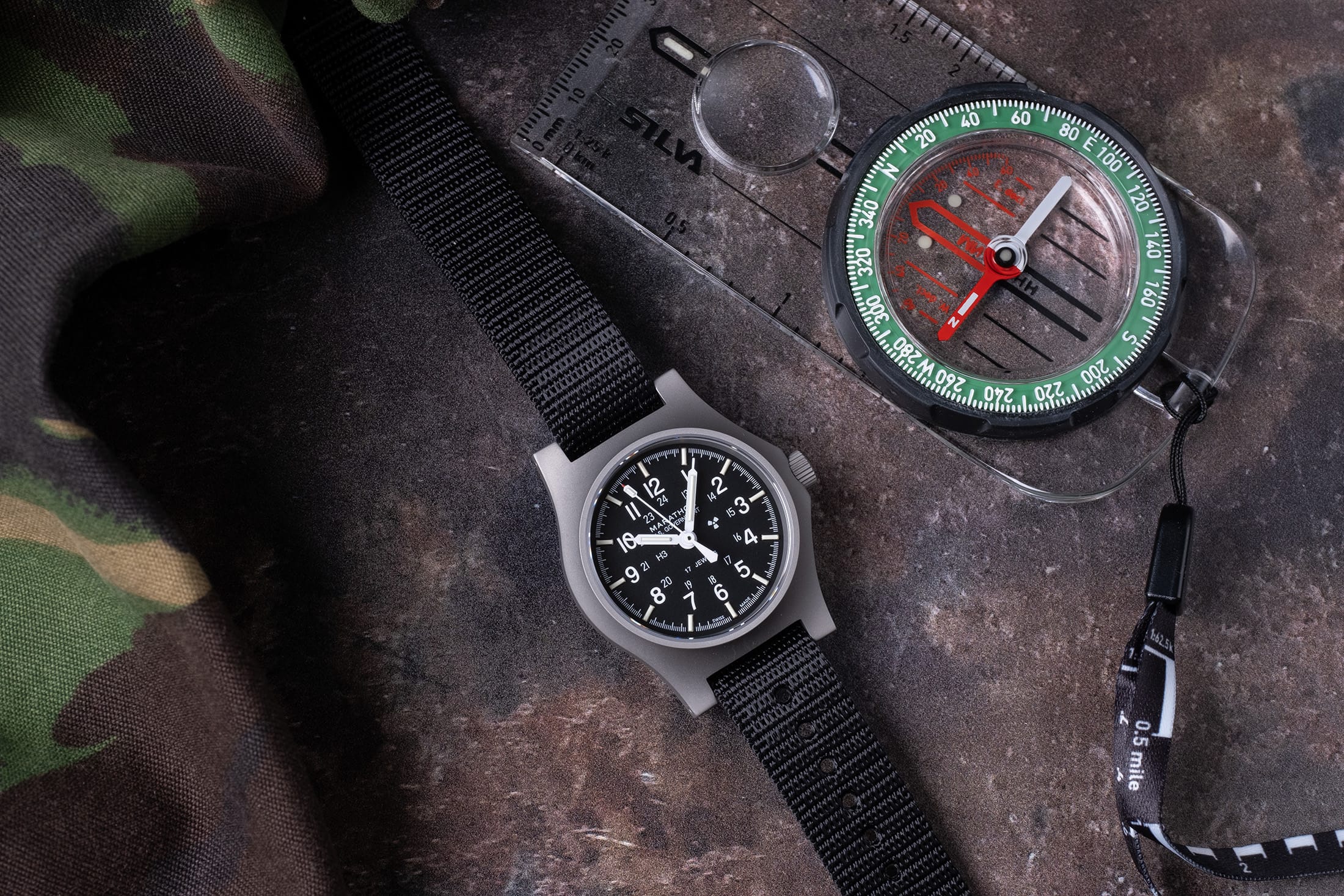 I'd hazard a guess that the only chance you'd ever have of spotting a Marathon on a 'celeb' would maybe be on the wrist of TV tough guy Ant Middleton, or outdoor survival expert, Bear Grylls. But in reality, even that wouldn't be Marathon's style. Why? They're too busy being the part to play the part.
Unlike many other brands that make military-inspired watches, Marathon is authentic. Established in 1939 by Morris Wein, just two years later they were supplying watches to the British and Canadian forces. Still family-owned today, this Canadian company is now run by the founder's grandson, Mitchell Wein and assembles its watches in La Chaux-de-Fonds, Switzerland. Marathon is a brand with staying power, and over 80 years on, they're still rigidly sticking to what they do best, make tactical, tool watches with military designs. This is a rare thing in the industry. Also noteworthy is that Marathon still sells most of their watches directly to government contracts. So when, as a civilian watch enthusiast, you buy a Marathon watch, you know you're getting a true tool watch in the most literal sense!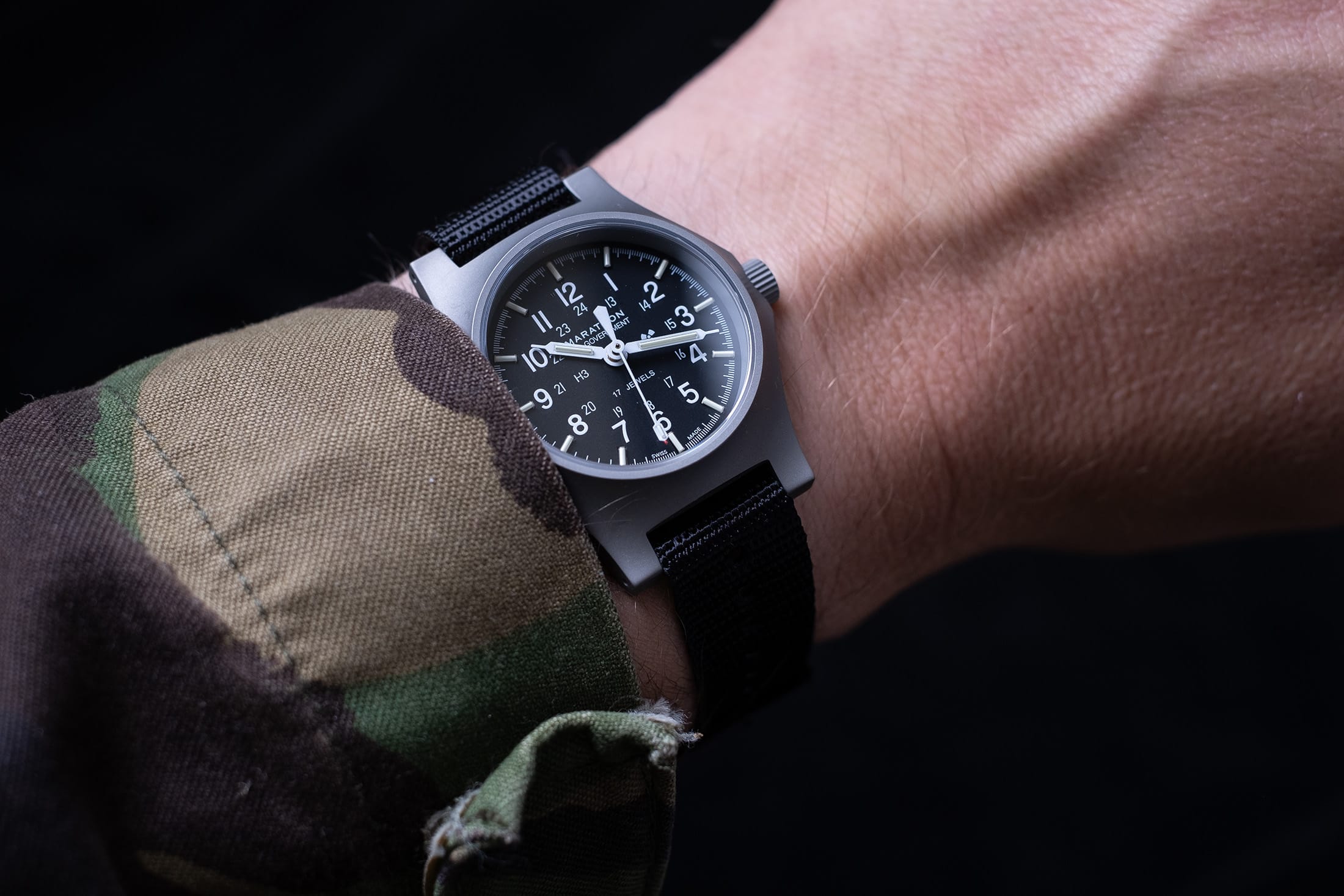 THE RETURN OF A CLASSIC!
The Officer's Mechanical sits within Marathon's General Purpose range, which also includes the Field Mechanical and Field Quartz (34mm watches with composite fibreshell cases) and a quartz version of my review watch. The Officer's Mechanical is inspired by a rare field watch made by Marathon to US Government GG-W-113 specifications in the mid 80s for a period of just one year. Whilst other manufacturers were also making watches to the same military specifications, the Marathon GG-W-113 was unique for its case shape and abundant dial text, things that have been carried over to the Officer's Mechanical.
HOW DOES IT WEAR?
This reissue watch hasn't strayed from the original's modest 36mm (39mm with crown) proportions and has even kept the narrow 16mm lug width. The lug-to-lug measurement is 44mm and the overall height is 11mm. The case wears quite flat across the wrist and the lugs are cut at right angles, so it doesn't bed down into the wrist like some watches. However, coming in at only 56 grams, this is a light and incredibly comfortable watch that you'll barely notice on your wrist.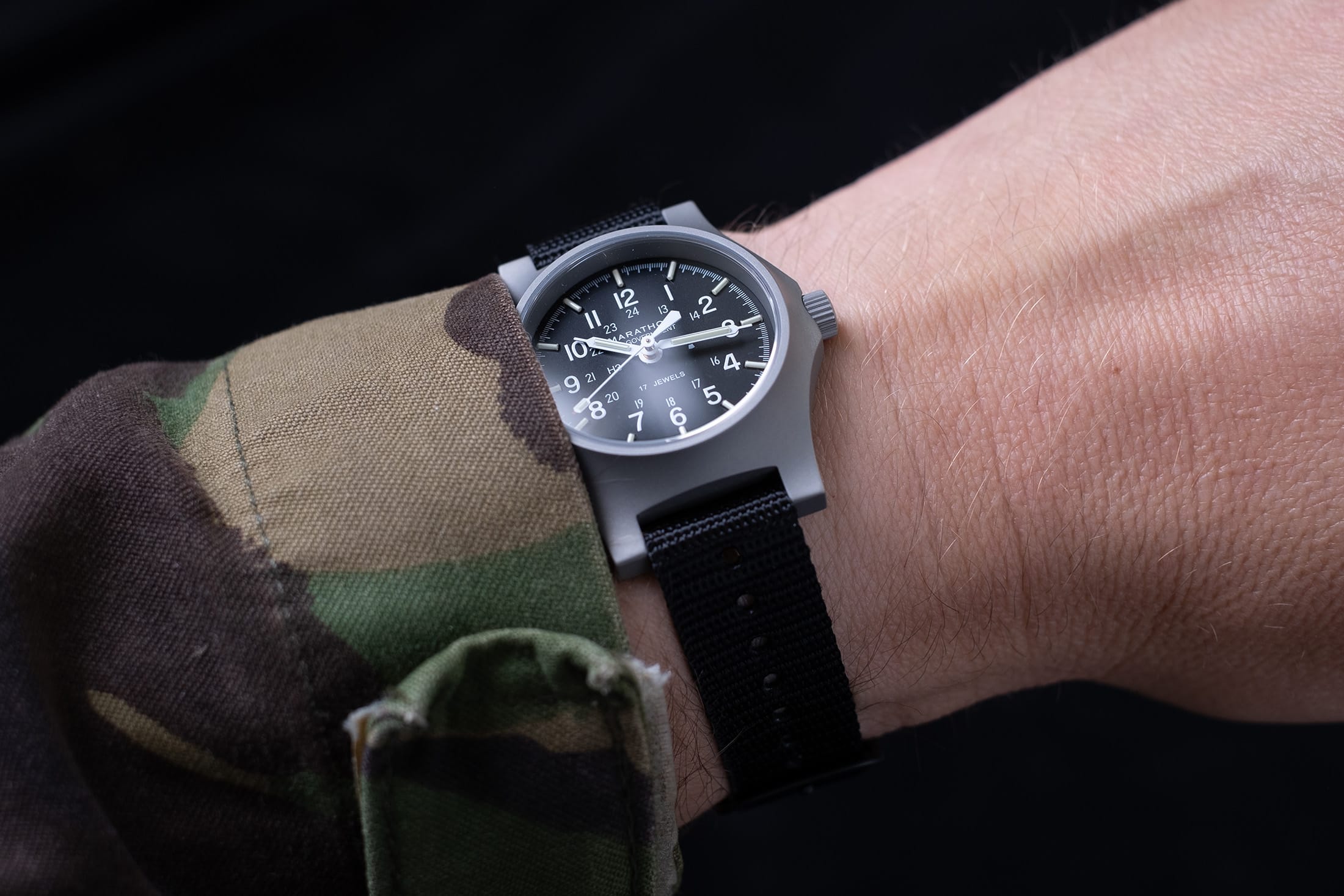 The supplied strap is as basic as they come. Made out of ballistic nylon, it has a single wide keeper and a simple matt-black pin buckle. I'm usually not a fan of fabric straps, partially because it can often the make the watch feel imbalanced when the watch head is heavy, and partially because they can add a lot of bulk. However, that's not the case here because the watch is so light, and the strap is thin and single-layered. You also don't need to tuck the strap back on itself. However, should it not be to your taste, strap changes will be easy thanks to the drilled lugs, something that I always appreciate on a tool watch!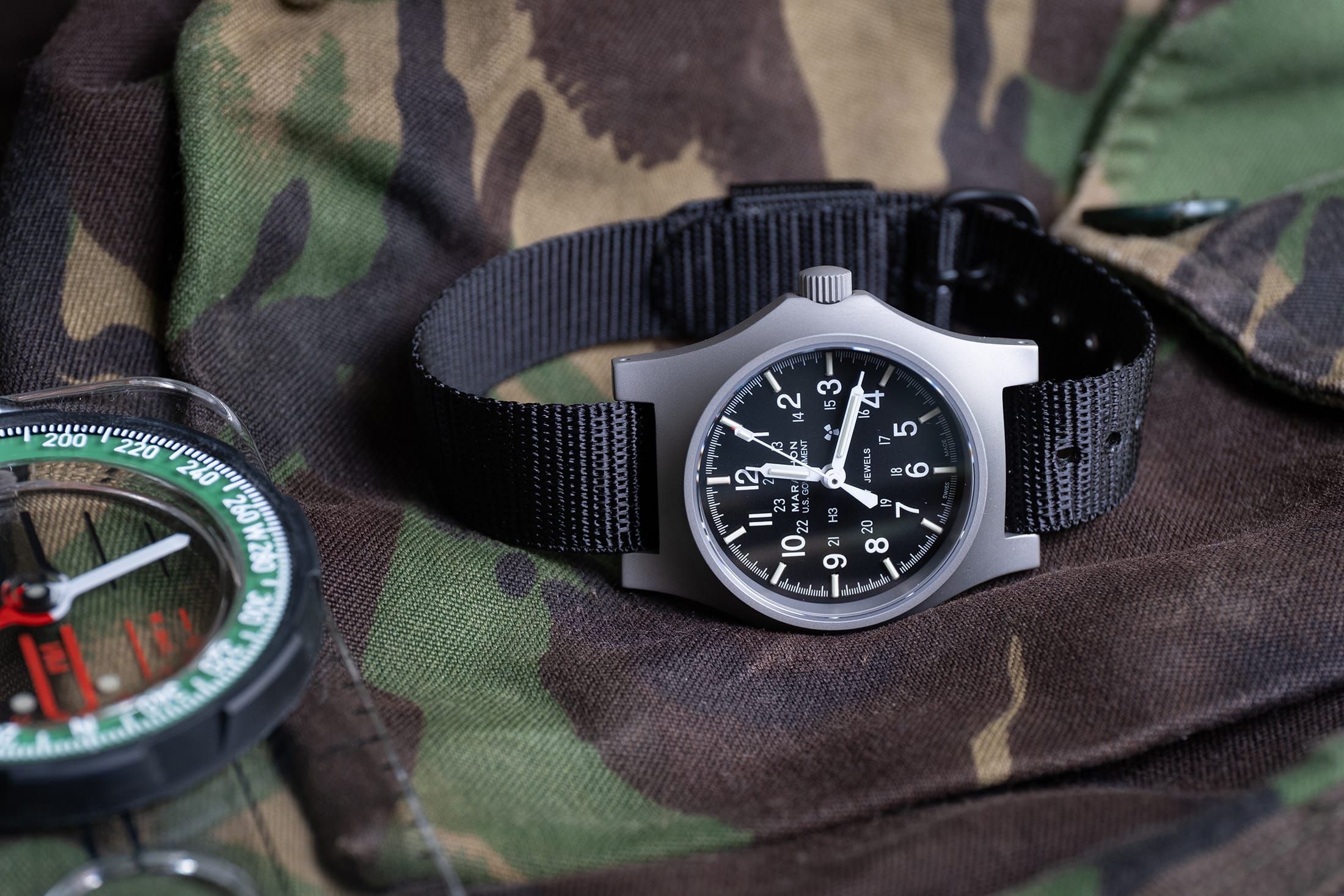 THE MOVEMENT
The original GG-W-113 was fitted with the ETA2801-2, a movement that was contemporary at the time of issue. Still a reliable and accurate movement today, Marathon has chosen to use the same hand-wound movement in the current Officer's Mechanical. This 17-jewel movement beats at 28,800vph/4hz, is hackable and has a 42-hour power reserve. It's also shock resistant thanks to the Incabloc shock protection system. Marathon adjust the movement themselves to an accuracy of +/-15 seconds per day when fully wound. As you'd expect from a venerable Swiss movement, the wind is very satisfying and smooth. The simple push-pull crown is small, but appropriate for the size of the watch and easy to turn. The movement is no longer offered by ETA, so it'll be interesting to see which movement Marathon fit once supplies run out.
THE CASE
The two-piece case, crafted from 316L stainless steel, is simple but unique and full of character. To me it's one of the standout features of this watch. It has straight sides and beautiful, soft concave curves all the way around, from the top of the mid-case right the way to the watch face. There is no bezel as such.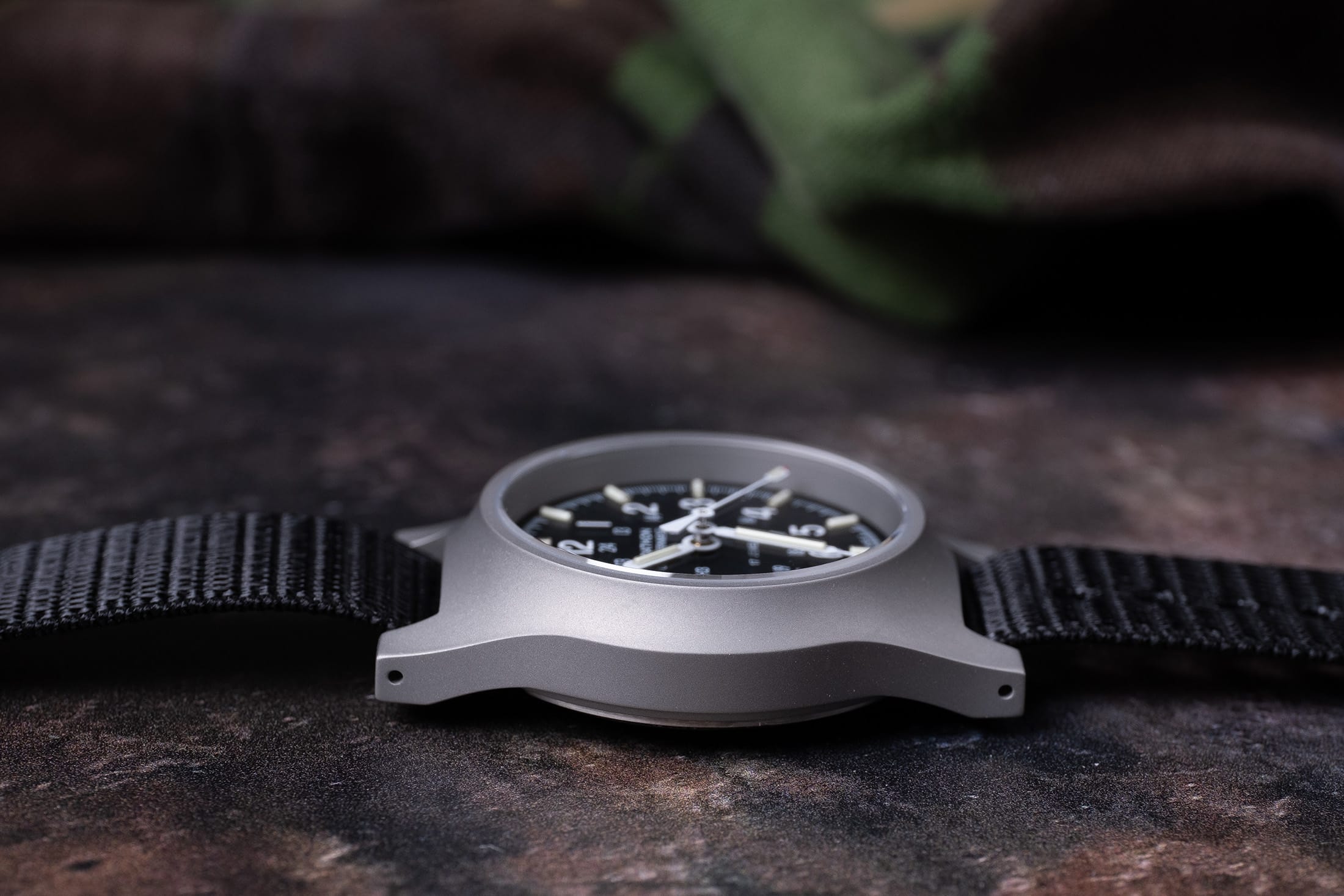 The case and unsigned crown undergo a proprietary finishing process to give them a Parkerized coating, something often found on weapons and other military equipment. The result is a satinised, graphite grey finish that is very tactile and looks extremely cool. In the flesh it's just the right side of grey, appearing slightly darker than I was expecting, which is a good thing. Parkerization also serves several practical purposes. It is corrosion resistant, anti-reflective and has anti-magnetic properties. Even the inside of the rehaut is Parkerized, so you can be sure there will be no reflections coming off the watch to give away your position to the enemy.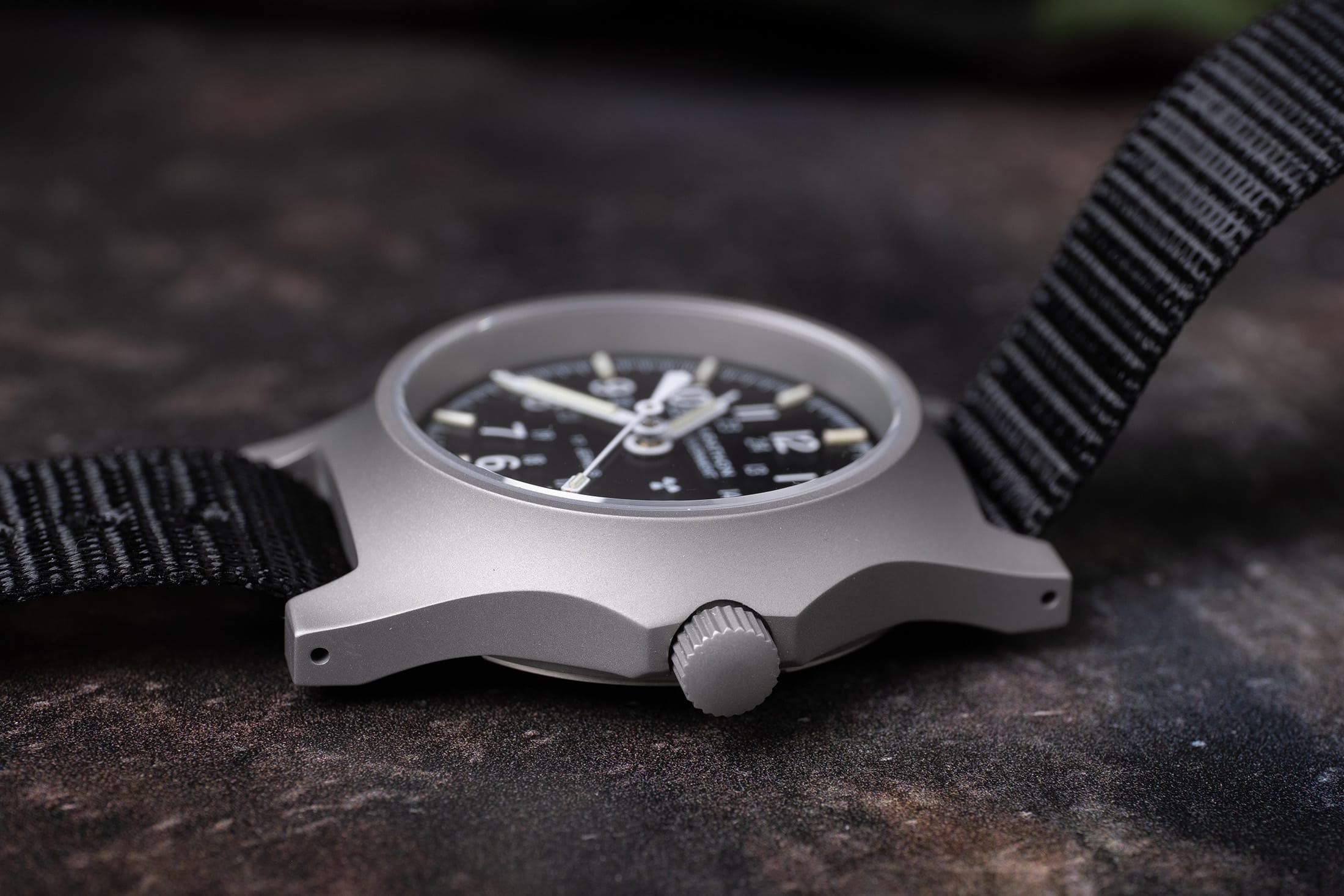 Despite having the appearance of a monocoque case, the case does have a simple screw-down caseback, the only part of the watch case that escapes the Parkerization process. Here you'll find a huge block of text and reference numbers, highlighting its military credentials. It's all on there, including the NATO stock number (yes, it's still military, and still procured by the U.S. Government!). One thing that might raise an eyebrow is the water resistance, which is 'only' 30 metres. Whilst it's adequate for this type of watch, it might put some buyers off who have come to expect 100m water resistance on any 'tool' watch. However, it's worth noting that Marathon themselves test the watch to 50m water resistance…a curious anomaly.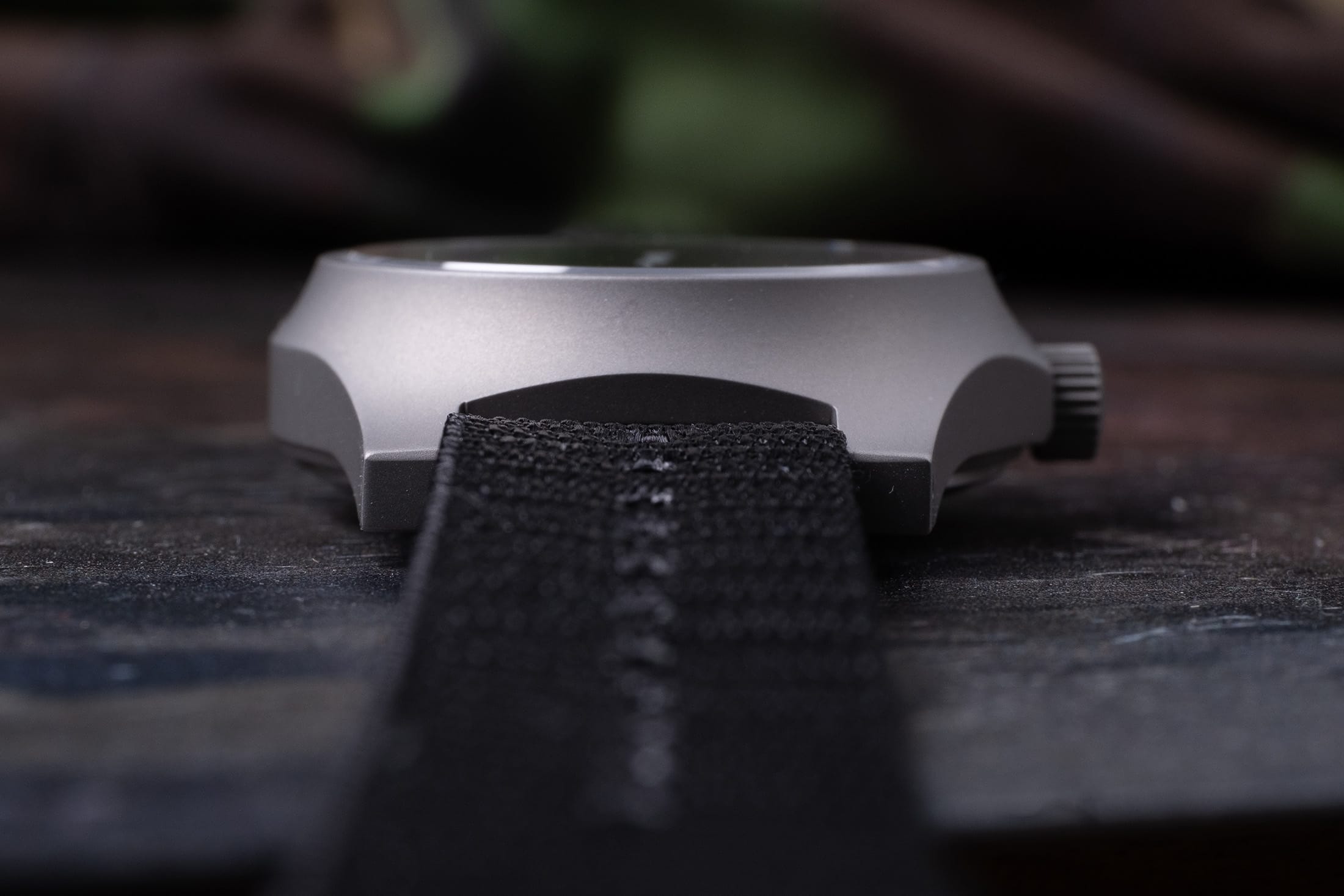 THE DIAL AND HANDS
The Officer's Mechanical has a Type II matt-black military dial, which means that as well as 12 hours markings, it has 24-hour military time markings on the inner ring. Arabic numerals are all printed as is other dial text and markings comprising outer hash marks for minutes and seconds, brand name, and '17 jewels', a reference to the movement. On my test watch, kindly lent in by The Watch Trend, additional U.S. Government markings are present below the brand name, but the watch can be ordered with or without this. Of note here are two symbols inward of the nine and three o'clock positions. On the left is the 'H3', and on the right is the universal radioactive symbol. These are a nod to the fact that tritium, a radioactive substance, was used in the luminous compound on the original dials.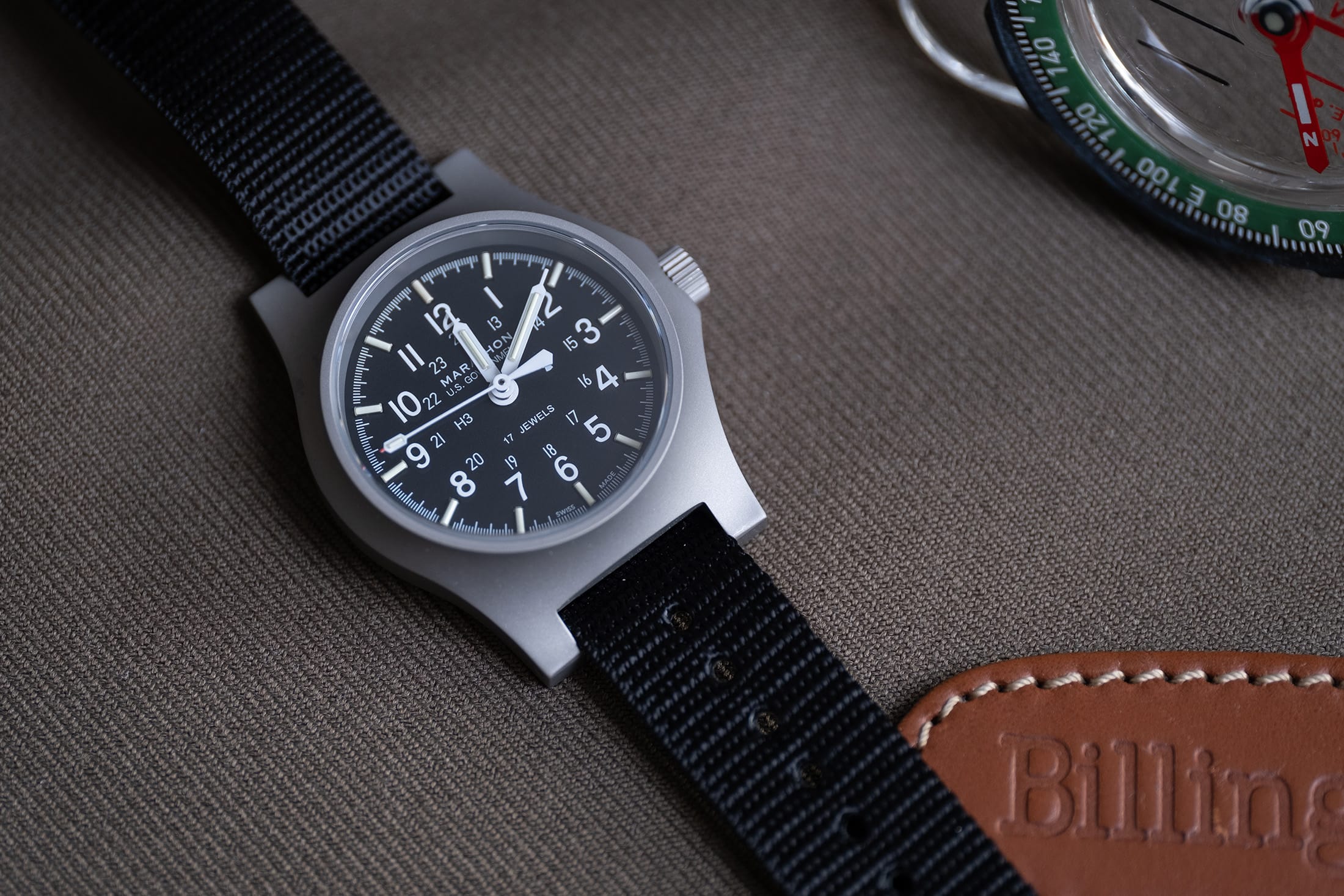 Like all of Marathon's analogue watches, this reissue watch still features tritium lume, but thankfully doesn't emit any harmful radiation because it is safely housed within hermetically sealed glass tubes. Orange coloured tritium is used for the 12 o'clock hour marker to help aid orientation at night. Green tritium is used for the remaining baton-shaped hour markers, needle-shaped hour and minute hands, and simple stick-style seconds hand. The seconds hand also has a red tip.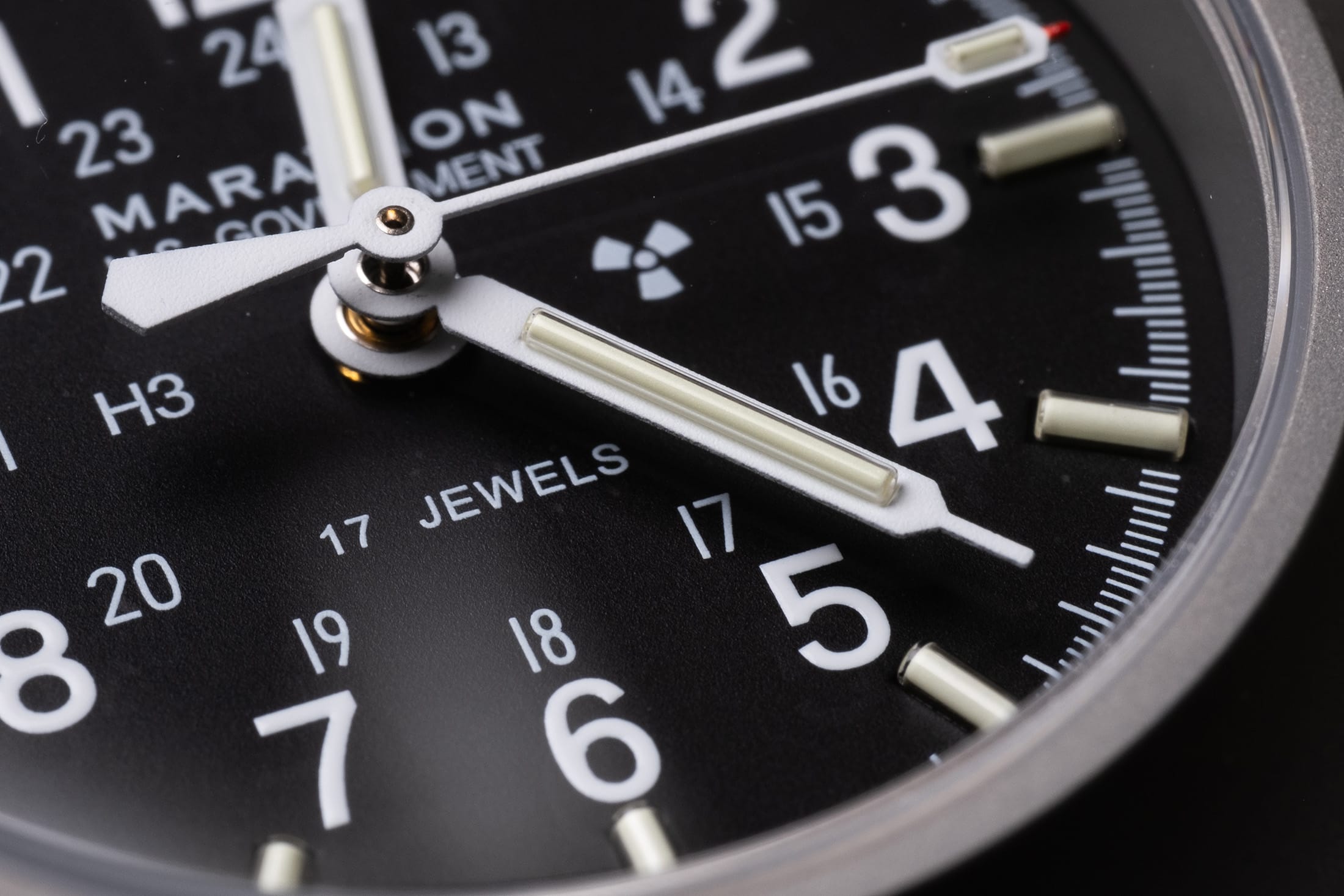 For those not familiar with tritium lume, it glows less brightly then Super-LumiNova, but doesn't need recharging by light. This makes it ideal for military issued watches as the glow is subdued enough not to give away your position, but still visible throughout the entire night.
A scratch-resistant flat sapphire crystal protects the dial, separated by a deep rehaut, a necessity because of the extra space required to accommodate the height of the tritium glass tubes.
FINAL THOUGHTS
In terms of military-style watches, the Marathon General Purpose Officer's Mechanical scores a whopping nine out of 10 from me, high praise indeed! It has character by the bucket-loads, its authentic and offers value for money to those seeking a military style watch with pedigree. Standout features for me are the case shape, tritium lume, Parkerized finish and Swiss hand-wound movement.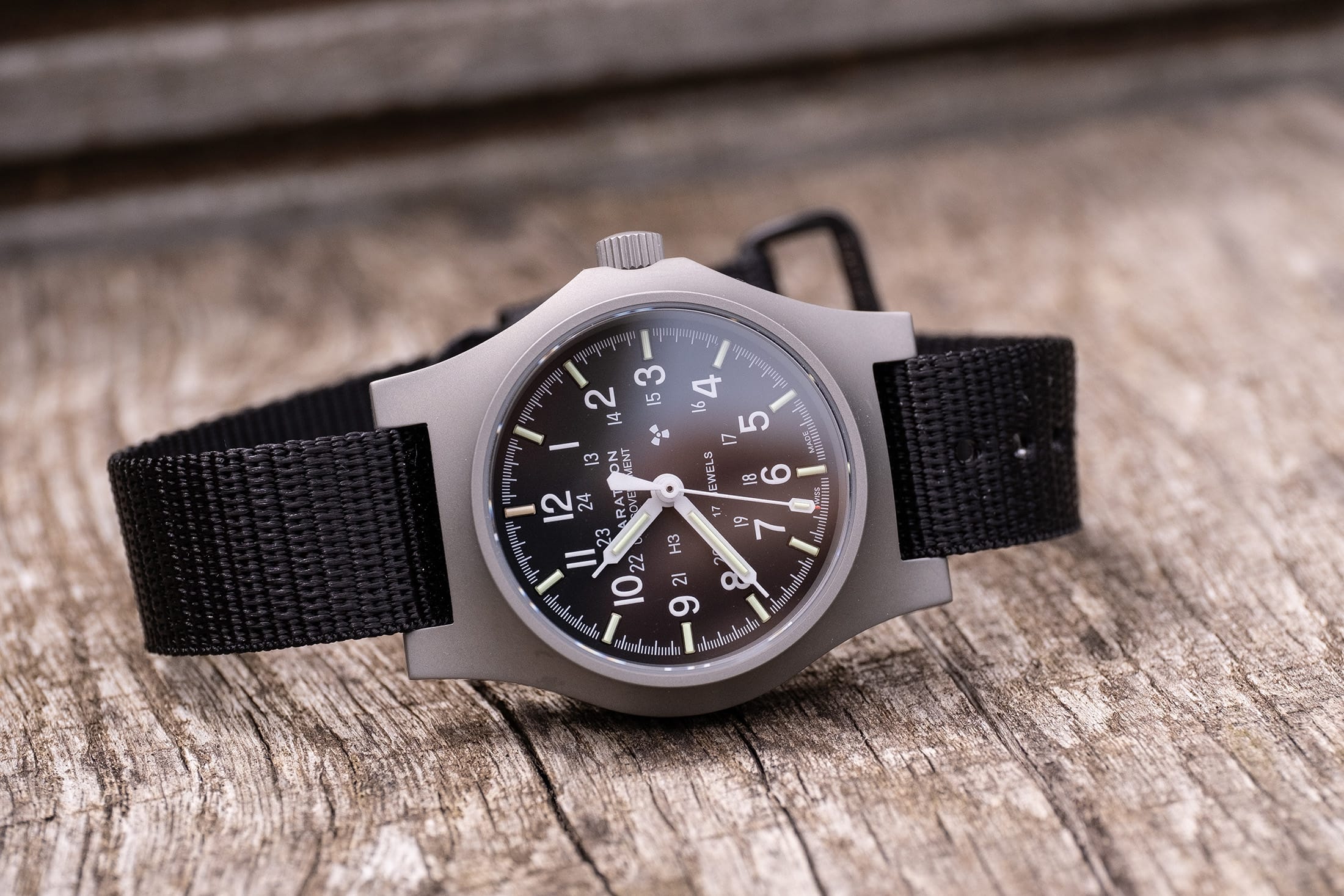 There are only three things I'd change. All are minor and certainly aren't deal-breakers. The first would be to do away with the tiny hash marks on the seconds track as they don't add anything in the way of functionality and aren't historically accurate. The second would be to increase the water resistance to 100m. Finally, I'd like to see an anti-reflective coating applied to the sapphire crystal.
Whilst I personally really love the case size, if Marathon increased the diameter to 38mm, it would probably give the watch wider appeal to the civilian watch community, whilst still not straying too far from its origins. This would also inevitably make the dial even more legible and increase the lug width, making it easier to find alternative straps.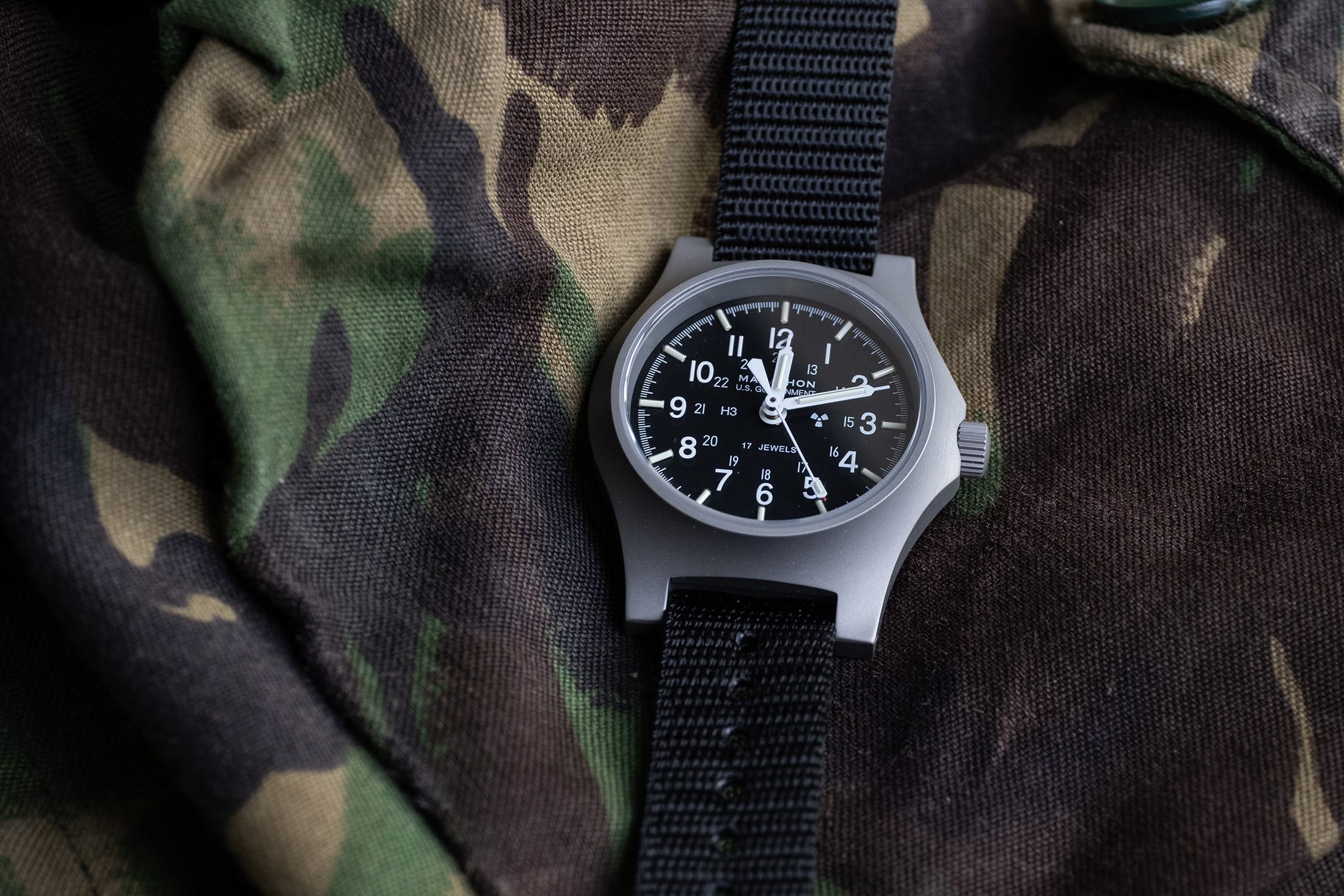 Marathon hits the nail firmly on the head when it describes its watches as 'engineered for the field, not your display case'. The Officer's Mechanical is unashamedly a tool watch which doesn't seek acceptance by the masses. Paradoxically, this is precisely why it does appeal to me. I love its no-nonsense uncompromising take on the military watch. In a market that is becoming saturated (pun intended) with expensive, colourful watches with fancy dial textures, complex in-house movements, and elaborate finishes, it's refreshing to find an unpretentious watch like this. It's almost an anti-luxury watch. But that would be doing it an injustice. Money has been spent here, but on the things that matter in a tool watch – functionality, reliability, and durability. It does what it needs to do and not a jot more. And I for one think there's something to be said for that!
Head on over to The Watch Trend to buy yours or to browse collections from other top name brands!