The Duneshore, the first release from Indiana-based newcomers Visitor Watch Co, has created quite a stir in the affordable watch community. Costing $650 / £420 it's certainly not a cheap watch – but that's exactly what it's aiming for. It's a stunning, unique timepiece that offers design, can metrication and spec that's pretty out there.
The design definitely is a marmite topic (you either love it or hate it), but there's certainly no denying that it's striking – with its diamond-like angles and naturesque curves flowing freely, it truly wows you. The Duneshores I have in for review are not the finished articles, but rather prototypes. So if you notice anything that is different to the official website, don't fret. 
It's also worth noting that this is more of a "overview" rather than my usually in-depth review. This is due to only having the watches for around a week before sending them back home. 
The case
First thin everyone notices is the size. It definitely is big. It measures 44mm in diameter, with a 51mm lug to lug length, and a height ranging from 11.75mm to 13.69mm depending on where you measure to on the curved caseback (yes that's right, a curved caseback). It's large for sure, but it doesn't feel too overbearing – this is due to the way it feels on the wrist thanks to the caseback, it curves around the wrist and is a very snug, streamline fit.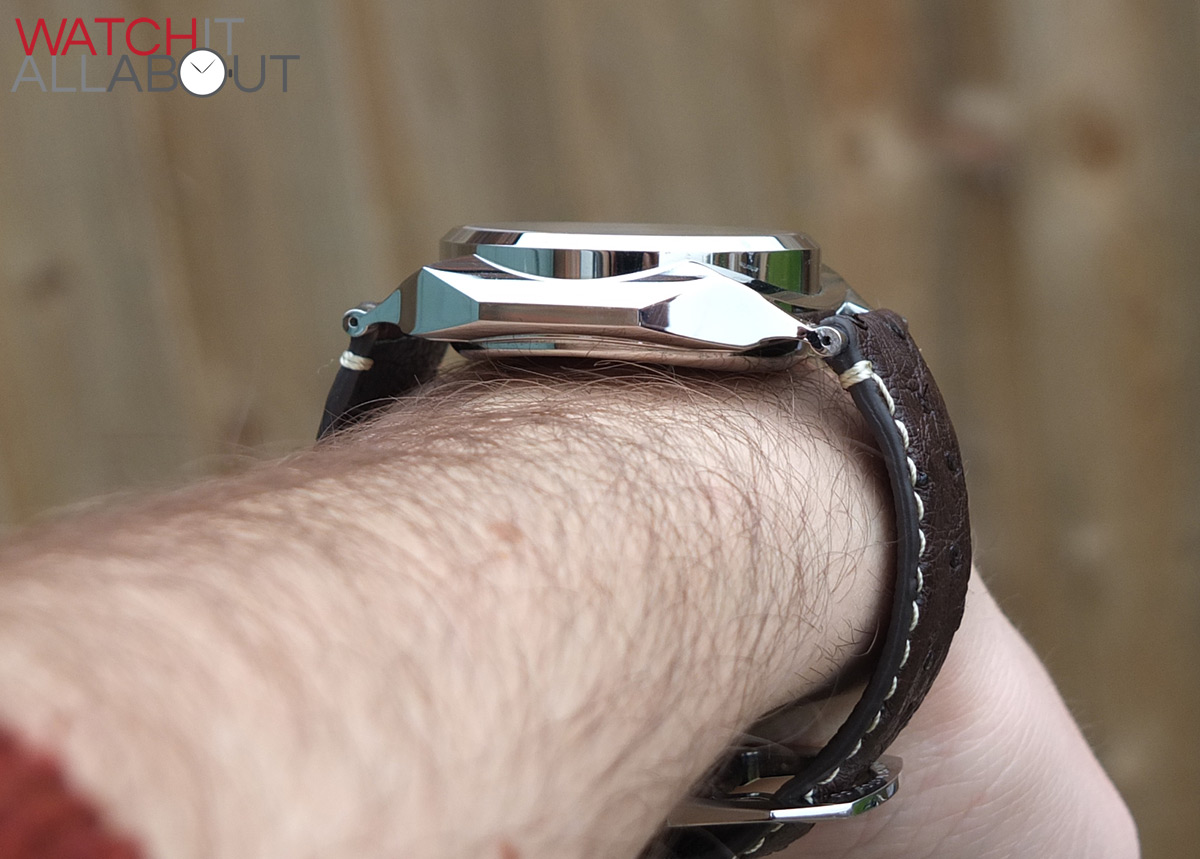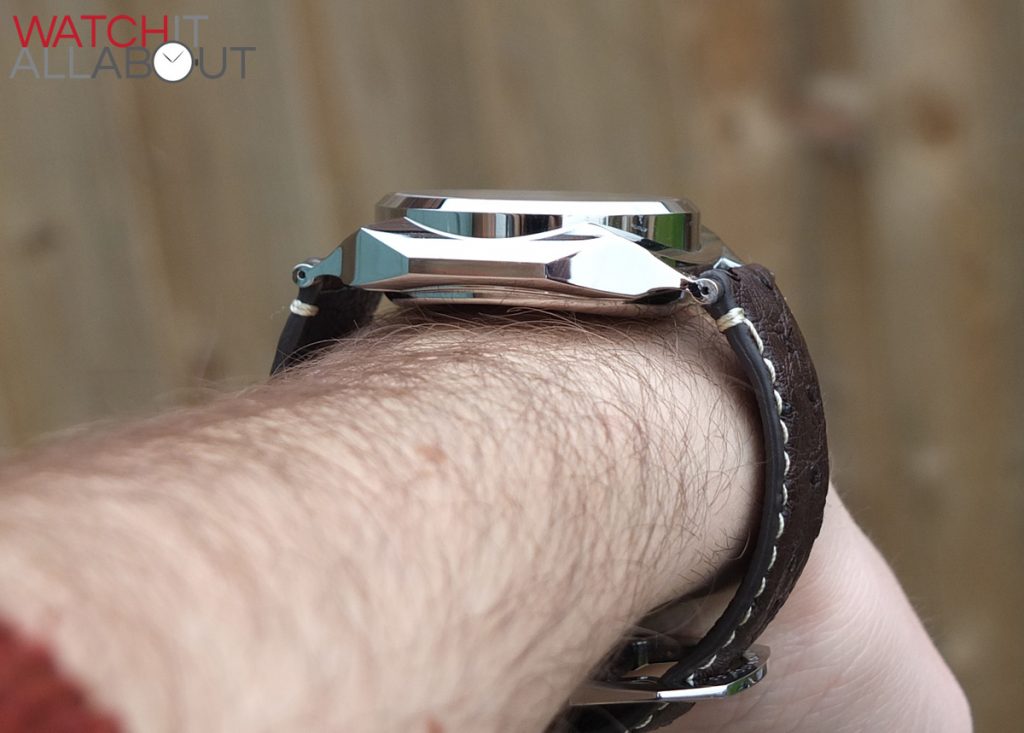 Just look at the case in general – it's so complex, the machining process is quite possibly the most challenging in this price segment. The angles and geometry is what has impressed me most.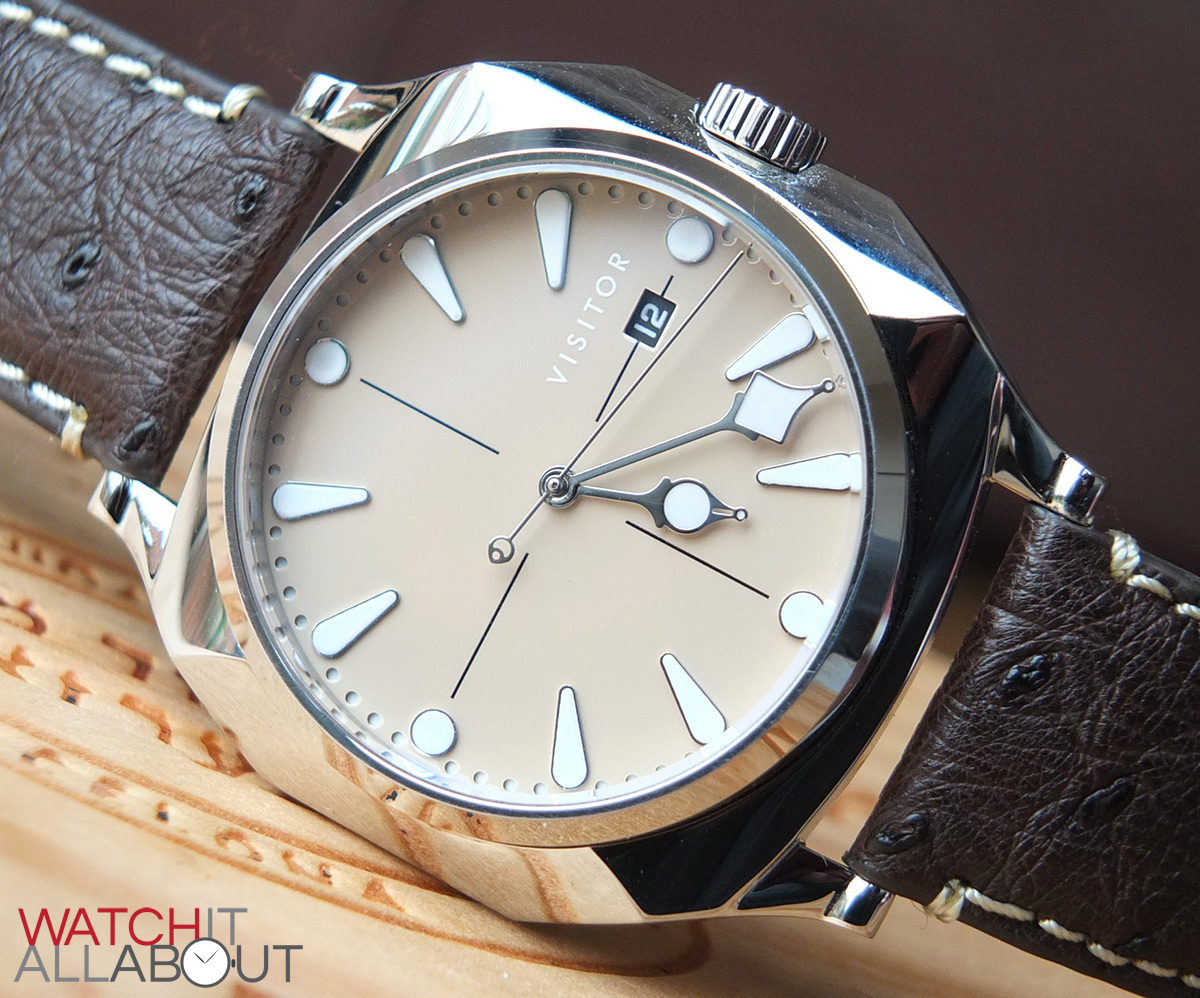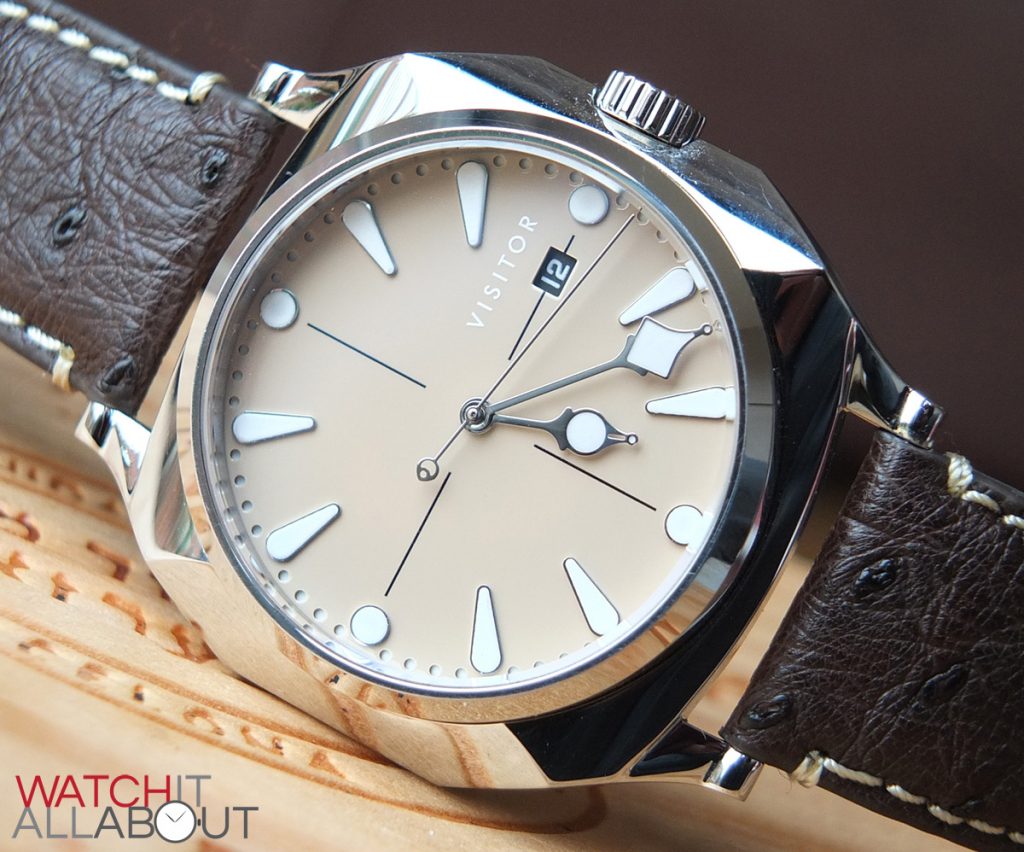 The case is fully mirror polished, excluding the vertically brushed region on the caseback surrounding the exhibition window with the watch specifics within. The finishing is tremendous, it's spotless and has also held up really well so far – I know these watches have travelled a long way and have been worn by multiple reviewers. So to hold up so well just goes to show the quality of the case and finishing.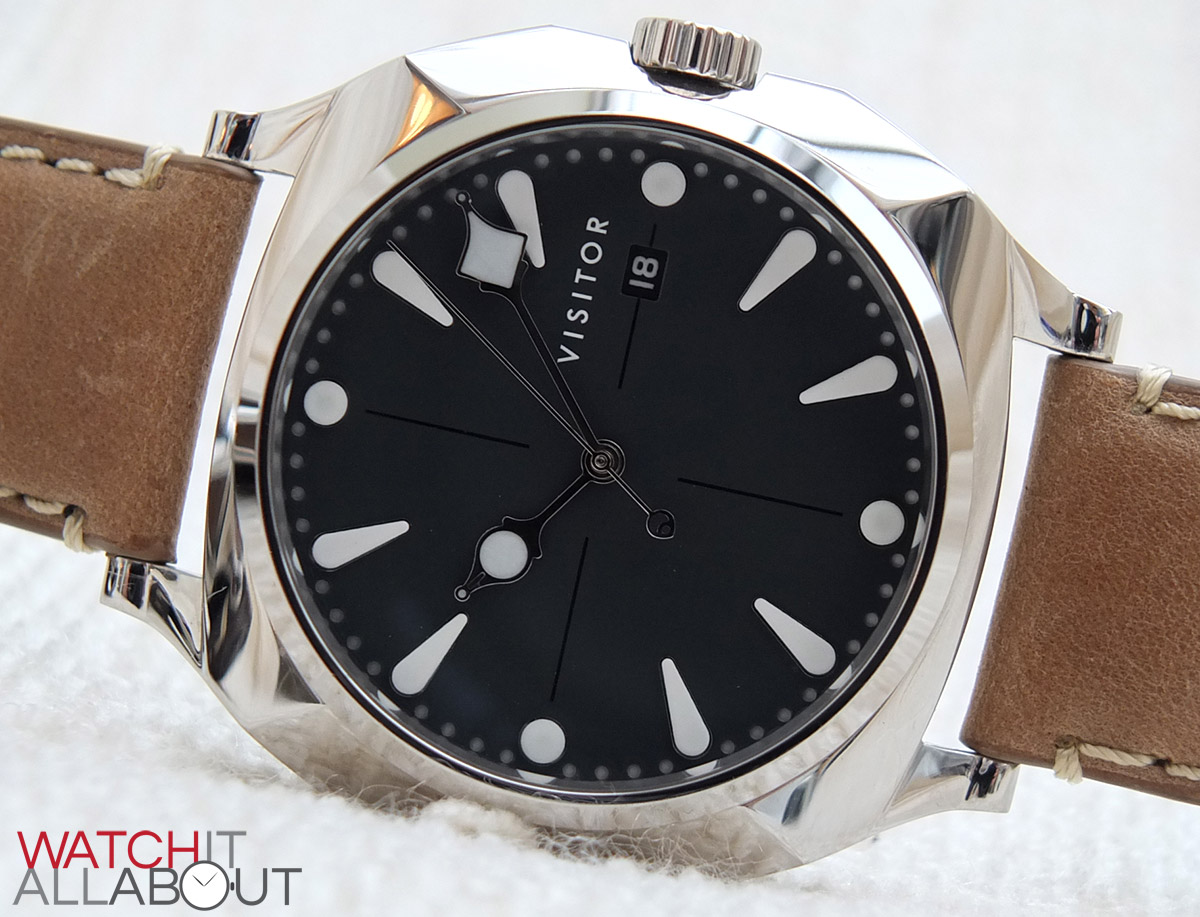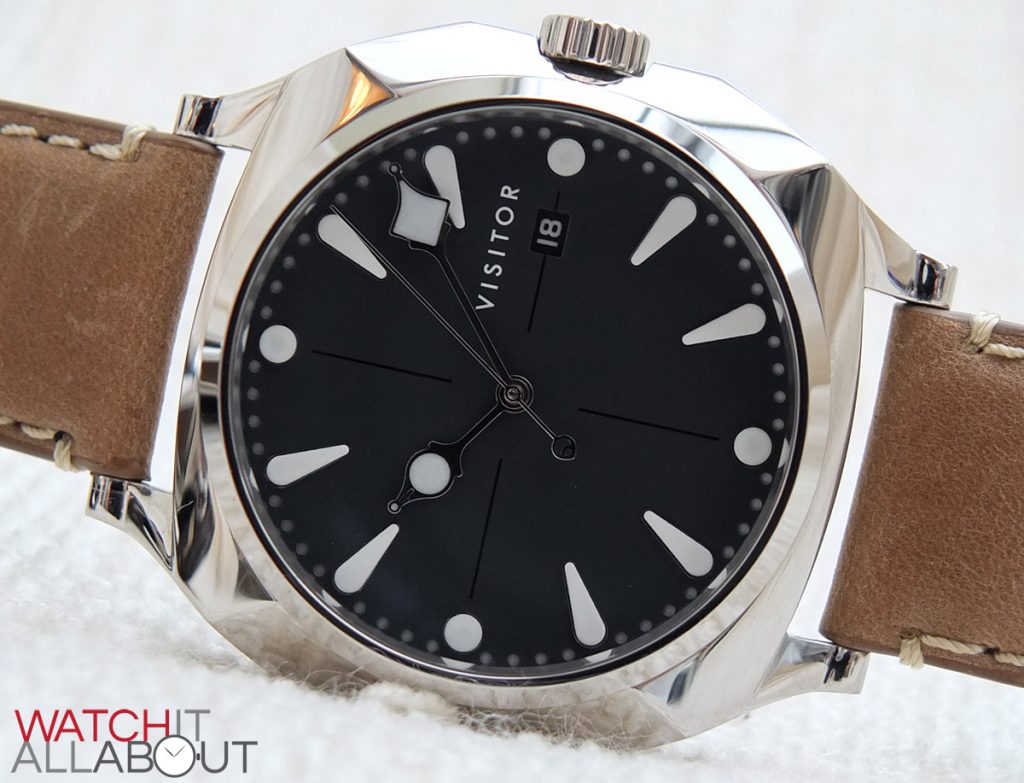 The screw-in crown is also polished, and is completely unsigned. Not a whole lot to report here, apart from it being a suitable size that is a good ratio to the case as a whole.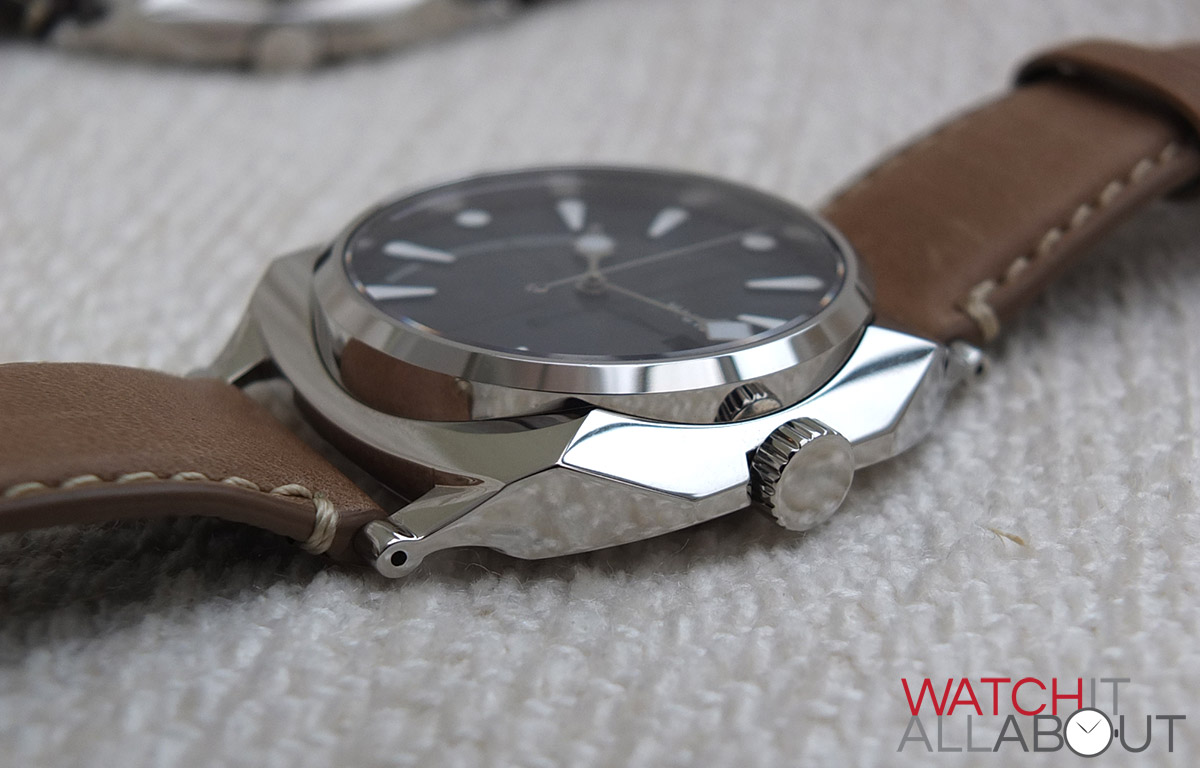 The lugs are also a unique shape, and are drilled-through (or pierced) for ease of strap changes. I think these are another neat little aspect of the watch that have had a lot of thought put into.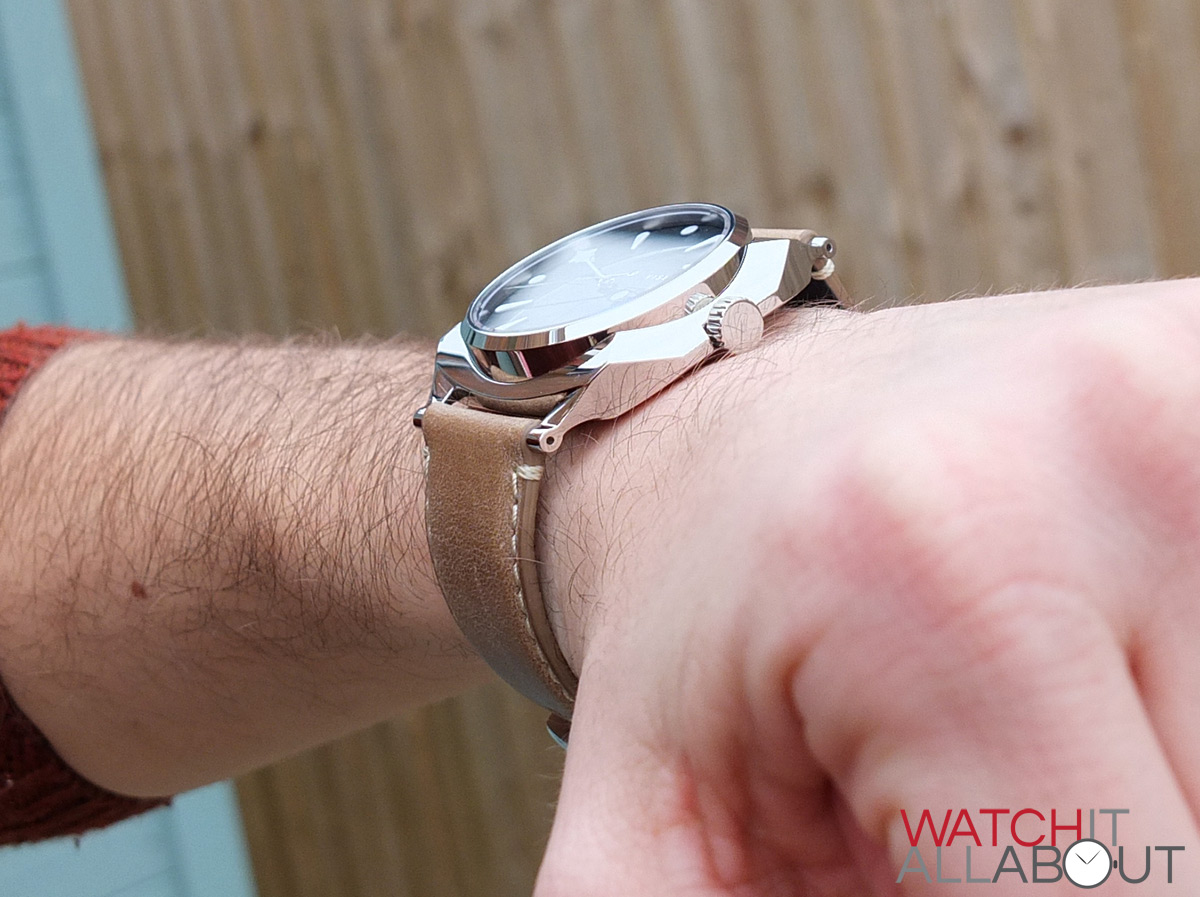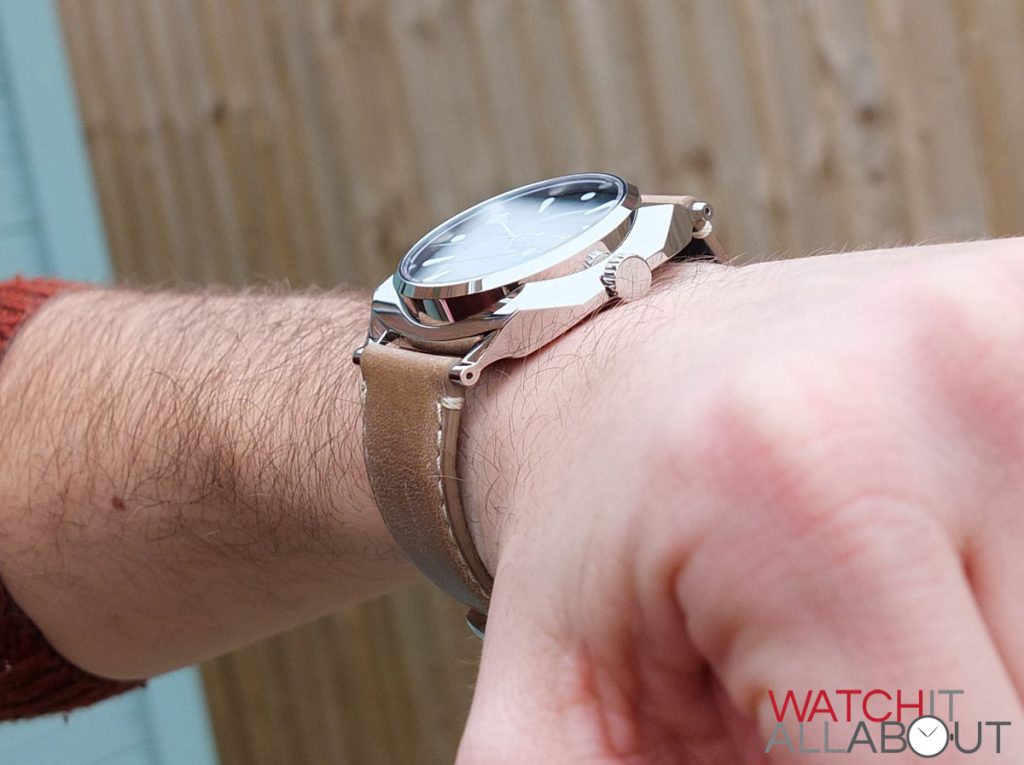 Then there's the curved exhibition caseback with a flush mounted curved mineral crystal. This is definitely not seen much at all – especially in this price range by a first-time boutique watch brand. It's really impressively made, fits the wrist snugly, and results in a very comfortable wear.
Sitting on top of the case is a 2.5mm thick sapphire crystal. It has an anti-reflective coating on the underside, which is excellent quality and does a great job at reducing glare and reflections.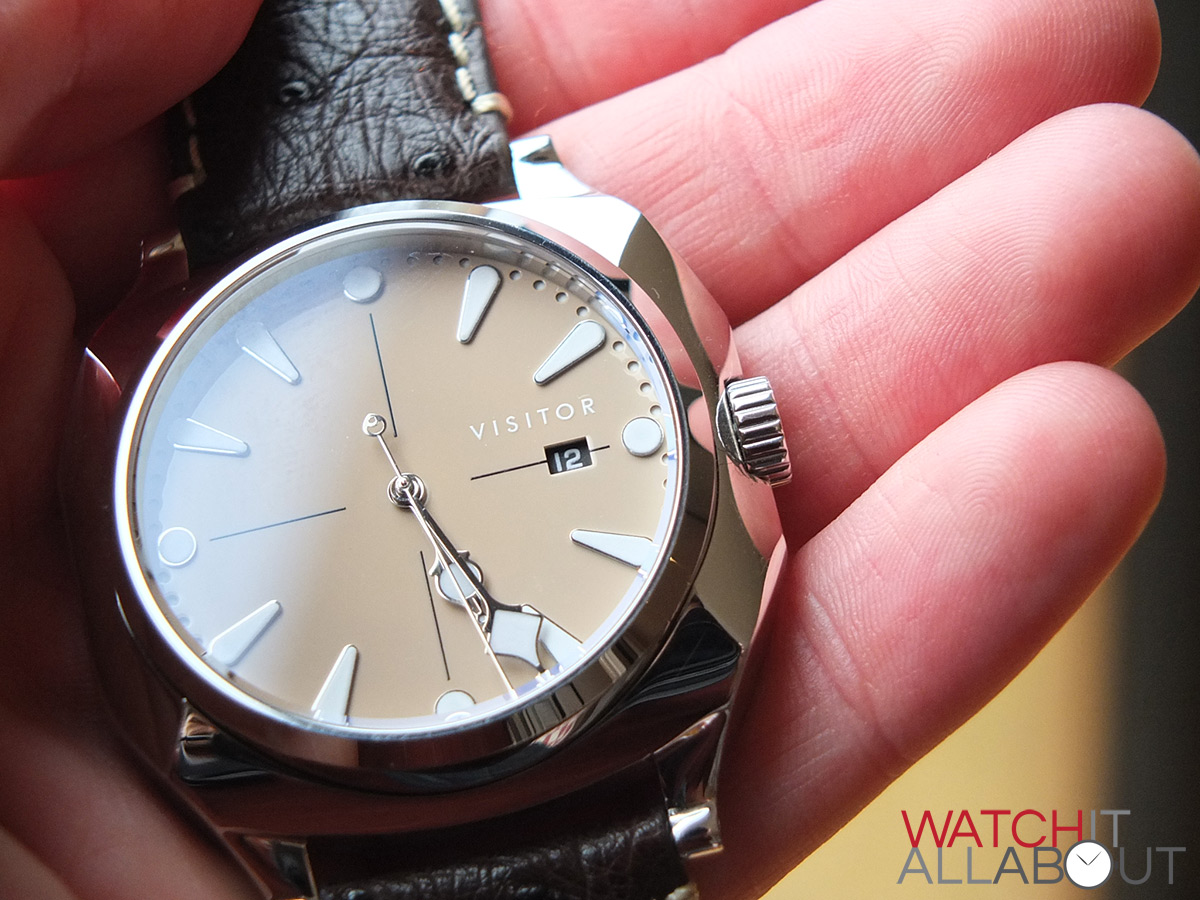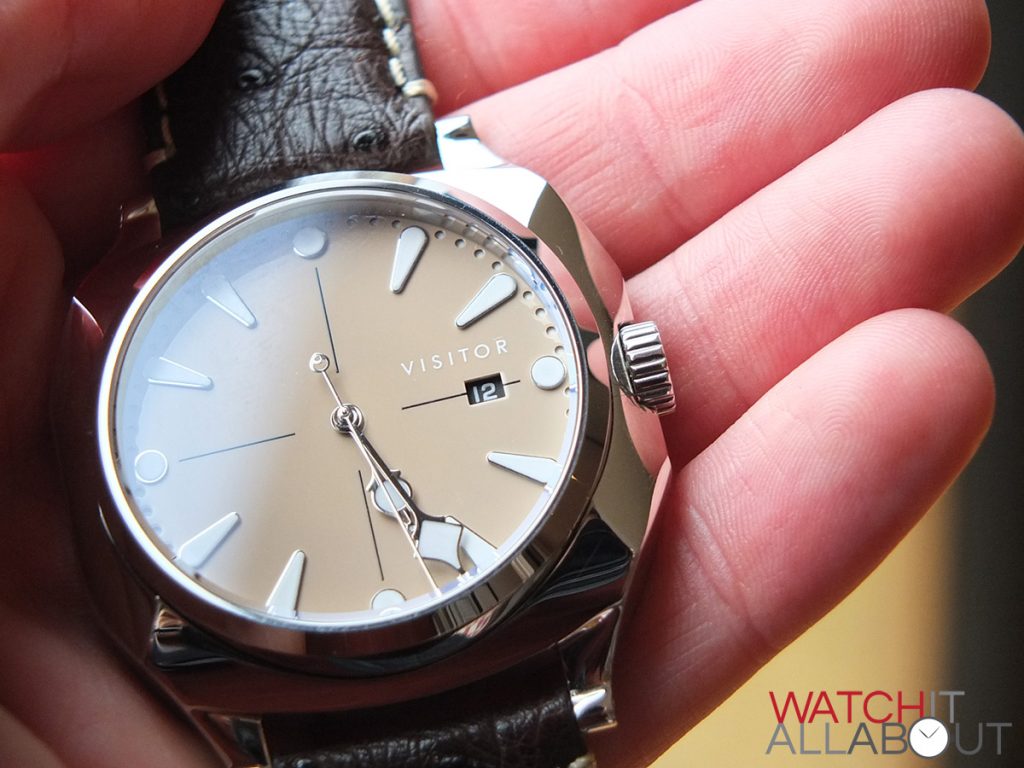 The case has a watch resistance of 100m and is made up of 3-pieces screwed together. It's very impressive to behold – and it's great to see what Visitor Watch Co have done with their very first piece.
The dial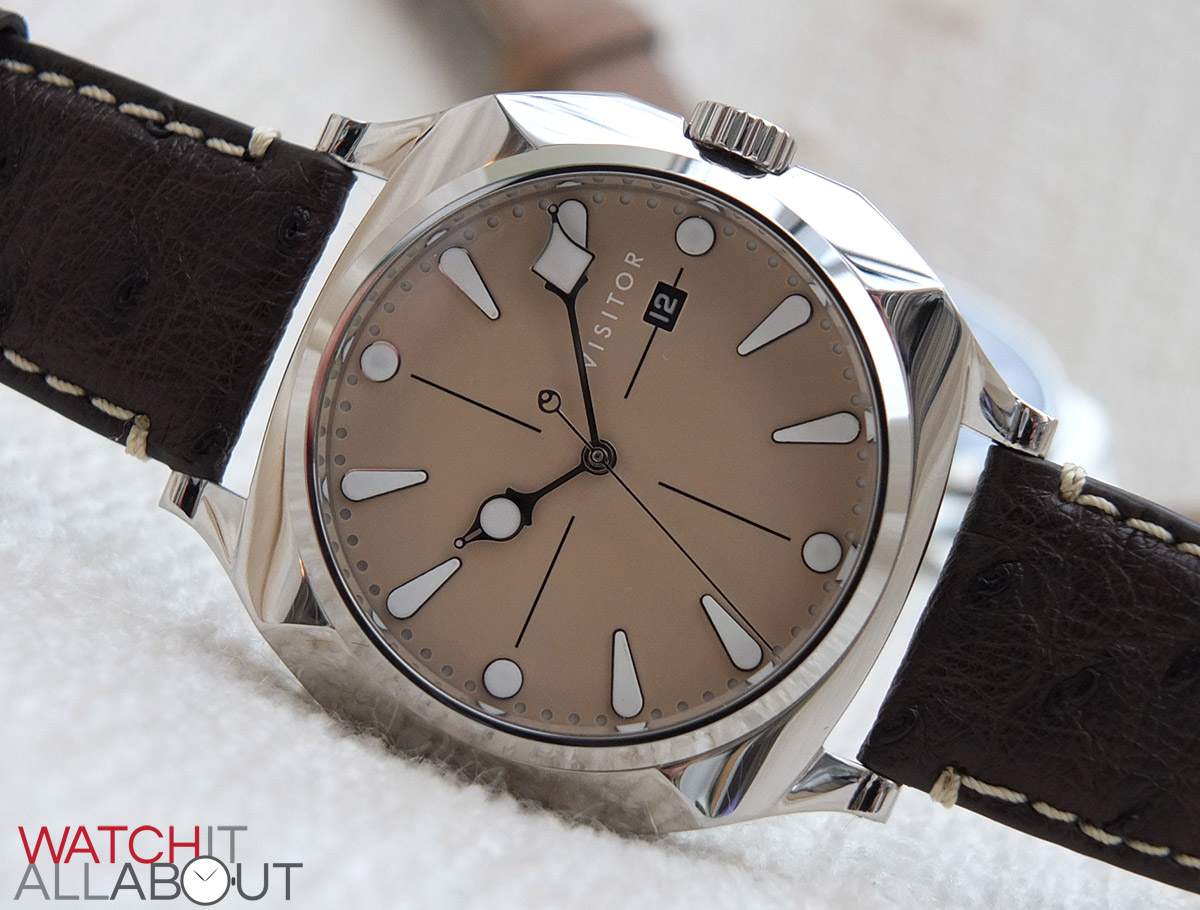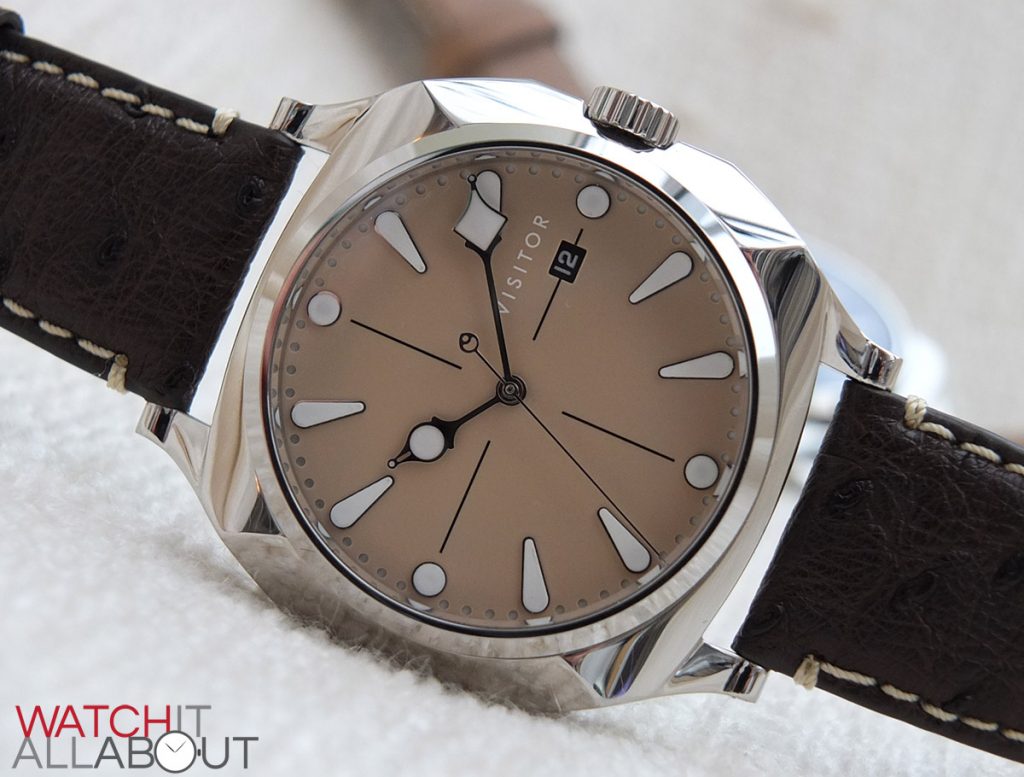 The dial is available in 3 different colours – Beach, Blue Slate, and Forest Ore. All of these are very organic and natural colours, supporting the design ethos of the Duneshore – and how it's been inspired by the Indiana Dunes.
It's a sandwich dial, meaning it has a lower level placed underneath the top level, so the holes drilled in the top appear as a step down. This can be found at every minute marker around the outer edge, and are all neatly drilled.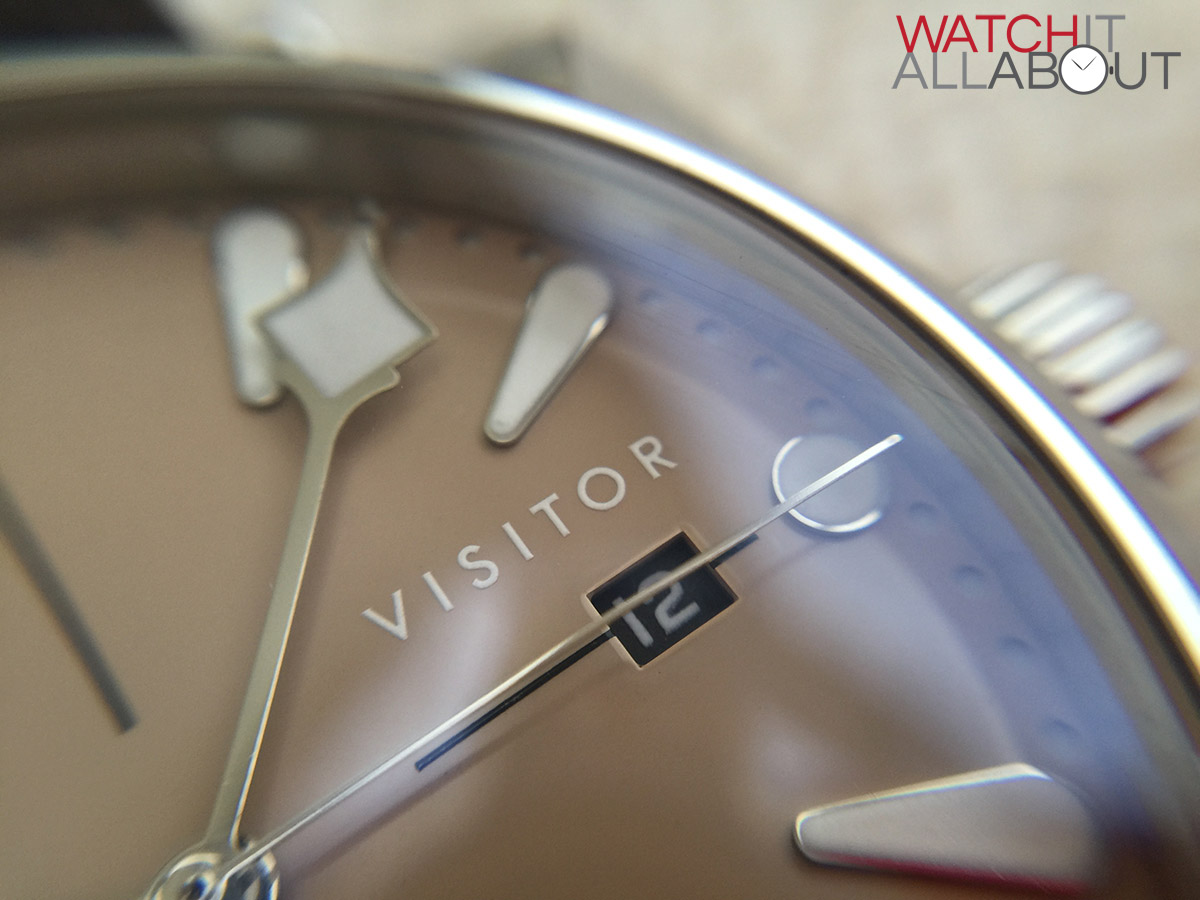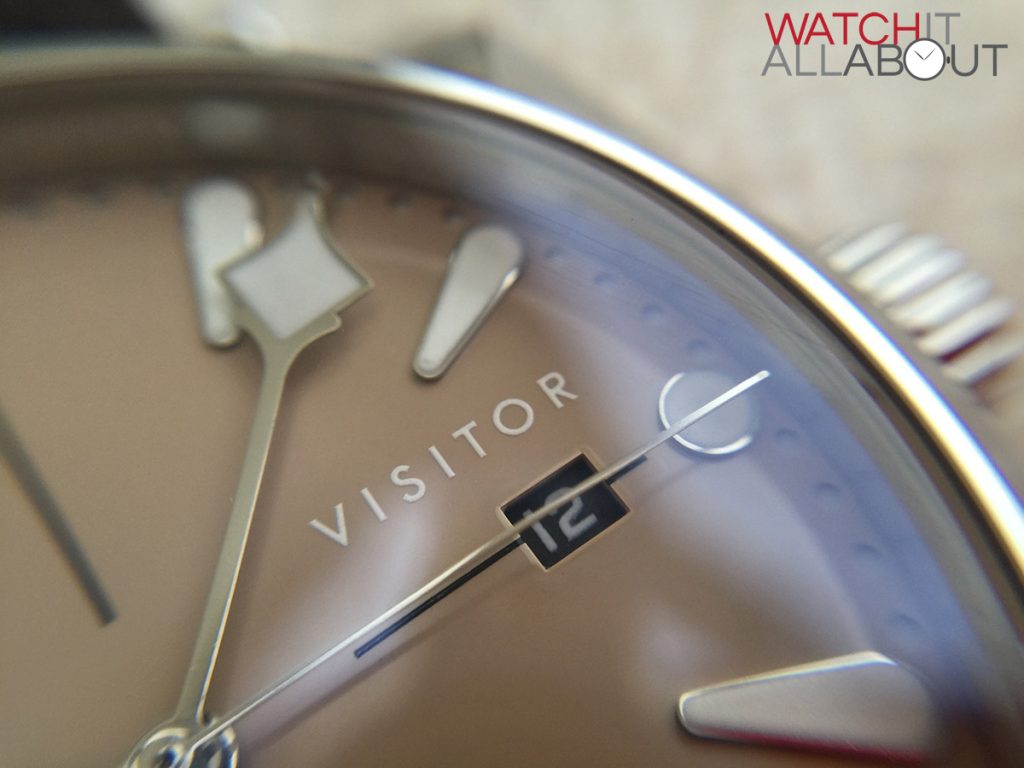 The logo is located at 2, just above the date window. I really like the placement here as it's a little different to usual, especially as the rest of the dial is completely empty.
The hands are another uniquely designed aspect of the Duneshore. They're extremely hard to describe, but are excellently manufactured – being made of polished stainless steel, with unusual lume-filled ends.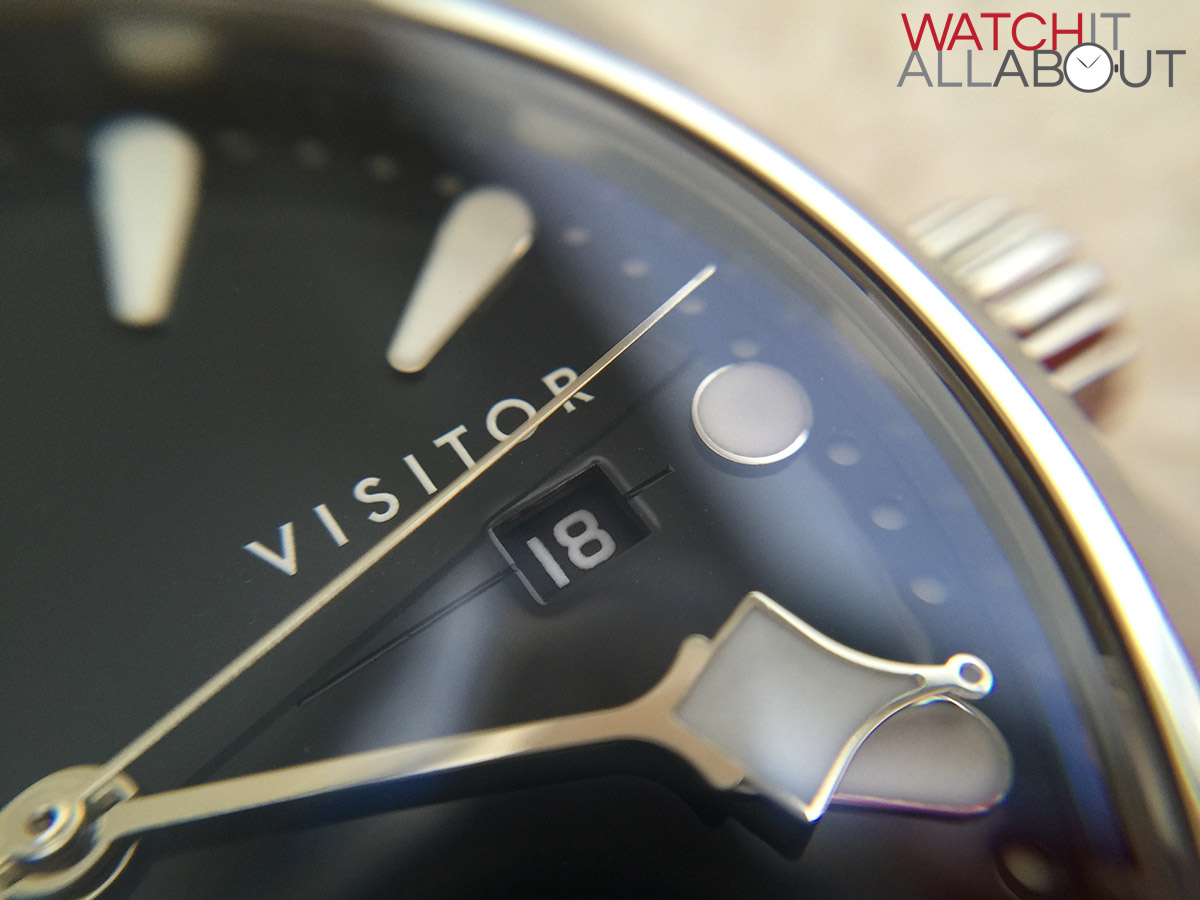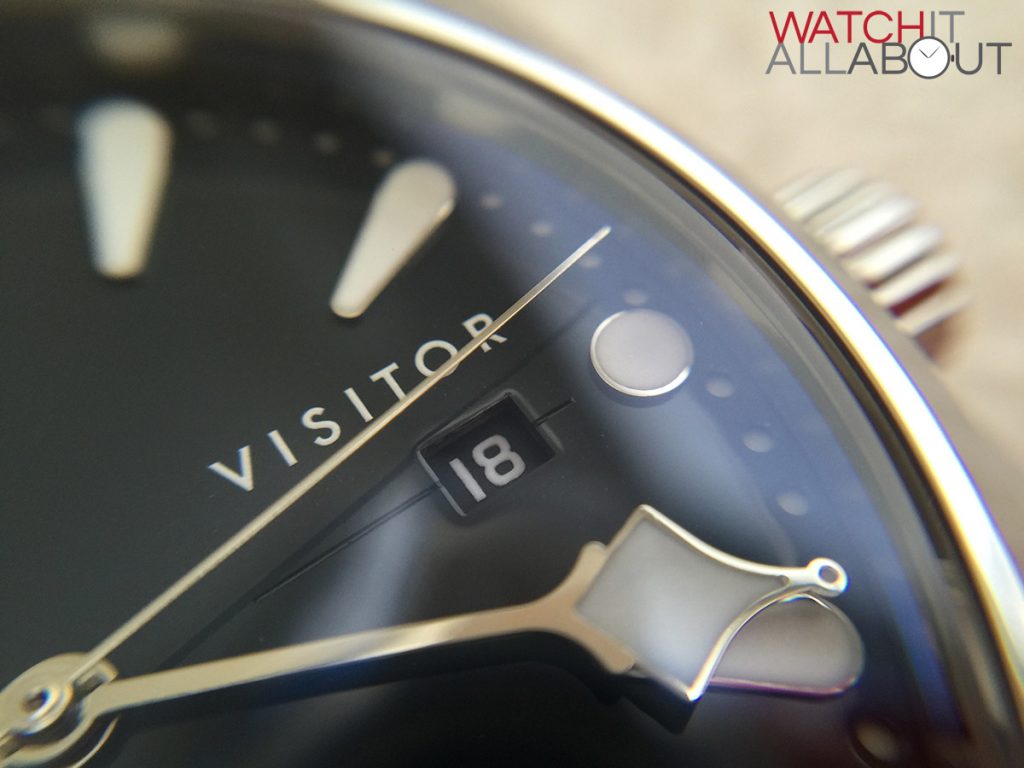 The hour markers are all applied and are a pleasant shape, almost like teardrops or monsters teeth.
The lume is BGW9 Super Luminova, and is applied to the hour and minute hand, the indices, the lower dial disk for the minute track, date disk, and the dial signature too. So there's definitely quite a bit of lume on the dial, more so than you'd usually find – especially having the logo and numbers on the date wheel lumed. That's a real pleasant surprise.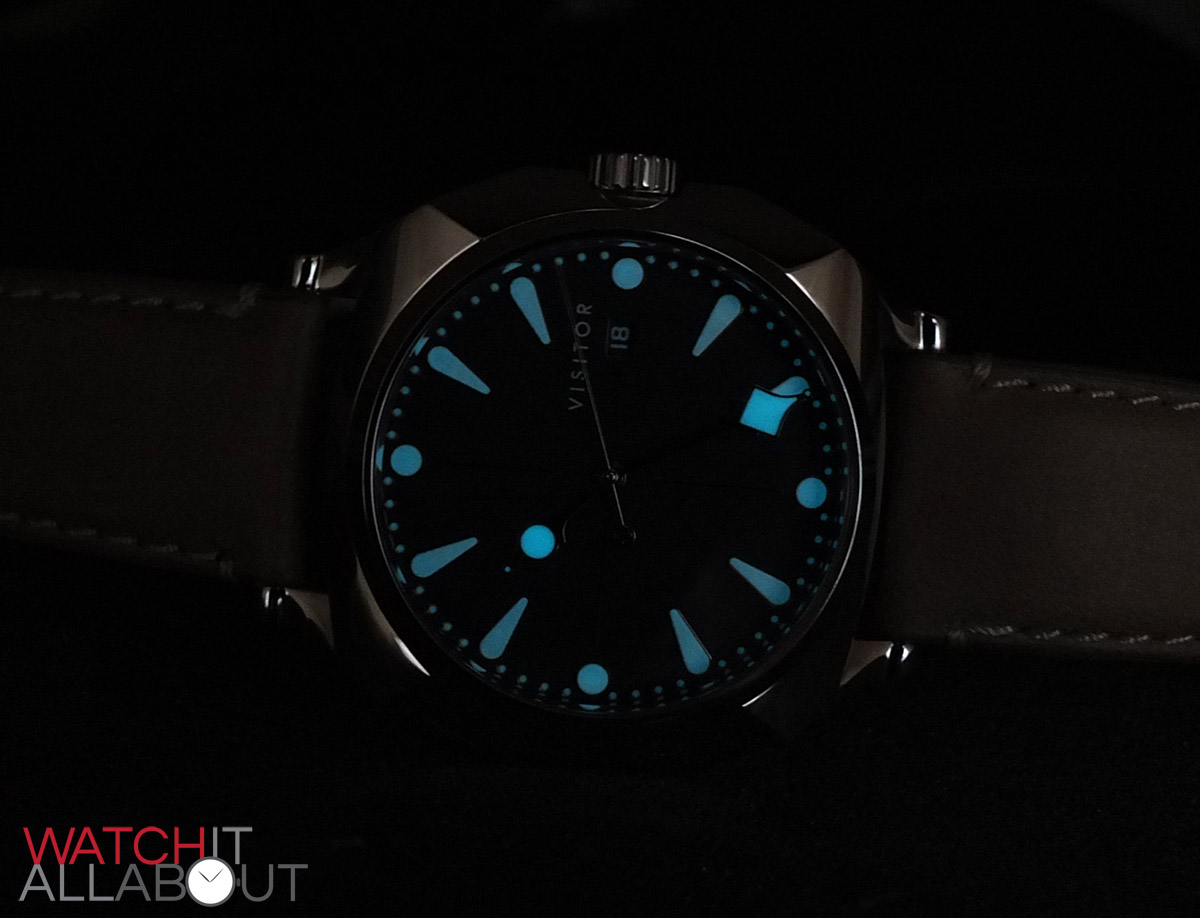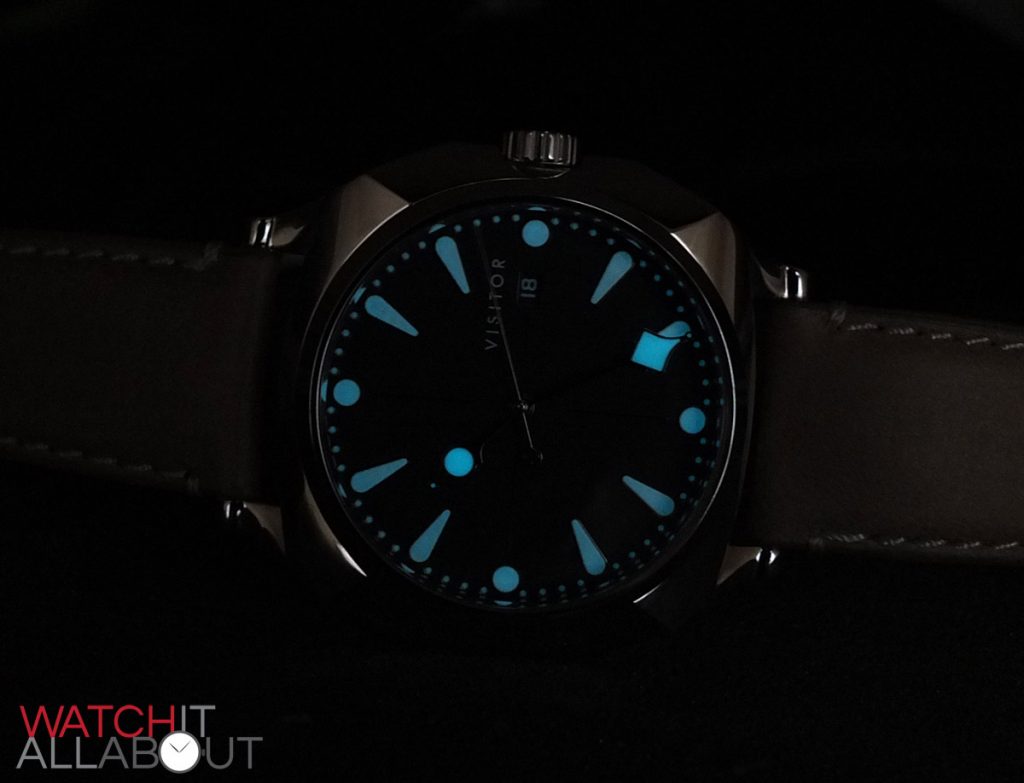 On the whole, I really like the dial – I think it's simple, yet offers a distinctive design and is very well assembled and produced.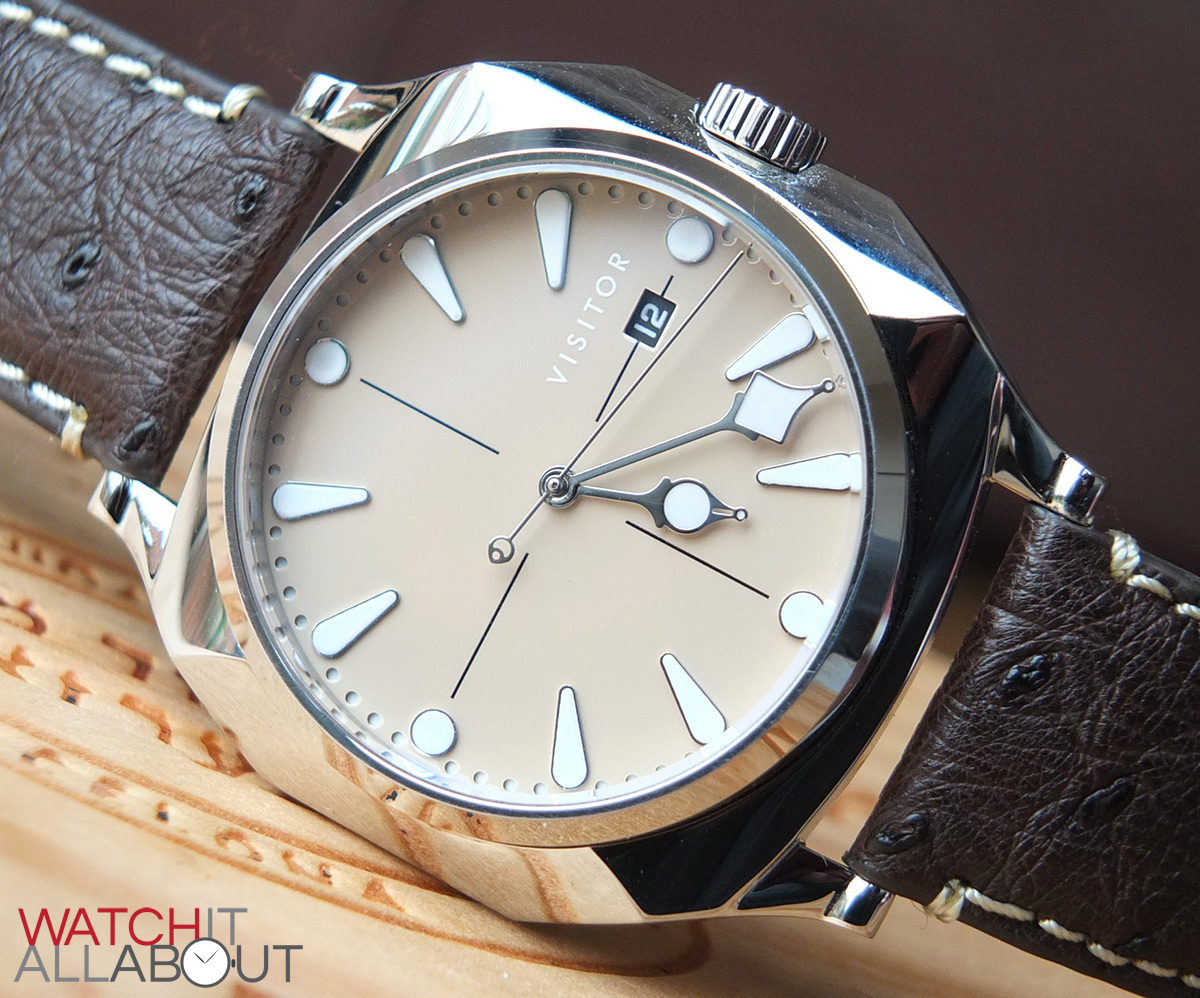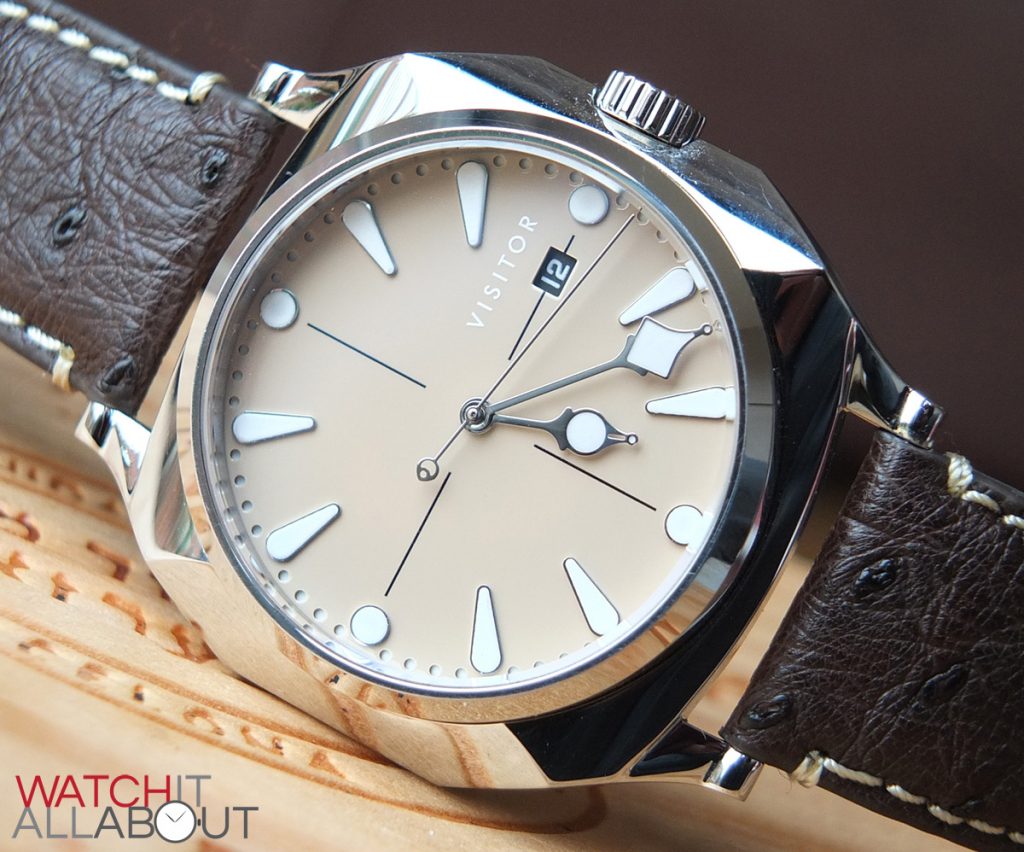 The movement
Powering the Duneshore is the Miyota 9015, the same movement that powers pretty much every other non-Swiss boutique watch. It offers all the specs as the popular Swiss autos (like ETA and Sellita), but at a fraction of the cost. These are a high beat (28.8k bph / 8 ticks a second), 42 hour power reserve, hacking second hand, and manual and automatic winding capabilities. It's also proving to be very reliable and accurate to top it all off. 
But, it's great to see Visitor Watch Co go one step further – with the inclusion of a custom rotor. The Miyota is pretty plain and ugly straight out of the box – it has quite an industrial feel to it. So the custom rotor masks a lot of the plain movement and adds another dimension to the Duneshore. Again, remember that these are prototypes so the custom rotor here may not exactly represent the finished article.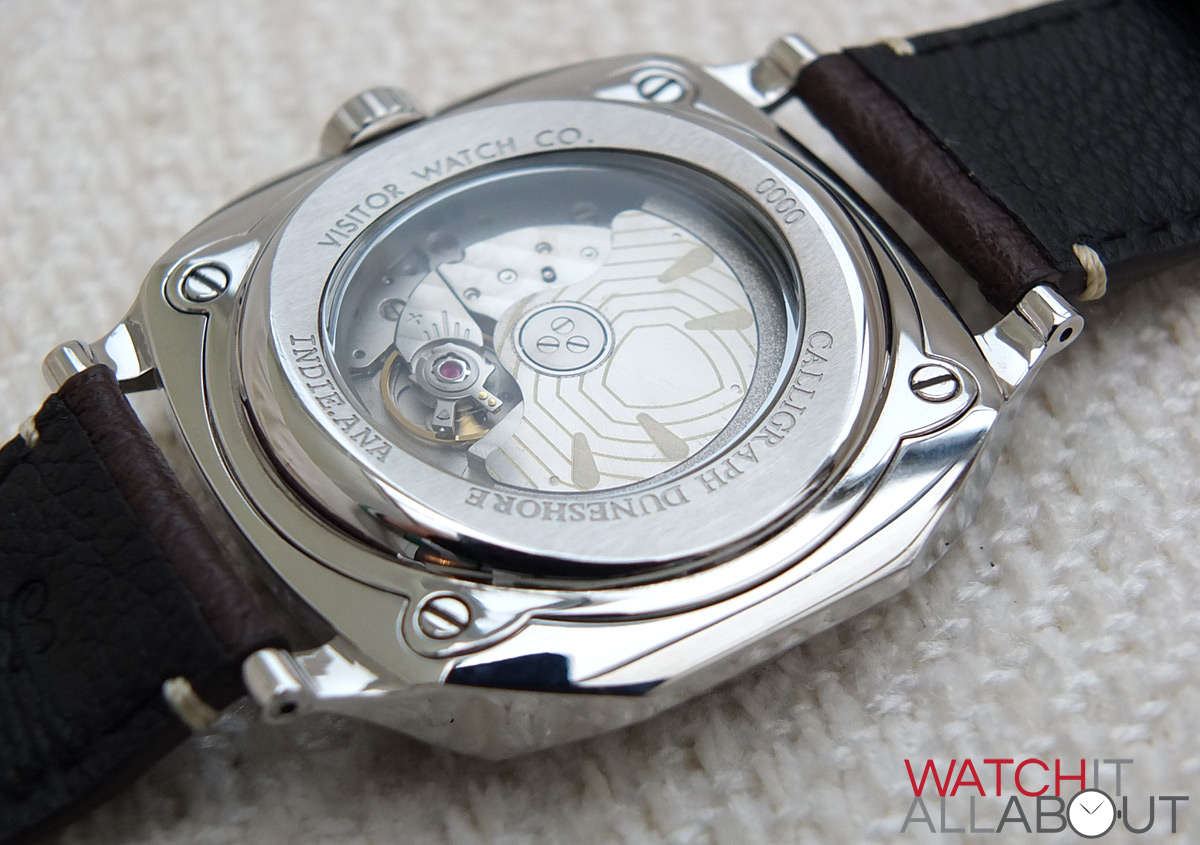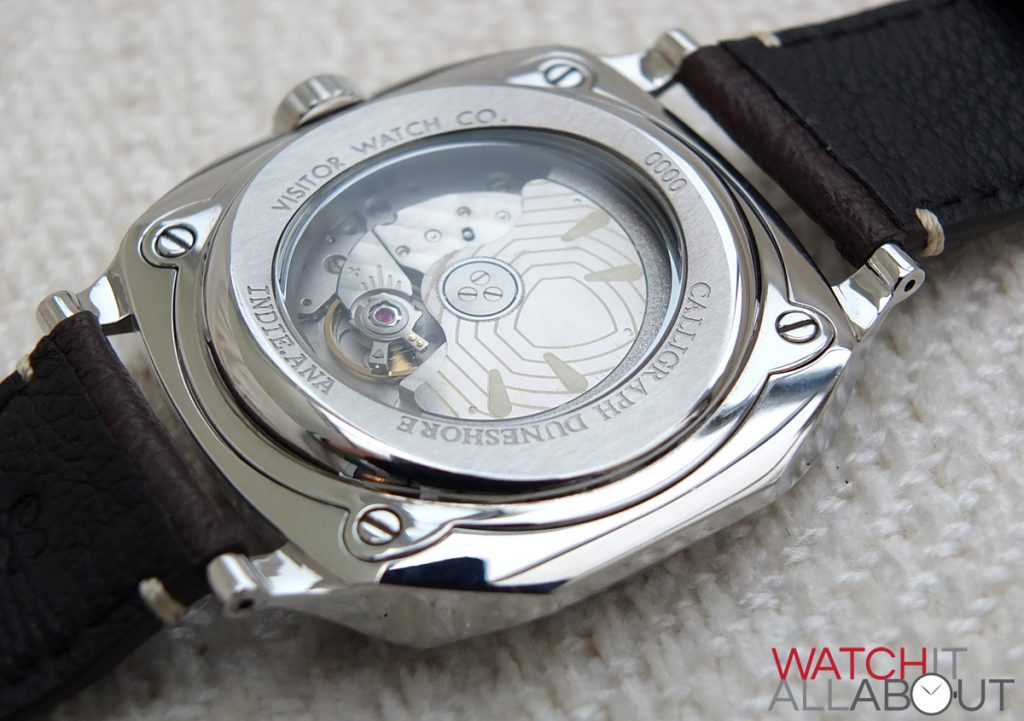 The strap
There's a great choice of three straps when it comes to dressing your Duneshore. There's three types of leather available in their individual colours: black calf, dark brown deerskin or chestnut ostrich. These are all sized at 
22mm at the lugs, reducing to 20mm at the buckle. My personal preference is the ostrich leather, it's extremely unusual and is of surprising quality. I also like how it has "knots" within it – every one will be different and have unique characteristics. 
Another aspect of the Duneshore that has obviously had a lot of thought go into it is the tang buckle. The buckle is often something that gets overlooked, sometimes it's even an afterthought. The Duneshore's buckle, on the other hand, appears to have as much thought and design put into it as the case.
Final comments
I've been very impressed with the Duneshore during my short time with it. It's very hard to create something unique in an industry where everything seems to have been done already. So I really praise Visitor Watch Co for what they've done here. It's a great design (albeit not to everyone's taste), and extremely well made – there's not really anything bad that can be said about it in terms of build quality. Whilst it may cost a little more than the majority of what other boutique micro-brands offer, you certainly get a watch that feels worth it.