I am sure you've heard of the "Swiss Army Knife". Victorinox, it's creators, making them since their conception in 1897, have also traversed into a few other product categories. Victorinox's travel gear could possibly be classed as their next most well-known product range; but we're obviously concerned with one of their newest watch models, the I.N.O.X. They've been making watches since 1989 so they definitely have a good amount of history under their belt.
The I.N.O.X series has been made with quartz models for a little while, but at Baselworld 2018 they finally released an automatic range. Let's check it out.
The specs
Dimensions: 43mm diameter x 13.5mm height x 53mm lug to lug
Weight: 201g (188g with links taken out)
Water resistance rating: 20ATM / 200m
Movement: ETA 2824-2
Accuracy: +5.9 sec/day
Lug width: 21mm
Warranty: 3 years
Price: £689 / $795
Buy here: Direct from Victorinox
The video review
The case
The case is chunky, that's for sure. It certainly wears at 43mm, maybe even larger due to the tall slab makeup and thick lugs (sometimes a case can wear a bit smaller due to its shape). The height of 13.5mm and lug to lug length of 53mm is in no way small – in fact, I'd say you need at least a 7" wrist to pull this beast off. The case main doesn't excite too much; however, the eyes are certainly drawn towards the angular bezel.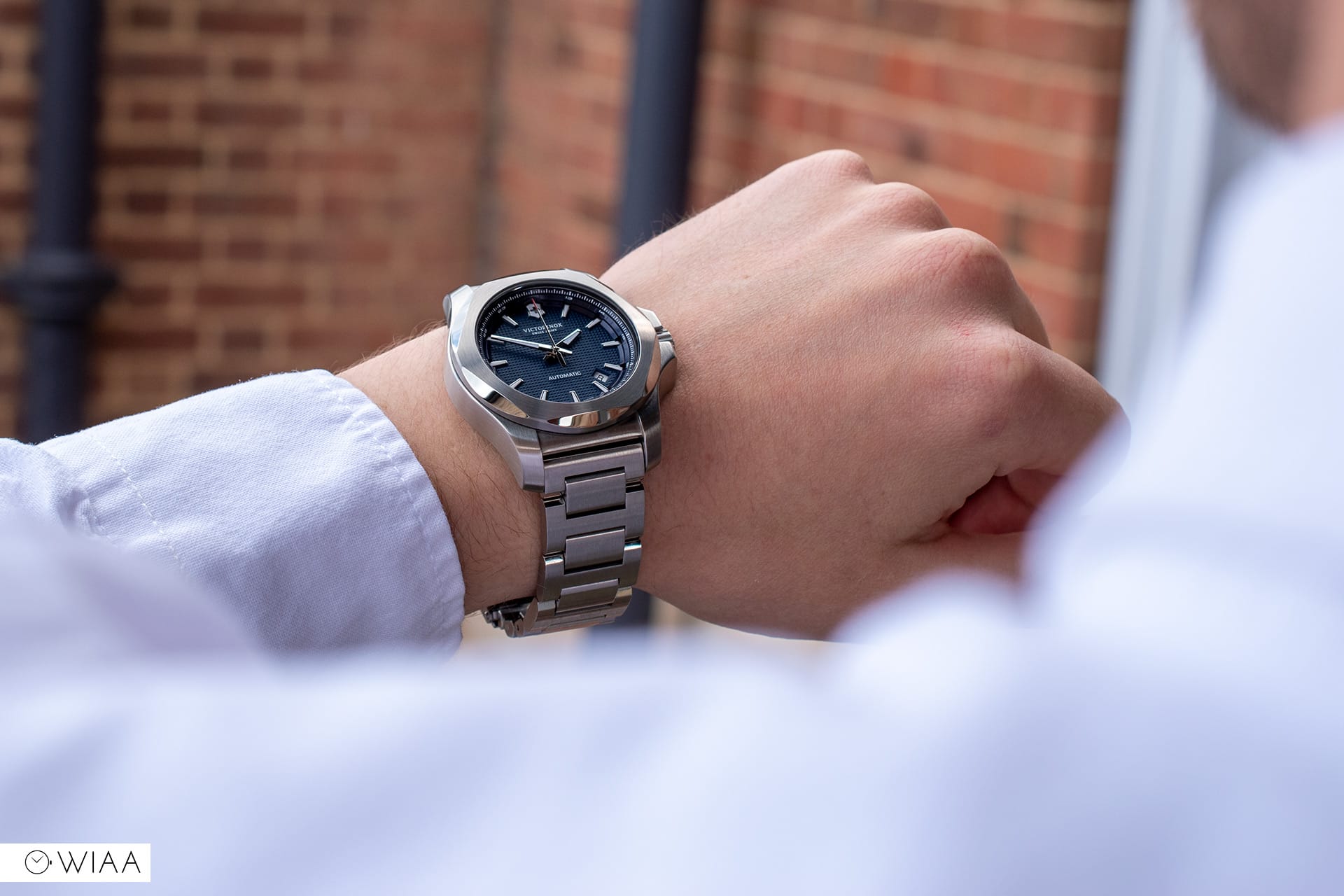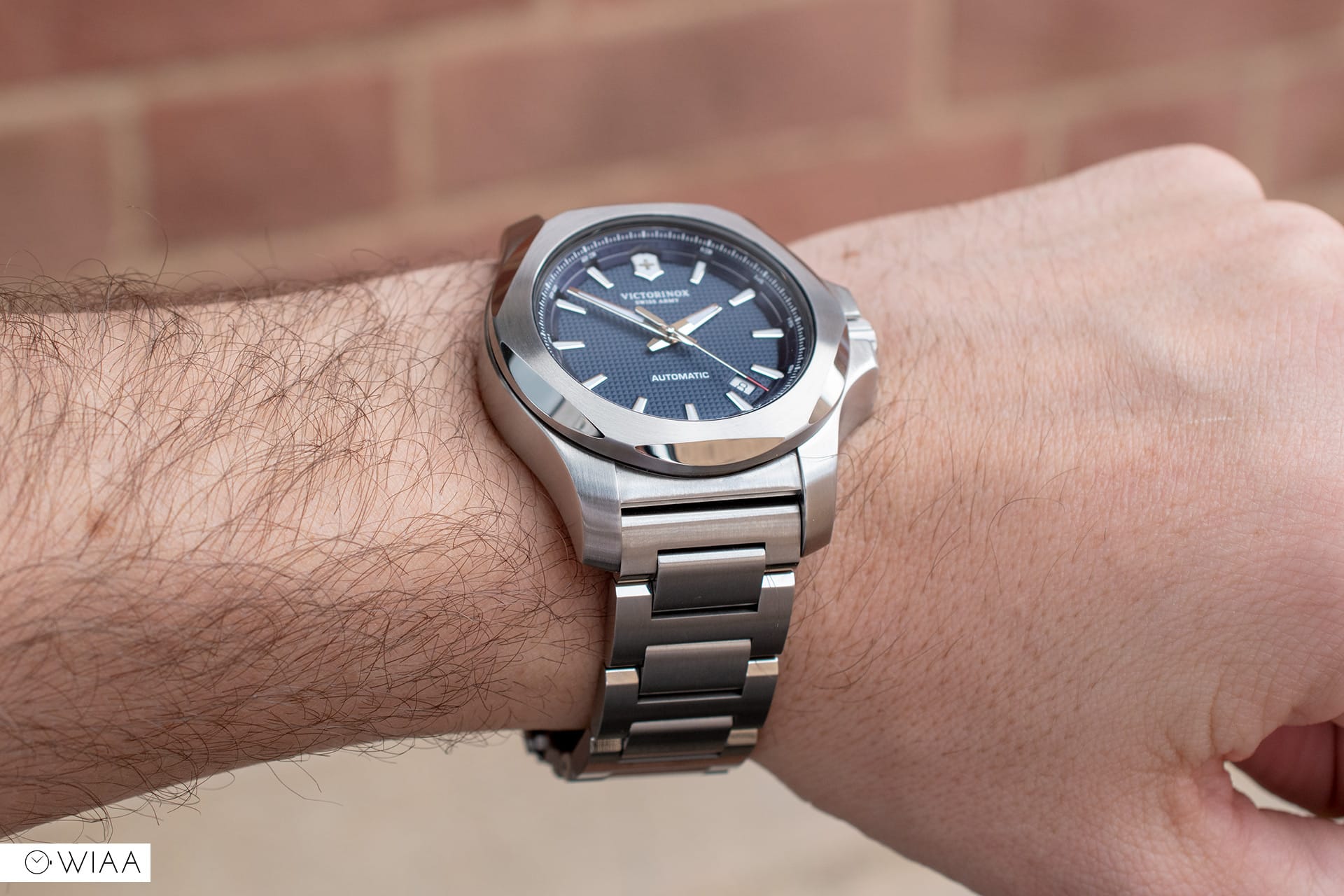 The bezel has an anti-scratch coating; and looking at it, it looks no different. They've managed this by applying a clear DLC coating on top of the steel, an interesting and effective solution. There are no scratches yet, therefore so far so good, but time will tell. However, scratch resistant doesn't mean dent resistant; as I've unfortunately got a tiny ding by 1. I like the angular and arrayed finish, in fact, I think it's the highlight of the case – if it was a standard steel bezel then it would be pretty plain but the collection of reflections keeps the eye busy.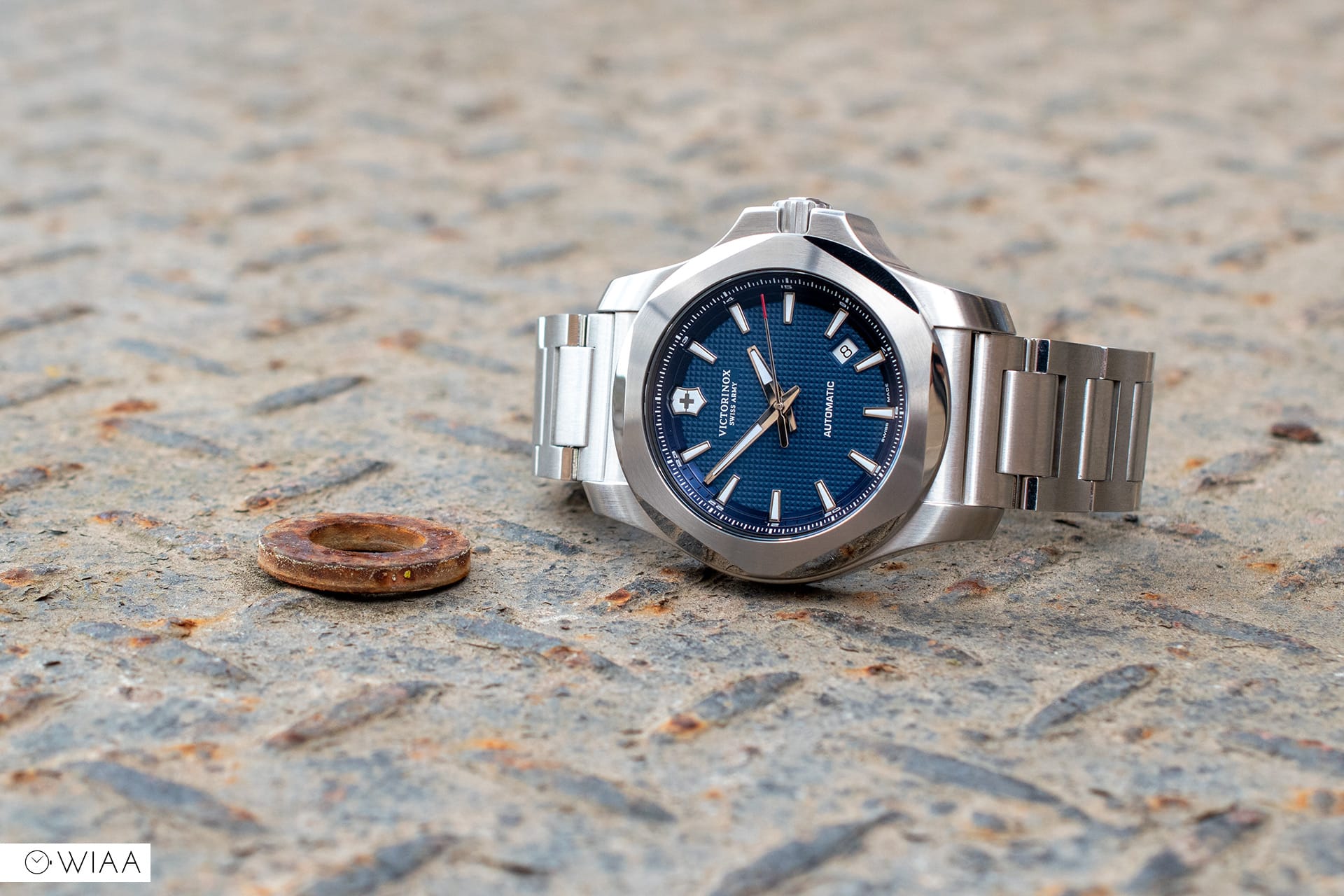 The crown is a little hard to get to, due to the gigantic crown guards. No doubt they'll keep it superbly protected, but they do hinder access and the ability to screw/unscrew it easily. The Victorinox logo is deeply and accurately embossed on the end. The grip is thick and chunky.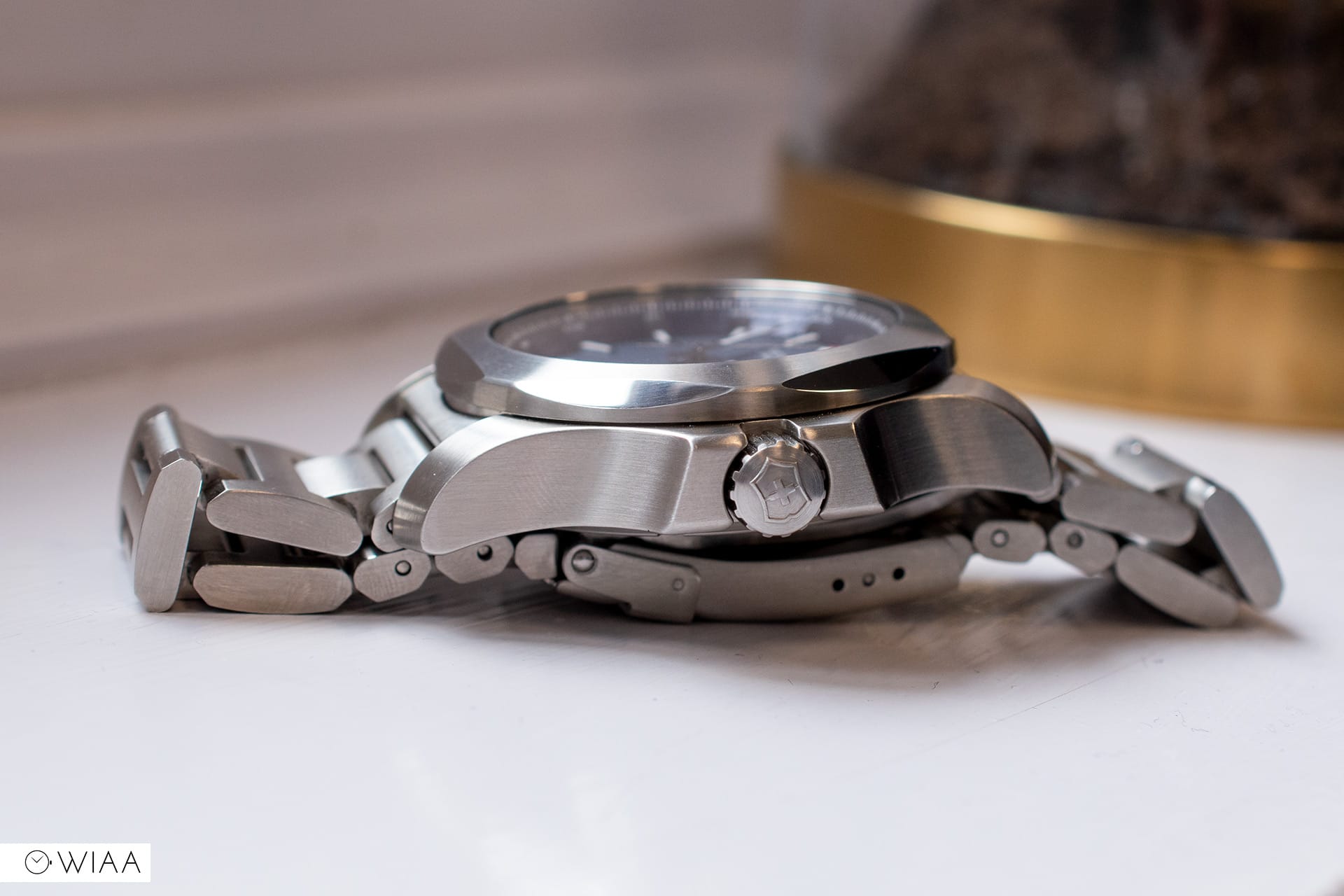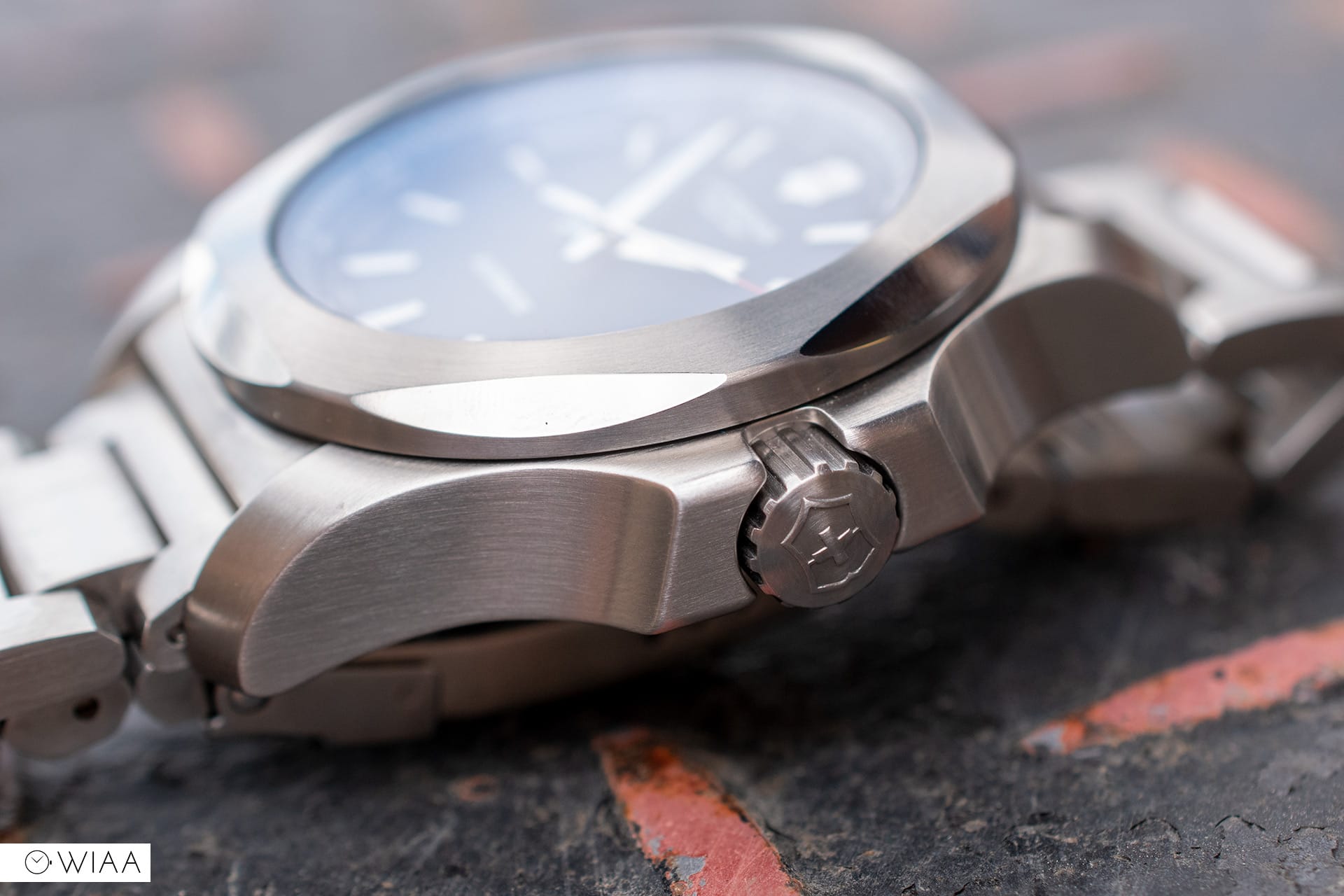 The flat sapphire crystal is triple-coated with anti-reflective coating on the underside. It's better than average and does a good job of creating a crisp, clear view of the textured dial below.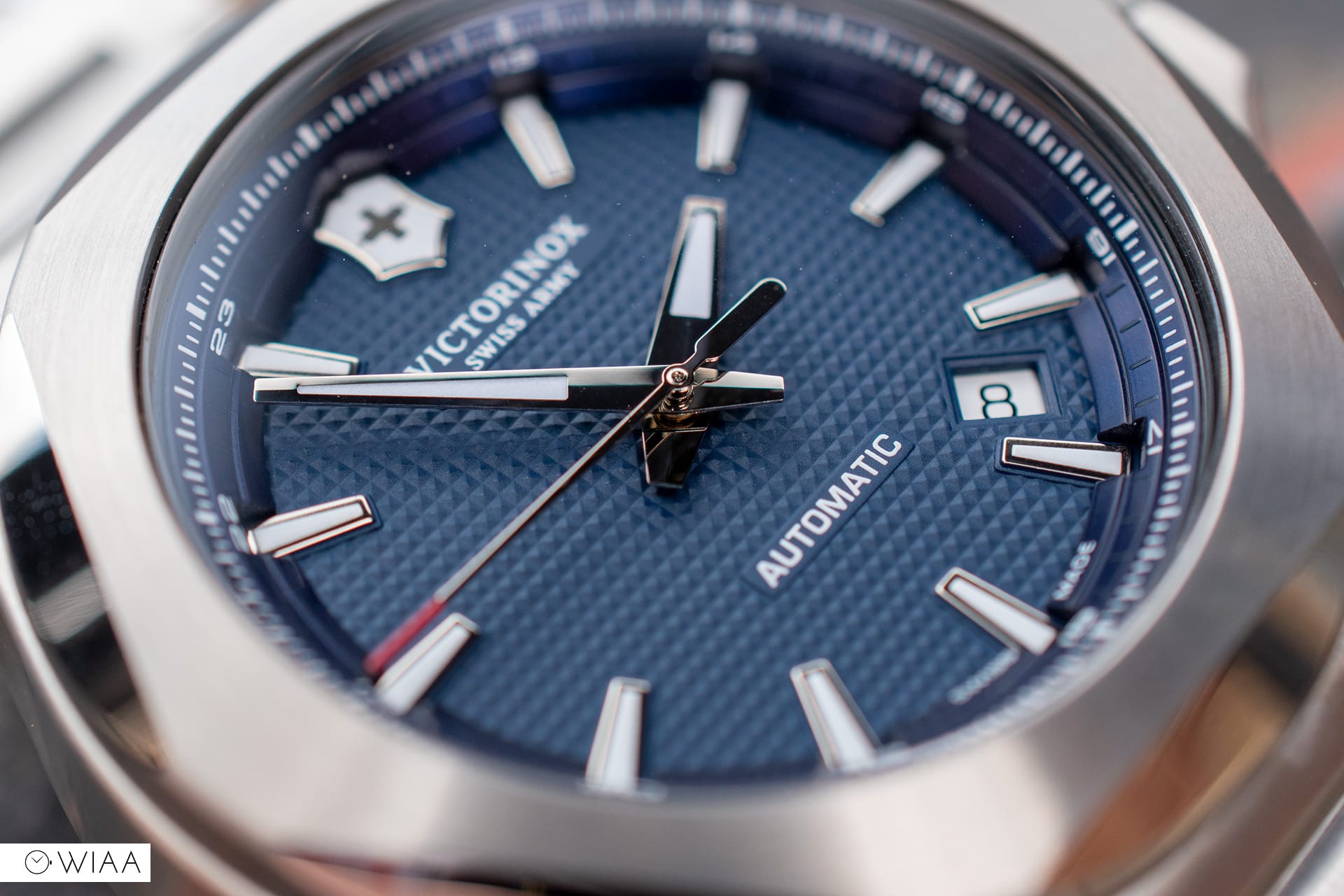 The screw-in caseback has an exhibition window showcasing the movement, with various specifics engraved around it. I found it interesting that there were two small QR codes on the caseback; when scanned they both returned the serial number. This must be something to do with security and ensuring authenticity. I've not seen it before on a more "affordable" watch, so it's good to see the precautions Victorinox are taking.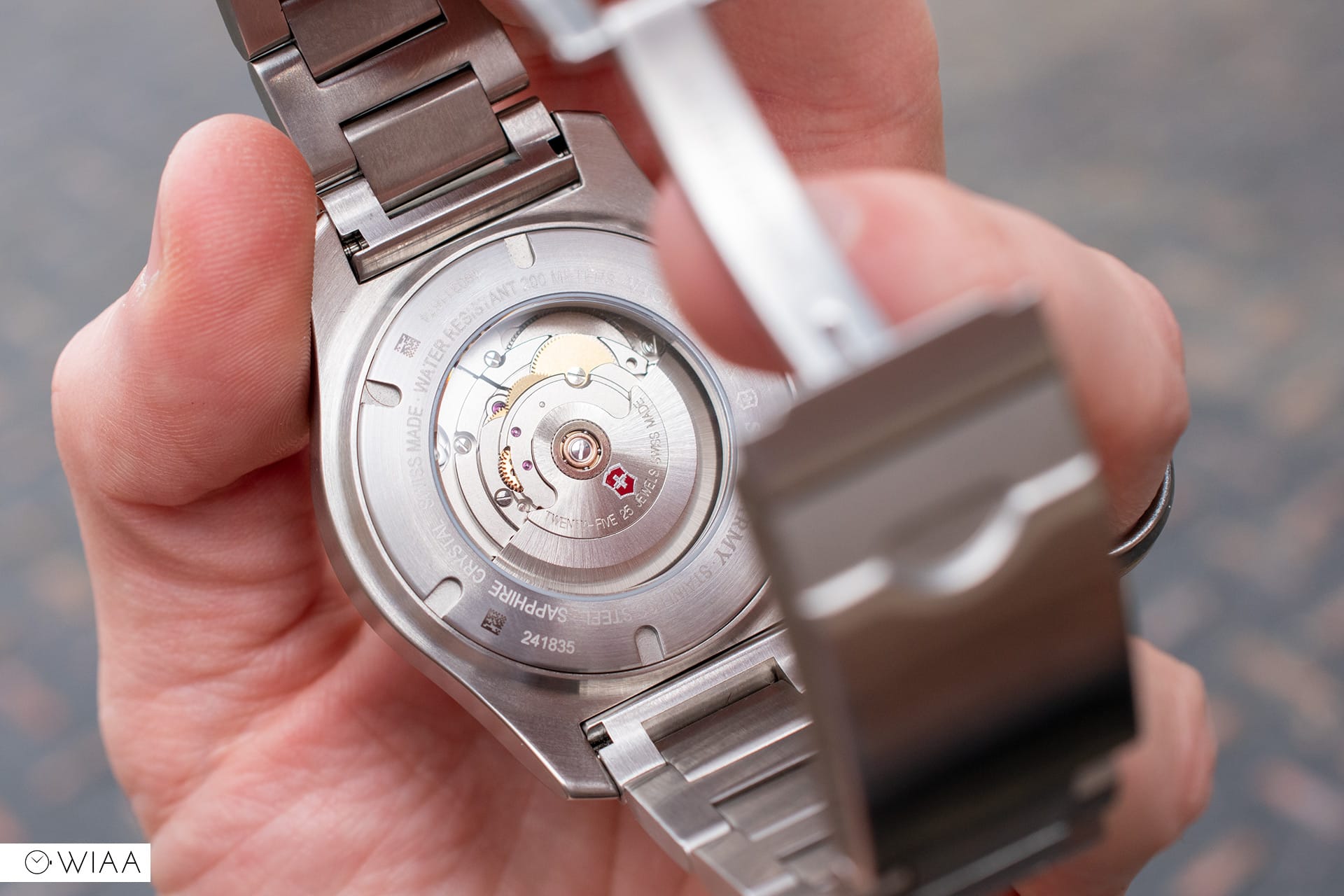 The dial
The key feature of the dial is the cross-hatch guilloche texture. It's meant to imitate a Swiss officers knife handle, and offers tremendous depth to the dial as well as distributing light reflections deftly. On top of this texture, you'll find little raised plaques for the printwork – "Victorinox" in the top half, and "Automatic" in the bottom.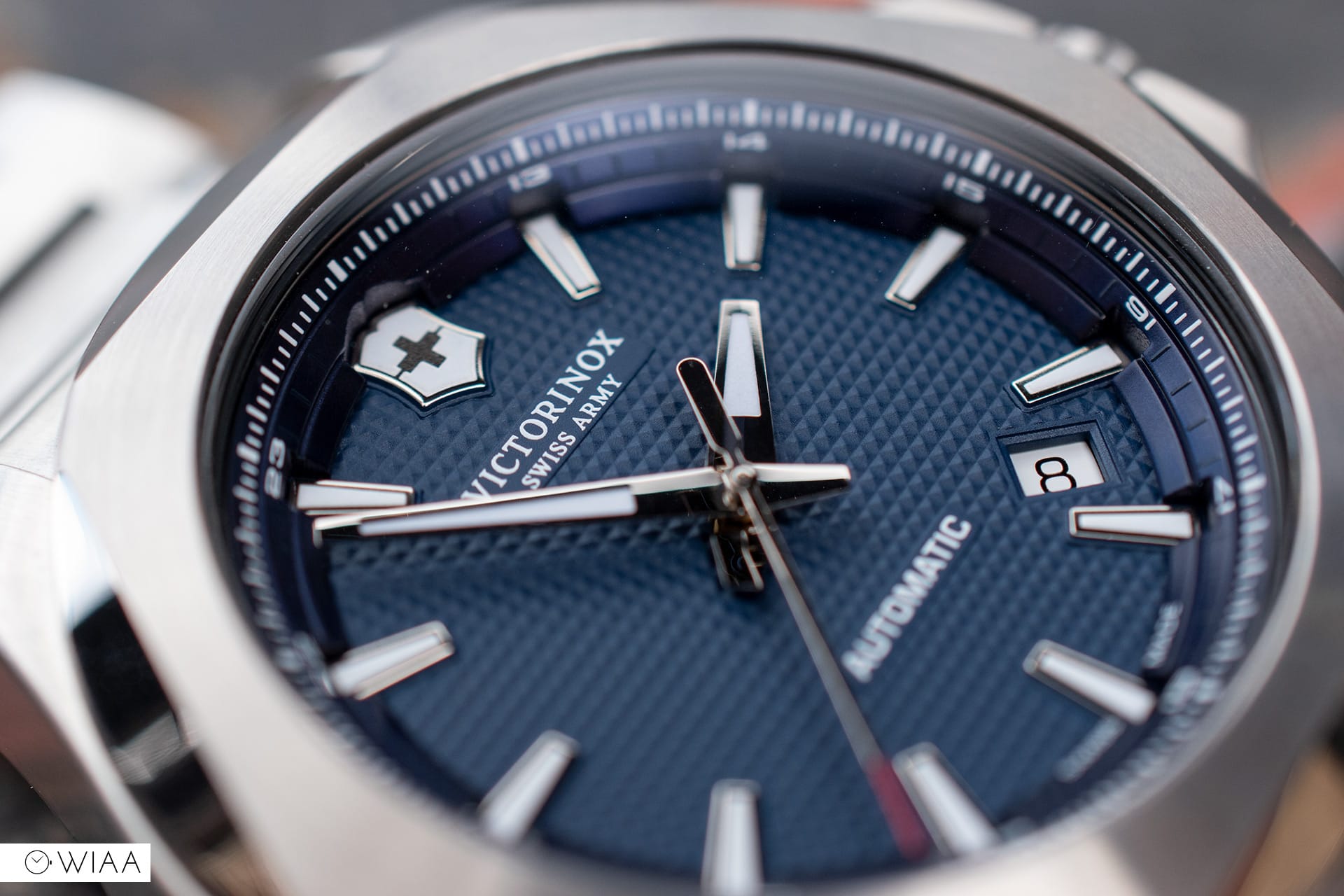 The layered and textured deep rehaut has the applied elements embedded within – I like seeing touches of detail like this. It also has a minute track and 24-hour numerals printed on in crisp white font.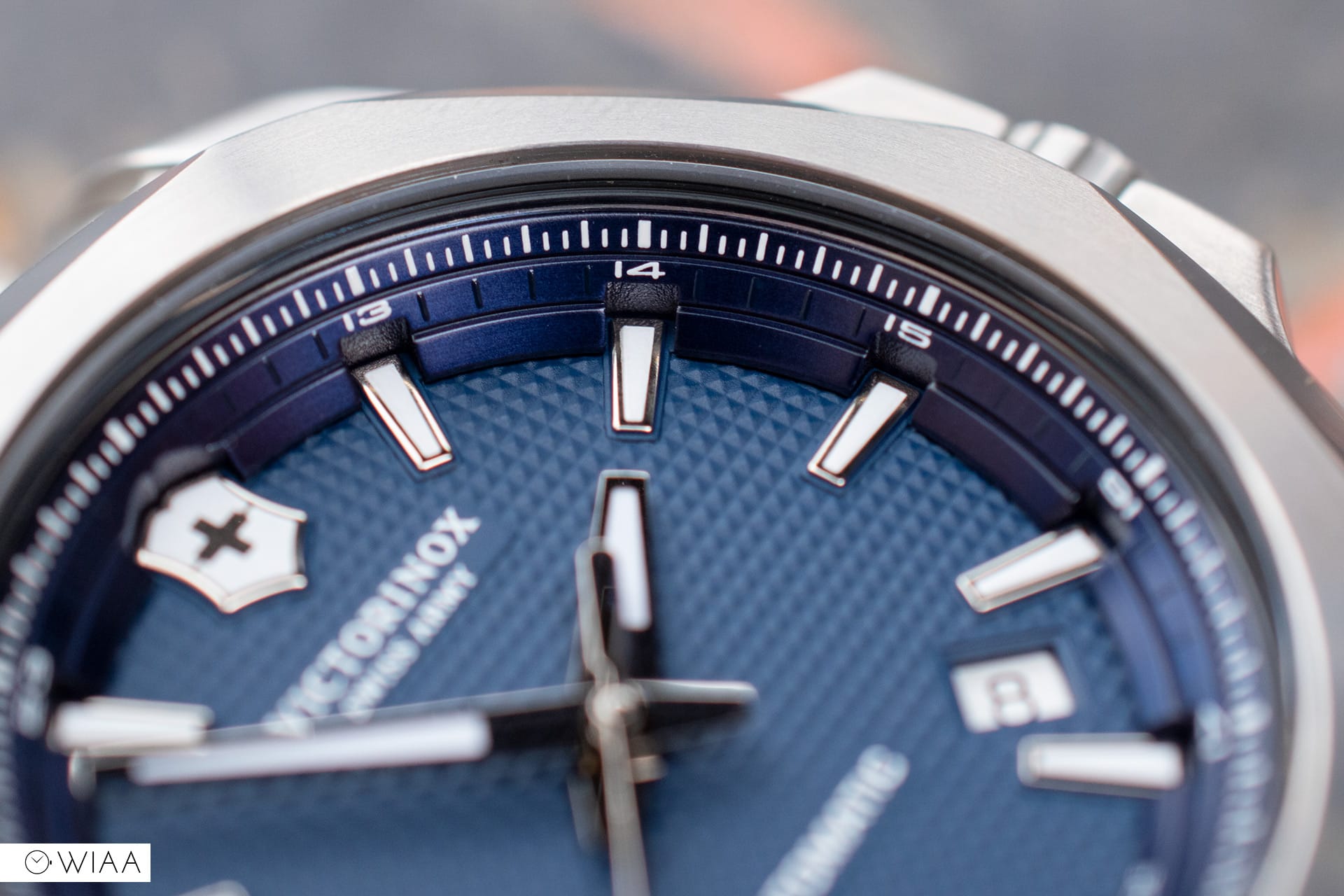 The applied elements are all deep and clearly well manufactured. They're all filled with lume – even the logo at 12 – with a polished border around the edge to catch the light. The hour hands are a thin trapezium shape and are strong, bold and legible.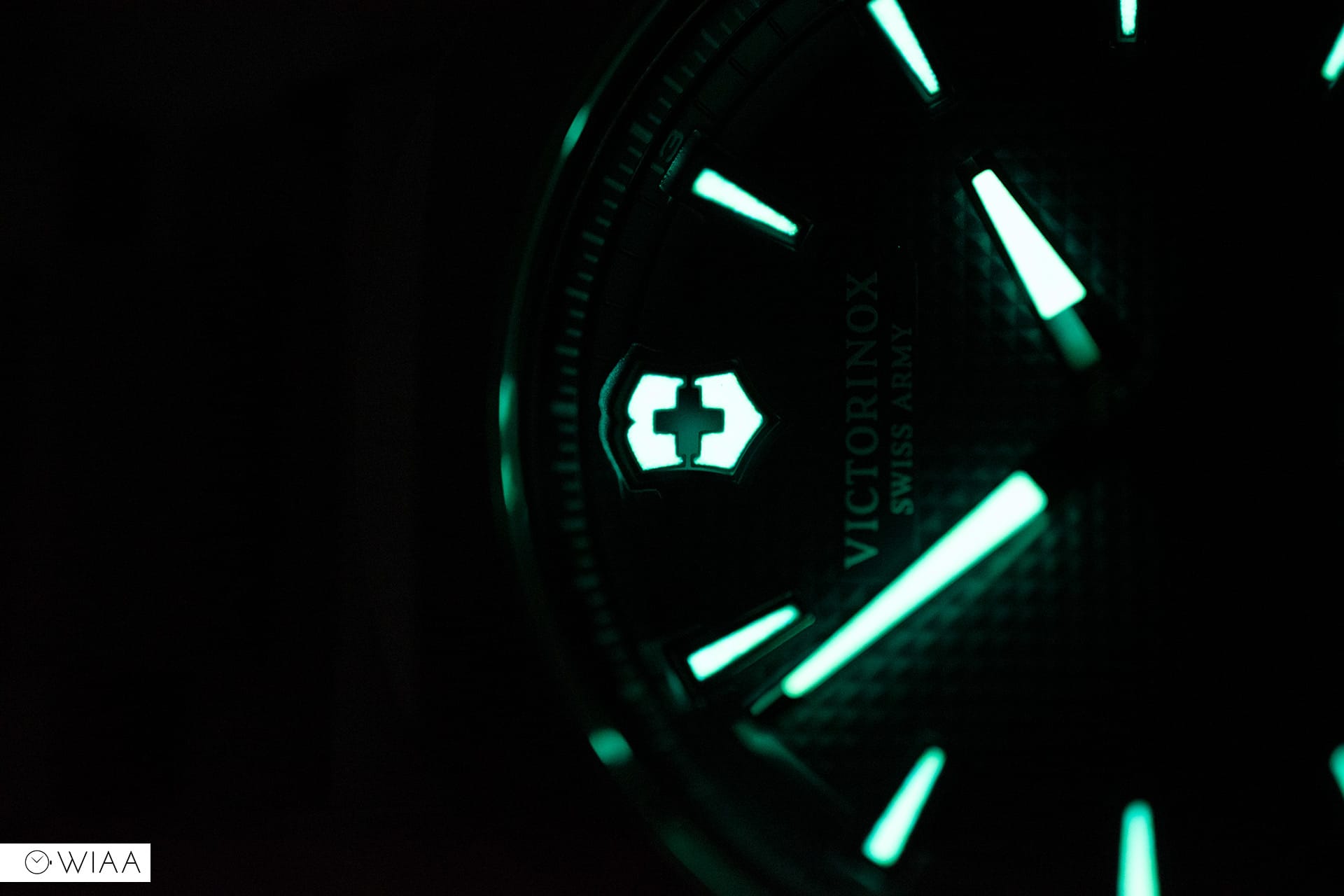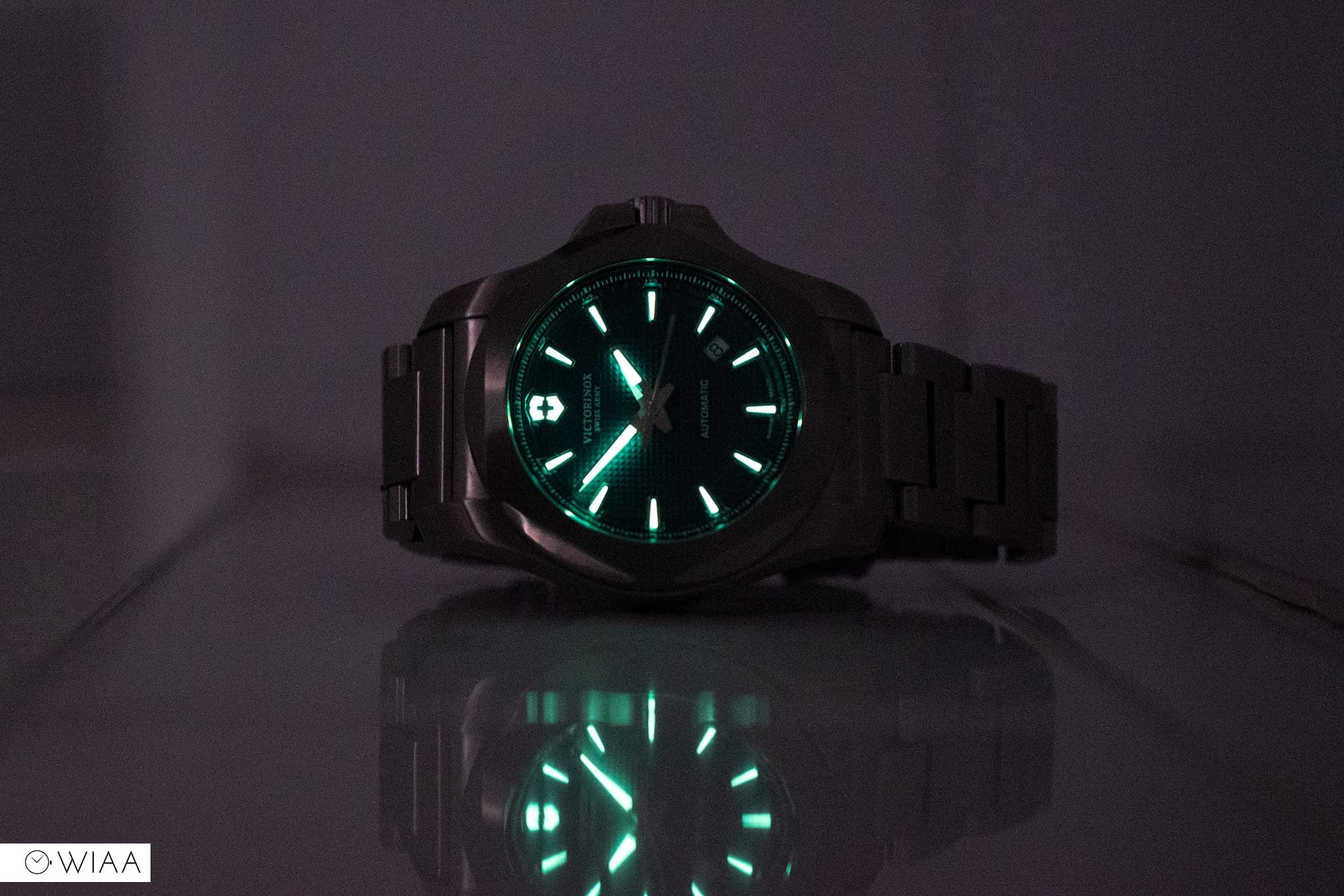 The minute and hour hands are an aggressive, angular dauphine shape. The borders are fully polished – but also pitched – to ensure they produce an array of reflections. The seconds hand has a red top to introduce another colour and a rounded cylindrical shape as the counterweight.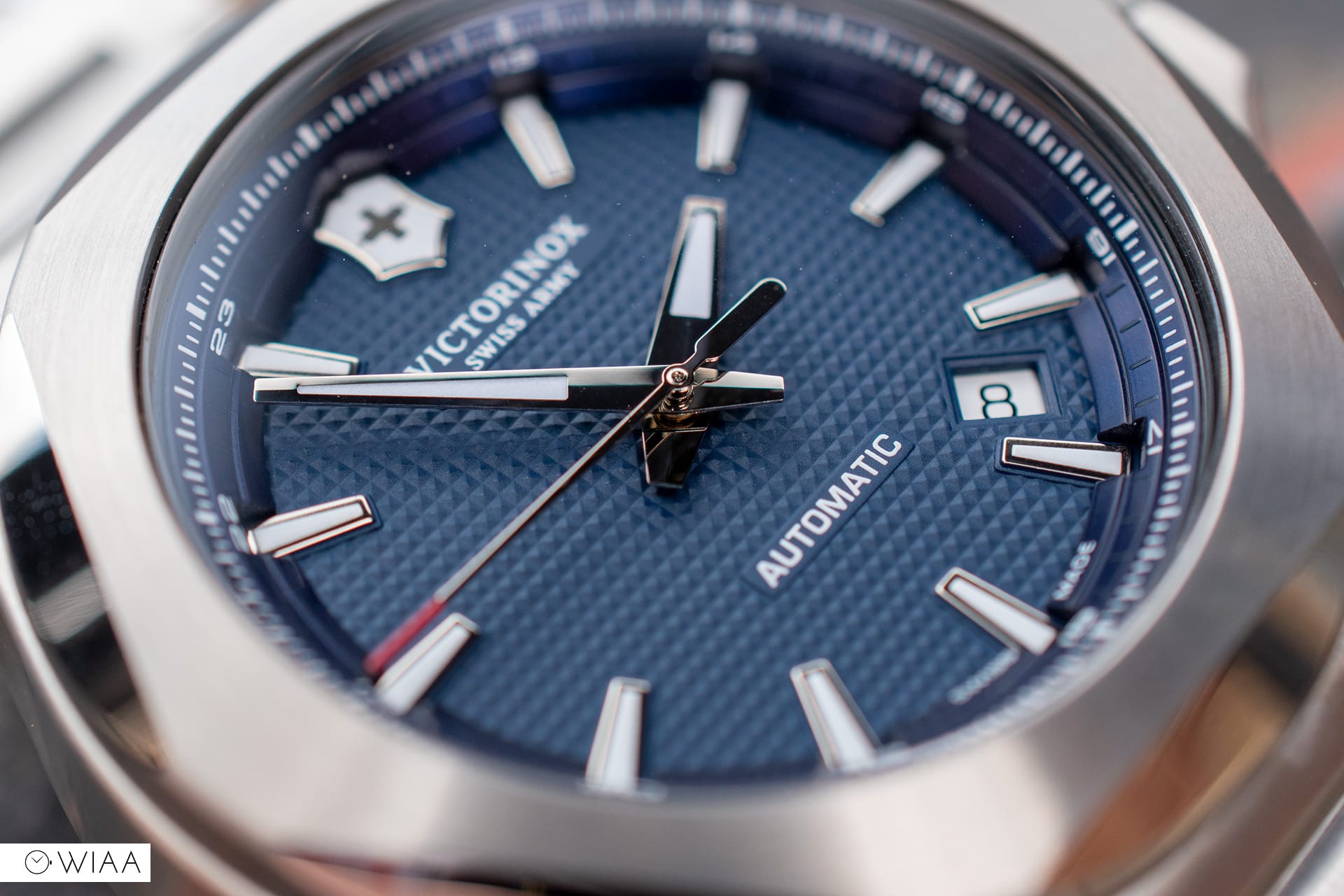 The date window at 4:30 has a moulded border around to step down suitably to the date wheel. It's better than just cutting a square out of the dial, but I would like to have seen a bit more of an effort made, such as an applied border.
The bracelet
The bracelet is constructed by patented stainless steel – what about it that's patented I don't know; but they do say it's exceptionally resistant – so perhaps it's hardened or scratch resistant in some way like the bezel is.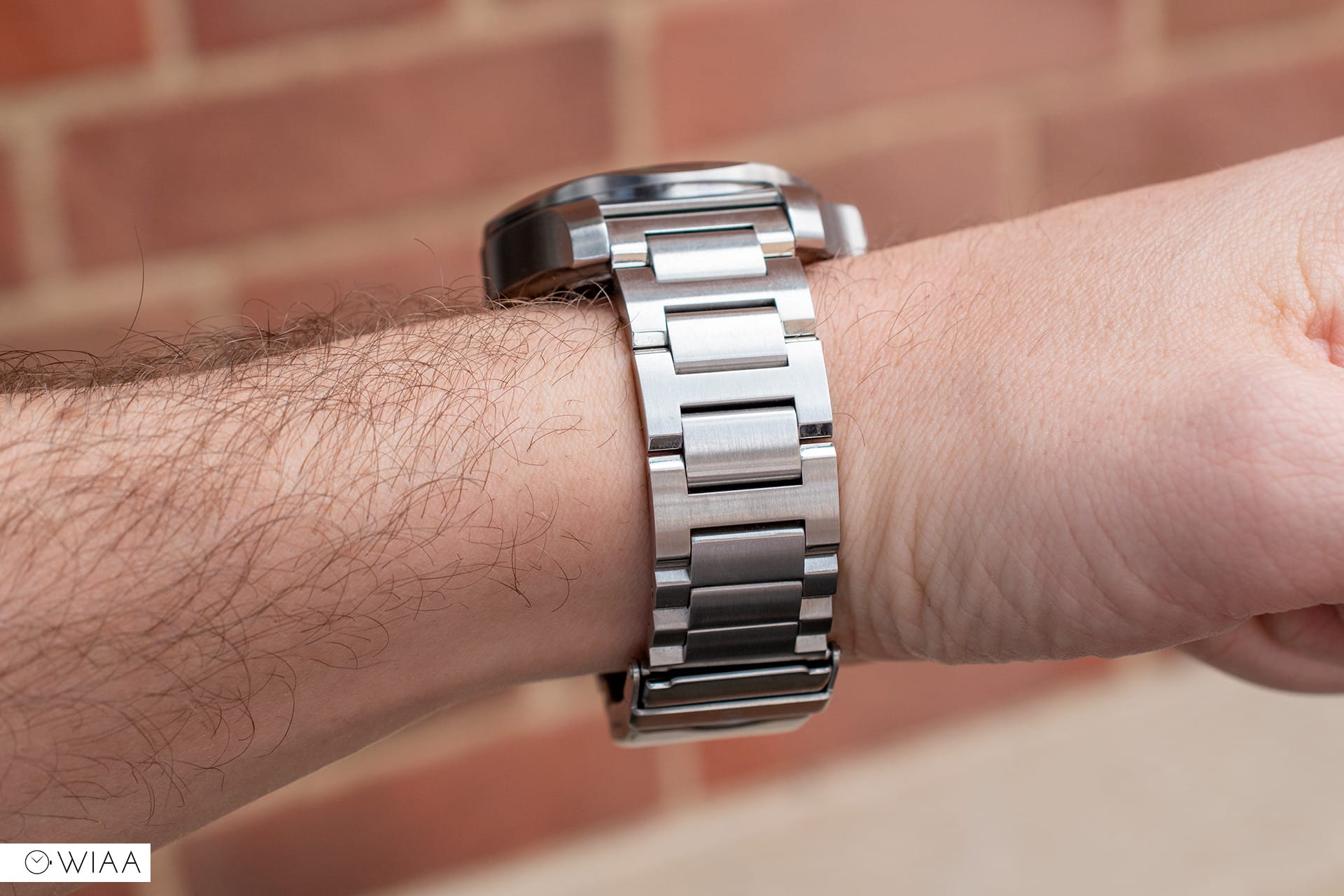 The H links are designed and crafted in a thoughtful way: instead of being pretty standard and not very imaginative, the tips of either side are angled inwards with a polished top. The rest of the link is brushed, allowing it to be more resilient to scratches, but this little polished facet keeps things interesting and draws the eye.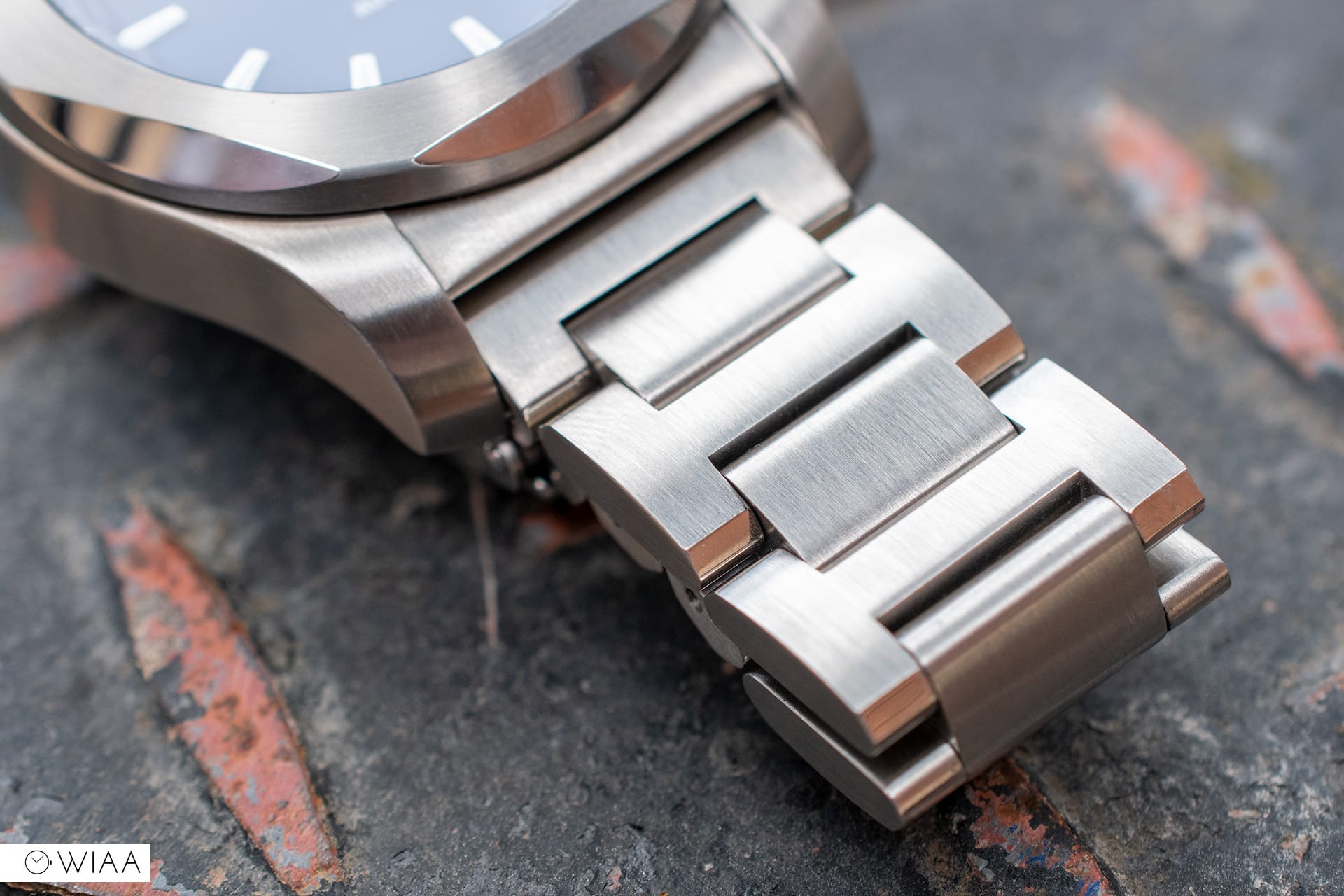 Interestingly, the end link of the bracelet has a flat top and is not moulded to the shape of the case. This is usually a massive turn off for me, but there's actually a blanking block between the lugs, as part of the case which looks to be part of the bracelet – but isn't. Not that you'd want to, but it does mean that you'd be able to switch the bracelet out with any flat-topped one and it would still look ok.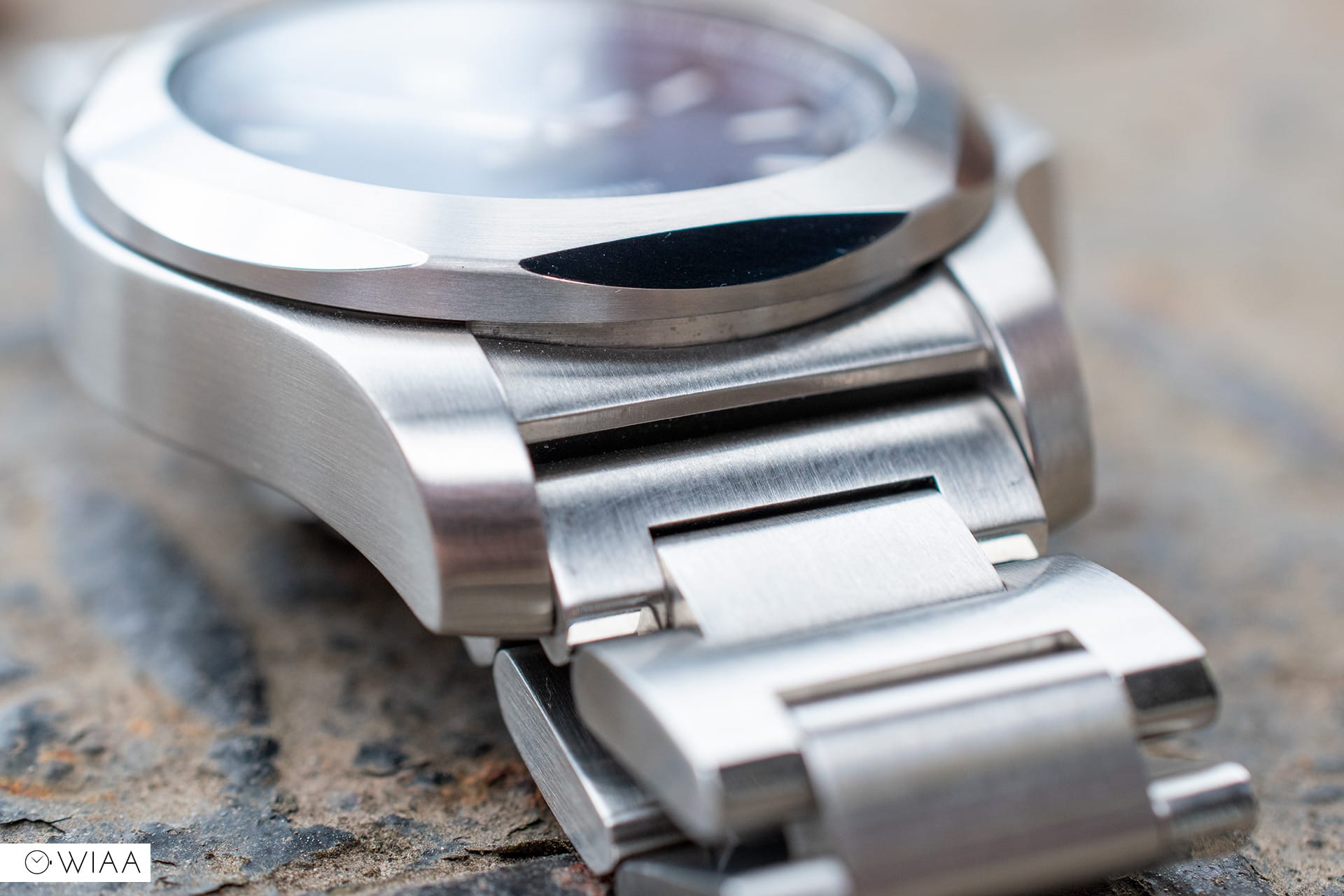 The bracelet tapers from 21mm wide at the lugs down to 20mm at the buckle. It's wide, thick, chunky, and overall great build quality. The links glide around smoothly maintaining a comfortable fit.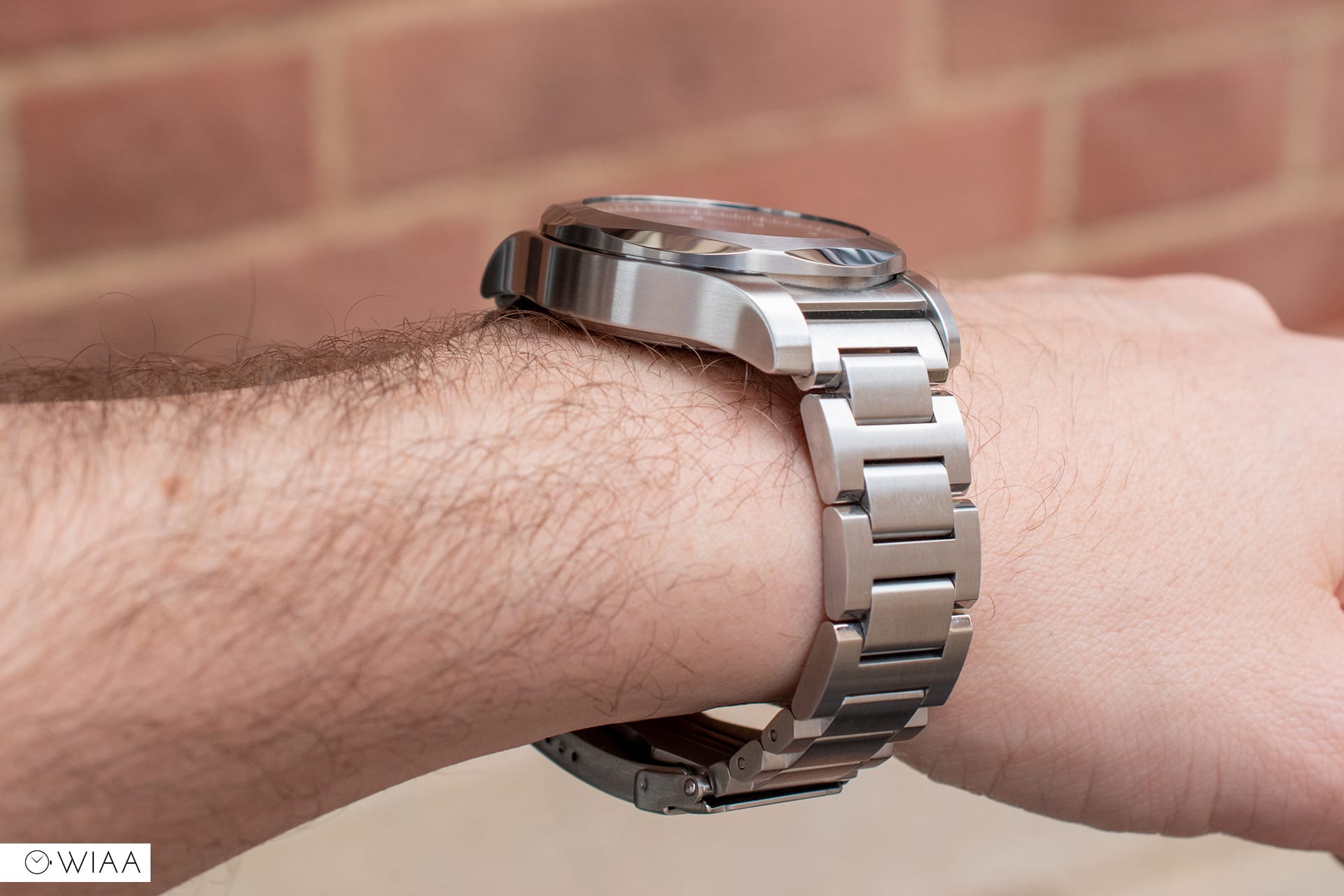 The buckle is double locking and has 3 micro-adjustment points allowing you to get a perfect fit. It's fully brushed to match the rest of the case, and offers protection against desk swirlies. The top flap has the Victorinox logo deeply engraved and is reassuringly tight whilst operating.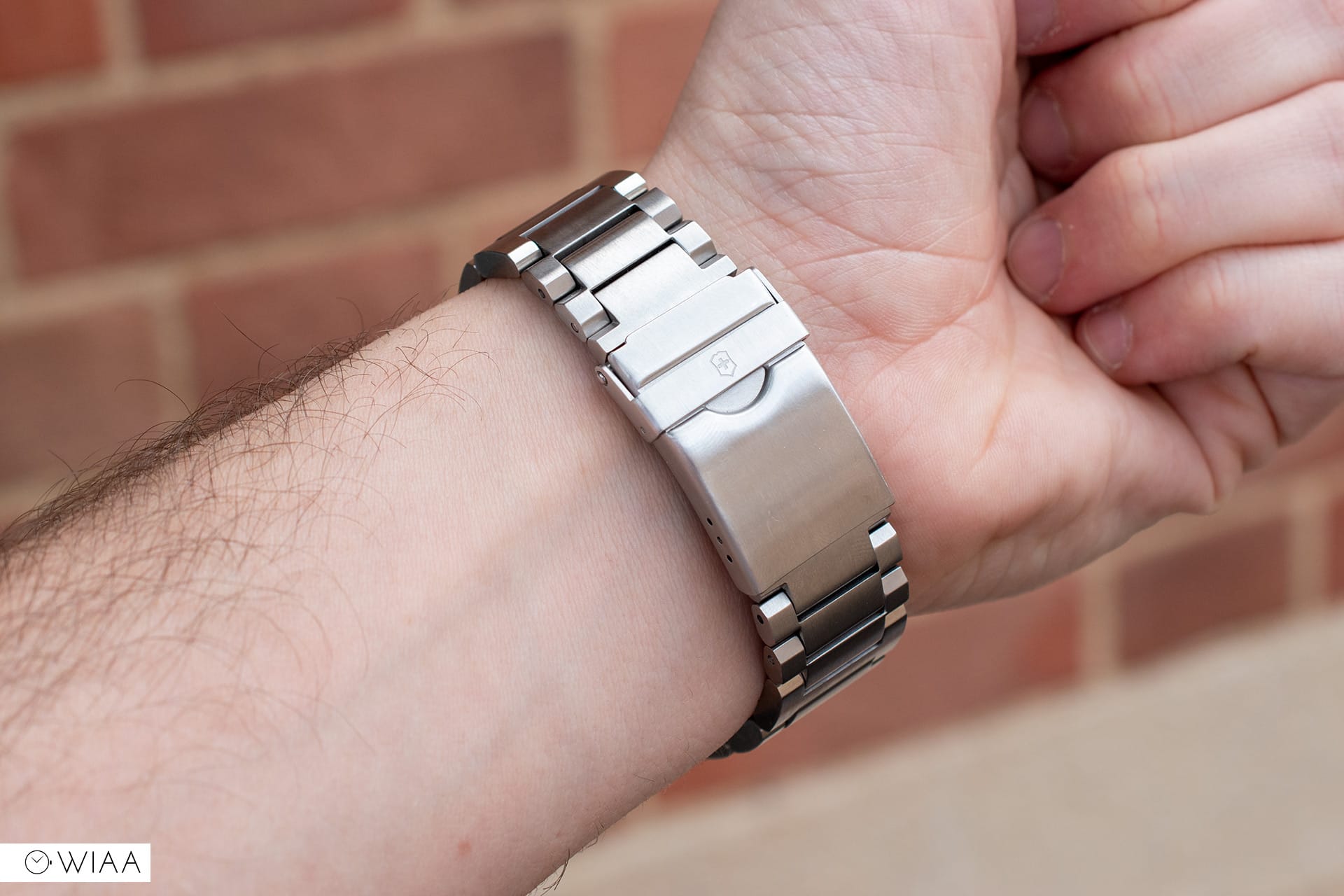 The movement
Some have said that it doesn't make too much sense putting a mechanical movement in a watch that is meant to be indestructible. After all, a mechanical movement is more fragile than quartz and will end up being the weakest link of the watch. I see where they're coming from, but if any mechanical movement was to be used, then the ETA 2824-2 has got to be the best choice.
One that is synonymous with mechanical movements, the ETA 2824-2 has done wonders for the watch industry. Indeed, you'd wonder where we'd be without this stalwart and its influence. Well-known as being hardworking, hard wearing, reliable and easy to work with, there's no other choice that would be better.
This one is coming in at a very respectable +5.9 sec/day too, so that's just working COSC specs. Other specs include 28.8k bph (8 ticks per second), hand and automatic winding, hacking seconds, and a power reserve of ~40 hours.
Final comments
Victorinox calls the I.N.O.X "the mechanical watch of a lifetime", supporting their goal of making it tough, resilient, and hard wearing – a watch that will certainly stand the test of time. In terms of construction, there's nothing that wouldn't suggest otherwise. Yes, the mechanical movement is a fragile epicentre; but as long as it's well maintained, the ETA 2824-2 will perform for decades without a hiccup.
In terms of practicality, the crown is a bit awkward to use (but not a turn off), and the sheer size of the thing is certainly something you need to keep in mind. Other than that, it's a superb watch that's ruggedly constructed and is a refreshing alternative to the droves of similar looking dive watches out there.