Get 10% off Undone Watches site wide! Click this link and use my code WIAA10!
Since 2014, Undone have been making waves with their customisable models – namely the Aqua (a diver) and this one, the Urban Vintage. The sheer amount of customisation is quite mind-boggling: 4 cases, 26 dials, 27 hands, 50 straps; and that's before you add custom printwork on the dial and caseback. Each watch is put together by hand in Hong Kong.
Starting at £195, the Urban Vintage is very attractively priced considering you can get such a specifically made timepiece to suit you. Let's take a closer look to see how the build quality stacks up.
The specs
Dimensions: 40mm diameter x 13.5mm height x 47.5mm lug to lug
Weight: 58g
Water resistance rating: 3ATM / 30m
Movement: Seiko VK61A MechaQuartz
Lug width: 20mm
Warranty: 1 year
Price: from £195, this model ~£225
Buy here: https://www.undone.watch/
The case
The case comes in 4 finishes: steel, gold, rose gold and PVD. Whilst it's a simple barrel, there's some very interesting details to it. It's primarily brushed, with a polished double ridged bezel which provides a lovely collection of reflections and makes it look rather luxurious.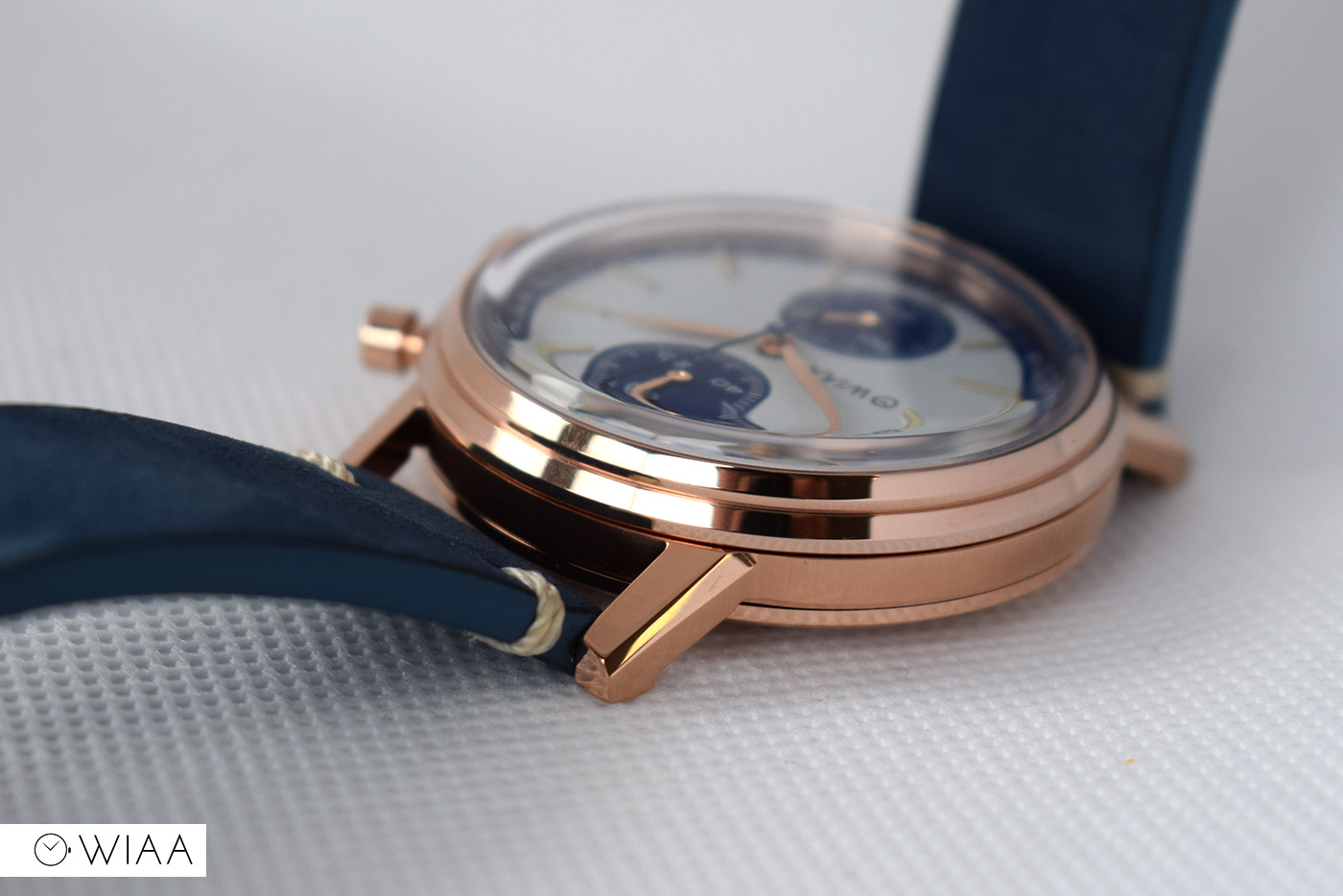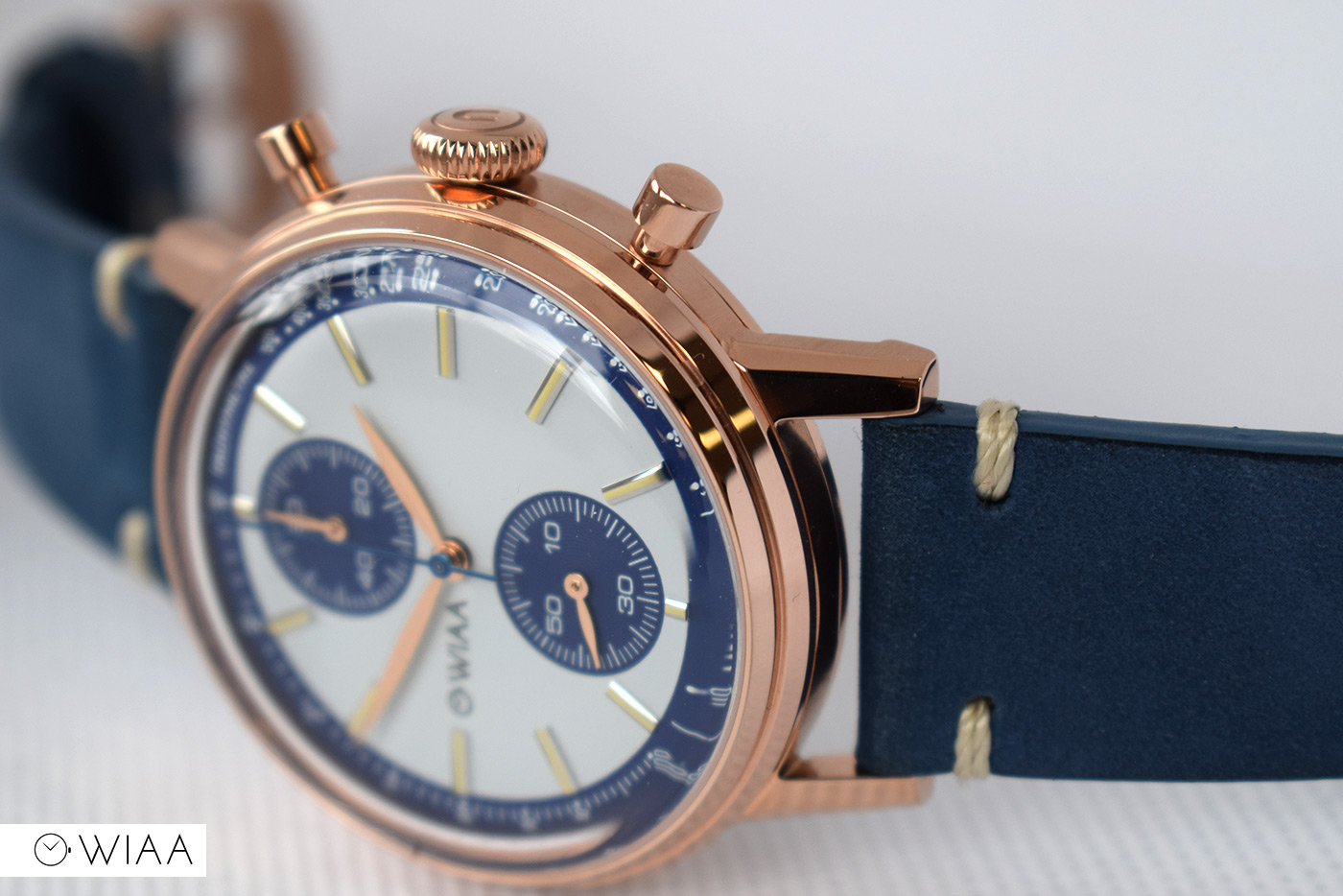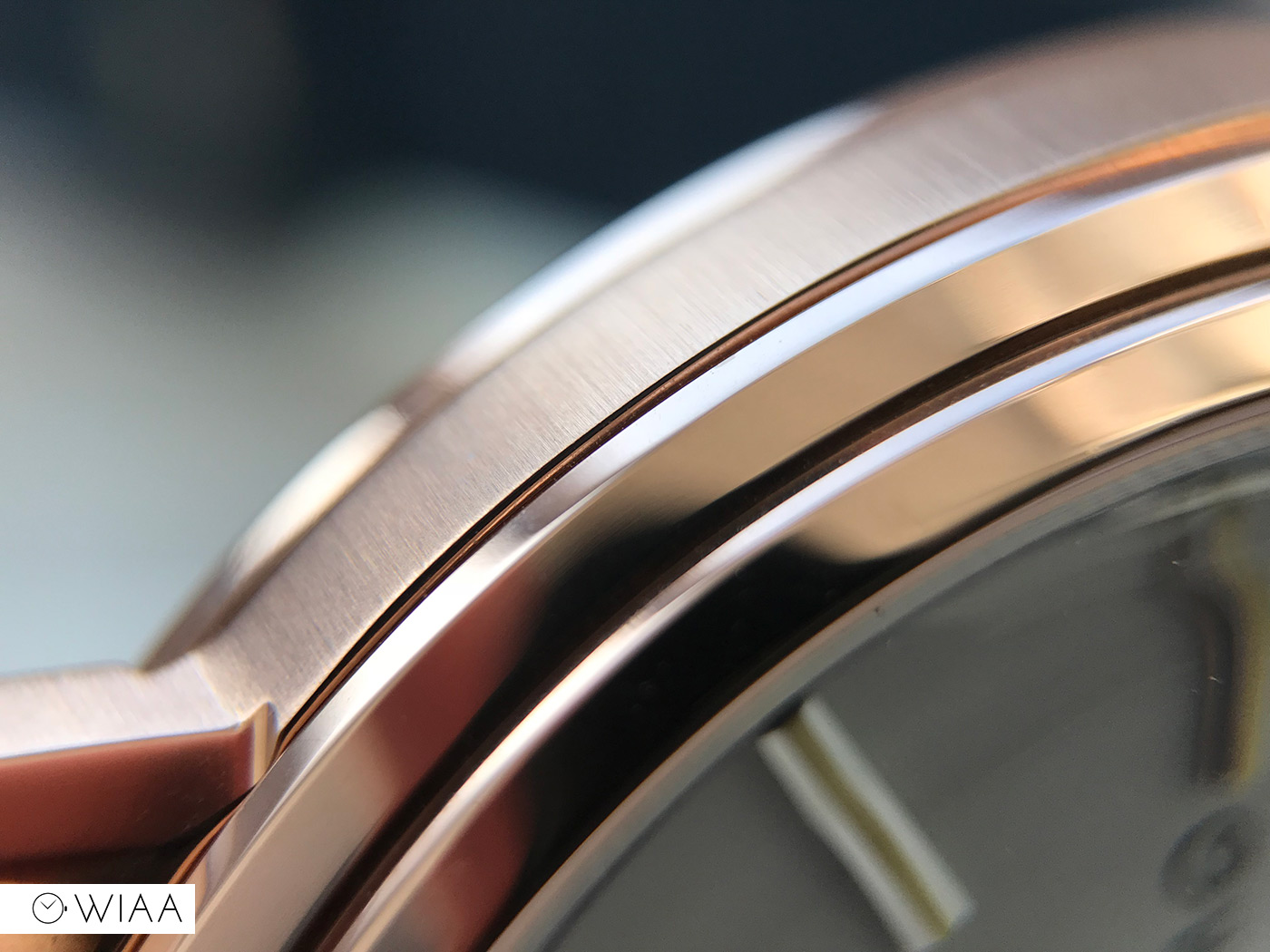 The pump-grip pushers are fully polished, and very easy to use. These flank a graceful and easy to use push-pull crown, which has decent grip and the Undone logo deeply and accurately engraved on the end.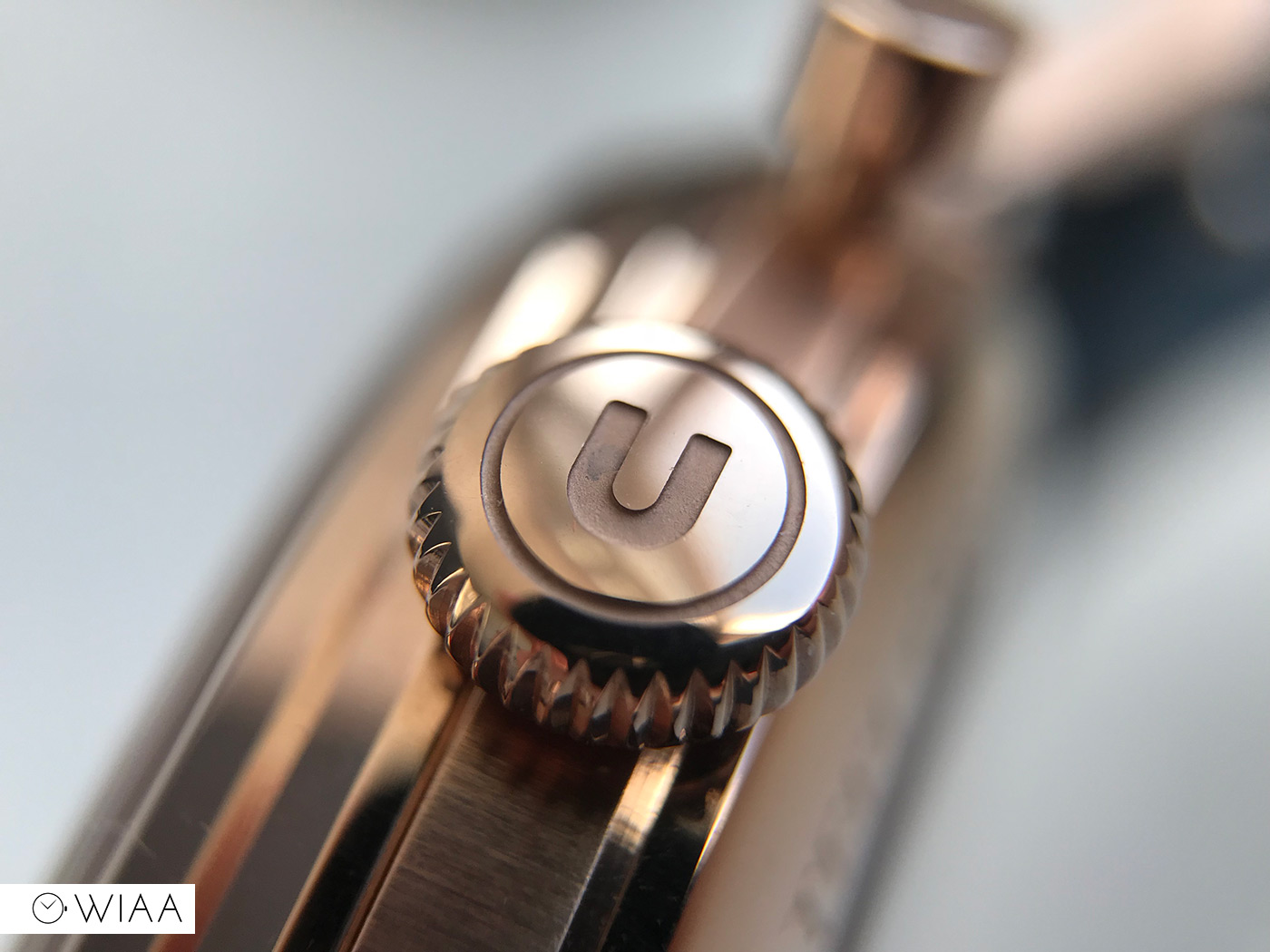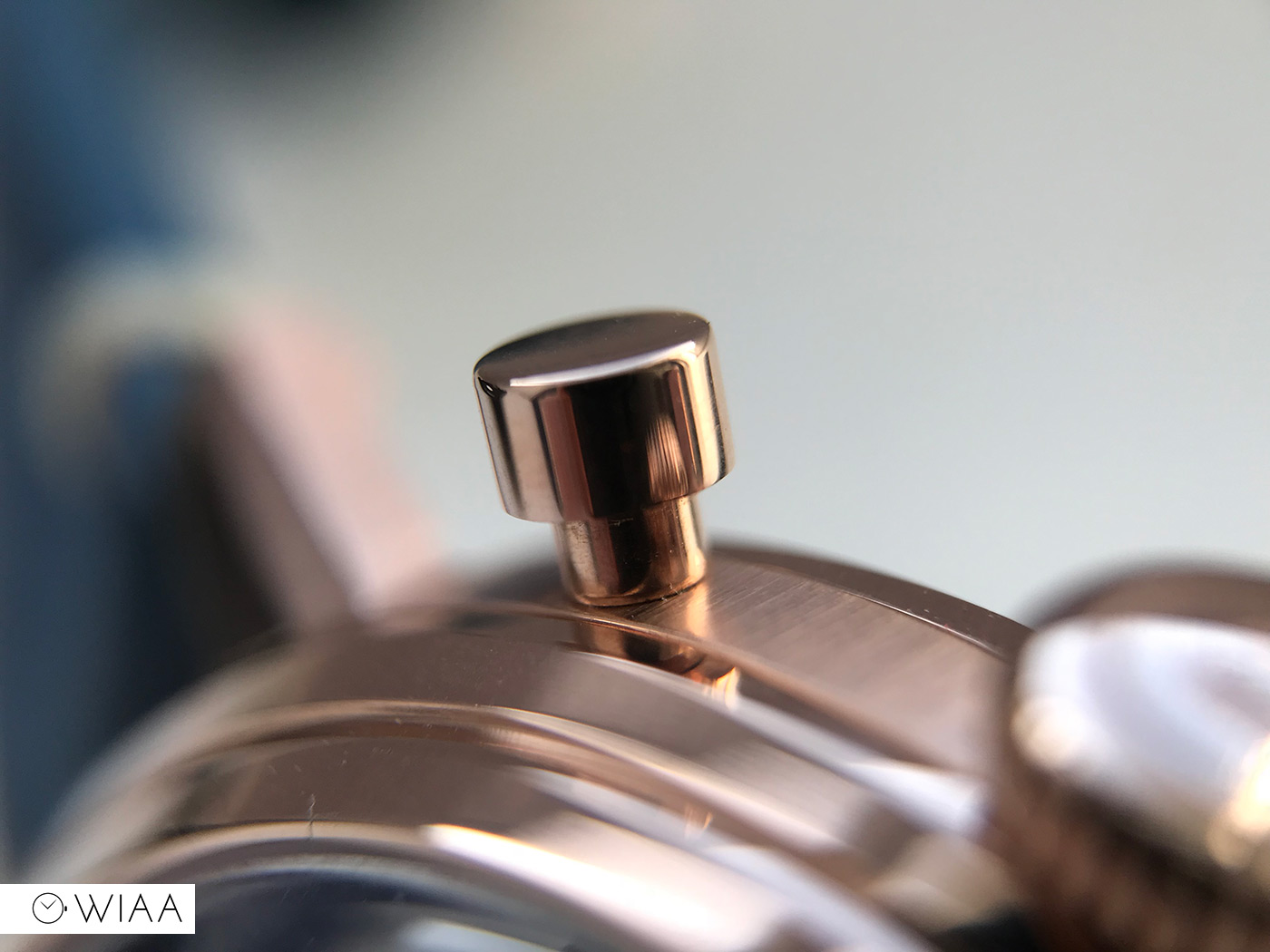 The lugs are shapely yet angular, whilst being slender and svelte.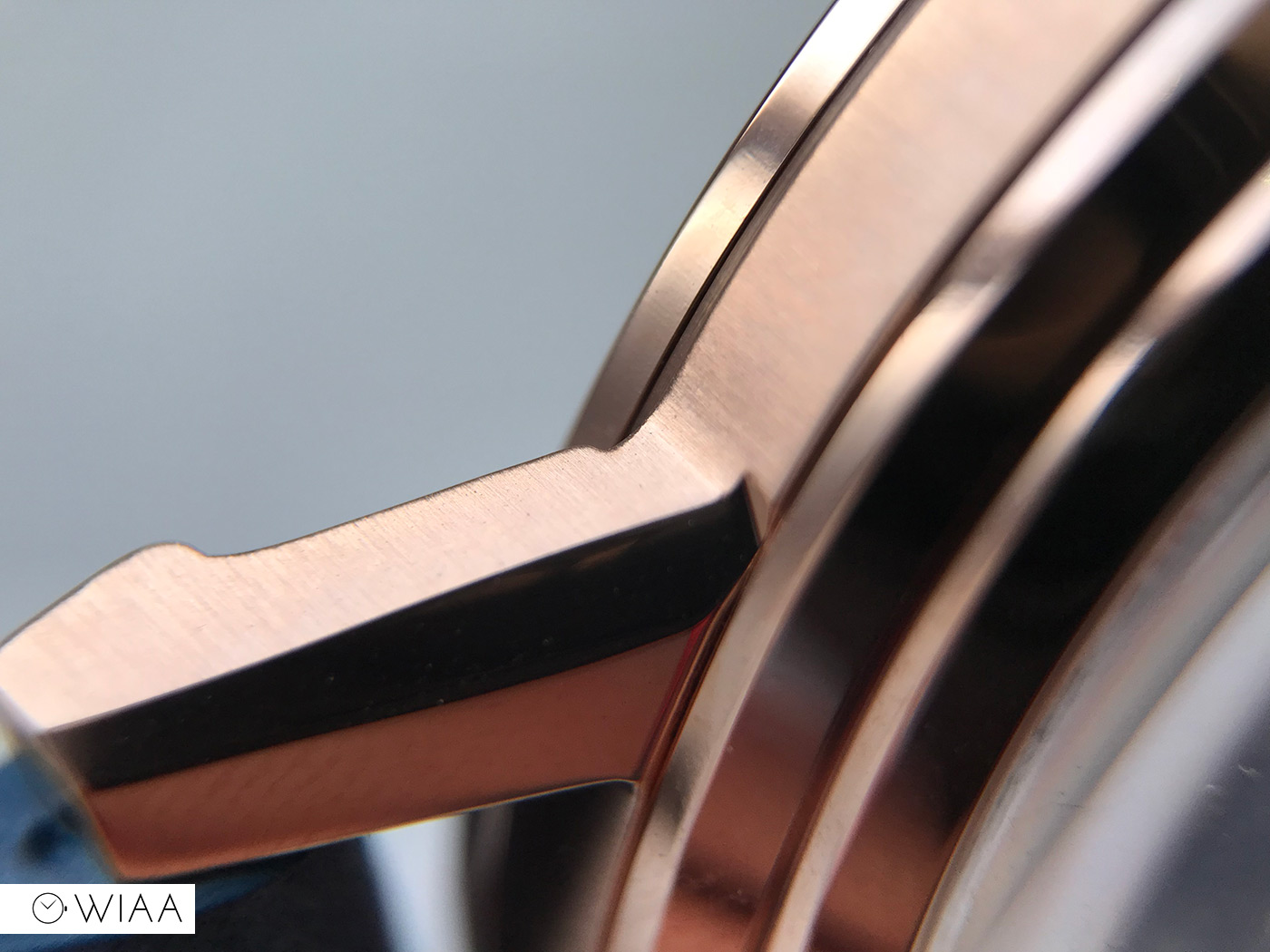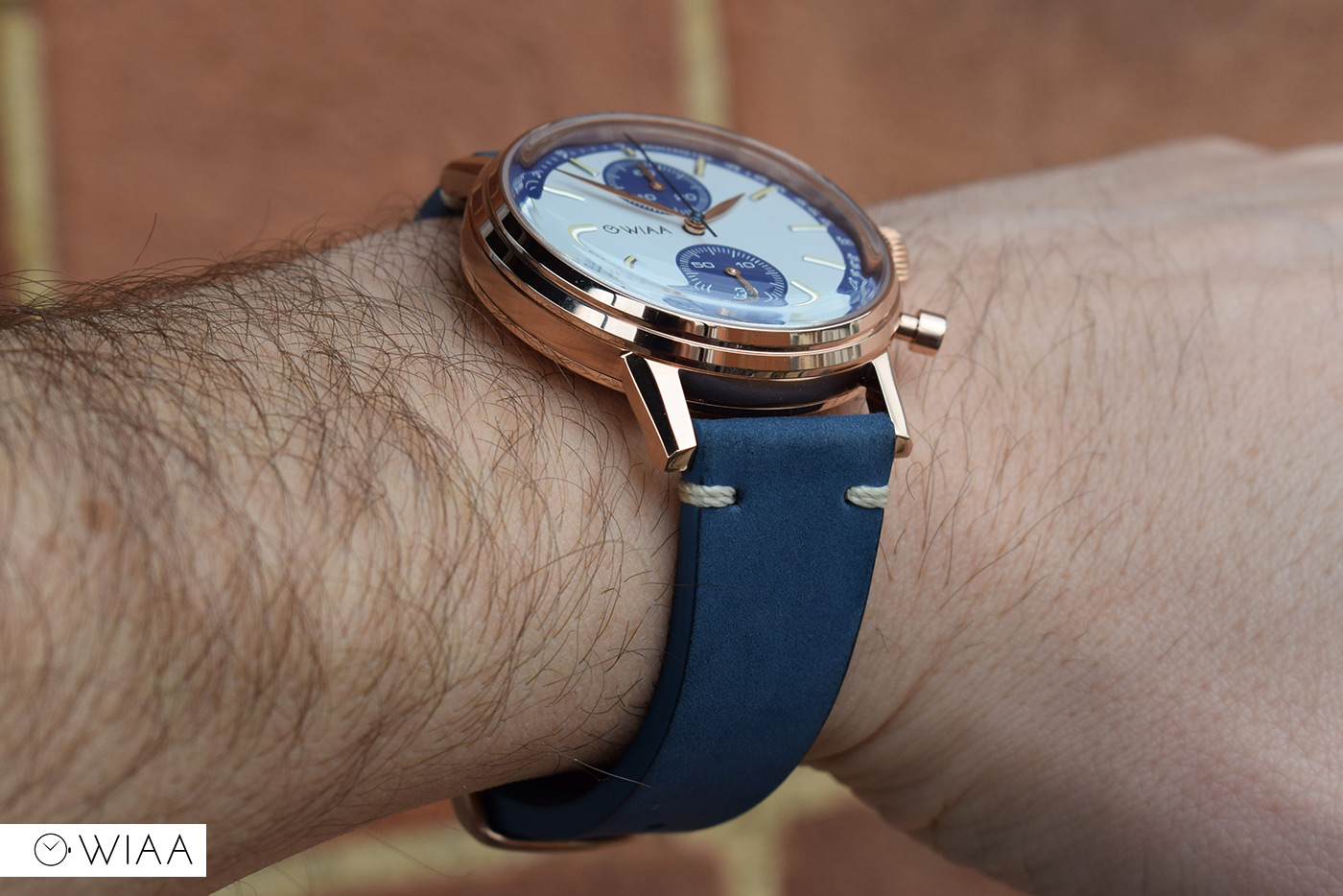 The crystal is a highly domed hardened K1 crystal. Of course, if it's not sapphire then it's never going to be the best possible; however it's still more scratch resistant than mineral which is good. I think it's good to keep in mind the price. It's got a very pleasant profile, with accentuated edging which provide a lot of vintage mojo. It does sit high off the case, so be careful you don't whack it.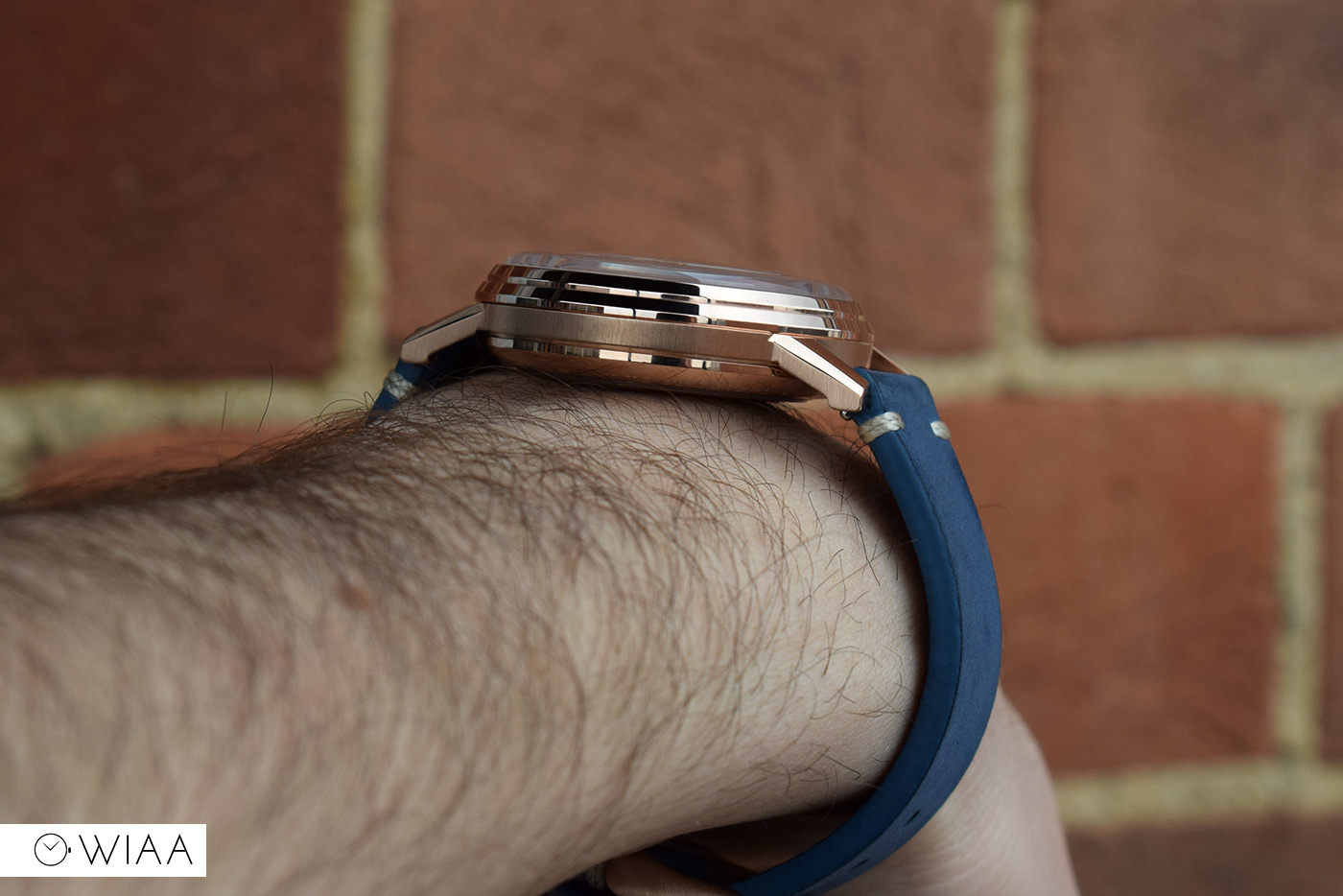 The caseback has a large exhibition window, with various specifics deeply engraved around it.. Displaying a quartz movement is unusual, but I kind of like it.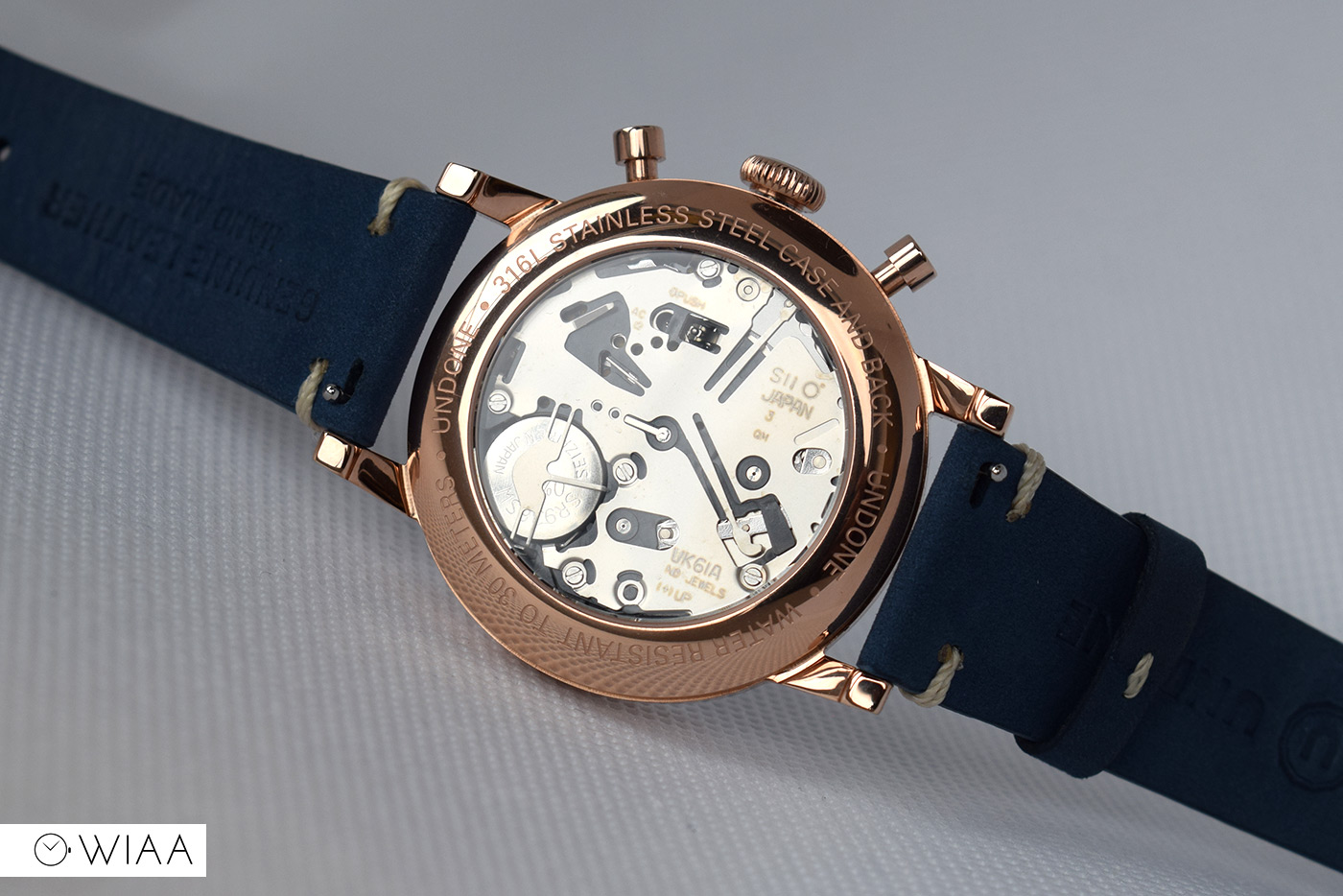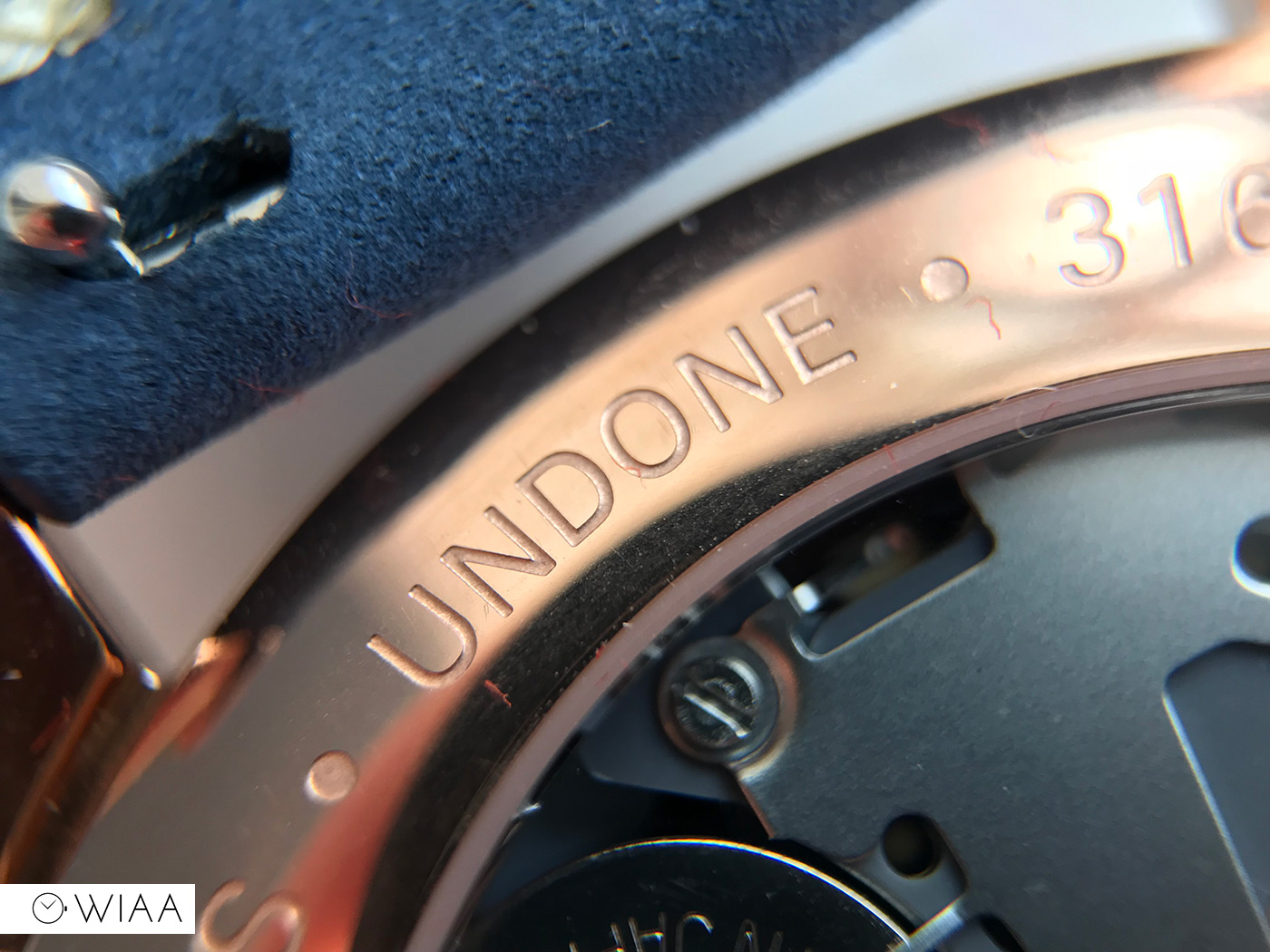 The dial
There's 26 dial designs, within 4 categories: Vintage, Modern, Classic and Limited. The amount of options here is very impressive, and it's amazing how Undone have come up with so many great looking designs. The dial I went with is the Limited, Speedy Panda Blue / off white, which is striking in the flesh.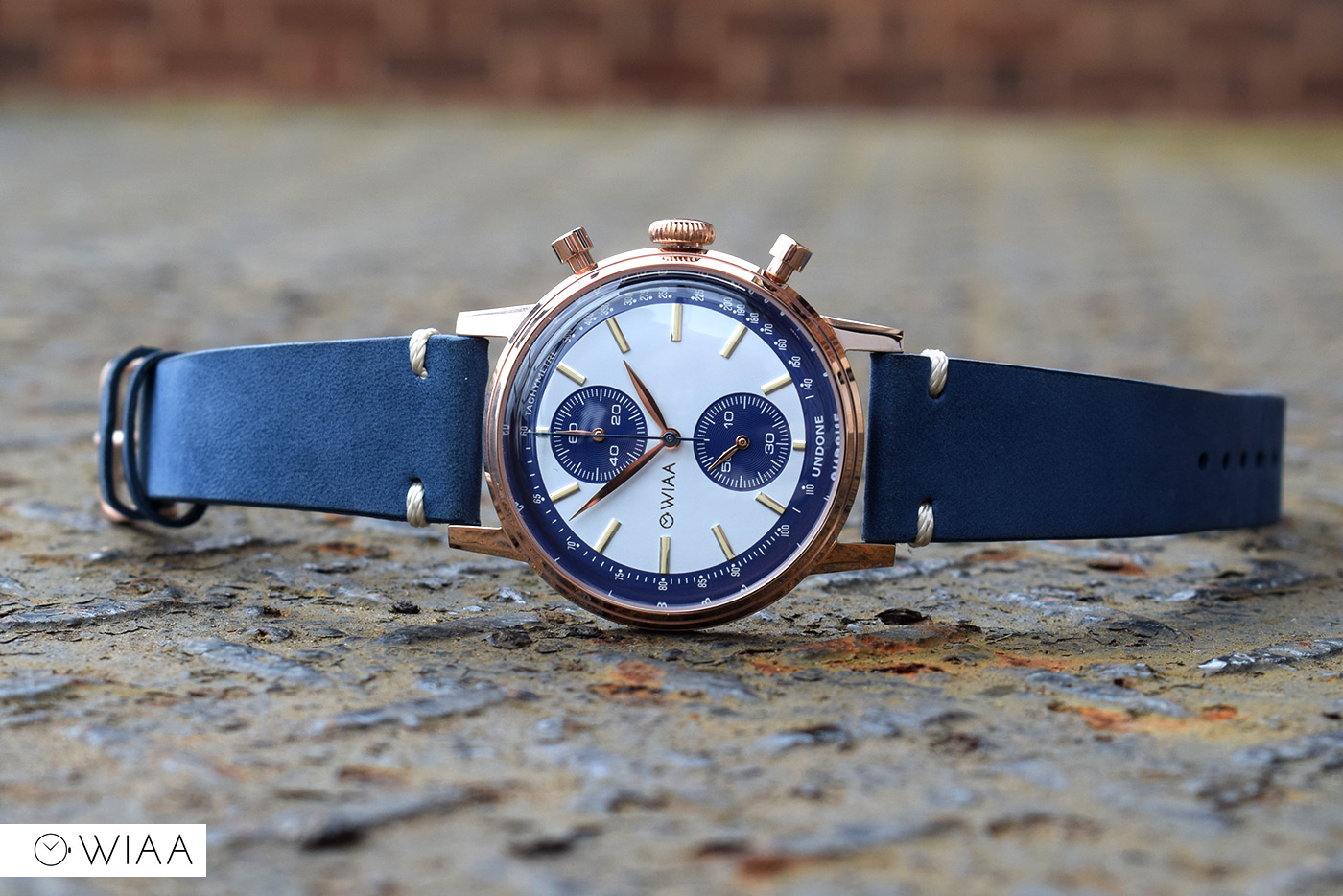 There are also 3 hand style options available in 9 colours each. They're all quite similar in looks – a leaf / dauphine shape, and then two batons – one with, and one without a lumed centre. I opted for the rose gold dauphine to match the case, and the build quality is spotless.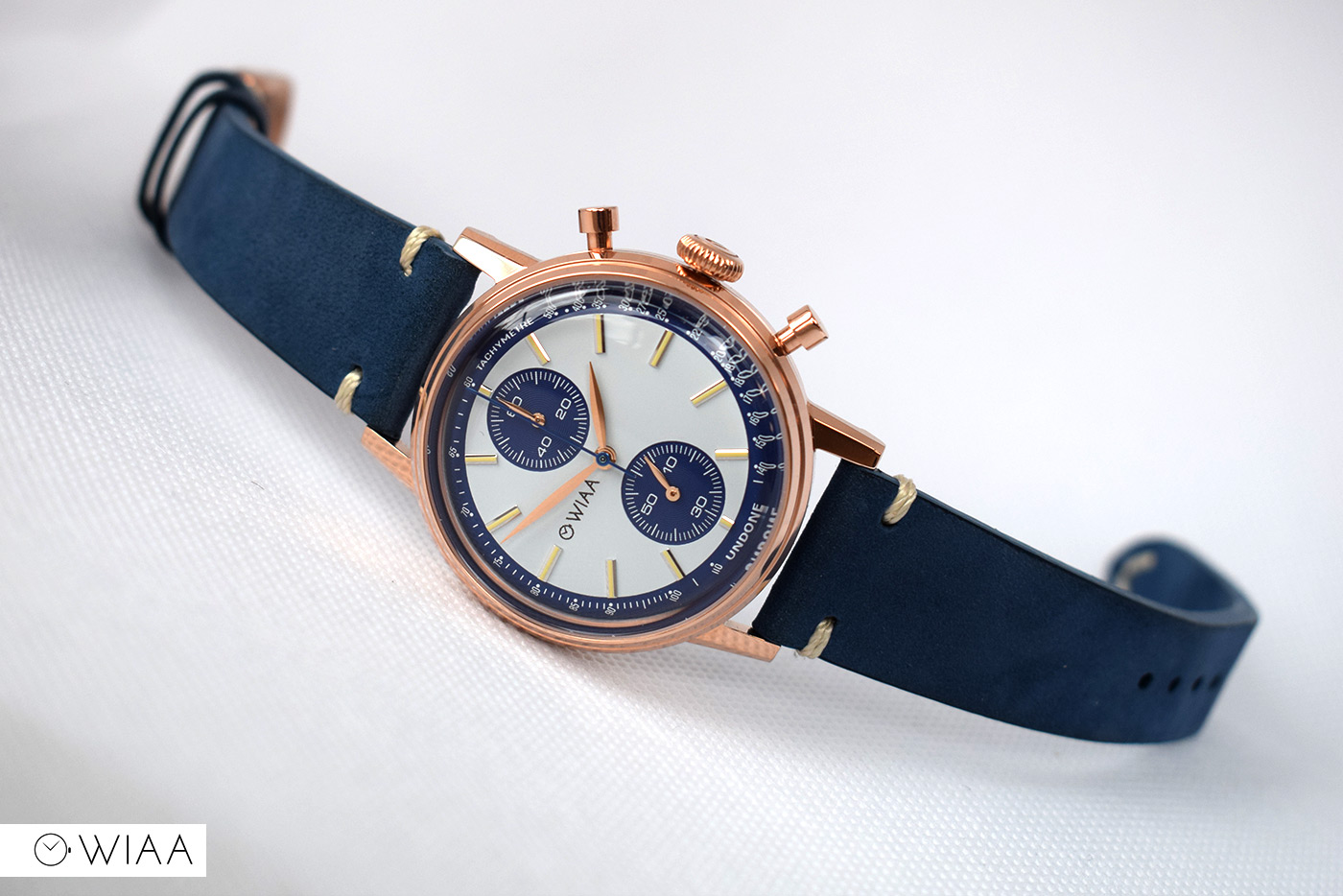 On top of the wide array of options, you also have printed customisation – I've got the Watch It All About logo printed at 9. The print quality could be crisper when viewing close up – but at normal viewing it's acceptable.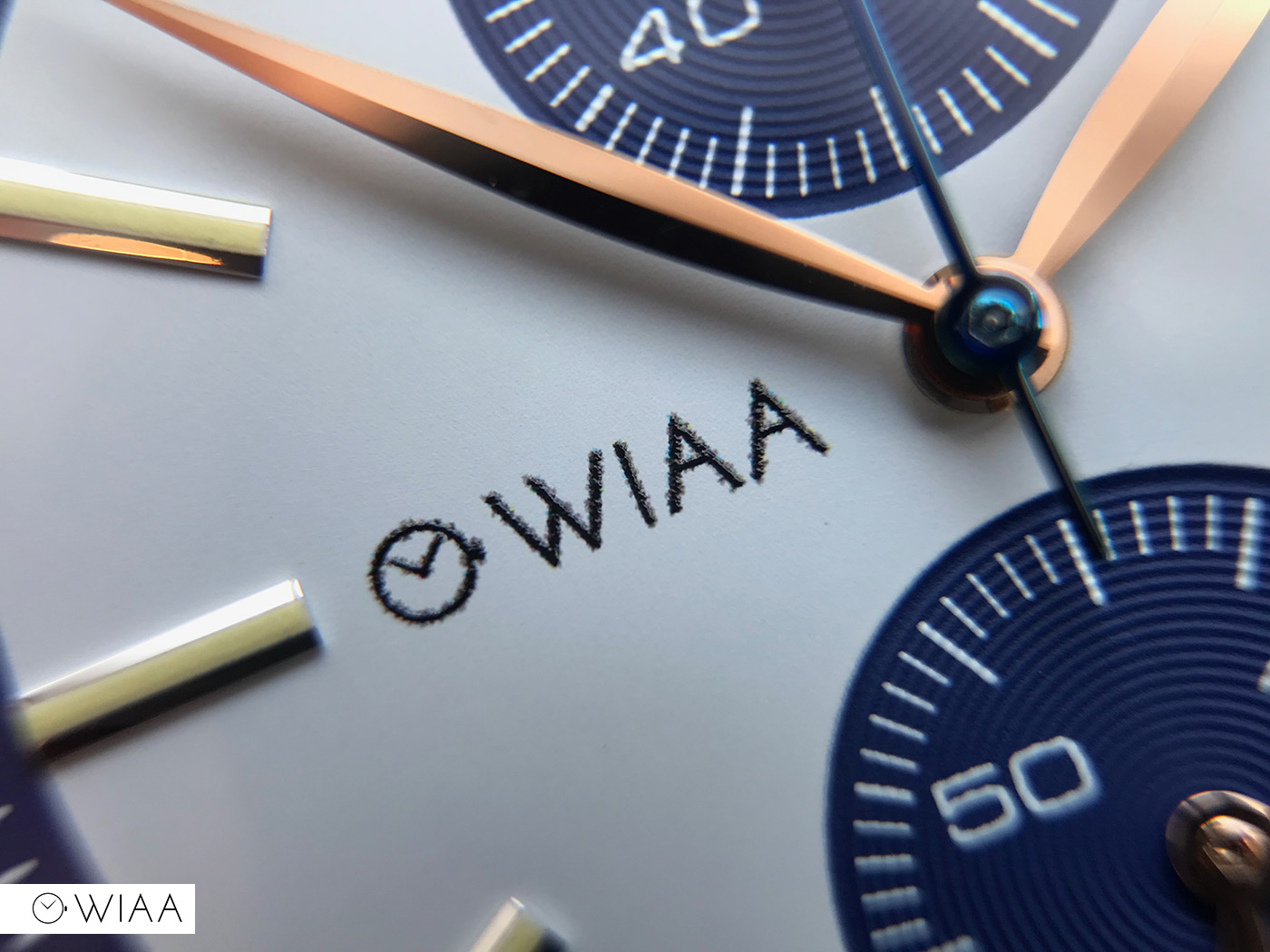 The two subdials are at a lower level with a concentric circular pattern, to introduce some texture and depth to the dial. The subdial at 12 is the chronograph minutes marker, and the subdial at 6 is the running seconds hand. This means the big seconds hand is the chronograph seconds counter.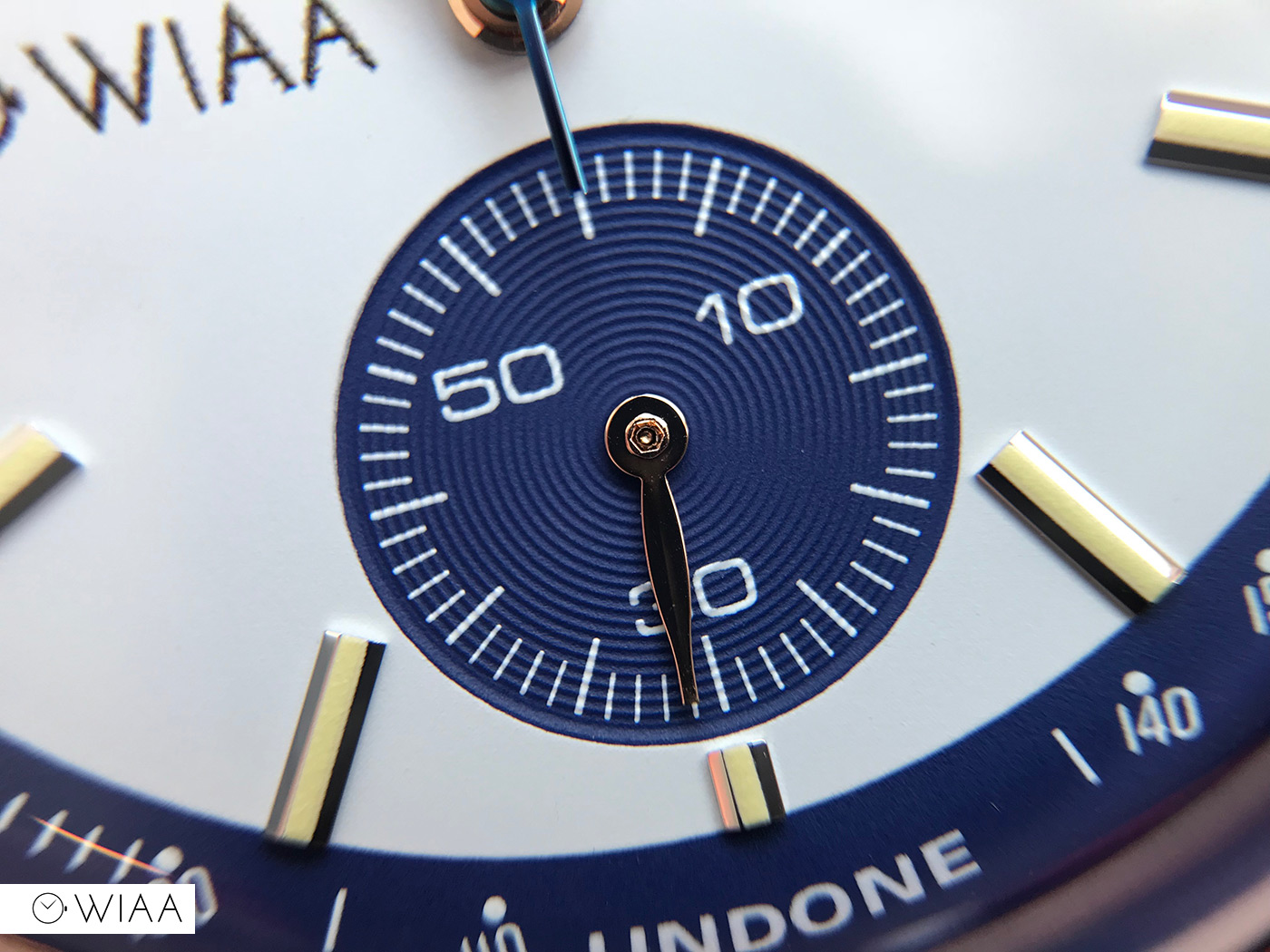 Applied hour markers sit at every hour, and are al rose gold to match the case and hands. They're all very well made and applied. They have lumed centres – pretty pointless for my choice (the dauphine hands don't have lume so you wouldn't be able to tell the time in the dark), but if you opted for the hands with a lumed centre then obviously it would be useful.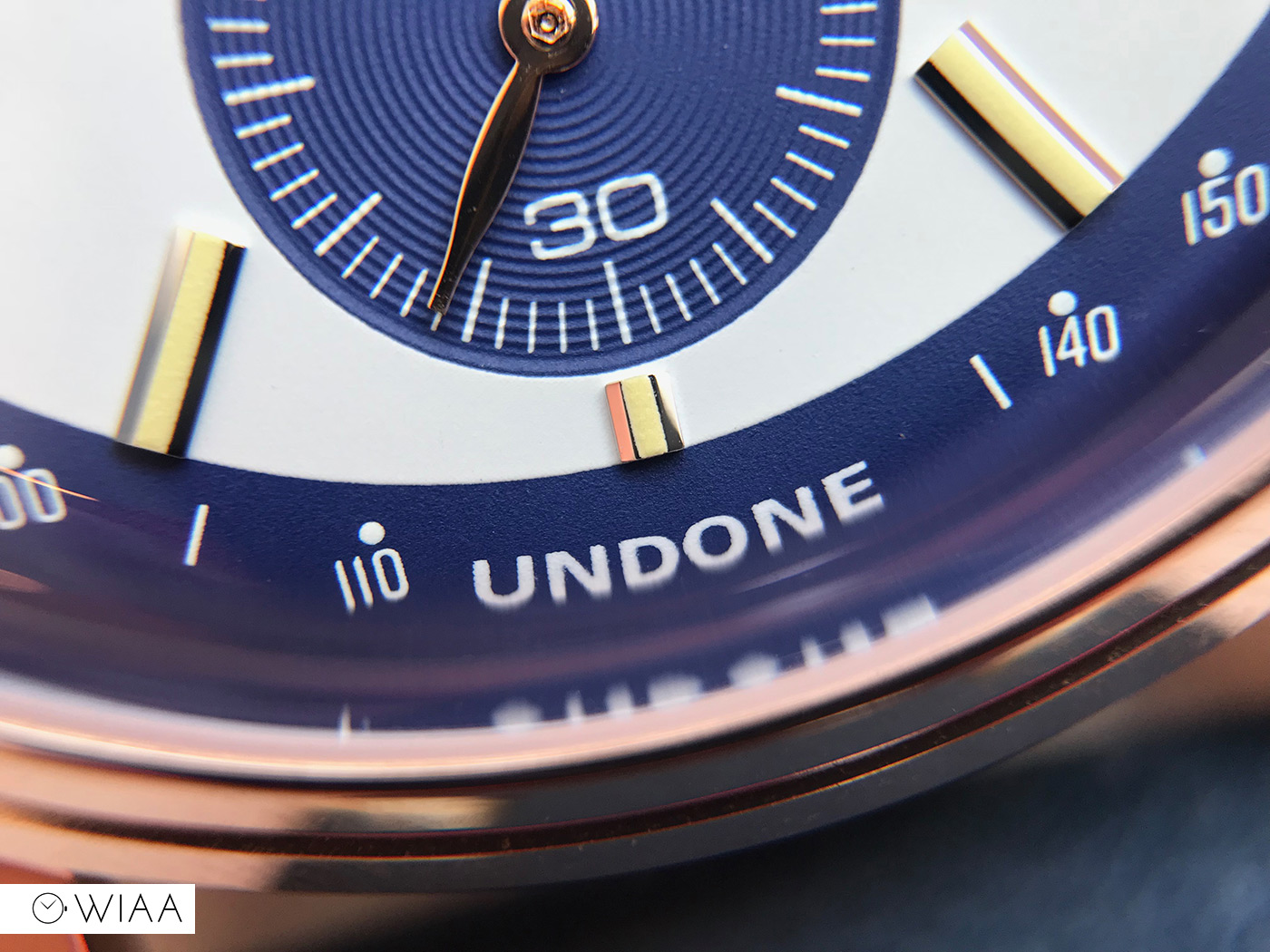 The strap
There's loads of strap options – I counted 50; this is the standard blue calf. It measures 20mm wide at the lugs reducing down to 18mm at the buckle.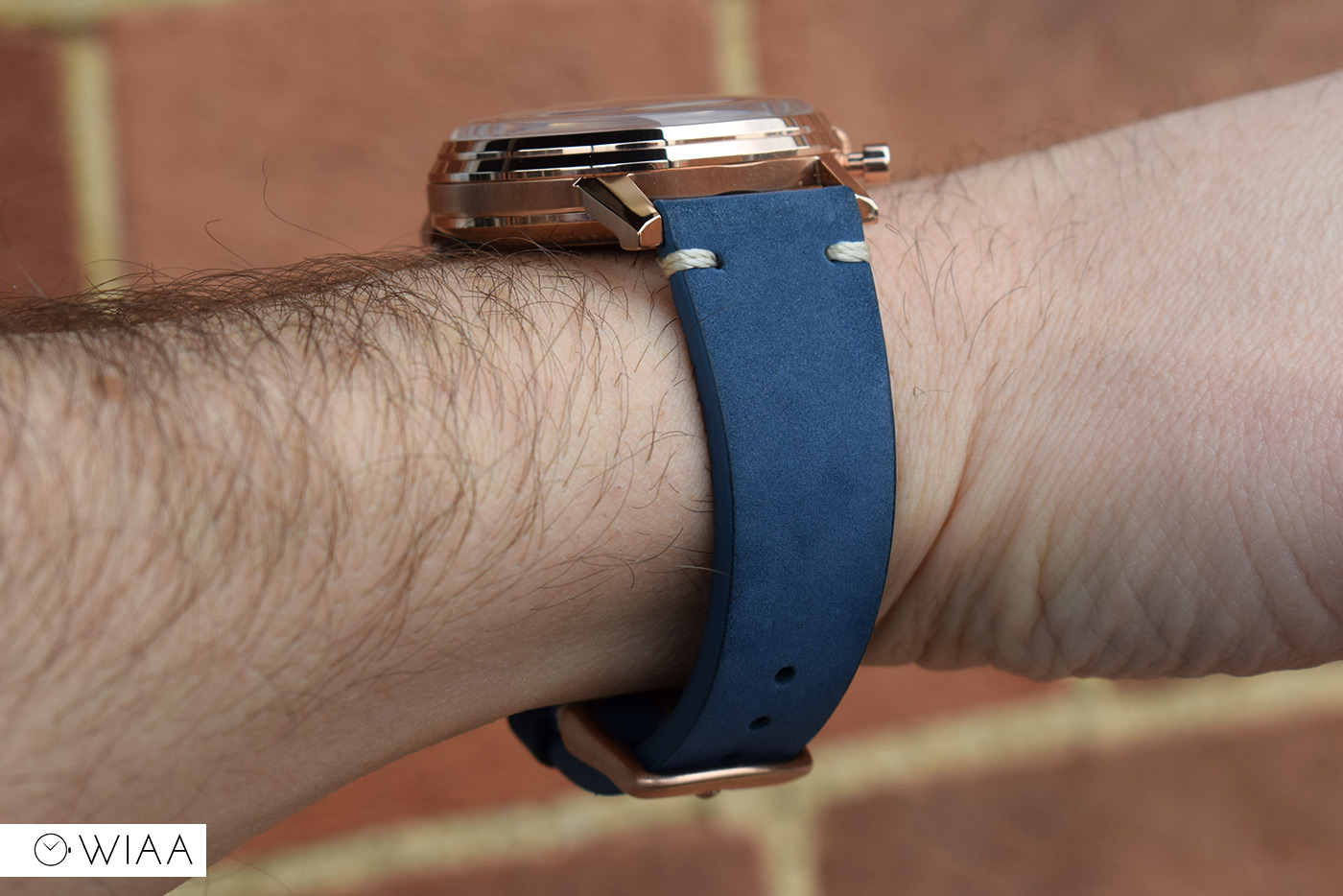 The matte finish which is soft to the touch, however I've noticed that it marks easily and also has become quite grubby quickly, especially on the keeper loops. There is detailed stitching at the top corners and at the bottom of the long length.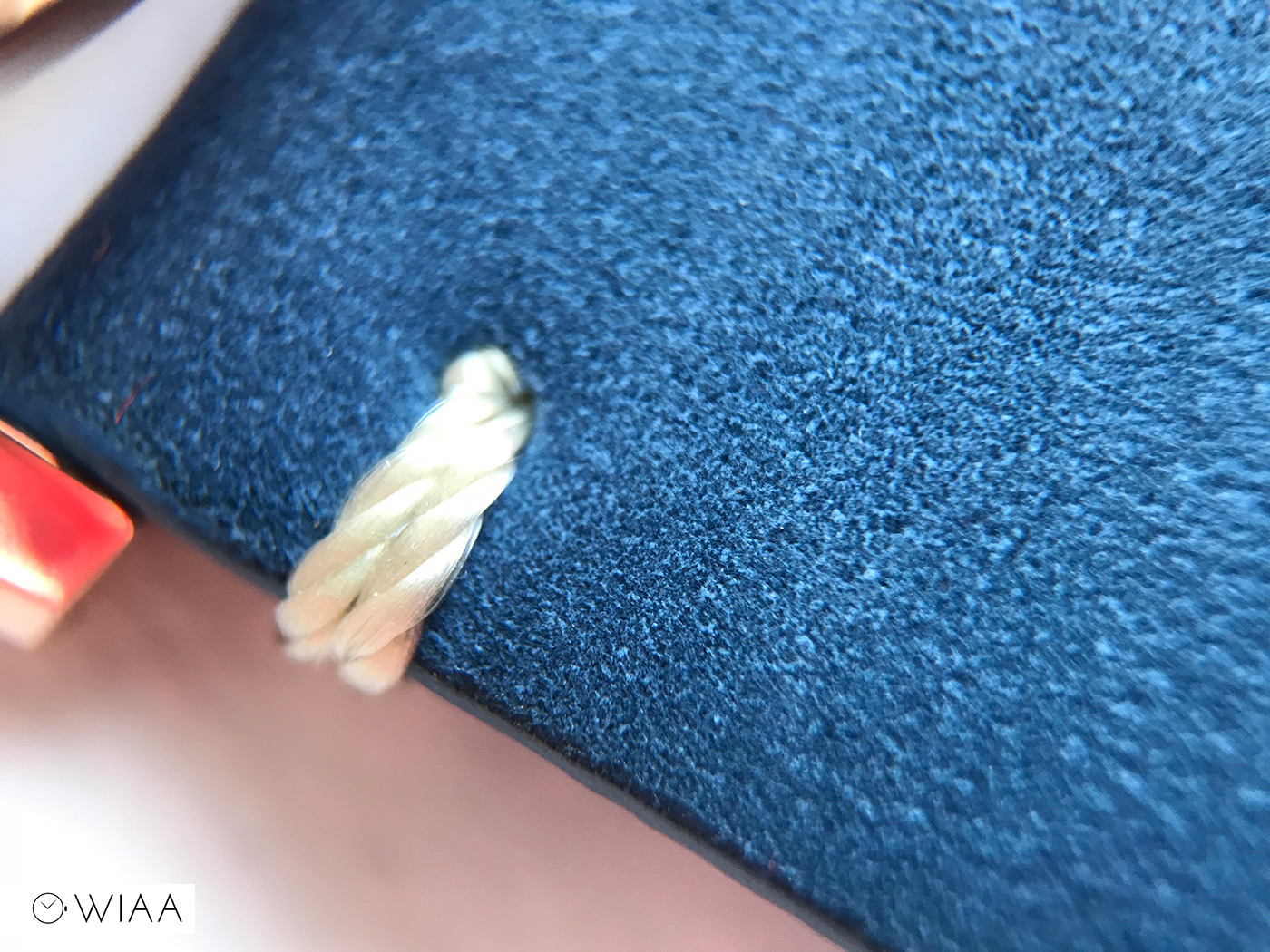 The buckle has 4 colour options – the same choices as the case to match it. It's a pretty standard tang shape with the logo lightly etched on the top bar. The brushed finish will prove to be better wearing than polished, which would pick up scratches a lot quicker.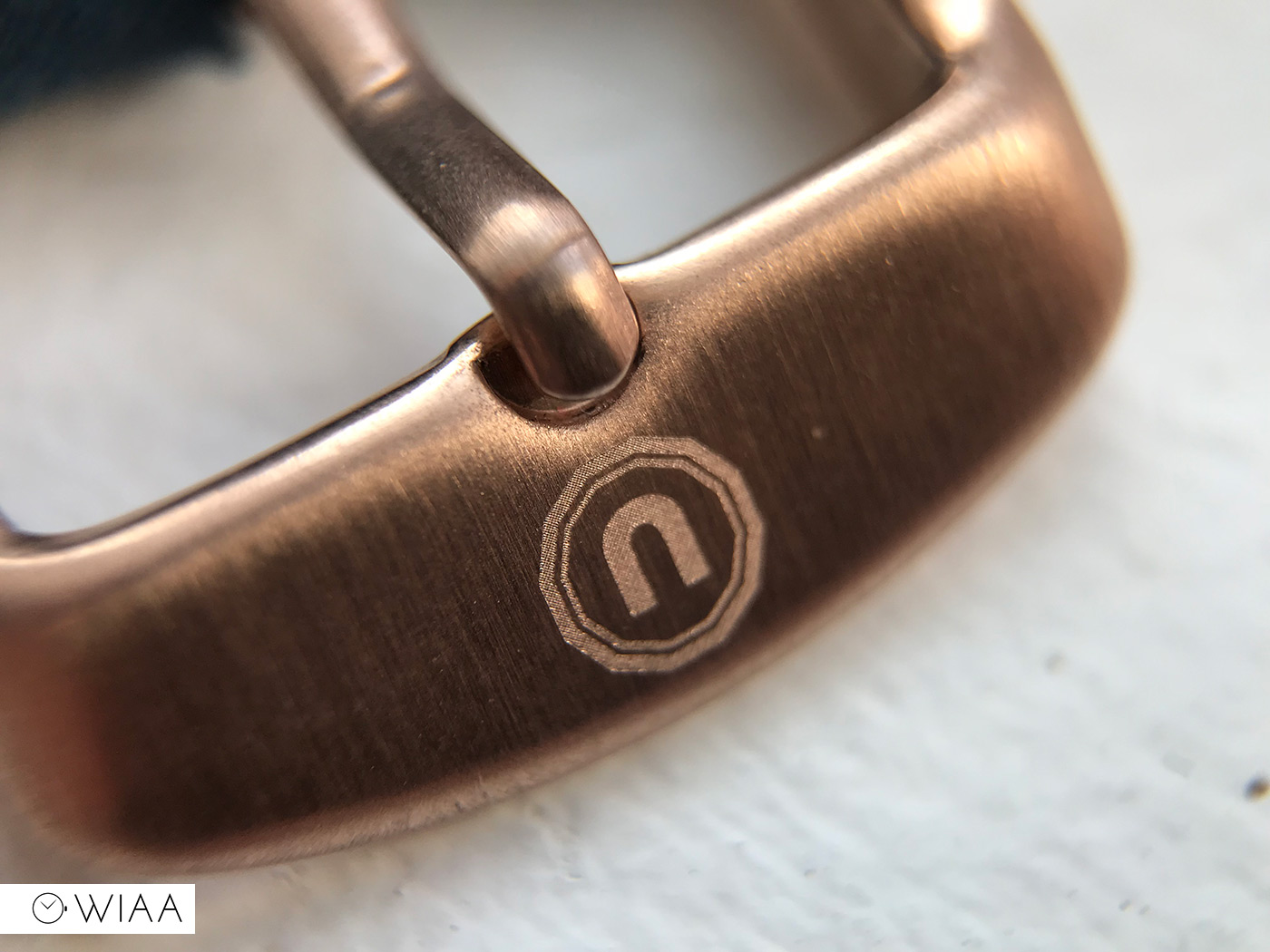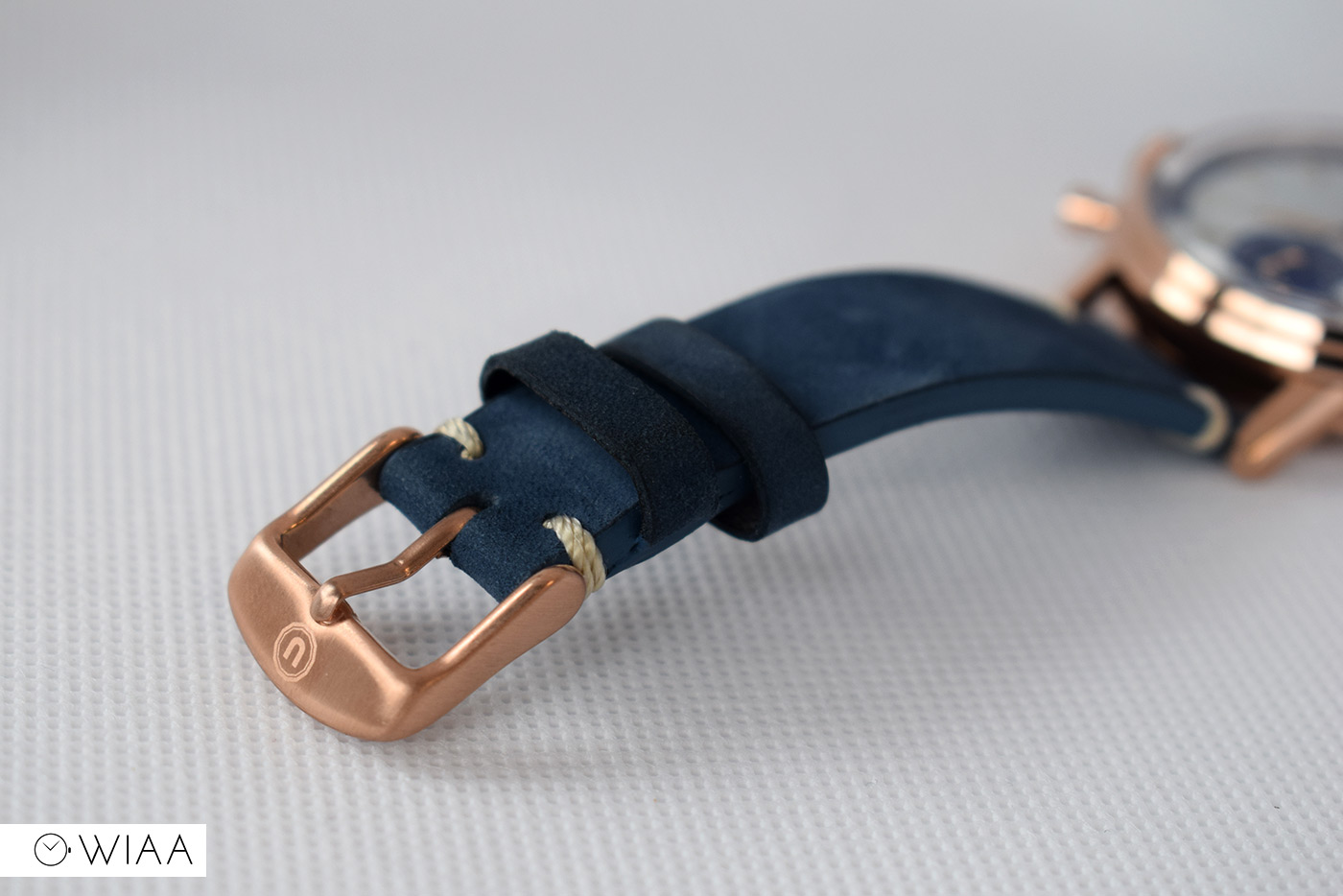 The strap also comes loaded with quick release pins – an excellent addition that should exist on all straps. You can change a strap within a minute without the risk of scratches.
The movement
The movement powering the Undone Urban Vintage is the Seiko VK61A MechaQuartz. It's all powered by a battery, but the chronograph has a 1/5 seconds hand, which is the mechanical aspect.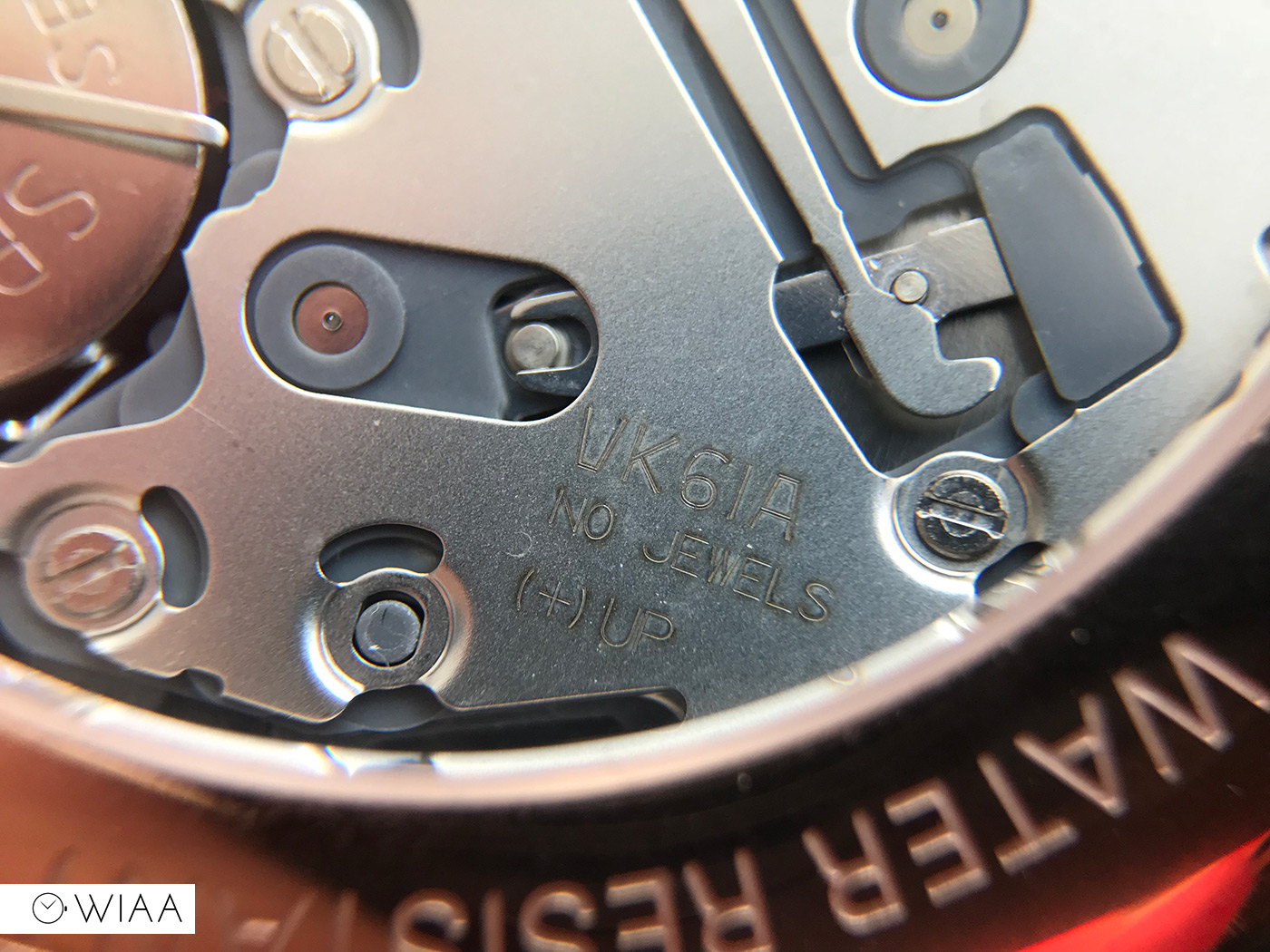 It's a flyback chronograph so you get a lovely snapback of all the hands, something you don't usually get with a quartz movement. It's also not that bad-looking for a quartz movement. It has no jewels and a 3 year battery life.
Final comments
It's certainly an impressive amount of customisation that Undone have created for just one watch, there's no doubt about that. When you also think that the prices start from £195, and each watch it put together by hand too, it's a very impressive watch for the money.
How does the build quality stack up? Well, a sapphire crystal would be nice, of course; but unrealistic. Anyway, there's a certain je ne sais quoi about the crystal they've chosen, which suits the watch perfectly and is still suitably hard-wearing. The only other thing is that the custom printwork could be a little smoother / finer close up, but that's nit-picking.
Everything else is excellent – I love the case, with all its accents. The dial construction is also pretty flawless, along with the hands.
Overall, I've been very impressed with the whole package – and what Undone have accomplished with the Urban Vintage is that they've made it extremely easy for anyone to make their own watch that calls out to them, their perfect timepiece… at an affordable price.