CATEGORY: Watch I Own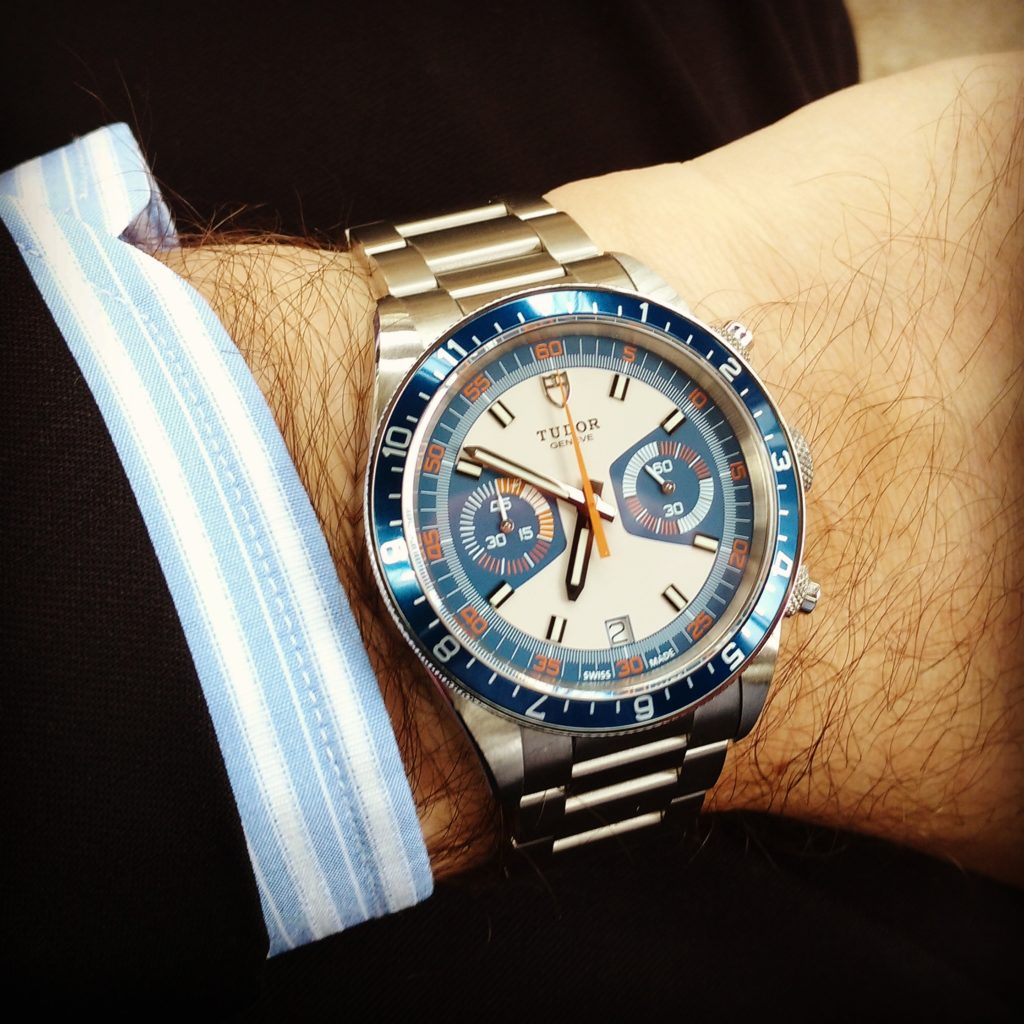 So another review and another chronograph.
I like chronographs. I think it links back to my youth. My youth has a lot to answer for. I've said it before, but I'll say it again; things that were magic as a child always remain magic.
In my youth I got digital watches, until I was 10 when I managed to wangle a Seiko 5. But chronos were so much more expensive than these, so unattainable…and complicated looking. I never get bored of seeing a chrono in action.
The first watch I bought as an adult was a chrono. A seiko quartz one with a yellow face and blue subdials. I still have it. It still works. Chronos to me were the ultimate mans watch in my young eyes and that's never changed.
So, here we have a chrono. A chrono by Tudor. Tudor, you know, the brand that people who want a Rolex but can't afford it buy. Rubbish.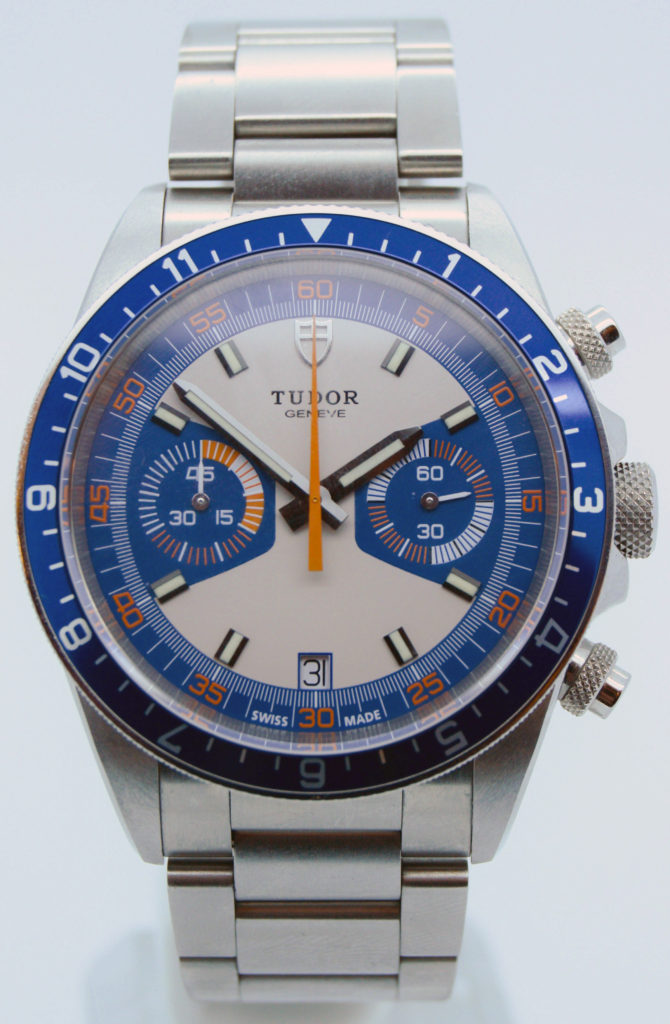 Tudor are going through a renaissance and are actually on sale again here in the UK. I've bought a Black Bay Red (ETA version) and now I have the Tudor Heritage Chrono in blue.
I don't think of them as a "poor mans" Rolex at all. Rolex wouldn't make a watch this "loud", they're more restrained, well except those gaudy Gold / Gemstone things that only people with more money than taste buy.
No, I think of Tudor now as Rolex' "lifestyle" brand. And all the better for that. "The thinking persons Rolex" if you will. Same factory, same materials…
So, what is the "heritage" bit about? Well, back in the 70s Tudor released a watch that looked very similar to this, called the Monte Carlo. Picture courtesy of analogshift.com: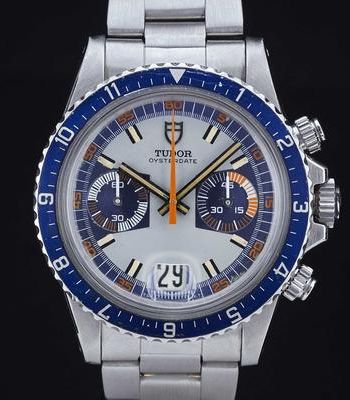 The bezel is a bit more knurled and there's a date magnifier, but otherwise you can see the heritage is a pretty good facsimile.
So with their relaunch, they have launched another version and in a couple of colours. I'm only covering the blue.
The originals are a striking watch, but they cost lots. I've seen that most good condition ones are usually "POA", but I imagine they're well over £10K, so if you have a hankering, the heritage version is good value as you can get them for around £2K.
It must be popular as there are "homages" out there to it. This one however is just a cheap knock off: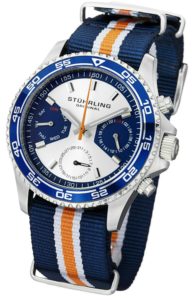 This image below I took from the internet. I put it here as it makes me sad. Don't fool yourself that if you really want a luxury piece, buying a cheap homage will sate that appetite. Trust me, I learned that the expensive way. If it's just because "you like the style", ask yourself why you like that style. Chances are it's because it's the style of a luxury watch from a recognised name. You see lots of well known luxury brands getting "homaged", but none of the high end brands which have no recognition outside of watch circles…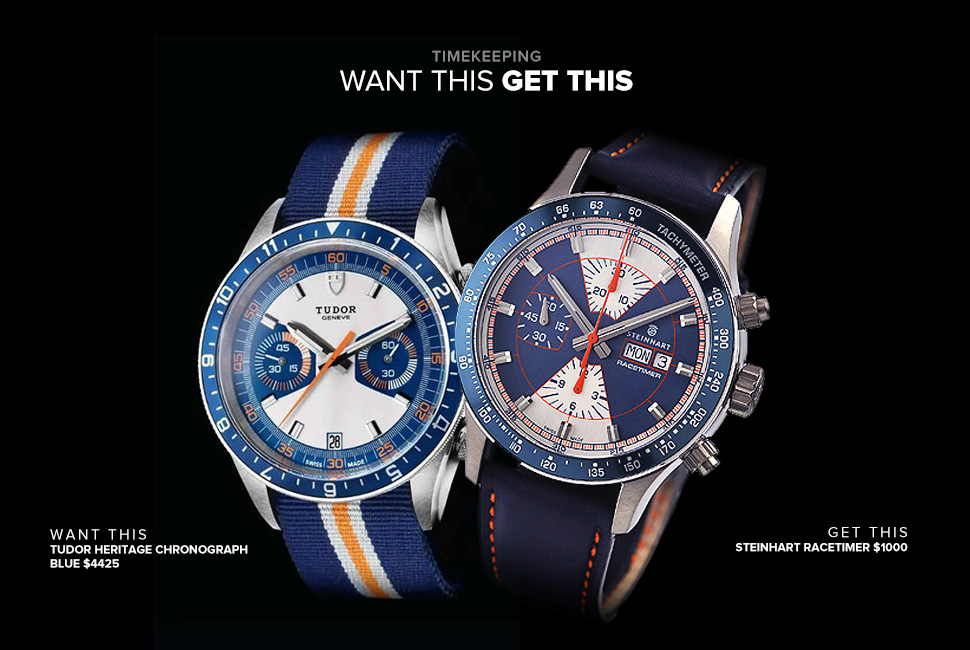 So, back to the original, what does your 2K buy you?
CASE – 42 mm steel case with polished and satin finish

BEZEL – Bidirectional rotatable 12-hour graduated steel bezel for second time-zone display, black disc

MOVEMENT – Self-winding mechanical movement, TUDOR calibre 2892 with additional mechanism for chronograph function

POWER RESERVE – Power reserve of approximately 42 hours

WINDING CROWN – Screw-down winding crown in steel with TUDOR logo
Screw-down pushers in steel at 2 o'clock and 4 o'clock
DIAL –  45-minute totalizer at 9 o'clock
Small seconds hand at 3 o'clock
Date at 6 o'clock

CRYSTAL – Sapphire crystal

WATERPROOFNESS – Waterproof to 150 m (500 ft)

BRACELET – Steel bracelet with folding clasp and safety catch
Additional fabric strap with buckle supplied with watch
The movement isn't in-house, it's an ETA 2892 with a Dubois Depraz module on it. This is what is found in the Omega Speedmaster reduced.
It works well, but I'm lead to believe that this is going to be painful and expensive to service. This is the big black mark it's got in my head. I don't care that it's not in house, but I don't like big servicing bills and having to send watches abroad for that service, but it looks like that will be on the cards at some point.
The watch looks and wears great however, so those feelings of fear melt away. It's a good size for my 7 3/4″ wrists at 42mm.
The case looks and wears like the Black Bay, indeed they look quite familiar.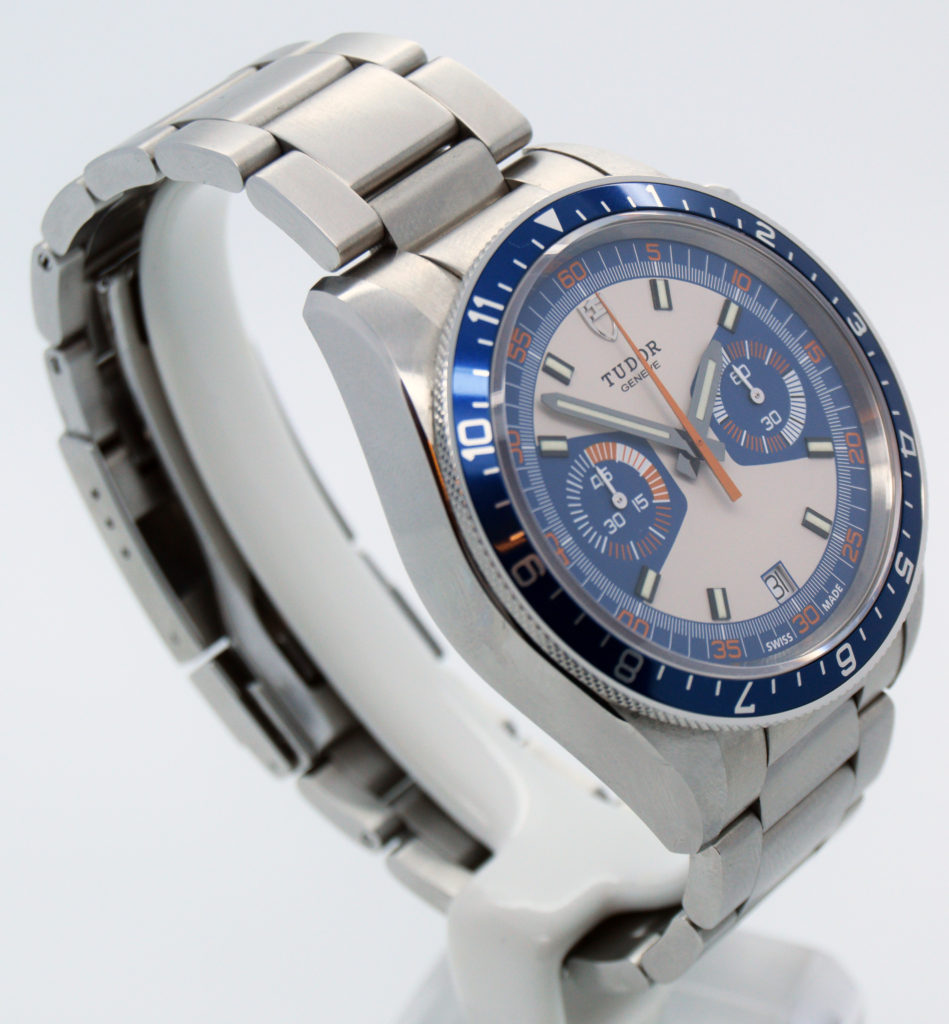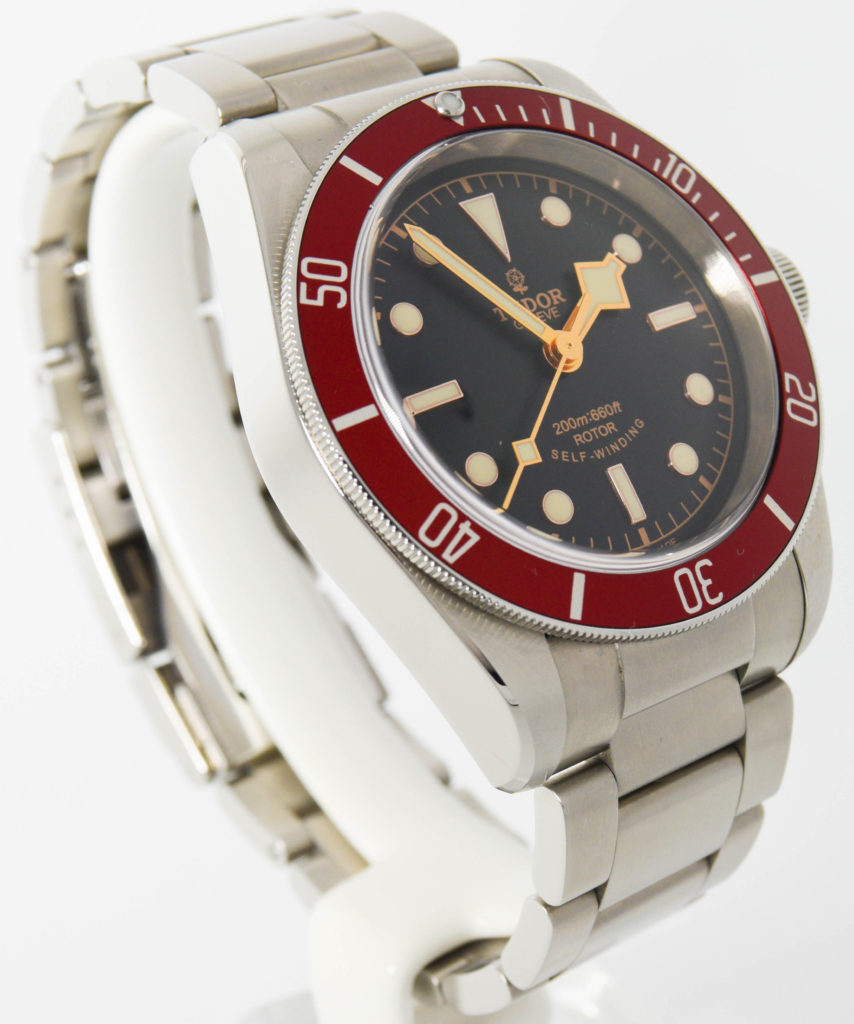 Apart from the chrono pushers, the lugs are the only real difference on the case. It's slabby on the sides, but still very nicely done with brushed and polished surfaces.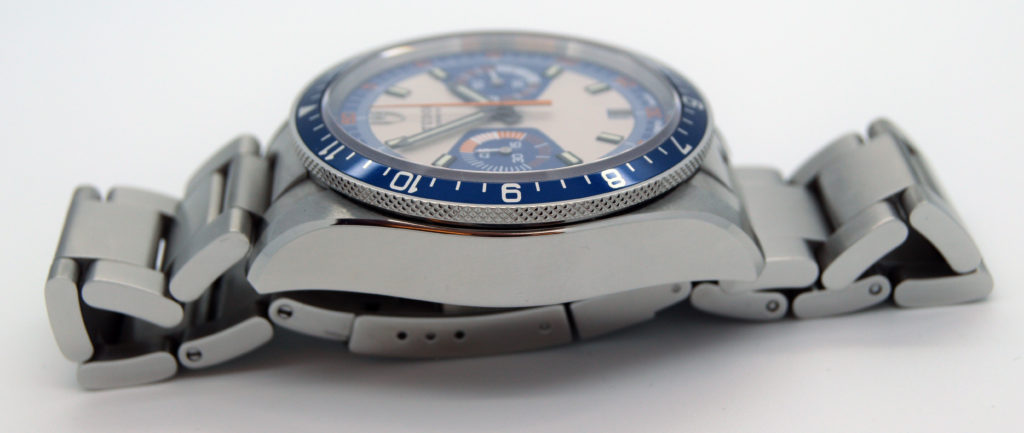 The bracelet is the same as the Black Bay too, except for the SEL. This is a lovely solid bracelet, with a great clasp, but I just wish it wasn't another boring Oyster style. I know that the original had an Oyster style too and that it is Rolex' trademark sports bracelet, but I would have liked something less boring. Familiarity breeds contempt.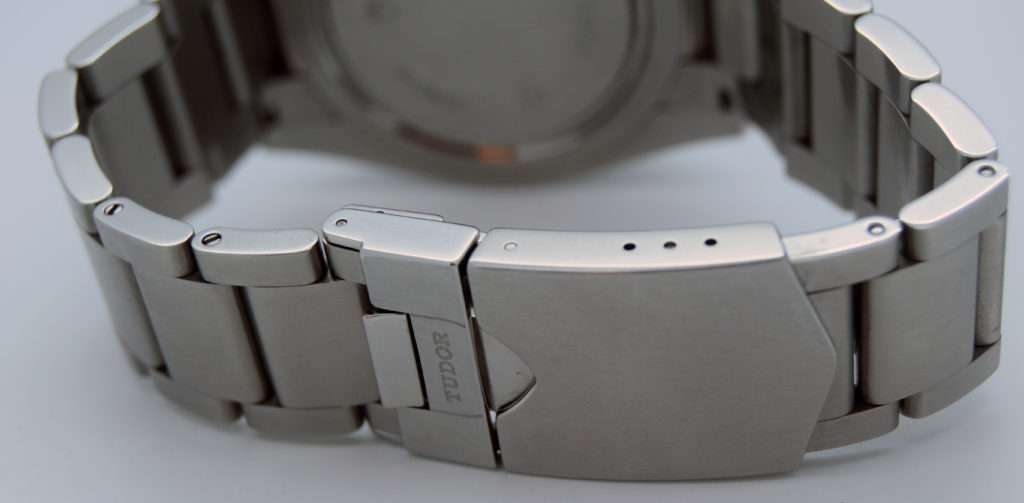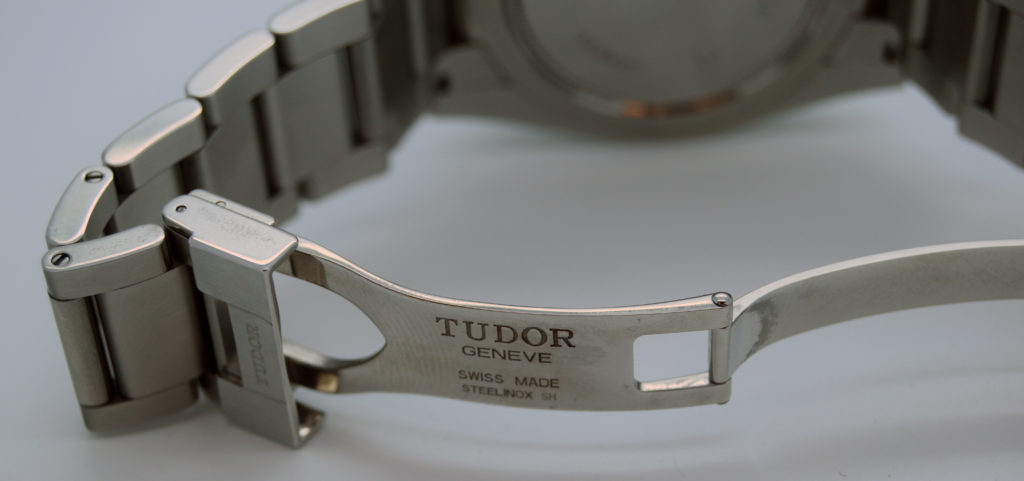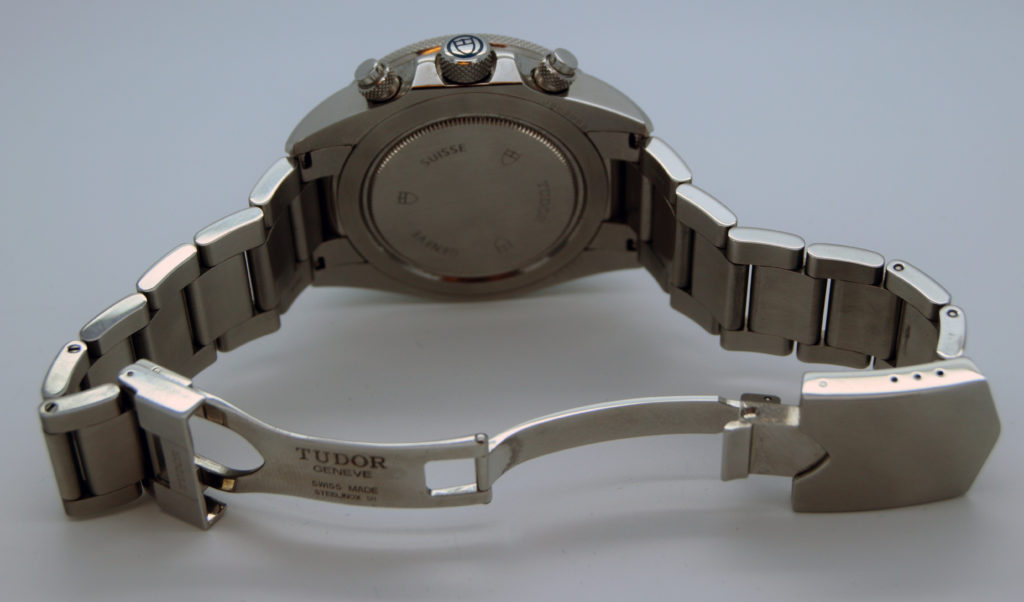 The caseback is standard Tudor, plain except for the basics. I'm not a caseback man (as you can only see them when you're not wearing the watch or when it's not in the watchbox) so its starkness doesn't bother me.
The pushers are screw down, like the Daytona and the crown is signed and coloured in blue, which is a nice touch. They all have a well machined grip and are satisfying to unscrew.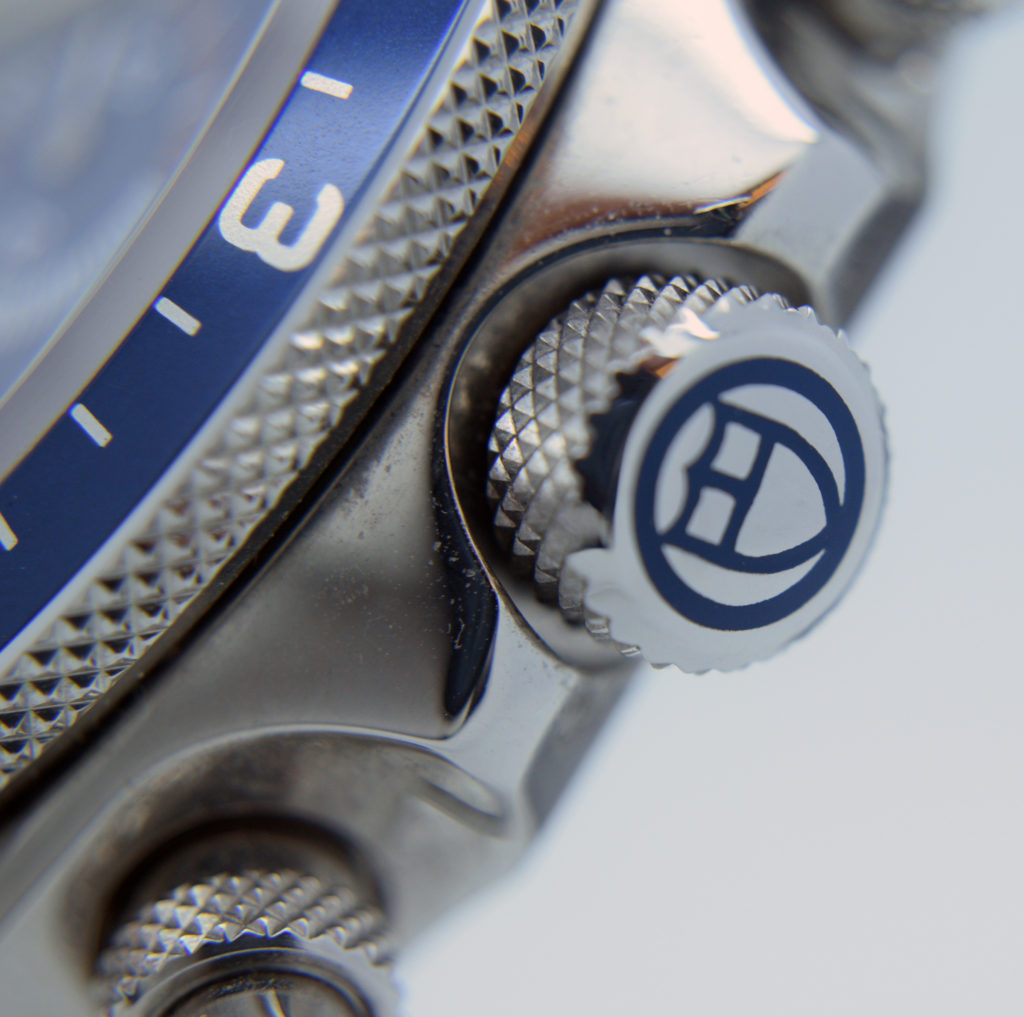 The bezel is a bi-directional affair. It basically allows you to time another zone in a rudimentary way. The insert is aluminium. It's not lumed and is not particularly eye catching, but it has a lovely movement and it is faithful to the original.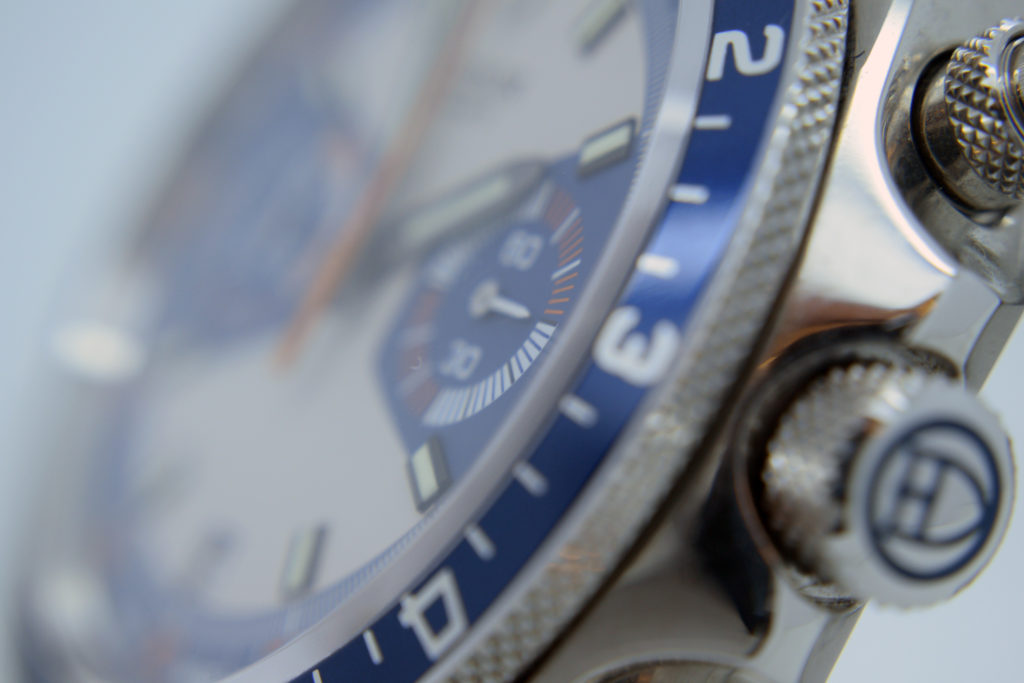 Now the face. This is the piece de resistance, the main thing that drew me to this watch.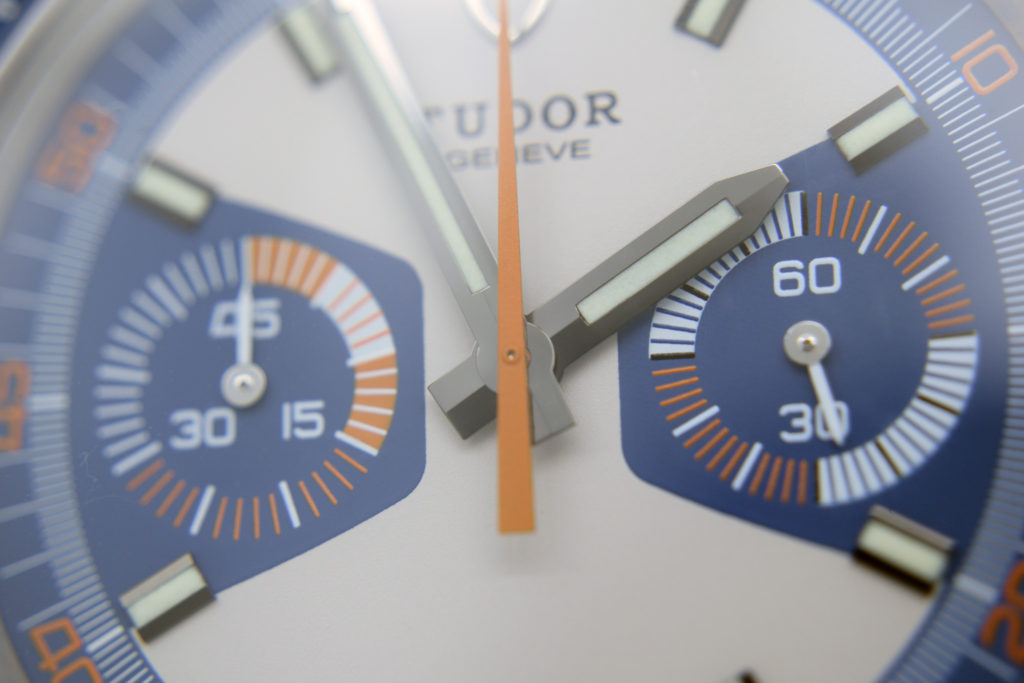 It is very stark. Very faithful and retro. Apart from the colour scheme theres not a lot to it. It's very flat. Everything is printed on, except for the lumed indices. The cream is a strange colour to have with the blue, but it just works.
The orange second hand, the orange highlights, the silver applied Tudor logo, they all just look good.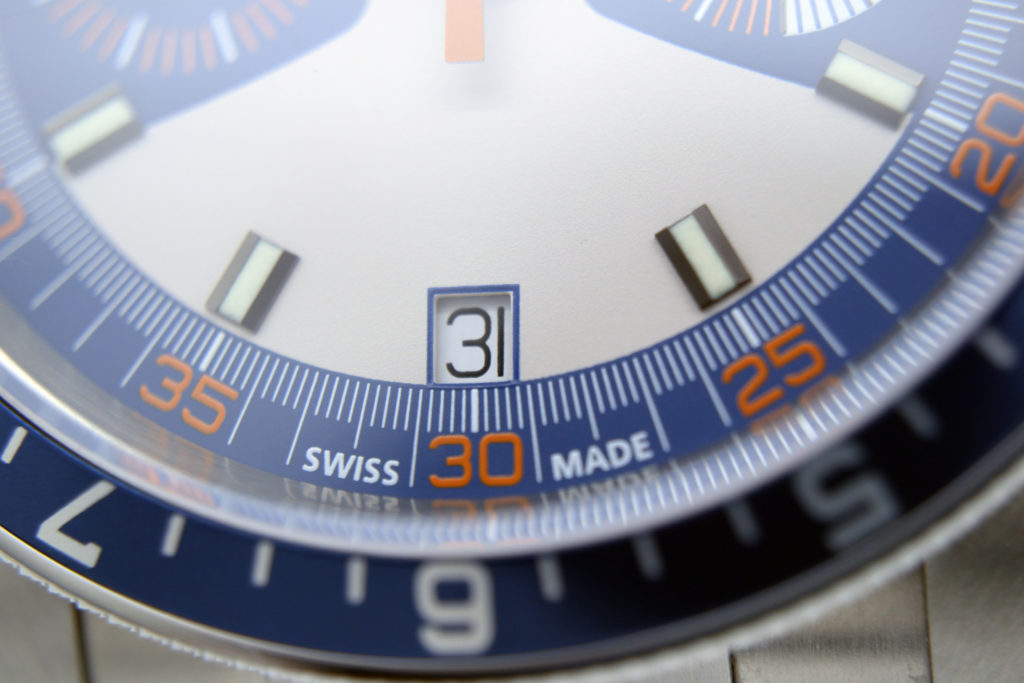 And that's the thing. Don't get hung up on specs or price. You see when I bought my Black Bay, this was also in the ADs window at the same time. I had a look at both. I put this on and instantly liked it, but the BB is what I went into the shop to look at and I walked out with the BB.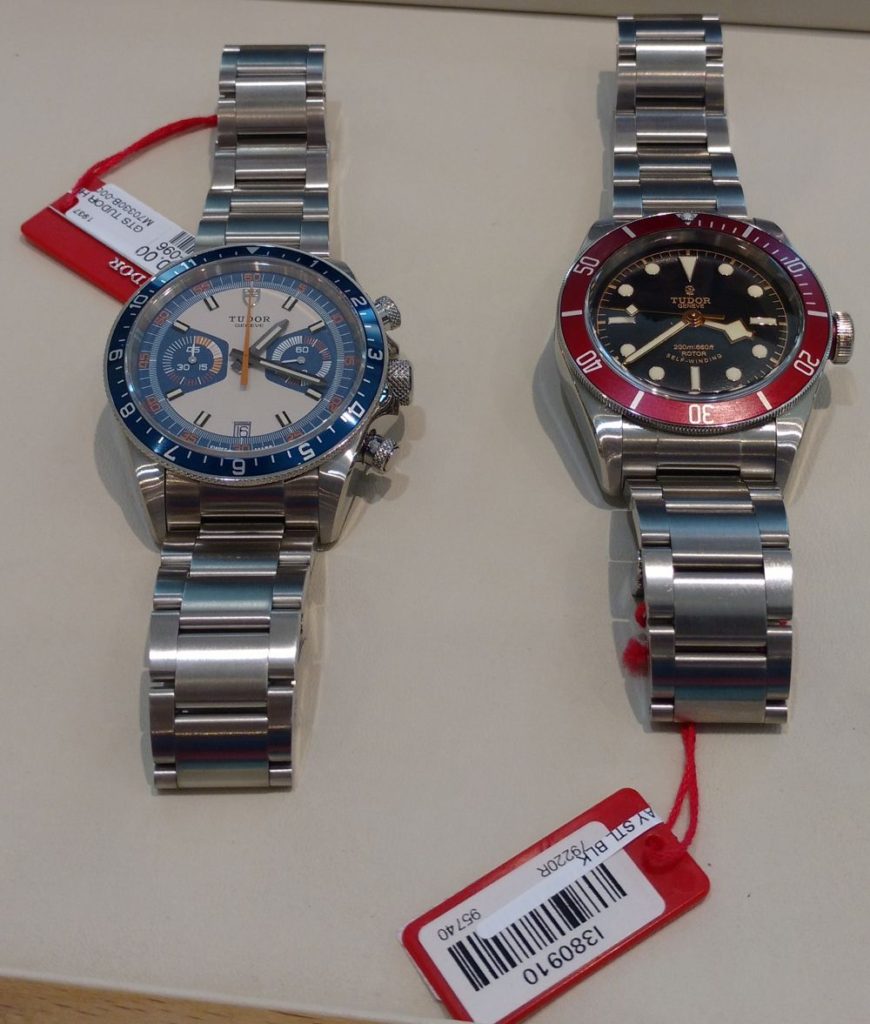 *Note again the case and strap similarities*
I knew I made the right choice with the BB as I love it, but I kept thinking about the chrono. This is when you know you love a watch, you have it a brief amount of time and it leaves a lasting impression, as opposed to one you keep on wearing but it feels like you "have" to wear it…so a week later I went back and bought the chrono too.
It's not a watch that I wear lots. It's loud, but when the mood is right (I wore it lots over the summer with short sleeves when casual) it is a stunning piece of wrist candy. It couldn't be more eye catching if it was festooned with diamonds and a neon sign that flashed "Notice Me!"
If you think about it, a Swiss auto chrono with Rolex build quality from a brand on the "up", and they're not common, for around £2K is a good buy. I got mine from an AD (who I can't mention as Rolex will come down on them like a ton of bricks) but I managed to barter for it at £2100 brand new.
I don't think I'll ever lose on that if I fall out of love with it. But I don't think I will fall out.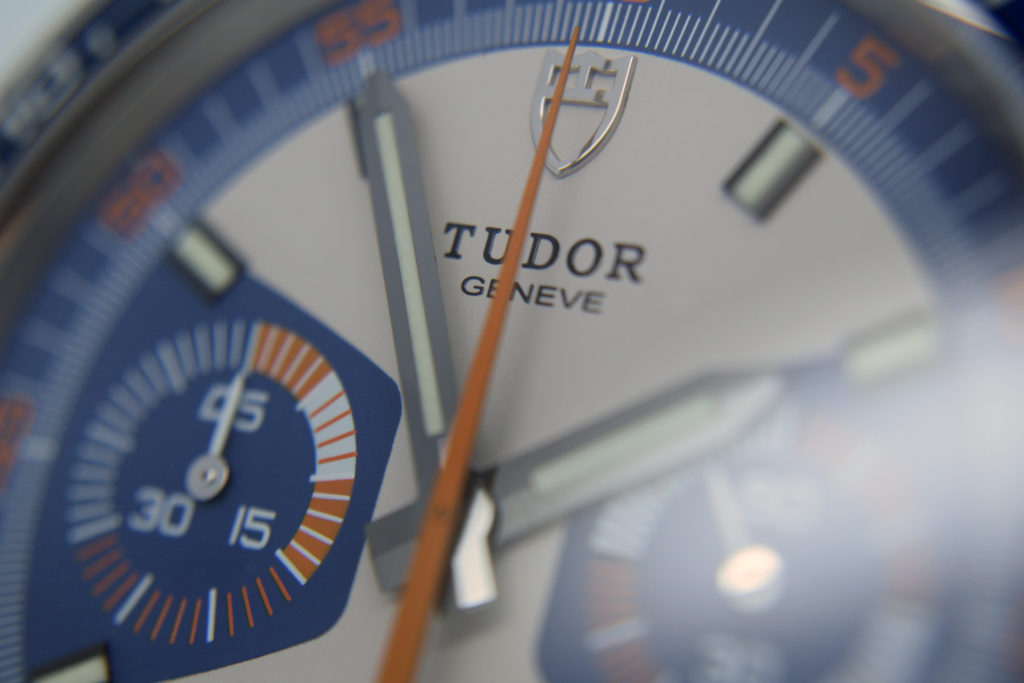 There's a YouTuber who has a caustic "cartoon character" alter ego, that likes to bash "shitters" (you can probably guess who it is) who said that if buying a watch doesn't hurt, then it's not worth having.
I think he got the sentiment wrong. You do feel better about a watch if you've worked hard and feel like you've really earned a luxury piece, but it doesn't mean that if it's not expensive, it's crap. I love a good steak, but sometimes a hamburger can be just as satisfying. However, his sentiment was that watches you work hard for, wait for and then ultimately feel like you've earned, feel better than a "cheap fix" watch.
And this watch feels very special to wear. It looks great, I know it's well made and it will keep its money, but there's the intangibility that this a luxury auto chrono from a top maker that just can't be summed up unless you actually take the plunge and earn one for yourself. When people ask what it is, and they will, you can say with pride "It's a Tudor" "What's a Tudor?" "Rolex' avant-garde brand".
And if you buy right, you can find that feeling out for free.