CATEGORY: A Watch I Own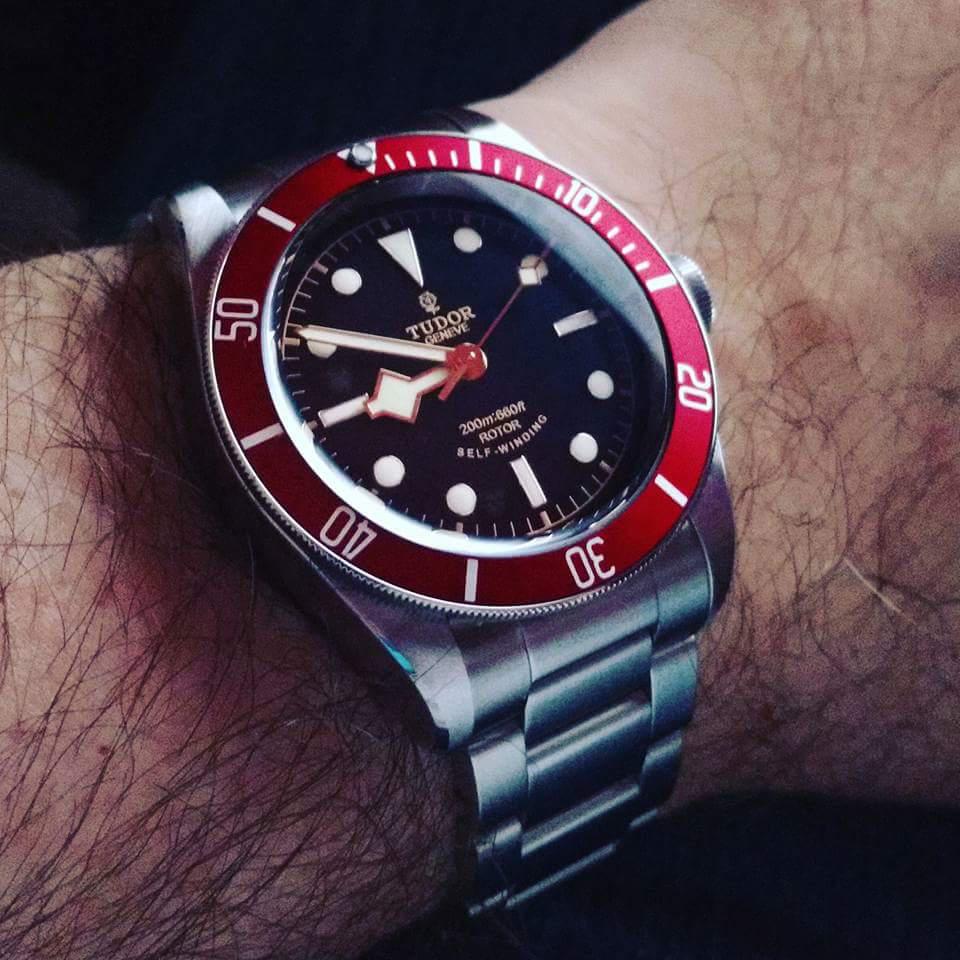 This isn't so much of a review, more of a rambling tirade of my subconscious. You want a proper objective review, go read something about drywalls or outboard motors. There's nothing objective about the completely unnecessary items that are watches. I've come to realise that reviewing them objectively is a bad thing. Like Soren Kierkegaard said "Once you label me, you negate me". People essentially are made from the same bits, but we are very different.
Really? I have to? Ok so…
Tudor Heritage Black Bay Red. An automatic watch. It is made of stainless steel with a domed sapphire crystal. It has gold hands and indices. Those indices have a very beige lume on them. It has a screw-down crown with a rose engraved on it. The stem tube is red like the bezel. The bezel is coin edged and clicks nicely. This version comes on a steel bracelet. The links are held together with screws. The bracelet is brushed. It looks like an oyster, but the middle links are wider. It has end pieces that are solid, but look like they're folded. It has a nice clasp, but no Rolex style micro adjustment, you have to move the pin. It doesn't have a date. The hour hand is called "snowflake" and is distinctive. It's powered by a bought in and tweaked ETA movement. It's very comfortable to wear.
Phew, now that's over, let us concentrate on why I wanted to write this review and why I hope some of it touches you in some way (that I can't get arrested for).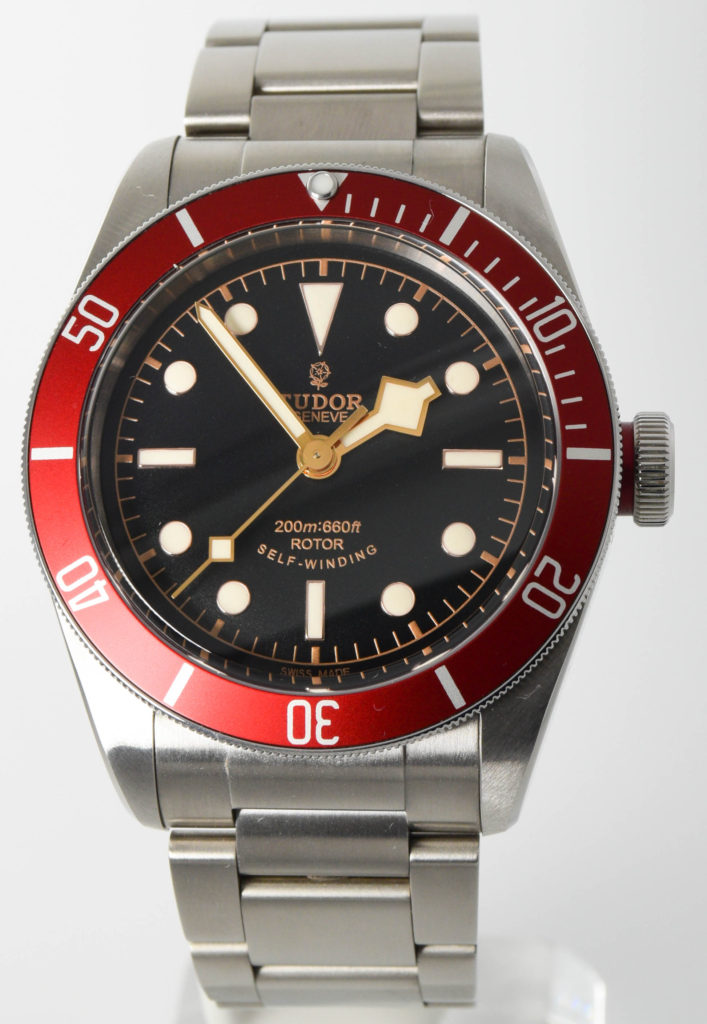 This watch is made by Rolex. Buying a Tudor is sort of like buying a Volkswagen. On the whole, it probably shares a chassis, engine, running gear and many other bits of the equivalent Audi. But it doesn't have those 4 circles on the grille. It sort of says to the world "Life hasn't worked out quite as well as I planned it".
This watch doesn't have a Rolex movement. It has an ETA movement. A movement you can find in watches costing less than a fifth of its price.
It doesn't have a date function. Just like those cheap watches you find in newsagents in seaside towns or on most market stalls.
It comes with a different strap, if you wish to change it. It doesn't come with a strap changing tool or drilled lugs.
Its face isn't nice and glossy. Nor is it nice and matte. It looks at some angles like it's a piece of shiny black paper.
The bezel is an aluminium insert. I know watches that cost $300 that have a ceramic insert. This doesn't.
And to repeat what I said at the start. It's a Tudor. "What's a Tudor?" asks a friend. "Oh, it's made by Rolex, it's just a cheaper brand they make". "Oh, cheaper, couldn't afford a real one eh?"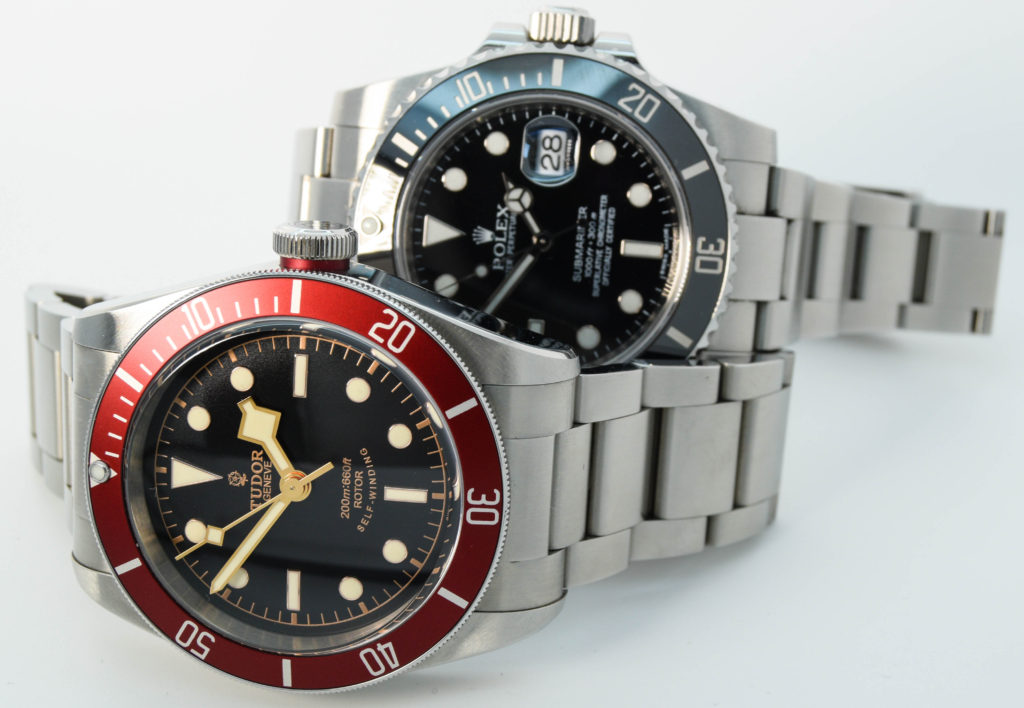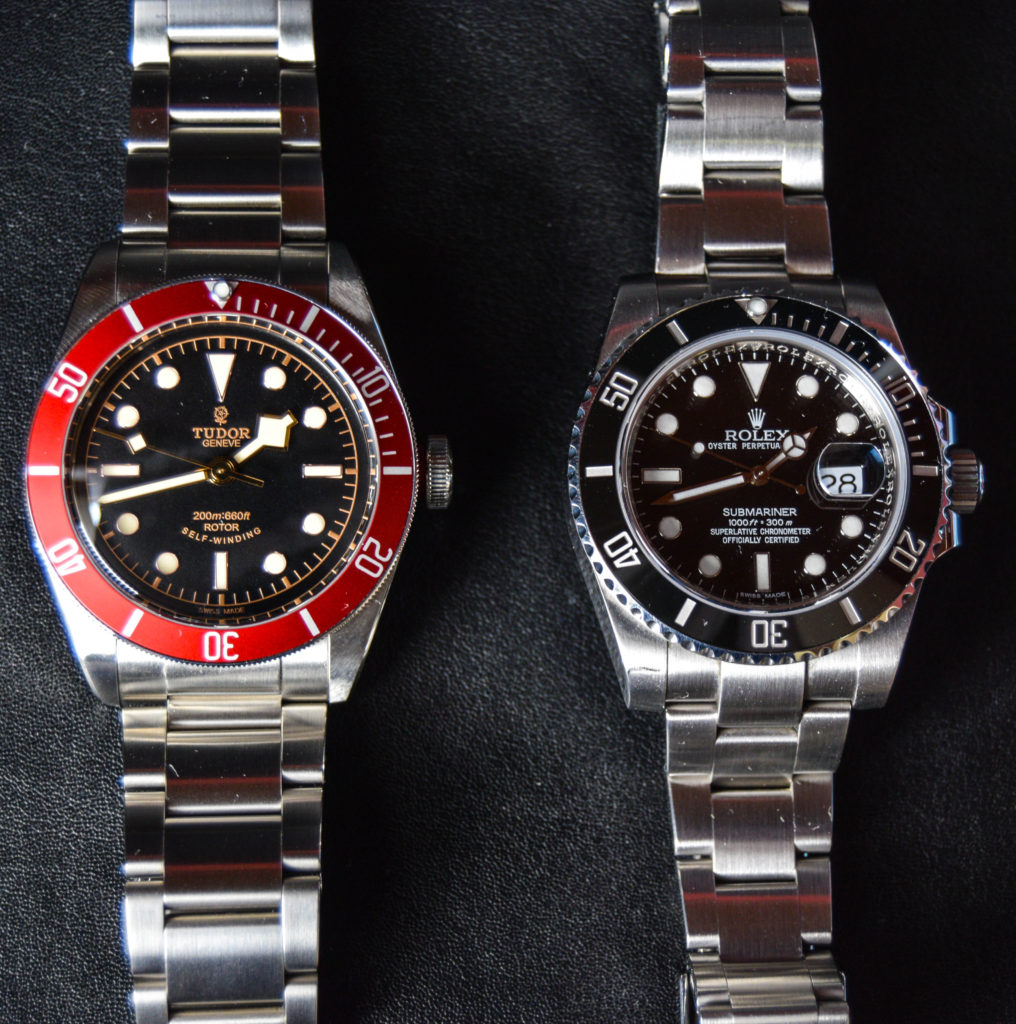 As you have probably guessed at this point, I think this watch is far from perfect. And every time I look at it, I couldn't give a damn about its "perfect imperfections". I adore it.
This watch sums up so much that is right, wrong, intelligent and stupid about this hobby.
I've owned a couple of Sub Dates for the past 15 years. It was the watch I always promised myself when I was young. The watch that said "Life HAS worked out as well as I planned".
I've also owned a Tudor before. It was a "Tiger" prince chronograph. I wanted a Daytona. I couldn't afford one. I could afford the Prince though, both made by Rolex. Good enough for me at that time. It was a lovely watch, but I sold it when I eventually got a Daytona.
So when I saw the BB (That's how I'm going to refer to it from now on) I thought it looked good. No date. A watch at least has to have a date in my book. It seems incomplete and cheap without it. Just my (wrong) opinion. But it's another Sub clone I thought. I walked on.
But every time I saw one. Every time someone posted a picture with one, I liked it more.
The Tudor Rose on the face and the crown, the coin edge bezel with its beautiful, loud, clicking, the red stem tube, the red bezel insert, the gold indices and hands, the snowflake hour hand, the way the words "self-winding" is curved on the face, the slabiness of the case sides, its heft compared to a Sub, its overwhelming 60s vibe. These little things start to grow on you.
But I had a Sub Date, why would I buy a Passat when I already had an A5? Why would I keep my Prince Chrono when I had a Daytona?
When I passed my local AD, they had a sale on. Yes, they were discounting Rolex products. They had the BB red on the bracelet, (not knocking the other models, but this is what I think of when the words Black Bay enter my head) the version I wanted, with 25% off. And they also had £760 off the Monte Carlo blue Chrono.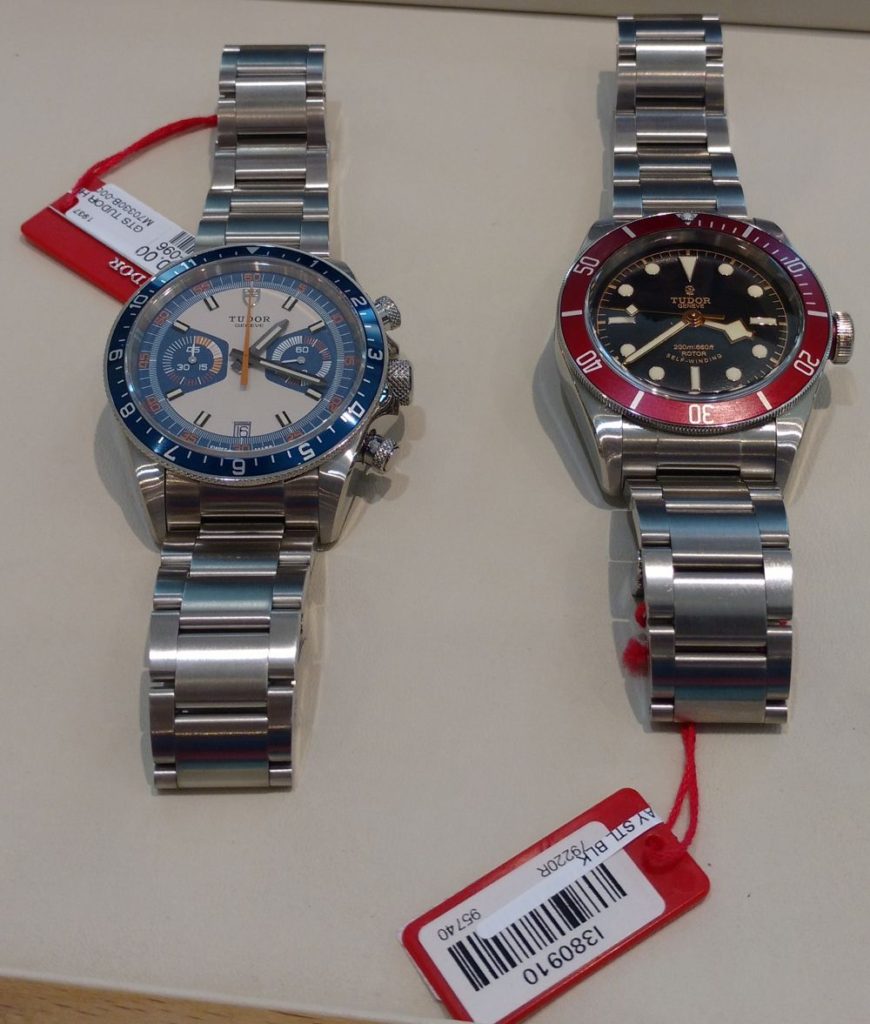 I went in the shop and looked at both. The Chrono looked great on my wrist, is rarer, is discontinued, will certainly rise in price and, all in all, I thought it was the better buy. Besides there's a new Black Bay out, with an in-house movement that's a certified chronometer. Get the Monte Carlo my head said.
I walked out of the shop with the BB. Makes no sense, but the heart wants what the heart wants. The heart however is no fool. However, I went back and got the Monte Carlo the next week as I couldn't stop thinking about it…I do feel very privileged, but I earn it. My dad made pizza for a living, I have no silver spoon.
And here's the thing, it's taken me many years and thousands of wasted pounds to discover this, but unless it's to do with finance and insurance ALWAYS buy what the heart wants, never the head. Nothing is perfect, but buying with the heart glosses over those imperfections, buying with the head amplifies them.
And I'm not going to go in-depth with the specs either. It's 41mm wide, 51mm lug to lug, 22mm lug width, ETA 25 jewel automatic….oh bugger it. Look at the damn thing. This watch completely vilifies the phrase "The whole is more than the sum of the parts".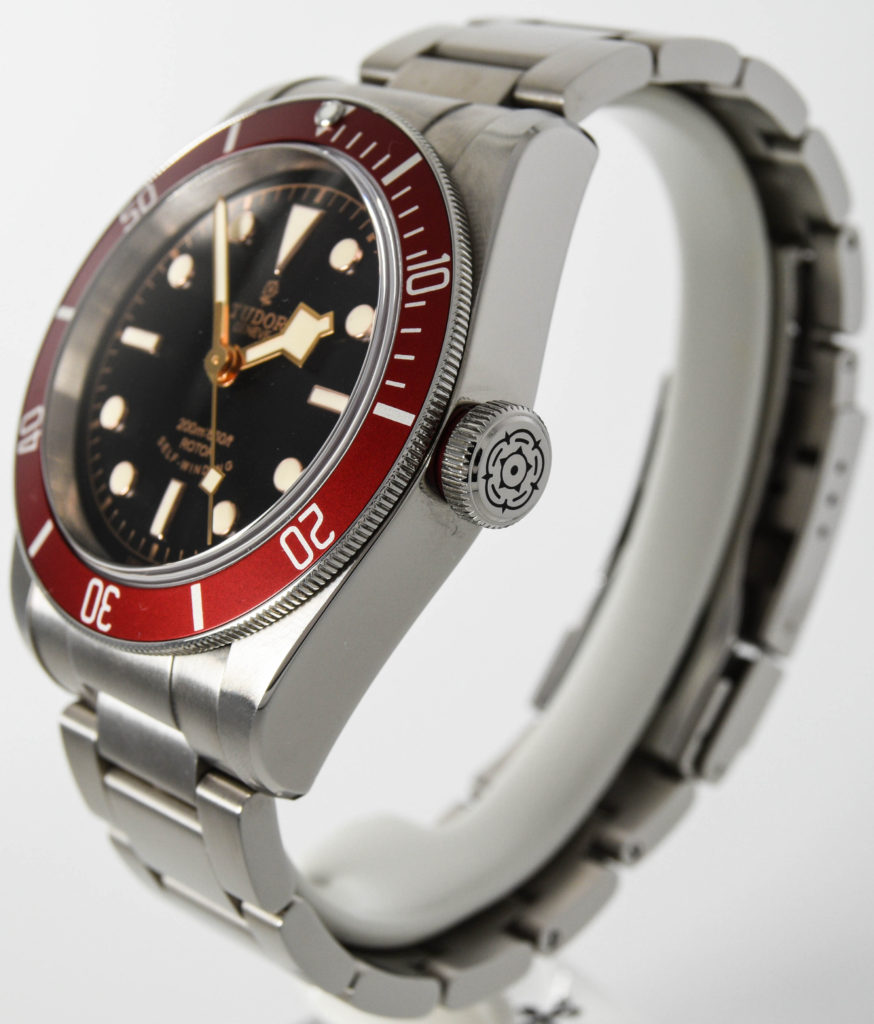 But isn't this review obsolete whilst there is a new version with the in house chronometer movement?
Let me put it this way. If you can, buy the ETA version.
This isn't a reissue of a classic watch. Sure, it has taken cues from here there and everywhere. But it's a completely new model. It is not a 100% remake of anything. The ETA version is the first Black Bay. The rose on the face, the curved writing, "Rotor" "Self Winding". It's the first. Ok the new one is the first with the in house movement, but not the first Black Bay. You see Daytona's with the Zenith Movement being shunned? Everyone wants the air cooled Porsche.
Besides, putting "Chronometer – Officially Certified" on the face, to me, takes away a bit of its uniqueness, pushes it even closer to saying "I'm a Rolex, I'm a Rolex, honest guvnor, I've got an in house movement too now" when to me a lot of the appeal is that it ISN'T a Rolex Submariner. Don't get me wrong. I love the Submariner, but this is a very different beast. Over the years the Sub has lost its sheen a bit. Its reputation and ubiquity has done that in my eyes. Maybe that's why I have no issues in owning the BB as well. I also don't like the new versions riveted strap, it looks a bit too "Diesel" for my liking.
Anyway on to the movement, it's not a stock ETA, it's been tweaked. It must have been. In the past 5 days, this has had a deviance of +0.2 seconds a day. My "officially certified chronometers" are shouting "bollocks", but that's what my timing app is showing. I'll say it again, +0.2 second a day. And since it is a widely used movement, parts and servicing will be easy enough to do in the future.
And if you look they're being discounted to make way for the new one.
But back to this watch summing up "so much that is right, wrong, intelligent and stupid about this hobby."
It's made me realise something painful. Something I didn't want to accept.
Human nature is that we always want more. That's why communism doesn't work, but consumerism does. It's in our genes to want more. We loved the speed on our bicycles, so we then bought scooters, then we needed motorbikes, then we upgraded to super-bikes. It's how we are and some of us try to fight it.
What this watch has made me realise is that, "emperor's new clothes" or not, luxury watches just have a different magic. They feel different to buy and to wear. It's intangible, but it's definitely there. I love Seikos, heck I have enough of them. But here's the thing. They offer great "bang per buck", but a bang is quick, and after that they start to fade. Not all of them, but a lot of them.
I've never fallen out of love with my high end pieces. I like the fact they're expensive, I like their provenance, I like the fact that they (mostly) hold their value, I like that people comment on them, I like the sage nods us enthusiasts give to each other when one is spotted on each other's wrist and I'm not going to apologise for saying that, as again, I work hard. I earned these pieces.
Anyway, there is just something that some watches have that make you feel good about them. I can't pinpoint it, but some have it and some don't. That's why some watches I love everything I've read about them and when they turn up, they get no wrist time. Some I've bought that were cheap, turned out to be epic.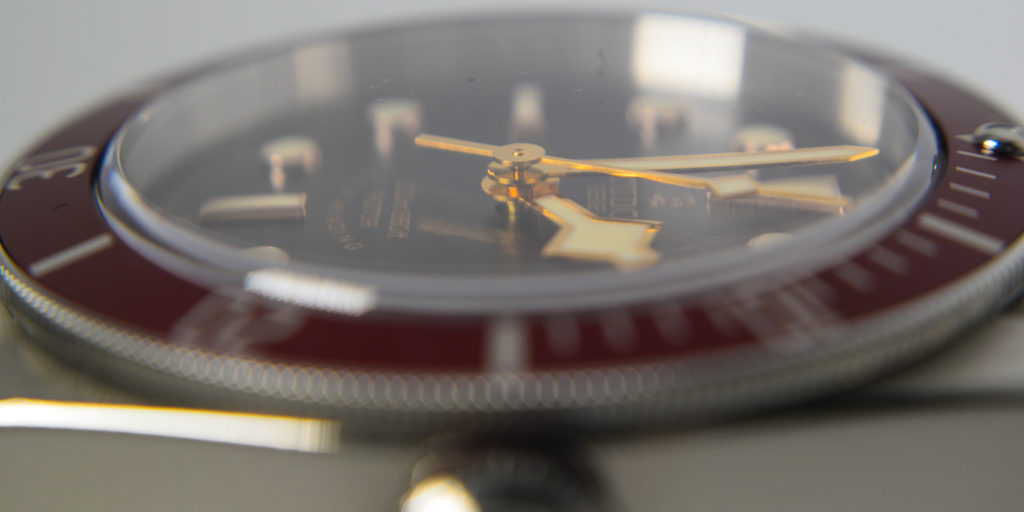 And this is where the REAL fans win. You buy shrewd and these watches cost you nothing in the long run.
As much as it may also pain us, us enthusiasts are not the biggest market for watches. How can you explain Michael Kors otherwise? No, the public is. Google "Esquire Tudor Black Bay". Esquire has this watch as No.1 in their article on "10 Watches To Invest In Right Now". This is what the rest of the world reads, not stuff like I'm writing here. Someone will always want this watch.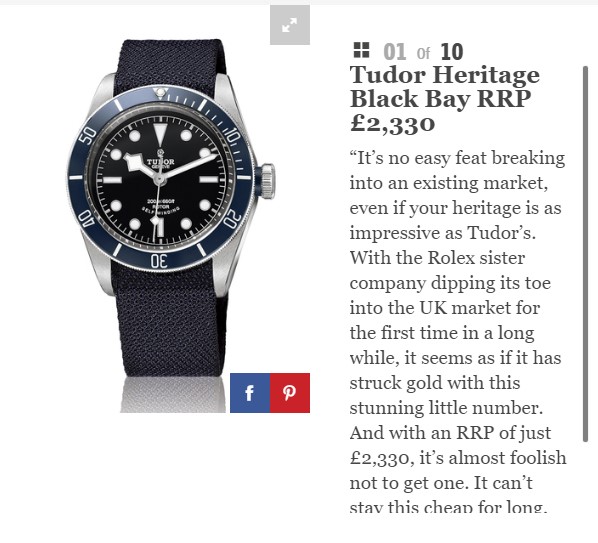 The other thing that this watch has made me realise is that 95% of my buying criteria is based on how a watch makes me feel. If when I look at it, I get a little "kick", then as long as it is reliable and functional, I couldn't care less about the rest. This truth will set you free. Try the watches you like on. You will know straight away. That "Corvetteguy78" (made up name) recommended a certain watch to you will in no way make you feel better after you've bought it, if it just doesn't bond with you.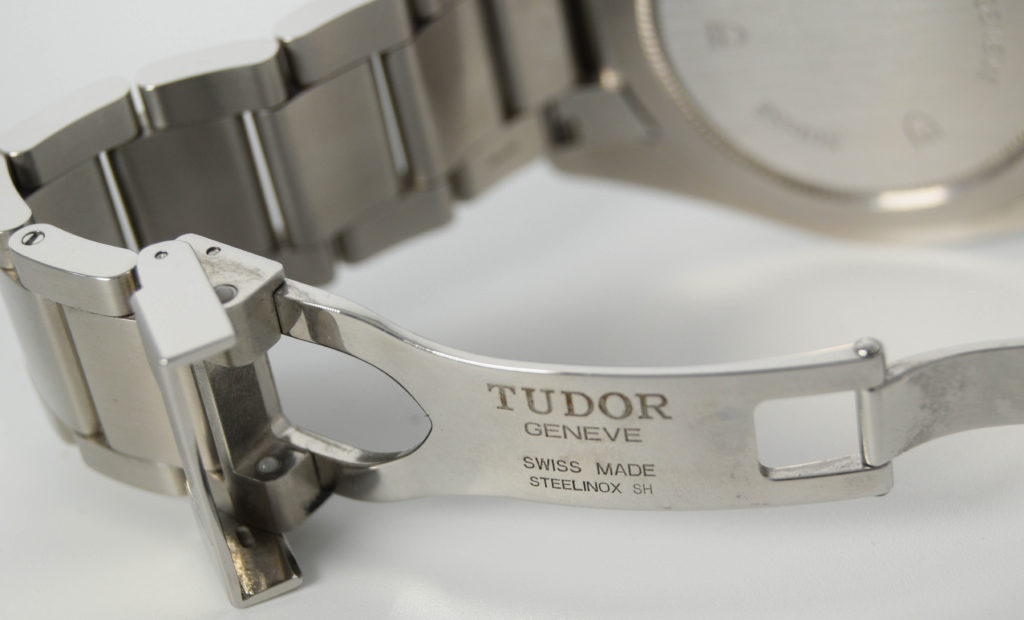 This watch makes me feel special. Like when you see a vintage Submariner and you think "How cool must it have been to buy, wear and love this watch back in the 60s, only for it to then be worth a fortune now?" This is my 60s icon. A watch that, in the future, watch addicts will look at and think the same. This model is the Genesis of the Black Bay. This is my "rose tinted specs" watch for when I'm old and look back on my life, it's a pastiche of nearly everything I love about watches made into a single piece. And I just know I'm going to love the heck out of it on the journey there…because my heart says I will. Like that perfume that reminds you of good times, looking at the bottle triggers nothing, it's all in the smell.
The BB isn't a modern Passat to the Subs A5. The BB is like a Porsche Speedster, a VW underneath, but it transcends it into something that will always be desired. A5 for the week, Speedster for the weekend. They can live together as they in reality are quite different.
So in conclusion it's beautiful, functional, retro yet modern, with provenance and cachet. All the "dress diver" you need with that "je ne sais quoi" so many watches swap for specifications.