Of all the new releases of 2022, the Tudor Black Bay Pro is one of the most interesting. Whilst it was obvious that Tudor would expand the Black Bay collection, I think the design of the Pro caught a lot of people (myself included) by surprise.
Whilst Tudor have taken pains over the last decade to distance themselves somewhat from Rolex, it seems as though this year's releases mark a bit of a reversal of that strategy. The reason I think this is because traditionally, Tudor and Rolex shared many parts such as cases, crowns, crystals, etc. And the Tudor parts often had Rolex branding on them. However, these days, Tudor doesn't mention its affiliation with Rolex. It seems as though they want to develop their own identity, rather than just piggybacking off the success of their big brother. But then they go and release something like the Tudor Black Bay Pro. A watch that it has to be said bears more than a passing resemblance to a vintage Rolex Explorer II 1655.
It's an odd change of direction, but that doesn't mean I don't think it works. 
Buy the Tudor Black Bay Pro at Goldsmiths.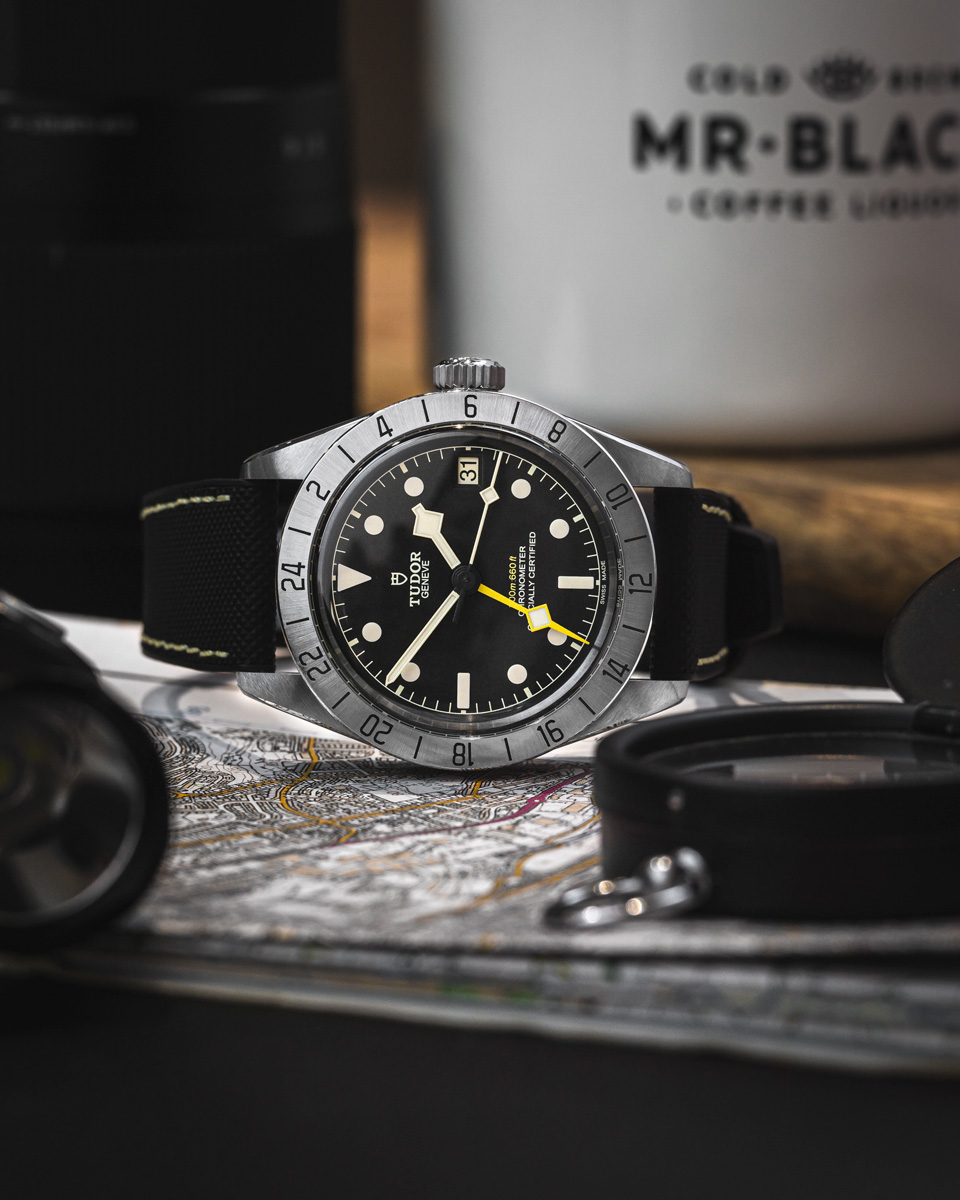 A Closer Look At The Design
Personally, I think that the designers at Tudor have done a good job of mixing Rolex and Black Bay design cues with some new features to create a watch that's a pleasing blend of both vintage and contemporary features.
The vintage elements of the Black Bay Pro are all pretty apparent. Like the Black Bay 58 the case is just 39mm, with a domed sapphire crystal, and a faux-riveted bracelet should you choose that strap option. And, whilst a fixed 24-hour bezel is a new fixture in the Black Bay line, it's lifted straight from the Explorer II.
Tudor has also updated the crown on the Pro, and it's now much more similar to the Rolex crown design. That's not necessarily a bad thing though, as the new crown has sharper teeth that are much easier to grip.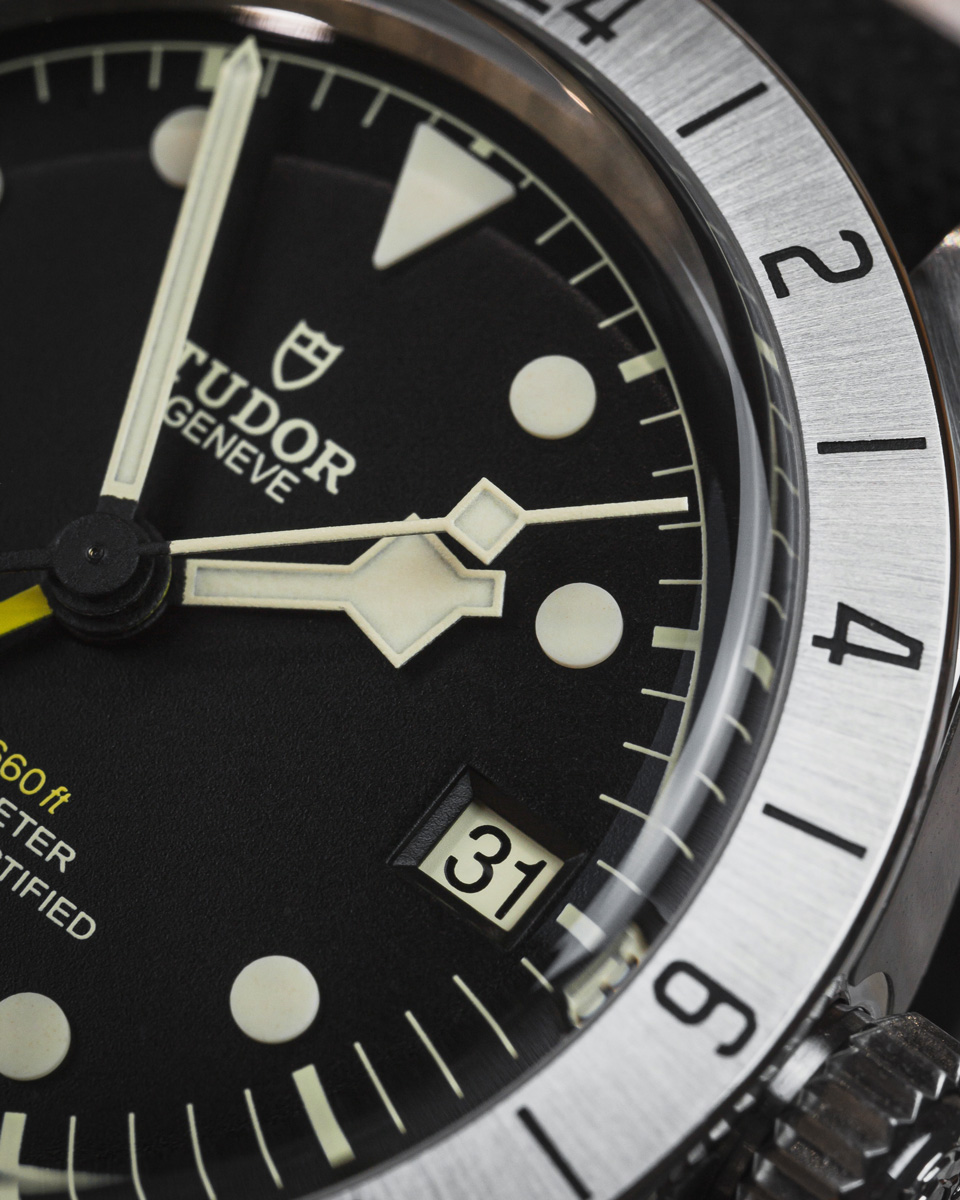 It's actually the dial where we find a lot of the modern design elements of the Pro. The dial is of course the same classic layout that Tudor has used for decades, but it looks a lot more toolish than the other Black Bay models. For starters there are the markers, which are made from a luminous ceramic compound, and are essentially just big blocks of lume. The same can be said of the hands, which are painted an off-white, rather than the more formal polished metal seen on other Black Bays. Against this monochromatic backdrop the yellow GMT hand really pops out at you, which is something that's very much appreciated when tracking a second time zone. The result is a very high contrast dial that's exceptionally legible in all conditions, as well as giving the watch a modern, functional feel that the other Black Bays don't have.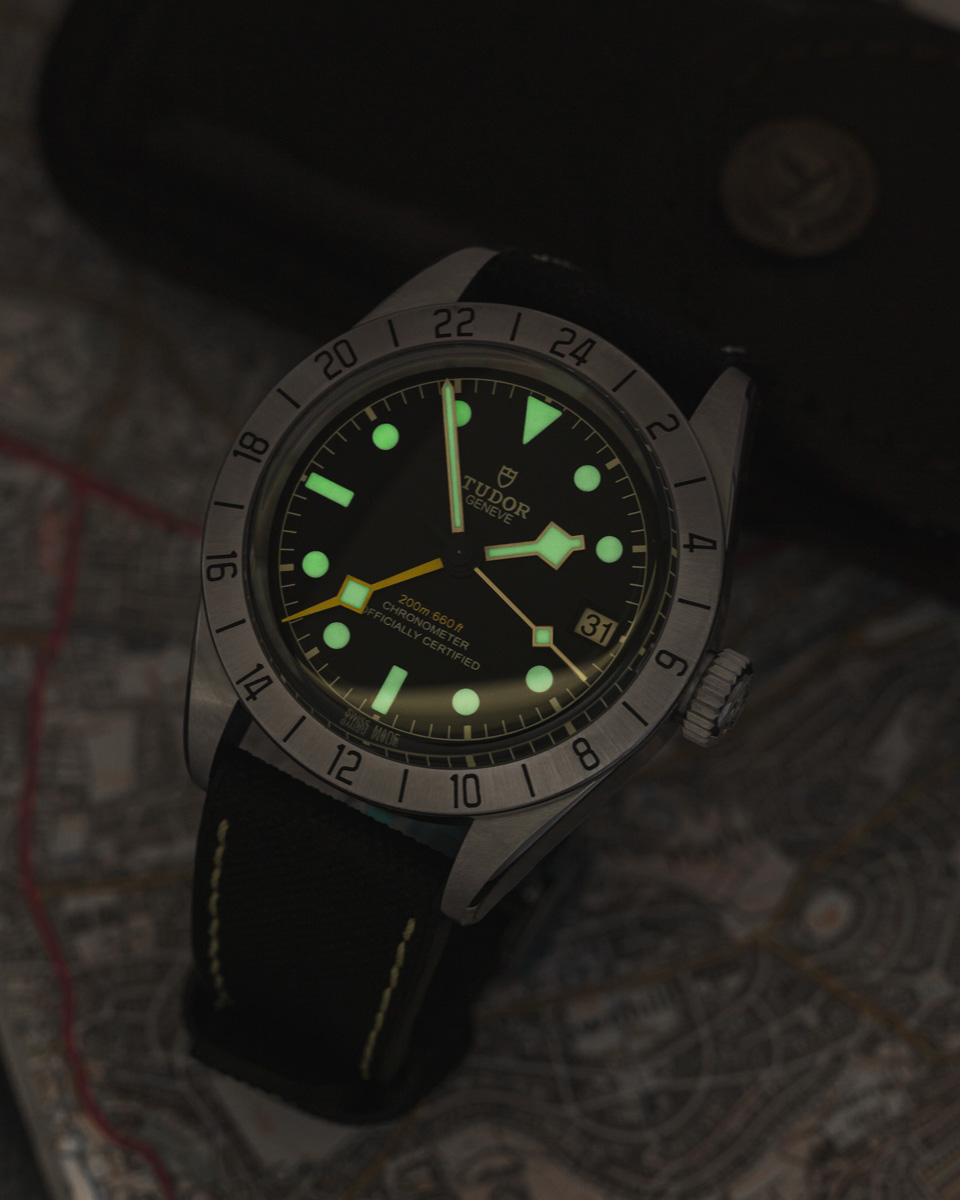 How Does The Watch Wear?
As someone with a puny 6.25 inch wrist, I find 39mm to be a great size, and I think the watch wears well. The brushed steel bezel also helps the watch wear a bit larger than you'd expect it to. But, one big criticism of the Black Bay Pro is its thickness of 14.6mm. Now as others have said, whilst this sounds terrible on paper it's certainly not a dealbreaker when you actually get the watch on the wrist. And, just like the Black Bay GMT, the underside of the case is chamfered to hide some of the height. That said, if I'm being honest I wouldn't want the Black Bay Pro to be any thicker, and I think Tudor really are at the limit of what they can get away with here.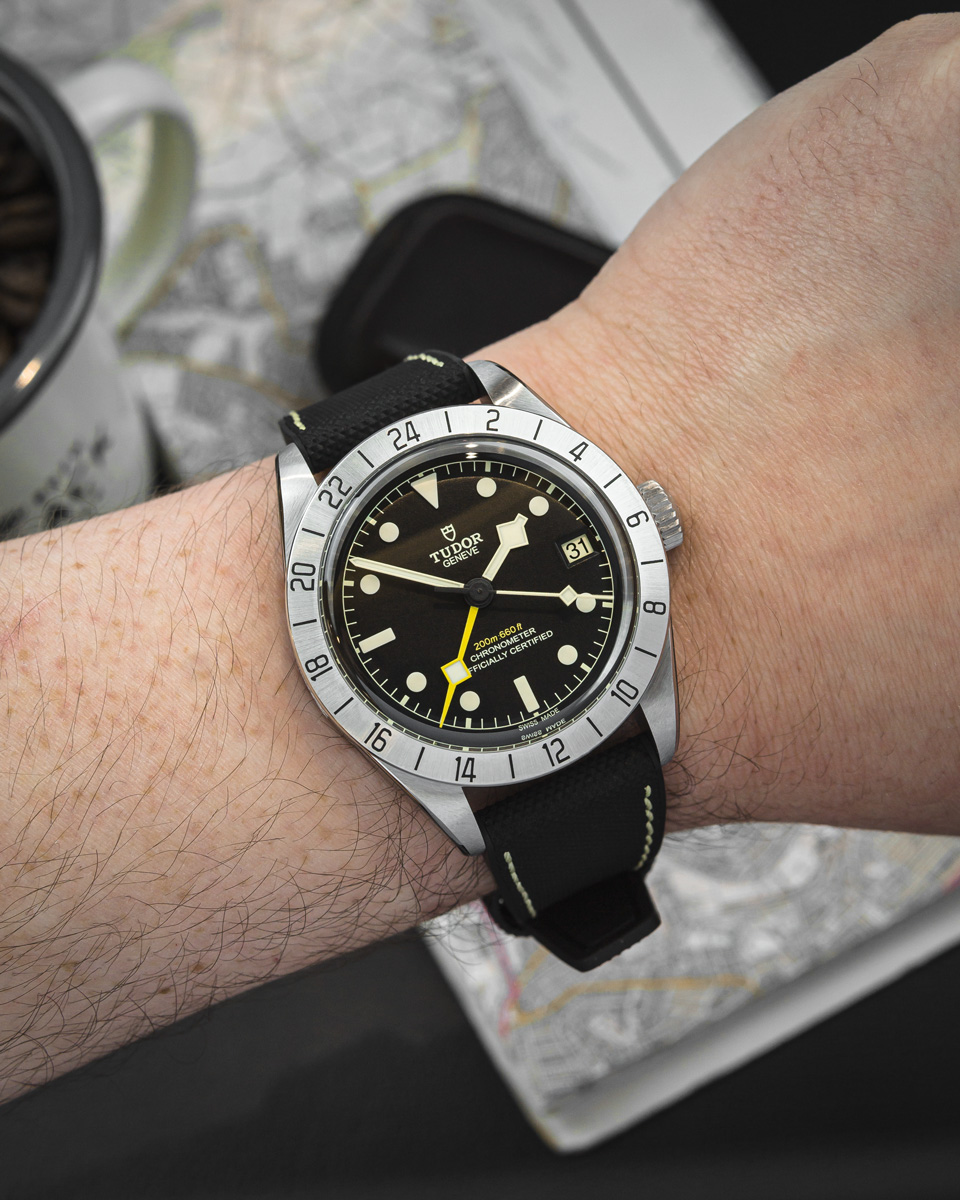 The sample I got to spend time with came on the rubber and leather hybrid strap, and I found it to be a very comfortable premium strap. The stitching matched the off-white of the lume, and the material felt both supple and durable.
And if you were wondering about the watch's water resistance, then I can tell you it is rated to a standard 200m, just like the Black Bay divers, making it ideal to take swimming and diving.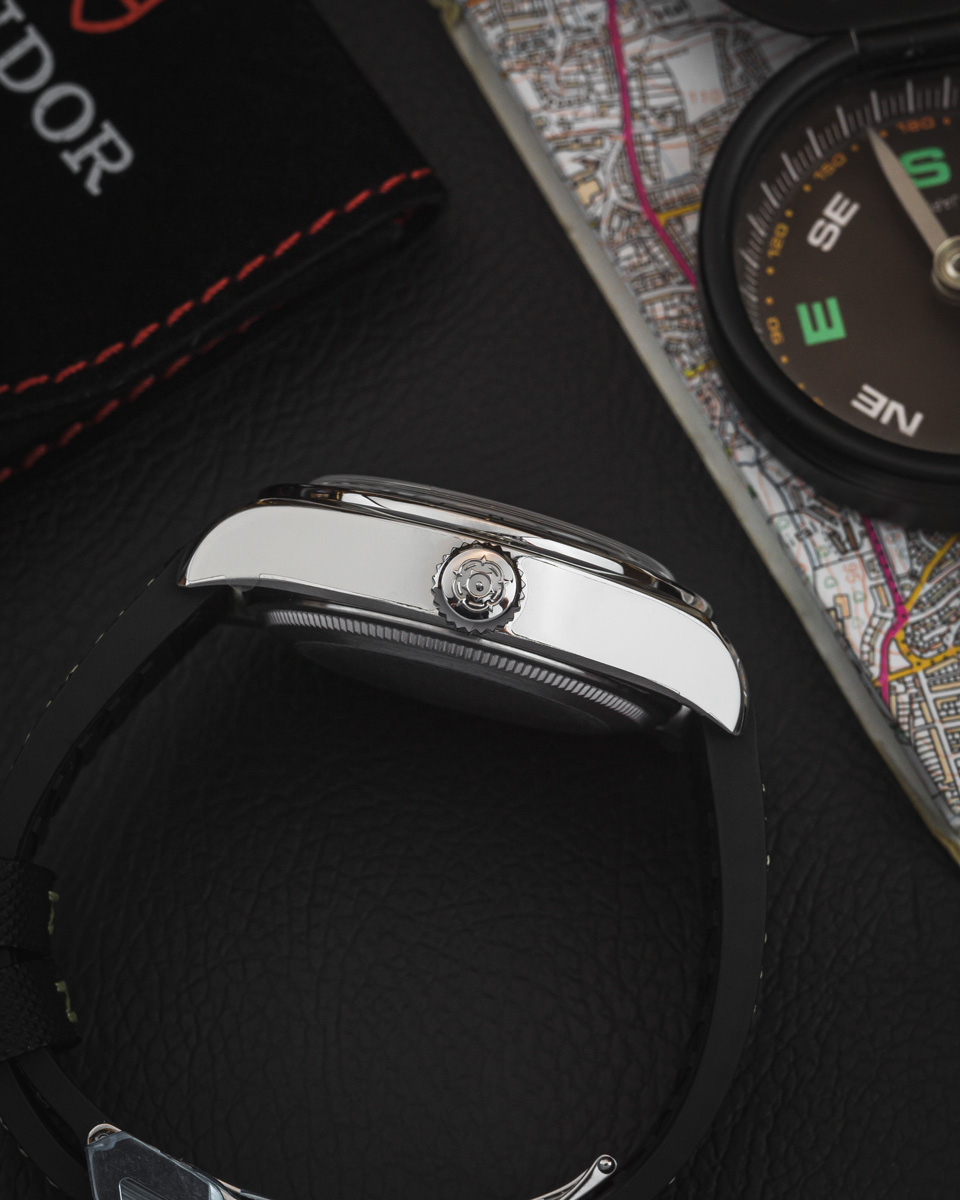 What About That Movement?
Ticking away inside the Black Bay Pro is Tudor's Calibre MT5652. This automatic movement is what is known as a "True GMT". That means that when setting the time it's the local hour hand that jumps forwards or backwards, not the GMT hand. The date wheel is also linked to the local hour hand, so it changes whenever the hand crosses forwards or backwards over midnight.
In contrast, most cheaper GMTs are what's called "Caller" or "Office" GMTs. With these movements winding the crown out in the first position allows you to set the GMT hand in one direction and the date wheel in the other. This is less desirable than a True GMT because it is harder to adjust to local time when travelling.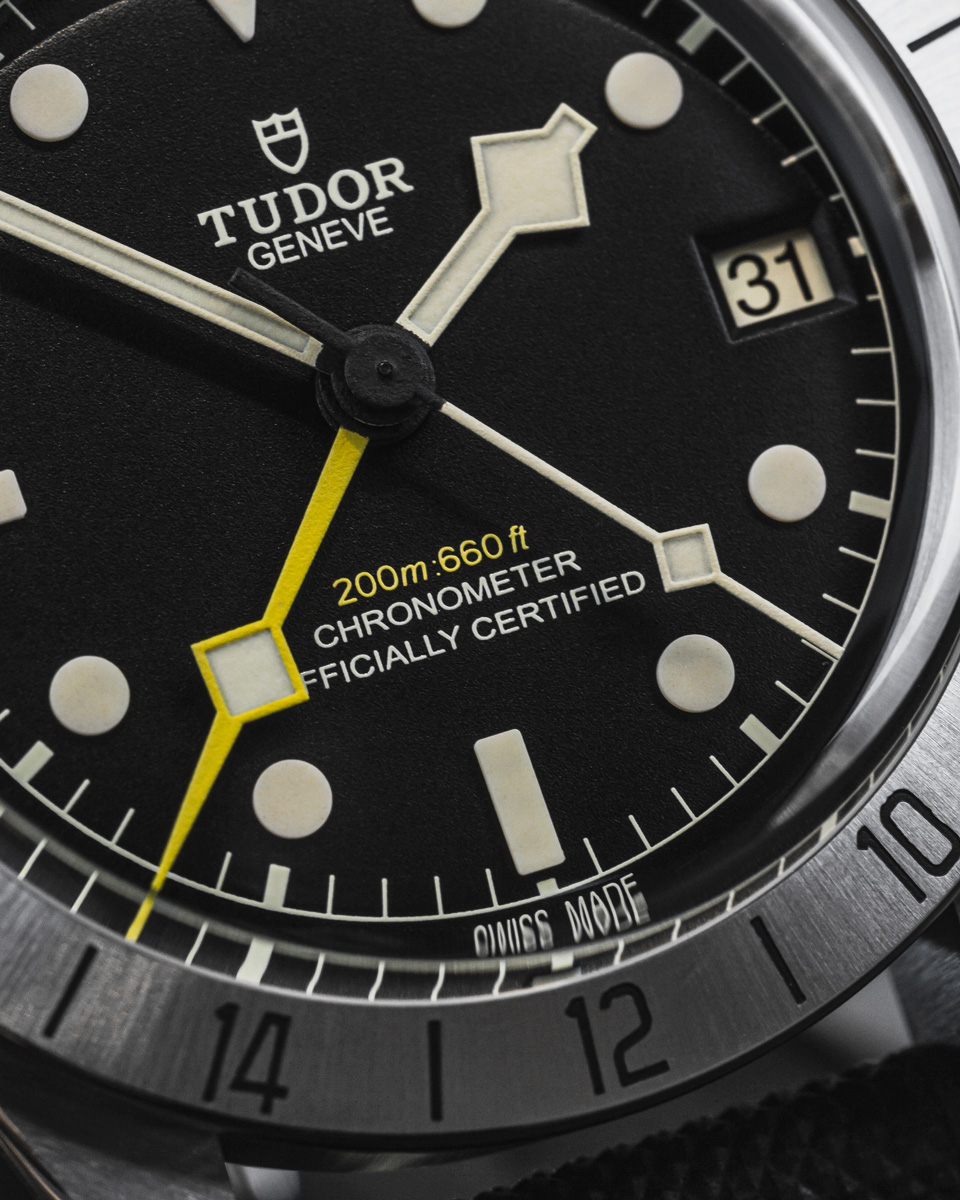 In addition to being a True GMT the MT5652 features a 70-hour power reserve and is a COSC-certified chronometer, which means it will be accurate to -4/+6 seconds per day. All of which makes the movement sound great on paper. However, I should point out that when the calibre was first introduced in 2018 there were multiple reports from owners of problems with the date wheel on this calibre. The date has been known to jump or stick when changing.
Whether or not this issue affected a disproportionate number of movements is hard to say because Tudor haven't even acknowledged the issue, and the evidence is all anecdotal. Personally, I'm inclined to think that Tudor must have solved this issue before choosing to put the movement in a new model, but only time will tell.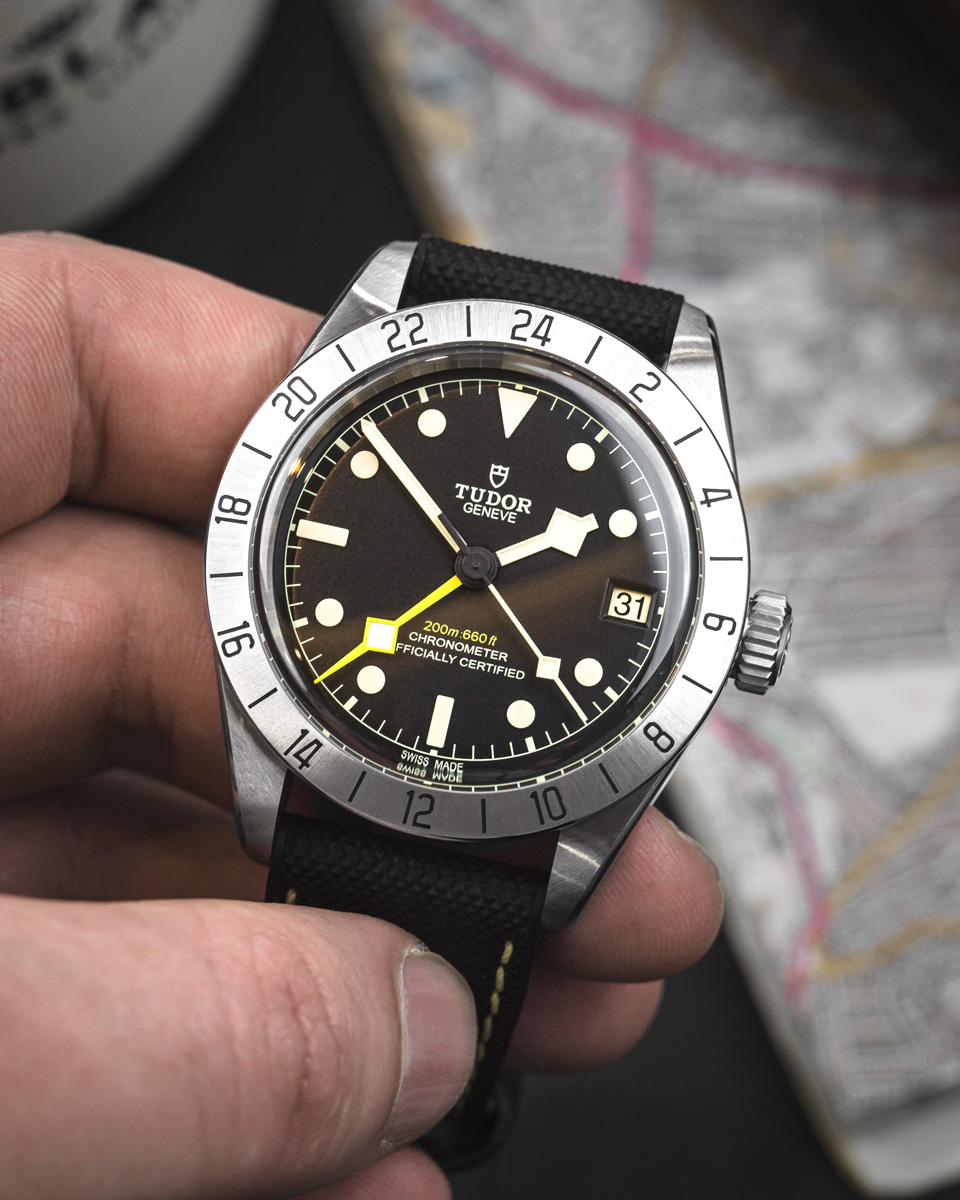 Final Thoughts
Having spent some time with the Black Bay Pro, I don't think I'd label it an Explorer II homage. The watch obviously draws inspiration from Rolex, and I think that Tudor are pitching this as an Explorer alternative, but it has a strong amount of Black Bay DNA in there too. And it's that which sets it apart from Rolex enough for the watch to have its own identity.
And it's an identity that's also different enough to previous Black Bays to feel fresh. I understand that a lot of people would love to see a Black Bay 58 GMT, but I'm glad that Tudor chose a design that's a bit more unpredictable.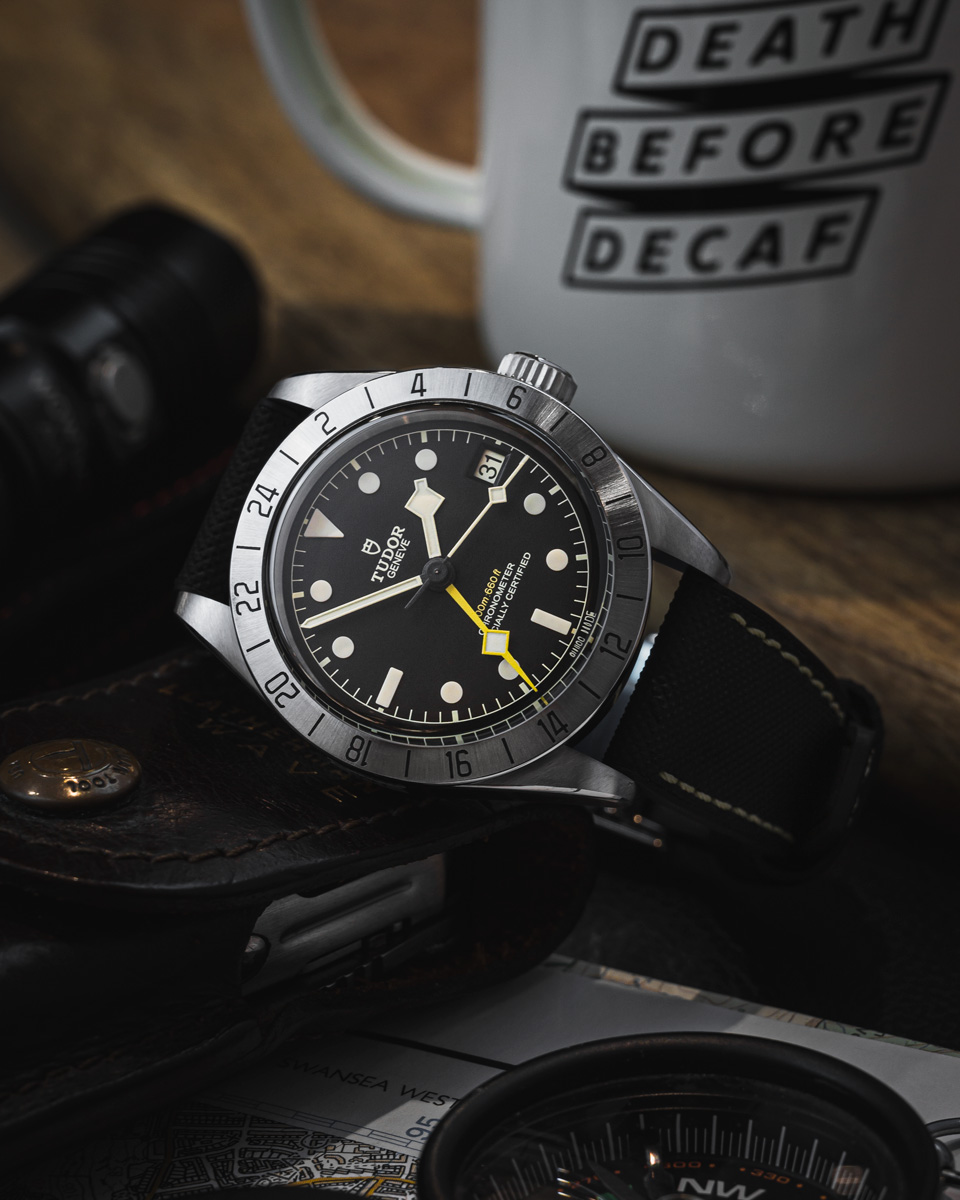 So, how much will the Black Back Pro set you back? Well, it retails for £3,080 or $4,000 on the steel bracelet, and for the slightly cheaper price of £2,840 or $3,675 on the straps. This is in line with other Black Bays and it's a fair price for what Tudor are offering here.
As usual, I think Tudor have produced a watch that has style and functionality in equal measure, and I think this fills a gap in their catalogue that I hadn't realised existed.
You can read more about the Black Bay Pro on Tudor's website here.