CATEGORY : Watches I Own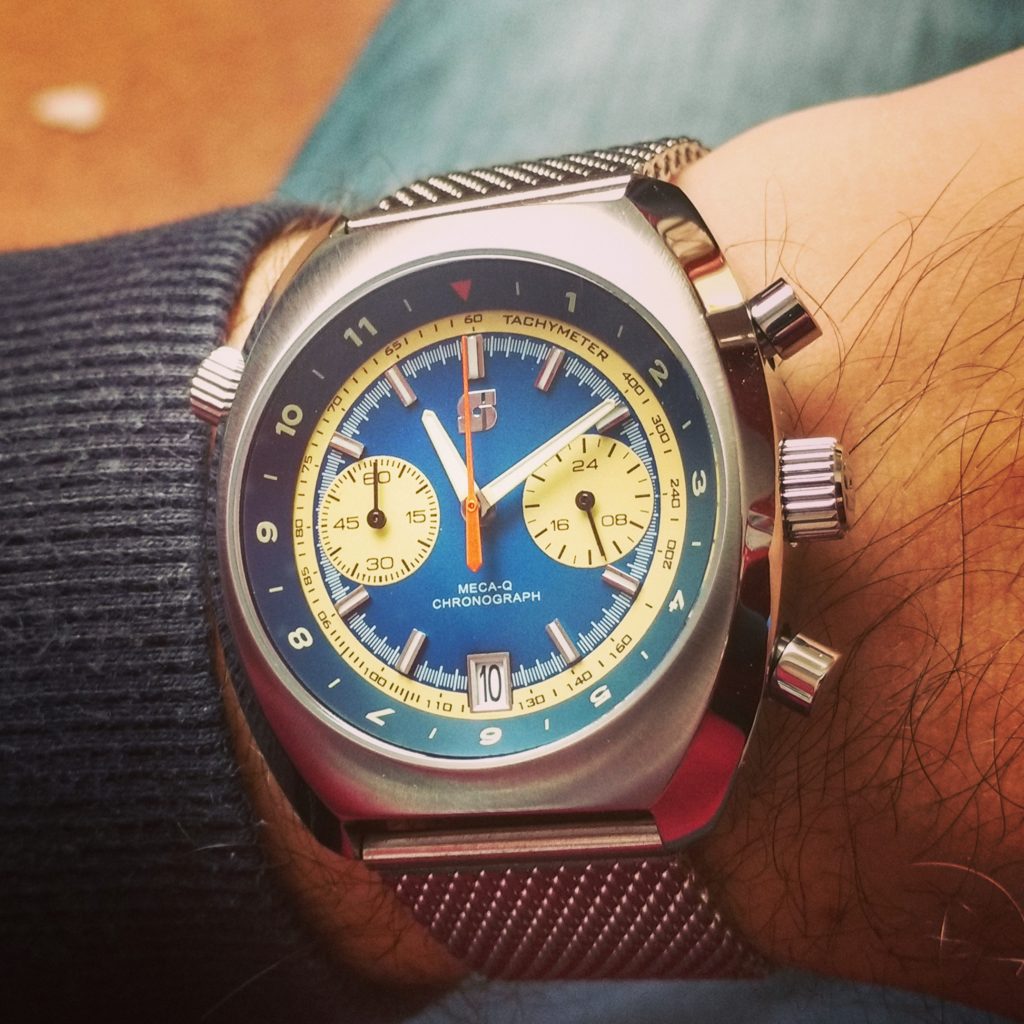 It's hard being a 40 something.
If you look at ebay, you'll see that items that are symbolic of our youth are very collectible.
Many are willing to pay a lot of money for them. I understand.
Truth be told, the world is the best it's ever been, well, at least in the West.
So why do many of us yearn for the things from our youth? I think it's for 2 reasons.
Firstly, things that were magic as a child will always remain magical. Secondly, I think the modern world didn't live up to our expectations.
Computers, the internet, mobile phones, portable music players, synthesizers in music, films on demand, we had them all first.
For every Xbox Wii 4 there was a Commodore 64. For every iPhone there was a Motorola Tac. For every iPod there was a Walkman (and making a mix tape was miles better than compiling a playlist). For every Netflix, there was the excitement of a trip to the video store.
There's nothing really revolutionary that's come along in the consumer space since we were young. Sure there's been advancement, but few are brand new. We really just traded magic for convenience.
We saw all these advances first hand. We thought in 30 years we'd be in flying cars and living in space. What did we get? The smartwatch.
So as we sit bored, more of us collect things to fill a hole. I'm very guilty of this.
We're now a prime demographic for many companies. No 13 year old wants to play Super Mario Bros on their NES Mini. Us "oldies" do.
This is a fact that hasn't been lost on watch companies.
More and more are producing retro style models or models that "homage" (or just plain copy) long out of production watches.
The Straton Curve just screams "Your uncle wore a watch like me when you were little!"
Straton is an interesting brand. Kyle Schutt who owns the brand and designs the watches has a very clear vision…watches from a time when the sex was safe, but the motor racing was dangerous. The polar opposite to motor racing today.
The Curve embodies this vision. You can envisage Jackie Stewart wearing a watch like this, along with his blue cap and oversized shades, a vision of 70s cool.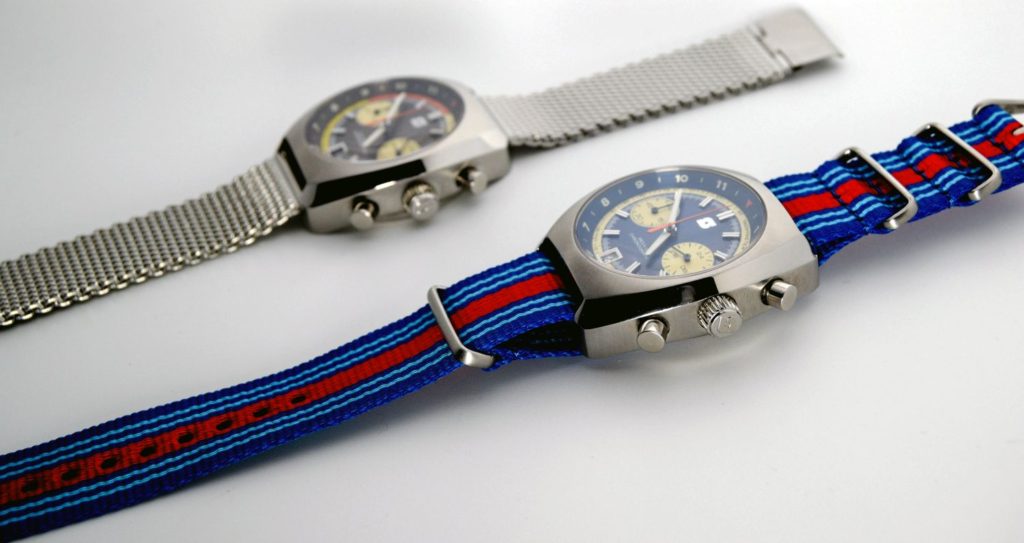 ---
So let's get down to the nitty gritty, here are the specs for the range:
Case Material – 316L (Surgical Grade) Stainless Steel, Polished and brushed steel – DLC version available.
Case Size – 42mm and 39.5mm
Lug To Lug – 42mm case: 47.4mm
Lug To Lug – 39.5mm case: 46.5mm
Case Thickness – 13.9mm without domed sapphire, 14.5mm with
Movement – Seiko VK64 meca-quartz hybrid or Seiko NE88 automatic (limited and sold out)
Crystal – Domed Sapphire Crystal
Hands – Luminescent Hour Hands, C3 Superluminova
Crown – Screw down
Inner rotating bezel, tracking a second time zone
2 stamped case back designs
Strap – 42mm case 22mm width, 39.5mm case 20mm width
Water Resistance – 10ATM/100m
---
The versions I bought are both 42mm, with date, one with the VK64 Mecha-Quartz and one with the NE88 automatic.
I loved these watches from the first time I saw renders. When the Kickstarter went up, I was on them like a hungry dog on a pork chop.
So have they lived up to my expectations and my desire to think it's 1979 whenever I look at them?
So let's start with the case. Very big and chunky, just how it should be for a watch of this style. A beautifully finished, polished on the side, brushed on the top chunk of 316L stainless steel. The case is barrel shaped with fairly short lugs. It wears tall. I don't know about the 39.5mm version, as I have a 7 3/4″ wrist the 42mm is a better fit for me, but this is no dress watch. This is a watch for short sleeves or racing overalls.



It has a signed, screw down crown at 3, 2 prominent chrono pushers and a screw down crown at 11 for rotating the inner bezel.
So what do we need here, well a nice domed sapphire of course. And that's what we've got. It gives the face great depth.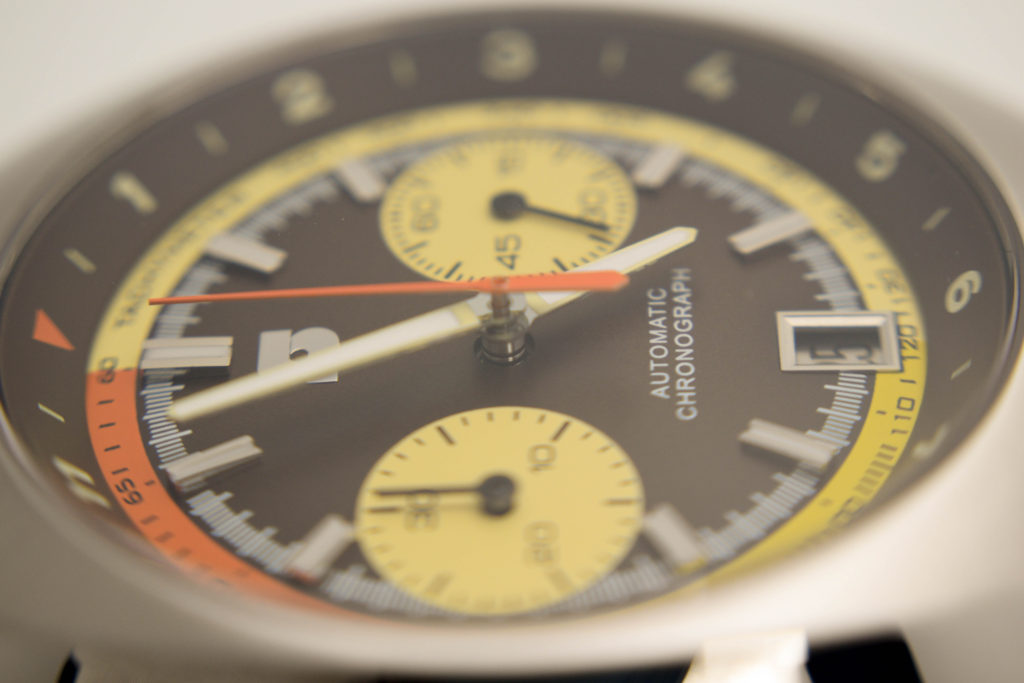 I'm not a big caseback fan. You only see them in the transition between taking the watch off your wrist and putting it in it's resting place. I find that they're a bit pointless unless they're a window into a wonderfully decorated movement. However a nice caseback is a nice caseback and the Curve has nice casebacks. One based on a BBS alloy and one of a Fuchs alloy. They're deep, they're well done and they're a welcome racing addition to the watch.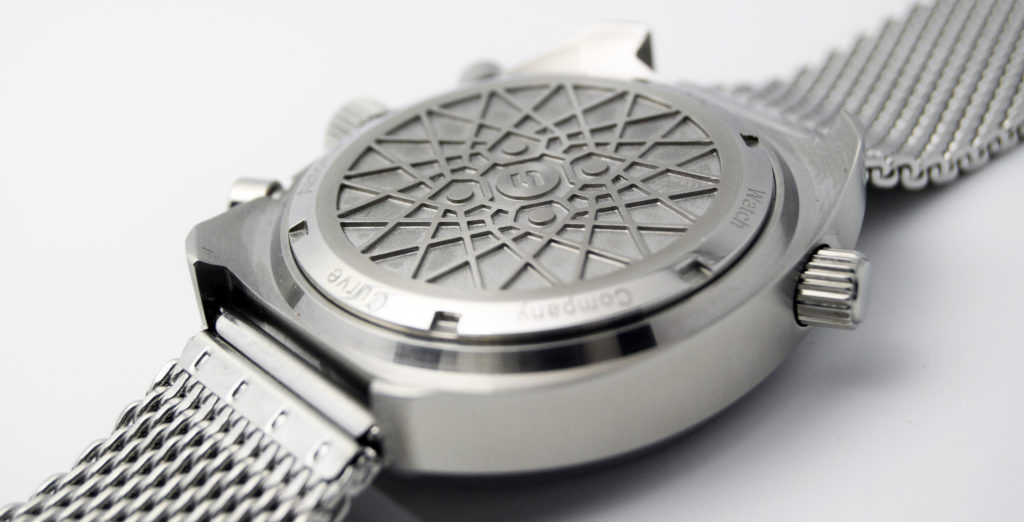 The faces are based on a slightly faded sunburst dial with cream subdials and an inner rotating bezel. The Straton "S" logo is applied. The lume is C3 Superluminova. A good choice as it adds to the vintage vibe with its beige tinge. How strong is it? Good, but I'm no "lume freak". I'm always near a light source so don't really care if lume is good or not, but that's a personal thing.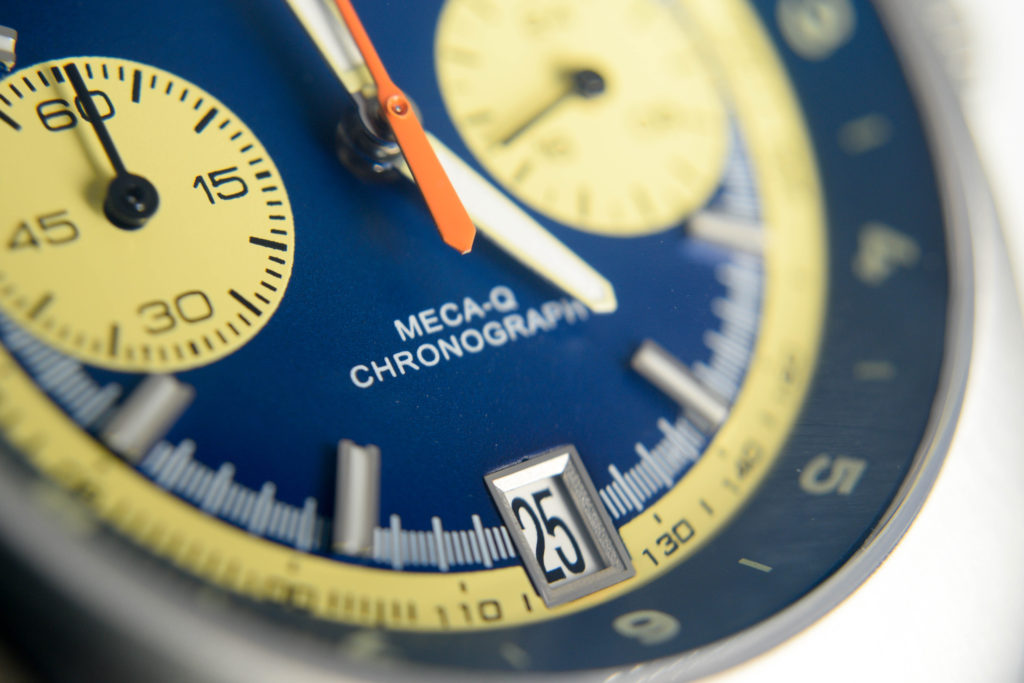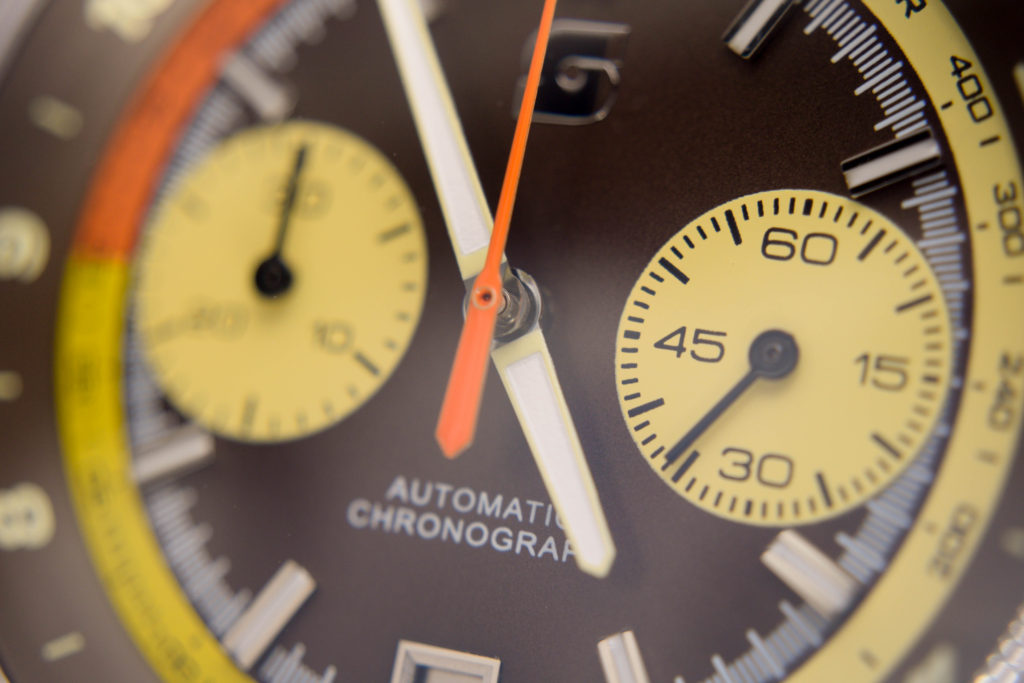 The inner rotating bezel allows for a second time zone as the static tachymeter bezel is printed on the dial.
There are lots of strap options, signed mesh, signed leather and many many racing inspired signed NATOs. I like the watches either on the mesh or a bright NATO. Don't get me wrong, the leathers are nice, but my preference is either smart or loud with my strap choices. I actually do wear these with a suit sometimes, on the mesh.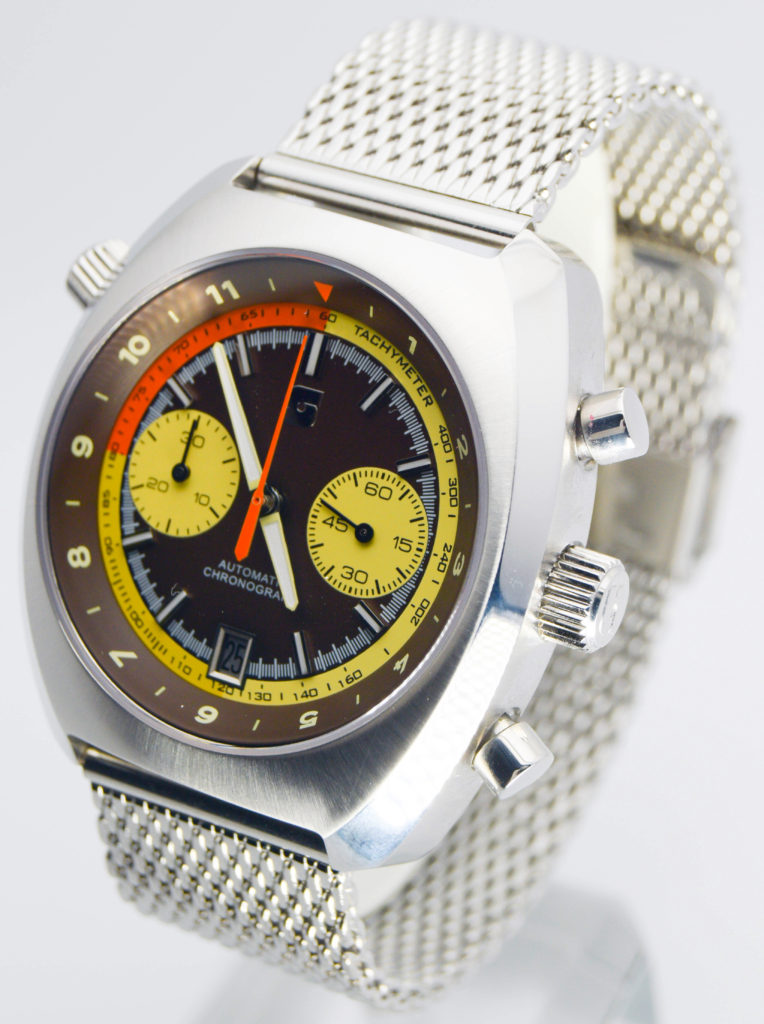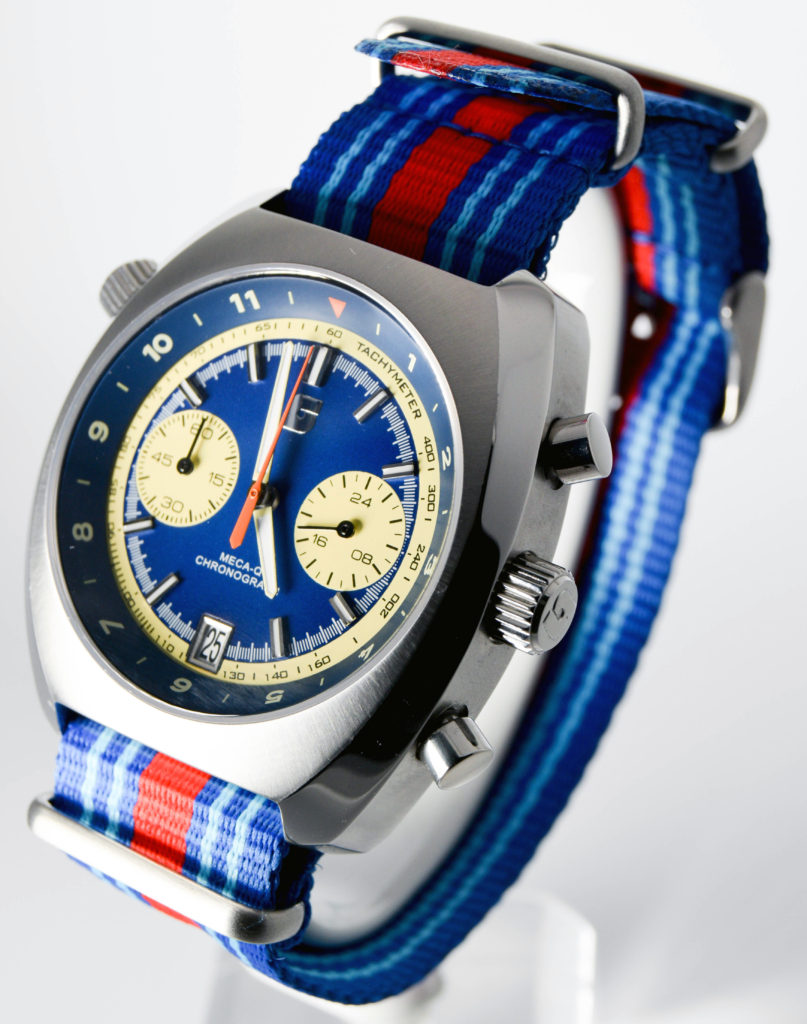 The lugs are short. it can be a bit of a pain to fit thicker Zulus on them, but it's doable. The holes are also high up in the lugs. Maybe it's my "technique", but I find it hard to attach the mesh without getting close to scratching the case, but once they're on, they're on.
On that note, there is a spring bar tool supplied and very nice it is too for a freebie. It's no Bergeon, but it does what it needs to.
Likewise, I like the signed tan PU case that the watch comes in. It's practical. Useable. Use it when you're travelling to put another watch in it and some accessories. The large wooden box I got an Omega in is very impressive, it's been gathering dust in a cupboard from 15 minutes after I unboxed the watch, but it's impressive.
The Straton case has more real world use.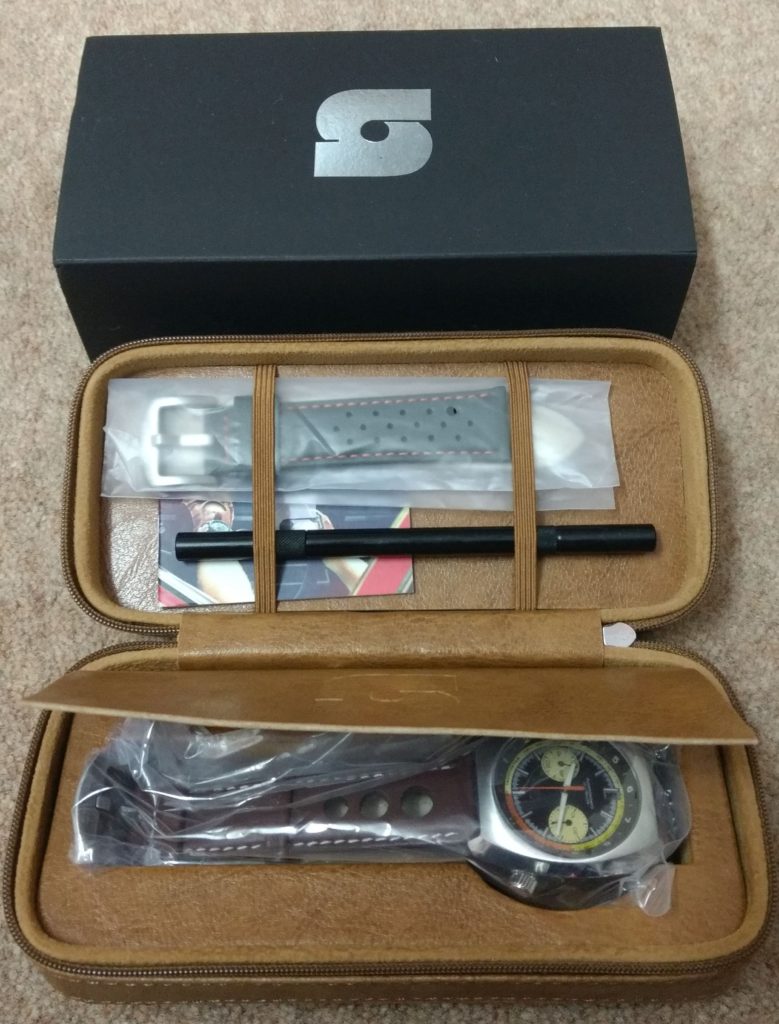 So the movements. You can probably see from the pictures that my blue is the mechaquartz version (quartz?! Get behind me satan!) and the full on 70s brown is automatic.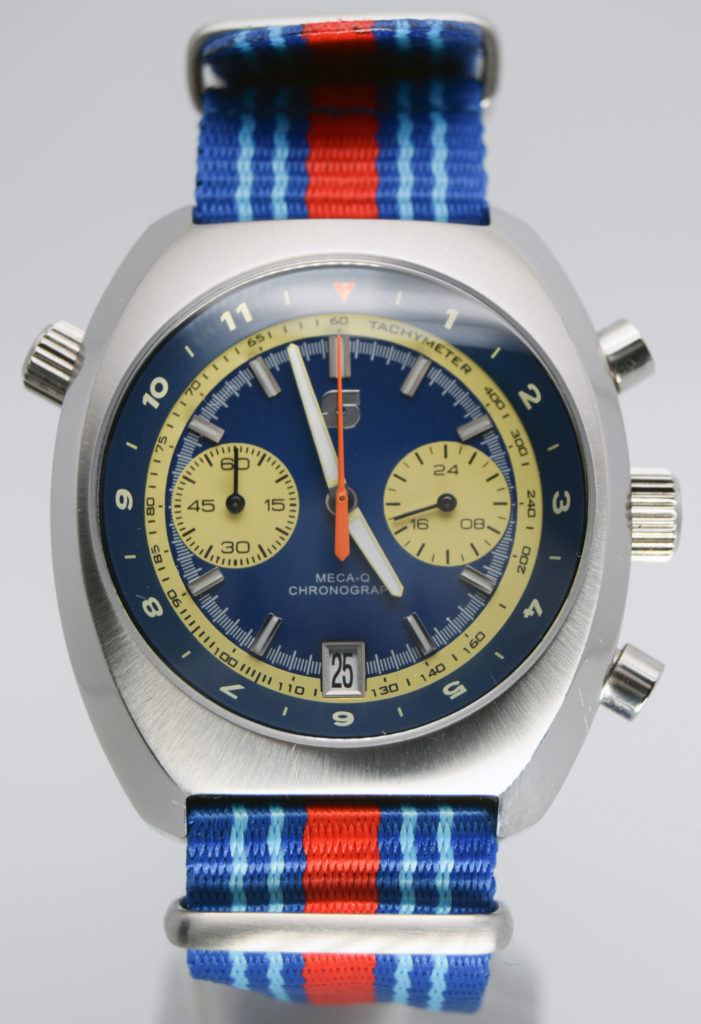 I love Seikos mechaquartz movements. They combine the smoothness and tactility of a mechanical stopwatch with the easy maintenance and accuracy of a quartz. The only downside I see is that every few years, I need to take 5 minutes to screw the back off, replace the battery with a £1 Renata (use good silver batteries folks) and then screw the back on again. Oh my god, what a freaking nightmare!
The VK 64 looks and works like an auto to all intents and purposes. If you didn't know it wasn't 100% mechanical you couldn't know by using the watch. Ok, so the 24 hour dial at 3 is pointless. Seiko is using this dial a lot to add an uncomplicated complication for the sake of it on many watches, especially in it's 5 Sports line. Otherwise this is a fine movement which marries functionality, affordability and accuracy really well.
Now on this note, I want to get something off my chest. A lot may say "Hang on, you can get that movement in a watch that is 1/4 of this price, what a rip off!"
You know, you can get a Skoda with the same engine as can be found in an Audi (and a VW and SEAT). Does that mean they should be the same price? No, there's more to a car than the engine and likewise there's more to a watch than the movement.
You should buy a watch on 2 criteria. 1. You love how it looks on your wrist. 2. You can afford it.
If you're buying a watch based on whether it's value for money, then you're missing the point and also you don't actually like the watch. Walk away. Buy a watch with your heart and never your head.
Nothing is perfect, but buying with your heart glosses over those imperfections, buying with your head only amplifies them.
So I like the mecha-quartz version a lot.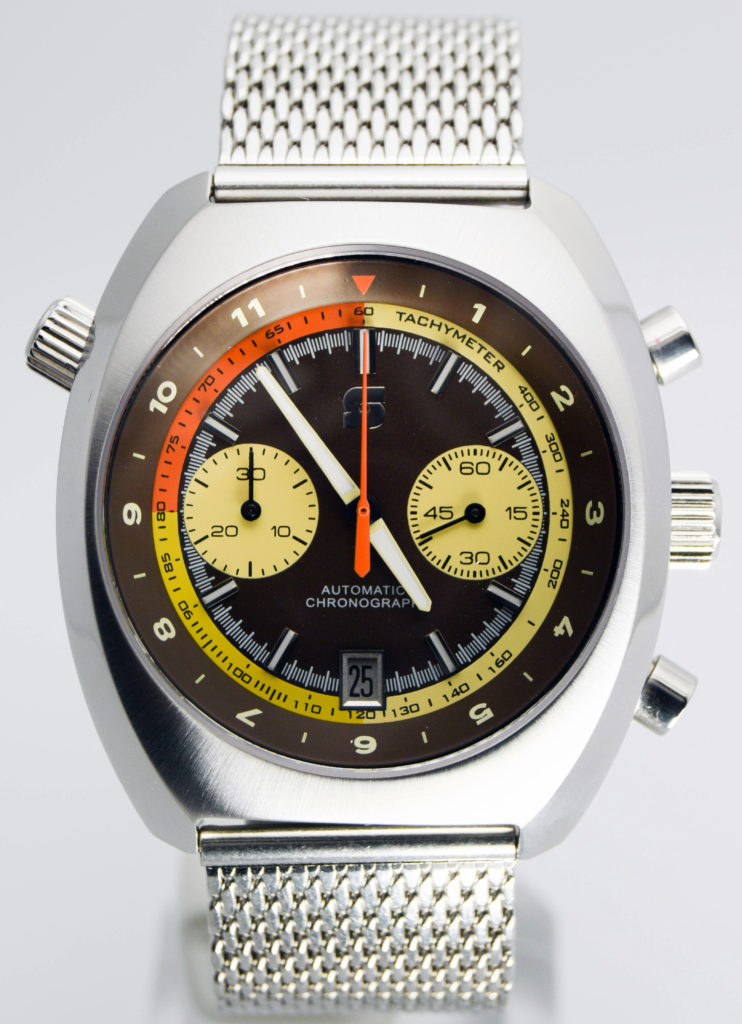 The automatic is just the same, functions the same, the only asthetic difference is that it says automatic on the face and there's no 24 hour dial, in its place is a dial for seconds time, which is more useful. It feels about the same weight too.
I had to wait an extra month after receiving the blue for this auto version. The reason, there was a problem with the dial on the 42mm brown version. Kyle spotted this at QA and even though it was minor, he had them all redone. This is a manufacturer who really cares about his product.
Things I don't like? Well the lugs are short and a bit tricky to fit straps on to, which I previously mentioned.
The other thing is a concern for those of us with OCD. The inner bezel. Due to the fact that it's controlled by a crown which screws down, it can be hard to get it lined up bang on at 12. You align it, but the screw is out of alignment, so it moves a bit until it bites on the thread. It takes a while and as you can see, I didn't get it bang on.
This is a minor thing though. There has to be tolerances at this price level. The action is otherwise sweet and it's a great feature. And 2 crowns always look cool.
I also would have liked a custom bracelet with solid end links instead of the mesh with a gap. I prefer watches on bracelets, it's a personal thing, but doesn't detract from the watch as a whole.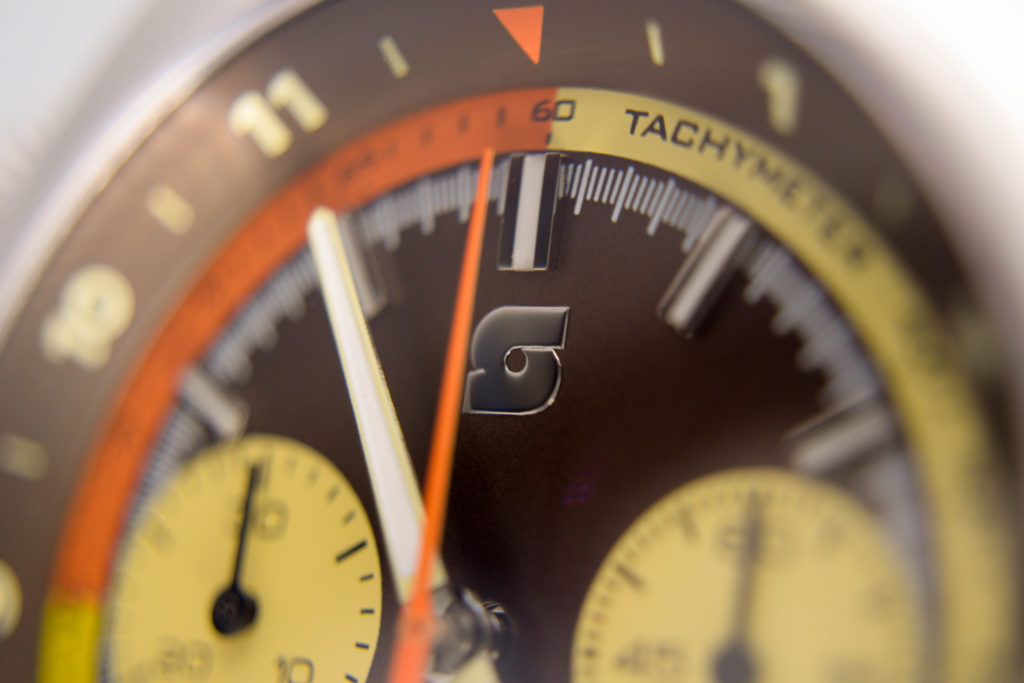 In day to day life, this watch is easy to live with. It's no shrinking violet, but it lends itself to a variety of straps and occasions. It's well designed, well made, well finished and consists of quality components. It looks retro, yet is modern and really does echo great chronos of the past. So it achieves the makers goal in all aspects.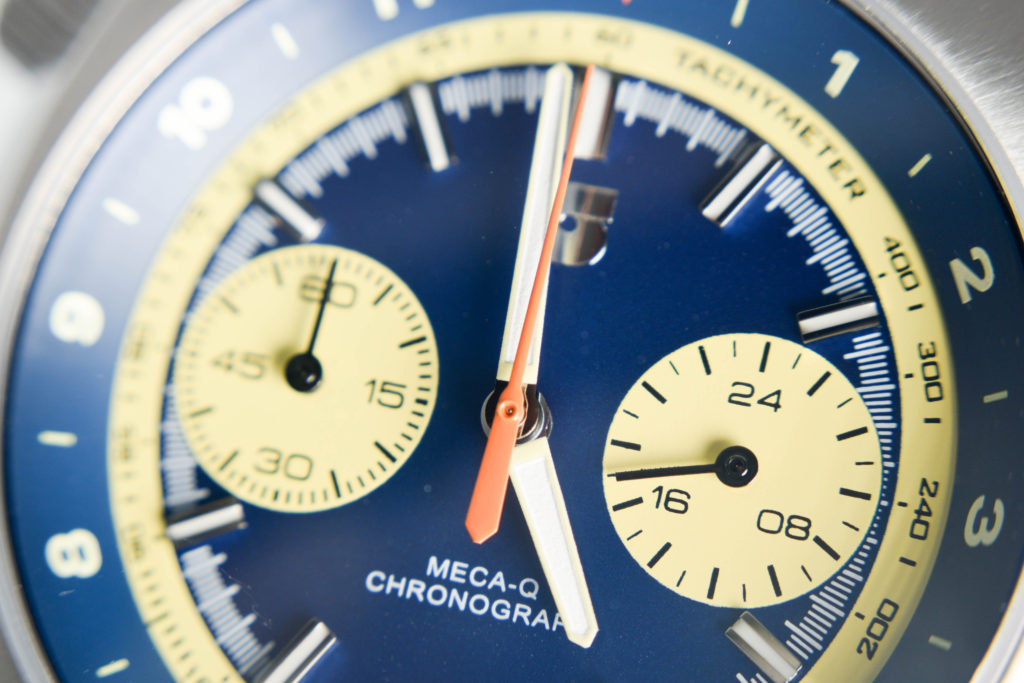 The manufacturer has a great reputation and is communicative and friendly.
But do they make me feel teary eyed for my much missed youth? Do I feel like Alan Jones in an FW07 every time I strap one on and go for a drive?
No. Doesn't stop them being an epic watch though.