It seems aeons ago when I was fortunate enough to review one of Spinnaker's very first watches. In fact, it's been over 4 years since I looked at the Tavolara. How time flies. In that period, Spinnaker Watches have developed quite the reputation. Whilst during their early days the specs weren't quite up to scratch, nowadays they are well known as providing well -specced, sturdy watches for attractive prices. I feel the Hydrofoil continues this vision. 
Right away, it promotes a chunky, reassuring heft, with that affordable price tag too: an RRP of £250, but yours for £200 if you use my 20% off code WIAA20.
Let's check it out.
The specs
Dimensions: 43mm diameter x 14mm height x 50.5mm lug to lug
Weight: 168g
Water resistance rating: 20ATM / 200m
Movement: Seiko VK73
Warranty: 2 years
Price: £250, use code WIAA20 for 20% off making it £200
I'm going to do things a bit different with this review and split the most important points into three main categories: things I don't and do like, and other observations. Let's get the negatives out of the way first.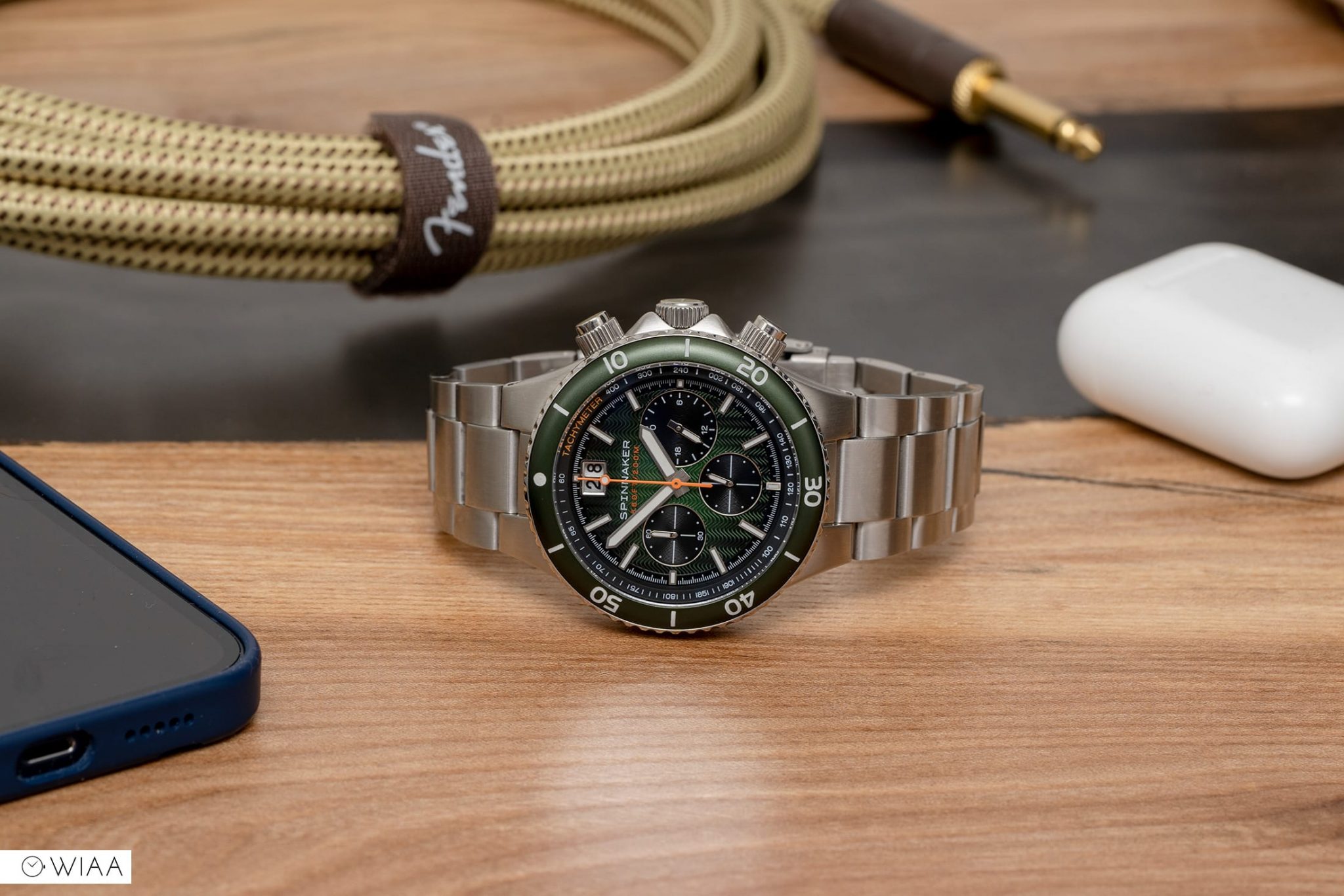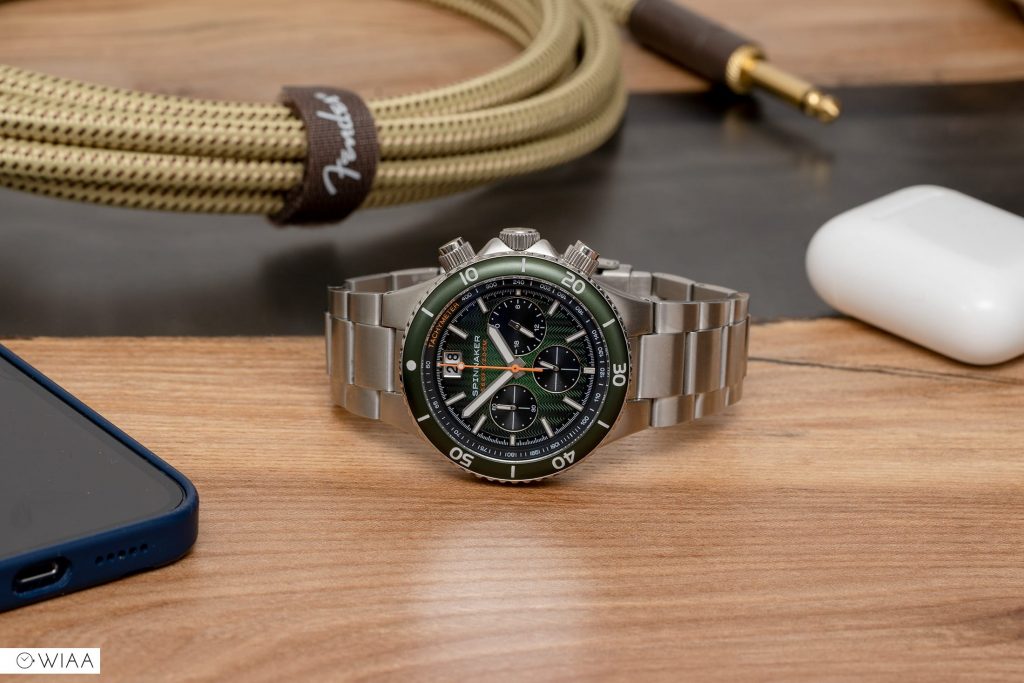 Things I don't like about the Spinnaker Hydrofoil
Integrated lugs bracelet. Sure, it works well and looks good for the bracelet supplied, but it's incredibly limiting. I feel this watch would look brilliant on a NATO, but unfortunately, it's just not going to happen. You may be able to get a leather strap on it, but you'll have to butcher the ends so much it'll look terrible.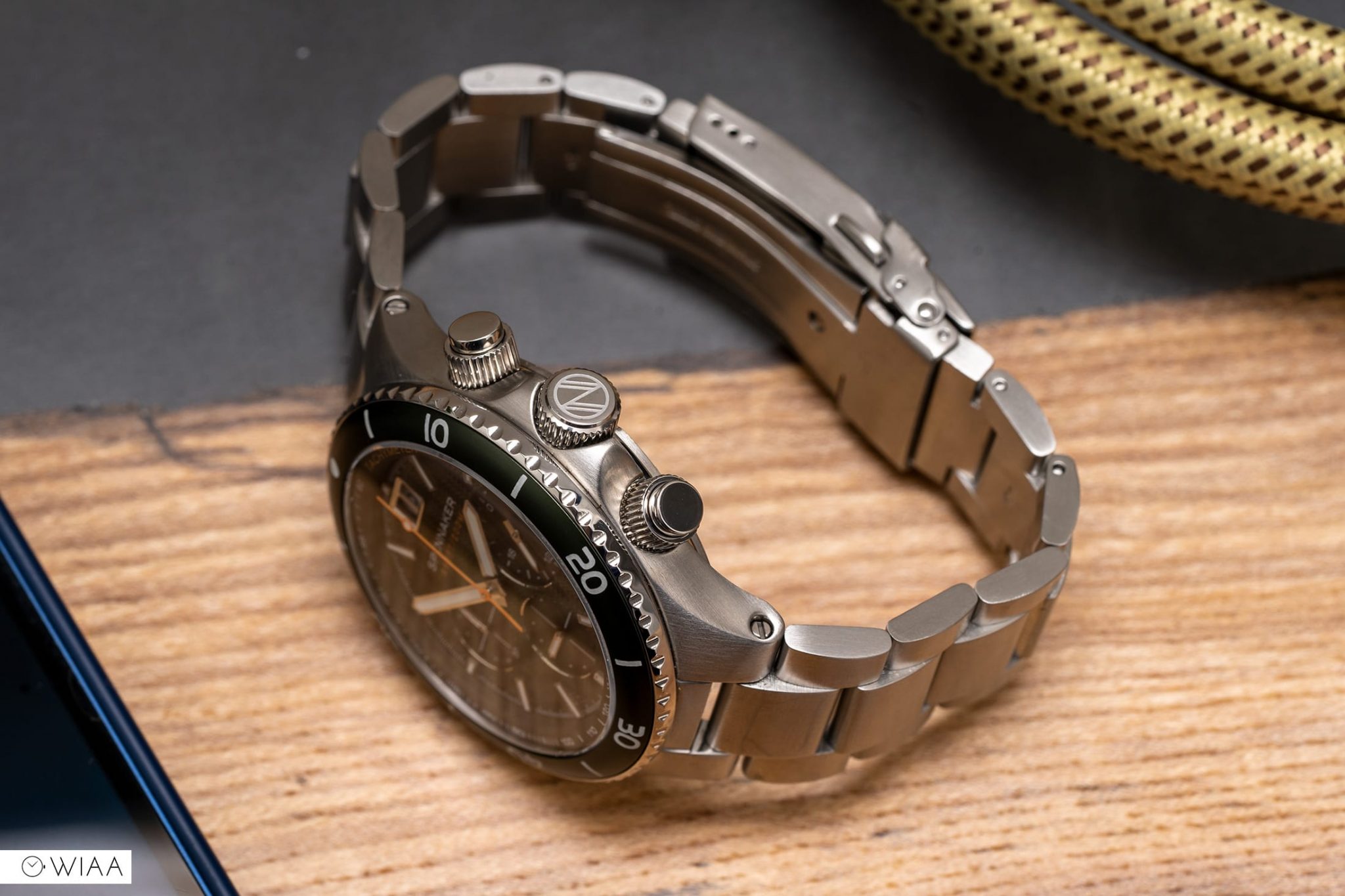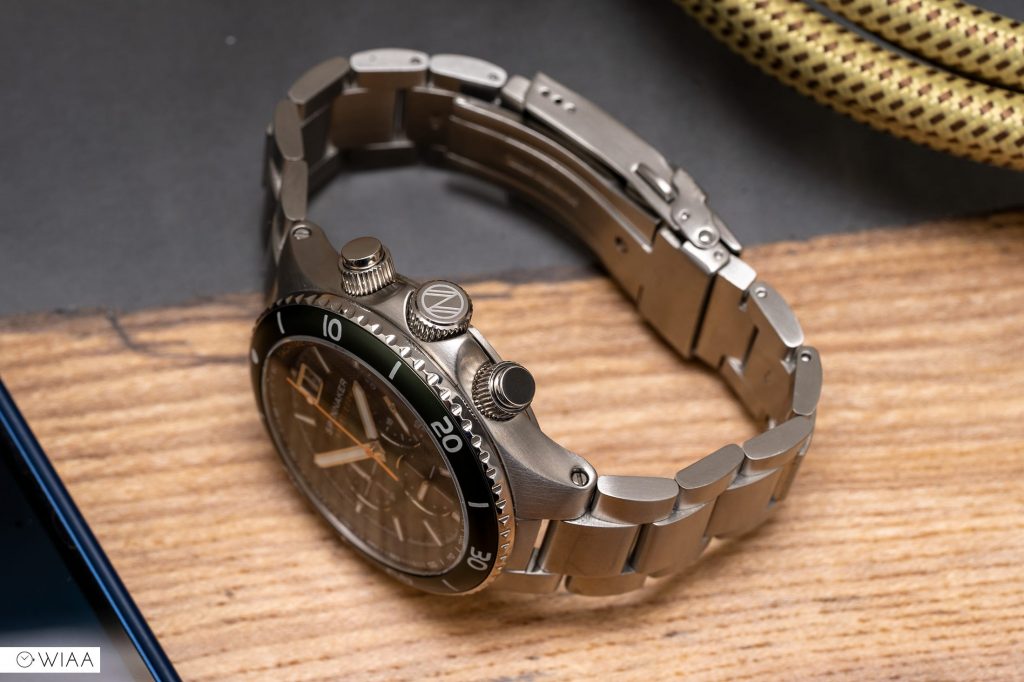 I do like a big date complication. However, they also have to be well executed. I feel the date wheels are a bit too deeply set here, making the feature look unrefined.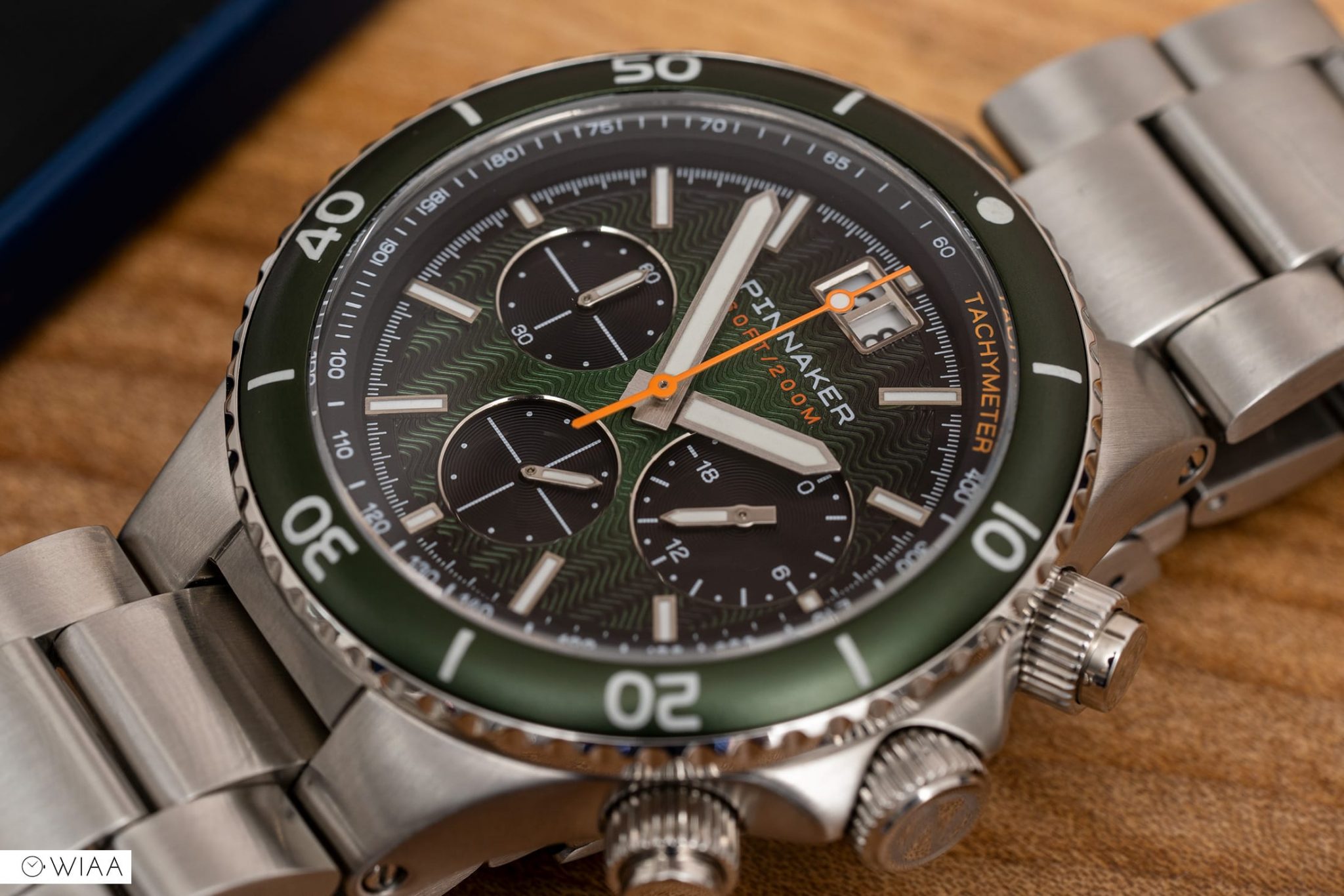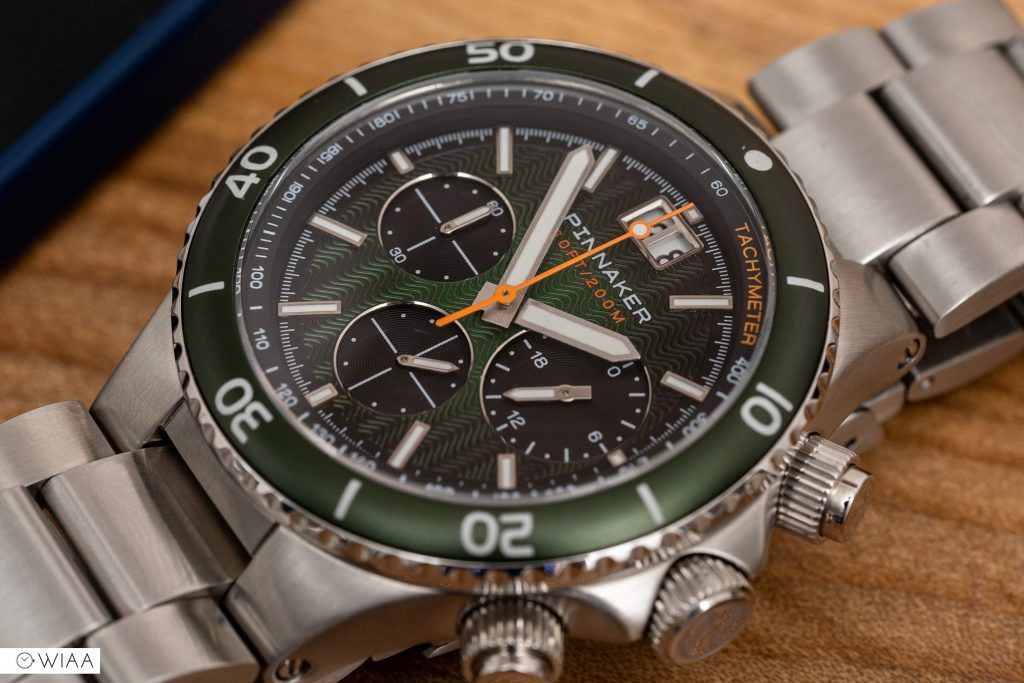 Screw-in pushers – whilst they're great for water resistance, I'm not sure they're completely necessary for 200m, and they make using the pushers a massive faff. You can leave them unscrewed, which actually looks quite cool, but they'll inevitably loosen and will need twiddling.
Slight bezel misalignment – whilst the pip at 12 looks spot on, there's a slight misalignment at 3 / 15 mins. It's not crazy obvious, but a bit disappointing.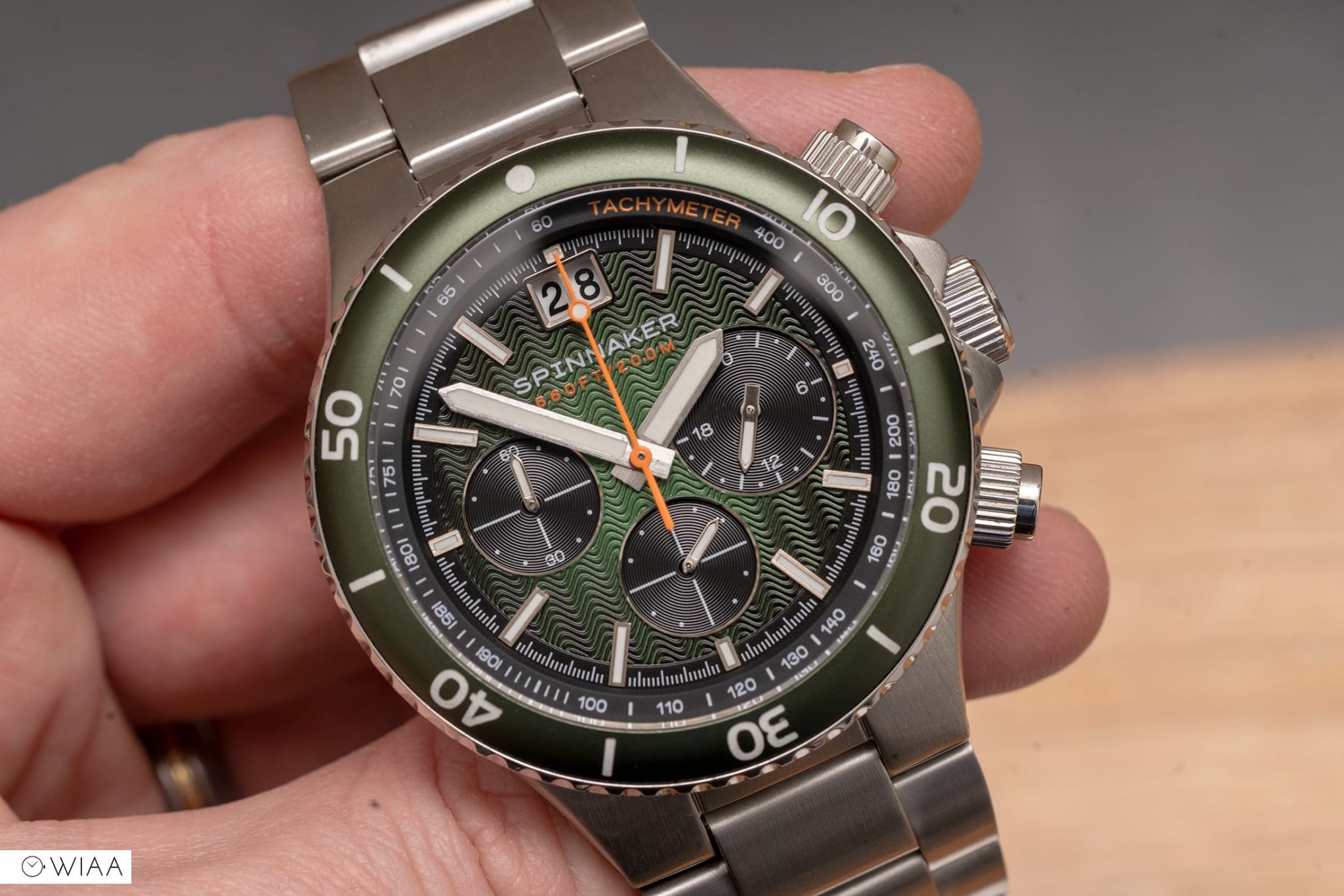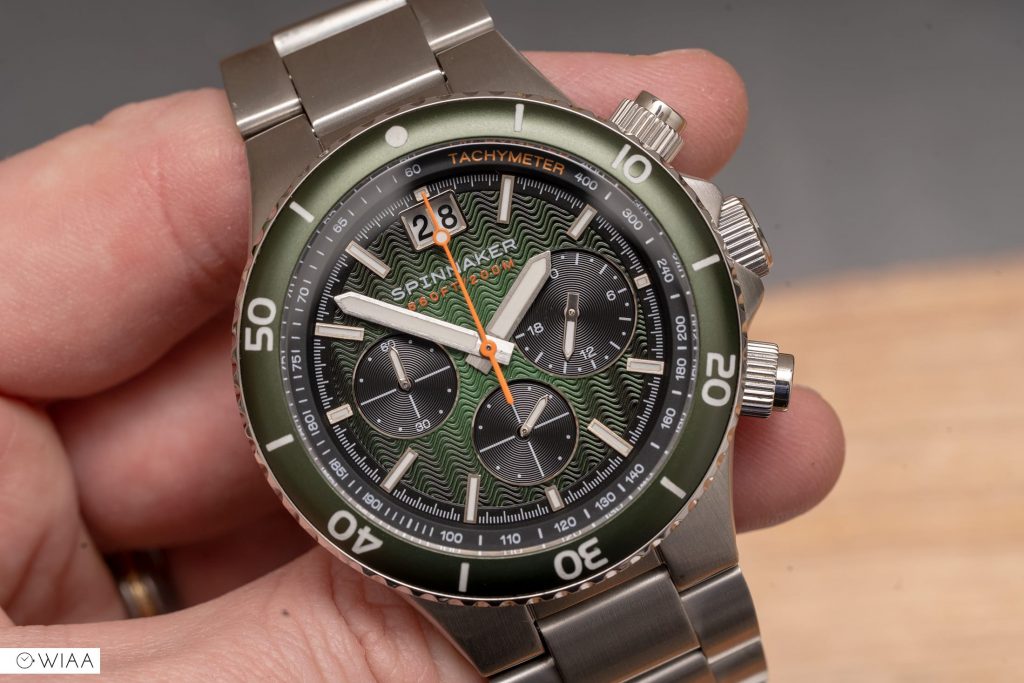 Things I like about the Spinnaker Hydrofoil
Now the negatives are out the way, I've got to say – there are lots to like here. Firstly, the price at £200 using code WIAA20 is certainly pretty competitive for a pretty unique and solid watch like this brandishing a mechaquartz.
Hulk power – I'm a great fan of the green, especially how it has a fading / sunburst effect. Coupled with the bezel insert, it's a refreshing change to the normal colours we see so often.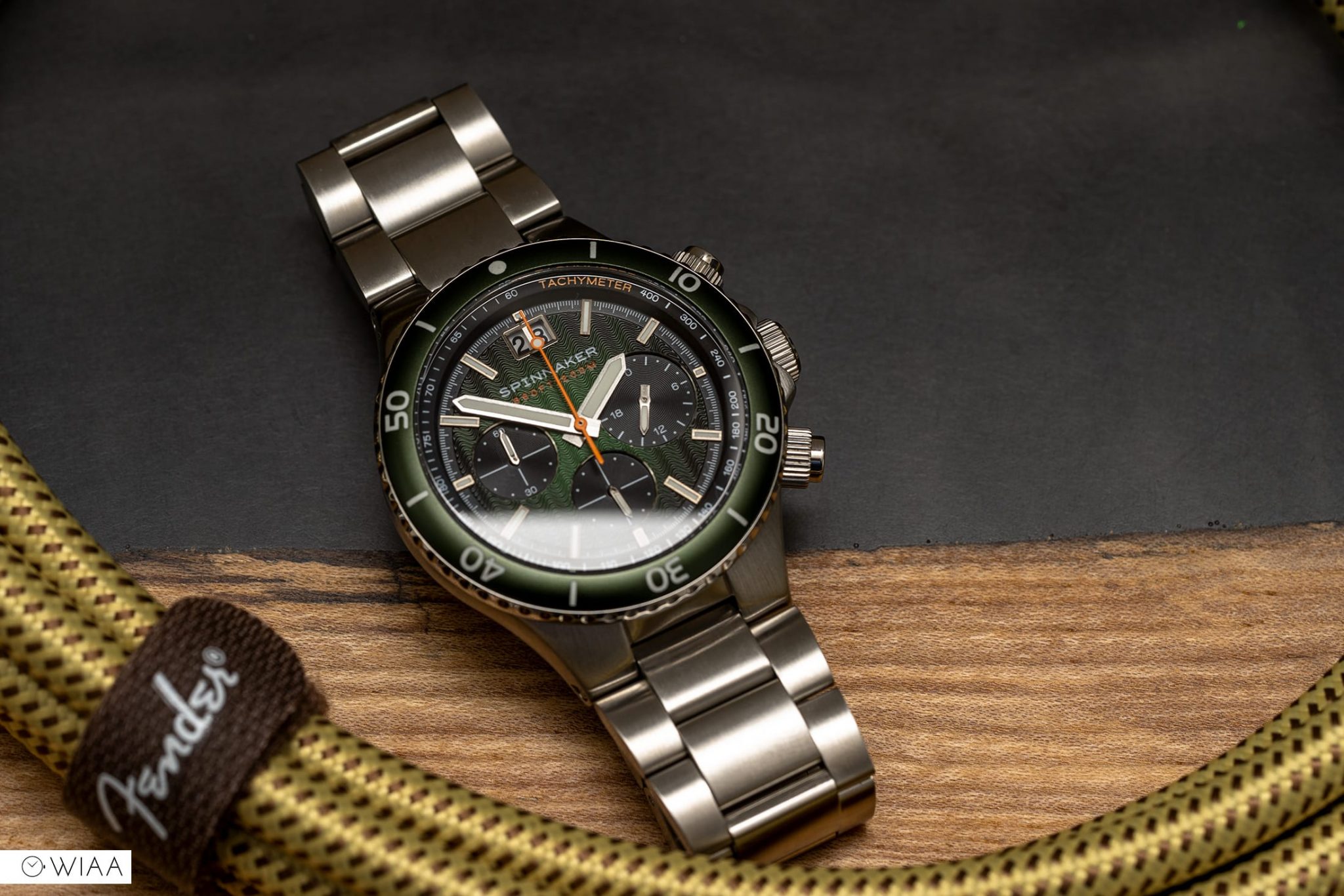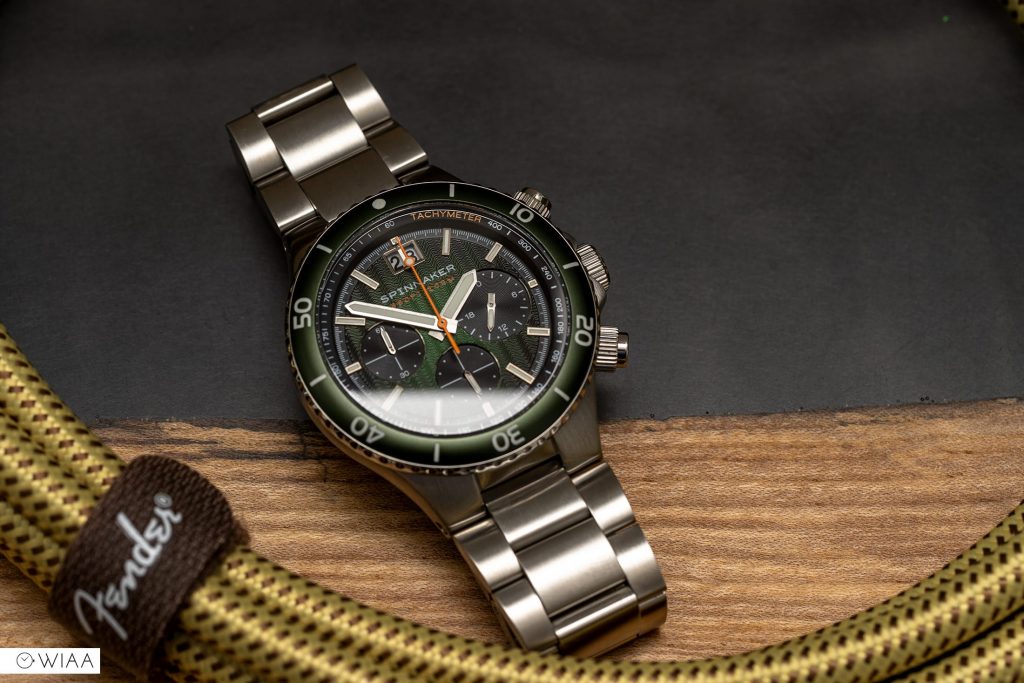 Detail on the dial – whilst I'm not the hugest fan of the date window, the rest of the dial is impressively detailed. The wavey texture is indicative of the Omega Seamaster, which picks the light up nicely in the ridges. I also appreciate the high rehaut with a nearly flat top with a tachymeter printed on. There's also a pleasant polished and bevelled border to the subdials which picks the light out well.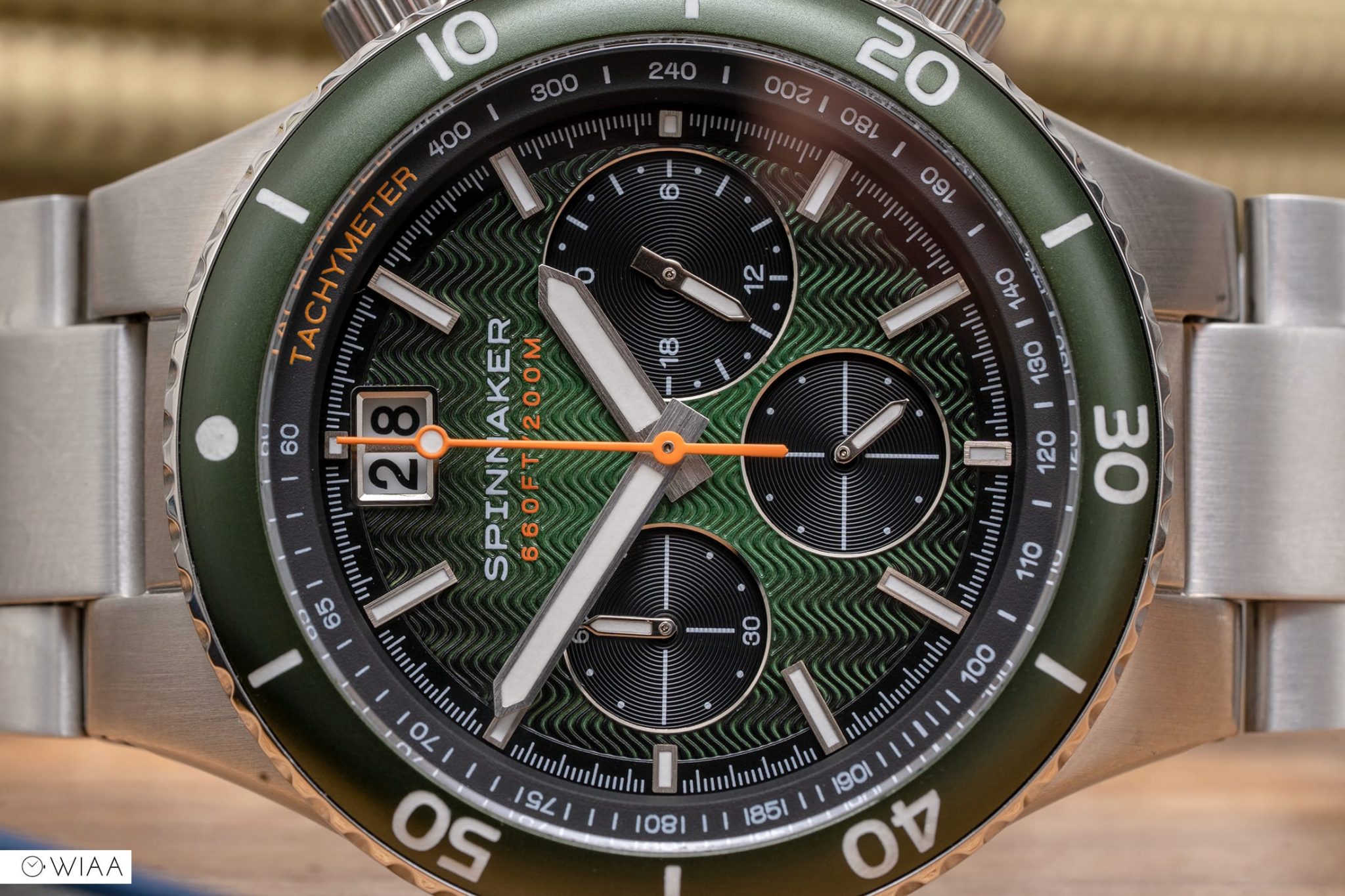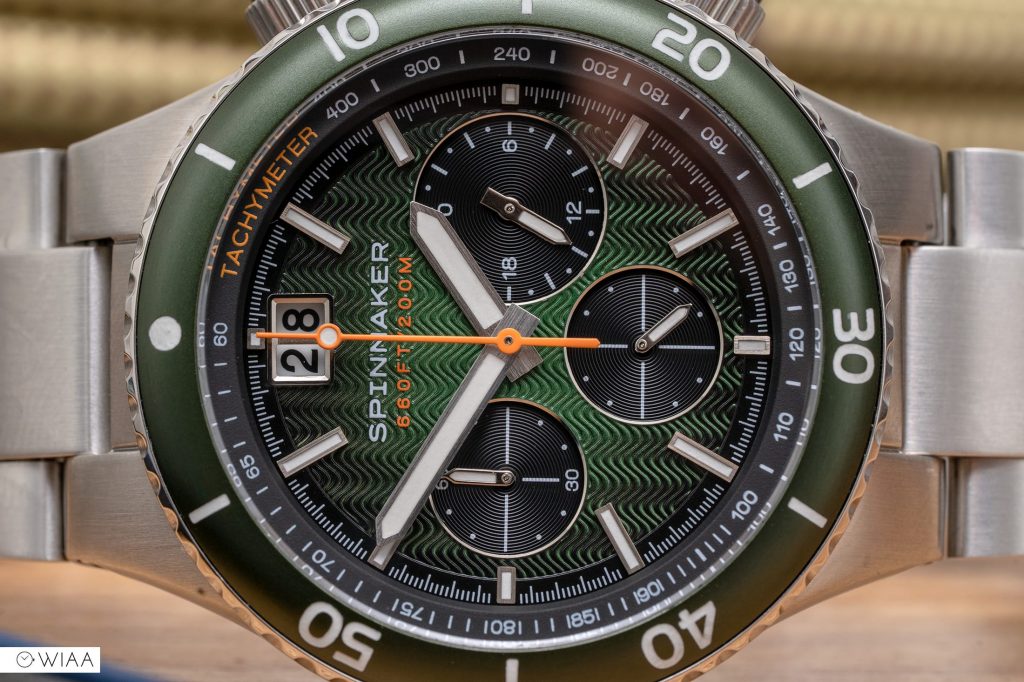 The overall finishing and chunkiness of the watch – portrays a very solid, dependable piece. One that could take a beating, and carry on beating.
The bracelet – whilst the integrated lugs are a negative, thankfully the bracelet itself is superb, so it's unlikely you'll want to change it out. The links are hefty and thick, fully brushed too so as to be more resilient to scratches. The double-locking buckle has a cheeky wetsuit extension which is a nice surprise, as well as 3 micro-adjustment holes.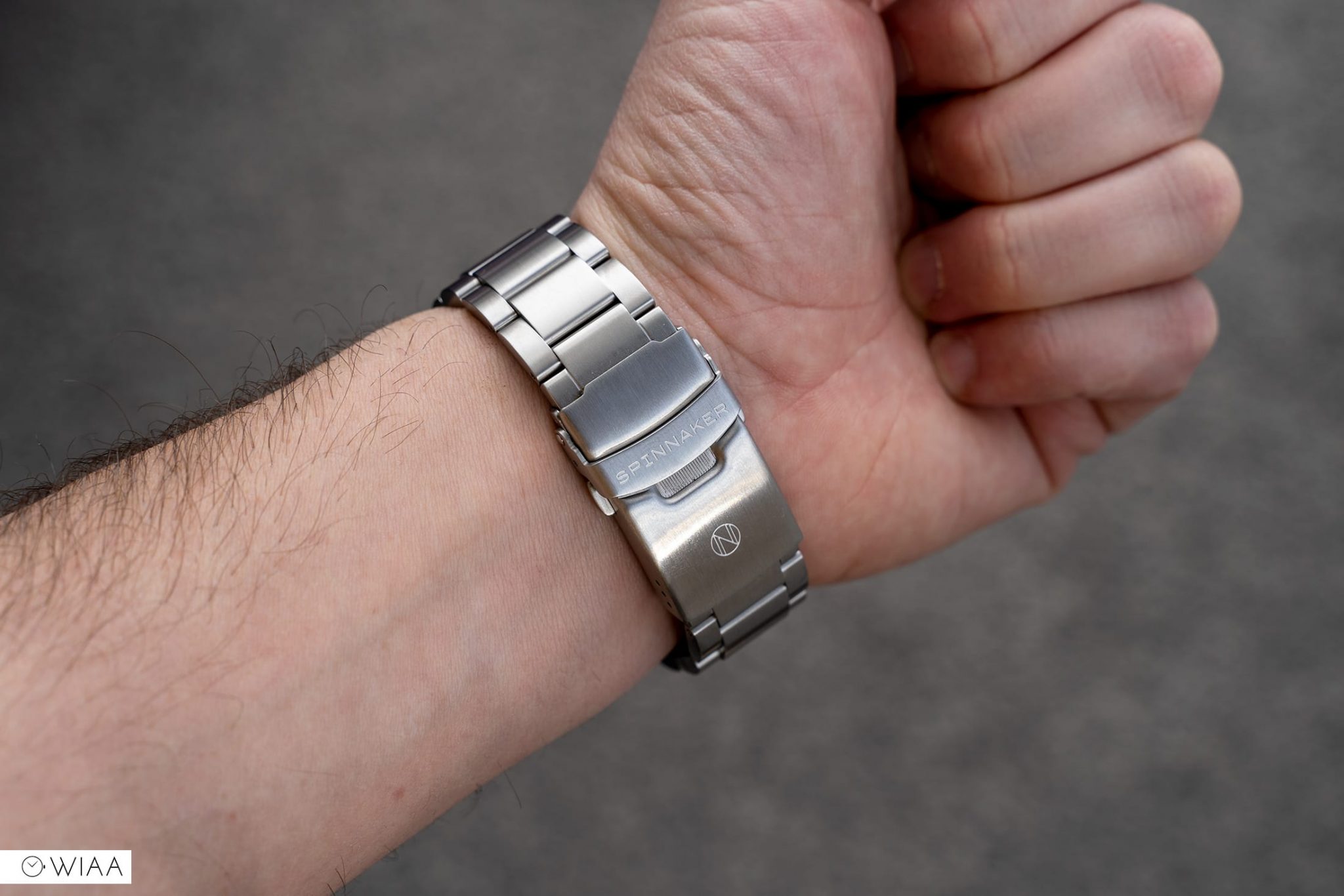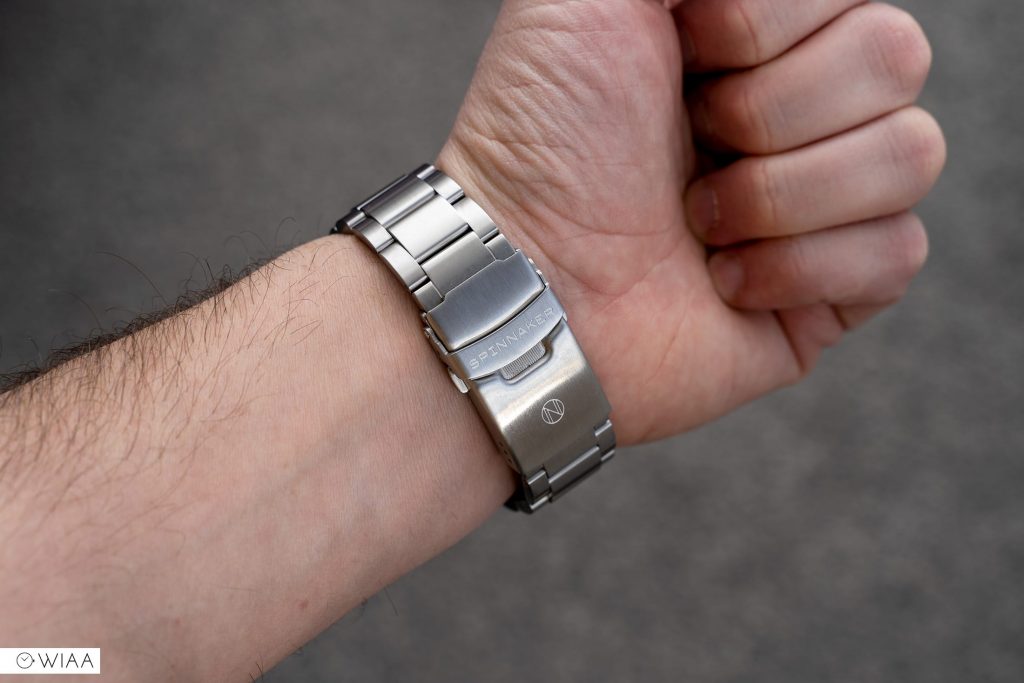 Other observations
I feel the oversized subdial at 3 is a nice design touch, which reminds me of the attractive Ebel 1911 chronograph. However, I don't feel that the 24-hour indicator is the correct subdial to highlight. Who really cares about that subdial? For me, the chronograph minutes at 9 would make more sense to make oversized.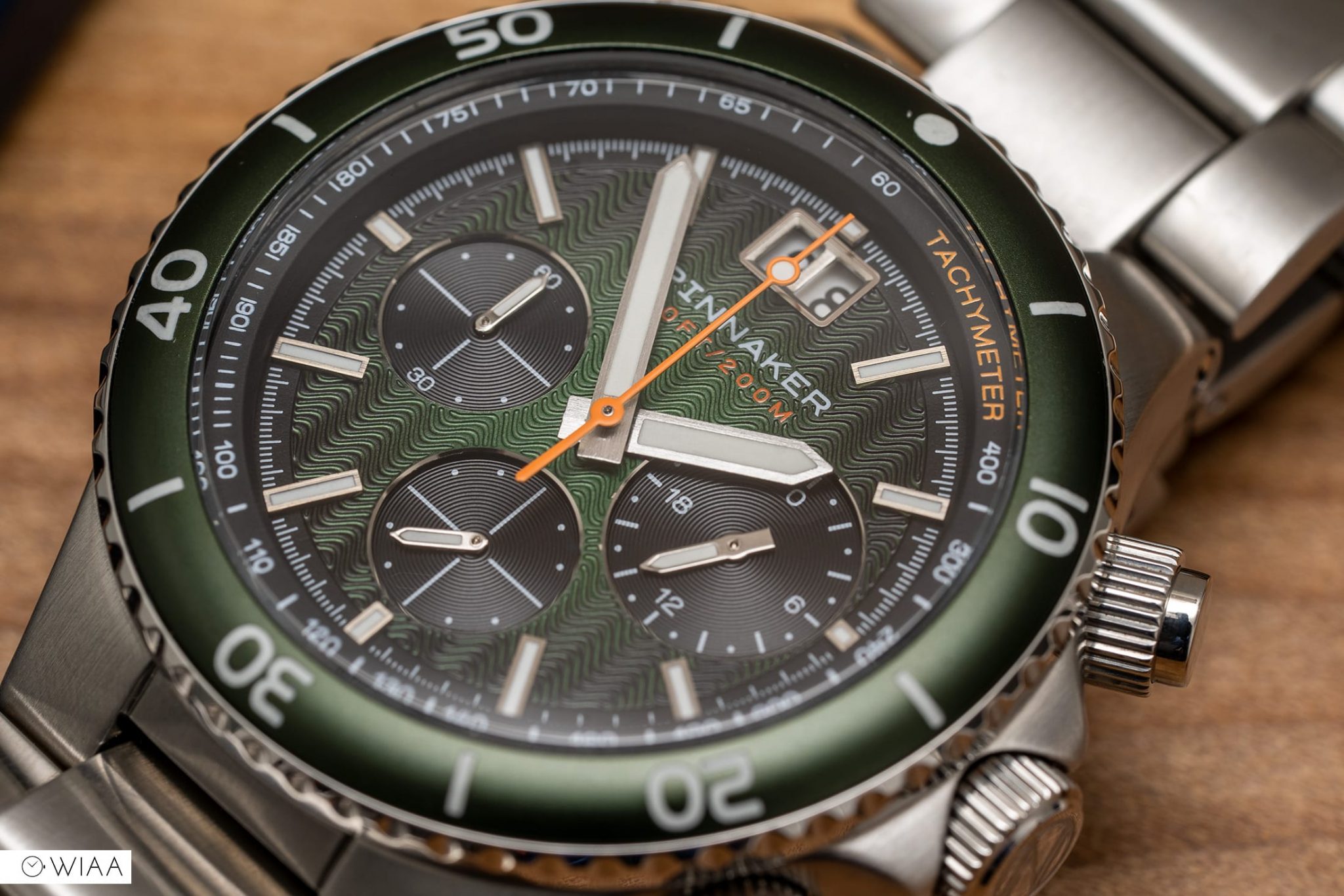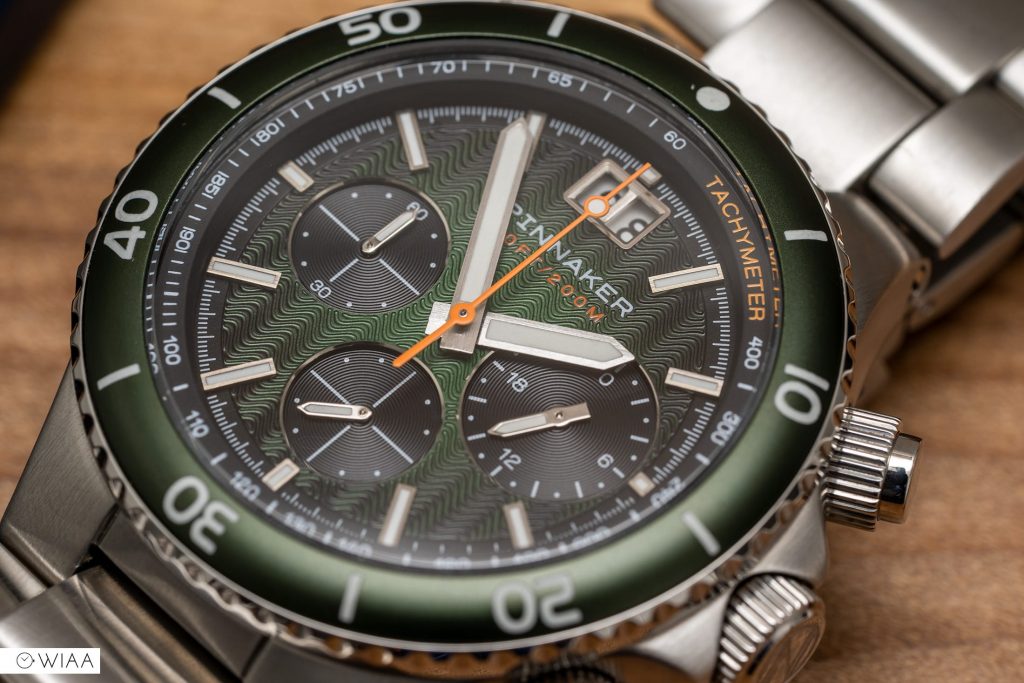 The movement is a dependable pick too, the Seiko VK73 is a solid mechaquartz with 3-year battery life and 5 ticks per second (1/5th second) chronograph seconds.
Final comments
This watch actually pleases me more than some of Spinnaker's mechanical pieces. To me, this watch has a purpose, a clear design vision, and a true uniqueness about it that really catches the eye. It's also very well built and feels reassuringly solid in the hand and on the wrist. When you couple that with the reasonable price of £200 using the code WIAA20, it's a hard watch to knock.