So this last couple of weeks I've been spending some time with a new release from Spinnaker Watches. The original Fleuss was a solid diver from the brand and had quite the following. It was available in some very fun and exciting colourways which I think led it to become quite the popular diver. The version I have been testing out is the Chronograph version of the Fleuss, the ref SP-5085-11 in what I would call a slate grey colour with some charming blue details used for the some dial and hand elements.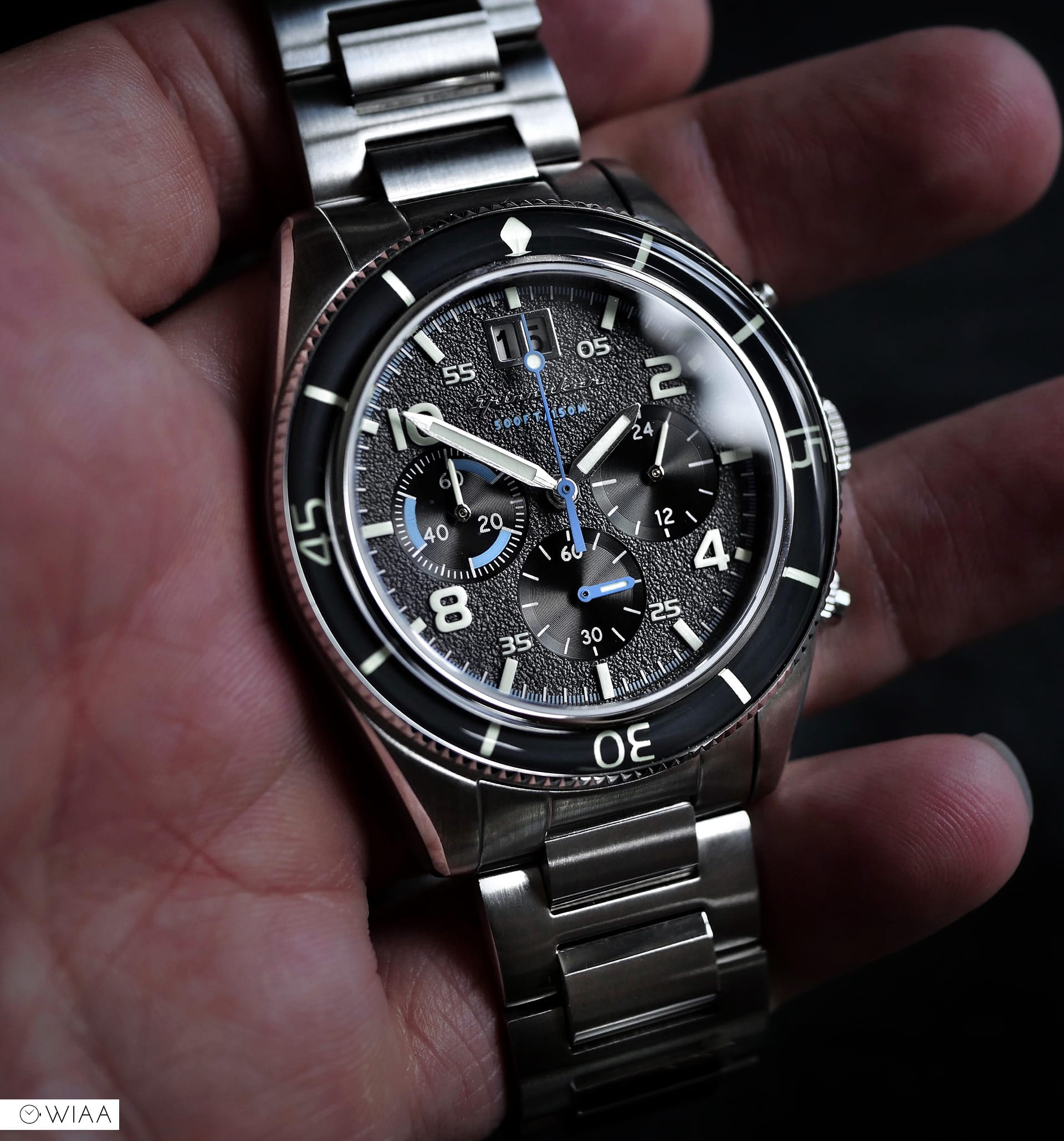 So what do we have in this more complicated version of the Fleuss? Well, it's still effectively positioned as a diver but with the addition of the chronograph functionality, powered by what is a Japanese Mecha-Quartz movement. Sub-dials are placed at the 3 6 and 9, and the date has moved to the 12 o'clock position. Swiss luminova is used to keep things legible when the sun goes down, and there is a flat sapphire crystal protecting that dial and warding off scratches. 150/500ft of water resistance means this one can join you in the swimming pool when you next jet off for your holidays, and both the crown and pushers are screw down to keep things tight and safe.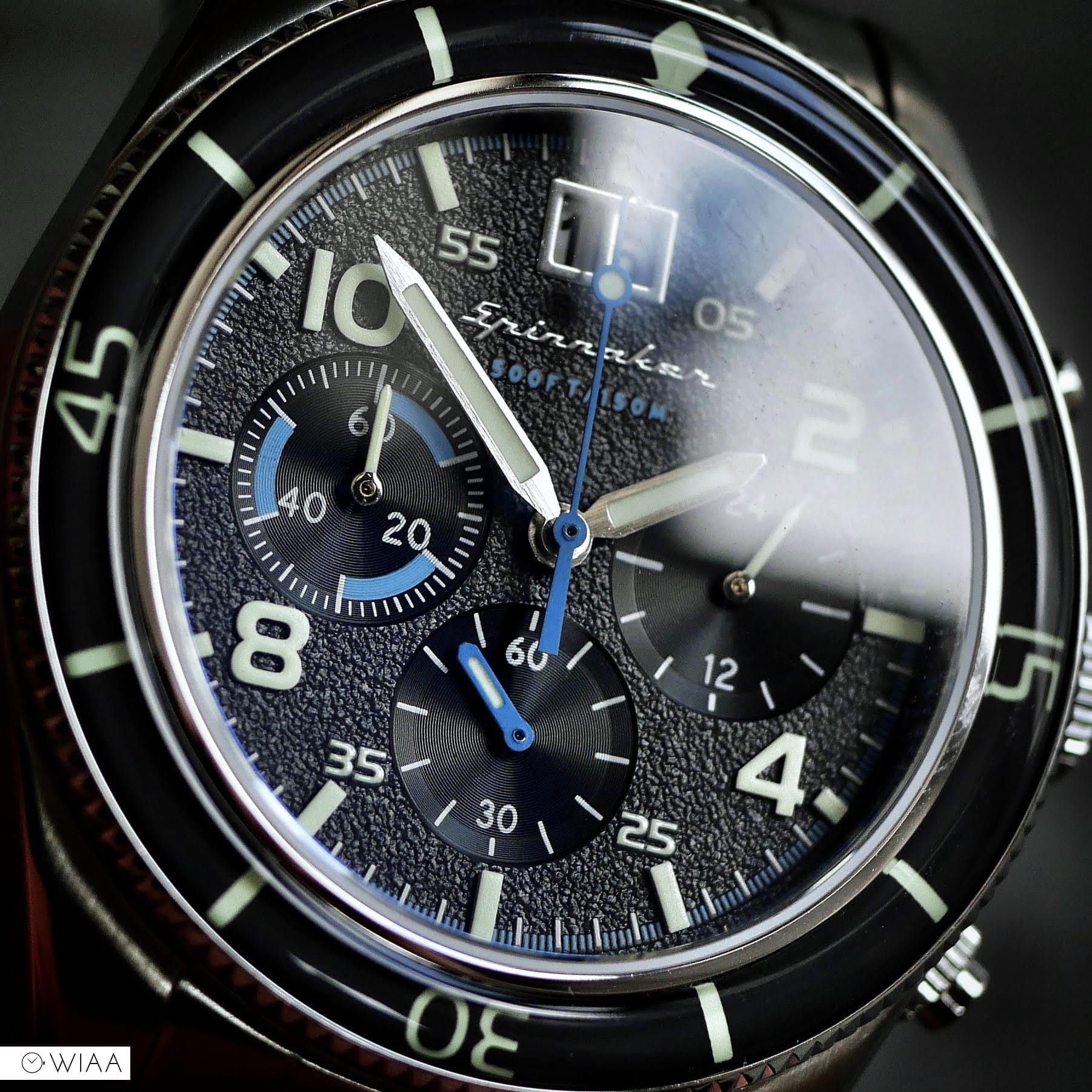 Size-wise the Fleuss Chrono sits at 43mm in diameter so take this into account. Spinnaker class this as a medium-size which I'd agree with for a Diver/Chrono mixed watch.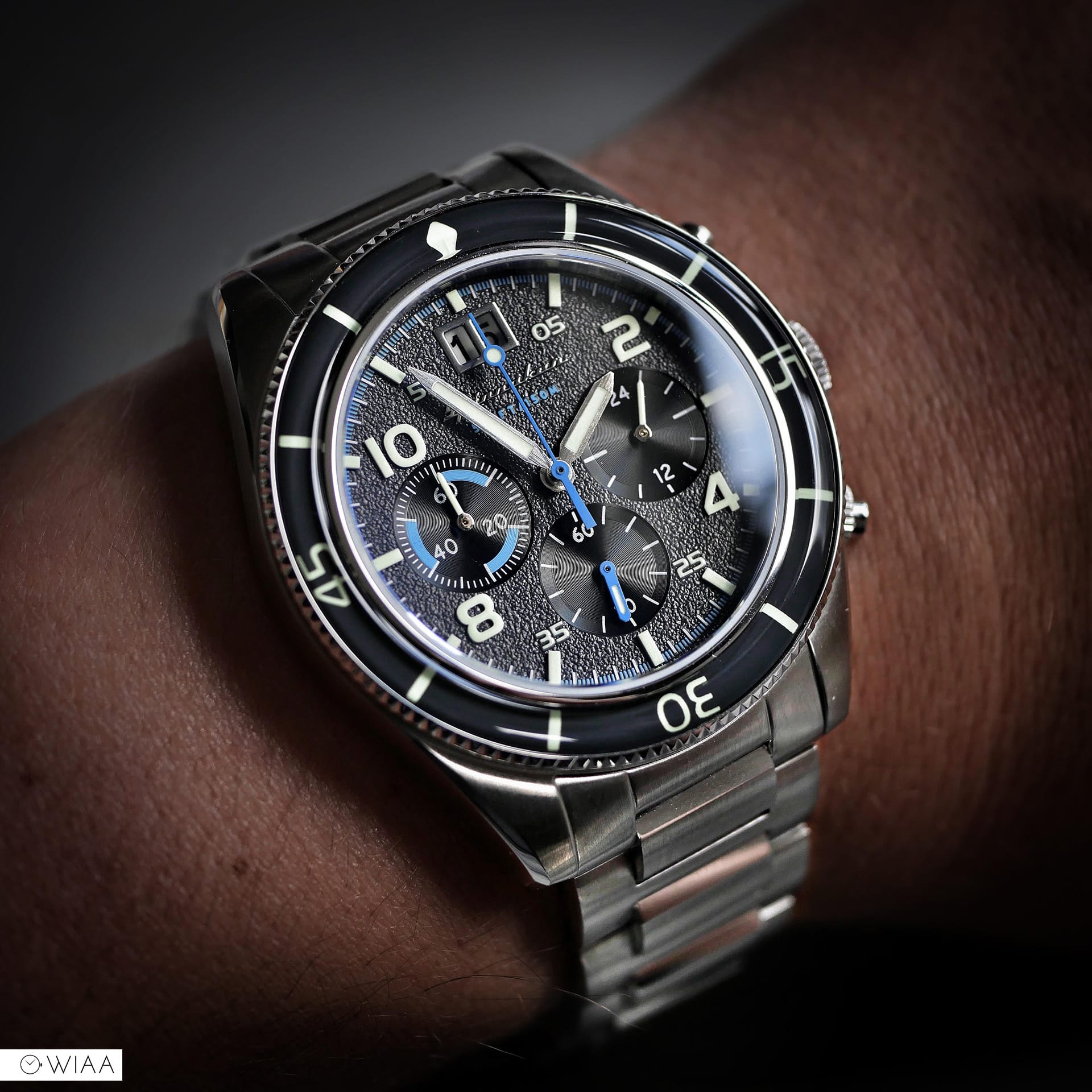 I had this one on the bracelet, which is a H link style with a well-milled clasp. The bracelet is predominantly brushed, but the top and bottom of the centre links are polished and very sturdy-feeling overall. At 22 mm in width, it means straps can be changed easily, and Spinnaker also offers this on a leather/rubber hybrid strap which I would like to try. The leather straps I've seen on previous models have been excellent quality so that may be an option to consider.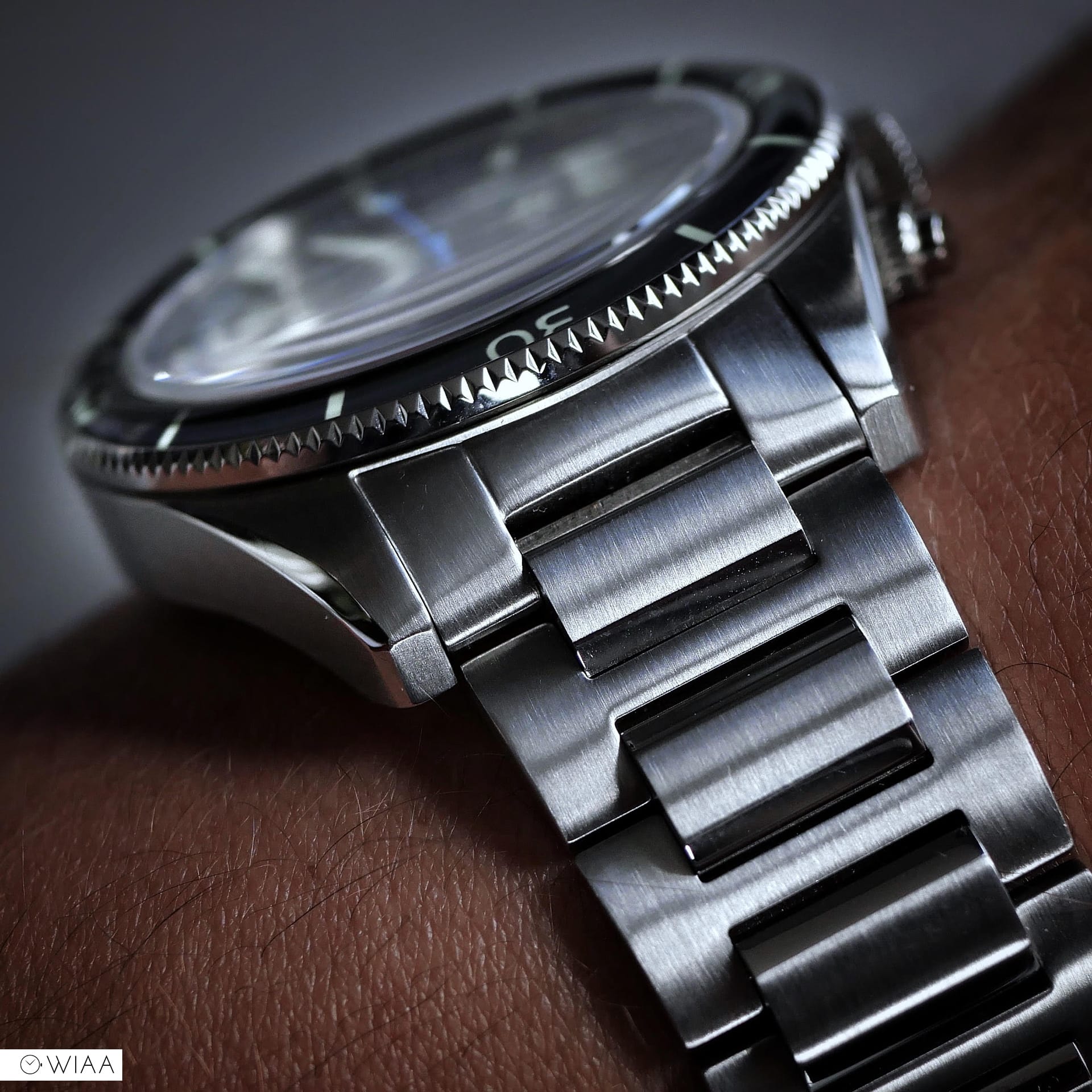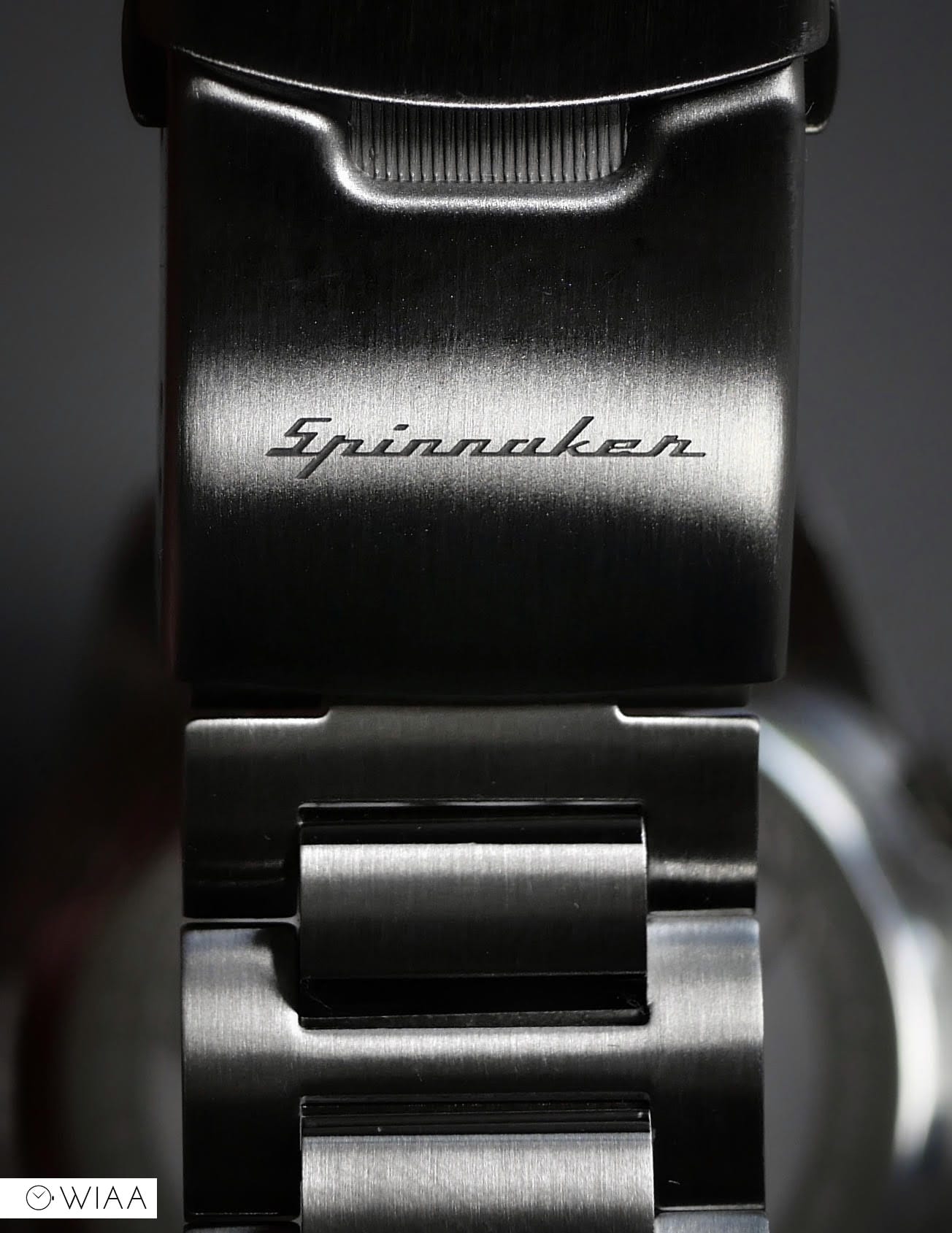 The case is nicely brushed with polished and chamfered lugs, and a Spinnaker signed crown is an attractive detail. The case-back is screw-down as you would expect and again has the Spinnaker logo etched as well as the usual specification information.  Overall from a case and bracelet perspective, it's hard to fault the Fleuss Chronograph in many areas. The bi-directional bezel is also lumed with a diamond at the 12 o'clock then markers at 5-minute increments but numbered at the 3, 6 and nine positions. The bezel insert is acrylic, so it has a vintage look and feel. Some will like this and some won't, but it does look rather good although will pick up scratches and marks over time.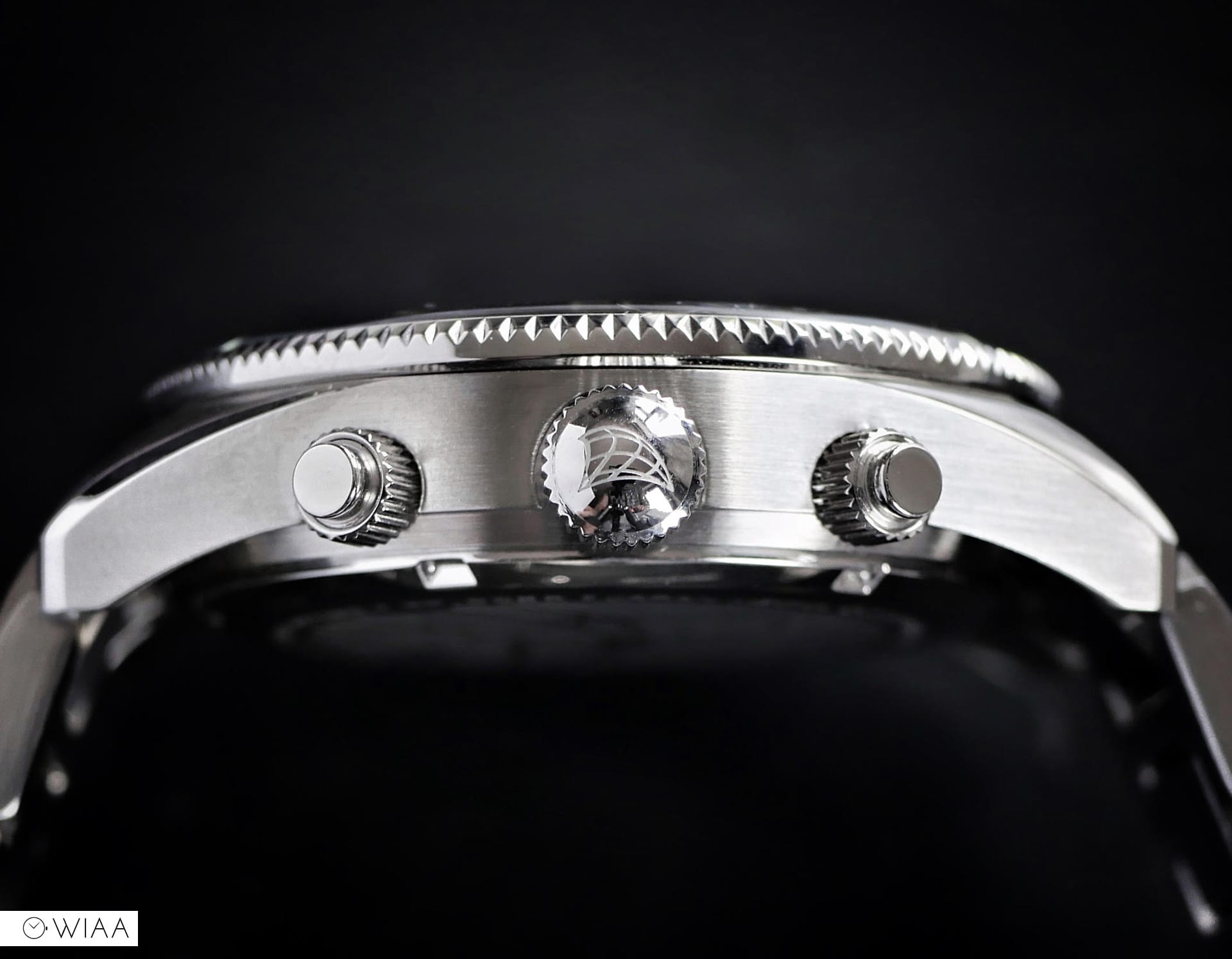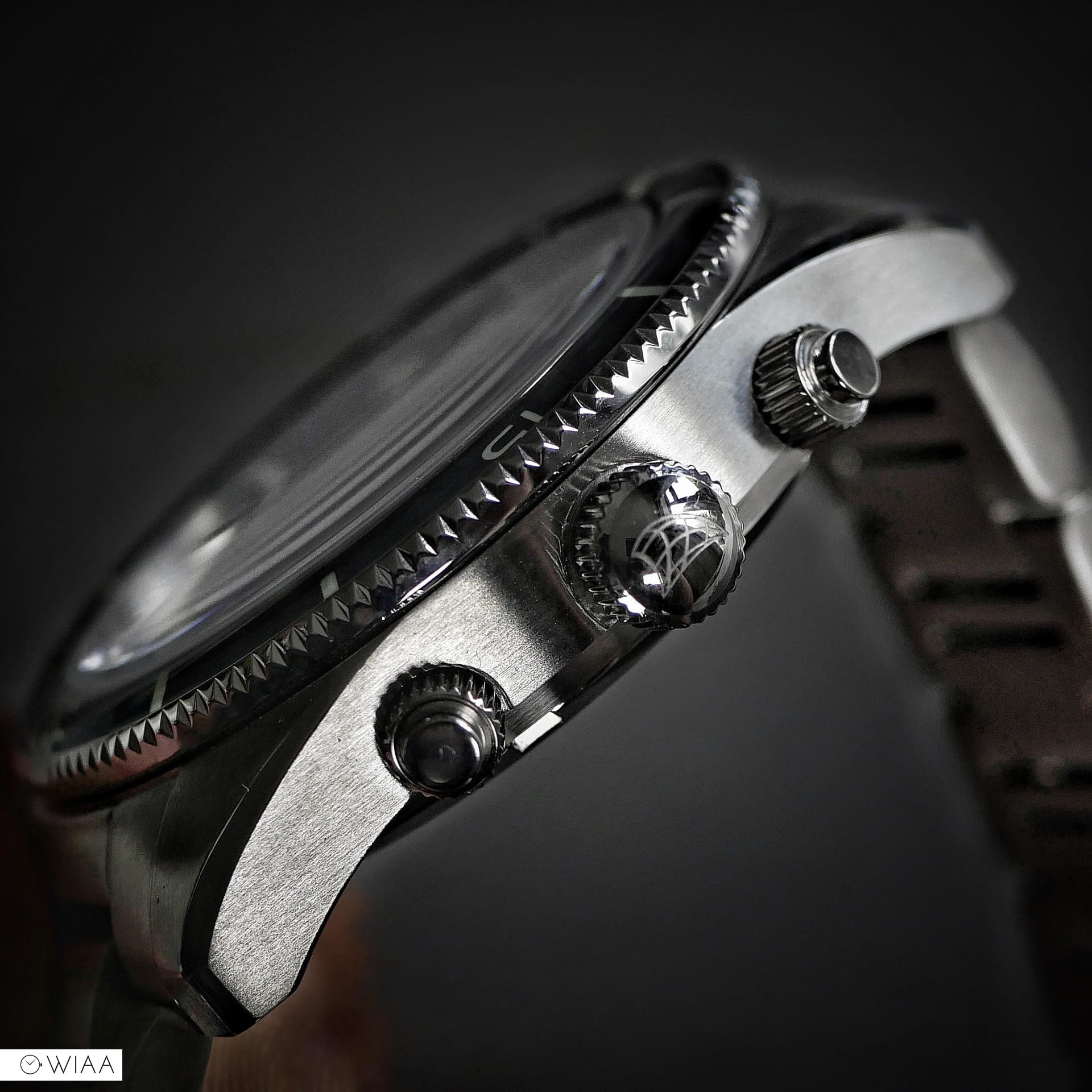 Dial wise Spinnaker have stayed with their use of a highly textured finish, and I must admit for a watch like this I think it looks very nice especially in this colour combination it adds an excellent depth to the dial. The dial is busy, but then it's a chronograph with a sizable dual date window, and three sub-dials so I think they have done an excellent job at keeping things legible and balanced.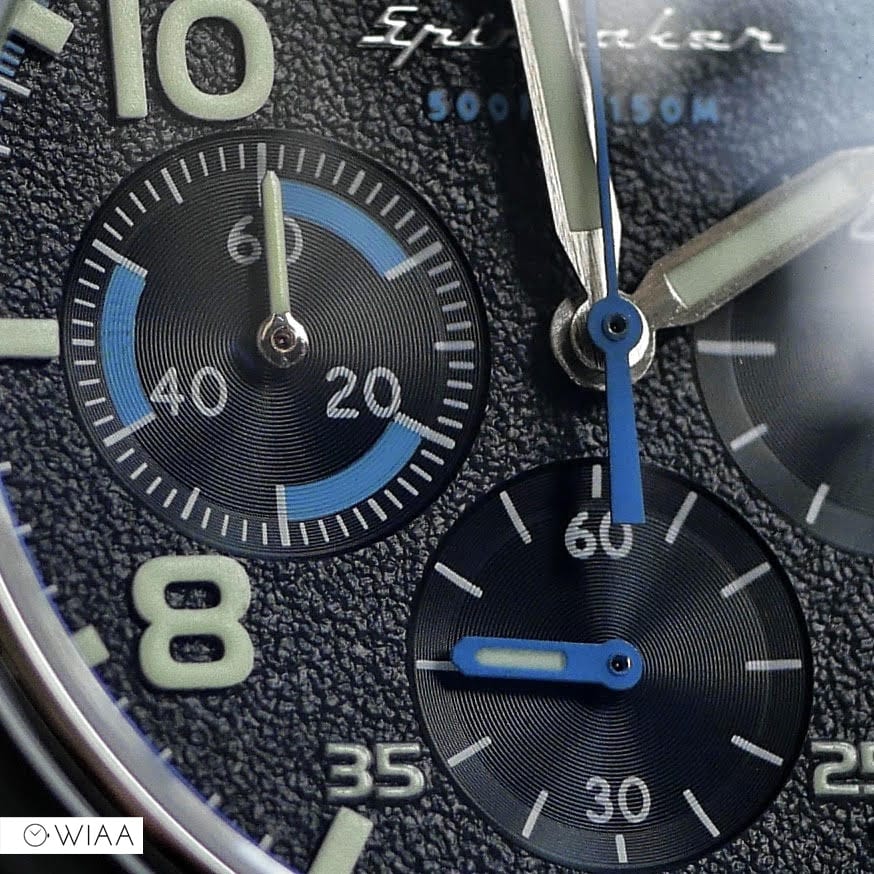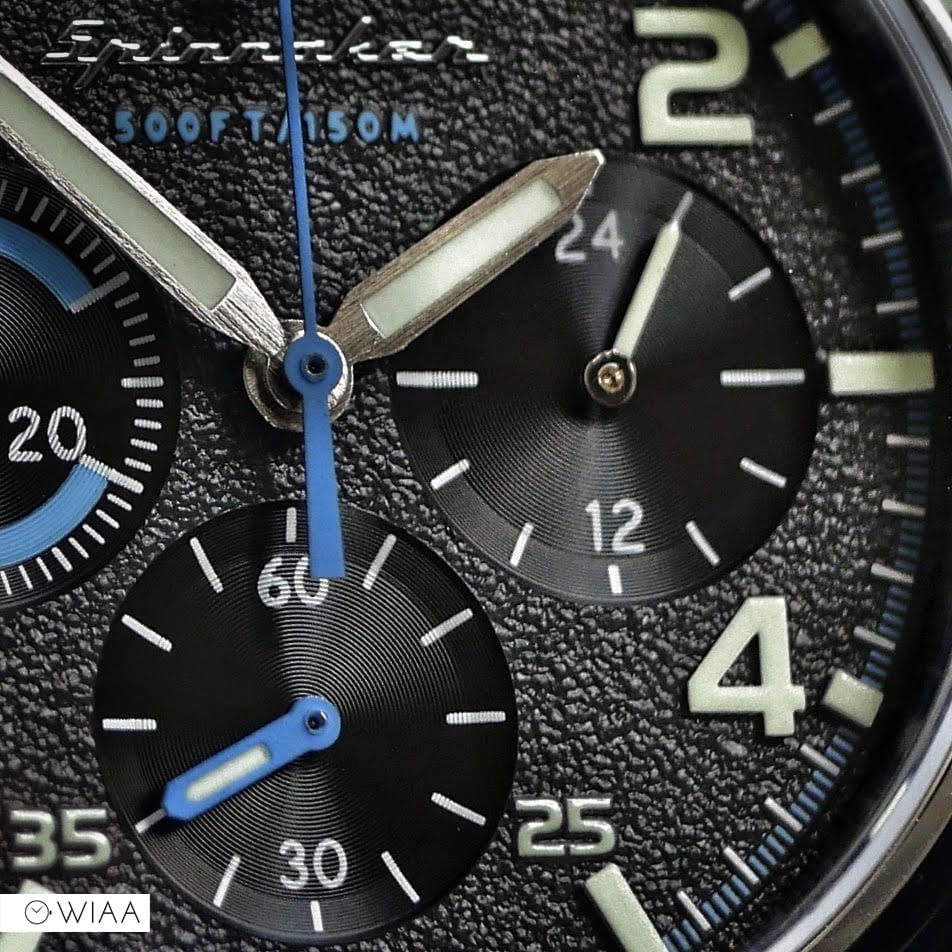 So final thoughts. I went back and forth on the Fleuss Chrono in my time with it. Some things I like, like the dial colour, layout and case, but some things I wasn't so happy with. Although I like the look of the acrylic insert in the bezel, against the sapphire crystal, it will age, and although a bit of polishing may fix it, I just think they should have gone with a sapphire insert. The watch is heavy (200g) that maybe something you like, in which case that's fine, but for me, it felt heavier than needed for a Mecha-Quartz piece. I'd be interested to try one on a strap as that may fix the weight issue for me at least as I'm sure the bracelet must make up a sizable portion of that weight. My other concern associated with the bracelet, and more directly the centre links as these sit above the H links you can see that the machining of these on the sides is not quite as good as it should be with tool marks which just spoil its appearance slightly. There is some additional polishing or brushing that needed to be done to bring these up to standard. My last two call outs would be the movement and steel used. I went through the specification on Spinnakers site but couldn't find the Stainless Steel grade they used? This I would hope is 316L, but they don't make reference to this, and if you intend using this in water, it would be good to know this. The same goes for the movement. They state Japanese Mecha-Quartz but give no further details? No expected accuracy or manufacture details? I have to call out I had this for approx three weeks and had no issues whatsoever with timekeeping, but I would like to know what's inside should I ever need to get it repaired or possibly replaced.
I don't typically mention price, but in this instance, it does play a part in my feelings on the Fleuss Chronograph. On Bracelet the Fleuss Chronograph is £250 (£200 using code WIAA20). On the leather/rubber hybrid strap it comes in at £210 (£168 using code WIAA20). For me the question marks around the steel used and the additional weight and finishing of the bracelet mean I would go down the strap route, and at that price point, I think this is a far more attractive proposition. You get a sapphire crystal, Swiss luminova, a useful set of complications and a nicely finished dial. At the lower price based on the strap, I think even with one or two open questions that is a good deal from Spinnaker for the Fleuss Chronograph.
Specifications:
Case and Bracelet: Stainless Steel
Movement: Japanese Mecha-Quartz Chronograph
Dimensions: Diameter 43mm, Weight 200g Lug Width 22mm
Water resistance: 150m 500ft
Price: £250, use code WIAA20 for 20% off, making it £200