Any watch that prompts me to reach for my guitar must be a good one. Maybe it's the beautifully rustic pre-worn bronze-style case reminding me of the worn-down sunray finish of a 70's Stratocaster, or the vintage vibes throughout the dial reminiscent of the bridge and pickups of a Les Paul. Or maybe it's just the fact that it simply looks like a watch that needs to be worn whilst turning your amp up to 11.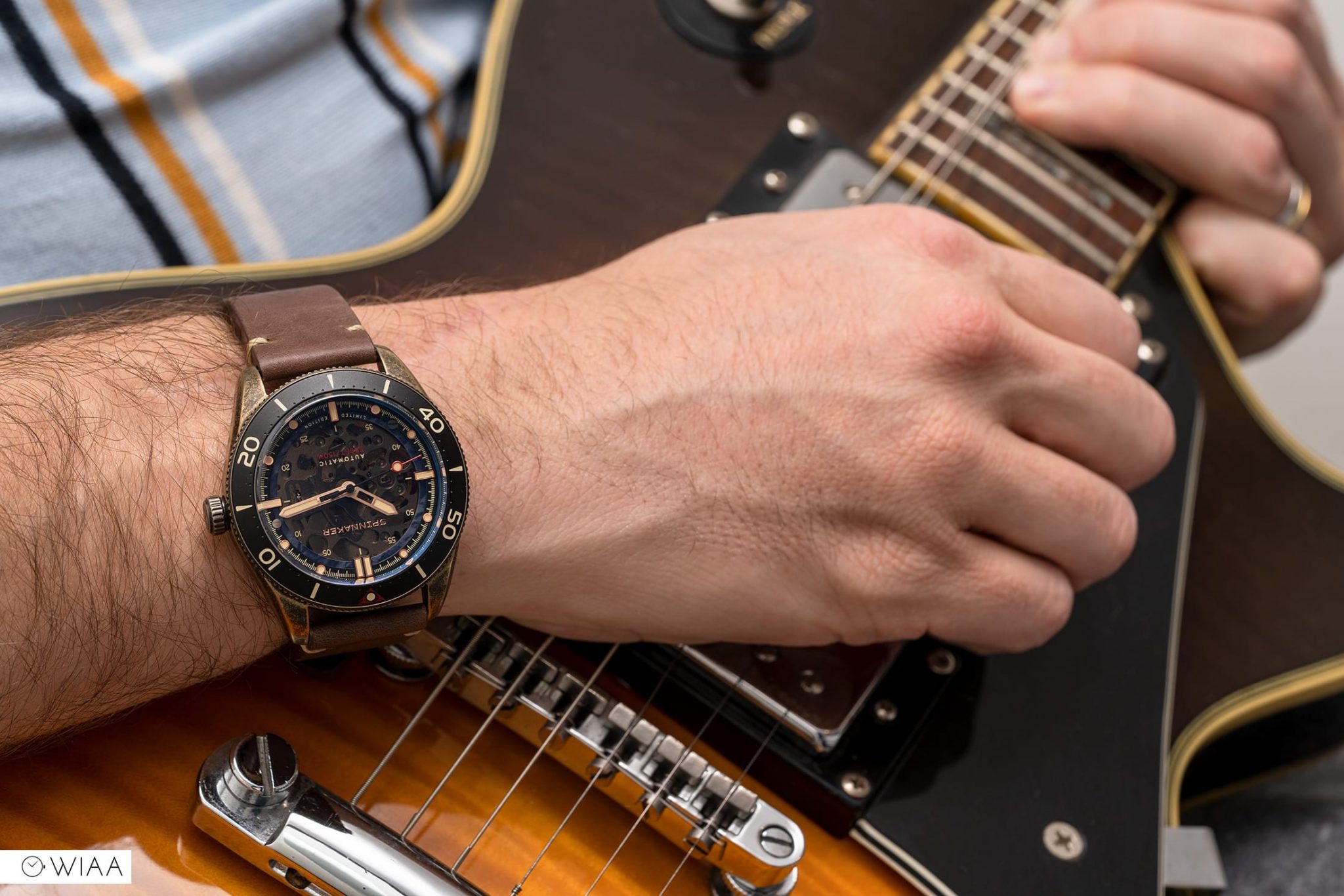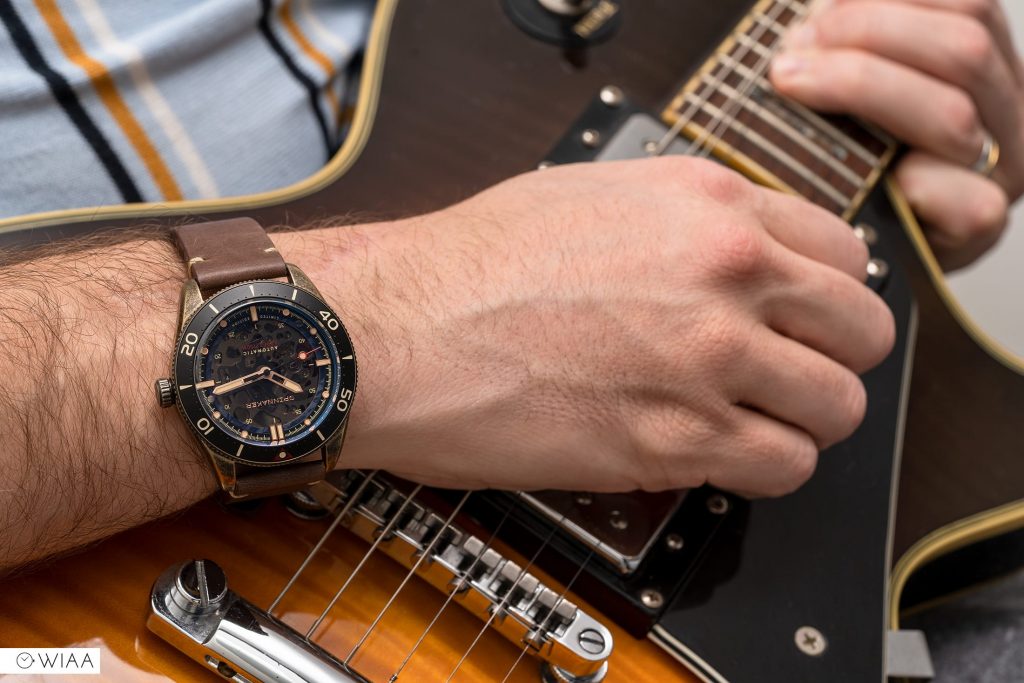 We have been spoiled by Spinnaker for some time; in that, they consistently create pretty great diving watches for a very reasonable price; usually under £250. This new Croft Midsize Limited Edition made me take a second glance at the RRP though, as it's been a little while since I saw one of their watches cost £310. Granted, these are limited editions – with a run of 1000 watches over 3 models, and offer a slightly more special appearance thanks to the skeletonised Seiko NH70 movement. However, all is not lost, as if you use my code WIAA20, you'll get 20% off it, making it a more reasonable £248.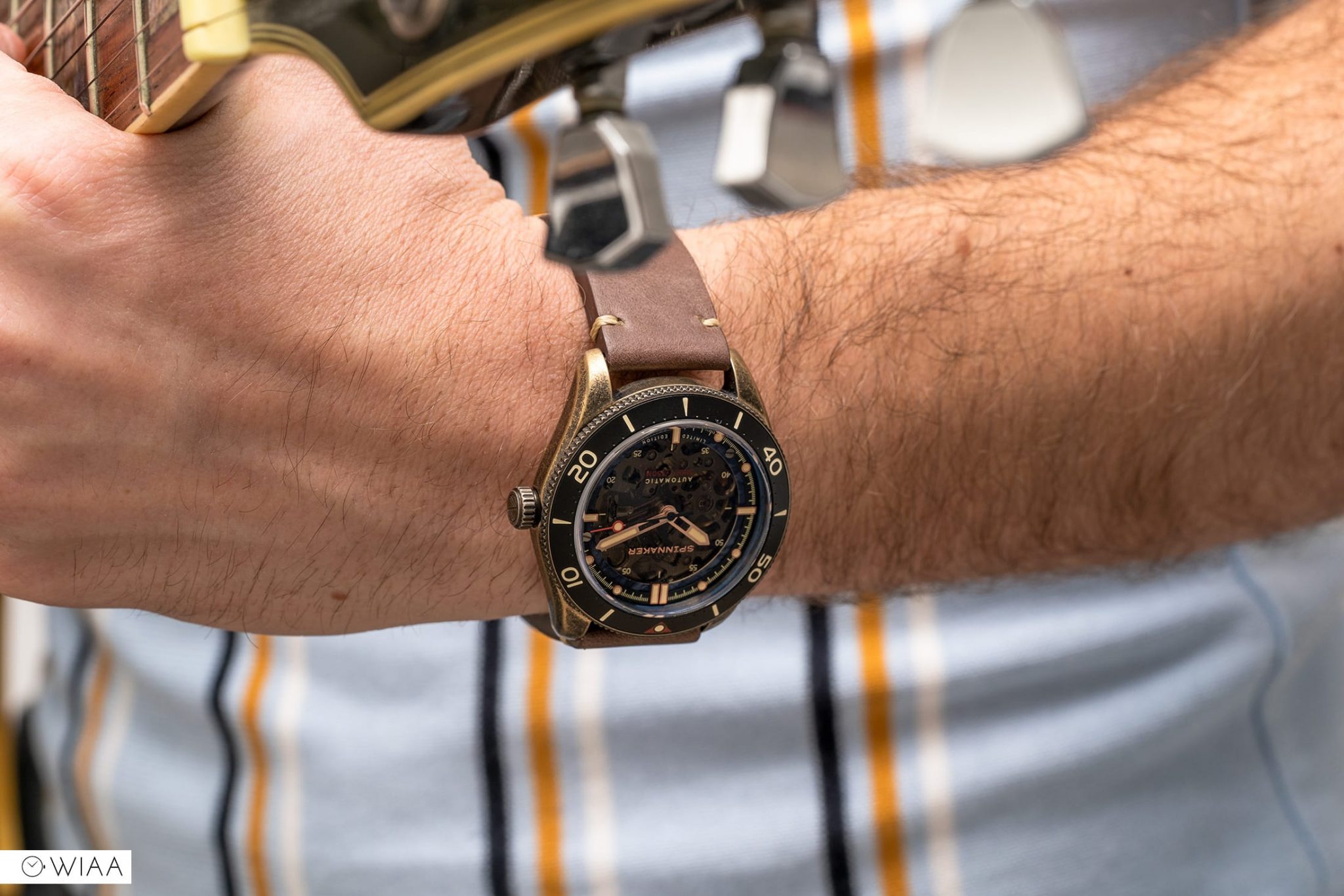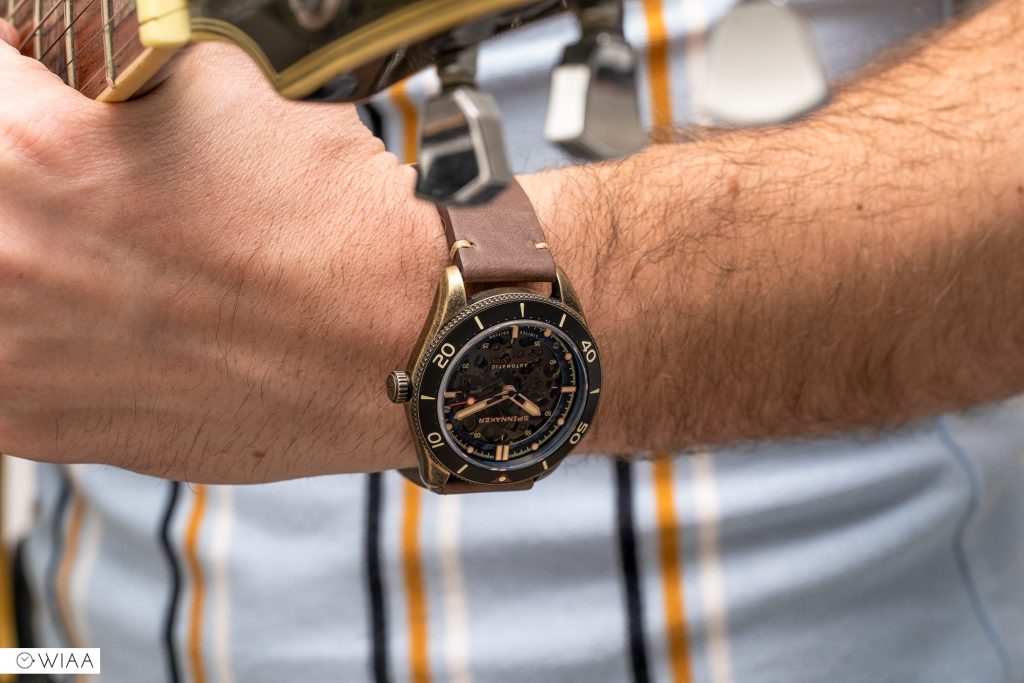 Without further ado, let's check it out.
Spinnaker Croft Midsize Specs
Dimensions: 40mm diameter x 14.6mm height x 47mm lug to lug
Weight: 100g
Water resistance rating: 15ATM / 150m
Movement: Seiko NH70
Accuracy: 16.4 sec / day
Lug width: 20mm
Warranty: 2 years
Price: £310; use code WIAA20 for 20%, off making it £248
This model is known as the "hazy sunset", and it's a delightful balance of vintage colours and finishes, the complexities that come with a skeleton dial, and the bold design requirements of an actual dive watch.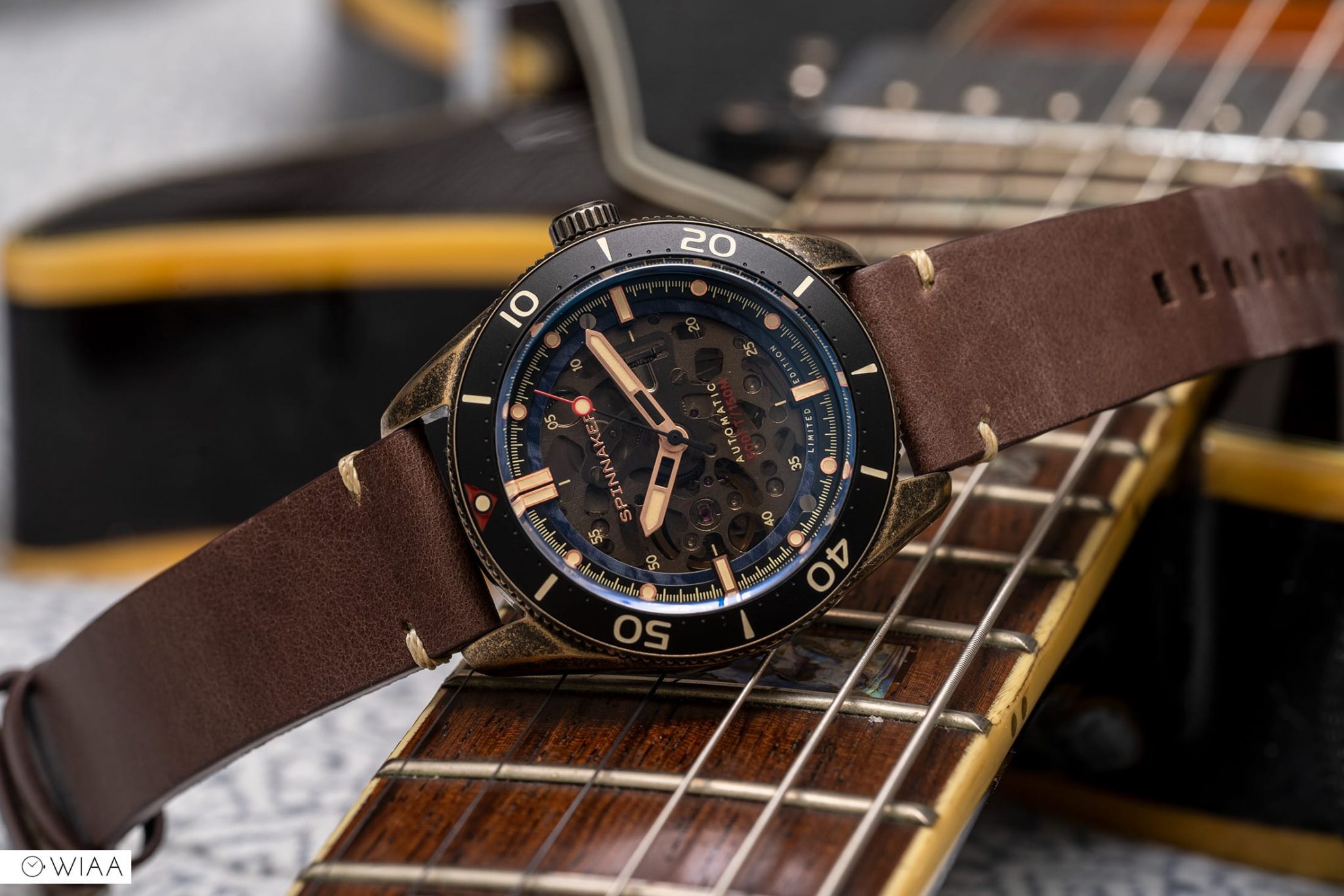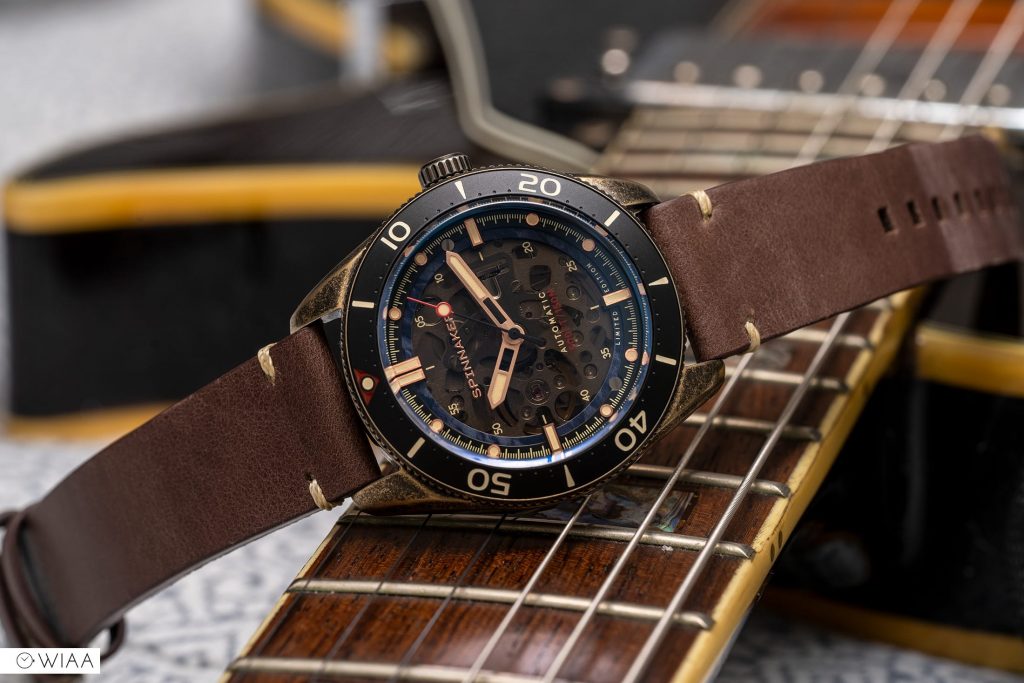 The base of the dial is purely exposed Seiko NH70 movement, with a smokey layer applied on top to increase the limited legibility. Legibility on a skeleton watch is always going to be an issue, however, they've attempted to get the best of both worlds here.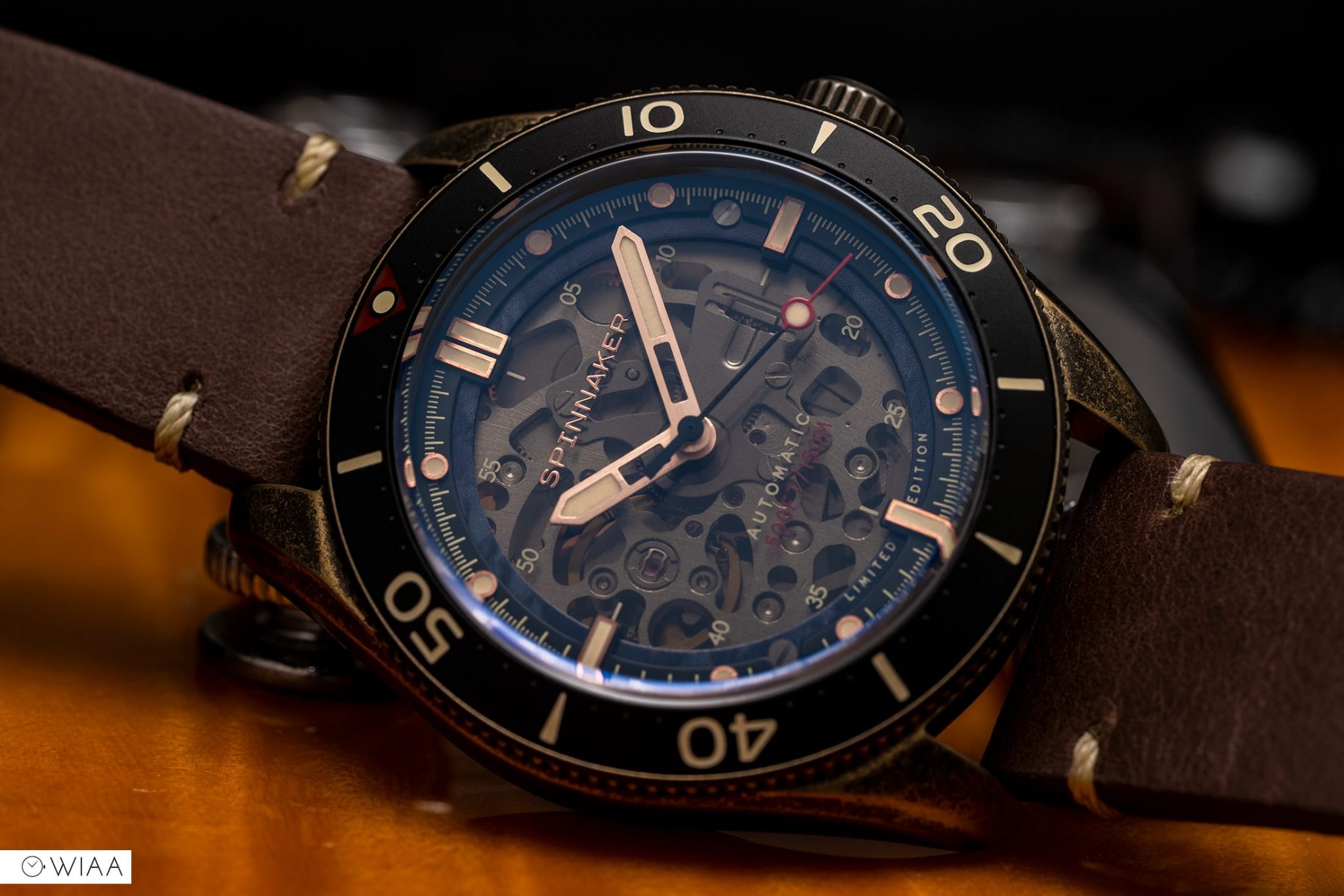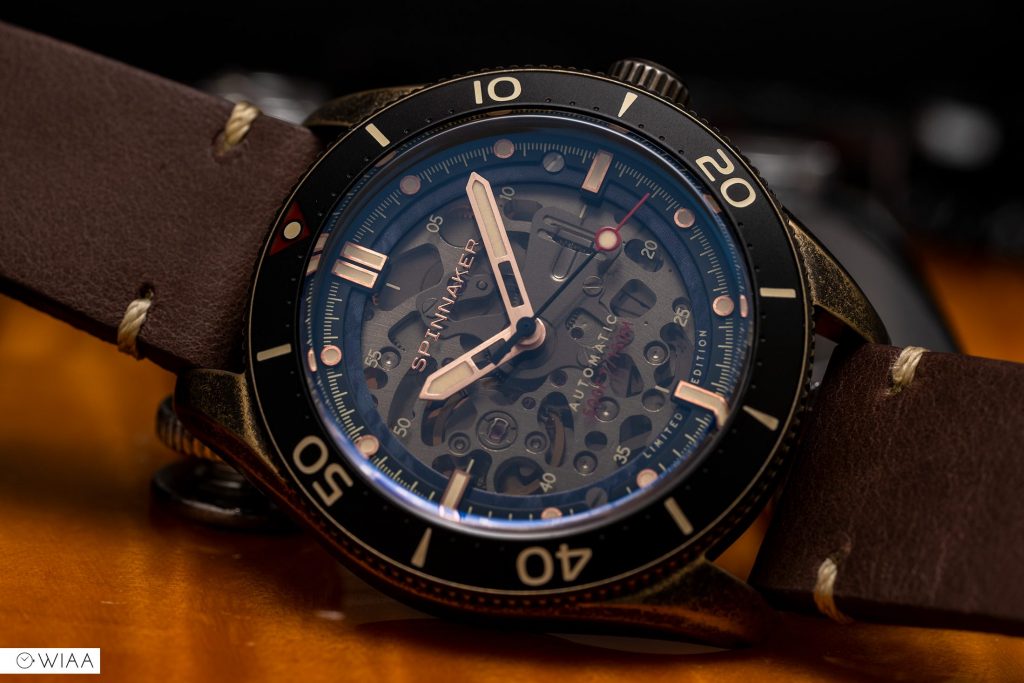 Talking about the movement, the NH70 is a skeletonised version of the ever-popular Seiko NH35, which you'll find in the majority of affordable automatic watches. Whilst the NH35 is industrial at best with its finishing (read: plain and boring), the NH70 is certainly a step above, and they've done a great job in making it look surprisingly well finished considering the budget aspect of it. Specs include a low best rate of 21.6k bph, hacking seconds hand, hand and automatic winding, and an approx 41-hour power reserve.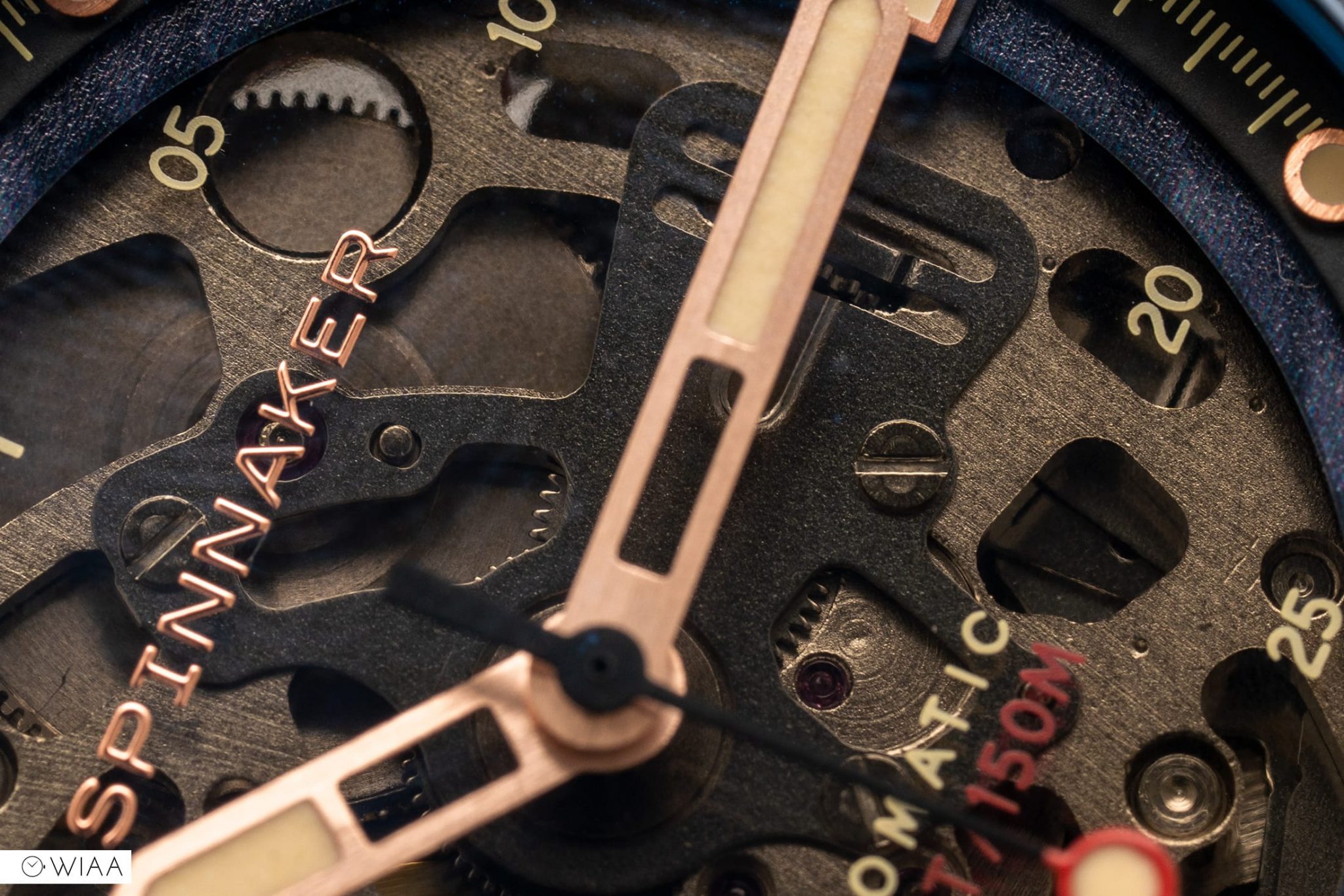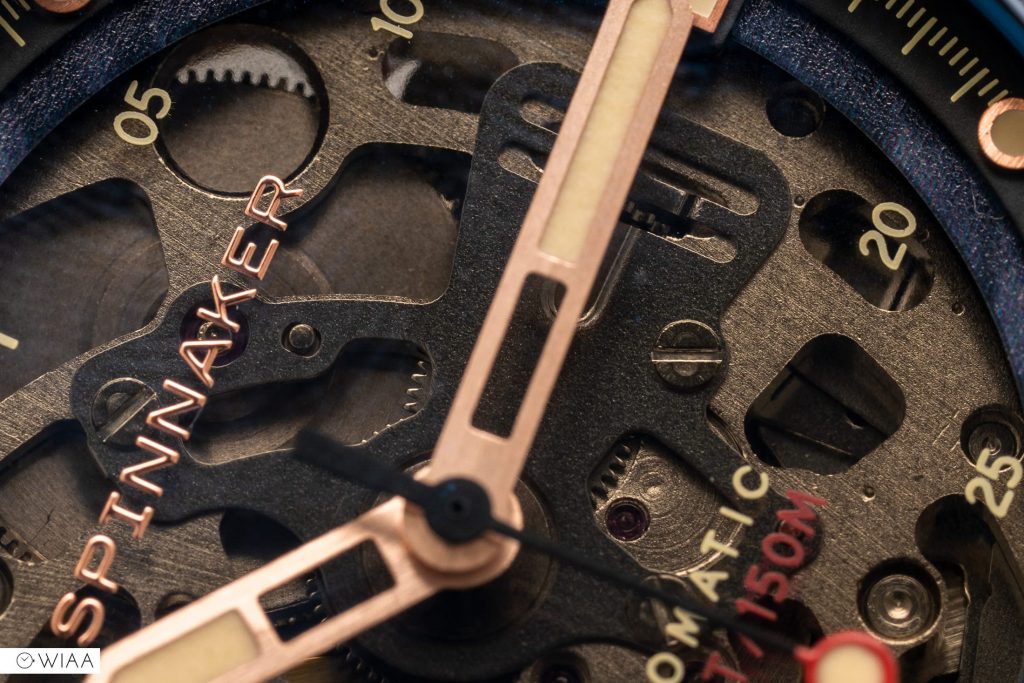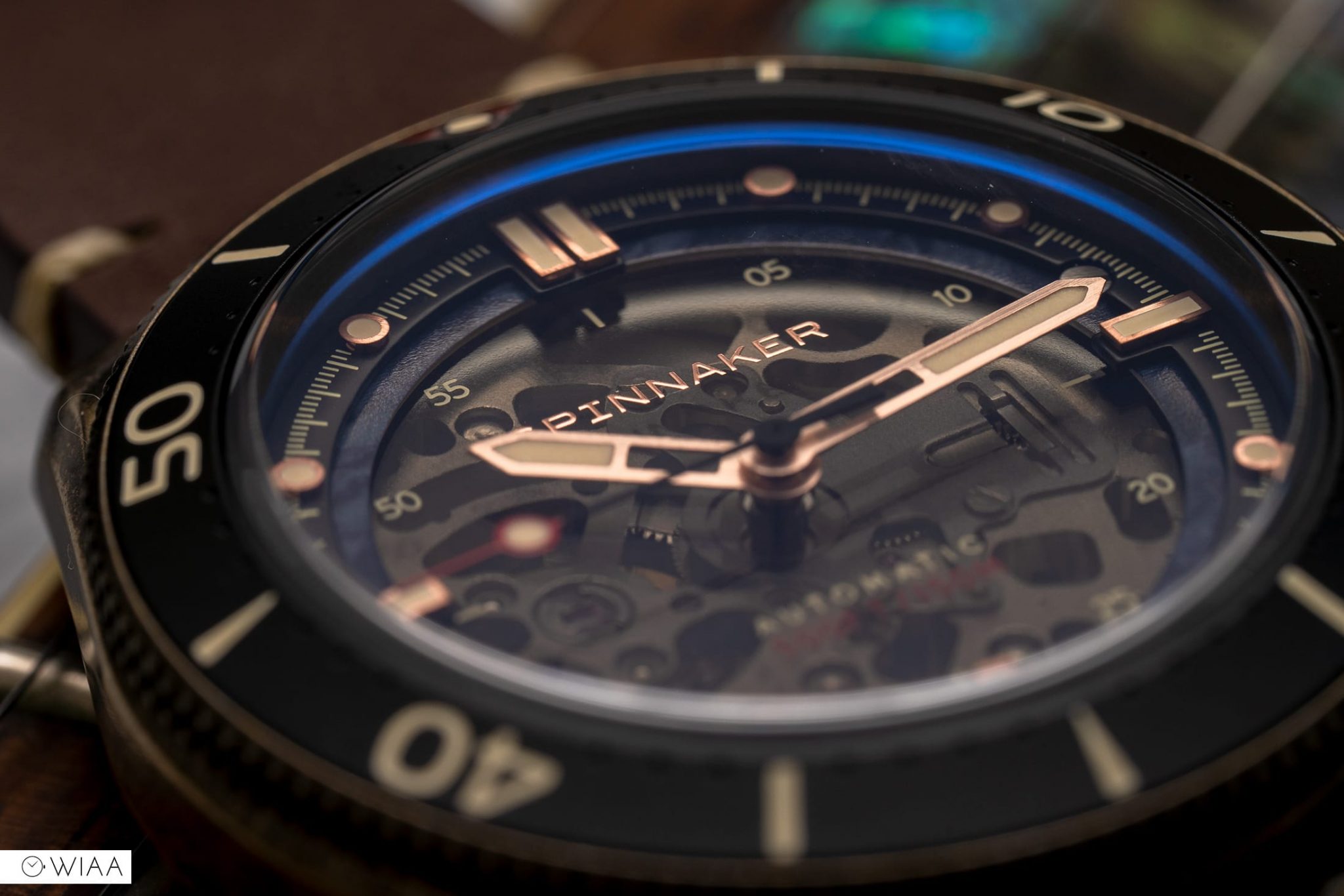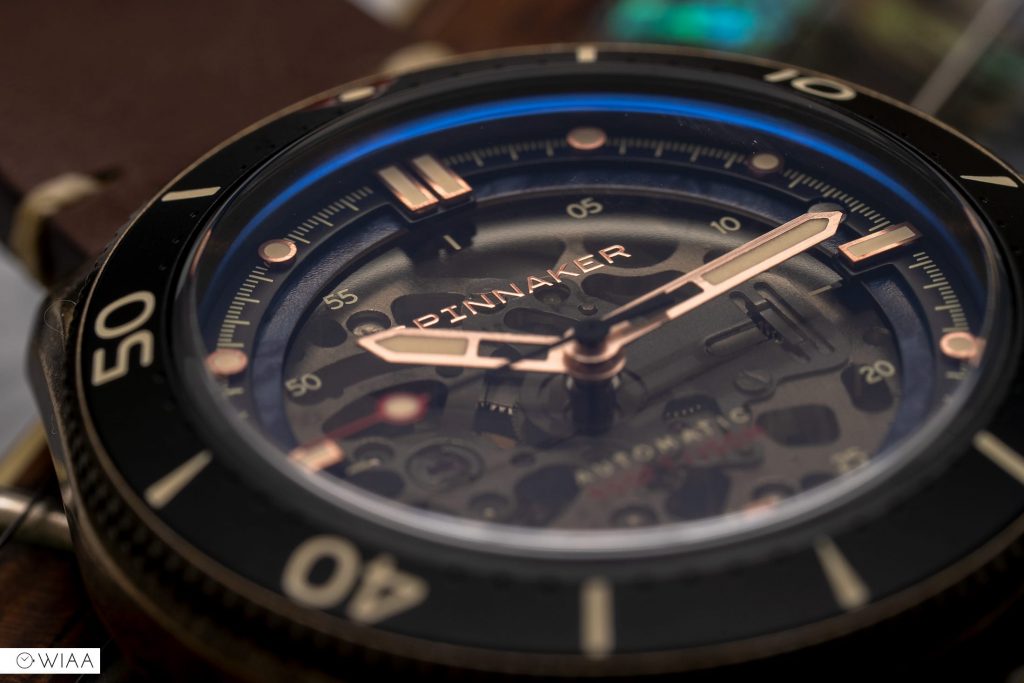 Spinnaker has also added a custom application to the rotor, making the rear of the movement, visible through the exhibition caseback, appear a lot fancier than the plain stock option.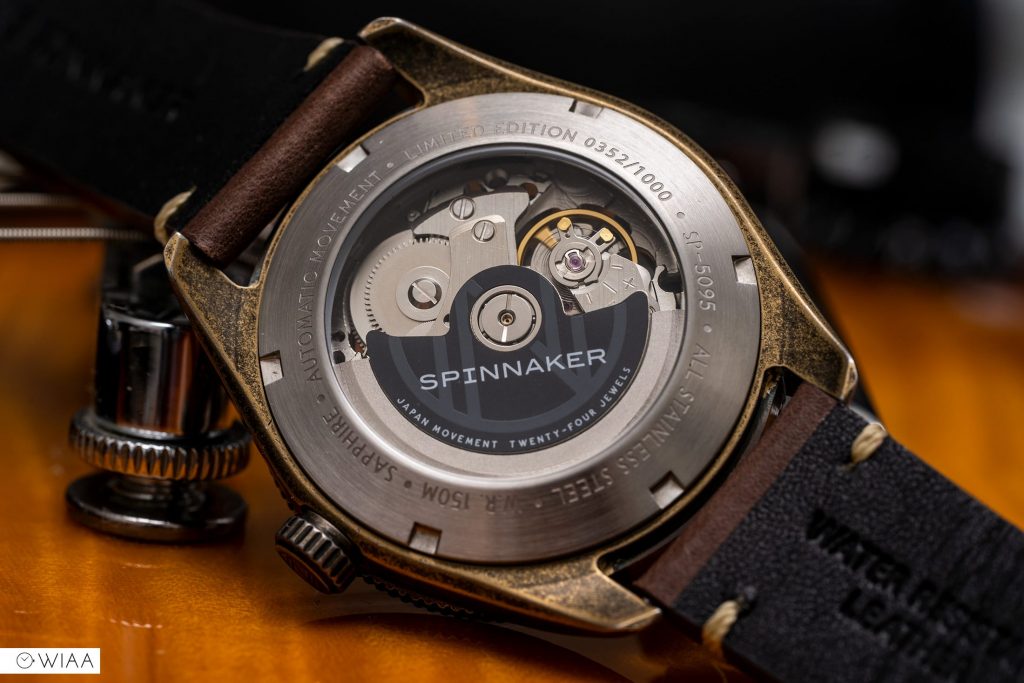 Moving back to the dial; the hands are thick and bold, ensuring optimum visibility on top of the complex movement; as well as the simple mix of disc and baton hour markers. They all have a brushed light bronze finish to them, continuing the vintage theme from the case.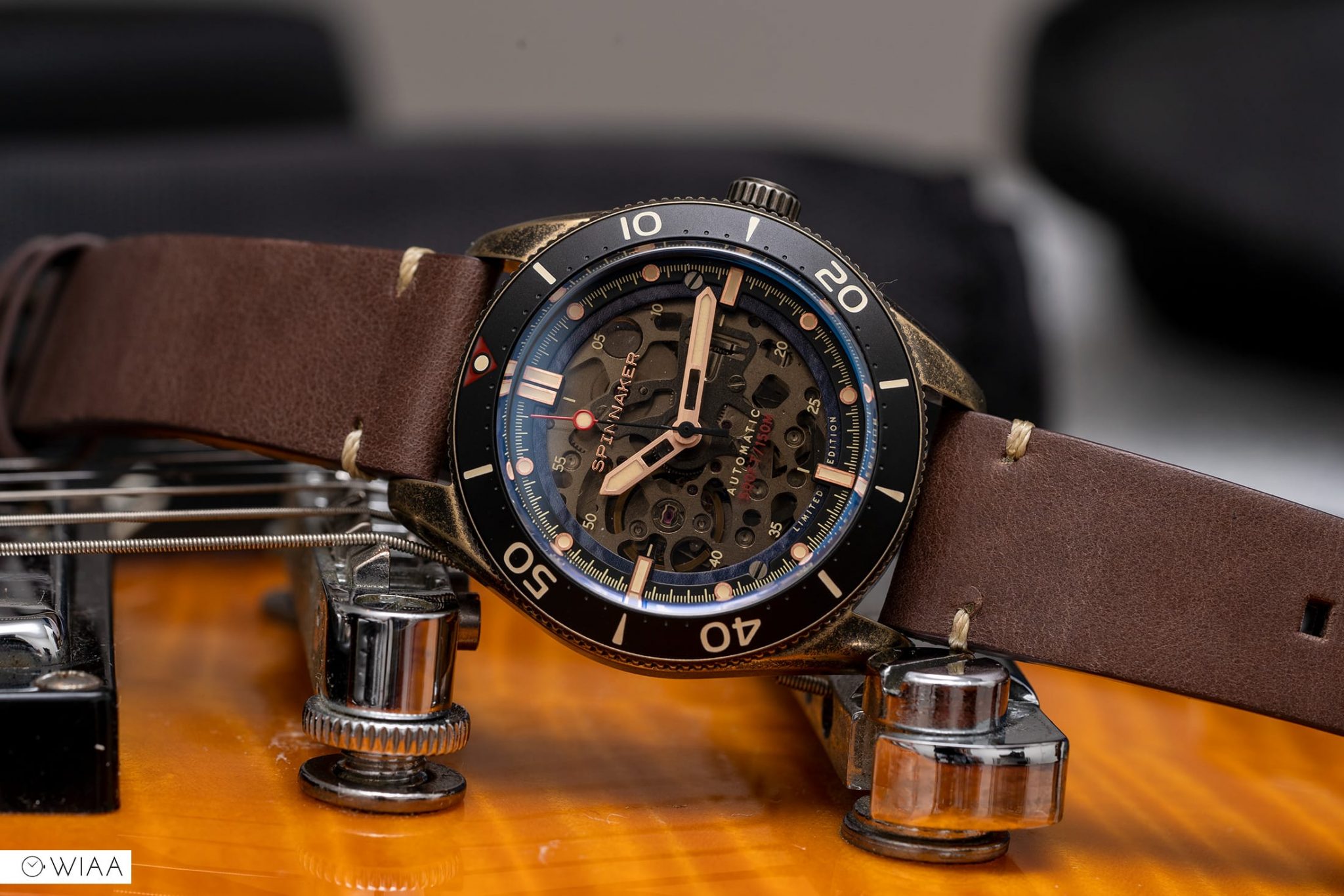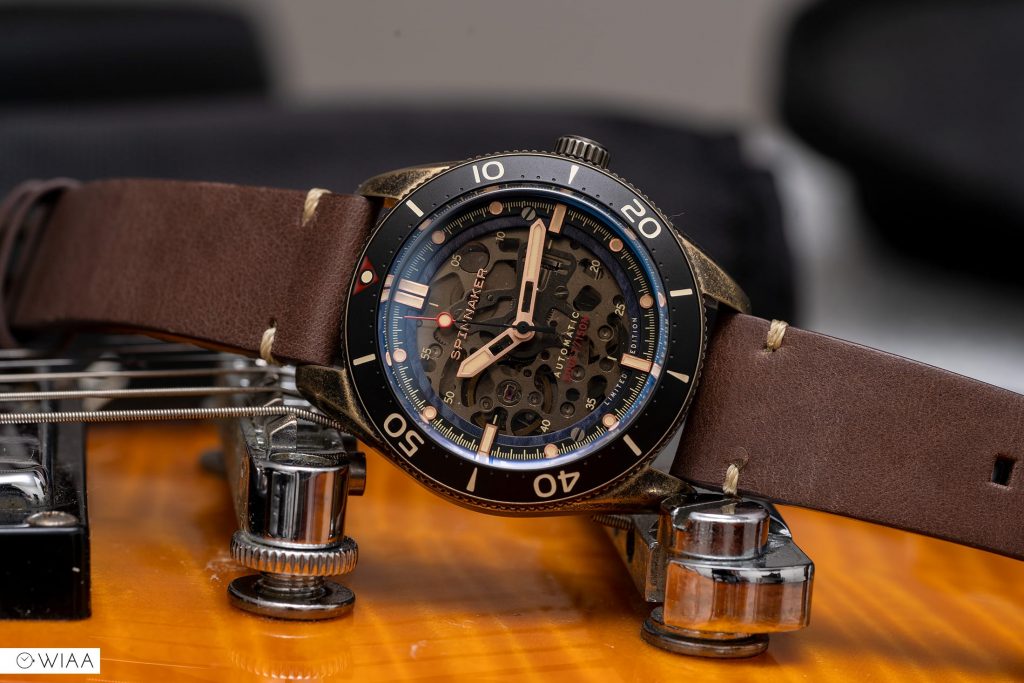 The case is a great size and shape. On my approx 7" wrist, it fits excellently and I have no complaints at all. Whilst 14.6mm sounds tall, it wears a lot thinner thanks to the slender profile which contracts a lot from the sides to the top of the crystal and bottom of the caseback.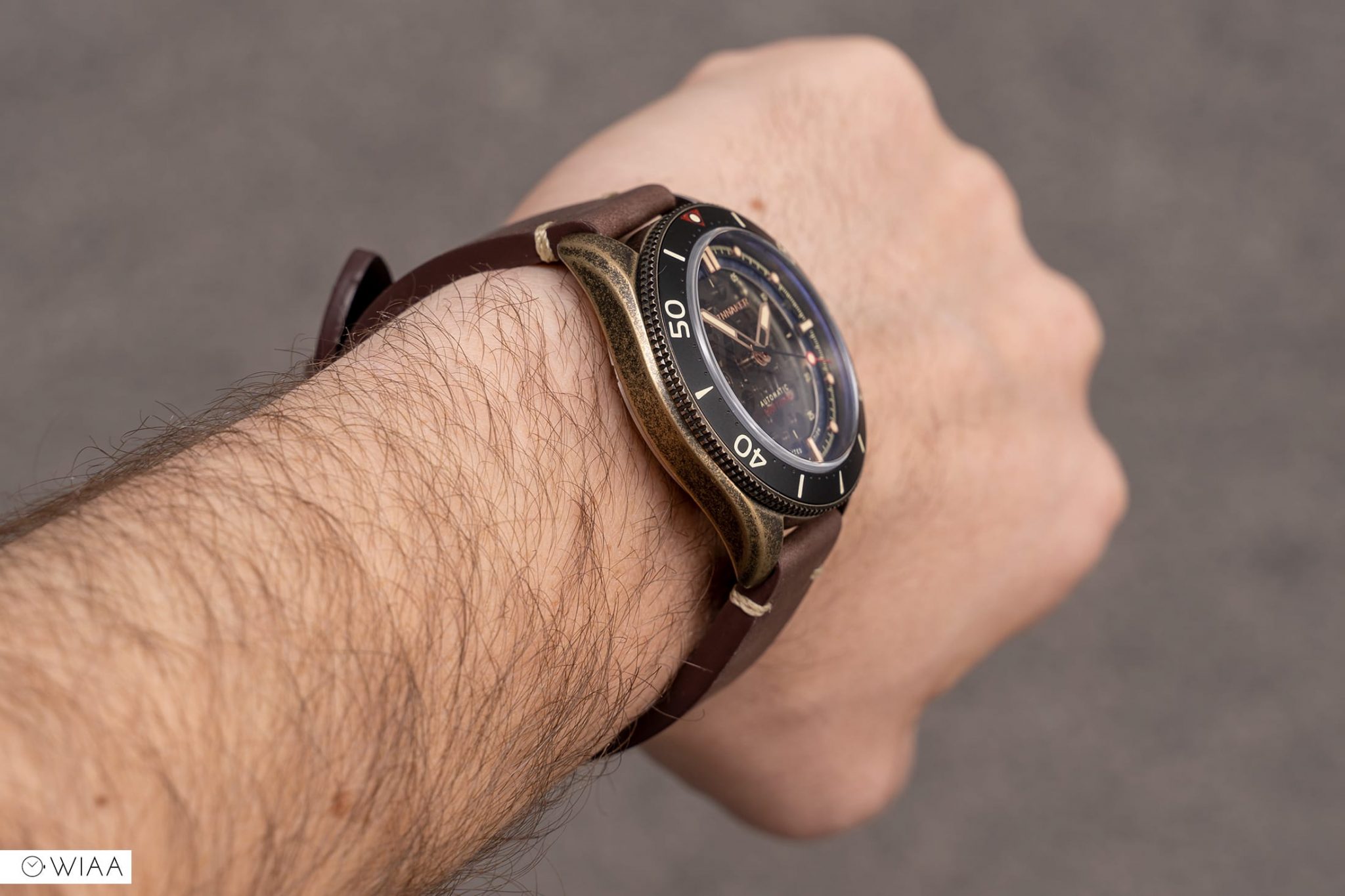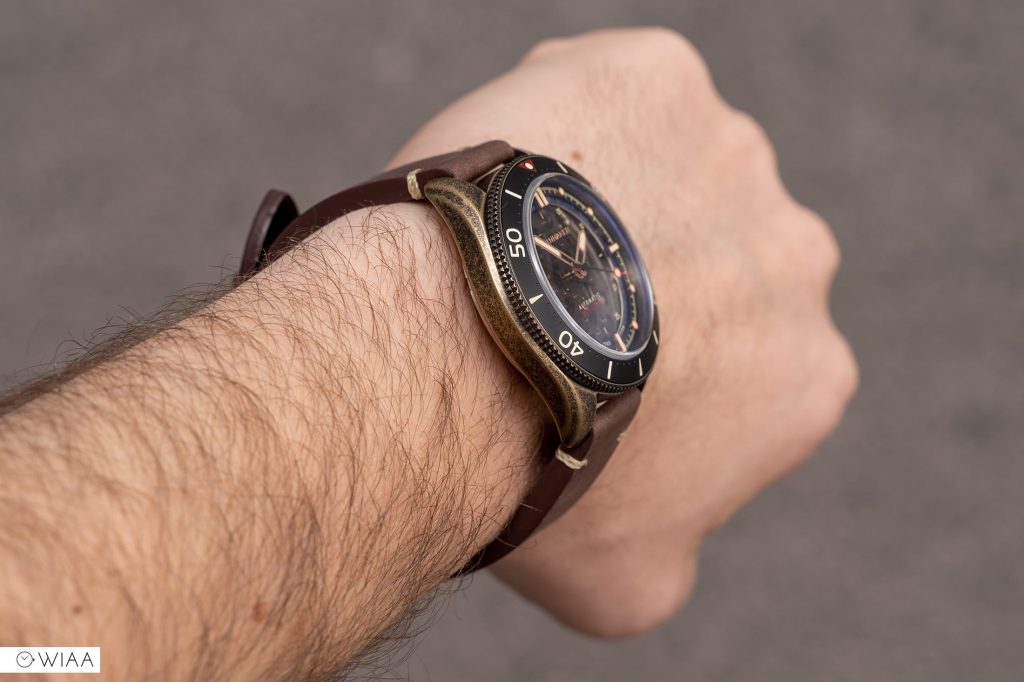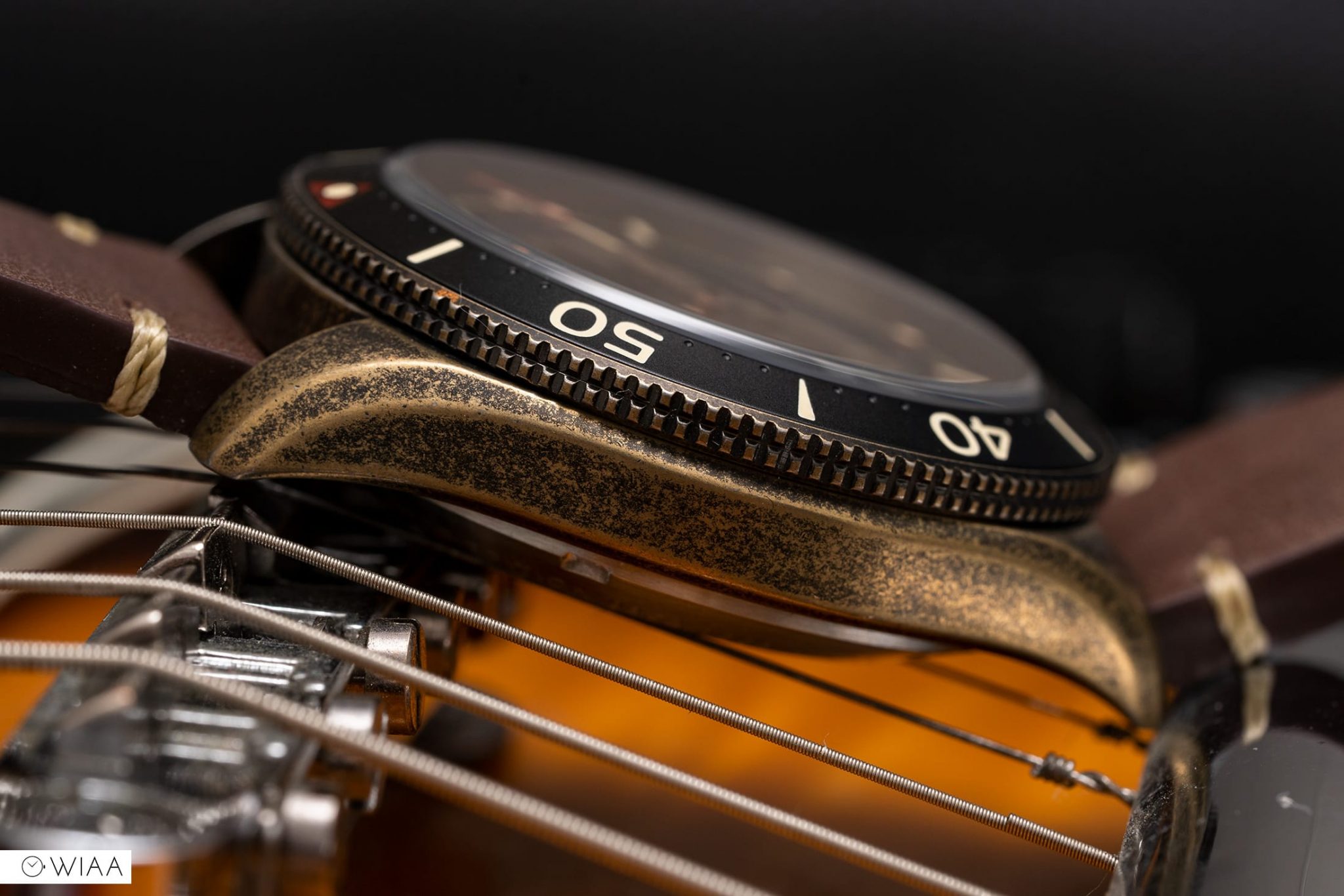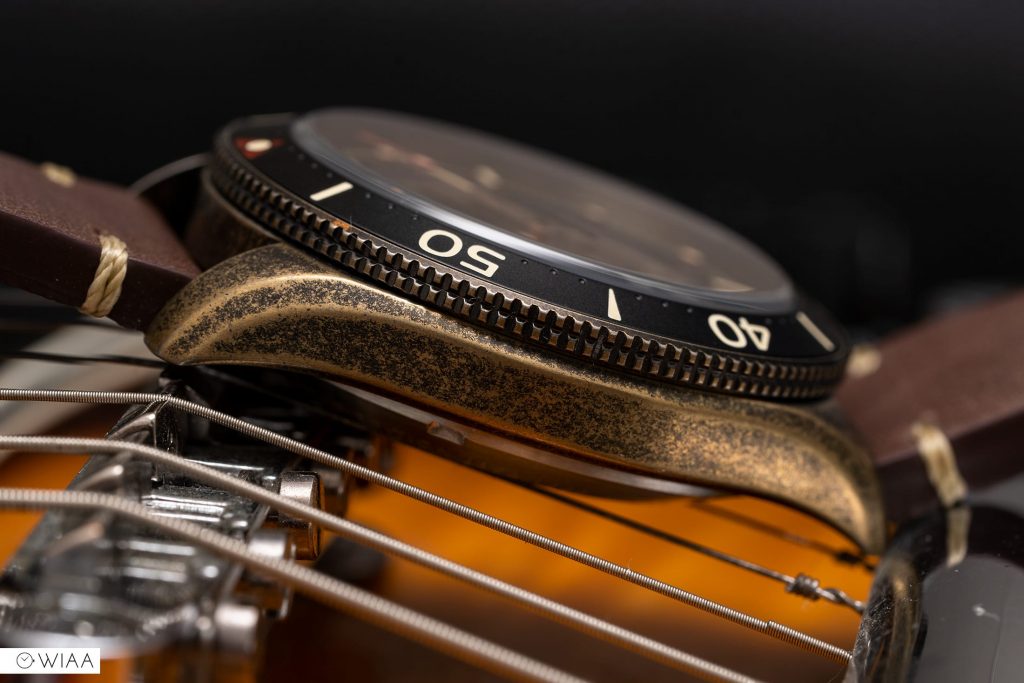 I must admit, I have questions about the case on this model. It's described as steel, so either the description is wrong, or this is an applied coating, which might rub off in time.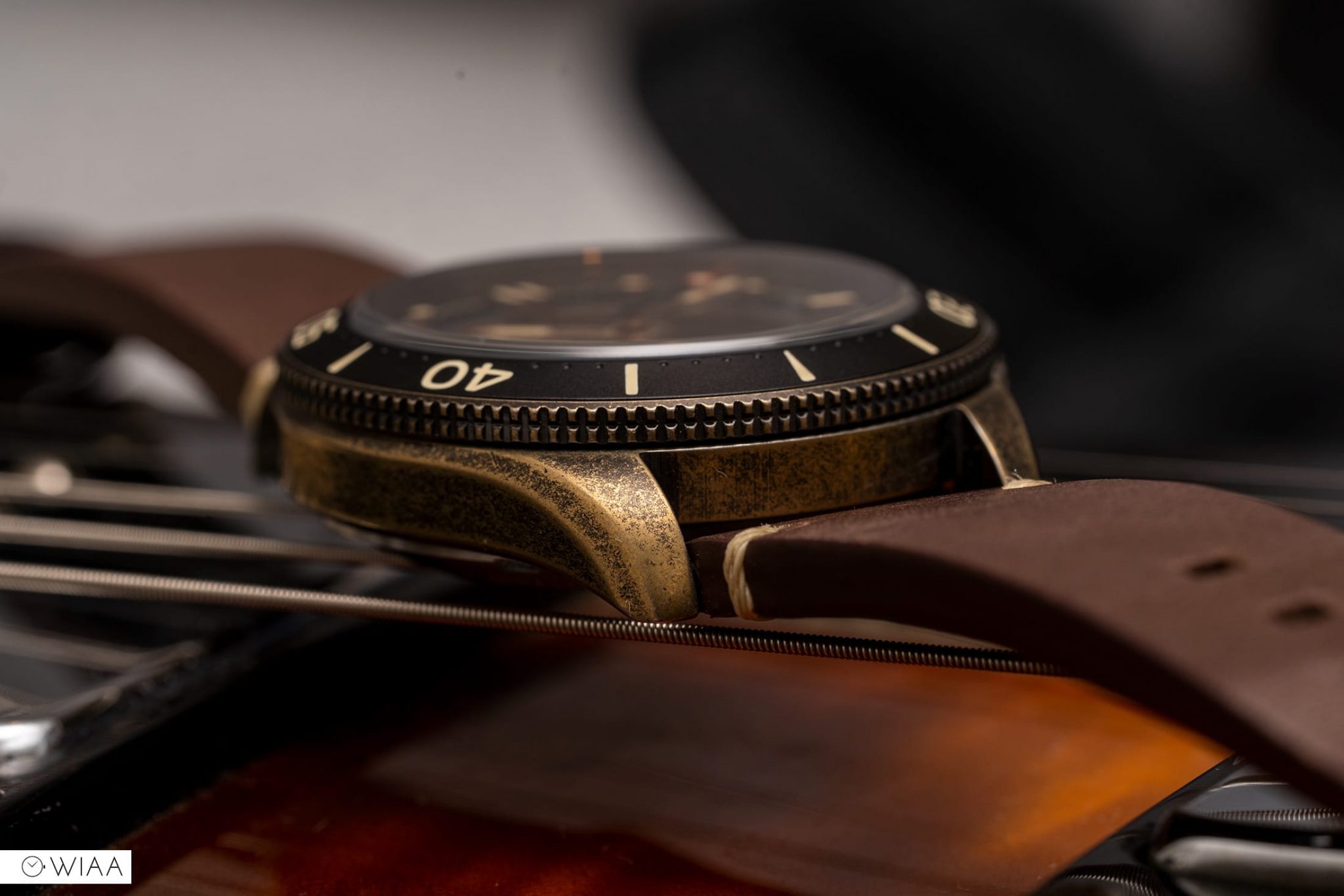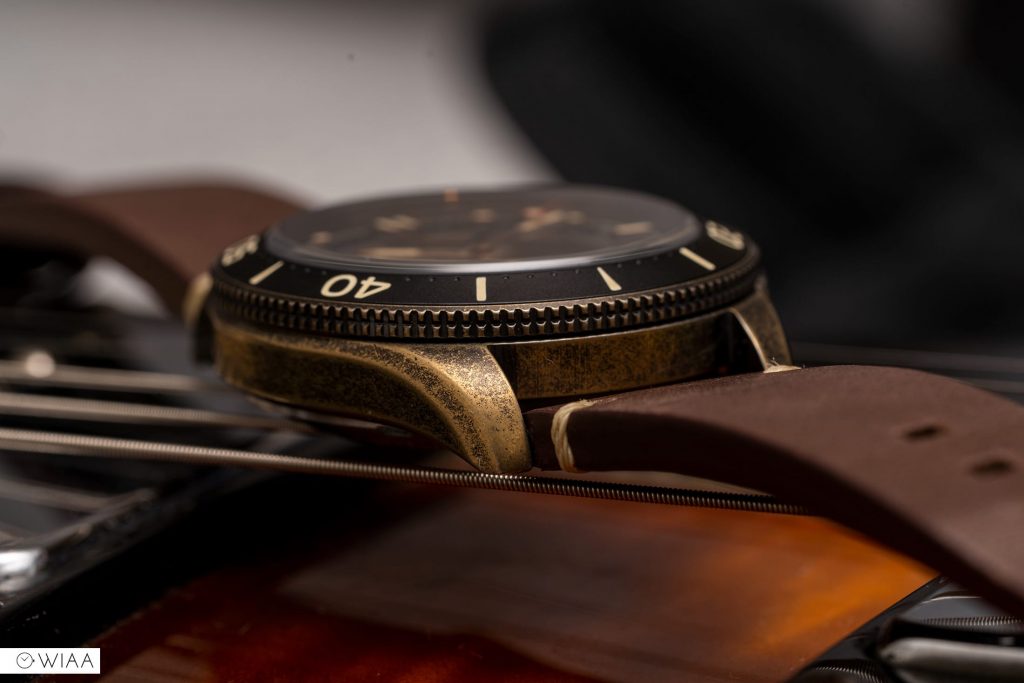 The screw-in crown is a delight to use, with an effective grip and sturdy thread. Spinnaker used to sign their crowns with a motif based on the Spinnaker Tower in Portsmouth, but now they opt for some sort of fancy N. It looks nice from a design standpoint, but I'm not sure of the connection. Whatever the case, it's nicely finished and well engraved.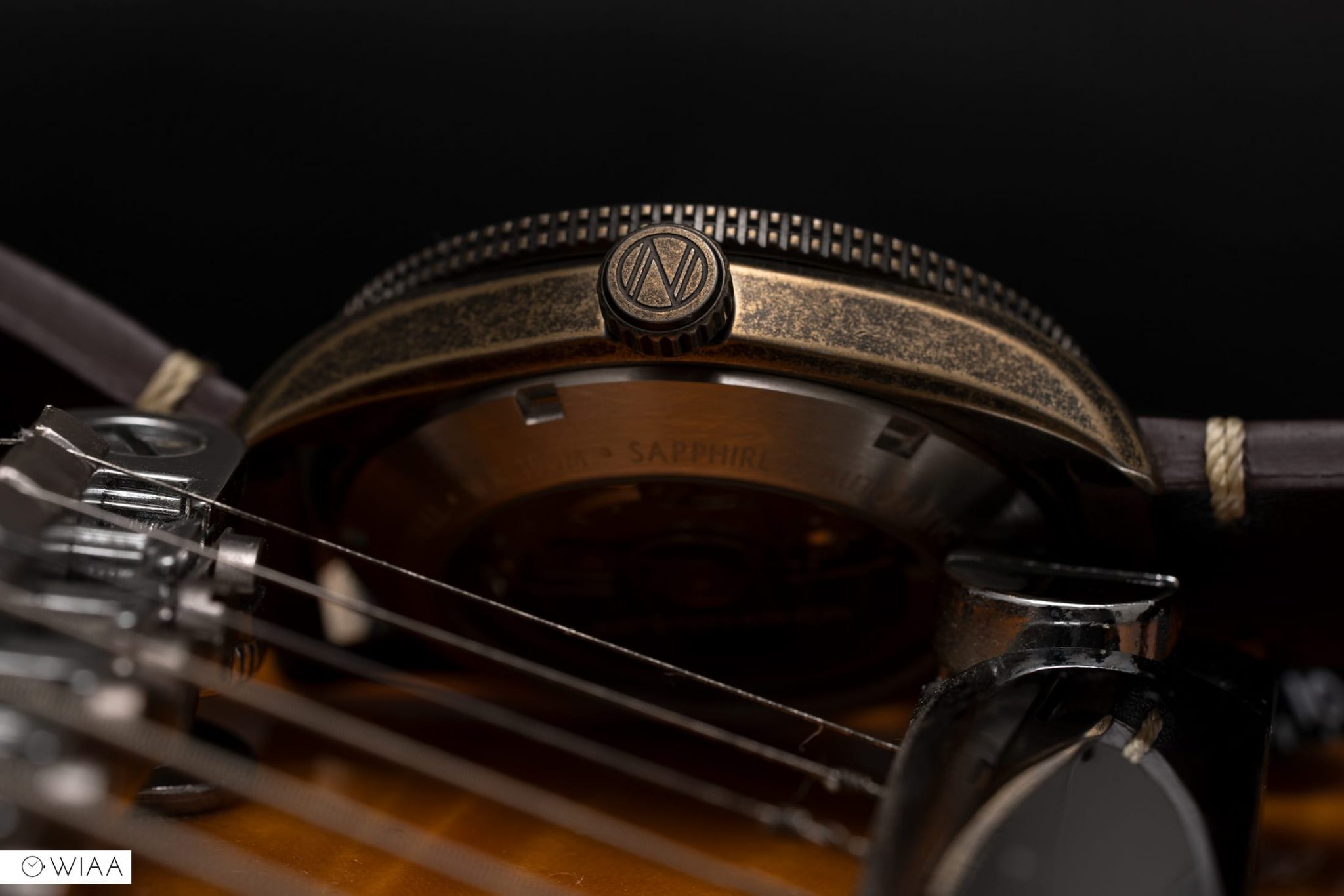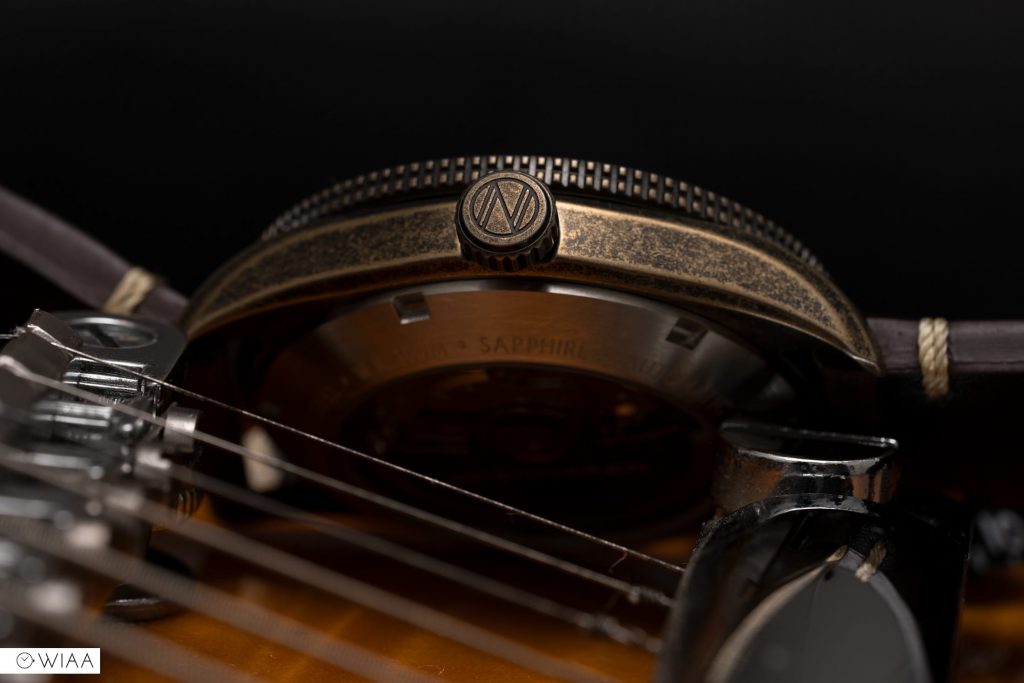 Moving on to the bezel; it's a simple enough aluminium insert, but it's wonderfully executed. Lume-filled numerals and dashes, little neat dents at each minute, and a tidy red triangle at 12 with lumed pip within.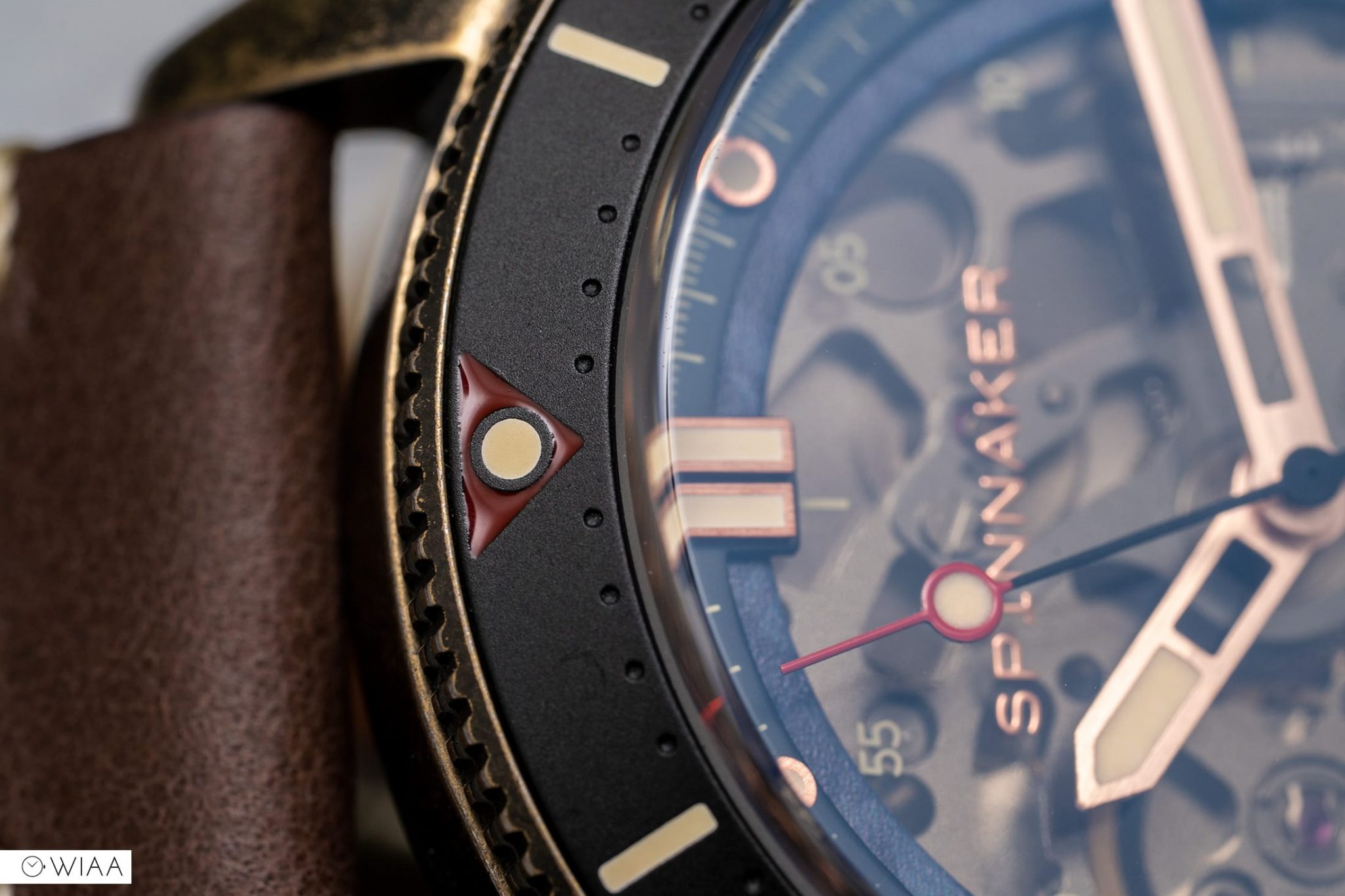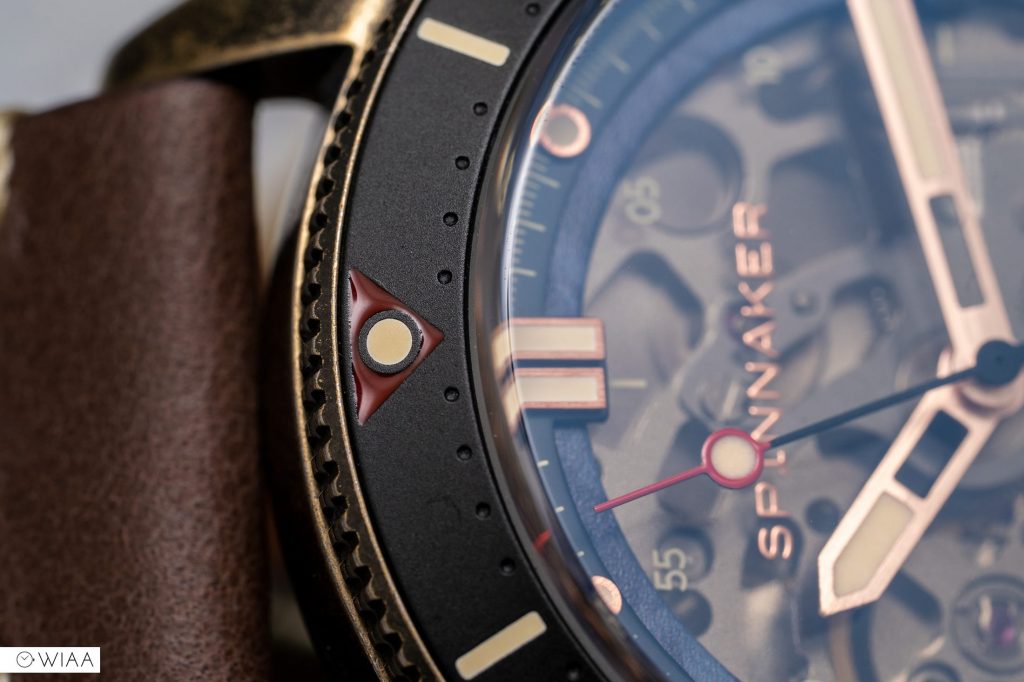 This brings us on to the lume, which is excellent. Thickly applied on all elements, it charges quickly, glows brightly, and lasts a while. Why can't some of the more expensive brands just get their lume right?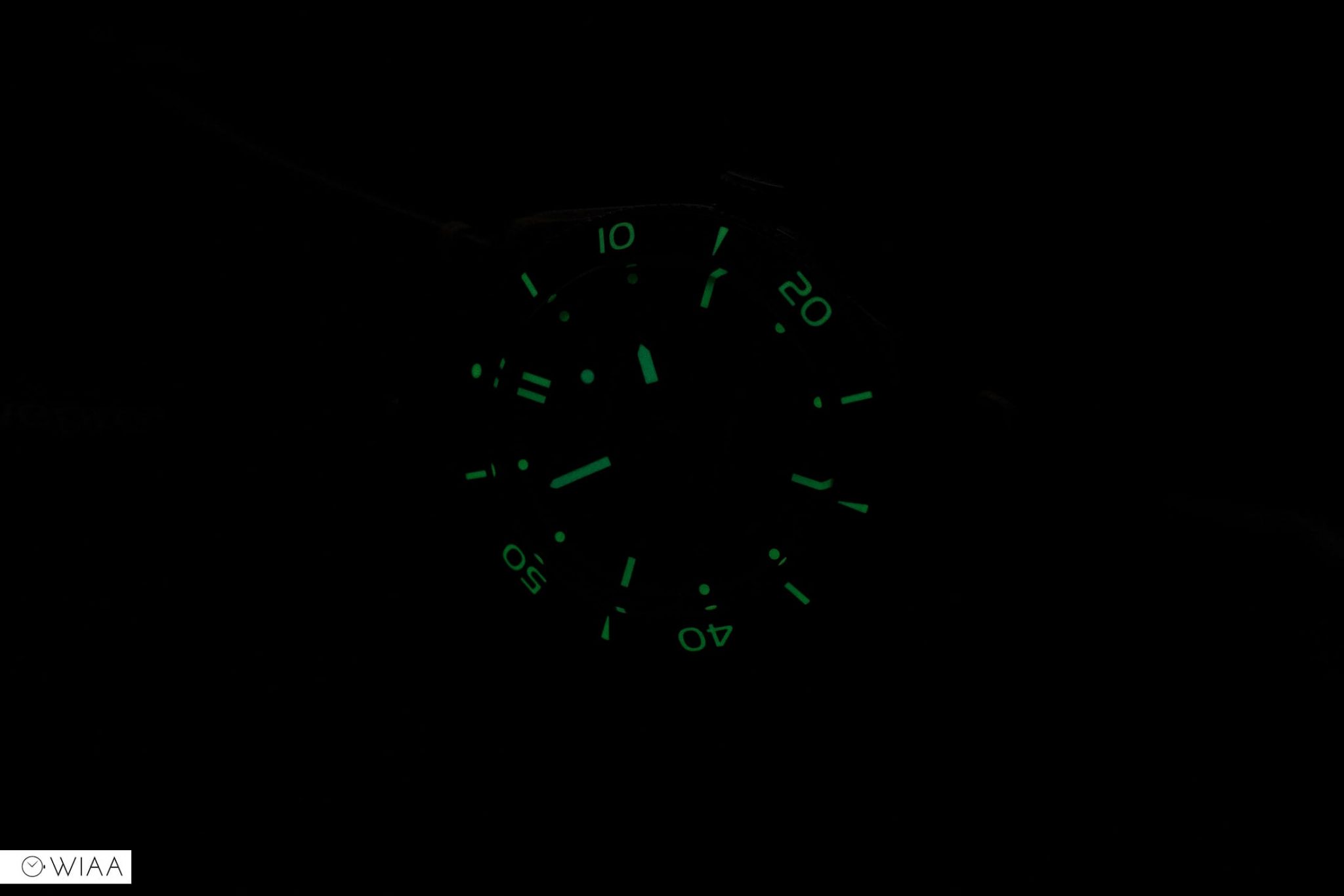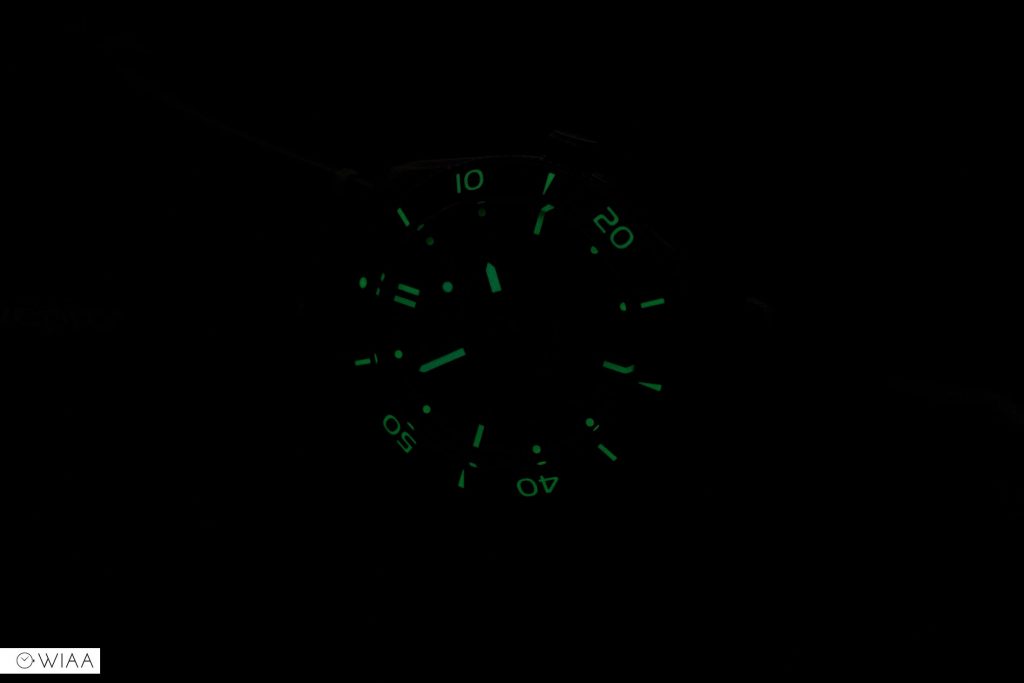 Finally, we come to the strap. I always find Spinakker straps to be nice and thick, supple and high quality. I'm pleased to say that's not changed here. It has a rustic matte brown finish to it which will age well, topped off with some cream stitched detailing at the lug ends. The buckle seems to have had a slight revamp to their usual too, with a more angular approach. It's got a matching finish / coating to the case, which works well with the brown. The logo is neatly engraved on the top bar.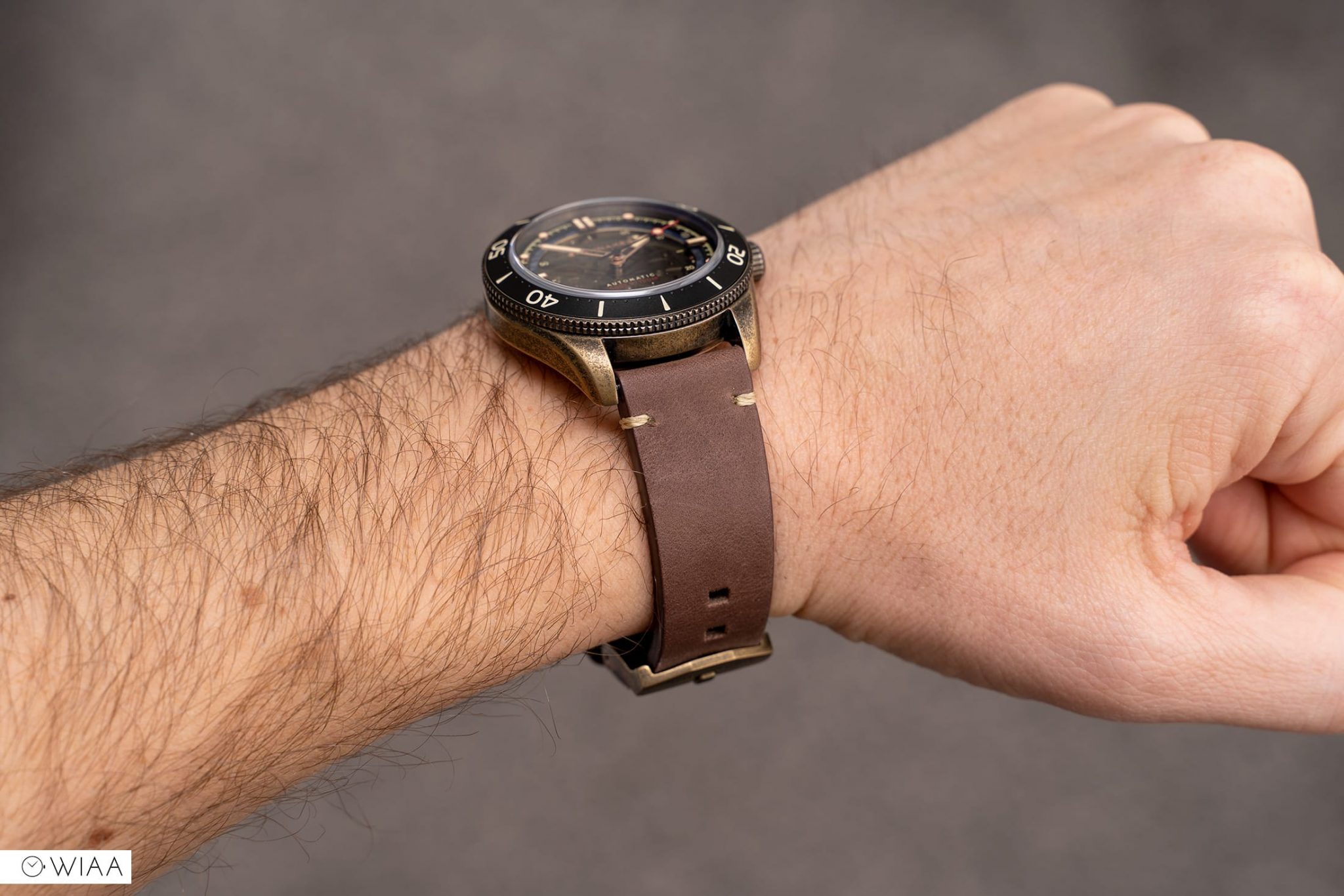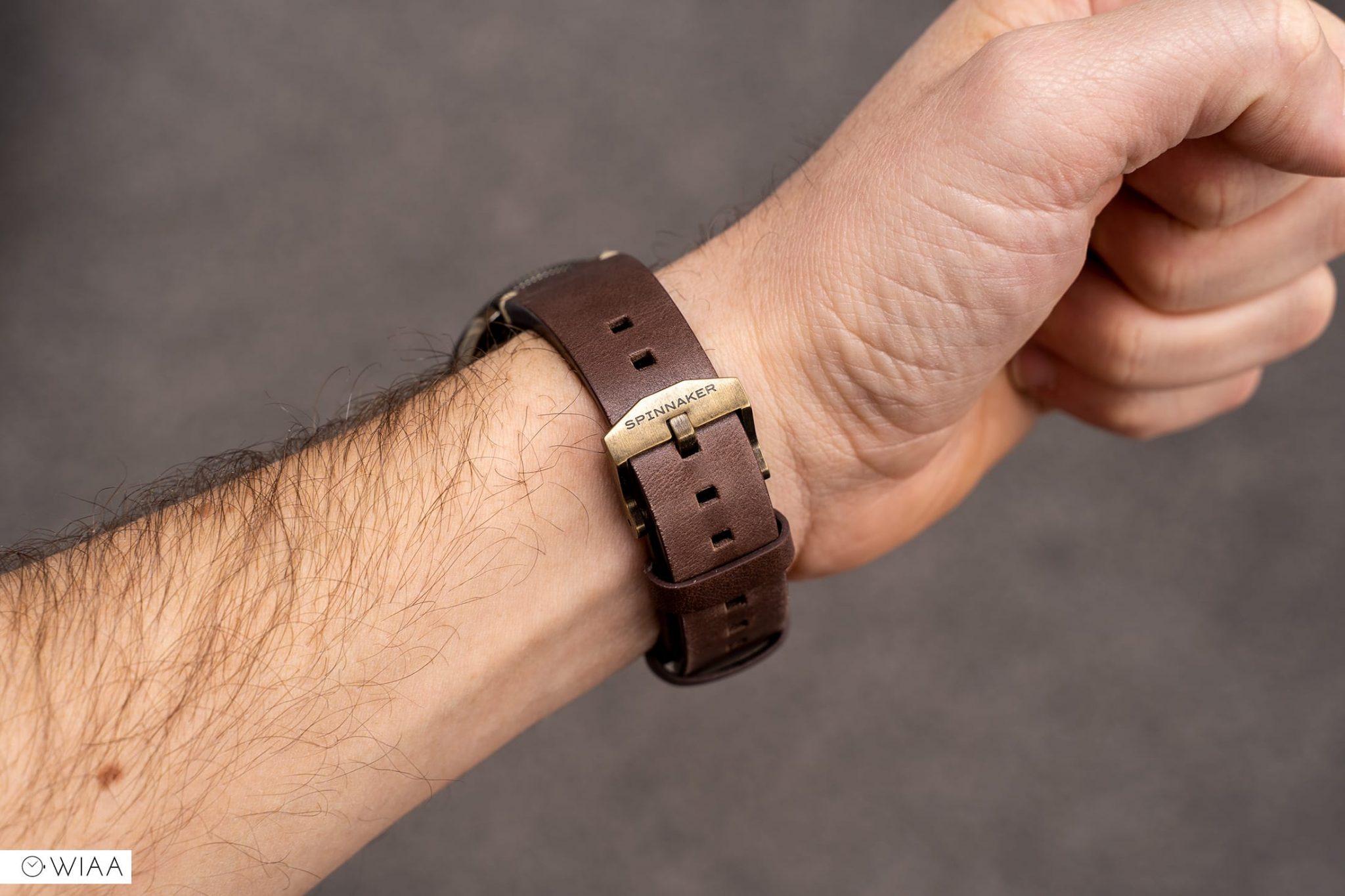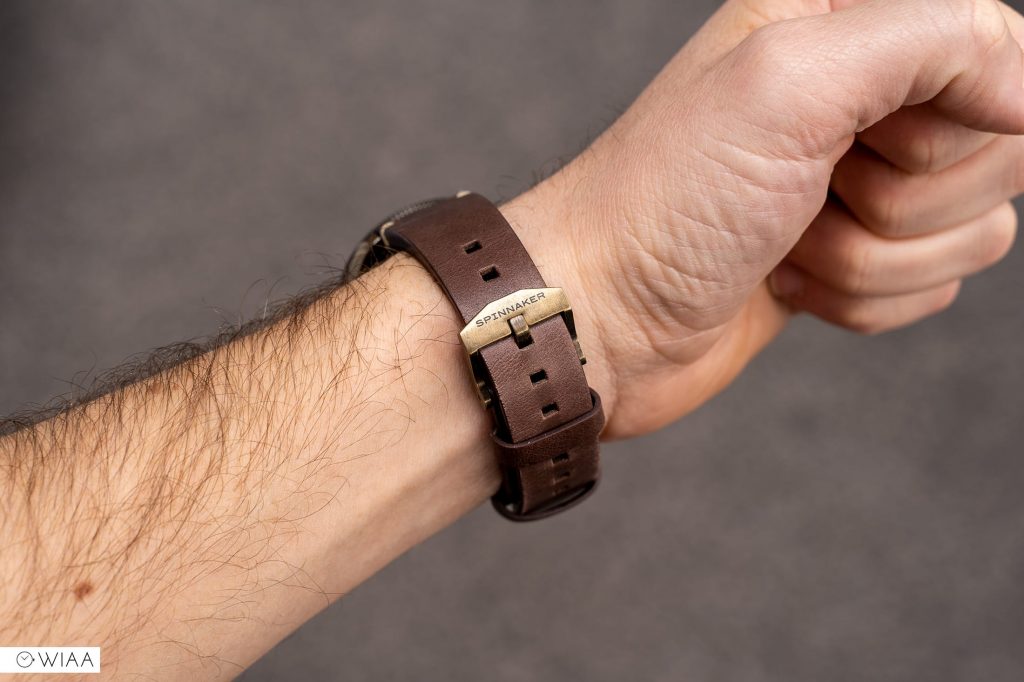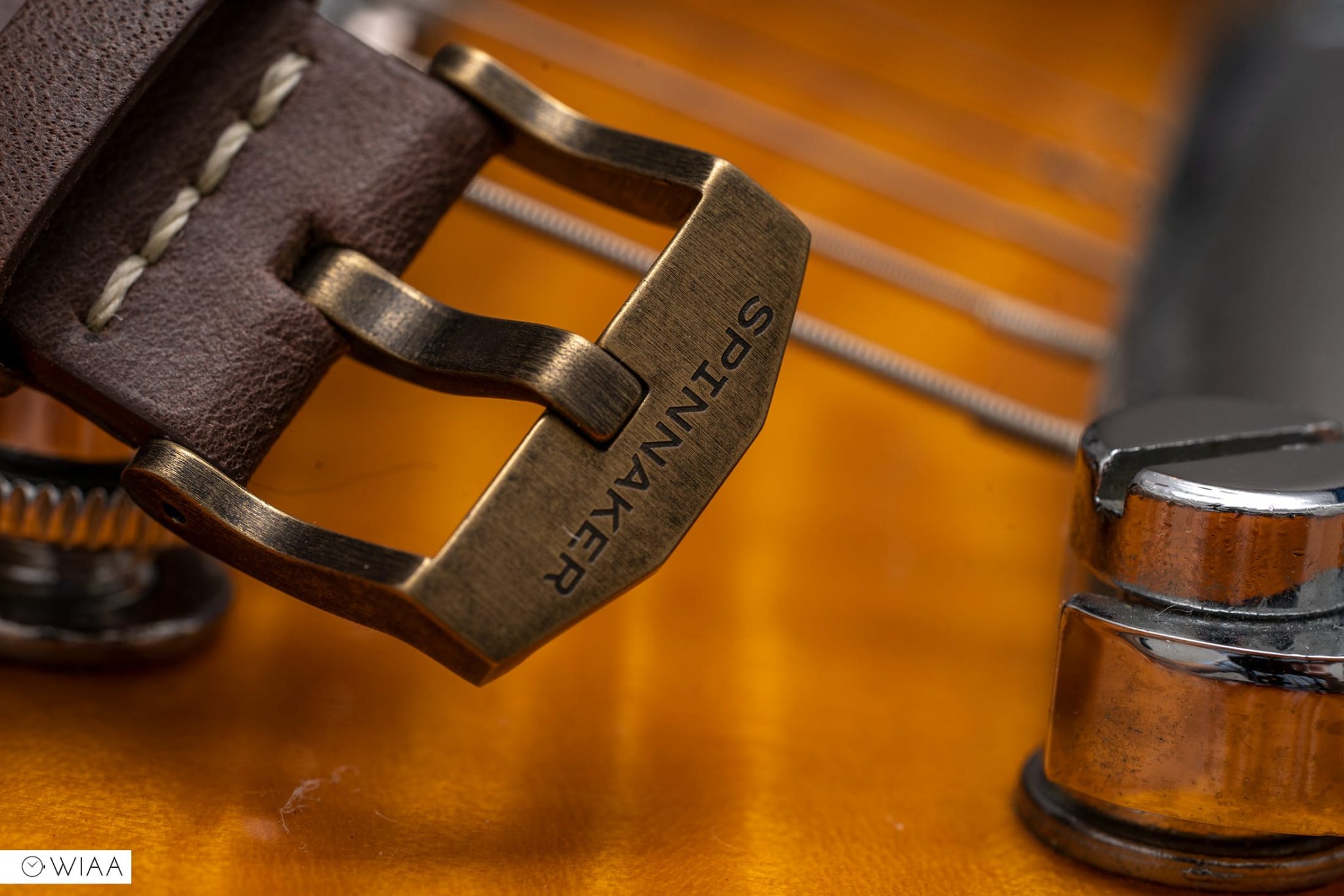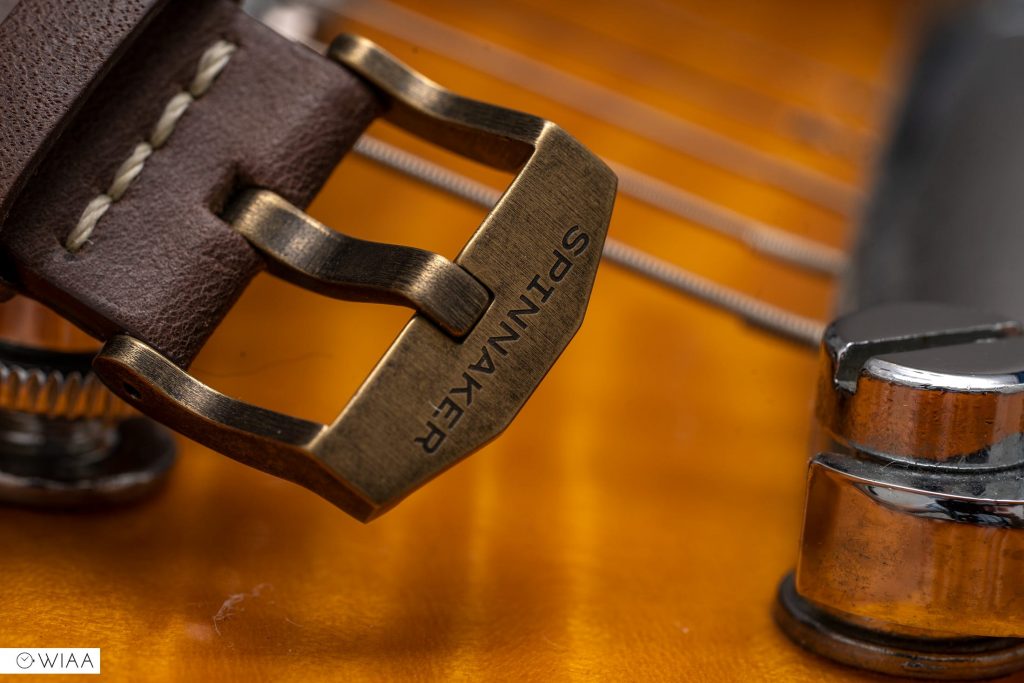 Spinnaker Croft Midsize Limited Edition Final Comments
I applaud Spinnaker for trying something different. In fact, these are their only skeleton models available. From top to bottom, it's a genuinely lovely watch too – with Spinnaker's usual excellent build quality. I like the vintage / rustic aesthetic, which is tastefully done. It also provides some of the best legibility on a skeleton watch I've seen before thanks to the smokey opaque dial and bold hands and simple layout. So if you're after a skeleton watch, but have concerns for readability then this could be just for you.
The RRP of £310 is a bit steep for me, but using code WIAA20 for 20%, making it £248, is much more reasonable. For that, you get a solid 150m diver with a flourish that's not the norm.