When I saw the first pictures of the new limited edition Boettger, I must confess I was quite excited. Initially I wasn't aware it was from Spinnaker, so when I realised I was all the more eager to get my hands on one to try out. Generally for new releases from Spinnaker they are variations on a theme and quite recognisable in terms of the finishes they use and their colour palette. But when I saw the Boettger, I didn't think of Spinnaker. I saw shades of the Sinn 809 Aut. Finding out this was a Spinnaker piece was the icing on the cake as it would mean it was probably going to be an affordable alternative. And who could complain about that!
So fast forward and now I've spent some time with the Boettger and got to know it a little better. How did I get on?
Well, let's start with the basics as I said at the start this watch didn't immediately strike me as a Spinnaker it has a very clean sharp look that is quite simple in terms of finish and details. I usually find Spinnaker heavily stylise their watches, but this version of the Boettger the SP-5083-33 has a very dark grey dial no textured finish no sunburst just mat dark grey. The indices are simple with a triangle for the noon position, batons for the six and nine and the simple circular markers for hours in between. The raised outer track holds the minutes and the dial script simply has the Spinnaker name nicely printed in silver to match the indices surrounds and hands. just above the six position Automatic is printed in crisp white and just below that 1000ft 300m printed in dark red. The hands are in silver and an interesting mix of maybe the original Sinn style with a touch of Mercedes for the hour hand. It was an interesting design choice to change the hour hand, and while legibility is excellent just in part to the large size, it does throw off the dial a little in terms of balance.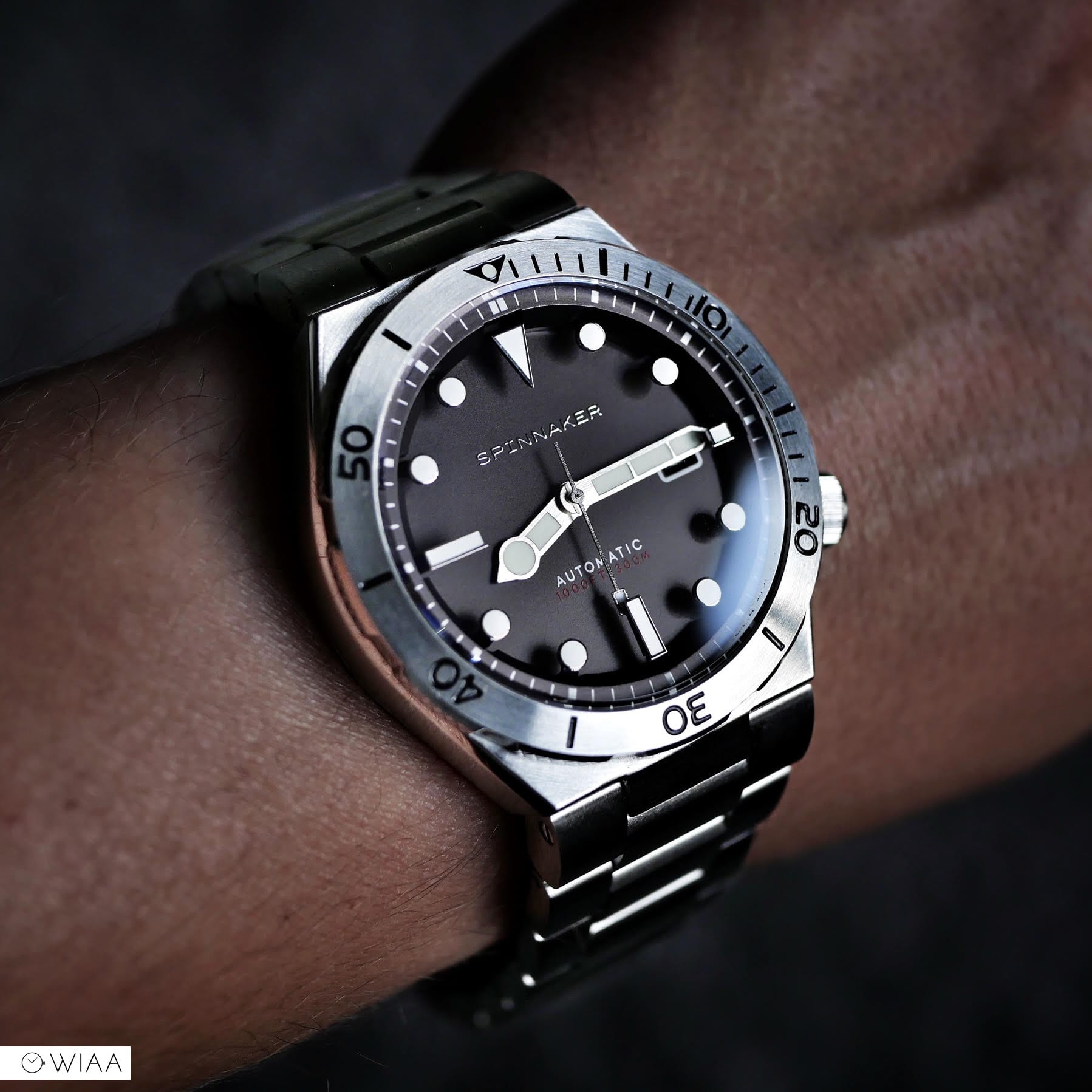 The dial also has a date complication with a white framed window and a black date wheel, so it fits in with the dark grey dial nicely. The attraction of this dial I think for most people will be the fact that the indices appear to be floating. A smart trick on Spinnakers part to put a twist on a reasonably austere dial. The indices are attached against the side of the chapter ring, which means the hands pass under the indices. It's definitely a fascinating approach to the dial and gives it a real depth, especially when looking at any angle other than directly at the dial. Although Spinnaker isn't the first to use this design method, it's certainly not something you see very often!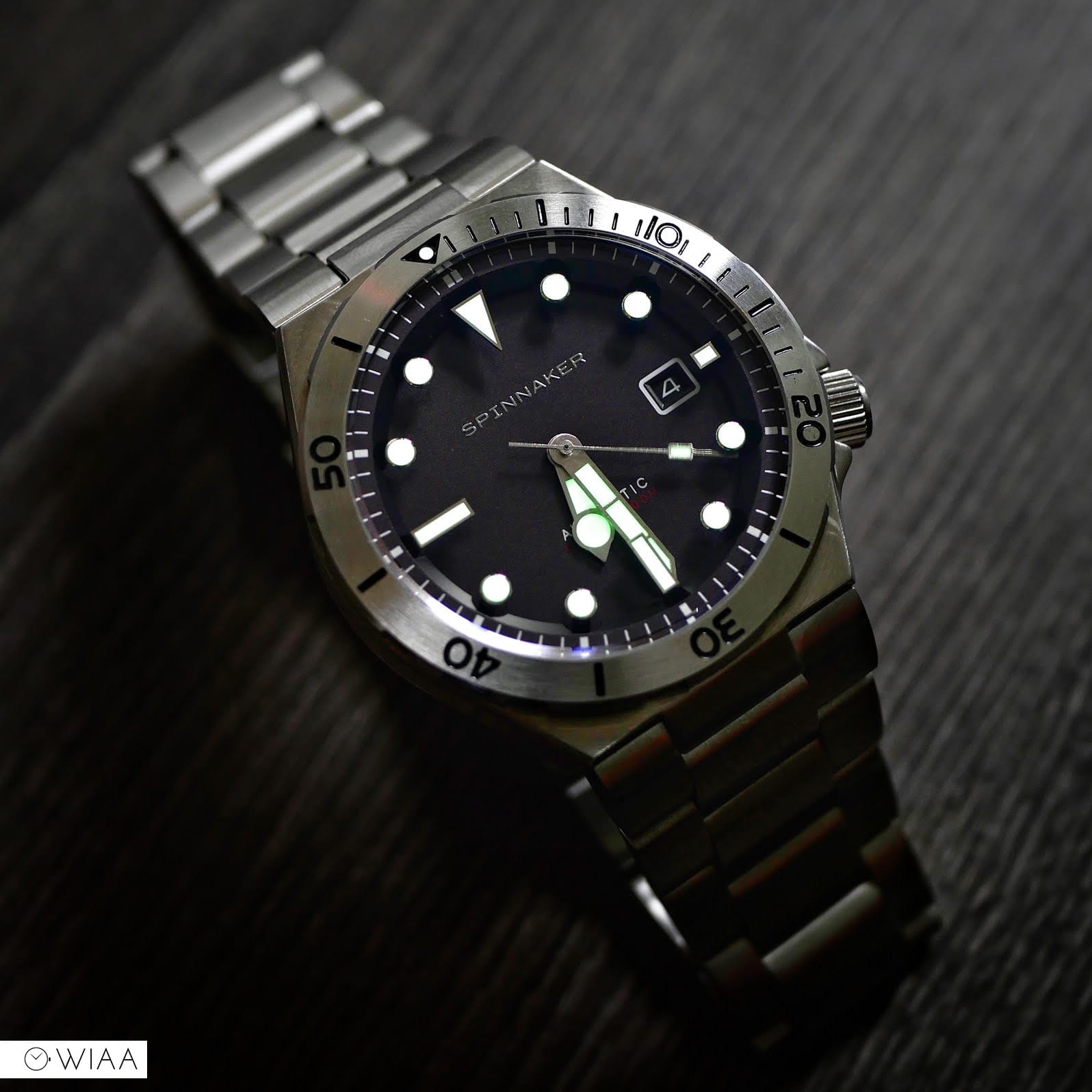 The case and bezel are mainly brushed stainless steel with the crown for time and date adjustments sitting at the four o'clock position. The bezel action is 120 click unidirectional and has a satisfying click with little back play in operation. Sapphire crystal sits on top of the dial as you would expect from a serious diver. This isn't a small watch at 42mm in diameter and 13mm thick it carries some wrist presence. Lug to lug is measured at just a hair under 50mm which could be an issue for some with smaller wrists. The case is described as lugless due to the integrated bracelet design, but in reality, there is no articulation in the first links either side of the case, and this causes two issues. Firstly it could provide an awkward fit due to the initial steep angle of those first links, and secondly, there is no way to change the bracelet as it's an integrated style. So be aware of this if you're considering purchasing and try it on for size if possible. Thankfully if you find it fits well which I think it should for most, and you have no issues with the integrated style then its a very nicely made bracelet with a very fine brushed finish and a taper from 26mm at the case to 20mm at the clasp. The clasp provides you three micro adjustments and a divers extension should you need to get this over a wetsuit.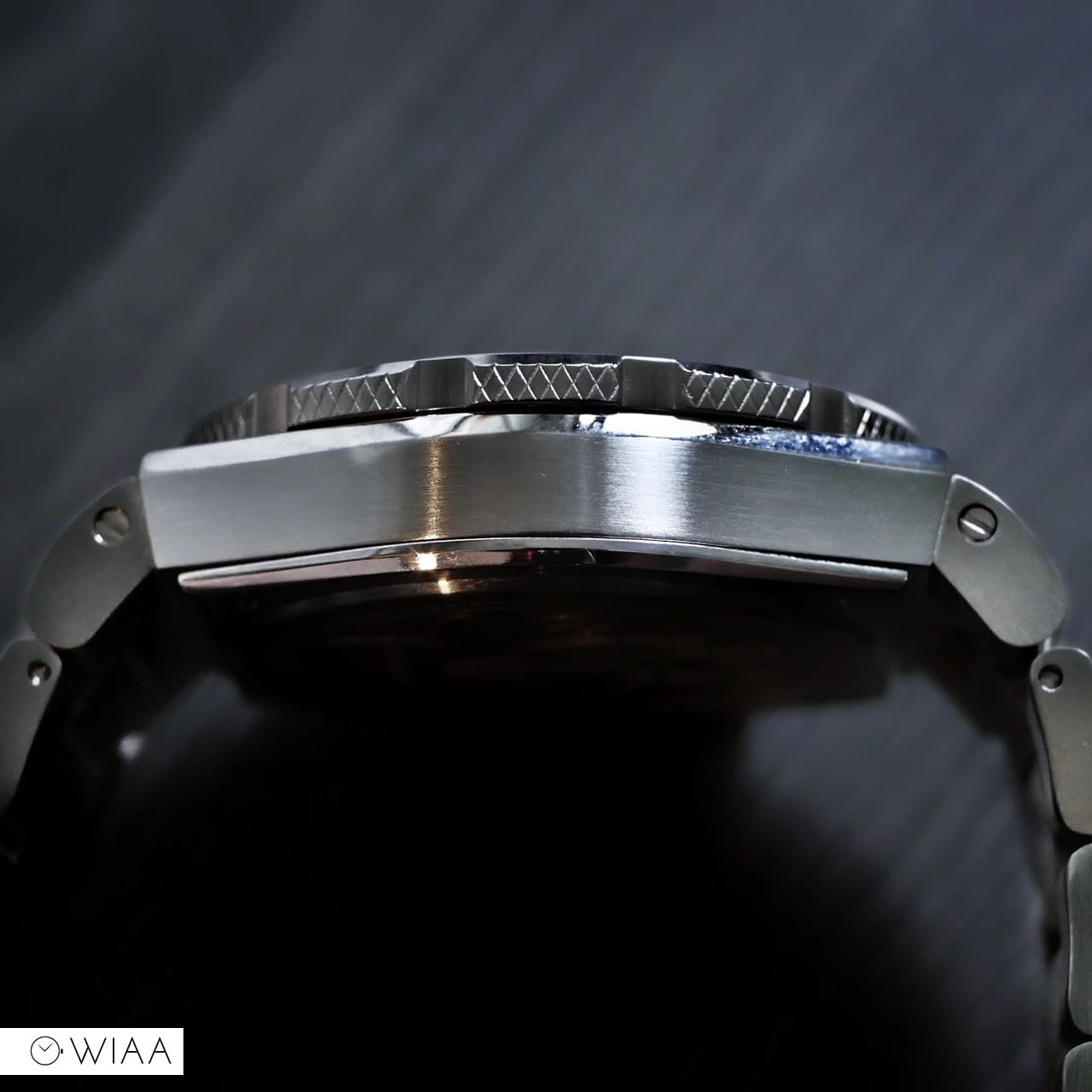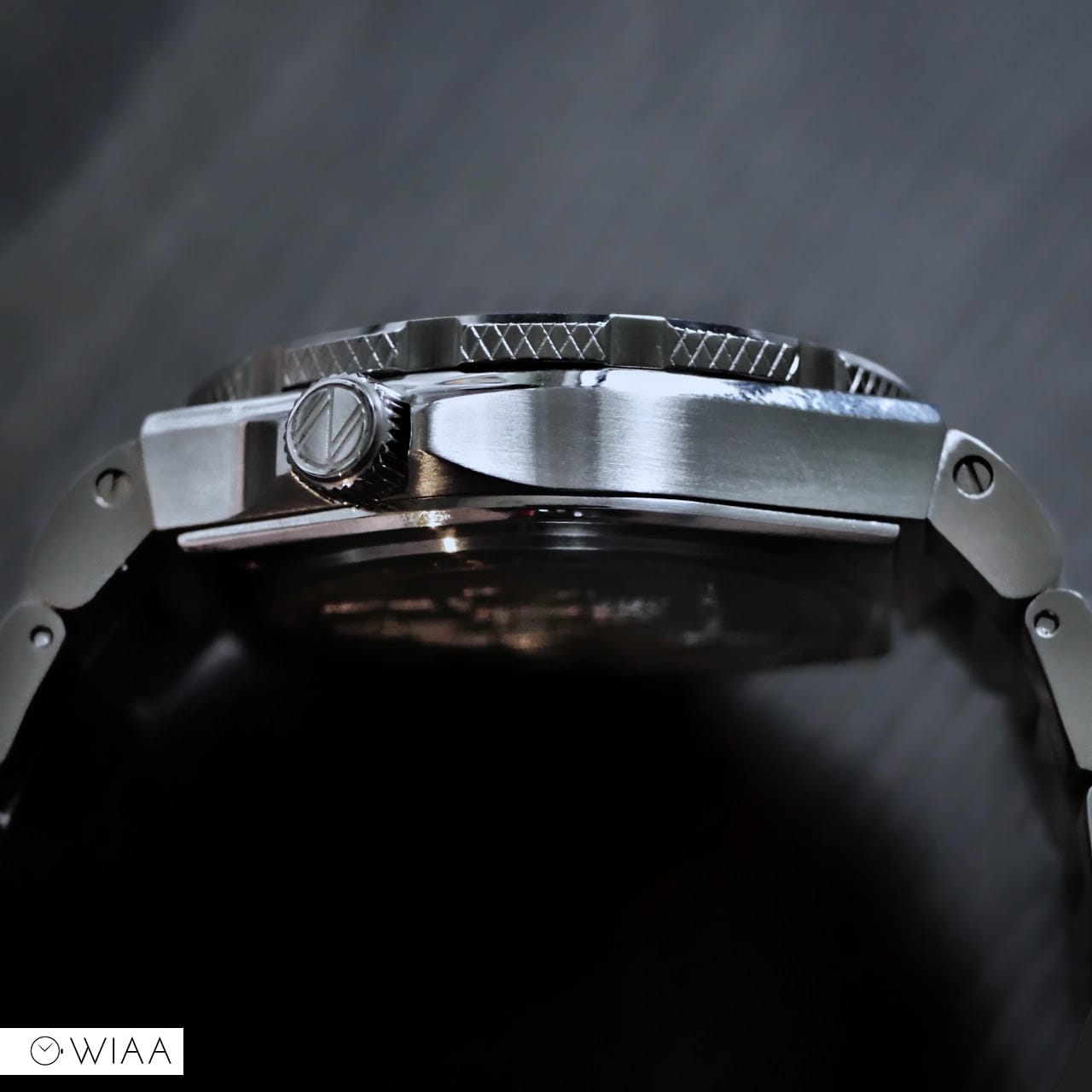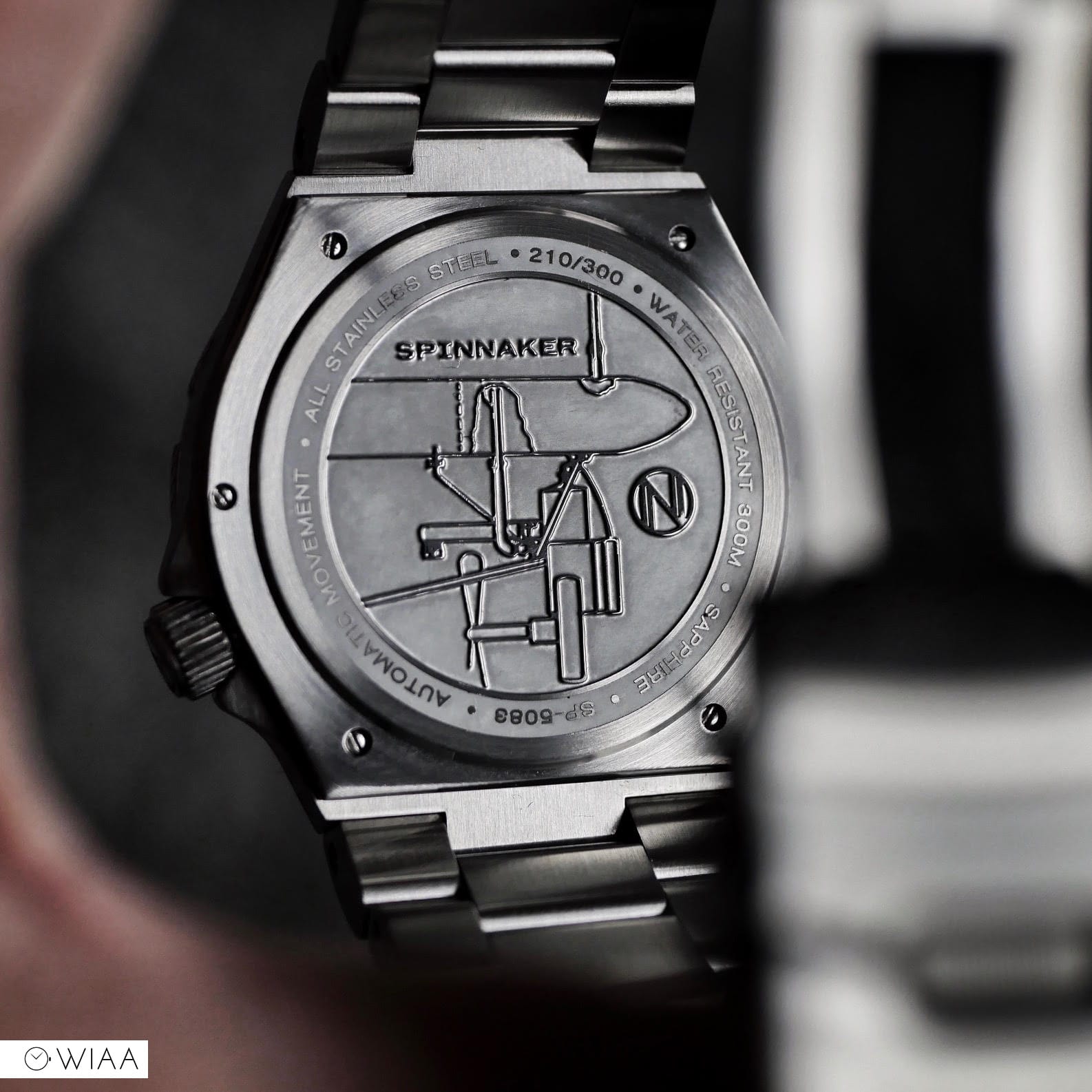 Inside the Boettger sits the Miyota 9015 which has 24 jewels and operates at 28,800bph. This movement has a power reserve of 42hrs, and During my time with it, I didn't notice any issues with timekeeping. It operated within the stated tolerance of -10+30 seconds a day. The Miyota is an automatic movement that's used by several other brands. It is only 3.9mm thick, which may be one of the reasons Spinnaker used this movement to keep the watch as thin as possible while still getting the dramatic floating dial style.
So overall as a standalone piece from Spinnaker I think this one is an interesting offering, and it's good to see them taking a different design path from the usual. I hope they continue trying things like this. I'm sure this will appeal to a lot of people as an overall package and design thanks to the evident Sinn influence. So what don't I like? Well, I wish they hadn't opted for the integrated bracelet. It does limit strap choices, and while this may just be my personal preference, I think because of the size of the watch and steep downward angle of the first links it may mean some people with smaller or much larger wrists struggle to get a fit they are comfortable with.
Secondly, I'm not sure about the hands. The more I wore the Boettger, the more I got used to them, but I do think they are slightly out of proportion and it's a shame because I really enjoyed the rest of the dial aesthetically.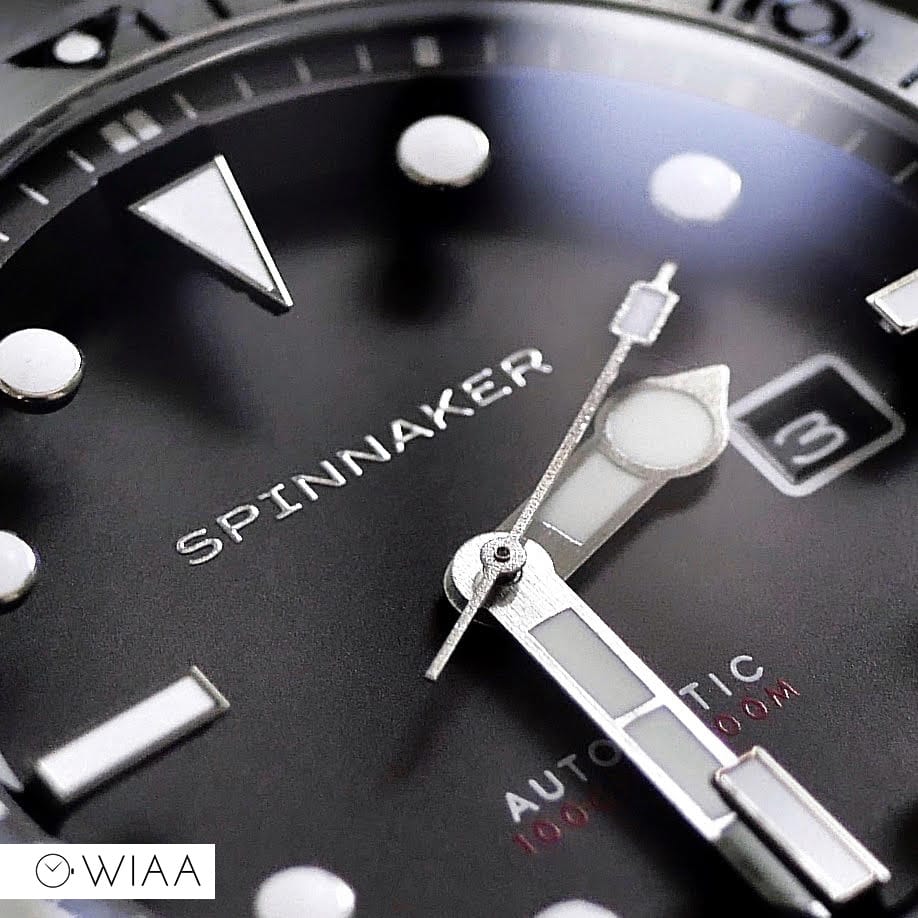 Spinnaker was aiming for a serious deep-sea diver that draws its design inspiration from the 70s and 80s, and with the Boettger that meant things needed to be done design-wise on a larger scale. I guess in the end it's up to you to decide if that larger-scale works for your tastes and your wrist? If the answer to those questions is yes, then I don't think you will be disappointed with this one on your wrist.
Price: £500 – use code WIAA20 for 20% off, making it £400