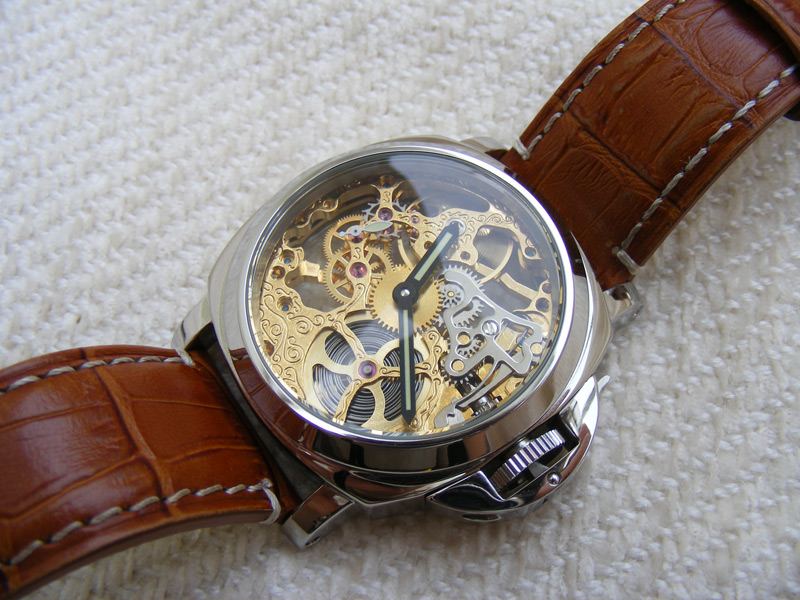 This Panerai homage watch is a stunning example of how far Chinese watch making has come. Panerai (or PAM) homages and replicas are widely available and also are pretty cheap (as in around $60).
This particular watch is one of my all time favourites, simply because everyone is impressed by it. The skeleton movement, which is a Asian version of the Unitas 6497, is simply stunning to watch.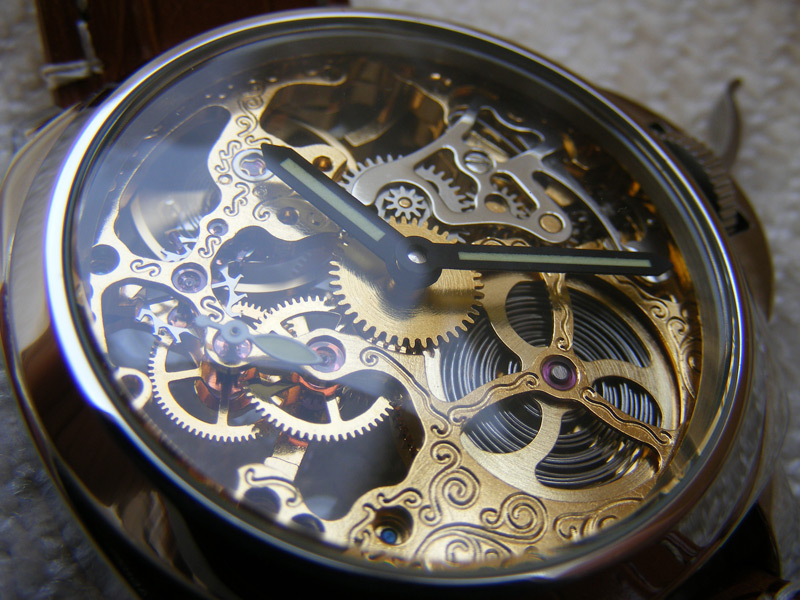 This movement is a great workhorse. Chances are, you will never need to service it, and why would you if a service will cost as much as the watch?! It is pretty darn loud, but that is part of its character. Seeing all the gubbins inside move around and hearing it tick at 6 times per second (21,600 bph) is great. It has a standard 40 hours power reserve on a full wind.
This watch has a mineral crystal front and back. You can (which I would recommend) get sapphire crystals installed when the watch is being sent at an extra cost of around $25-$30. If you want any further info on where to get one of these from, feel free to contact me.
The strap is a standard Chinese leather strap, although it is nice and thick. I have never needed to feel or want to have to change it, so it is good enough. The case size is a pretty hefty 44mm. For some, that is far too big. But, this doesn't feel overbearing at all. I have a pretty standard ~7 inch wrist, and it looks and feels fine on me. The wrist presence – now this is what it is all about. When you wear this watch, people literally bend their necks at right angles to see what you are wearing. It is very bold and it looks much more expensive than it actually is. A great feature on it is the Panerai crown guard and the flip down lever. It works very well, and looks the business. Flap it down, and give the watch a wind or pull out the crown to change the time.
I would highly recommend any PAM homage, every collection needs one! This one in particular though, is a definite winner for me.