The Big S.

My favourite watch company. Ingrained in my childhood. Most numerous in my collection.
And that's why they make me so damned mad sometimes.
I have to frame this rant. In my day job, I work for a big Japanese multi national. Over the years I've learnt a couple of things about the way the Japanese do business.
Firstly, they don't really know how to market outside of Japan, and Japan is a very different place than the West.
Secondly, promotion seems vulgar, as if you're bragging.
Thirdly if something is easy to make with decent profits, it's marketed worldwide and instructions / articles / marketing, written in English. If it's a bit special or not mass market, it's kept within Asia and everything about it written in Kanji.
Fourthly. They don't seem to care about what their customers want. You build enough stuff, one's bound to it the mark, that seems to be their philosophy.
This could be misconstrued as me being racist, but like I say, I've worked for a massive Japanese multinational for years and this is what I've observed first hand.
If you look at the big boom for Japanese industry in the past, this has always rung true.
Look at consumer goods and cars, especially in past 30 years. You went on your high street in 1985 to buy a TV or VCR or HiFi, what did you see there? Sony, JVC, Panasonic, NEC, Sharp, Toshiba, Hitachi, Technics, Akai…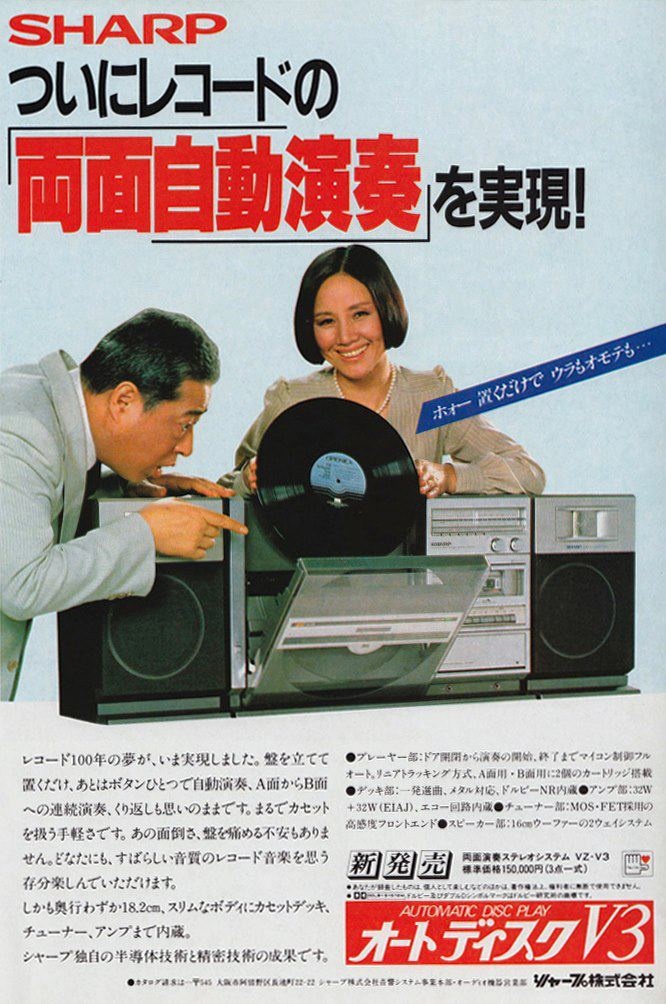 What do you see now? Still Sony and Panasonic, but the rest are not really there anymore and if they are, they have simply sold their once great name to a Korean or Eastern European company to produce under licence. The market is still there, but Korean giants like Samsung and LG have taken over and Sony is more American than Japanese now. They lost the market they owned. They didn't see the consumer shift.
Didn't help that the very best stuff never made it out of Asia.
Same could be said for cars.
Nissan is now the same company as Renault. Mazda is in partnership with ford. Subaru seems to only make the Impreza. Sure Toyota and Mitsubishi are still there, but what do they now make which is more than really a domestic appliance on wheels (GT86 excepted)? No 3000GT anymore, no Supra.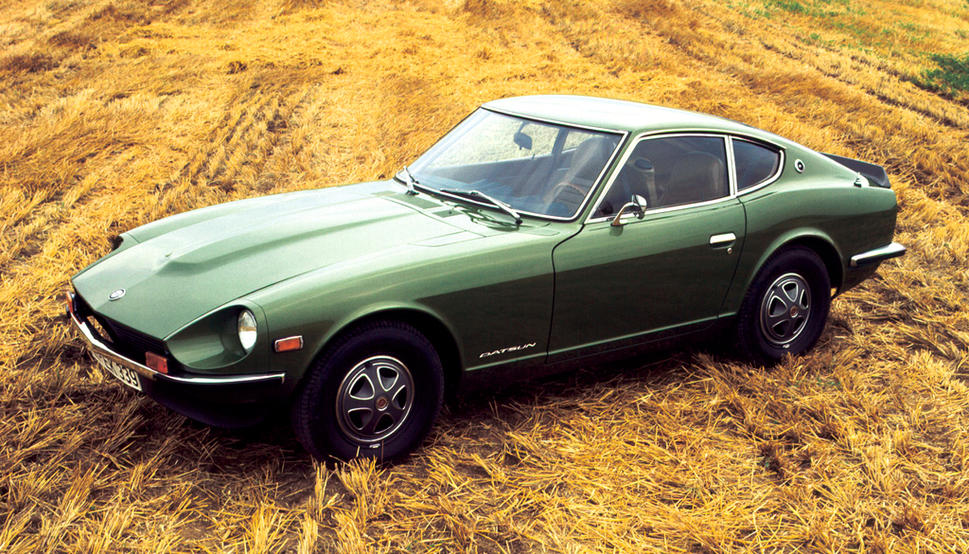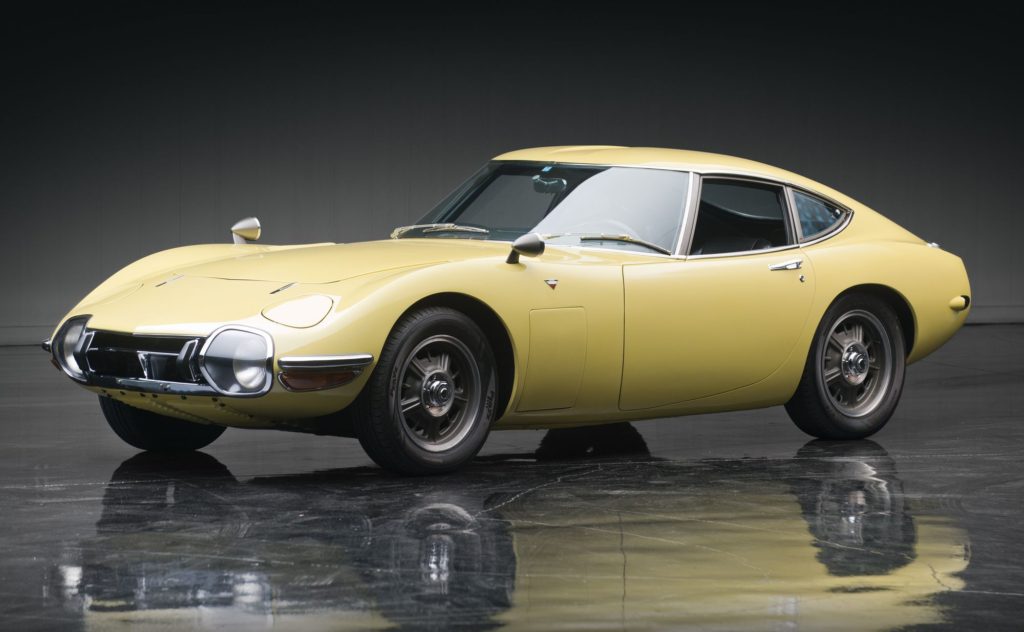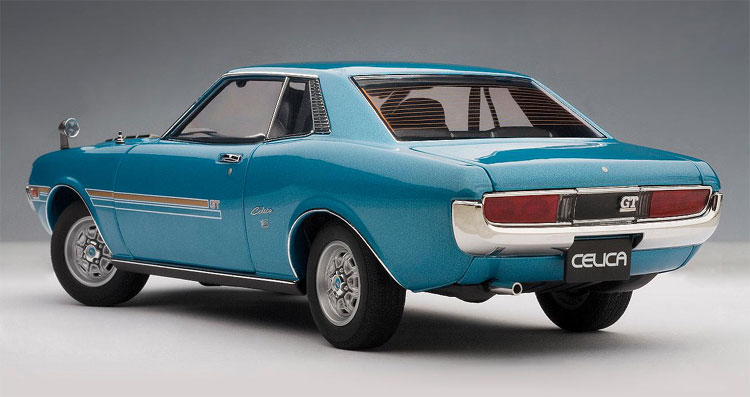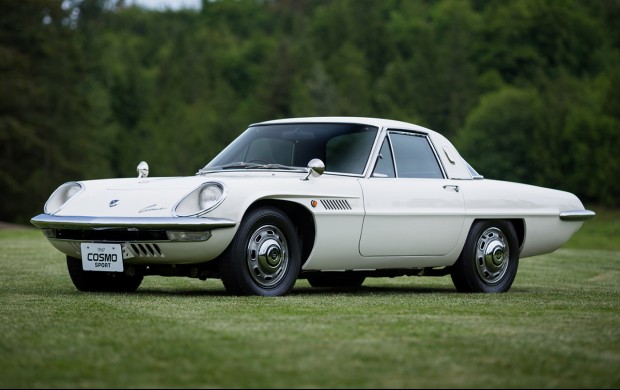 Erm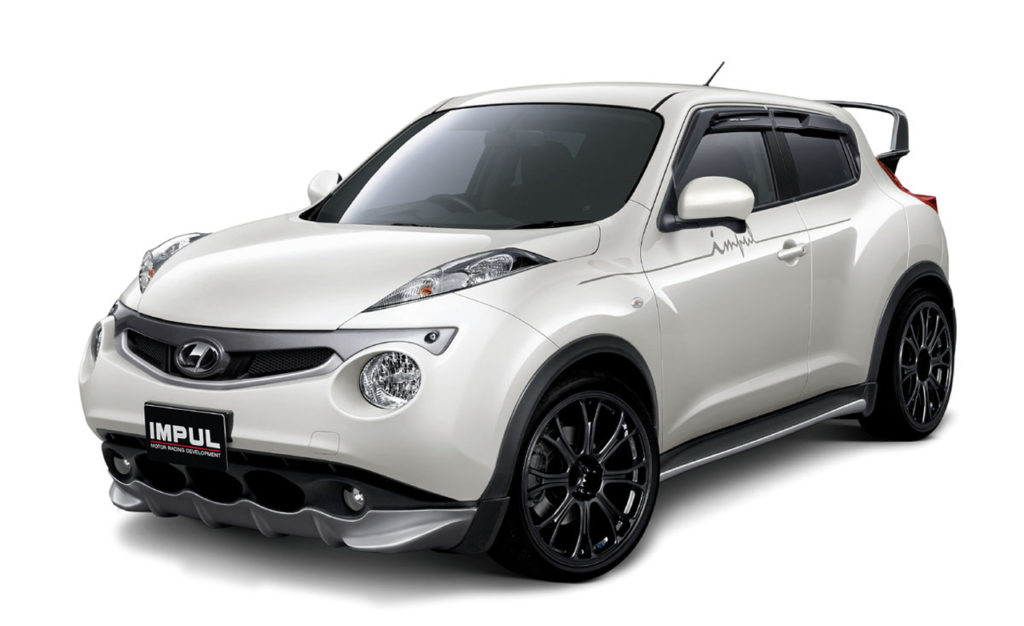 Hyundai and Kia, from Korea, have again taken most of their market and most of these cars seem to be "homages" to the BMW 1 series.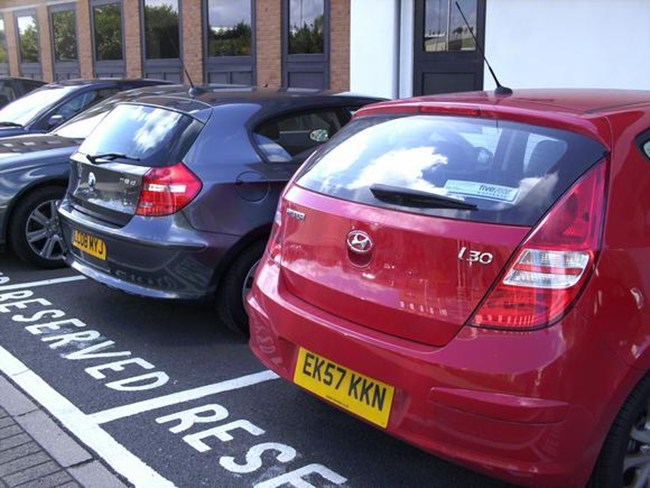 And so we come to Seiko. They treat us in the UK badly.
We only officially get Quartz, Solar and Kinetics here. No 5s, no 5 Sports. I think there's one dealer for GS in the UK. Credor, forget it. Oh and Orient, forget those too. They even tease us by listing things like the Samurai "Blue Lagoon" SRPB09K1 on seiko.co.uk, but there's none in stock anywhere in the UK. Use the "Where To Buy" button on their website and you'll be directed to retailers who only have Quartz, Solars and Kinetics…
There are so many great Seiko models that they keep as JDM. You only hear about them by chance through FB groups or forums. Then it's the pain to try and get hold of one as apart from eBay, Higuchi & Seja, there's not many re-sellers out there. It's just so annoying. I can only conclude one of 2 things. One they don't want our money and look down their nose at us or more likely, they are so out of touch with their fans that they don't know that we want certain watches. It also crossed my mind that they sell so many, they really don't give a damn about anyone, whatever they make it'll sell, so why bother looking after customers.
I think they should set up a JDM webstore, so that that those who live in countries not deemed worthy of their less mainstream wares, can still buy online. Only true fans would go there, so they wouldn't need to spend any money publicising it.
I've also read that retailers in Singapore and HK also have trouble getting hold of models. I think the word to describe Seiko is "aloof".
Now, I'd like to back that last statement up with a hypothesis I have. Low end Seiko designers are not fans, are probably young and have no appreciation of heritage Seiko watches.
Let me explain the theory behind my rhetoric.
The Seiko 6139. The first auto chrono. Utterly iconic. The Pogue was a space watch of the 70s. Still revered. Constantly rising in price. Probably my favourite watch ever.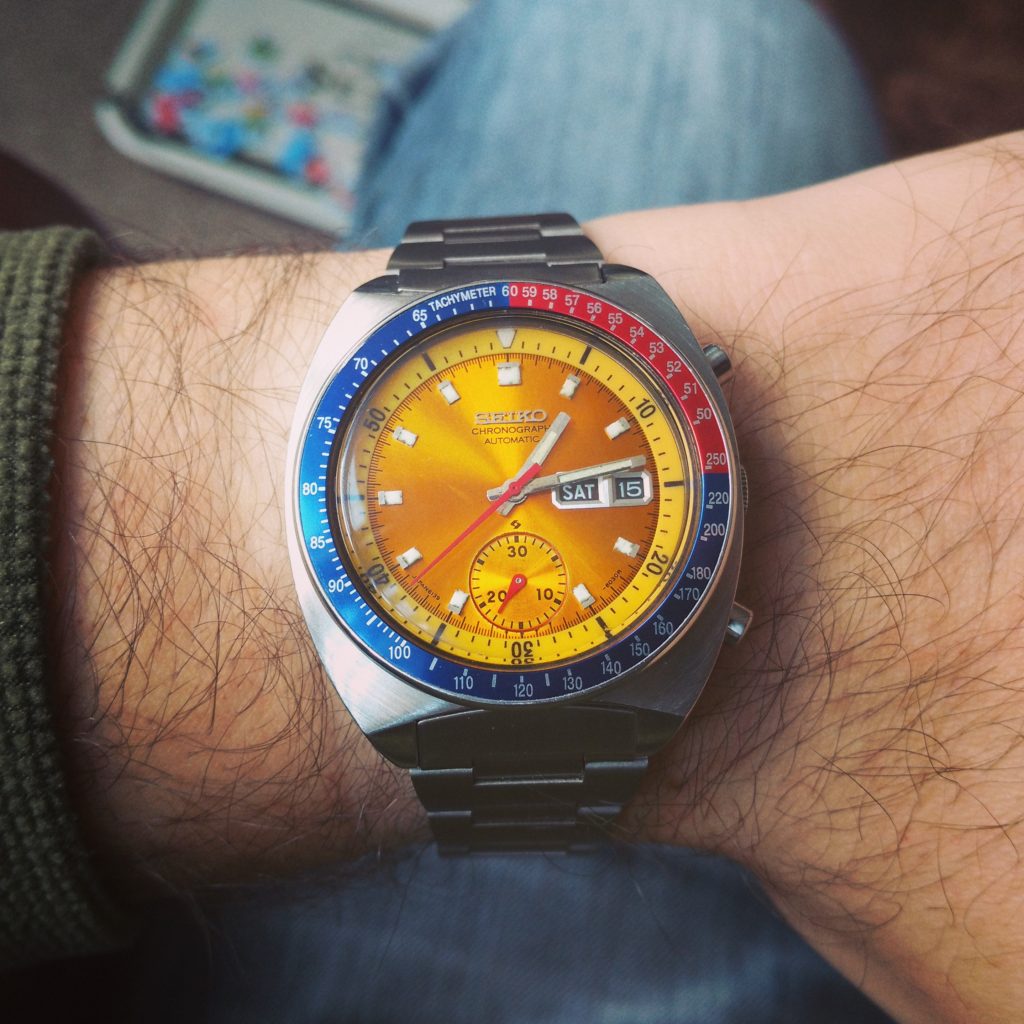 If Seiko ever bothered to read one of the many watch forums and Facebook groups dedicated to them, they'd know what they should reissue. Eventually they get round to some, like the Turtle (not for the EU) and the Giugiaros (Asia only) but they take their time.
But a post recently showed this picture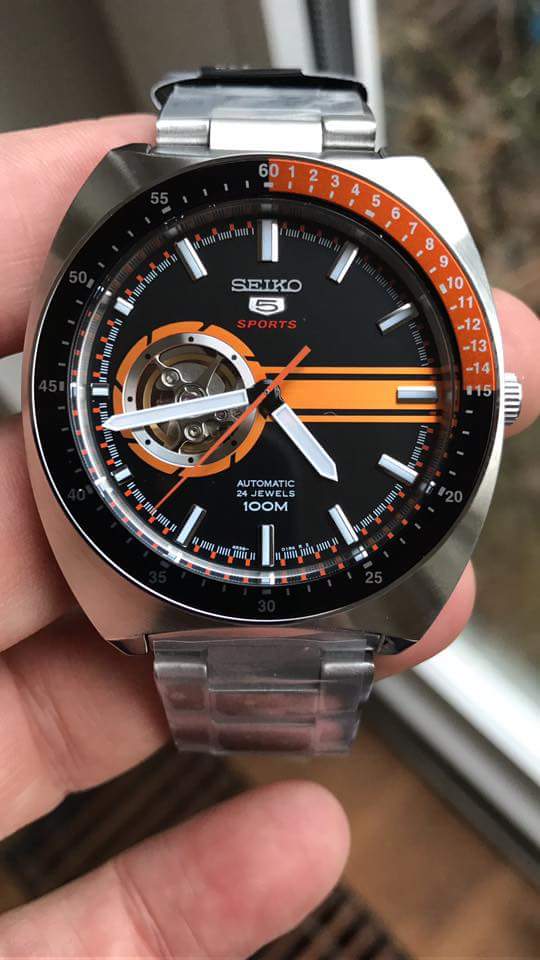 OH MY GOD OH MY GOD OH MY GOD OH MY GOD OH MY GOD OH MY GOD
That iconic case, that iconic bezel, yay! A 6139 reissue at last!
Then a few seconds later…hang on, it's not a chrono. But that case, it's still good!
Now that bezel is a bit pointless without a chrono second hand. Oh, it's not a Tachy scale . It's still good, it's still good.
What the hell is with that open heart? It's a sports watch, open hearts on anything but exquisite movements are the domain of fashion watches. It's still kinda good I guess.
Hang on! Where's the day and date? Where's the date…do they not even know why a Seiko 5 is called a Seiko 5?
1. Automatic winding
2. Day/date displayed in a single window
3. Water resistance
4. Recessed crown at the 4 o'clock position
5. Durable case and bracelet
Ok, so 5 Sports don't adhere to this, but this is the first 5 Sport I've seen without a date at least.
I had to try it though, and so bought this one in classic colours.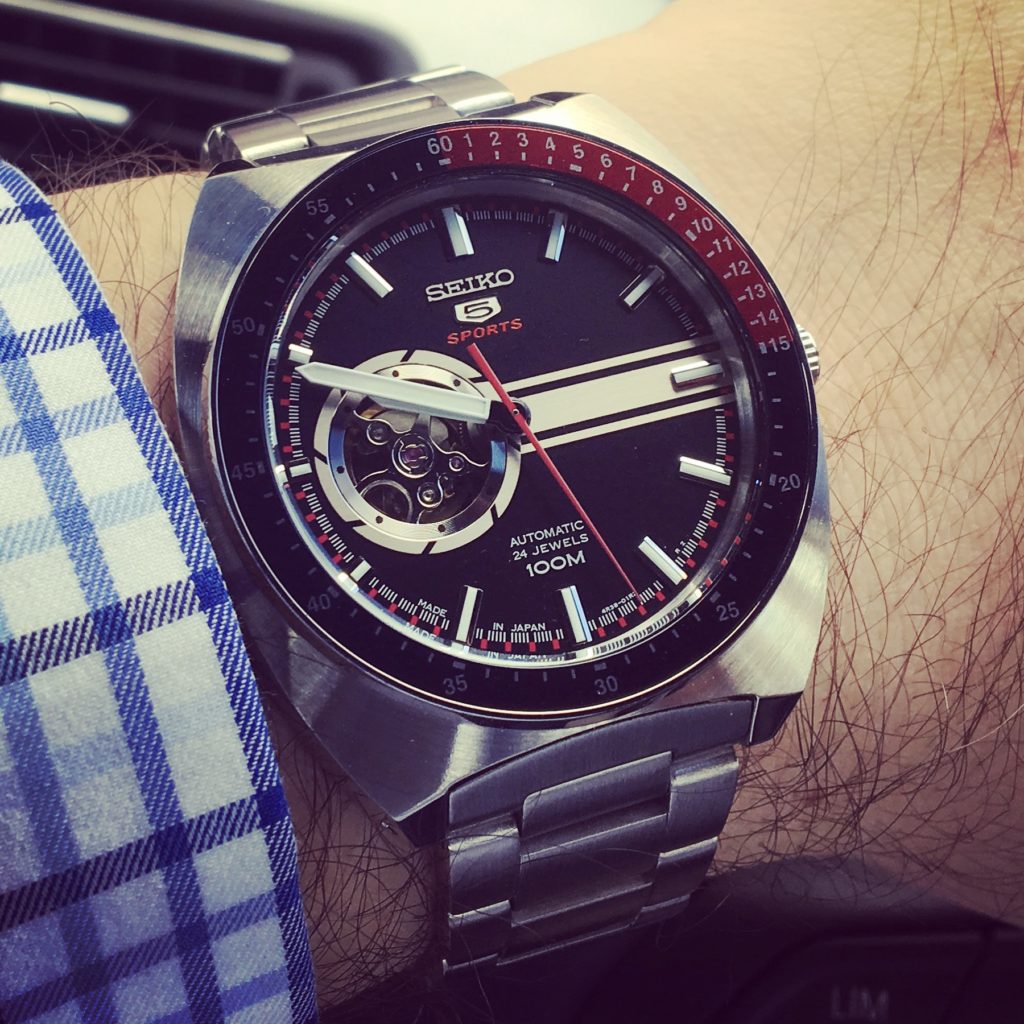 You ever buy something, knowing you're going to hate it, but the fact that it's so close to being epic winds you up even more?
NO ONE WHO LOVES THE 6139 DESIGNED THIS WATCH.
They can't have. They couldn't live with it. Ok, so it can't be an auto chrono. Ok so they couldn't have a tachy scale on the bezel, but come on! Lose the open heart, lose that stripe, power it with a 4R36 movement and get the day and date in there.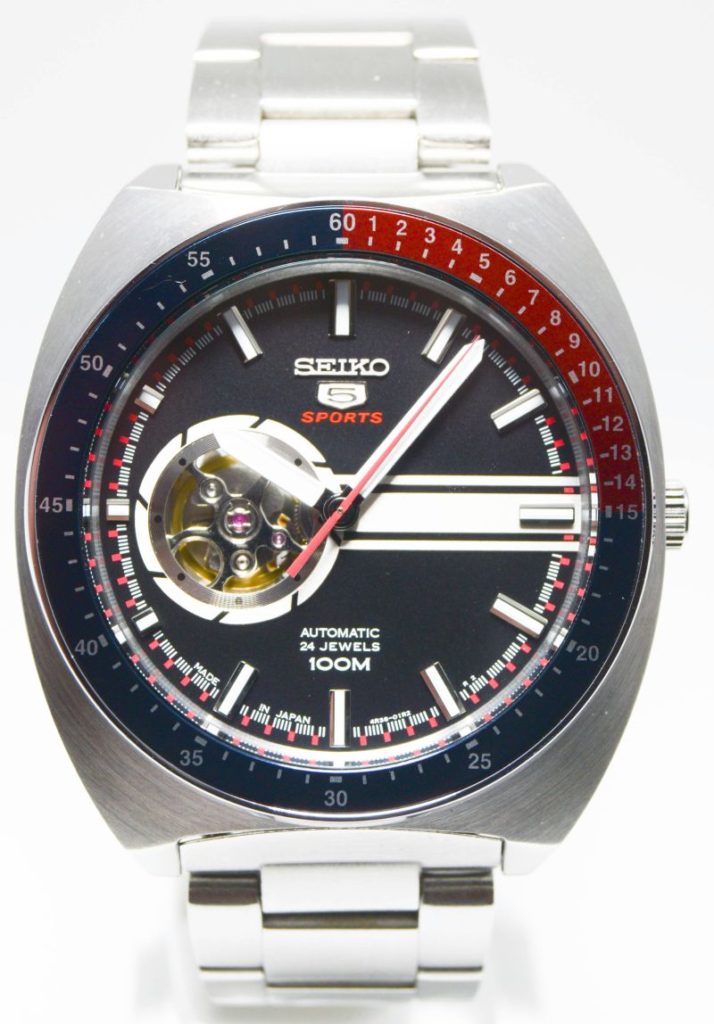 All I can conclude is that whilst the top designers do Credor and Spring Drives, the interns get the 5 line. "You design a new version of this" and this is what they come up with because they don't care. No true fan or someone who appreciated the watches heritage would have come up with this. That it got past drawing stage to production shows the same disregard about pissing on one of their legends is apparent all the way to management.

You seen the new "62MAS" reissue, the SLA017? HOOOORAY!!!! They're listening…oh wait, limited edition, oh, JDM only…$3800! WTF?!
I don't care about the high end movement, the curved sapphire, the high end finishing, blah blah. Stick an Audi R8 V10 engine, Connolly leather interior, Blistein shocks, Brembo brakes and a solid gold body shell on a Skoda, it's still going to be a Skoda.
This is a Seiko, not even a Grand Seiko (don't get me started on those boring looking watches, I don't care how well they're engineered, in my eyes they're still not going to beat a Zenith or Rolex at those prices…and I'm as big a Seiko fan as you can get!).
They will get snapped up by speculators, who of course will gush about how great it is and worth every penny as no one wants to admit they have made a bad purchase.
No, stick a 4R35 in it. Make it Hardlex. Sell it for an RRP of $400. That's what Seiko can do for their fans, not flick the bird at them yet again.
And digitals. Do you see how much Seiko vintage digitals go for? They bothered to remake the G757 movement for a Metal Gear tie in watch (Japan only of course) a couple of years ago. If you looked you'd see the G757 is one of the most revered digital watches ever. They should make some more! What's that Seiko?You'd rather make another cookie cutter solar chrono…well I guess if it's cheap to make…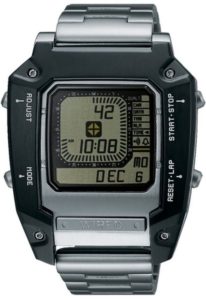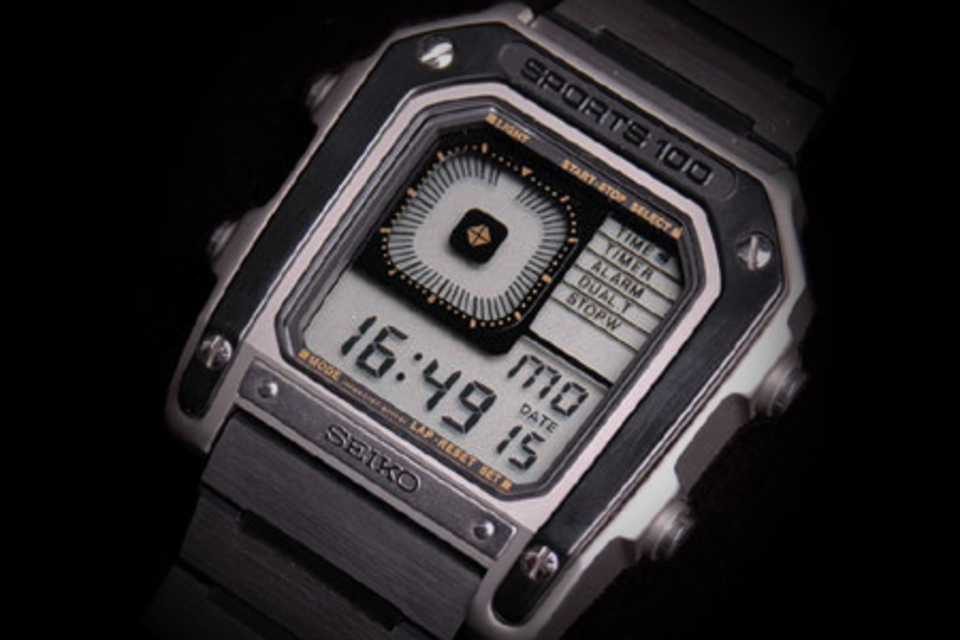 So rant over, ish 🙂
Back to the SSA329. The  case is great, it's bigger at 44mm,  but it suits me to the ground. Brushed, polished and has that silhouette that I love so much.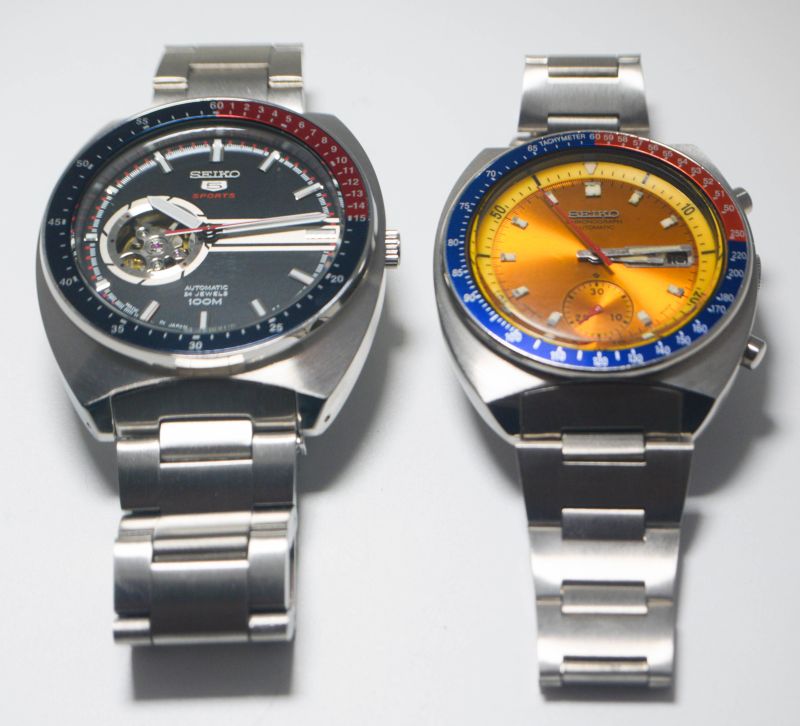 Polished on the sides, brushed on the top, just as it should be.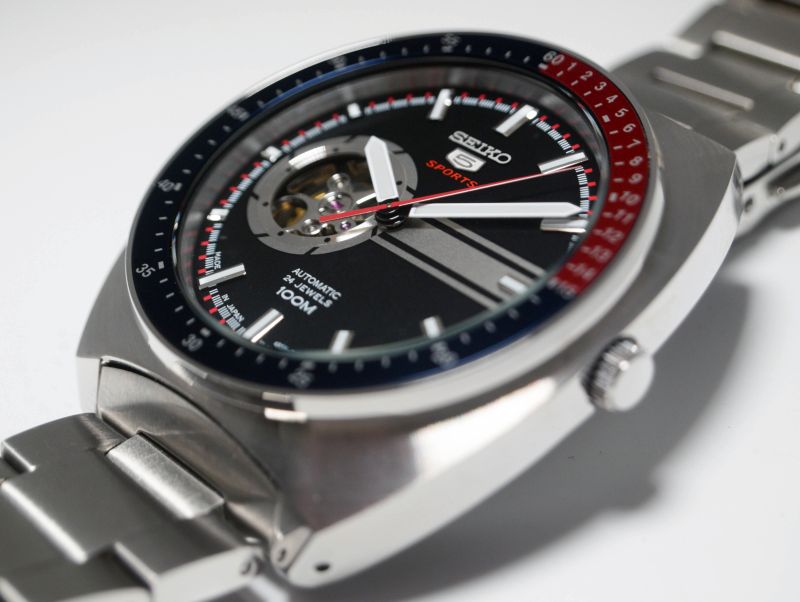 The bezel is fixed and polished round the side. Yes, it's a minute scale, but it had to be there and it's the best of a bad job in this case.
The strap has the required end link style (folded not solid), but arrgh, it's another oyster otherwise. H link please! And no, it won't fit a classic 6139, it's too big.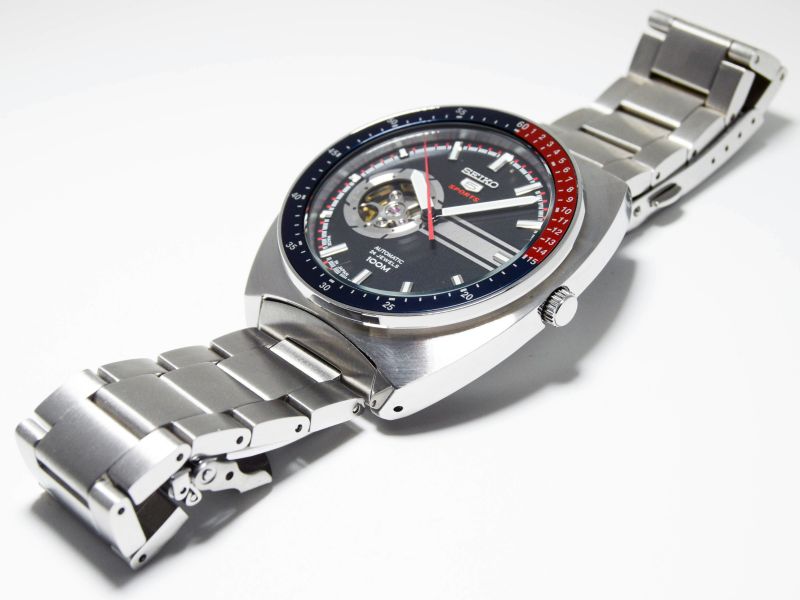 The caseback is a see through as is common on 5 sports, but doesn't really do much for me.
The face…the indices are good, simple batons with lume down the middle. The lume is Seikos usual good stuff.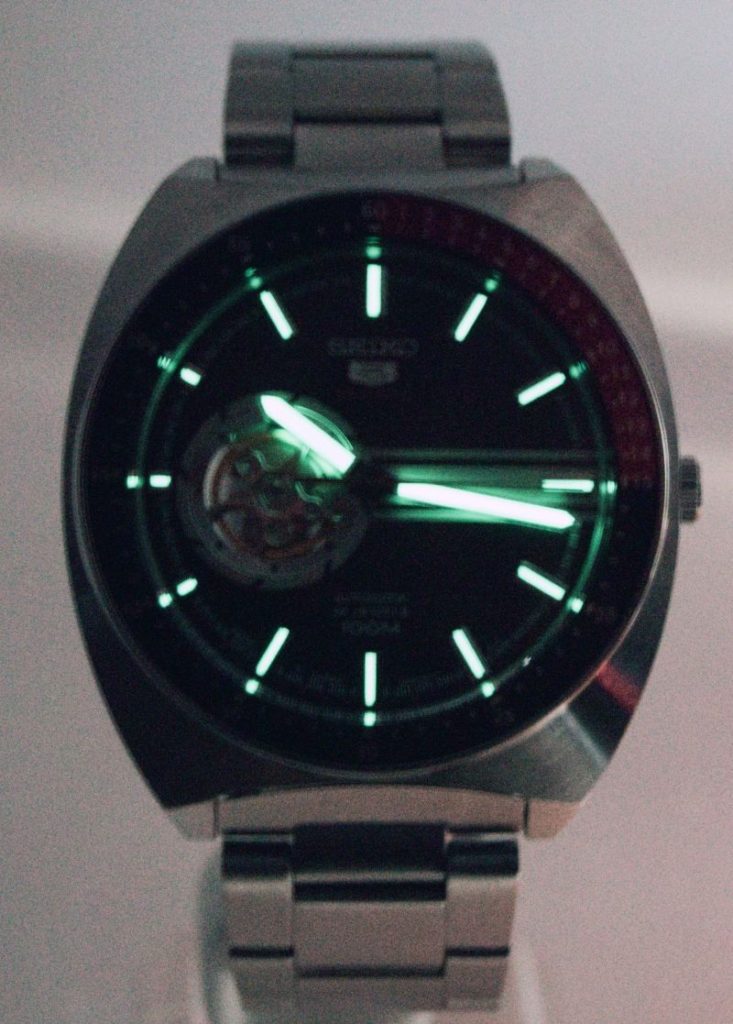 The hands are big but a bit simple. The hour hand often gets hidden by the minute hand as they pass. The second hand is red but as boring as they can be.
The Seiko is applied as is the 5…now the open heart…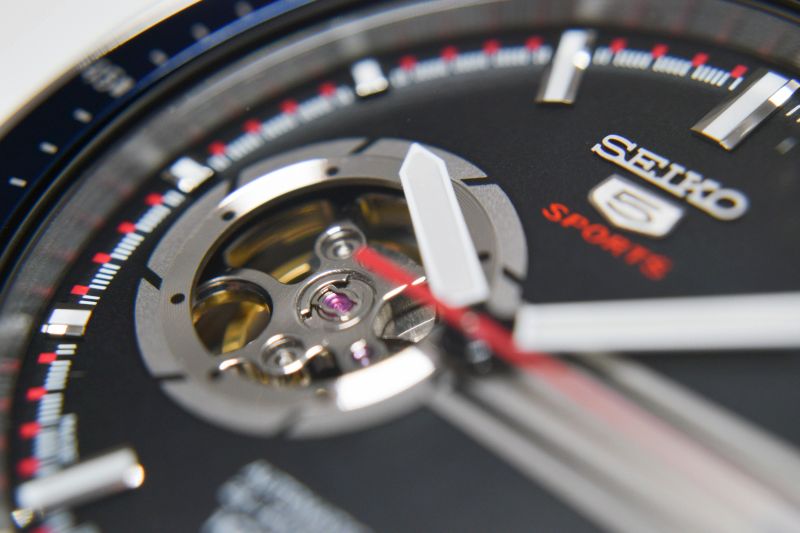 On wearing this watch for a while…I've forgiven it. When I glance at the time, just for a second, it fools me into thinking this is a bigger, NOS, 6139 and that's a good feeling.
A few people I've shown it to like the open heart. I think it screams fashion watch or replica personally, but it has nice details round it and it does show the mainspring doing its thing.
The stripe, I guess I only really don't like it because there should be a day and date window where it is.
That's what I can't get over the most, the lack of at least a date window. And that's why this watch winds me up. Put a 4R36 in it. Get rid of the open heart and the stripe and you'd have a watch I'd be over the moon with. Heck, I'd have bought one in every colourway.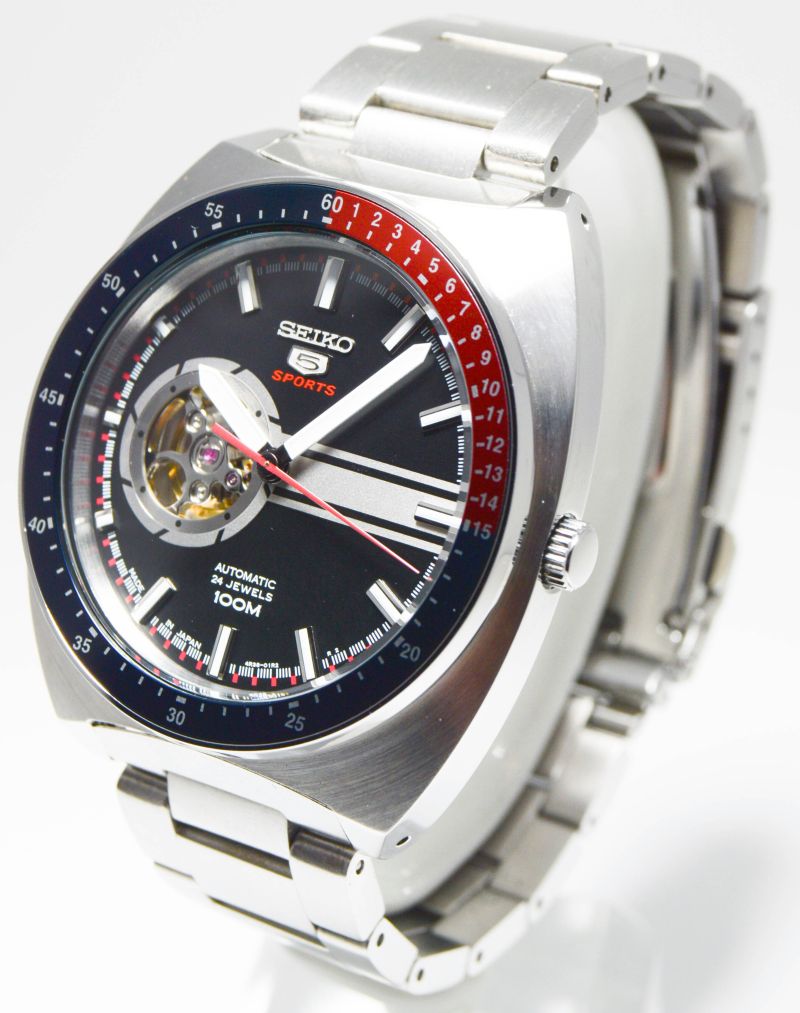 Past experience shows that Seiko re-use their cases, so here's hoping the next version of this case comes with a face that deserves it, but honestly, I'm fearing the worst…or a $4K version.
I can't help but think that this is an experiment as it's unlike any other 5, no date, open heart, no mention of it on any Seiko website and only just becoming available even thought I know they were out in early January.
But it's not the instant flip I thought it would be. In some ways it gives a lot of joy, but it's soooo close to being epic that it does still wind me up a bit. I am however finding I'm pulling it out of the box more than I expected.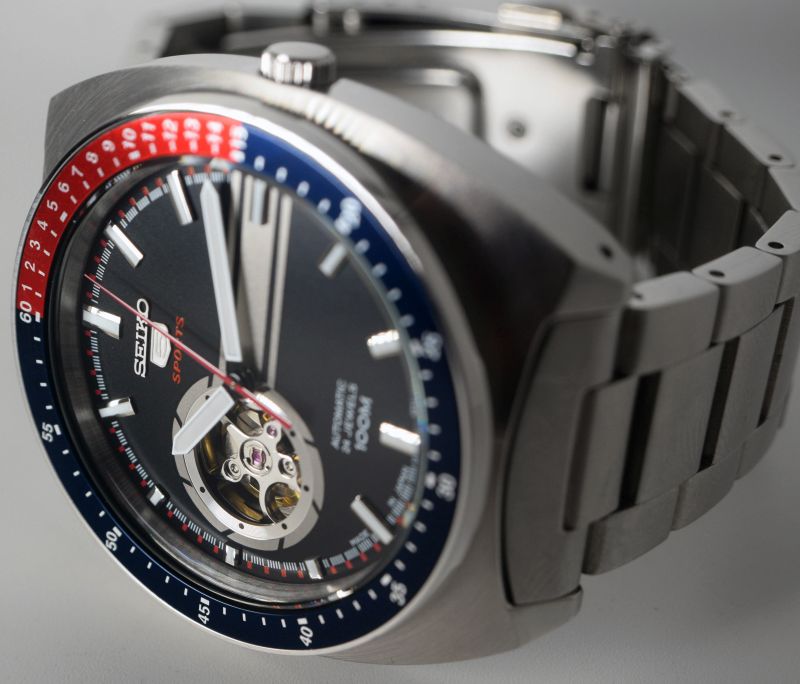 There keeps being reports about how the Swiss are having the worst year since 1984. So Seikos Japanese blindness of their own brilliance and their aloofness to their fans may backfire. Look how the Koreans took most of Japans car and consumer electronics business…
I still love their watches, on the whole, but I guess it's like being in love, one small imperfection gets amplified.
Sort it out Seiko, or soon we may be buying cut price Omegas instead of yet another dreary Kinetic.