CATEGORY : Watch I Own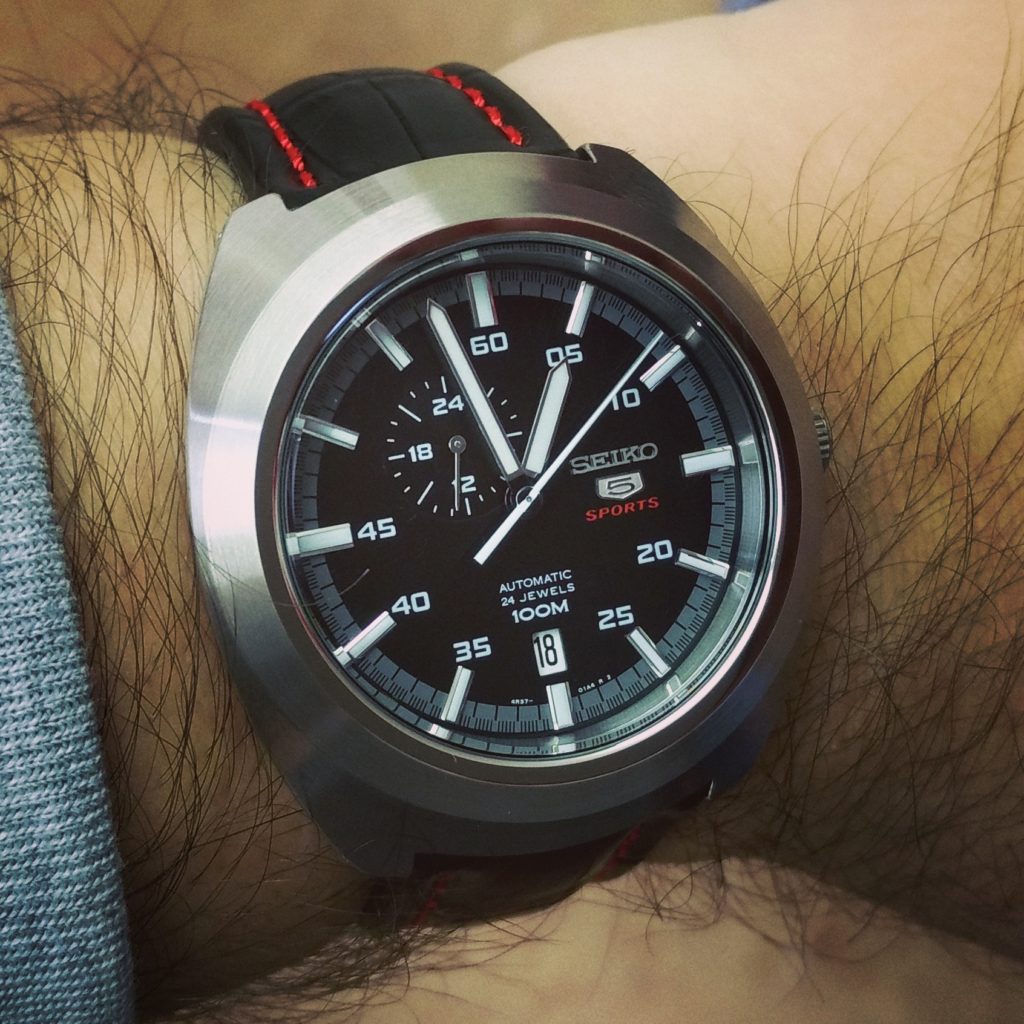 I love Seiko.
Actually, I love their watches. I don't love the company.
Their company treats us in the UK pretty poorly. We don't get any of their "special" watches or less obvious watches.
Turtle? Not in the UK. We're only allowed quartz, solar and kinetic. We don't get any automatics, officially.
That means we don't get any 5's or 5 Sports.
Which is a shame, I love 5s and especially 5 Sports.
My first analogue watch was a 5. Previous to this, I was wearing a "James Bond" digital watch. I loved the fact that it played the Bond theme tune. I was showing this to our school janitor, a wonderful, wise, man called Mr Robinson, and he laughed at it.
He said, this is a "real watch", and showed me his Seiko 5 auto. He told me about how it never needed batteries and how it wound itself just by moving your wrist. I was fascinated by that concept and loved how grown up the watch looked, whilst the rest of my friends were wearing LCDs like me, and wanted one.
Whilst in the old Manchester Arndale market I saw one on one of those fancy goods stalls (how I wish I could go back to that market at that time, the amount of watches I would buy; as I still love digitals) that looked like Mr Robinson's. I begged my mum to buy it me but, quite rightly, she didn't. It was a lot of money for a 10 year old in 1987 (about £19). But she remembered and in the months til Xmas 87 my desire grew and I was overjoyed to get it on the big day. I then spent the rest of the day playing Super Mario Bros and Excitebike, as I also got a NES for Xmas. The watch was too big and we needed to get the bracelet resized, but you get the idea. Here is this actual watch. Never been serviced, still ticking away.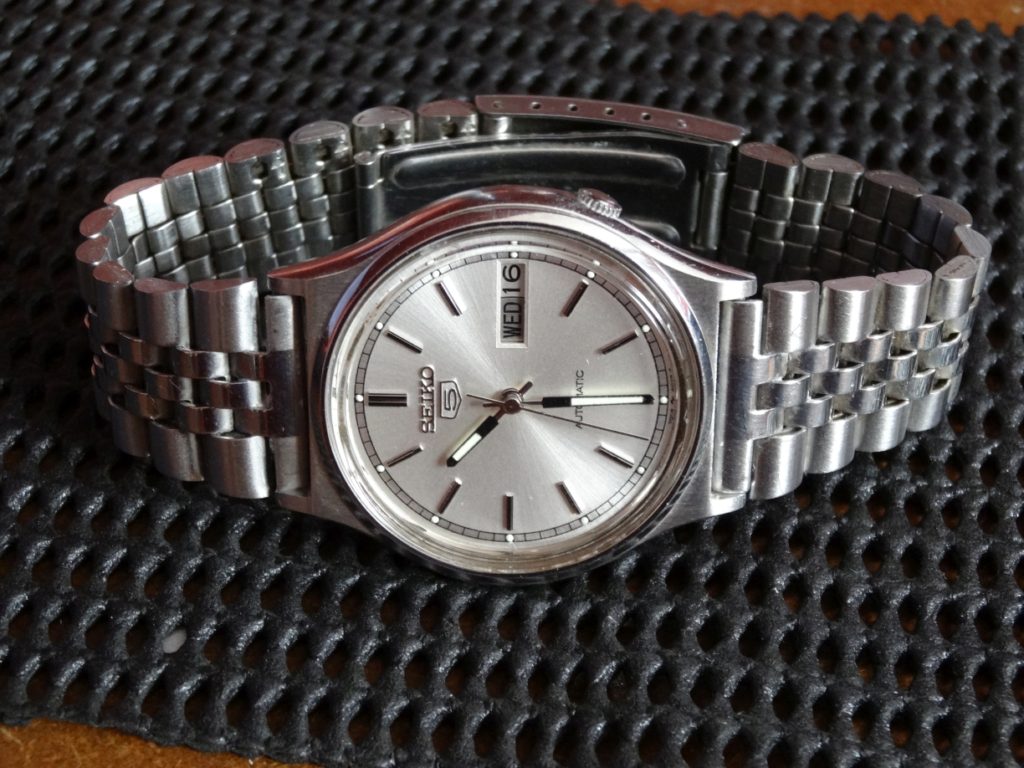 Some people see the 5 on the watch face and it turns them off. To them it's like they've bought the base spec model, like they are shopping at the flea market, and it turns them off regardless of the actual watch.
The Seiko 5 has a long and varied history. Some of my favourite watches are 5 sports. The first automatic chronograph was a 5 Sports (Speedtimer). I own more Seiko 5 sports than any other watch. I personally like a watch more when it has those legends on the face.
If you're not up on why they're called "5", it's because in the past, they had a set formula:
1. Automatic winding
2. Day/date displayed in a single window
3. Water resistance
4. Recessed crown at the 4 o'clock position
5. Durable case and bracelet
Although this applies more to the regular "5" than the Sports, it is still mostly valid. There is one thing missing from that list however, amazing value for money. I even think "Seiko 6" sounds better.
Anyway, we come to the watch I'm looking at right now, the SSA281, also know as the "Diastar" (as its case looks a bit like the Rado Diastars case).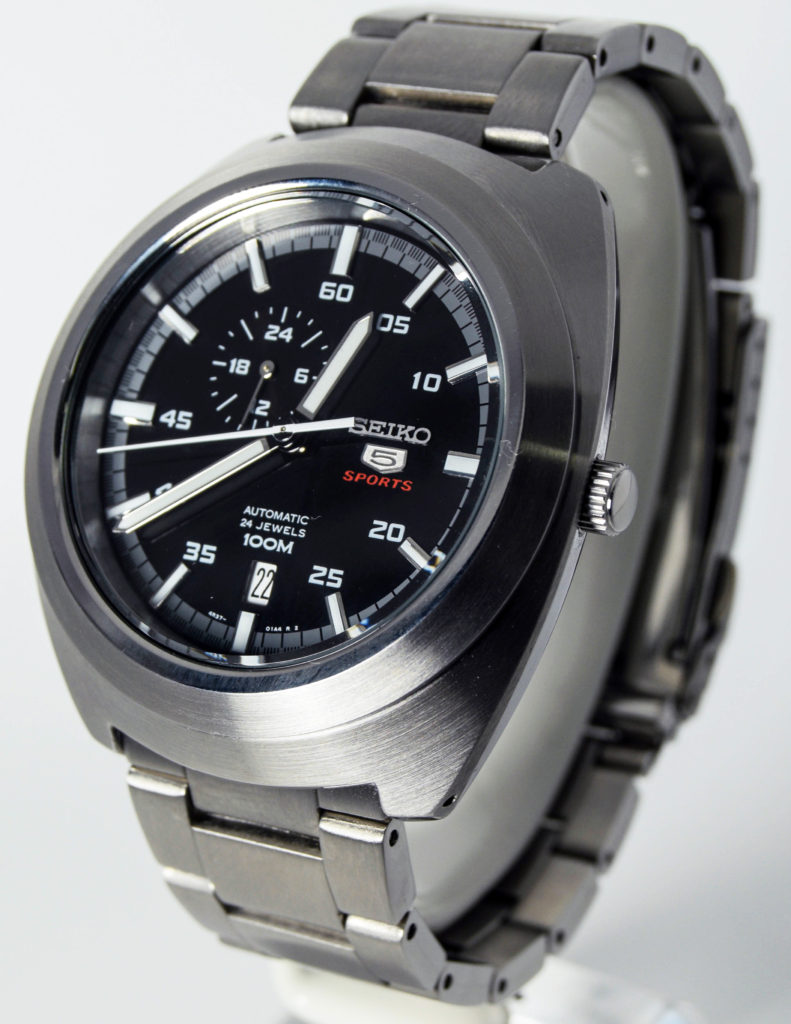 ---
I had to import this from Asia, like I say, so many great Seikos are never marketed outside their home continent. At my door, it cost me £115.
So what have we got:
Seiko 4R37 Automatic with hacking and handwinding
24 Jewels
24 hrs indicator
Date indicator @ 6
Steel case & bracelet
See through case back
Size: 44.5mm
100m WR
Hardlex Crystal
---
And those specs mean nothing to me, just look at it.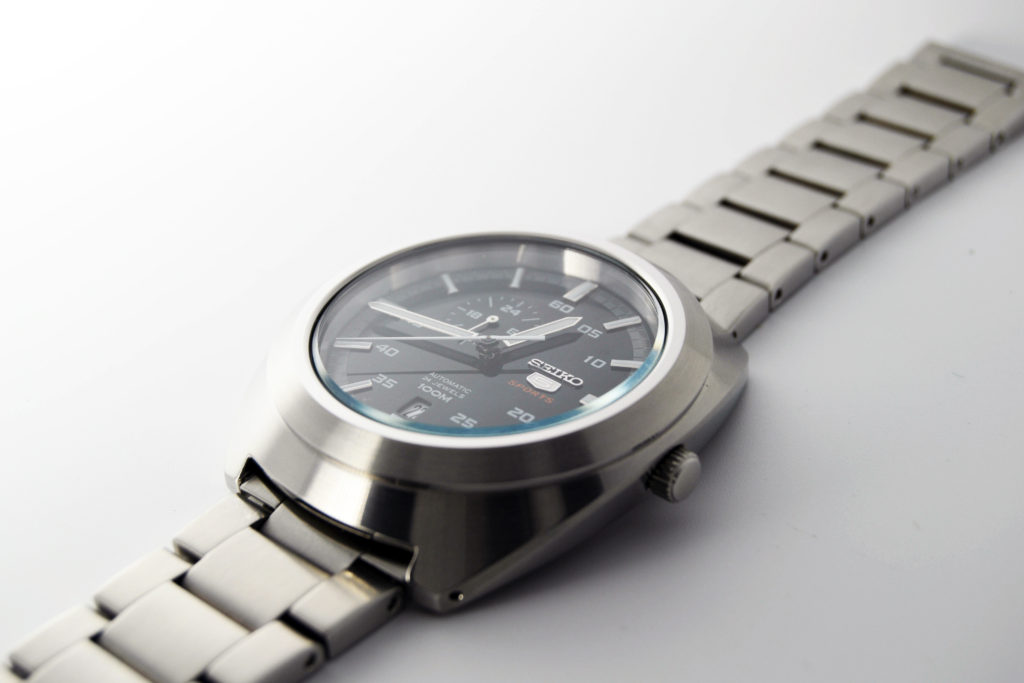 This watch has one of the most wonderful cases of any watch I own, regardless of price. It's so beautifully shaped and finished; curved yet slabby, swoopy yet straight. Look at the side profile:


Bezel top brushed, side of bezel polished, top of case brushed, top of side brushed and the rest of the side polished. I'll repeat, £115 delivered. This is a wonderful case.
The bracelet is what Seiko seem to put on most of their watches, an oyster style. Nothing wrong with it, it's well made, decent clasp, just boring. A watch this retro looking should have a better bracelet. An H link, Beads Of Rice or Fishbone would have been nice. However, the amazing case has straight edges so it lends itself to a variety of 22mm straps. ISOFrane, jubillee, NATOs, leathers, they all look great on this, so don't be to disappointed in the stock oyster.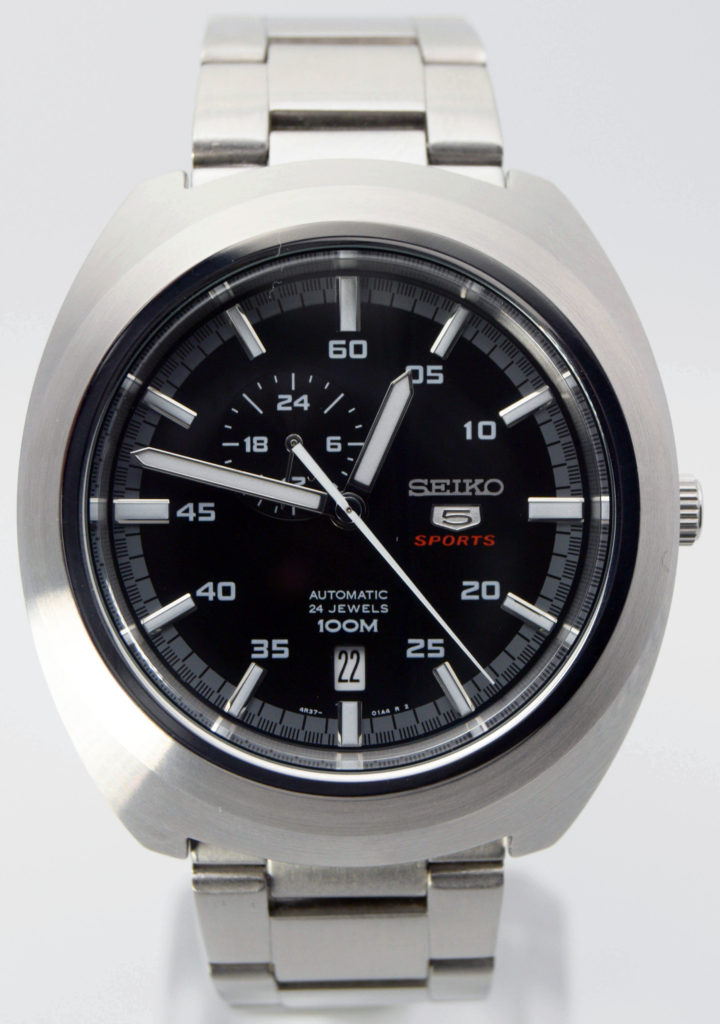 It has a see through caseback, why, I don't know. The 4R37 movement is a good enough movement, but it's hardly a looker.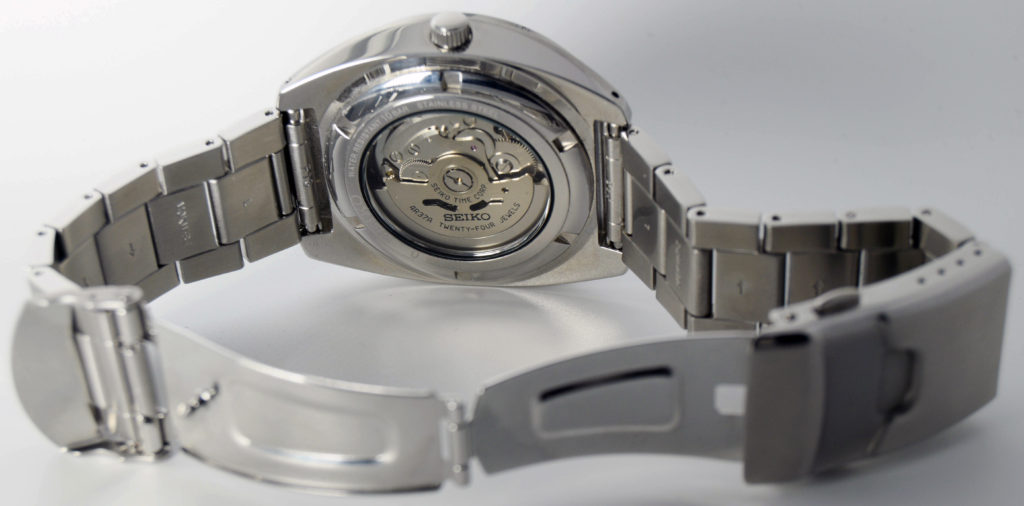 The face, again is wonderful. It has a lot of depth. This is amplified, in this case, by the shiny enamel black dial and brushed steel inner, where there would usually be a rehaut.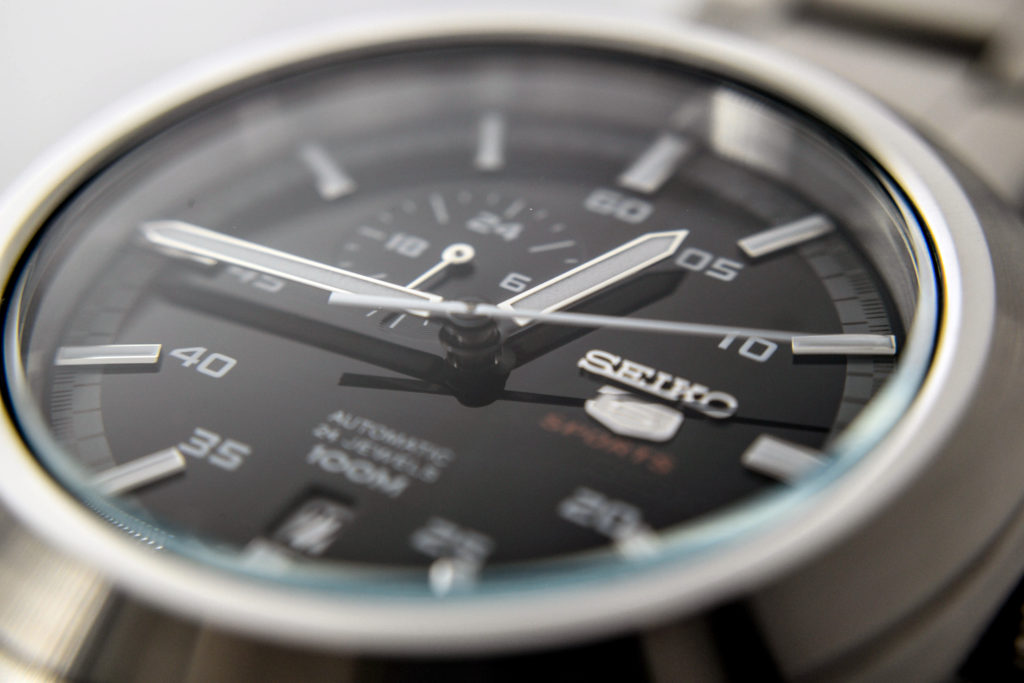 There are a few different styles, I went for the more easy going black and grey. The indices are applied with Seikos usual great lume, the hands are big and well lumed.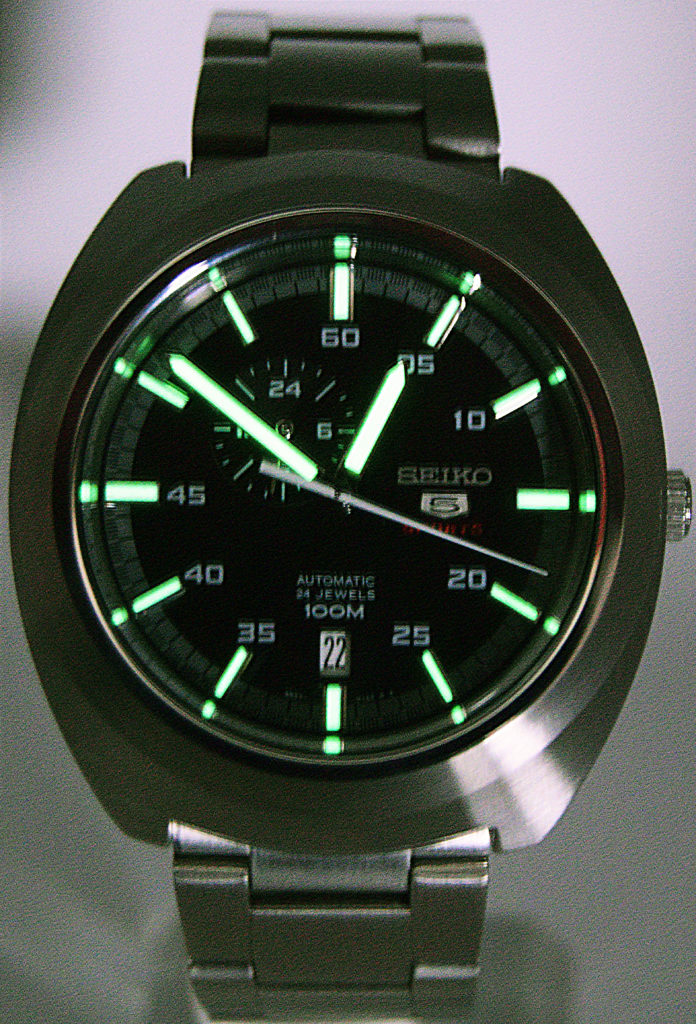 I like how parts are black, so they almost look like they're floating. The date at 6 makes a change. I would have liked it to have had a silver "frame", but that's minor. I also could have done without the minute numbers, but again, that's a minor thing. The Seiko and the 5 symbols are both applied, which is a nice touch.
A 24 hour dial is on this watch. Seiko is including this useless complication on a lot of their movements lately. If it was independently settable, then it would be a BIG thing, but it isn't. The only time I could see a use for this, is if you were somewhere where you couldn't tell if it was day or night. But it actually looks good on the face. If you look at it as a whole, it looks retro yet modern. I like it a lot.
This is a big watch, but I'm a big guy and think it wears great, the movement is a good workhorse, and as a package it works so well. It even has drilled lugs for an easy strap change. Gotta say it again, that is a fantastic case.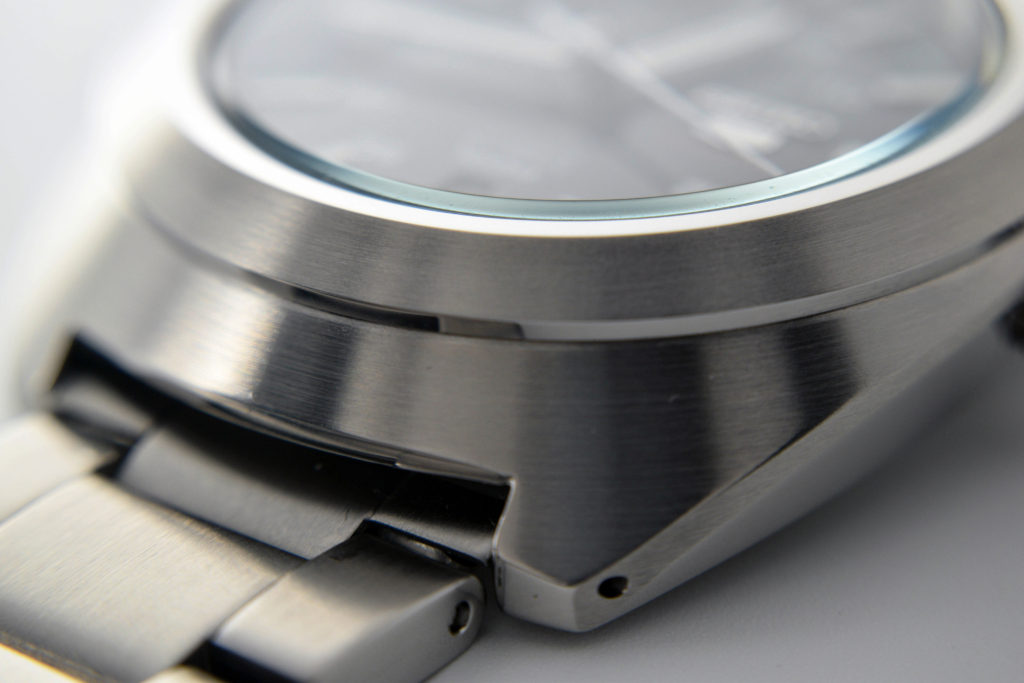 If this watch had a sapphire, a screw-down crown and 200m WR, I'd say it was one of Seikos best. But again, it's £115 and as such I can't think of a watch more worthy of the money.
In fact I liked this model so much, I bought the 60th Anniversary limited edition and I like it just as much and I don't normally like "dark metal" watches.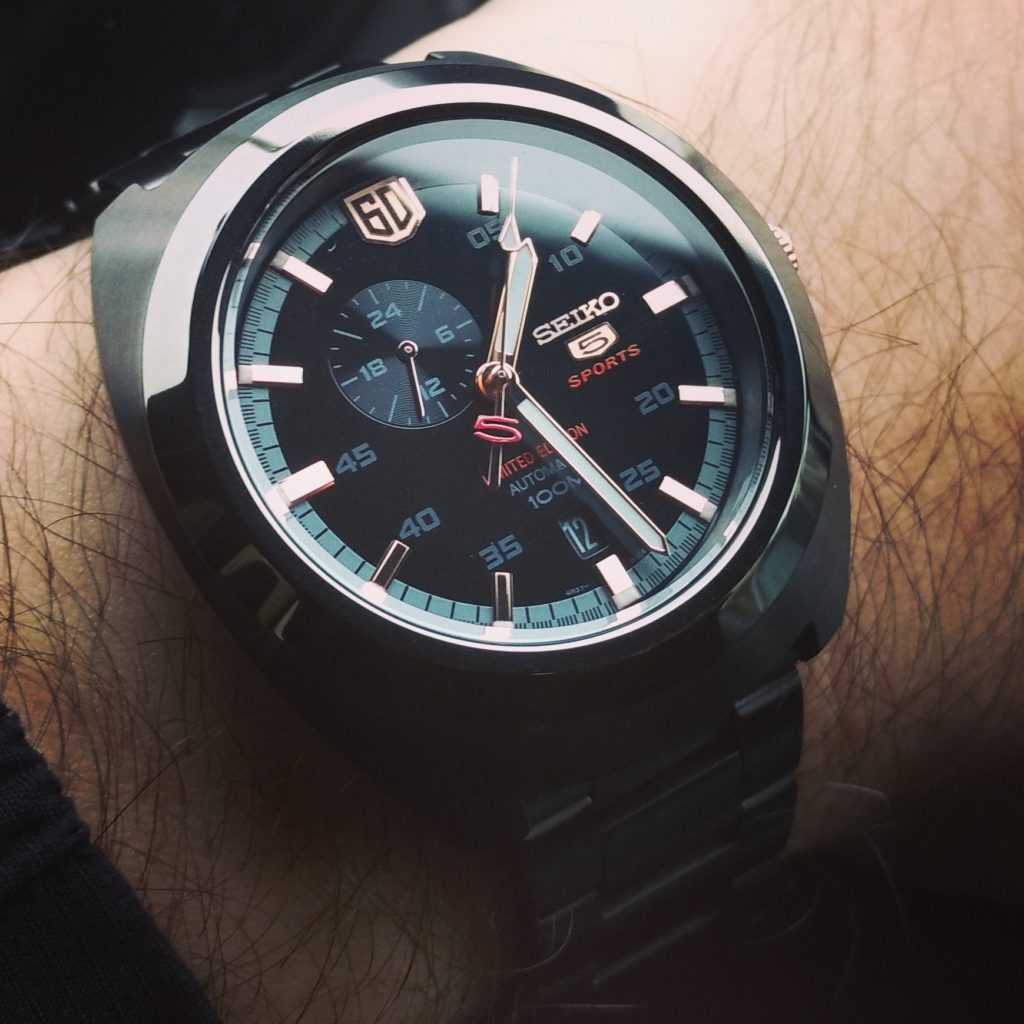 And the thing about 5 sports I've found is that they only get more desirable as time goes on. You can always find a buyer for a good 5 Sports. This is especially the case for models like this. There are some 5 Sports I own that were available, in Asia, for what seems a short amount of time, then they disappear. If you didn't know about them, but want one, then secondhand is the only way to go, so I wouldn't say they're an investment, just that they'll always be worth something.
But don't focus on that. And don't focus on the 5. Judge the watch as a whole, and you'll find that it's a whole lot of watch.