Rotary has teamed up with WatchNation to release their latest release, the Super7 Scuba. WatchNation's founder Dave Parry is not only a keen watch enthusiast but is also a certified diver. He recognised the need for an affordable tool watch that can perform whilst being under £250. Sounds good to me!
Much like the Seiko 5 range, the Super7 range is based on the number of features they possess (7 believe it or not). They are:
300m water resistant
Miyota 8205 Automatic & Hand Winding with Day/Date
Scratch-resistant sapphire glass
Dual coloured luminous hands & markers
Screw down embossed crown & caseback
Applied dial markers – Stainless Steel With Thick Luminous
120-click unidirectional bezel with pip
To me, at a glance, it looks like a great, solid alternative to the legendary Seiko SKX007. But, with better specs. Can it truly outperform that stalwart of diving watches? Let's check it out.
The specs
Dimensions: 42mm diameter x 14mm height x 48mm lug to lug
Weight: 121g
Water resistance rating: 30ATM / 300m
Movement: Miyota 8205
Accuracy: +14.1 sec/day
Lug width: 22mm
Warranty: 2 years
Price: £219
The video review
The case
How does it wear? Surprisingly well for a watch with a 42mm diameter, mainly thanks to the rather stubby lug length of 48mm. They don't protrude out much at all, allowing it to fit well on my 7" wrist. The height of 14mm is a bit on the tall side, but it's not the kind of watch you'll. want or have to wear under your shirt cuff.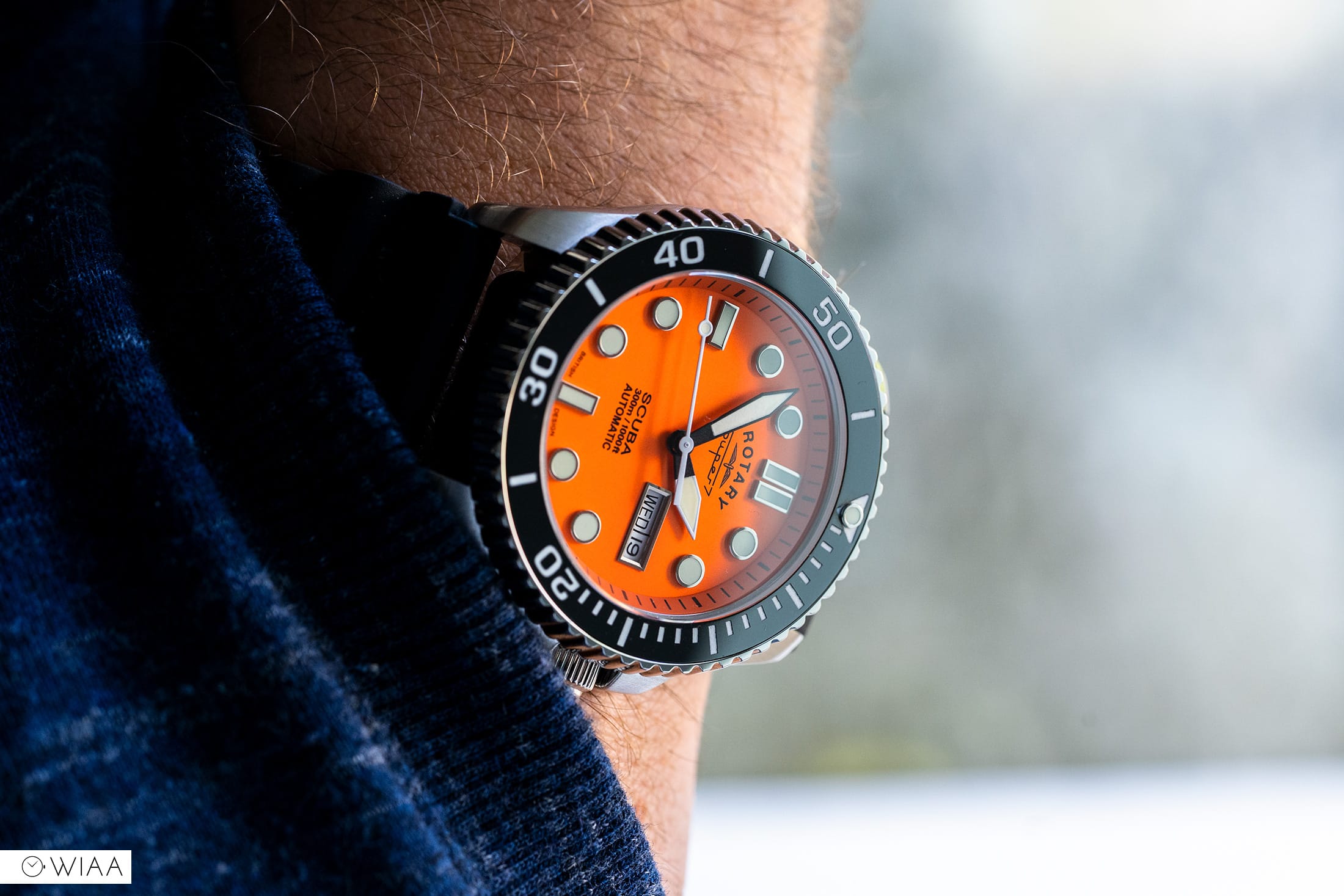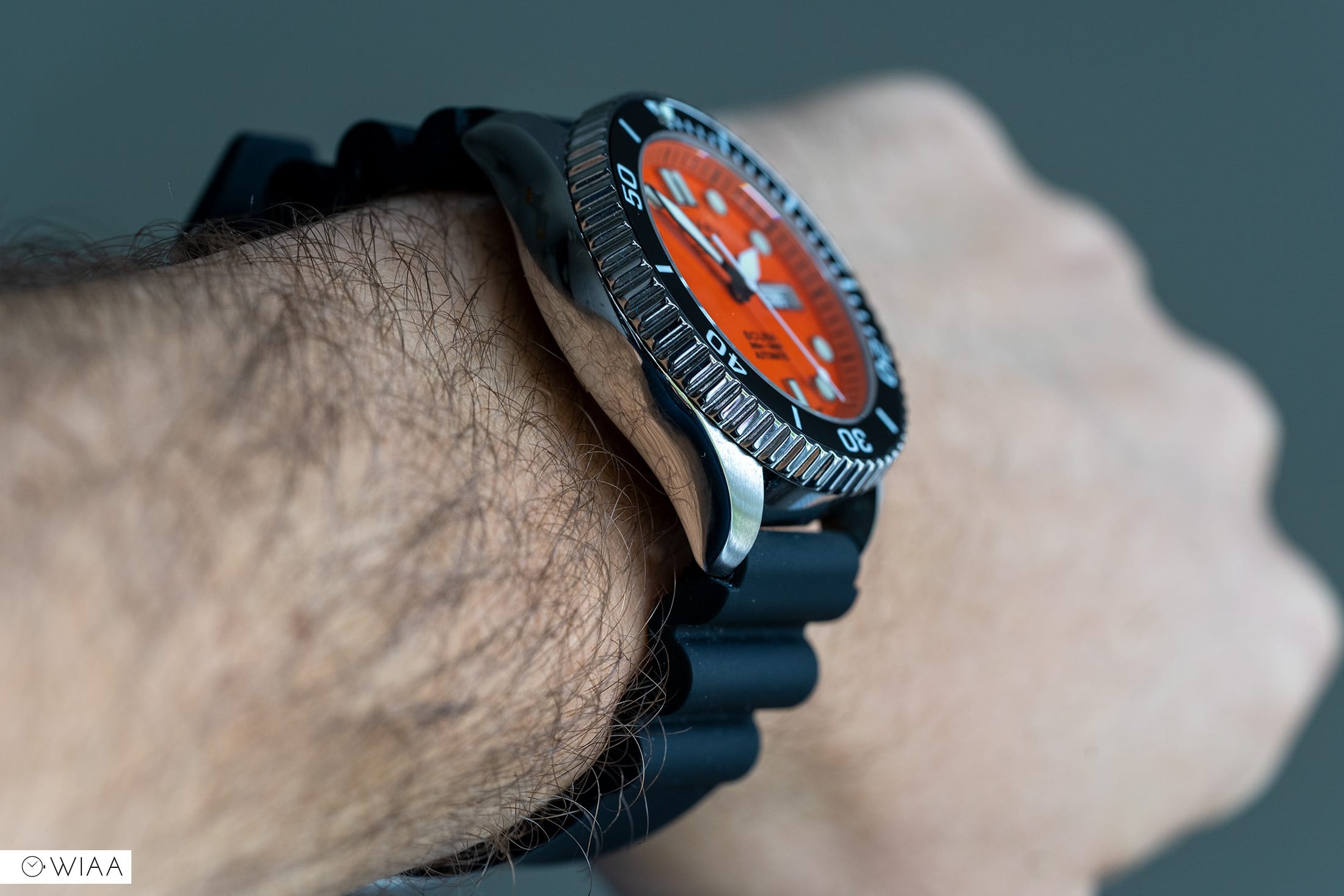 The case is a traditional rounded barrel style, nothing too exciting. Although I do like the slight angle on the bezel grip which flows nicely from the case main.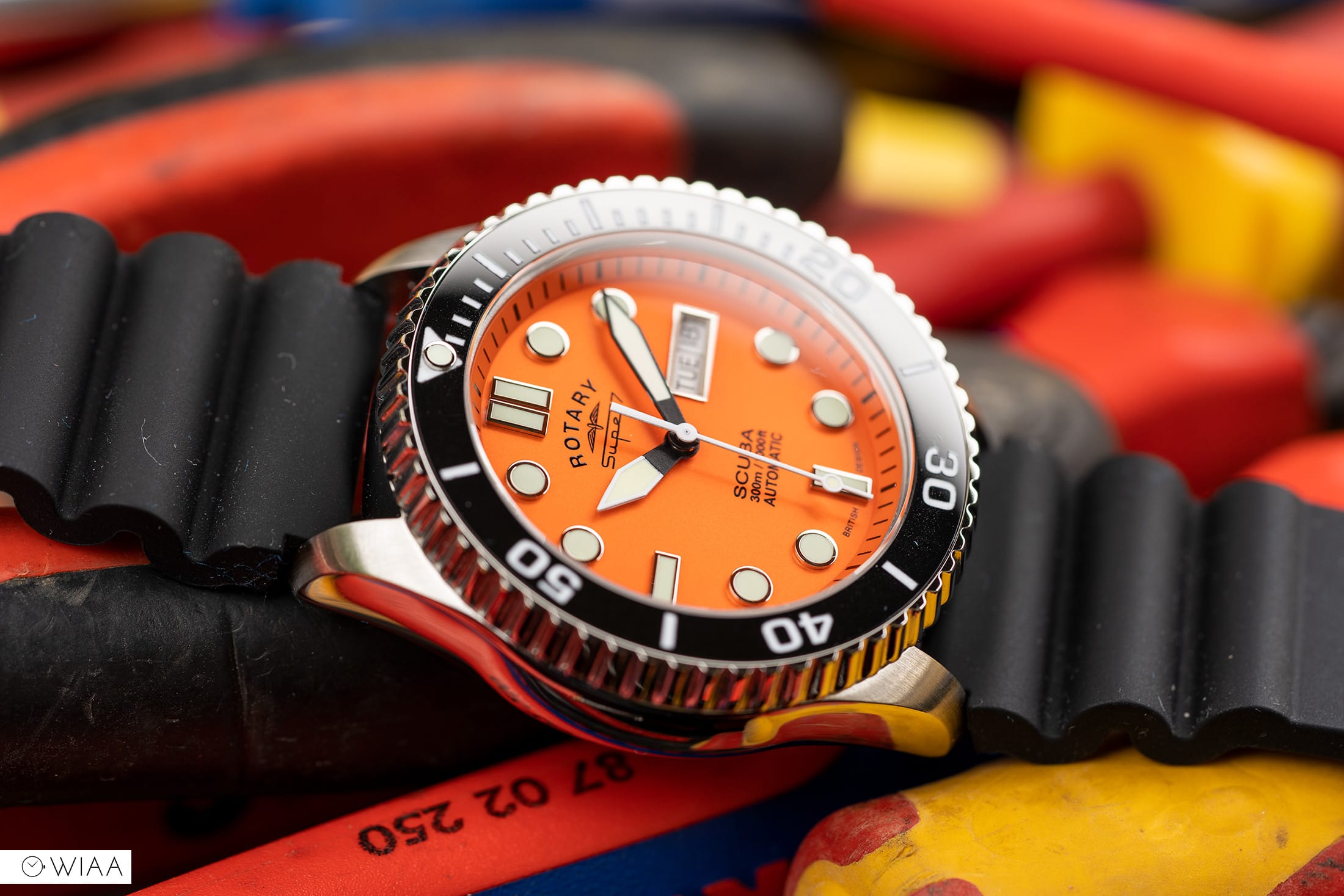 The case has polished sides, which is an interesting choice for what is, in reality, a tool watch that will inevitably get knocked about a bit. In fact, I got a small mark on the side of the case within the first couple of days of opening this one. Sad times. The case has brushed tops of the lugs and crown guards, as well as the bottom.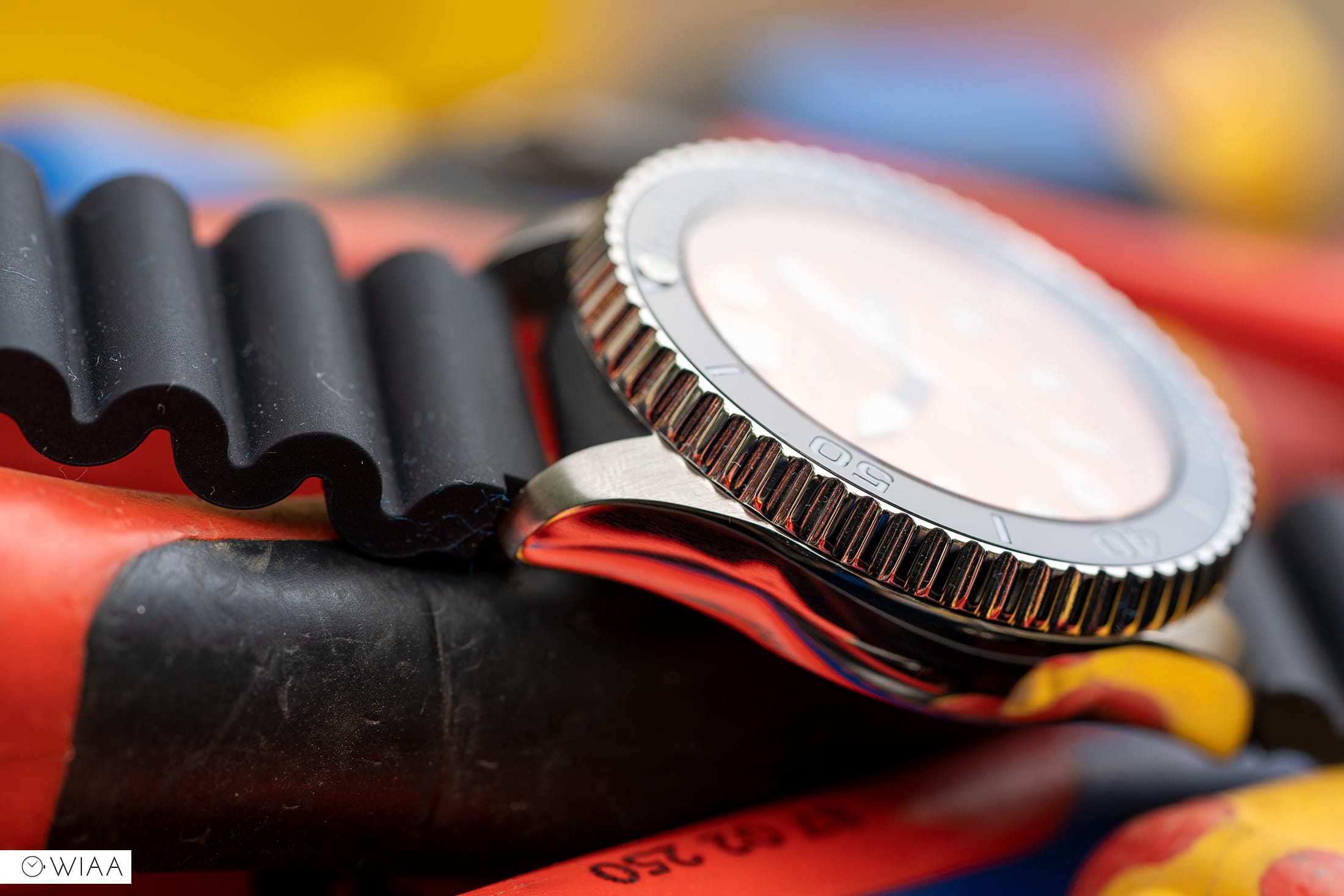 One of the features is the "120 click uni-directional rotating bezel with pip". On the orange and black dialled options, it's a ceramic insert, which is pleasantly glossy and catches the light. The gentle angle of the grip (it's not straight up) allows for a very natural grip shape of your hand to rotate the bezel, coupled with the smooth action means it's a joy to use. The insert also lines up perfectly (Seiko can learn a thing or two here).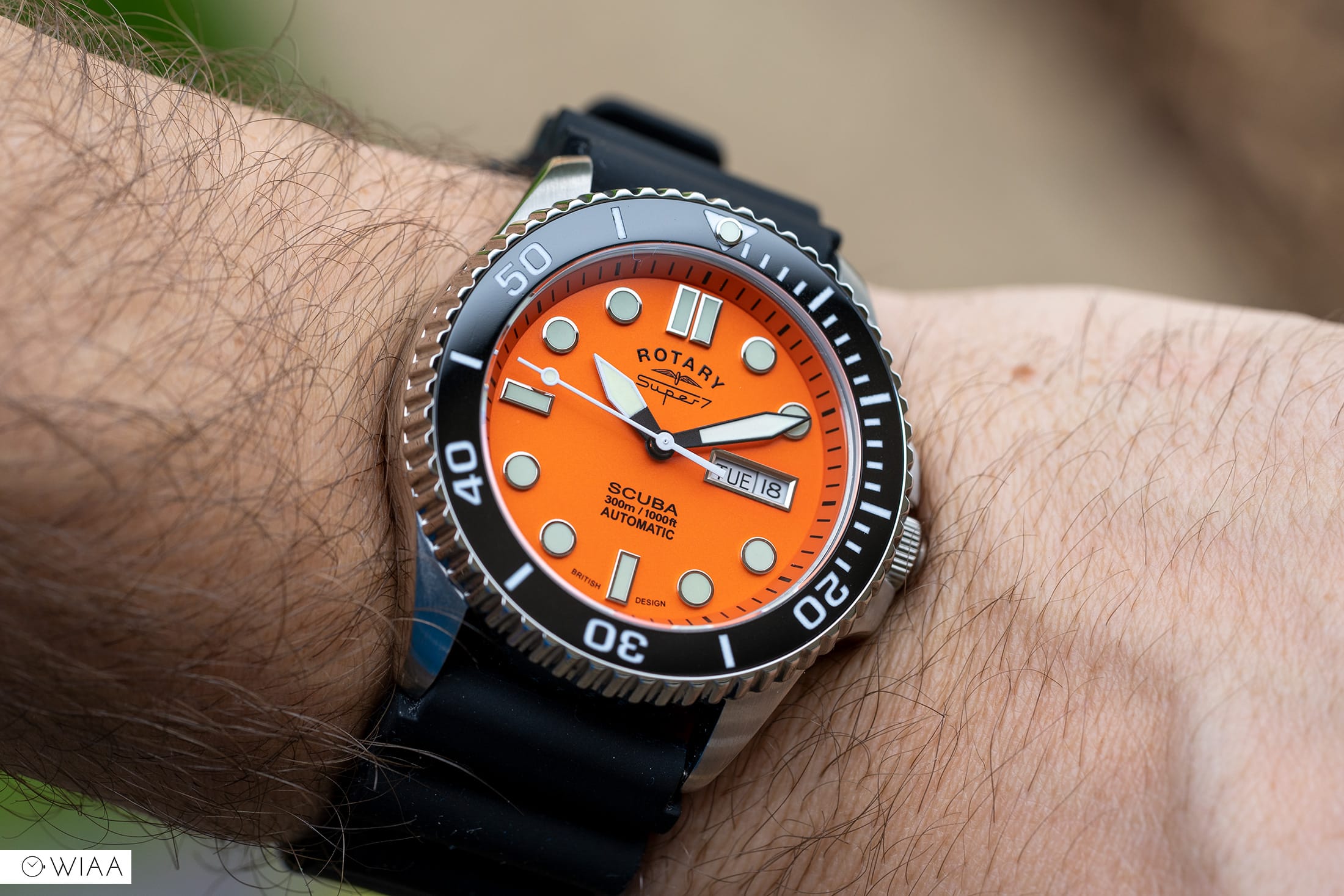 The screw-in crown has an embossed Super7 logo on the end, and it easy to grip and has good protection from the crown guards. It's polished, so may end up getting some scars.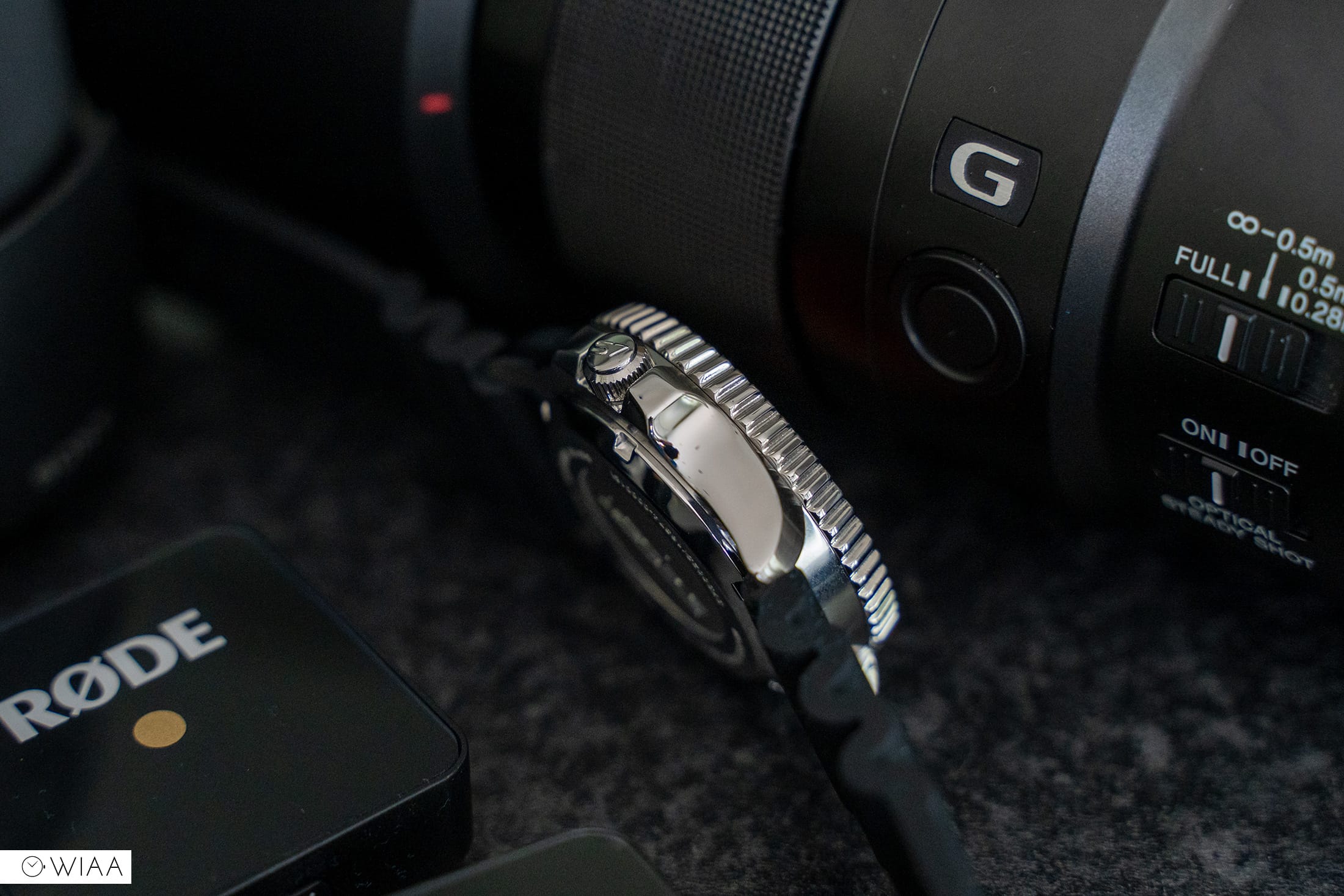 Sitting on top of the case is a flat sapphire crystal, which offers excellent clarity. There's nothing to say it has an anti-reflective coating, but the viewing pleasure this provides, it must have.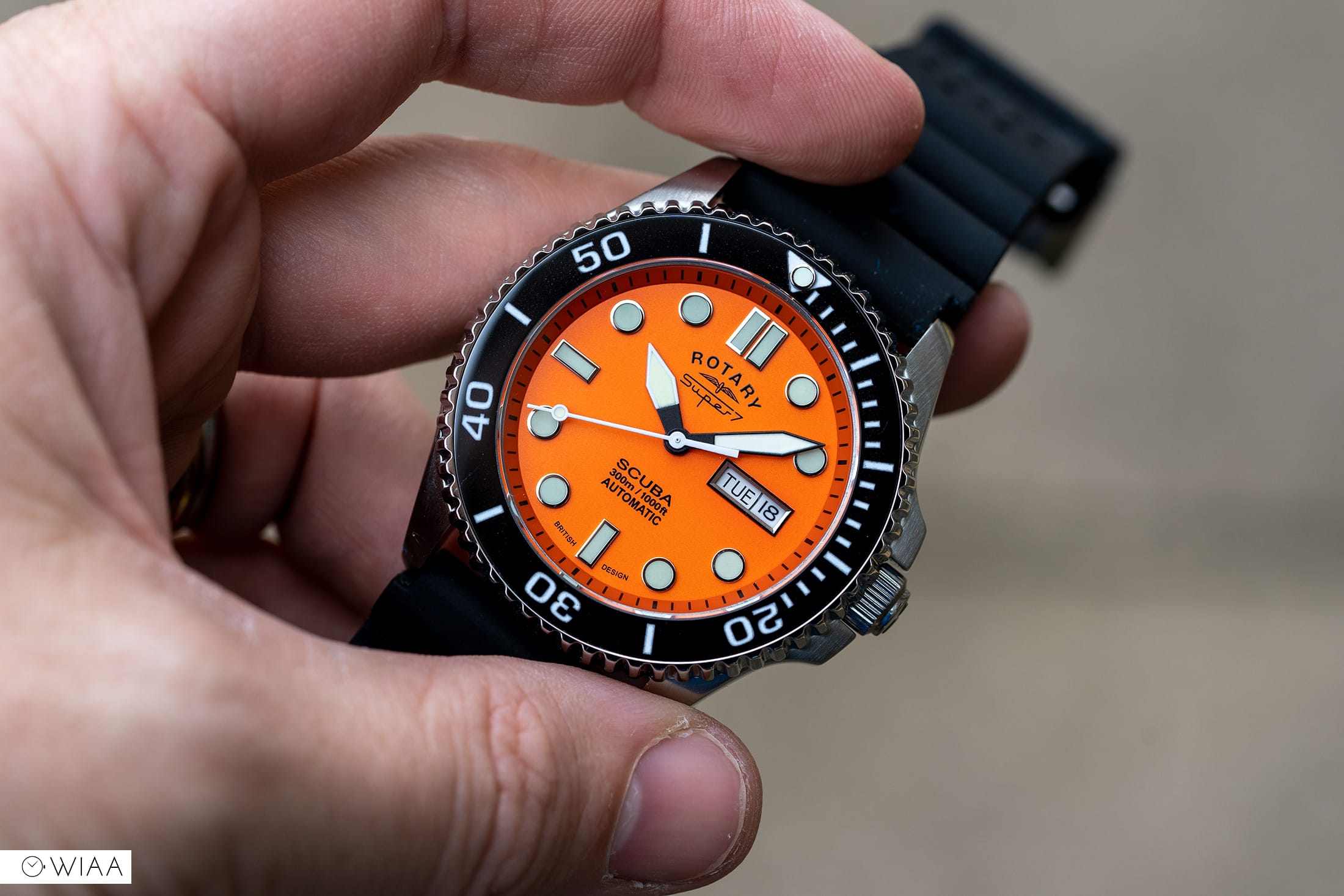 The screw-in caseback also has an embossed Super7 logo in the centre, against a frosted centre. Other bits of information surround this deep, central feature.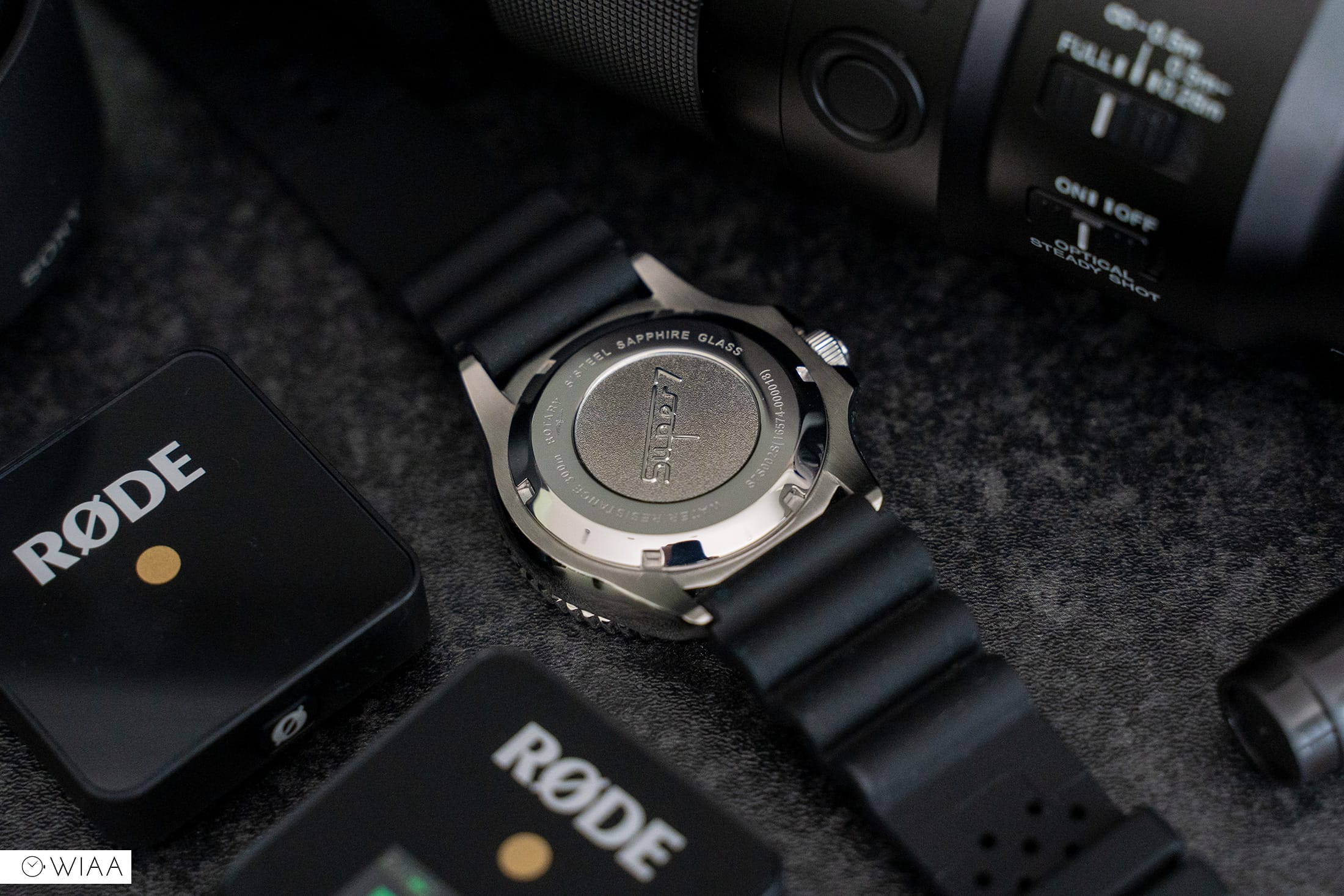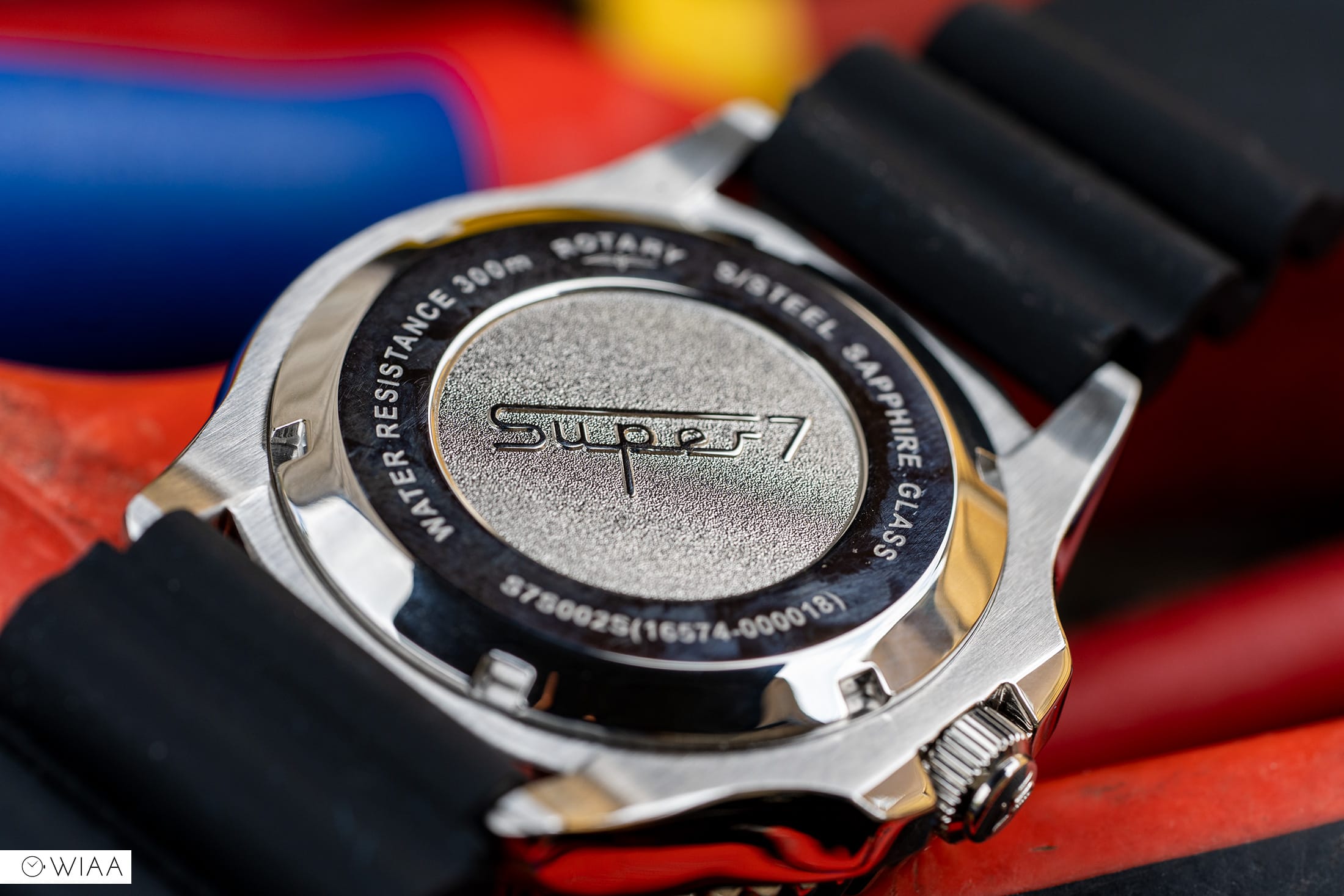 The dial
There is a selection of retro dial options: a bold orange, classic black, moss green or deep sea blue – so you have a pretty great selection of choices.
I like the bold orange option, it's insanely readable and legible thanks to the thick hands, simple hour markers, and impressive lume.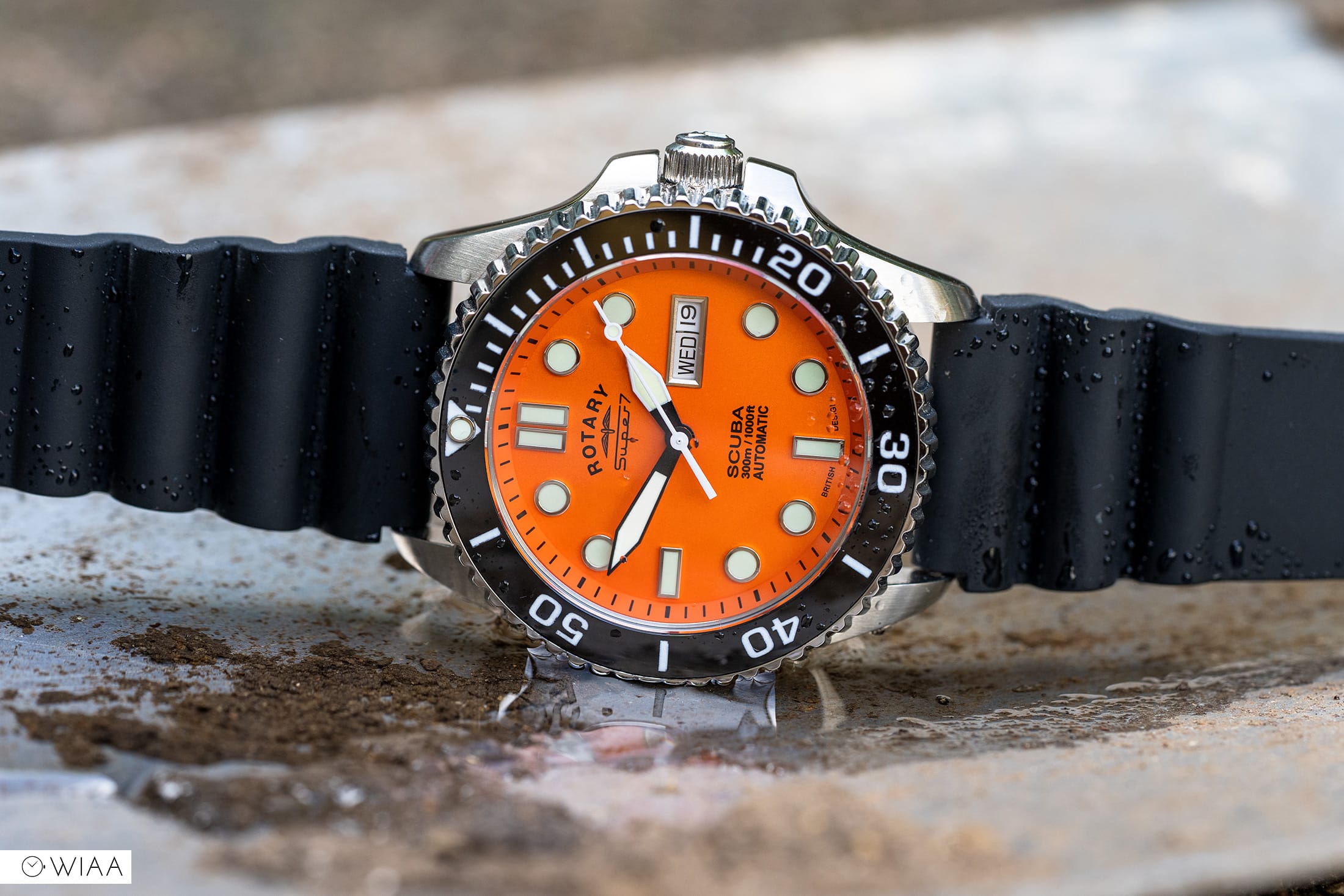 The Super7 features dual-colour lume, for easy reference of the measurement of elapsed dive time. The minute hand and dot at 12 on the bezel are both blue, whilst the rest is green. It's very strong indeed and I have been incredibly impressed by it.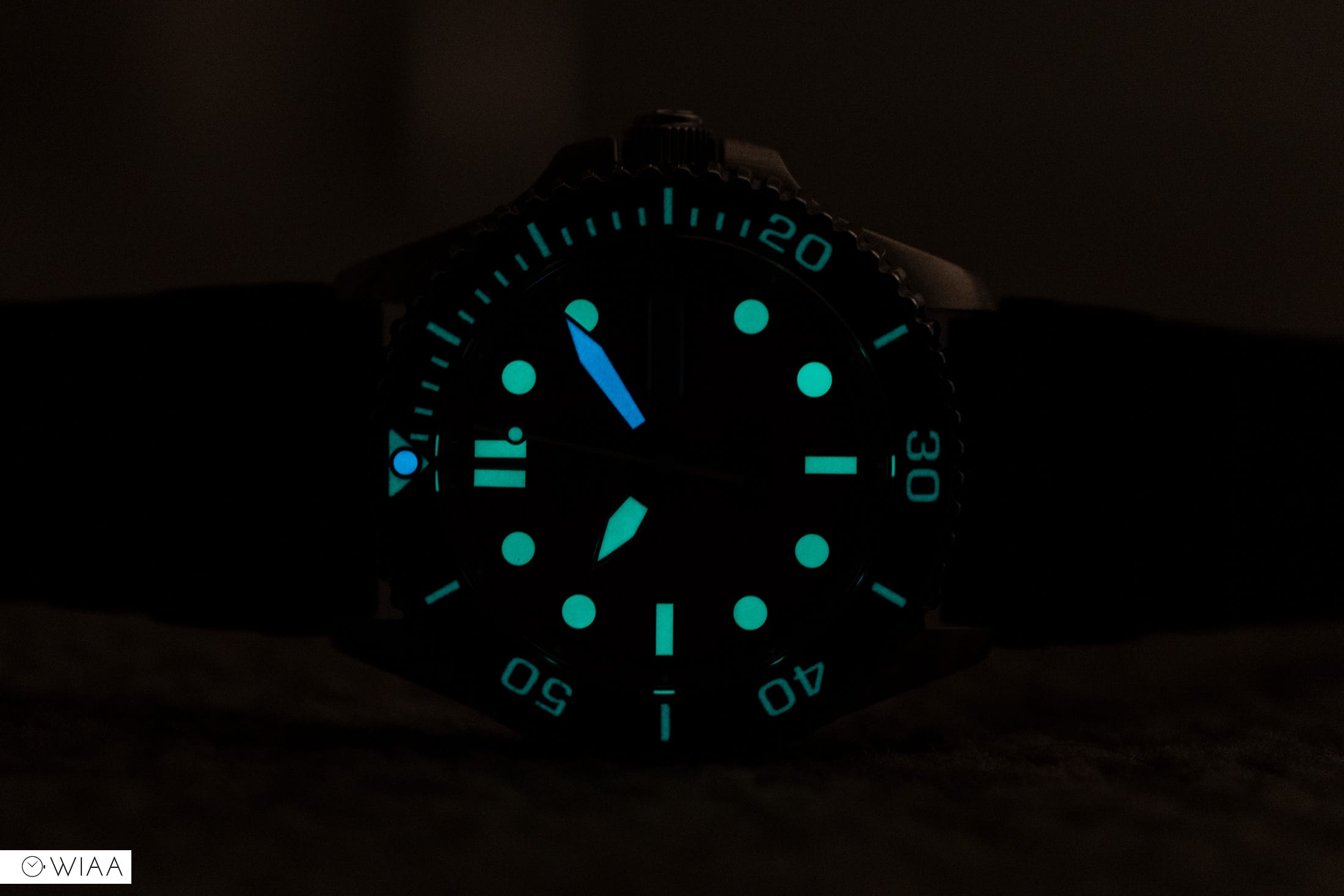 The sword hands are not the most exciting design – but this watch is all about function over style. They're bold, legible, and brimming full of lume.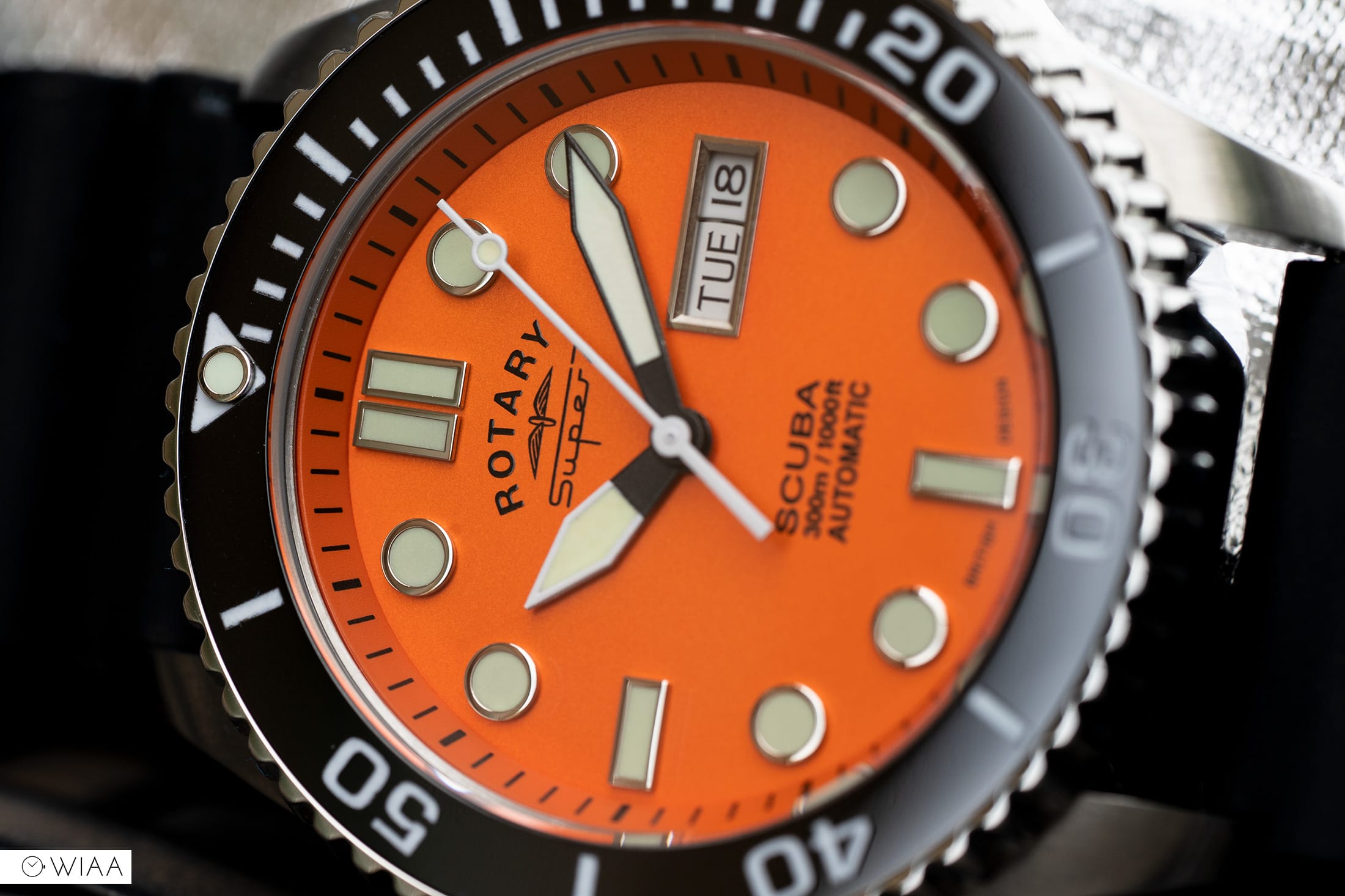 The applied hour markers are very well finished and are thick – something I love to see. Thick markers indicate good build quality and close attention to detail, and the Rotary certainly displays that.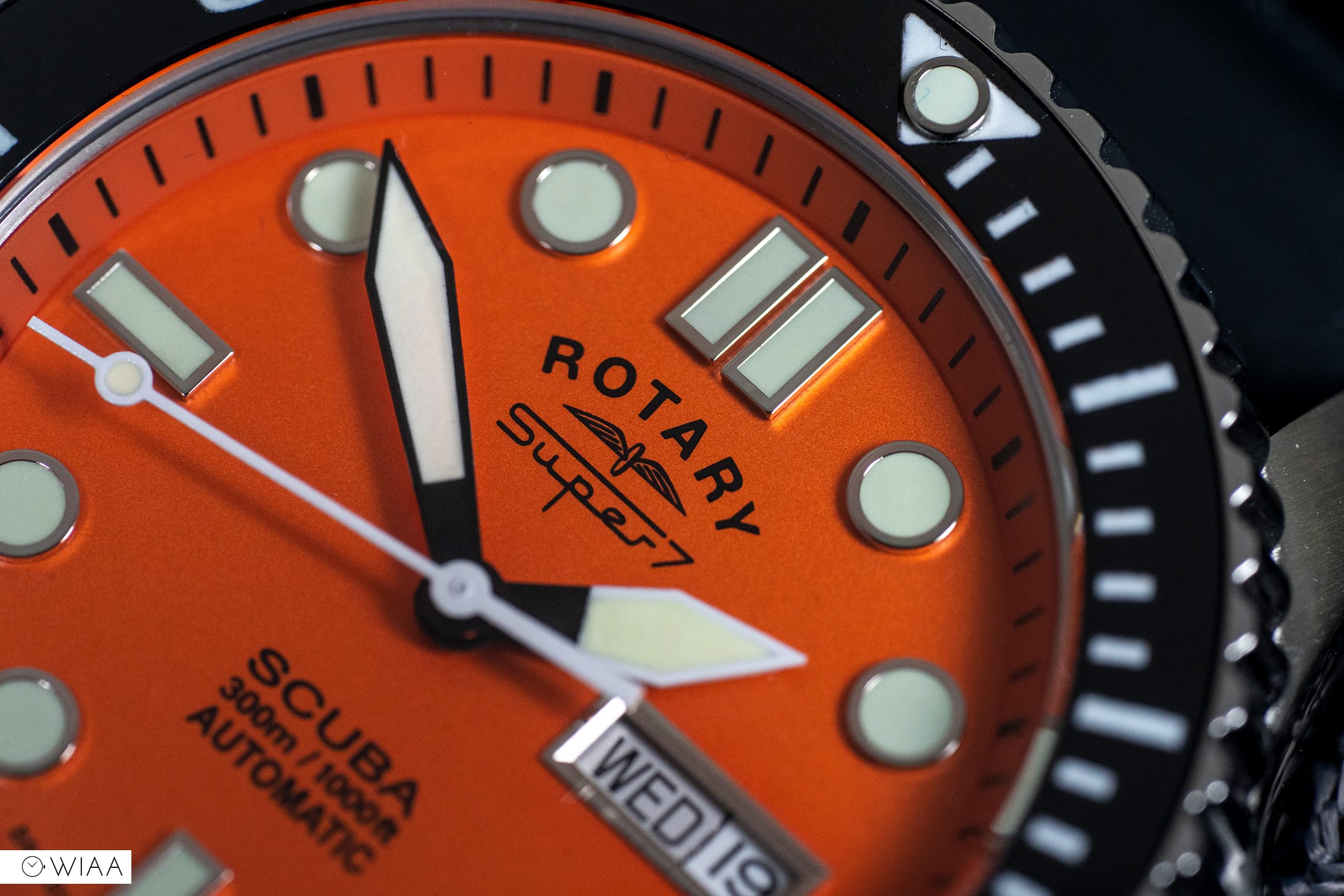 The day-date window has an attractive polished border around it, again an impressive touch. The wheels themselves are the stock movement wheels. The alignment of them is a little out, but that just comes with the territory of a budget movement.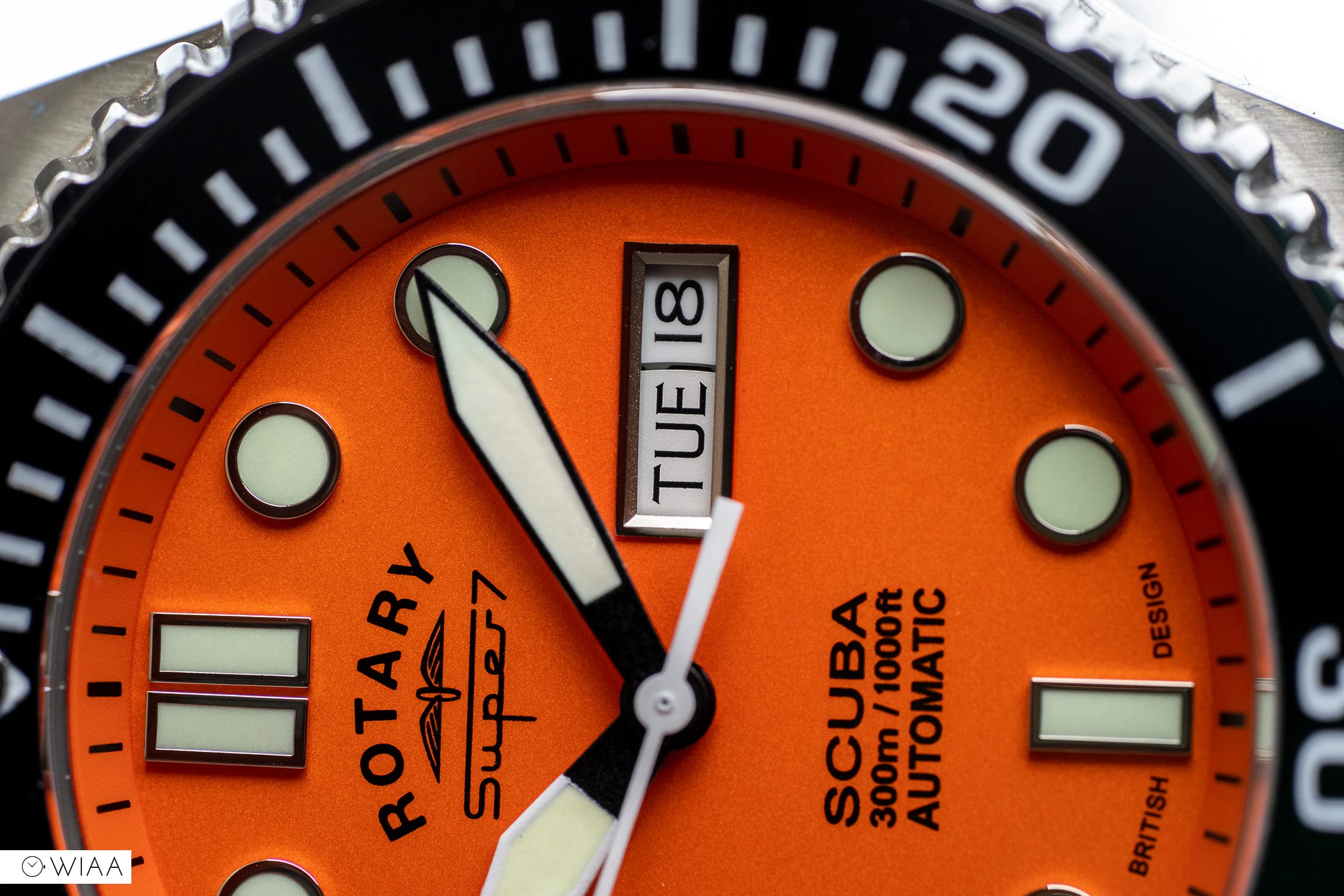 The strap
The Rotary Super7 Scuba is available on a rubber strap or a solid stainless steel 3 link bracelet featuring a divers' deployment clasp. I'm usually all for a bracelet, but I'm happy to have had the chance to check out the rubber strap, as it's great.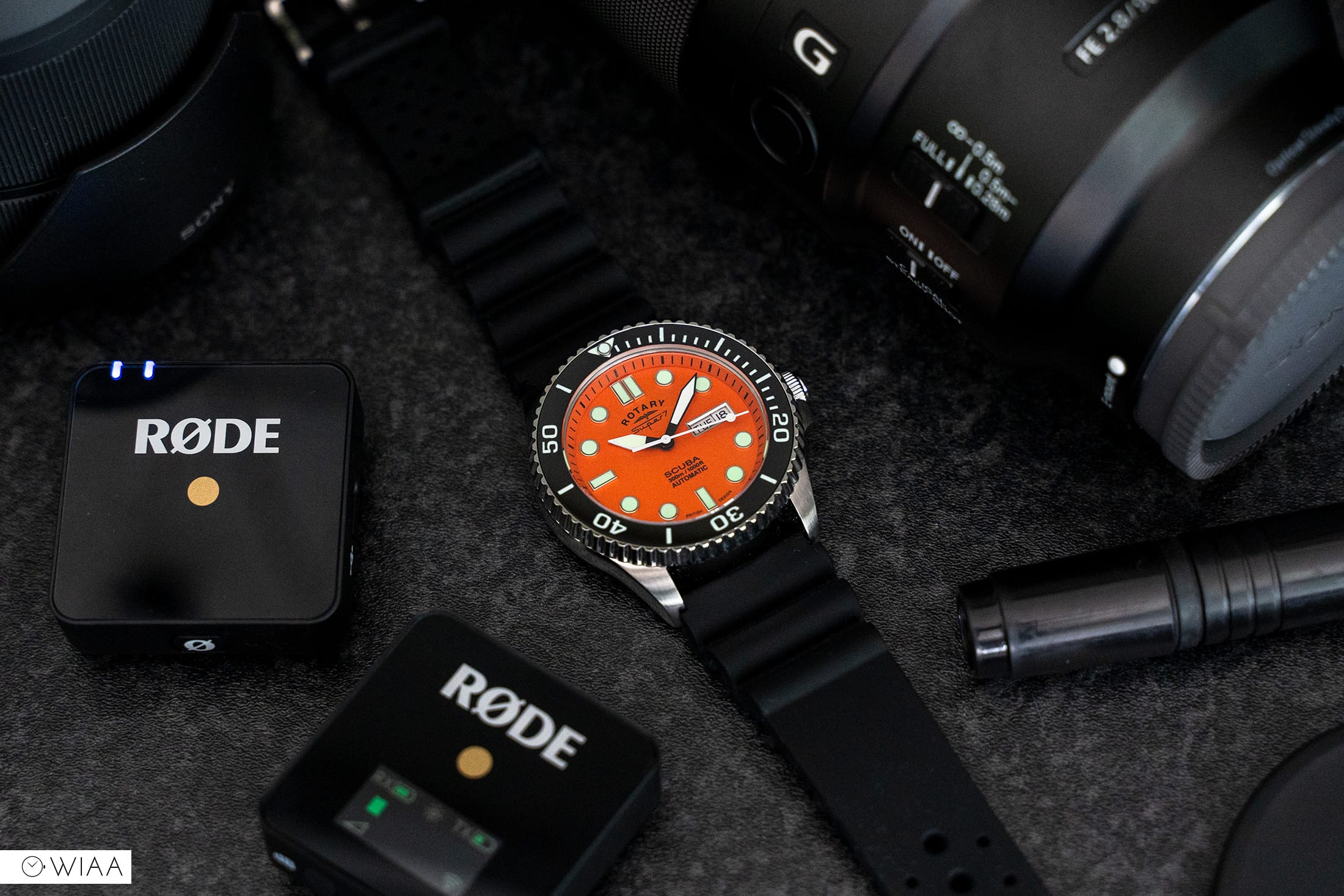 The rubber is super soft and malleable – not stiff at all – allowing very comfortable wear. It has the classic waves which allow for a bit of stretch over a diving suit, and plenty of holes to keep things interesting.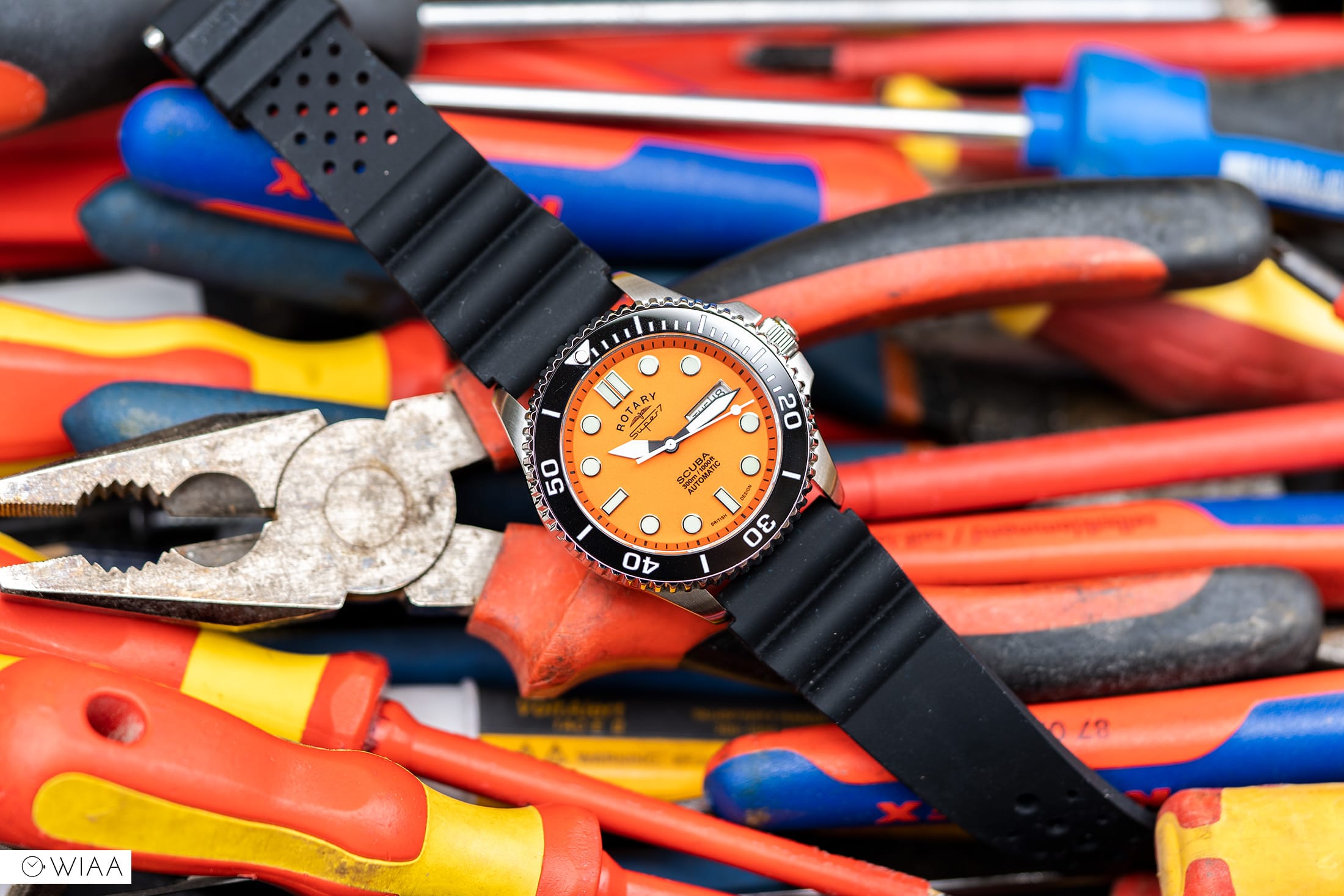 The Super7 logo features in a few places which is nice to see: on the top of the buckle, a keeper loop, and at the base of the long length.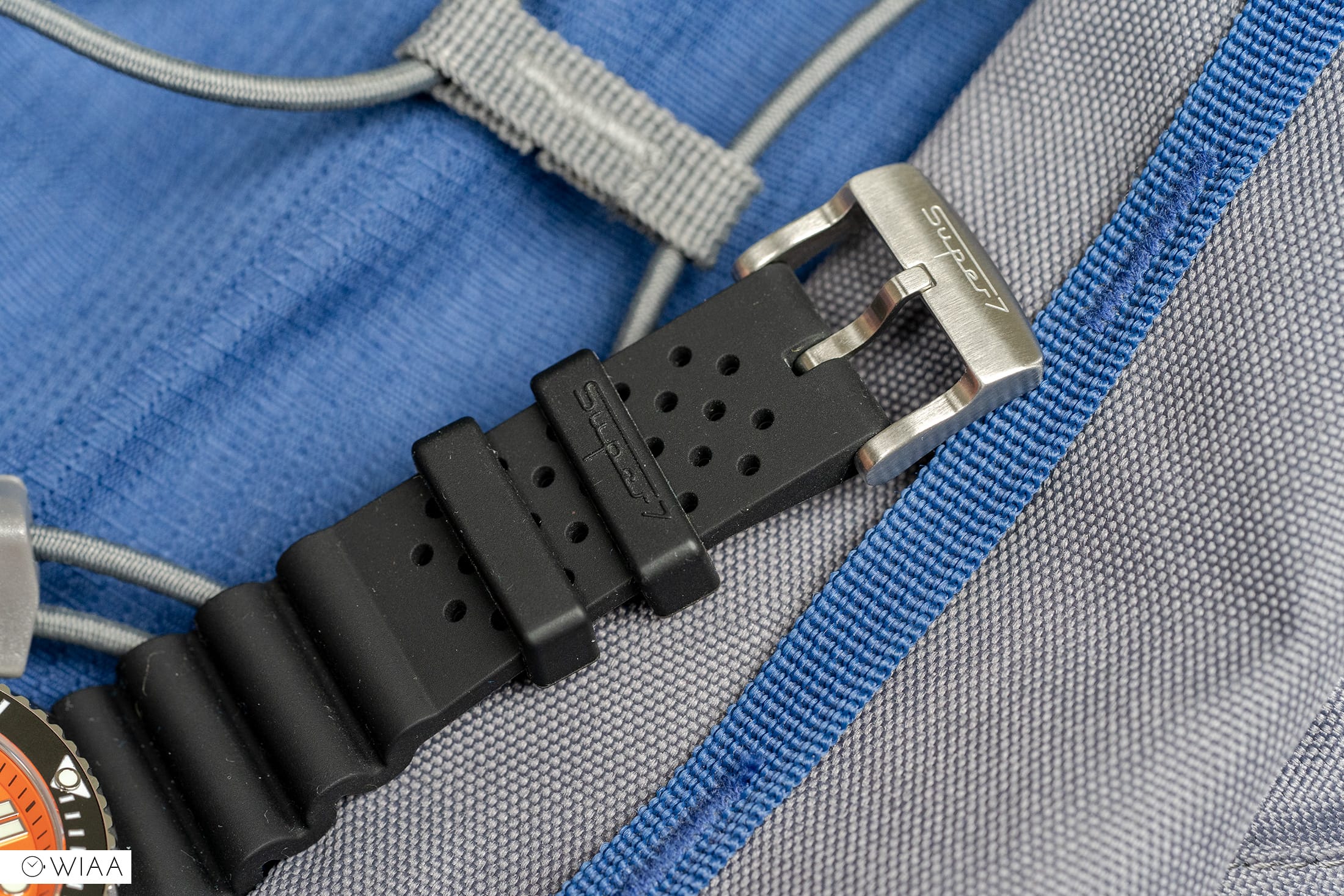 The buckle is another thing that's different to the norm, which is great to see. Thick, chunky and dependable, with the logo deeply engraved.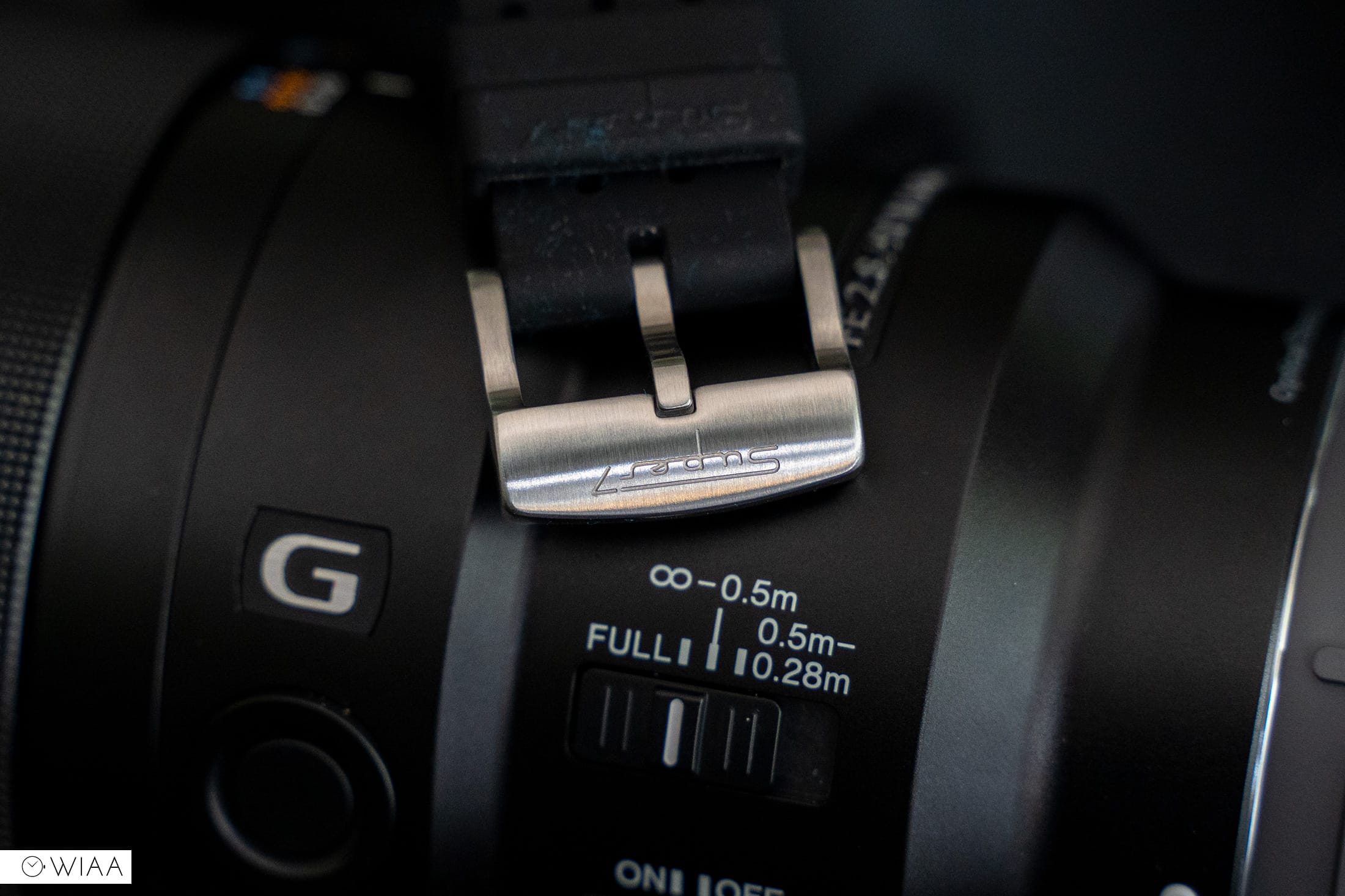 With a 22mm lug width, it's the kind of watch that is an absolute strap monster.
The movement
The movement powering the Rotary Super7 is the Miyota 8205. Yes, it's not the fanciest movement; in fact, it's pretty low-grade in terms of specs. But, it is pretty reliable. It runs at 21.6k bph (6 ticks per second), has hand and automatic winding, 21 jewels, and approximately 42-hour power reserve. It doesn't have a hacking seconds hand so you won't be able to get it set exactly very easily.
Let's compare that to the Seiko 7s26, which can be found in the Seiko SKX007. The Seiko movement also doesn't have a hacking seconds hand, but it also does not allow for hand winding – so the Miyota isn't so bad after all.
The accuracy on this watch is a rather surprising +14.1 sec/day. Certainly in need of a bit of regulation, but manufacturers usually say if it's within 20 seconds a day, it's fine. That may be true, I just wish it was a bit more accurate out of the box (such as within 10 seconds a day).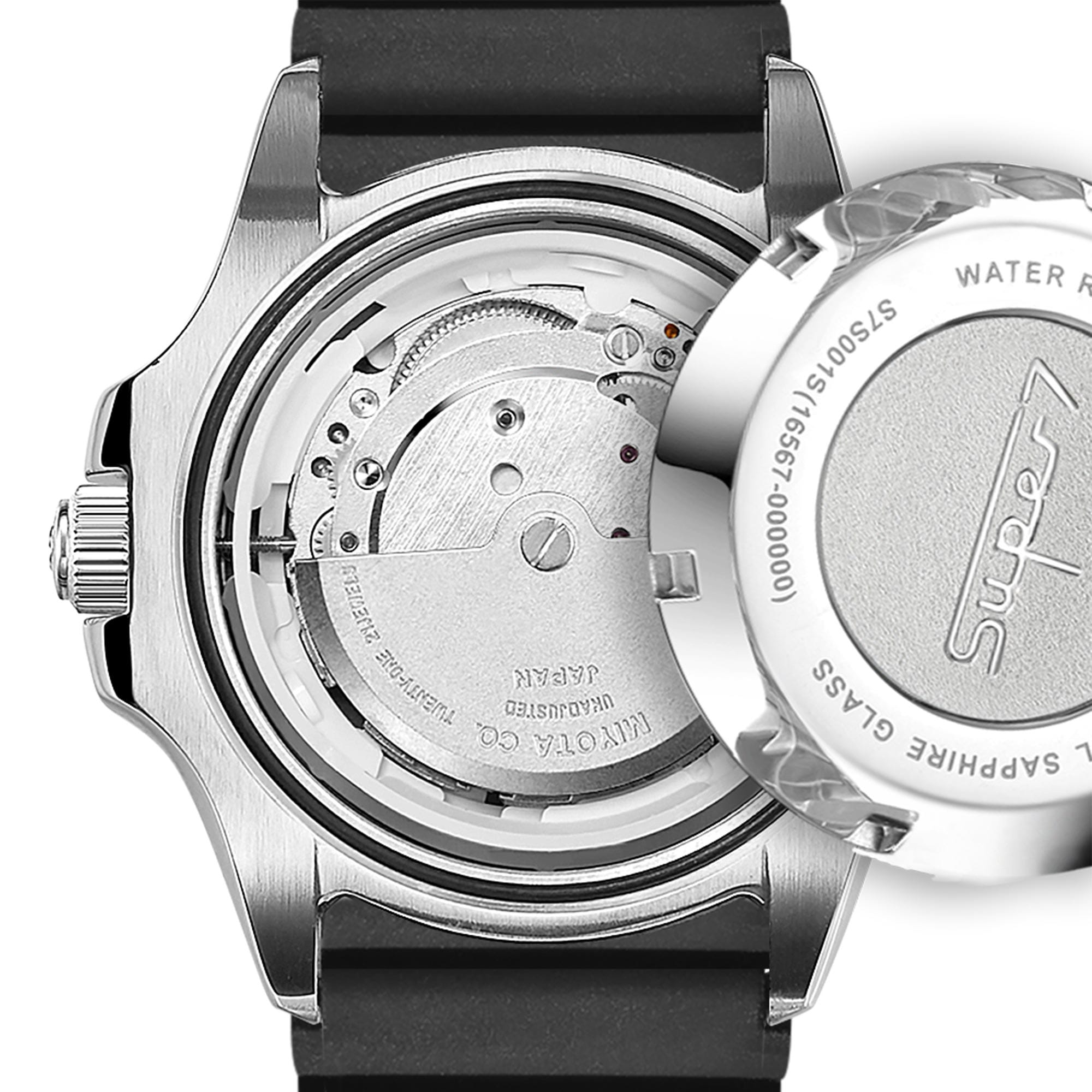 Final comments
Is it a genuine alternative to the SXX007? Only time will tell if the Rotary Super7 Scuba will become Asia's legendary.
But, I can confirm that this is a tremendous diver for a very competitive price. Indeed, if we were going by specs alone then it has the potential to be adult classic. The design is simple, bold, purposeful; the build quality is top-notch. Some may whinge about the movement, but the price tag and everything else makes it a perfectly acceptable decision in my eyes.
They set out to create an "affordable tool watch that can perform whilst being under £250". They most certainly have succeeded. It has impressed me and I can highly recommend it.