CATEGORY: Watch I Own
Everyone has a view / review of the Rolex Submariner.
It's like some unwritten law for us WIS.
I bet back in the early 90s, when the first ever watch review site went up on CompuServe or Prestel, they had a review of the Submariner.
It's probably the most well know, copied, homage'd, loved and hated watch in existence.
I'm not going to go over its history. Many have done that before me. I'm just going to go over why you should or shouldn't own a Submariner.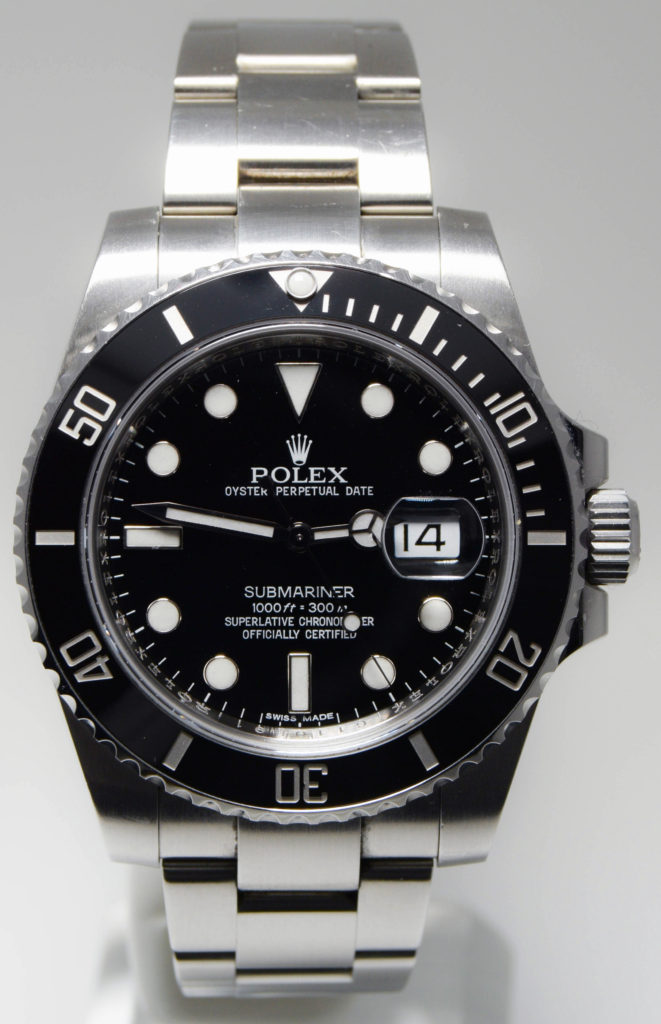 In the early Noughties I worked for a cruise line and broadened my horizons. I knew the Rolex Submariner, as a friend of my dad had one, and thought straight away THAT was a mans watch. My dad is an Omega man and always poo pooed the Rolex as overpriced. But I liked it. Then I saw Connery wearing them in the "old" bond films (I was an 80s child, so Moore was my Bond and Bond wore Seikos mostly…hence my lifetime love of Seikos) and thought they were cool.
Anyway, fast forward to a day in Antigua. We had just been on some Americas Cup yachts and were milling around town. I had an idea of what I was going to do that day and sure enough, in a watch emporium, I saw an SS Sub Date, a 16610 model. I was at that time wearing a copy I'd bought off a bloke in Venice.
I tried it on and the credit card came out. That's all it took. It was the watch I always promised myself, the watch that said to me "I'd made it", I didn't care what my friends would think (as most didn't care about watches). I was 25. The watch was worth more than my car. I bought it for me.
In 2011, I was passing Watches Of Switzerland and in the window was a 116610 ceramic. New out, in the window, retail price. I was suspicious, but went it.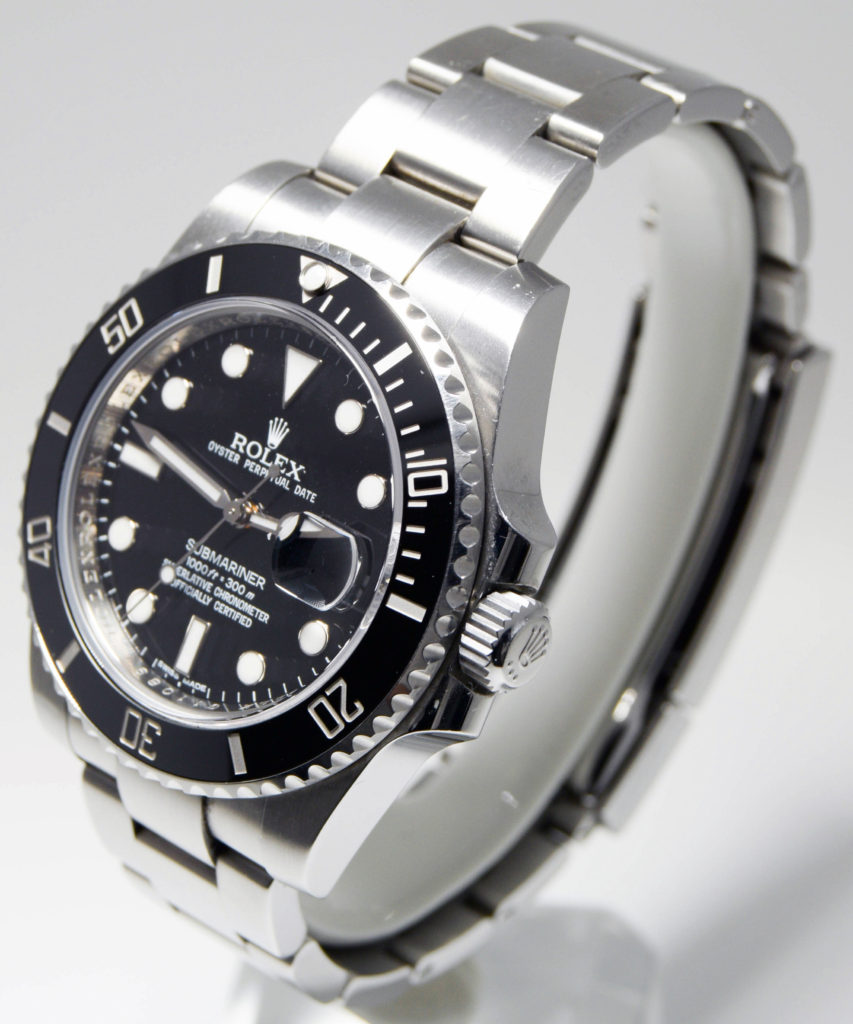 I asked if it was second hand as there was a waiting list. I was told it was new. They phoned the first person on their waiting list, who no longer wanted it. The second person said they would be down, but didn't show. The third person turned up that day, but argued for a discount. The manager, turned round and said : "I'll put it in the window. Come back tomorrow and if it's still there, I'll give you a discount".
It wasn't there the next day. I bought it.
So I now had 2 submariners. Don't get me wrong, I loved my 16610, but the 116610 had a bigger case, a better bracelet and clasp and the ceramic bezel.
I will keep harping on about it, but the only real way to know if you love a watch or not, is to put it on your wrist. Turn away. Then look at it again. You like what you see, maybe it gives you a little kick, then you're good to go. If you think it will grown on you, it may, but you'll probably never love it. It's love at first sight or nothing. Good things take time, great things happen all at once.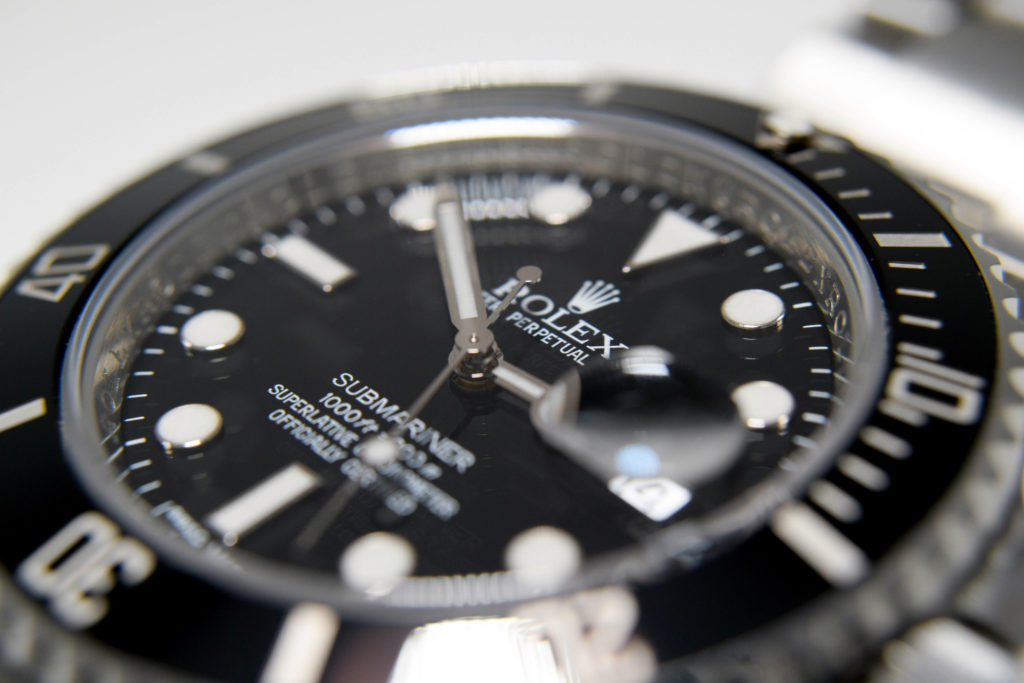 So I sold my 16610. Due to the constantly rising prices of Subs, I got more than I'd paid 9 years earlier. That's the thing about most Rolex Steel (sports) models, buy shrewd and it's like you put a 100% deposit down, that you can usually always get back if you fall out of love or times get tough. Not always, but nearly, especially if you keep them a while.
So why is the Submariner so famous, so loved, so copied and so hated?
It's because it's a stereotype. It is said that the Blancpain Fifty Fathoms is what influenced the Submariner. Therefore the Sub is not the "Alpha" of this style of watch, but much like the original Mini wasn't the first small car, it came to popularize and evolve the style and therefore became the stereotype and an icon because of it. It's what other manufacturers aspired to and you can see bits of its DNA in their subsequent offerings.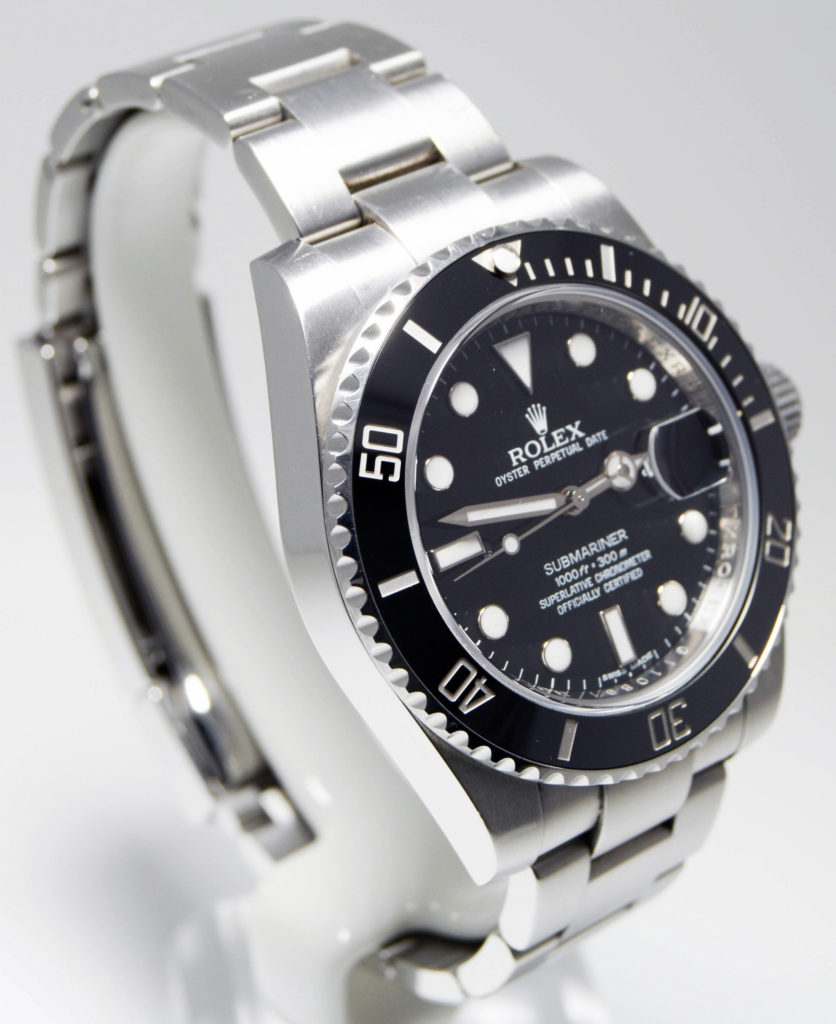 Now I'm going to back this up with a topic that will heat up the audience, homages. The most "homaged" watch out there is the Submariner. I know there's only so many ways to slice a Pizza and watches borrow bits from here and there. I'm not talking about those, I'm talking about watches that to all intents and purposes are a fake sub with different branding. Think Tissell (heck TISSEL – TISSOT, jeepers!)
I said before that I was wearing a fake the day I bought my first Sub. I was 25 and young, I knew that the fake was wrong, but I was also wanting to fit in with the officers on the cruise ships. So I wore a fake. I don't think any of them were fooled, but I wore it because I wanted people to think I had a Rolex. I'm willing to admit to that.
I liked the style of the Sub, because it was the style of probably the most recognized luxury watch in the world. If the Adam, the Alpha, the first of this style of watch was a Casio (I love Casios, but for different reasons) chances are I wouldn't lust after it and certainly no one would bother homaging or faking it.
So be true to yourself, you like Homages based on the Sub, because they are based on the Sub. Don't kid yourself. Like I say, if the original of the Sub style was a Casio, no one would make an homage and certainly you wouldn't want it.
I also hear "Not everyone can afford a Sub, so what's wrong with getting a watch that looks like it, that I can afford? I like the style, not the name. As long as I'm happy what's it to you?" As long as you are happy, I don't care. I do care when lots of you feel the need to pipe up on forums and FB groups, mob handed though, to diss people who say what I've just said.
You know why Rolex doesn't actively try and shut these people down? "The only thing worse than being talked about, is not being talked about".
Every fake watch seller and most watch companies sell something that looks like a Submariner. It keeps the myth alive and the watch constantly in the public eye. "I bought this on the beach in Tenerife and love it. I'm gonna save for a real one as the comments I've had about it have been awesome." Anyone who can afford it and wants a Submariner will buy one. They're losing no sales to the fakes and the homages, those are just giving the Sub free advertising. It's almost like these watches are "Gateway Drugs" for people who previously wouldn't have wanted one, but do now.
You have a fake / homage. You get a windfall. You buy the real one. You still going to wear you fake / homage? Why not, "it's its own watch" after all…
So, yeah, this is supposed to be a watch review not a paper on the class divide as pertaining to overpriced watches. Yes, I said overpriced.
As a watch, pieces of metal with ceramic that tells time, this is overpriced if we strip it down to component level. However, the level of finish is top class. The dial, the indices, so subdued yet so fantastically done. Even the lume pip is wonderful.
All of it is well made, "built like a tank", fantastically finished, reliable and accurate. As a physical watch, is it much better than something like an Omega Planet Ocean? No.
Is there a massive amount of profit in it for Rolex. Yes.
Diamonds are dug out of the ground. They're a stone. "But they're rare!" Really? I can buy diamonds in every town I've ever visited. They are rare compared to say regular stones, but in reality if you want one, they're easy to acquire…if you have the money. There are theories that supply is limited to keep the prices high. There's another comparison with the Sub…
People are what makes a diamond worth what it is. People are what makes a Sub (and Rolex in general) worth what they are. Something is worth what someone is willing to pay for it.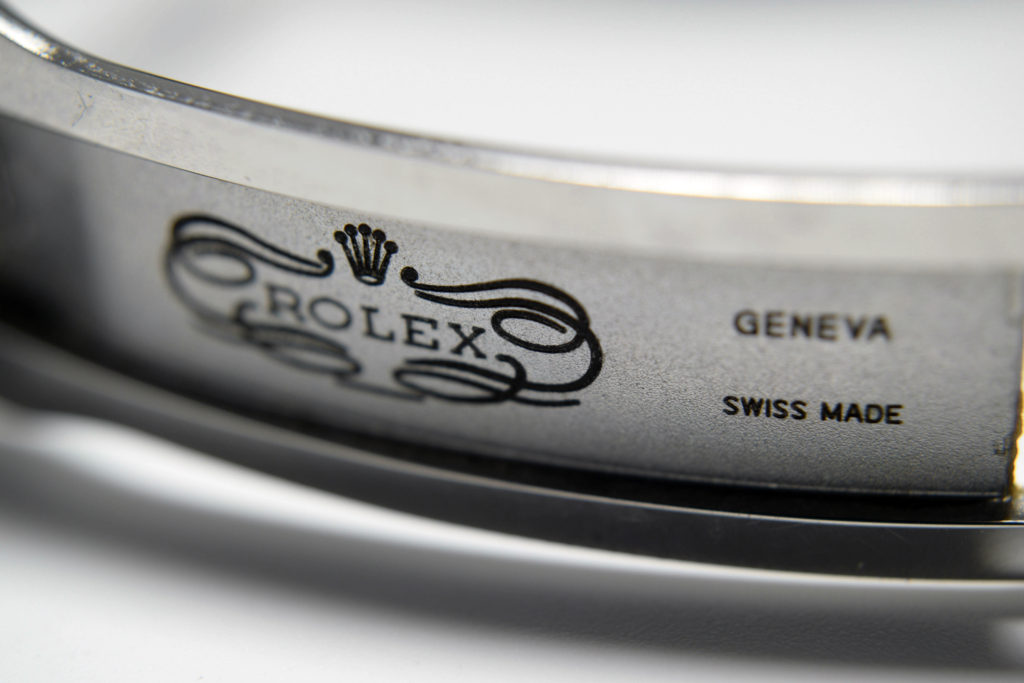 So you take the heritage, you add in the panache of it being on celebrity / rich / famous / respected wrists, you add in the mystique, the aura of the brand (and its recent sponsorship of things like F1) mix with desirability, bake with respect from others and sprinkle with good resale values and restriction of supply and you have something that is "more than the sum of the parts".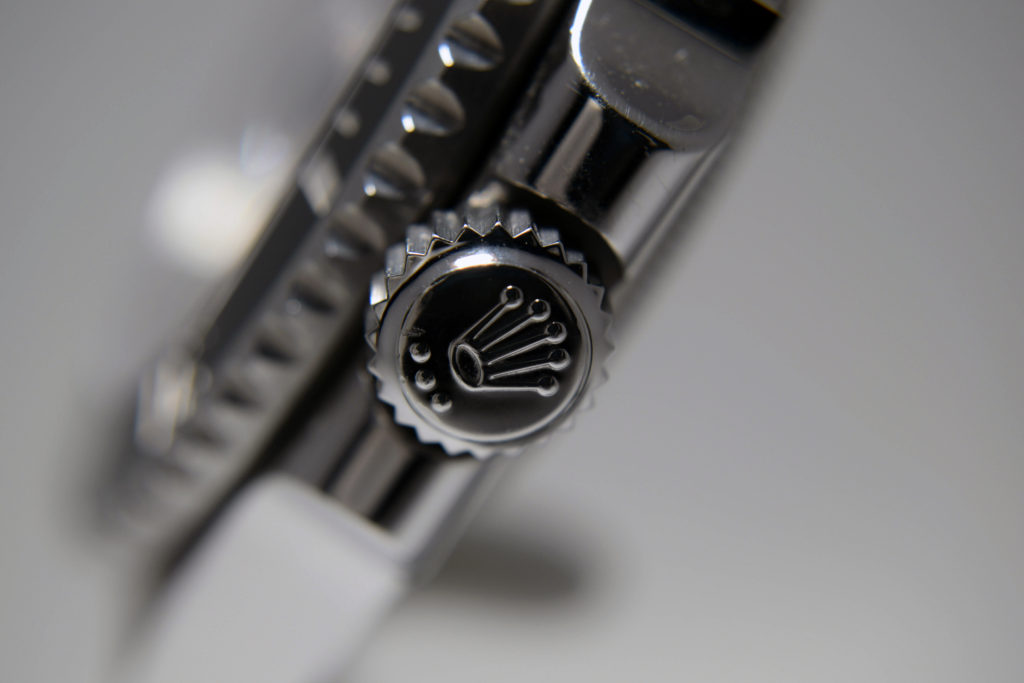 And that is what you have to review with the Sub. As I stated when I started, most watch websites review the sub. You know it's a 3 handed auto dive watch with an in house Rolex movement, 300m WR, screw down crown, ceramic bezel inlay, white gold hands and applied markers, a date with a magnifying cyclops (in this case), a steel oyster bracelet with a great microadjuster in the clasp, average lume and a high price tag. It's the rest that you need to understand. This isn't just a watch, it's a status symbol that has transcended its tool like origins, because it was so good at doing what it was designed to do.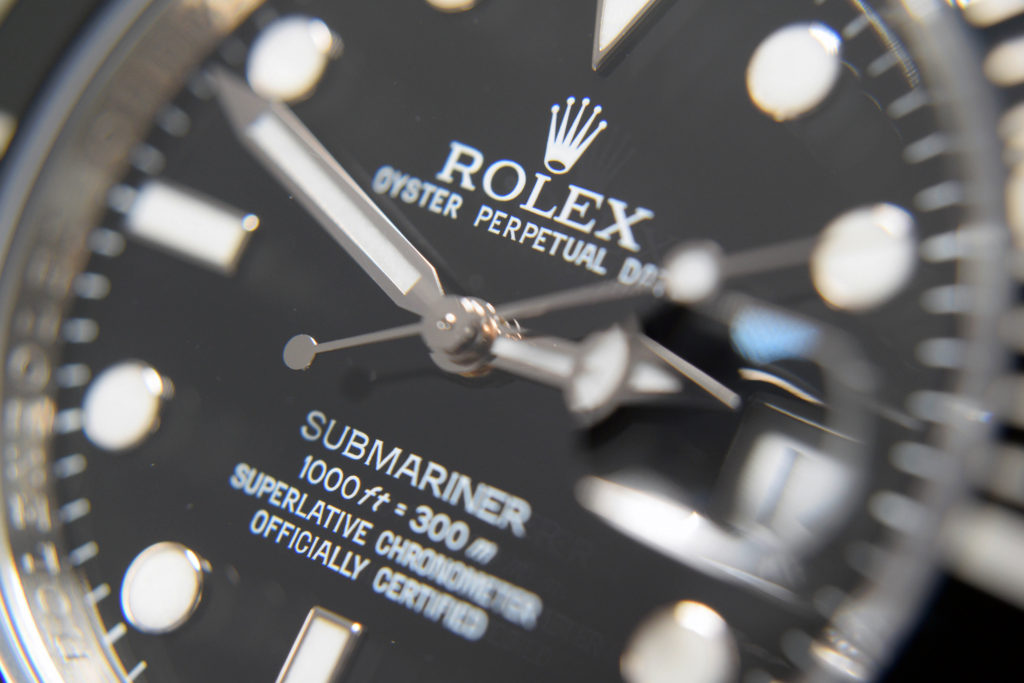 After living with it for 5 years (my watchgrapher says it's running at +1 Sec/day, never had it serviced) This 116610 needs 22mm lugs as the case now seems oversized compared to the 16610. Indeed, wait for a 16610 reissue soon. They'll do it. People will fall over themselves for it. My tip is to do it with a red triangle at 12 on the bezel and the Submariner text on the face in red too. Peoples heads will explode in excitement.
The caseback. Nothing there, zip, zilch, nada and that's fine by me because I never see the caseback.
The bracelet, though well made from a "special" steel Rolex forge themselves, still scratches easily and is still of an oyster style…just like you find on most cheap Seikos. It looks too thin for the case in my opinion, but the adjustment in the clasp is great, but is the second best I've found (I prefer the one on the Omega Speedmaster Mark II bracelet).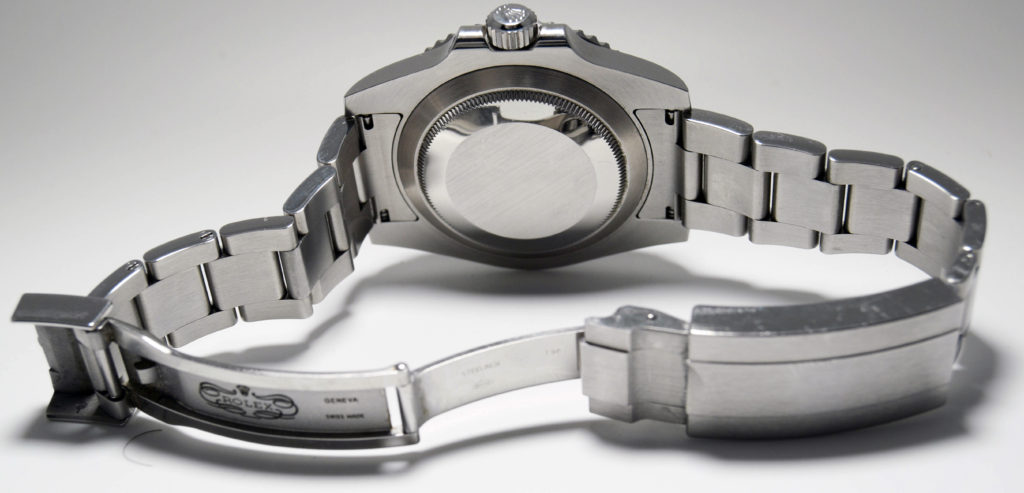 But I love this watch. If I had to leave the house in an emergency, not knowing what I was going into, it'd be the watch I'd grab, knowing that it will handle what I throw at it and still come out the other side looking amazing.
The deep reflecting glossy black face, those glittering white gold hands and indices, the scratchproof shiny bezel, the fact it is the universal watch that you can wear anywhere, with anything, for anything, mixed in with all the "intangibles" I previously mentioned, means that I still get a kick every time I look at it. Something reassuring in an unpredictable world.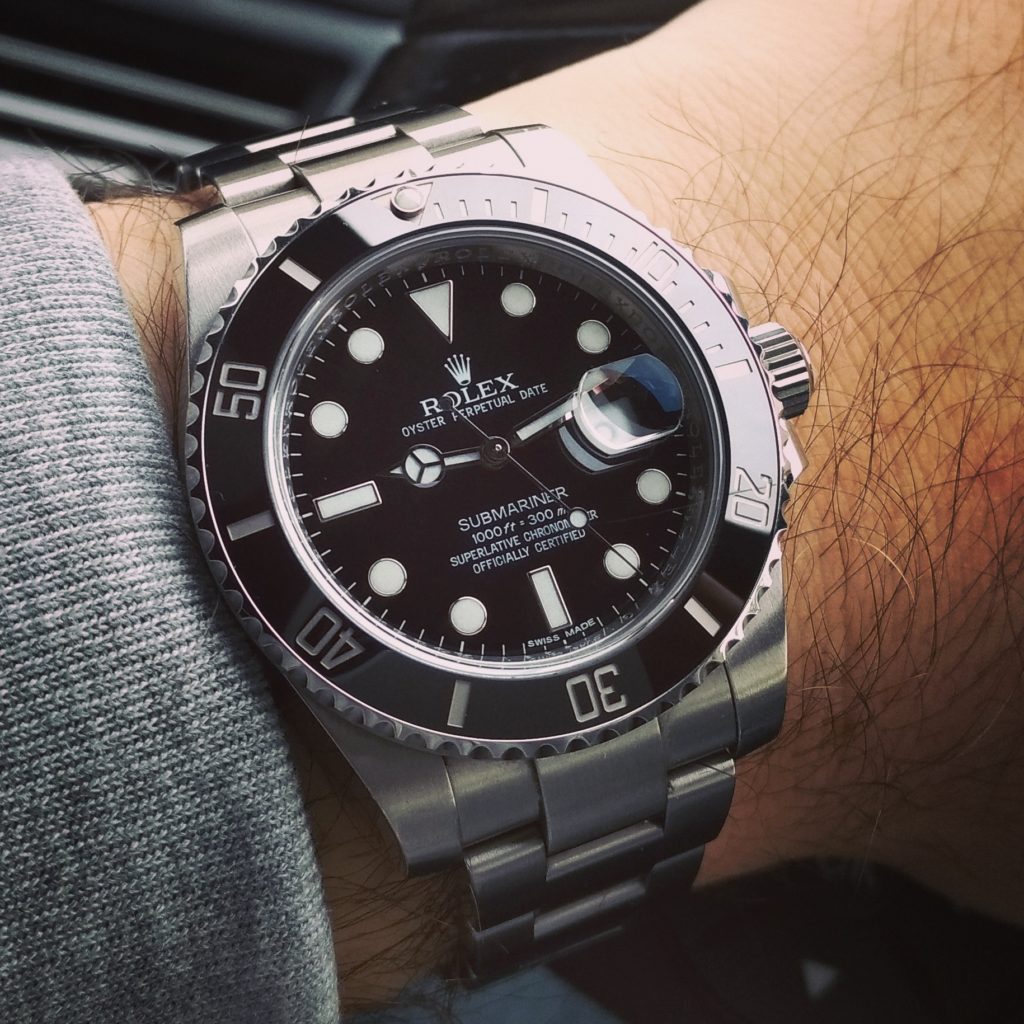 And that is the reason you love a watch. Not what it is, but how it makes you feel when you think about or look at it.
To me, its ubiquity and the attitude of some of the people that wear it has dulled its appeal over the years, just a bit, but I wouldn't be without one and I don't think that if you want one for yourself to admire, not others, you'll feel let down. To answer the question "If you could only have one watch, what would it be?" I think you could guess my answer.
Wish it didn't have "ROLEXROLEXROLEXROLEXROLEXROLEXROLEX…" engraved on the inner rehaut though…