CATEGORY: Watch I Have Been Loaned For Review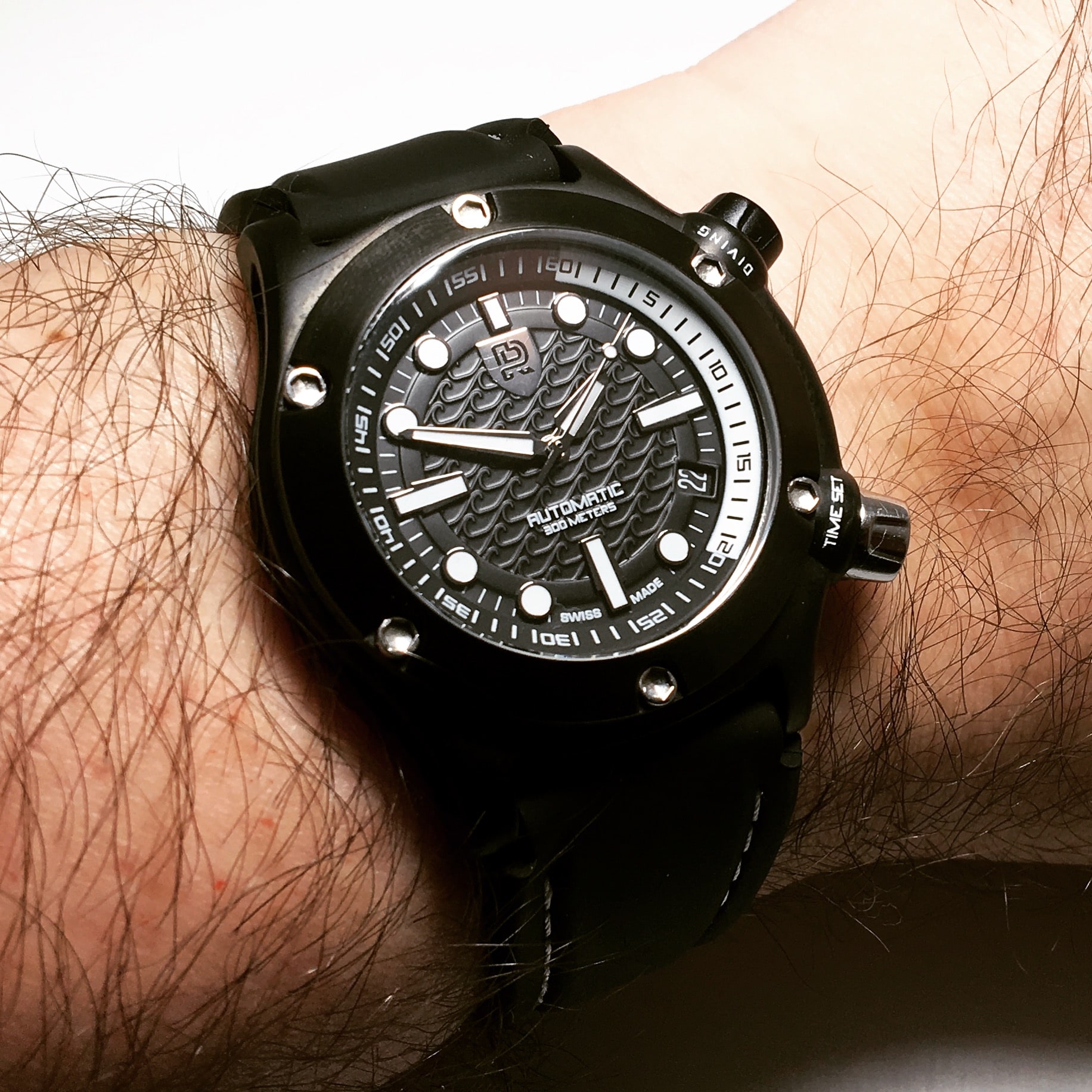 I frown regularly of late when I look at the world of the microbrand watch company owner.
It's like there are several words that have to be in your copy and promotion "Passion" "Disrupting" "Redefining" "Challenging". However, the word "Original" doesn't appear much lately.
The "Gold Rush" has just escalated and escalated. I know there's only so many ways to slice a pizza, but I'm seeing little of late that has made me put my hand in my pocket and buy another watch.
So when Schneur Lakein of Rebel Time asked me if I'd like to look at the prototype of their new Aqualung Diver, I was a bit non plussed. Another diver. Bet it's based on the Seiko 62MAS case…
But when it turned up, it was nothing like I expected.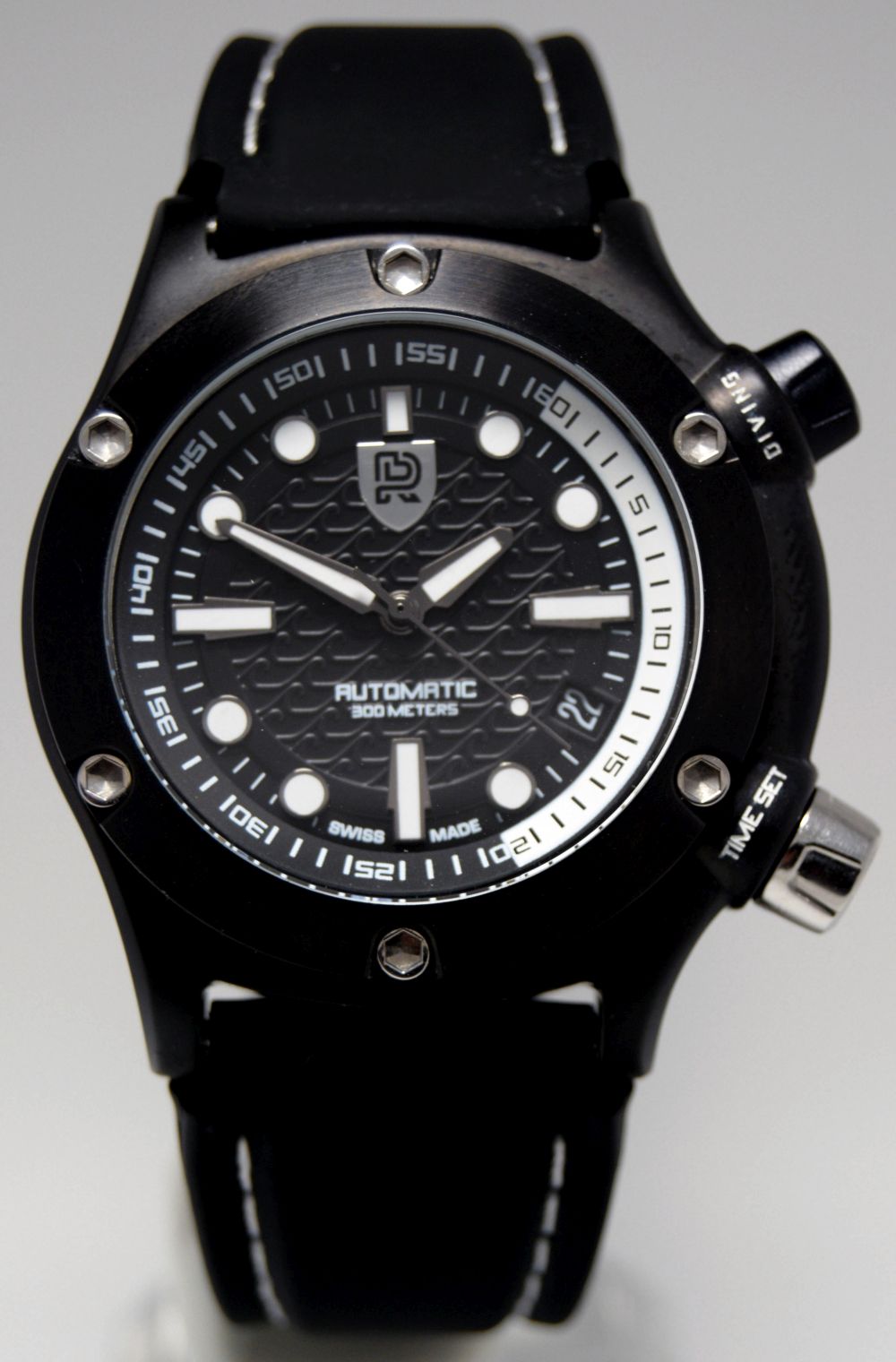 It doesn't look like a divers watch. It's a compressor, but not trying to ape one from the past.
Here are the specs of the production version:
1. 42mm diameter.
2. 13.5mm thick.
3. Sellita sw200-1 Automatic movement.
4. Wave pattern dial.
5. Domed sapphire crystal front with AR coating & sapphire crystal back.
6. 30 ATM's (300m) water resistance.
7. Screw down crowns and case back.
8. High-grade rubber strap.
9. Internal rotating bezel.
10. 316l stainless steel case.
11. Swiss Superluminova.
12. PVD in black or gun metal.
13. Limited edition, marked and numbered.
Now, this is a prototype so there are some things to note:
The Lume is Japanese, not Swiss
The internal bezel doesn't work properly
The strap isn't the final one
The caseback isn't decorated
The Sapphire is flat
This prototype has PVD 2 coating, production will be PVD, but DLC will be an option on the
I measure it a 41mm
So, I have to applaud Rebel Time for thinking about what a divers watch needs, and doing their own spin on it with this modern styled compressor.
The watch is launching on Kickstarter in August 2017.
The first thing I'll say is that the watch wears small for 41mm. It has 20mm lugs. However, this is a very compact watch for 300m WR.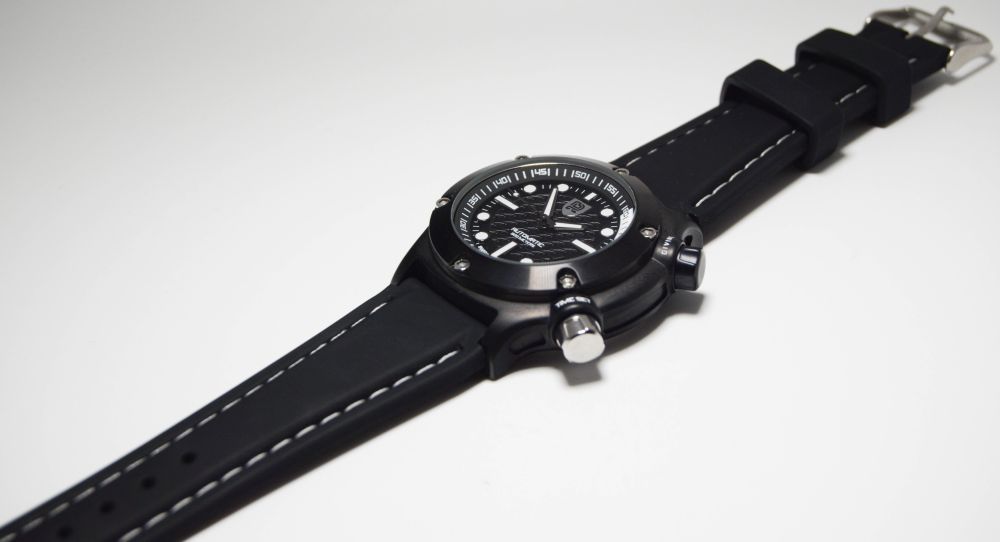 The case is solid feeling. I'm not a PVD fan, I would have preferred stainless steel, but it is nicely finished.
I like the side sculpting.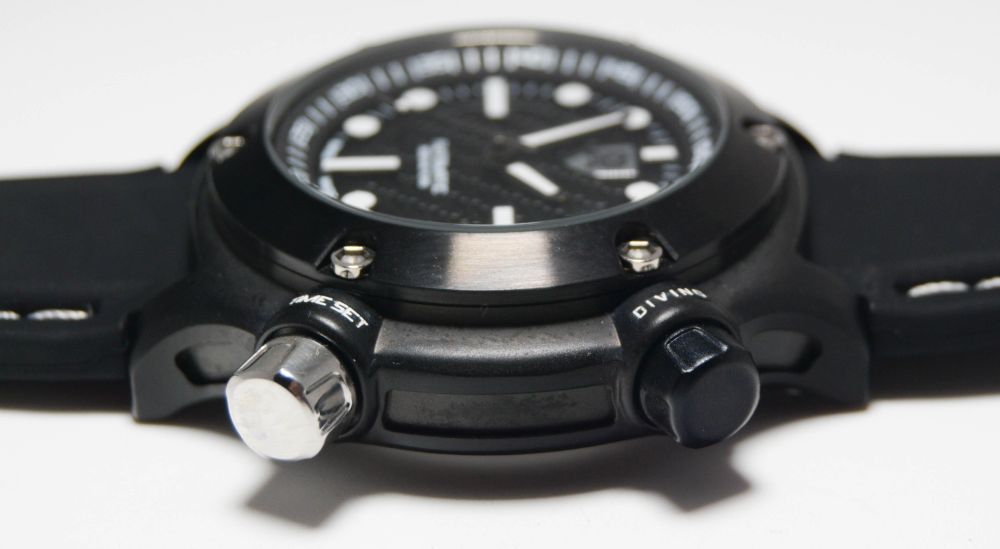 And the fact that the two crowns are different colours. However, I find the crowns hard work. The top one is to rotate the inner bezel (which doesn't work on this proto, but will in production) the bottom is for the time.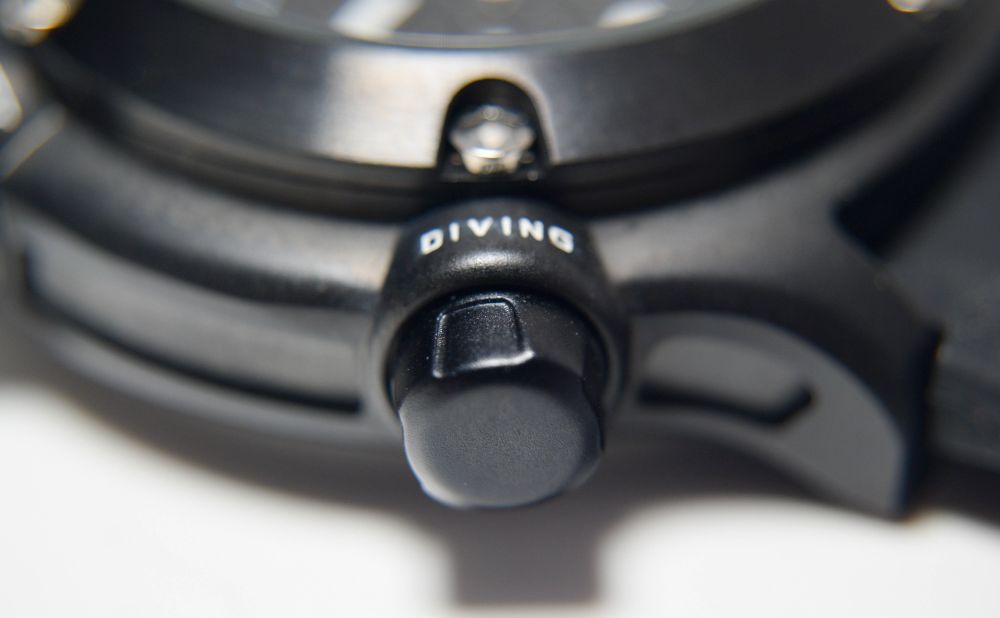 The thing is, they're slippery and hard to grip. They both only screw down a small amount (about a 1/4 turn) but I've been assured they will be better in production. It took me several attempts each time I unscrewed them, to screw them back in again.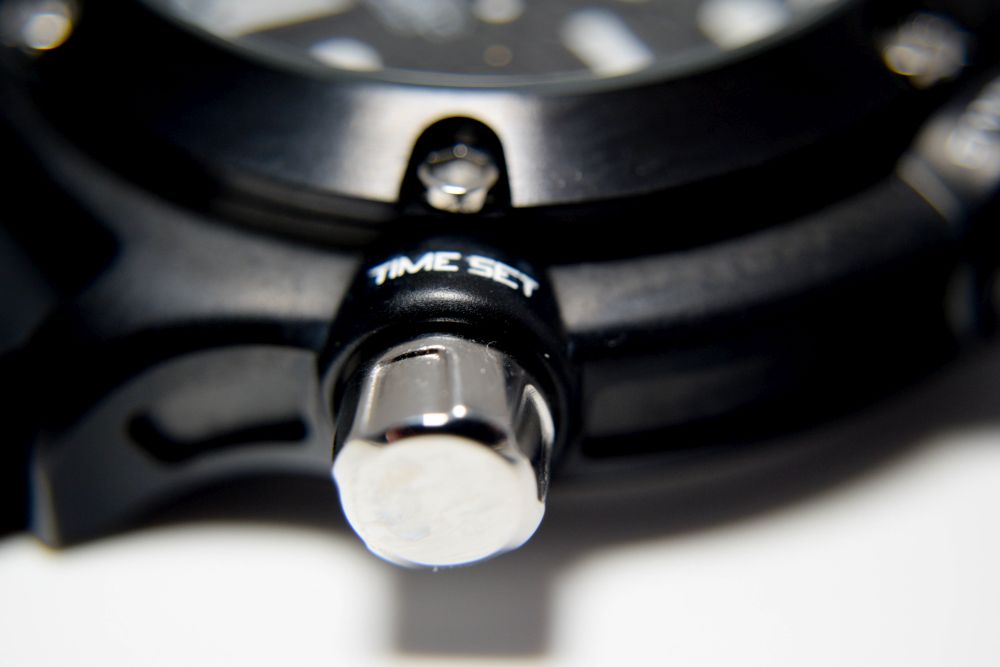 The face is "3D" with a wave pattern, but honestly, I don't think it really adds much, but that's a personal preference.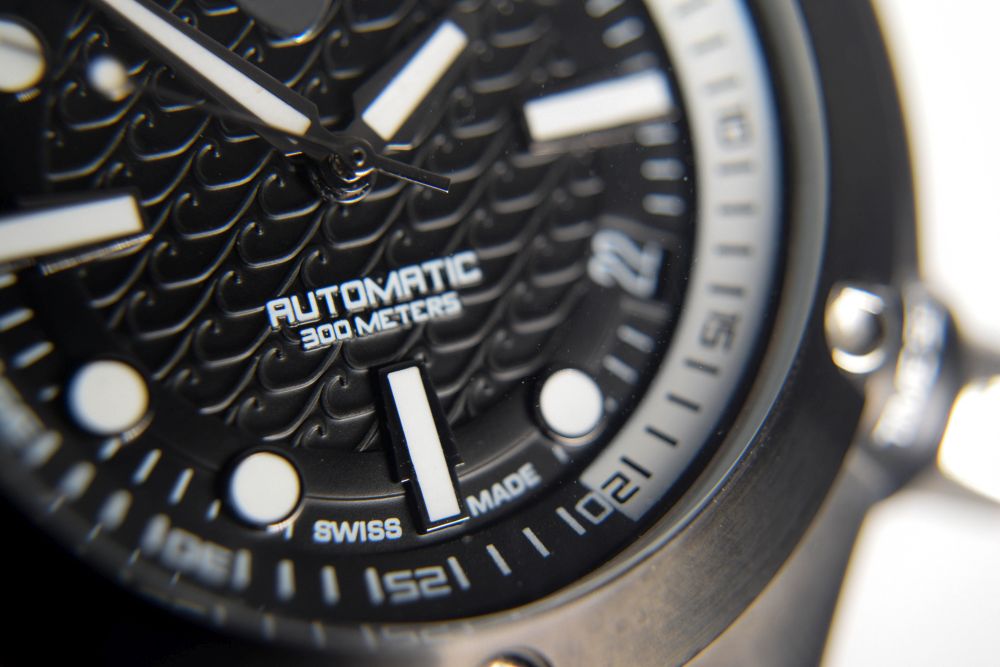 The indices are applied and well done, if not entirely as "avant garde" as the rest of the watch. Same goes for the hands.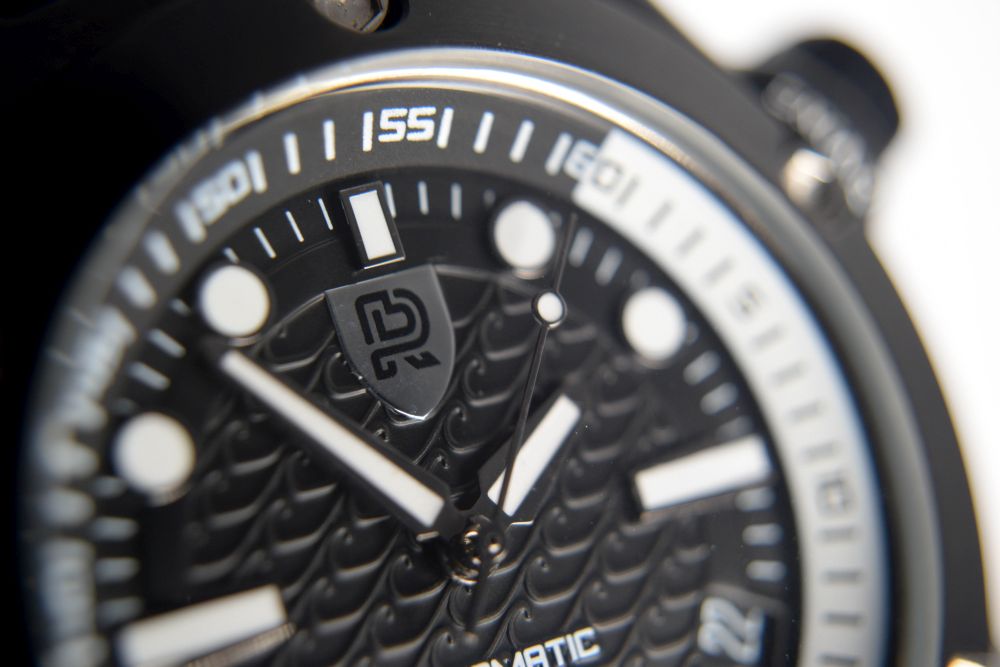 The logo is big and prominent, but again, doesn't do a lot for me.
The strap that this came on will be offered as a stretch goal. It's a decent enough rubber, but pretty generic. The production strap is a plain rubber with deployment clasp.
The sapphire caseback is un-inscribed on this proto, but you can see the Sellita automatic well enough, even though that is stock and un-decorated. I like this movement and it has proved very accurate.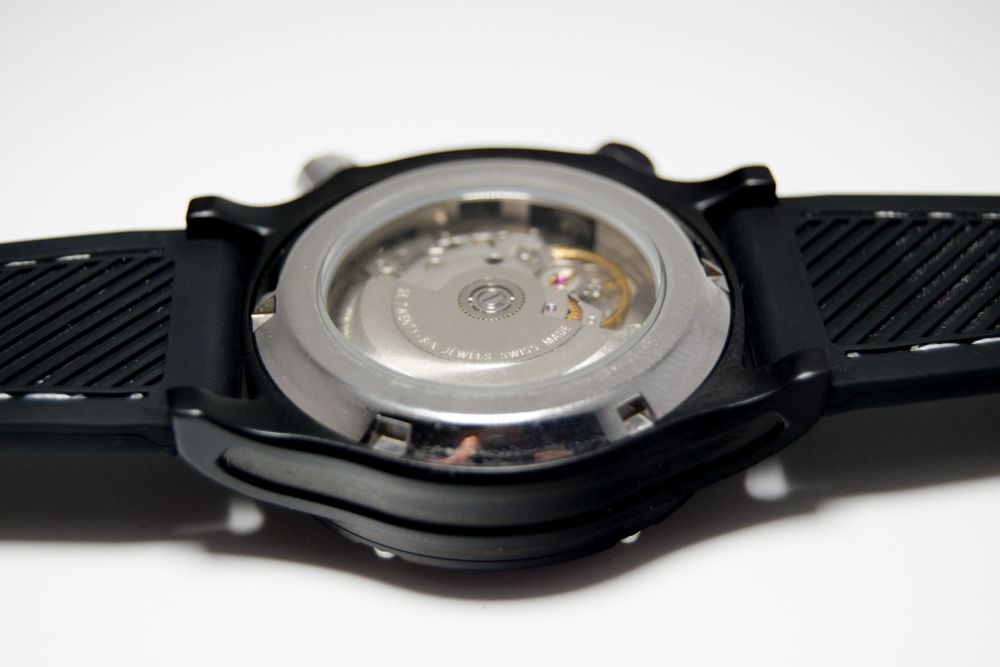 I don't like this bezel with the screws. Nothing wrong with its execution, but I don't think it enhances the watch. Likewise the inner bezel is hard to read and there's no lume on it all, not even at 12. This wouldn't make it of much use if you were to dive with it.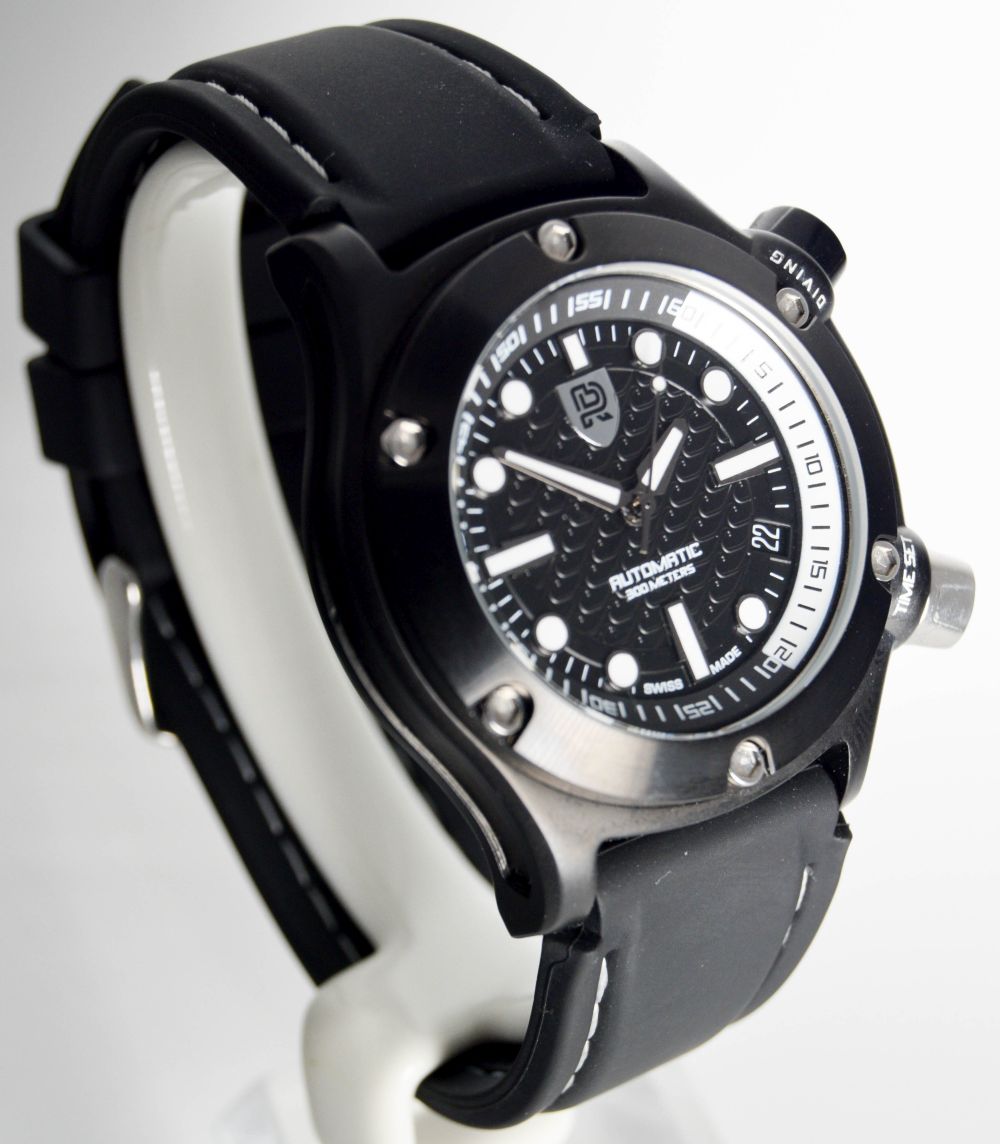 The lume is fine, but this will be upgraded in production.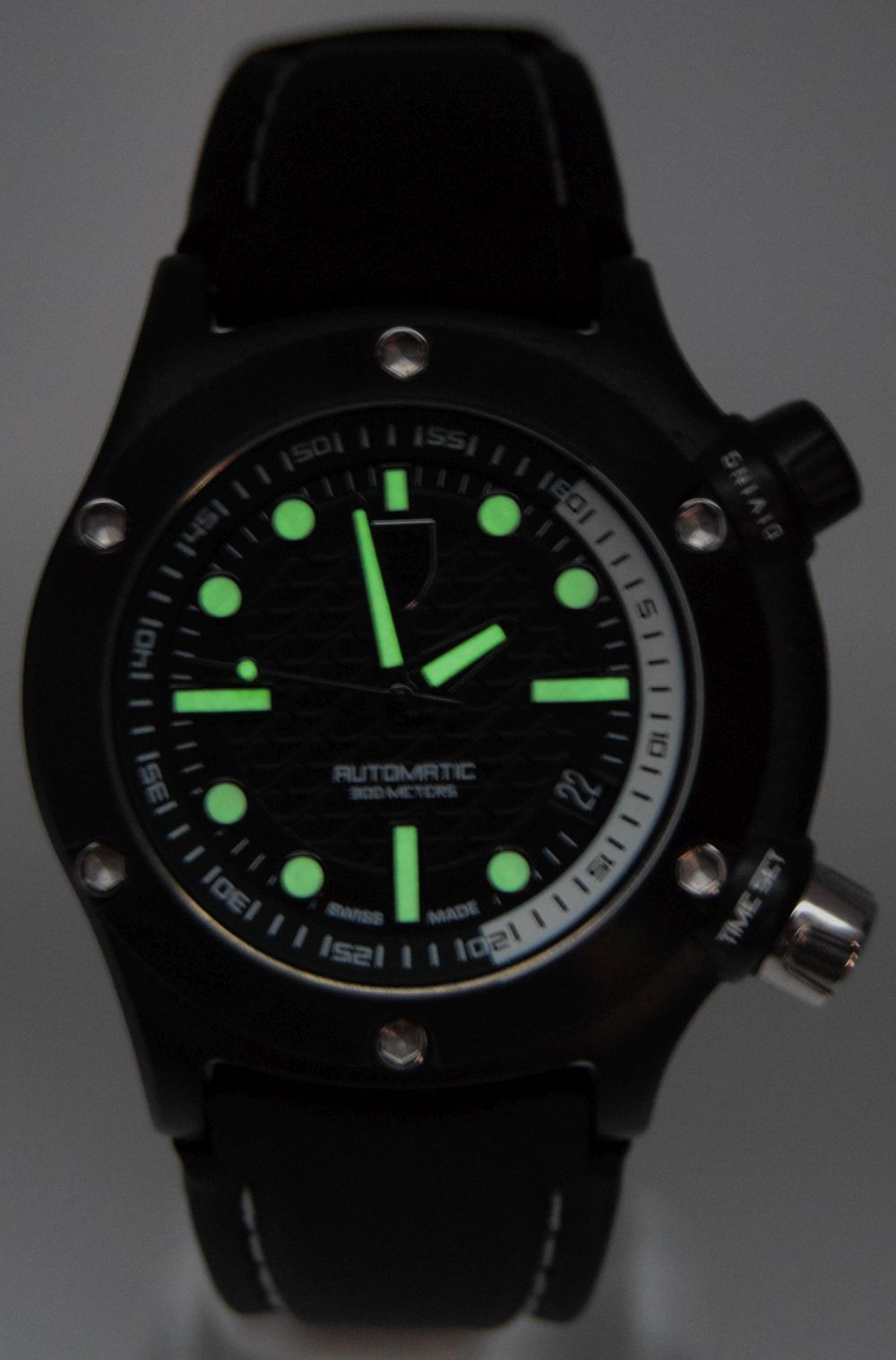 And here's the thing. I agonised over what to say about this watch. The guys at Rebel Time have been very nice and obliging. The watch certainly looks like no compressor I know of. It's an original design. Heck, I'd go as far to say it is "challenging" what we should think of as a dive  watch.
However, I just didn't bond with it. It happens. I'm sure you've not liked every watch you've ever seen either.
The RRP for this Swiss Made watch will be $849 – KS will be $469 – $519
But I don't want to end on a downer.
If they do all the "fixes" on the production watch, and if you're looking at it and thinking "Wow!" then I'm sure the end product won't disappoint. Certainly if you have a smaller wrist, there are few compressors available that will look right on you.
I want to applaud Rebel Time for thinking differently and not releasing another "cookie cutter" watch, that are flooding the market, and I don't want the fact that I simply didn't bond with the watch to be a detriment to them. I want them to keep on thinking differently and hopefully the next watch they send me will have me gushing with praise.
It could simply be that I'm an old fart.