Povey has its roots firmly planted in the UK's capital, and that is where their story began. Founded in 2015, Povey draws inspiration from the past and use that to fuel their passion and drive to make timepieces that can be passed on to future generations. Not content on cutting corners, Povey travelled the globe to work with well-established watch manufacturers from the UK, France, Italy, Germany, Switzerland and Hong Kong in order to ensure that had the right ingredients to make their first creation.
That brings us nicely to their first watch – the Albion which is so named after the country in which Povey resides. If you aren't familiar with the name Albion, that is because it's old, ancient in fact. Traces of the name can be found back to 320BC and can often be seen in literature by classical writers such as Peter Ackroyd's 'Albion – The Origins of the English Imagination'.
SPECS
Diameter: 38mm
Thickness: 9.6mm
Lug width: 20mm
Lug-to-lug: 45mm
Case material: 316L Stainless Steel
Crystal: Box dome Sapphire coated Mineral
Dial: Sandblast White
Movement: ETA 902.002
Battery life: up to 10 Years
Water resistance: 50m
Weight: 48g
Strap: Light Havana by Sedgwick & Co
Warranty: 3 years
Price: £125

Use code watchitallabout for 20% off! Making it £100
Povey has taken a simple approach with the Albion opting to go with arguably the most basic of them all – a two-hander meaning there is no seconds hand, and admittedly, in this case, it works well. The handset is high polished fence post style that merges with the overall aesthetic very well, the indices, however, have a touch more flare. At the 12, 3, 6 and 9 you'll find some well done faceted applied double indices with the rest being made up of a single design. All the indices are done in a high polish and look completed to a good standard. In-between the indices you'll find a simple and unobtrusive printed minute track.
The dial is a simple affair too; as all you'll find is some neatly printed branding, the dial also has some subtle texture to give it a bit of character, though not too much as to distract too heavily from the indices.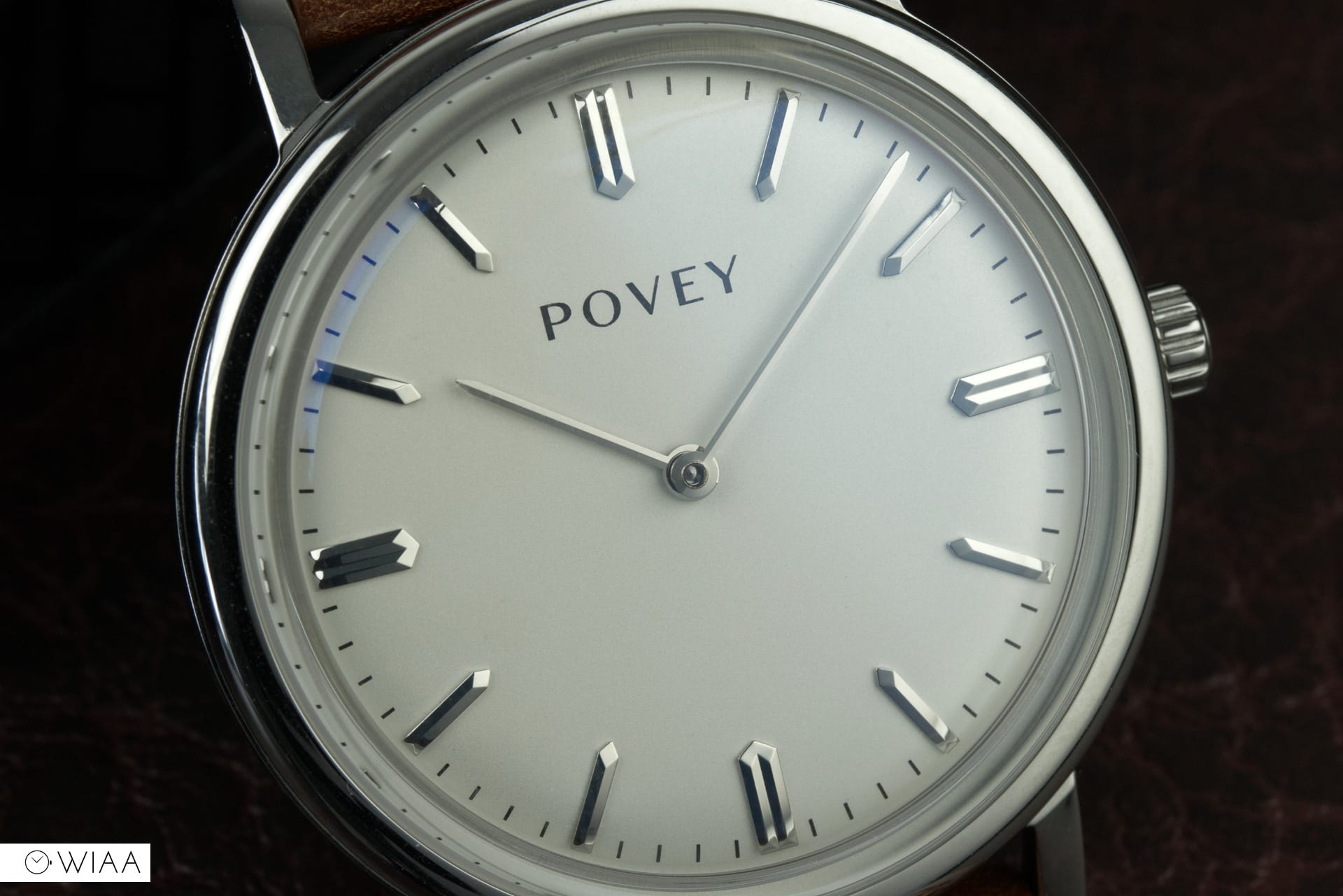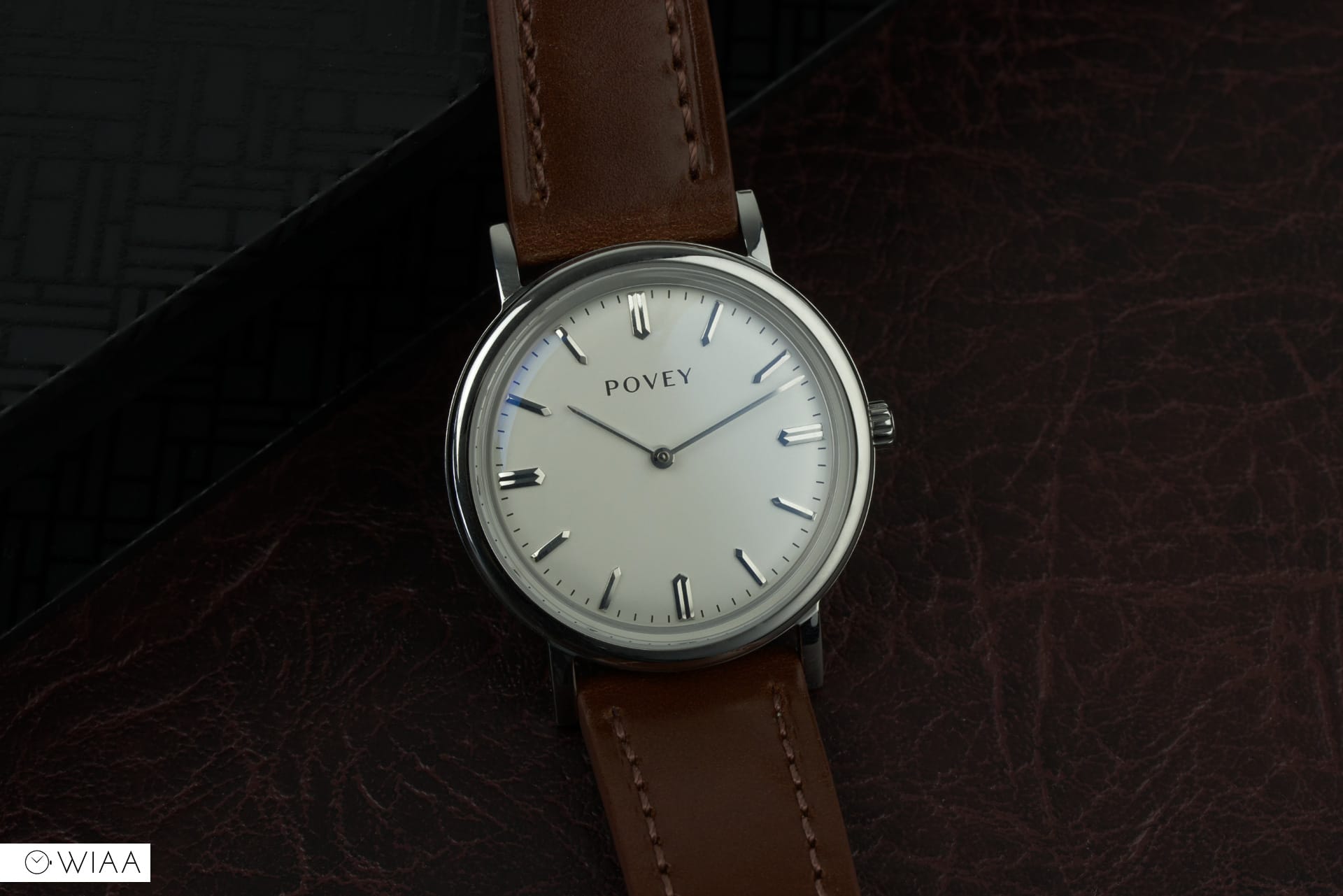 Mineral crystal that has a thin Sapphire outer coating. In theory, this should be the best of both worlds as you should get the scratch resistance of Sapphire and the impact resistance of mineral, but in reality, I'm not entirely sure it works that way. If it does, then it's a perfect middle-ground and should be both highly scratch-resistant and less prone to shattering.
The box dome-style has another big draw too as causes some playful distortions of both the indices and hands. One thing I'm not so fond of though is the choice of anti-reflective coating. Povey has opted to use a generous amount of blue AR, and that isn't bad as this crystal is highly reflective and it does help cut that however the blue is so prominent it does somewhat detract from the vintage esque design. In this case, clear AR would have been preferred.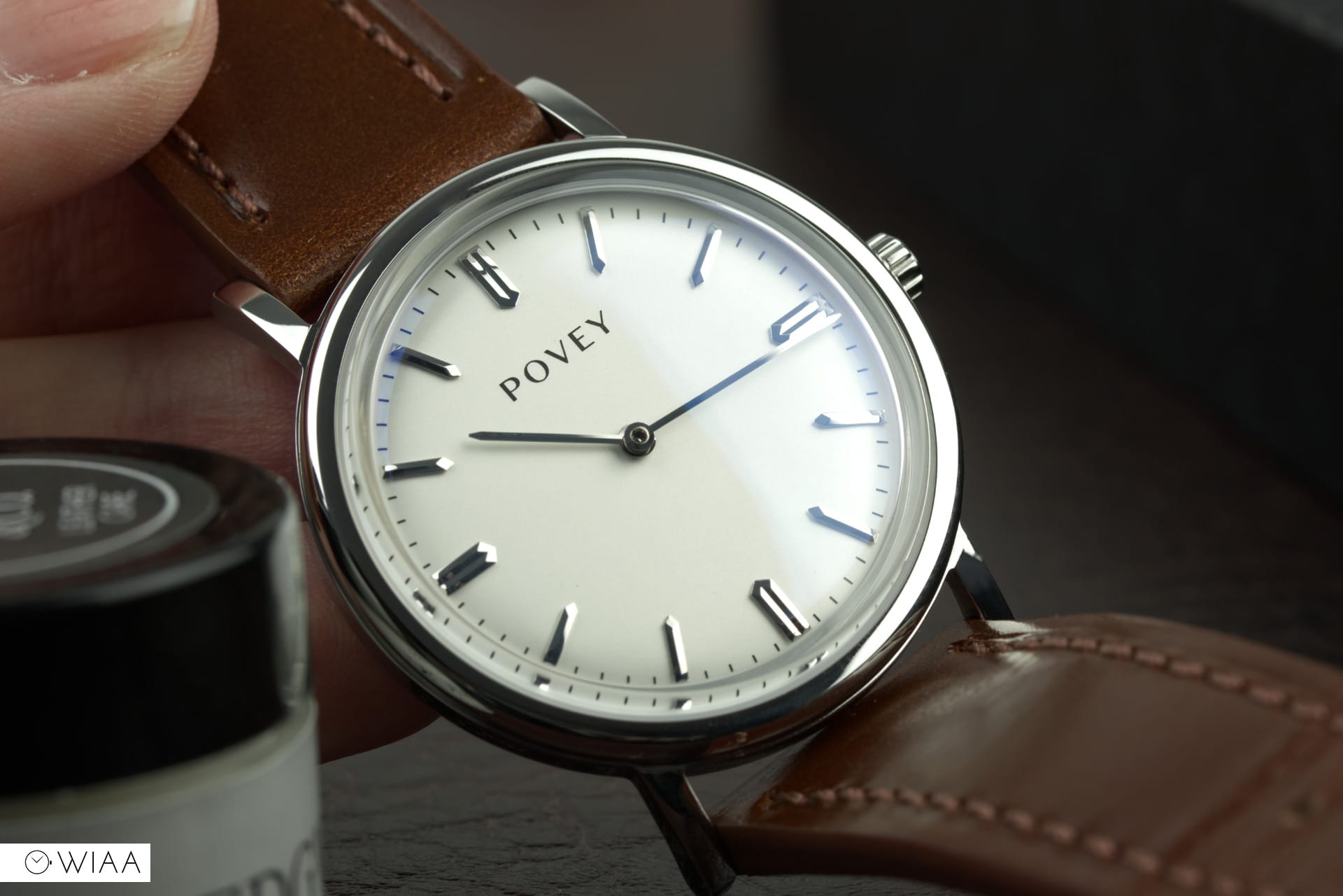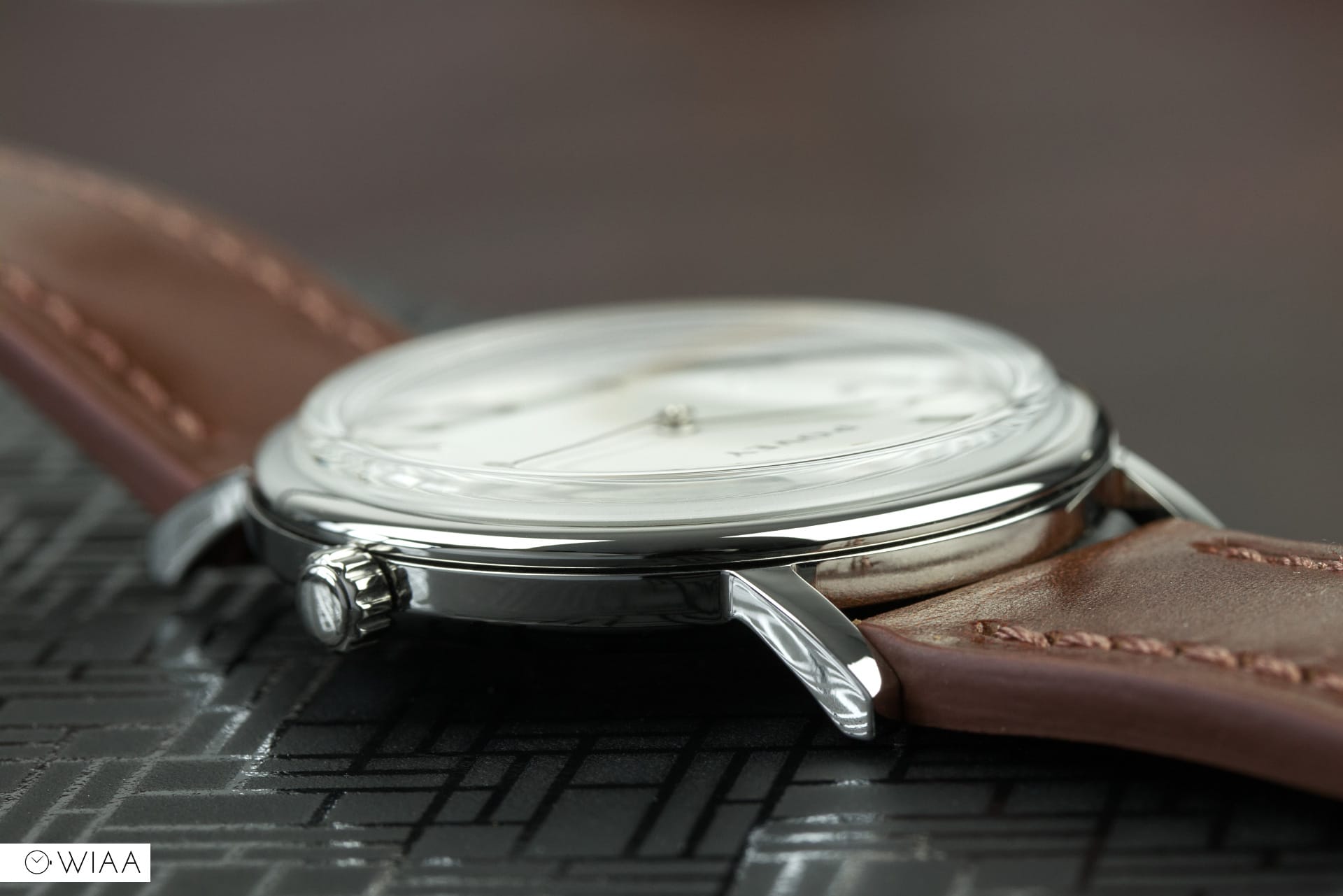 For the case, Povey has again opted for the notion that simple is better and honestly it's little underwhelming though does suit the overall aesthetic. The bezel is done in a high polish and is ever so slightly curved so that it hugs the domed crystal nicely leaving no visible gap. Like the bezel, the mid-case is polished though a touch slab-sided, luckily the mid-case is very slim so that it's not too noticeable. Below the mid-case, the case heavily slopes down into the caseback creating a nice appearance. I wish they would have opted to curve the entire case as that would have been the icing on the cake for this vintage classic inspired design.
The caseback is completely flat and again high polished. It's held in place with four screws which fits the design though does mean this watch only has 50m water resistance which to be honest is perfectly fine for a casual wear watch. Right in the centre of the caseback, you'll note the embossed branding that sits in a lovely cleanly done portion of machining that adds a touch of interest. Surrounding that is the specs that have been well engraved and finish off the caseback, though not overly fancy, it's well-executed.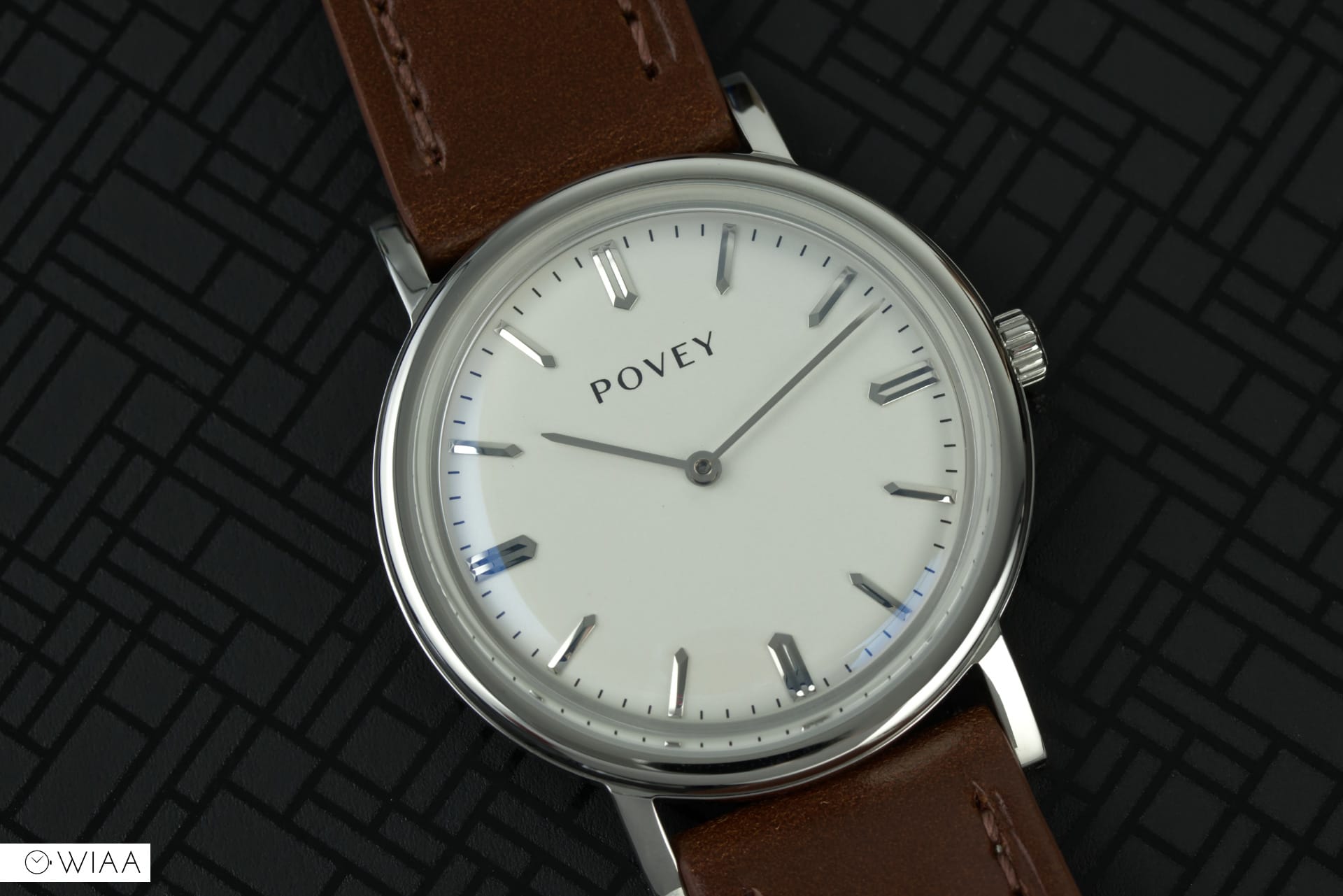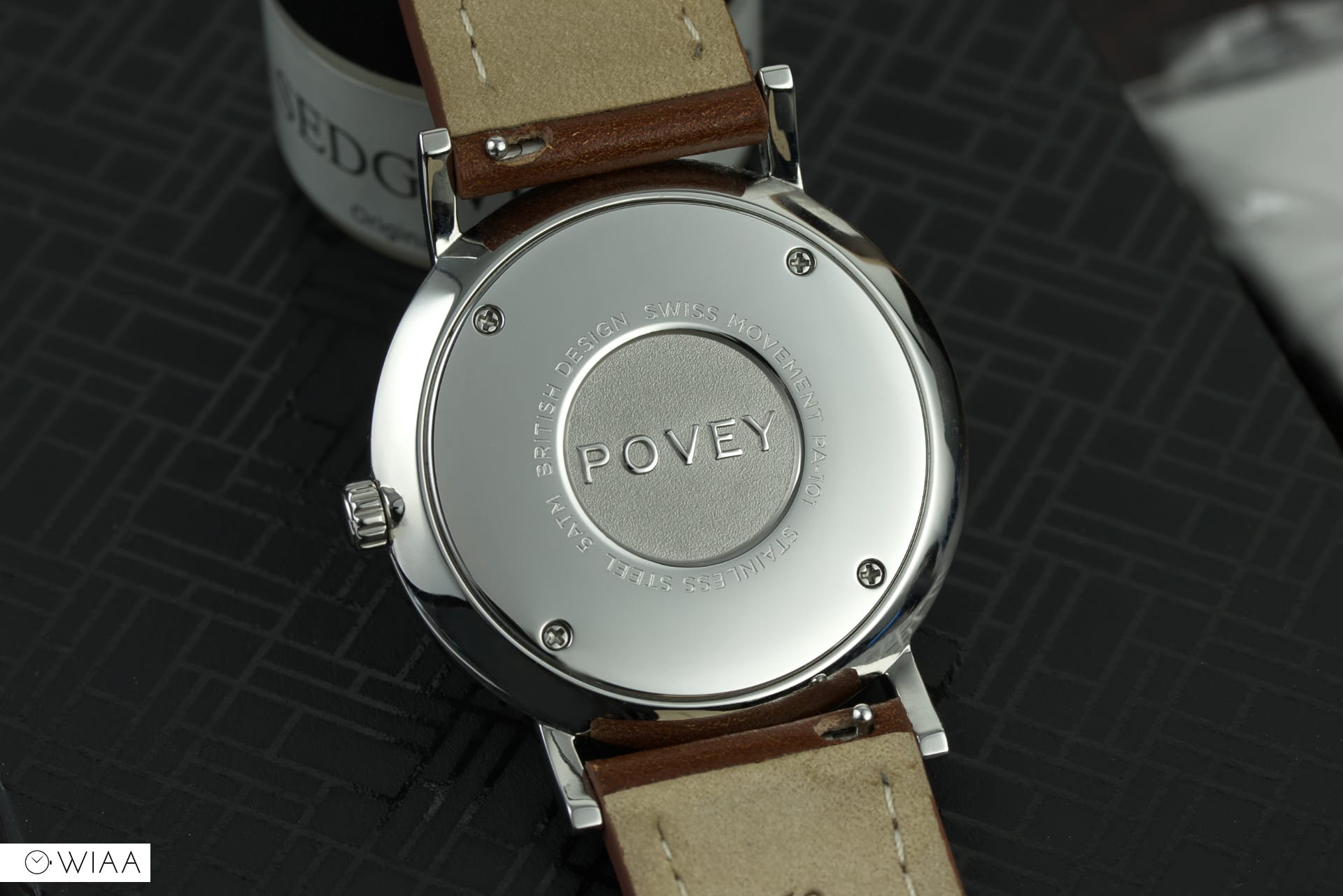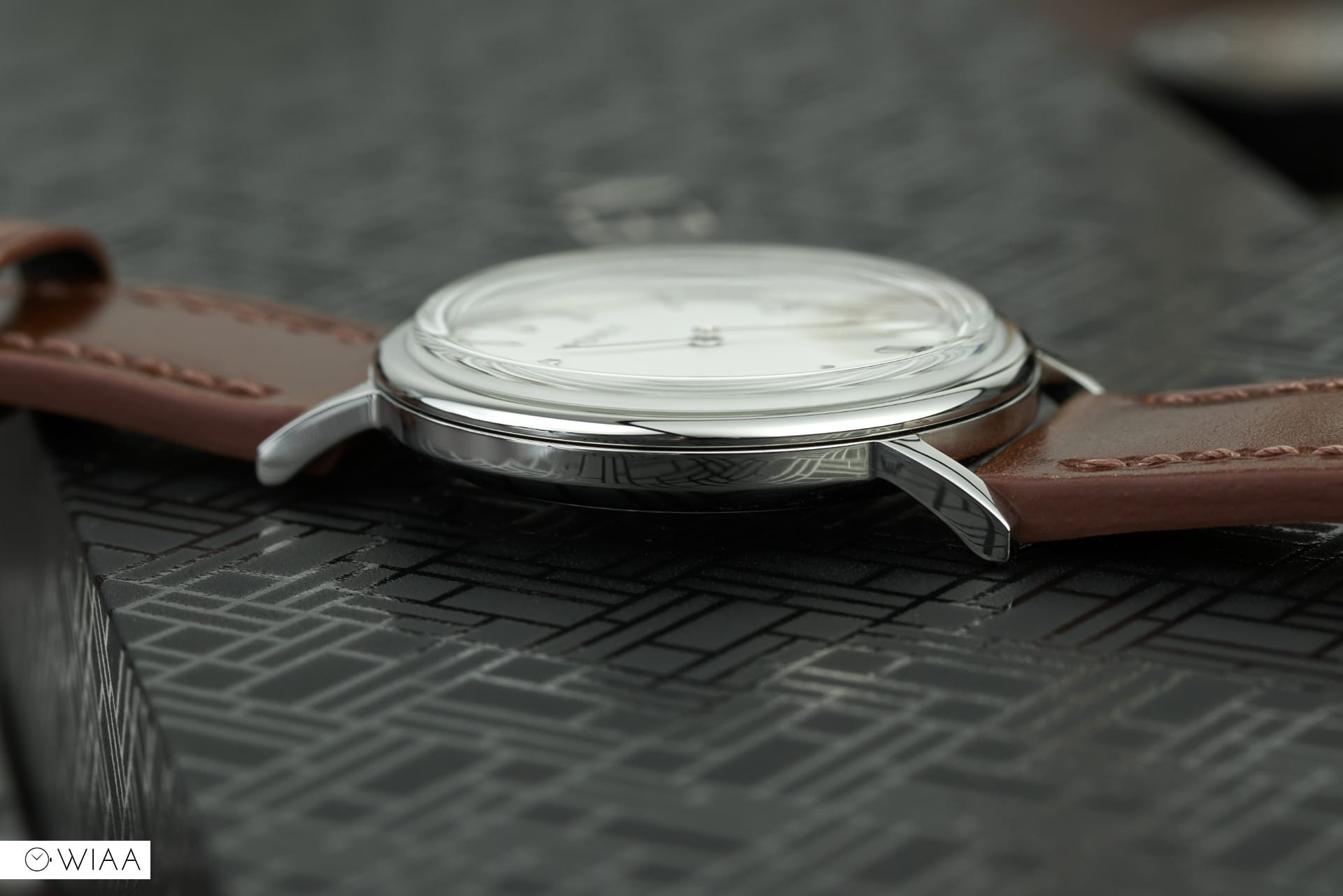 In use, the Albion scores well as the watch is simple to use and is great to just grab and go. The crown is simple but effective as it has enough grip and isn't too small to make it unusable. In action, the crown and stem mechanism turns very smoothly and feels very reassuring to use. It's a simple single-stage push-pull crown which is perfect for this style of watch. There is no ghost date position and makes it that much easier to use whenever you need to adjust the time which is not that often thanks to the quartz movement.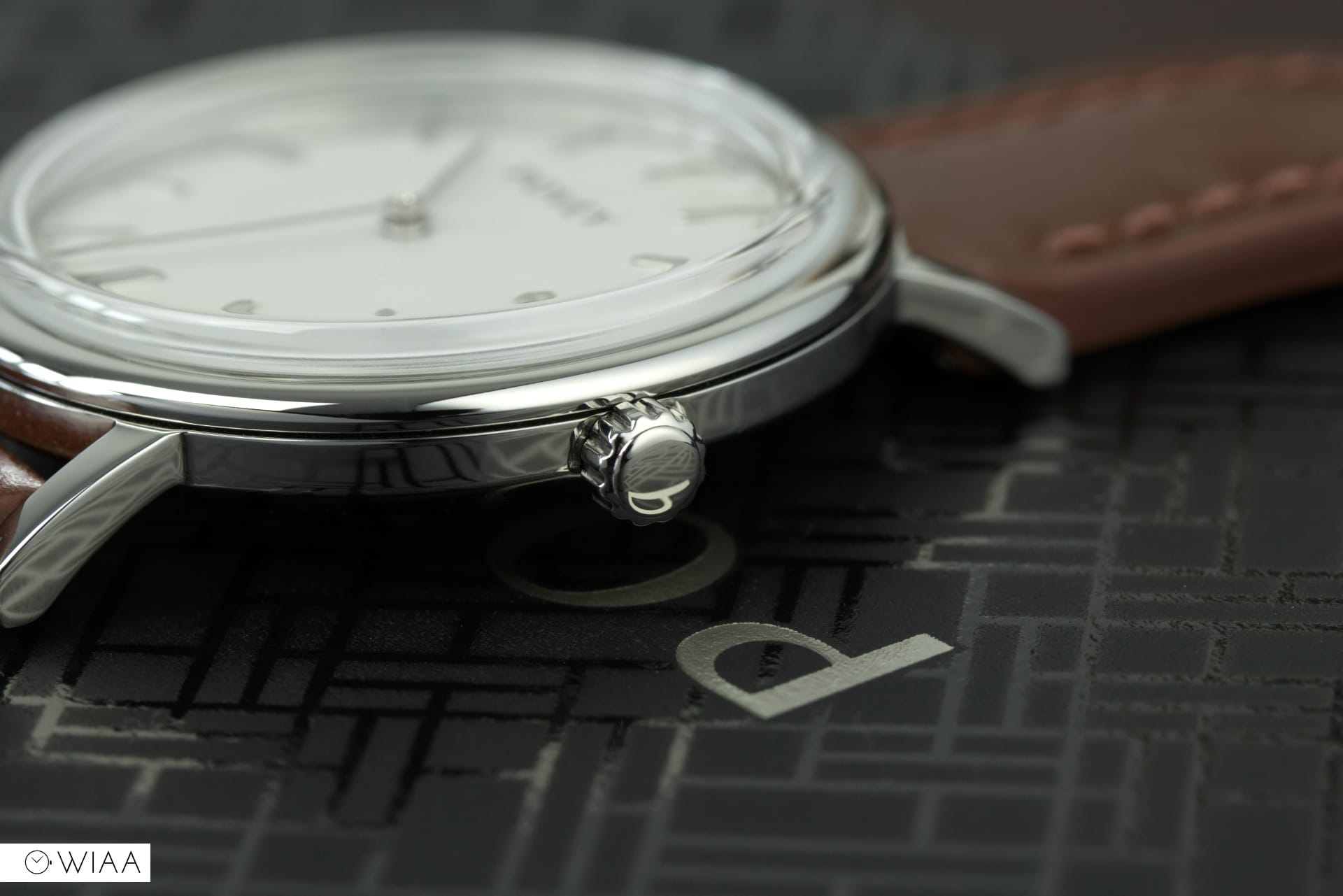 Povey have opted to take a sensible route and go tried and tested sourcing a good quality ETA 902.002 quartz movement which features 4 synthetic jewels and has a theoretical battery life of up to 100 months (8 years) depending on the battery specifications and use. Poveys website lists a life span of 10 years which in theory could be achieved depending if the battery has been upgraded which is honestly unlikely so you'll more than likely get closer to the 8 years stated on the ETA spec sheet. The accuracy of this particular ETA movement is stated between -10/+15 seconds per month which is pretty much standard.
Now we come to the reason why I felt this watch stood above the competition and that is the included Sedgwick & Co (https://www.poveywatches.com/british-leather) leather strap. Most of the time watches at around £125 come with a decent leather strap, but Povey has taken things up a notch and sought the expertise of a well-renowned leather tannery, Sedgwick & Co. Sedgwick & Co have been in the business for a very long time and are most known for their work creating Bridles for the equestrian industry as well as supplying very high-quality leather that in this case is used for the Albions strap. At present the Albion can be purchased with one of three leather straps – the one included with our Silver model is the Light Havana which is a beautiful rich brown. Starting with the inner portion of the strap, you'll note the lovely soft tan leather inner that honestly feels great against your wrist and is one of the best inners I've ever encountered. It's also stamped, donating both parties.
The outer layer, however, is not as impressive when compared to the inner, it feels too new and a touch plasticky, however, I have a feeling that this is the type of strap that will only get better with wear and age, so take this with a view that straps like this need to be worn and weather.
The stitching in the strap is very well done throughout and is tight, uniform and matches the strap perfectly.
The hardware is a mix of leather keepers -which are very well made and a different style of buckle. The buckle is Stainless though I'm not certain as to the grade. I do however really love the design as it has a few flourishes including the profile and branding that is done similarly to the caseback. The buckle is held in place using a spring bar and I have had no issue as it feels well secured in place.
The cherry on top of this whole experience is the inclusion of a leather care kit that comes with a pot of leather care solution and a cloth, definitely a nice bonus and will help keep the strap in good condition.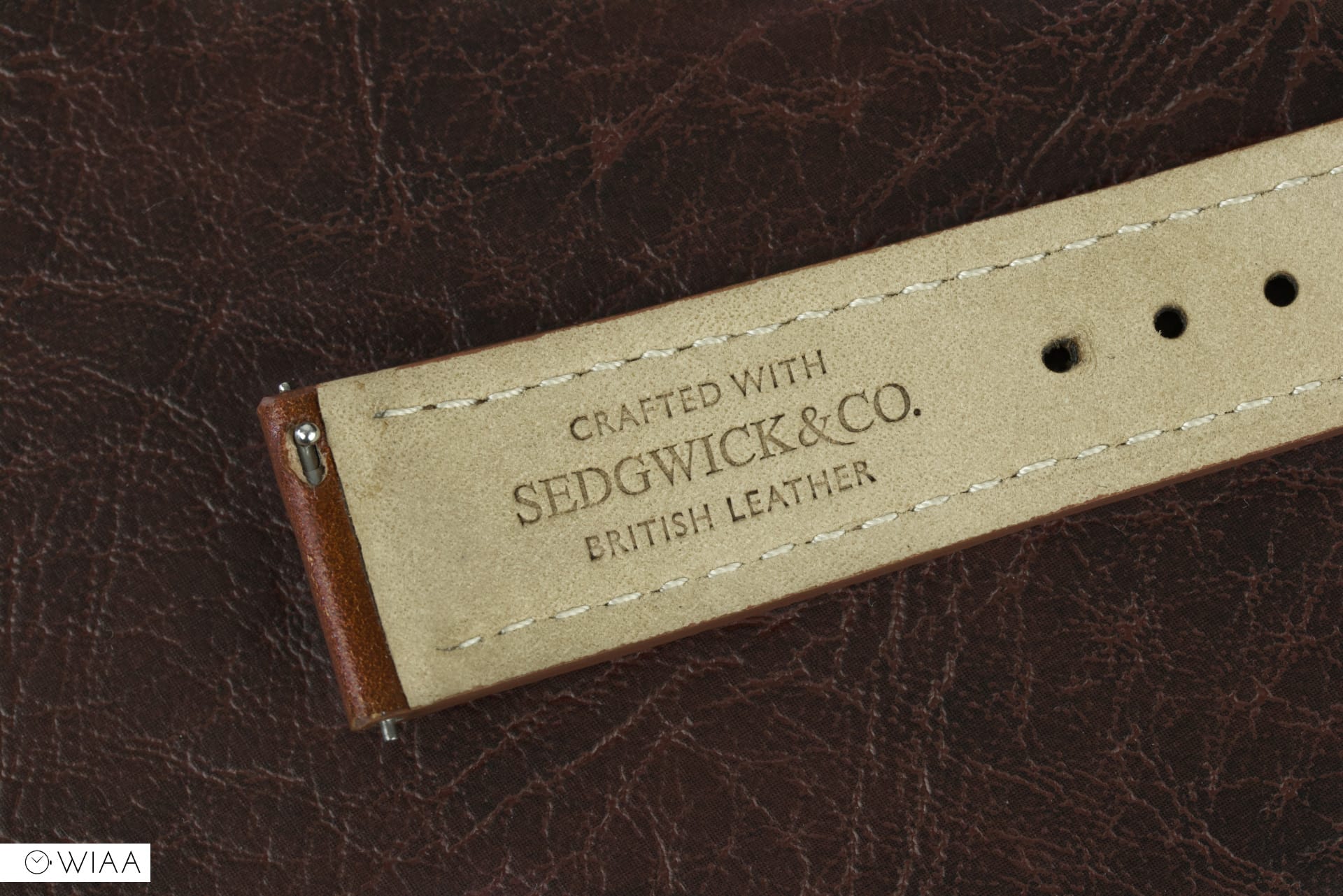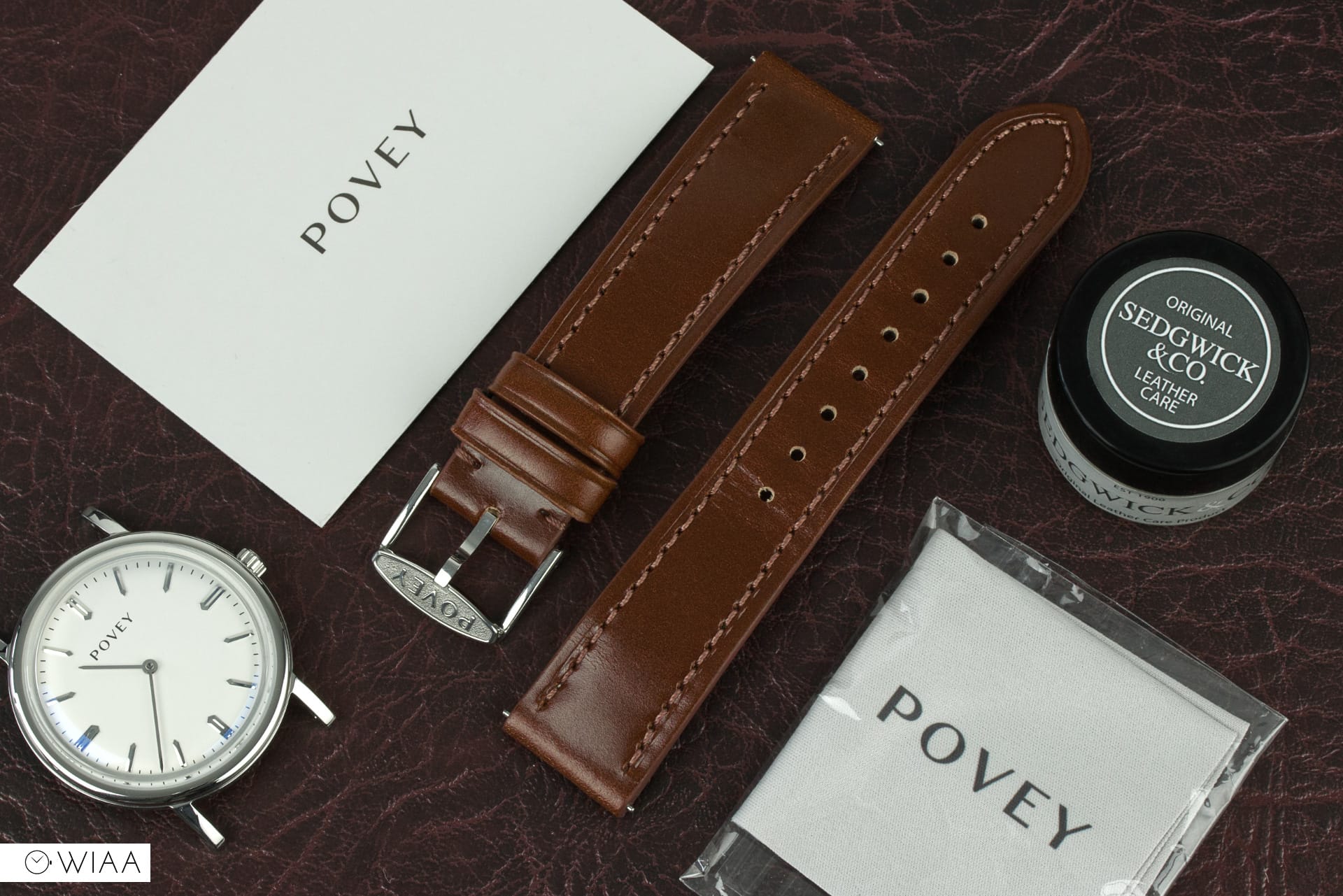 We've established that the strap is good, but does that lend itself to a comfortable wear? Well, sort of. For my case use, I found it to be reasonably comfortable for daily wear though it's certainly not the most comfortable I've ever experienced. This is down to the strap and like mentioned it's age, given more time the leather will likely soften while becoming more pliable and less rigid, because as is, it's a little too so, then again it is fairly new. The watch design does help with this thanks to the slim profile, its low weight and the lug design. The lugs flow down very nicely and do help the strap flow around the wrist in a nice fashion. Thanks to its small diameter and short lug-to-lug the Albion is well suited to those of us with slim wrists. For reference, I have 6" inch wrist and this just fits on the strap, though if you were to swap out the strap it would comfortably fit if you have a 5.5" inch wrist.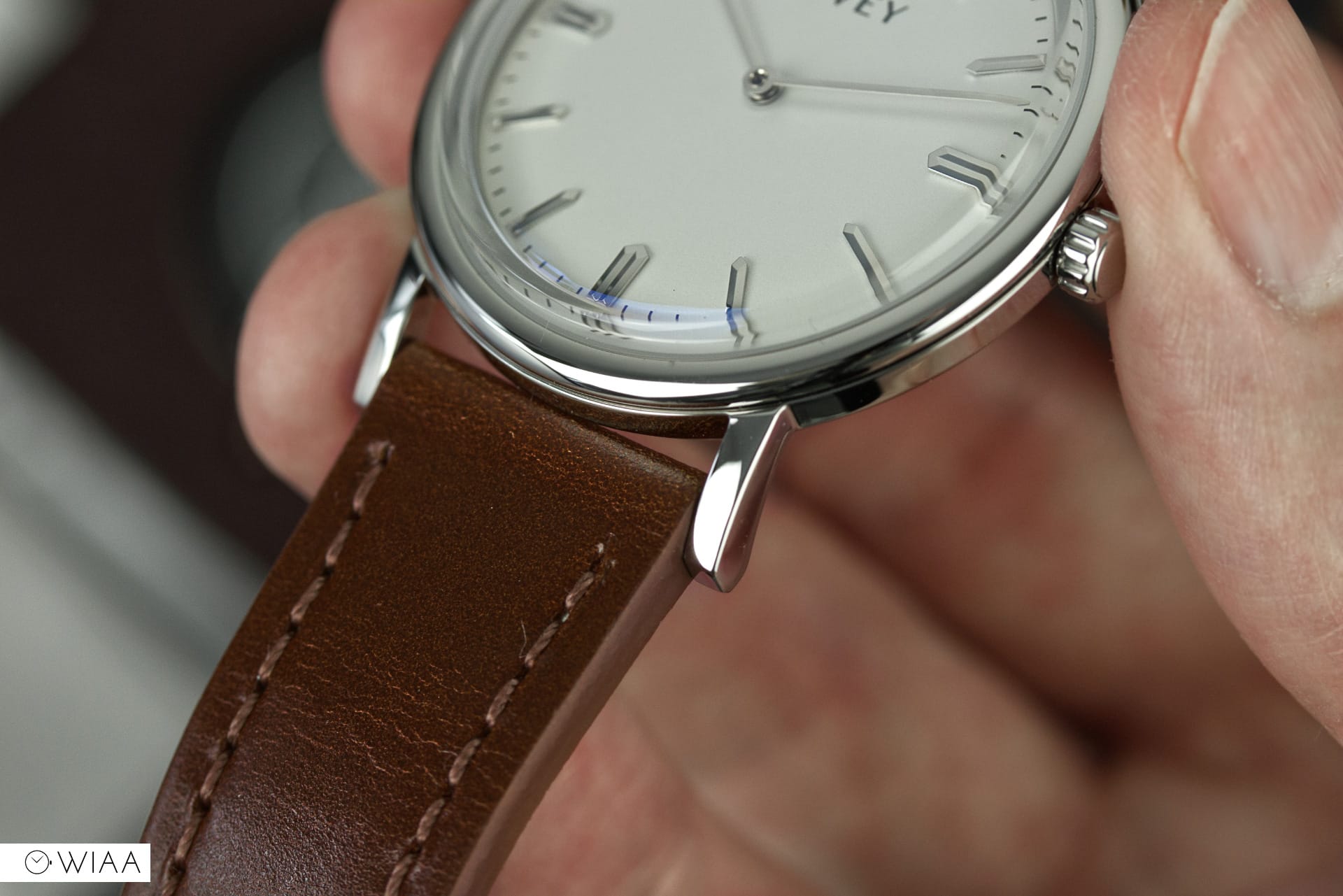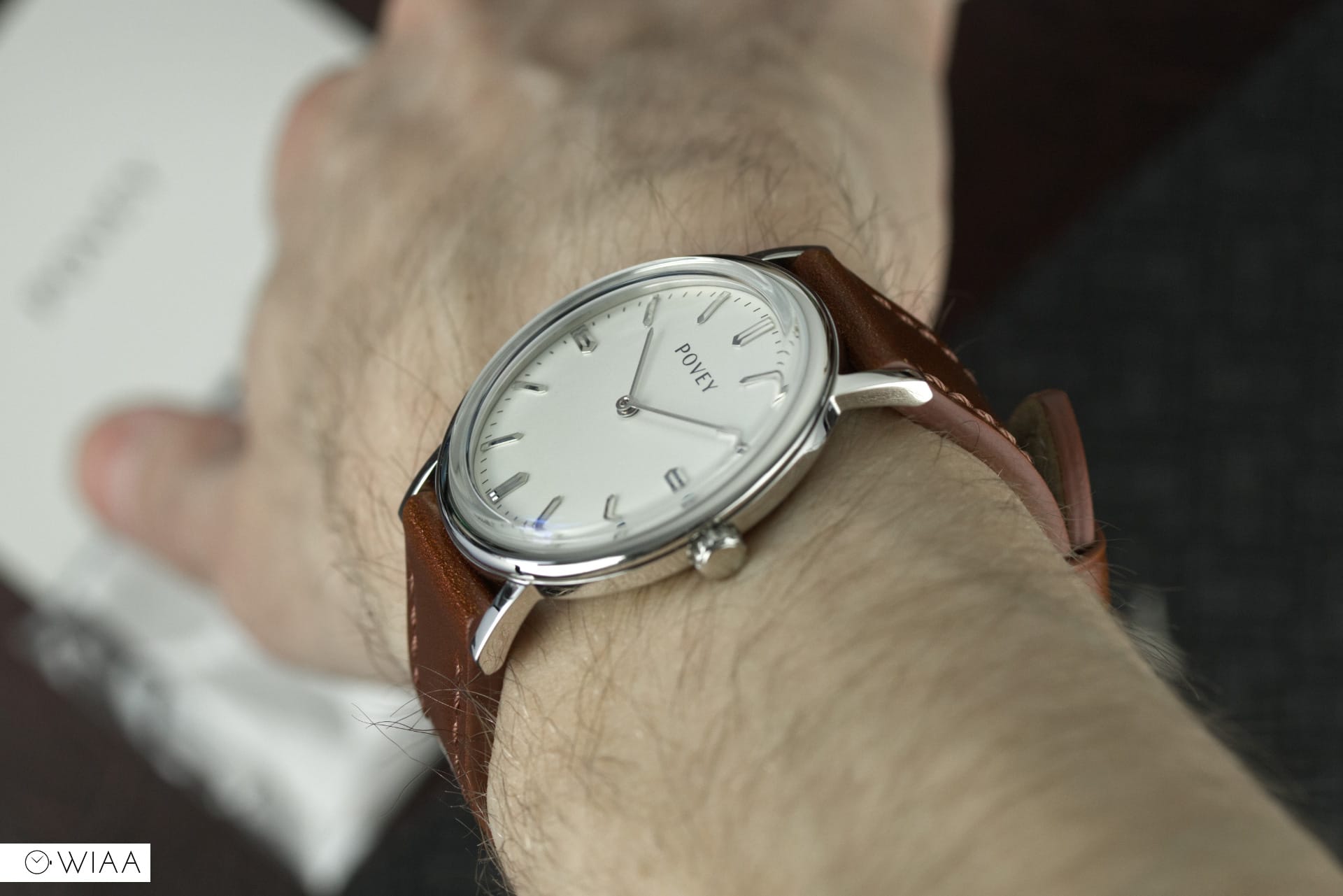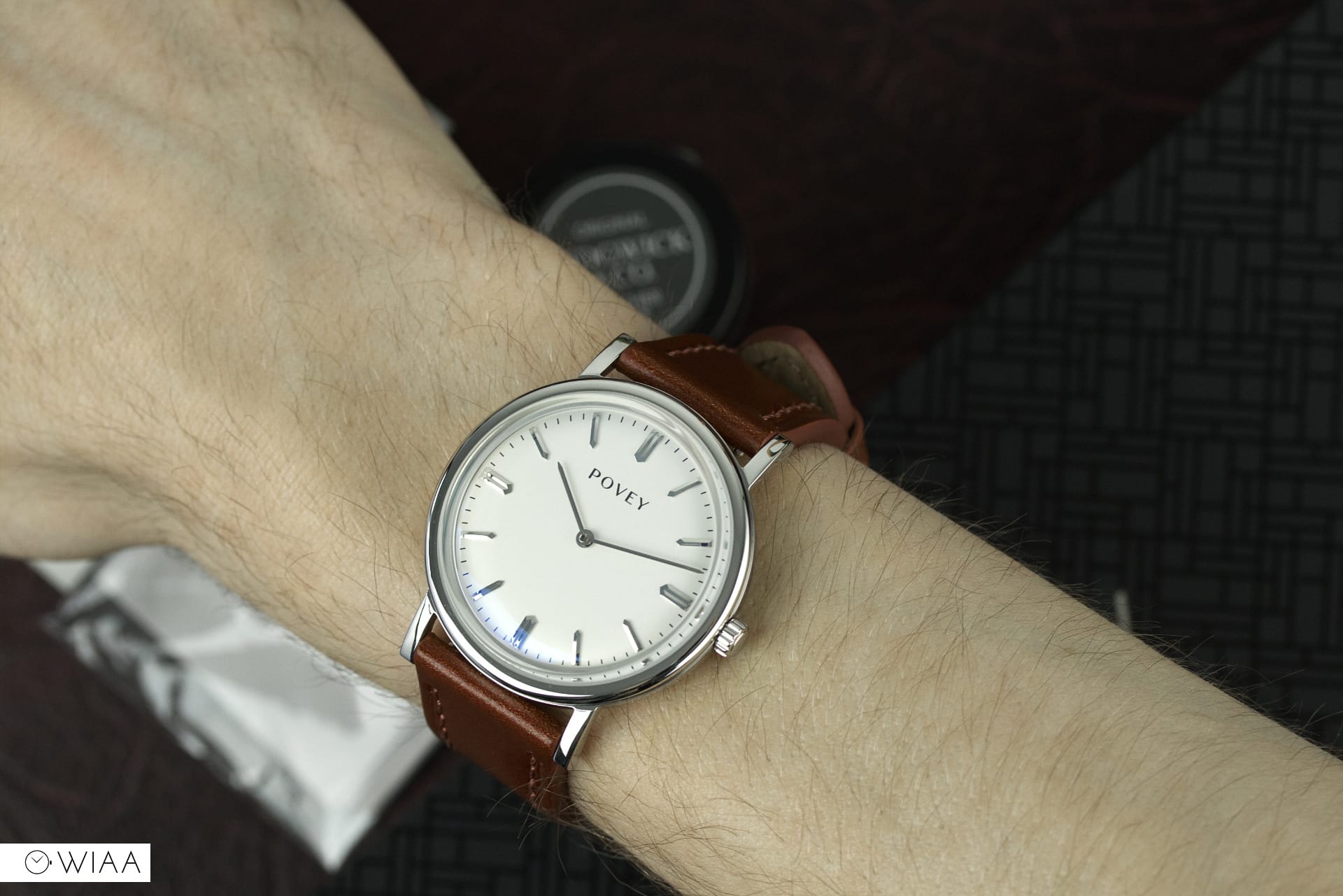 To sum up, the Albion from Povey has been pleasantly surprising though unfortunately doesn't do much to excite the inner watch-nerd. As is, the Albion is well specced compared to similarly priced rivals, nicely executed throughout with minimal issues, is solidly put together, attractive and great for daily use, plus the added extras further bolster this, but I'm just left not feeling much at all. Like mentioned it's good – in fact a very good watch for the price point, yet I just am left with no strong positive or negative feeling, it just fails to resonate and stir up any emotion.