This is the fifth Phoibos I've handled to date; all have proved to be very well put together affordable divers. The Reef Master is the first that is an original design for them (the others have all been very closely inspired by more popular watches), so it's good to see them stretching their wings a bit in the design department.
At a glance it packs a punch in the specs department; sapphire crystal, ceramic bezel insert, Seiko NH35 movement – all under £200. Let's check it out.
The specs
Dimensions: 42mm diameter x 14mm height x 48mm lug to lug
Weight: 107g
Water resistance rating: 30ATM / 300m
Movement: Seiko NH35A
Accuracy: +12.5 sec/day
Lug width: 22mm
Warranty: 2 years
Price: $229 / ~£170 direct; €205 / ~£180 from Europe
The case
The case is a standard slab barrel shape, overall it's well machined and finished. It is primarily brushed, bar the polished shoulders on the top edges / corners of lugs. There is very good definition between finishes.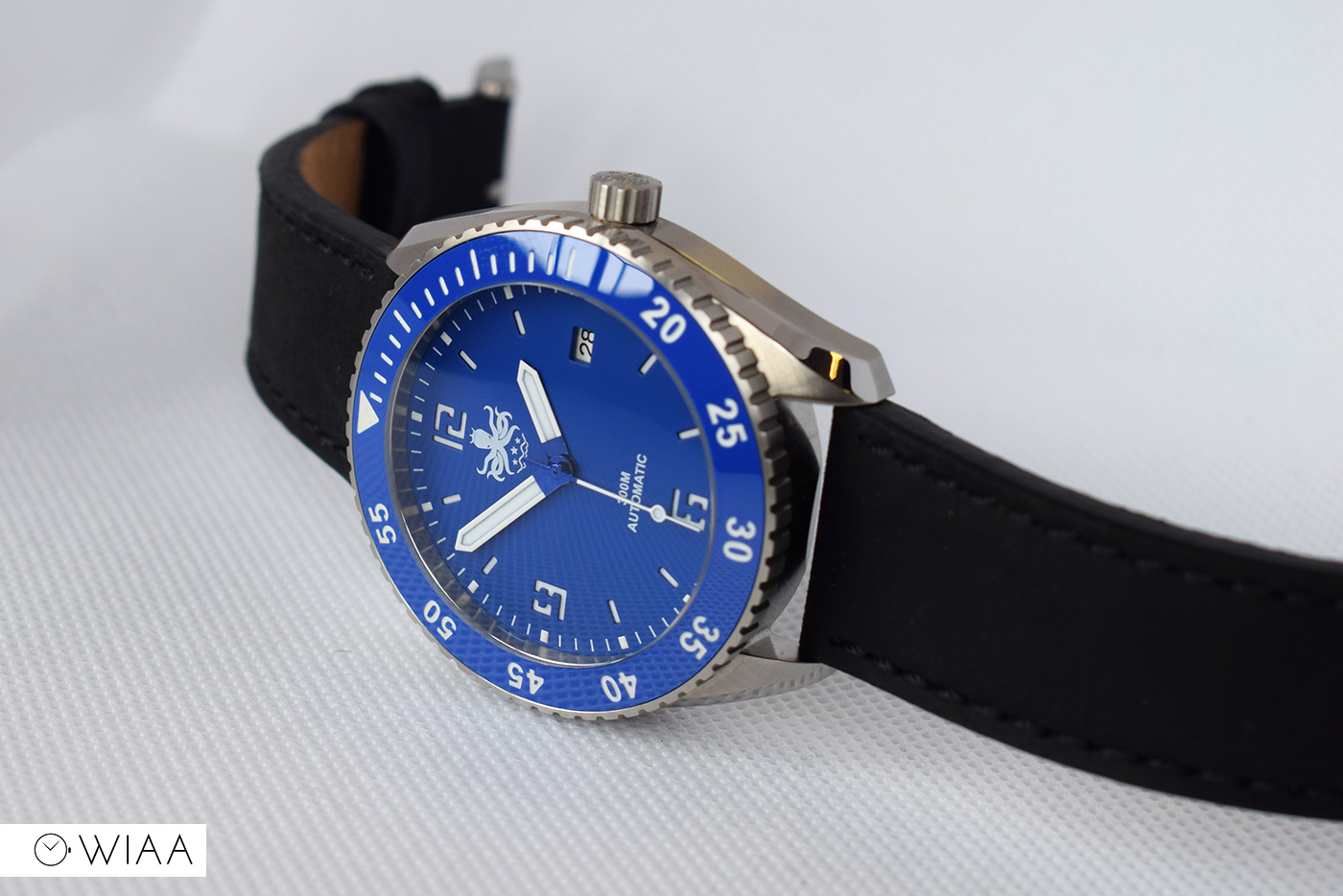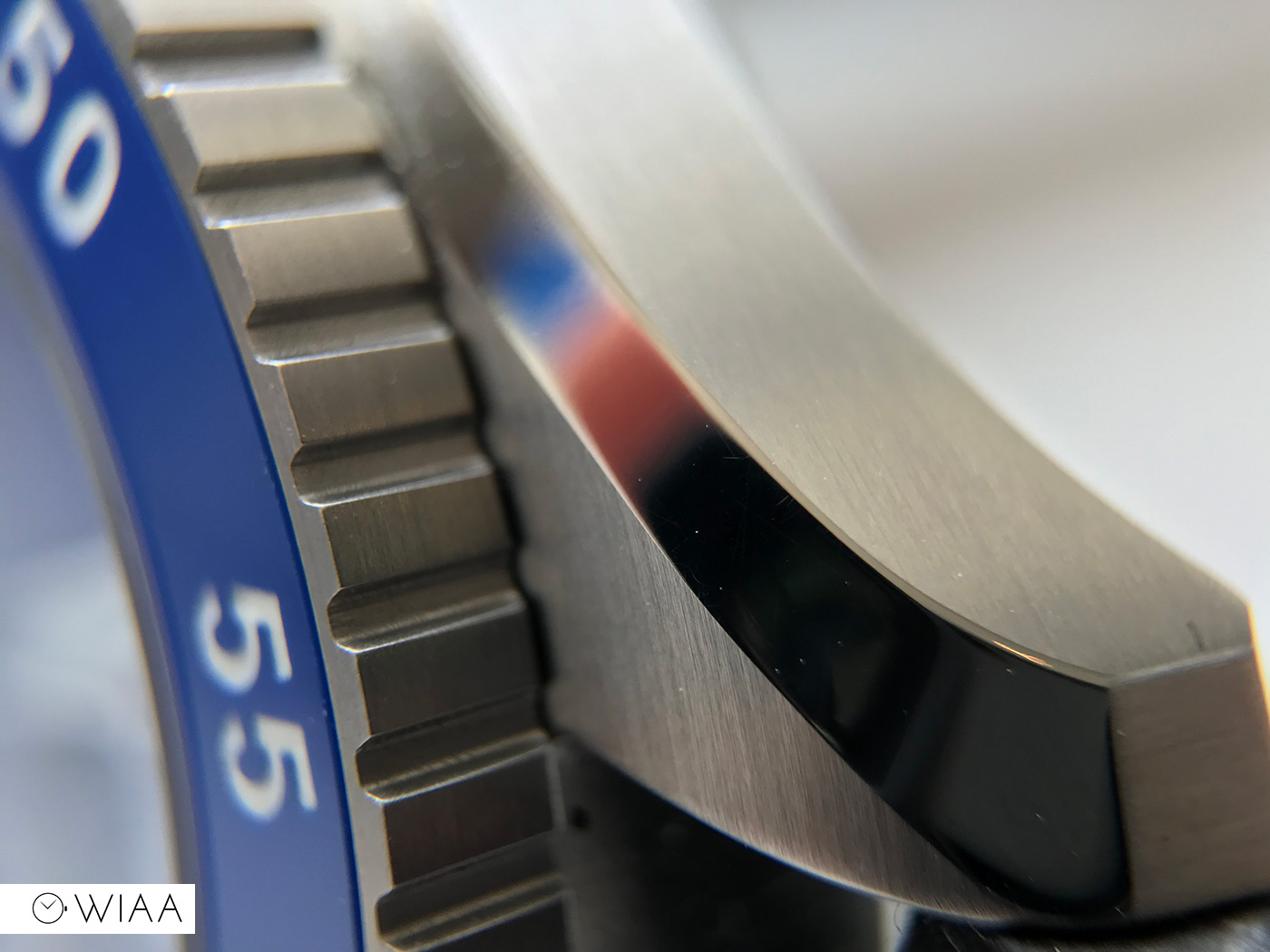 The 120-click bezel is very well crafted – with great toothed grip which works well with the case. It is smooth to use, however a bit too easy to rotate for my liking as I've noticed a few times it's been spun by something like my jumper. The ceramic insert is a lovely blue and all markings are accurately drilled out, and filled with lume. It's slightly unusual to have makers every 5 minutes (usually they'd be at every 10 with dashes at every other 5), but I think it works well visually.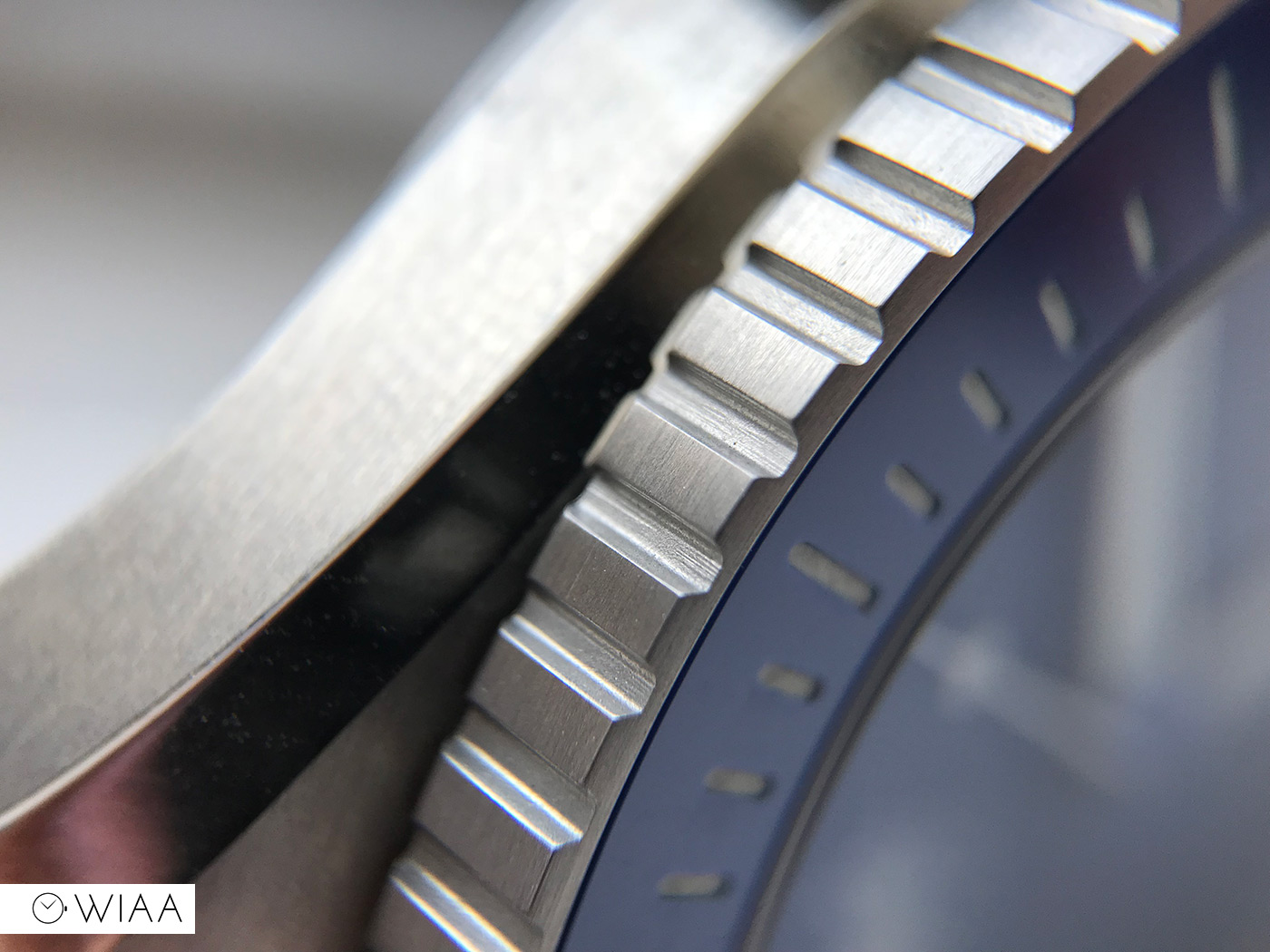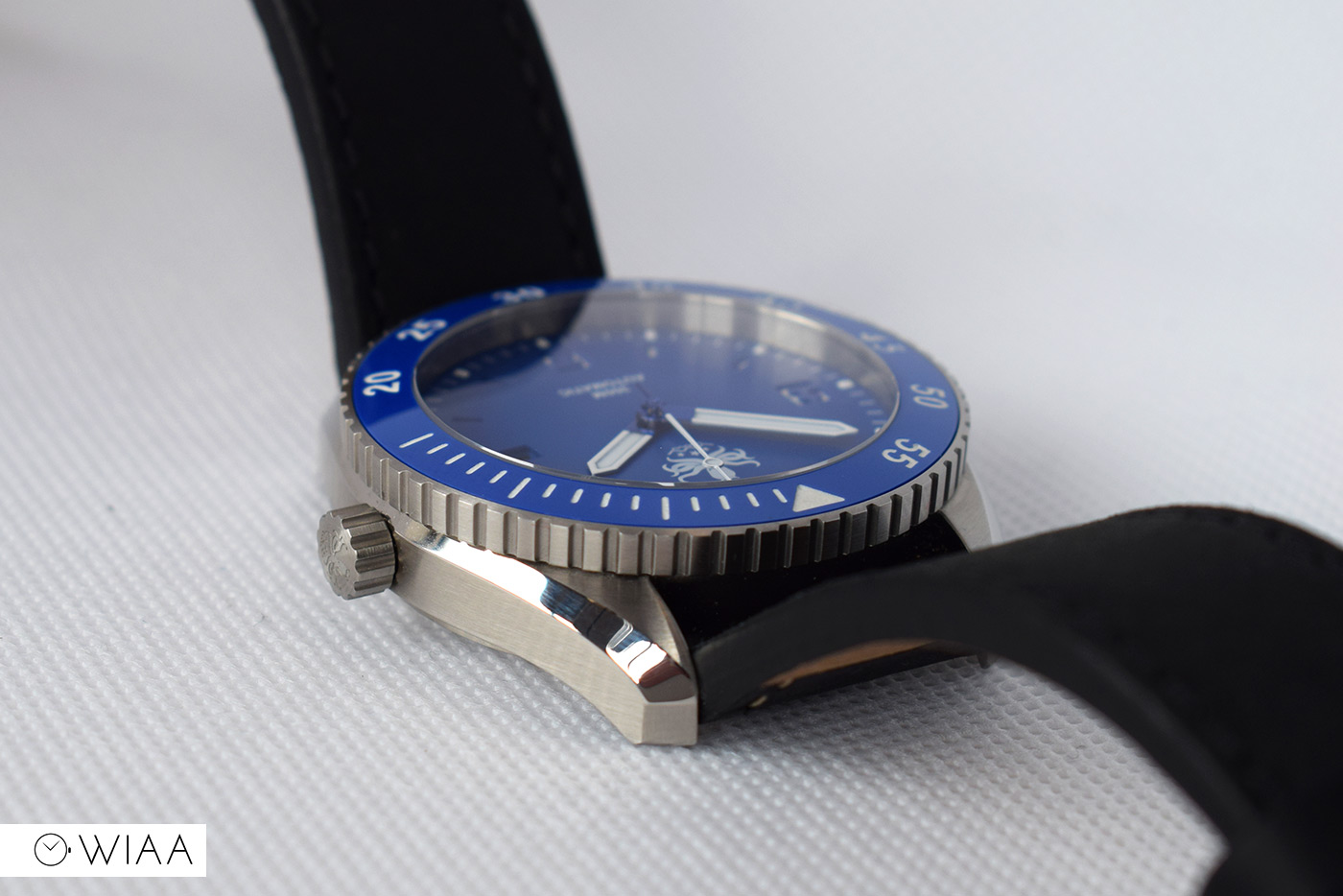 Sitting on top of the case is a double domed sapphire crystal. It has an anti-reflective coating underside, however it still has a fair amount of reflections during day-to-day wear.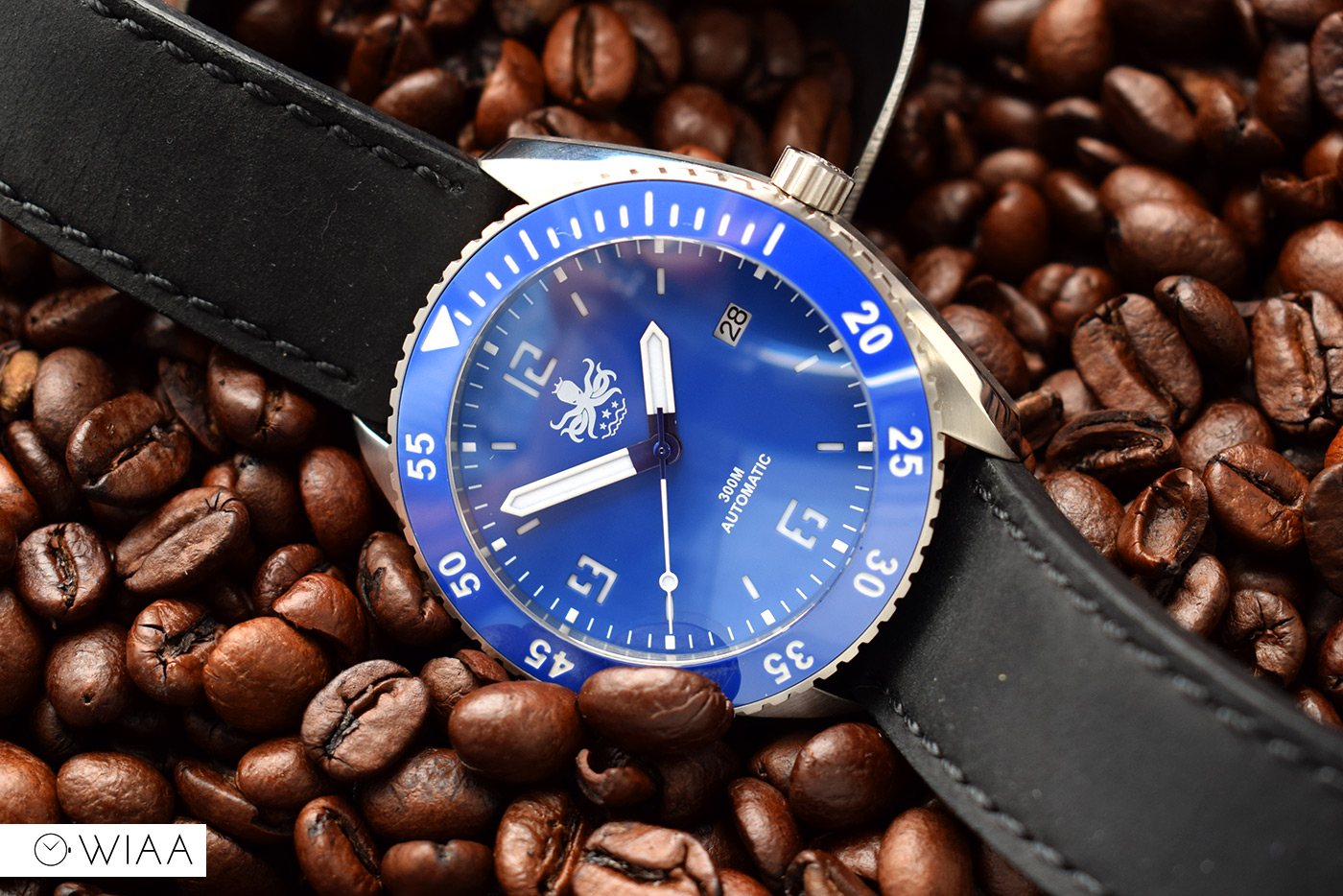 The screw-in crown has no crown guards, but is sensibly proportioned so it doesn't look out-of-place; with a very smooth thread so it's easy to use. Good, tactile grip makes it easy to use; the Phoibos logo being very accurately engraved on the end considering the size and detail of it.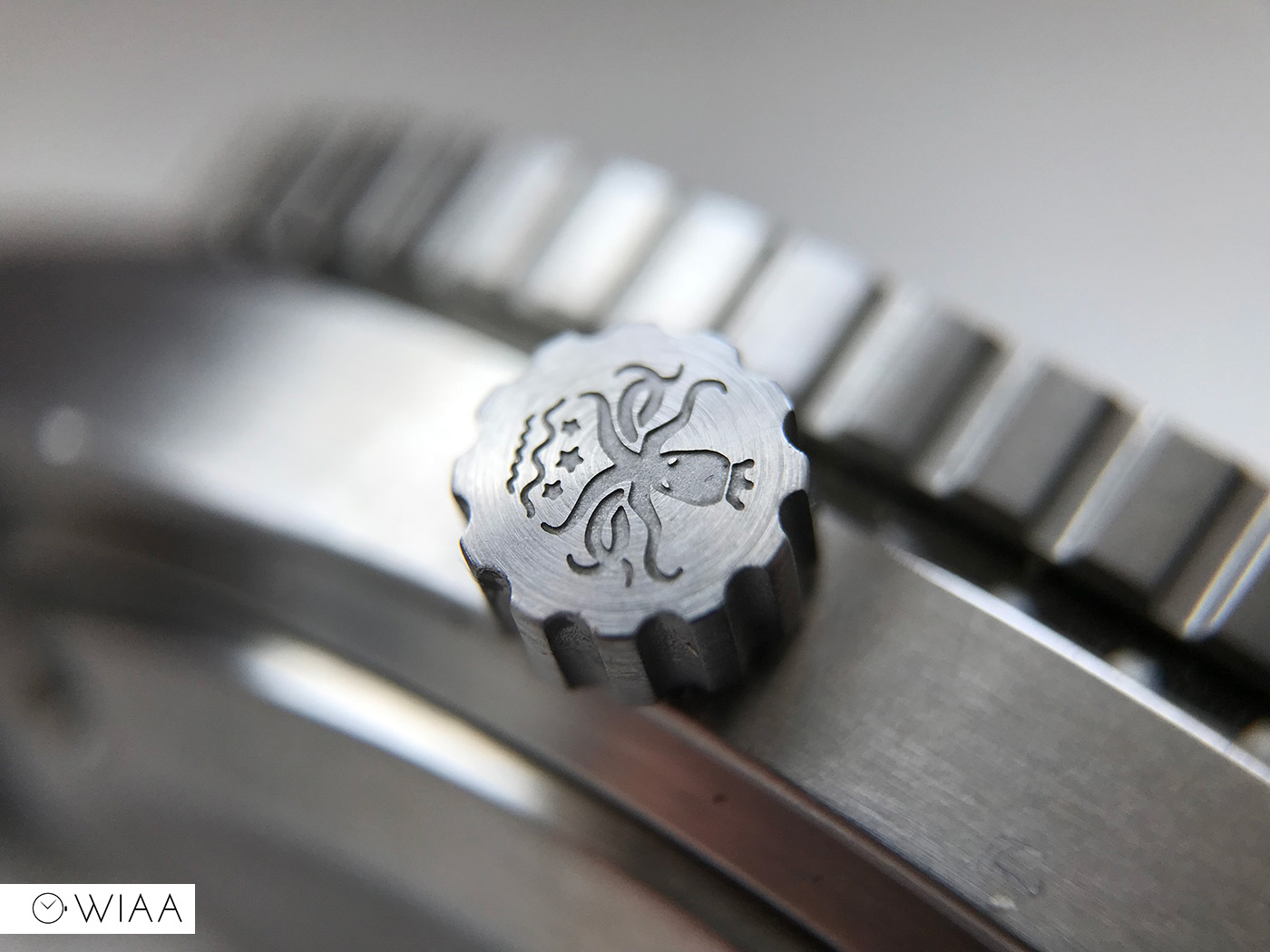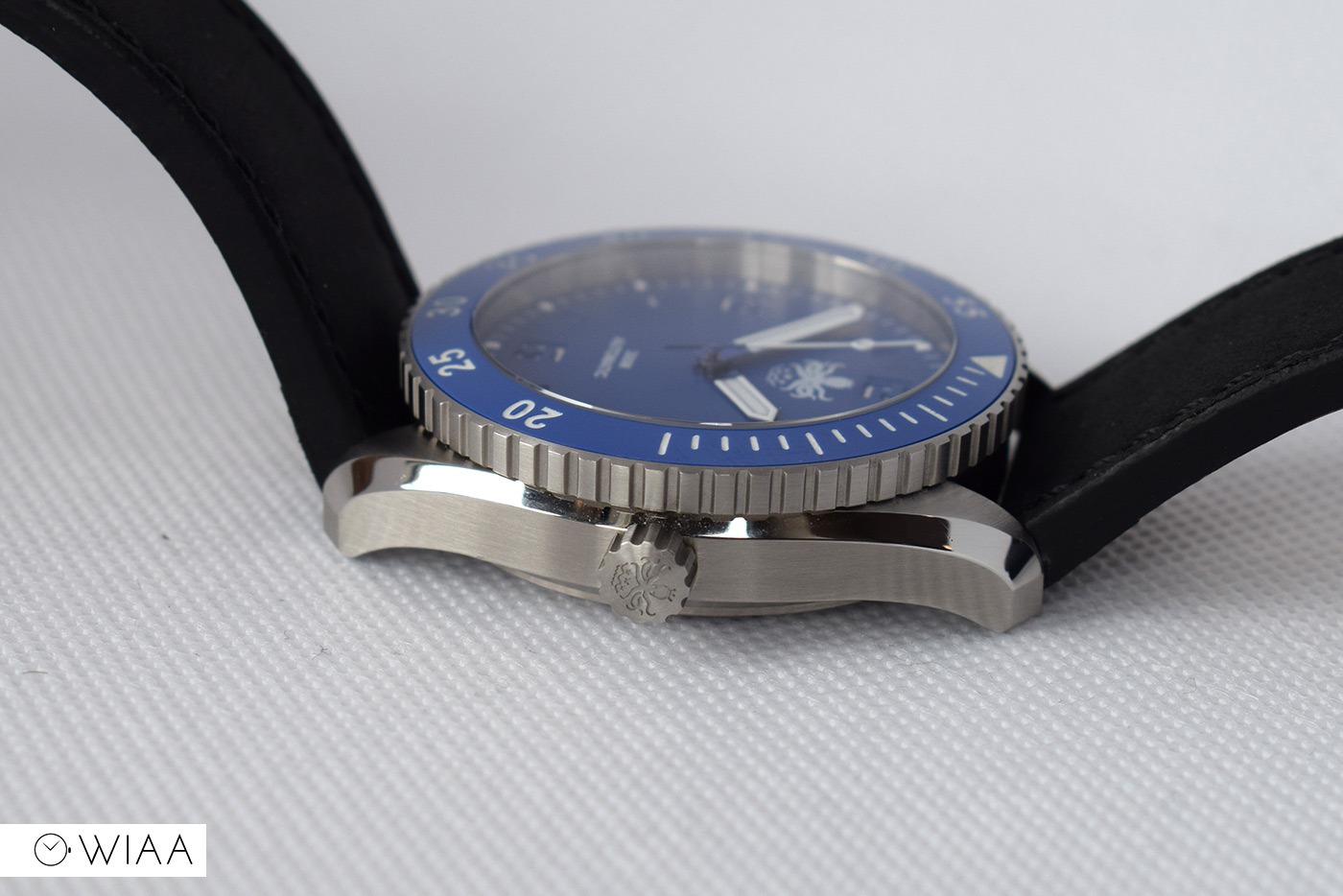 The screw-in caseback markings are a little light for my liking, I would have been very impressed if the motif in the centre was deep-stamped but we can't have everything. Saying that, the current detailing is accurate and well designed.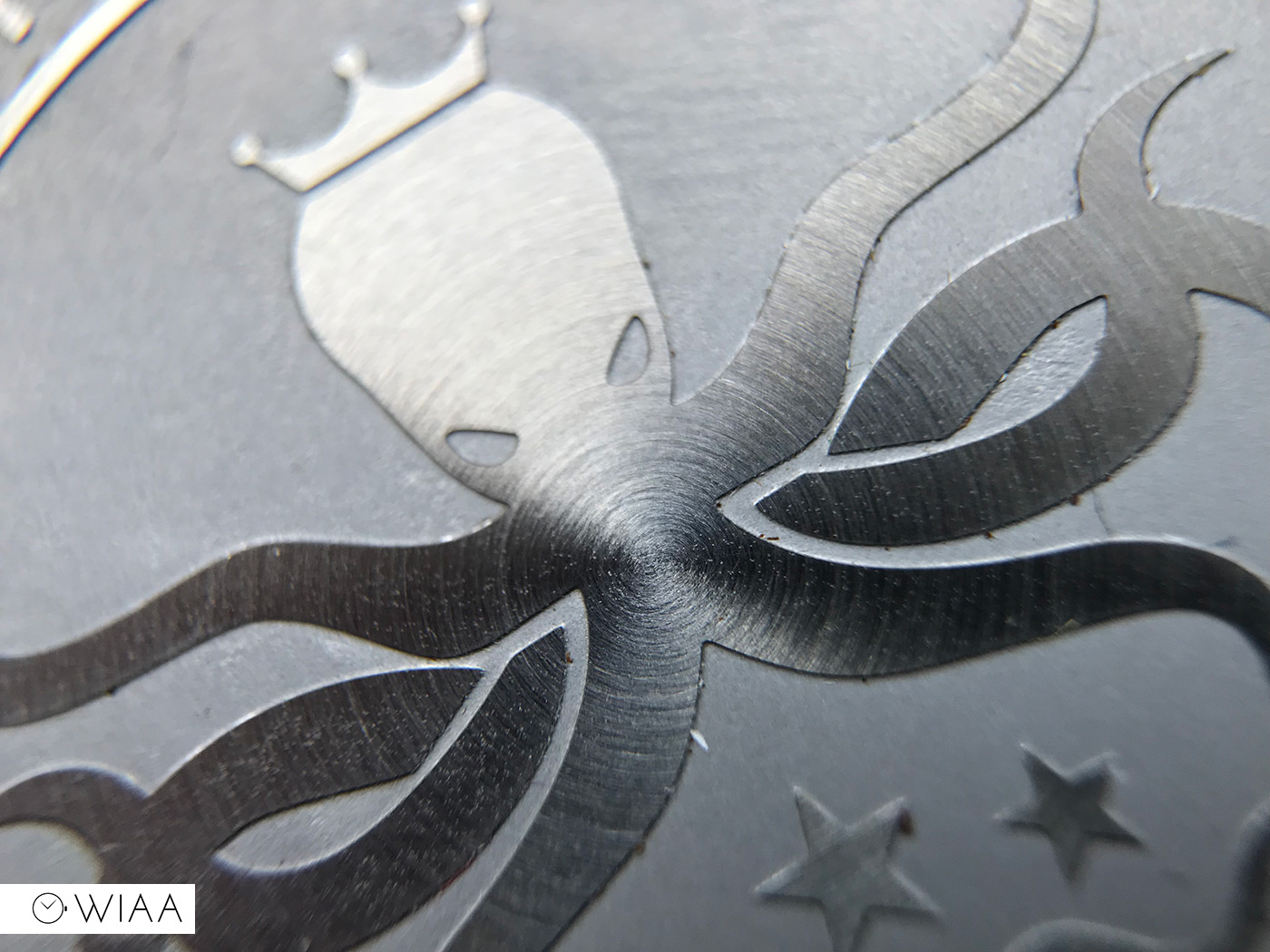 The dial
This dial would be classed as a sandwich dial, as the hour markings are all at a lower level than the top segment, and filled with lume.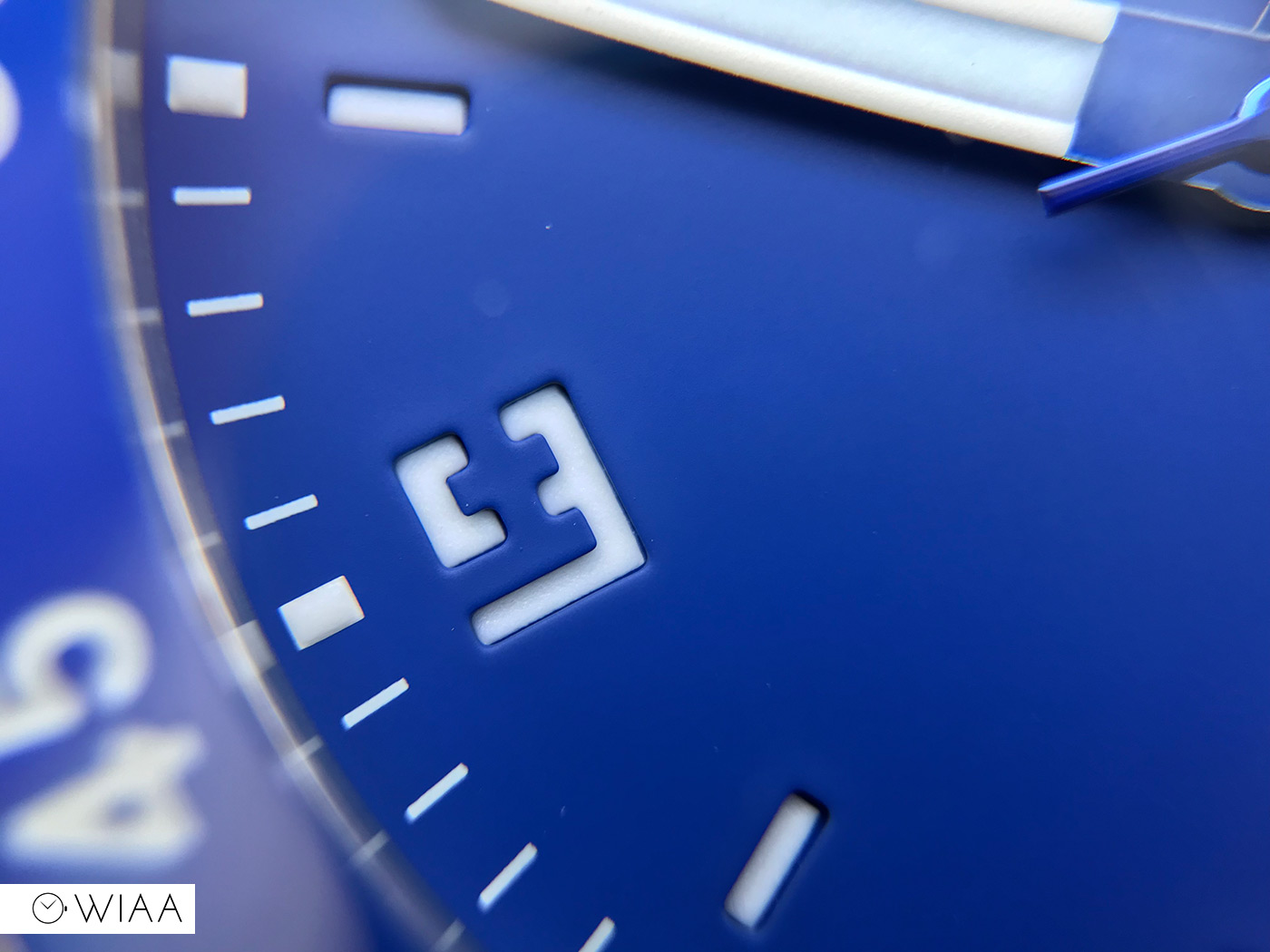 The lume used across the watch (dial and bezel insert) is Super-Luminova BGW9 – apparently 15 layers of the stuff. BGW9 is a blue lume; which of course fits in nicely with the dial and bezel.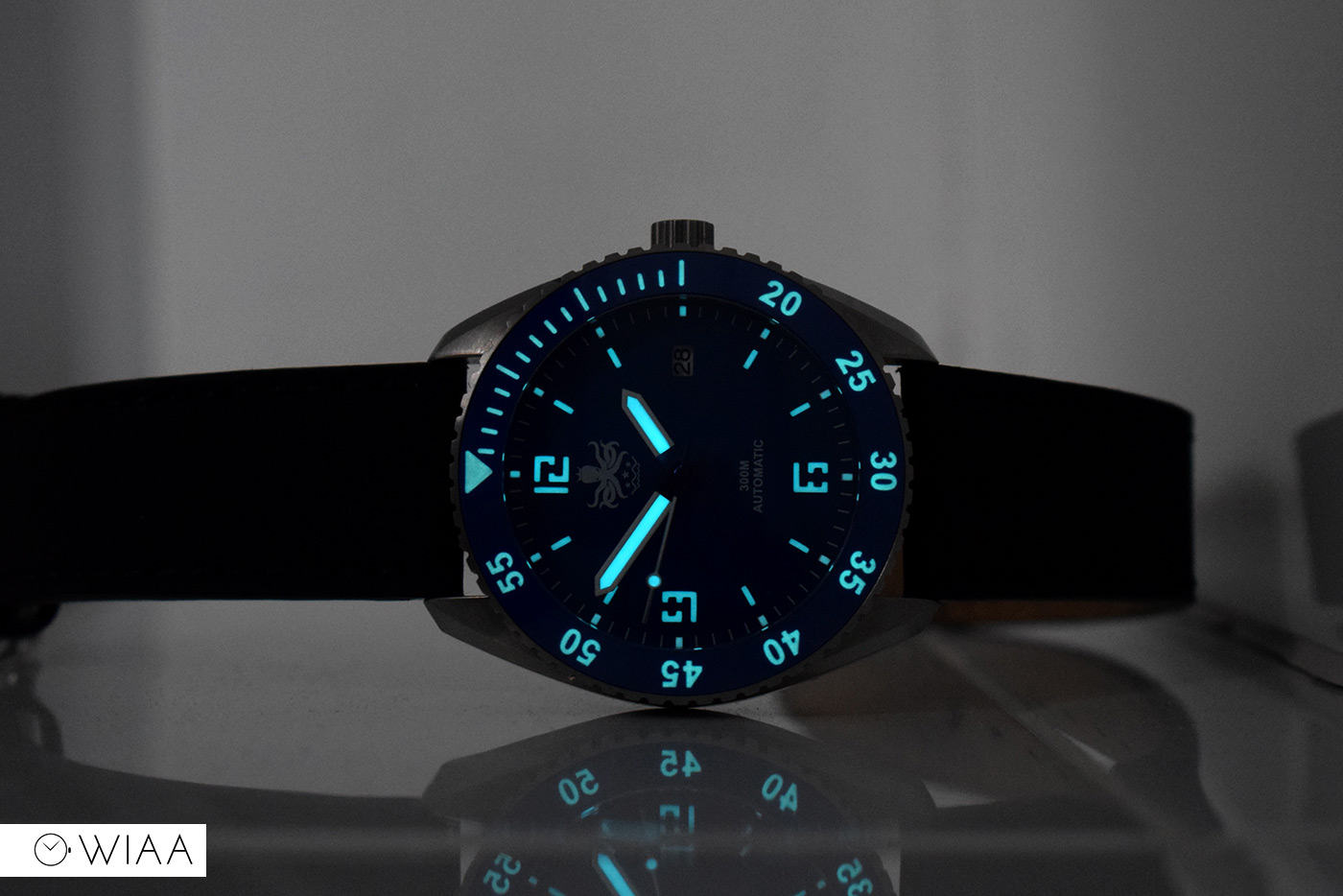 The Phoibos motif logo is printed in the centre of the top half; I personally think it's a little too large however, and seems to unbalance the dial a tad.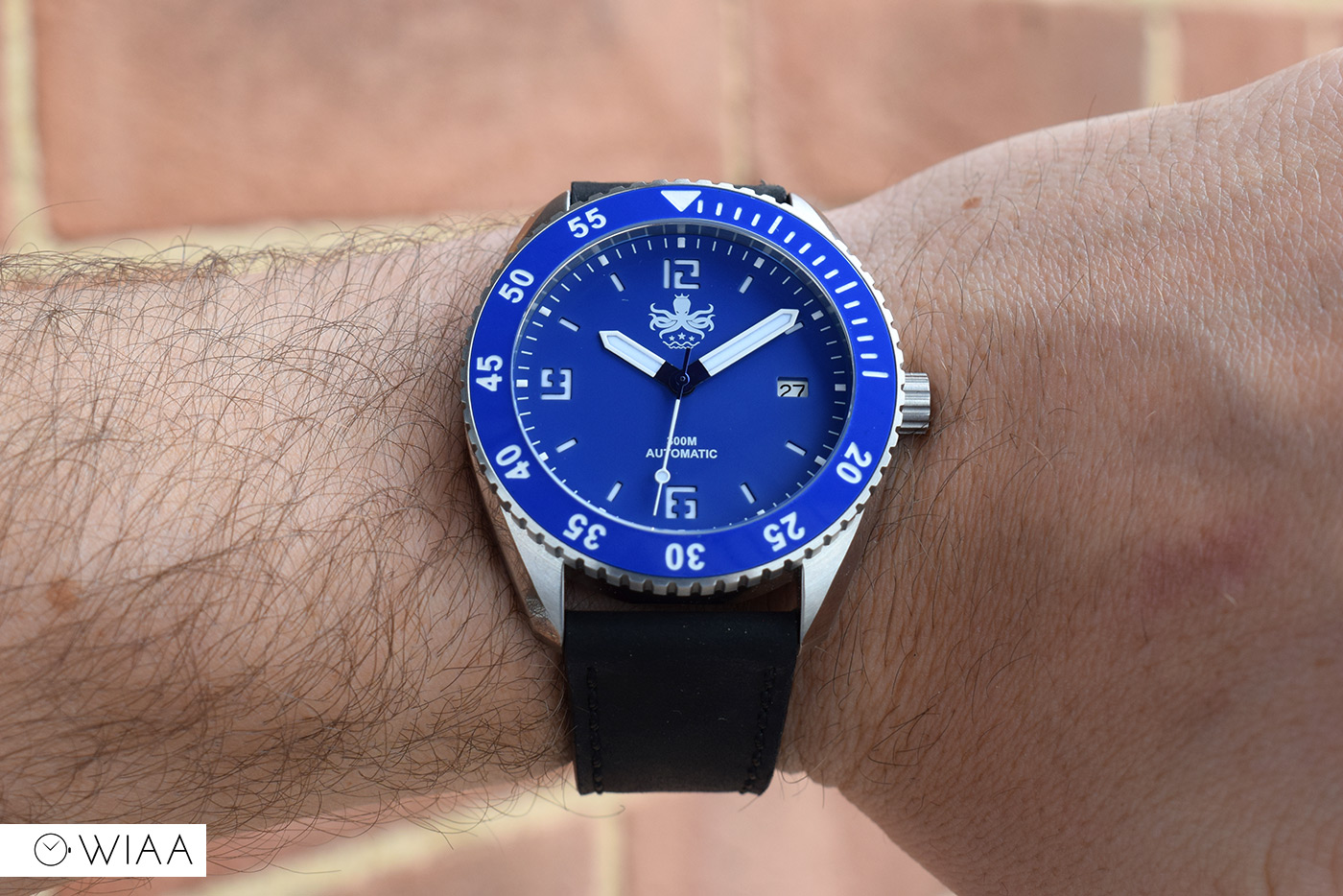 The hour markers are all at a lower level as mentioned previously, providing a measure of depth to the dial as a whole. The numerals used at 6, 9 and 12 are an interesting design and well cut out – the only minor complaint I have is that I wished the baton markers found everywhere else were the same height. They're a small amount shorter and I think they look slightly off because of it.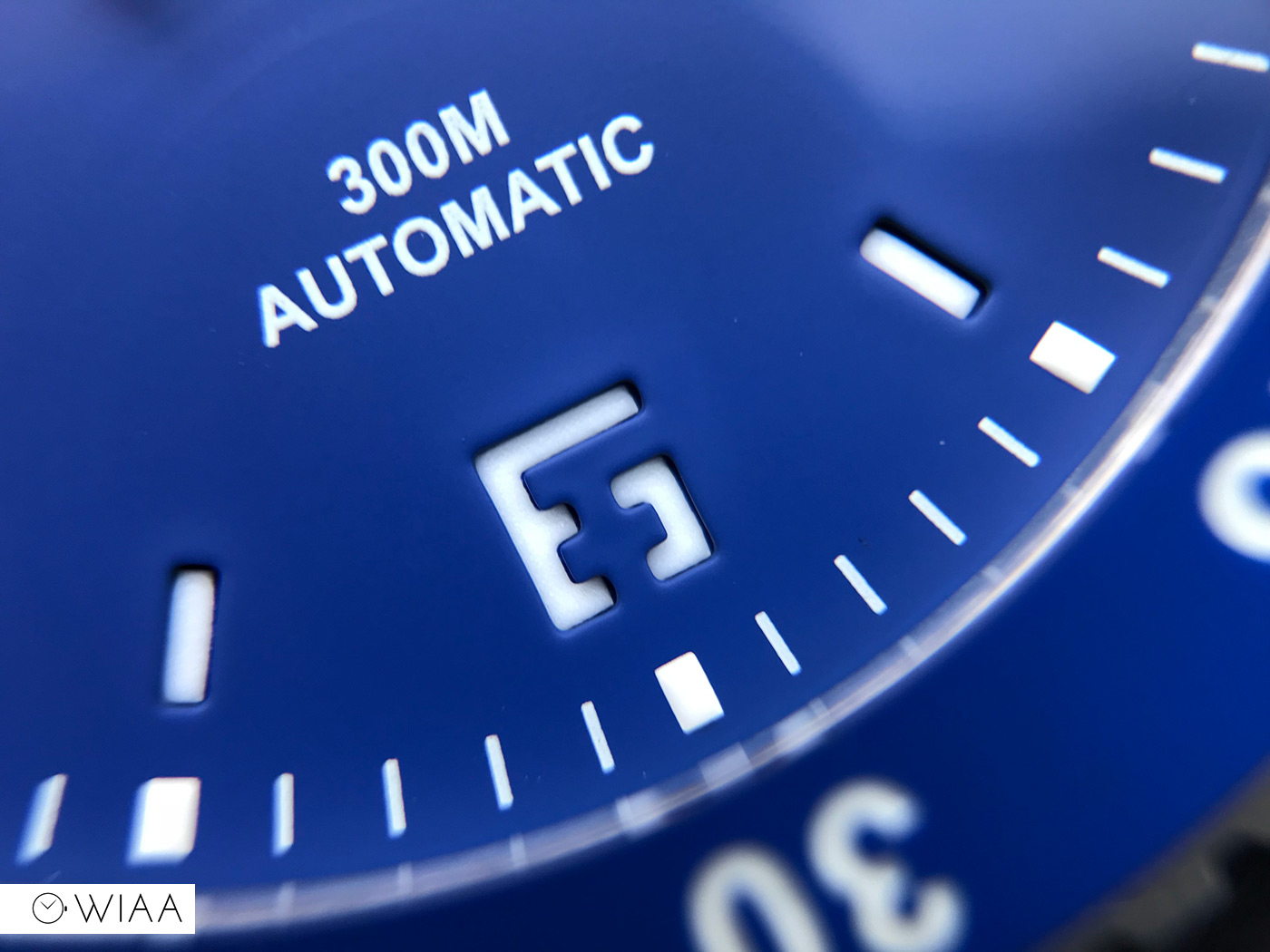 The hands are extremely bold and legible: thick white batons with pointed tips – can't really get more straight forward than that. They have a blue base to create a "hovering" effect. The seconds hand is a white stick and a lume filled disc near the end, all of the hands are pretty much flawlessly constructed.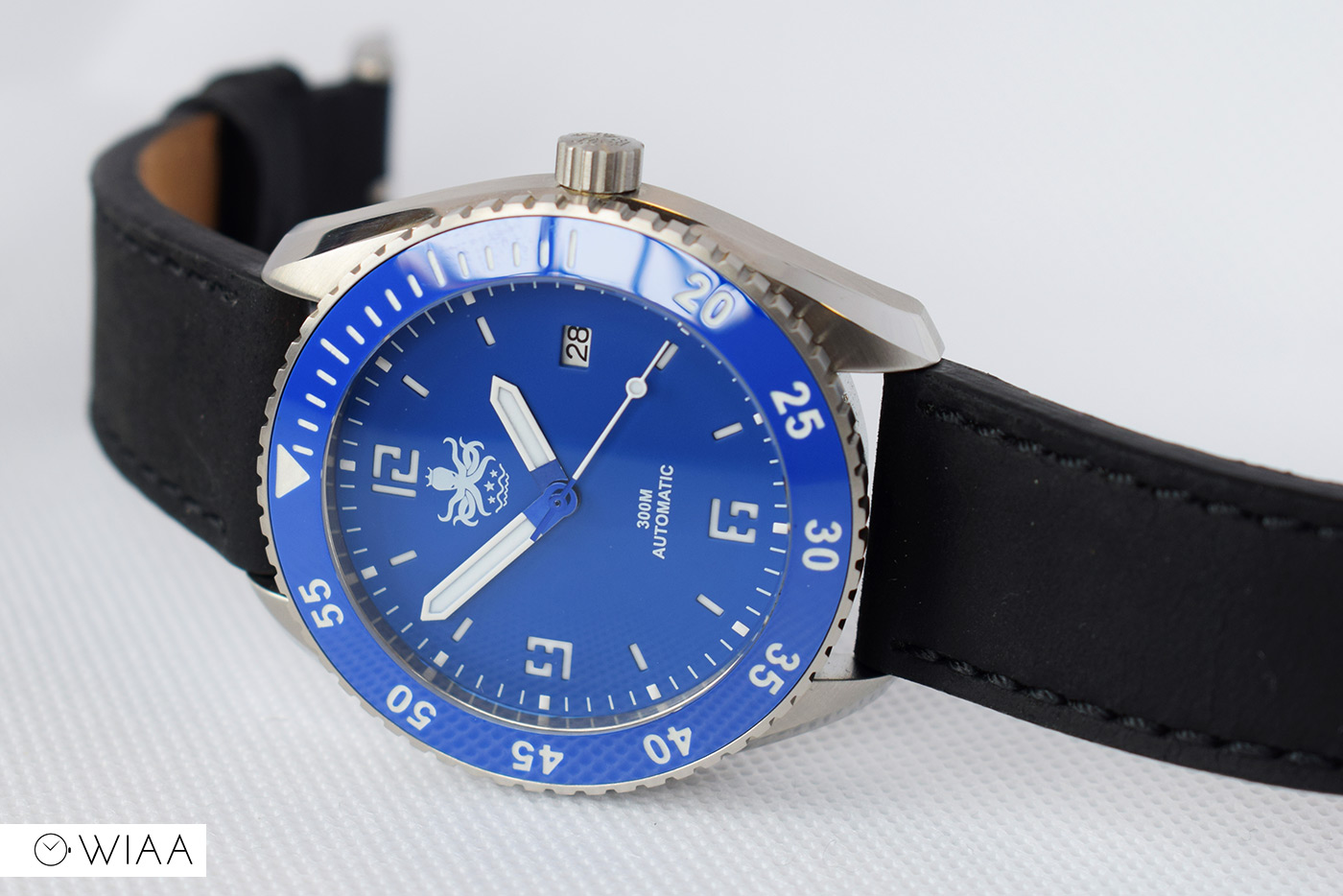 The date window is a bit plain – it is simply cut out of the dial, no border or edging to neaten it up. The date wheel seems to be the stock Seiko movement wheel and is also set quite deep due to the height of dial thanks to the sandwich aspect.
The strap
The strap is made with crazy horse leather (the reason it's called crazy horse is that it has a special wax on a full grain surface, which is popular on horse saddles). It's black with matching black stitching; and thick – when handling the strap it's obviously well put together using good quality materials. This means it's quite stiff to begin with but it has broken in well. It has a soft texture on top, matte in appearance.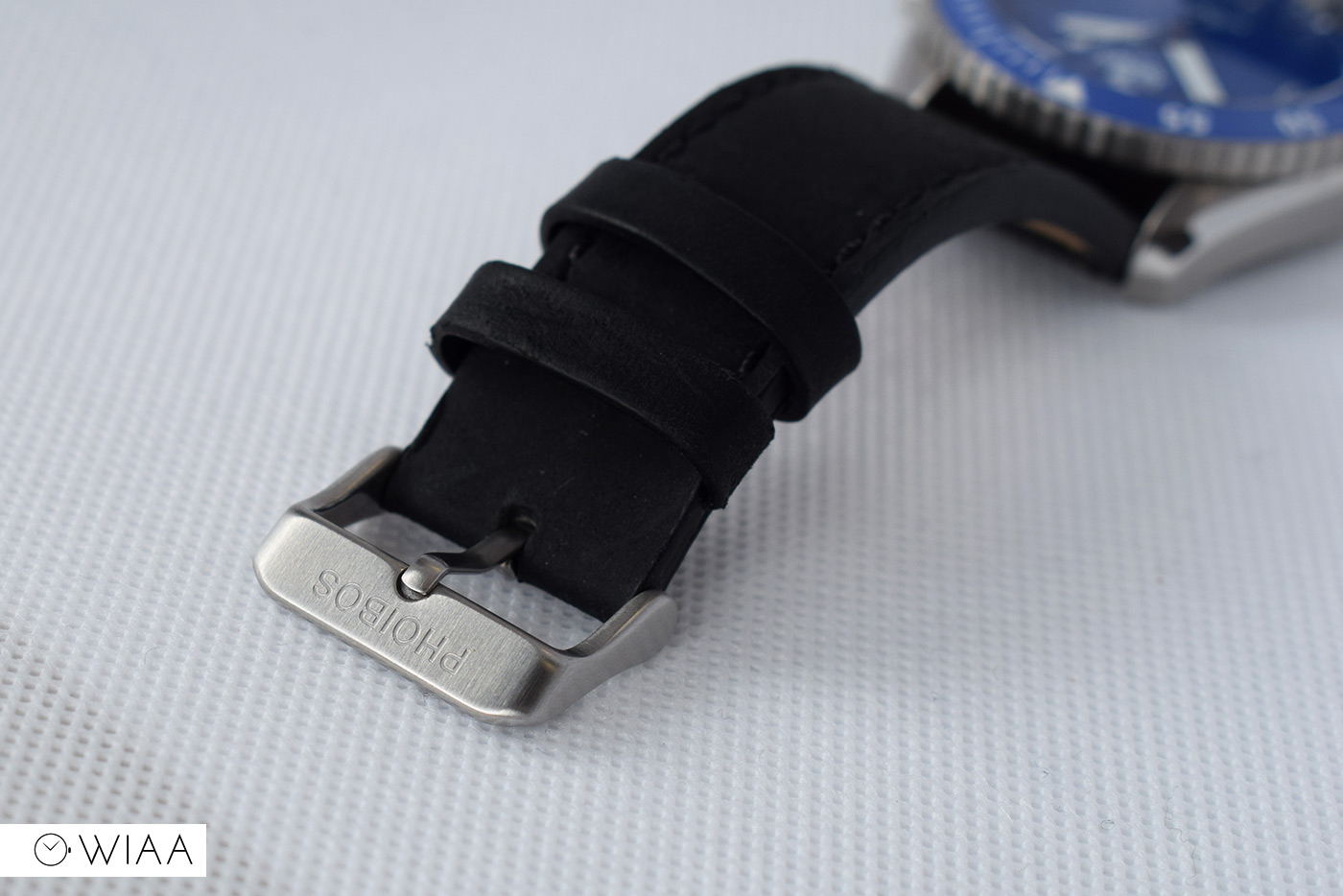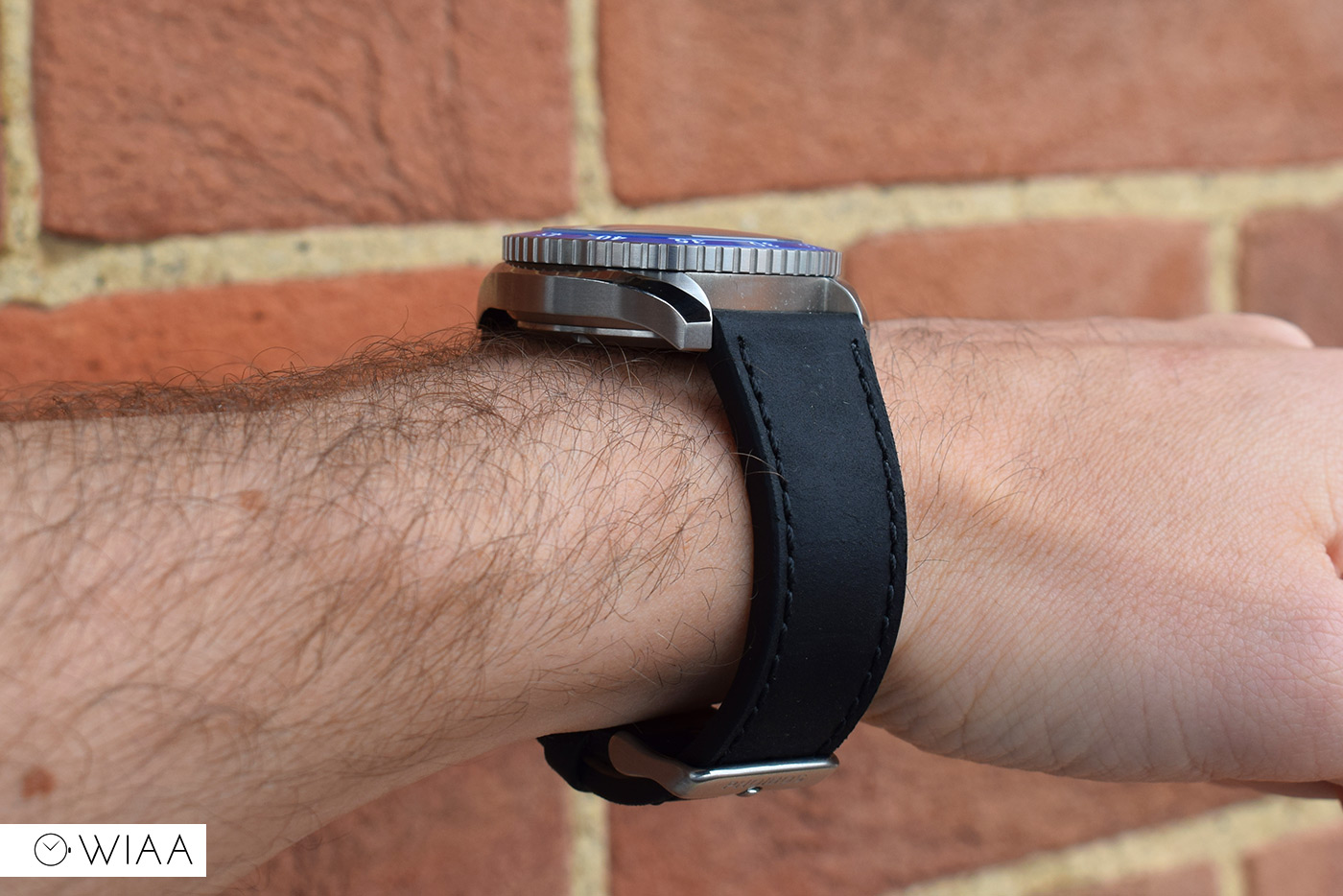 The tang buckle is pretty plain and a bit boring which is a shame. It's fully brushed, with the Phoibos text logo deeply and accurately engraved on top. I would have much preferred a custom buckle, or at least anything that was a little bit more interesting.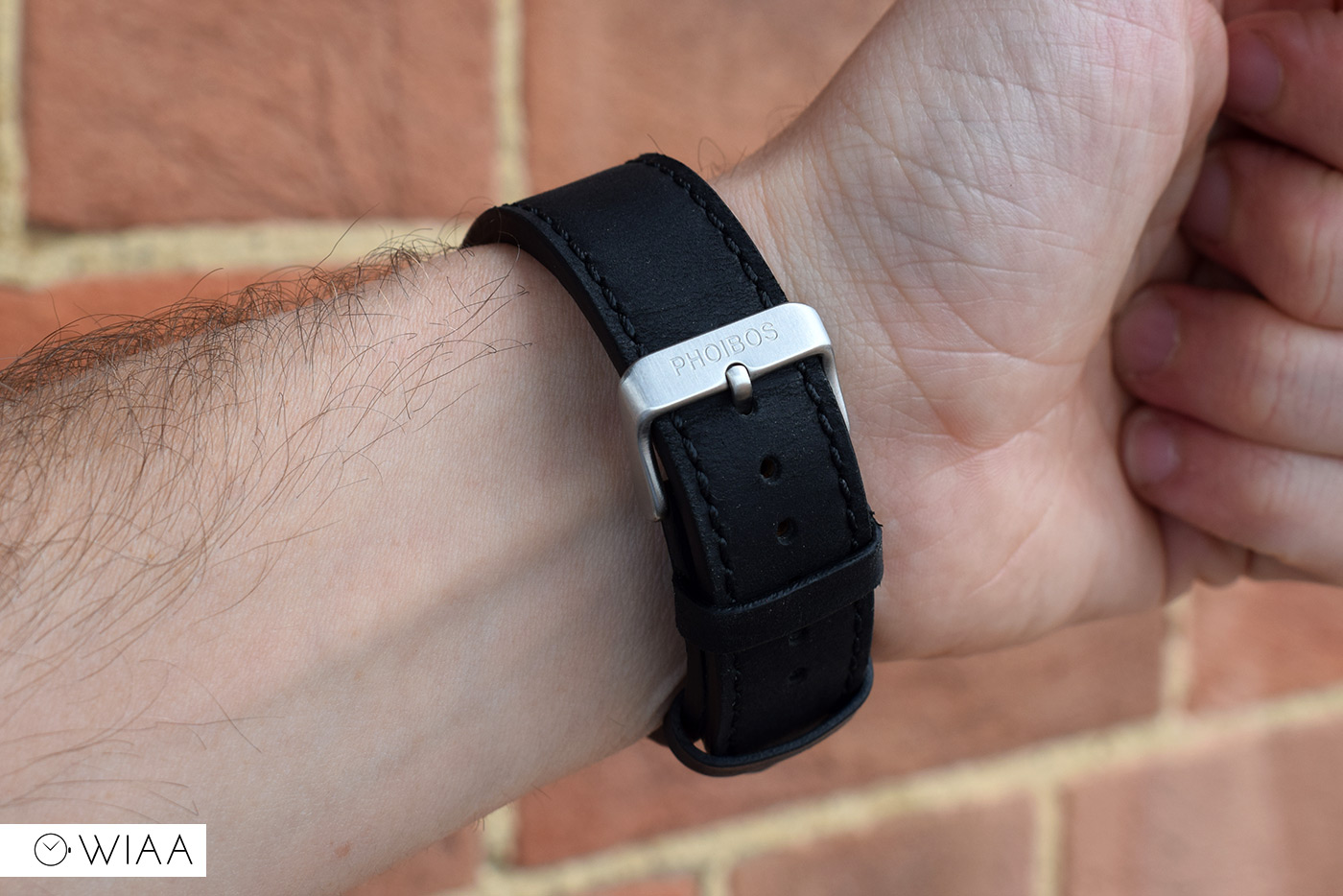 The Reef Master also comes with a black rubber strap, which is much more suitable for wearing under water. It's very soft and comfortable, and seems to be an off-the-shelf strap as I've seen the style many times before (check out the video review). The buckle is more interesting and angular.
The movement
The Seiko NH35A is a movement found in so many affordable automatic watches nowadays; with little wonder. It's cheap, reliable and easy to regulate. Specs include manual wind, 21.6k bph (6 ticks per second), 24 jewels, and ~40 hours power reserve.
I've seen many come within COSC spec, which is why it's a shame that this one's coming in at a slightly wild +12.5 sec/day.
Final comments
Any watch with these specs for under £200 is worthy of close examination. There's no denying it, the Phoibos Reef Master is excellently constructed to boot.
It's good that Phoibos have created a more individual design; however along with that comes the only minor complaints I have: the logo being too large and the baton hour markers being too short. I say minor as that's my personal opinion of course, and I'm sure many won't be too fussed – indeed, I'm not sure they're even big enough issues to stop you buying one, as it's still a great watch.