Who isn't interested in affordable watches offering surprisingly high specs? I had seen and read about Perpetual Watches a number of times on Watchuseek. It appeared that they offered very high specs such as sapphire crystals, Seagull movements, 2 year warrantee, and deployment buckle with a decent quality leather strap for very reasonable prices. Rather surprisingly, though, there can be little found on them. When one came up for sale I had to try one out for myself to see if they are worth all the hype.
Initial Impressions:
This is a lovely unique looking watch, and the quality is immediately apparent. As soon as I opened the box I knew that this was no normal Chinese made watch. It was far superior to all others in this price range.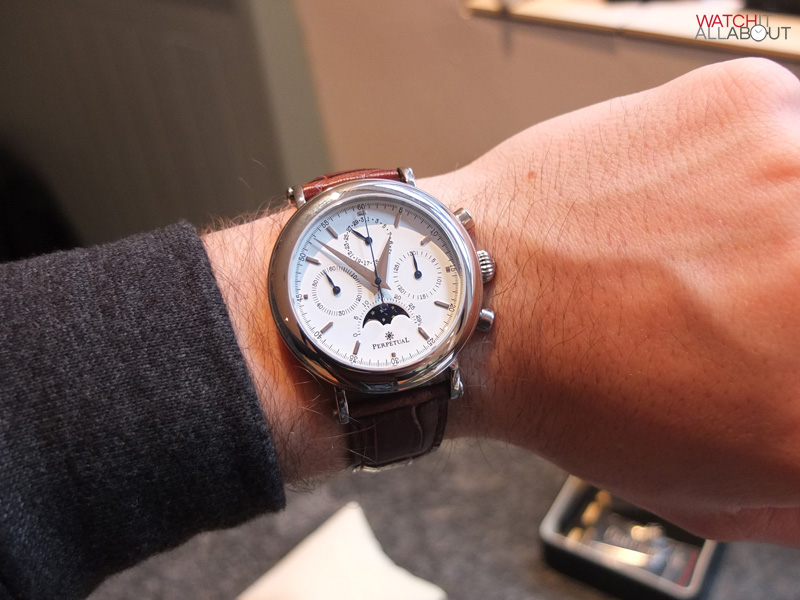 The Case:
The stainless steel case is 41mm diameter and 13mm thick. It has a sapphire crystal at front AND back. This is very unusual – usually a watch maker would put in a mineral crystal at the back to save costs. Perpetual have decided to go for the far more expensive option. The caseback has laser etched text around the crystal – sadly it is not engraved.
The case is made of polished 316L stainless steel. It really is a lovely shaped case. As you can see from the pictures taken of the side, it is wider at the top than the bottom. Unusual but really works. There are hidden buttons on left side for quick date and moon phase change. You even get a cool little tool for using these buttons so you don't end up damaging the buttons by using a pen or something!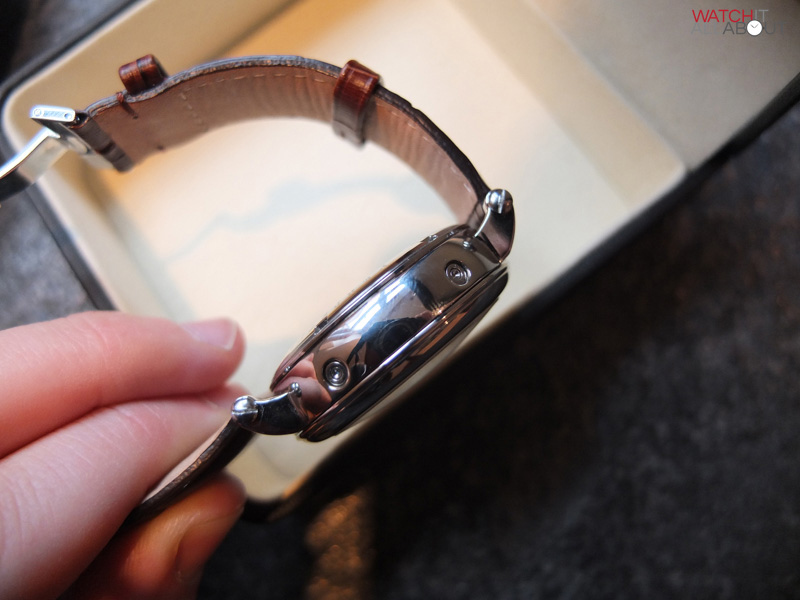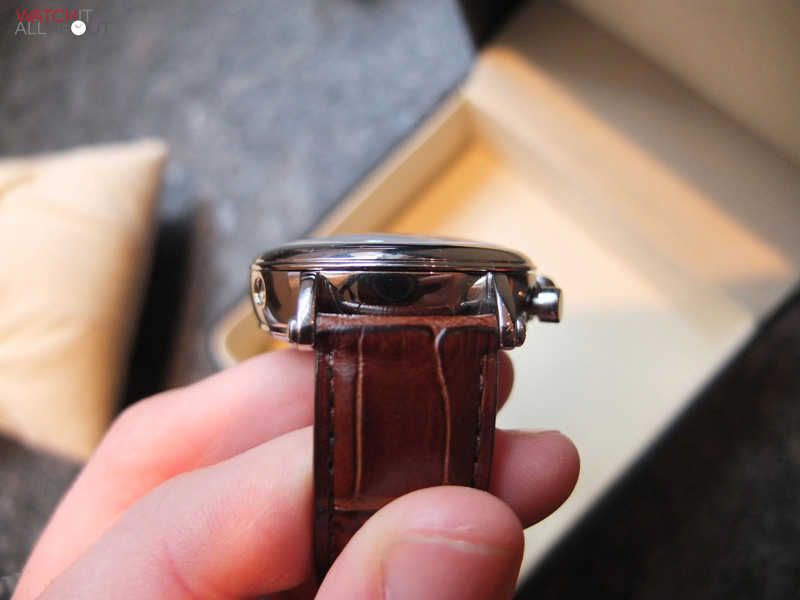 The chrono pushers are high quality, with a large cylinder top ensuring a good size. The crown is an onion style with good grip, with the Perpetual logo deeply engraved on the end.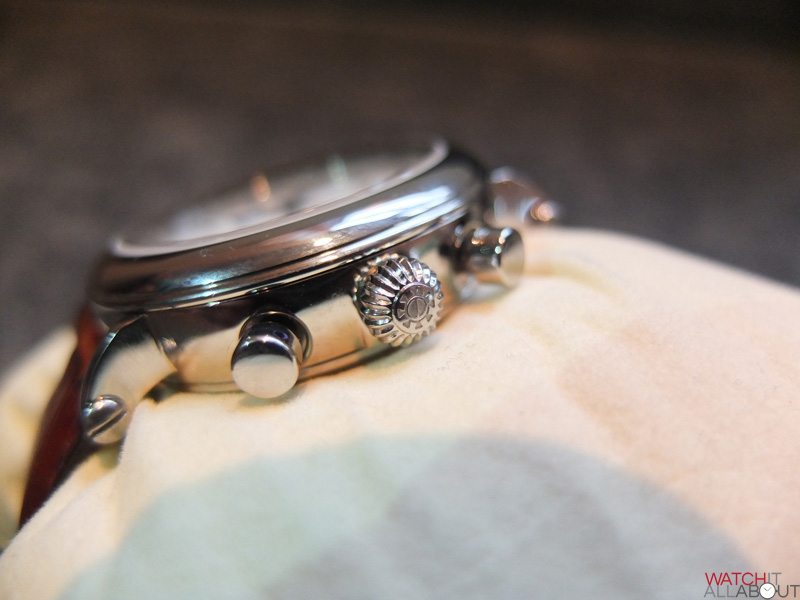 The Movement:
The watch uses a Seagull 1901. This is a Chinese version of the Venus 175. It has a star shaped column wheel – which makes it a robust high performance chrono. It has 22 jewels and runs at 21.6k bph – 6 ticks per second. It is hand wind only, not automatic.
The movement is very nicely decorated. It is a shame about the plastic movement holder though. It's not easily noticeable, but when you do spot it lying on the edging around the movement it is a shame to see a bit of white plastic there.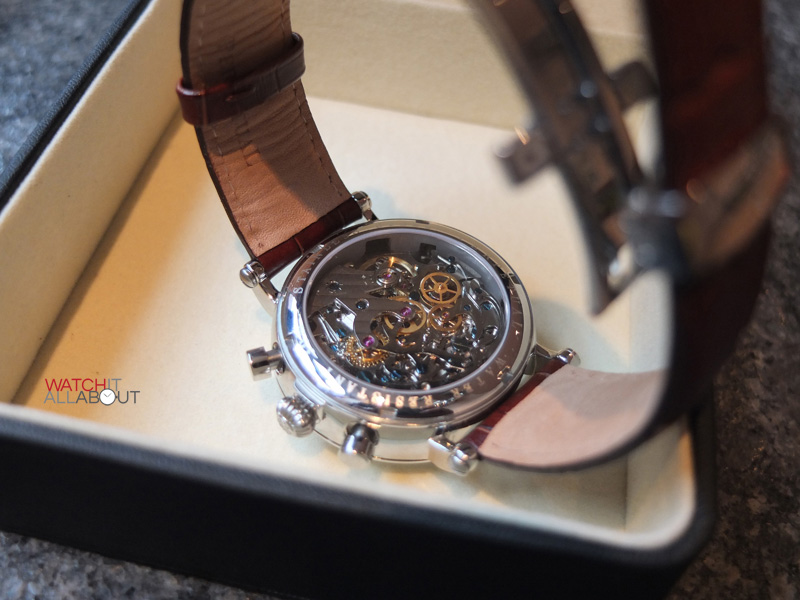 The Strap:
The watch is fitted with a high quality 22mm calfskin leather strap with a decent deployment clasp. Not very deep engraving on buckle though. The leather is comfortable and not squeaky at all. You can tell that it is better than your usual cheap leather found on Chinese watches. It's colour is a very nice deep brown.
The Face:
As you can see, I got the white faced chrono. This also comes in a black faced version. It has lovely blued subdial hands and big seconds hand. When these catch the light it makes it look very expensive. It has large sword hands for the time hands – some people think the hands a a tad too wide. I must admit, on the pictures, they do look rather large. But in the flesh, they suit the watch quite well and you don't notice it as much as you do in the pictures.
The steel baton hour markers have a chamfered edge and are incredibly well machined. Another little extra bit of quality that you don't necessarily notice, but it really makes the Perpetual stand out among similarly priced watches.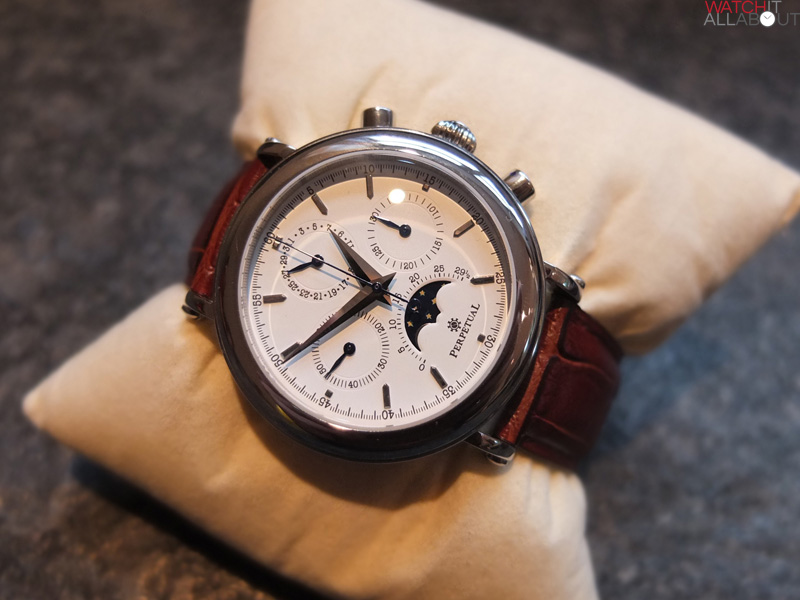 The watch has a proper moon phase. Sometimes a standard day/night dial can be confused with a moon phase dial. It has 59 teeth to replicate the real lunar cycle – two cycles of 29.5 days.
The subdials are as follows: The top dial is the date. Left dial is running seconds. Right dial is the 30 minute chrono counter. Bottom dial is the moon phase. They all have a nice concentric circular pattern.
The big seconds hand is the chrono seconds. It is blue like the other subdial hands, and  has a nice touch of a small circle on the bottom of it.
The logo is situated at the bottom of the dial, it is well proportioned and printed well. There is also a minute track around the outside of the dial with every 5 minutes printed. The font used on the dial is a good choice, it really suits the classy design of the watch and is subtle, yet easy to read.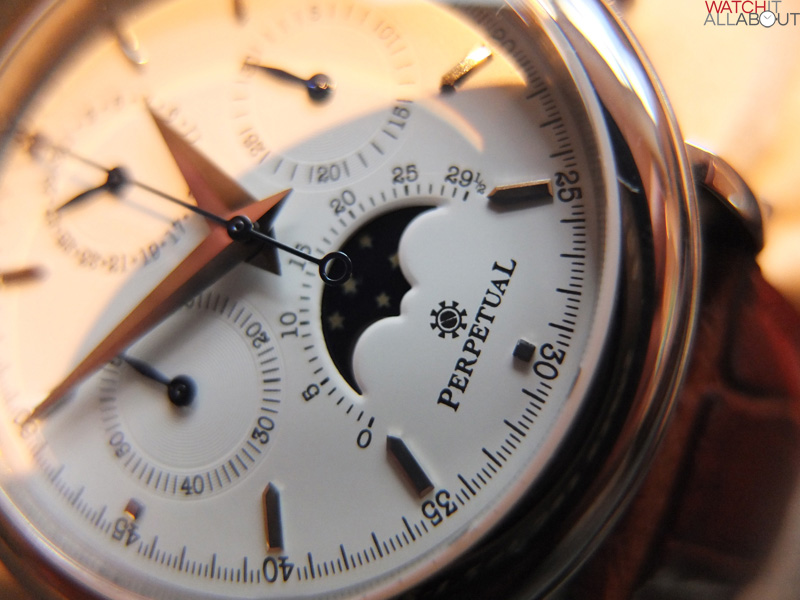 Final Thoughts:
It really is a shame that there is not much out there regarding Perpetual Watches. If you are like me, and are always looking for a great priced and high spec and high quality watch, then look no further. I cannot fault this watch for the price. Plus you get a 2 year warrantee with it! I will definitely consider getting another Perpetual. In fact, the Regulator R-01 is in my sights and has been for a while. I know that it will also be of great quality at a great price.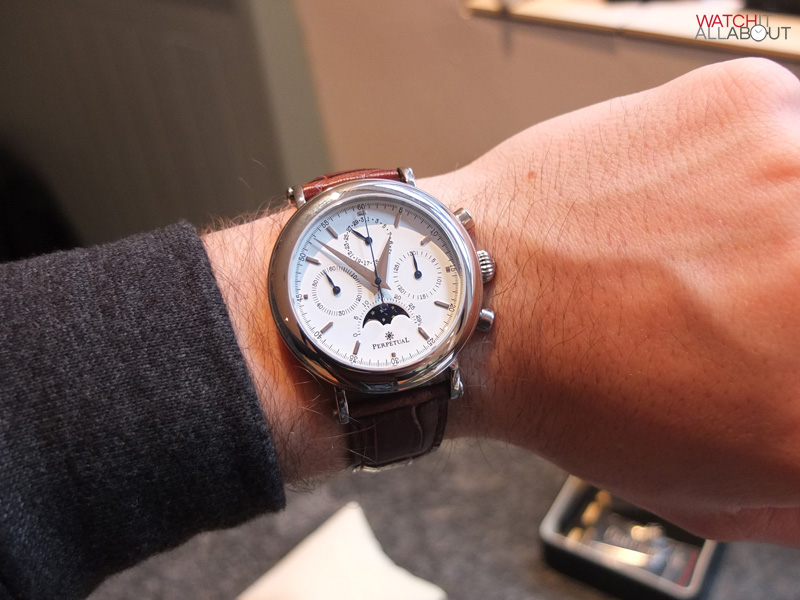 Alex, the owner of Perpetual, has a great thing going here. Make sure you buy one of his watches before he realises the prices are ridiculous and raises them all!
I hope this review has helped anyone who, like me, was considering Perpetual Watches for some time. I would highly recommend them.
The Perpetual Chronograph is available at http://www.perpetual-watch.com/chronograph.html and is $430.