PerpetuaL Watches has earned a well-deserved reputation for delivering exceptional timepieces that offer unbeatable value for money. As a longtime fan of their offerings, I have consistently recommended PerpetuaL Watches to anyone seeking an affordable yet beautifully crafted timepiece. Today, we delve into the PerpetuaL Chronograph C-08 to see if it lives up to the brand's stellar track record.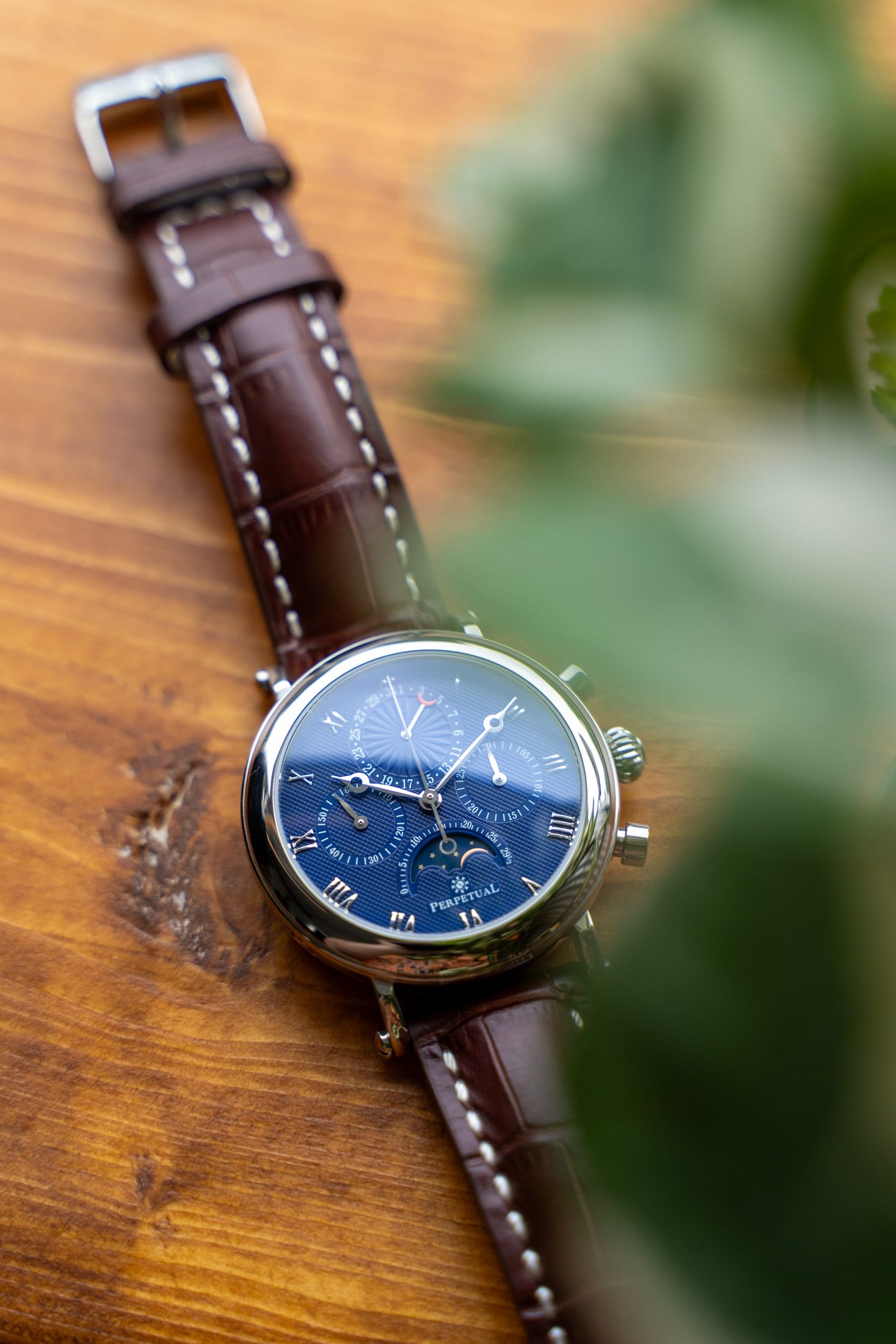 Design and Dial
The PerpetuaL Chronograph C-08 immediately catches the eye with its deep blue dial adorned with a mesmerizing waffle texture. This intricate pattern adds a touch of uniqueness and sophistication to the watch, setting it apart from the crowd. The dial is further elevated by steel applied Roman numeral hour markers and Breguet-style steel hands, both exuding a timeless elegance.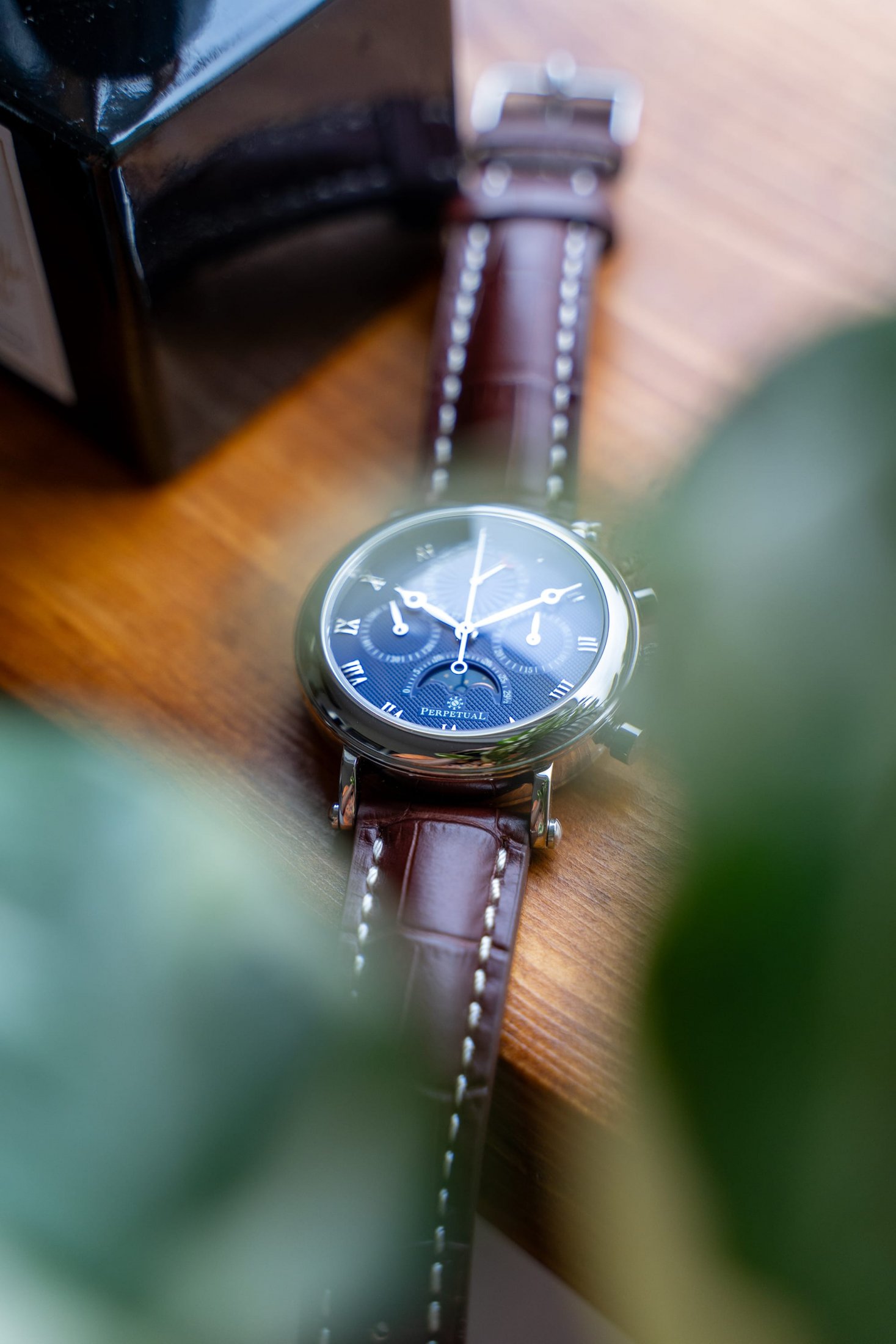 At 3 o'clock, a 30-minute register stands ready to record elapsed time, while a small running seconds hand resides at 9 o'clock, maintaining perfect balance on the dial. One of the most striking design features of the C-08 is the pointer date indicator positioned beneath the 12 o'clock marker—a departure from the ordinary and a testament to PerpetuaL's commitment to innovative design.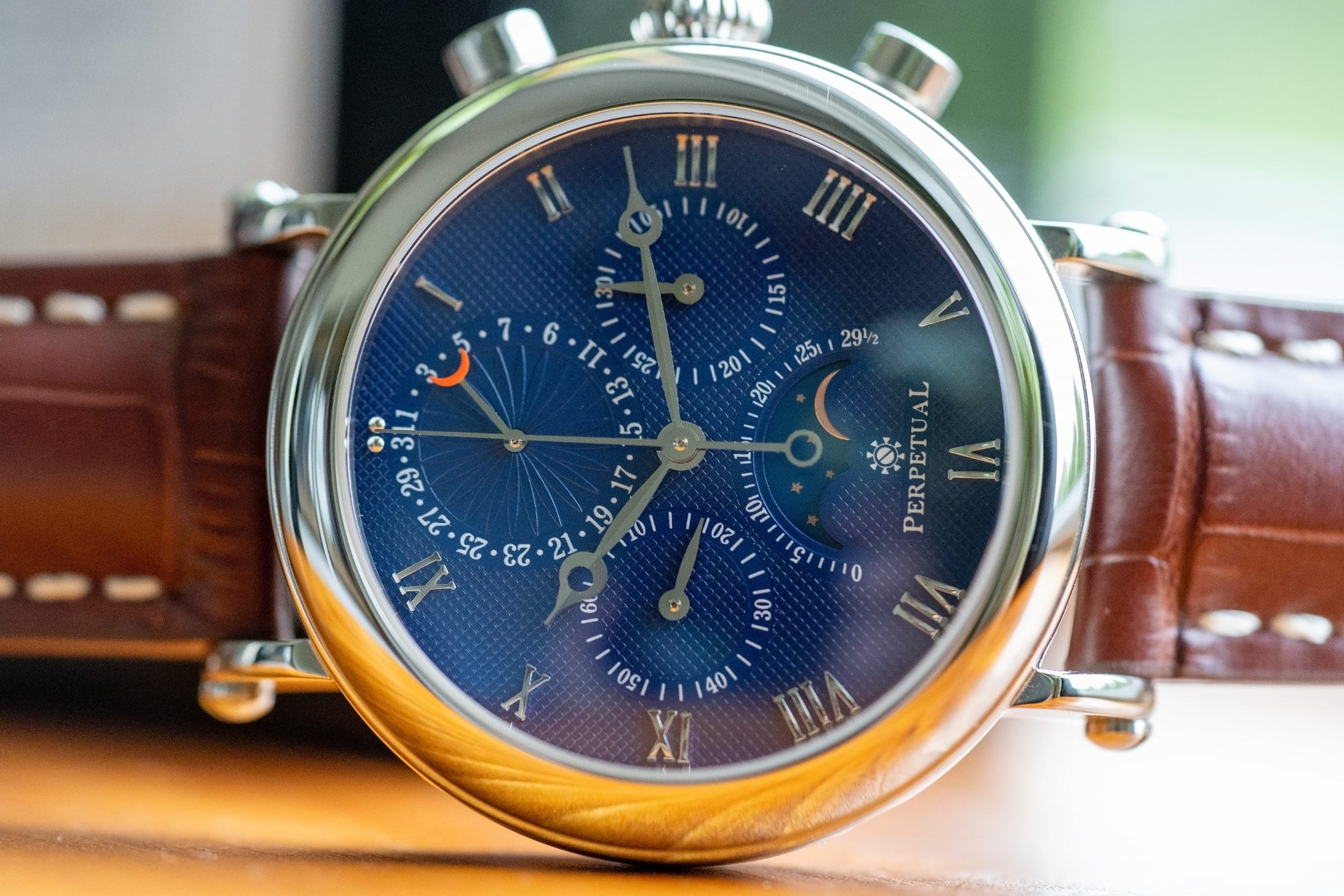 Adding to the watch's charm, a moonphase indicator graces the 6 o'clock position, imparting a touch of celestial beauty to the ensemble. The overall design is elegant and classy, with the deep blue dial beautifully offset by the polished indices and hands.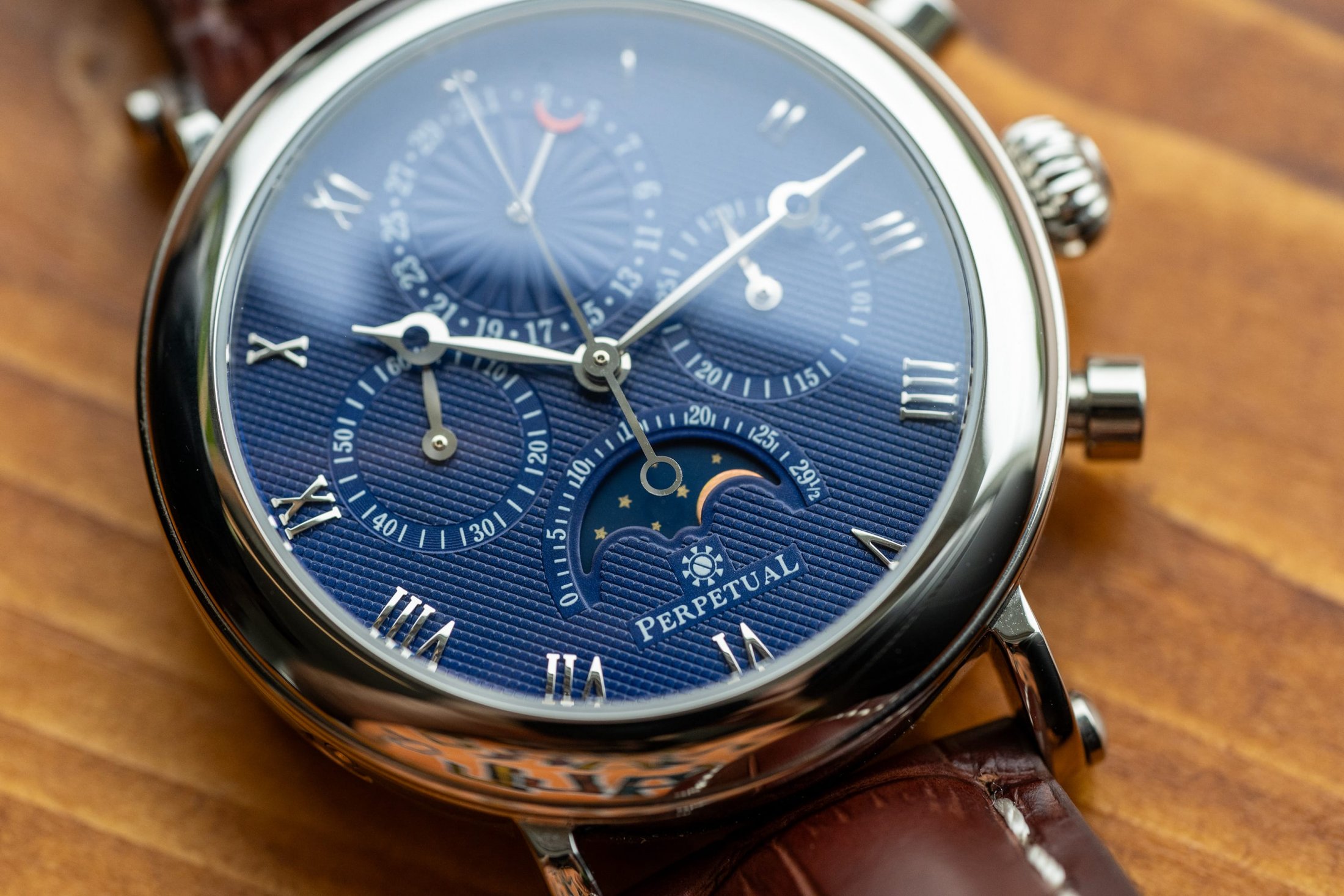 Case and Strap
The C-08 features a sensible 41mm diameter case with a thickness of 13mm, making it an excellent choice for a dress watch. The case is fully polished and impeccably finished, showcasing PerpetuaL's dedication to craftsmanship.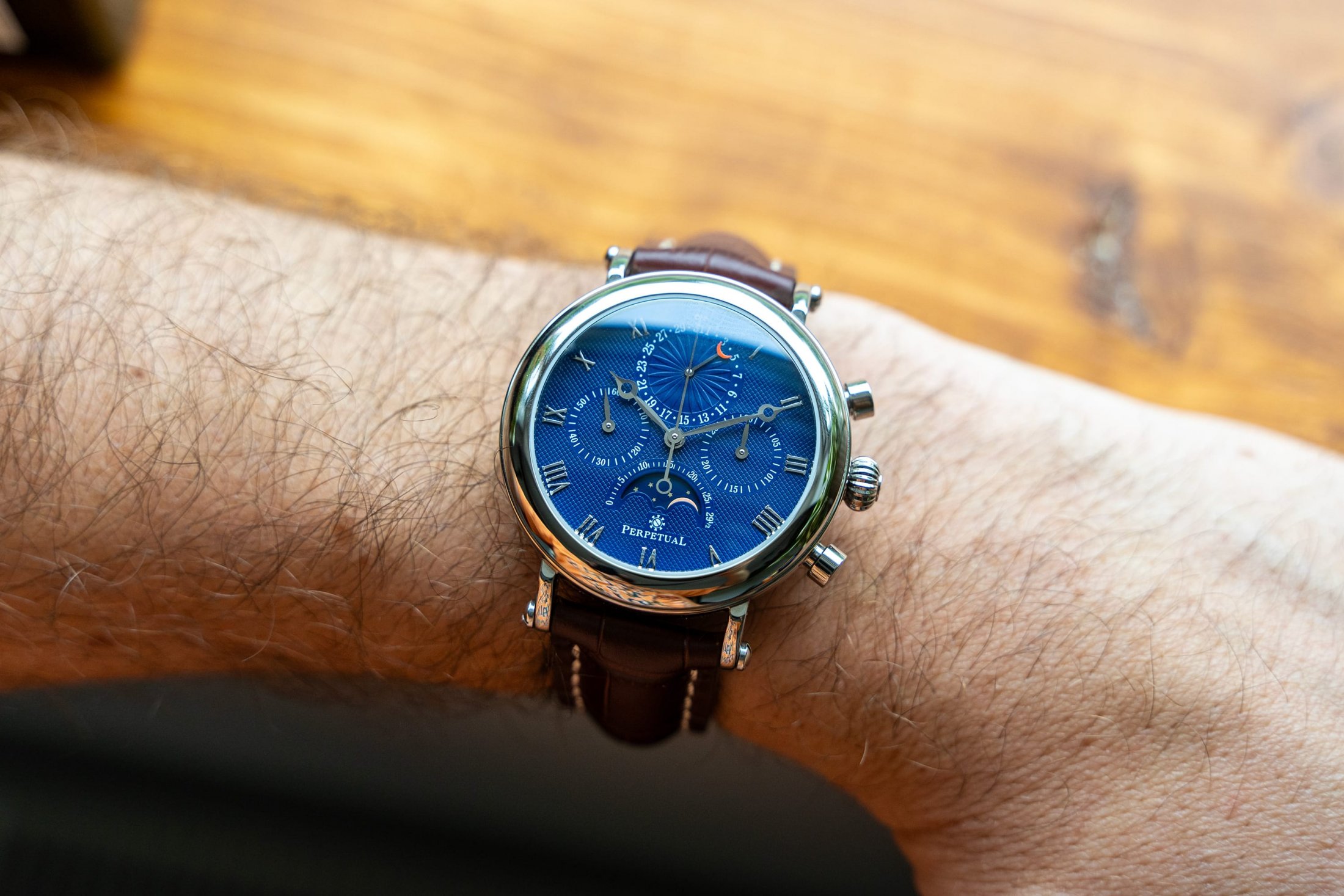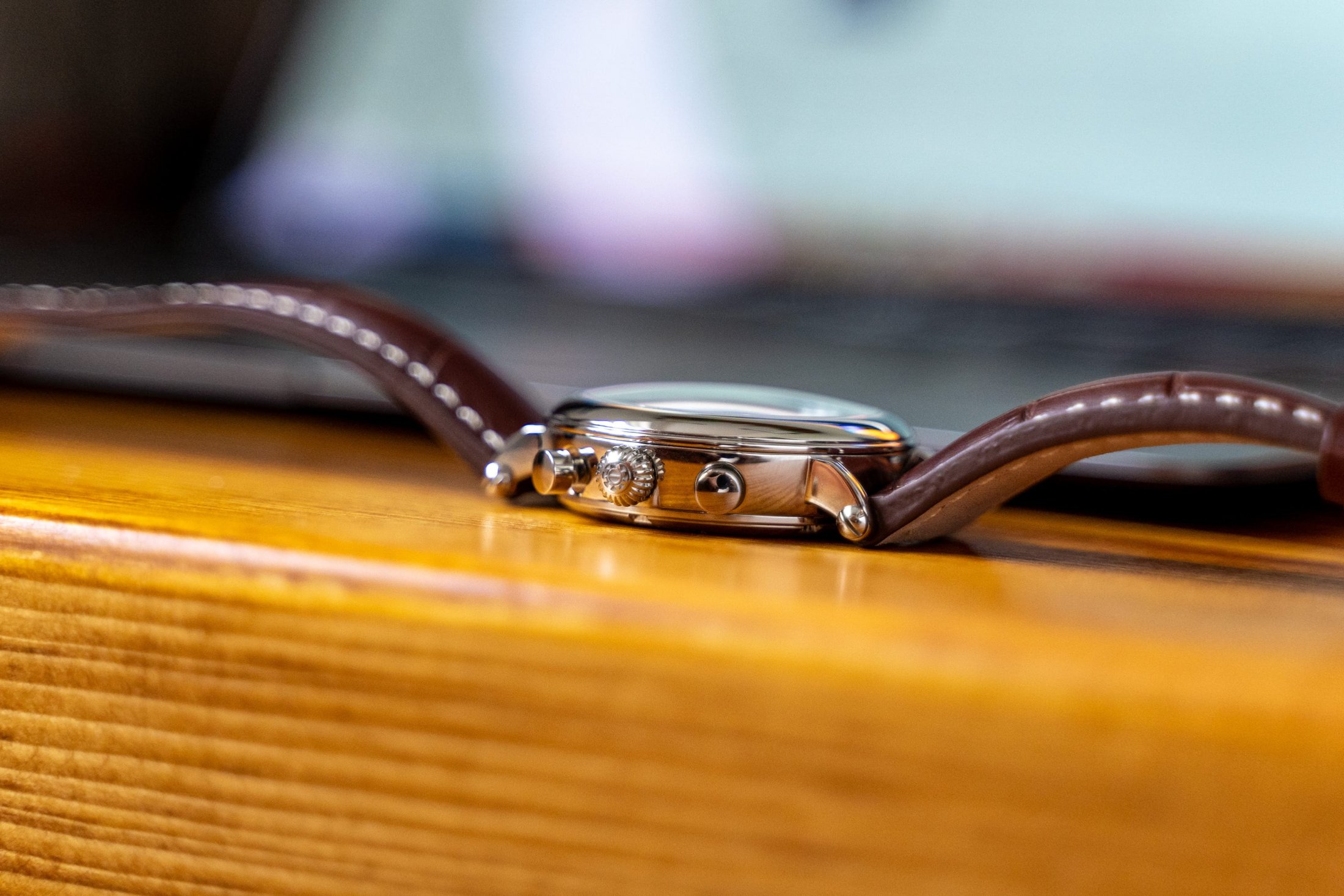 The strap lugs, measuring 20mm in width, seamlessly integrate with the case and allow for easy strap changes. The included deep oak brown leather strap is a highlight in itself—thick and of high quality, with sturdy stitching that signifies its craftsmanship. The standard tang buckle is highly polished to match the case, with the PerpetuaL logo discreetly engraved in the center of the top bar.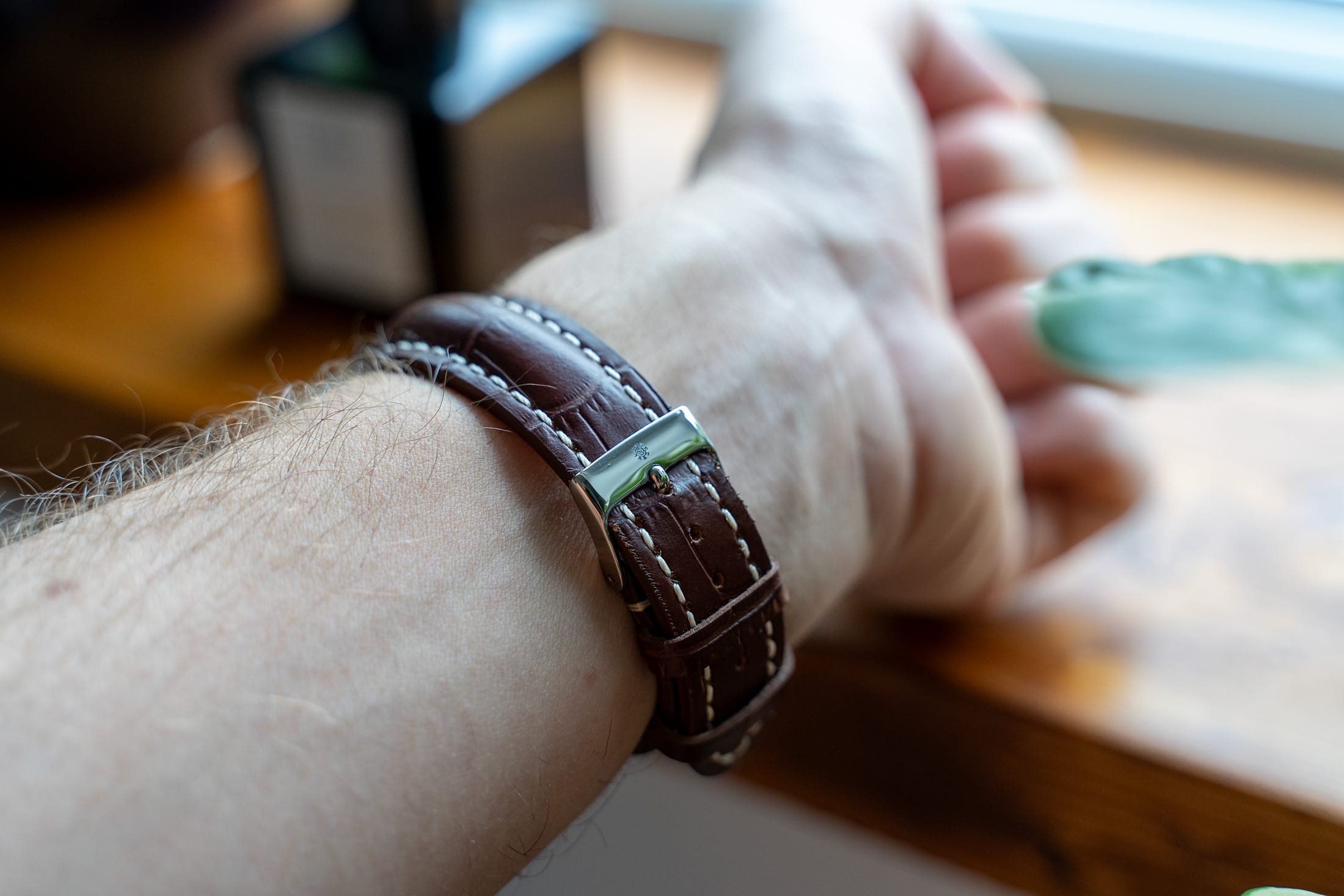 Screw-in strap pins with large feature screw heads on either side of the lugs ensure a secure fit and add a touch of robustness to the watch. With a weight of 93g, the C-08 exudes a sense of quality that's instantly noticeable when worn.
Functionality and Features
The PerpetuaL Chronograph C-08 boasts a respectable 30 meters of water resistance, suitable for daily wear and protection against unexpected splashes. Its detailed push-pull onion-shaped crown, complete with the brand's logo engraved at the end, is a delightful touch that demonstrates PerpetuaL's commitment to detail.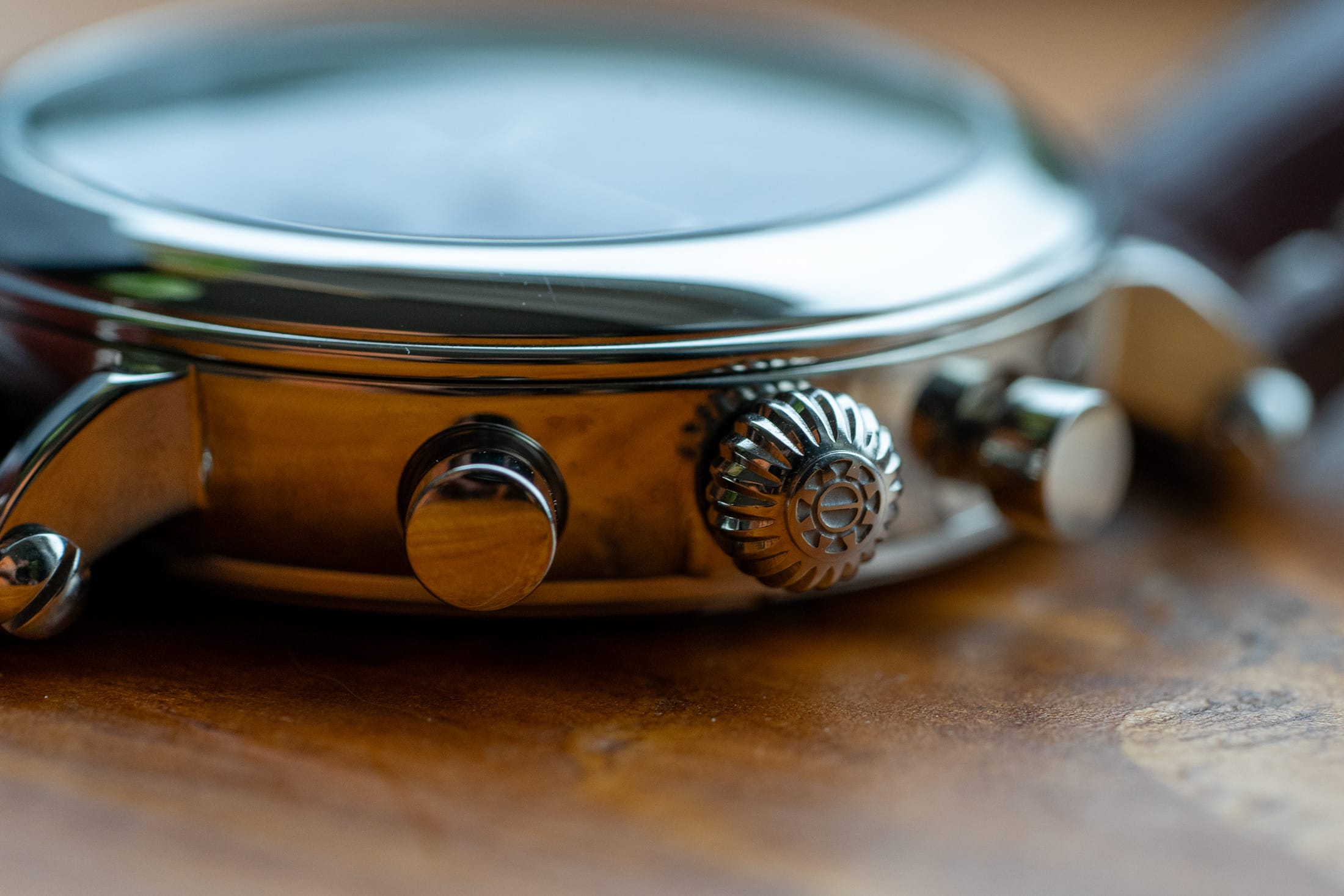 The chronograph pushers are precise and reliable, allowing for precise timing without any fuss. An anti-reflective coating on the domed sapphire crystal provides excellent visibility and reduces glare, ensuring that the dial remains easy to read in various lighting conditions.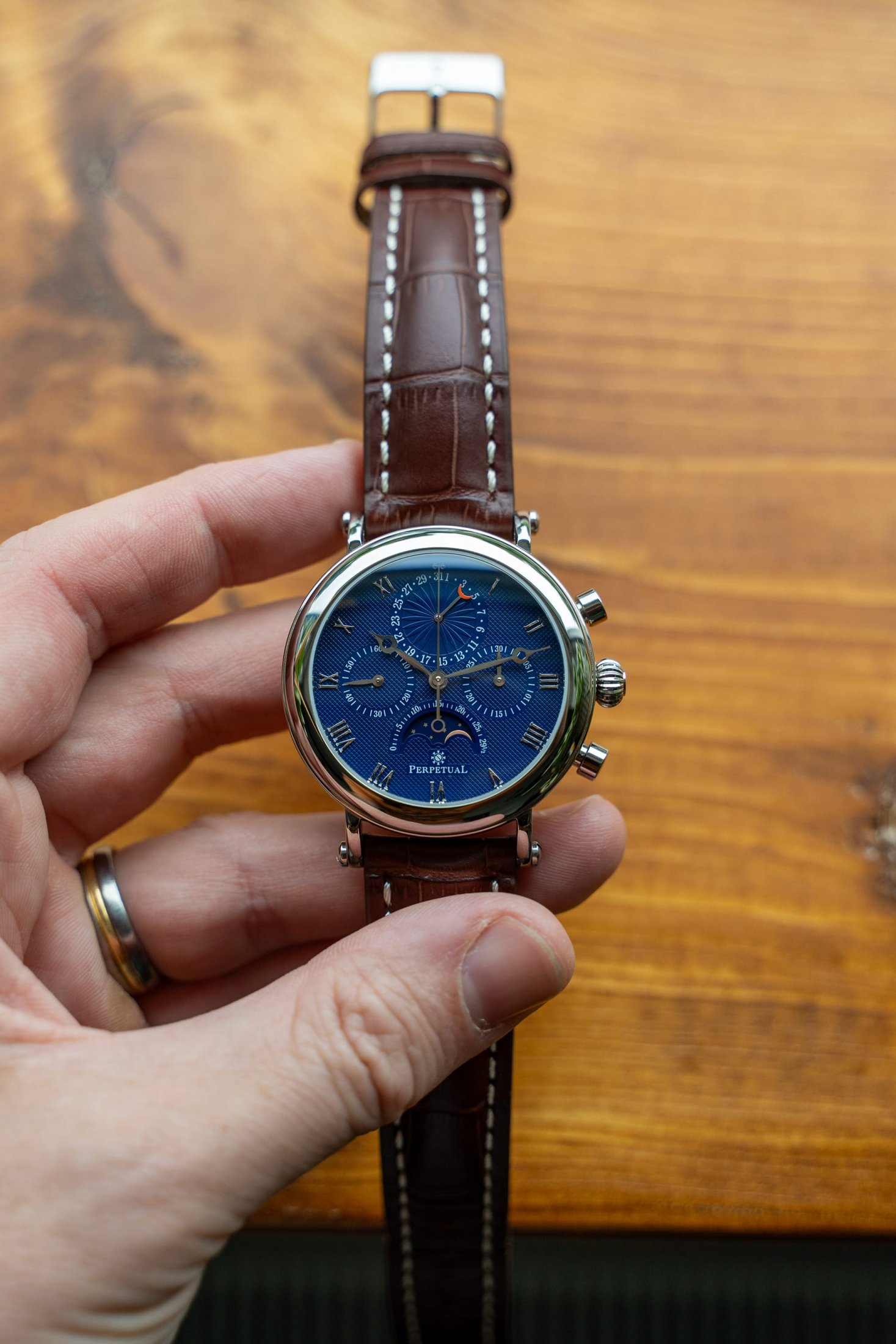 Behind the transparent caseback, the ST1908 movement reveals its intricate beauty. This hand-wound mechanical chronograph movement may garner mixed reviews for its accuracy and reliability. However, PerpetuaL Watches stands by its performance. Founder Alex reassures customers that, when properly checked, adjusted, and maintained, the ST1908 can be highly performant and durable. This movement features a manual-winding mechanism, a 2-register chronograph with a column wheel, operates at 21,600 beats per hour (BPH), boasts 22 jewels, and offers a generous 48-hour power reserve. While it may not be the most renowned caliber, its beauty and functionality shine through when set up correctly.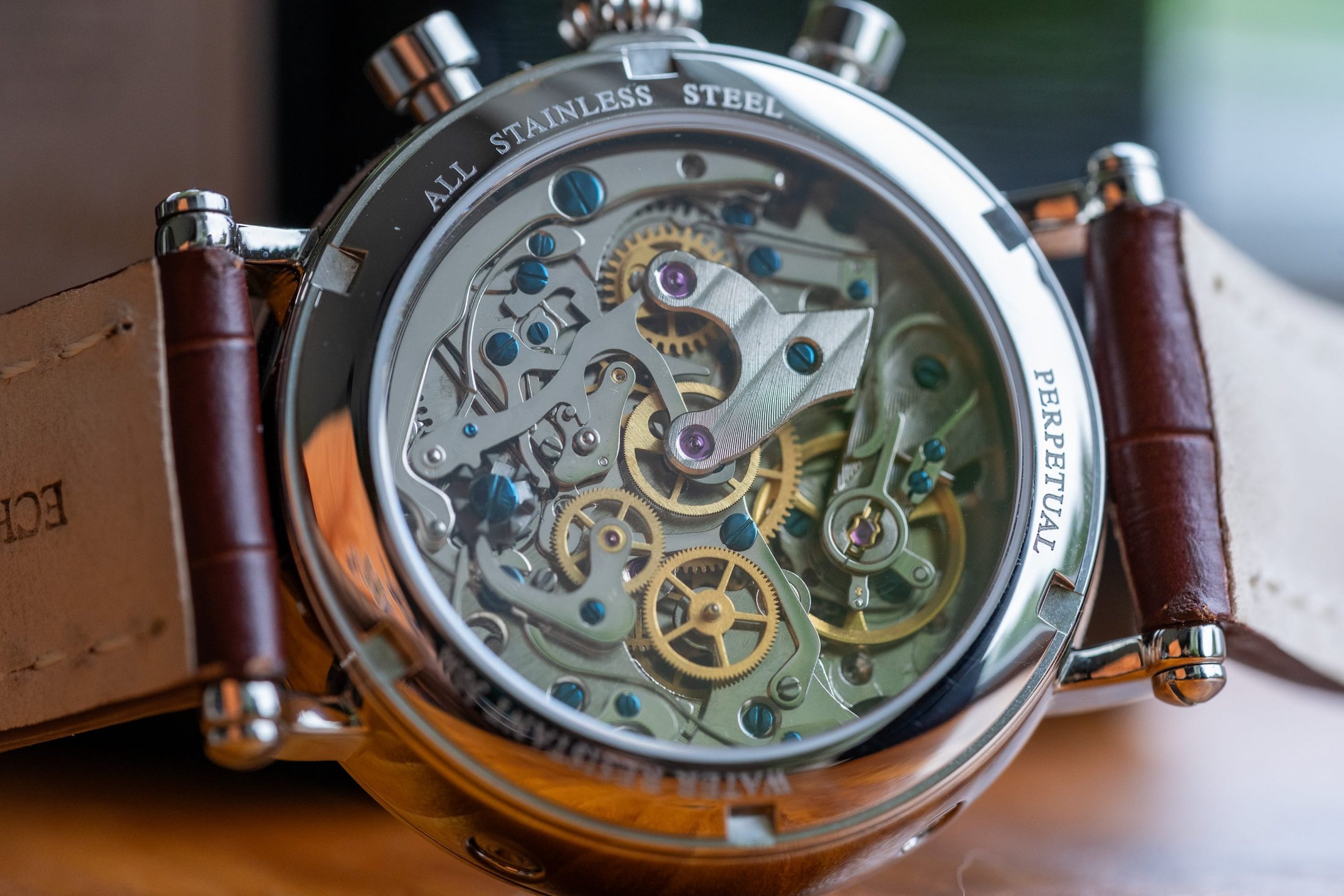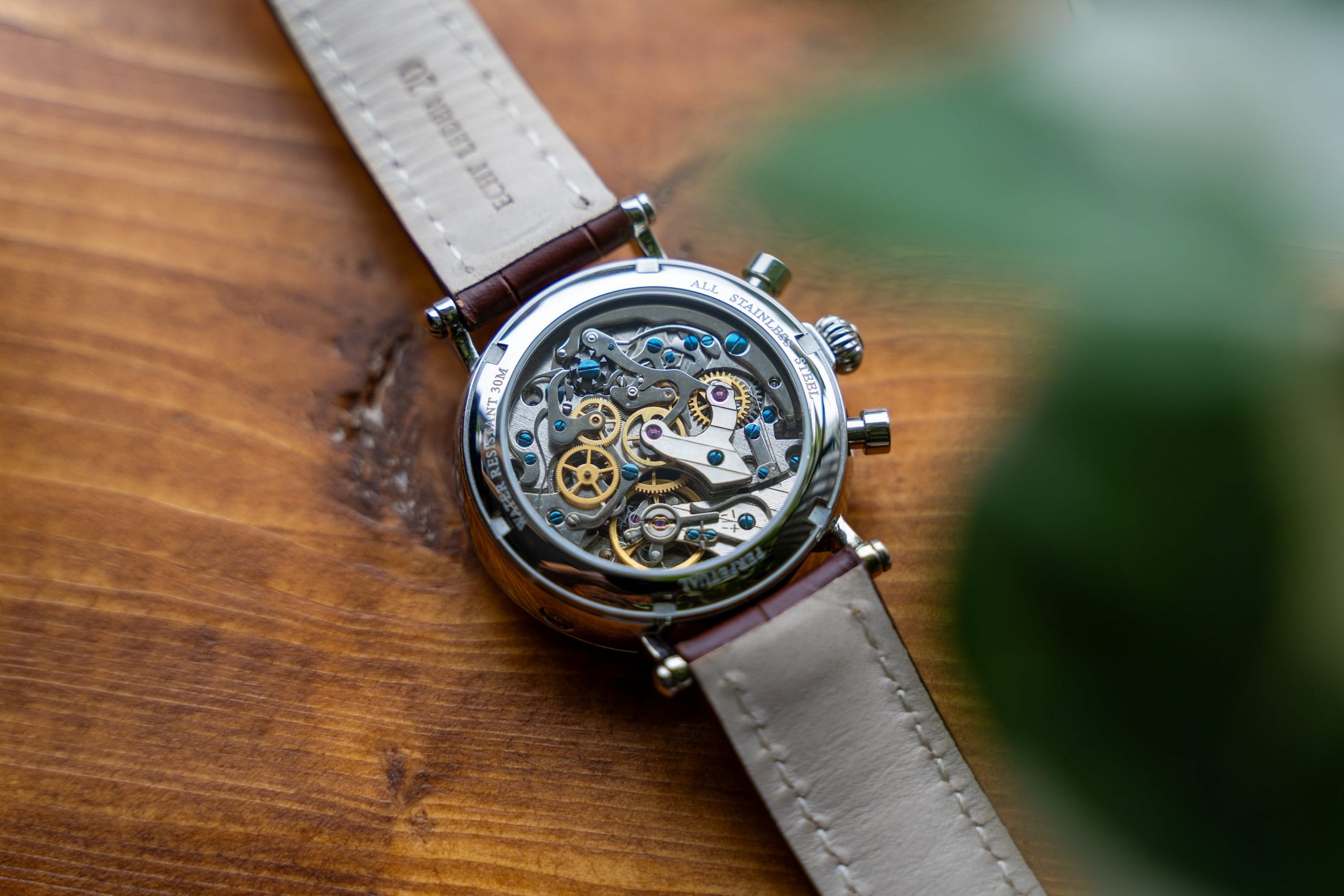 Final Thoughts
In conclusion, the PerpetuaL Chronograph C-08 upholds the brand's tradition of delivering sensational build quality and meticulous attention to detail, all while remaining incredibly affordable. Concerns regarding the ST1908 movement may arise, but in my experience, I have never encountered any issues. Furthermore, PerpetuaL's rigorous testing ensures that each watch performs at its best.
The C-08 offers a remarkable combination of elegance, functionality, and affordability. With its innovative design features, exquisite craftsmanship, and transparent caseback showcasing the ST1908 movement, this timepiece is a standout in its category. If you are seeking a mechanical chronograph that doesn't break the bank, you'd be hard-pressed to find a better option than the PerpetuaL Chronograph C-08.
PerpetuaL Watches continues to prove that luxury and affordability can coexist in the world of horology, and the C-08 is yet another testament to their dedication to providing exceptional watches for watch enthusiasts of all backgrounds.