Homages can be a very tricky subject in the watch world. Some are all for them, stating that it allows those who can't afford the style of a much more expensive watch to enjoy them. However, others say that they're as bad as fakes and are blatant copyright infringements and should be burnt and smashed up.
Personally, I'm in the pro camp. You don't hear people get their knickers in a twist when it comes to food that imitates others: I've never seen someone raging down the aisles at Tesco or Sainsburys when they come across their own brand cornflakes or coke. And if they were truly illegal, don't you think the likes of Rolex would quickly shut down the reputable Swiss brands? Such as Steinhart, Squale, Davosa? I'm not talking about proper homage brands such as Pagani Design or Parnis for instance, as they most likely will just do whatever the hell they want anyway.
I have reviewed a few Submariner homages, but I've never handled a Pagani before. At long last, I have one in my hands. I've always wondered if they're any good, as they pack a massive punch for an incredible price.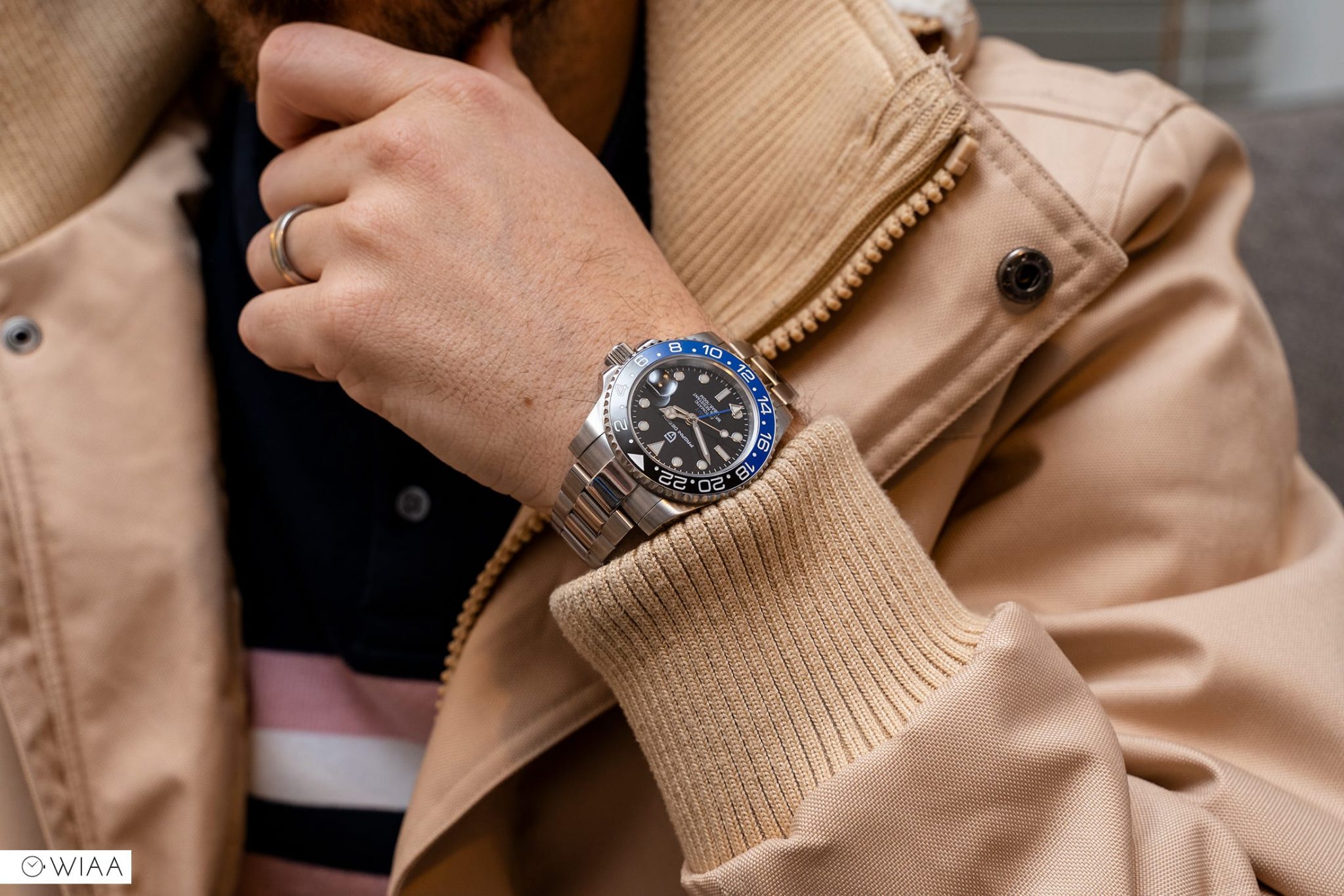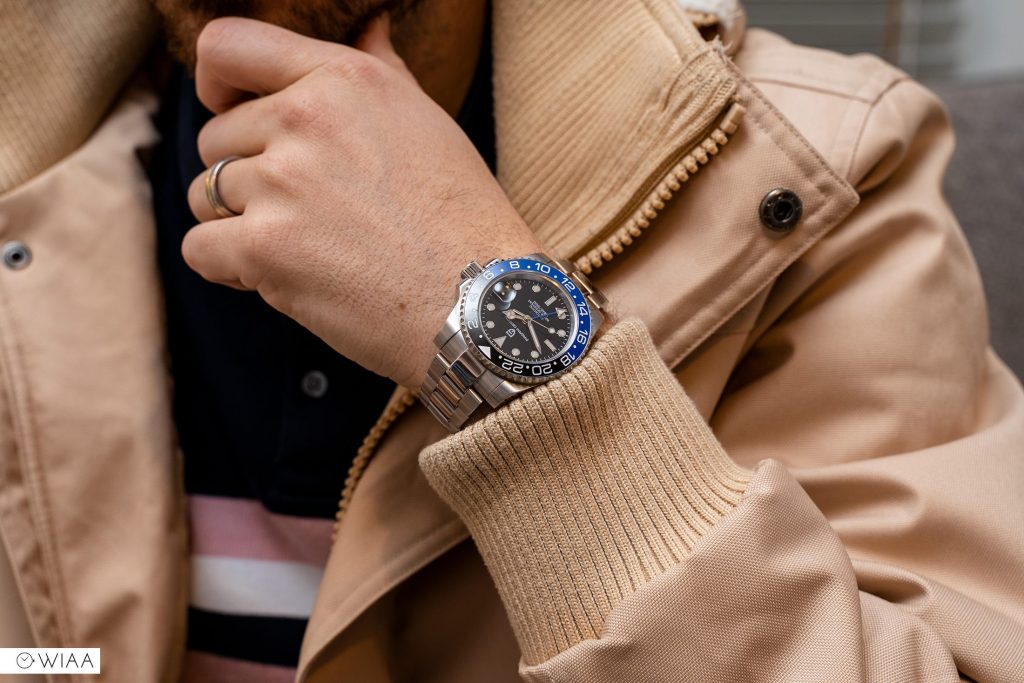 So then, let's take a look. Are they that good? Let's find out.
Pagani Design Batman GMT Video Review
Pagani Design Batman GMT Specs
Dimensions: 40mm diameter x 12.7mm height x 48mm lug to lug
Water resistance rating: 10ATM / 100m
Movement: Pearl DG5833GMT
Lug width: 20 mm
Warranty: 1 year
Price: ~£60
Buy here: https://bit.ly/3AMDRLi
I'm not going to pass comment on how this watch looks, after all, Pagani Design have had nothing to do with the timeless brilliance of the Rolex. The only thing they can take credit for is the logo – which I'll touch on later.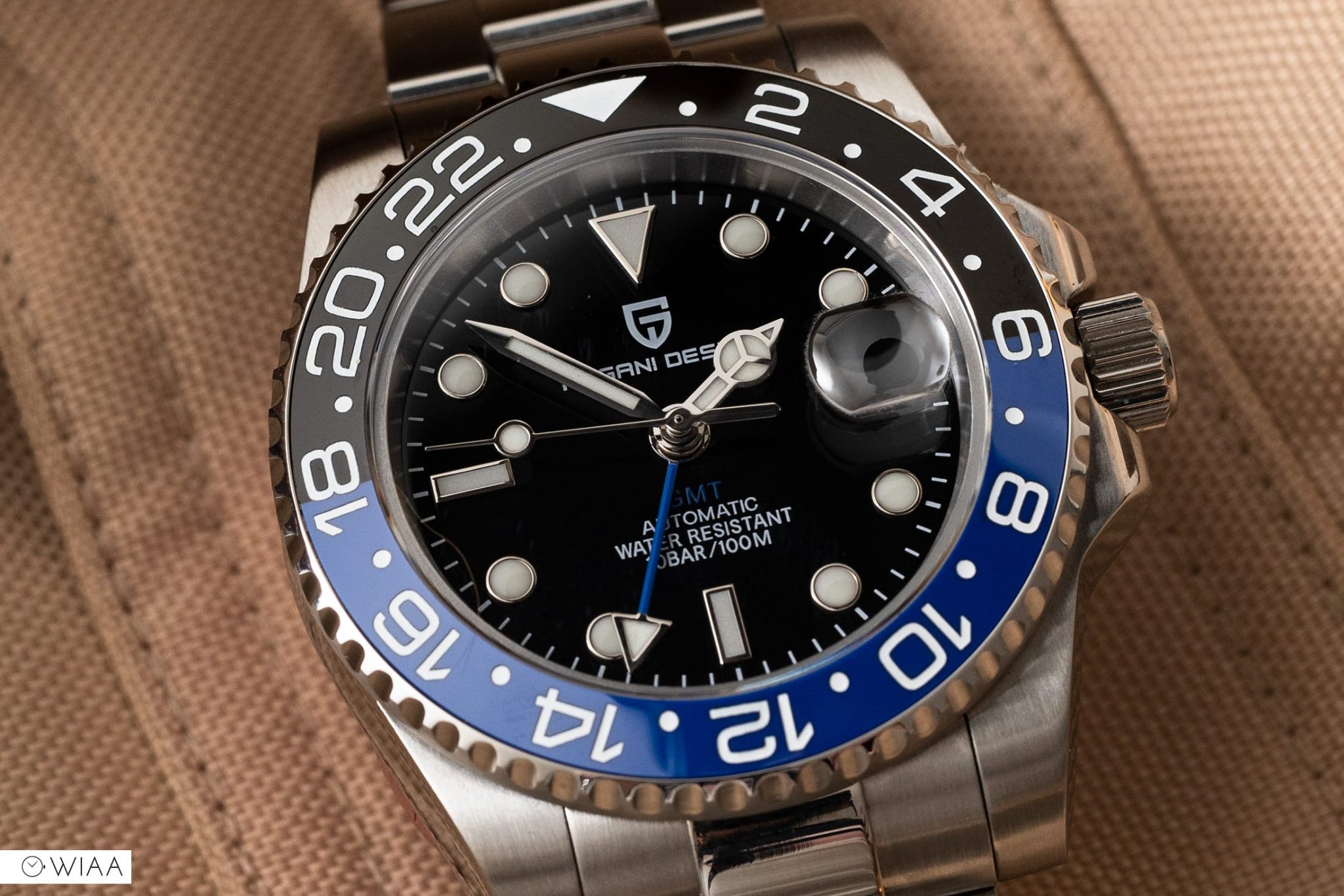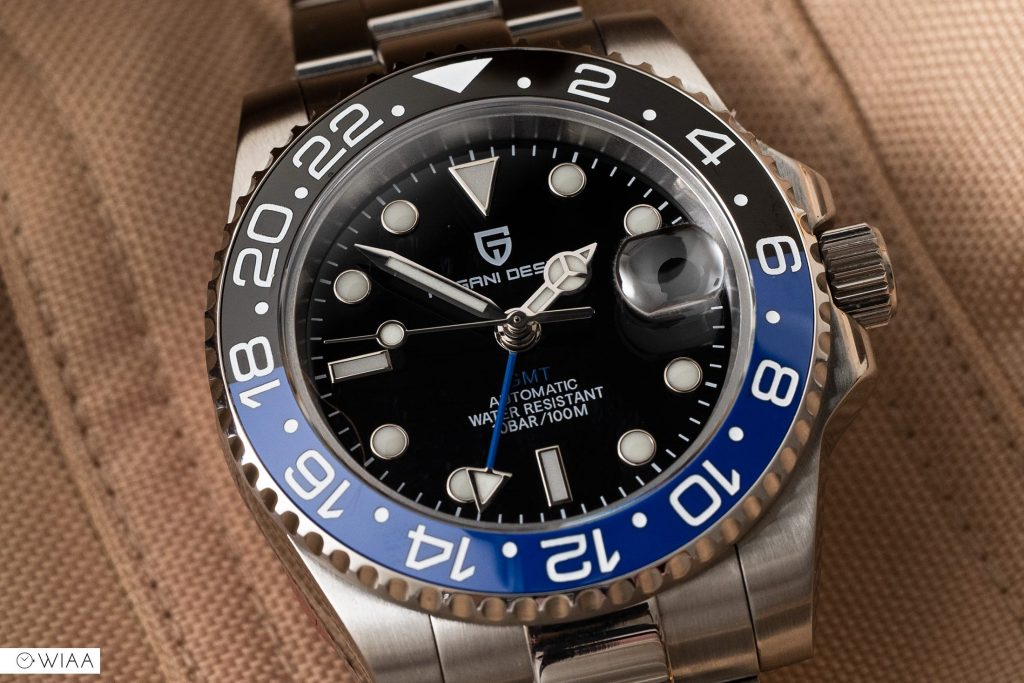 The most impressive thing with this Pagani Design is how it fits so many high-quality materials into such a cheap package. Let's go through the important specs:
Sapphire crystal
Ceramic bezel insert
GMT automatic movement
Exhibition caseback
Pretty nice looking bracelet and double locking clasp
I mean, that ticks A LOT of boxes. And £60? Something has to give, surely. This is why I'm so dubious about the quality. How can they promise so much for so little? I'm going to try my best to be quite critical in this review.
Sapphire crystal is a pretty simple one nowadays, as it's a given on watches above £50. Still, it's always a nice thing to have – for many, it's a requirement on any watches they buy, with good reason.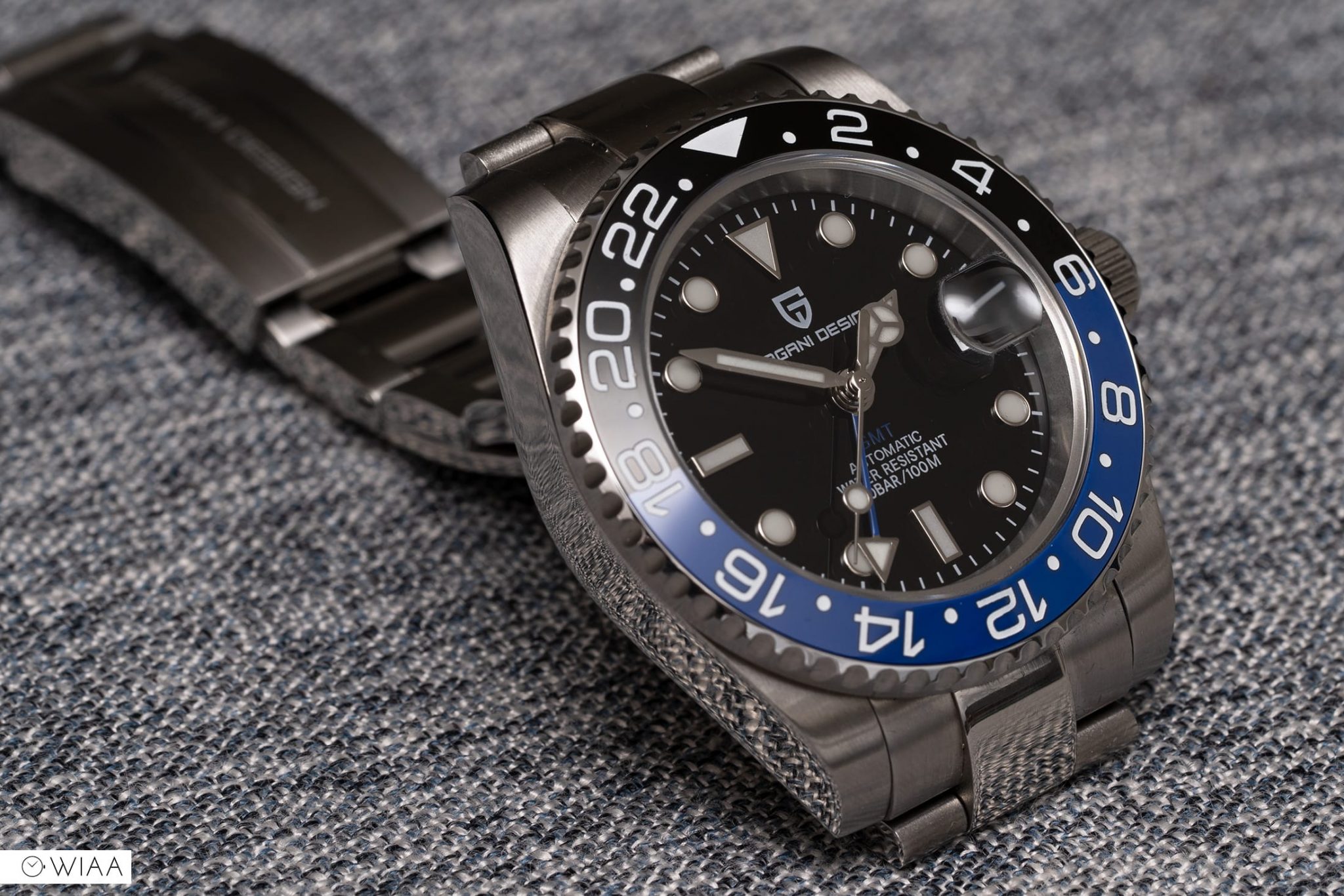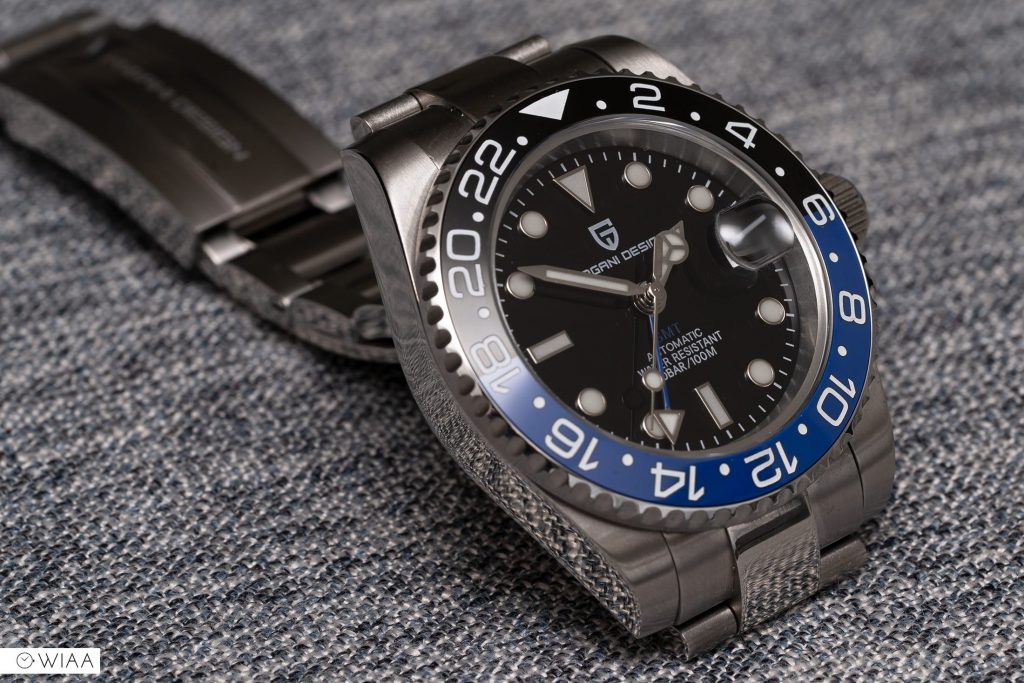 Next up is the ceramic bezel insert. I love the look of them; the glossy/polished finish makes a watch look much more expensive than a standard painted aluminium/steel equivalent, and it just demonstrates much higher build quality – as it does take a lot more to manufacture. All markings are clean and crisp, and it does look excellent to the naked eye.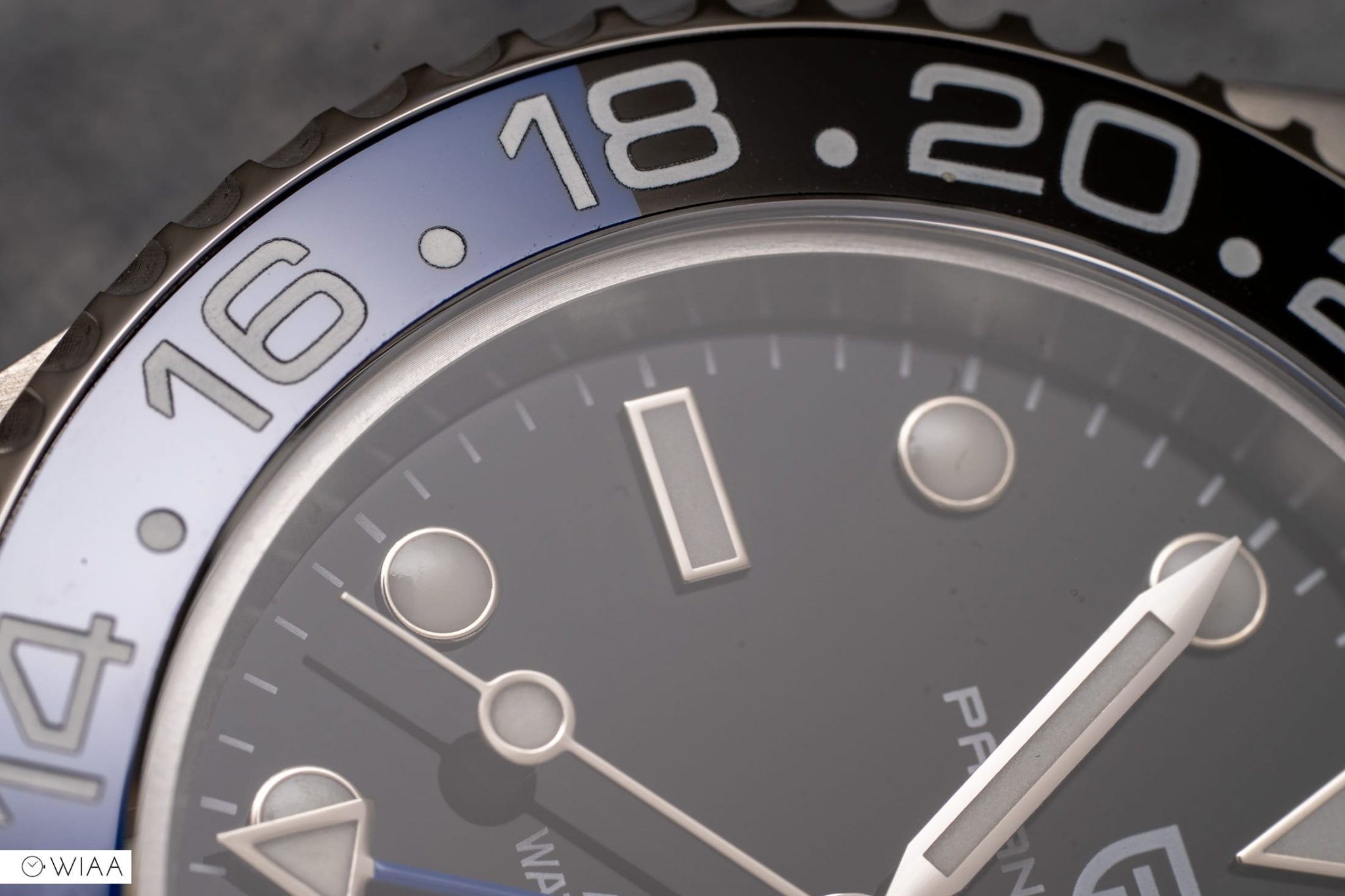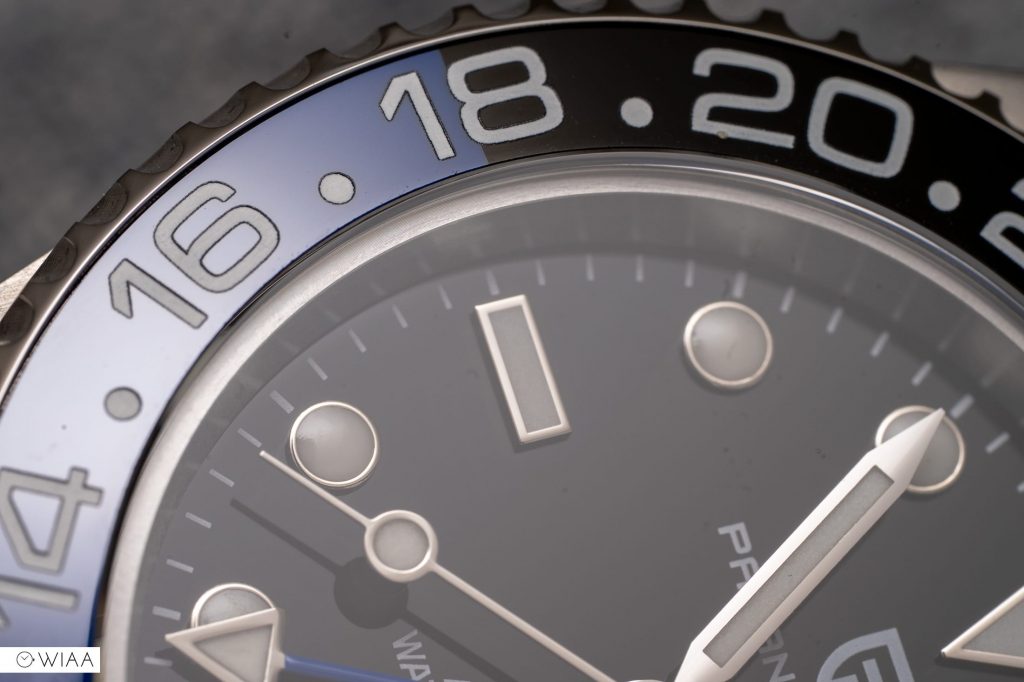 Whilst we're on the 120-click bezel, let's discuss the action, which is possibly the main issue I have with the watch. Whilst it's not "terrible" as such, it has a lot of play – not only in the circular direction, but you can wiggle it up and down and left and right too. It does line up though, to be fair to it, but if you want to use it, it's not particularly pleasurable.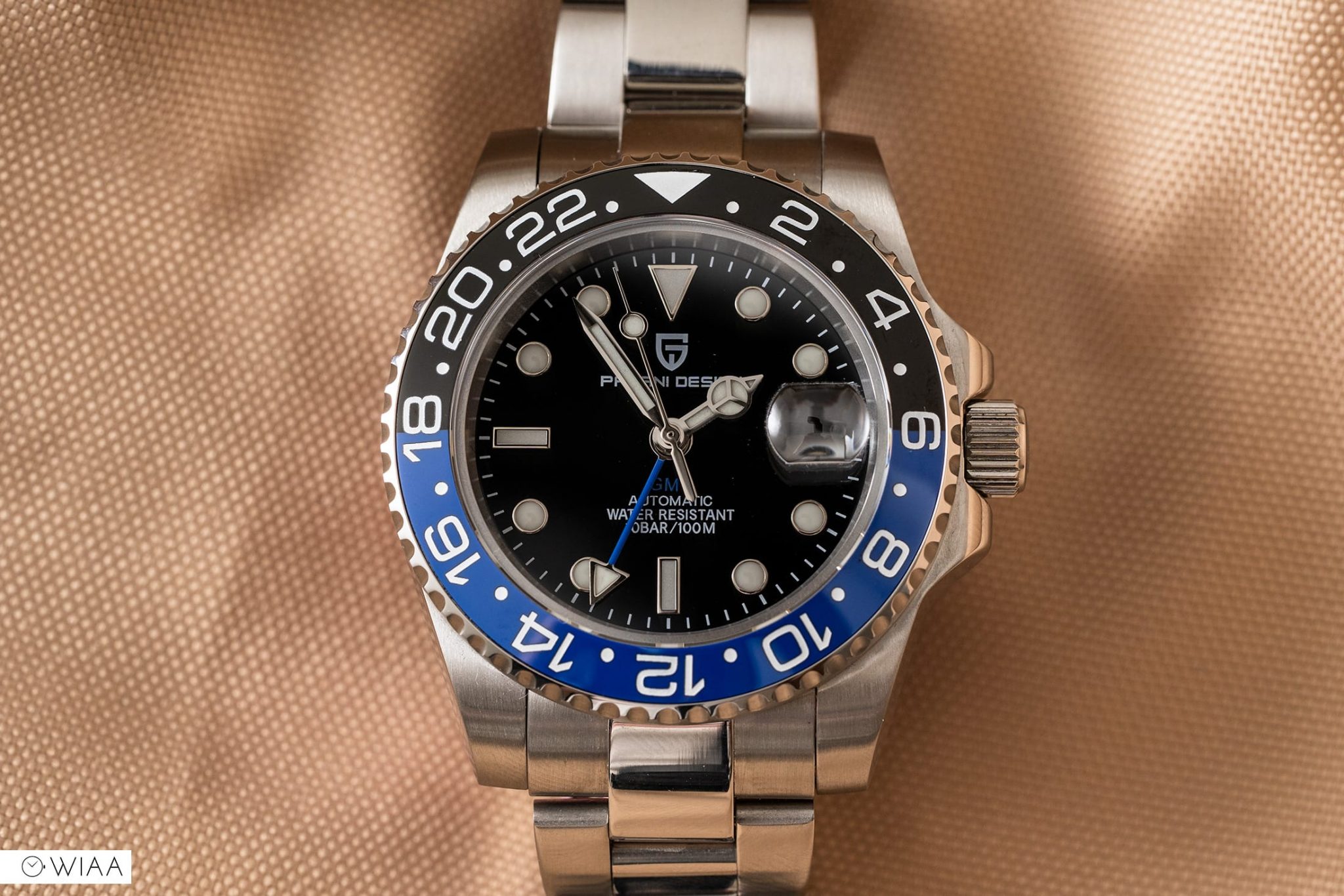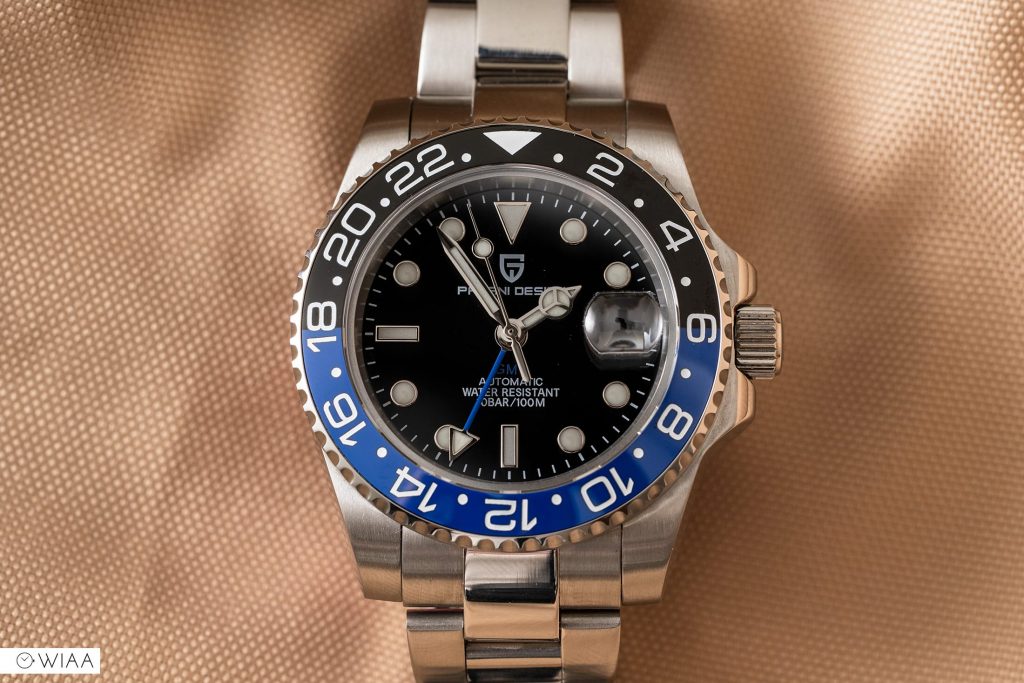 The movement is the "Pearl DG5833GMT". I must admit, I've not heard of Pearl before – as far as I'm concerned it's the make of my drum kit. But, it appears to be a pretty standard Chinese movement that may or may not behave itself – it's going to be pot luck if I'm honest. It has a fairly loud rotor: you can hear it spinning. The positive is that the custom printwork on the rotor is pretty remarkable on a watch costing this much. The exhibition caseback ensures you can see it in its plain, industrial glory.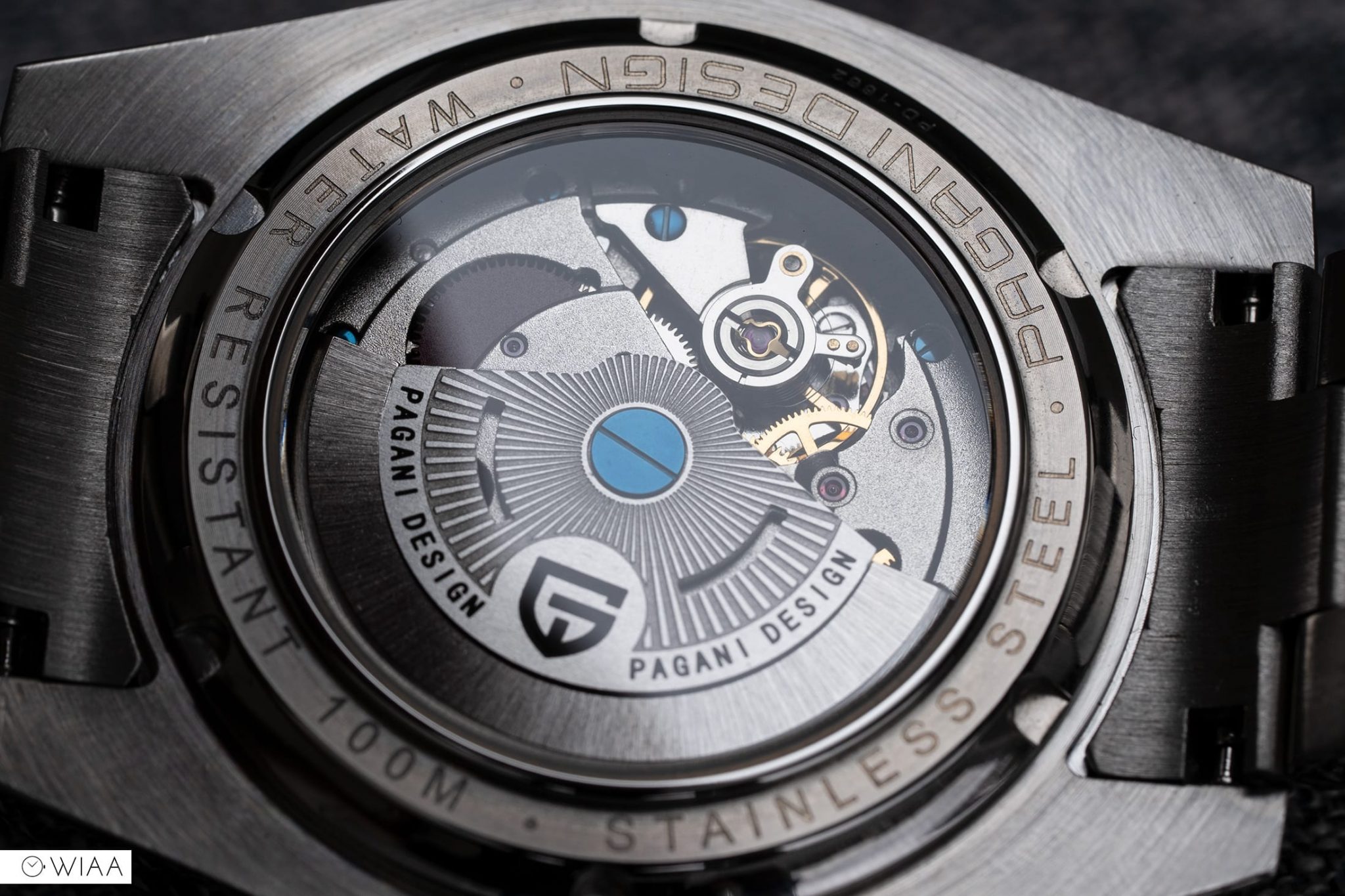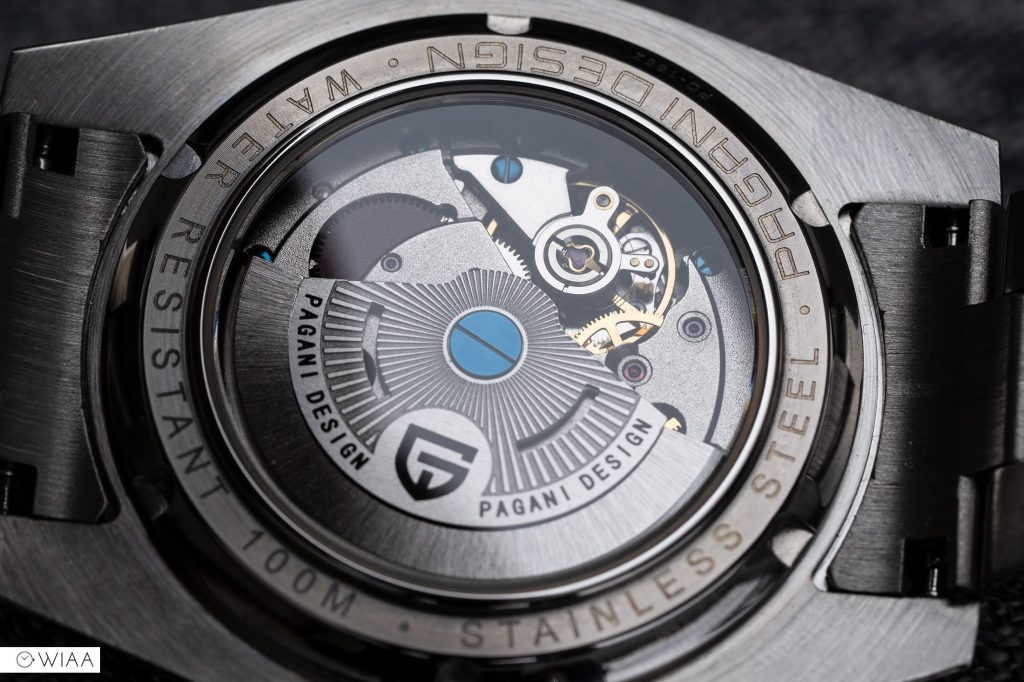 When manipulating and setting the movement, the thread on the screw-in crown feels a little tetchy, sometimes you can't quite catch it right and have to reset to avoid any cross-threading, which would be catastrophic. Apart from that, the rest of the case is exceptional for the price.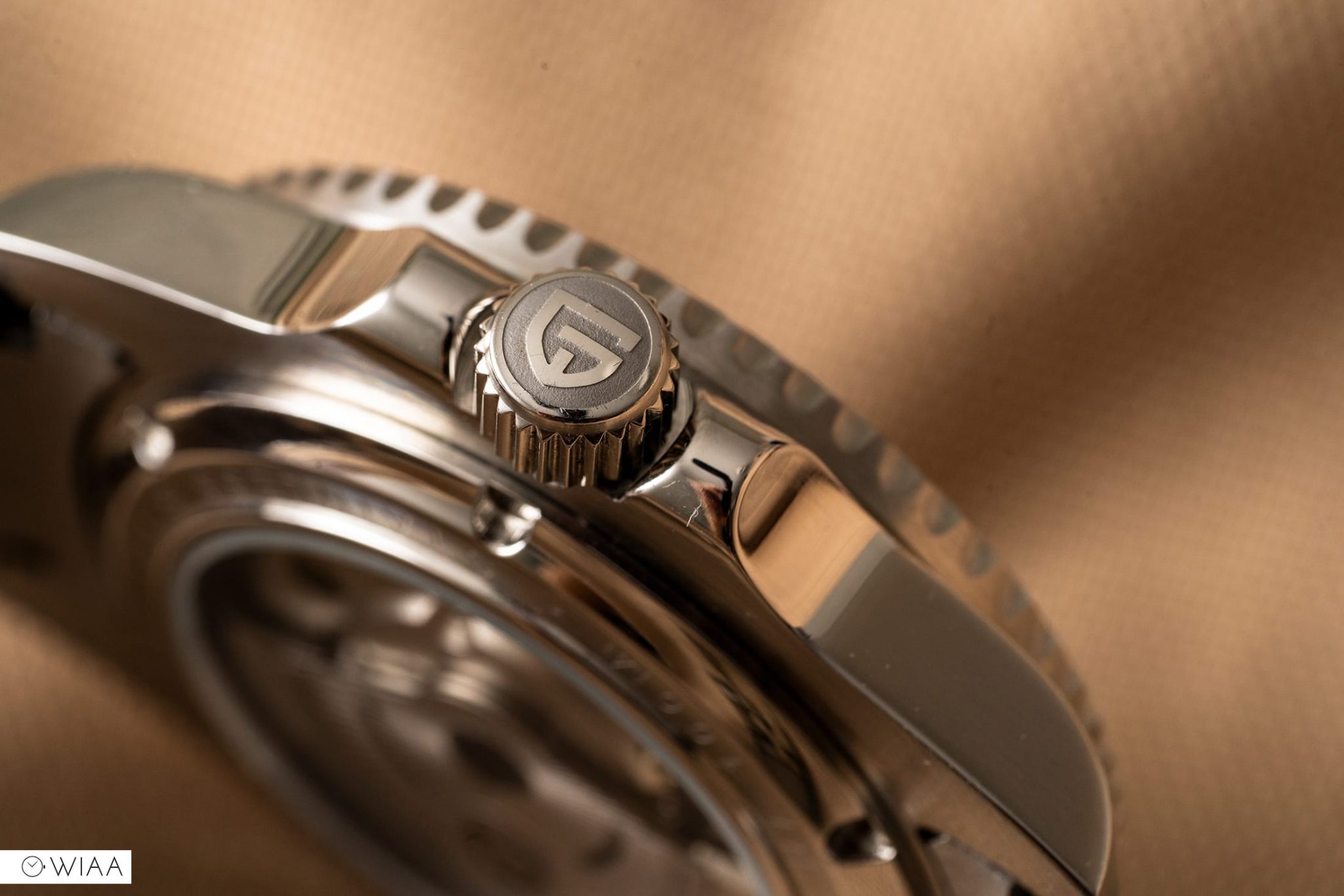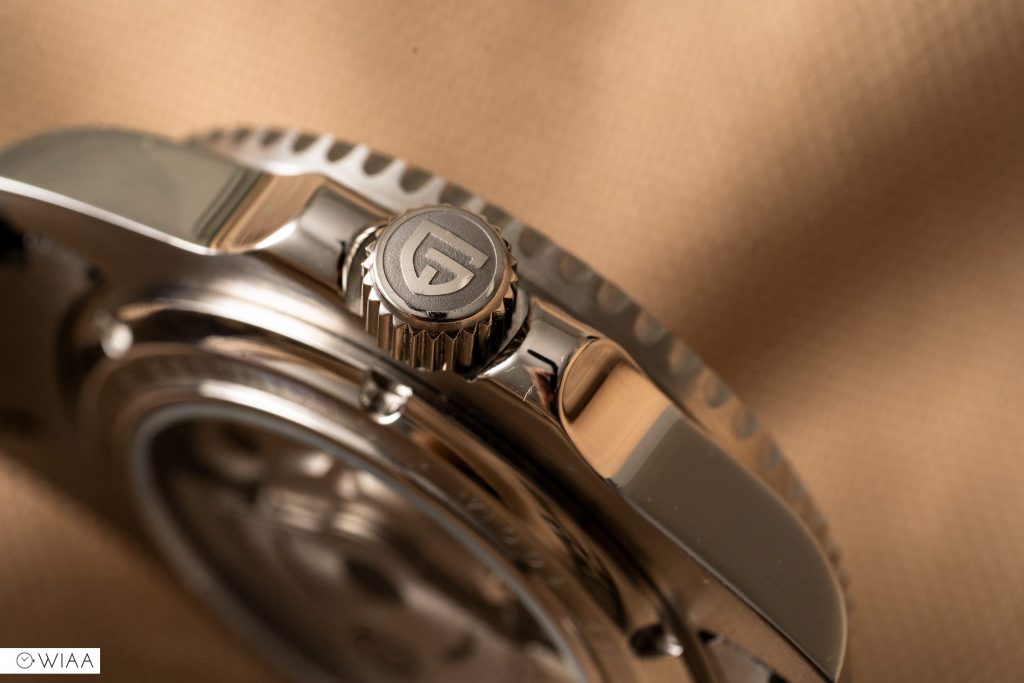 The bracelet is very nicely machined and finished – the polished centre link is mirror-like which looks great, but will likely pick up scratches quickly. The double locking clasp is very nice indeed – with a continuation of the polished centre, which has "Pagani Design" really well engraved along it. It's easy to use and feels reassuringly sturdy when you're using it. There's a slight wiggle between the links so you get a small amount of rattle, but nothing at all to put me off keeping it on the bracelet.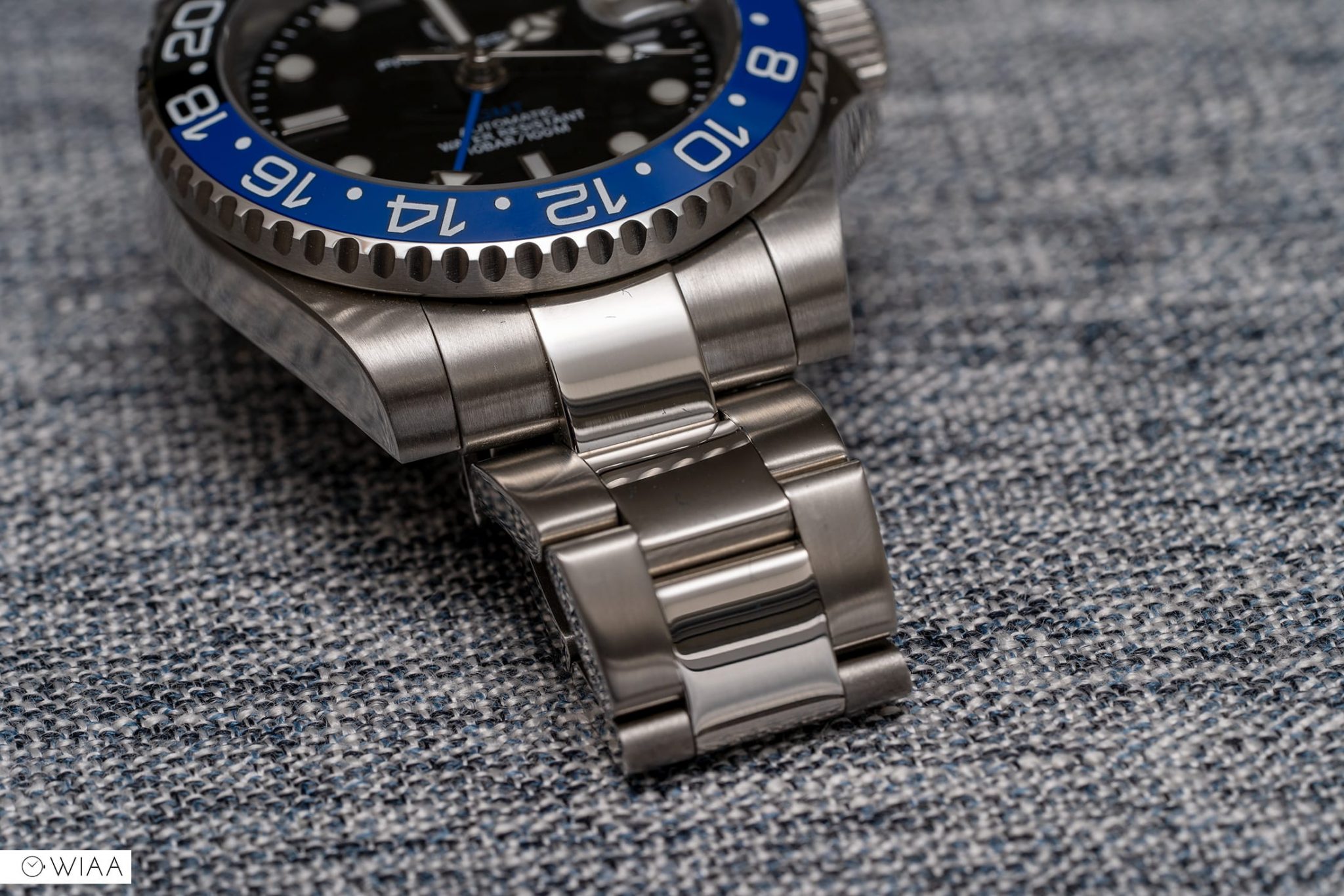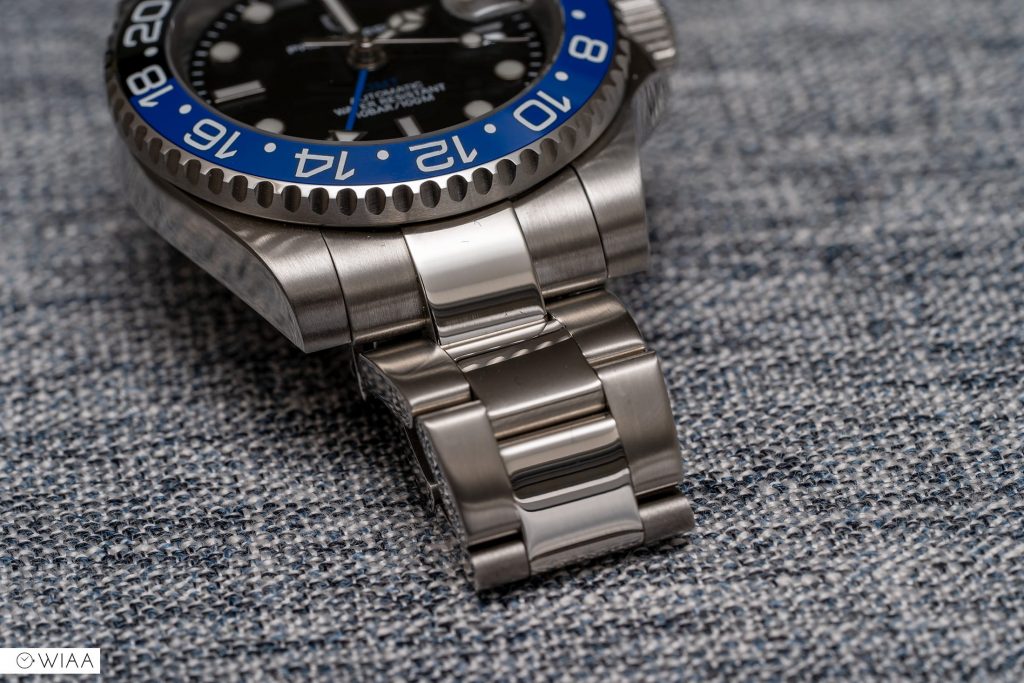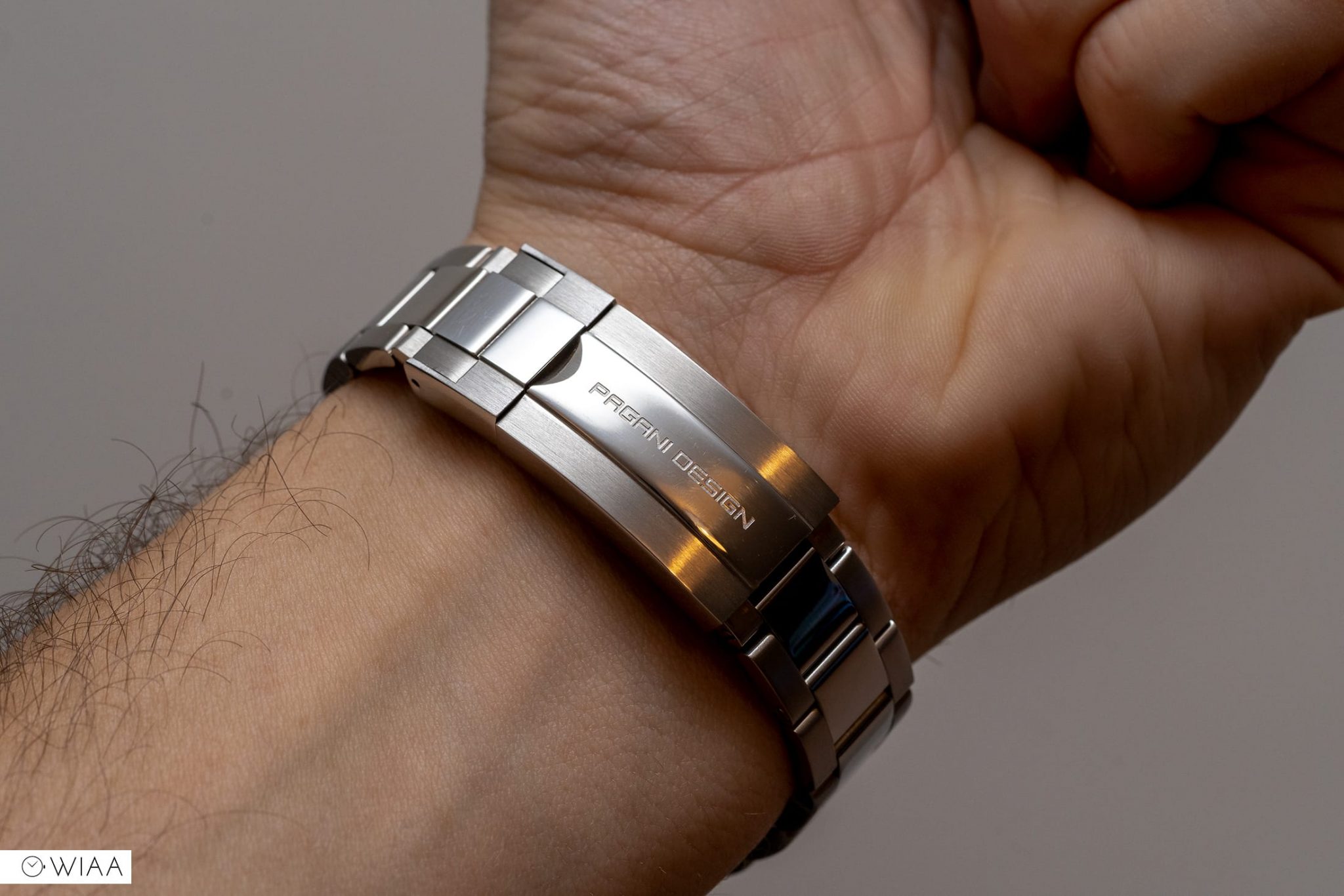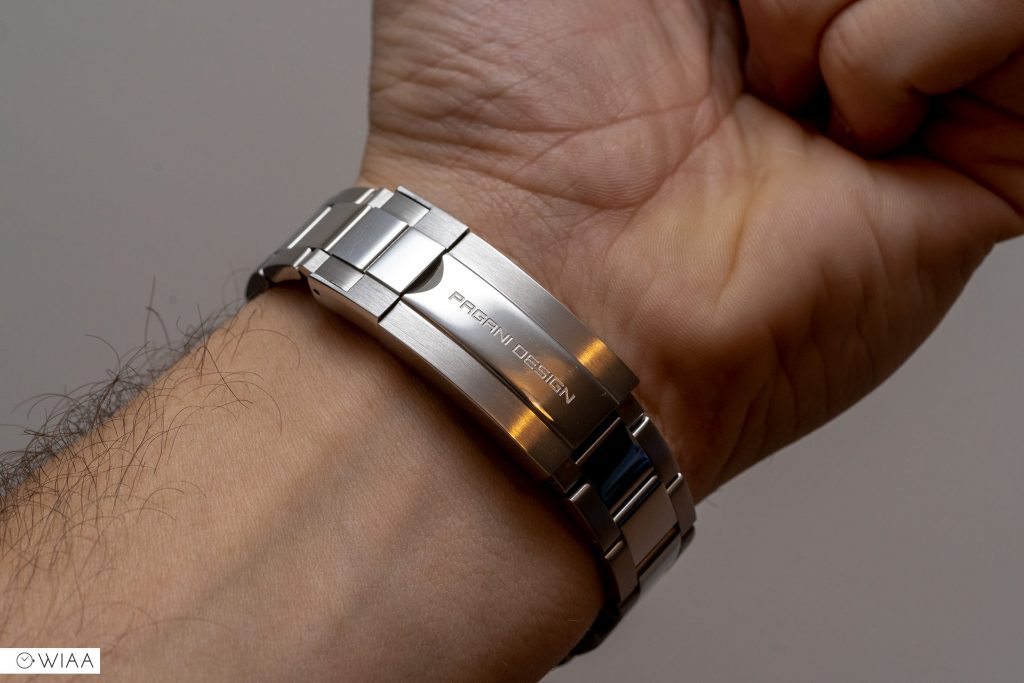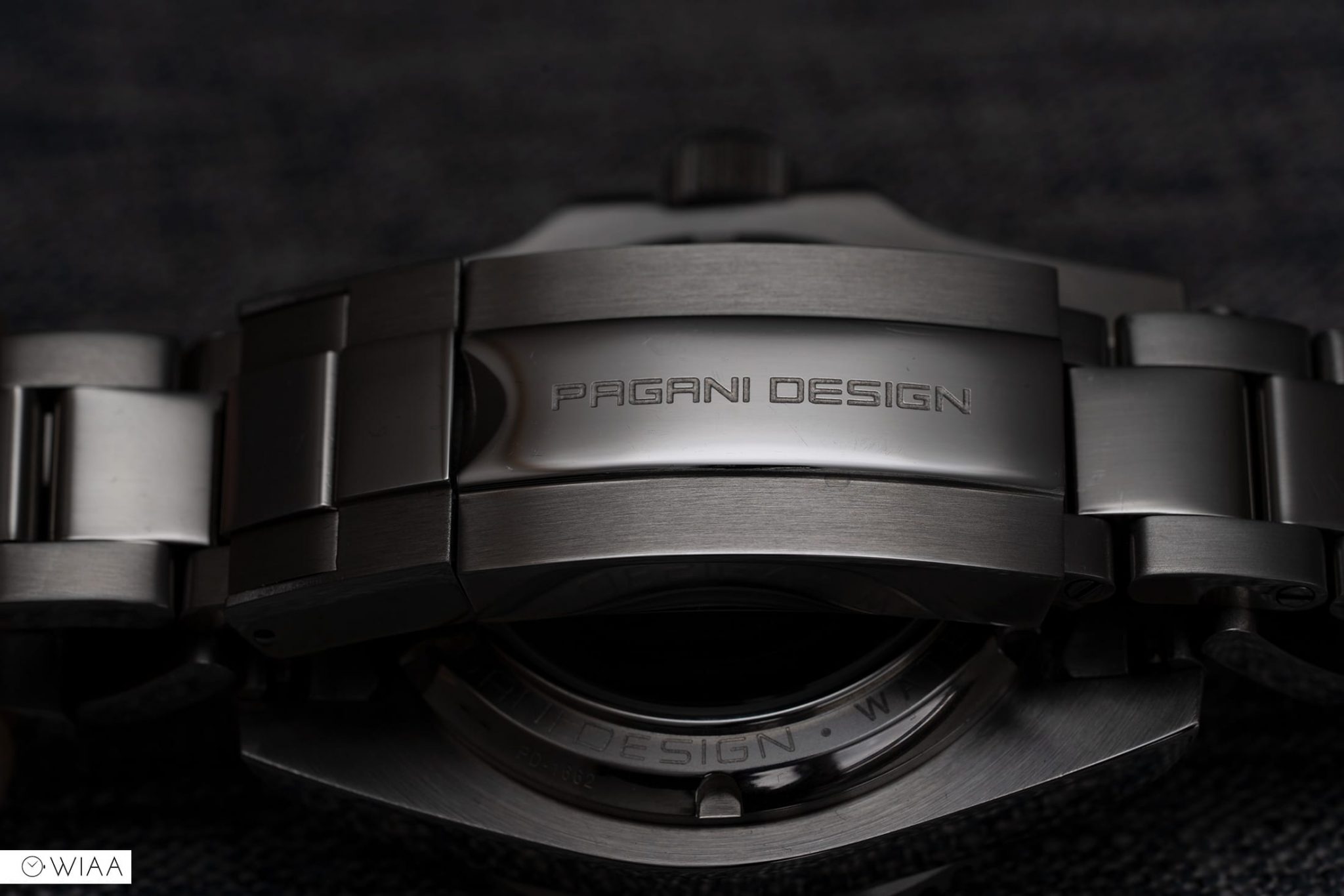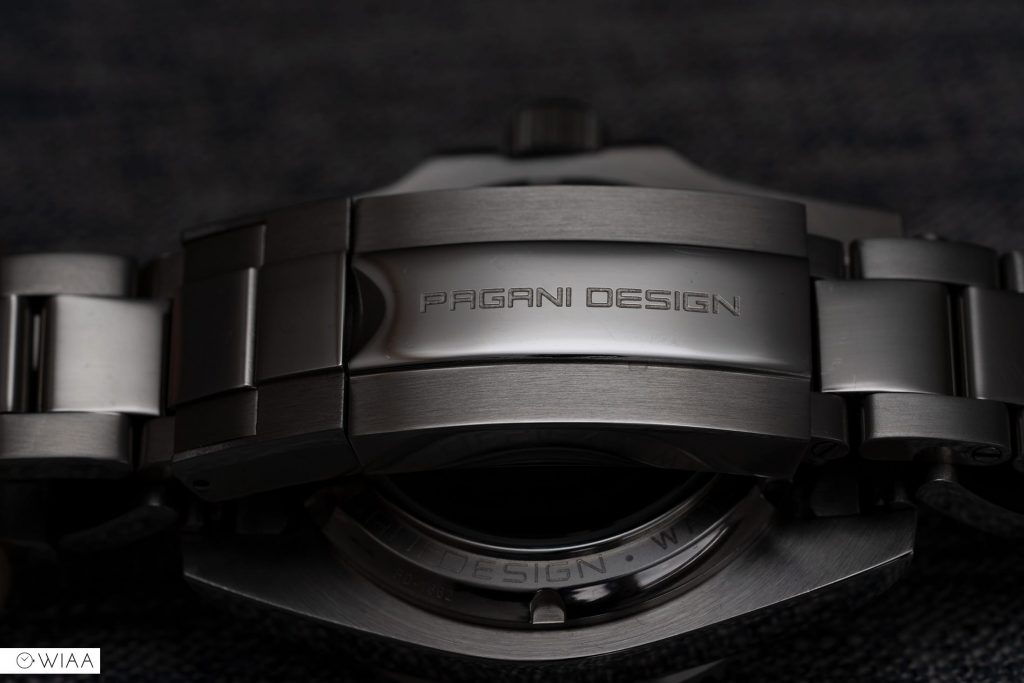 The logo: the only thing on this entire watch that's original. How does it hold up? I think it looks pretty good here. Sometimes these cheapo homage brands have such terrible brand names, with revolting fonts and icons. "Pagani" is hardly a beautiful name, but it looks pretty good on a Rolex homage. The icon itself is also quite pleasing to the eye; a shield shape that plays on a variety of letters.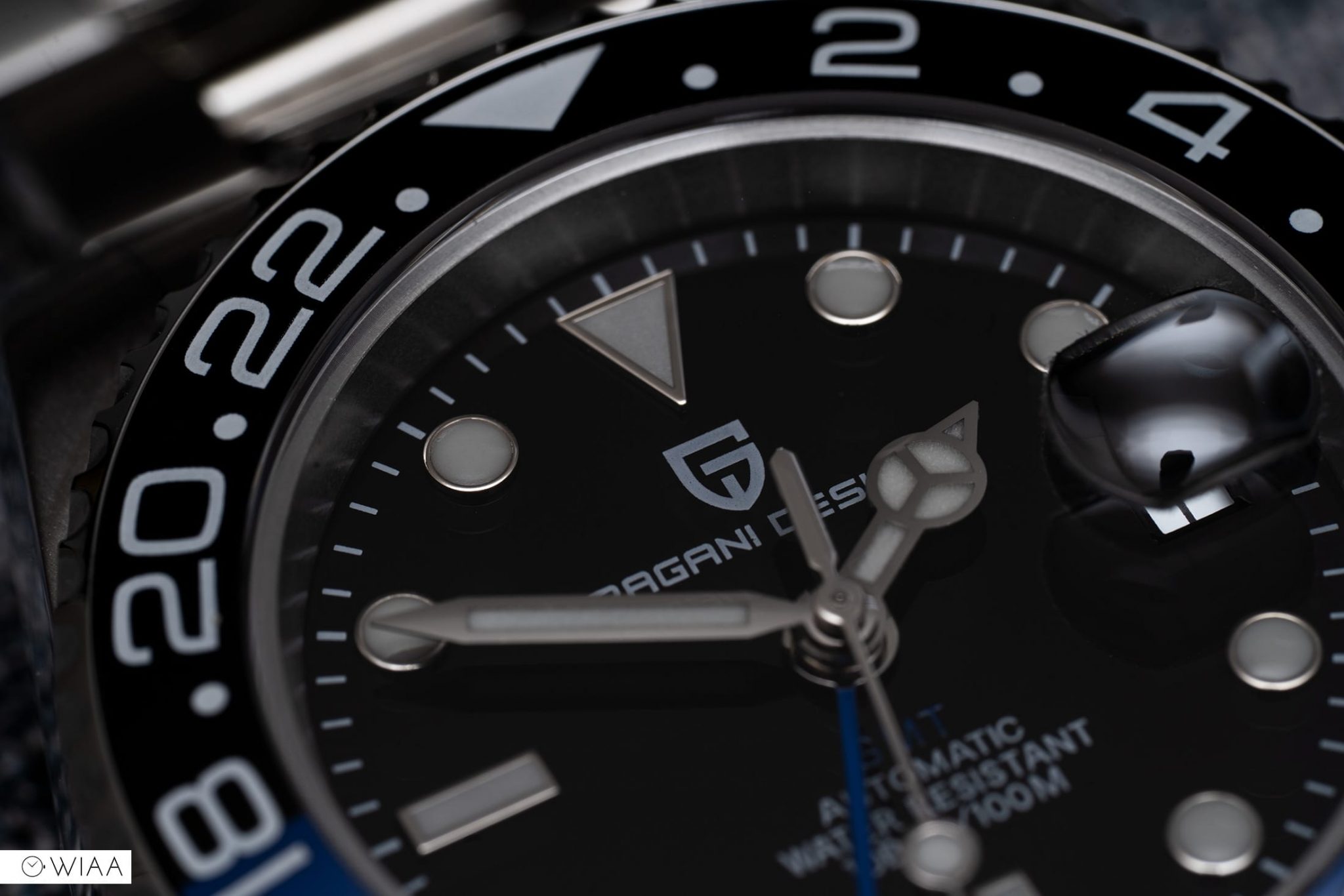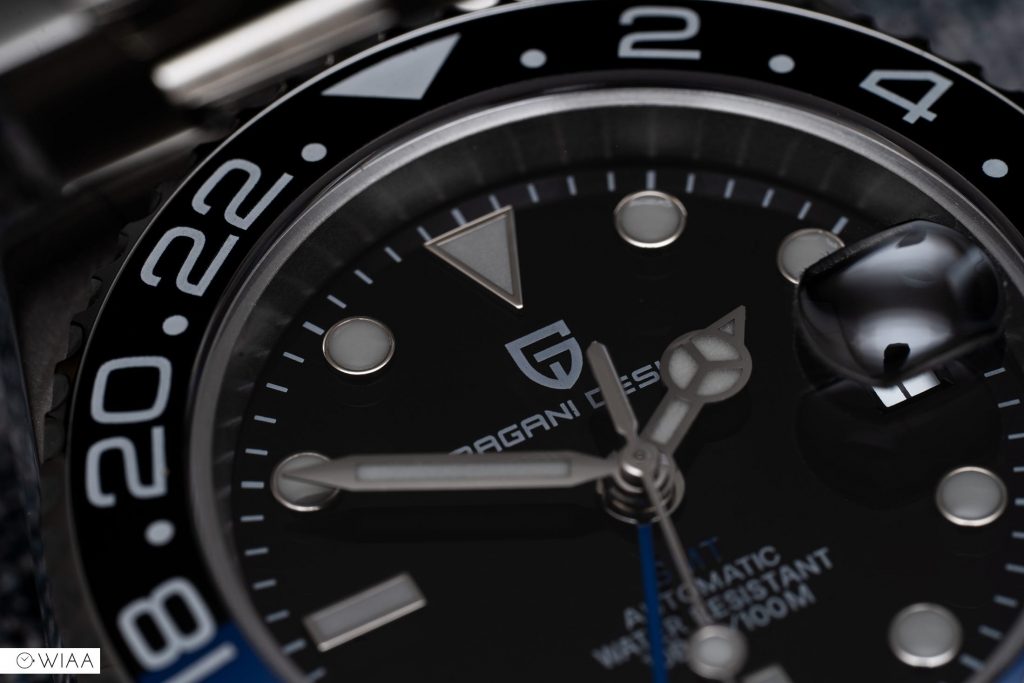 This custom logo is embossed on the end of the screw-in crown, which is finished much better than I was expecting. I was thinking either plain, or laser etched at most.
The stated 100m water resistance is questionable: simply put, I wouldn't trust it. It's not the kind of watch I'd take swimming anyway, purely because I wouldn't want to risk it.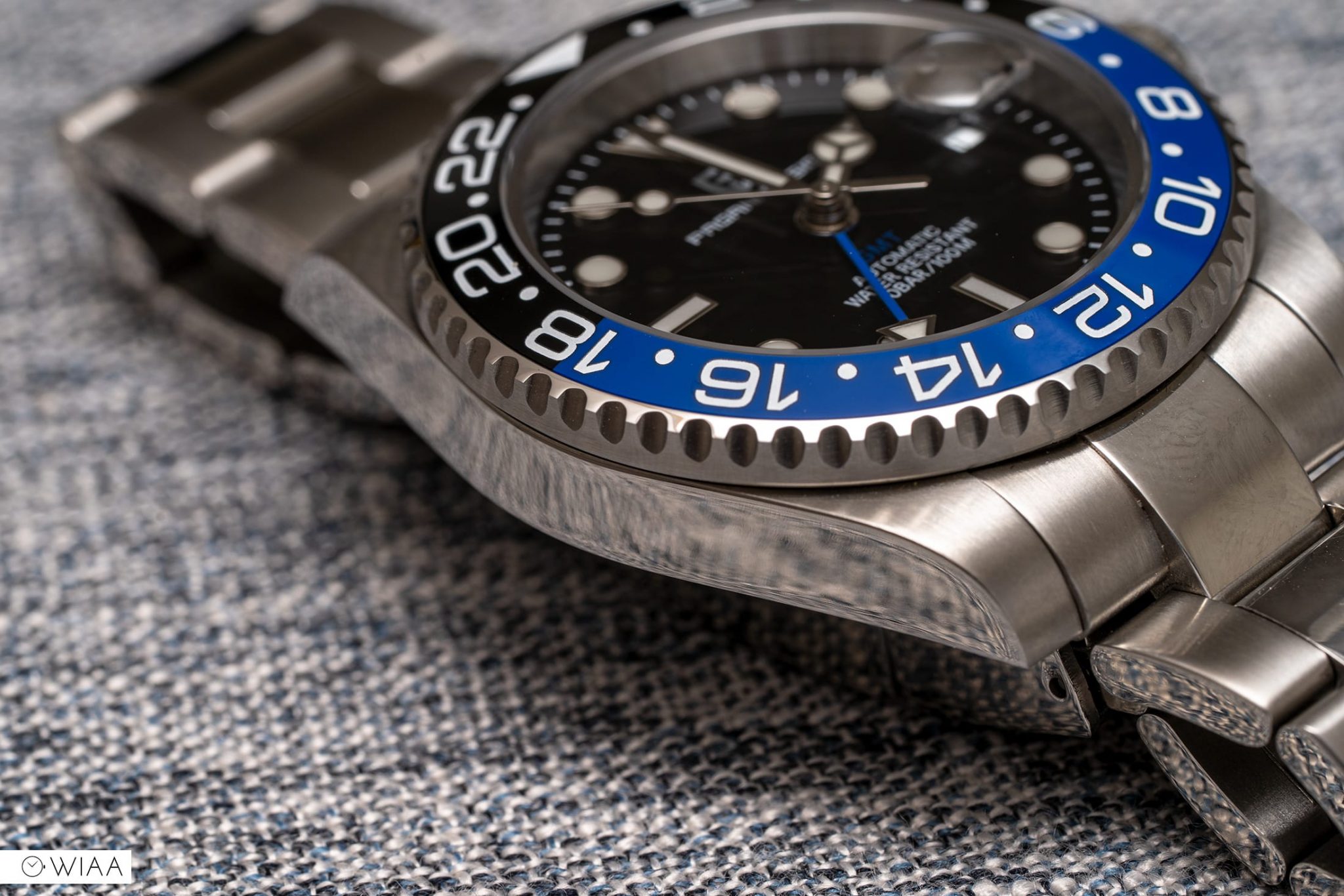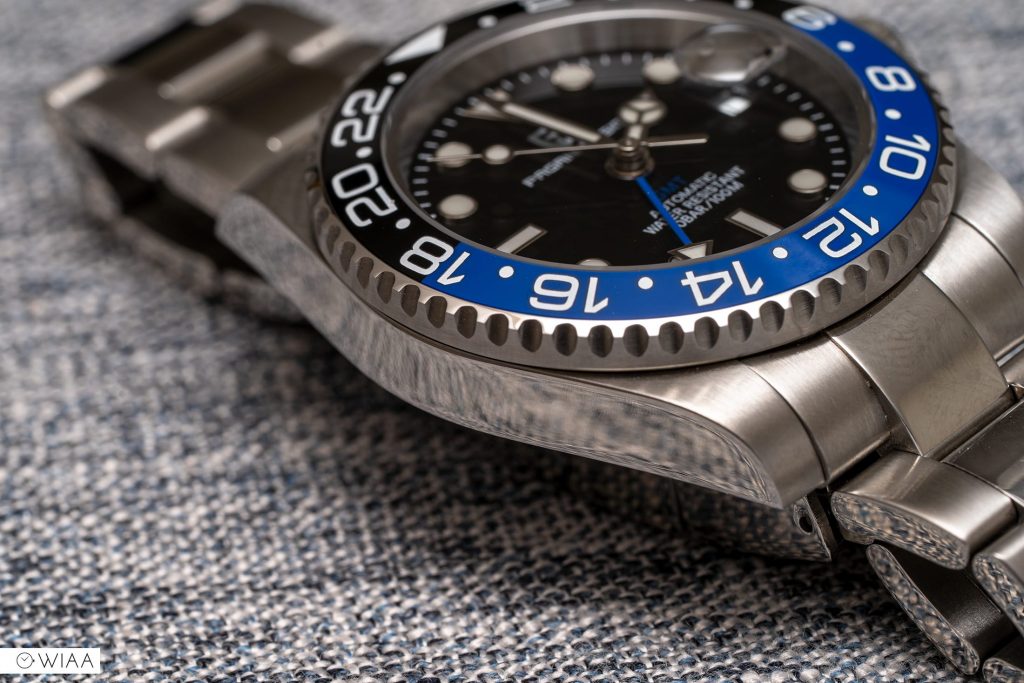 The rest of the dial is a complete duplication of the Rolex, but it's finished to a remarkable degree, even under a macro lens: sure, it's not perfect, but I don't have any complaints here for the price.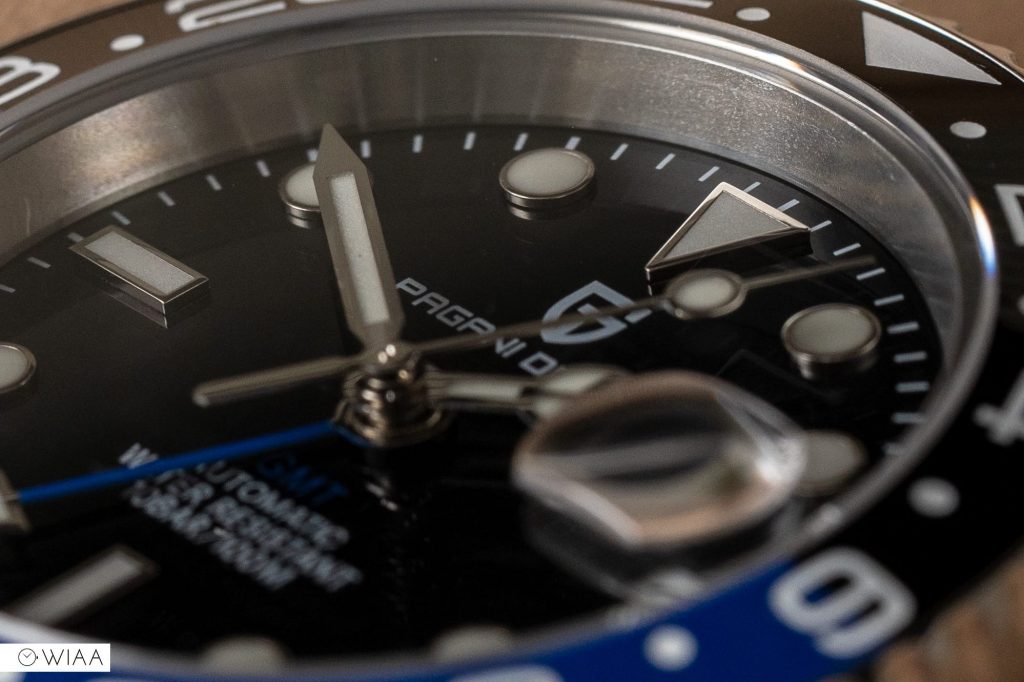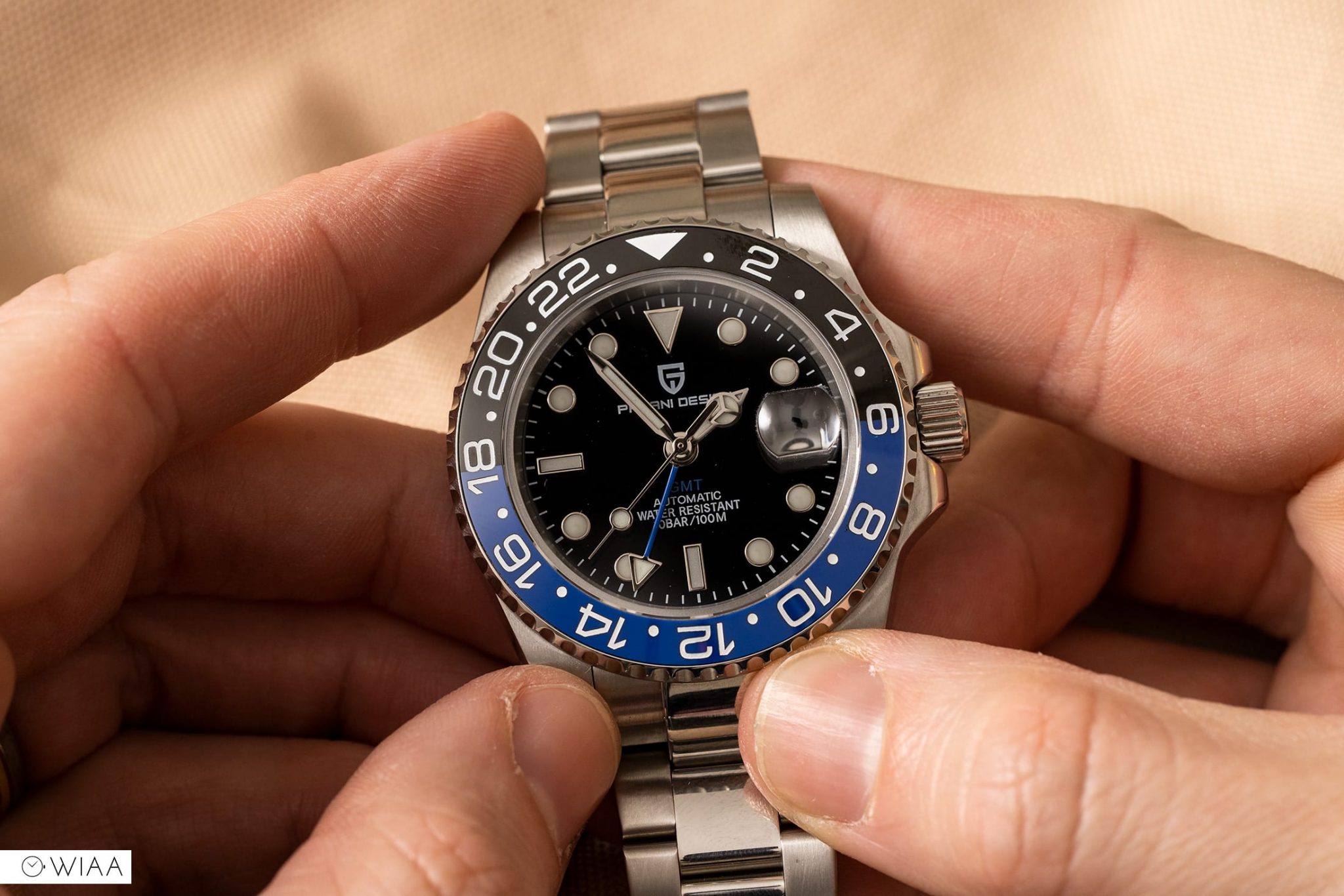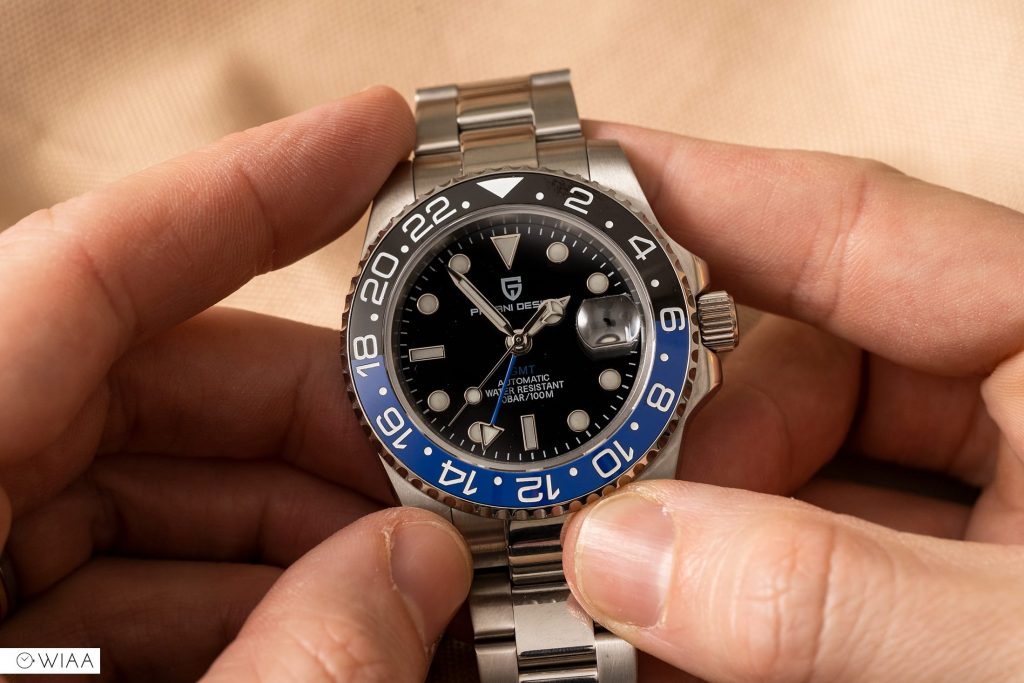 The lume is a major disappointment; it's truly abysmal. They may as well not have bothered it's that bad. However, lume is always at the bottom of the list for cost savings and I always find it to be terrible on cheap watches.
Finally, there's one thing left to point out – the cyclops over the date wheel isn't lined up very well. It magnifies the date well, however, so it's not an issue with the functionality of it, but rather the application.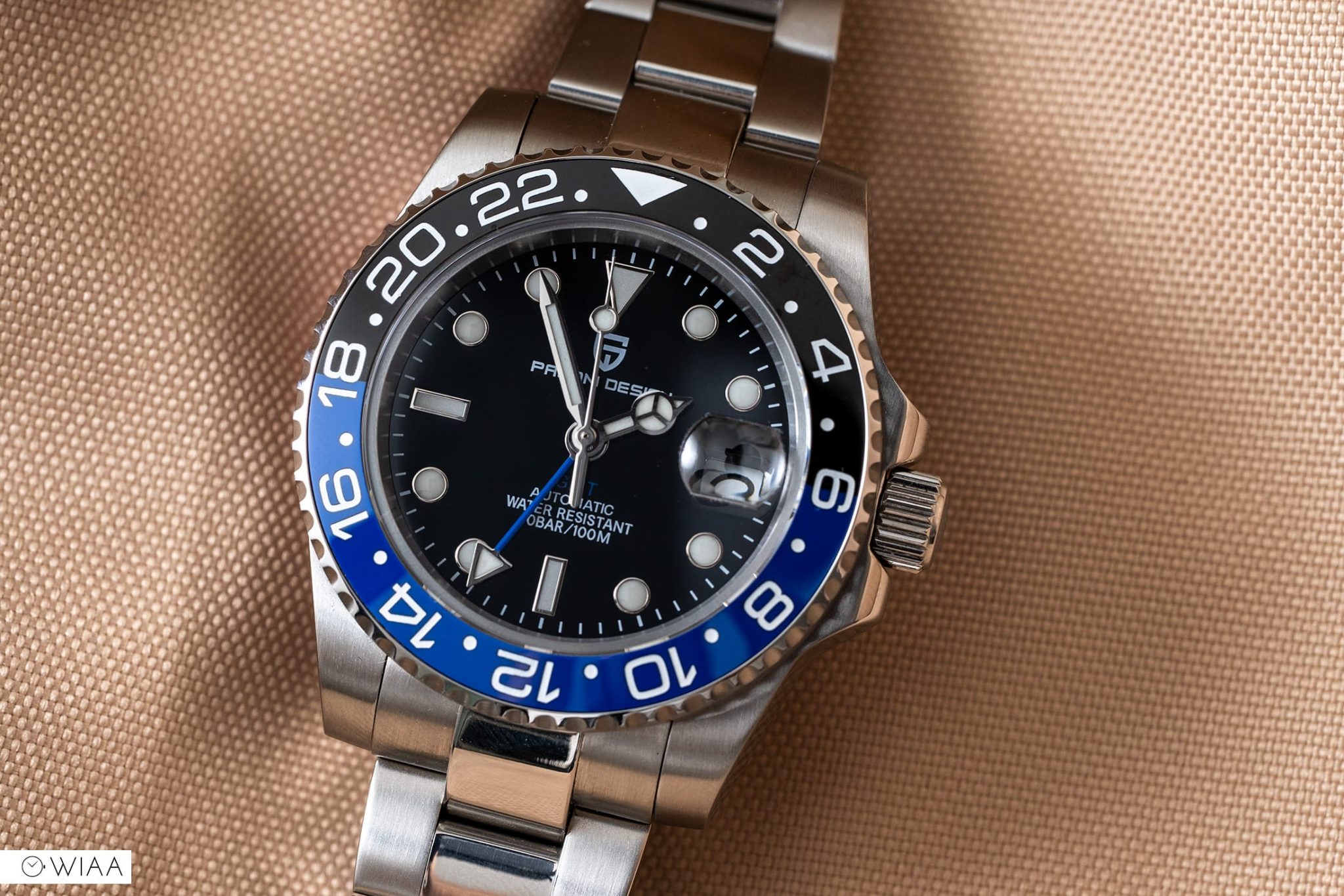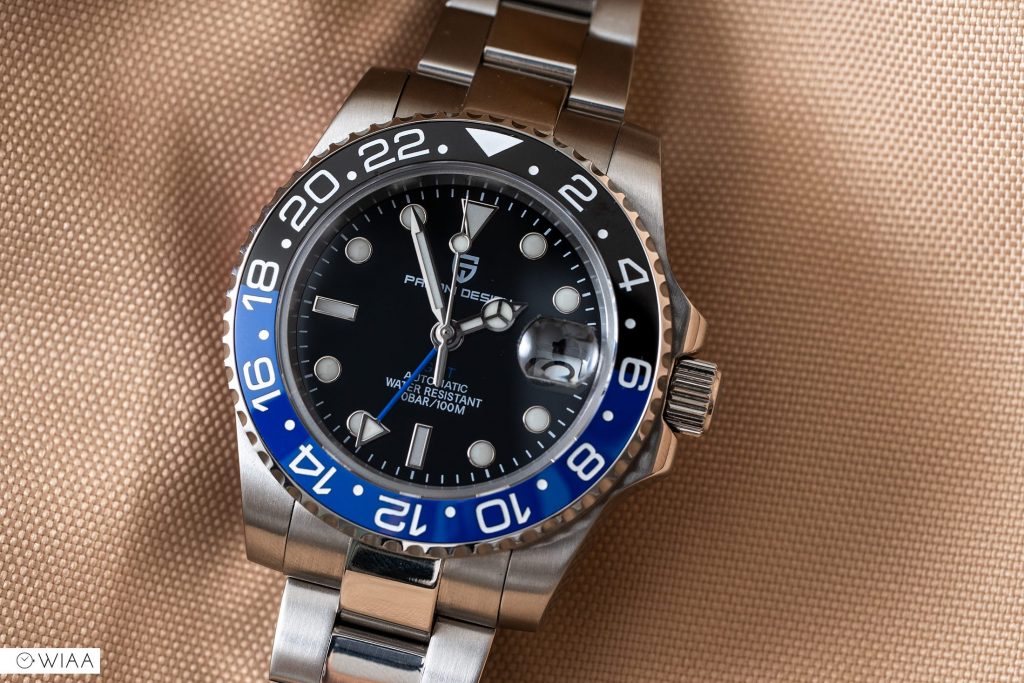 Pagani Design Batman GMT Final Comments
Clearly, there are some issues with the watch; it's not perfect. The bezel has some play, as does the bracelet. And the lume is non-existent. But, that's where my grumbling ends. Everything else about this watch is utterly brilliant for the price. It looks fantastic, wears well, and for the most part, is excellently built.
There is a part of me that thinks these are quite possibly made in the same factories as replicas, and that it is possibly the replica trade that's squeezing the price-to-quality ratio. Some may be bothered by that, others will not bat an eyelid. After all, that's complete hearsay with no proof, and this isn't a replica. But of course, just the fact that this is a complete homage will make it a complete no-no for some.
Whatever the case, for £60, you will be extremely hard-pressed to find a better finished and specced watch.