A note from Joshua Clare-Flagg: I know the Omega Aqua Terra isn't exactly an "affordable" watch, but Bruno's work is too beautiful to pass up. And anyhow, many of us love Omegas and want to read about them, even if we can't afford them. I'd like to take this opportunity to welcome you all to our latest contributor, Bruno Candeias – head on over to his Instagram @brunopcandeias and say hi!
---
The blue dial Omega Aqua Terra was probably my first "watch crush". About two years ago, I was obsessed with it – my download's folder was full of internet screenshots of this model and I couldn't wait to get my hands on one.
Luckily, a member of the Portuguese watch community (that later turned out to be a good friend) had the exact model that I craved for one year, the 38mm Omega Aqua Terra with the blue dial striped horizontally, center date and the caliber 8800 co-axial movement. I invited him to my house for a coffee and some watch pictures, so here are my impressions after a morning spent with the Omega I long lusted for.
DIAL
For me, the dial is the main reason why I fell in love with this watch. The horizontal stripes, raised indexes and subtle sunburst finish (in some angles the dial fades from black to bright blue) give the dial a lot of presence and really draw attention. The color matching date wheel is another nice touch!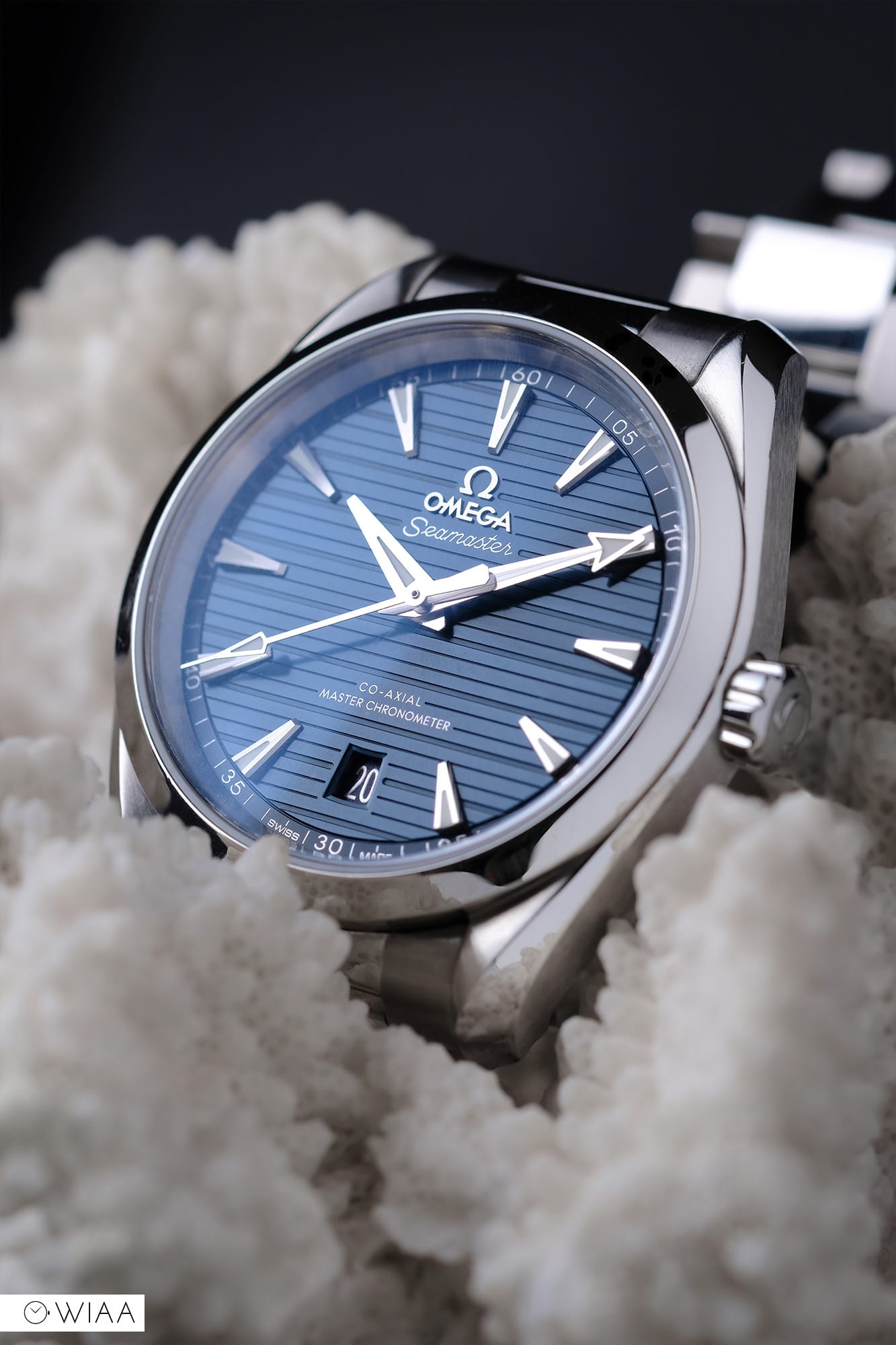 CASE AND BRACELET
Being the 38mm case, it fits great on my wrist, with no overhang or without feeling too small. My friend has the same wrist circumference as me, so the bracelet was properly sized, which for me is really important when trying out a watch.
I have mixed feelings about the bracelet – I'm not a fan of the polished center links, the double deployment clasp is too wide for my wrist, and overall the watch is less comfortable on the wrist than the similarly priced Rolex Explorer I recently tried. It looks great, but I just wish it was as comfortable as the other bracelets from Omega (for example, the buttery smooth Speedmaster bracelet).
MOVEMENT
This watch features Omega's 8800 Co-Axial movement, with some cool finishing and magnetic resistance. My friend is a pilot and constantly has to pass the X-Ray and metal detector, so this feature is definitely a must for him! You can see the movement through the caseback, and in my opinion, it looks very cool, especially the radial striping instead of the regular "Côtes de Genève". I would love to see blued screws instead of black ones, simply because I'm crazy about heat blued steel! Overall, this movement looks and behaves like a champ, and it's a perfect introduction to the world of fine watchmaking for those who really like to appreciate movement design and construction.
The Photoshoot
I only had the watch for a morning on my home studio, but it has so many thoughtful details that I could spend a few weeks photographing it, from the blue sunburst and "teak" pattern dial, the 3D "arrow" applied indices, to the beautifully decorated movement. I knew this watch matched the Sea theme very well (hence the name!) so I asked my friend to bring some nautical-inspired props to use as a background.
We chose a piece of decorative coral as the surroundings for the watch; and placed the Omega over some pieces of glue pads to prevent scratches on the case.
CONCLUSION
Overall, I'm very glad that I spent some time with this watch and that my friend is 100% happy with his purchase. Personally, this hands-on experience was really important to understand that this watch isn't the best choice as my first "big boy" Swiss watch, as I didn't fall in love with the bracelet, despite looking great on it. It serves to show that when considering a watch purchase it's crucial to try it on, no matter how fine it looks on social media images or how much the reviews praise it. After all, it's a very personal choice and one that you'll have to live with for years to come!