CATEGORY: Watches I've been loaned for review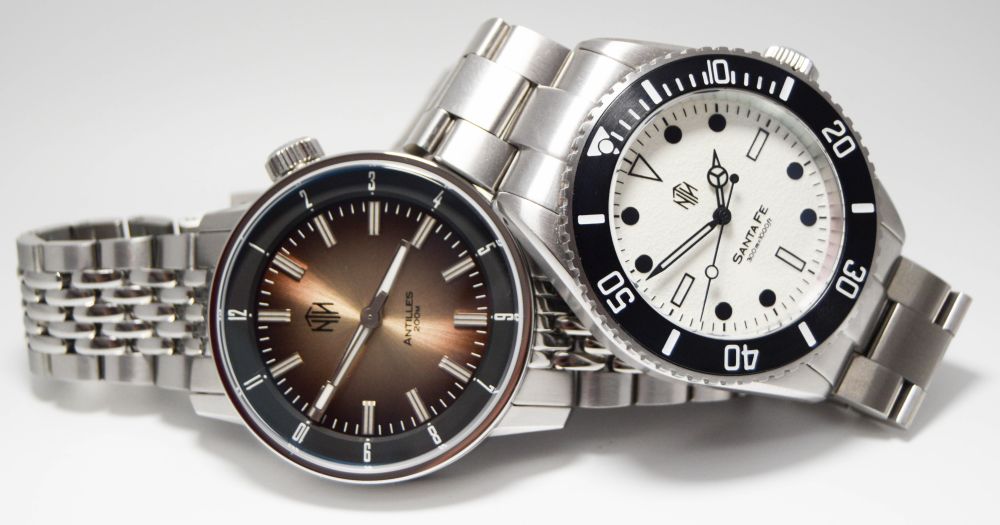 I've been into microbrand watches for a while. If you're a watch fan and you stumble across them, a whole new exciting world opens up.
But one of the most common questions is: "What's the definition of a microbrand?"
There are lists of accepted microbrands. There are schools of thought that reference number of pieces made, turnover, employees etc as a way to define a microbrand. It's hard to get those numbers accurate if that's the criteria.
My thoughts on what defines a microbrand are simple and possibly incorrect.
A microbrand to me is a brand in which the owner(s) are very visible, can be contacted directly and who actively engage with people in places like Watch U Seek and the Facebook watch groups, on a regular basis. Someone who is still very much at the fore of running their company and everyone knows it.
Therefore, I don't class brands like Squale, Steinhart, Magrette, Helson, Deep Blue, Halios and Christopher Ward as microbrands. They may have been in the past, but they're not now. Remember the word, "micro", as in microscopic. Not small, not independent, but micro. By definition anyone claiming to be a microbrand has to be microscopic.
But a lot of these, as I would class them, independent / small watch companies have a lot of fans. These guys post their watch pics, upcoming releases etc in the microbrand pages. The owners of the company don't. Seriously, when was the last time the owner of Deep Blue chatted to people on an MB forum? Exactly.
And I think that these "legacy microbrand" companies, that now have a considerable turnover and reputation, should leave the forums and pages dedicated to MB watches alone, so that people who genuinely are micro and need all the exposure that can get, can have this dedicated space to help them. There are many more places for watch companies with decent turnovers and marketing budgets to post.
You may disagree, but think about it. Us WIS are not the biggest market for watches. The general public is. Look at Daniel Wellington… Anyway, you think you might be helping Magrette by flying their flag and posting in the MB domain on their behalf, but in reality, you're just reinforcing their "microbrand" status. Did you not think for a moment that they might not want to be classed as a microbrand?
They want to be a big player. The general public likes the idea that if they're buying a luxury item, there is a definite air of luxury, that there is a big support network behind it and that the resale is not limited to only those "in the know". A watch made by one bloke and shipped out of his garage is not appealing to the ignorant masses. By keeping the idea that the likes of Helson is a microbrand alive, you're actually damaging them in the eyes of the public. I think this point is backed up by the fact I can't recall the last time the owner of Squale conversed in a Facebook microbrand group. They don't care, they now have bigger fish to fry.
I'm not having a go at these companies for getting big, as ultimately it is the aim of every mb owner to grow their company so they're sold in as many outlets as possible and they get rich beyond the dreams of Avarice. I know that was my goal for Deaumar.
What I'm saying is stop making them so prominent in mb circles. It's a win – win. The brand owners get to go mainstream without keeping being dragged back into being classed as a microbrand, in the publics eyes, and the arena is then open for genuine micros, who need the air space, to chat, post and tell you about their wares.
So what does this have to do with NTH watches? Well, it can't have escaped your notice that their owner, Sir Lord Chrisopher Vail Esq, is a very prominent person in the MB community. And we ARE a community.
I'll be upfront, Chris and I first started conversing during my short tenure at Deaumar. We butted heads a lot, and at times I wanted to email him a slap or two, but truth be told he was nearly always right and that breeds respect, at least from my side. And he's an Ex-Army Ranger. I like my kneecaps in the middle of my legs…
But more importantly, he's the yardstick for an MB owner, in my book. Respected, outspoken, active, passionate and very much fighting tooth and nail to grow his brand.
I had to really cajole him to send me a watch for review. He just didn't like the idea of paying international postage and taxes. If that's not a sign that he's a genuine micro company, I don't know what is 🙂
So, we're friends then, so it will be hard to do an objective review? Not at all, in fact I expect nothing but excellence from my friends, so this is going to be all the more tougher to be nice because of it. You have to be honest with your mates, if you feel there's something they're doing wrong, then as a friend yourself you have a duty to tell them, even if they might not appreciate it.
Chris sent me 4 watches. I'm reviewing 2 here (and have some pictures of a third). If you want to see the other two reviewed, then pop along to https://12and60.com where that awfully nice chap Joshua Clare-Flagg will be doing the bizzo with them.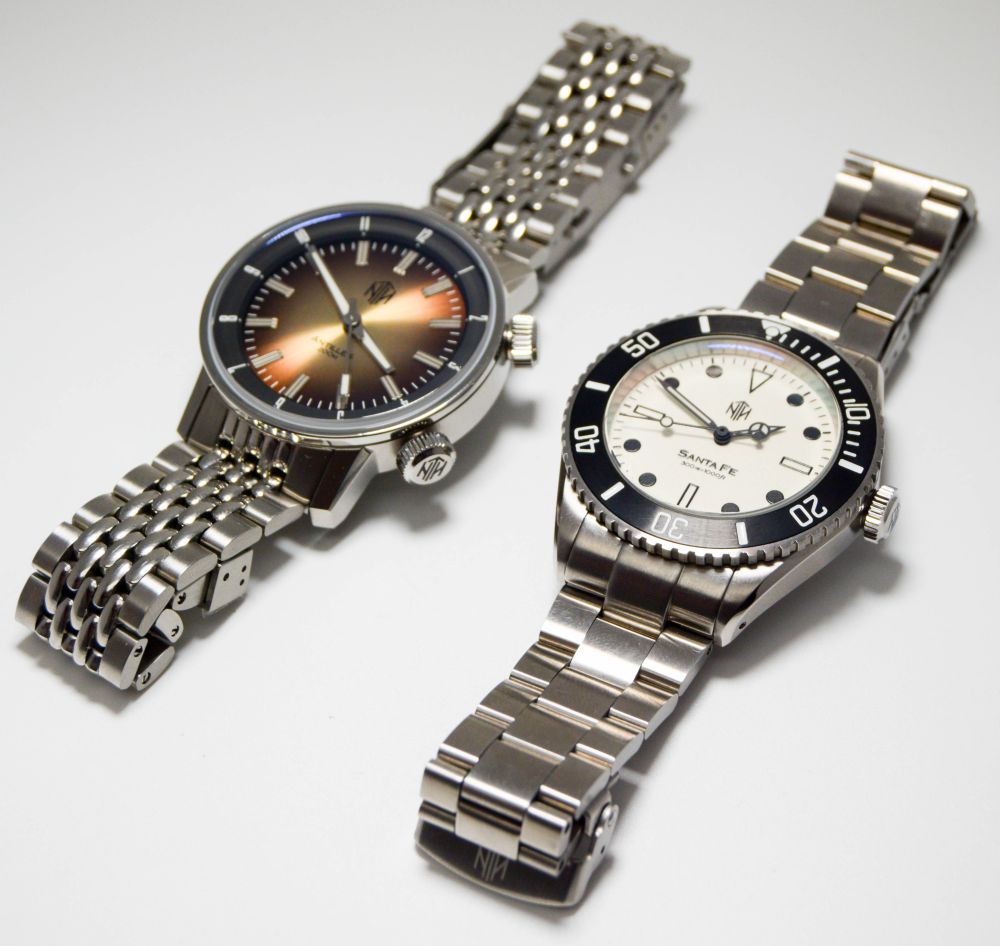 Anyway, let's start the bloodba…I mean the review with the NTH Antillies Compressor.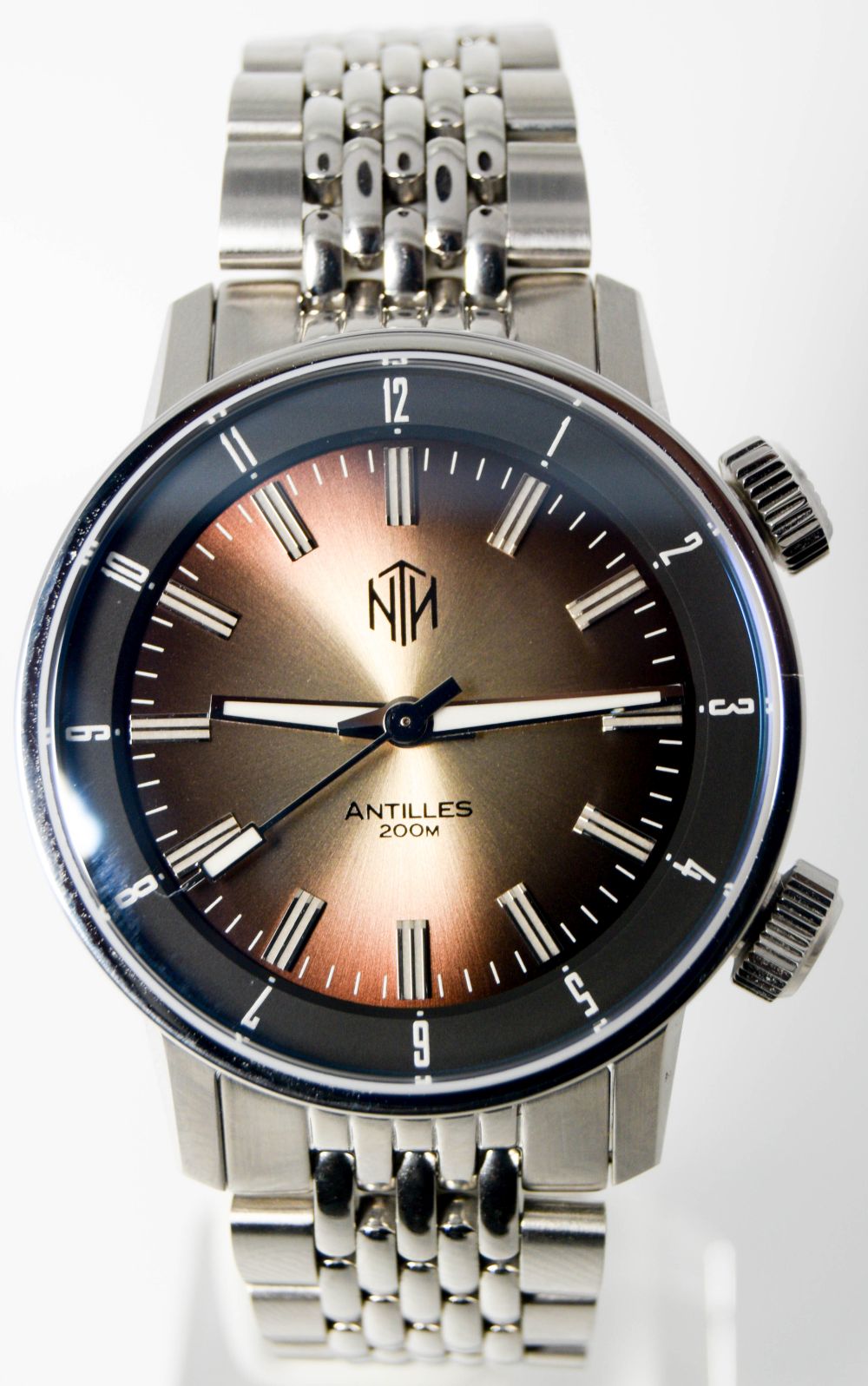 Here are the specs: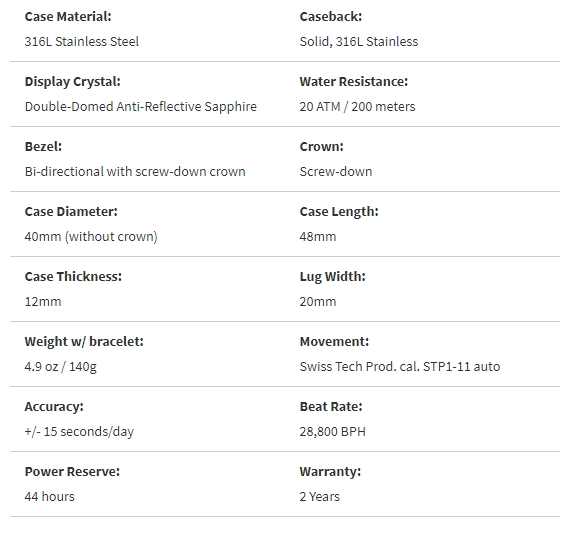 Steel, Swiss Auto, Sapphire, Screw Down, 200m. All boxes ticked for a compressor then.
Let's start with the face. This one is classed as "Champagne". I'd say more "Bourbon", but regardless this is a lovely, vintage, brown sunburst in the dark, and a blonde when the sun hits it.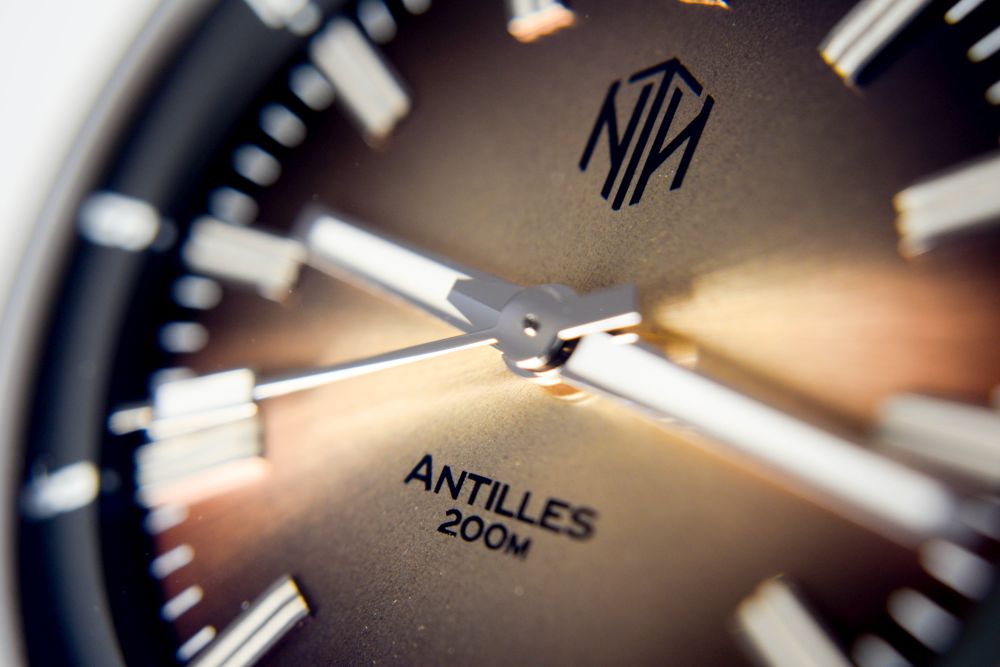 I personally would have liked an applied NTH logo, but otherwise, it's a beautiful face. My wife commented on how nice it was.
The hour and minute hand are large and kinda plain, but do their job. The second hand is really nice with it's "lollypop" design. It matches the applied indices really well.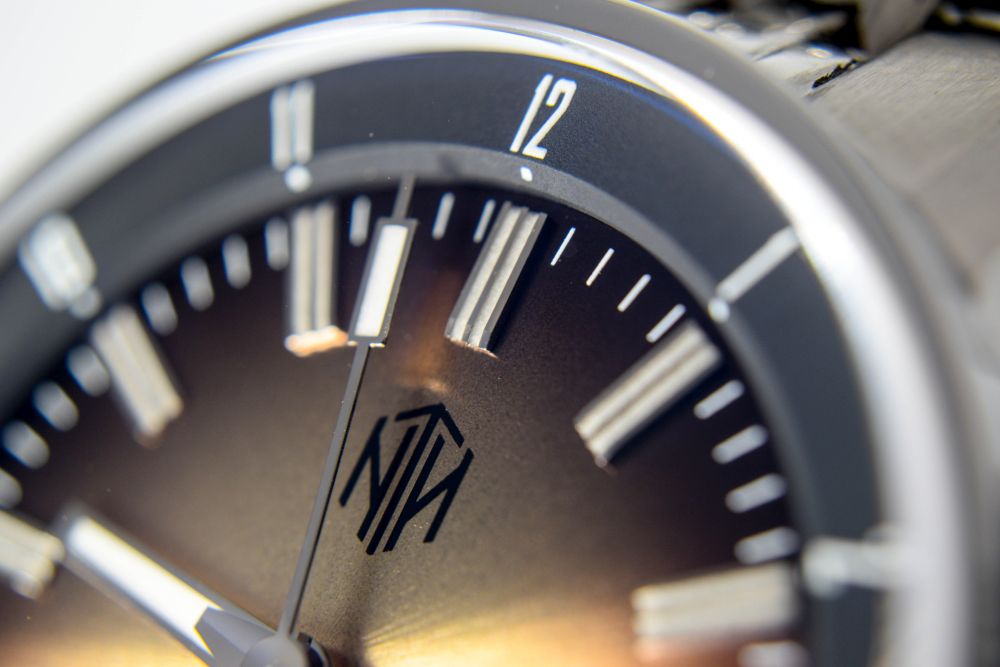 Again, the indices are applied and are really nice and keep with the vintage vibe. I would have liked a date at 6, but then you know me, I like dates on watches.
The bezel is simple and elegant.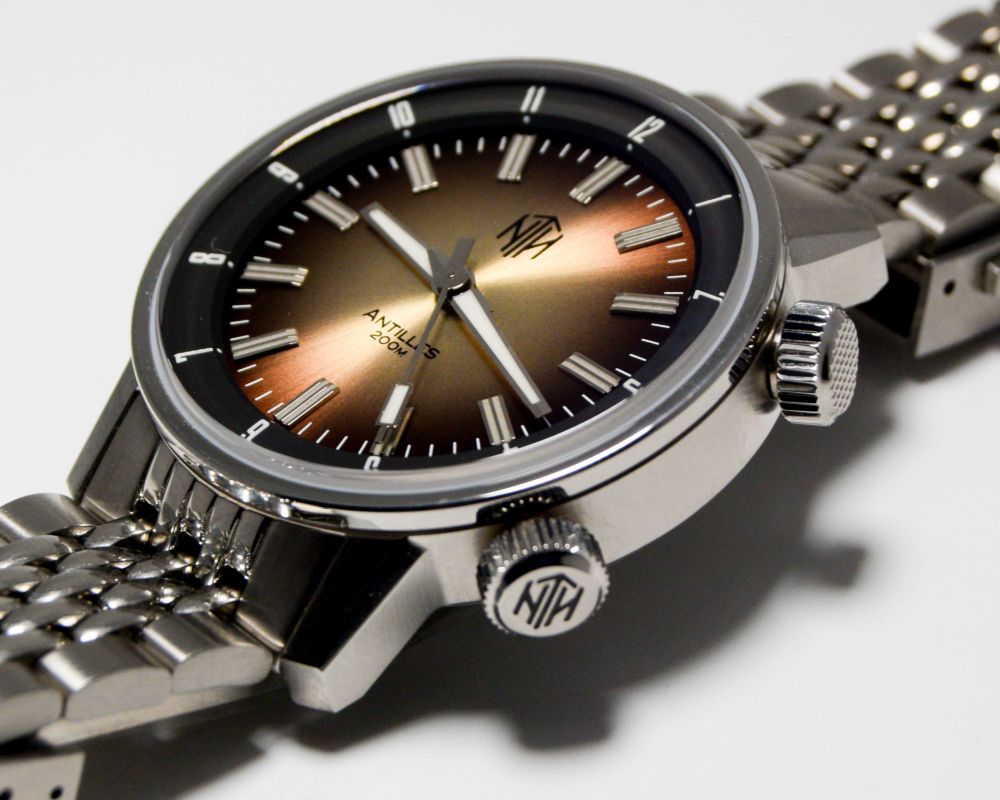 It has a smooth action and the screwdown crown for the bezel is one of the easiest I've used. It looks and works well. It it also nicely lumed.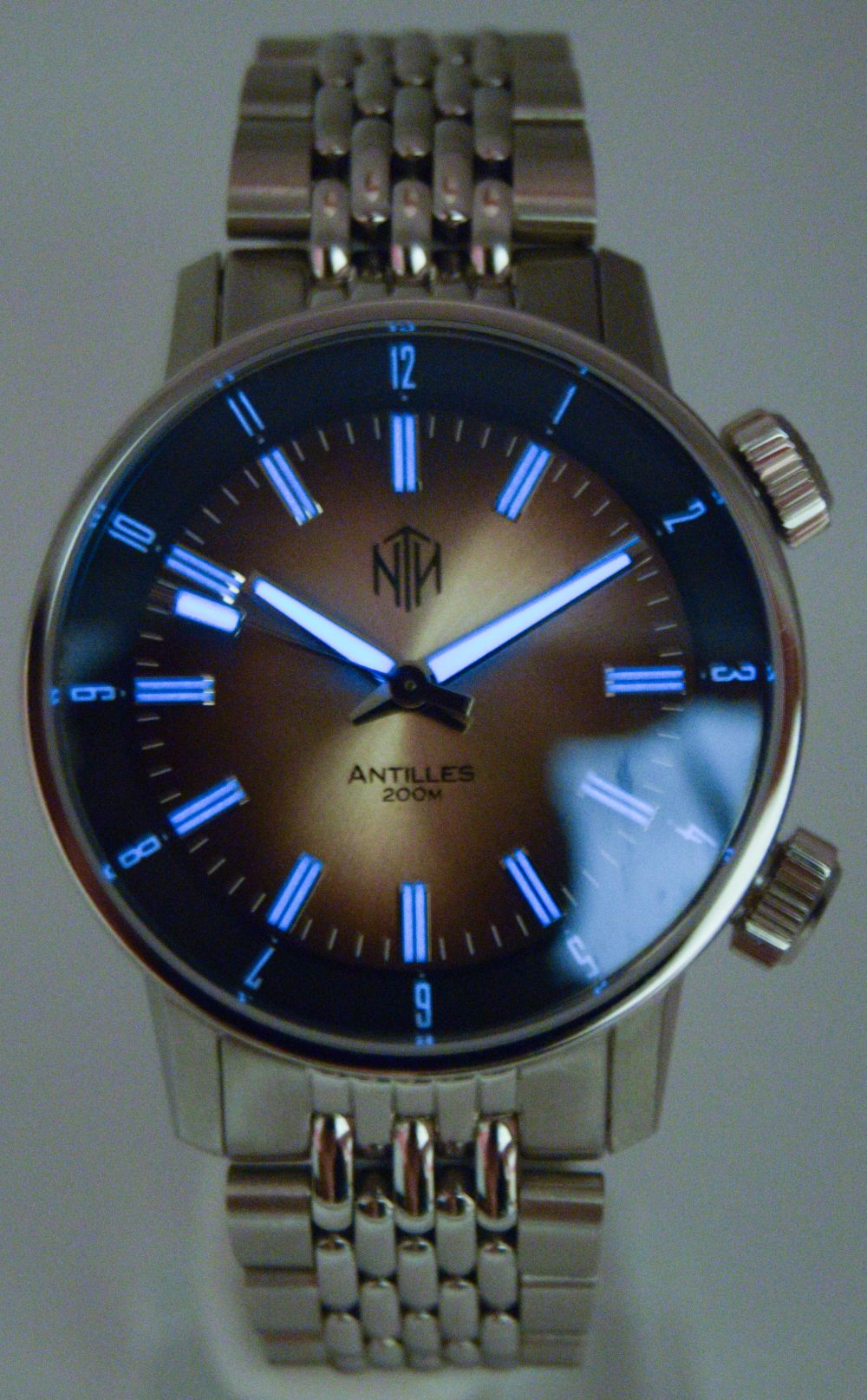 The case is nicely done.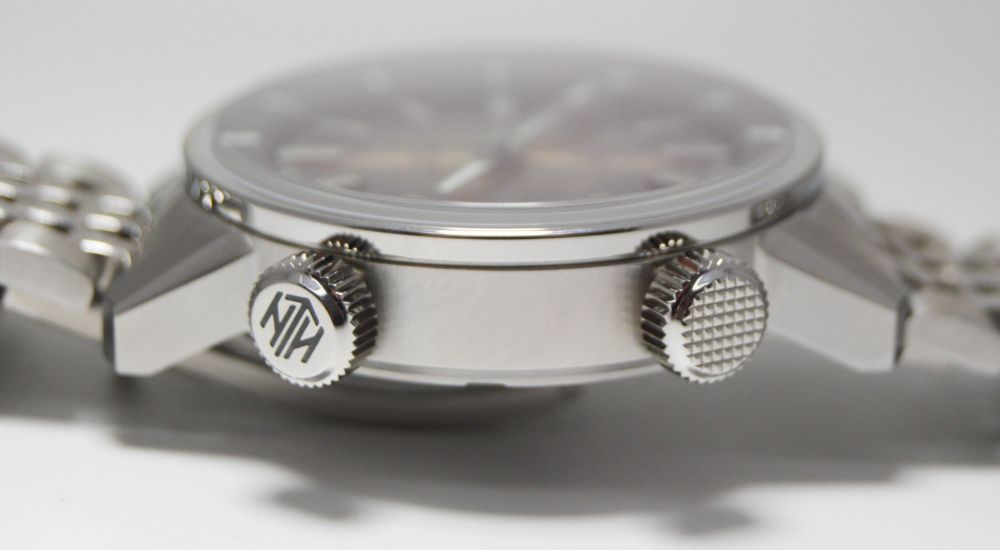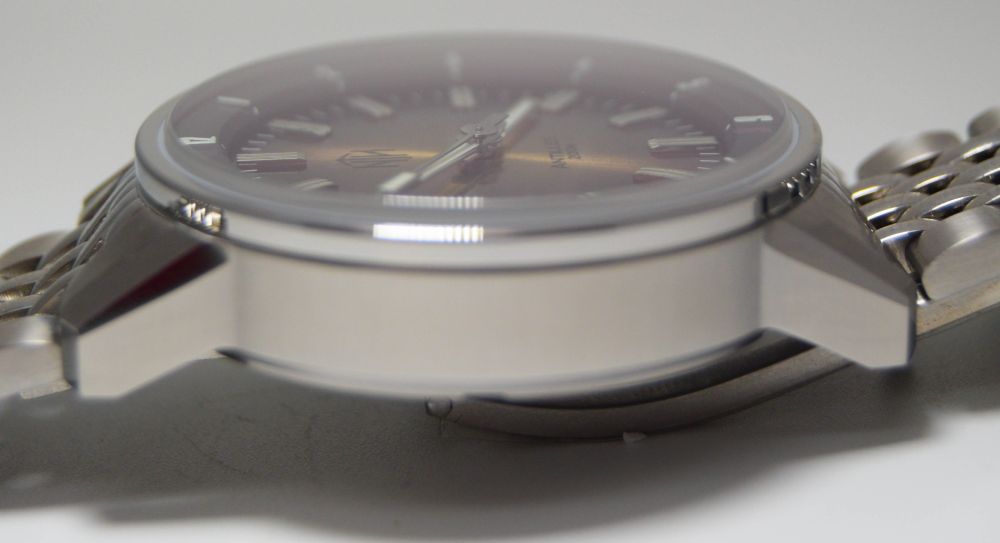 The brushing is very nice, and complemented by the polishing of the bezel ring and the centre of the beads of rice bracelet.  It's a nice size for me. It's long but svelte at the same time. The double dome sapphire is a bit proud and doesn't distort the face from any angle. The AR is very good and doesn't "colour" the face. It's subtle.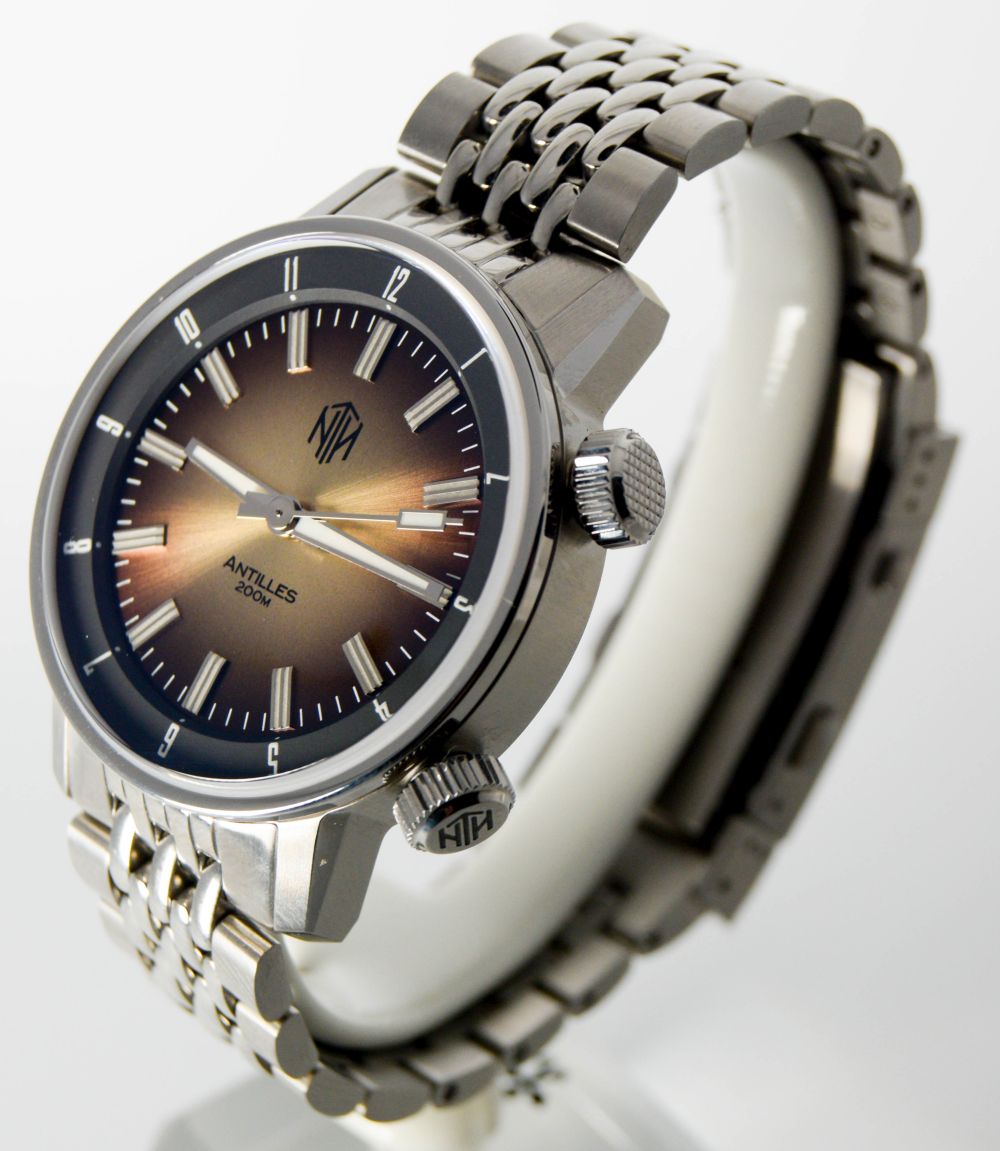 The crowns are nicely engraved, easy to grip and screw / unscrew.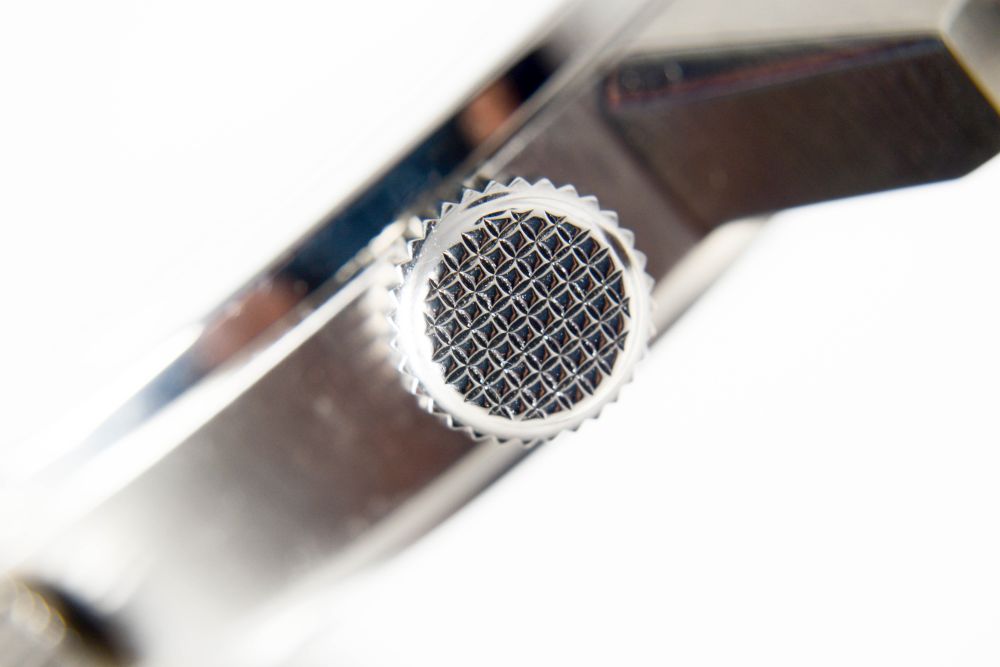 The bracelet is lovely. It looks great, a proper, individually linked, beads of rice.
The clasp is about as good as I've had on an MB watch. The divers extension is really well done and the whole thing looks great and works well.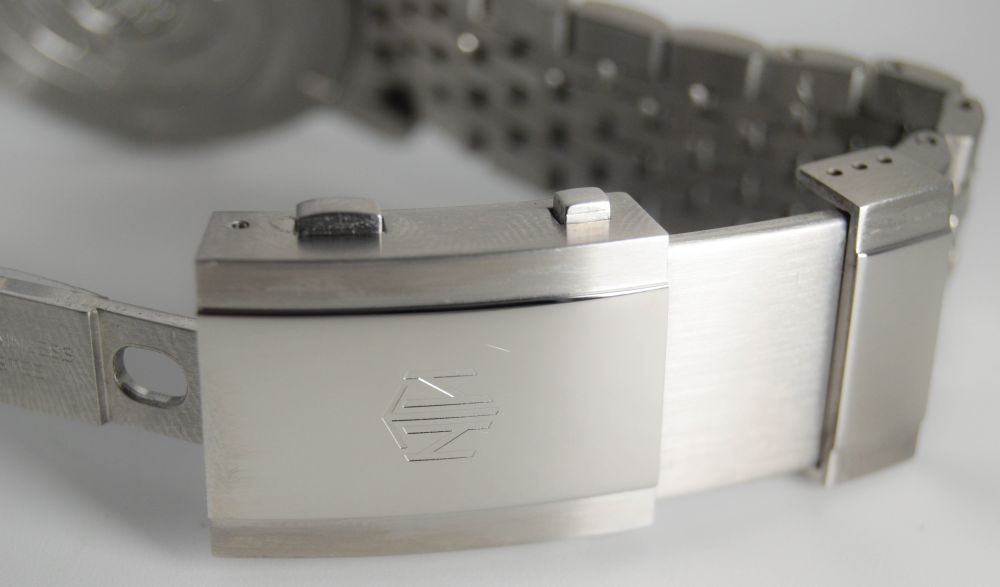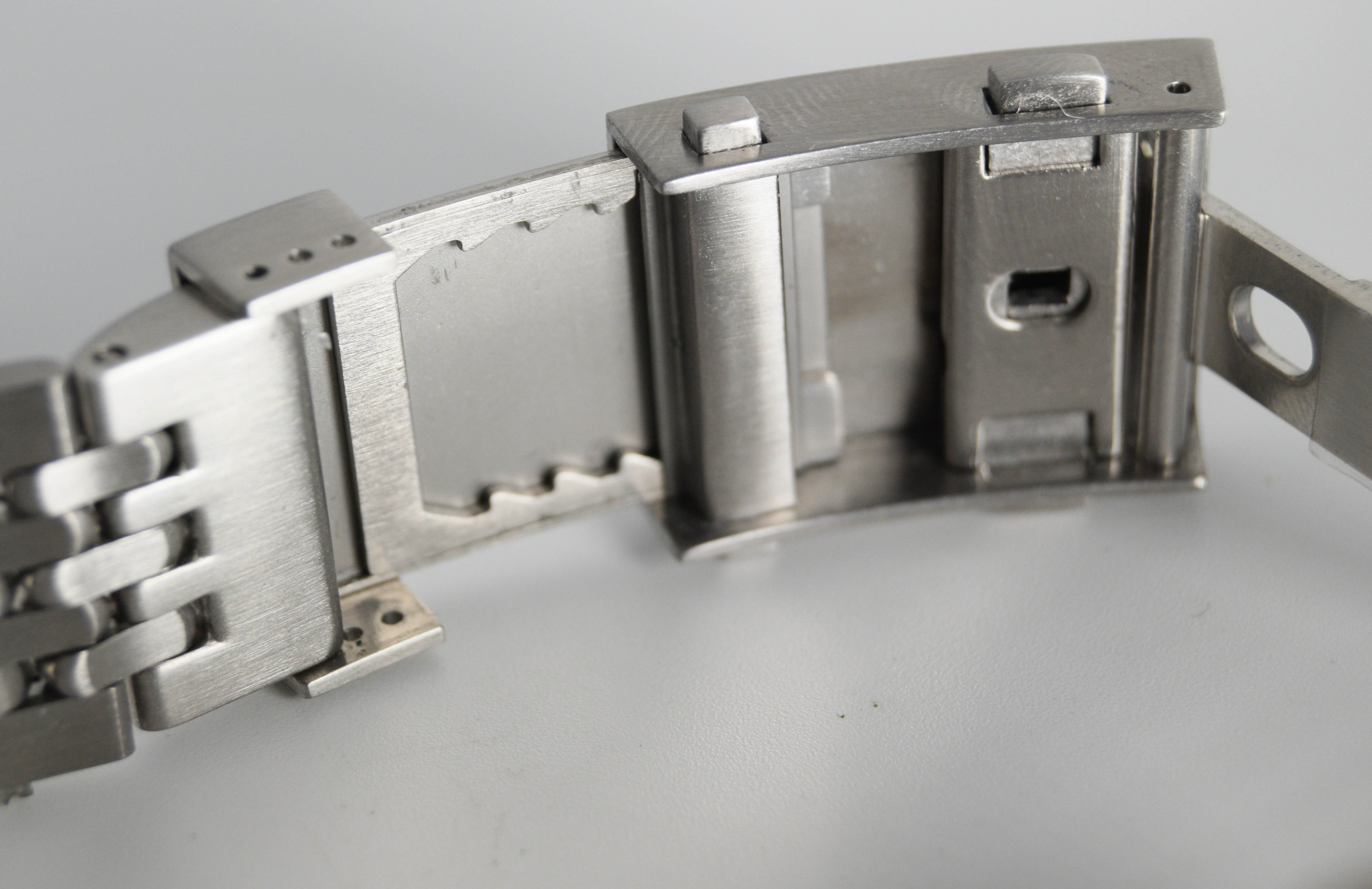 However, I found it an S.O.B. to adjust. I don't know whether it was me, whether I had a threaded screw, but I really struggled to adjust it. Regardless, once it was done, this is one of the nicest bracelets I've had on any watch, let alone a microbrand one.
As you know, I don't really care about casebacks, but I have to say this is really well done. Nicely detailed and sculpted. I'd rather have something like this than a see through caseback, looking onto an un-decorated, ordinary movement.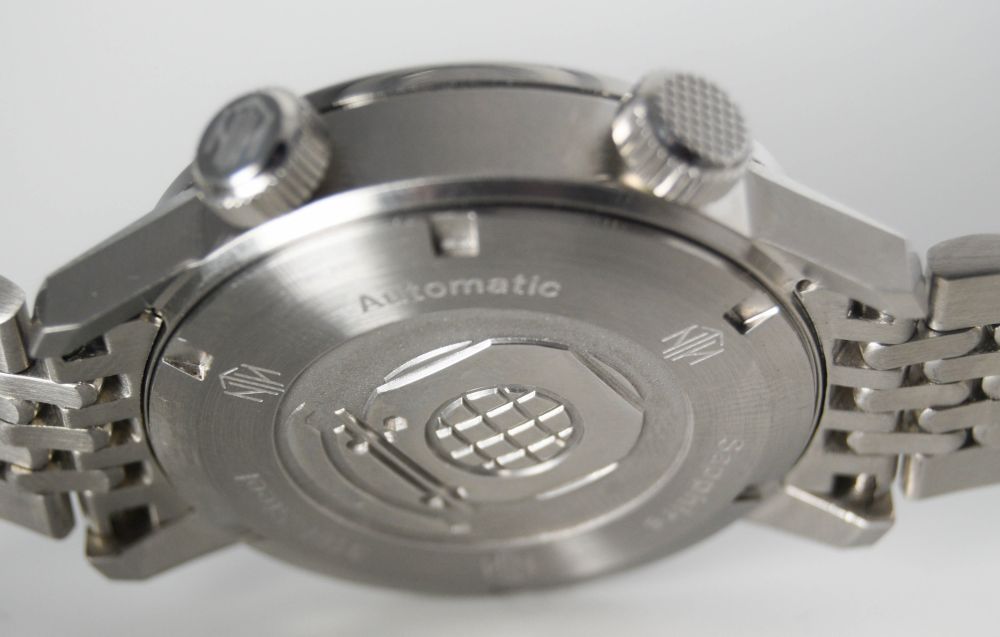 The STP movement is by all accounts a good one. I certainly found it accurate, smooth and reliable. And why shouldn't it be? It's made by one of the biggest watch companies in the world…
I'll not sum up the Antillies yet, as this is a 2-fer-1 review, so lets move on to the Santa Fe.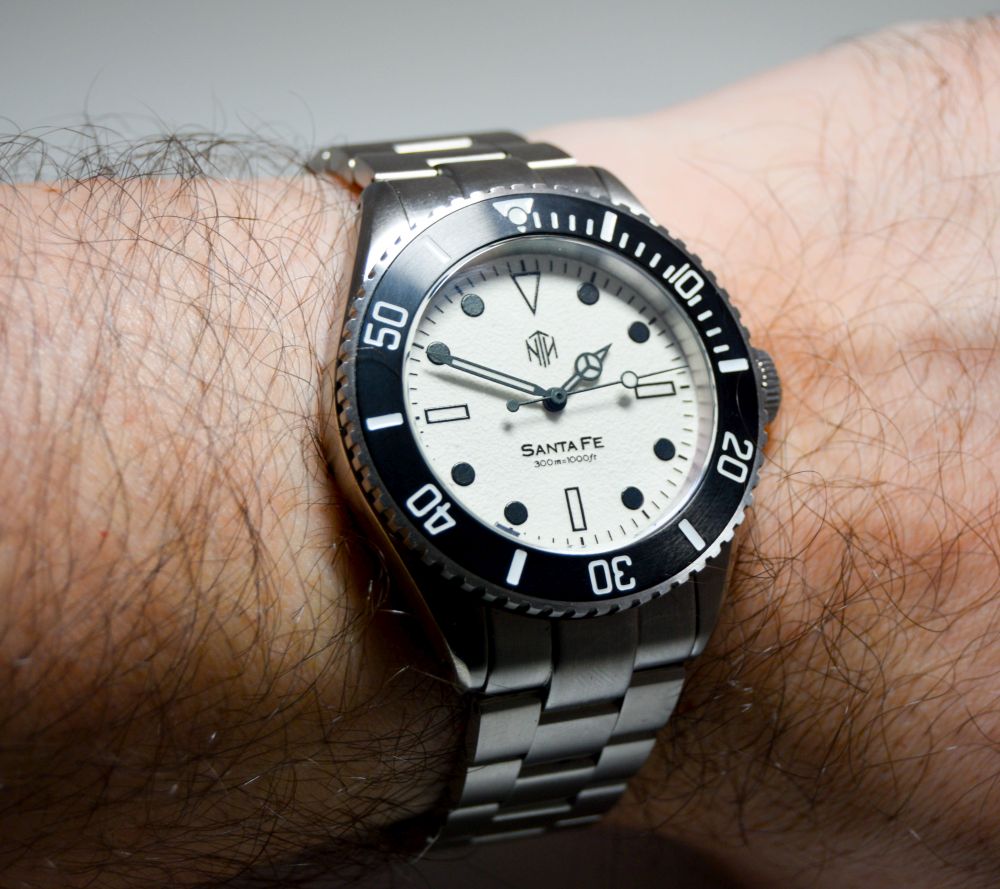 Ok, so, as I've said in other reviews, there are Homage watches and "Homage" watches. One is basically a replica with a different name, little bits changed and the other takes its inspiration from other watches, but puts enough of its own DNA in the mix, to make it no rip off. Which is the Santa Fe?
Here are the specs: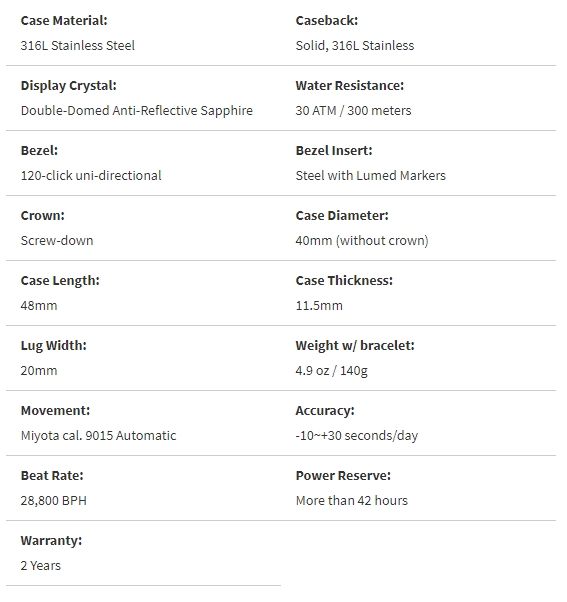 Well, straight away that case, the bezel, those indices, those "Mercedes" hands say "Submariner". And it's on an oyster. And it's called a "Sub"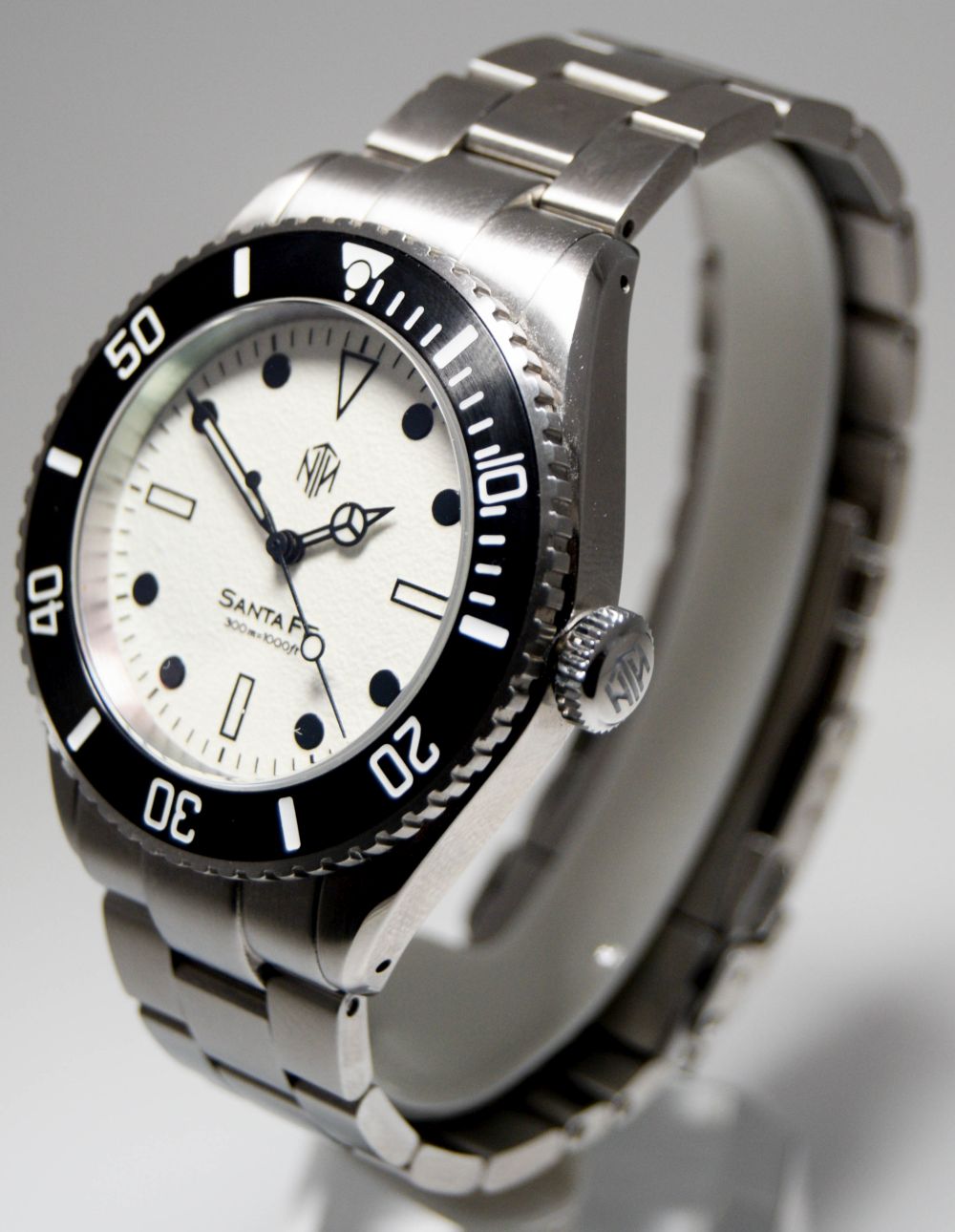 But a picture doesn't really convey one thing…this is a 300m watch, but this is a very thin case for a watch of that depth. And it has drilled lugs.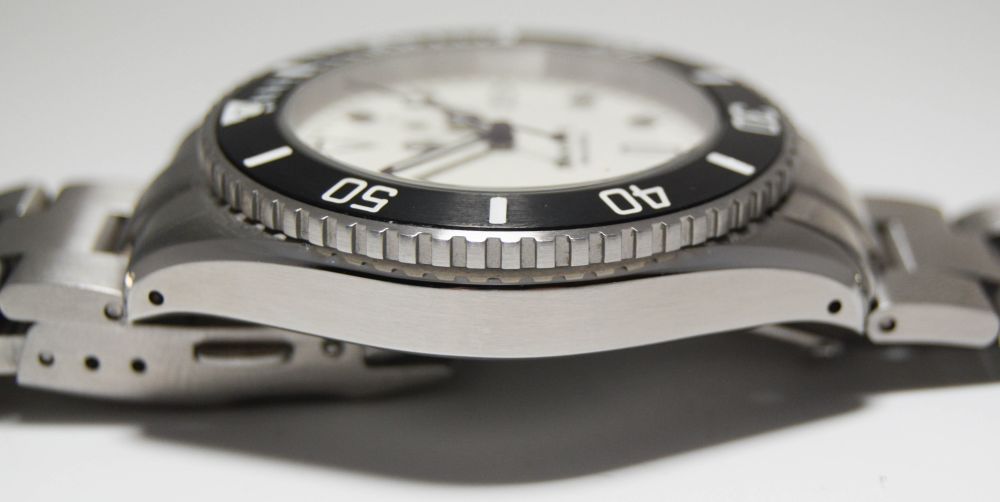 It's nicely brushed, like the Antillies. It's a really nice case, complimented with a really nice, easy to use, signed crown. It really will suit all wrist sizes.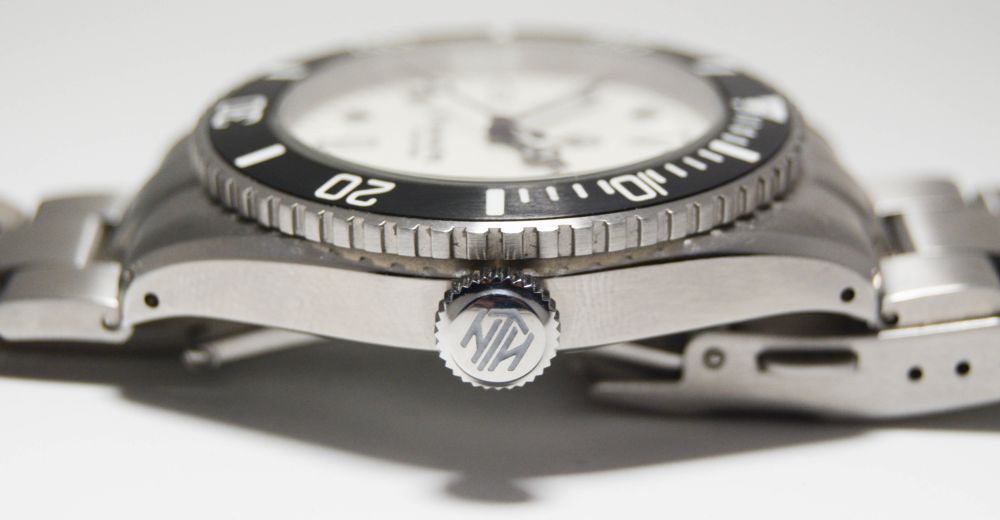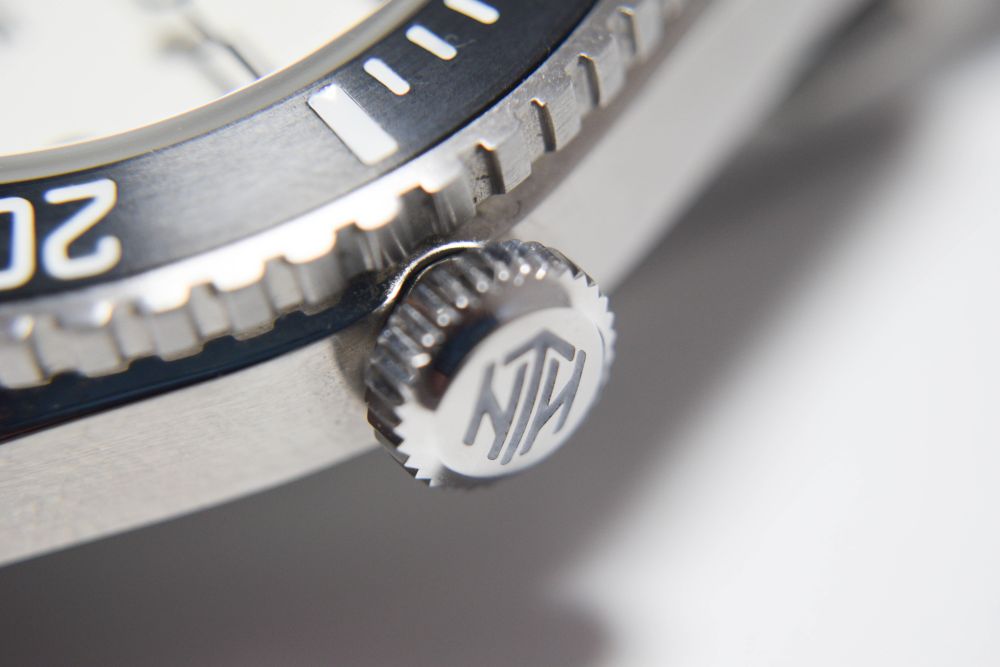 Now, the face on the Santa Fe is all lume.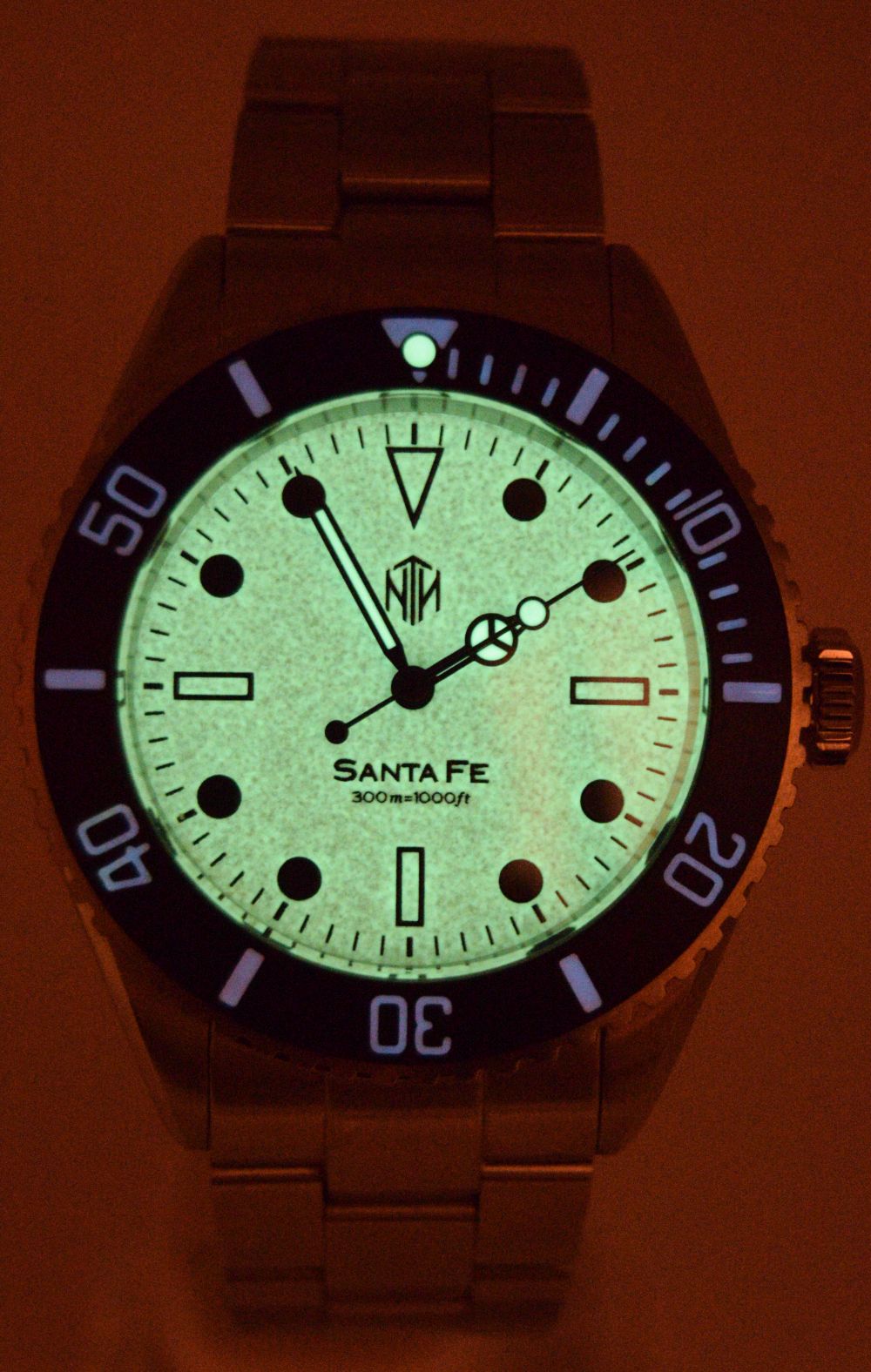 And it's good. It's not "smooth", it has a texture, but it's very pleasing. I like the blackened hands, I like the blackened circular indices.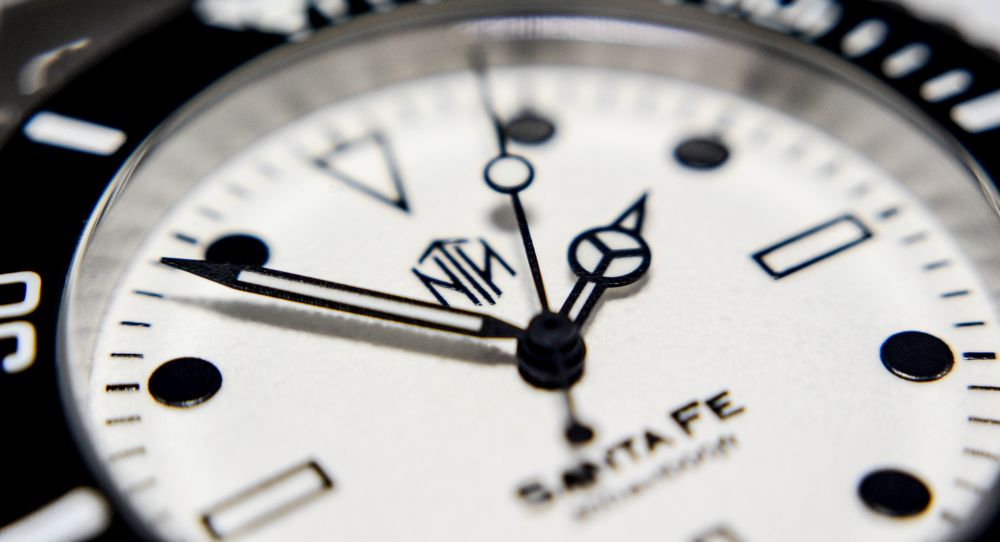 The bezel is steel. I would have expected ceramic at this price, to be honest. It's matte, not shiny like most metal bezels, but this adds to the "tool" nature of this watch. You can't see it well in my bad lume pic, but the bezel is lumed in blue, to contrast the faces green. The bezel has a nice, tight, action.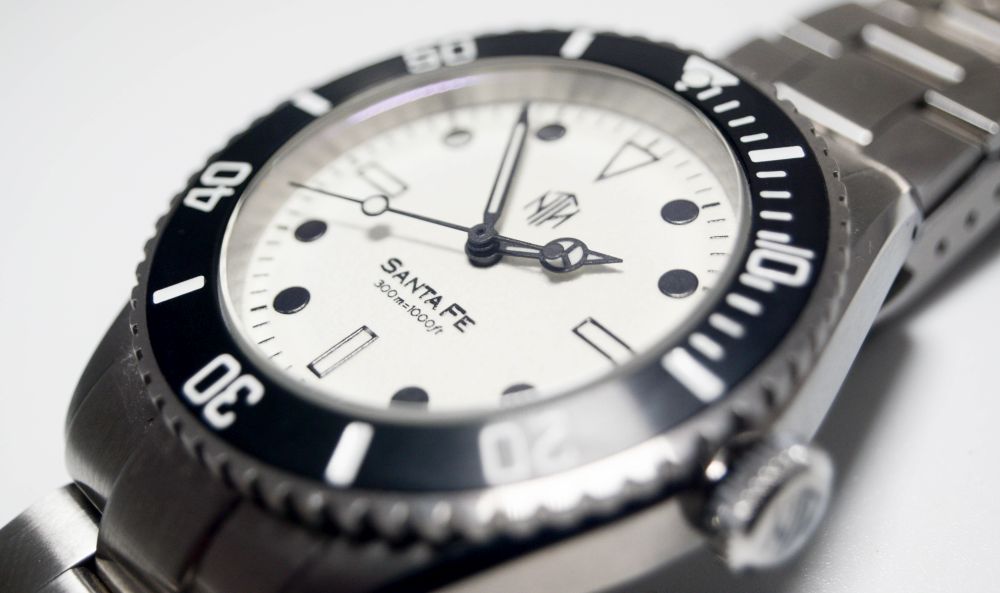 The sapphire AR is again good, yet subtle.
The caseback is plain. That doesn't bother me, I hardly see casebacks, but for what it is, it's well engraved and has nice indents for removal.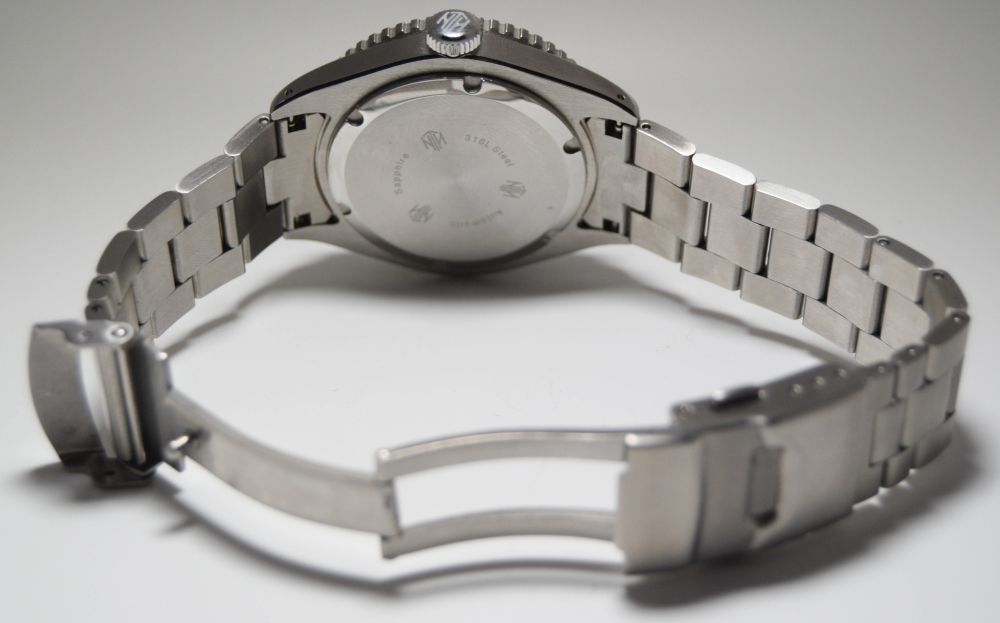 The bracelet. Well, after the Antillies, this feels a bit ordinary. There's nothing wrong with it. It's a screw link oyster with SELs, the clasp is competent, as is the whole bracelet, but nothing stunning, just decent.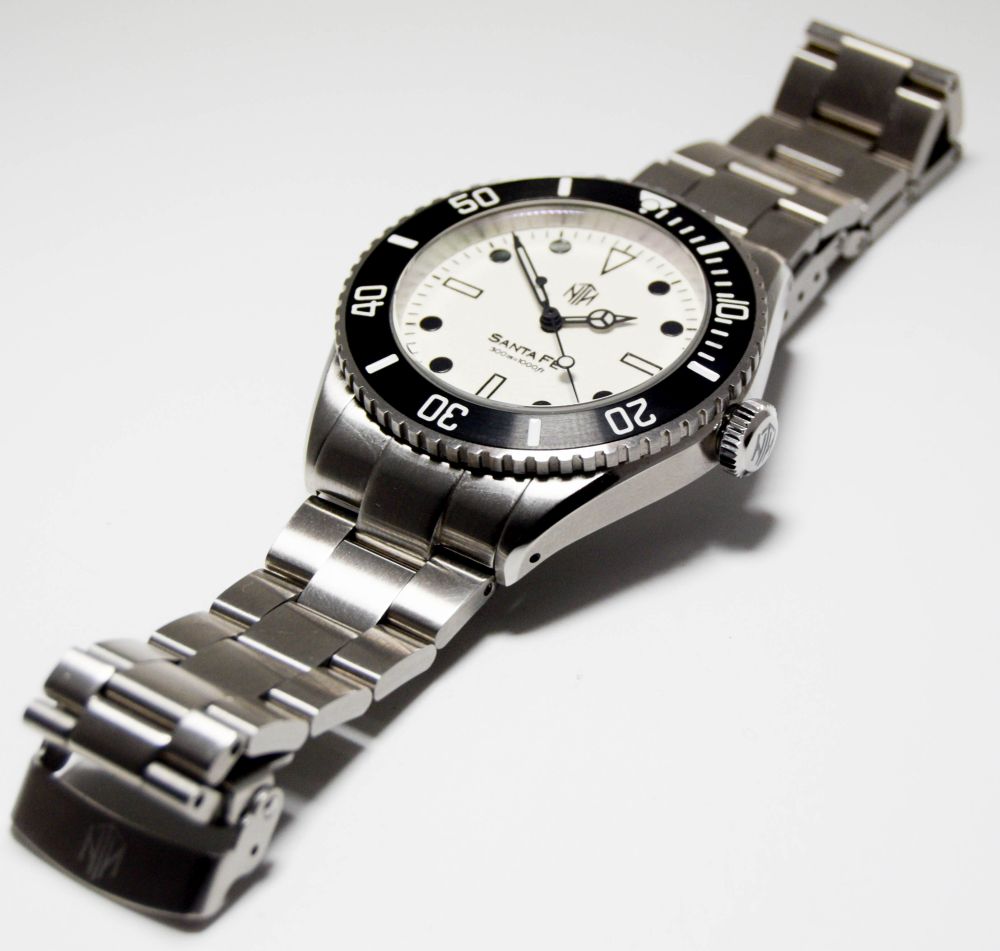 Like I alluded to earlier, I was also sent the "brother" NTH Sub: The Amphion Dark Gilt. Joshua will review that, but I couldn't resist taking a few pics…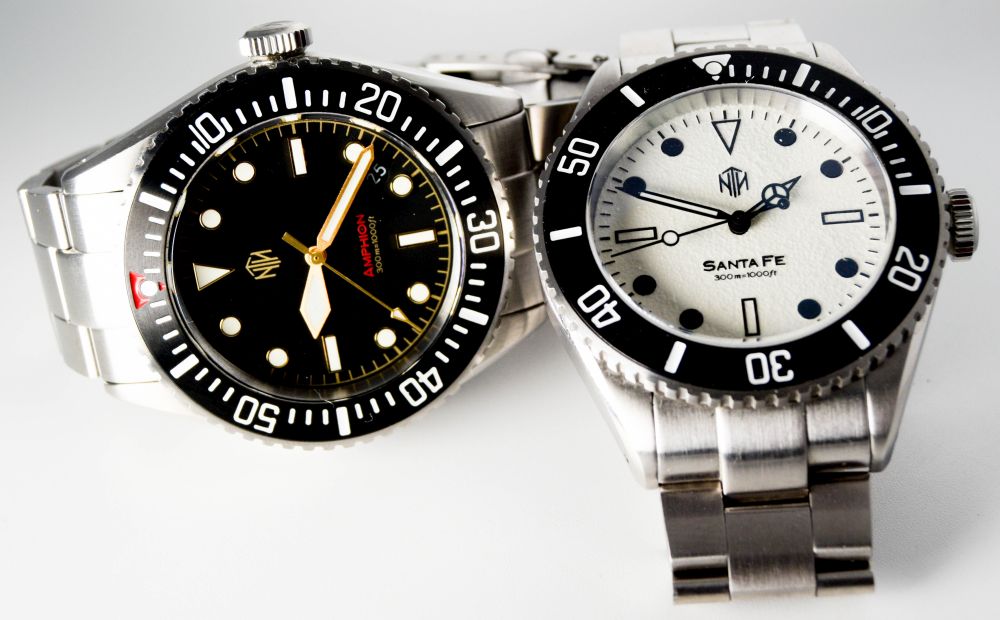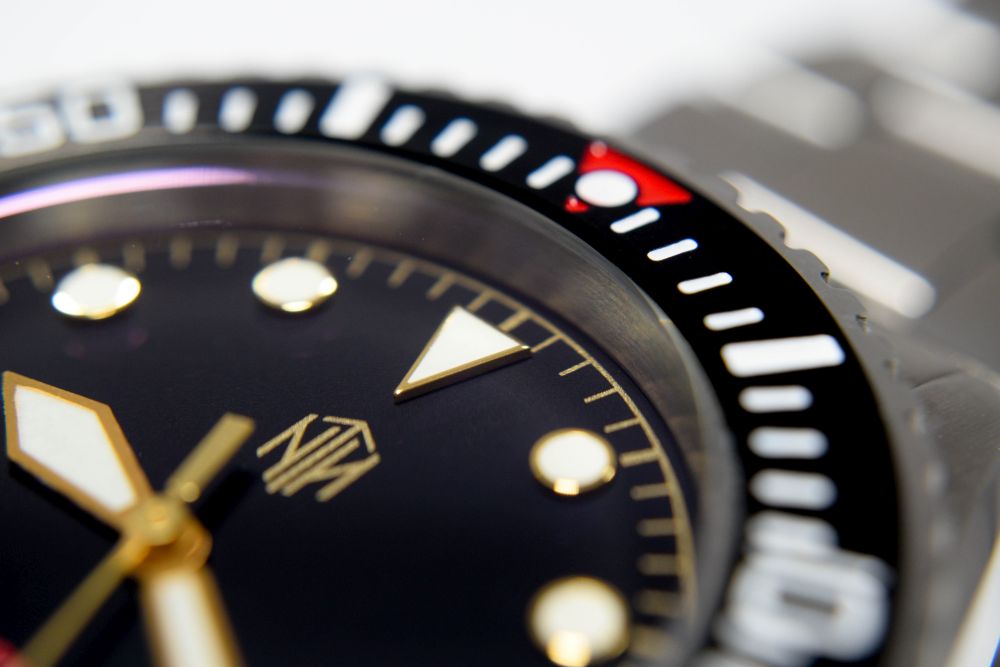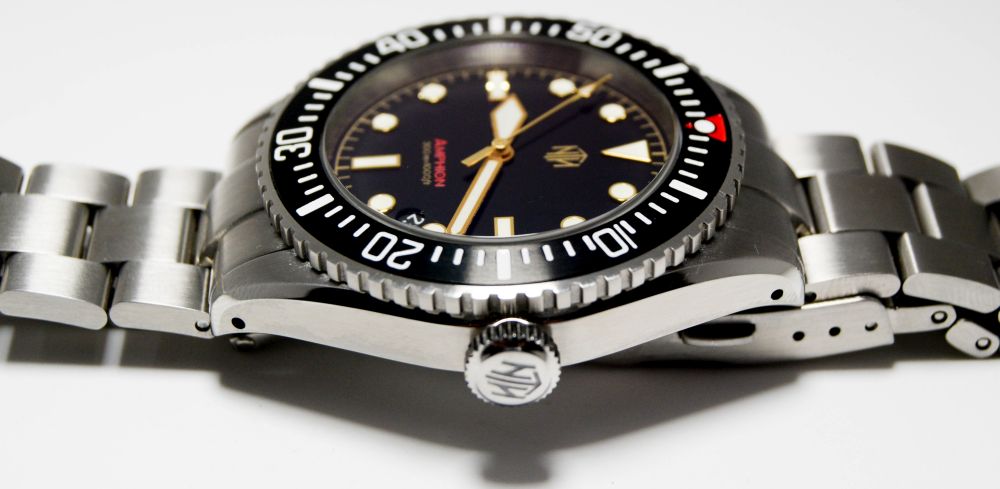 Basically the same except for the face, bezel and handset. Both powered by the Miyota 9015, which is not worth talking about, as it's a well known, high beat, auto with good reliability and accuracy.
So, what are my thoughts, I'll start with the Santa Fe.
Is this a good type of homage? Yes. This is no rip off. With that lumed face and slim case, no one would mistake it for a Submariner, unlike say a Tissell or Ginault.
Yes, the entire NTH sub line is all aping vintage watches in some way, but at least in the case of the two I was sent, they have enough of their own DNA to stand on their own. It took a lot of knowledge and love of watches to make such a varied line using the same base ingredients.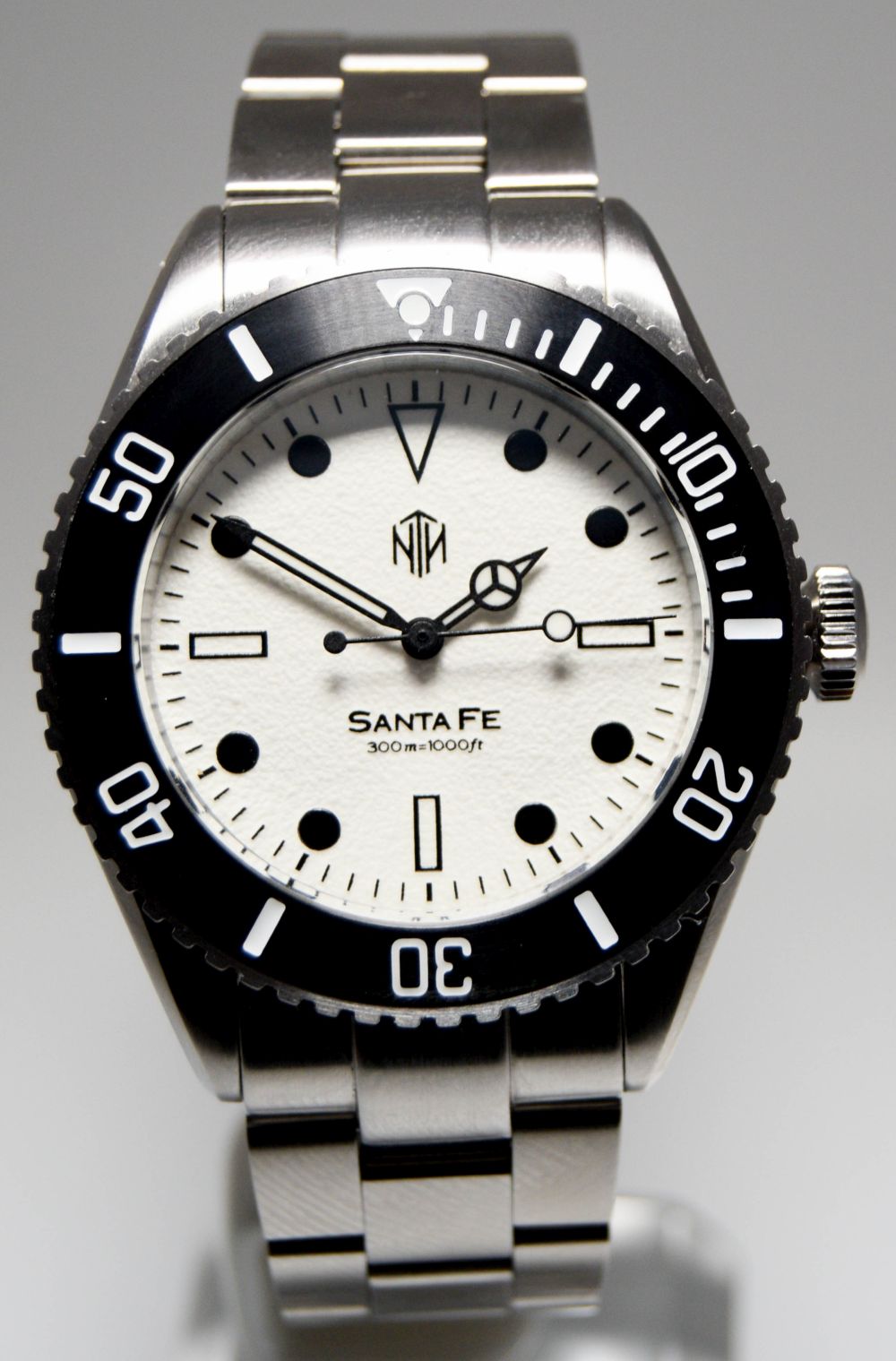 Indeed, the Santa Fe reminds me of one of those expensive Rolex mods that the likes of Titanblack do. It would never be confused for a Rolex, and it really is a tool watch. Purposeful, functional, well made and good looking.
I often think what my "bug out" watch would be. I have often thought it would be a Seiko Turtle on a NATO (so when it breaks, I could use an old rag I might find as a replacement strap). However, if this was on my wrist if the bomb dropped, I think it would serve me well and be invaluable.
The Dark Gilt though, with the date, was hard to send to Joshua, I'll just say that I thought it was stunning and I'm seriously thinking about getting one.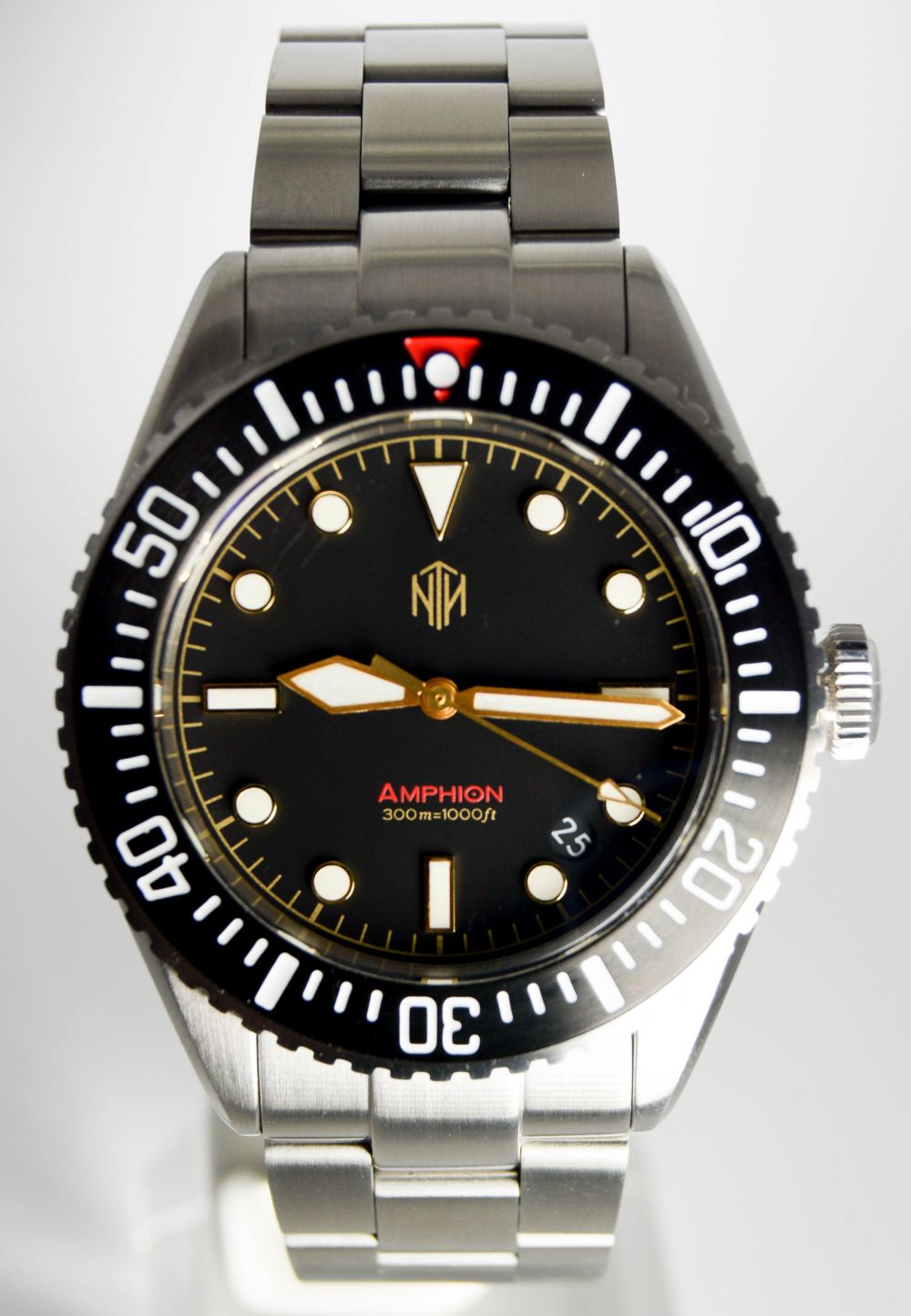 As for the Antillies. Wonderful.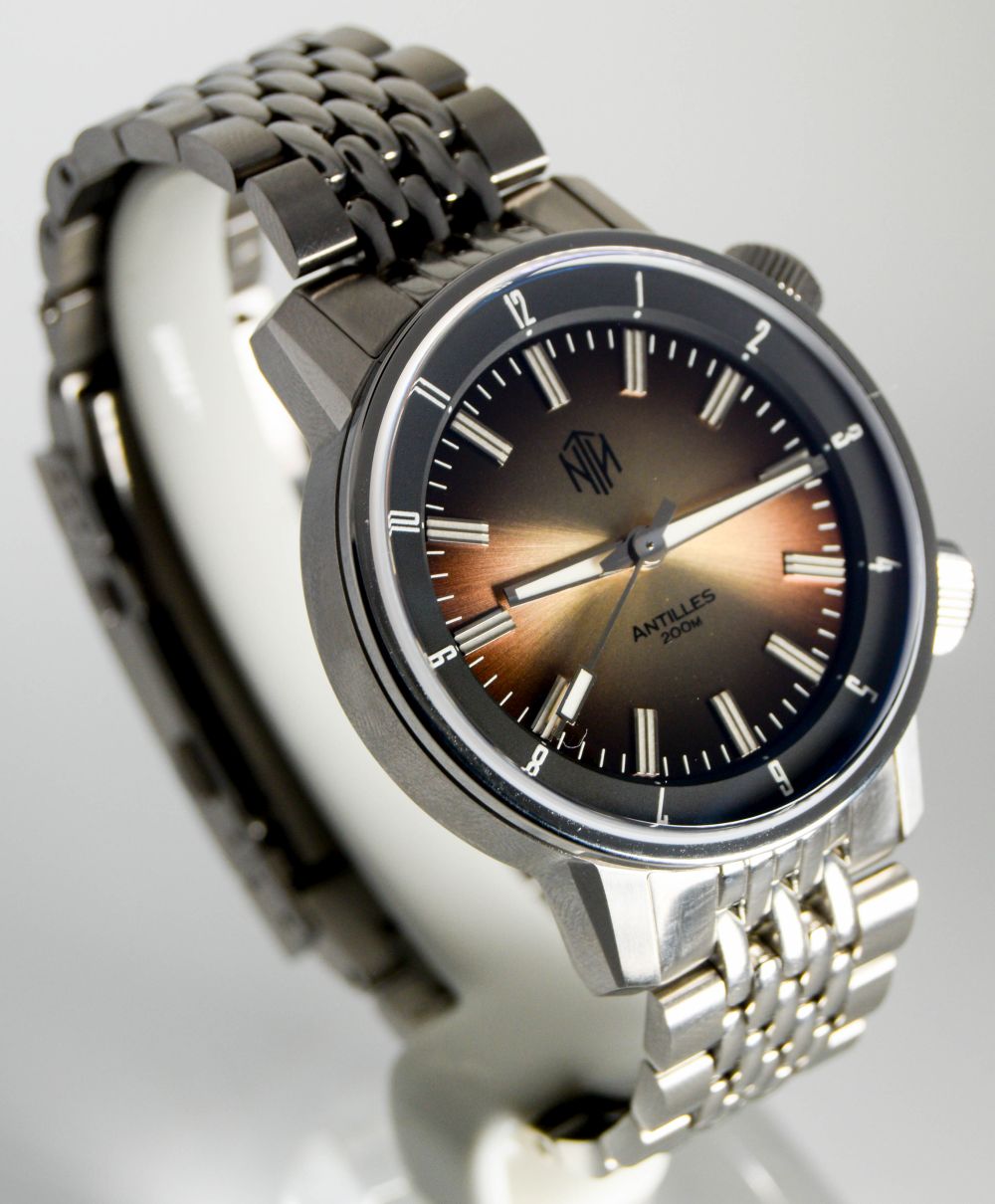 Apart from stabbing myself in the hand whilst trying to adjust the strap, I loved the time I spent with it.
It's well made and gorgeous. The smoothness of the crowns, that sunburst dial and the general vintage, yet modern, vibe made it a joy to wear. Everyone that saw it, loved it. Just wish it came with a date option, but again, that wouldn't bother me enough not to get one.
So, although I was ready to pick faults of a friend, who is successful where I wasn't, I really can't be too harsh.
Yes, these aren't cheap (especially when you factor in shipping and taxes outside the USA) but like the best MB watches, they are worth it. They're well made, well finished, well specified and backed up by a true microbrand, who gives a damn about each and every watch he sells. If you like the look of them, get one, I'm sure you won't feel let down. And if you are, you can speak directly to the guy who made them, not some generic email address…
All this really means is that I am going to be expecting great things from Chris' next watch, the Devilray. I'm sure Chris isn't going to be disappointing me there…are you Chris 🙂