Nite is a UK based watch brand who specialise in tritium illumination on all their models. I've reviewed a few of their watches, all are impressively made and well designed. Check them out here.
What is tritium illumination? Tritium is a gas; also known as super heavy hydrogen. It emits electrons through beta decay and when these electrons interact with a phosphorous material, fluorescent light is created that can last up to 20 years. This cold illumination is completely self-powered, which makes it an extremely reliable light source.
It doesn't glow as bright as charged lume, but of course, it doesn't require charging at all. If a Seiko and a Nite watch were kept in a dark drawer for a month, the Seiko's lume would be completely dead, but the tritium would keep on glowing.
When Nite first announced their tritium keyrings, I immediately fell in love. As a full-on watch nerd, having a jumbo tritium tube attached to my keys sounded epic. Sadly, they sold two batches out immediately before I could get my grubby mitts on them. Now though, I'm the proud owner of a green and ice blue tritium keyring.
Let's check them out.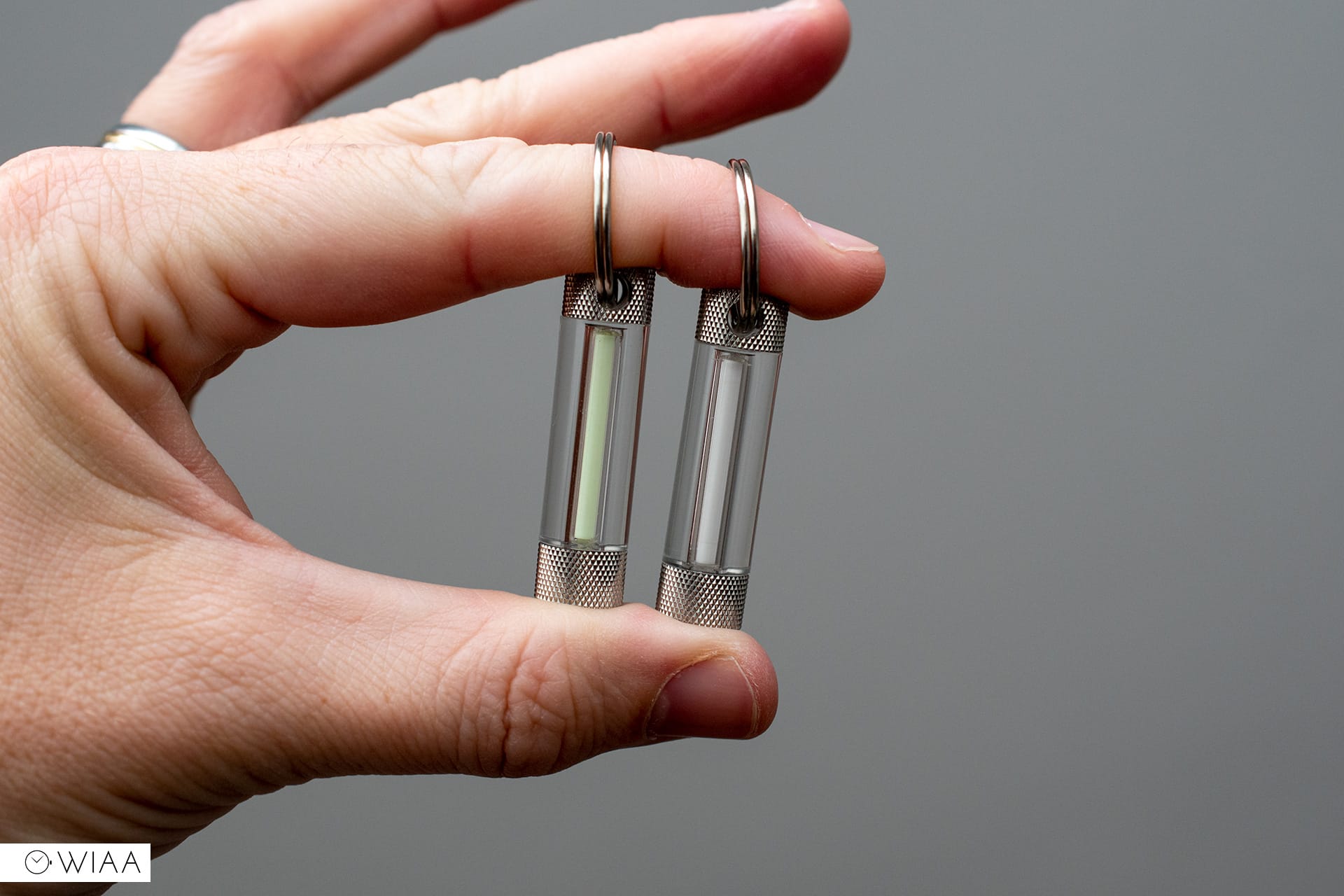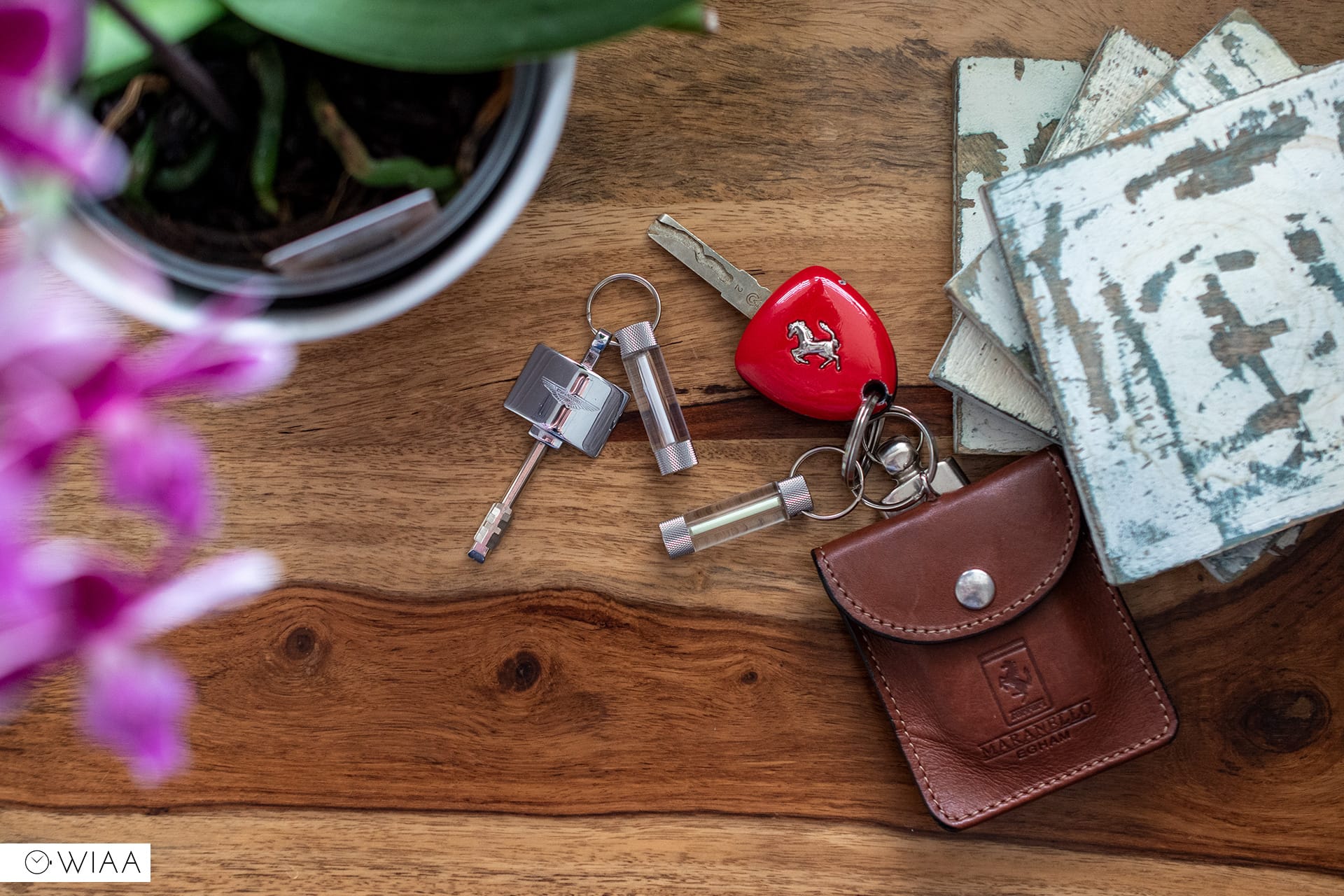 The specs
Dimensions: 40mm height x 10mm diameter
Weight: 7g
Price: £18
Buy here:
The video review
The build quality
What's not to like here in terms of construction? Simplicity is always best, and they've done a good job of designing a simple yet eye-catching product. In reality, it's all about those big fat tritium tubes, so to make them the focal point is the right thing to do.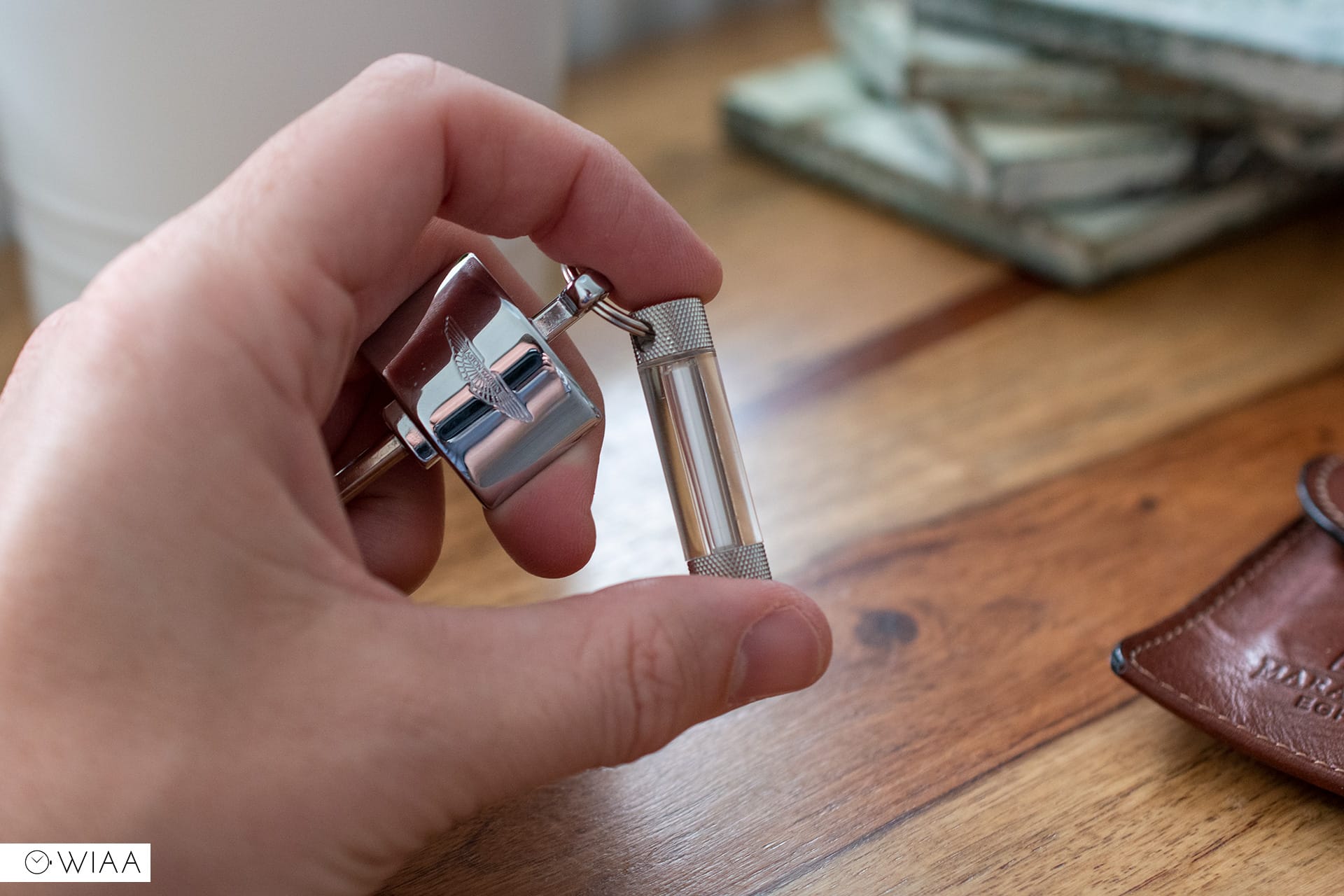 The size is suitable for a keychain, it's not going to get in the way but it will serve its purpose of a feature. The weight is light too, so it's not going to make your keys an unliftable piece of dark matter.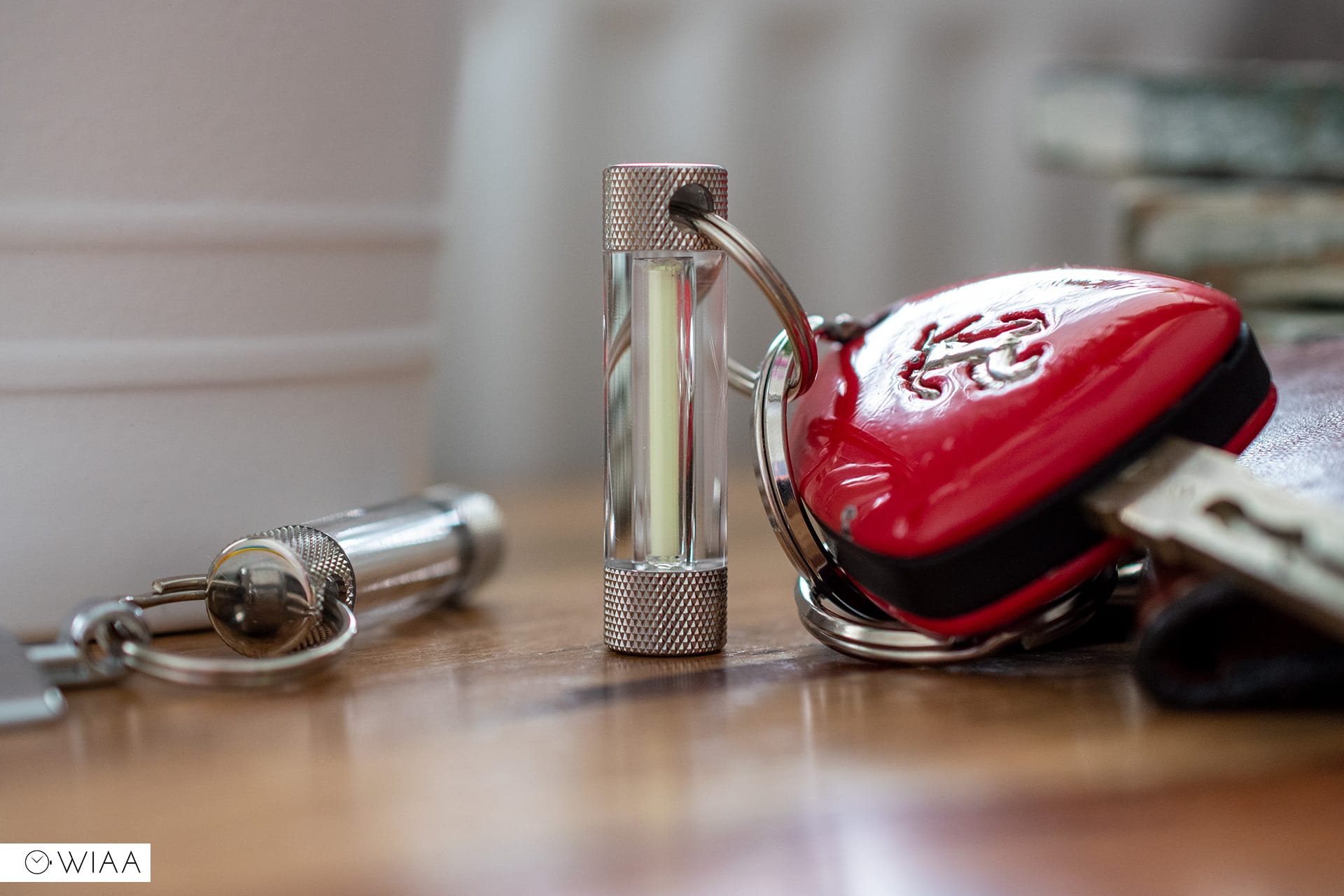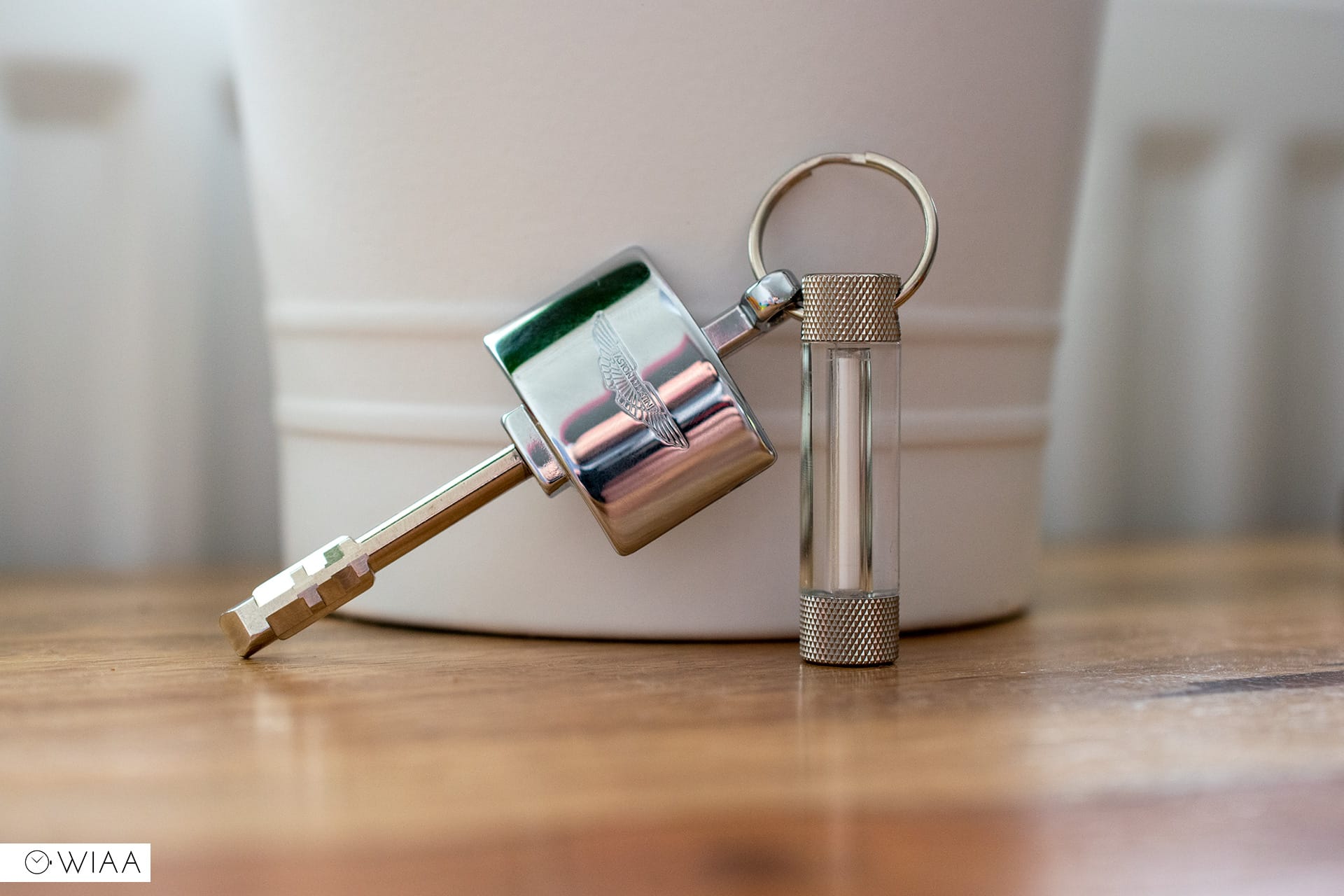 The overall construction is a cylinder, with a polished top and bottom. There are knurled steel blocks above and below the central piece, the top featuring a hole for the provided split ring.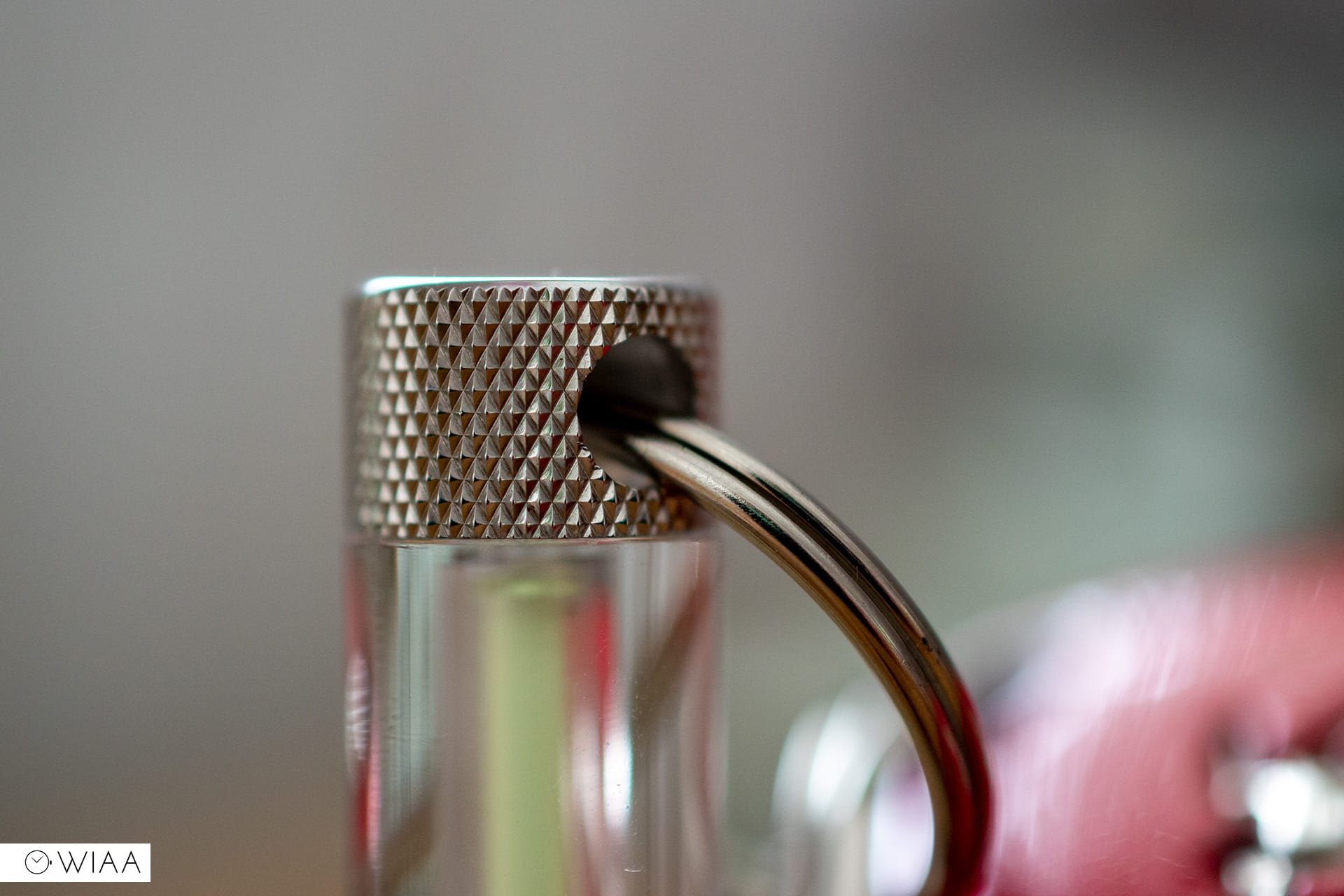 The central area looks and feels like clear perspex / plastic, but not so in a cheap way.
The illumination
In broad daylight, you may just feel like these are coloured tubes in the middle. Even in semi-dark, they don't yet glow too brightly.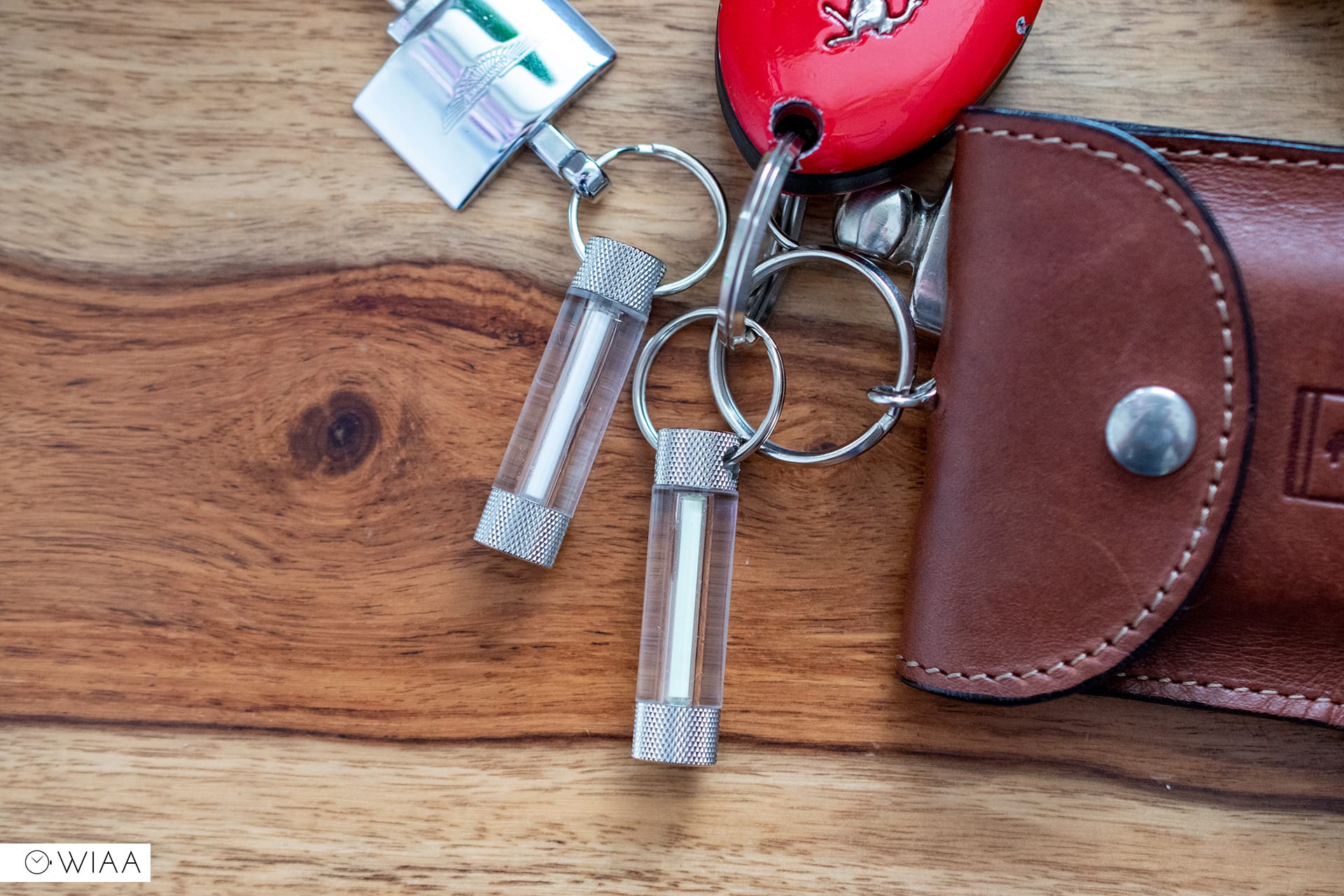 However, as soon as it is dark, they come into their own. In pitch black, you'd have to be blind to miss them. The first day I received them, I left them on the dressing table in my bedroom. That was a mistake, as they were so bright they glowed that end of the room up.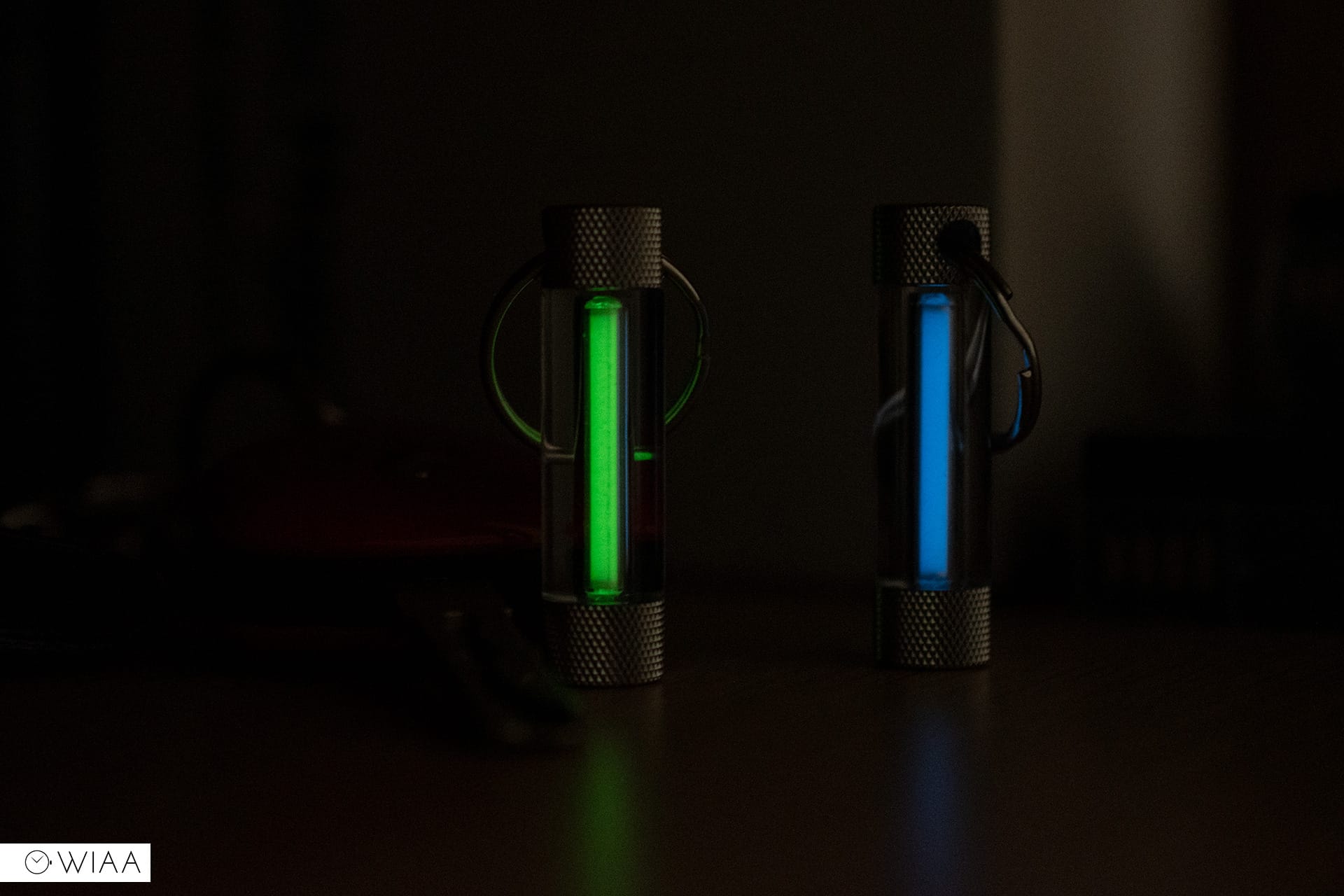 I had to put them in the dressing table drawer. And even then, I could see the glow peeking through the drawer crack like some sort of infinity stone.
With one of these strapped to your keys, there is no chance misplacing them in the dark.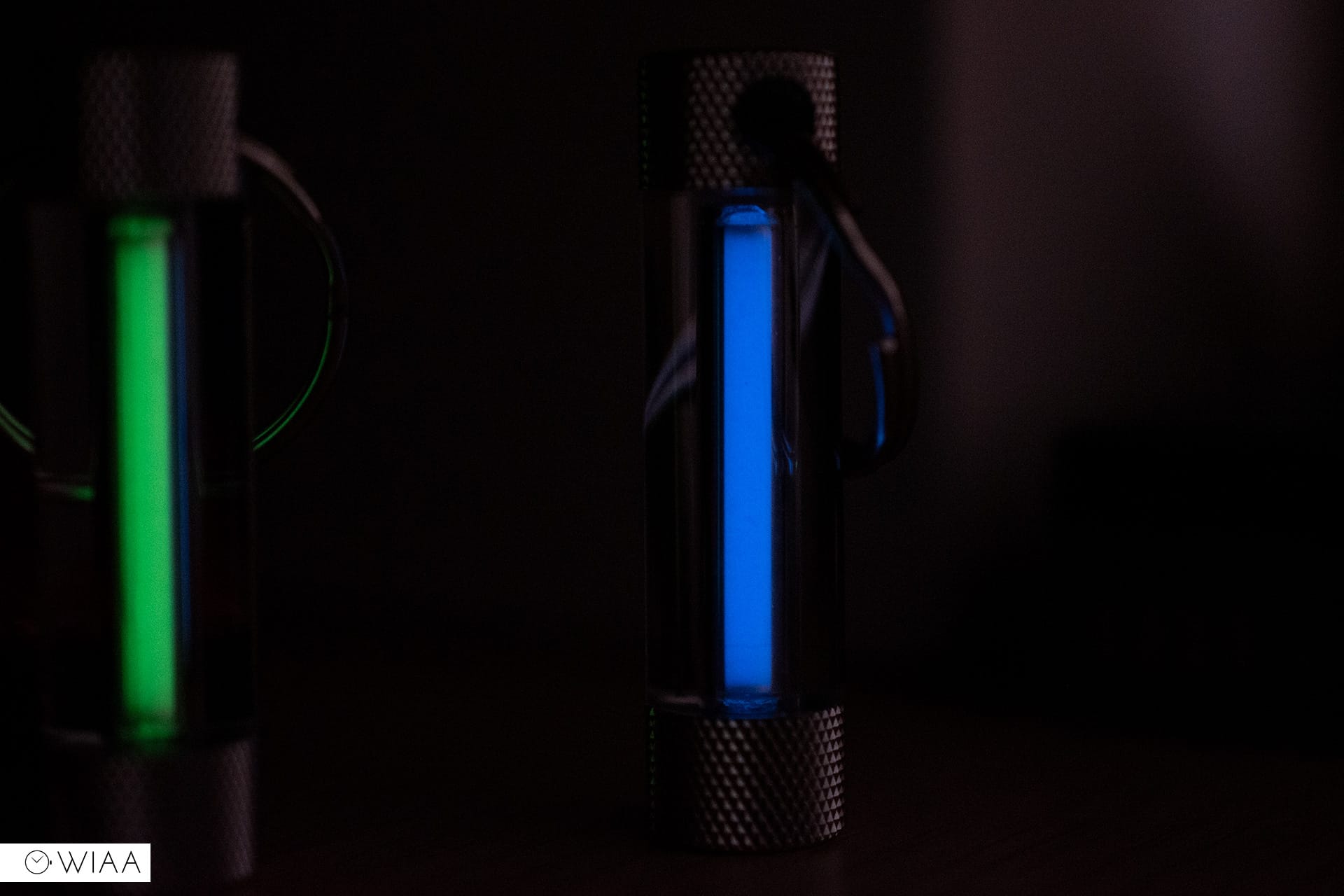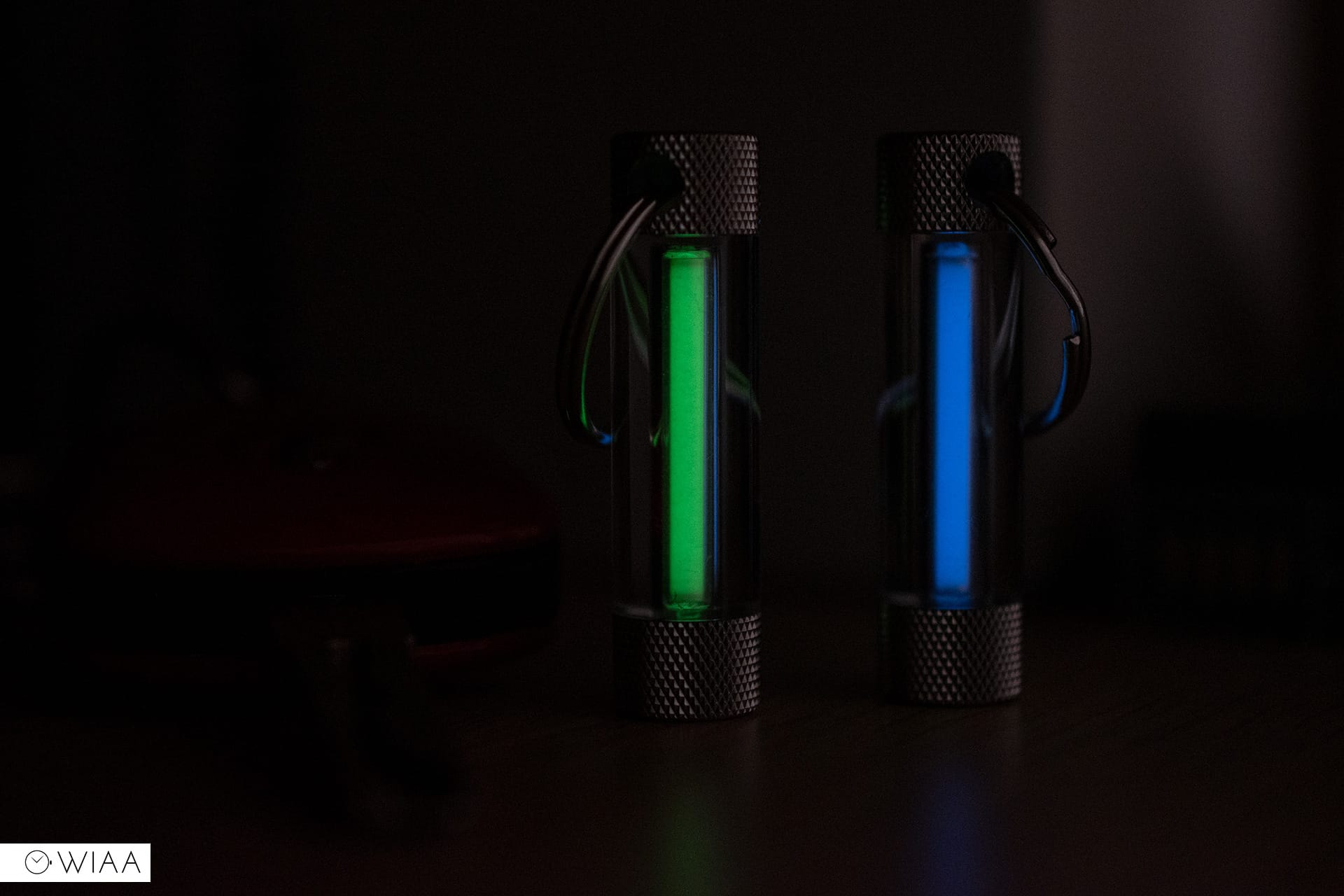 Whilst these tritium tubes don't have a T-rating in the same way the watches do, they have a Maximum Activity of 13.6 GBq (Gigabecquerel, the becquerel being a measurement of radioactivity). If you're a radioactive scientist, please let me know what that means.
Final comments
If like me, you love all sorts of watch based merchandise, then the Nite tritium keyring is worth considering. £18 may seem steep for a keyring, but when you consider the practical value of them and the fact that they're tubes of radiation providing self-powered illumination, it's not that bad is it. And at that price, it really would make the perfect gift for a watch enthusiast.