CATEGORY: Watch I Own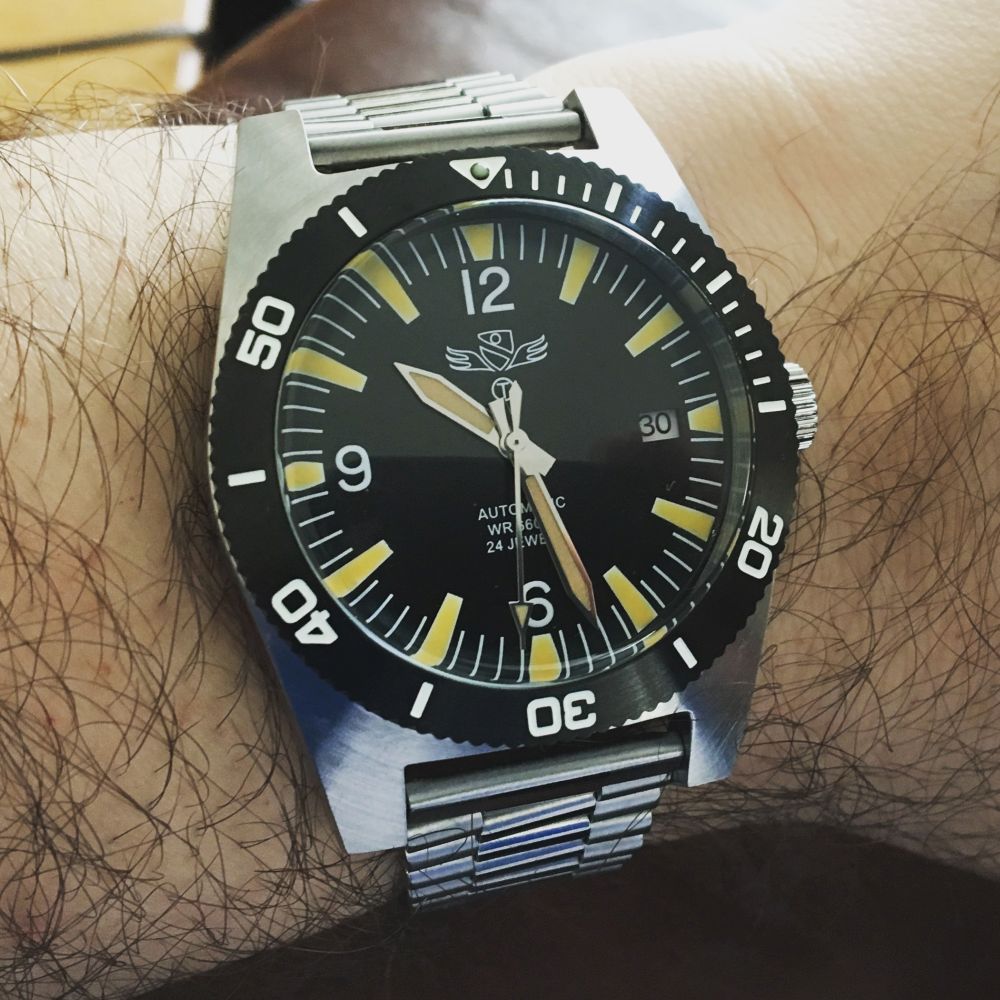 The Microbrand watch industry follows and then moves on from trends a lot quicker than the mainstream manufacturers.
In the years I've been an observer, the trends sort of went from big divers, to bronze divers, to retro divers, then retro chronographs and brass / titanium divers. These are what have been mopping up on Kickstarter. Minimalist and fliegers have always been there and those that go out of vogue still remain on sale, which mean there is a wide variety of choices in the MB space.
But the one style which has always been there and has never gone out of vogue is that of the "homage".
There is no right side of the fence to sit on with this one. If you're "pro" homage, then it means that you can't afford the original and so are just fooling yourself because you lust after the original, but can't / won't pay the entrance fee. If you're "anti" homage, then you're a snob and a troll and you should let people buy what they want, and be happy for them, without "poo-pooing".
But regardless, an homage done right, hitting the zeitgeist even, can be a way to make money with minimal creative input. And if it's really close, then even the moulds are readily available (from the fake market) so it means lower MOQs and production costs.
I've made it clear I'm not a fan of re-branded copies (and that's what they are) of expensive watches, however I am a fan of homages of which you can see where the inspiration came, but there is enough original DNA that makes the watch its own thing.
I'm especially a fan of homages of "lesser" watches that are long out of production, particularly if the original manufacturer is in business but haven't got the grip of their market to know there is a demand for it.
Some manufacturers are starting to do re-issues after seeing them flourish on the MB market…eventually. And in some cases they're too little too late, or in the case of the Seiko 62MAS, what the hell is that price all about?
And this brings me to the Military Industries USA diver watch.
They aren't a Microbrand, as I don't see them participating actively in the usual places, they just seem to be a tiny watch company. Heck, they're  virtually unknown and their marketing makes most MBs look like they have the marketing budget of McDonalds.
I only came across this watch as a stalwart of the MB scene bought one and posted a picture. This was back in January. I instantly saw the watch and thought "A 62MAS case with a Seamaster 300 face…with a 70s style black sawtooth bezel". Nice.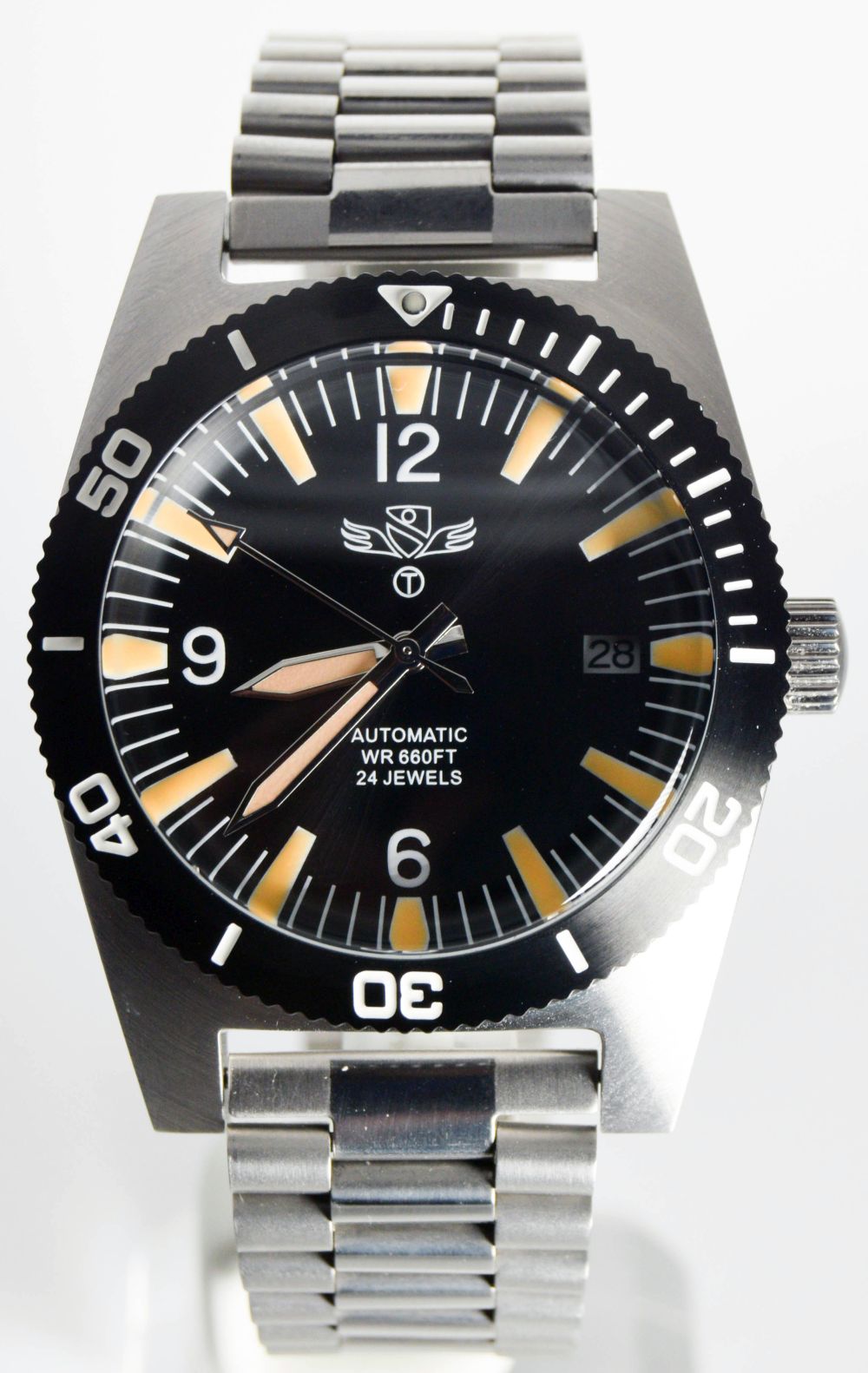 The 62MAS case is currently in vogue. There are already a couple of MBs making watches based on it and a few new ones, that are "inspired by X and celebrating Y" being pushed by a 20 something, whose "passion" for watches is born from his Casio F-91. They change the face and fire it at fans: "What do you think?" "Looks great…as we can't be cynical / negative. If we say anything non complimentary, we a branded a Troll and told to simply not bother posting"… This is a problem I'm seeing more of. If someone is releasing something that is so much like so many others, perhaps they need to be told. Otherwise they could end up making a watch that won't sell and getting themselves in lumber.
There is being a troll, but there is also being objective. Constructive criticism so to speak. I don't like how this is getting muted. If what they say is true about their watch, then they will be able to argue the toss. If they have no rebuttal to non flattering, but factually correct statements, maybe their product isn't as solid as they thought. Saying something nasty, because something isn't for you is troll behavior, but pointing out things based on facts isn't, or we're just going to create a community of precious snowflakes. And snowflakes melt. Just my five cents.
Anyway I can't find a website for Military Industries USA, here's the closest I found: https://www.military-industries.com/products/military-industries-1970s-pattern-automatic-24-jewel-divers-watch
And here I found the specs:
Dimensions – 40mm diameter case, 47.5mm lug-to-lug, 20mm strap size
Case – 316L military grade stainless steel with typical 1970's Pattern Finish
Crown – Screw down, stainless  steel
Dial – Black with enhanced luminosity
Movement – 24 jewel automatic with 41 hour reserve.
Screw Stainless Steel Case back with serial number
Glass – Hardened mineral crystal
Water resistance – 200m / 660ft
20mm NATO Webbing Strap (1 x Black and 1 x Grey)
24 Months Guarantee
The price: £395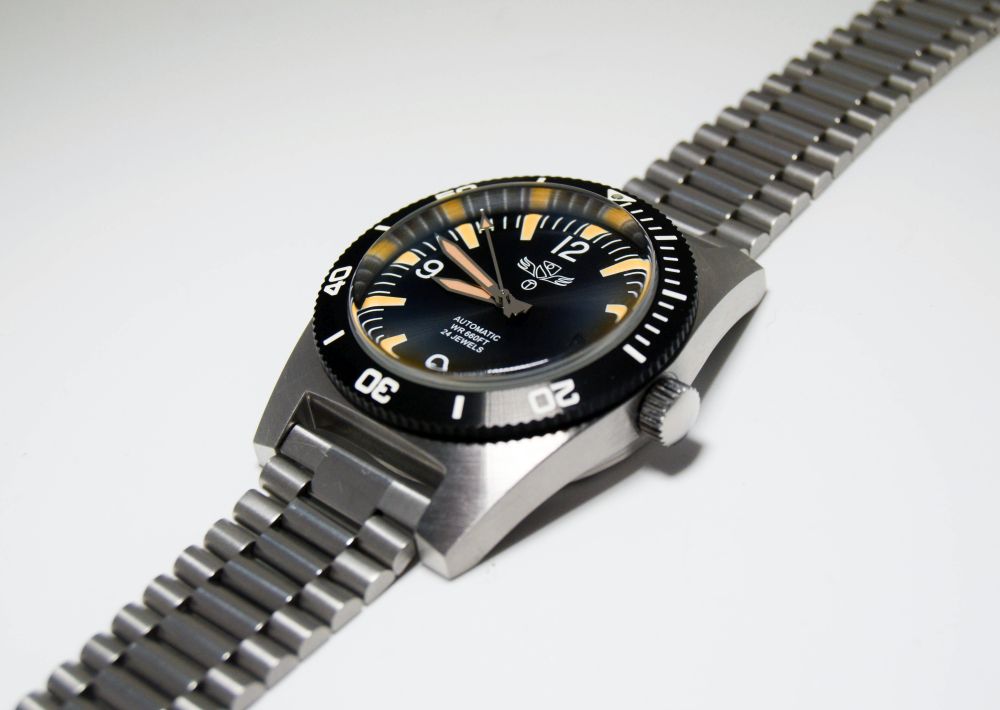 I know I keep saying that there isn't a list of what parts cost,  and that if you add up the cost of the bits, that's what the watch should cost. But this is a 62MAS case with a Seamaster 300 face. This is not a Visitor Duneshore for example, a watch that is so unique and stunning that it transcends it's specs. This is simply not a £395 watch.
However, a quick look on eBay and it was apparent that they were available in auctions. I bid. I won it for £135 shipped.
So, what's the appeal. Well, let me take the words directly from their website:
"This Military Industries divers watch from Military Industries USA is typical of military divers watches made during the 1970's and early 1980's. The details are super accurate and even the case finish and bezel design is very typical of the designs used at the time.
The watch has a 24 jewel self winding automatic movement with a 41 hour power reserve. The case finish is very retro in appearance and identical to the case finish used around 45 years ago on most other military divers watches. Although the watch is very retro in appearance the movement is contemporary and therefore can be maintained and serviced by any competent watchmaker.
The attention to detail is such that even the luminous pigment on the dial matches the colour used in the 1970s as do the hands."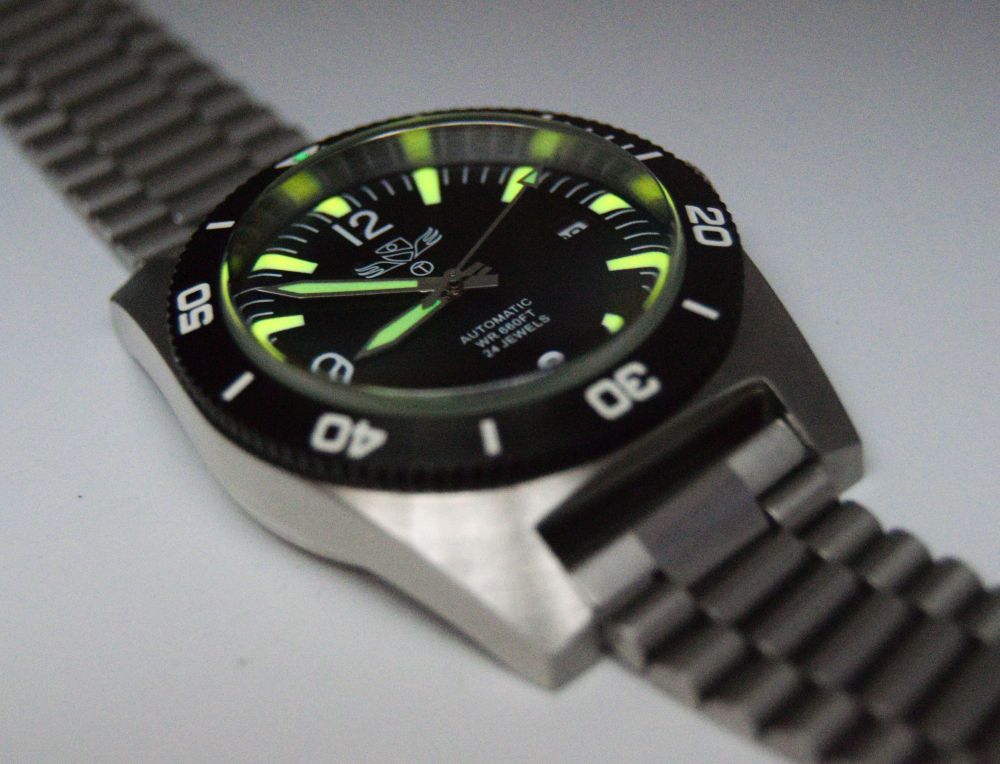 I like that idea. I like the idea of military issued watches, G10s in the UK. This is what the armed forces thinks anyone risking their life, in hard conditions, should have on their wrist. Tough, reliable, legible and cheap. Especially cheap. A proper "tool" watch. People in conflict, in inhospitable places, clutching only their weapons and relying totally on the watch on their wrist. As a mushy corporate man all my life, watches like this appeal to my inner Willard, who has never had a chance to break free in real life.
So, it turned up and everything about it says "Military Surplus". It comes in a tin. Kind of like the tin you'd get a cheap "executive" pen from the Dollar store in. There are 2 x basic NATOs for straps. That's it. You can almost see them being stacked in a supply room and then handed out en mass.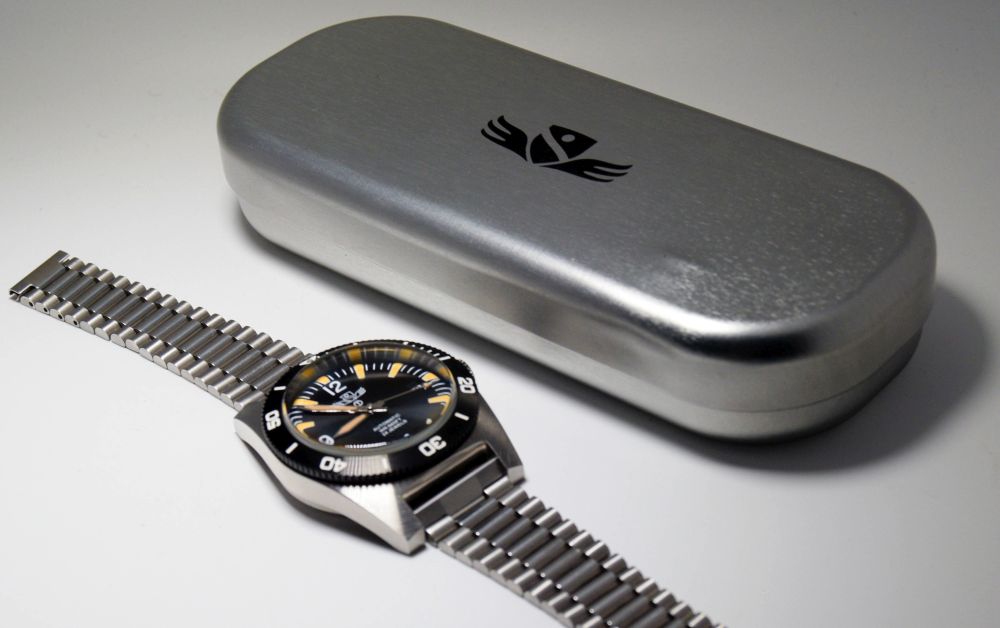 The case itself is basic in its finishing. Not slick, just adequate, but it feels weighty and well screwed together. All brushed, with a sort of circular effect on the top. The lugs are 20mm.

The glass is mineral, the worst kind of glass. Doesn't have the scratch resistance of sapphire. Can't be polished like acrylic. But it's proud, like vintage watches, so I don't like the idea of this being used as a beater as this glass won't take scratches and will break if caught. It is the cheapest option though, so it's in keeping. I'm sure those in forces procurement are just bothered there is glass there and have no idea what sapphire glass is.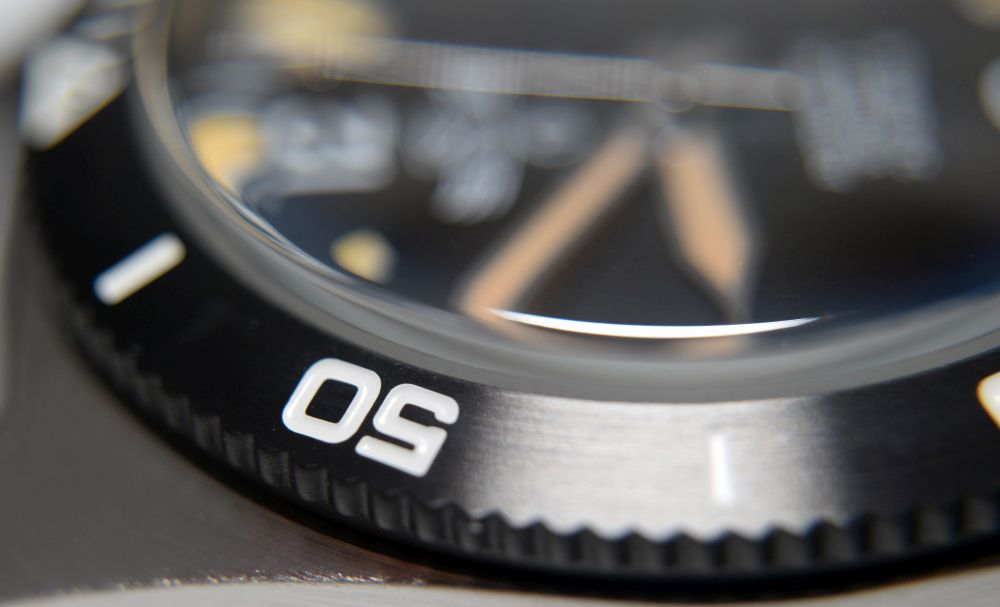 The face is nice. It doesn't say what type of lume it is, but looking at the colour and the brightness, I'd guess it was C1 superluminova and it does light up well.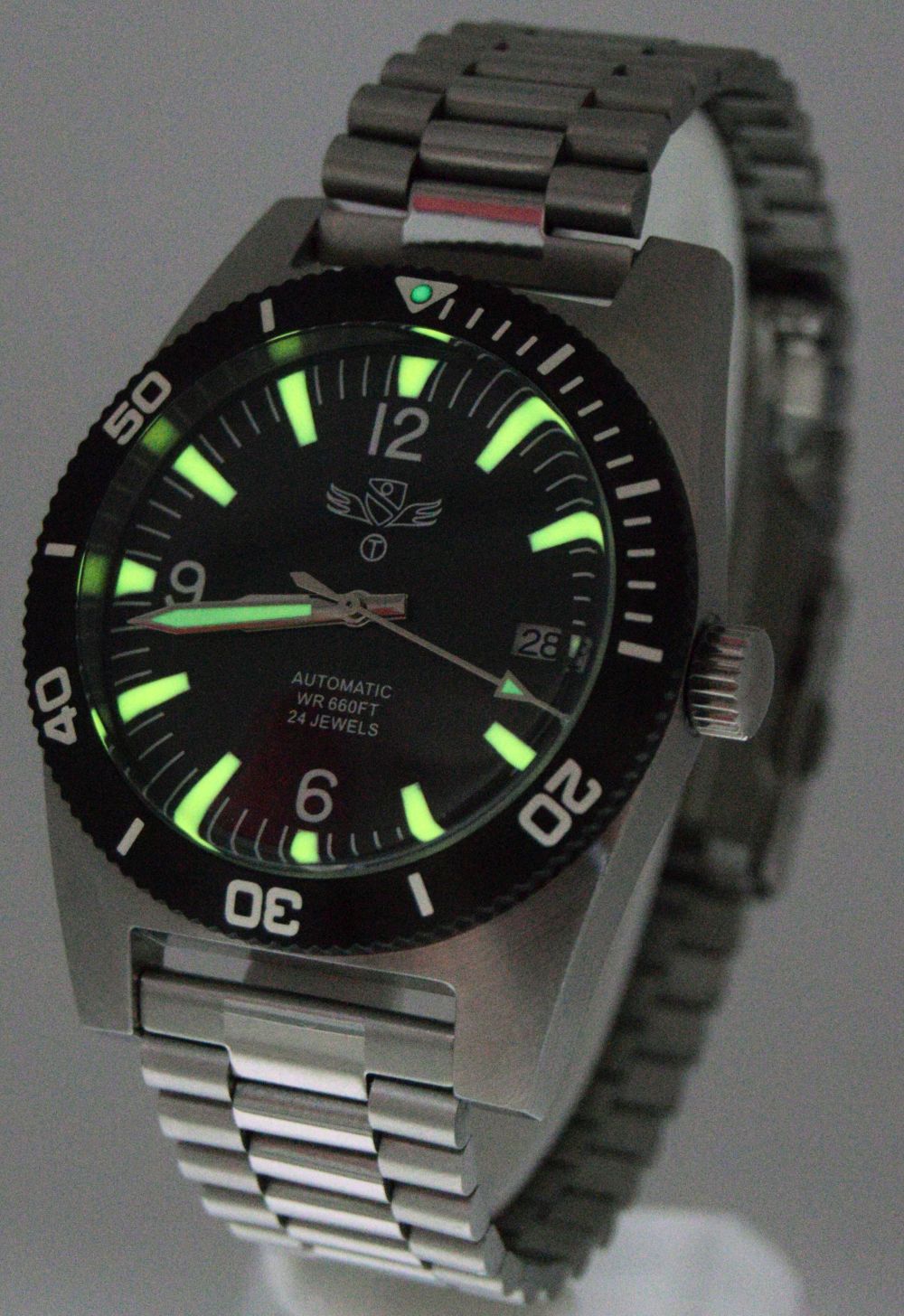 The face isn't matte, as would have been expected on a watch of this type, but in fact a deep grey sunburst. Don't get me wrong, I like it, but it's out of character.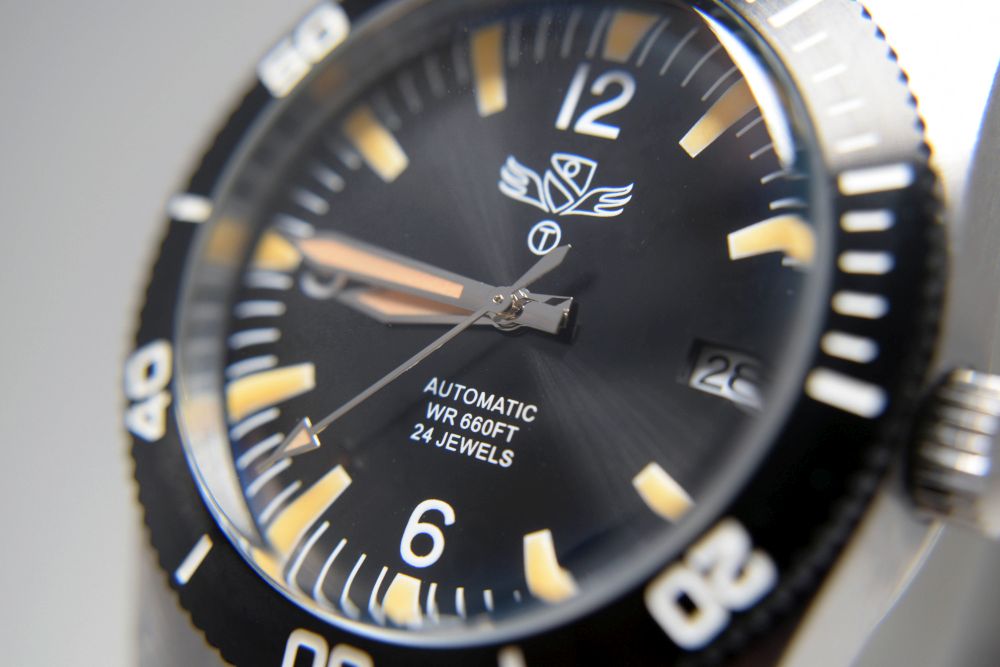 The indices are not applied, but it is very legible, functional and authentically well done. I think the logo is a bit OTT for this type of face, in reality it would just say "Military Watch Industries". Also it has the "circle T" on the face. This used to mean that the luminous paint was radioactive Tritium, now I guess it's just there for show.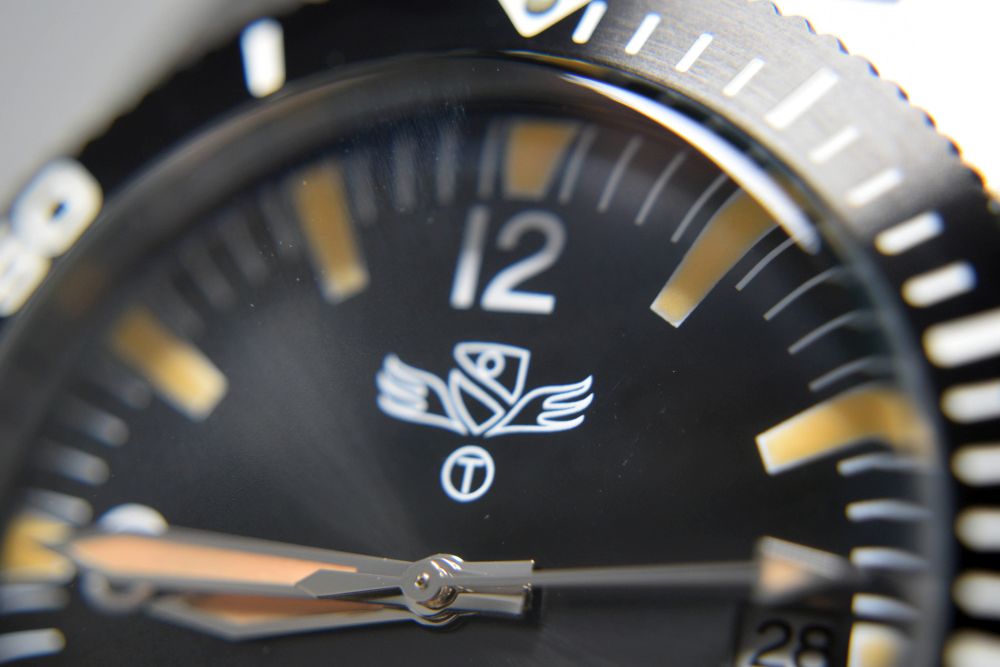 The hands are simple sword affairs and are well done. Filled with lume again.
The bezel is not PVD or DLC from what I can see. Without scratching it, I'd say it was painted black. But again, I suppose that's keeping to its basic design roots. It is however very tight to turn and not that pleasant, but it does line up well and the lume pip at 12 is nice and vintage looking.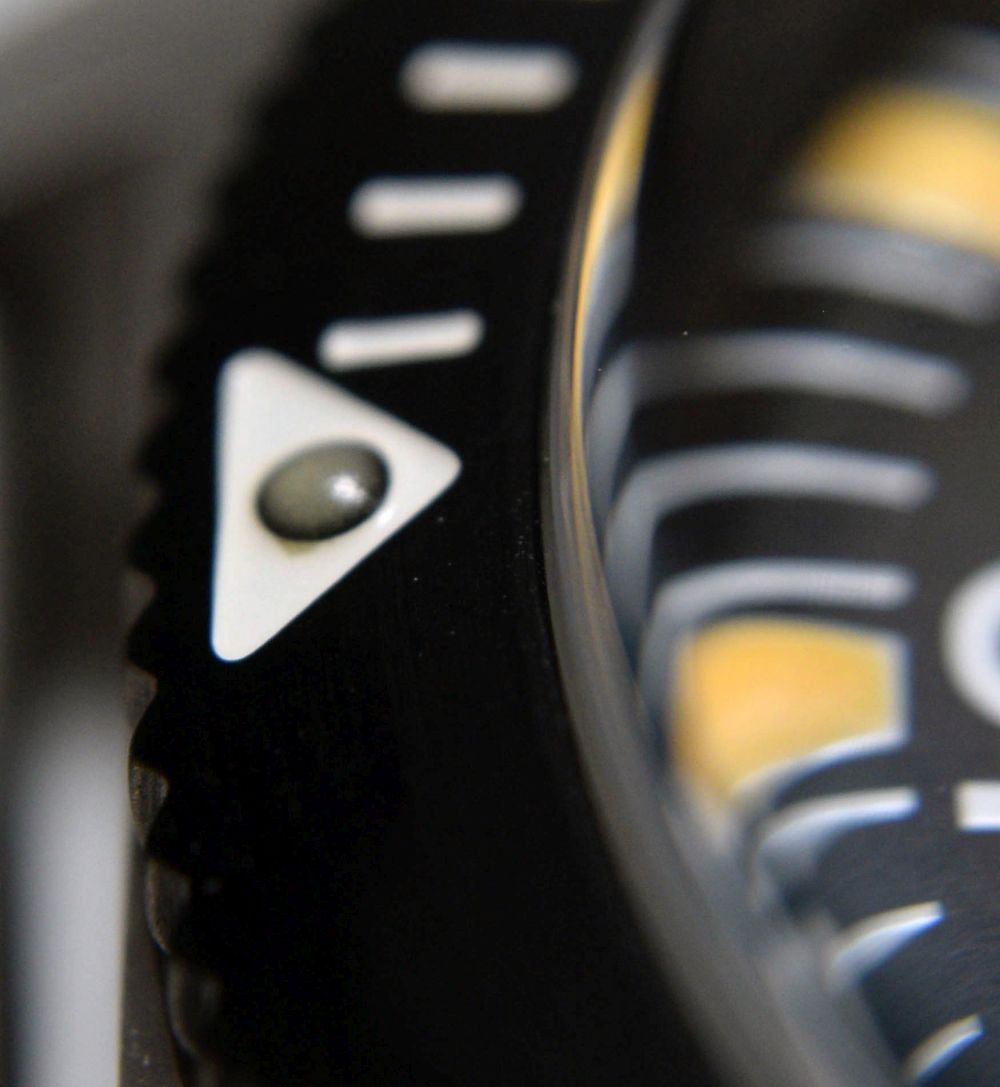 The crown is not signed, but has a nice movement and screws down easily.
The caseback is simple. I don't know if that number in the middle means it's number 77 of 125 made, but it's fine by me.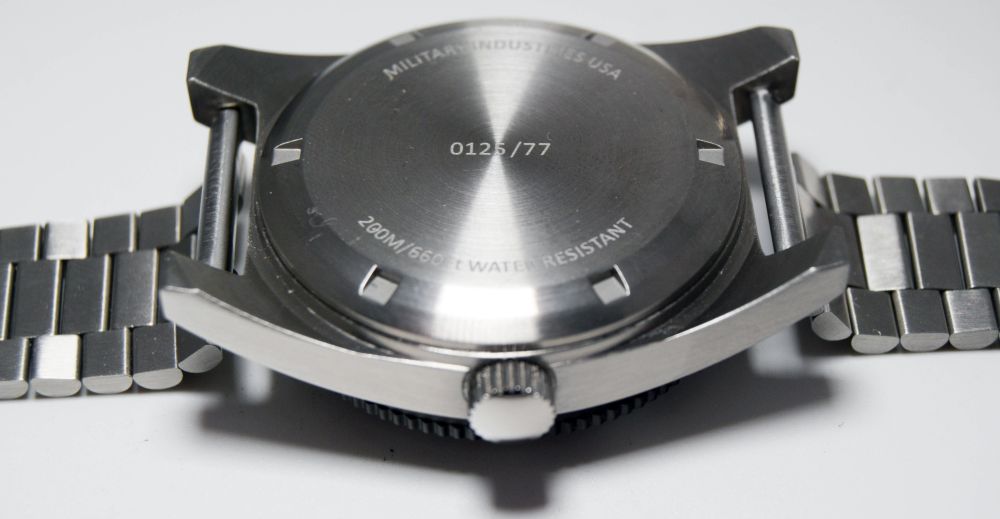 The NATOs are simple enough. Nothing special. I put it on this cheap "president" style strap. Adds charm in my view, like it was used in action, then when the soldier got home, he put it on a cheap bracelet before he sold it.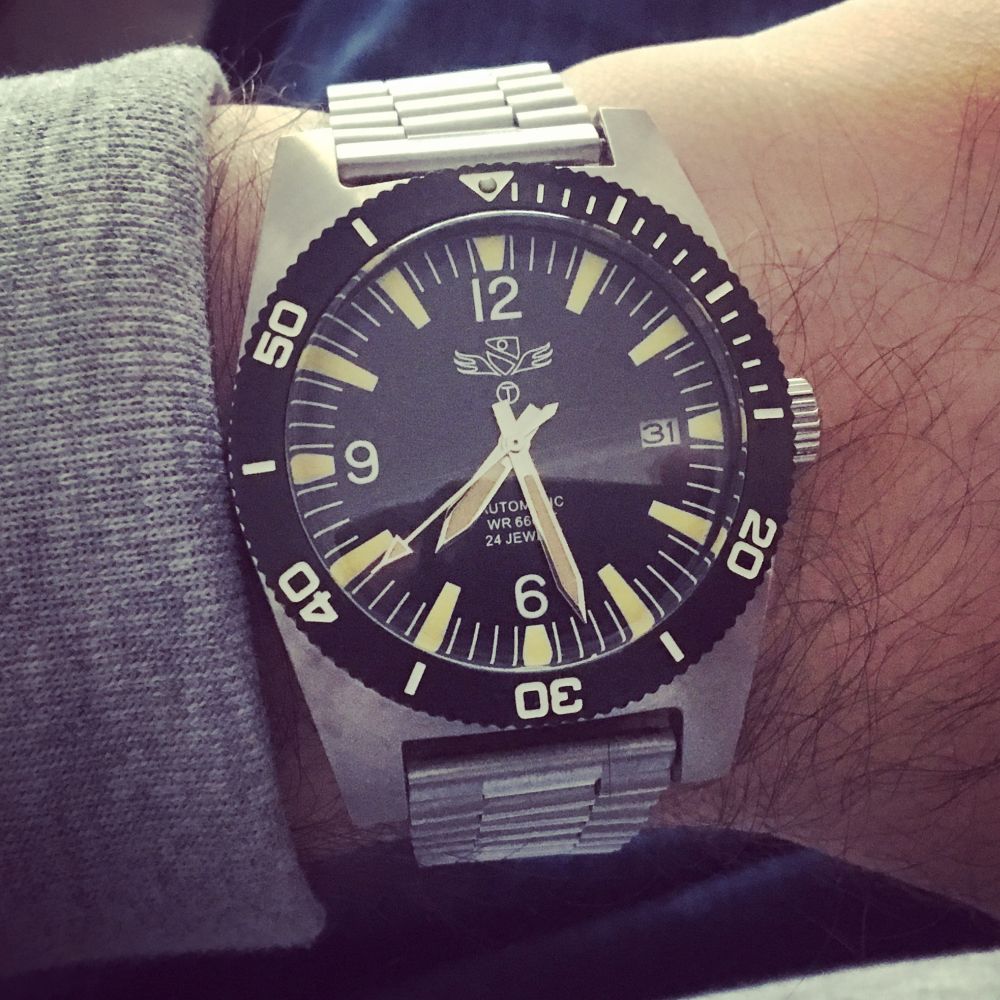 The movement, well, without opening the back, I won't know for sure, but I'd hazard a good guess it's the SII NH35A, the oem version of the Seiko 4R35. A great workhorse movement, with easy serviceability. It hacks, it handwinds, it's accurate.
So what are my overall thoughts then, apart from me having romantic thoughts about places I've never been, battles I've never fought in and a military past I don't have?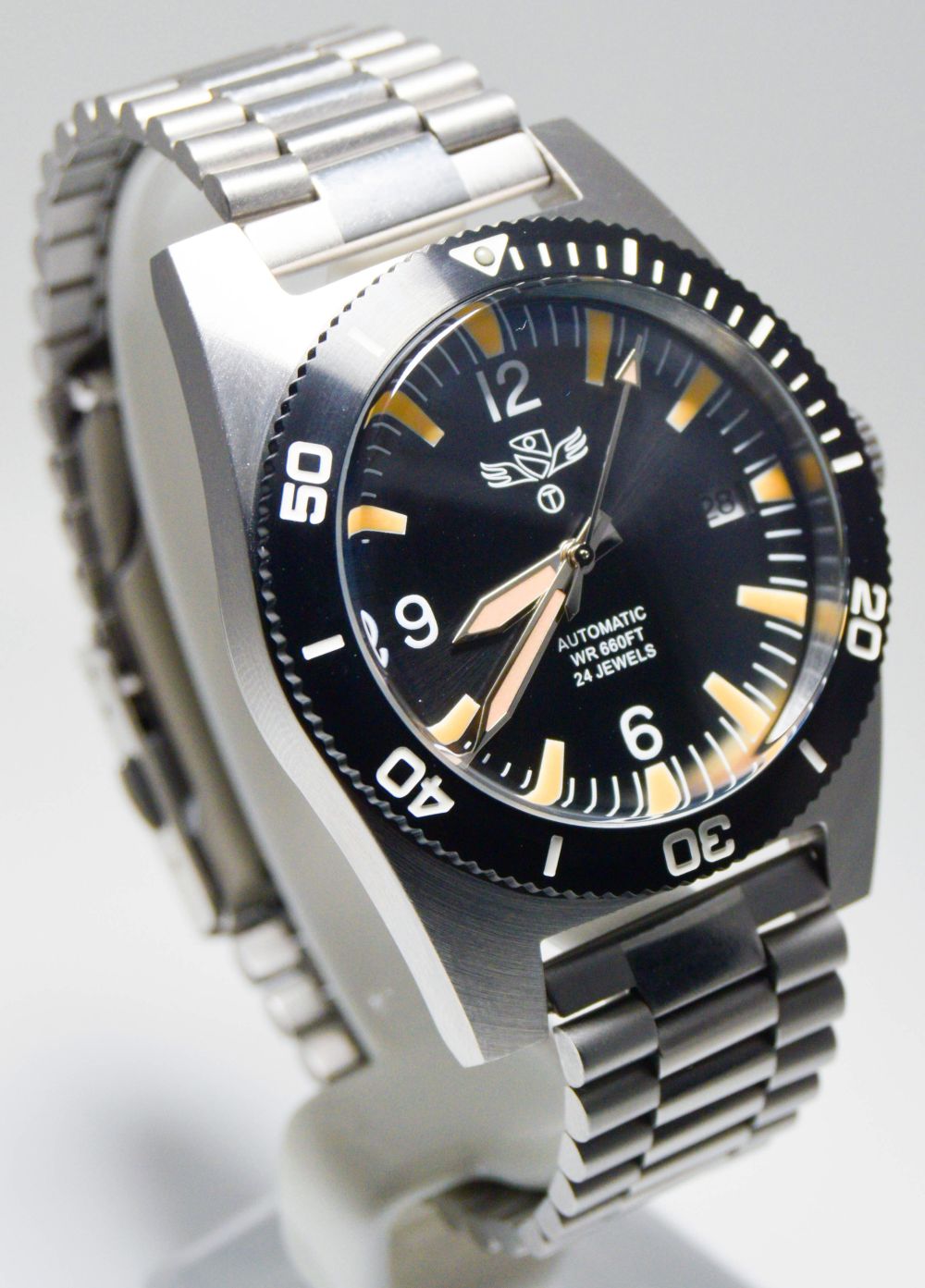 At the asking price of £395, it's simply not worth it, in fact it's cynically overpriced. No matter how authentically "cheap 70s" it is, it pales in comparison to a Seiko SRP777 which costs nearly less half that price. It is at the end of the day a faithful recreation of a 45 year old cheap watch. I'll say that again, a 45 year old cheap watch. Nothing upgraded, basic auto, basic glass, basic bezel.
At £135 it's worth having if you really like the "idea" behind the watch, but if you're not bothered about having a watch that looks like a 70s military issue piece, and just want a cheap military style watch, then you can't get a better watch than this Seiko SNZG15, at less money, in my opinion.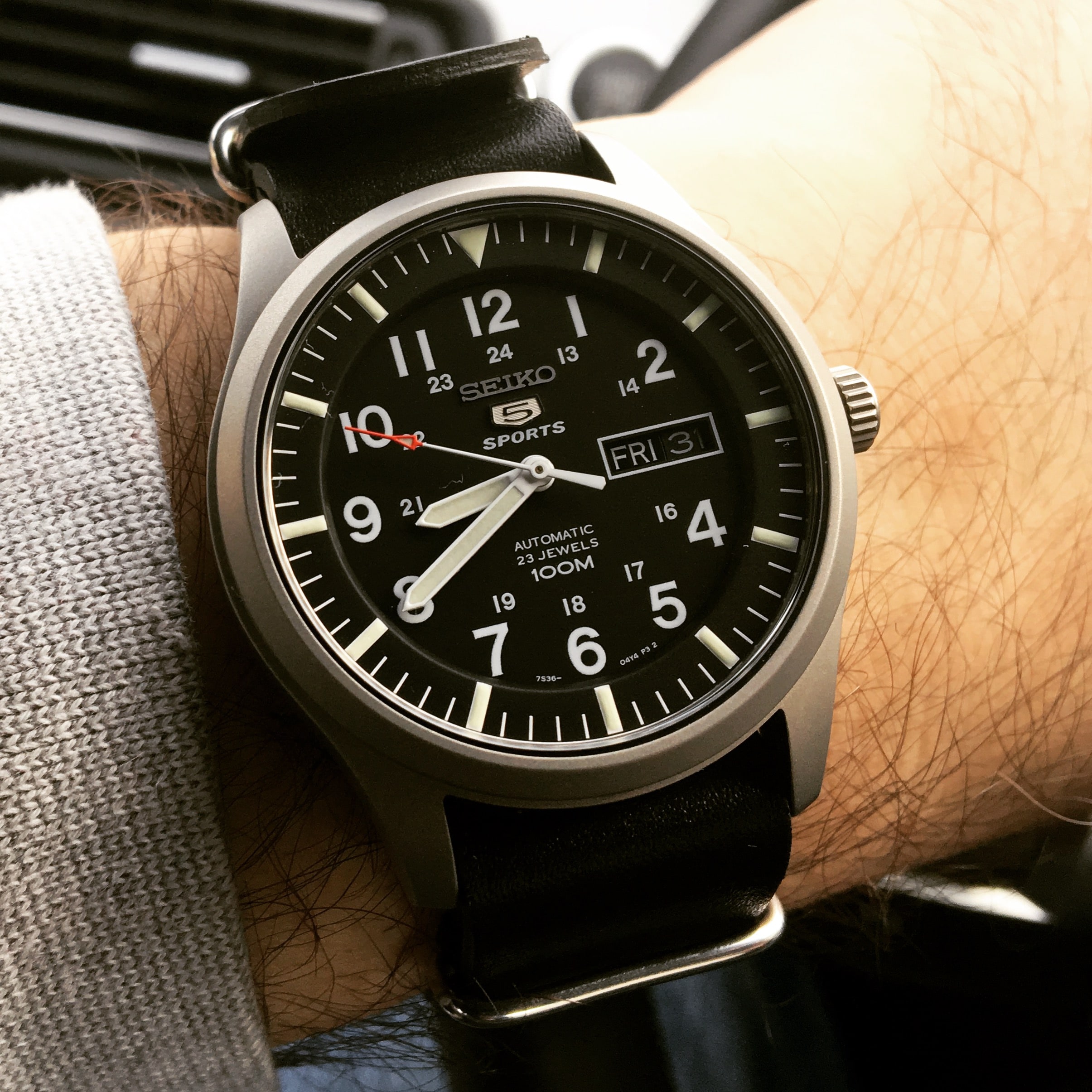 But back to the MIU watch, I like its authenticity. I like the fact that this probably would have been the kind of watch that was issued in the 70s. I like the fact it is well put together, even though it's not elegantly finished. I do like this watch a lot and regardless of the "low end" nature of it, it recreates what it sets out to do and it feels like it's going to last.
This is where I got mine if you're interested:
http://www.ebay.com/usr/exexsec?_trksid=p2047675.l2559
If you like military watches, it's a decent buy at around £130 and even at £395 it's a much better buy than the SLA017…