MHD is a homegrown British Watchmaker with firm roots in the automotive industry and does this show. Just a casual browse on their website, and you'll uncover this passion for the automotive industry and cars alike. Matthew Humphries – the founder loves to draw on his past to design watches in the same manner as a car designer would, starting with a few sketches and then adding the finer refinements and details until every aspect is perfect. Unlike the automotive industry, there isn't any red-tape as such holding back a watch design, so they can be much whatever the heart desires – within reason of course.
The MHD team aren't like most others as they go into a lot of detail about how they dream up their concepts, and they certainly don't shy away displaying it for all to see. This is refreshing to see as most hide their original designs away under lock and key away from prying eyes and potential copycats. This to us portrays confidence in their ability and a true love for the craft.
MHD was kind enough to provide us with a sample of their SA2 Heritage model which is a limited edition piece with a run of just 100 units. We have no 25 out of the 100.
SPECS
Case diameter: 41mm
Case thickness: 10mm
Lug-to-lug: 47mm
Case material: 316L Stainless Steel
Crystal: Sapphire crystal with bevel edge
Dial: dual layered dial with a white face
Movement: Miyota 9039
Water resistance: 50m
Weight: 84g (approx)
Straps: 1 Sand and 1 Black Seatbelt material Nato
Price: £645
Warranty: 2 years
Initially, it's not the dial that draws you into this watch, it's the case. This design is unlike anything I've ever laid my eyes, and it's a marvellous piece of design and a real feat of watchmaking. Inspired by motorsport engineering, the case is a 4-piece layered exoskeleton chassis and is a sight to see. The design perfectly blends and fuses curved edges with crisp sharp lines to form a shape that you just don't see. We start right at the top with the machine turned bezel which features cleanly done circular brushing, this is then flanked by the top portion of the frame which is highly polished to contrast against the brushed bezel. This then steeply slopes down with a satin-finished bevelled edge to meet the side where you'll find the machined and knurled crown on the right side and a plaque donating the model name and no of the piece. To tie this all together MHD have opted to leave the exposed Allen heads to give it a raw industrial look.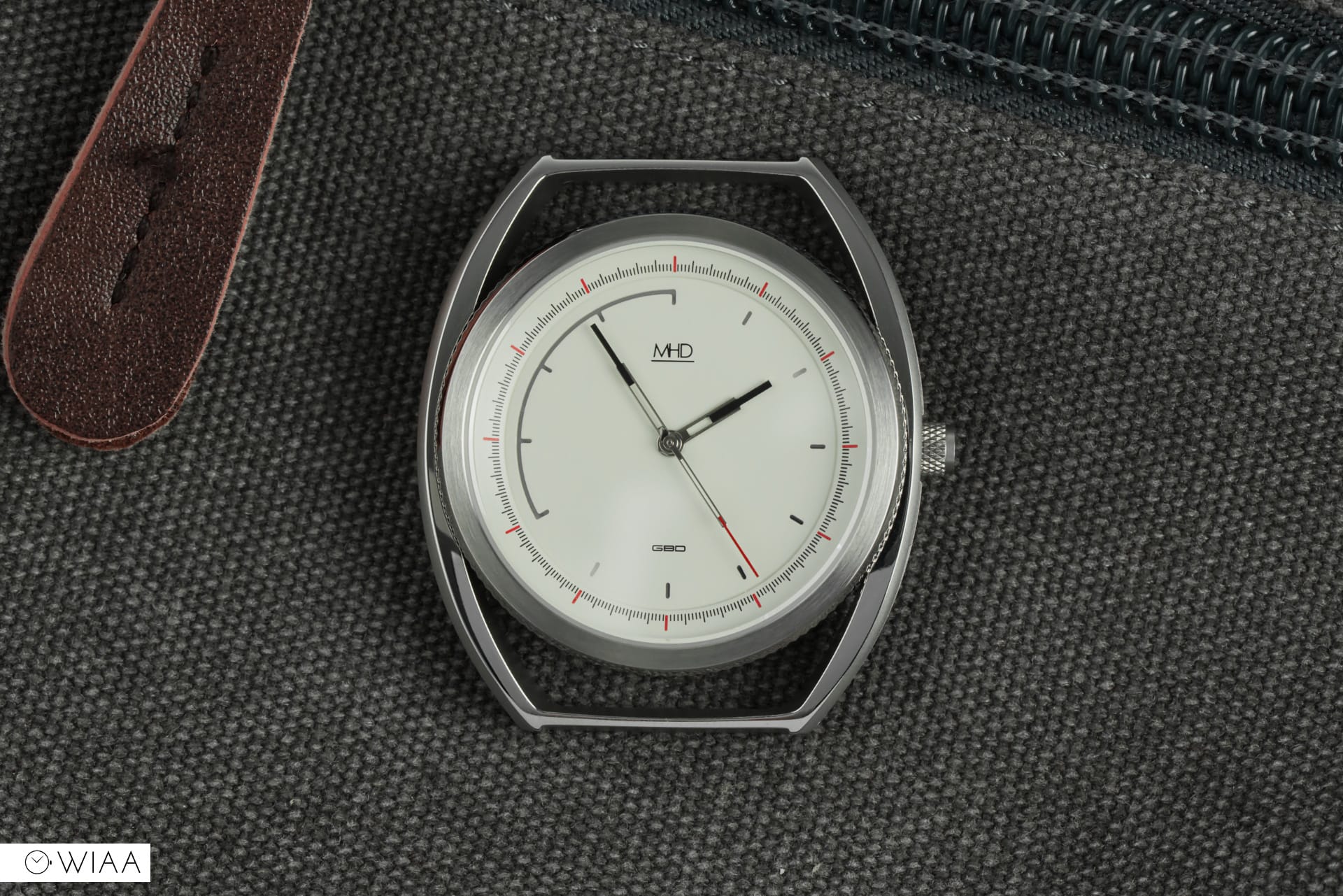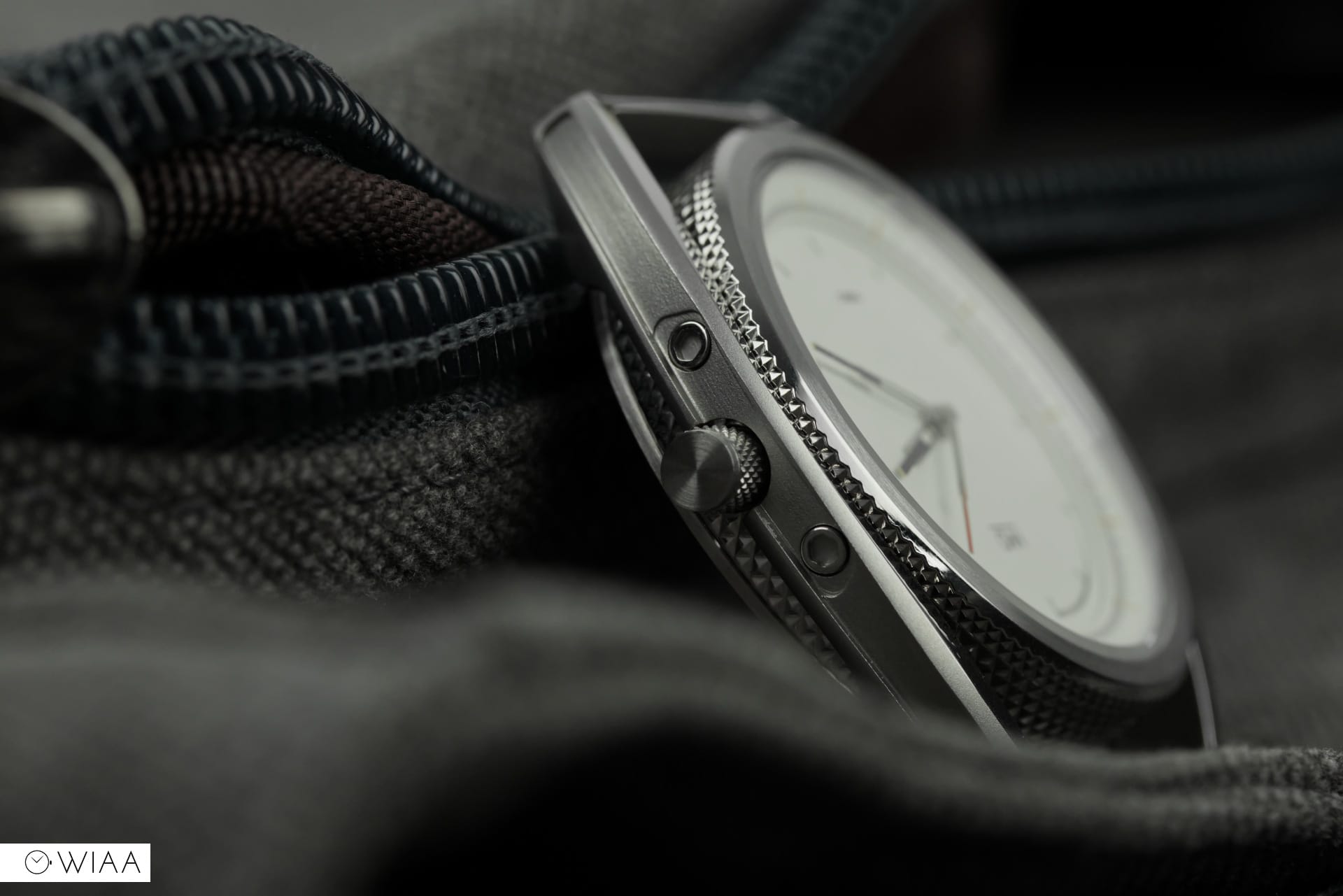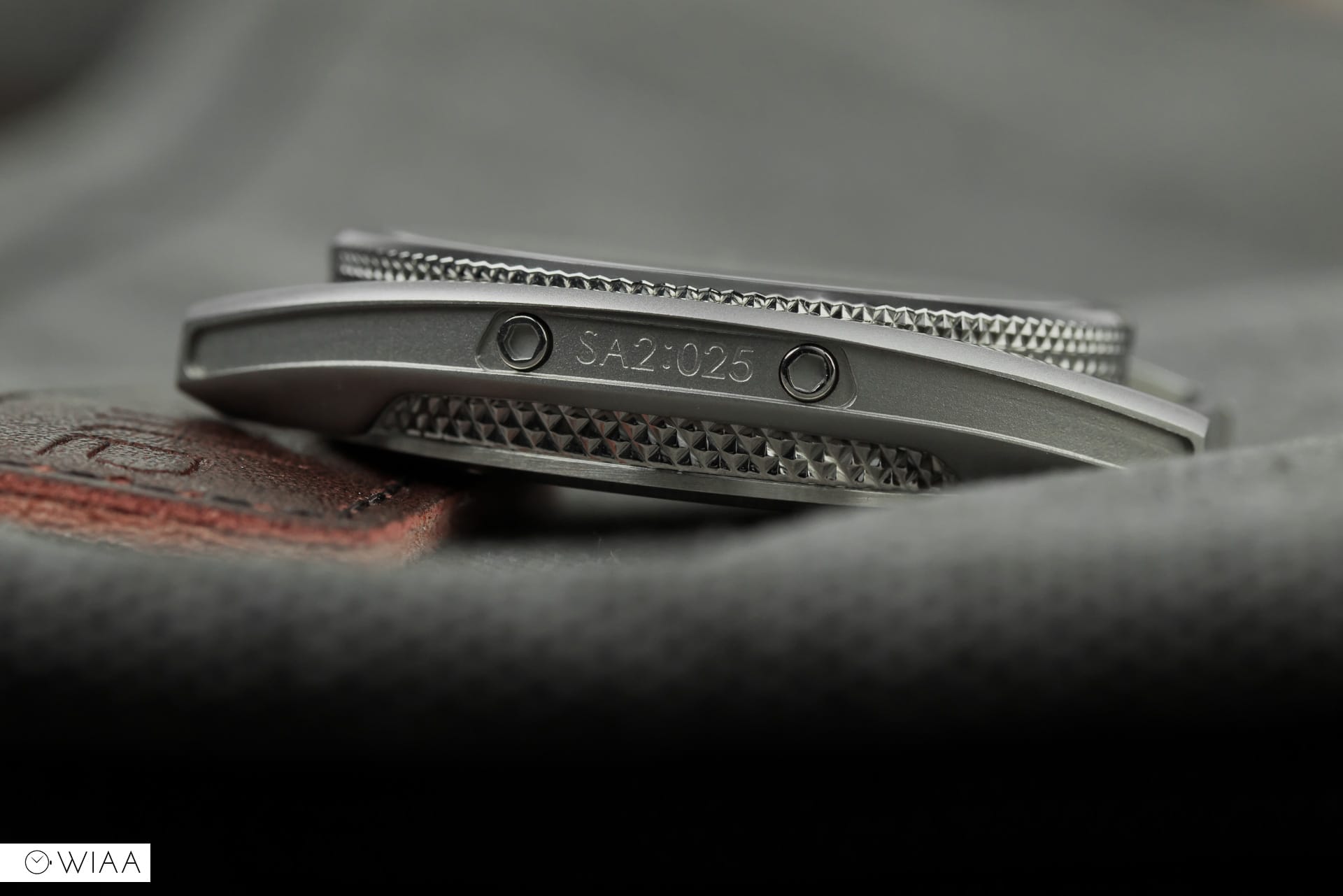 The visual treats aren't quite done yet as the case is not brushed nor polished, it's as you'll see, heavily knurled which to me invokes a sense of raw engineering which is honestly perfect for the SA2. You may also have noticed the absence of any lugs – in the traditional sense, which is honestly just more eye candy and surprisingly useful to boot, though not perfect. The lugs and spring bar are essentially constructed from one piece of solid metal which gives the chassis strength and rigidity – just like you'd find in a car bred for racing. Although not a new design, MHD has put their unique stamp on it and made their own.
However, although extremely well done, there are a few slight trade-offs with this design. The first is the limitation is for strap choices, as is you can slip a nato under there as well as pretty much all other straps that are a singular piece, but as there are no moving parts, so you couldn't exactly install a two-piece strap. Personally, I don't find an issue with that as you'll find out later, but I can see it being a potential caveat for some. One other slight drawback is what this feature does to the strap. Because of its inherent design and how a strap wraps through the bars, it causes the strap to become moulded (see the images) to the case shape. Again if you're keeping the original straps, this is not a problem, but if you were to perhaps put your favourite nato on it, it could mean that it would then be more difficult to use on other watches after.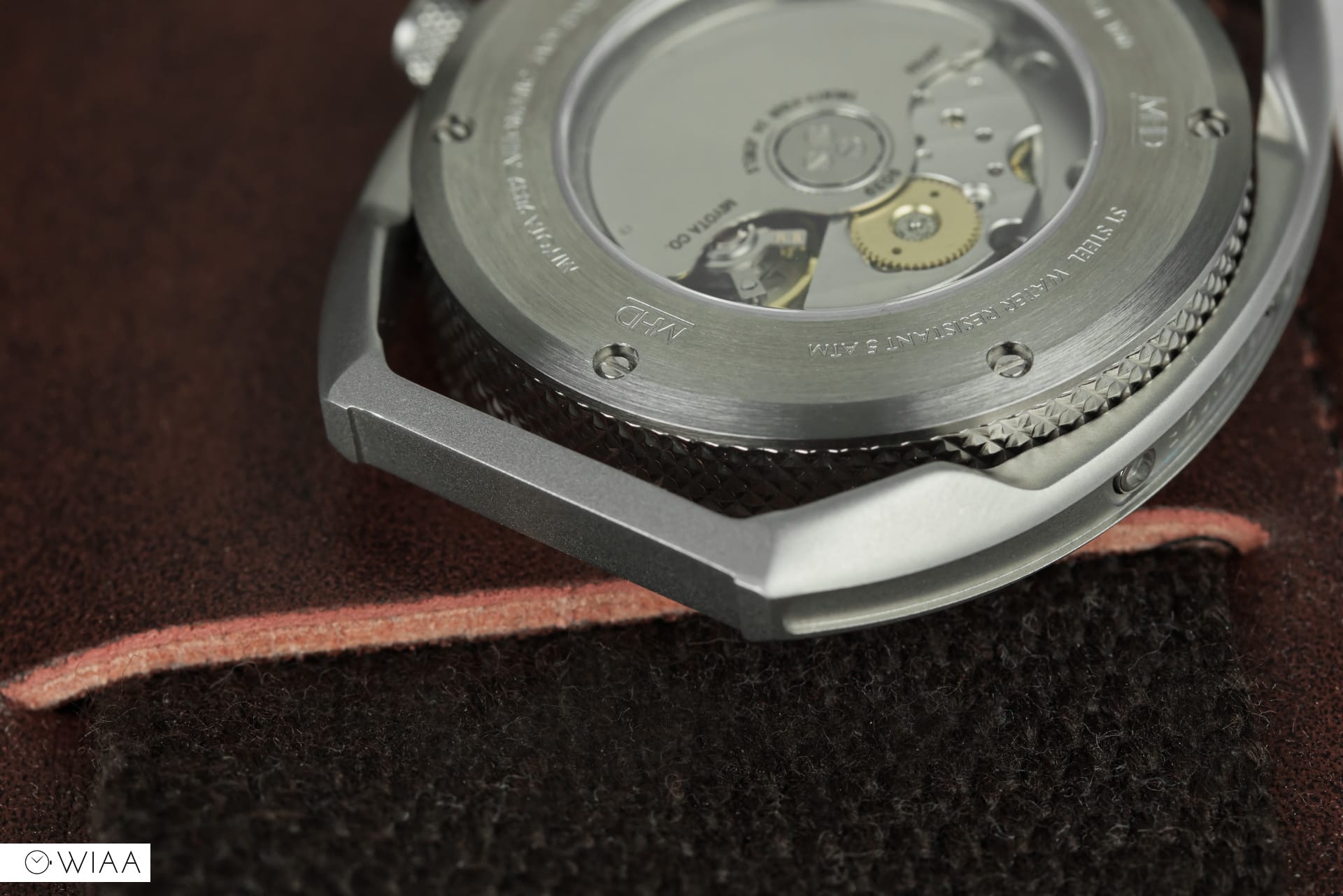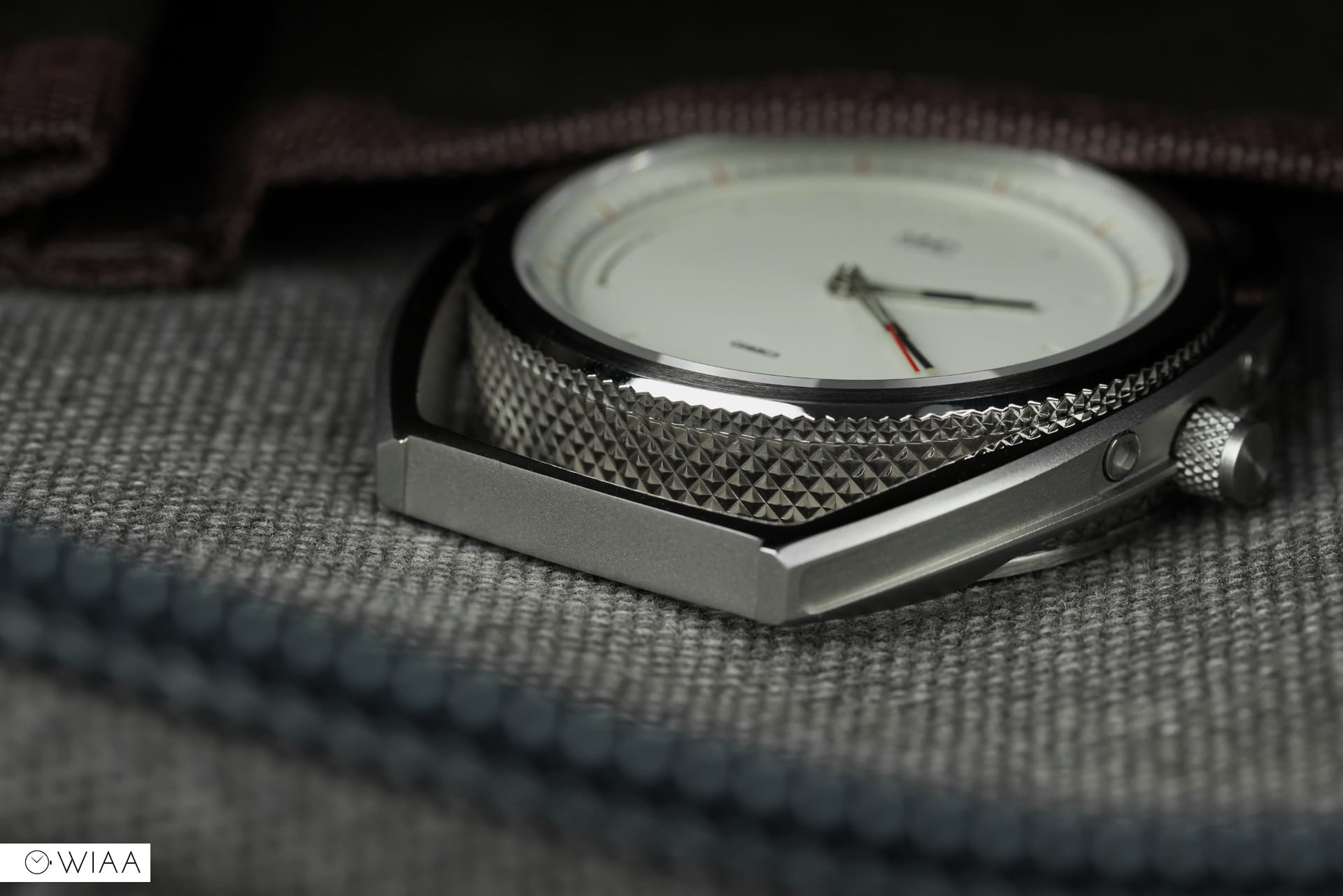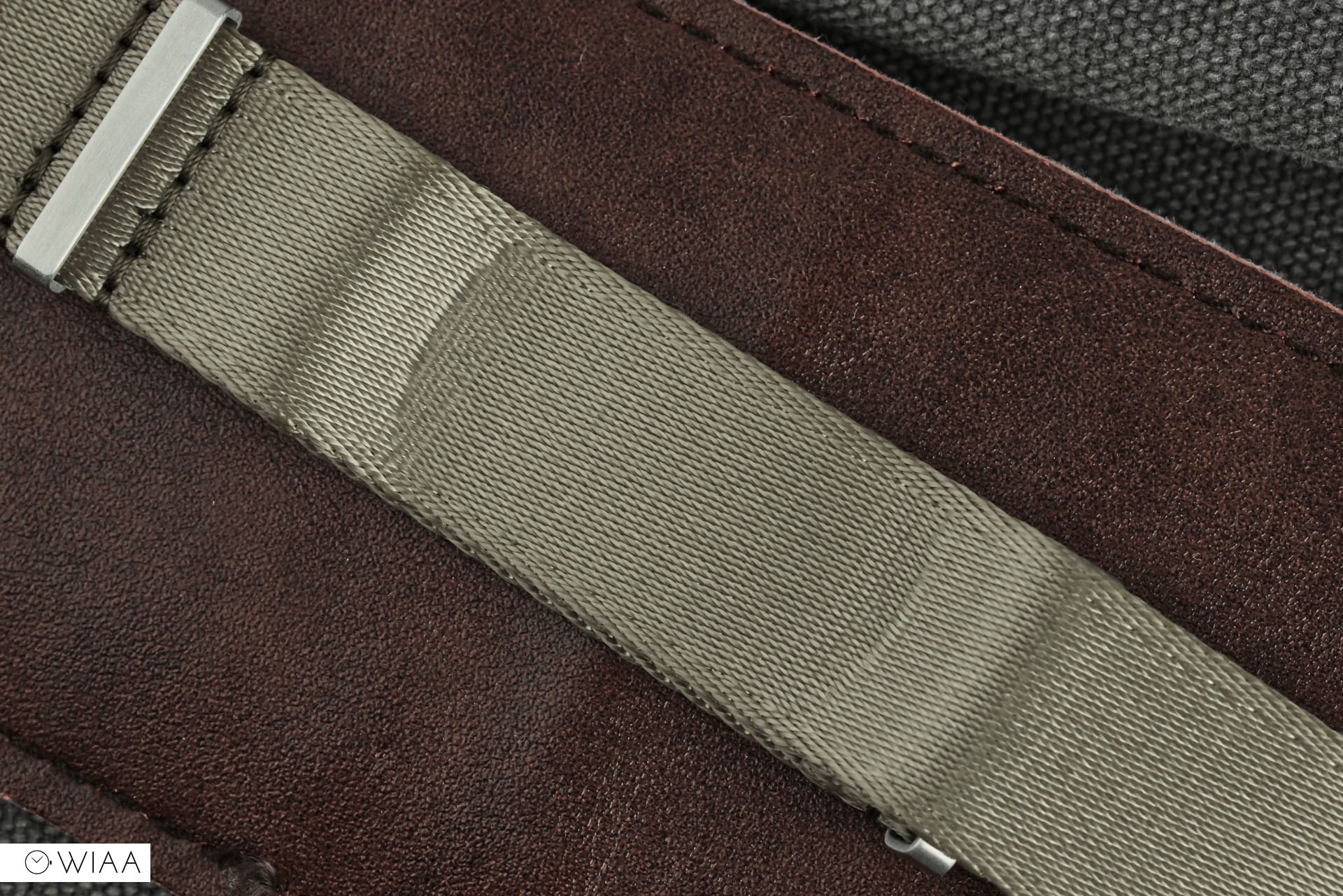 Onto the caseback and you'll find it's a screw-in exhibition style. Right in the centre there is a Sapphire window that lets you gander at the Miyota movement, bordering this there is some excellently done engraving to denote the specifications and other information. This is then surrounded by a finely done brushed finished and topped off with a circular pattern of flat head screws that to me resemble that of a bolt wheel pattern you'd find on a cars wheel hub. Here you can also appreciate the extra detailing and design work that has gone into the main chassis with the angular yet curvy components which flank the integrated spring bars. Here I'm personally seeing a few flourishes of a racing-inspired front splitter, but I could be wrong.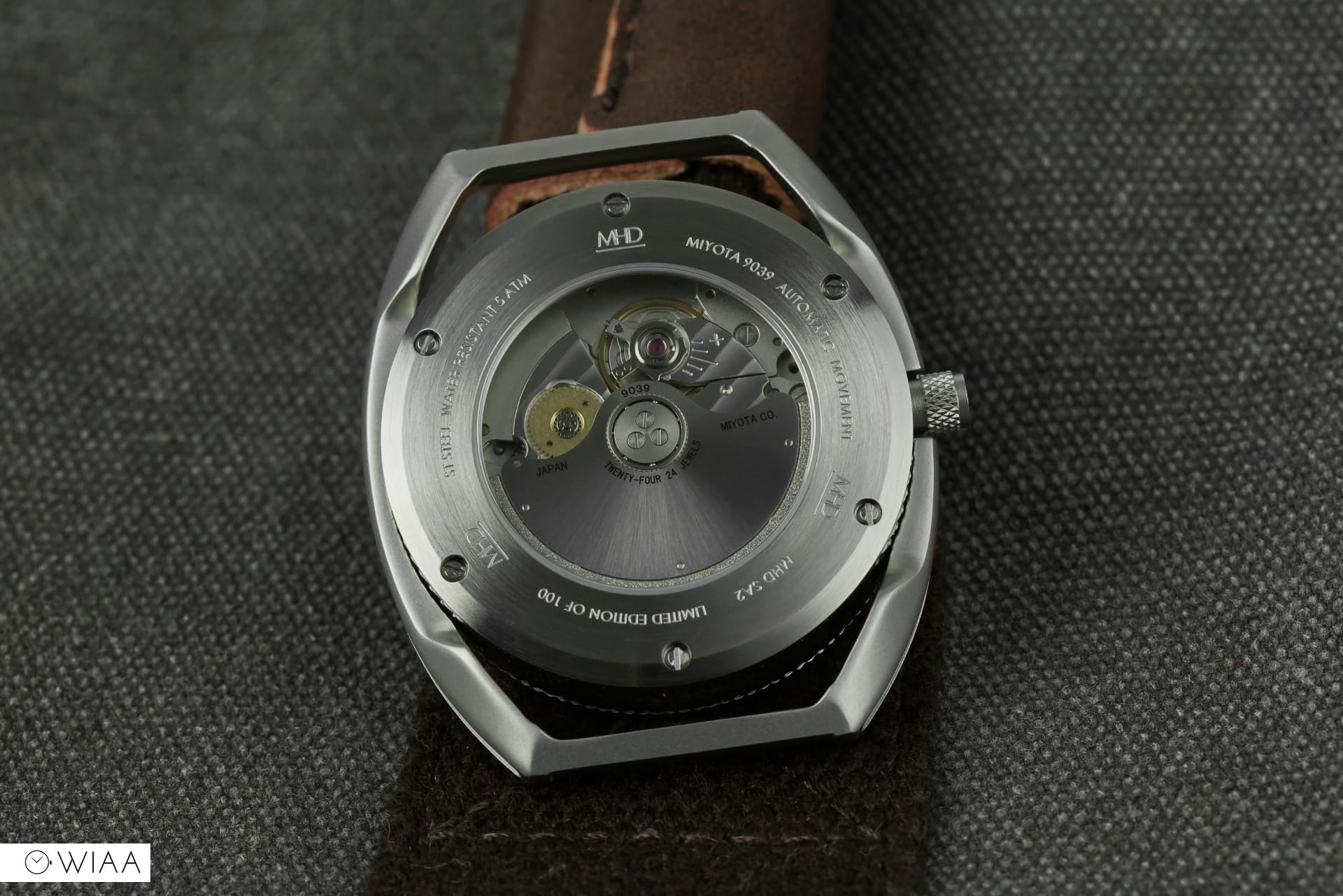 Finally to the dial and it's safe to say the nods to the automotive industry continue to thrive here to thanks the splashes of red, black and chrome. Staring at the dial, you'll notice the sloped chapter ring with a seemingly nicely printed minute track with red markers at each hour. Though nice to the eye, under macro we noted some slight defects in the printing on the red hour markers and some subtle smudging on the minute track. Every day, you'd not notice this, but it is noteworthy and a little disappointing.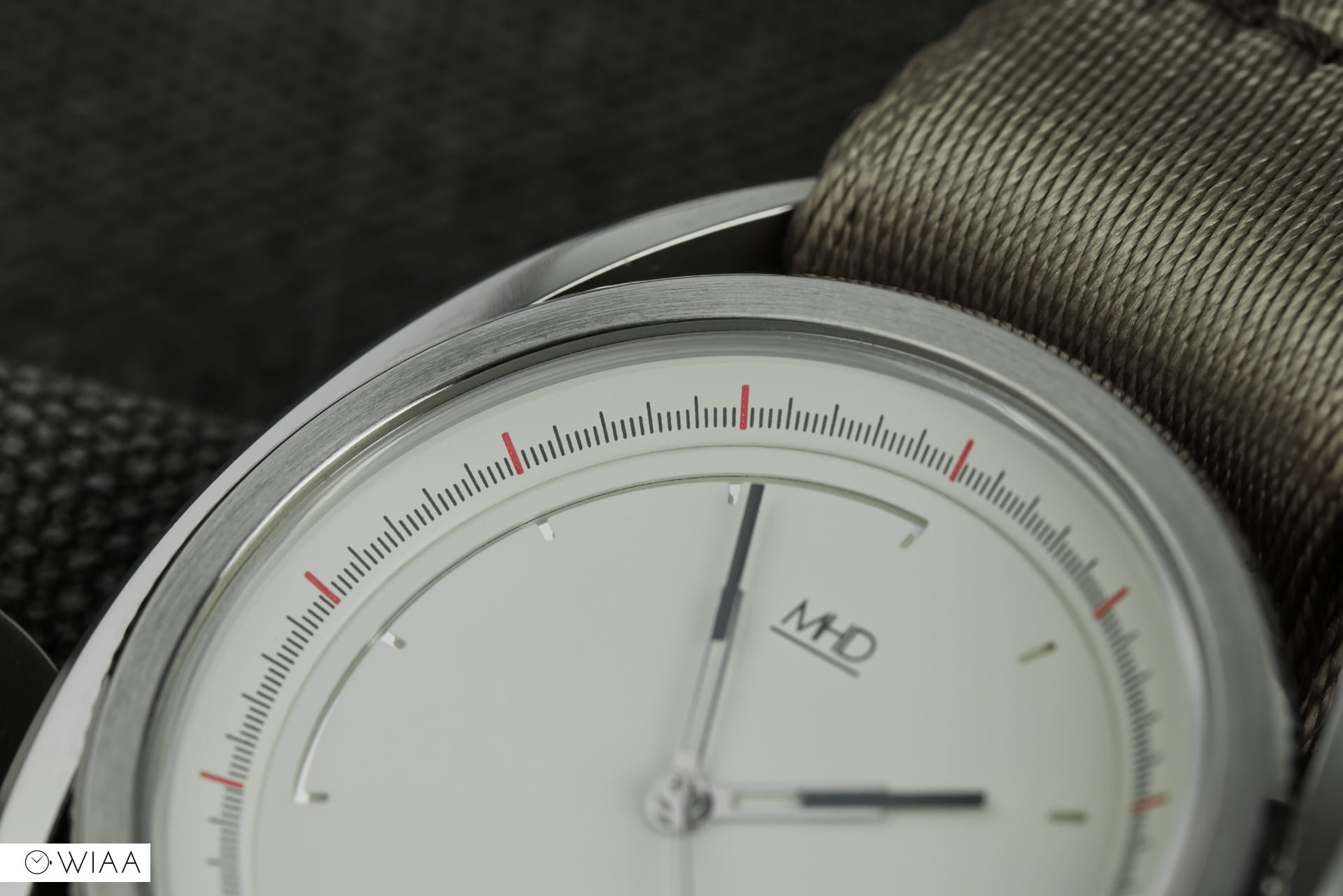 Onto the main dial and it's marketed as white but in most lighting it appears – to my eye at least, a pale cream/off-white, but it's still a lovely colour. The keen-eyed amongst you may have noticed that the dial is constructed from two pieces. The top machine-turned steel section sits above a layer of chromed steel and is cut at every hour providing the hour markers. Could they have cut corners and simply applied or even painted the markers? yes, but we are sure glad that they went all out and didn't. One other cool detail that catches my attention is the markers between the 8 and 12 position which makes me visualise the dial as a fuel gauge taken straight from a vintage sports car. Does it provide any functionality? Certainly not, but it's extremely cool and I think it's great.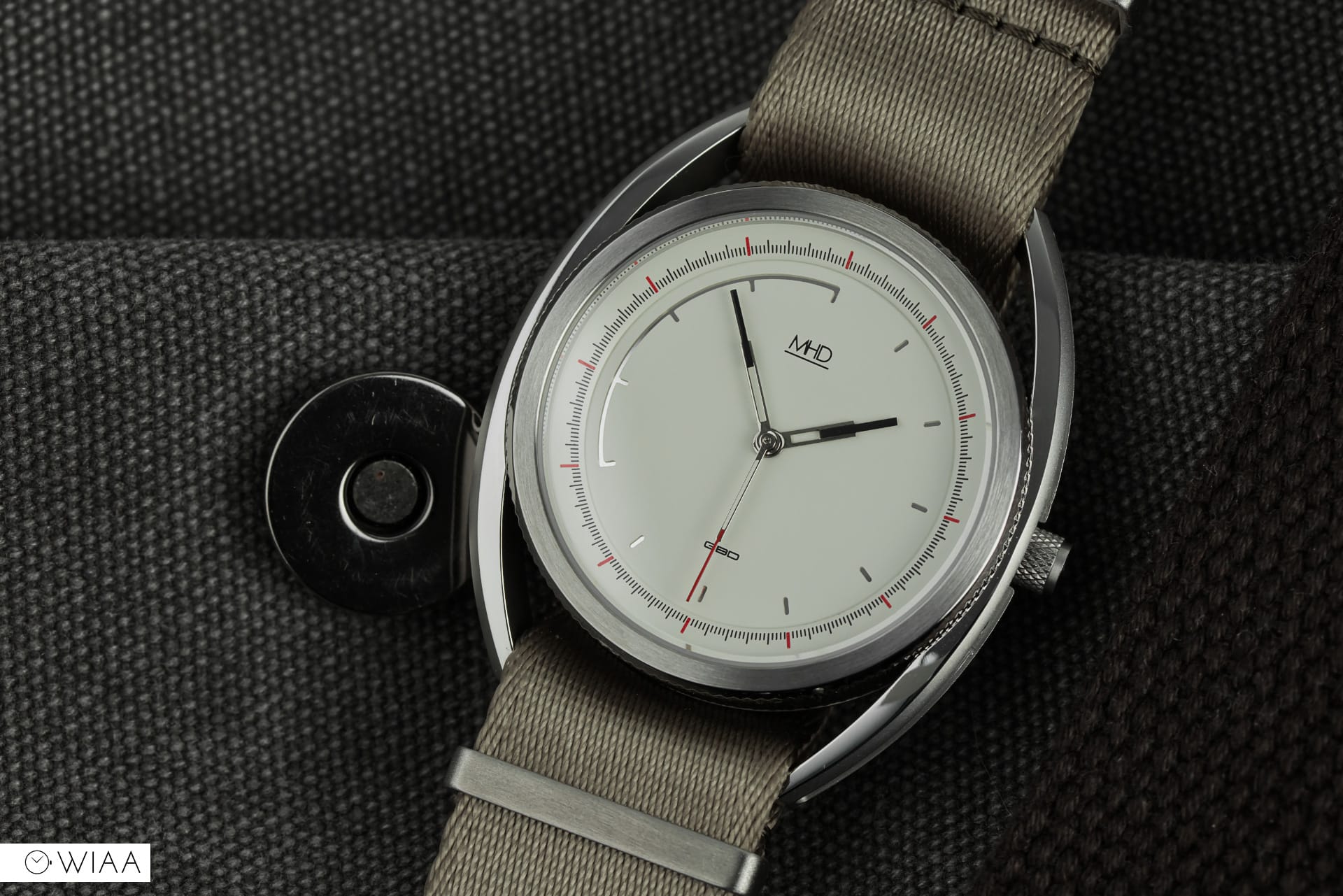 Like with the case this isn't all perfect and there is one issue, the legibility. To me, this is more than just a watch, it's a piece of art, but a watch needs to function and unfortunately, the SA2 does suffer in this department. In daylight and bright environments, it's fine, but as soon as the light fades it becomes increasingly more difficult to read which is made a smidgen worse by the omission of any lume. Though on the lume front, I think they made the right call by not having any as it would spoil the aesthetic. One saving grace is all that chrome, is it practical?, no, but do I love how it plays and catches the light.
The final detail that makes up the dial is the handset and they're certainly no off the shelf affair. They have been carefully designed and crafted to perfectly match the overall style of the piece. The main hour and minute hand are skeletonised, chromed and feature a black tip on the end. The second's hand is a touch more streamline, again is chromed and has a red tip. These are just a perfect fit and honestly I can't see any other hands working so well with the design, the red matches, the black ties in and the chrome adds that extra visual pop, they're just spot on.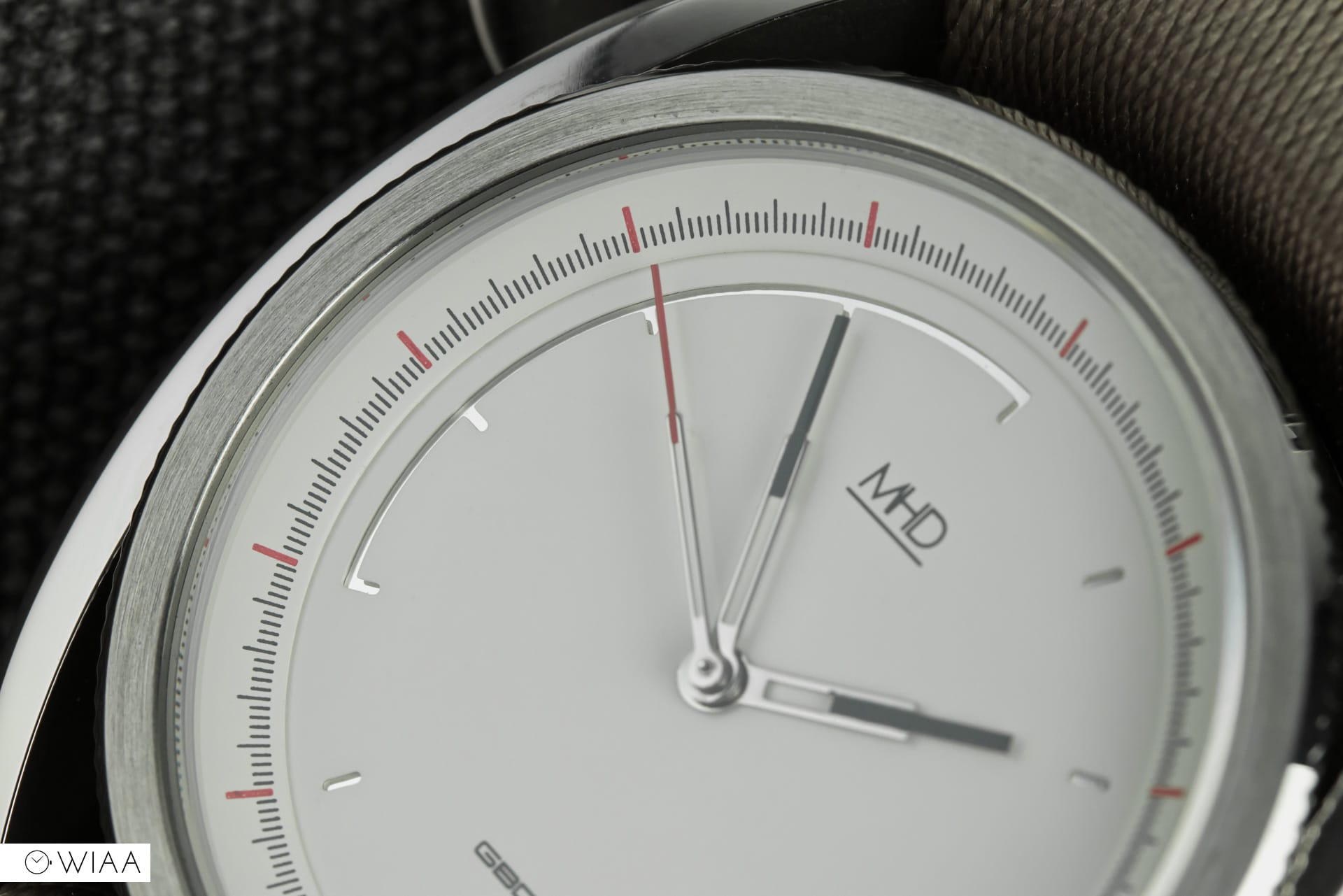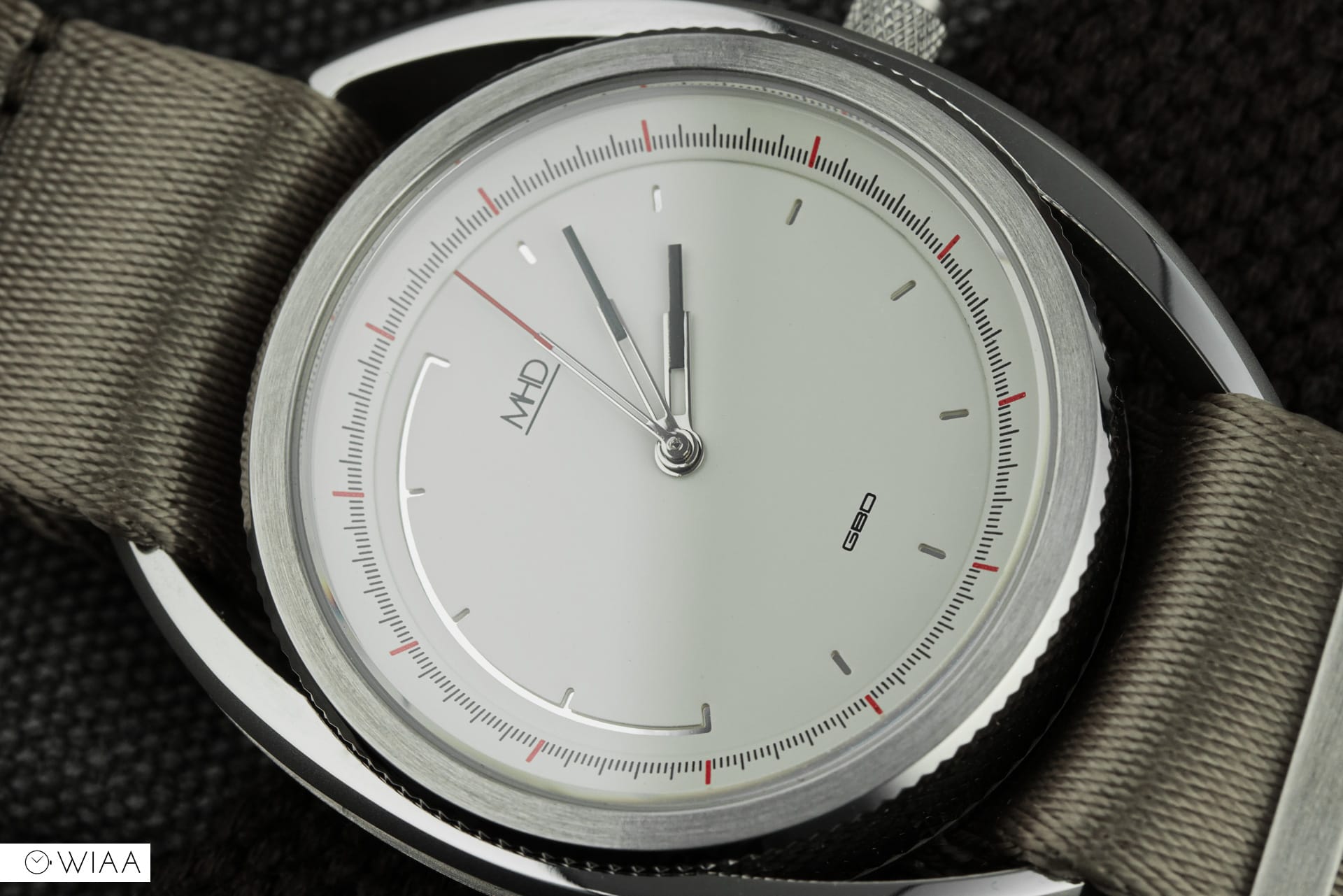 Now to the daily wear and kicking off with the included straps, it's safe to say that I'm impressed. Included with the SA2 you get two high-grade straps fabricated from car seat belt material which is extremely durable and surprisingly soft. Although – as previously mentioned, the integrated lugs do tarnish the strap somewhat. The fabric chosen by MHD is lovely as it's flexible, smooth and feels great against your skin, it's easily the best strap of this style that I have ever used. The main hardware is solid and very well finished as is the contrasting stitching (on the sand variant). However, the buckle tongue is a bit too wobbly and loose for our liking, though that hardly puts it into deal-breaking territory. The adjustment holes are cleanly cut and plentiful – 13 to be precise which provides you with plenty of scope to get a great fit.
As for comfort, the case bottom is mostly flat paired with a unique lug design, and when combined, those attributes wouldn't look like they would lend well comfort, yet the SA2 does wear nicely on my six-inch wrist. As is, the lugs don't taper down all that much nor are they set at a conventional angle which then isn't helped by an unusual profile, though strangely these features don't work against it. When on wrist, the strap curves upwards slightly thanks to the integrated spring bars, then flows steeply down to meet your wrist and in doing so, it conforms surprisingly well. Not traditional at all, but it works. Also, I think the extra padding from the strap does aid this and helps the comfort aspect a fair amount too. I can't say it'll be comfortable for everyone, though it was a pleasantly nice experience for me. The weight on the wrist isn't a big factor either as it's well south of 100g. All in all, it wears unexpectedly nicely.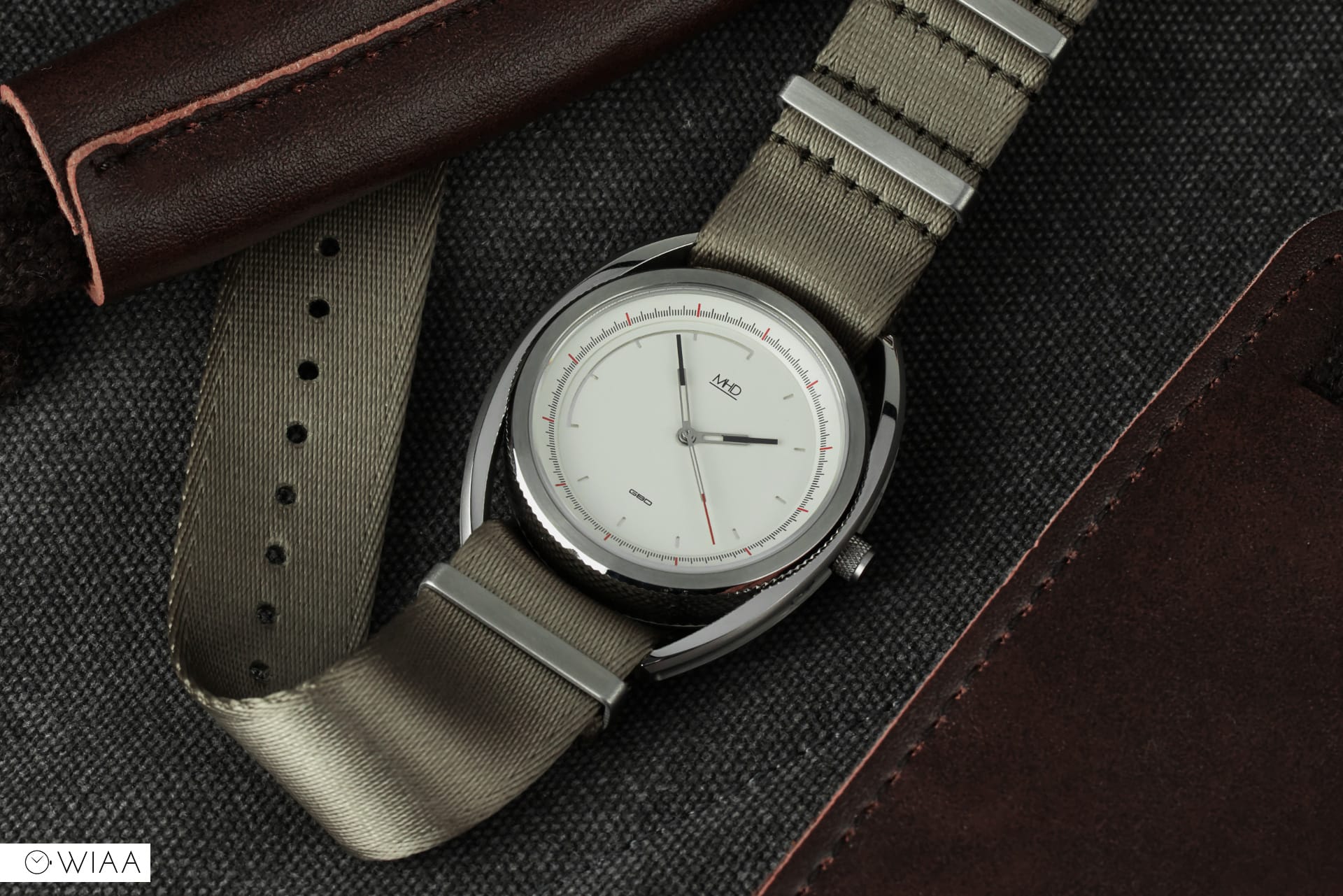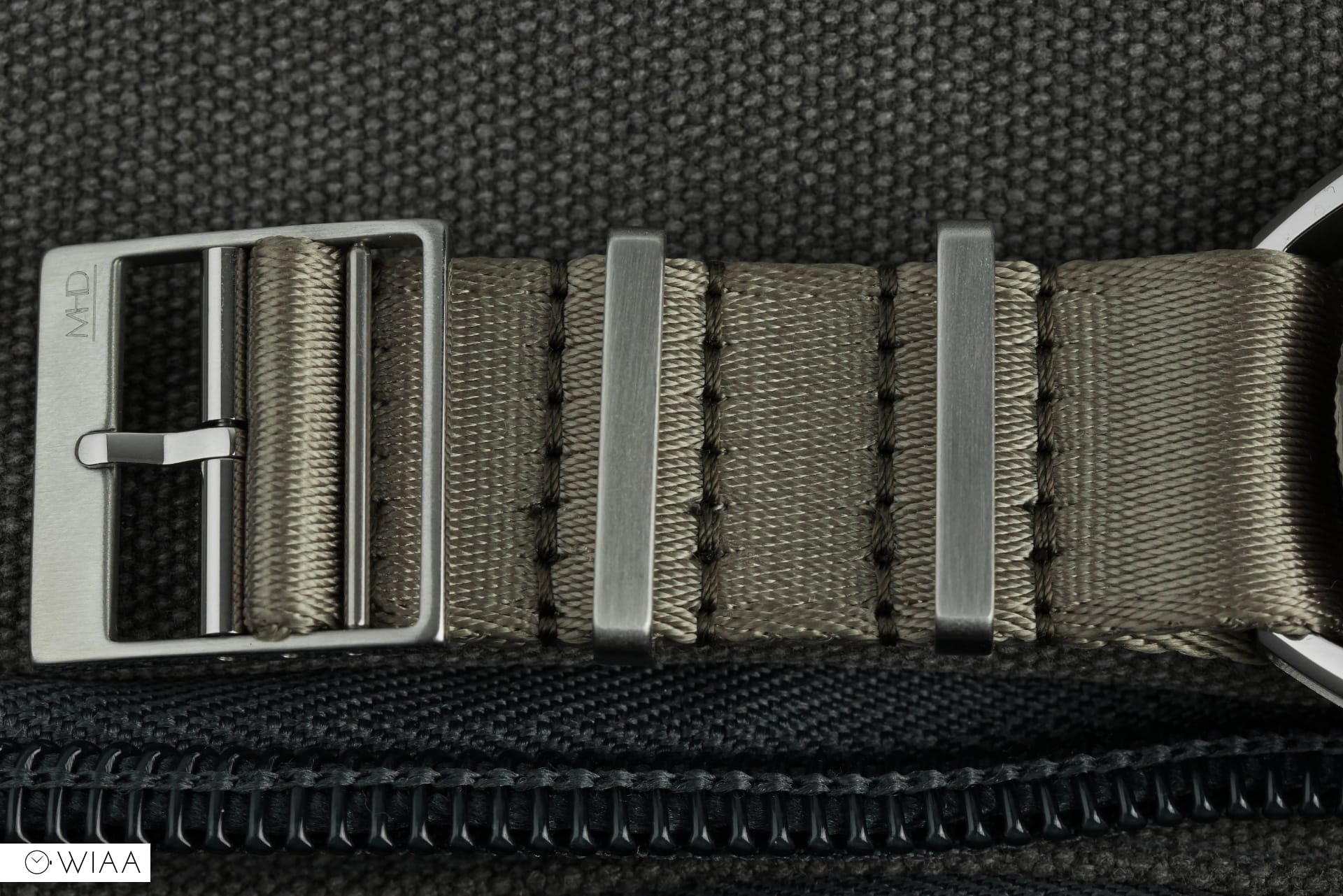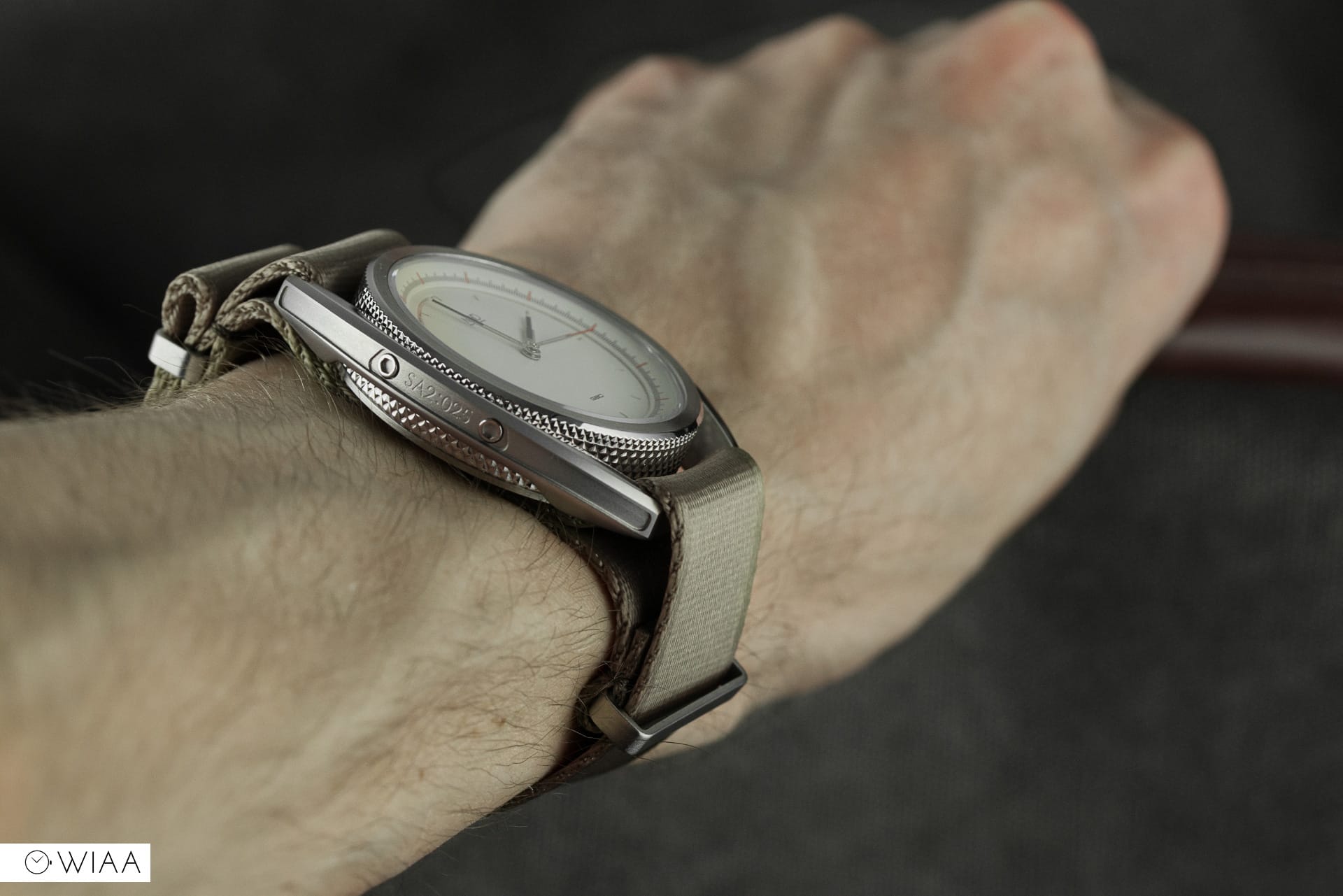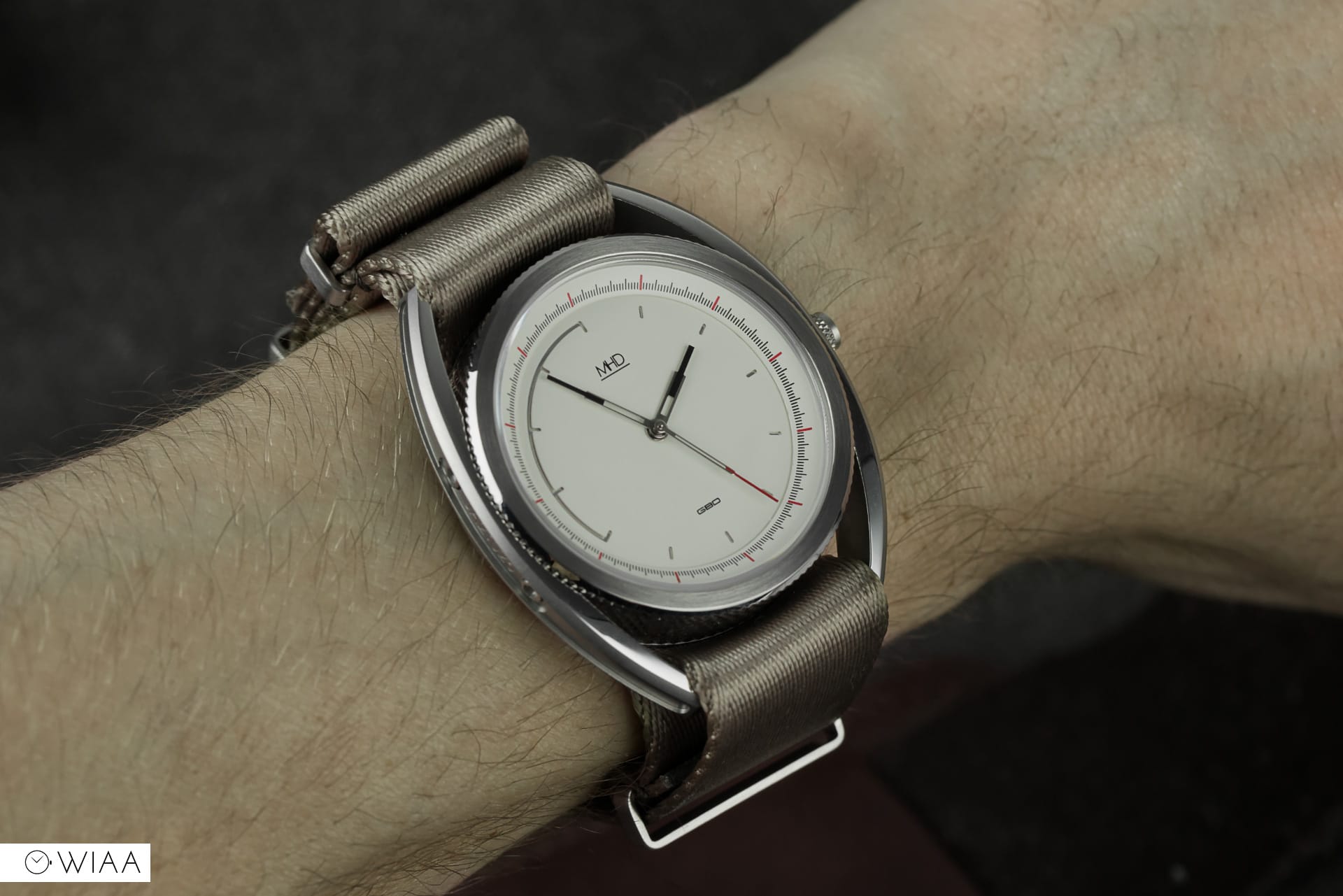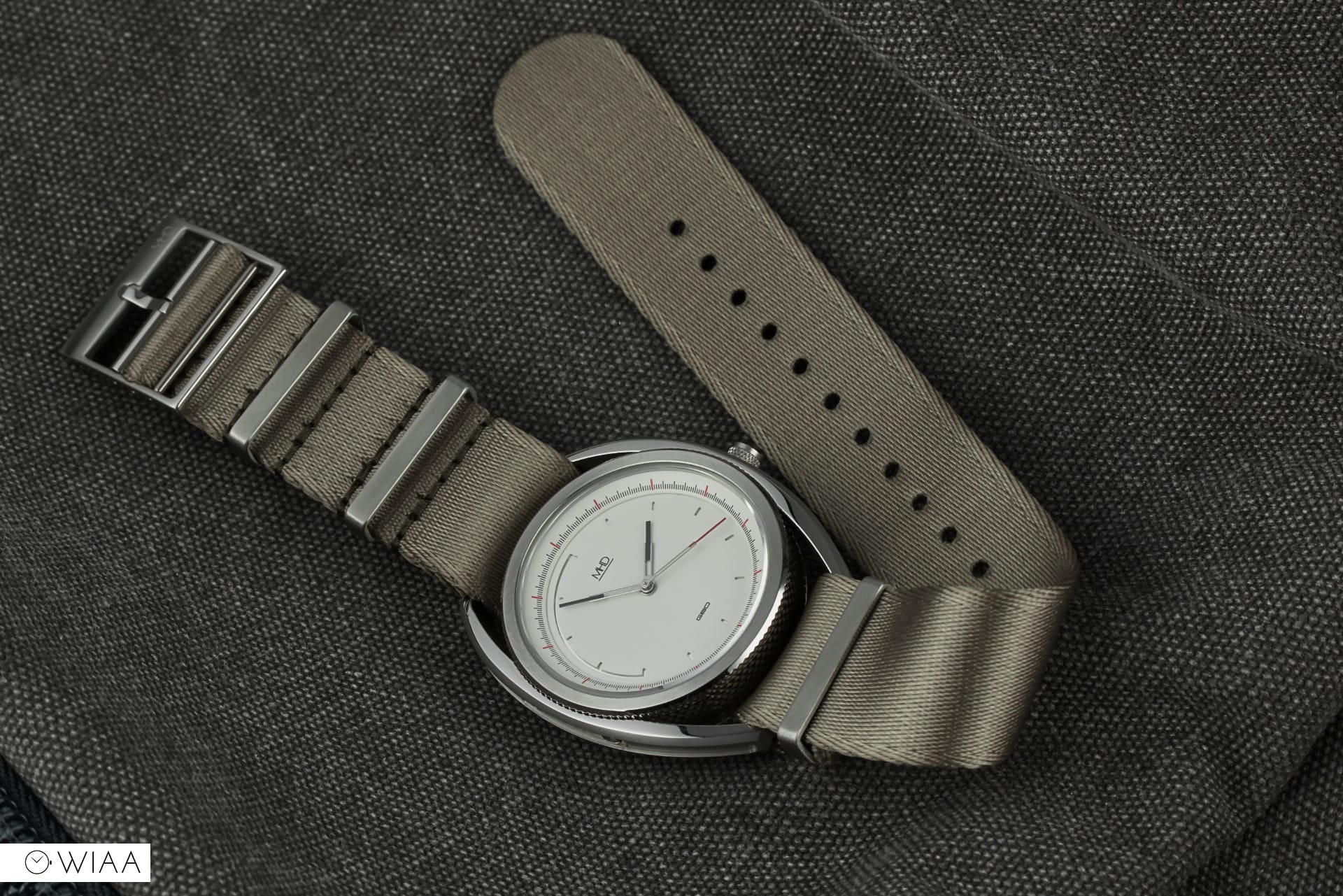 Seems like I got a bit carried away and neglected to cover a few things.
The dial is covered with a Sapphire crystal that sits perfectly flush with the top of the bezel, yet has a slightly bevelled edge that slopes down into it. This is great to see as it adds yet another visual element on top of everything else on display.
The crown is also very well executed as it merges two finishes; the flat side edge is circularly brushed which ties in with the bezel and caseback and the grip is then knurled which is harmoniously paired to the case. Not only does it look great, it provides you with a very nice tactile grip. This is not a screw-down crown and is simply a push-pull design with no ghost position meaning it's only one pull to adjust the time. As a whole the crown is very nice to use meaning winding is a really easy task to carry out as is adjusting the time.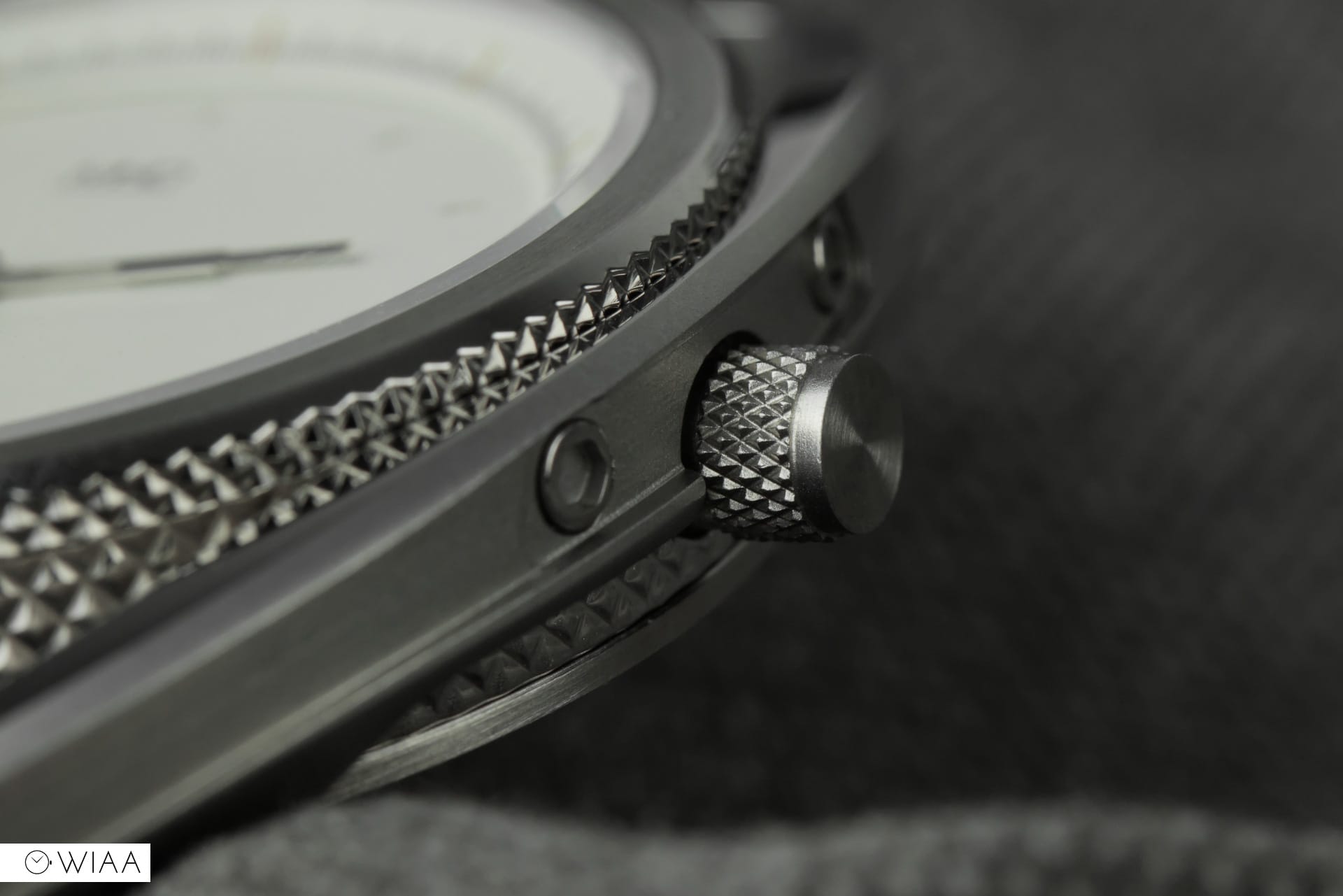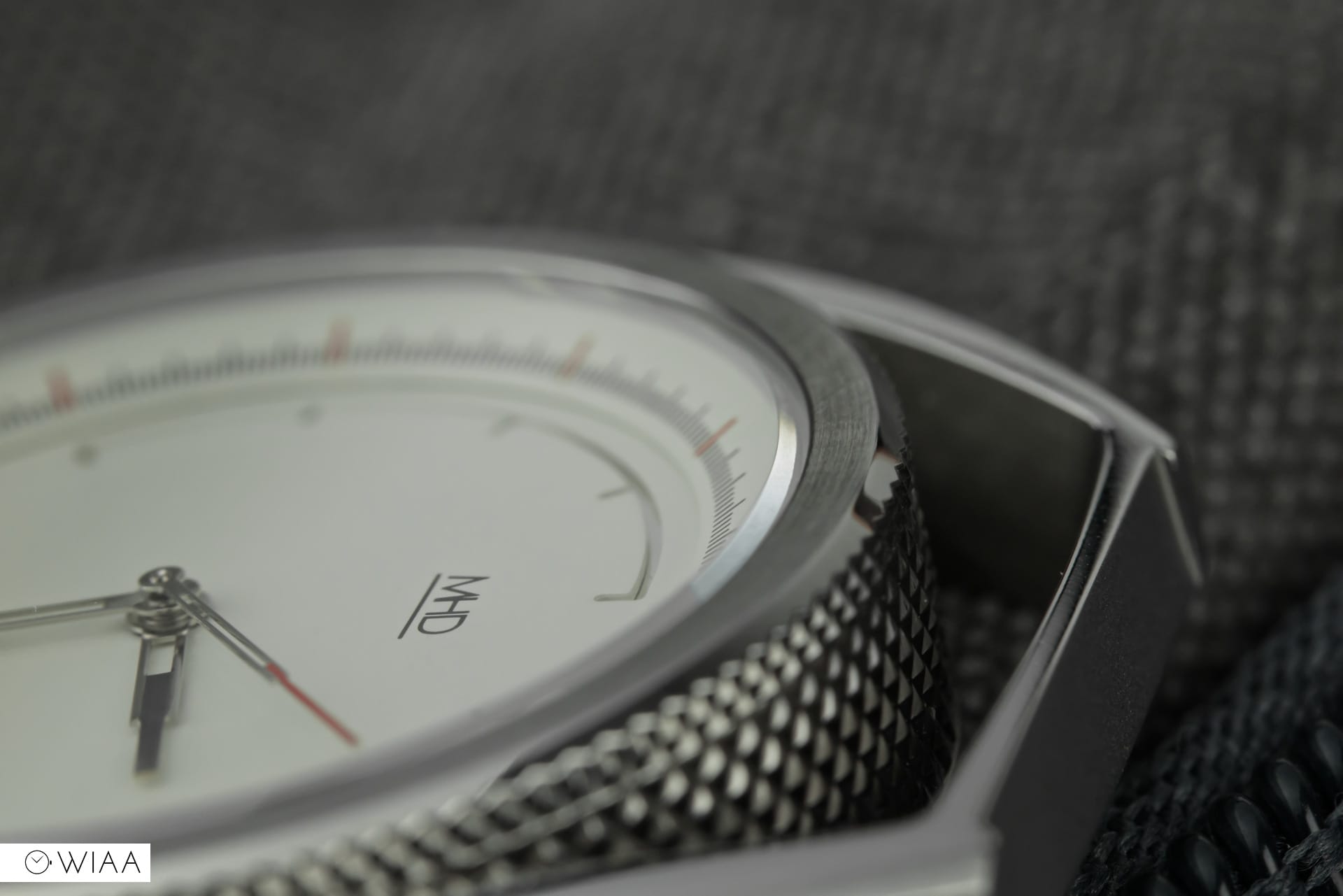 Finally to the heart of the SA2 and that would be none other than the Miyota 9039, essentially a 9015 without the date complication. The 9039 has manual winding, a hacking seconds function, 24 jewels and a solid 42-hour power reserve. Accuracy is stated between -30 and +10 per day though it's running considerably better than that only gaining a small amount daily. The 9039 is a tried and tested Japanese and is honestly the minimum spec would like to have seen in a watch at this price point. Over the test period, the 9039 has been performing solidly and is holding its power reserve without issue, this is great as 42 hours is plentiful. The winding feature works flawlessly too providing you with confidence that it'll be ready to go whenever you need.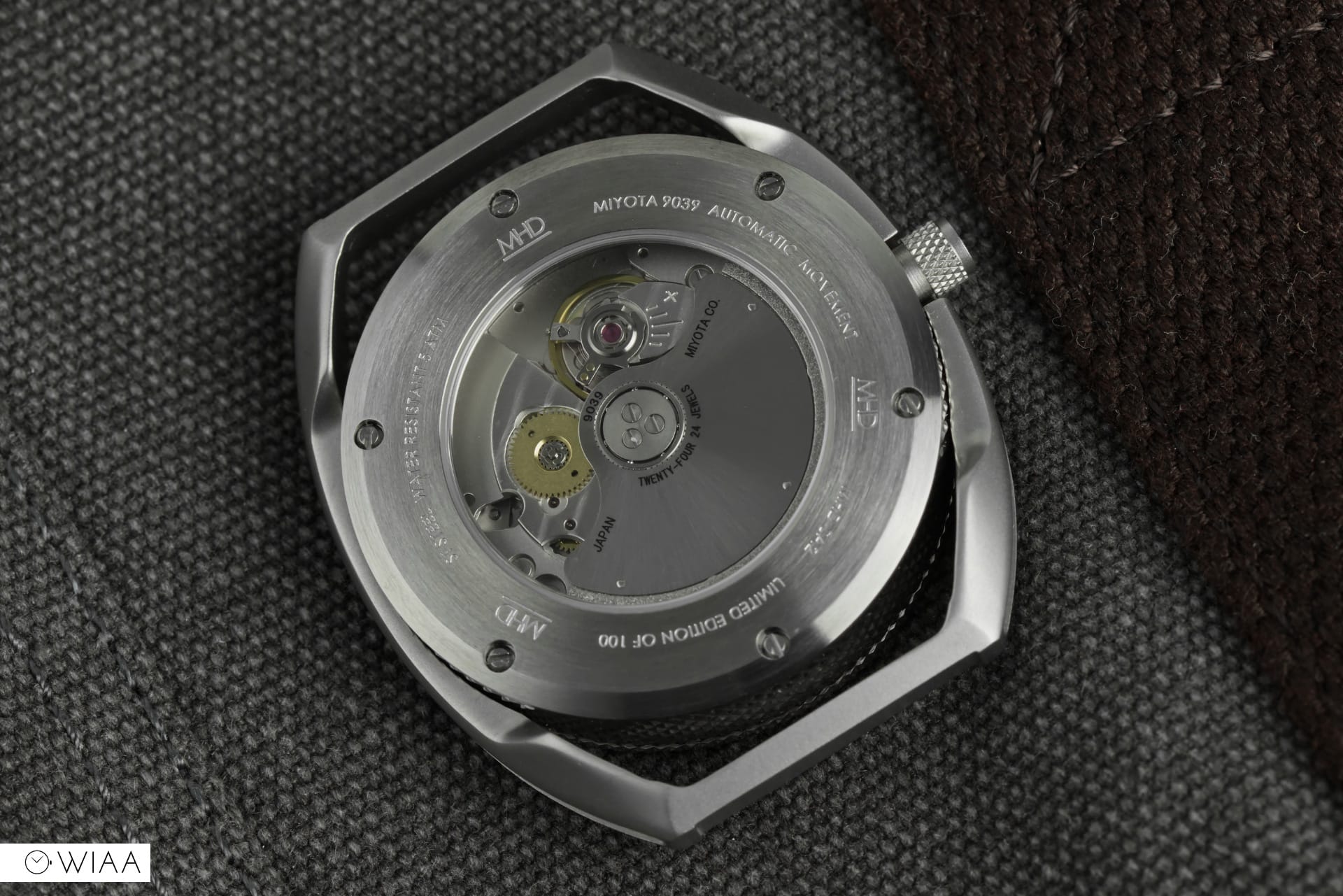 What can be said about the MHD SA2 Heritage, it's a superbly built piece with tonnes of fine craft details, character and charm that sets apart from similarly priced alternatives. This is thanks to MHD's unique design language, attention to detail and nods to the automotive. Is it perfect? No, but none of the aforementioned issues are that detriment nor would they be classed as deal-breaking issues.
Essentially you're getting a unique watch that despite its subtle imperfections is a joy to wear and admire and would honestly make a fine addition to any collection.