Way back when, France used to be one of the main centres for watchmaking in Europe. I actually don't know if the two things are related but a large part of the horological vocabulary comes from the French language. You know, words such as "élaboré" and "perlage" and "Côtes de Genève" that many non-French speaking watch enthusiasts can't pronounce and therefore replace with something else. And this doesn't mean that France has not been making watches in the past couple of centuries, quite the contrary. It's just that France isn't a country many of us would think of when discussing the state of watchmaking in Europe—until recently. (Did you know that Bell & Ross is a French brand? I learned that not too long ago and was surprised by it.)
What French watchmaking looks like in 2022 is this: there are a few historical brands that strive to remain relevant and others that pushed their own boundaries and evolved, meanwhile there are a few independent brands that appeared in the past decade that have become synonymous with uniqueness in design, fine watchmaking, and approachable from a financial standpoint. Amongst these brands, one can find Baltic, Serica, and Charlie Paris. Adding to the French heritage of watchmaking is now Manime, the brainchild of Édouard Paris, a French ex-pat living in Bangkok.
Today we're going to be taking a look at Manime's first model, La F., which stands for "La François." It was named after one of Édouard's oldest and closest childhood friends.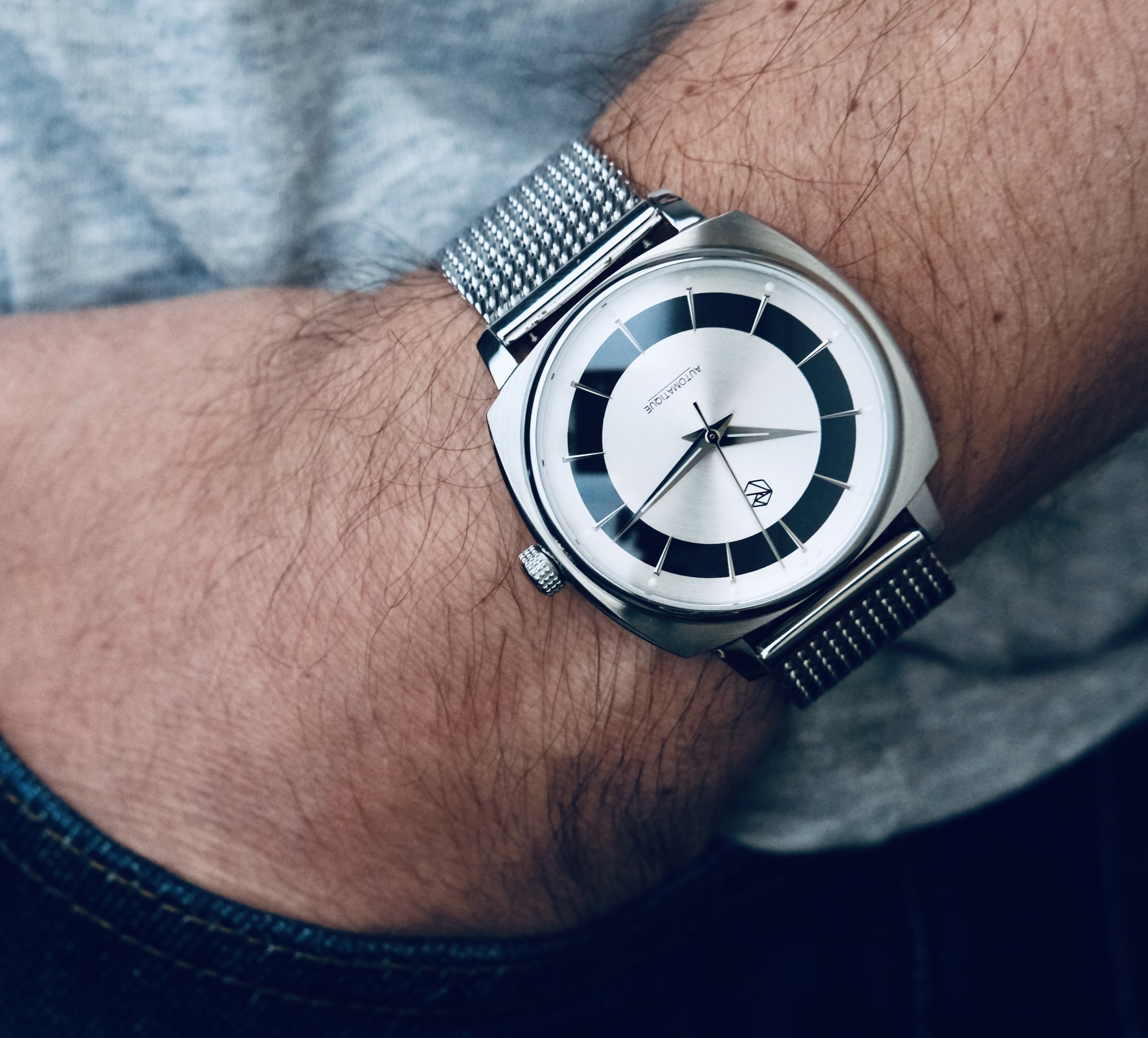 La F. in Numbers
La F. inscribes itself on the register of reasonably-proportioned watches with a case coming in at 40mm in diameter, a lug-to-lug distance of 45mm, a thickness of 10.2mm and a lug width of 20mm. Within its thin body, one will find the Miyota 9039 movement, one of Miyota's best movements that won't make you break the bank. The 9039 comes with 24 jewels, 42 hours of power reserve, and beats at 28,800 BPH (4Hz.) It's a good movement with a proven track record of accuracy and reliability. Two key features that sit comfortably within the requirements for a daily wearer. La F. is indeed an everyday timepiece that comes with modern angles and delicate finishing.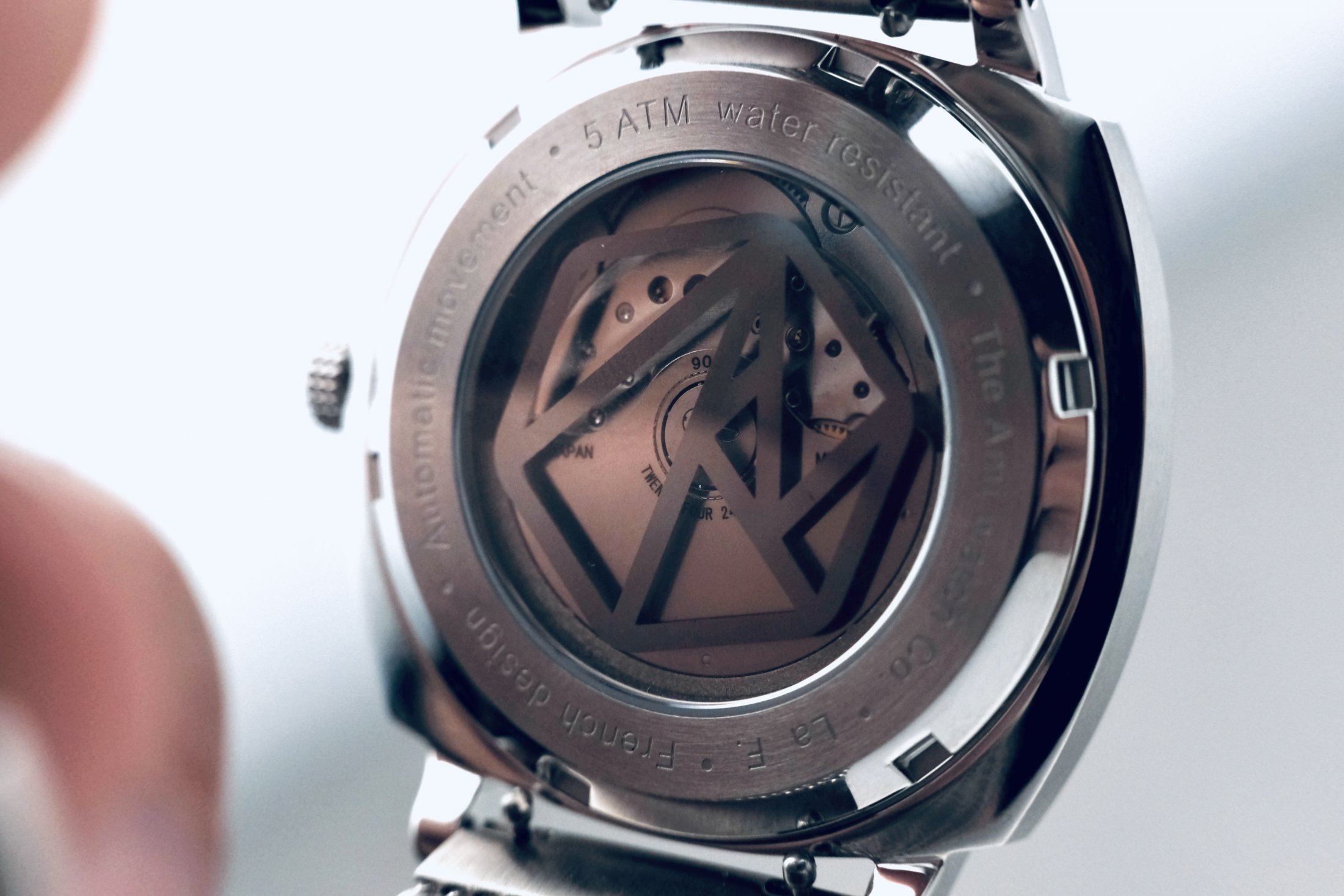 The case and mesh bracelet are made of 316L stainless steel and are adorned with fine brushing and polishing. (More on that later.) The crystal is made of a domed piece of sapphire crystal with an anti-reflective coating and one will find another piece of sapphire on the back of the watch. Indeed, La F. comes with a see-through case-back made of a flat sapphire crystal. This is impressive for a watch that only measures 10.2mm in thickness. To finish off the section about the specifications: the markers are applied and highly polished, and the dauphine hands are also polished and equipped with thin sections of C1 SuperLuminova. La F. comes with 50 meters of water resistance, a screw-down case-back, and a push/pull crown.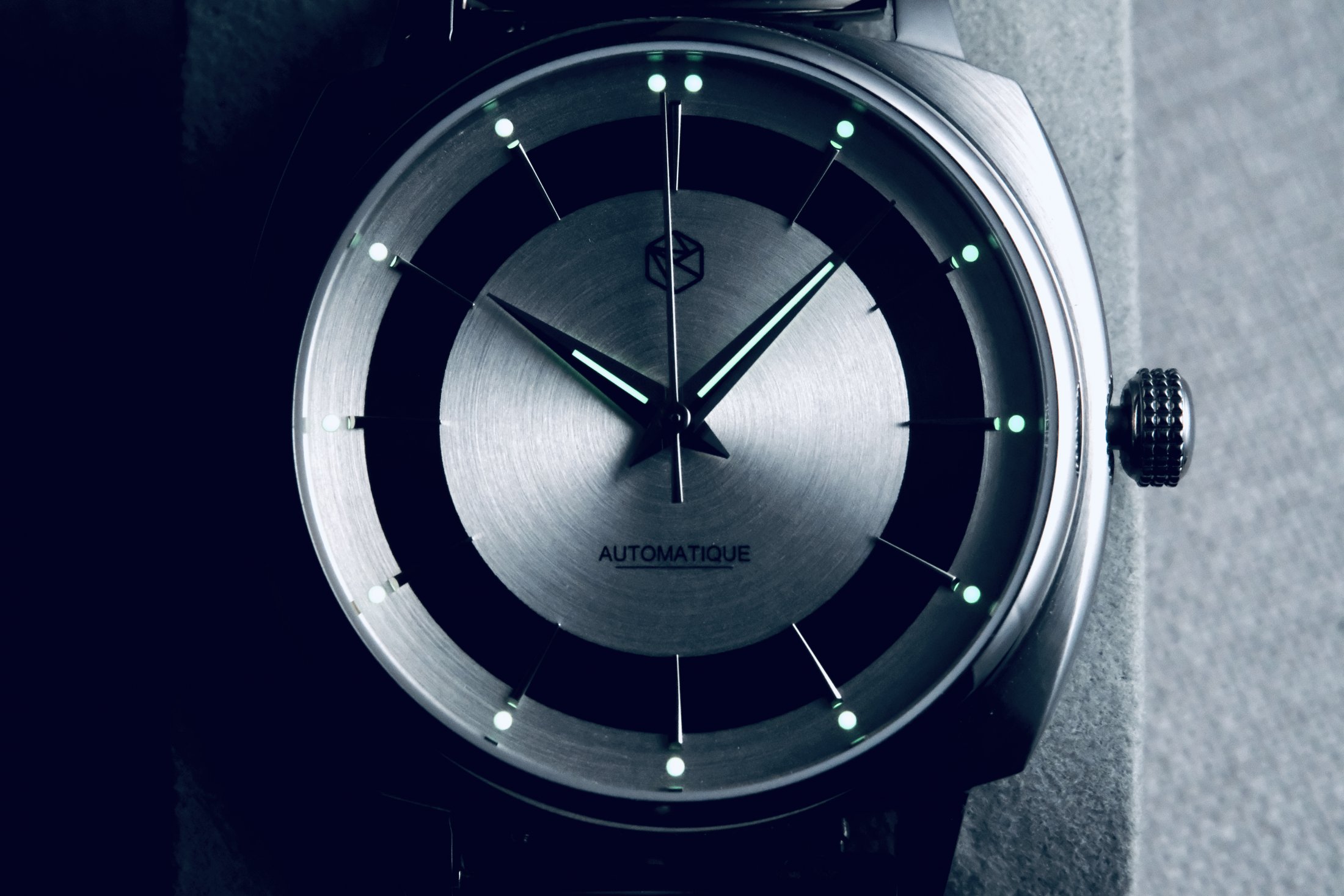 The Star of the Show: The Case
If you look at the catalogues of all micro/independent/craft brands that were created in the past decade, you will see that many of them first released a dress watch. Although I won't point fingers at any brand, I've seen the same quartz-powered, thin dress watch with polished markers and dauphine hands define many brands' debut collections. So in a sense, Manime went the same route by creating La F.: we see dauphine hands and polished markers. However, Manime went a step further than most new brands by putting a sturdy automatic mechanical movement inside the case and by endowing the latter with some serious angles.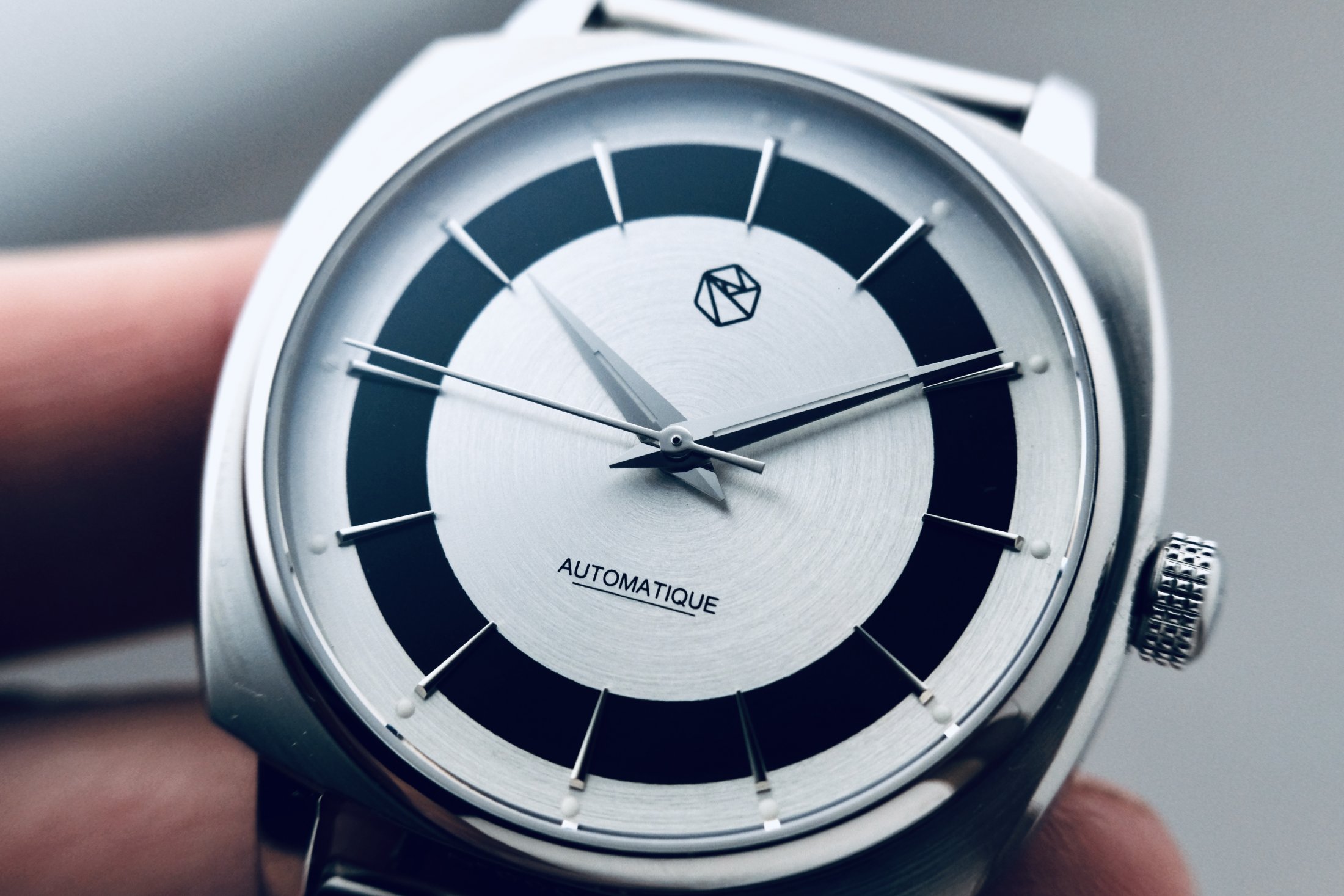 The case of La F. is what I like the most about this model: the sides are reminiscent of yesteryear's tonneau-shaped watches while the top and bottom sections (here understand the portions at the lugs) come with dramatic vertical cuts. It looks as if someone decided to remove part of the case with a laser while taking the time of rounding off the edges. Looking at the case from the side, we notice how straight these angles are. I absolutely love it. Which means the corners of the case are angular, and these dramatic angles are accentuated by a circular satin finish on their top and side.
Having a thickness of 10.2mm, La F. sits flat on the wrist and is comfortable to wear. The mesh bracelet is light and complements the style of the watch, and if you don't like mesh bracelets you can easily swap it out for a strap thanks to the drilled lugs. The short lug-to-lug distance means La F. will fit many wrists not only from a wrist-to-watch-length ratio perspective but also from a visual one: the lugs are short and point down toward the wrist, following a natural flow with the mesh bracelet which contours the wrist nicely.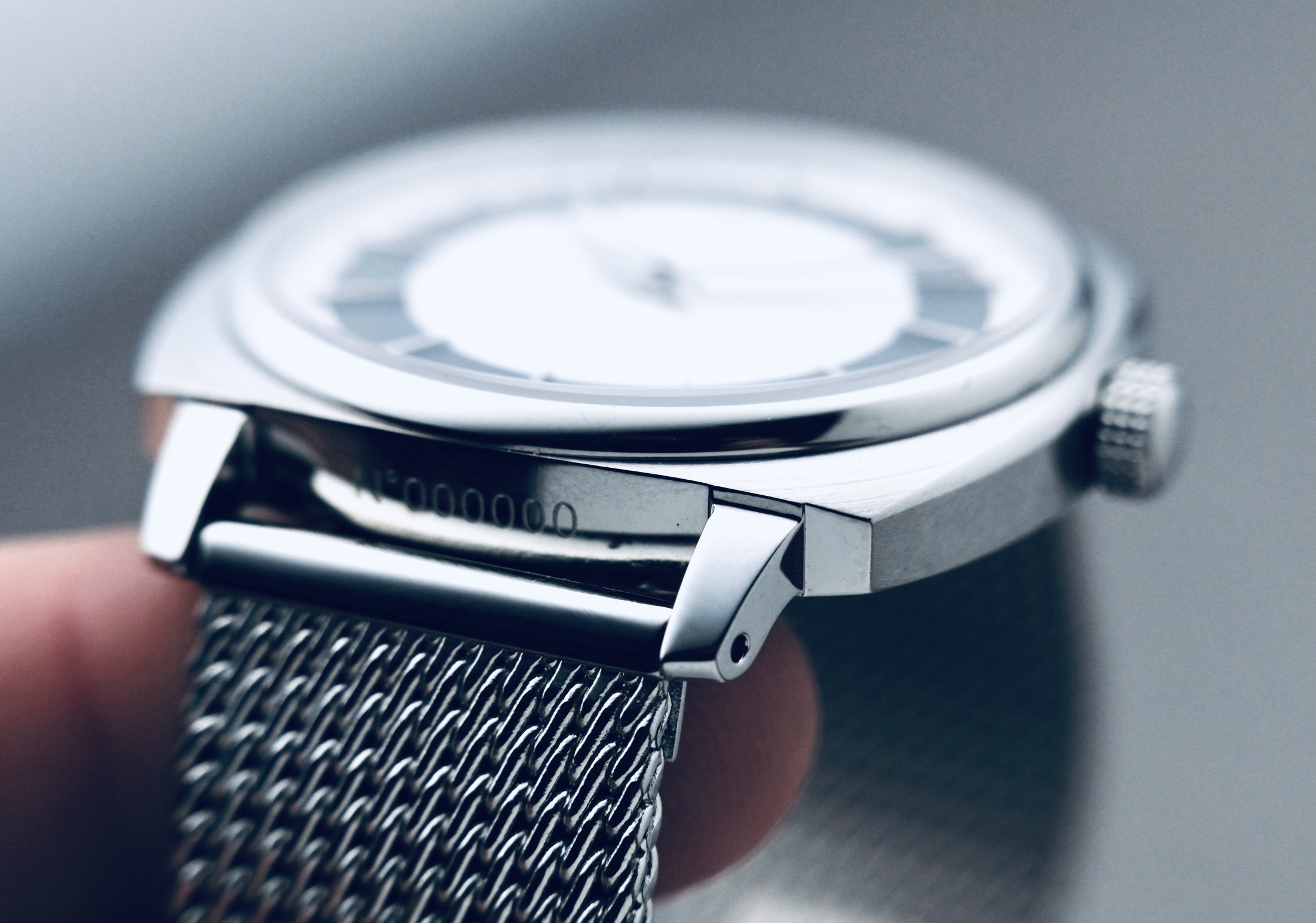 The Second Star of the Show: The Dial
Going back to my original point that many brands go for lacklustre dress watches for their first collection, I would like to point out the intricate—yet subtle—dial layout La F. comes with. First, we see the imposing highly polished dauphine hands, then the applied and equally highly polished markers. So far, there are a lot of polished surfaces, which indicates elegance and conservatism. Then we notice the satin, radial finish on the grey and black sections of the dial which contrast with all of the polished surfaces. These brushed surfaces create visual continuity outward looking onto the case, since the flat sections of the latter are also adorned with the same finish.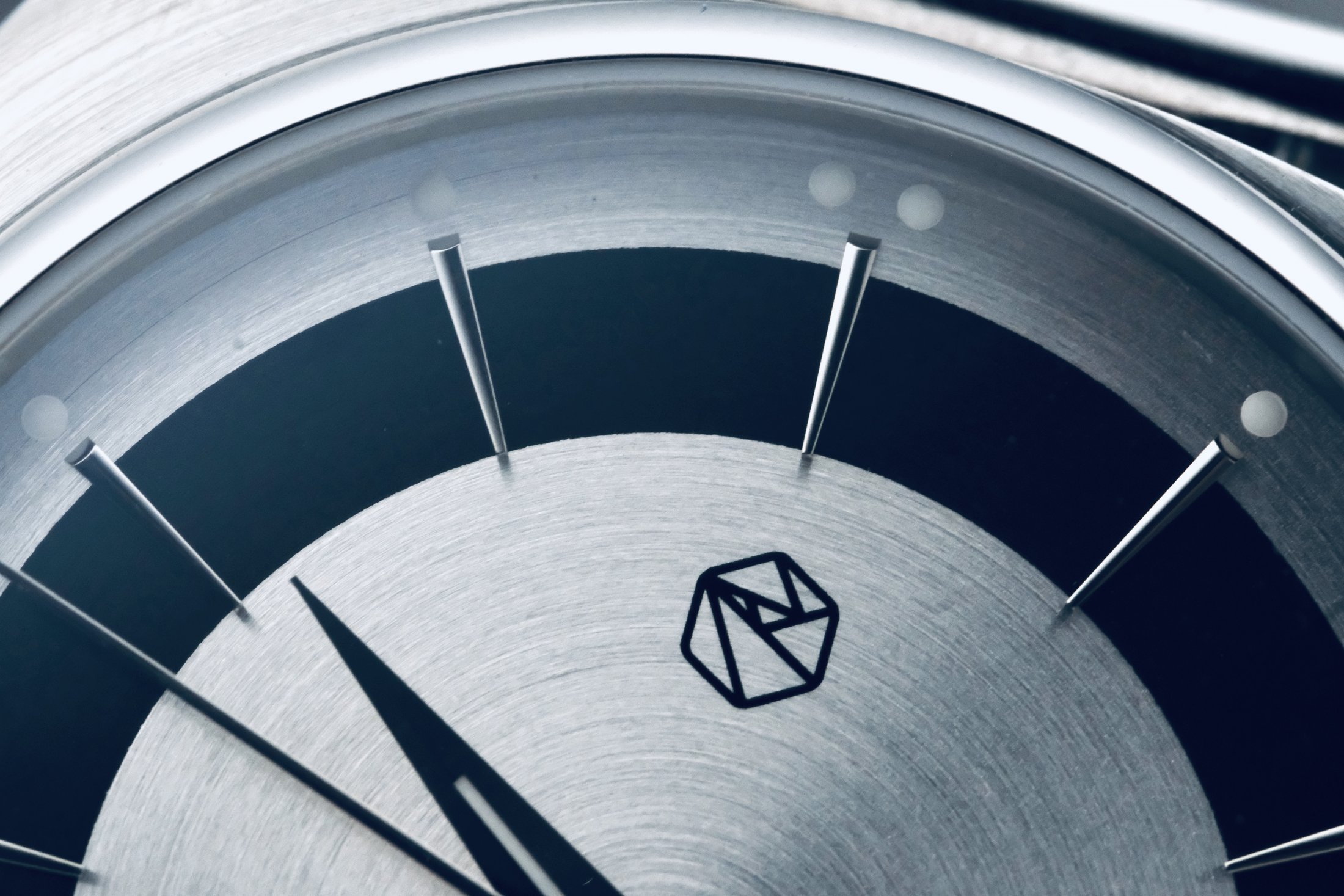 La F. might look more dressy than utilitarian but it doesn't shy away from having some serious specifications, as we've seen above. Staying on the dial we notice circular lume plots on the farthest edge of the dial. These are made of C1 SuperLuminova, making La F. legible in low-lit conditions. As any proper tool watch would have, La F. has double lume plots at 12 o'clock to aid with orientation in the dark. The dial, therefore, is an intricate cross between pure horological dressiness and useful utilitarianism of tool watches that come together into a timepiece that looks just like any other one at first glance but that impresses upon closer inspection.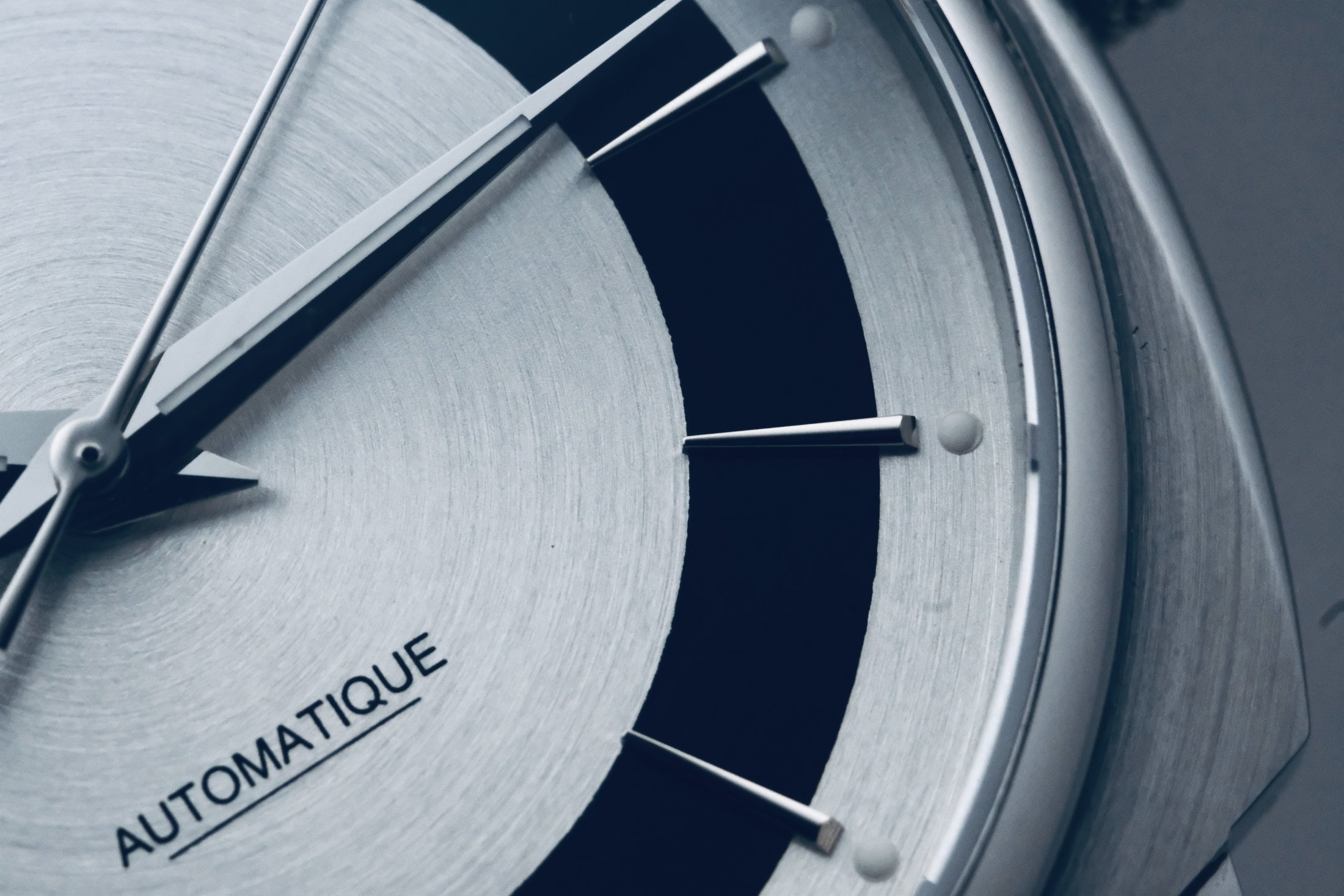 The Third Star of the Show: The Bracelet
I would be remiss if I were not to mention the unusual sizing feature of the mesh bracelet. 80% of the bracelet is your standard mesh bracelet affair: indeed a mesh construction with straight links and a double-deployant clasp. But Manime wanted to make the bracelet easy to adjust while being different. (Normally, mesh bracelets are adjusted with old-school-looking clasps that require you to lift a tab with a screwdriver to adjust the length.) La F. is equipped with small, high-polish links that can be removed to adjust the bracelet. This is not unique (it comes on high-end German mesh bracelets) but is rarely seen for a watch at this price point.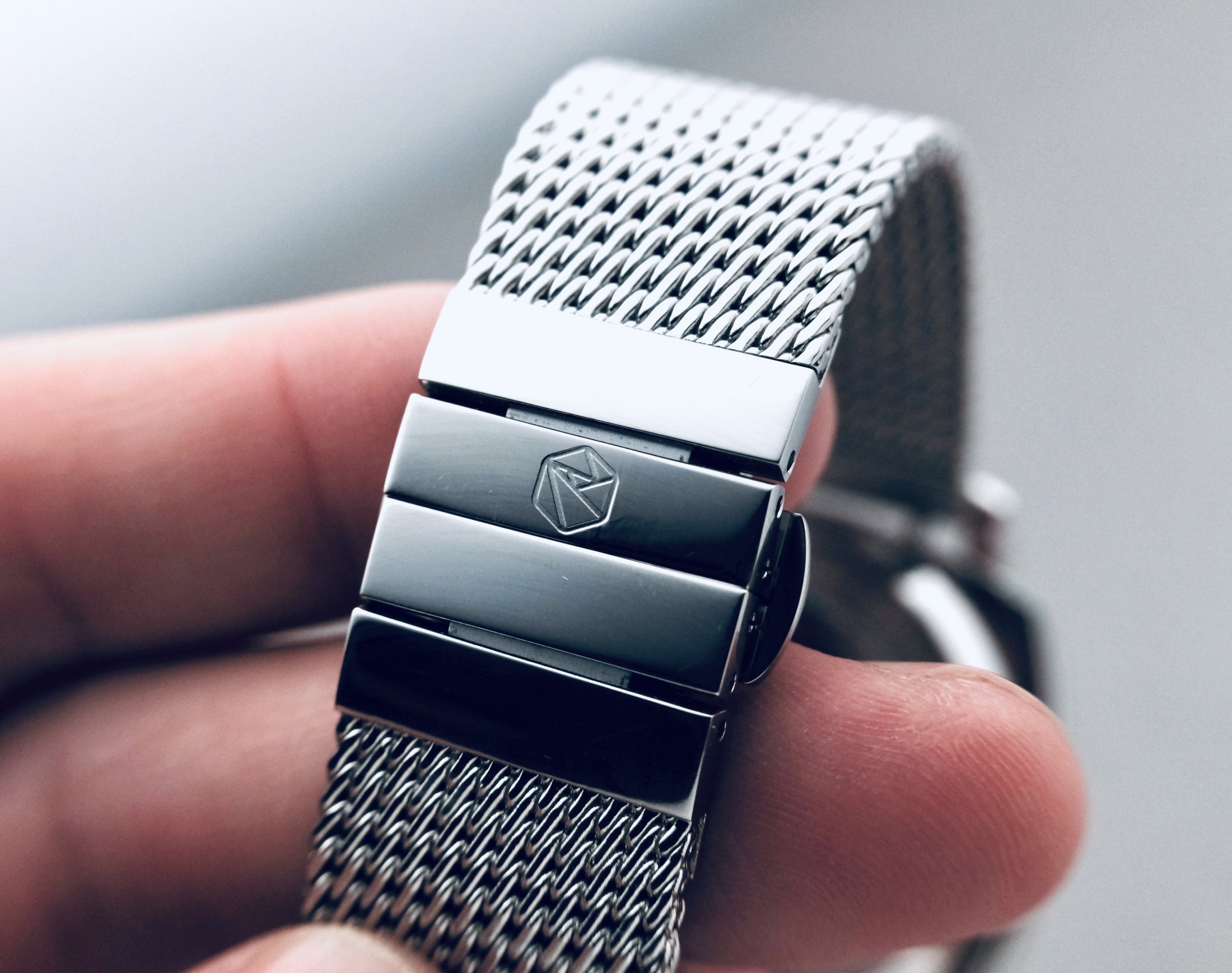 Final Thoughts
At first glance, La F. appeared to me as being just another dress watch. But upon taking a closer look at the specifications, I realized there was more (much more, actually) than meets the eye. From the angular case to the fine circular brushing on the various sections of the dial and case, to the convenient drilled lug holes and useful adjustment systems on the clasp. Édouard packed a lot of useful features and serious specifications in a watch that retails for a mere €339 (£229) on pre-order and €399 (£351) thereafter. I encourage you to visit the brand's website to read more about La F. and their pre-order campaign.