KUOE is a Japanese brand you've probably never heard of… but I have a feeling that's soon about to change. Based out of Kyoto, Japan, its USP is making vintage style watches of true vintage proportions. Here we take a closer look at its flagship model, the 1940s-inspired Royal Smith 90-008. But before I get into the review proper, its deserving of a bit of a back-story.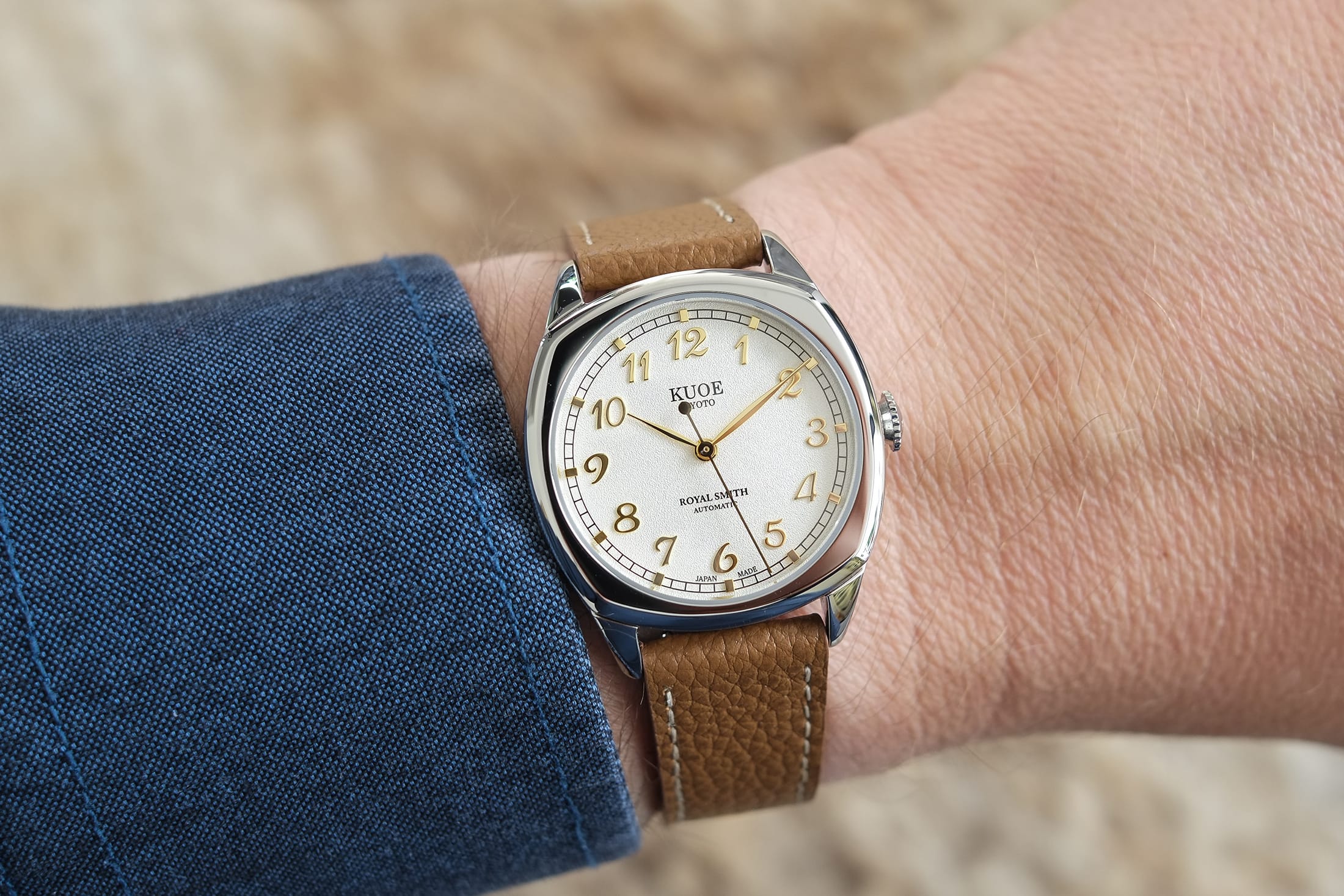 I first discovered KUOE whilst scrolling through my Instagram feed. At first, I thought I was looking at a vintage watch, but upon closer inspection the dial bore the brand KUOE and Old Smith. Not a name I was familiar with, I headed on over to the KUOE website. The first thing I noticed was that KUOE is a very new brand, established just three years ago by founder and designer, Kenji Uchimura. The second? Without exception, all its watches are 35mm or less. A brave move indeed and something that piqued my interest!
The seeds of the idea for the brand concept were planted when, as a student, the young Uchimura entered a shop in London selling vintage watches. He was struck by the warmth and timeless appeal of the watches and felt a strong, enduring connection to them. Fast forward ten years, and after gaining some experience within the watch industry, he set up KUOE with the purpose of creating new watches inspired by the classic designs he'd seen and loved in the London antique shops. Incidentally, if you're wondering where the name originates, KUOE (pronounced Kuo) is a combo of the founder's initials and his birthday, October Eighth!
The first model to launch was the Old Smith 90-001, and it's this watch that first caught my eye on Instagram feed. However, for my review, I wanted to see what its flagship model, the Royal Smith, had to offer. KUOE pitches the Royal Smith as their premium line watch, due to its higher specification and attention to detail. It comes in three variants, an all-steel version, and all-gold version and the steel and gold reviewed here.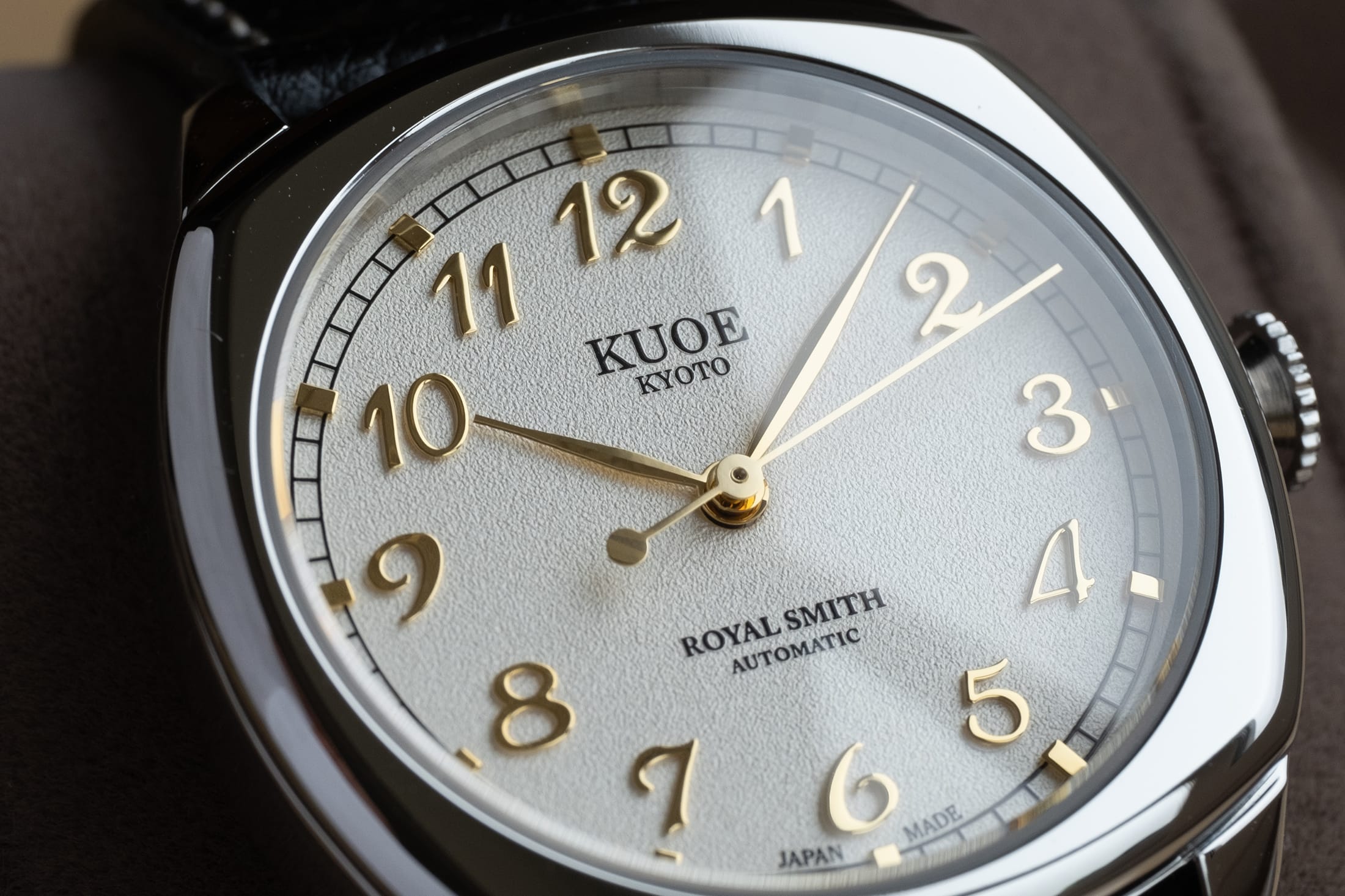 The Wearing Experience
Let's address size first, as I want to tackle it head on. The Royal Smith 90-008 is the smallest modern watch I've ever reviewed! With a diameter of just 34mm, and a lug-to-lug measurement of 41mm, it's small, even given the recent trend towards more modestly sized watches. However, before you switch off, thinking 'that's just too small for me', just allow me one paragraph to persuade you otherwise.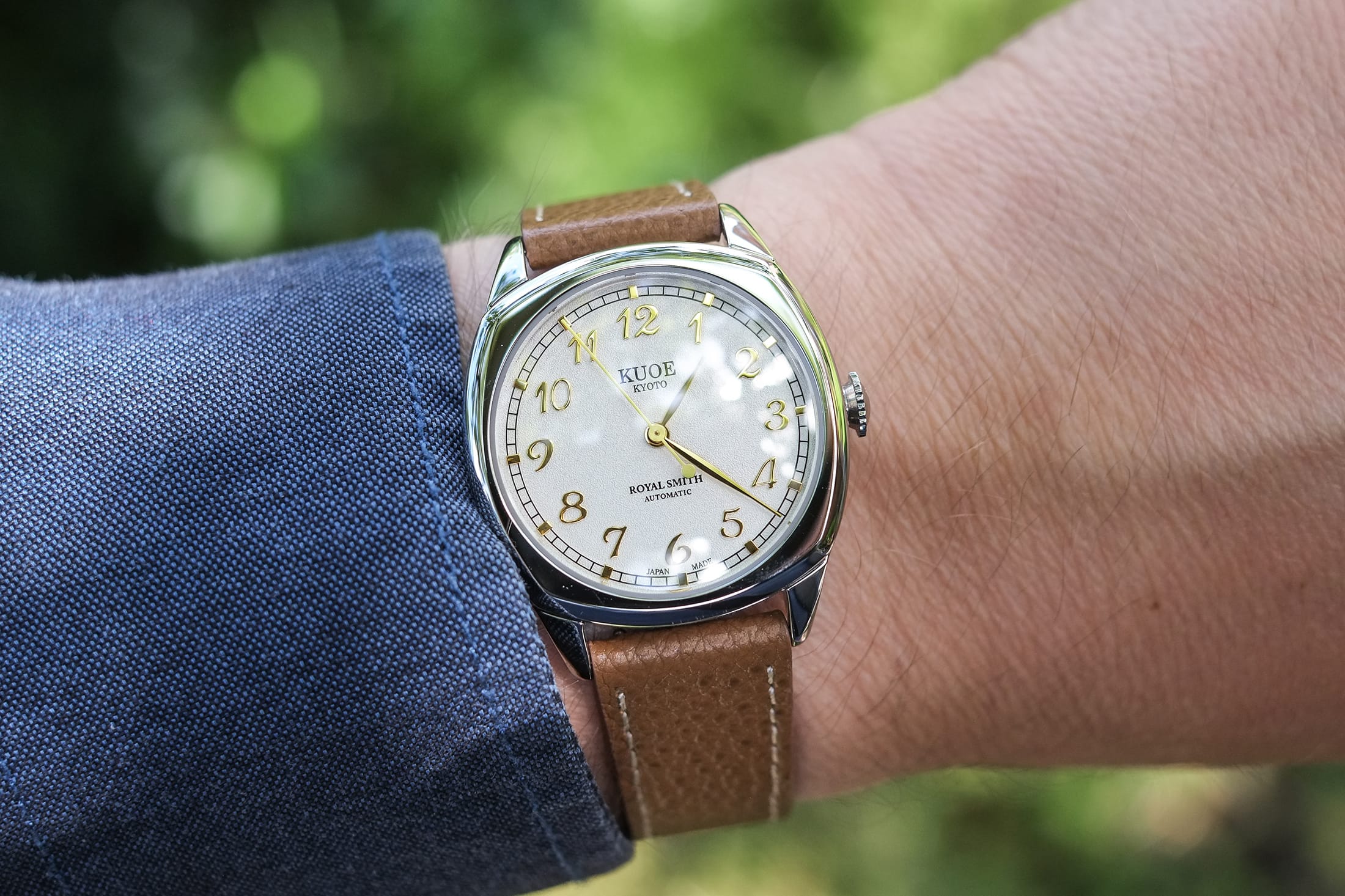 Firstly, this is a 1940s-inspired watch in the truest sense. Unlike many neo-vintage watches, which take design inspiration from a particular period and simply upsize to suit the mass market, KUOE's whole ethos is to make vintage inspired watches that retain vintage proportions. With that in mind, the Royal Smith 90-008 will be an ideal watch for anybody who likes the idea of owning a vintage watch but is daunted by concerns over reliability and servicing costs. Secondly, it's worth noting that the Royal Smith pulls off a neat trick, in that it somehow manages to wear ok on both larger and smaller wrists. To illustrate the point, I've pictured it here on my 7 ¼ inches wrist, and my wife's wrist, which is 6 inches. I think the reason it manages to morph so successfully is that it visually looks bigger, probably due to the cushion case shape and 11mm thickness, but physically wears compact thanks to the short lug to lug measurement. It's a small watch, but it doesn't look or feel delicate. Consequently, I think it could appeal to a surprisingly wide audience. Unless you have wrists larger than mine (7 ¼ inches) I'd certainly encourage you to keep an open mind!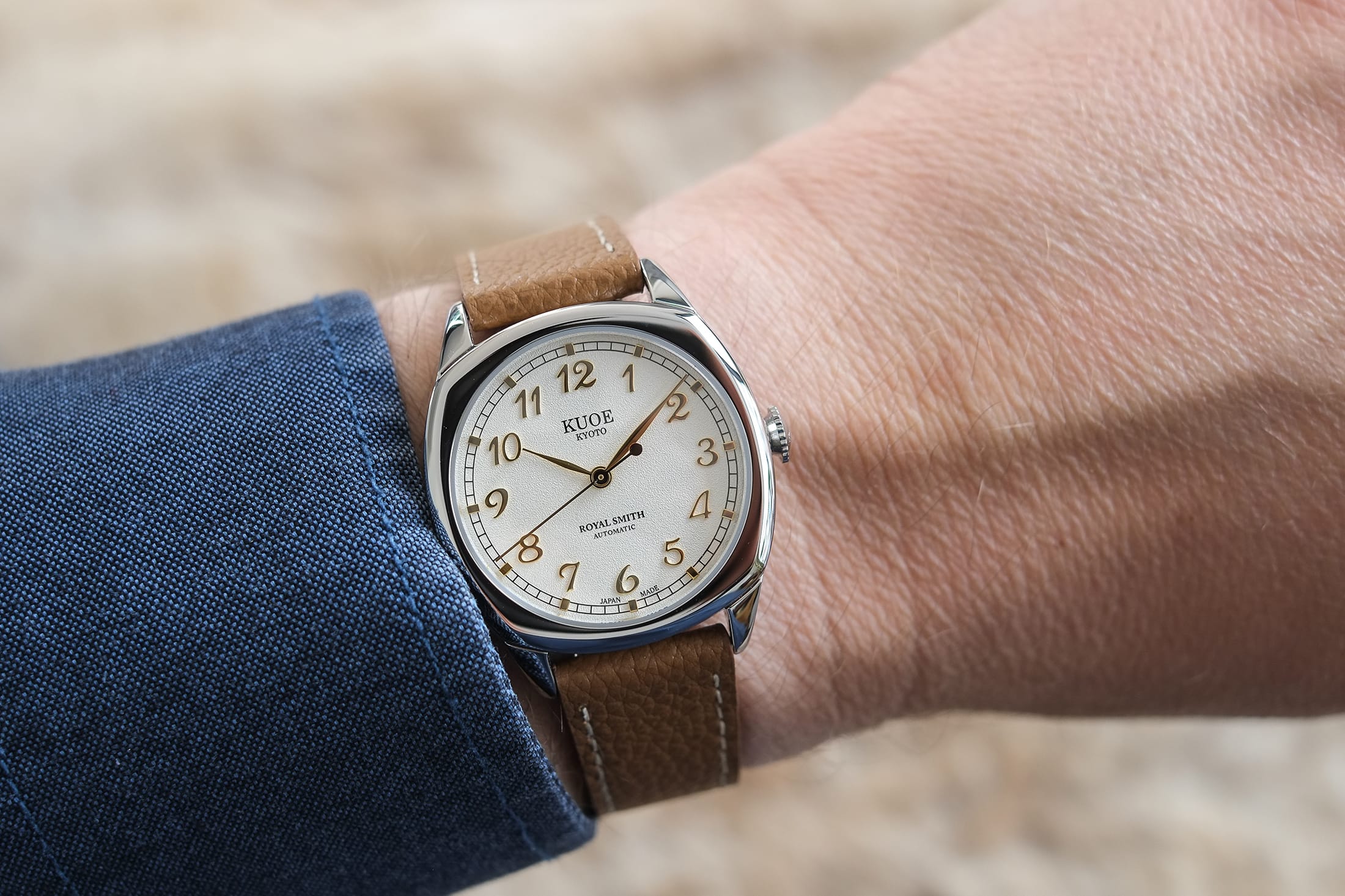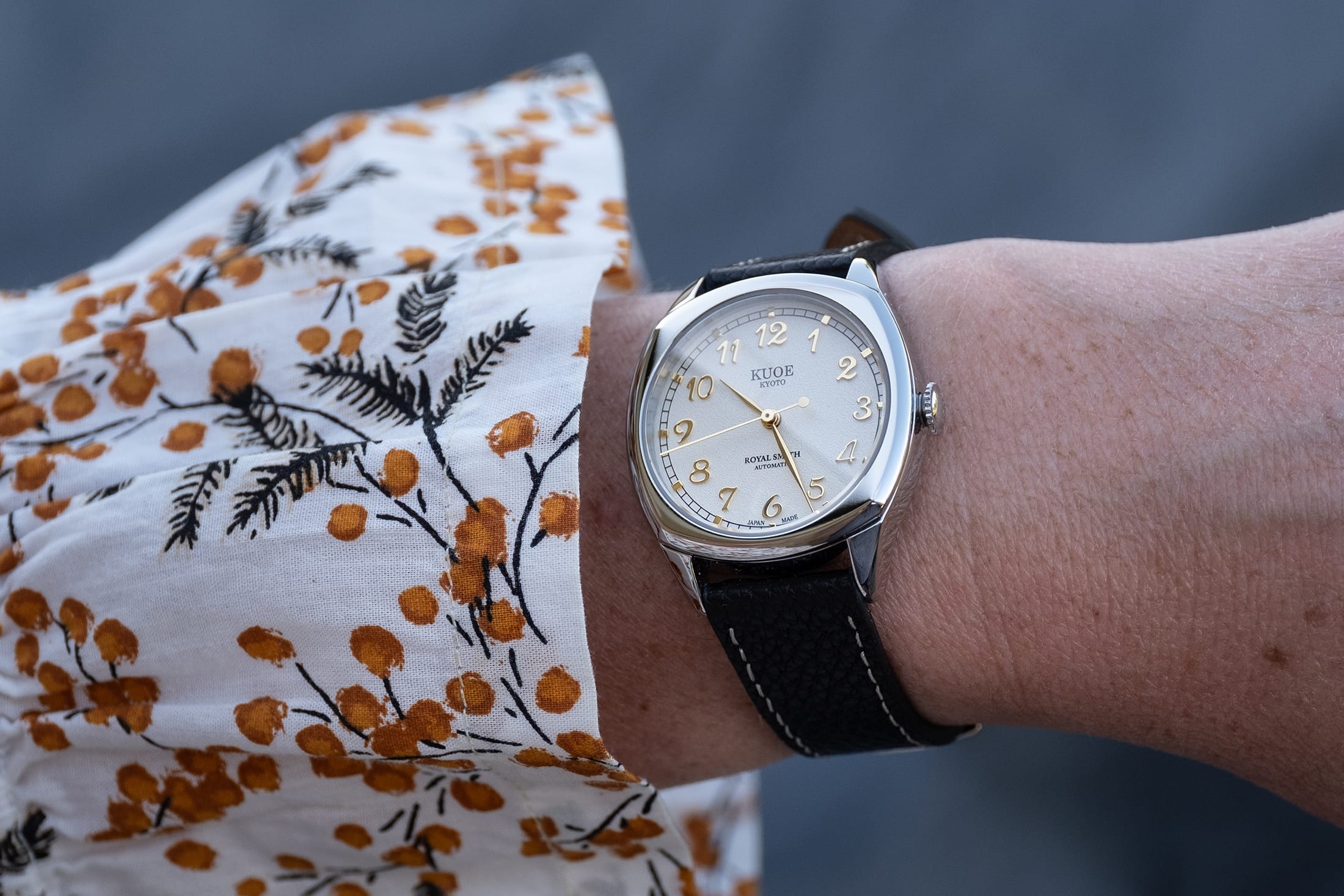 So now we have that out of the way, let's take a closer look at the specs and details…
The Royal Smith 90-008 Case
The attractive cushion-style watch case is crafted from 316L stainless steel and has short lugs that angle downwards, making it a real wrist hugger. The bezel has soft-corners and shallow, angled sides that meet the mid-case. The mid-section has straight sides, and the screw-down caseback features a sapphire display. The whole case is entirely polished with no chamfers or hard transitions.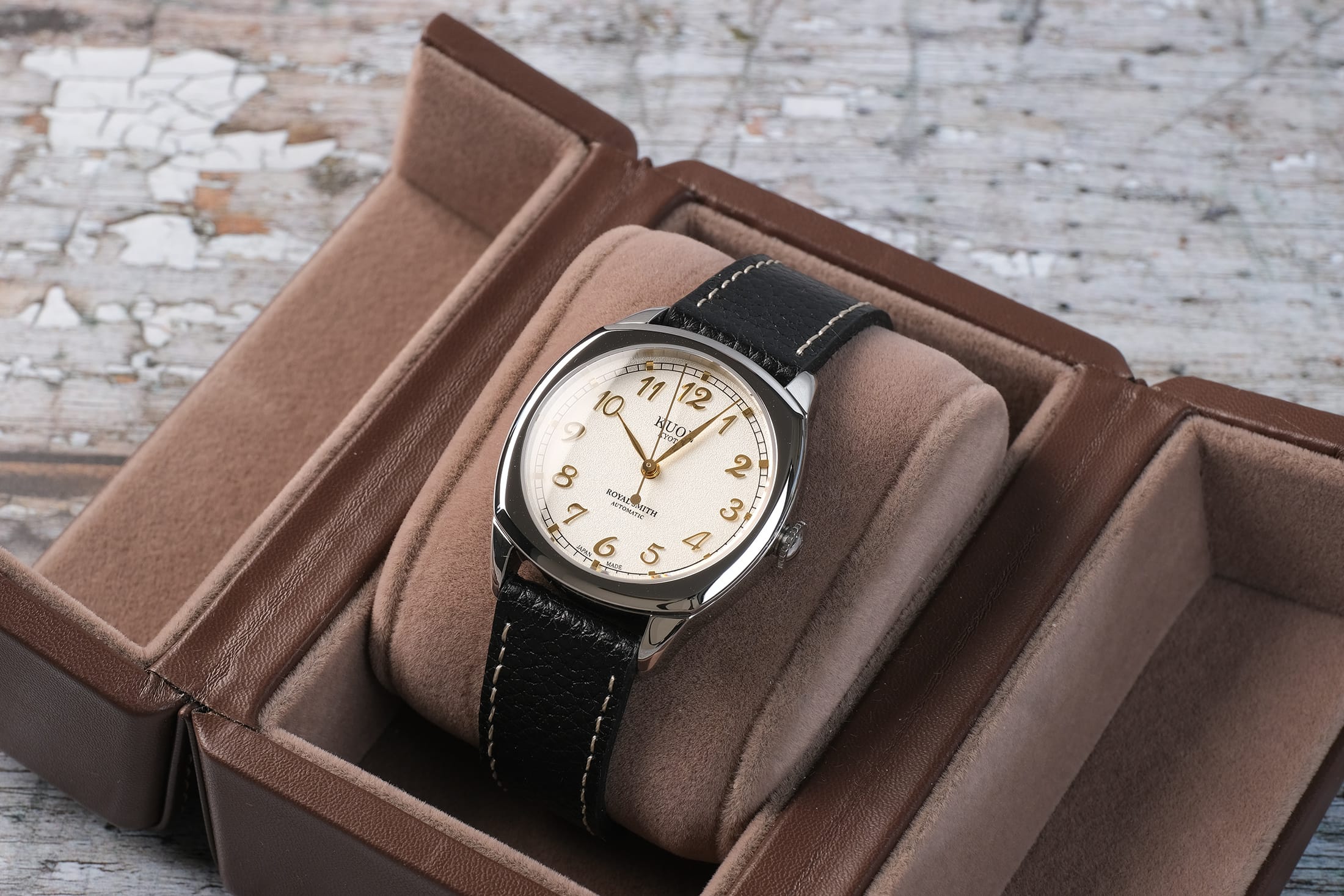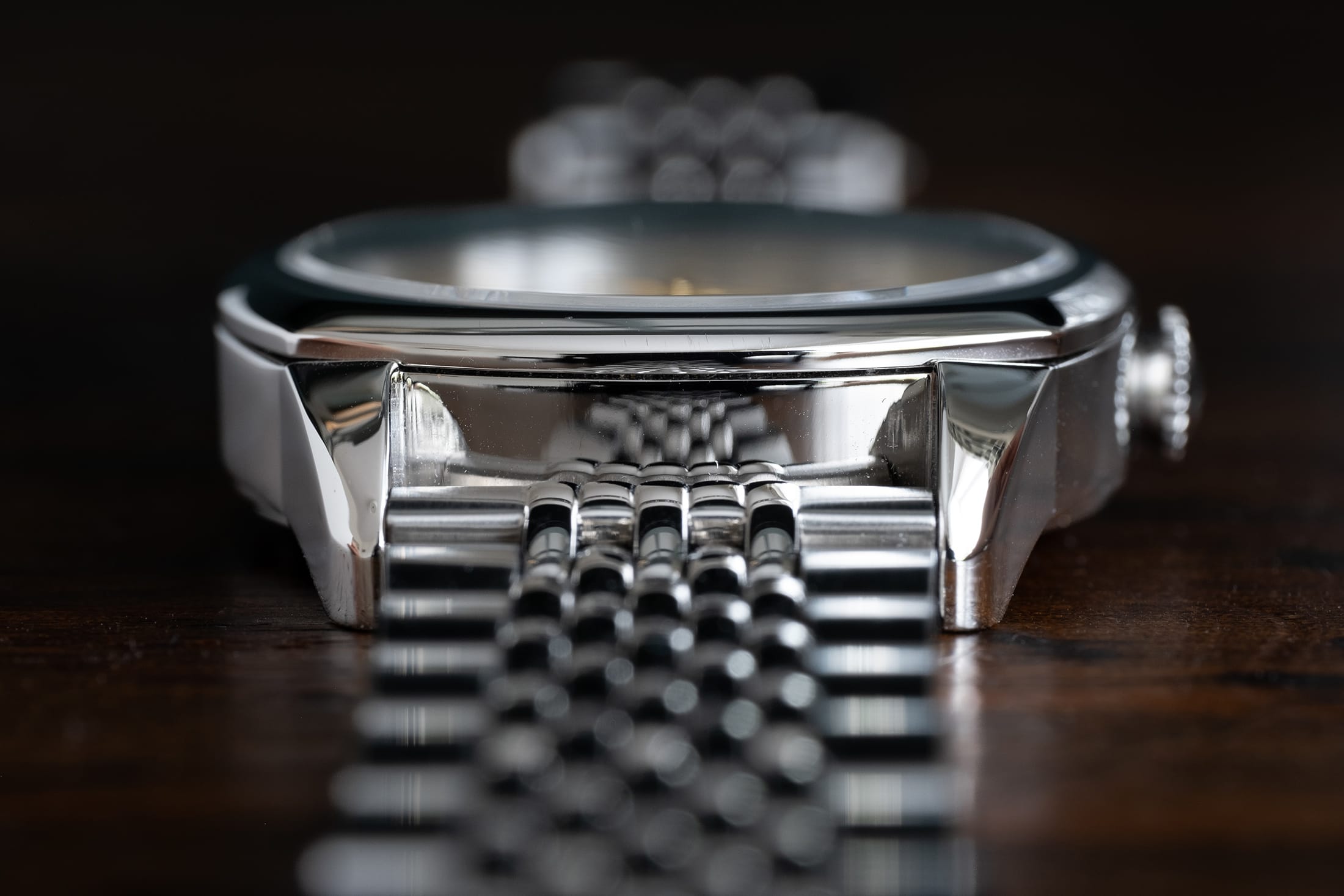 A gently domed, scratch-resistant sapphire crystal protects the dial, and the anti-reflective coating is very effective. The unguarded, signed crown is my least favourite thing about the watch. I'm not keen on its shape and find it a bit too small and fiddly. It's easy to pop the crown out but not that easy to change the time or wind. Water resistance is 5 ATM/50 Metres, which is fine for a watch such as this.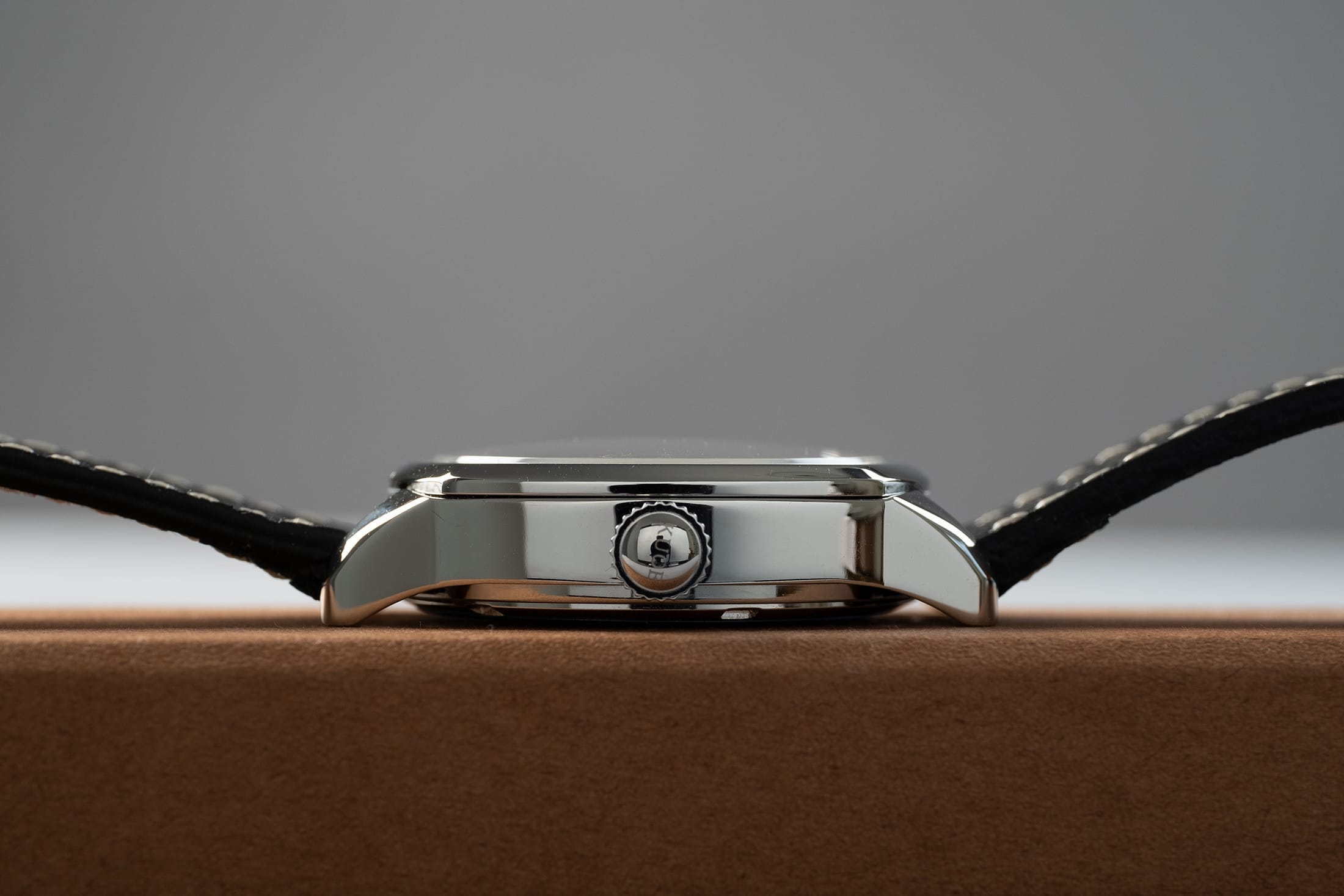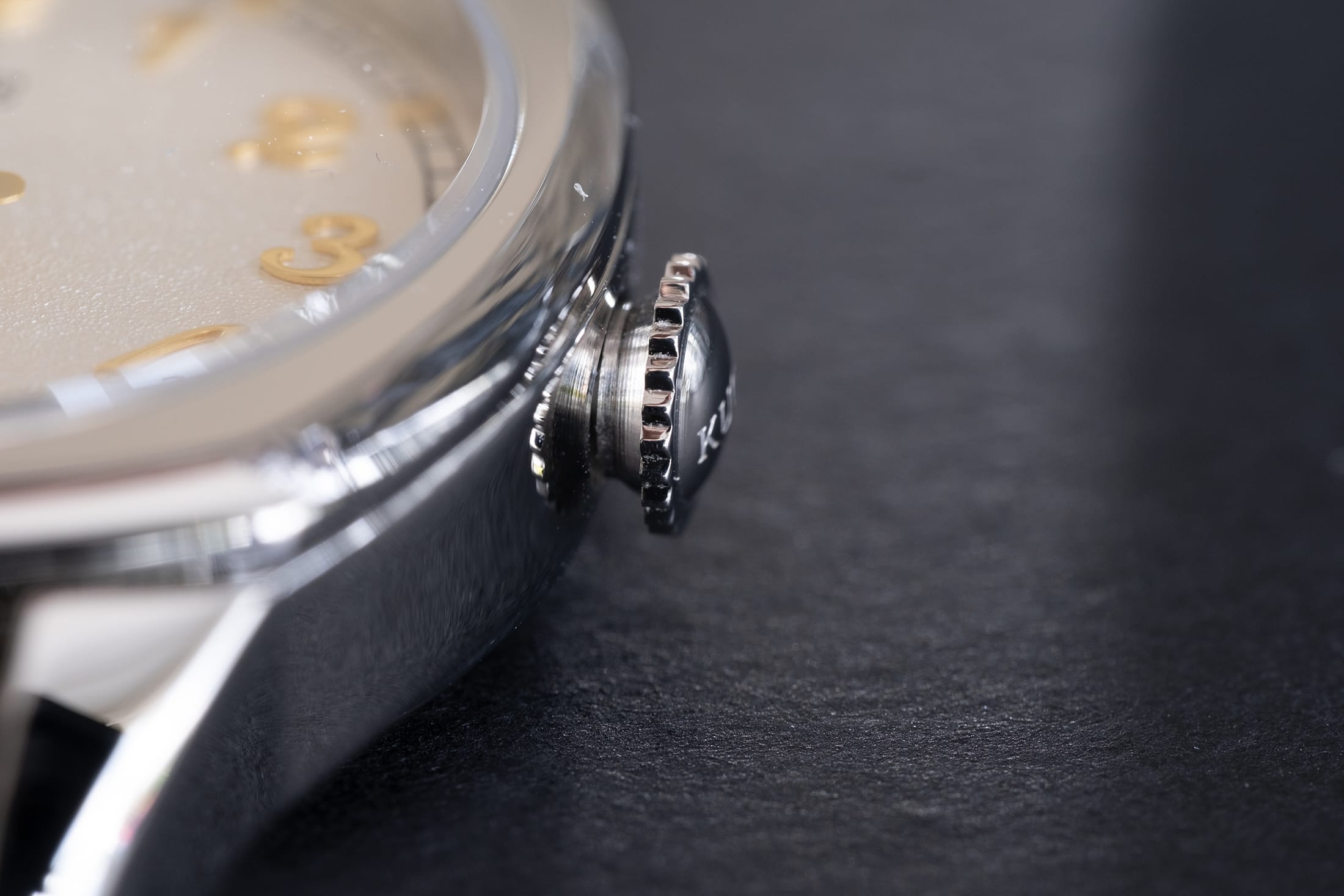 The Royal Smith Dial And Hands
The cream-coloured dial is stunning. It has a subtle grained texture and features a railroad track at the outer edge, sectioned into minutes, with the addition of applied gold-coloured square blocks at the hour markers. Applied, Breguet-style numerals sit inboard of the railroad track. They are well executed and bring lots of depth and character to the dial. The contrast of the polished numerals against the textured dial works wonderfully. Fans of open sixes and nines will be pleased too!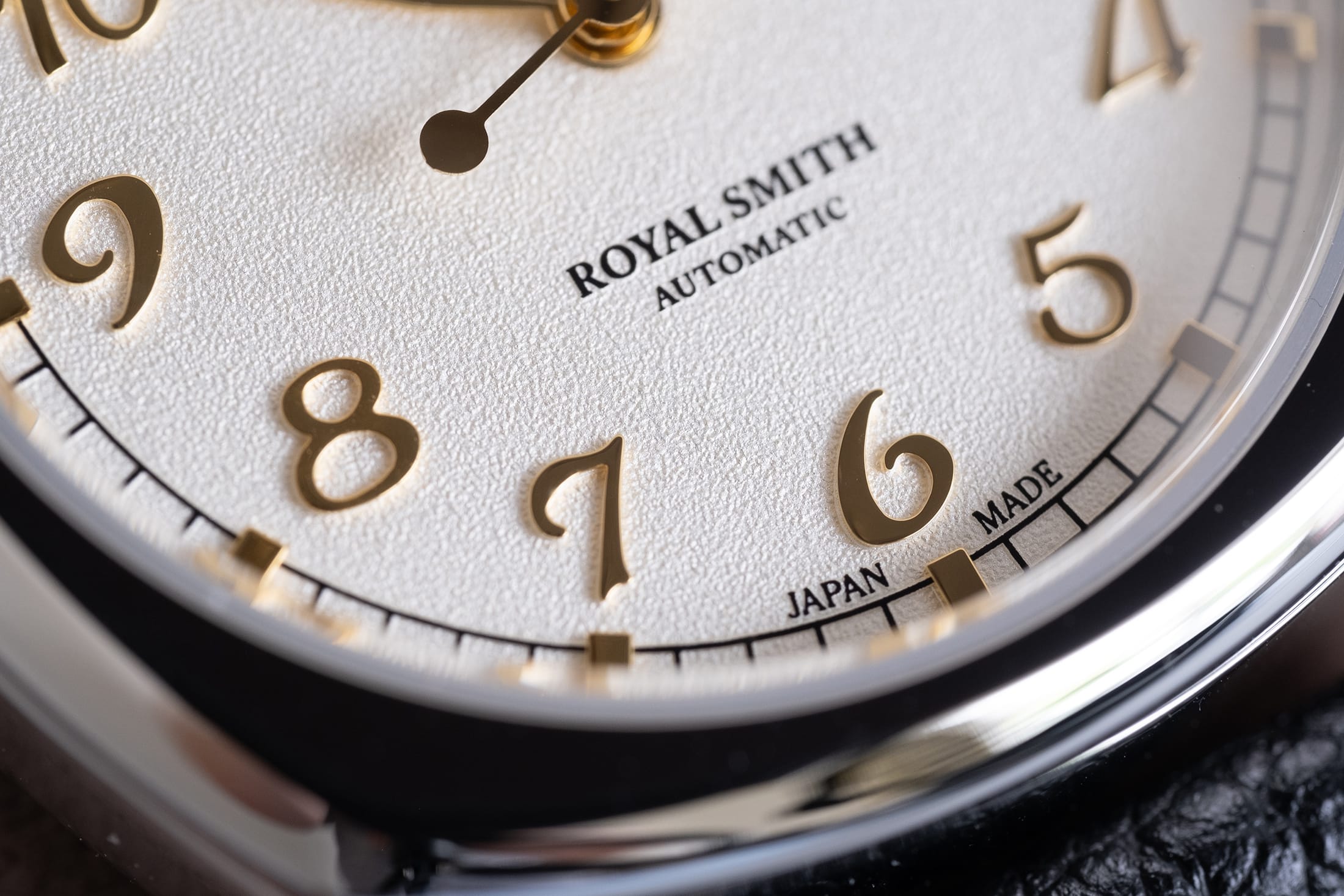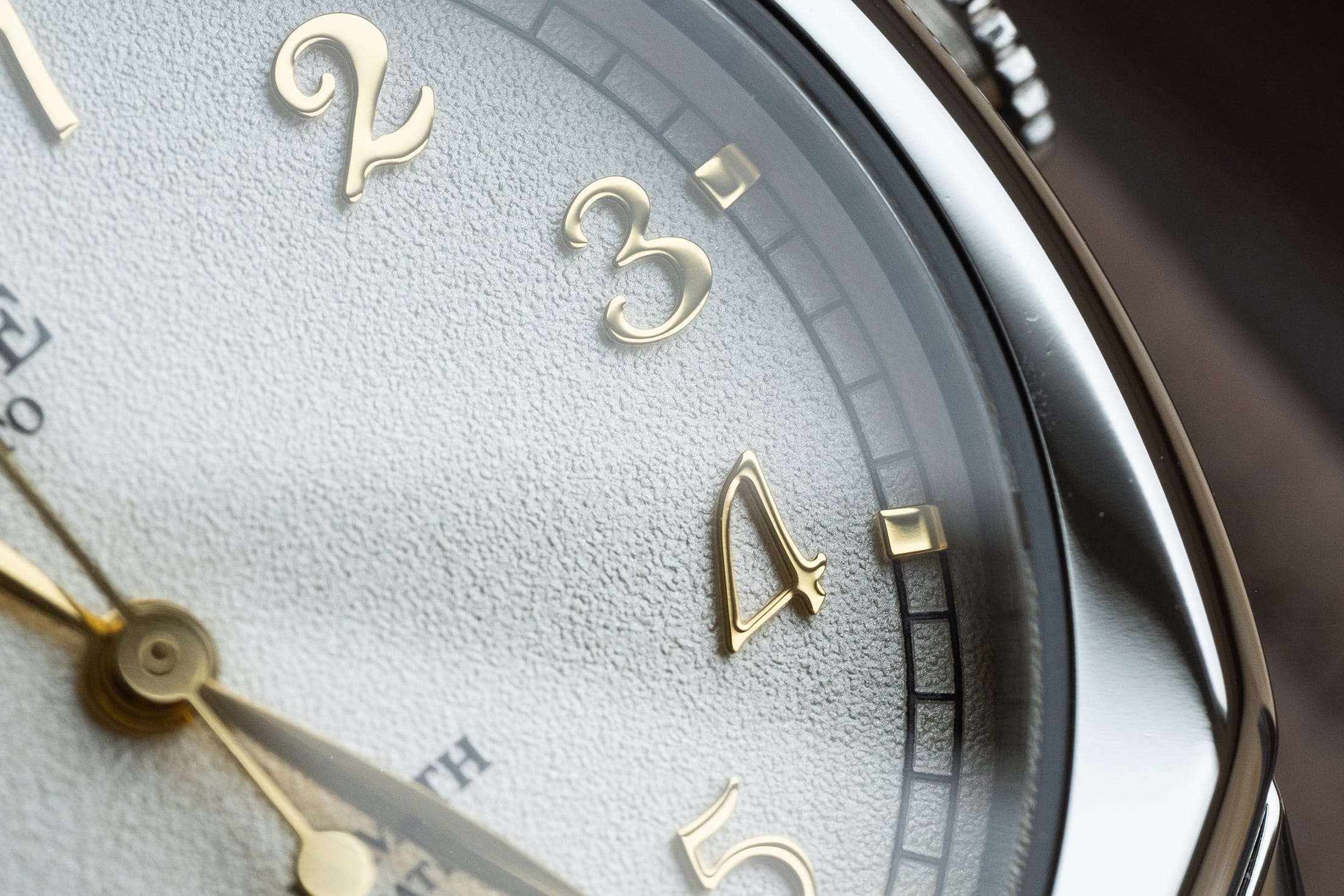 The elegant and perfectly proportioned leaf-style hour and minute hands have a slight crease running longitudinally down the centre, and the simple, lancet-style seconds hand features a lollipop counterweight.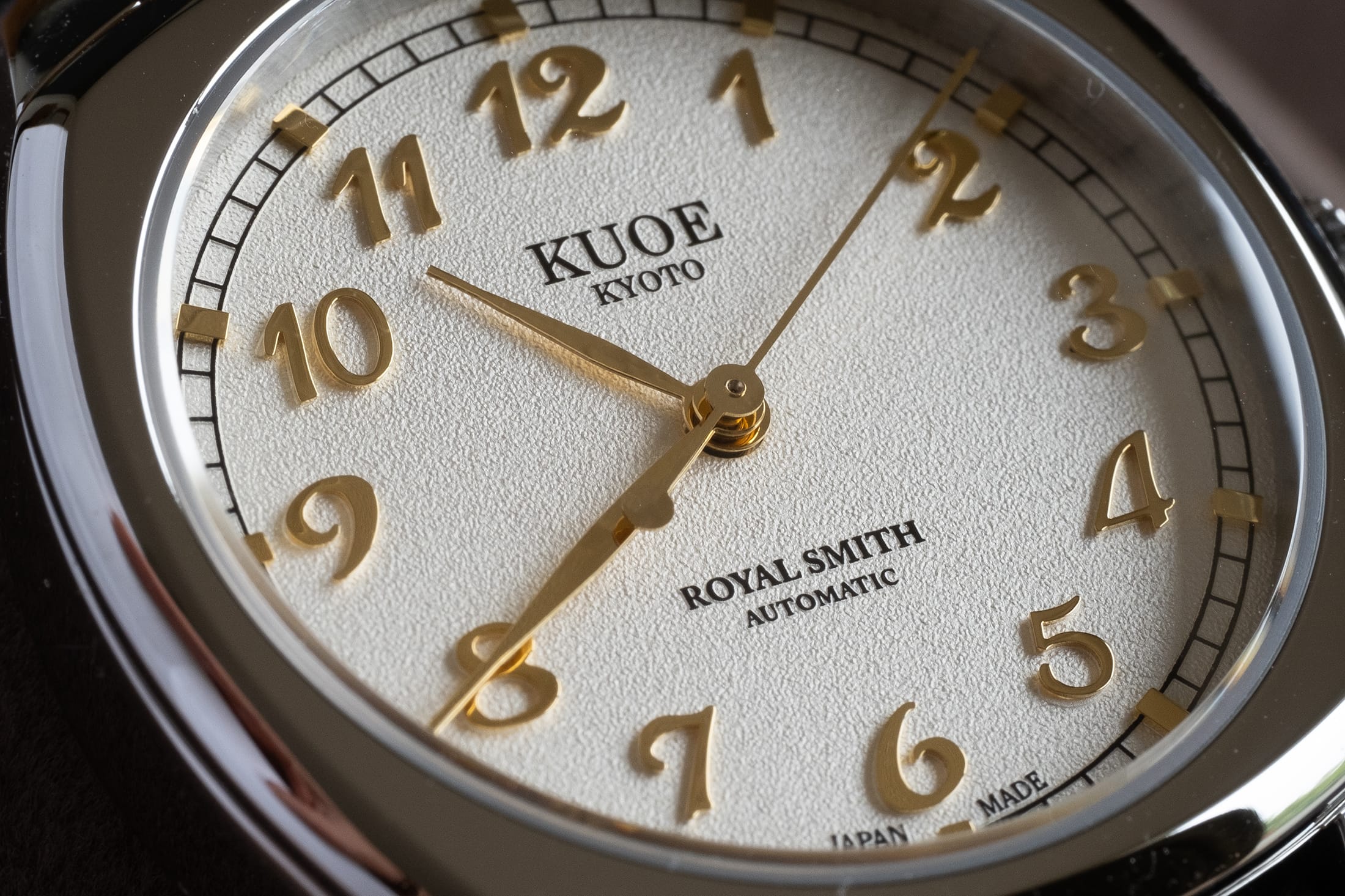 Dial text is a personal thing and can cause heated debate among enthusiasts, but to my tastes, KUOE has got it just right here. The brand name and city are printed below the 12 o'clock, with Royal Smith and Automatic above the six o'clock. It's also nice to see Japan Made printed in a small font, underneath the six o'clock marker. As I hope you can see from the photos, the printing of the railroad track and the dial text appear to be impeccable. And thankfully, there's no date window to interrupt the balance and symmetry of the dial.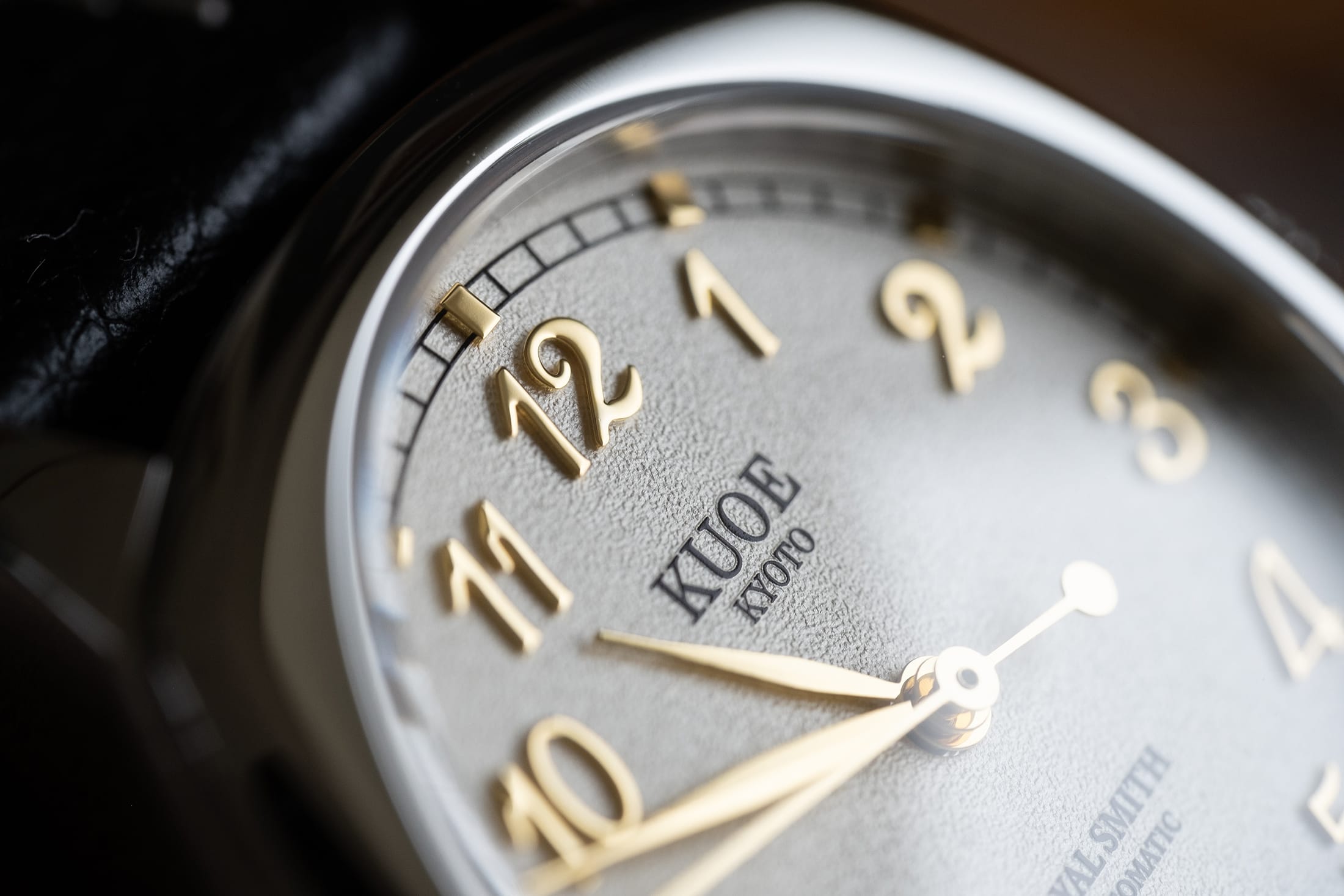 The Movement
Moving to the rear, the screw-down caseback has a flat sapphire display window with anti-reflective coating, through which you can see the premium Miyota 9039 Japanese automatic movement. This reliable movement features 24 jewels, has a 42-hour power reserve and beats at 28,800vph. You can also hand-wind and hack the movement for precise setting to a reference time. Whilst the movement is a widely used choice for watches at this price point, it's nice to see a custom rotor with 'KUOE Made in Japan' embossed in gold.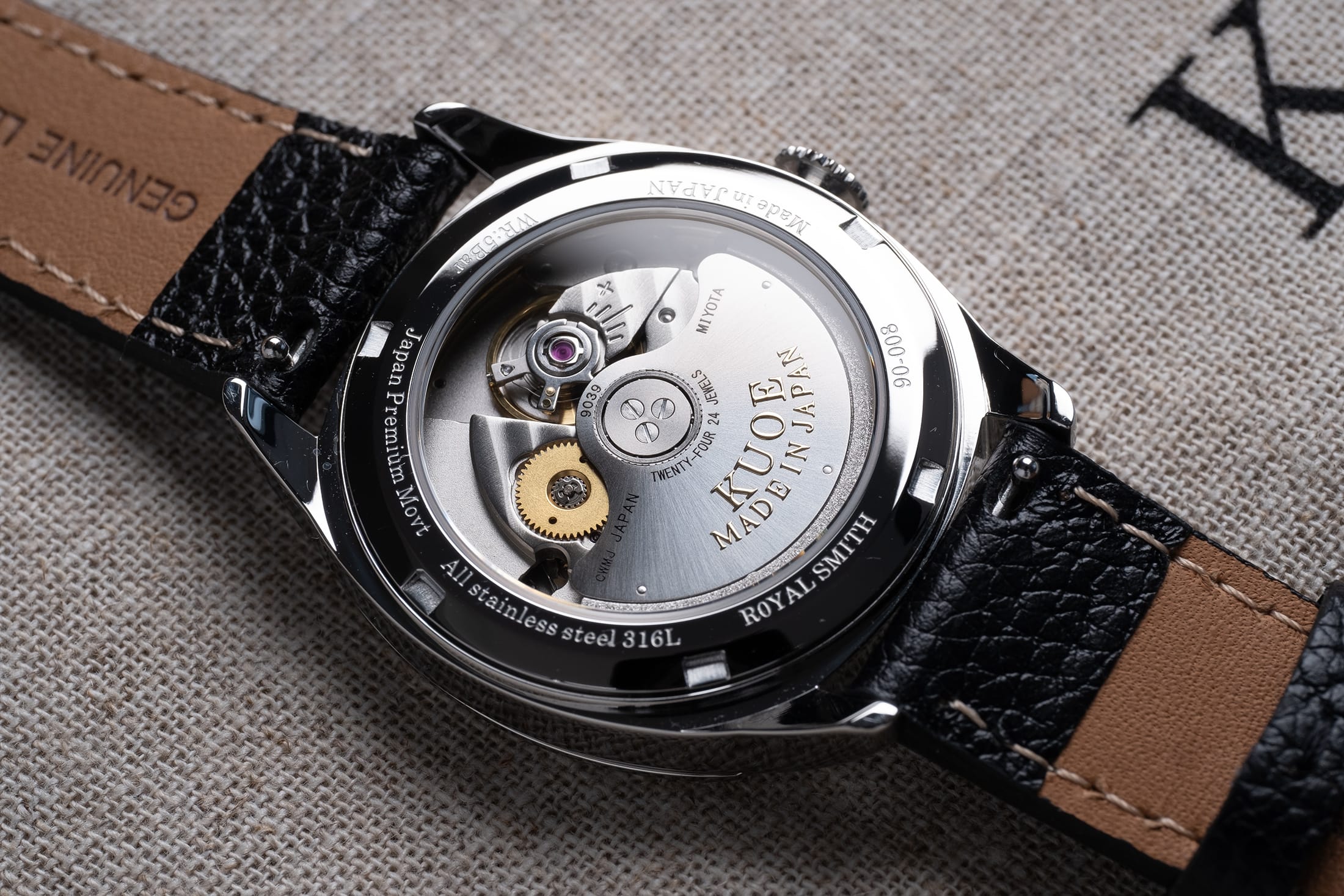 Straps And Extras
The Royal Smith is supplied on either a leather strap or a stainless-steel beads of rice bracelet, both of which feature a quick-release mechanism. The supplied black leather strap is unpadded but thick, with contrast stitching and sealed/painted edges. It is supple straight out of the box. No wearing in period with this one! I was also supplied a Mocha-Brown leather strap which for some reason was thicker and initially a little less supple. KUOE have named these straps 'Lychee' leather due to its unique texture. The leather straps are good quality and come with a simple polished and branded pin buckle as standard, but a butterfly clasp is available at extra cost.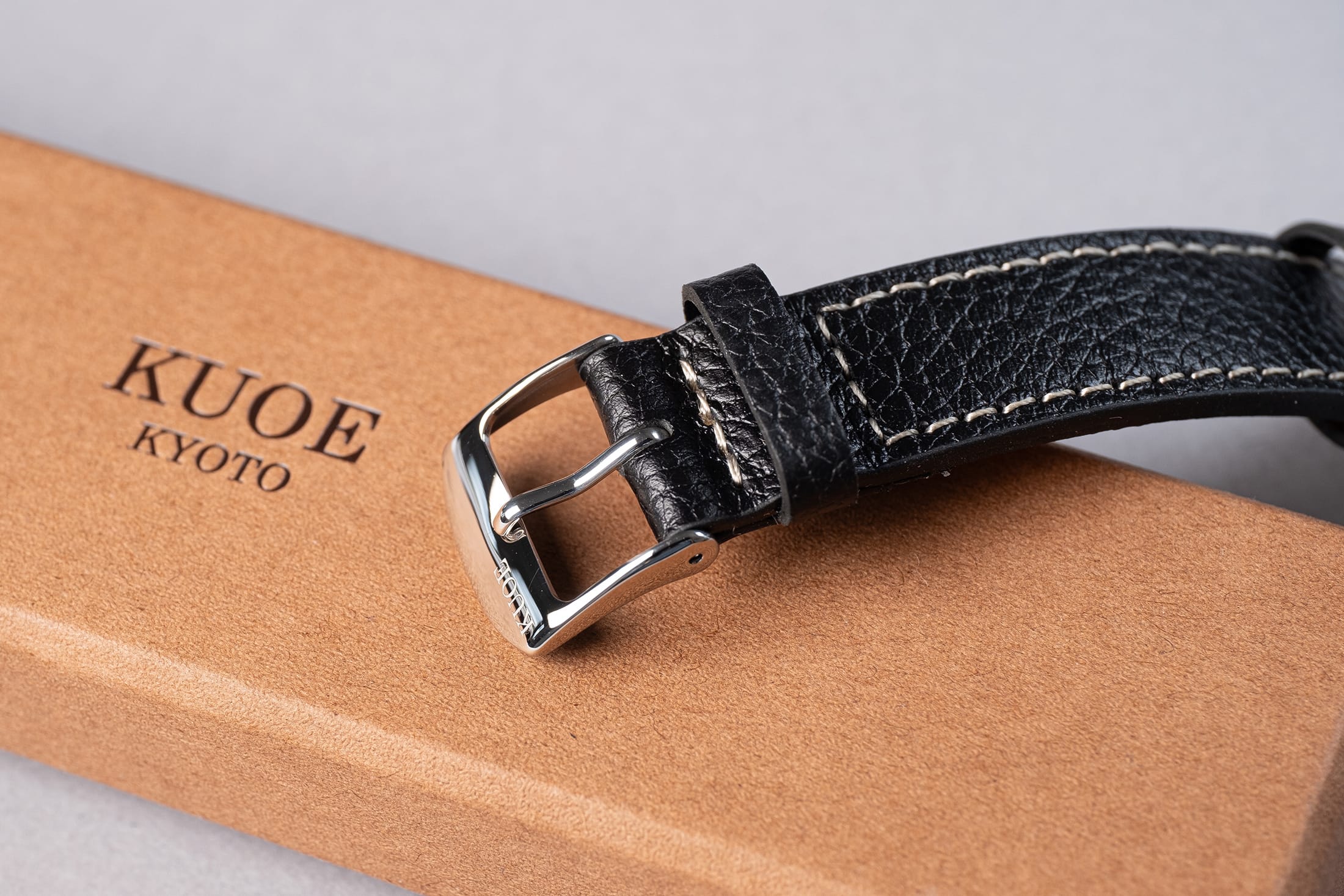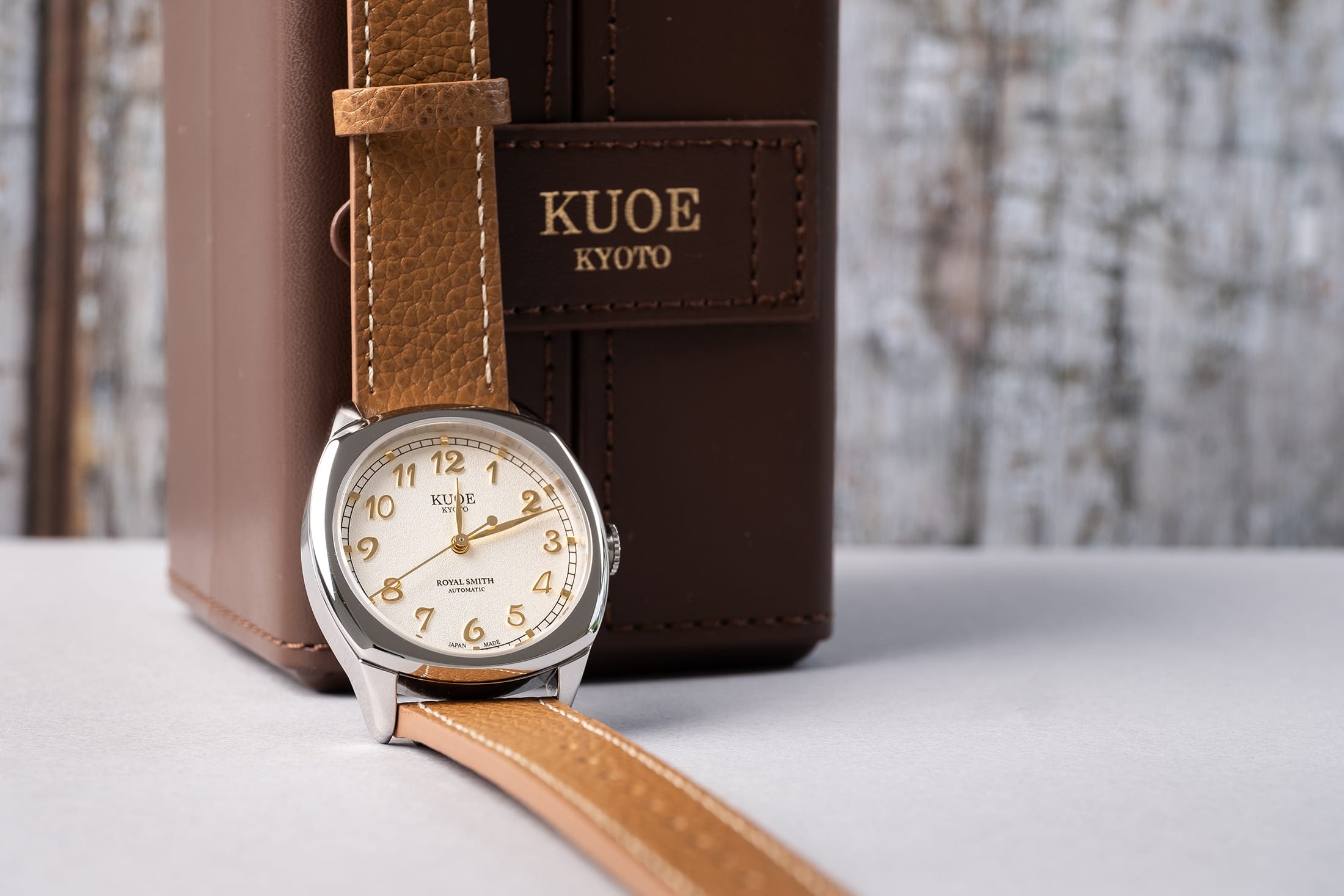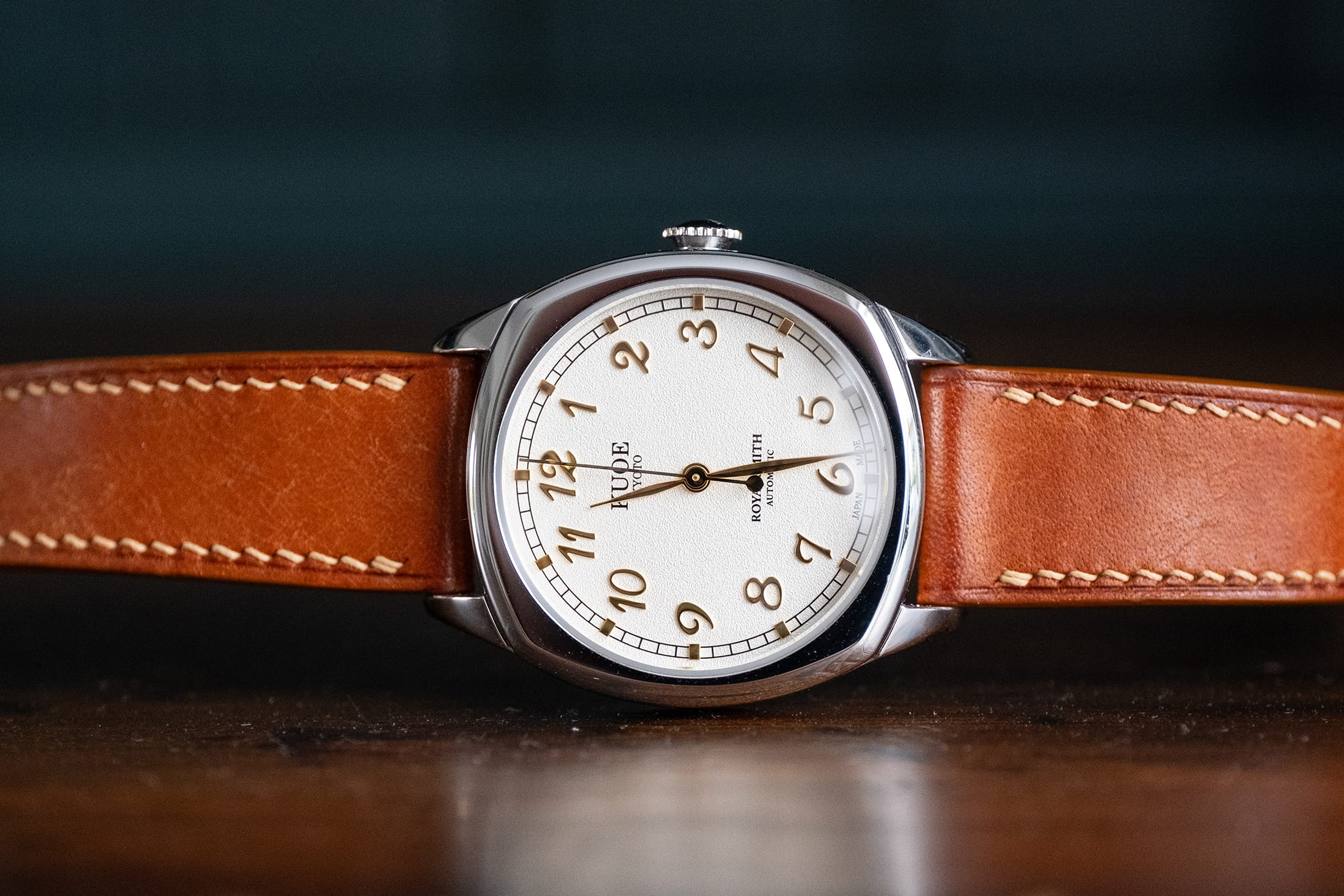 The stainless-steel bracelet tapers from 18mm to 16mm and is of very good quality. It features push pins and a twin-trigger fold-over deployant clasp with three micro-adjustment holes. The five centre links are polished, but the outer links are brushed. Initially I didn't like the bracelet as it has flat end links. However, after just a couple of days on the wrist, my opinion changed. It's comfortable, fluid, looks good, and for some reason once on the wrist the straight end links stand out a lot less. Plus, a watch of the period probably would have had straight end links. That said though, I think the watch looks best on tan leather, but it's great that KUOE gives you plenty of options and you could have some real fun here experimenting with different watch straps. A tan colour top-grain waxy leather would look great for a more casual vibe.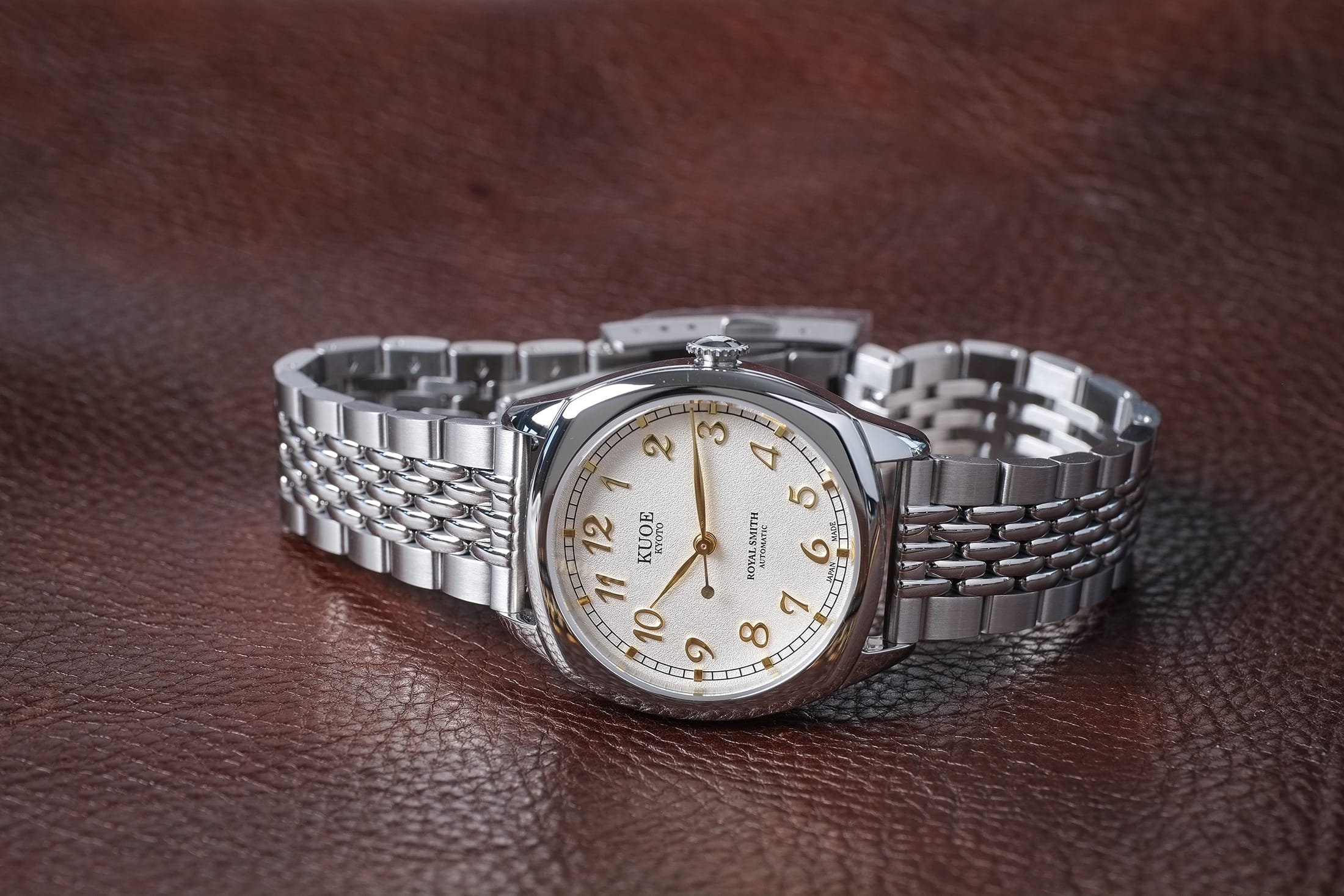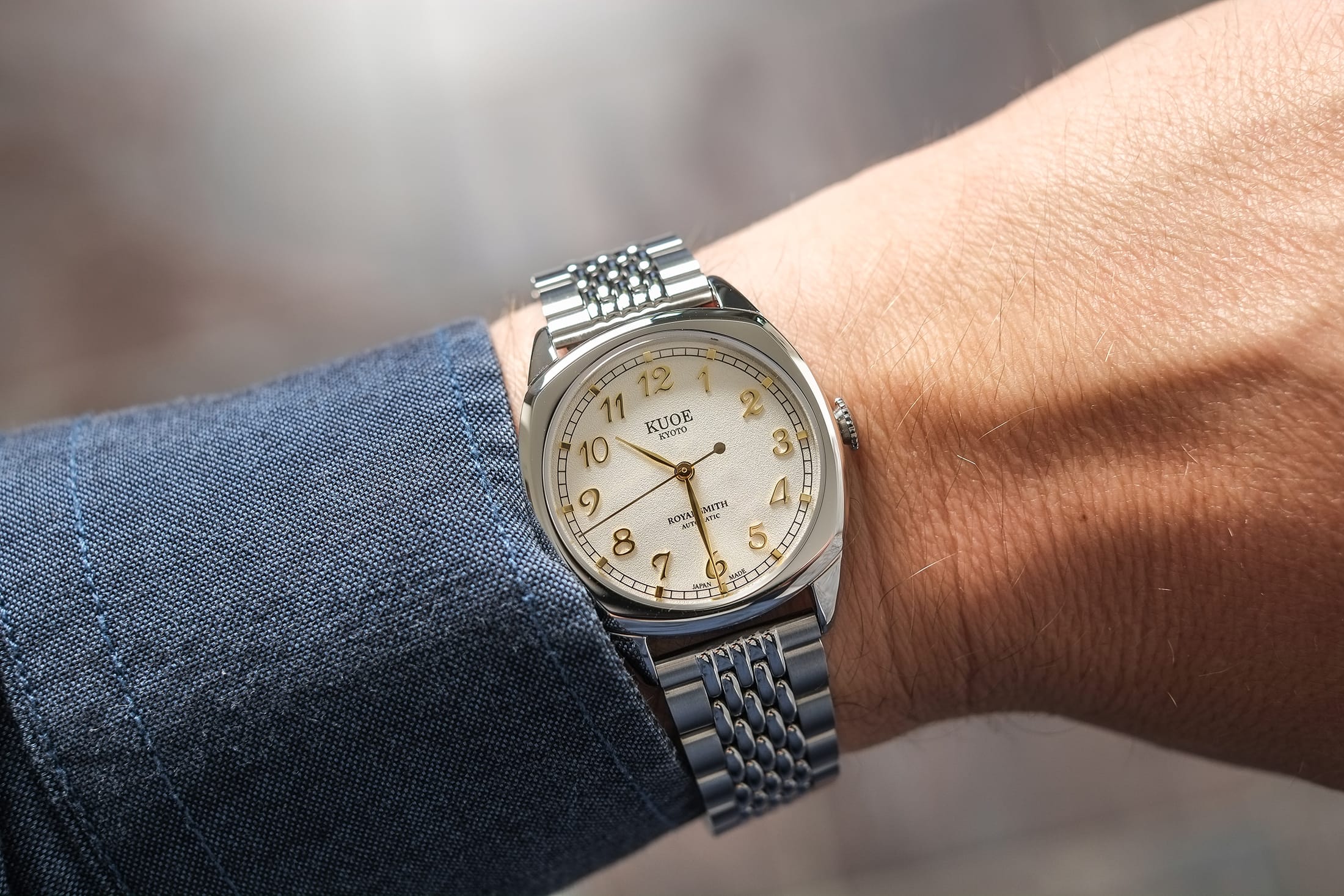 I wouldn't usually mention packaging, as it's usually superfluous once the excitement of unboxing is over, but it's worth noting that KUOE supply the Royal Smith in a rather nice faux leather storage case, with an unusual folding design. It's very compact so would make an ideal travel case.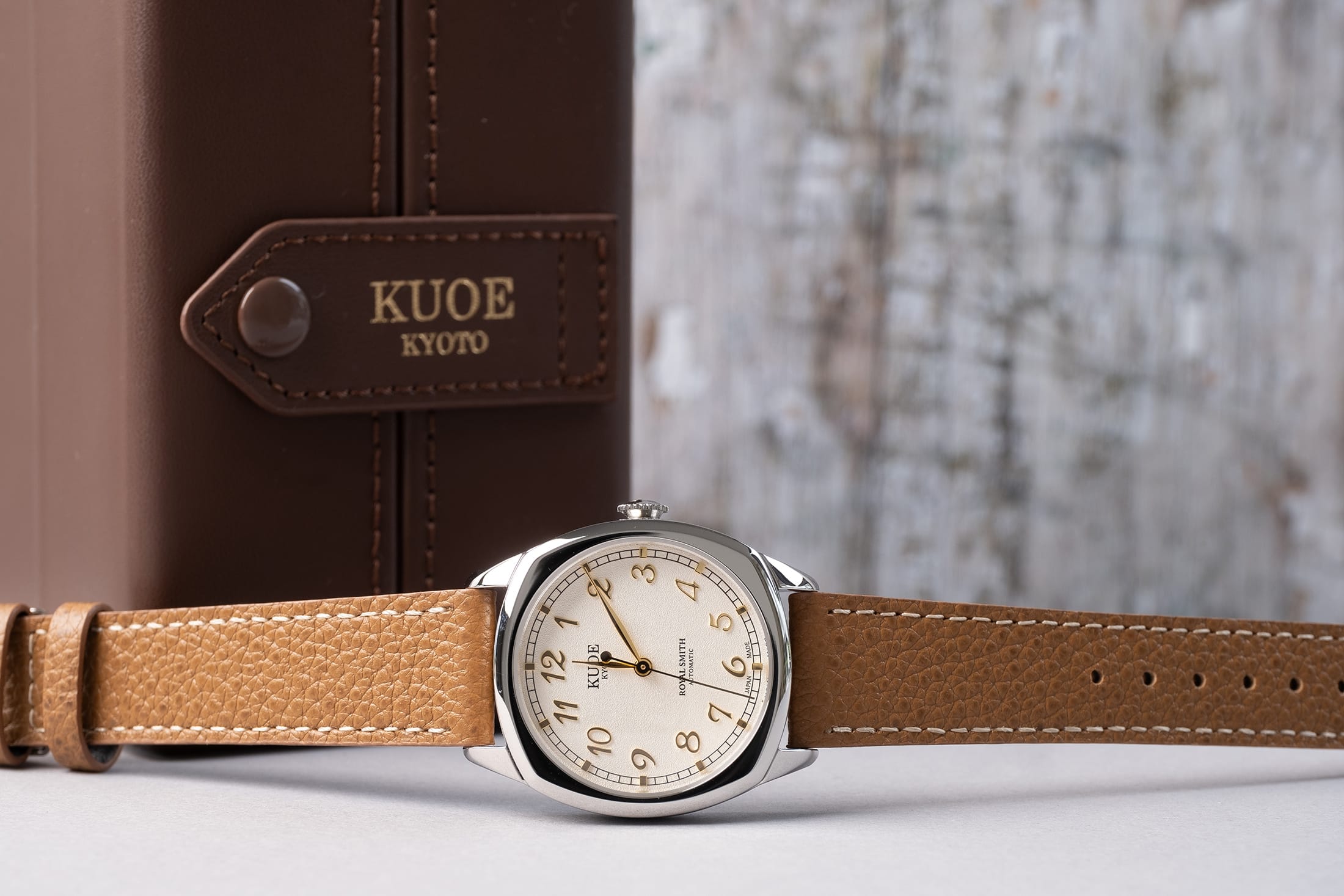 Final Thoughts On The KUOE Royal Smith
The Royal Smith has completely stolen my heart and it has barely left my wrist since receiving it. It's a great looking watch of considerable charm and character. It combines the best that vintage has to offer but with the reliability and peace of mind that comes with owning a modern watch the uses modern materials. Priced at under £550 on the bracelet or even less on a leather strap, it's a great buy.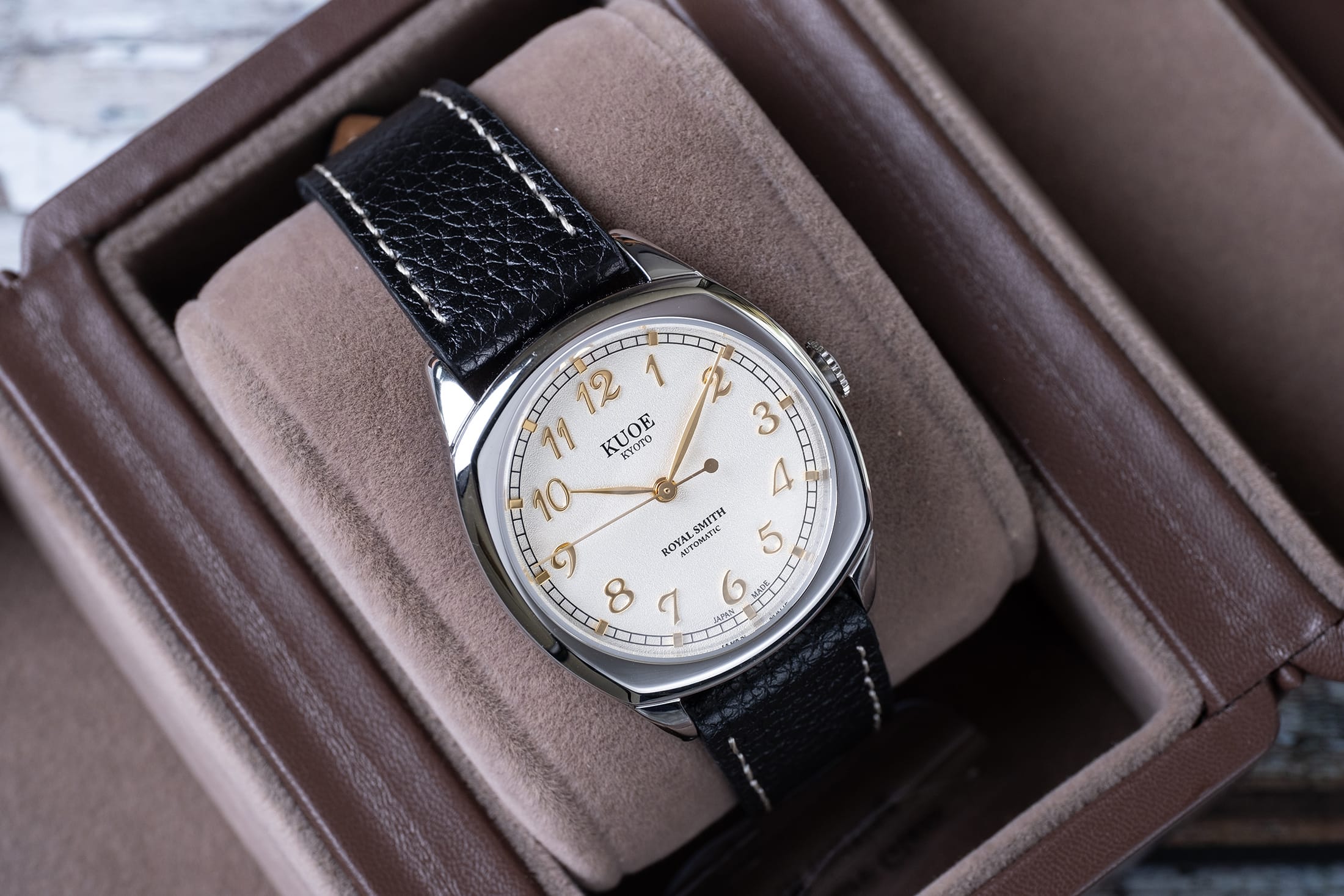 The gold and steel version has lovely warm, vintage tones and the dial textures and applied markers combine to great effect and legibility. The whole package just works incredibly well. I'd also say it's gender-neutral due to its style and proportions, so it's great for sharing.
In terms of negatives, there really aren't many. I'd like to see KUOE improve the quality and shape of the crown. It could do with being a little bit bigger with more mass so it's easier to use and feels better in the hands. Also, the fact that the bracelet has straight end links will undoubtedly be a love it or hate it thing. Some will love the vintage aesthetic, but others would probably prefer fitted end links for a more premium look. A good solution might be for KUOE to offer two different types of bracelets at the point of ordering. Finally, it's perhaps surprising that Cordovan (KUOE's most expensive leather strap) isn't offered as standard with the Royal Smith, considering this is their premium watch.
The Royal Smith certainly won't be a watch that will appeal to the mass market, but then that's not the intention. Like all KUOE's watches, it will appeal to enthusiasts looking for something different that doesn't have to compete for its place in their rotation. What KUOE is doing as a brand is refreshing and to be applauded. As other watch brands are busy raiding their back-catalogues, endlessly resurrecting past glories minus the vintage proportions, KUOE's vibe is truly one of a golden era. By taking inspiration from the 1930s to 1960s, and not being tied to any one particular watch, they have the freedom to take the best that the period has to offer, whilst creating a range that is unique to them. This surely gives KUOE a pretty unique place in the market.
I'll be keeping a keen eye on KUOE as I'm curious to see if the brand gains a loyal following in the UK. My guess is that it will. Why? The romance of true vintage watches is appealing to many, but few are brave enough to purchase vintage. KUOE's watches will appeal to those people in the middle ground. Give it a few years, and I think we'll see more brands following KUOE's lead.