CATEGORY: Watches that I, ahem, bought

I'm sure you're reading this because you're a "watch-a-holic".
Therefore it's safe to assume that this scenario has happened at some point. You're browsing eBay and you spot something a bit different that catches your eye. A little rendered thumbnail next to the listing and a very low price.

You look a bit further. That looks really interesting for that price. You then search under the name of the brand and get hundreds of hits. You start adding them to your basket in gay abandon, as they're so cheap.
You then have a reality check, they will be junk, they have to be. So you trim down your selections so they get to a price level that you can afford to lose. Or you don't, and walk away.
Well, I didn't walk away. One of my other loves is Digital Watches. None of the big brands make any decent ones any more, it's left up to the Chinese junk peddlers. I've bought more than I should. Then I started looking at other non digitals in this price range.
So this is a combined review of a few. Are they amazing bargains or indeed junk?
The brands may be familiar to you: Weide, Ohsen, T5, Megir, Jaragar, Infantry, Shark Watch, Feiyu, Skmei…there are loads and their names are all equally unappealing.
So, background. They are all copper cases (where not rubber), chrome plated, 3 ATM WR (so none at all really) and powered by the lowest level of Chinese Quartz movements.
This in itself shouldn't be an issue, heck, lots of Casio are chrome plated resin and are quartz.
But what can you really expect for around £15 shipped to your door?
I'll start by saying this, many of the watches came on "leather" straps, rubber straps or NATOs. All of these are at least as good as ones I've got on MB watches costing sometimes up to 20x the price. These types of straps are cheap to make in China. On these watches I'd say that the straps alone are almost worth the cost of the watch.
The other thing to bear in mind are the batteries. You know those packs of 40 assorted "cell" batteries they sell in discount stores? Those are what are in these, and that's understandable, at this price they can't afford to put Renata in there. They will run out quick. I guess part of their business plan is that it would cost more for "The Watch Hospital" etc to replace the battery than the watch is worth, so you'd just buy another watch instead.
Indeed if you look at the "ana-digi" combos here, know that they aren't a synched movement, i.e. you don't set the time on one and the other synchs to it. You have to set them both and then manually synch them, but they will slip synch, which stops them being "grab and go" watches…if you have an OCD about it (I do in this case).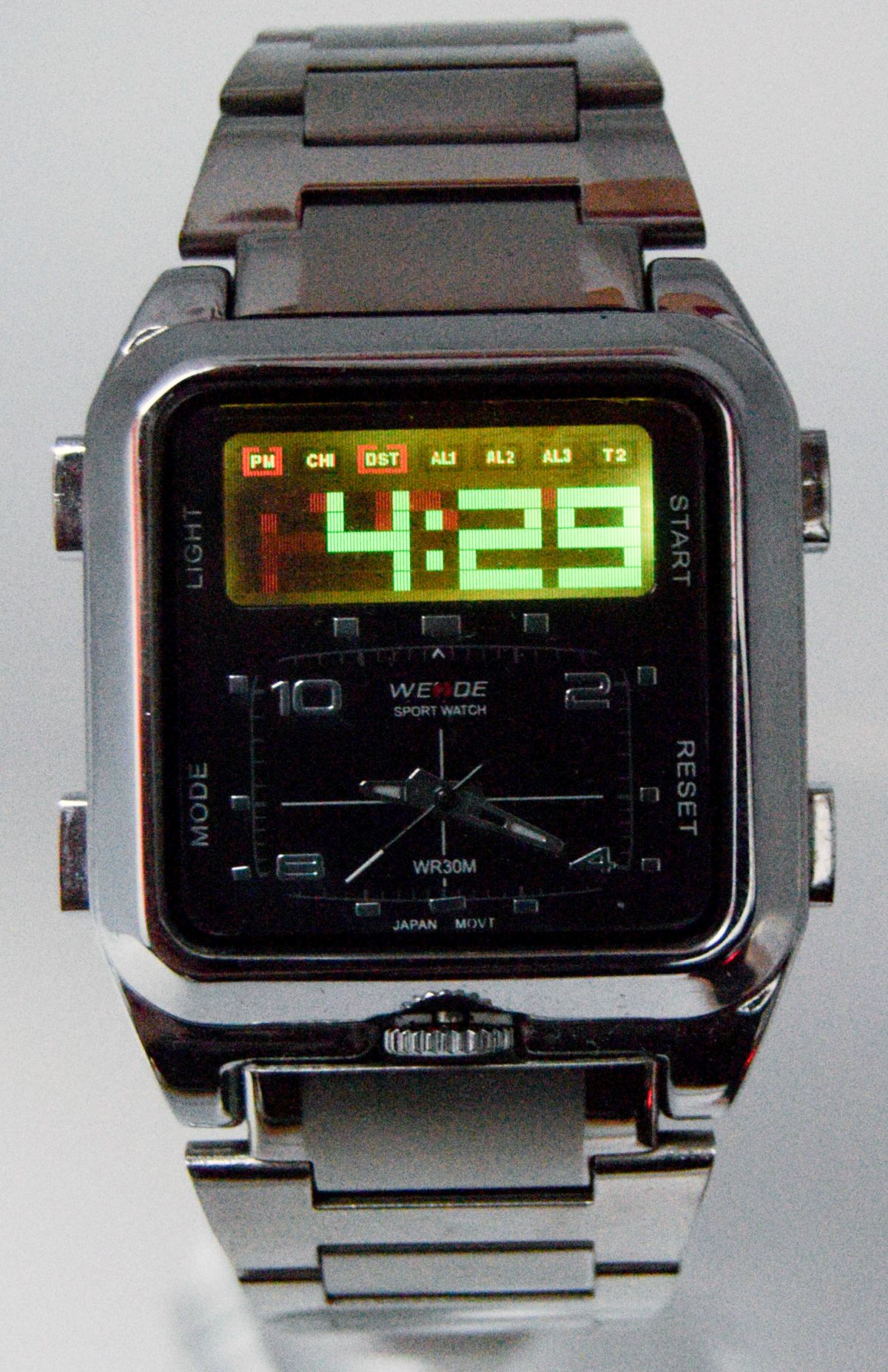 There are 2 movements in these. Nearest to the crystal is the analogue movement. Then behind that the digital one. 2 different movements 2 different batteries. The analog battery usually runs out first, this could be because the digital is usually powered by a much bigger CR2032 cell. It's a pain to get to the analogue movement to replace the battery because digital one needs to be removed first. This usually tiny screws which get lost and usually result in the digital display not displaying properly afterwards. I wouldn't like to think how much a watch shop charges for this as it takes a good few minutes to do. You will destroy the first few if you try and do it yourself.
So absolute crap then? No, not even close in reality.
The thing is, (if you're not a veggie) everyone loves a good fillet. Everyone enjoys it and the whole experience, especially if it's in a good restaurant. But sometimes, a greasy burger can be just as satisfying.
Apart from the odd one, which was faulty from new, I've had some of these watches years…and they just work.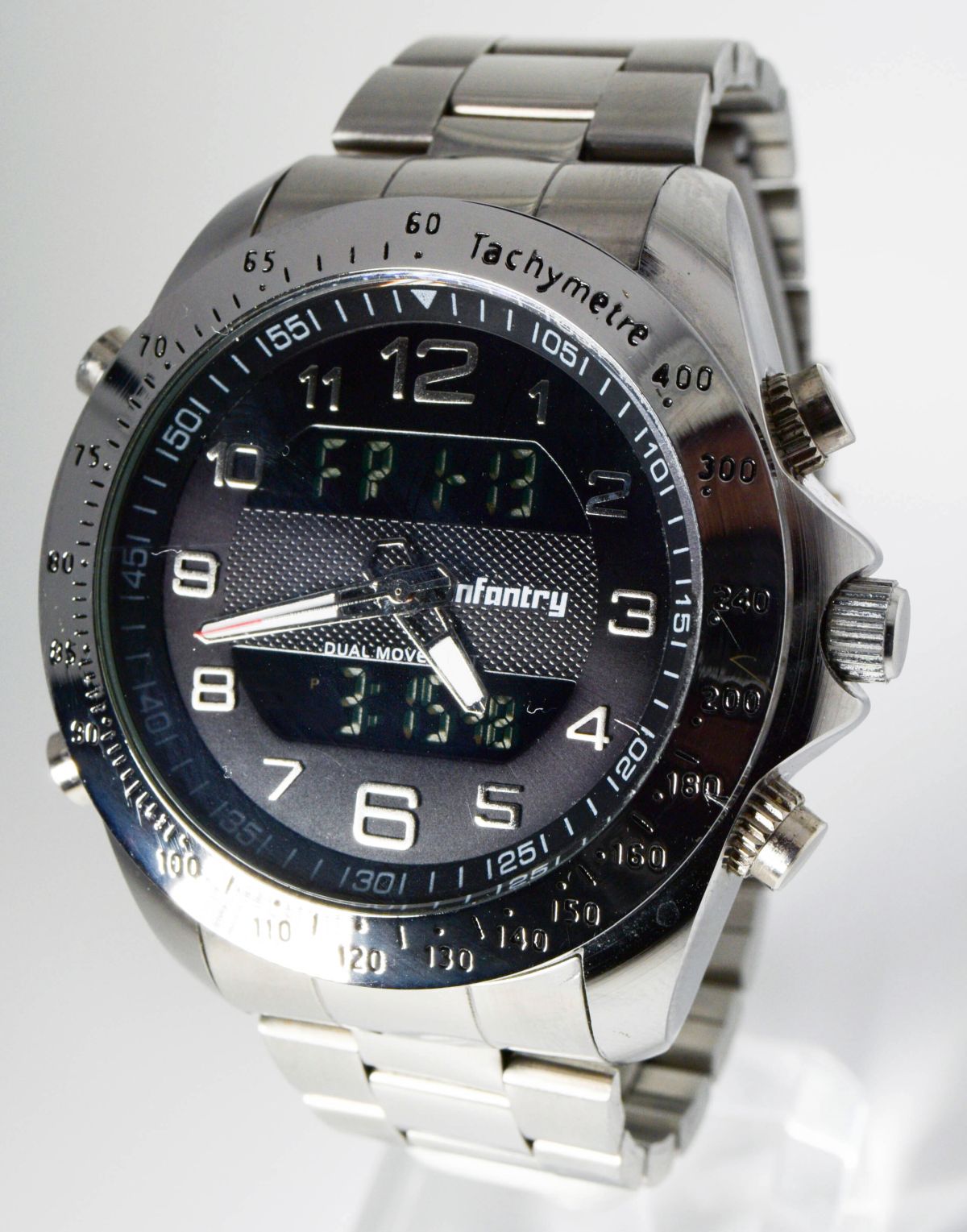 You want to pay $300 for a Steinhart as a beater? How about this Infantry for £15 instead. Looks like a large Daytona mated with a Breitling Aerospace. It has an alarm, a stopwatch, an EL backlight. And it's accurate and reliable. Sure the strap is folded and rattly, but adjust it so it fits right, it's fine. I've had Seikos with bracelets of this quality. Sure it's a plated case so it's very shiny. But the face is debris free and clean. The markers are applied. The hands are a bit different. One thing that all of these watches has in common is spurious text and fake features.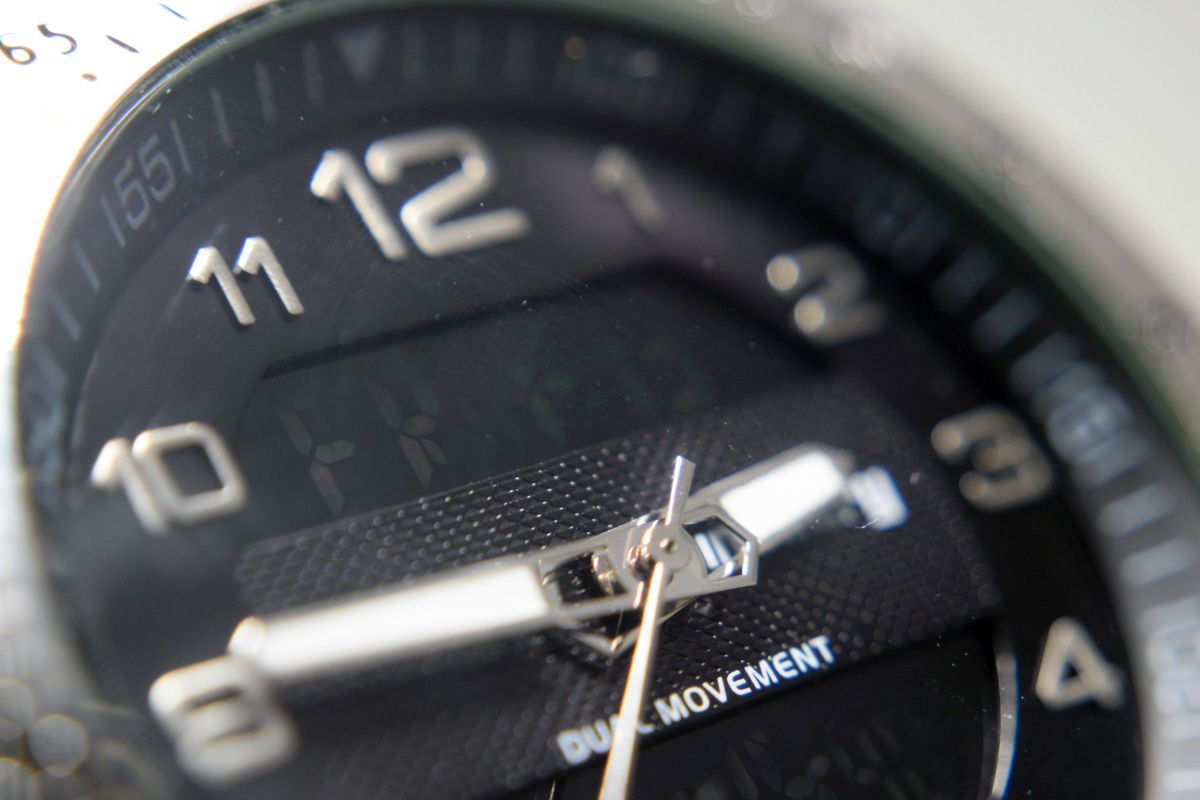 The bezel. It's got a tachymeter on it. It had to have, it's mimicking the Daytona afterall, but it's useless. A clean bezel would have looked better and also be cheaper to make.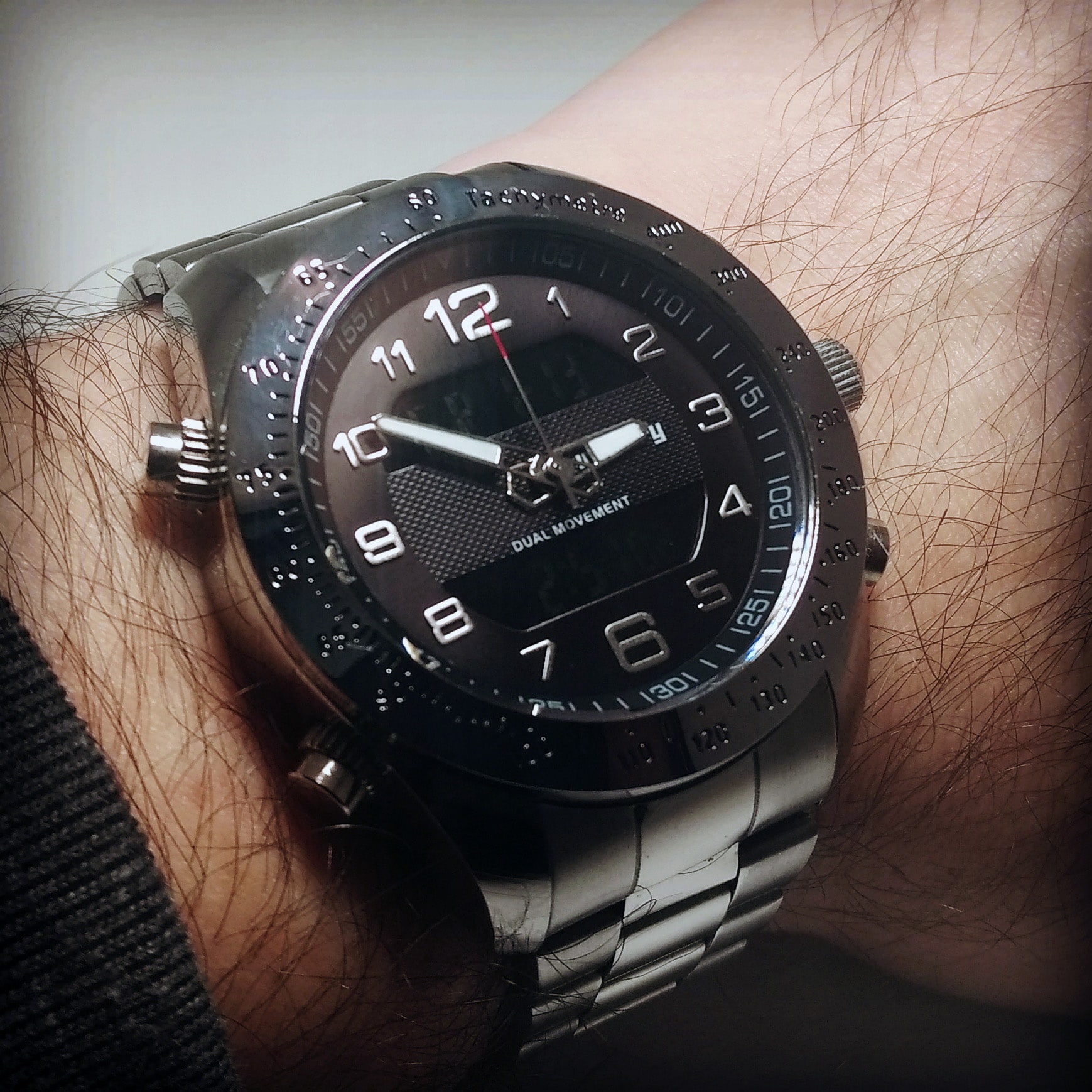 But on the whole, I don't regret buying this and do wear it now and then, and if it takes a hit when I'm working in it, boo hoo, if you can't live with the damage, it's £15 for another.
Now, these 2. Megir. Yep, I got these for free, and yep, they are trying to look like a Panerai and a Hublot.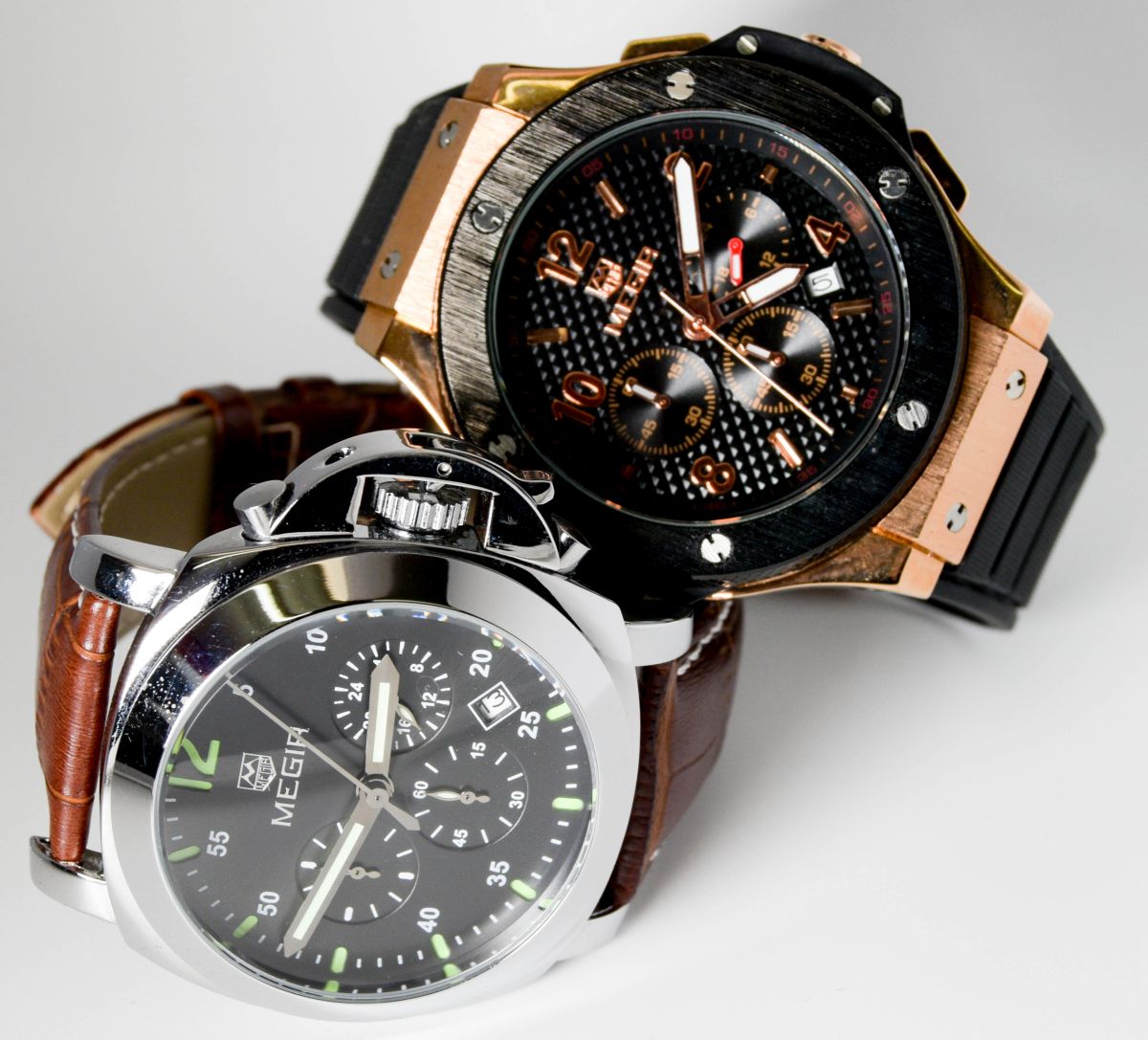 I see these for around £15 each again. All I can say is that they tell accurate time, the stopwatches actually work as stopwatches and they've lasted a year. I don't actually wear these, I don't wear "homages", but if they float your boat for an homage of a Luminor or Big Bang, you can get the look for next to nothing, the Panny one even has the mechanism around the crown and a domed crystal. The faces are 3D and have applied features, in fact the one on the BB is incredibly well done all things considered…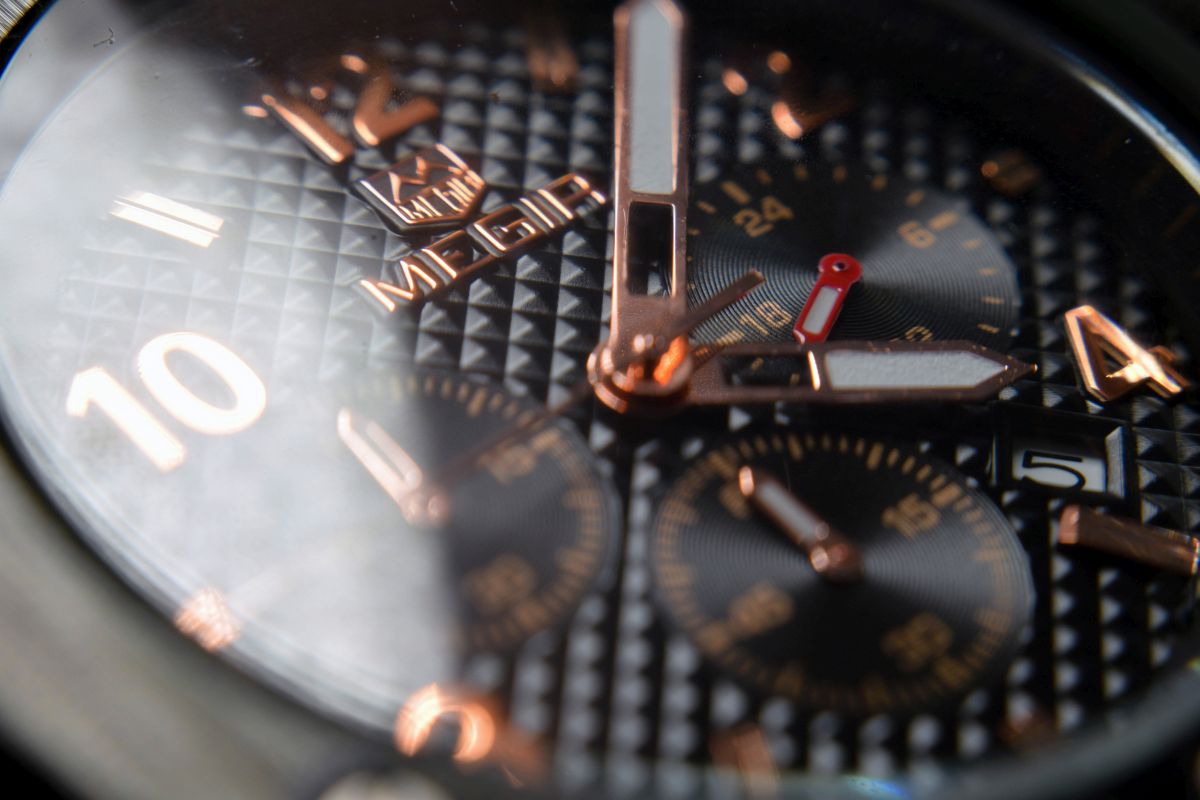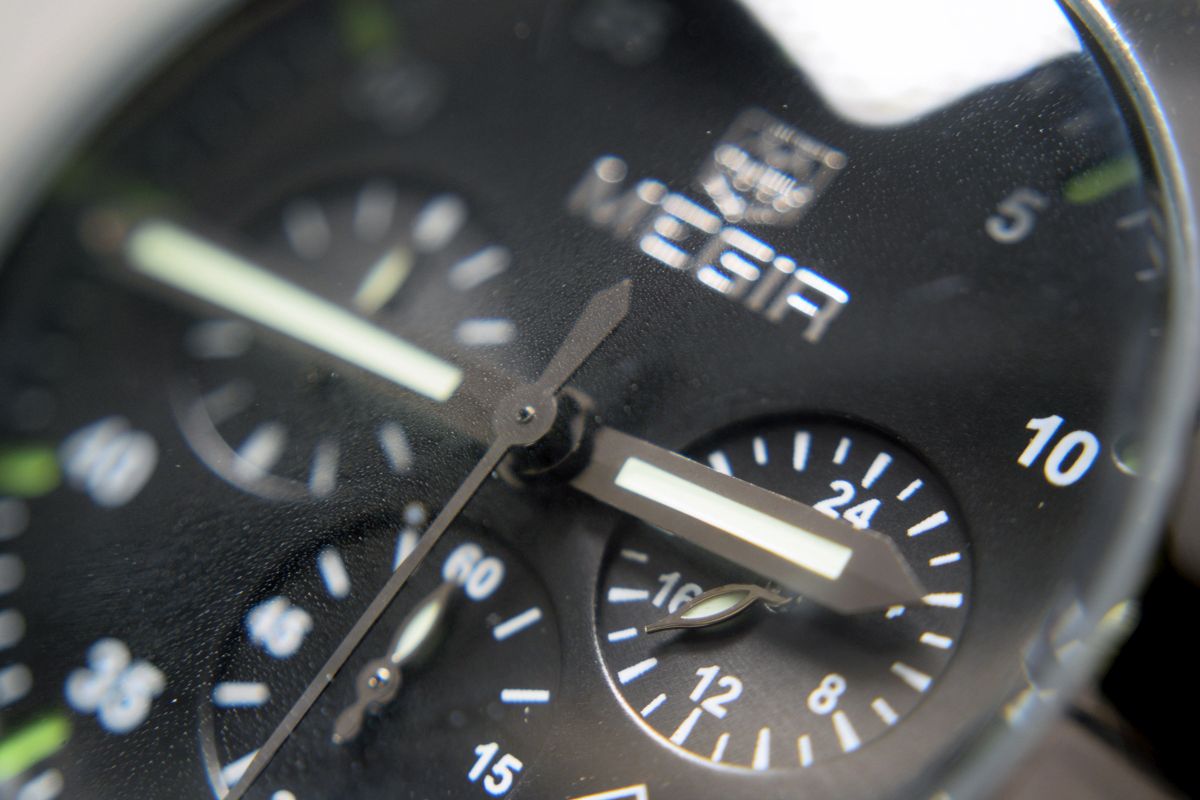 They wouldn't look out of place as low end fashion watches at 10x the price. All junk, but the fashion brand has a name and marketing behind it. Think about it £100 in shop with packaging, so at the most £50 wholesale, so £25 from manufacturer to wholesaler, £15 for the watch with £10 packaging, manufacturers cost is therefore about £5. The cheapies don't come with any boxes and are sold direct from the East.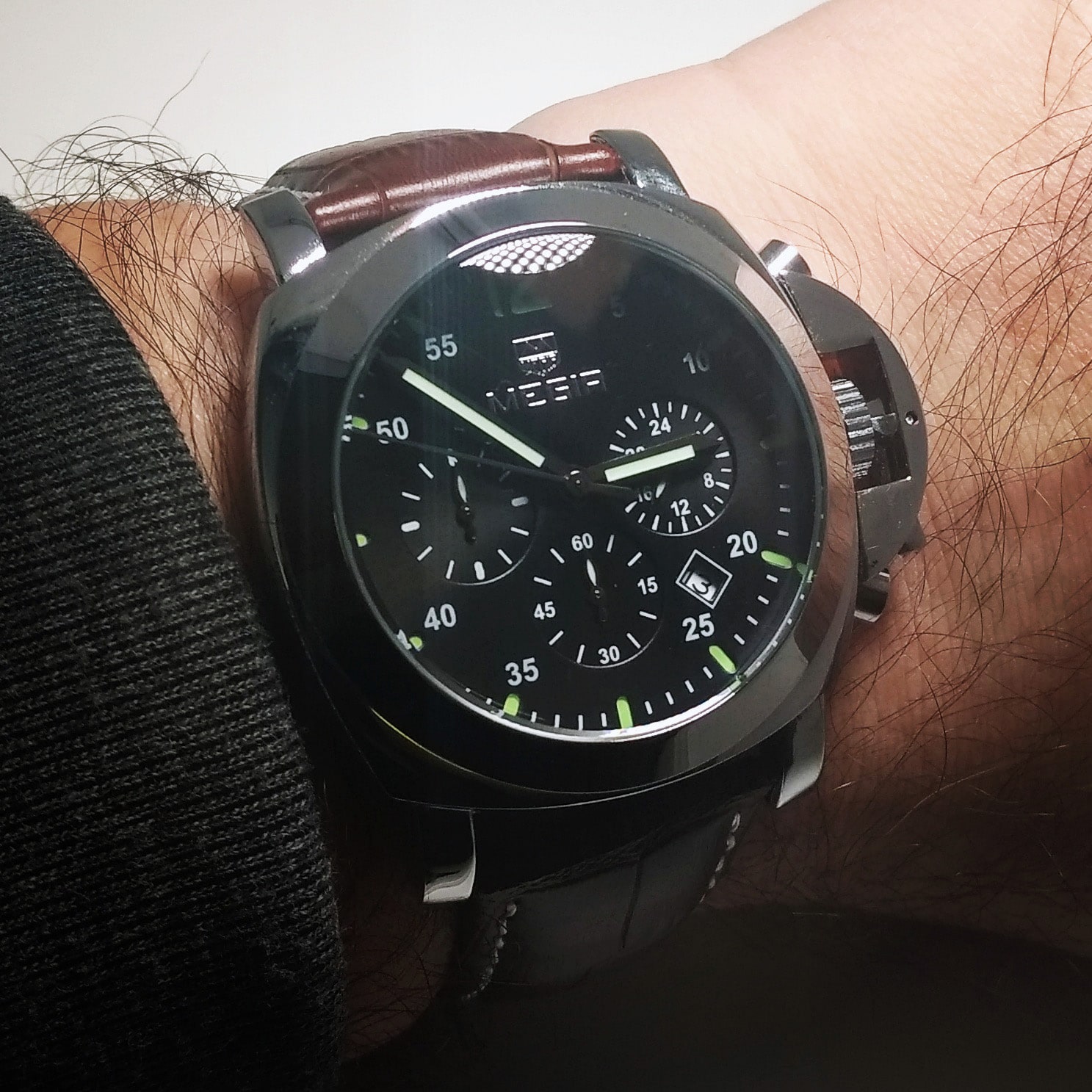 Like with an expensive homage, when someone sees them close up, they will be just as unimpressed to find out it's not the real deal, only you can turn round an laugh and say "Had you fooled though. Not bad for just over a Tenner…" as opposed to "It's a quality homage from *insert name here*, just as good a movement and build, a bargain at *insert hundreds of pounds here*", which will make you come off as a bit delusional and a wannabe in my eyes. I'm sure many disagree on my thoughts here 🙂 Heck if anyone asks if one of my "prestige" watches is real, I always answer "Nah, £10 off a beach salesman".  They then go away. Wear your watches for you, not others. Impress yourself.
I have to say the strap on the Panny homage is worth the entry fee. Thick, good looking with a decent chunky buckle. The fact the buckle is brushed says that it's actually steel and not plated. You can't brush chrome plate. Shame the name has been etched on wonky.

I think the BB one though is really well made. Seriously. The face is alive, the detailing is there, it feels kind substantial and serious. If it wasn't for the fact this is basically a cheap fake, I'd rave about it.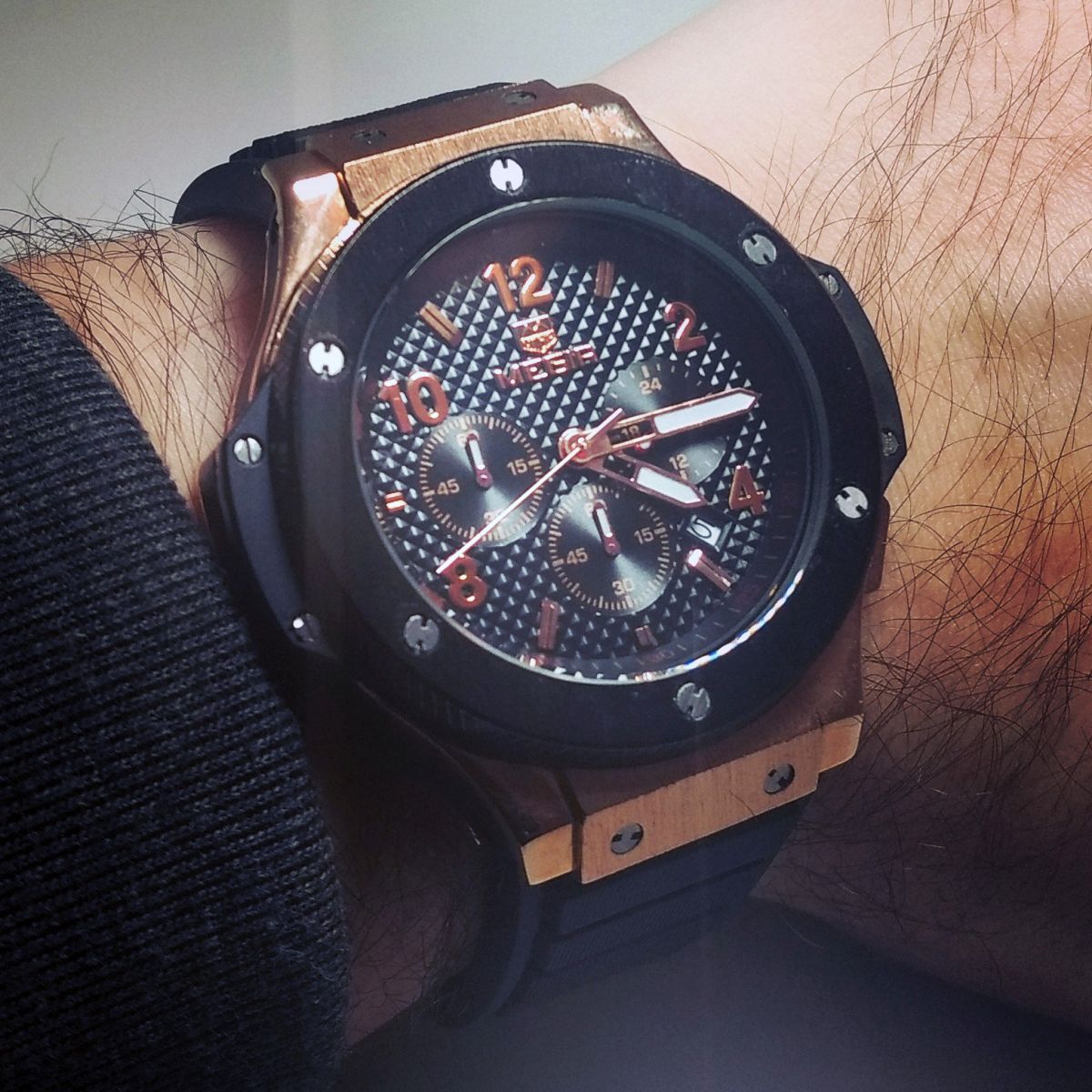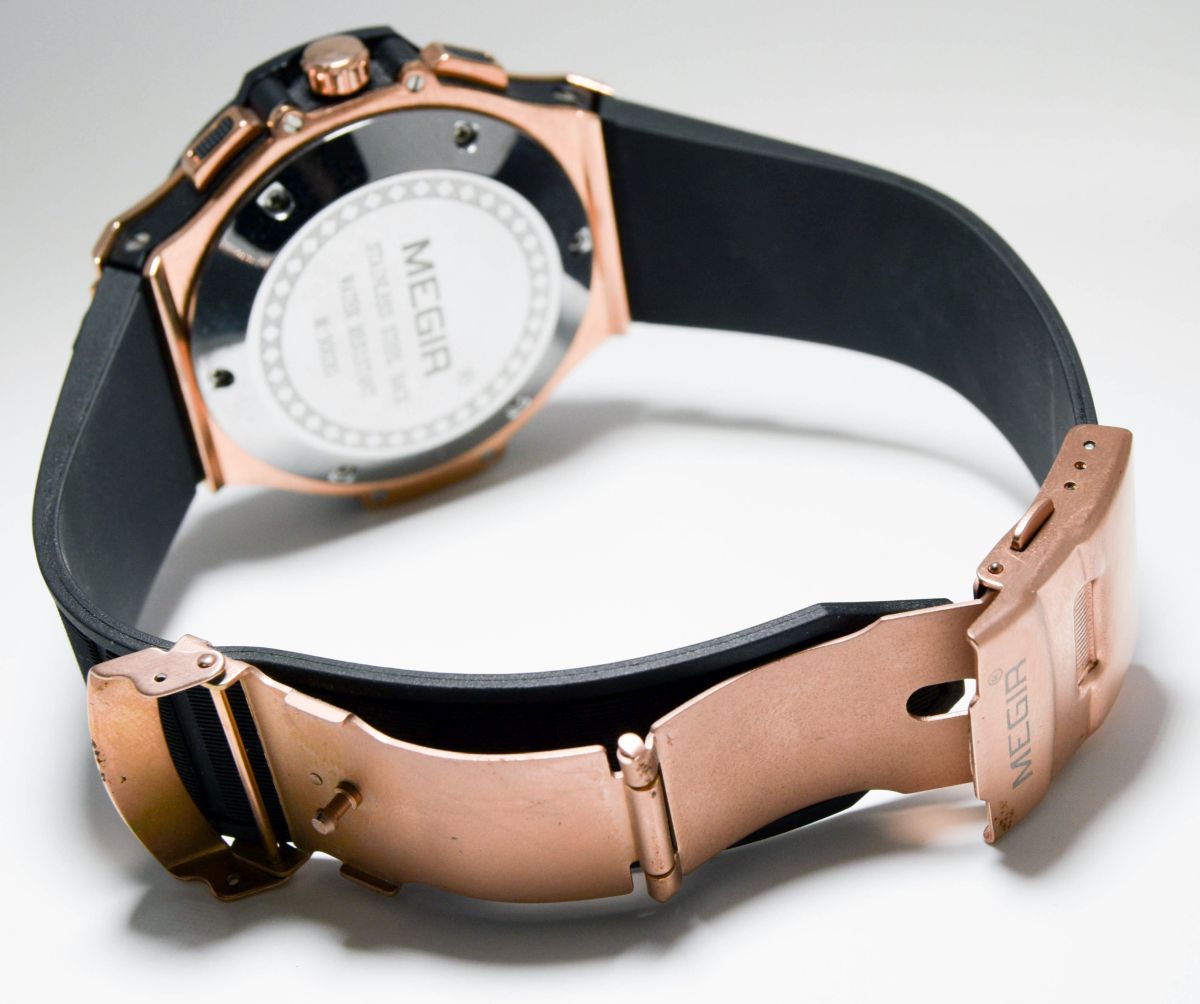 This ana-digi is really good.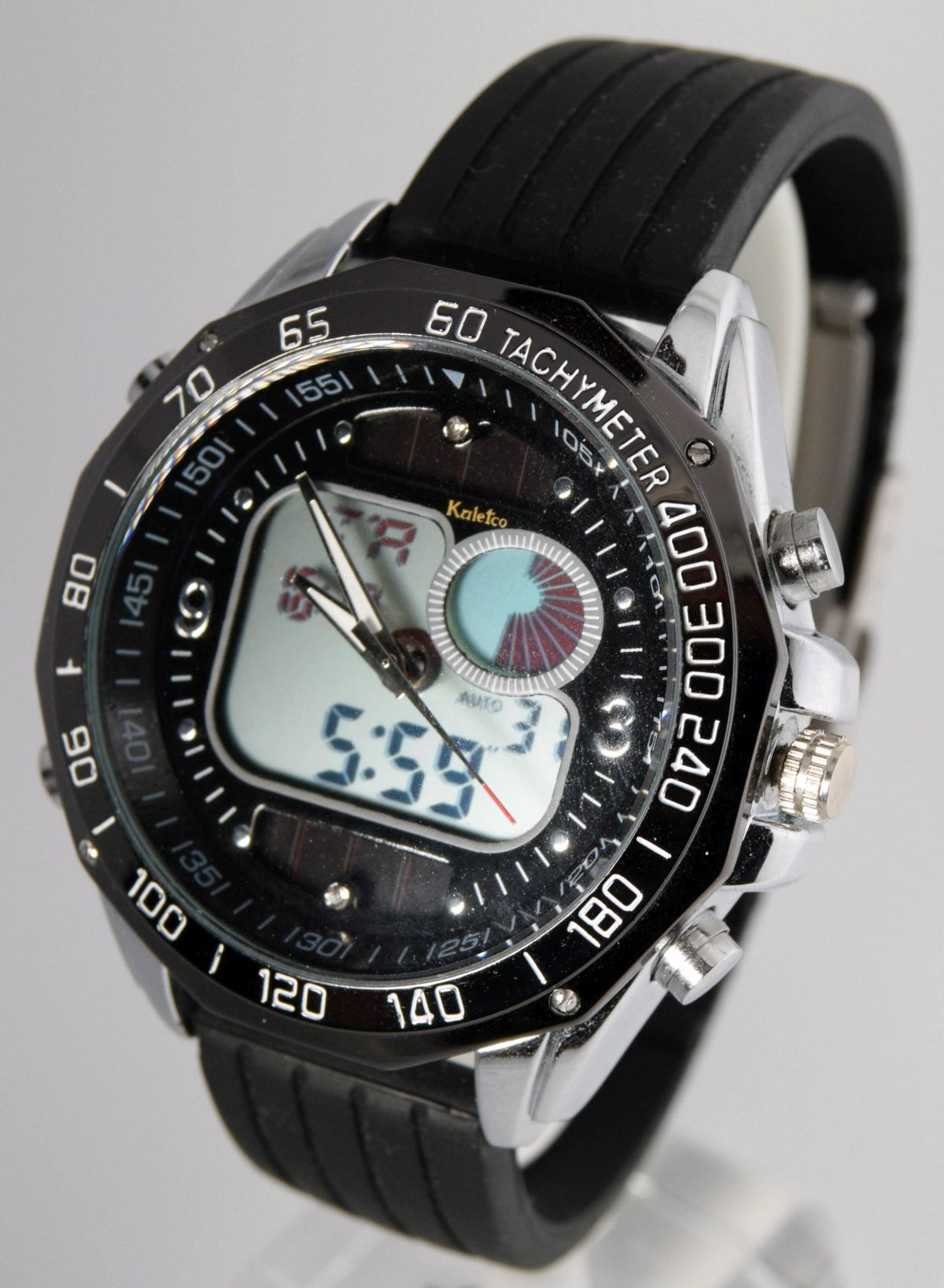 Again, a spurious tachy bezel. The solar panels on this are stickers, this is still battery powered. But the digital module is great. As good as any. It's very clean and legible and has great features. Alarm, stopwatch AND a really good countdown timer. Even the Seiko "Arnie" ana-digi didn't have that, so they used a prop in the movie for close up shots…
I liked this so much I took the crappy bracelet off it and replaced it with a decent rubber strap. I wear this when I'm cooking, to time stuff.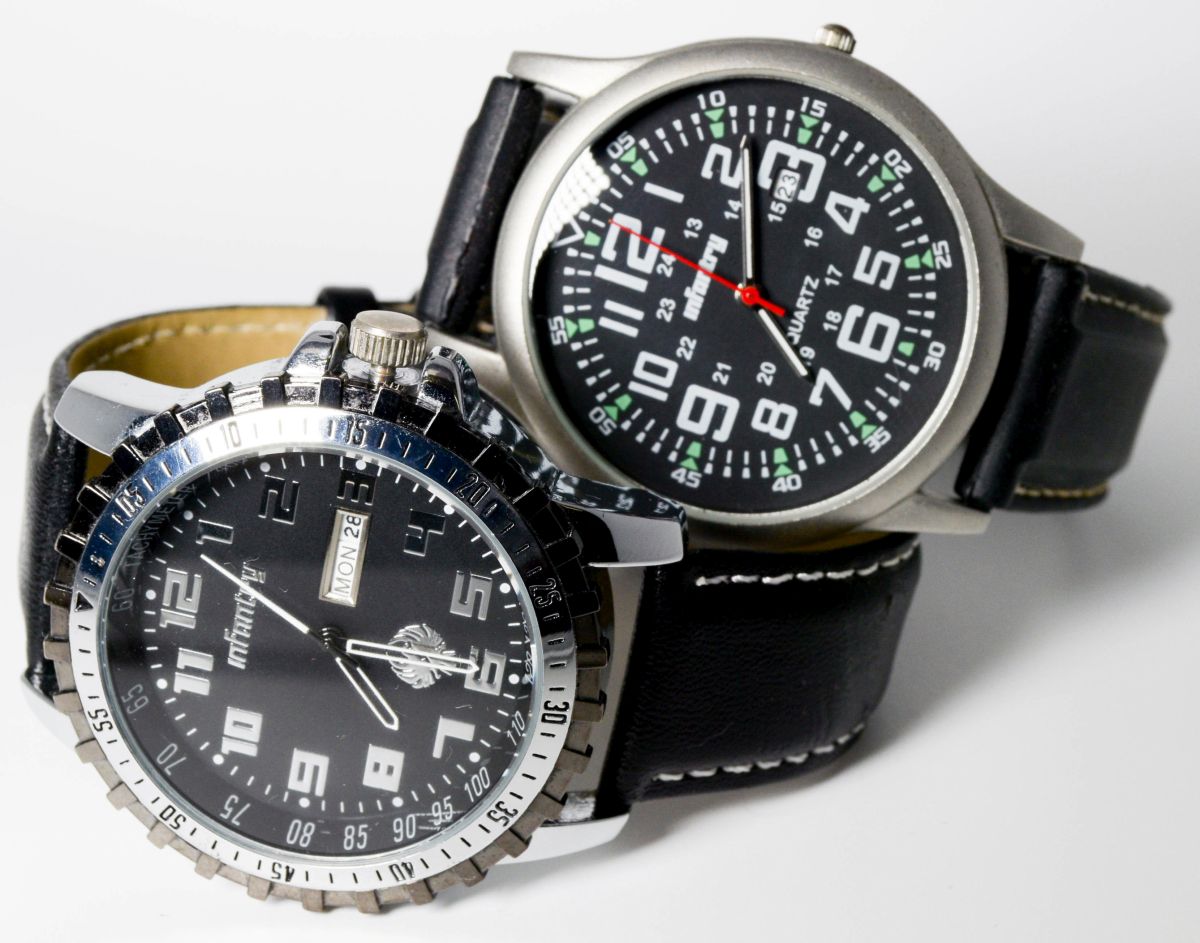 I'll group these two together. They're light. They're about £10 each. The hands spin round really freely when setting them. But they keep good time and are very legible, what more do you need from a cheap "field" watch. Water resistance maybe, but they survive splashes.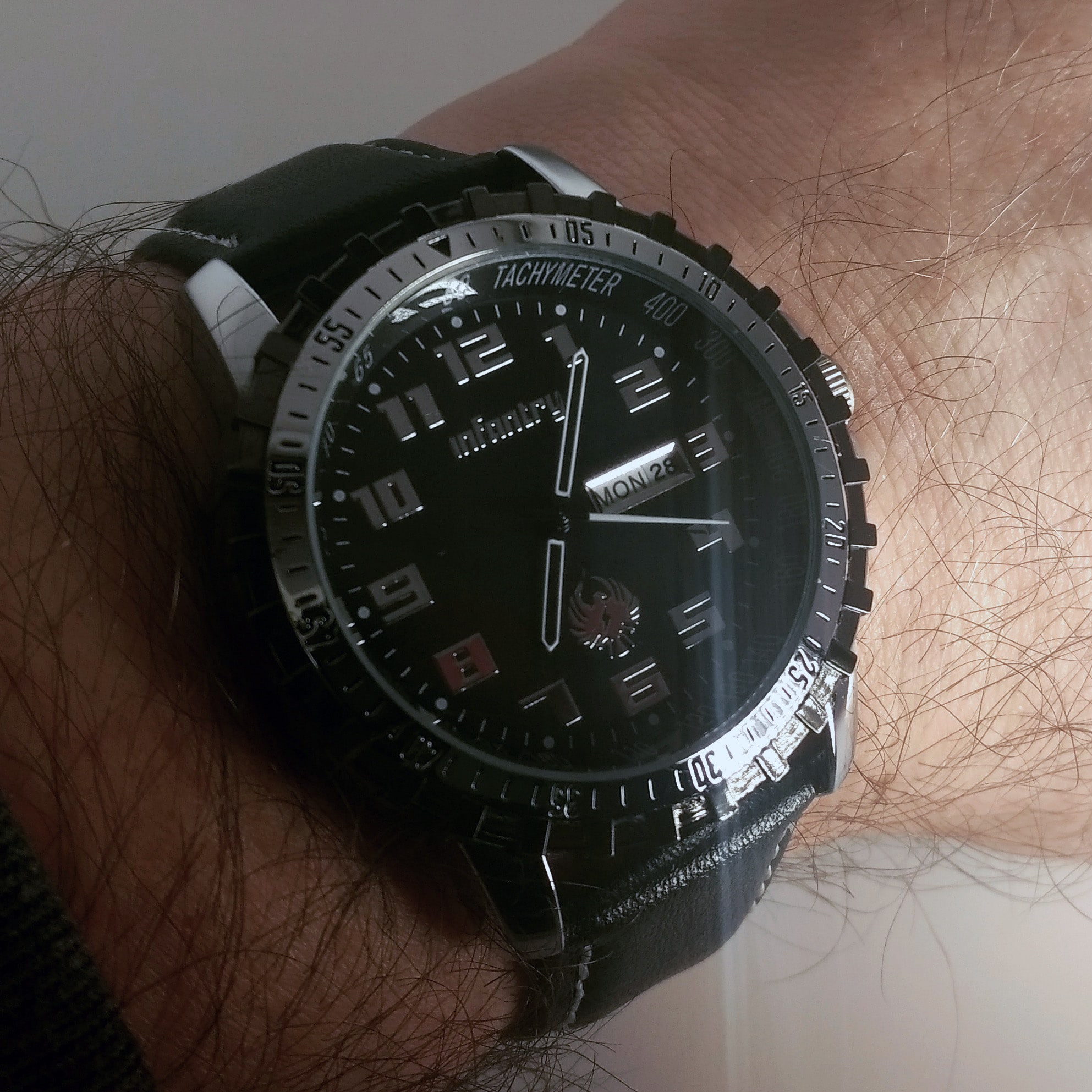 And finally this one. Looks like a small Sea Dweller. Even has the un necessary text inside the bezel that the Rolex has.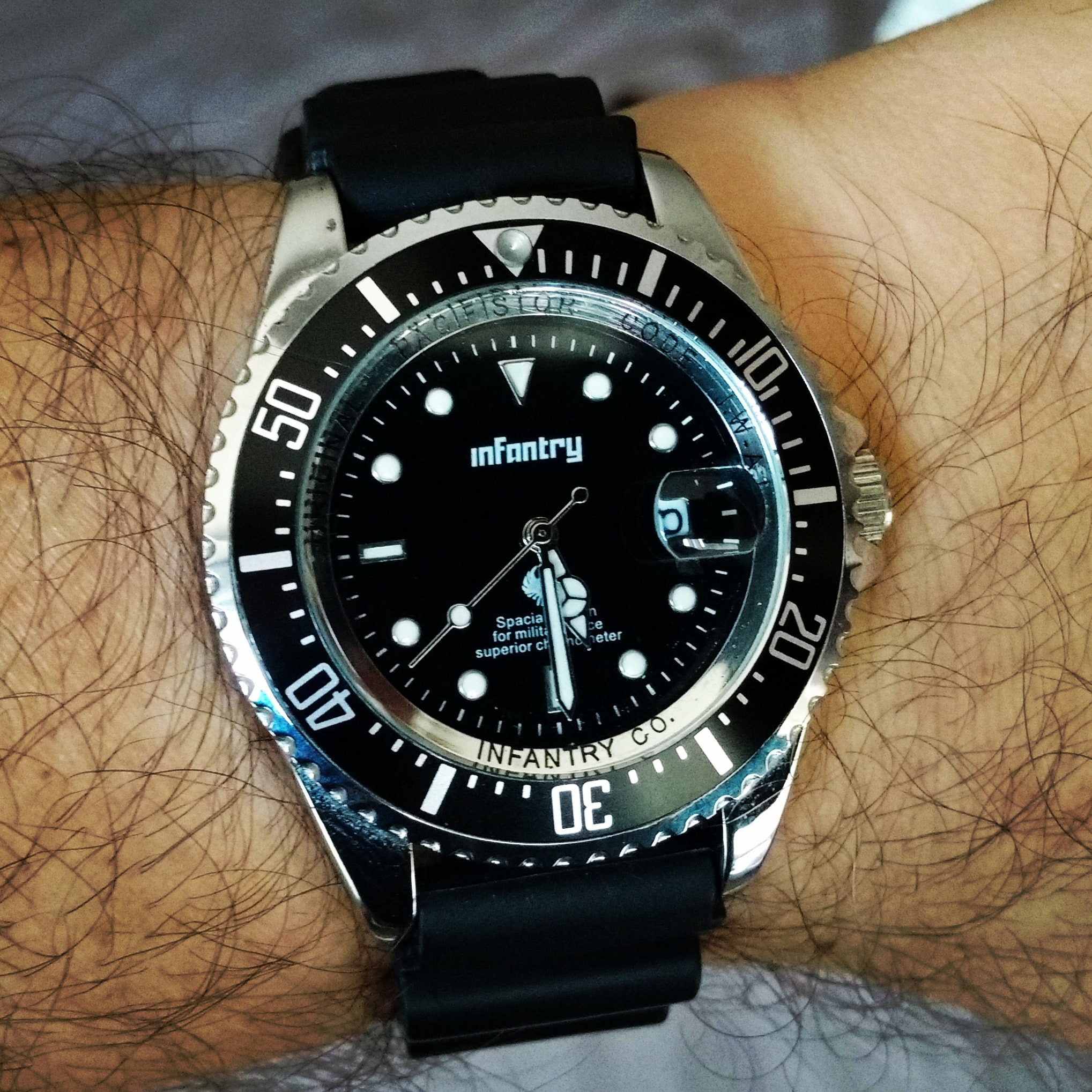 The bezel rotates, but is obviously crap feeling. The magnification bubble magnifies nothing. However, put it on a "bond" nato like I have and for £15 you have, from a distance, a vintage Rolex homage that tells accurate time.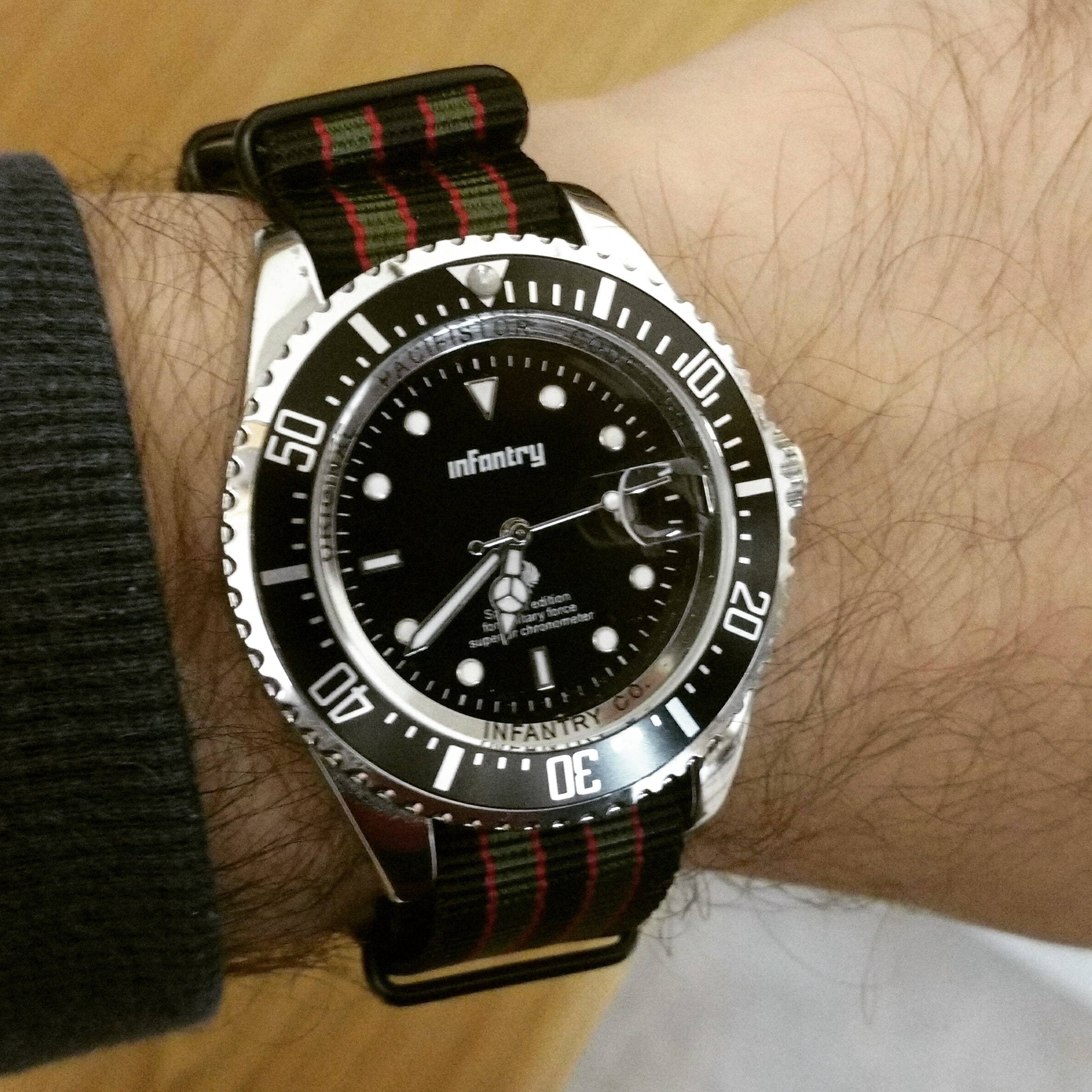 And that's the thing, I expected these watches to be junk. And they are. But the thing is that manufacturing standards and mass production has raised the level of "junk". I have seen respectable watches from the 70s that are as badly made and finished as these.
So if you feel the itch for a bit of rough, scratch it and make up your own mind. You won't feel ripped off. But only do it once, don't buy lots like me as ultimately the "bang" these provide is a short lived thing, and a big part of watch ownership is the perception of luxury. These provide none.
This one though is the best £9 you can spend on a watch. My son loves his…