CATEGORY: Watches I have been loaned for review.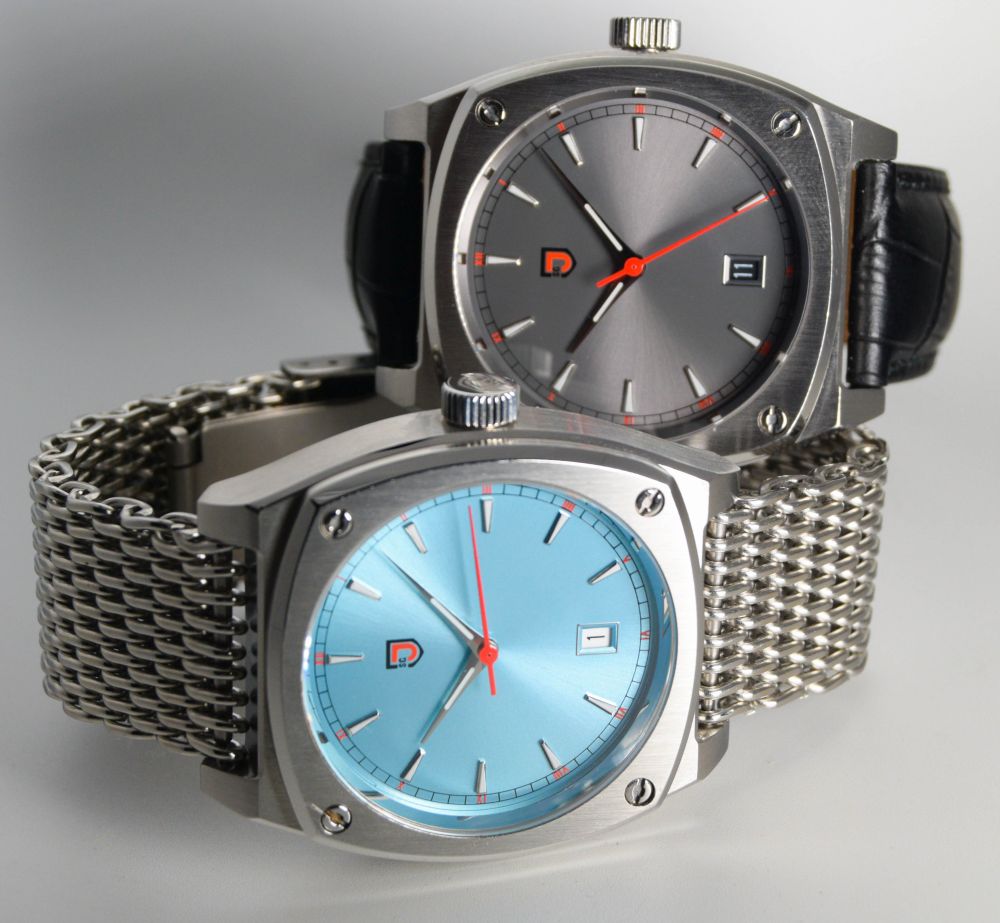 This is described as a "minimalist" watch.
I don't own a minimalist watch. I don't like minimalist watches. My eyes roll whenever I read about another "disrupting / redefining/ etc" minimalist watch.
Don't get me wrong, there are some notable exceptions, like Junghans Max Bills, but most saw Daniel Wellington take a cheap, plain, Chinese watch and whack it on a loud NATO strap, make millions and thought "I want some of that".
So what makes a watch "minimalist"? Lack of features and lack of detail from what I can see. Minimal thought + minimal effort = minimal output.
I've declined to review several minimalist watches. I know that I'm blunt and honest with my reviews, but I don't want to be nasty on purpose (unless you're Yema who sold me that piece of crap for hundreds of pounds) so didn't accept any, knowing that would be the result.
Alvin Lew, one of the 3 guys behind Jubileon, is someone I've known for a while. Indeed, he writes for Microbrand Watch World and I like his views.
When he offered me a couple to review, I figured it would be a nice gesture to a stalwart to at least take a look. If I didn't really like it, I figure I can say something at least nice about him and his work.
Anyway, here's the specs:
• Designed and engineered in Singapore.
• Seiko NH35A movement.
• 41 mm wide, 11.9 mm thick, 50 mm lug-to-lug.
• Sapphire crystal.
• 100 m water resistance.
• Stainless steel 316L case, brushed and polished.
• Custom decorative screw heads for bezel and caseback.
• Engraved logo on crown.
• 2-colour pad-printed dial, 6H date window.
• Applied hour indices with Super-Luminova C1.
• Super-Luminova C1 on minute and hour hands.
• Custom straps by Hadley-Roma.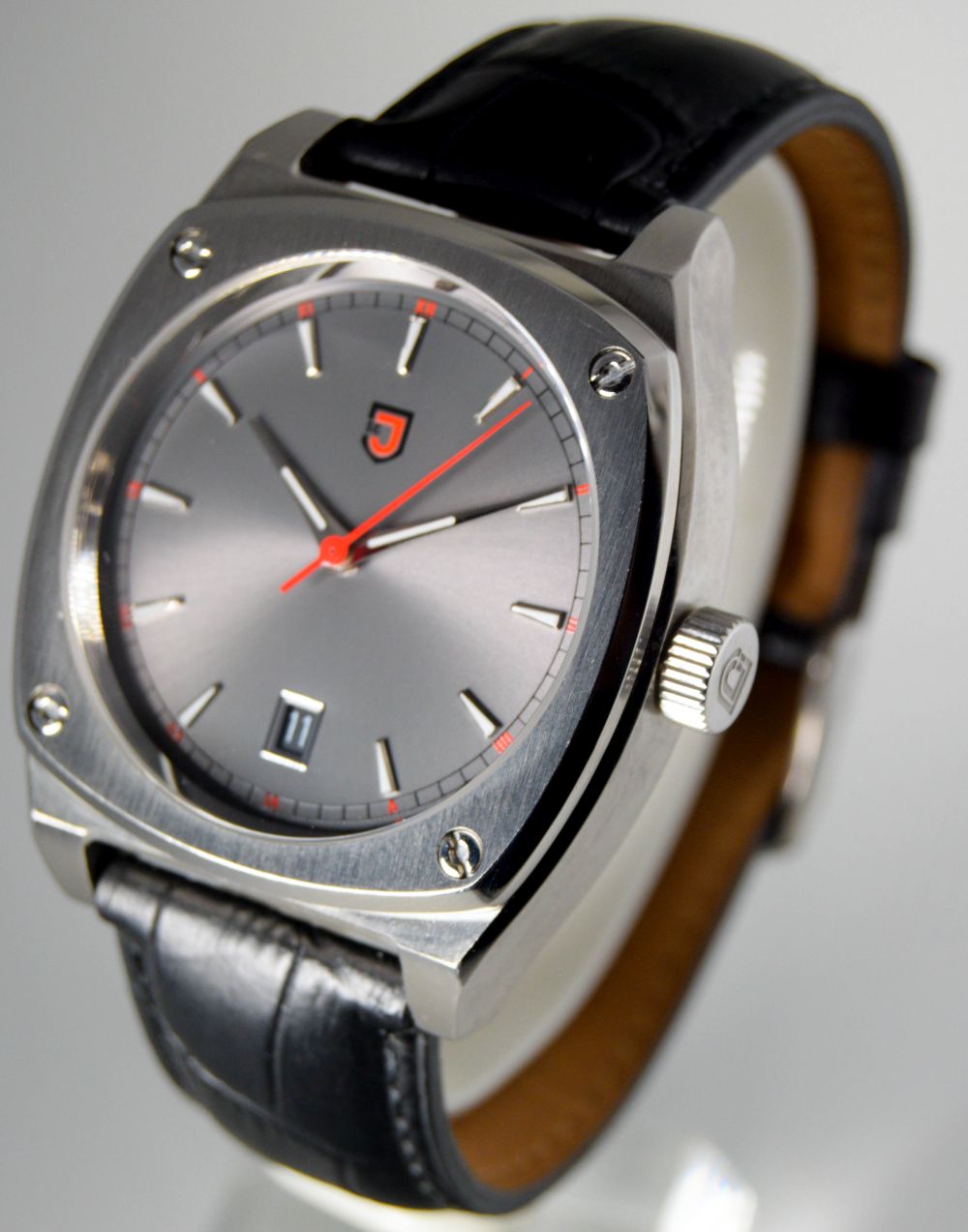 The Superellipse went onto Kickstarter last year, but didn't fund.  It was slightly different.  I'll be honest I wasn't interested enough to back it myself.
So a bit of a redesign and it's back. It's no longer Swiss Made. The face is different. The display back is gone. It's being taken "downmarket". Not off to a good start then…
This new version goes on to Kickstarter on the 18th (the day after this review is published, see, I'm a pro :-)). I know I'm not here to promote KS watches, but here's some blurb:
"The Superellipse will be launching on Kickstarter on 18 August 2017 at 10 p.m Singapore time. Initial collections include four dial designs – matte black, silver, cool gray, and pearl. Pledge starts from SGD 279 (USD 205) for the first 120 hours."
So it will be live tomorrow.
I was sent 2; the "Cool Grey" and a baby blue. The blue, I've been told will be a stretch goal. The ones that are available at launch are: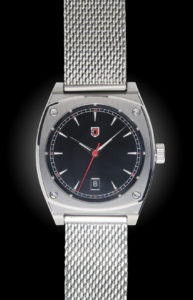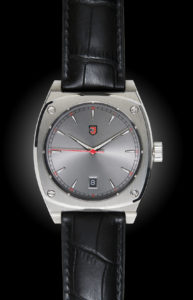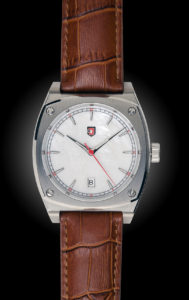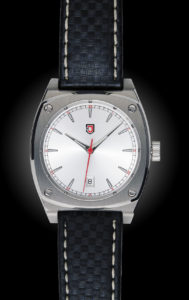 There are options of black / tan / carbon leather and a Milanese mesh.
So, what are my thoughts…
Well, people ask me "Should I buy watch X or watch Y?". As time has gone on, my answer has morphed from "Look at X spec, look at Y spec, see what others are available around this price, what are you going to wear it with, what others do you have…" to simply: "Try them on, you'll just know".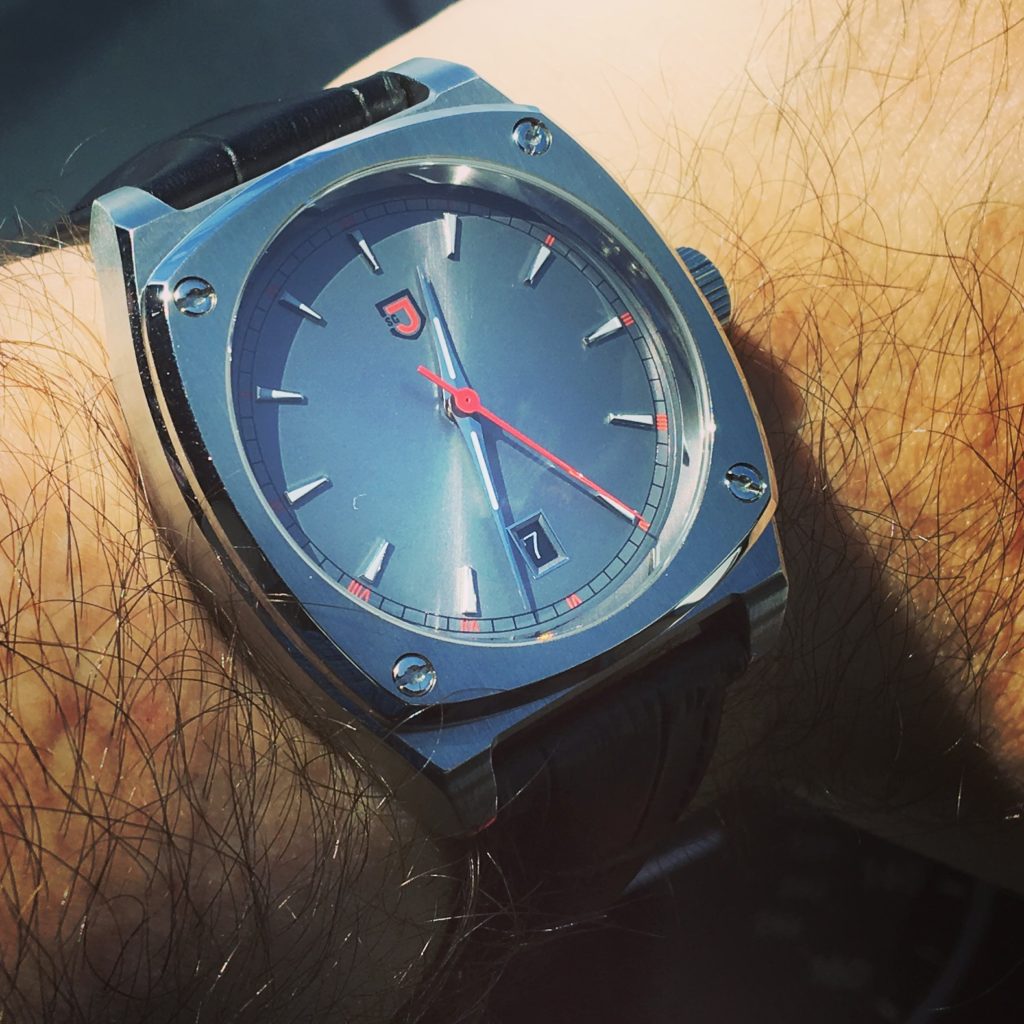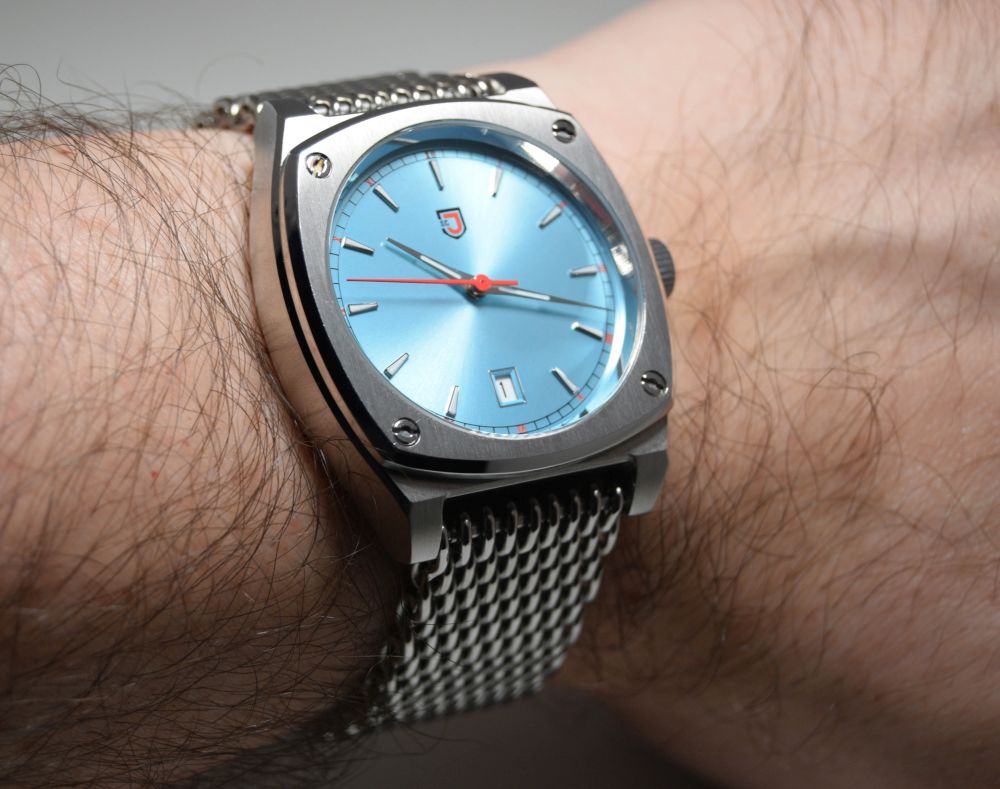 And that's the case here. I don't like minimalist watches, I didn't like the pictures enough first time round to back it and I wasn't bothered about reviewing this version.
But then I actually wore it.
This is being mis sold as a minimalist watch. Sure, it's not fussy / complicated looking but this isn't a stereotypical "minimalist" watch.
The case for a start blows this mis-marketing away. Initially it reminded me of the Heuer Monza, but it's not direct copy.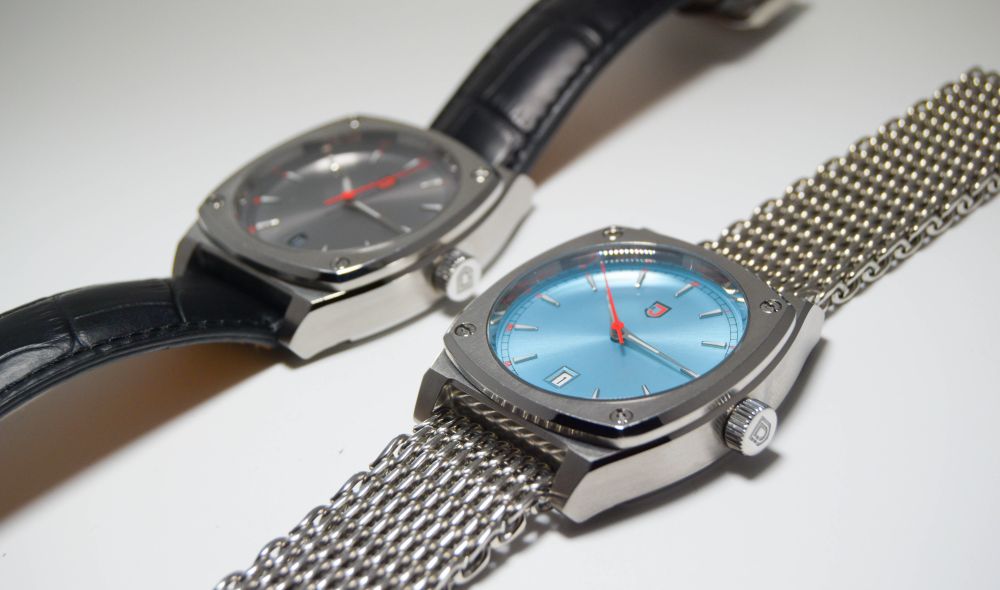 This is a fabulous case. It's not round. It's chunky. It's big. It has different levels. It's beautifully finished. It also has 22mm lugs.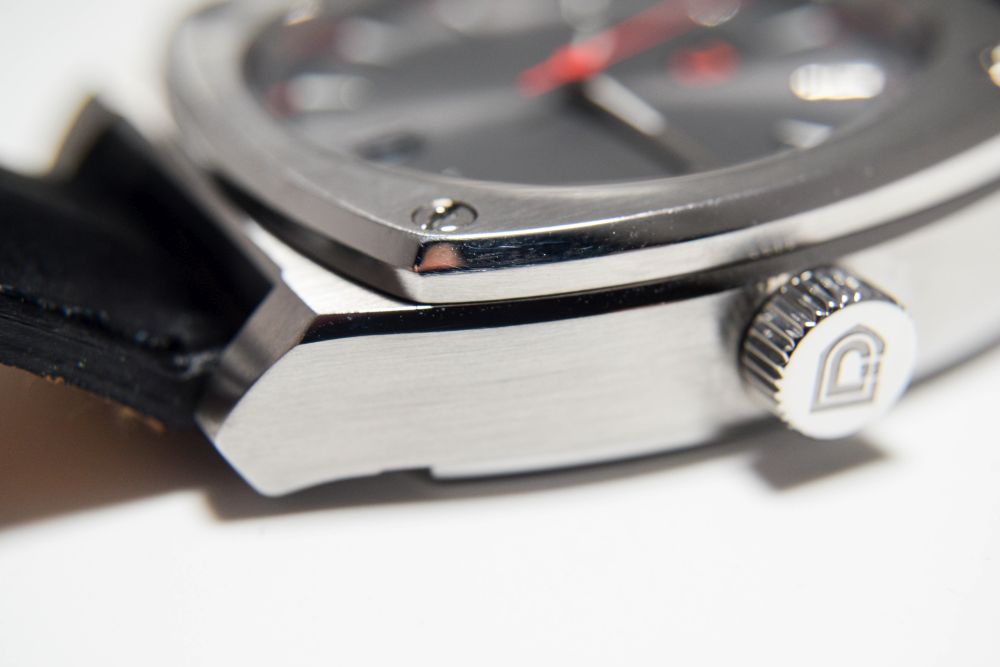 I'm not usually a fan of screws on the bezel, but these look good, almost giving a "tool watch" like appearance and these are actual screws, not just for show.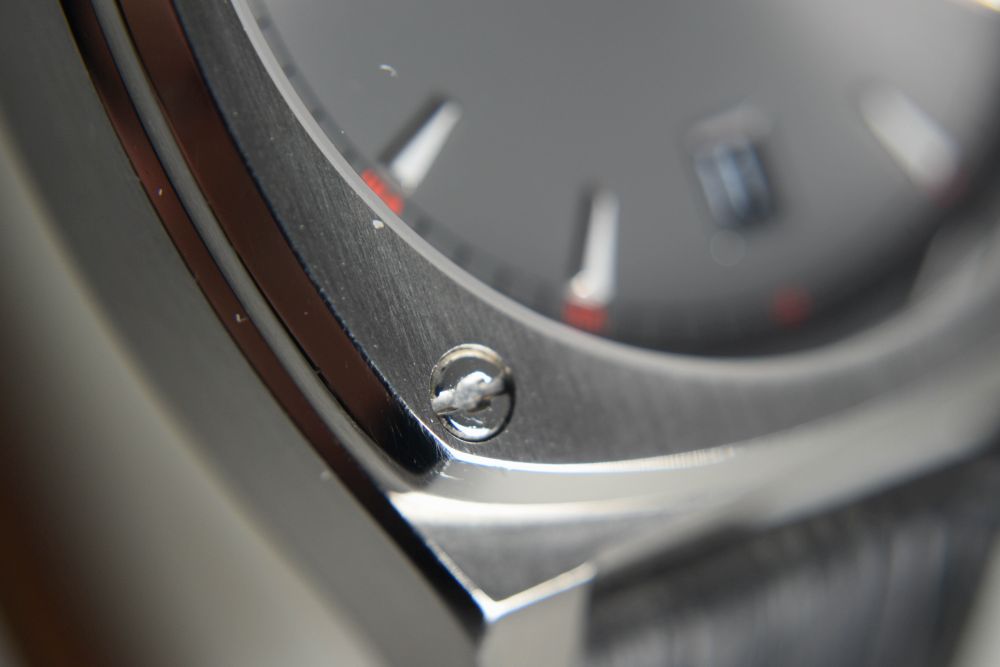 The contrasting polishing and brushing is well done and adds depth.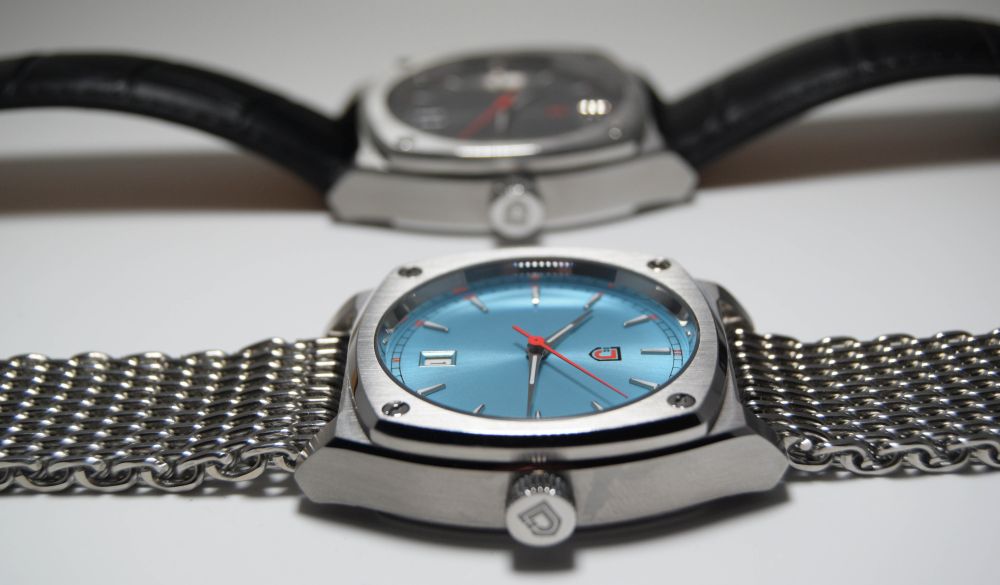 The signed crown is also substancial and has a nice smooth motion. And it should, the movement is the NH35, a great workhorse that I have in countless watches. Yes, accuracy wavers on different ones, but my life doesn't need second by second accuracy. And these movements will be easy to repair / replace in the future. I love it.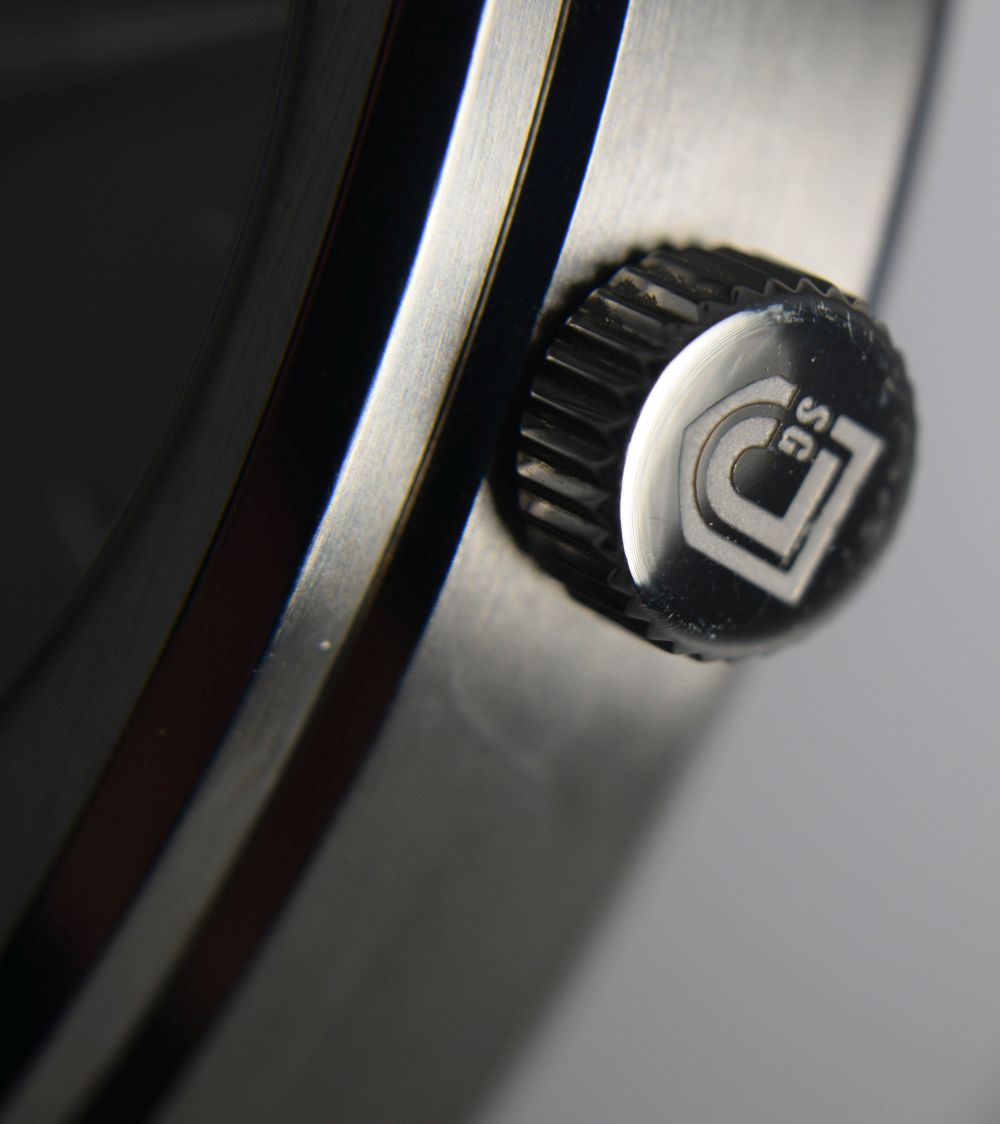 The caseback is what it is, but is competently done, if unspectacular.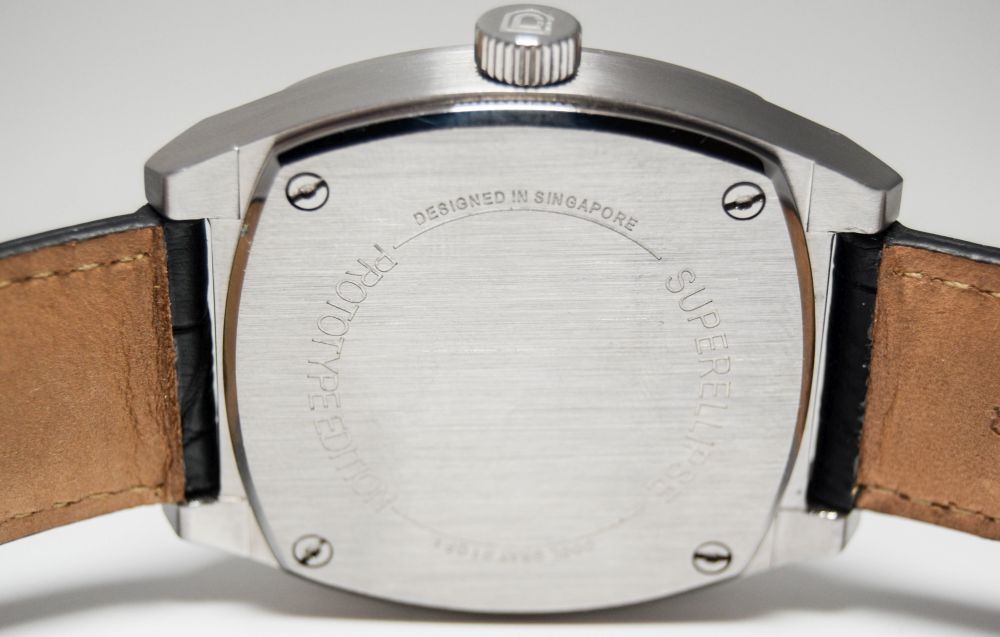 The face is my main bone of contention with this watch. The base sunburst dials are of good quality. I'm glad there's a date here, and it's nicely positioned at 6. The printing which is on there, especially the 2 colour "railway" gauge around the edge is well done and of high quality.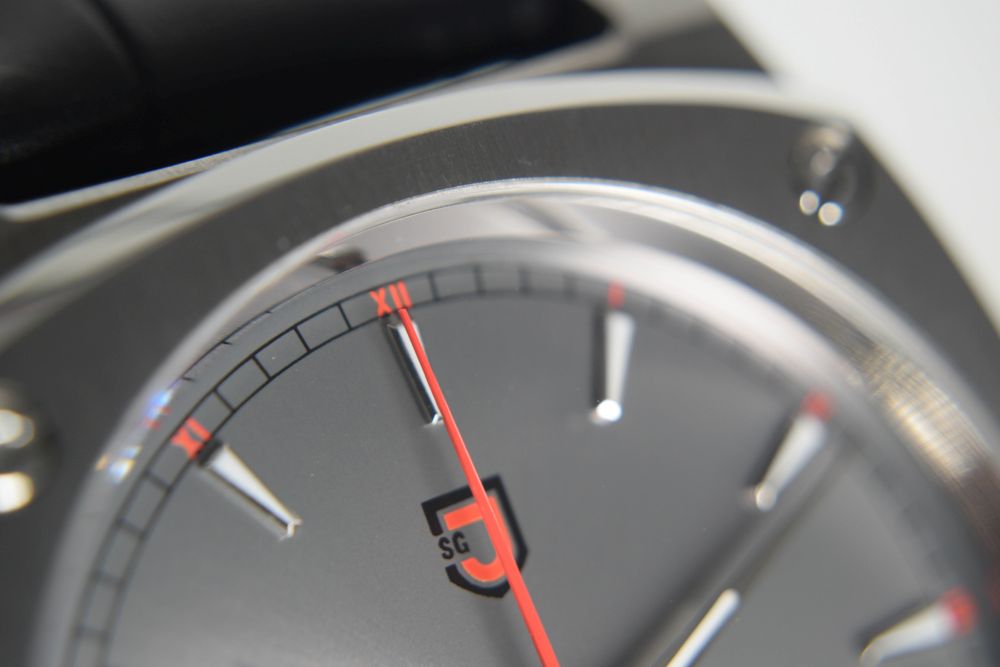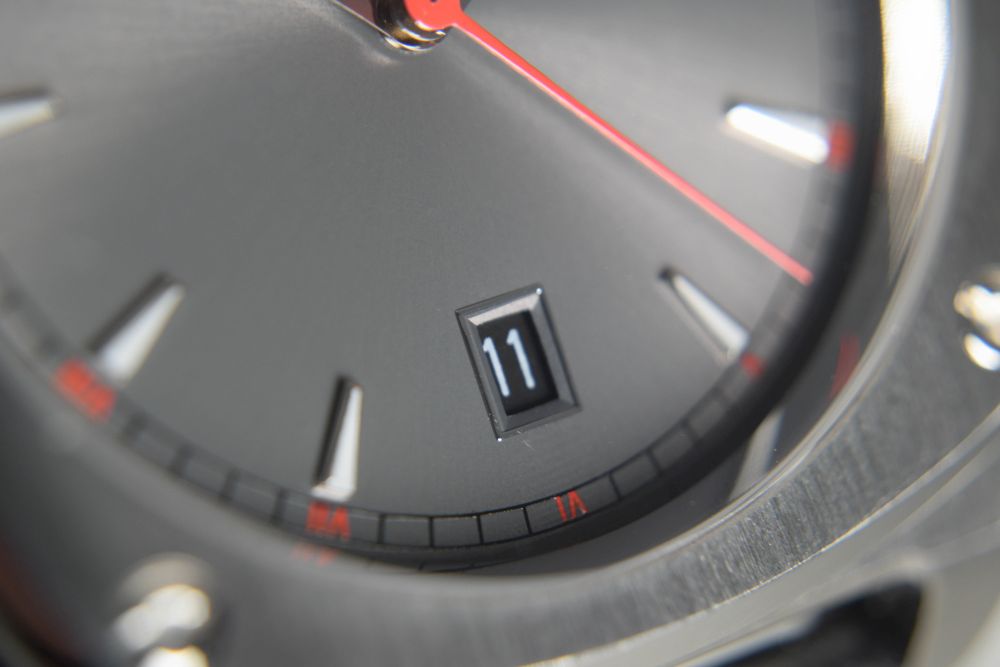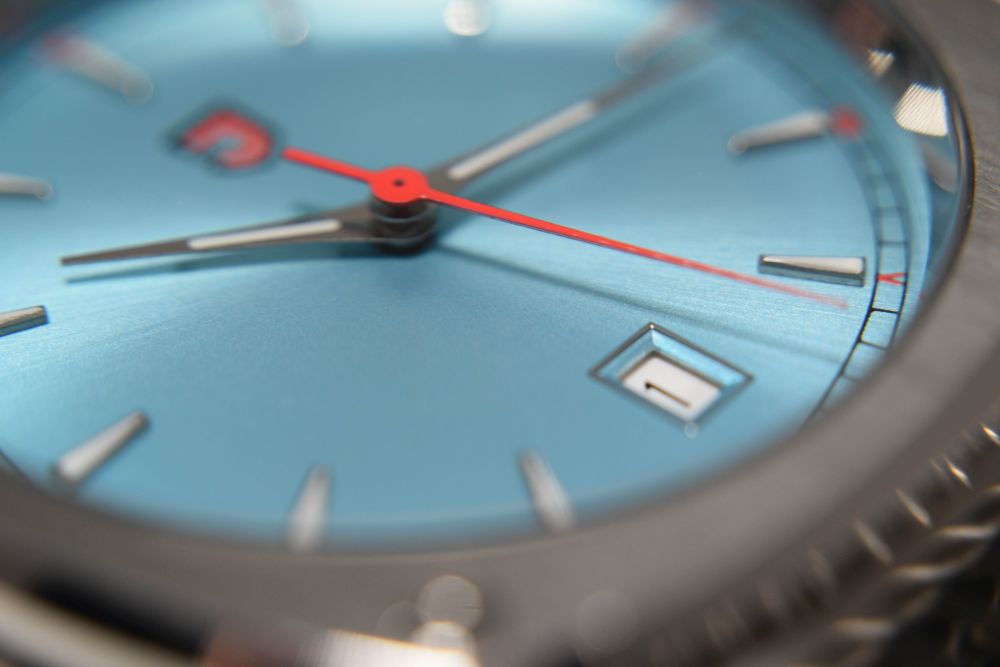 But on the whole, it's missing something, to really make it extra special.
There's C1 Superluminova on there too.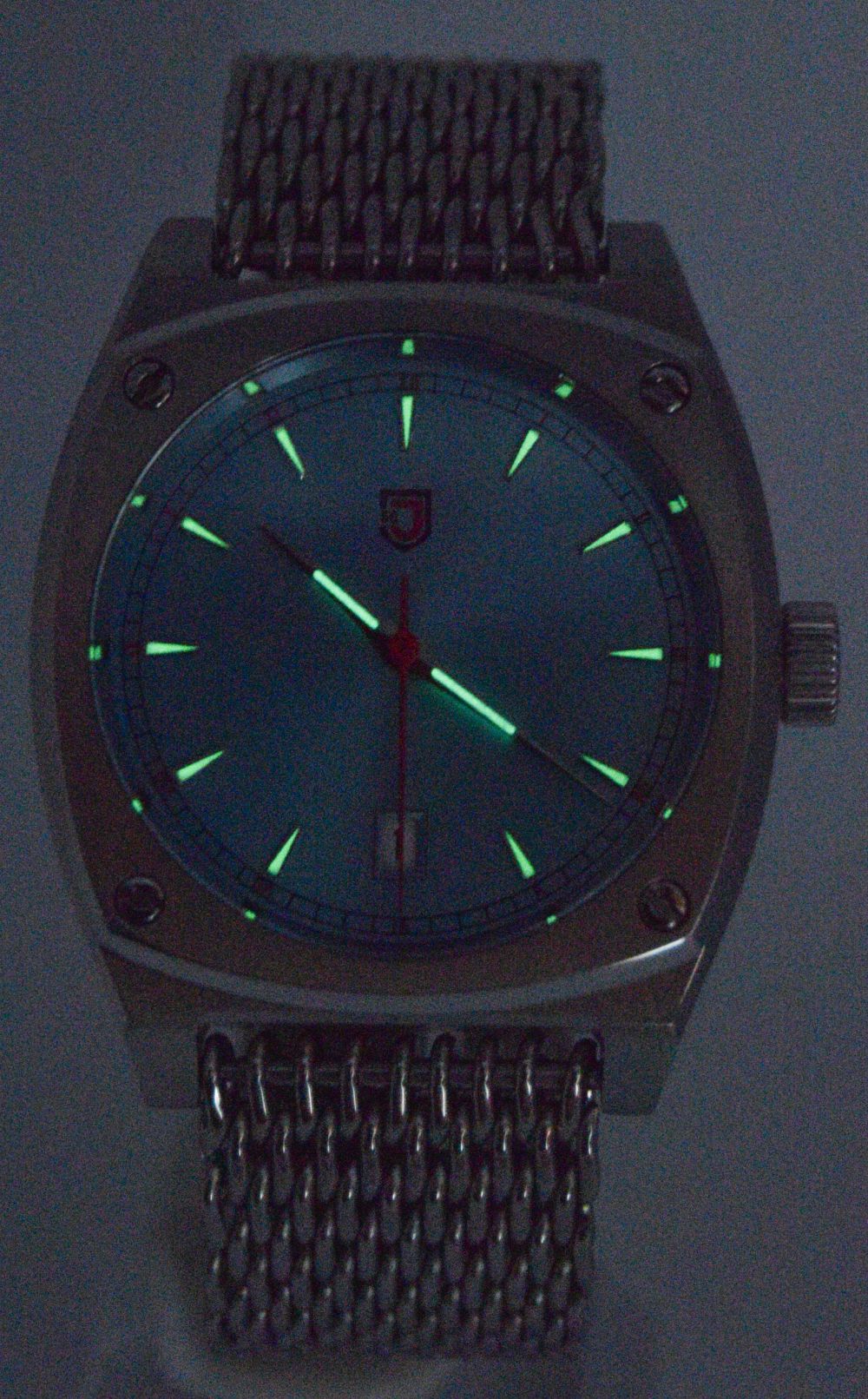 Personally, I'd have liked the logo applied in silver and even something as simple as "Automatic" written in the bottom half of the dial. But that's just me.
The hands are simple, yet elegant and there's a red second hand, which fits with other red elements on the face.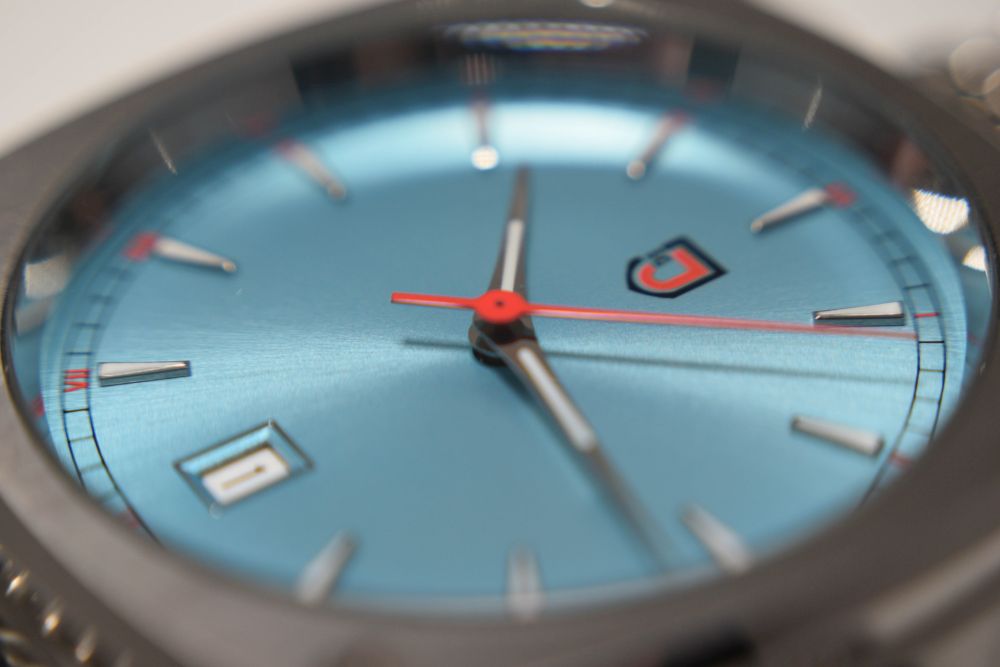 The leather straps are really nice Hadley Roma ones. As good as any leather strap I've had on any watch and really a notch above for an MB watch. There's also an option for a Milanese mesh. I didn't get that with my samples, so I put one on a sharkie, which I think really suits it.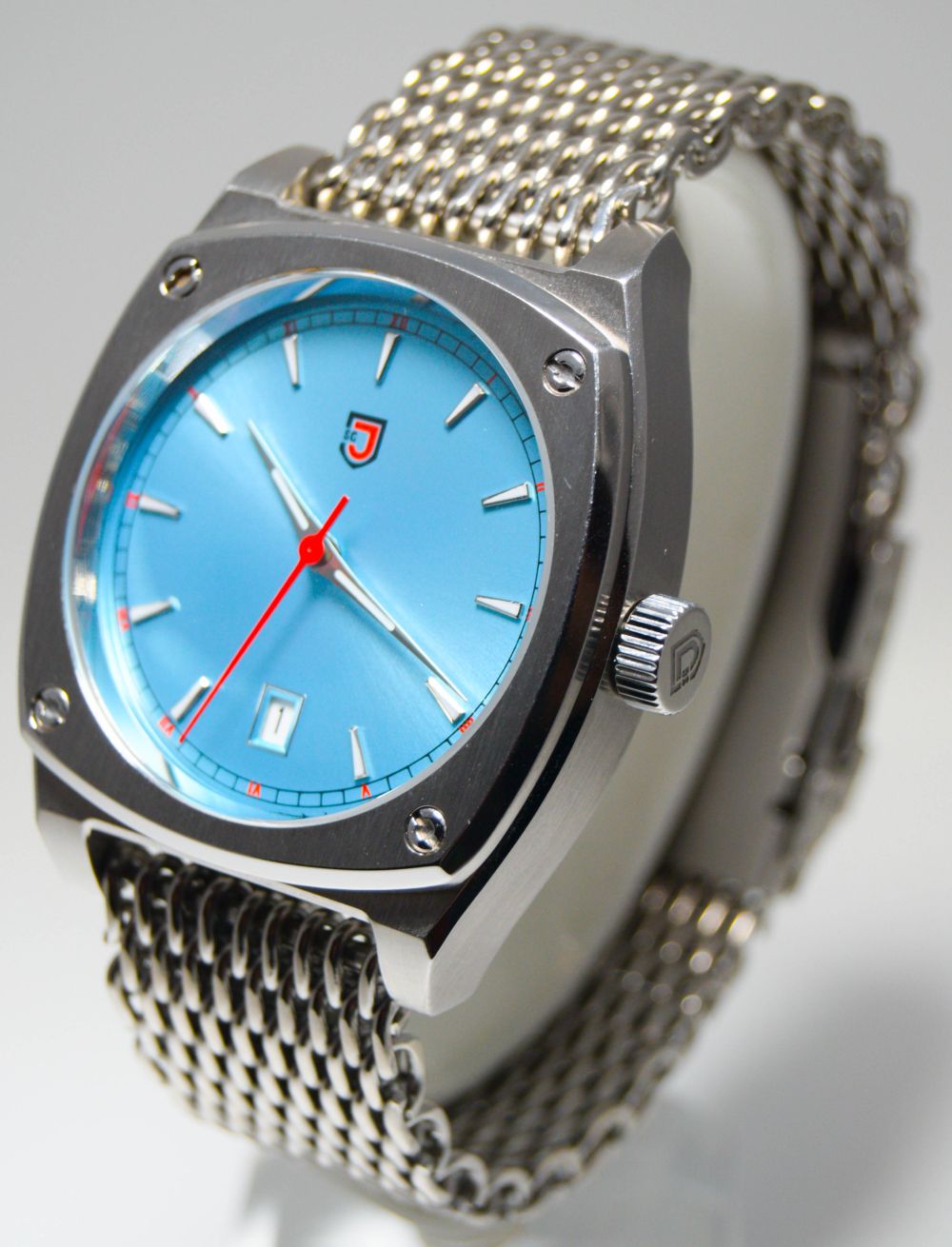 So, a chunky case, screws in the bezel, red elements and Superluminova do not scream "minimalist" to me.
Indeed, I wasn't quite sure what this watch is. Is it minimalist? Is it sporty? Is it dressy?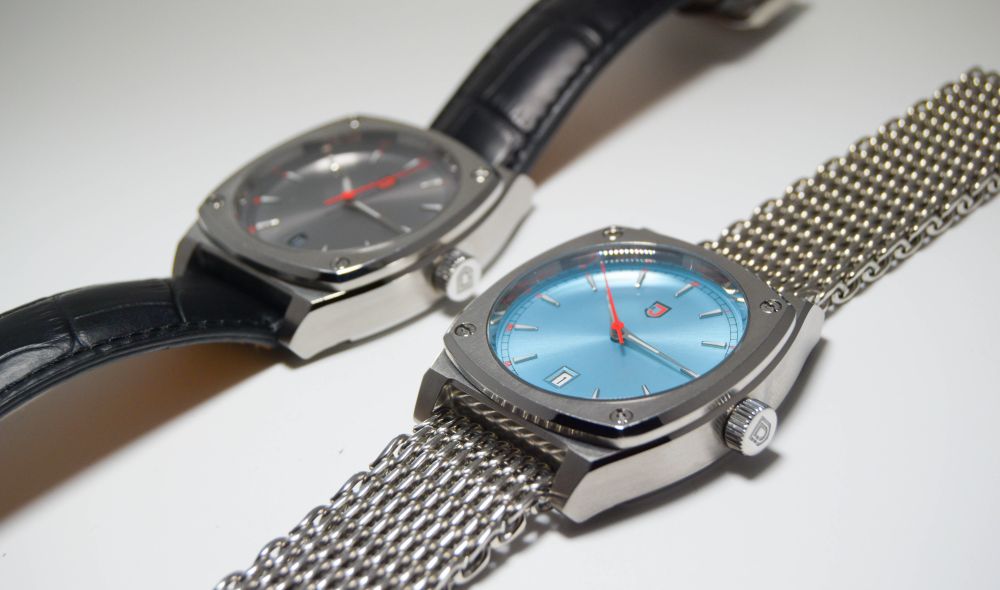 There was only one way to find out, so on the grey went for a recent business trip abroad.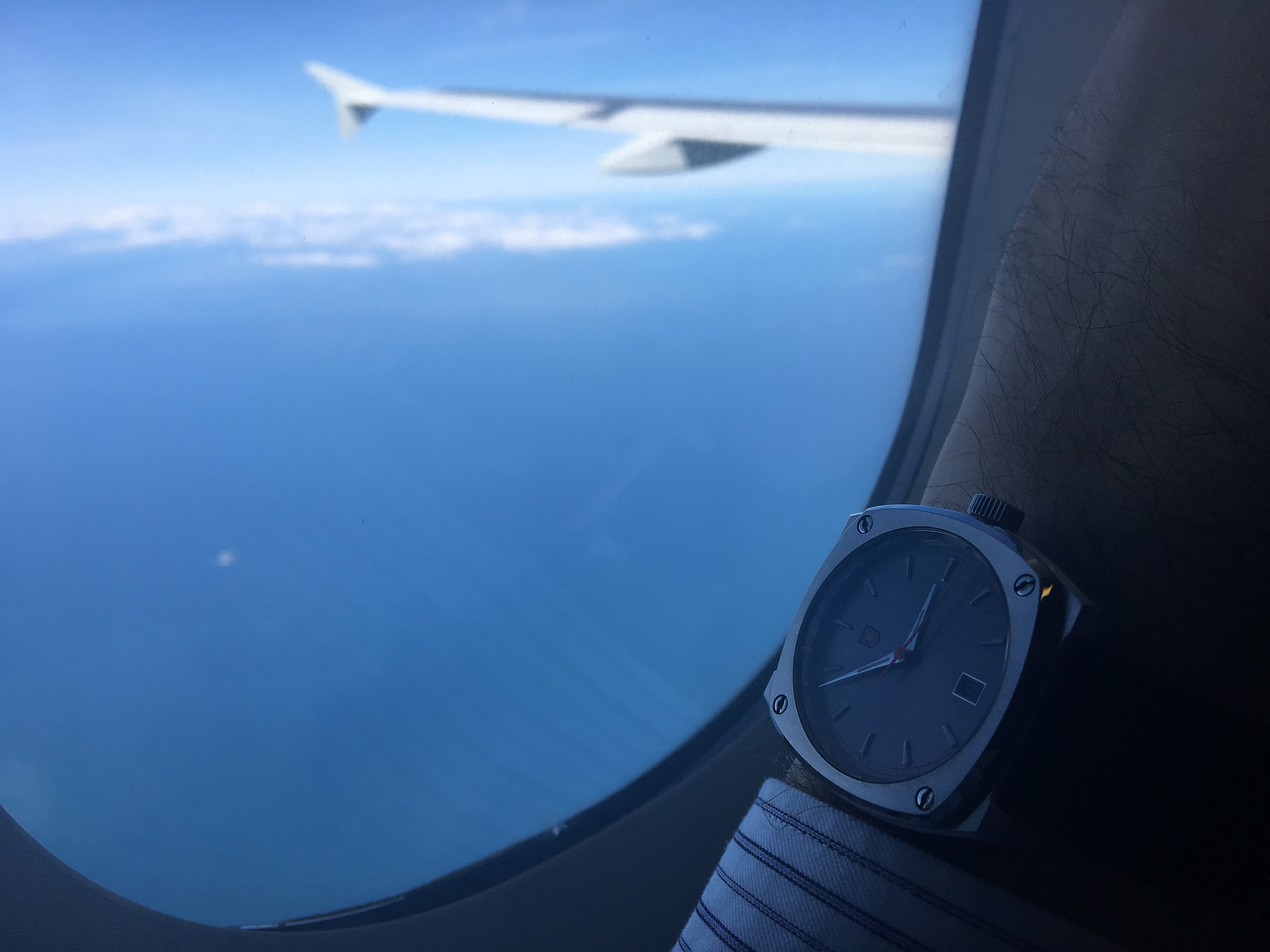 It worked with my suit. It worked with my casuals. Comments from colleagues were that it's a good looking watch.
So I still don't know how to classify it.
Replace the red second hand with silver and get rid of the other red elements, it's a big dress watch…but those elements are there. It's not a sports watch. It's certainly being sold short being classed as minimalist.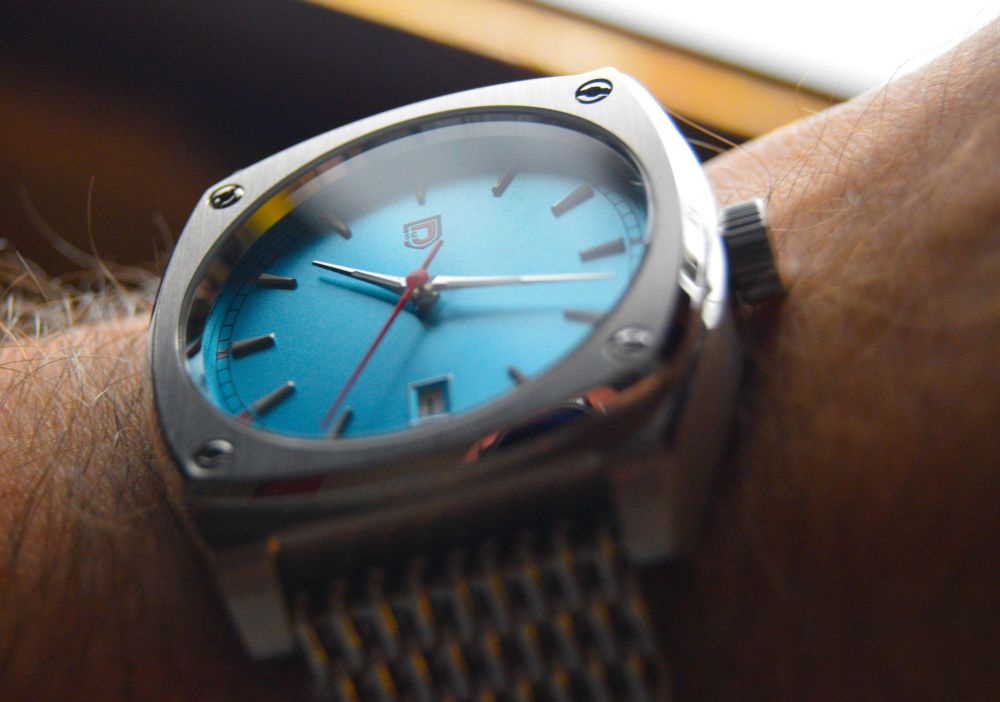 So I'm not going to pigeonhole it. It is what it is. And in my view, what it is, is a lovely, well made, well finished, manly watch that can be worn anytime you're out of the water (and in it if you put it on a rubber / mesh as it is 100m wr after all) and look good.
It's a shame that the "louder" colours are not available from the start. There was also a green and a pink. I think the blue, on this sharkie is the looker. It's for when the sky matches the face colour, and the grey is for when it's all work.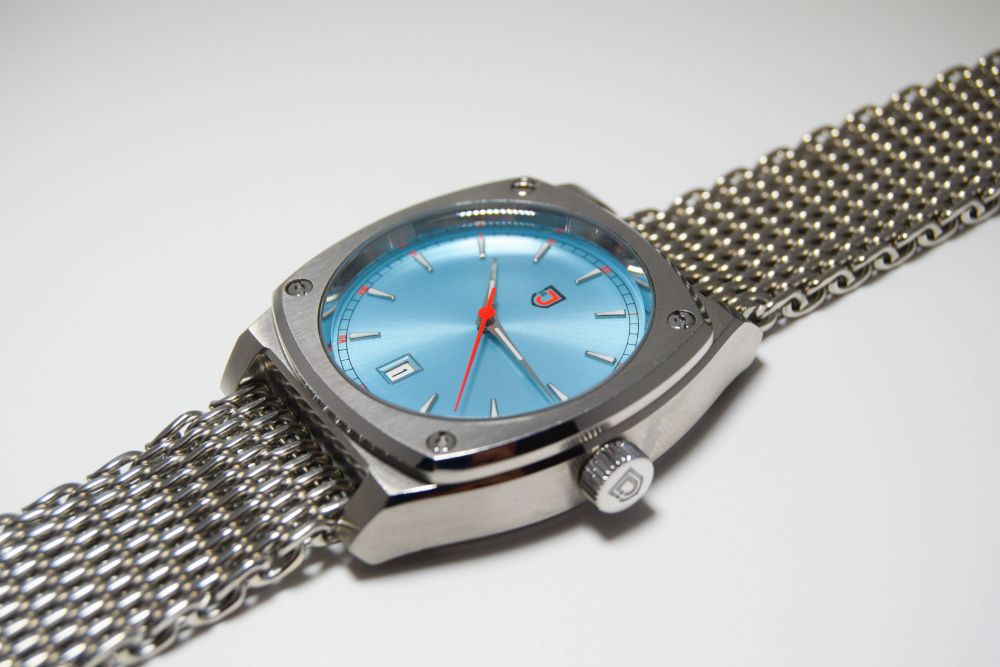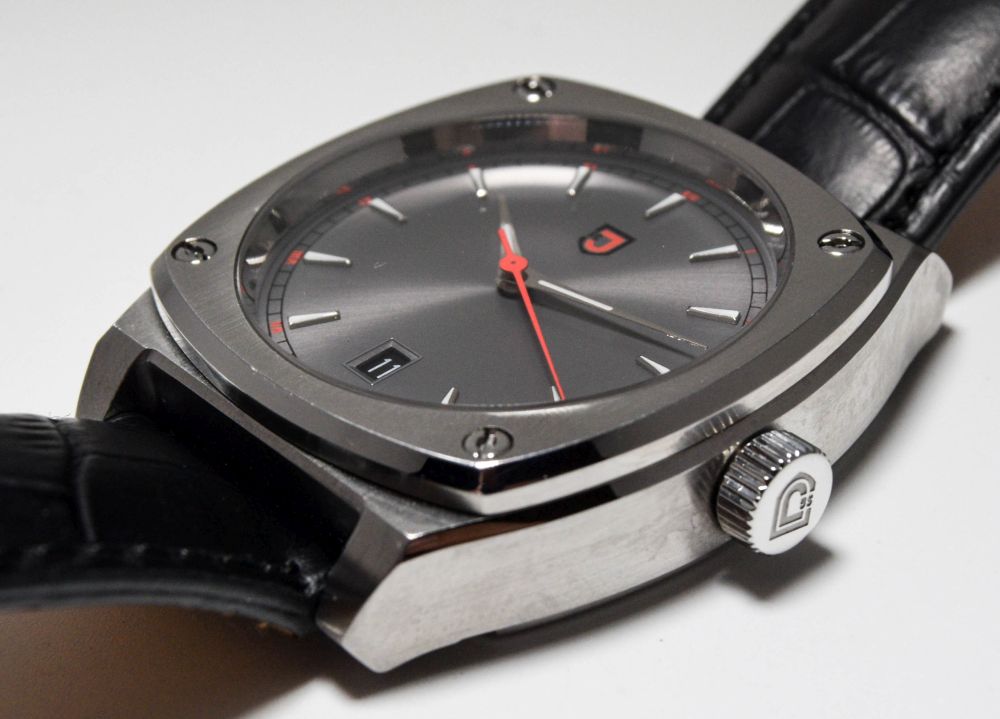 Back to my point, that you have to wear a watch to appreciate it, not read and compare, I really appreciated this watch.
So much so, that this time round, I'm going to back it on KS, as this is a watch I'll wear, as I have while I've had them.
It's hard to come back after a failed Kickstarter (I know!) especially to "cost cut" a watch, but this brave move has paid off. This is still a high quality piece, still has good specs, but now it's at a more palatable price.
And the earlybird price of $205 is a very good price. This is a lot of watch for that. I know a watch is more than the sum of the parts, but a beautiful case, sapphire, superluminova, Seiko Auto and Hadley Roma strap for that price is bordering on me calling it a "steal".
Sometimes you get up and don't want to think about what you're wearing and doing today and what watch will go with it. Sometimes you just want something good looking you can put on and know it'll be just the ticket regardless.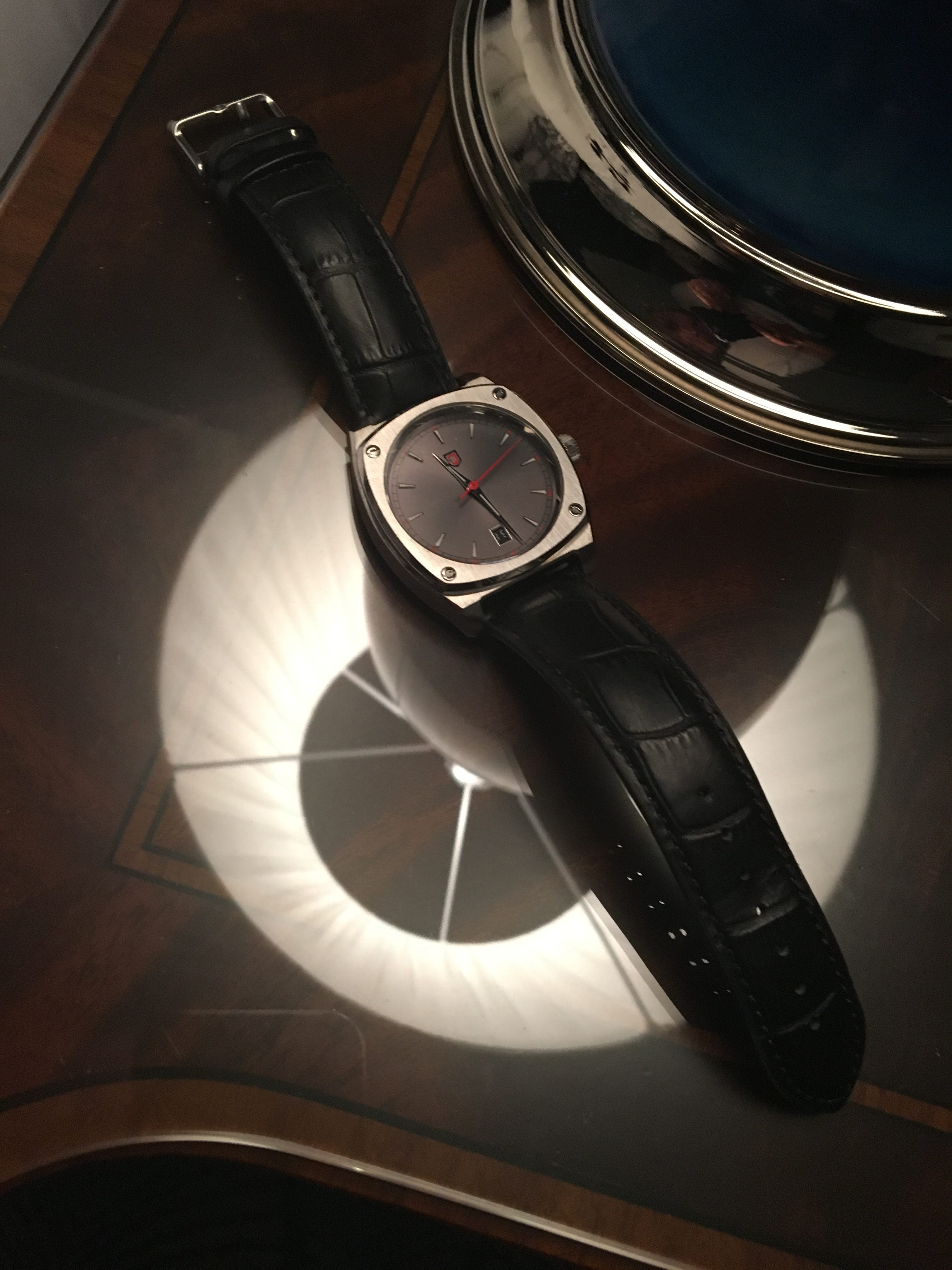 This will be, and I like it a lot for that, identity crisis or not.
I really hope this funds, as it deserves to. If I can't pigeonhole it, then all I can conclude is that it is something different; and that's a rarity of late.