CATEGORY: Watch I bought for review.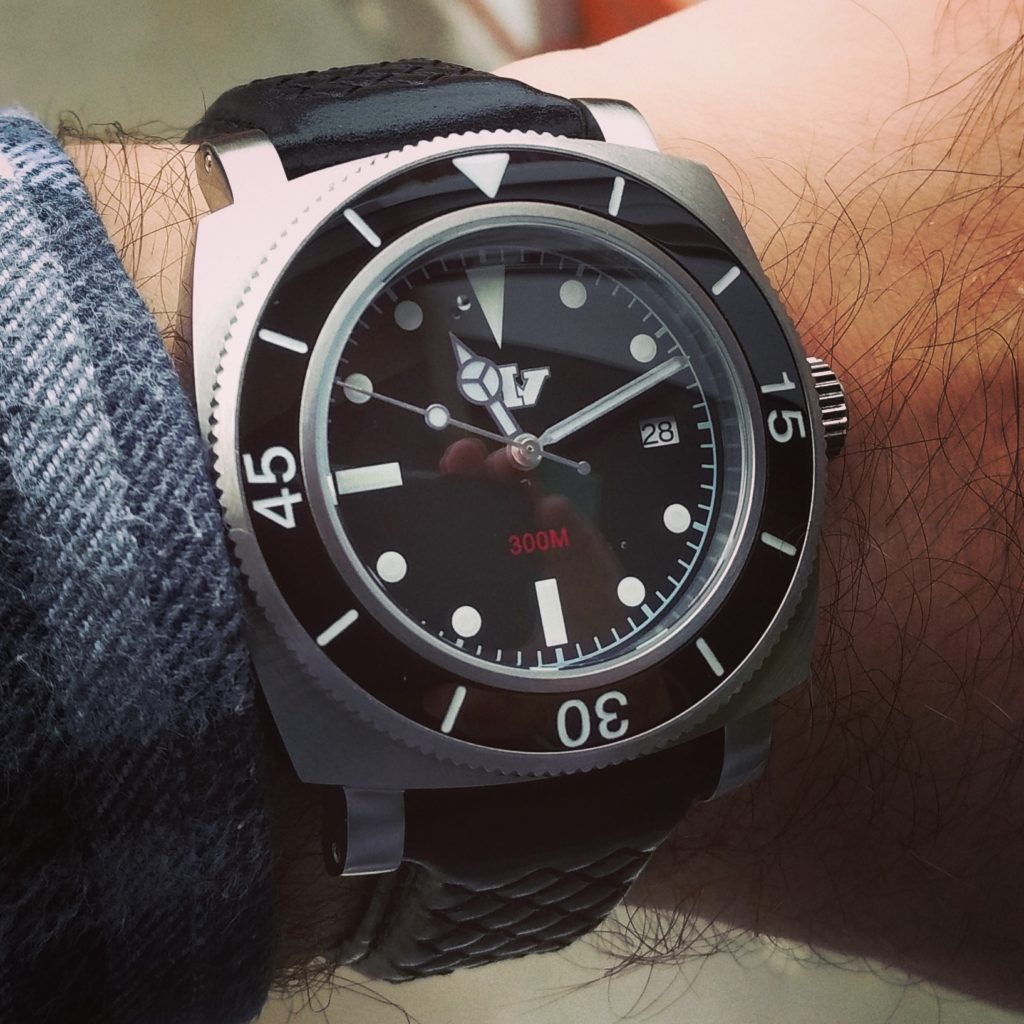 This watch is troubling.
Let me give you some background.
I purchased this via a post on a Facebook watch group. A gent called Chuck Tze posted the below: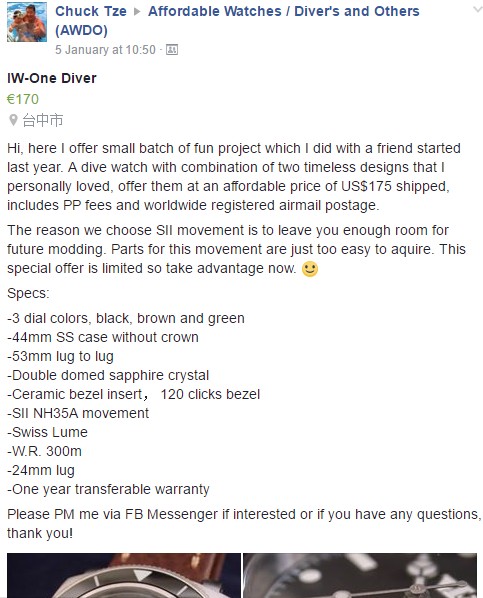 So, a watch that looks like a Submariner face and hands in a Panerai style case. It's got the venerable Seiko 4R35 auto movement, Domed Sapphire, 120 click bezel with lumed ceramic insert, 300m WR…for $175 shipped.
That's it. "A small batch of a fun project".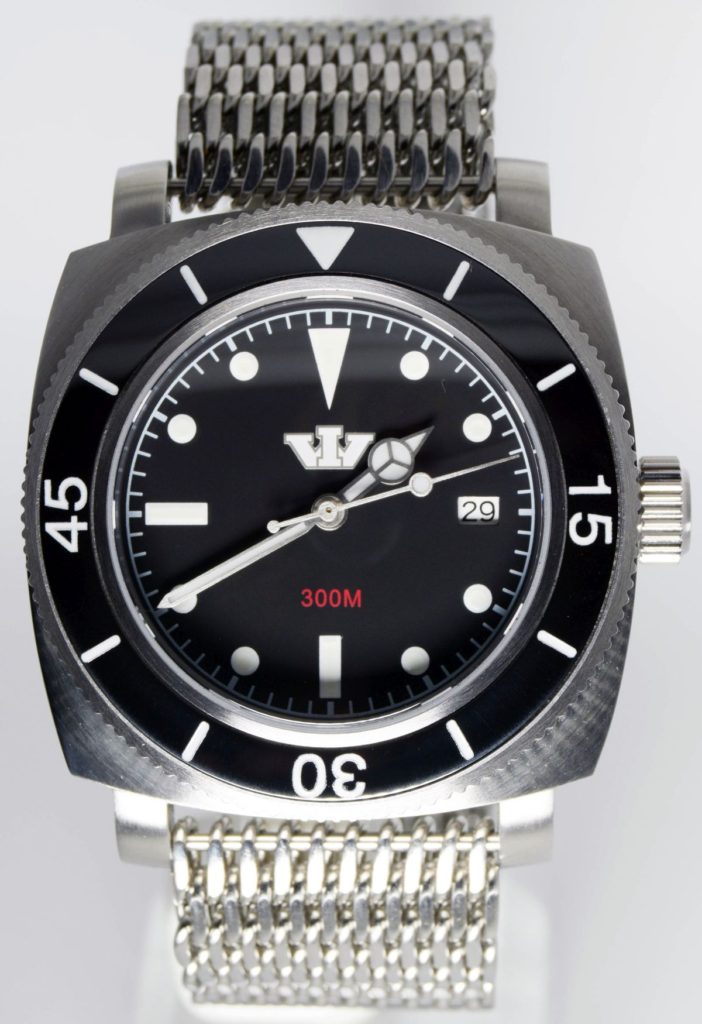 From what I understand Mr Tze was also behind the "Shark" Seiko 6105 homages that did the rounds last year. Indeed, Mr Tze has been around a while making small batch watches, that people who buy them have a lot of praise for. Kinda reminds me of Bill Yao, but without the prices.
Having 3 x Seiko Turtles, 6105 homage didn't interest me, but the owners reviews that I saw on FB and forums seemed to say they were a decent watch.
Mr Tze is based in Taiwan.
So, anyway, on to the watch.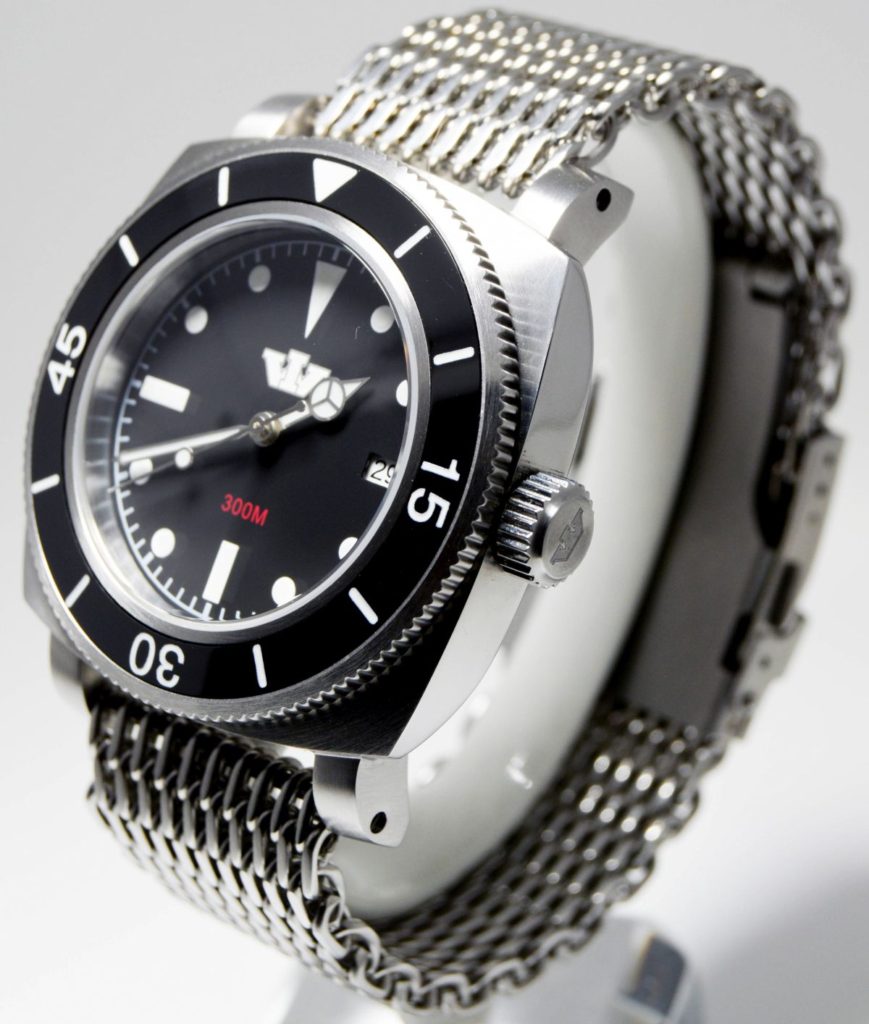 It took about a week to arrive from the Far East.
I opened the box to find a decent fake leather travel case, a bit like the ones I used for Deaumar, but with Independent Watch branding on it.
Inside was the watch and a warranty credit card. Now, I made warranty cards like these for Deaumar and I don't think you can get one or two made, it has to be hundreds, likewise the travel case.
The strap on the watch is a really nice thick leather with an engraved buckle. But it's brown. I don't like brown on black faced watches, but it seems to be the trend as it's the 3rd MB black faced watch I've bought recently with a brown leather on it.
Anyway, I took the plastic protectors off the back and the face and had a good look.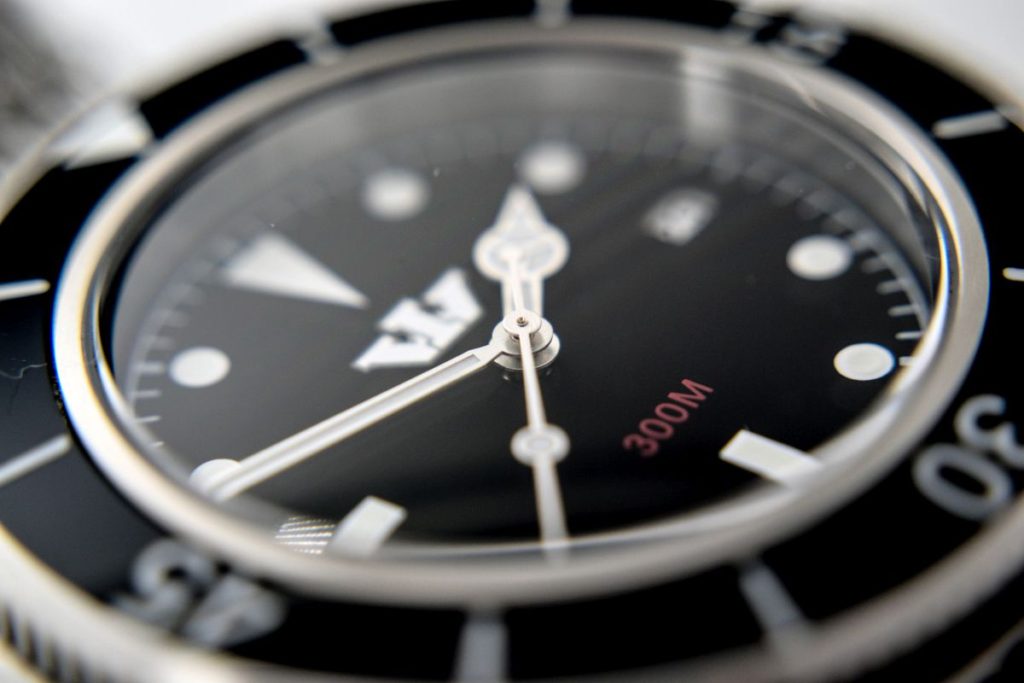 It looked really good. This was a surprise. The Dan Henry 1963 I bought for $250, although a chrono, felt a lot lighter than this too.
I took it off the brown strap and put it on what I'm finding is my fave leather, a quilted style one. Second surprise. 24mm lugs, held in like the Gruppo Gamma Divemaster, with screws. I then put it on a shark mesh.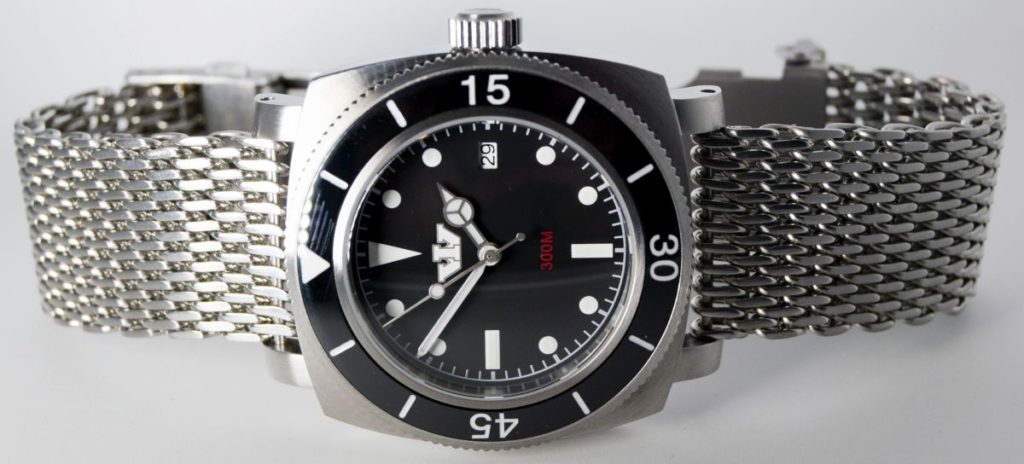 I then looked at the back. I'm not a caseback fan, but this seemed decently engraved. I've not tried to open it, but it looks like it is held down with small screws. That's different, most are a single screwdown back.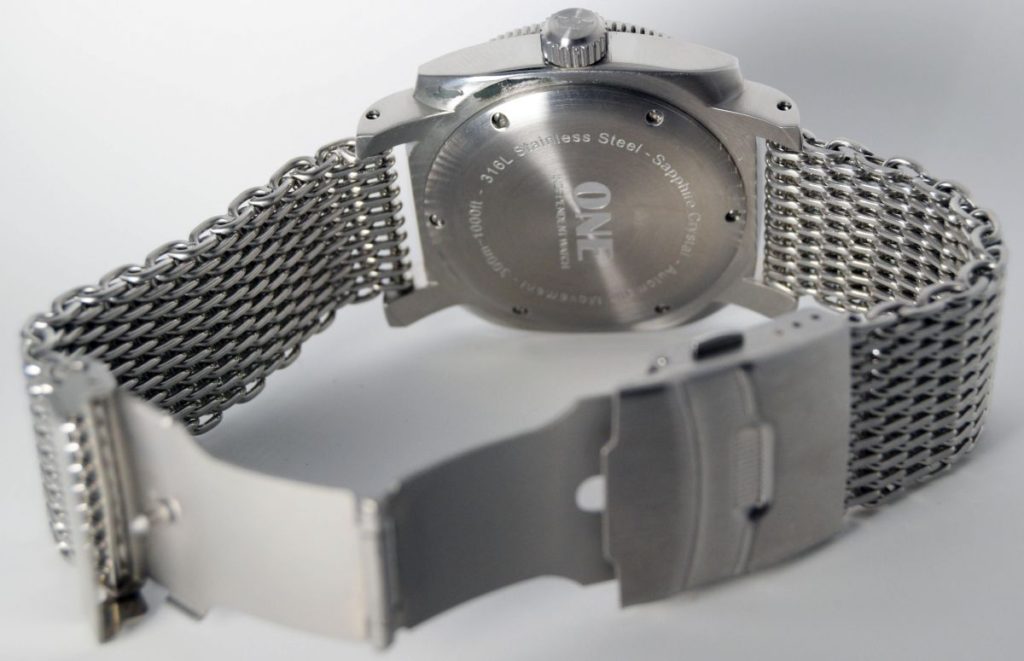 I grabbed the bezel. It rotates nicely. It has a nice coin edge. Not the tightest, but it's precise, tactile and lines up. The insert is ceramic. All the indices are lumed. It lights up nicely.
The case is of a design that is becoming more and more conventional, a Panerai submersible style. I'm pretty sure that this uses the same case as the Magrette Moana Pacific. At least visually.  It's brushed all over and is done well, but I thought the all over brushing was a bit boring. I polished the sides of mine, I like it like this better. I think it adds some contrast and makes the watch look better.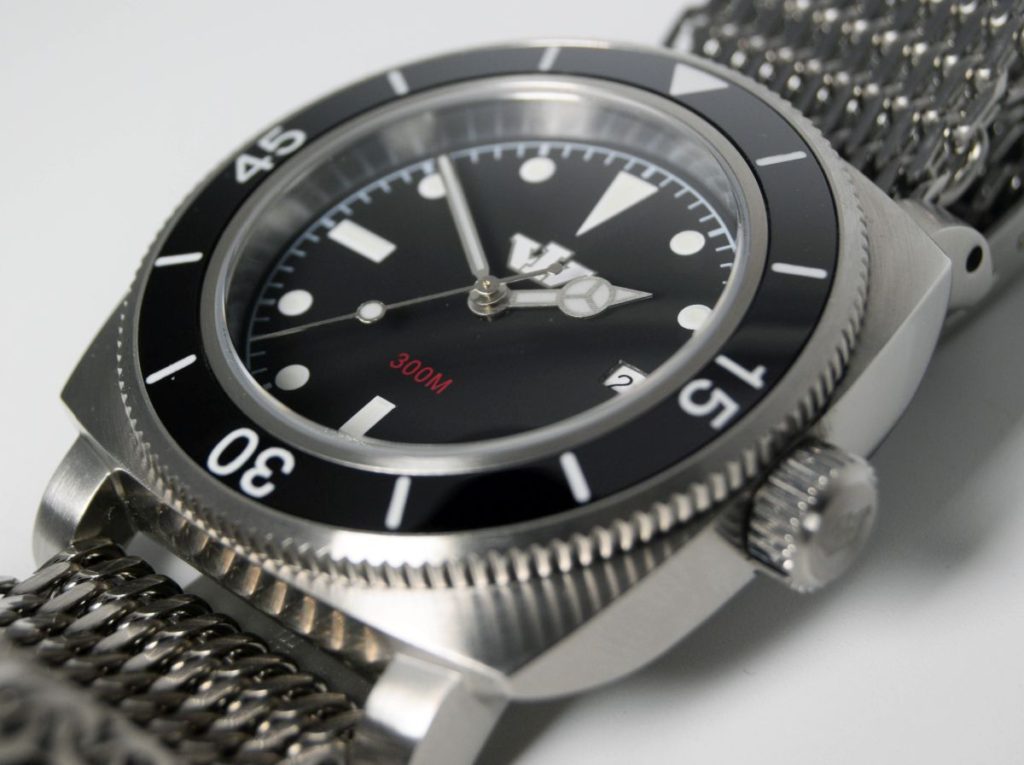 The face and hands are the weakest parts I think. The indices are painted lume. The logo looks like a thin sticker. The white date window at 3 I think looks fine. All the other markers are white, so this works with them. I'm not a lume freak, but it all lights up nicely.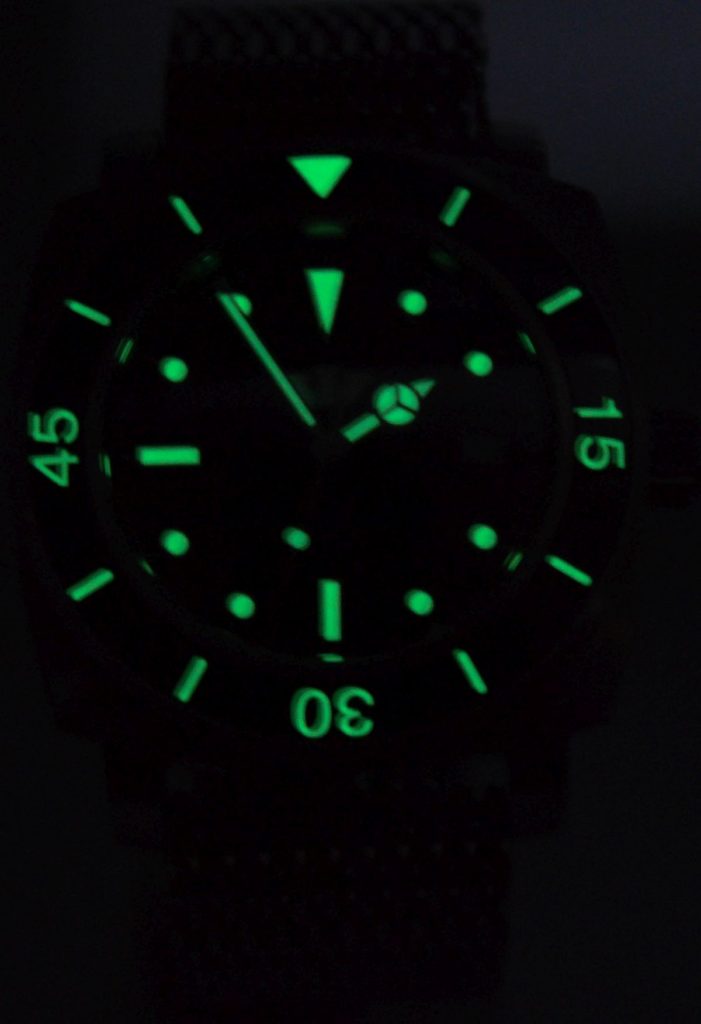 The hands are typical Rolex "Mercedes" hands. The logo also looks like a crown, a la Rolex, and even the name Independent Watch (Company?) would make an interesting acronym…especially if Citizen gets wind as they have a JDM company called Independent.
I actually think it would look better with some more text on the face. The logo isn't offensive, but I can't say that I love it. I would have liked "Automatic" in white printed above the "300m" which is written in red.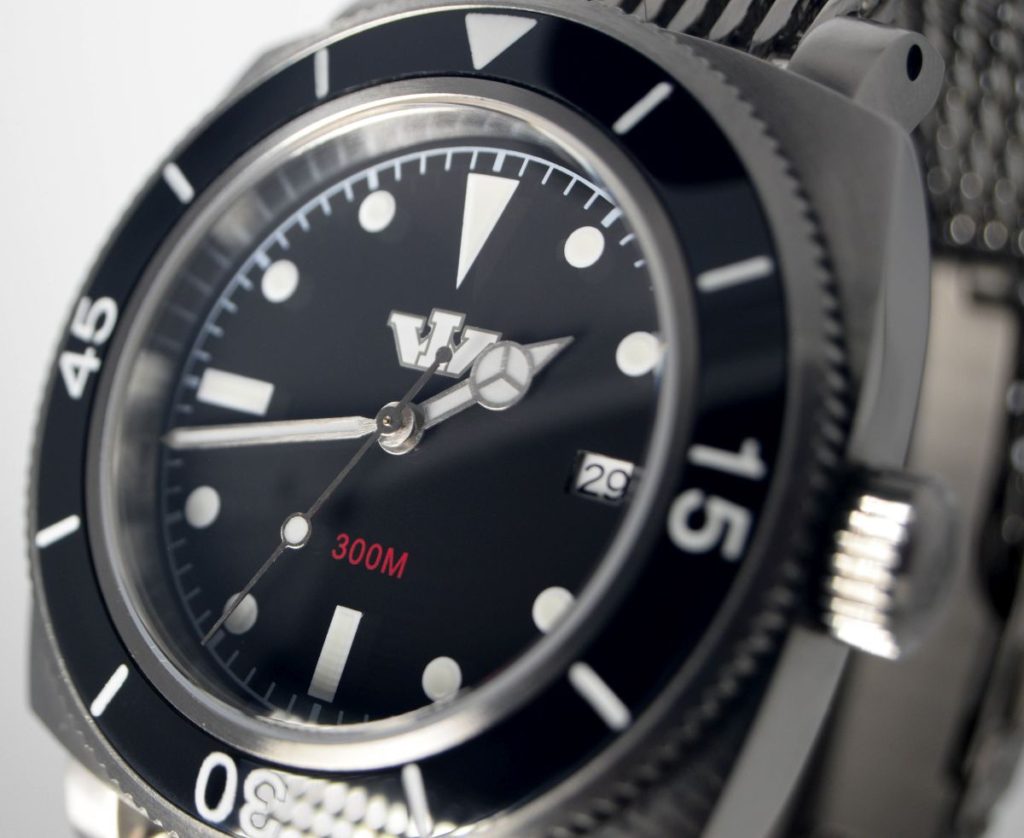 The crown is big and easy to grip. It turns nice and screws down easy enough. It's also signed with the "IW" logo.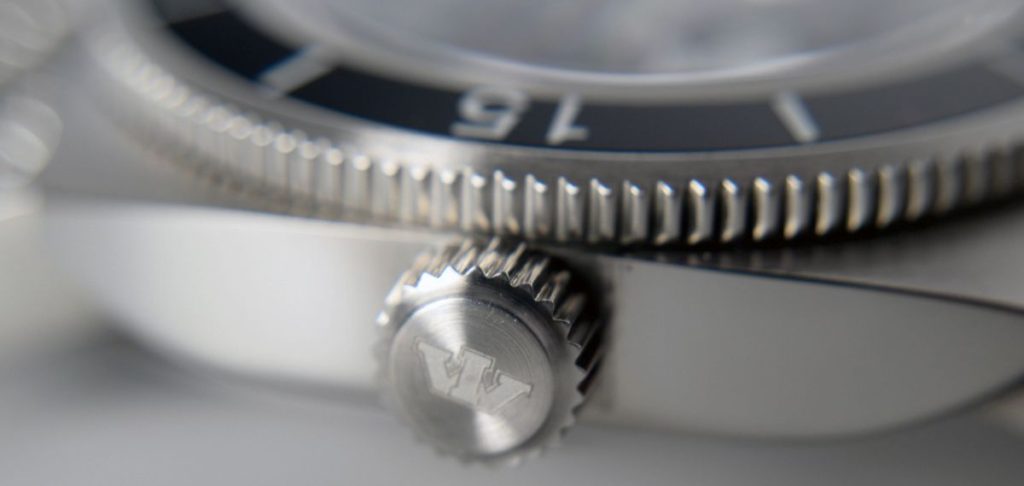 The crystal doesn't have AR coating, but it's nice and doesn't distort at angles…the face just seems to get deeper.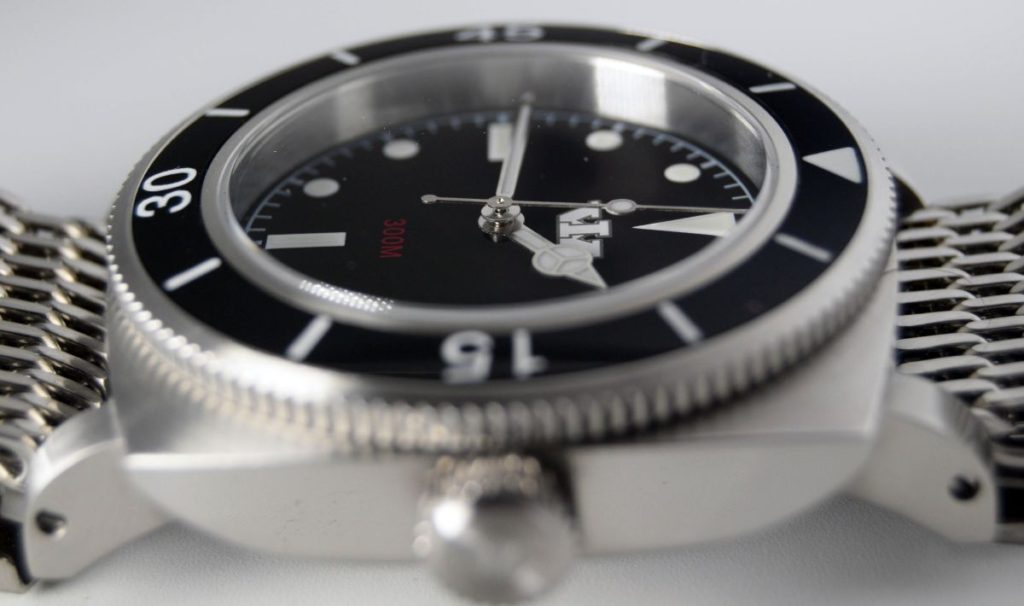 As Mr Tze has said in his FB post "A dive watch with combination of two timeless designs that I personally loved". He's not trying to pass this off as anything else. Every watch is subjective, but I don't know of a watch that looks exactly like this, so I won't label it an "homage".
He also does versions with graduated brown and green faces. A graduated blue would be a nice alternative.
It is a big watch, but I've got big guns and big wrists, so it looks good on my wrist and I enjoy wearing it.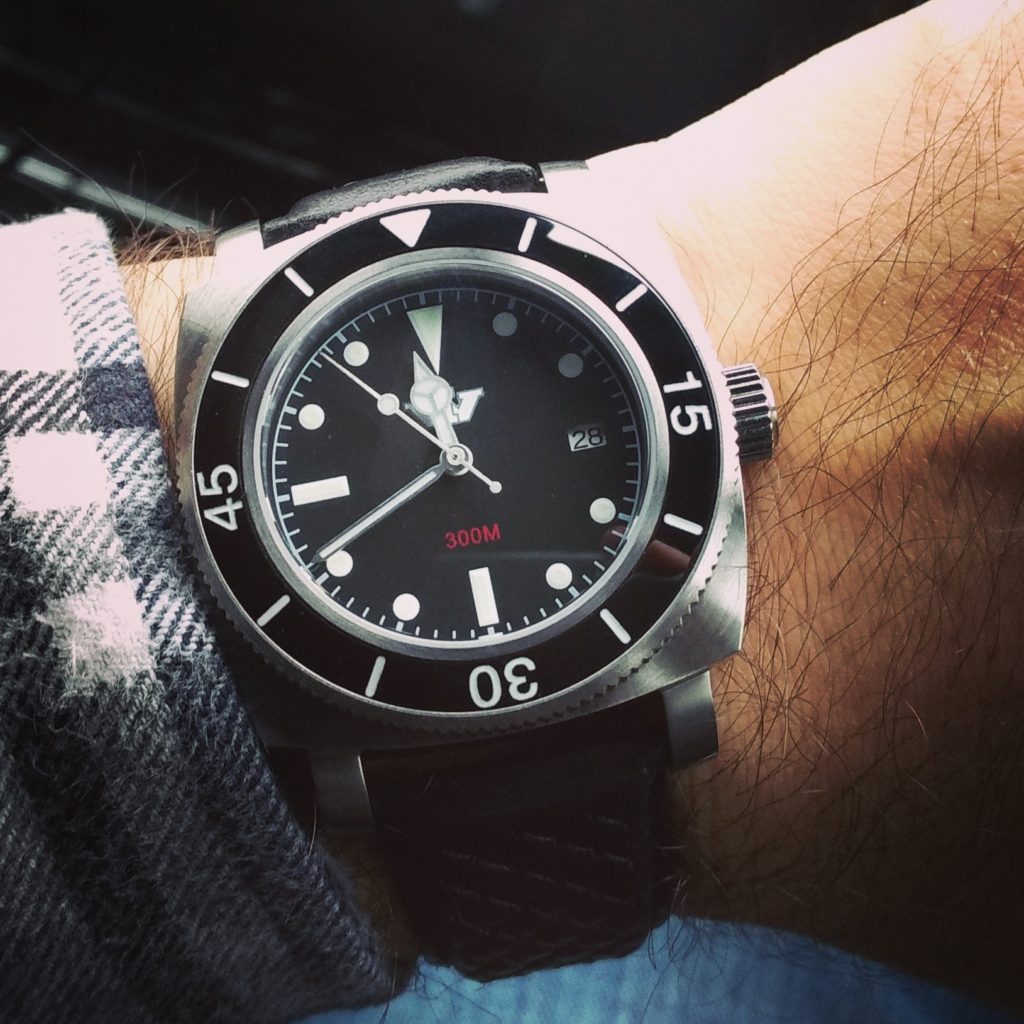 On a sharkie it looks the business. On a NATO it looks very tool like. On a quilted leather it looks sophisticated and on an ISO it looks like a serious diver.
And here's where the "troubling" bit comes in. It has no right to look and feel this good, with these components, at this price.
You see, I don't like "bargain hunter" watch fans. They don't like a watch for how it looks or how it feels, they negate the intangible "magic" that a watch you love gives you when your wear it. They have a formula which dictates what each individual component is worth and therefore how much the watch should cost as a whole. I know I keep harping on about it, but that isn't the way to buy a watch.
I bought this watch for review as I wanted something that another blog won't have reviewed first, and it was cheap, so I thought what the heck. But after wearing it for a bit, I didn't want to review it at all.
I started Watch Thoughts to be different. To have no paymasters tainting my actual thoughts. To not accept freebie watches in order to give an objective review, but this is a new site, I didn't want to put manufacturers off sending me review watches by doing bad reviews, nor to annoy people who do like a certain watch either, to stop them spreading the word. I have to stick to the principles on which I founded this blog, I have to do a review.
Why?
Because this watch is as good a quality as an MB watch costing many times its price, it's from a guy with a solid "word of mouth" reputation and has been making watches for at least a decade from what I can tell and yet it's cheaper than the cheapest "early bird" of many new brands Kickstarter launch pledges by some margin.
When I polished the sides of the case with my Dremel and Dialux, it polished to a mirror finish quickly and easily. This is good steel. The look, the feel, is of a quality much higher than I was expecting. If the face had applied indices, I don't know what I'd say…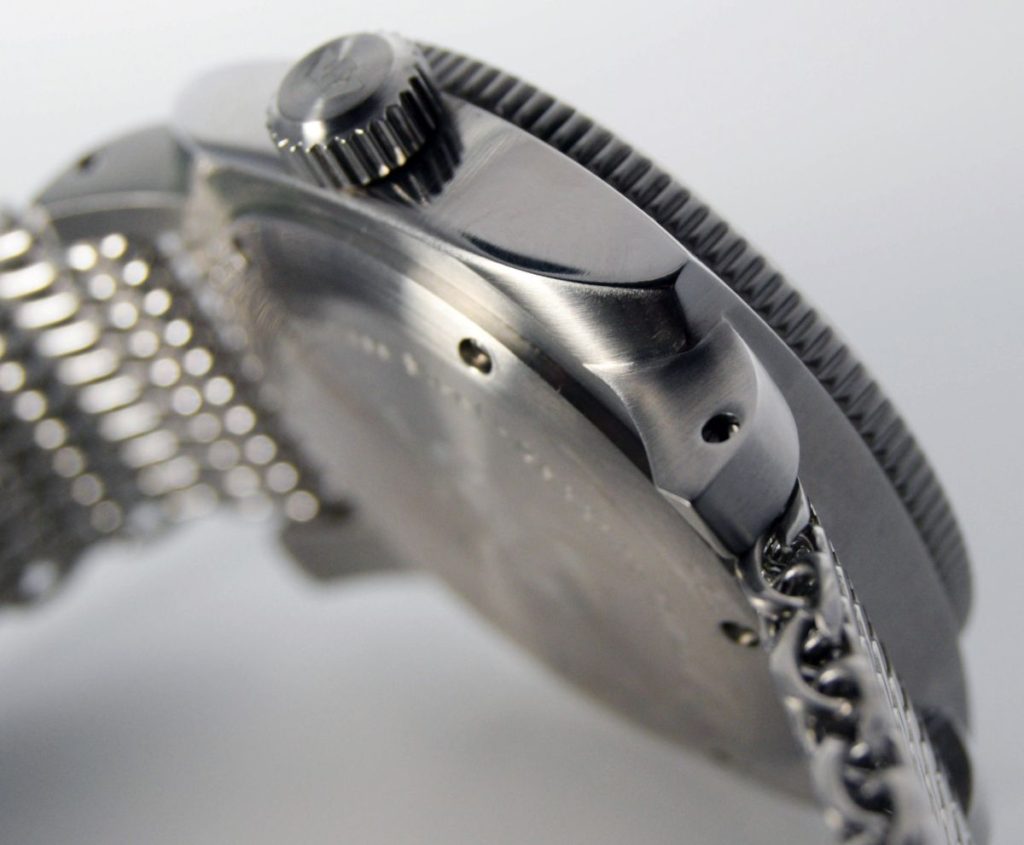 The strap is better than some I've received with MB watches costing much more. The travel case is the equal of some and better than others. The finishing is good, the little touches (like the screwed lugs) are a nice surprise and as a whole, this would be a decent watch at triple the price.
And this is a bad thing for Microbrand watches.
Mr Tze I believe is based in Taiwan, near the heart of the watch making world. He doesn't have to pay for high cost shipping from the factory so he can QC them. He doesn't then have to pay import duties.
Mr Tze doesn't have massive marketing budgets. He doesn't seem to have a website to upkeep. He doesn't need to make the profit that someone doing this for a living does, especially if they want to establish a brand and make it sustainable. That needs bigger profits.
It's troubling as watches like this will kill new MB brands. That's because of the way that social media is dominating marketing for young brands. The established brands have their name and their fans. New brands, they're going to get beaten over the head on price because watches like this exist. "What! $500 for that! I can get an Independent Watch with similar specs and the same movement for $175 shipped! You're having a laugh"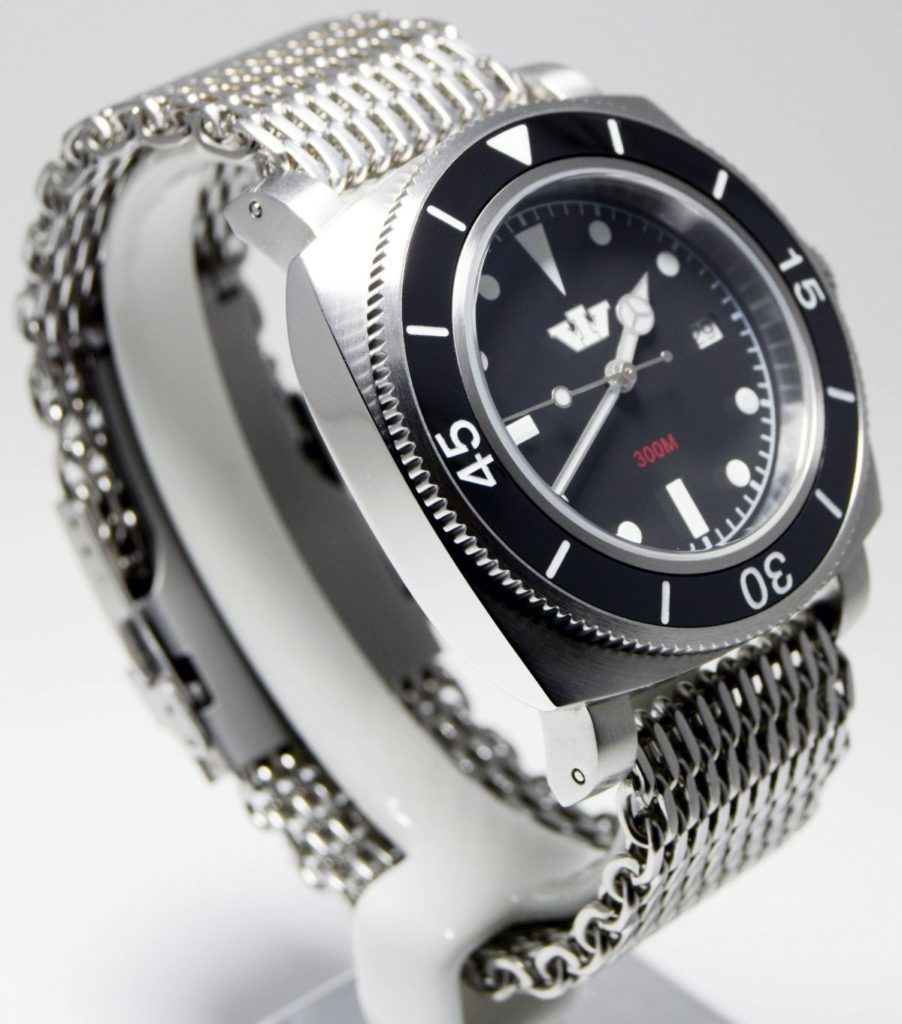 Only a few may say this in public, but hundreds may read it and drawn their own conclusions, and this has an impact.
And that's why I'm not urging you to buy this watch. I know some of you may be saying "Oh, he's only fighting on the side of his MB buddies, as his brand failed, besides, these are one offs"
The fact that Mr Tze has had boxes and warranty cards made, makes me think these "fun" projects may expand and become more numerous…
No offence Chuck, I really like this watch. I'm keeping this watch and not flipping it like I thought I would. This is a well made, good looking watch, in my opinion, and is fantastic value.
It's a shame though that it represents another stick for the trolls to bash, already struggling, Microbrands on the head with…