Who doesn't love a good travel accessory for their beloved watches? Especially when they're hand made with genuine leather?
You can go disgustingly expensive (some leather accessories can cost £500), or you can have a dig around and find some great smaller brands creating lovely hand made products at very reasonable prices.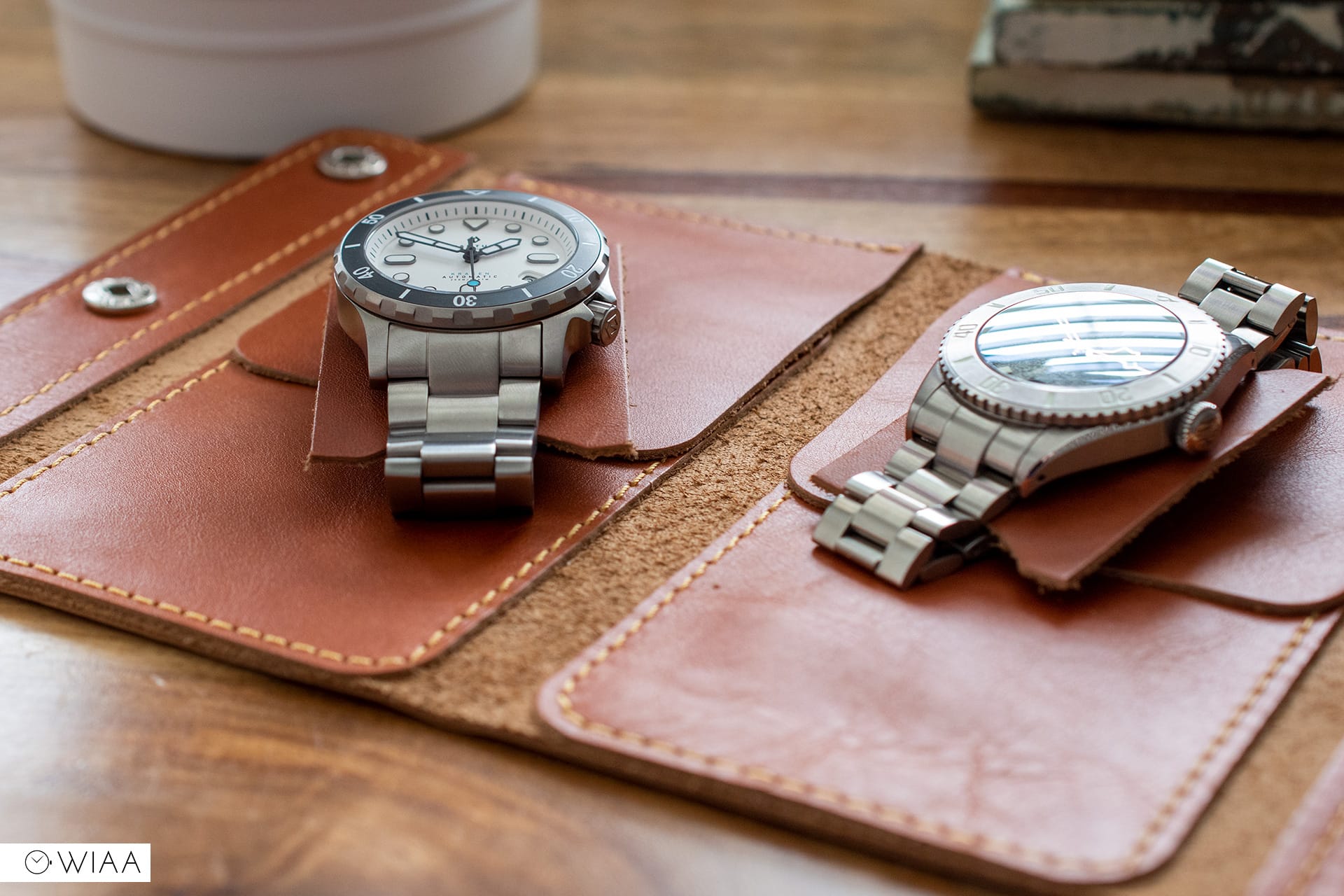 Harry's Watch Accessories are quite new to the scene, but what immediately struck me whilst browsing their store was the variety of products, with interesting and unique designs, as well as the reasonable price.
This Buttoned Leather Watch Case will cost you £34.99; so is it worth it?
The video review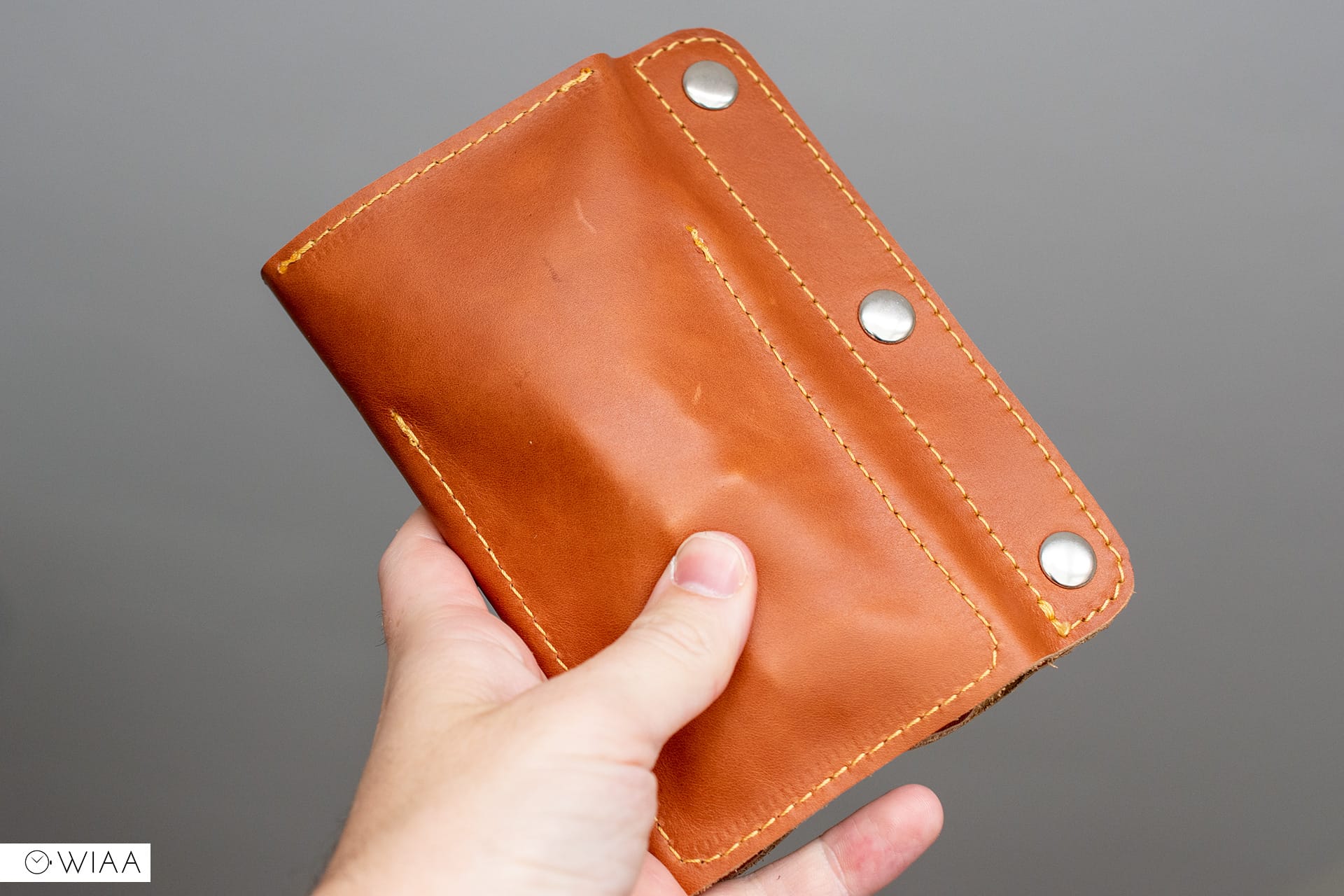 Before we get into the product itself, there's something I need to get off my chest. Everything about Harry's Watch Accessories seems unequivocally British. Therefore, once I made my purchase I was expecting to receive the product in a few days, maybe a week. However, a number of weeks of passed before I enquired, which I was informed it was still in transit. I wasn't the only one, a couple of guys on Instagram messaged me saying they were in the same situation.
I ordered it on 19th May, it was shipped on 21st May, and I received it on 8th June.
It turns out that they are being shipped from Minsk, Belarus. I know the pandemic has crippled international delivery, so it's a shame for them. However, I feel I should have been informed – I don't care if the products are dropshipped, or made by hand by someone internationally and sent directly to me – but it would be good to have that expectation of delivery time. As I said, I was under the impression it was all UK based, so this was a little confusing. My recommendation would be for them to get a batch made and sent over to the UK so they can post from here, thus avoiding this issue. Also, I think it would be good to let their clients know that it'll be sent internationally.
Does my experience mean I won't buy from them again? No, it does not; nor do I think it should put you off either. Just expect a longish wait.
Anyway, now that's out of the way – let's talk about the product.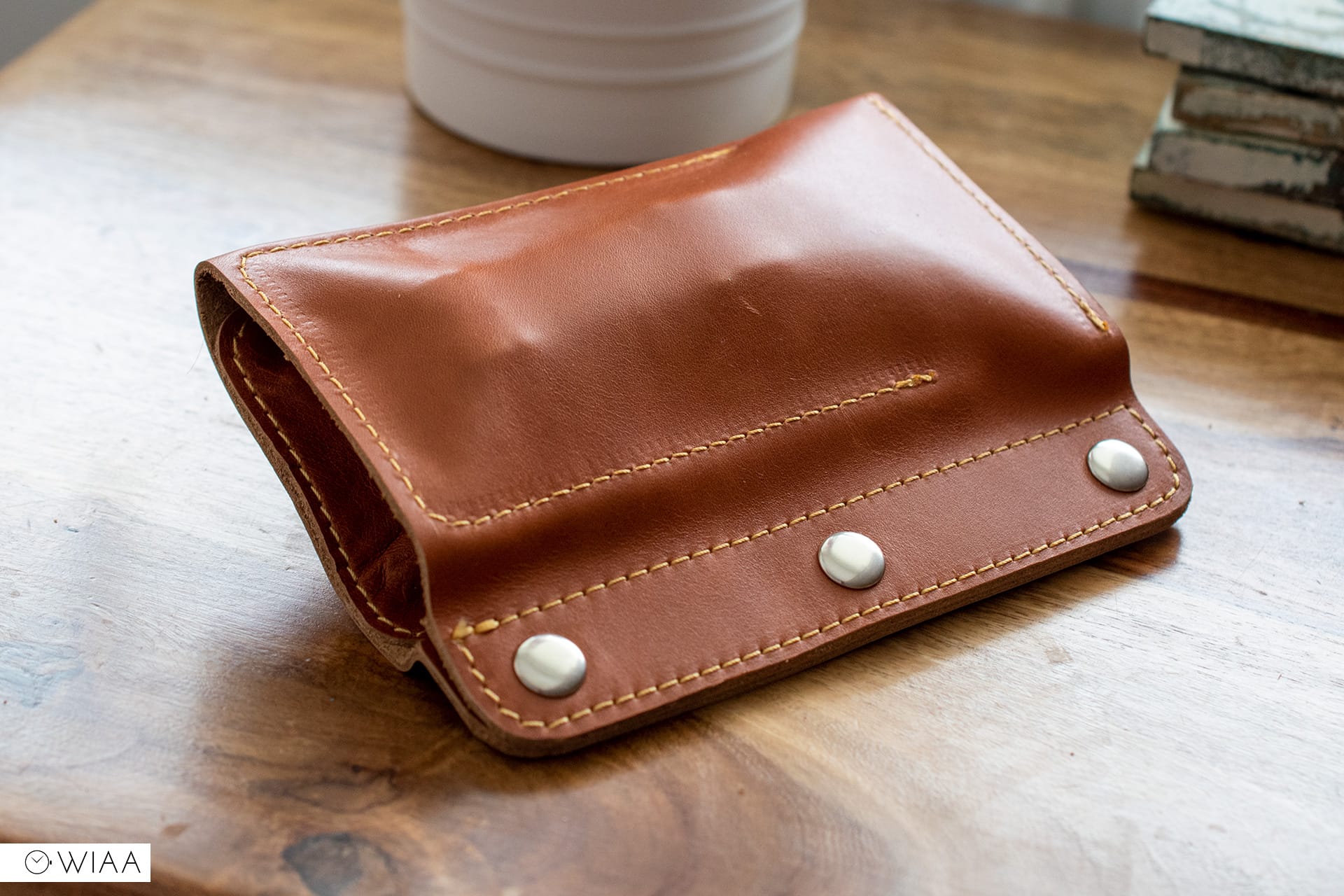 Overall, I feel it's a well made, cleverly designed product at a very reasonable price. I'm a little bit bored of the regular watch rolls you see everywhere, so a bit of clever outside-the-box thinking for this case is more than welcome.
The leather is thick, supple and smells great – it's clearly good quality stuff. The grain on the underside is lovely and soft. It's all very neatly cut and stitched, bar a couple of slightly messy end stitches (but only on the inside); but this reminds you that these are hand made to order, so I'm not expecting perfection.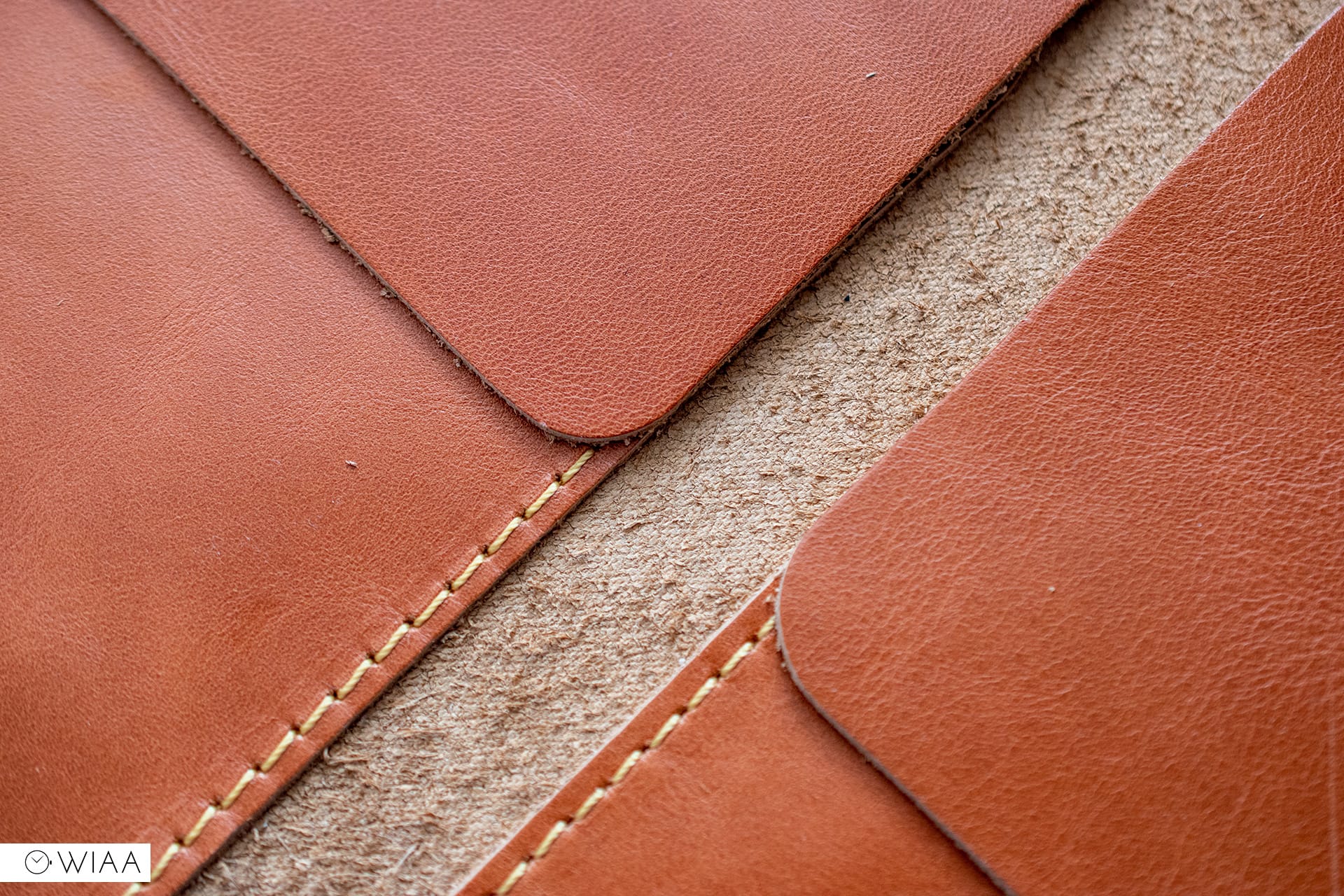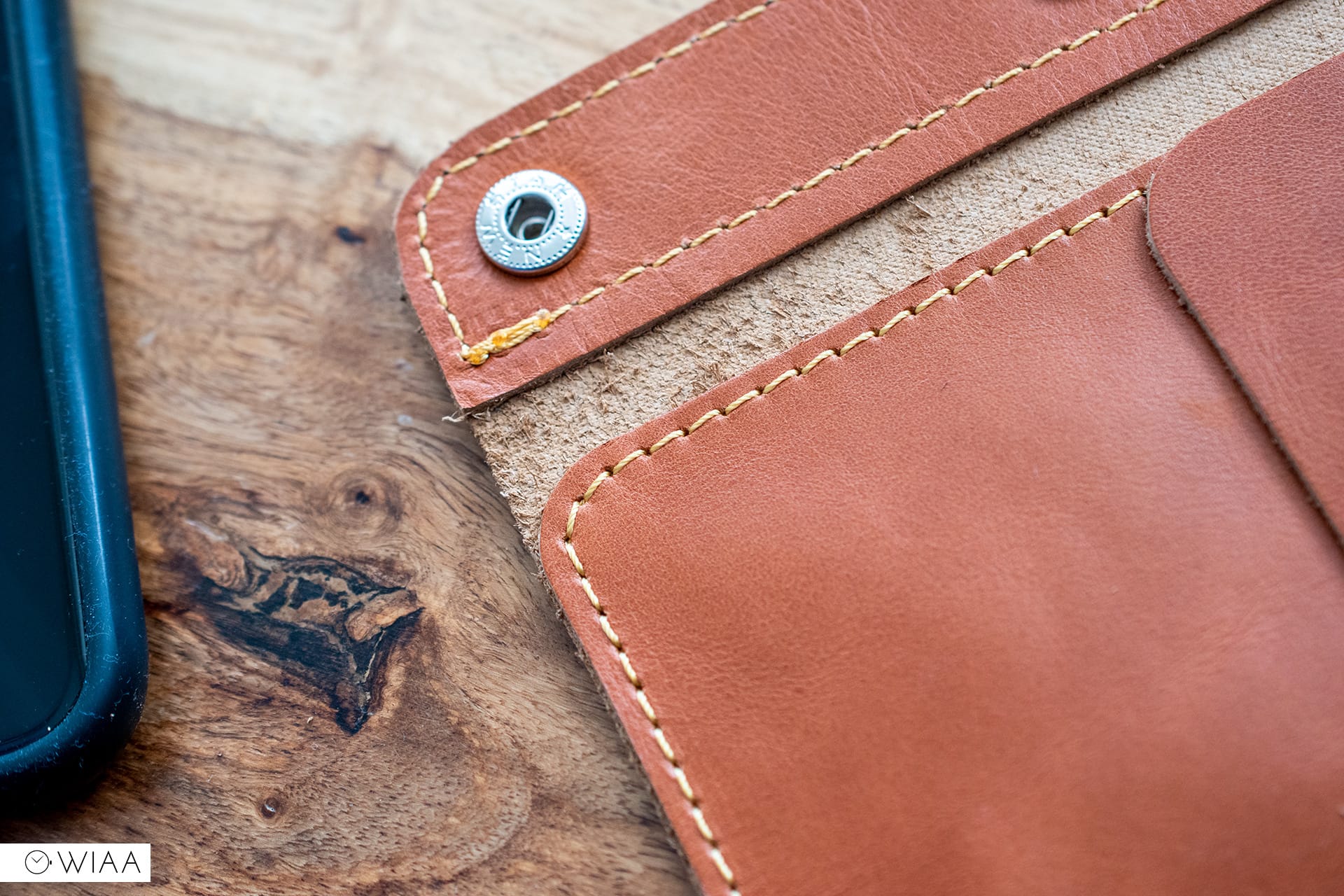 The pouches themselves comfortably house watches up to 42mm in diameter, which should cater to the majority of clients. Anything bigger and it will be a bit tight. Of course, as it's leather, it'll likely stretch in time so that could change moving forward.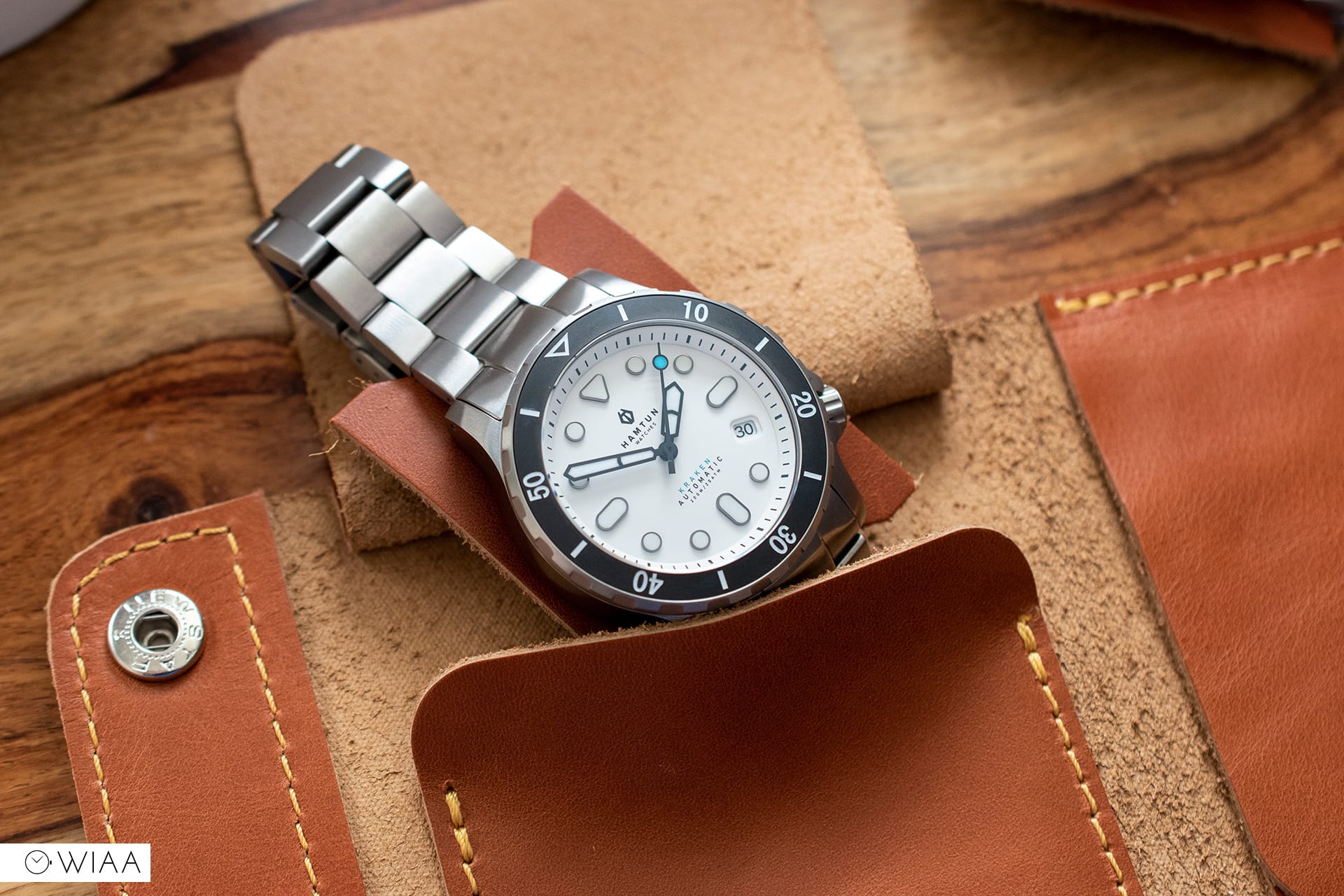 I like the inclusion of the caseback protectors, which would be used specifically for watches with bracelets – you slip this behind the caseback so the bracelet doesn't scratch it up when flattened against it and slipped into the pouch.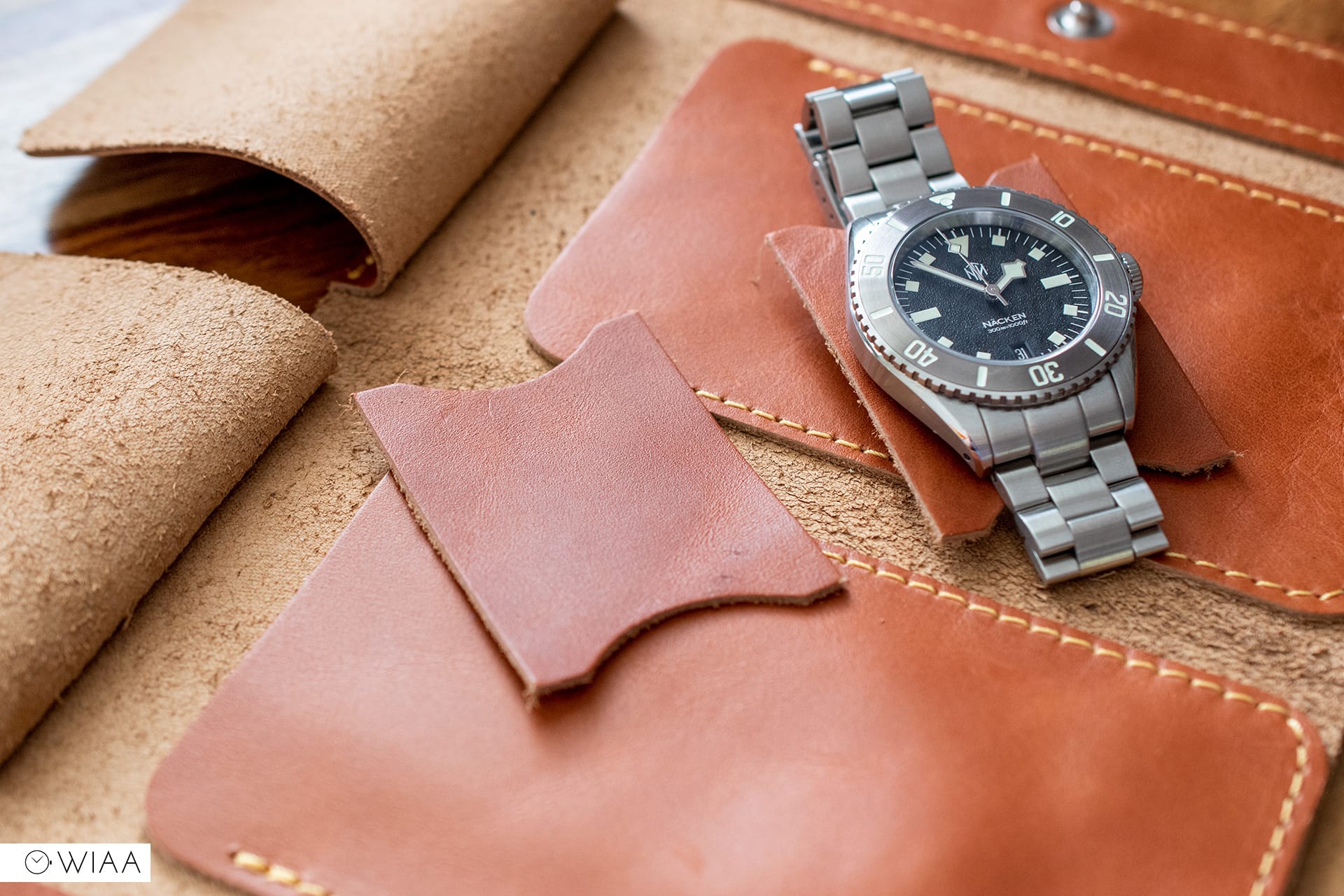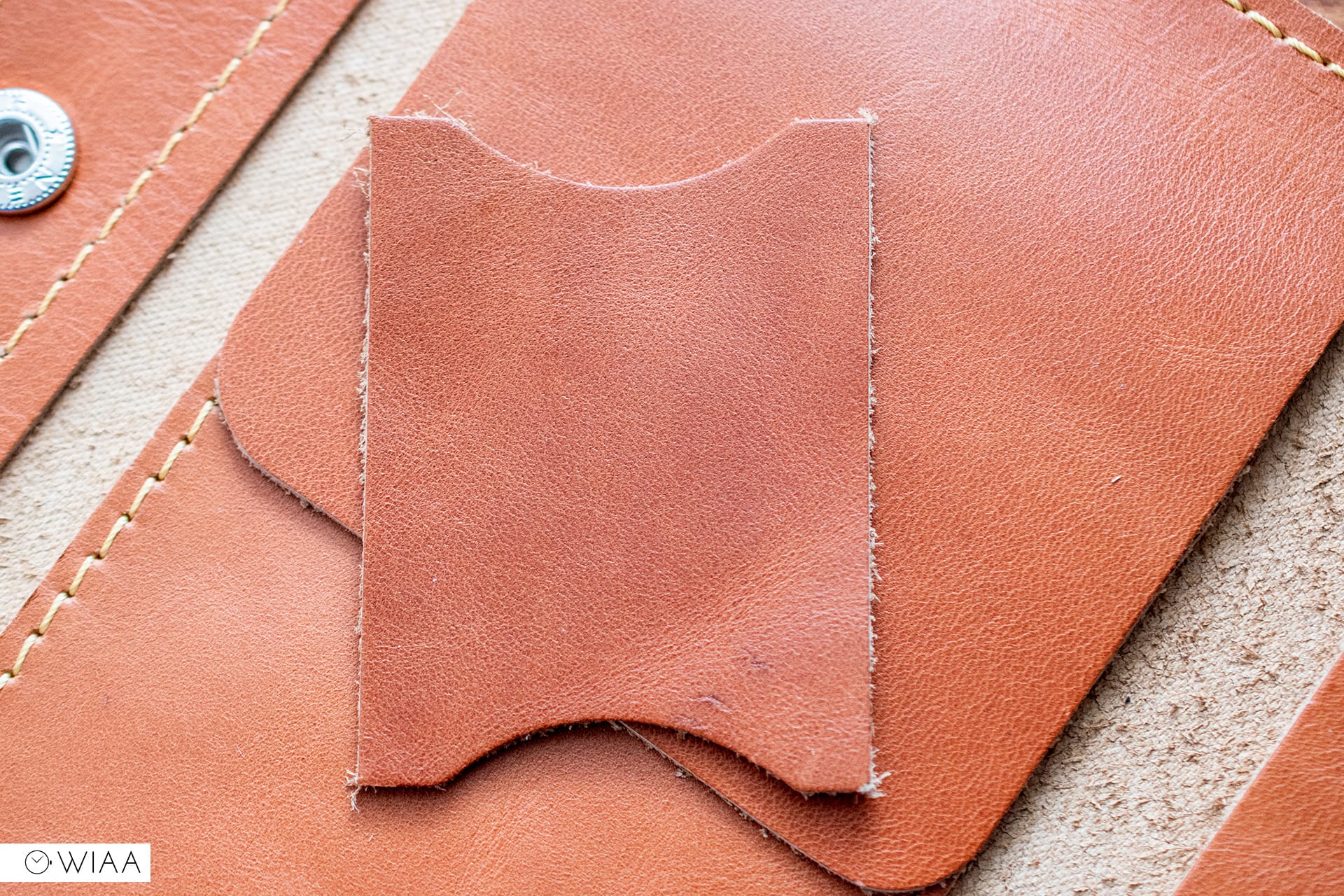 When loaded with watches and closed, the whole package is rather neat and tidy. The three pushbuttons down the side are easy to use, solid and reassuringly secure. Personally, I feel this is a much better and intuitive way of closing it, rather than a length of leather which wraps around a couple of times as per a regular watch pouch.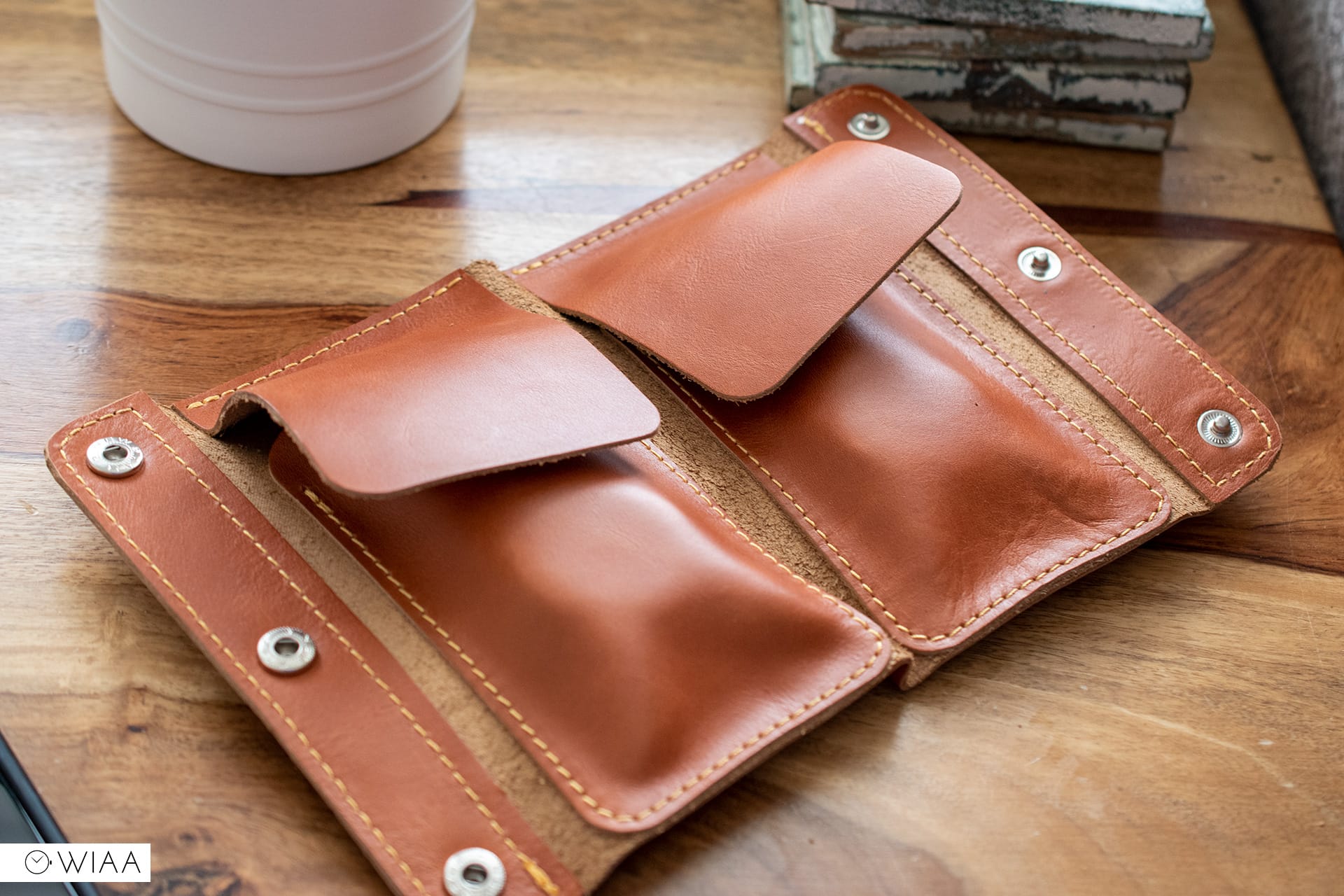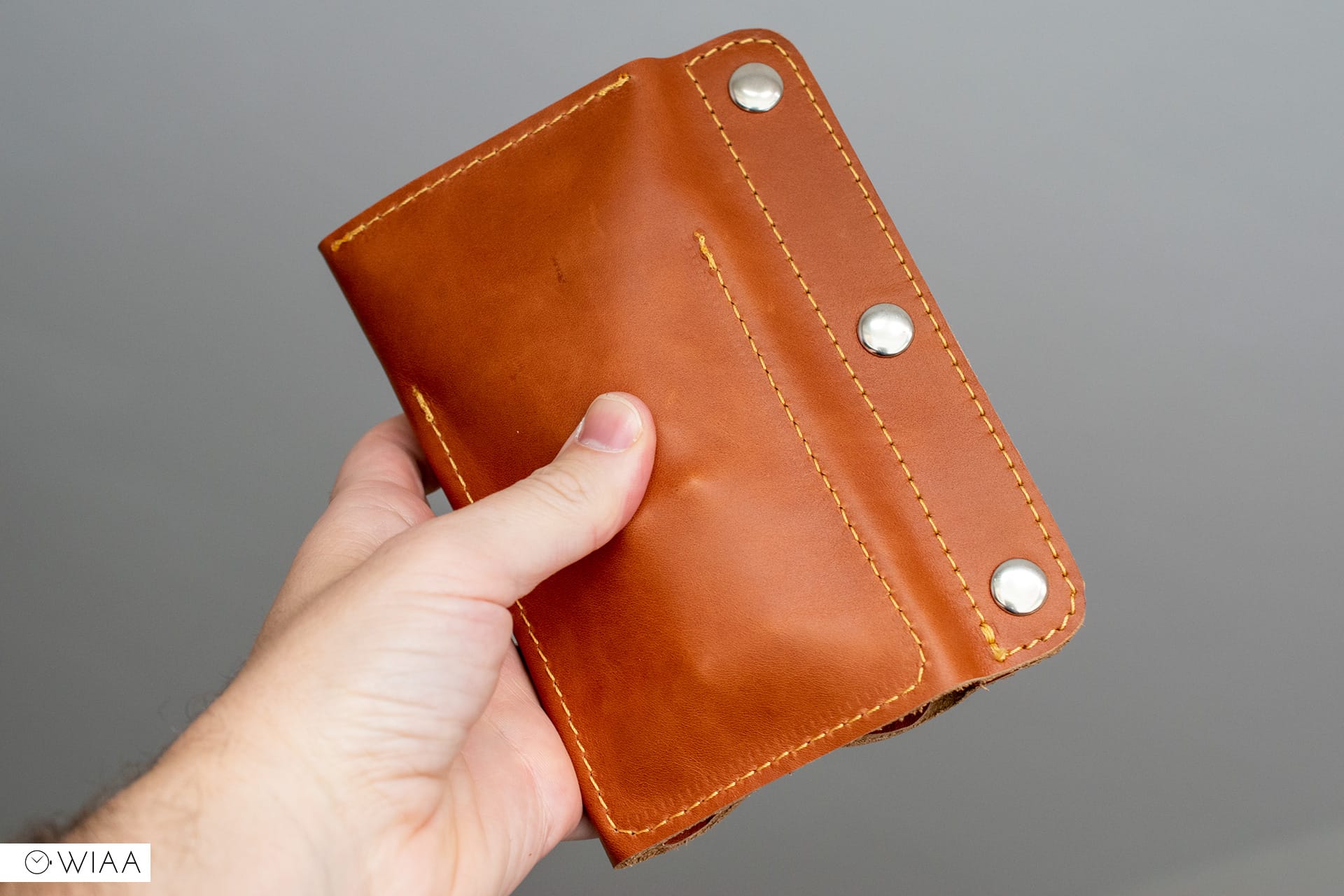 All in all, am I satisfied with my purchase? Most definitely. Yes, it did take 3 weeks for delivery, but I'm sure that's only due to the pandemic currently. I would have preferred to have known that it was being shipped from overseas, just to manage my expectations. It's not a problem at all that it is, but if someone is after a gift for instance and needs quick delivery times then it could be an issue.
However, it's a clever alternative to other travel accessories. Ingenious yet simple design, good quality leather, decent craftsmanship, and an affordable price makes this a solid option for anyone.