For some strange reason, I don't currently own a chronograph. Despite the vast quantity of great pieces out there, none of them have really grabbed me. That is, until now.
Last year I attended the WatchIt! Watch Fair, and this was my introduction to a small UK microbrand called Vapaus. It was founded by brothers Oliver and Rudi, and their pieces are built around the idea of updating vintage designs with a modern 21st century look.
The Vorcut is their second model, and I must admit I was absolutely smitten with the panda variants, from the moment I clapped eyes on them. So it was only ever a matter of time before I asked Vapaus to loan me some for review.
I think the watch's aesthetics are pretty striking, and on top of that for £295, I think it's a pretty solid value proposition too.
But I guess we should get on with the review before I get ahead of myself.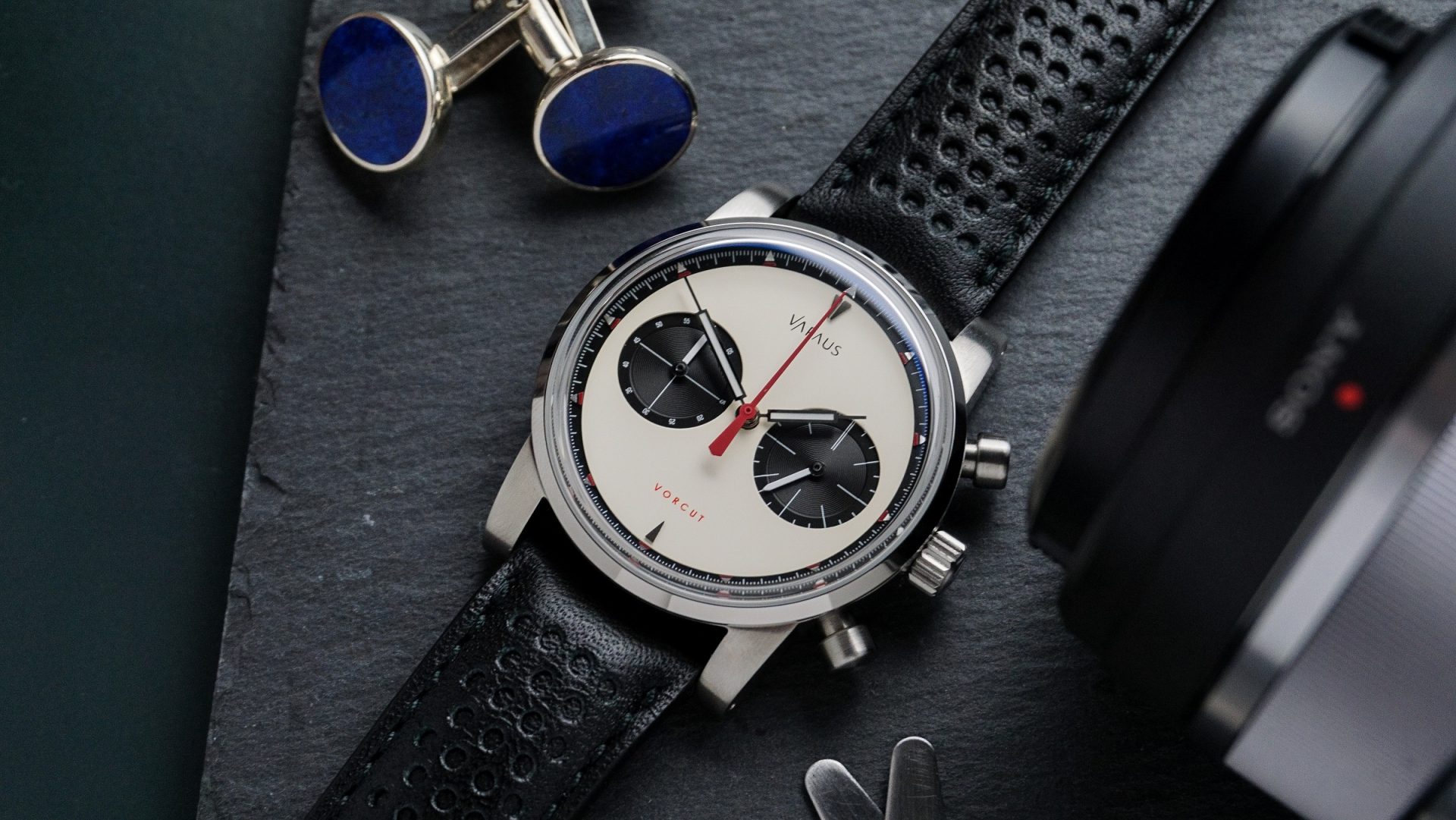 THE CASE
The steel case of the Vapaus Vorcut comes in at a very svelte 38mm. In an age where most chronographs are still 40mm or more, it's nice to find one that's on the smaller side. At 9.55mm it's also pretty thin. The case itself is nice and simple, with beefy lugs that help give the watch a bit of presence on the wrist. The Vorcut features an all brushed finish with the exception of a polished bezel. This modest case keeps the eye drawn to the dial, which is what I think you really want with a chronograph.
The crown and pushers are also fairly plain, but they feel well made, and the pushers operate with a satisfying click that lets you know that you've definitely activated the chronograph.
If you flip the watch over you'll see a very simple snap on caseback. It's dominated by an unusual line drawing that's a reimagining of the famous Rorschach inkblots. These new drawings are actually part of an upcoming musical project of Rudi's, and relate to different compositions.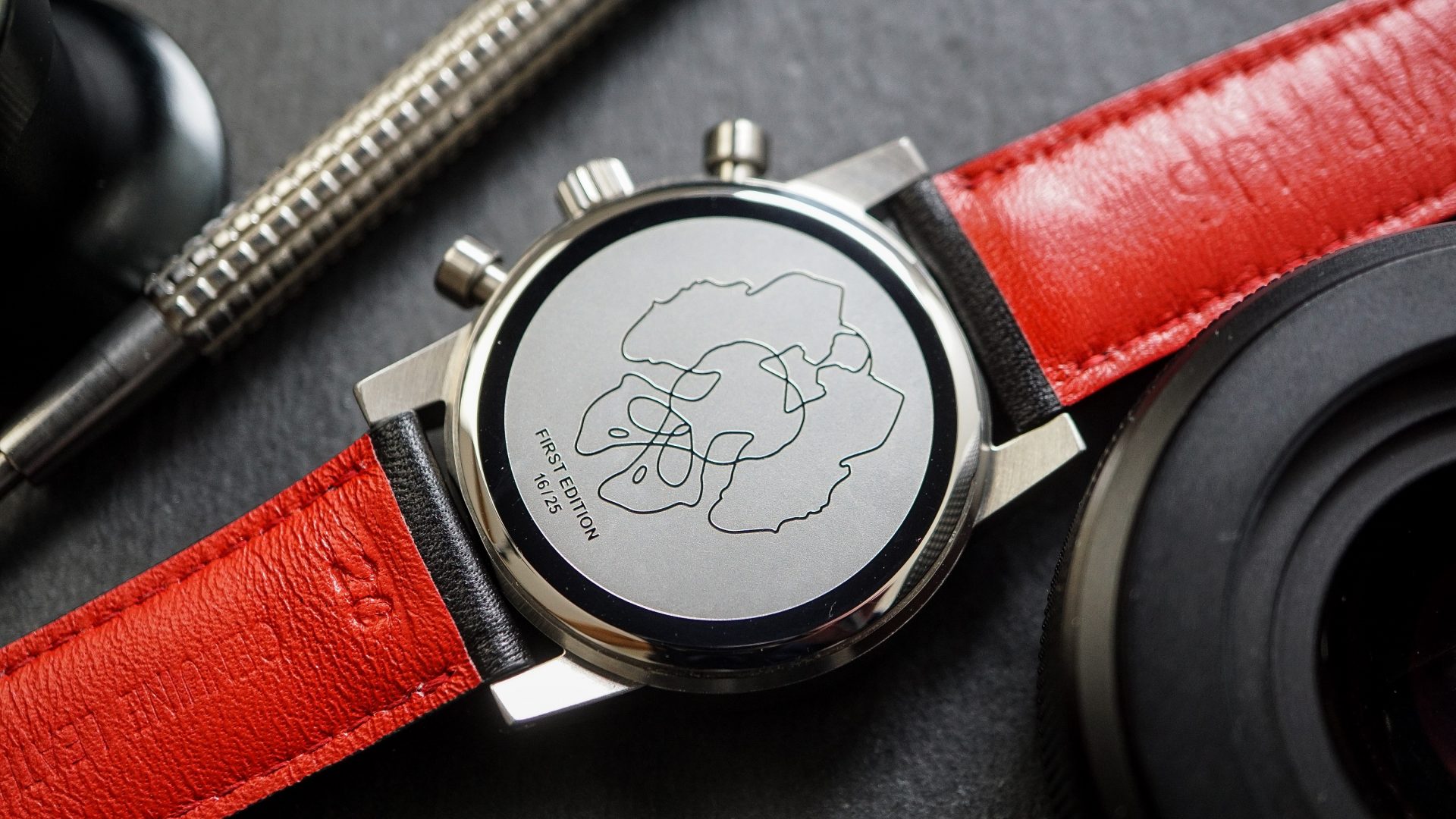 Somewhat disappointingly Vapaus don't actually give a water resistance rating for the Vorcut. Rudi tells me that it's actually 30m (aka "splash proof"). Yes, more water resistance would be nice, but this is not a watch that's meant for you to take swimming in the first place. Therefore I wouldn't say that it's a deal breaker.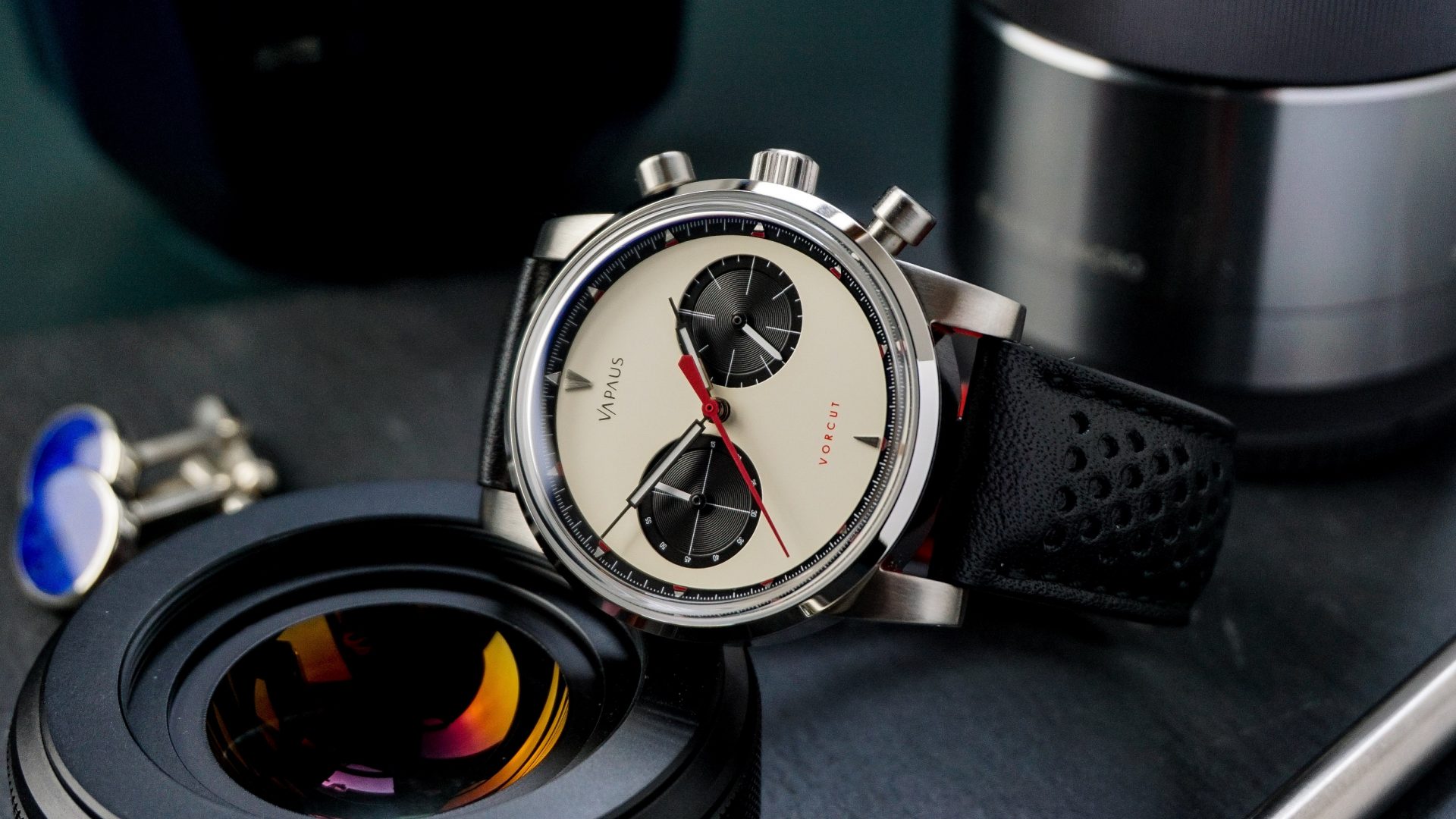 THE CRYSTAL
As a throwback to vintage chronographs Vapaus have gone with a box sapphire crystal that mimics an old fashioned domed acrylic crystal. I'm a big fan of these, and it's nice to find one on a watch that's under £300. As most of you probably know, sapphire is the hardest and most scratch resistant material used for watch crystals. The fact Vapaus bothered to use it indicates to me that they do actually care about the quality of their product, and aren't looking to be another company churning out generic vintage-styled fashion watches.
THE DIAL
Personally, I think that the dial is simply stunning. The slightly off-white used exudes a nice retro touch on a design that is otherwise distinctly modern. The overall look is exceptionally clean and minimal, but once you look closer you'll see there's a wealth of small details on the dial. The applied triangular hour markers situated on the minute track all have subtle deep red bases, and the main dial itself is raised above the minute track. Combined with the sunken sub-dials, this creates a really great sense of depth.
Speaking of the sub-dials, they've some beautiful texture of concentric circles that provide yet another neat little bit of detailing. One tracks the elapsed time on the chronograph, the other is a 24 hour indicator. I'd have preferred a running seconds hand, but the choice is put of Vapaus' hands as the movement, which we'll get on to in a bit, doesn't have that option unless you go for a third sub-dial.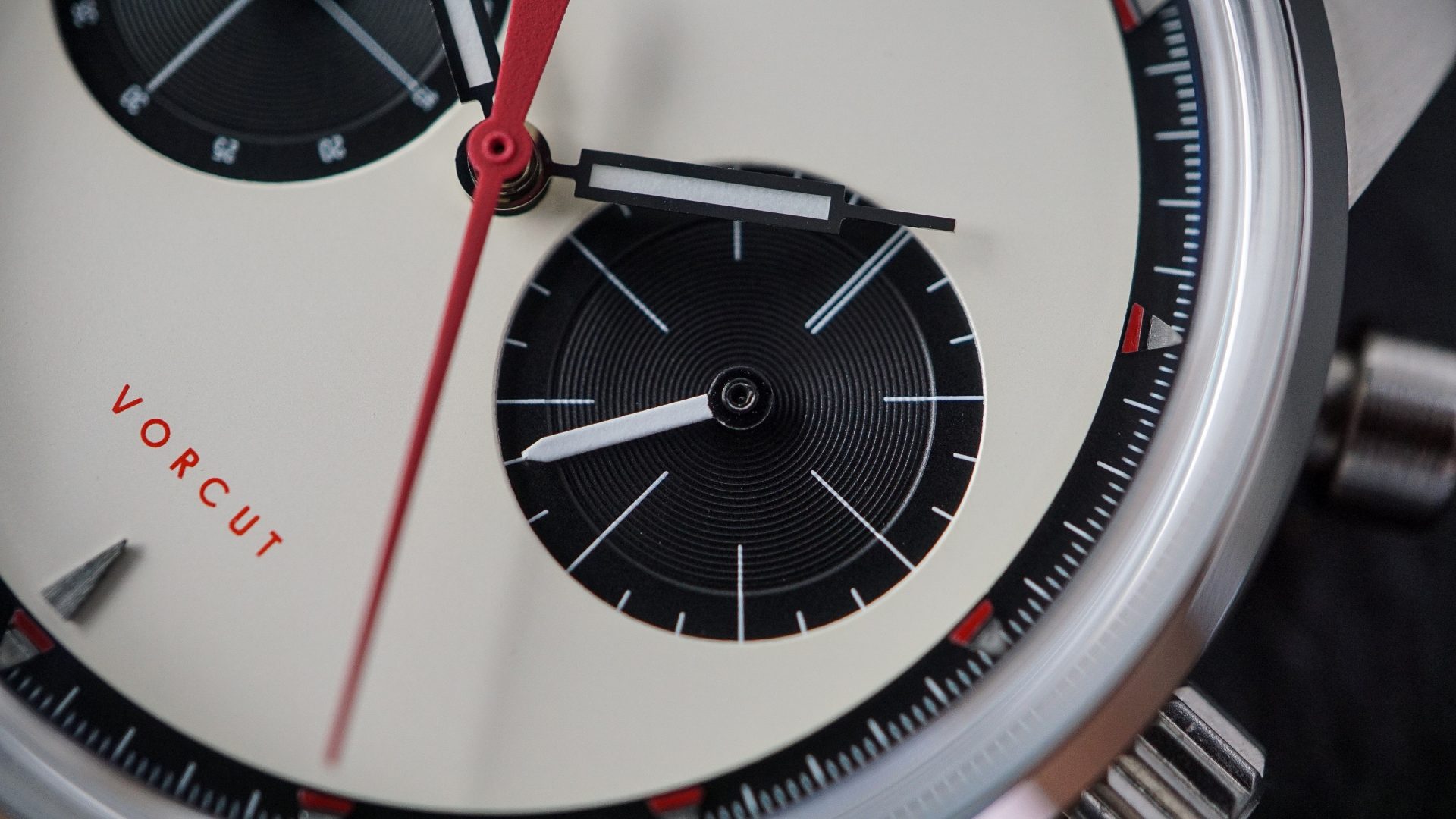 The angular syringe hands look quite modern thanks to their sharp angles and the deep red of the chronograph hand adds a subtle touch of colour that really draws the eye. The hour and minute hands are lumed too, and whilst they aren't the brightest, they're more legible in the dark than I thought they'd be.
As I said earlier, I really do like the dial of the Vapaus Vorcut. Though I've got to admit that I did notice a small blemish on the reverse panda's dial. Besides that near imperceptible flaw, everything else on the dial looks to be very well executed.
THE MOVEMENT
There's a Seiko VK64 meca-quartz movement powering the Vorcut. The zero-jewel movement offers the accuracy of a standard quartz movement, but mimics the smooth chronograph hand sweep and instant reset of a mechanical movement.
I know that there are some people who'd prefer it if Vapaus had gone with a mechanical movement. However, in this price range the only option is the Chinese Seagull ST19. It's been used by many microbrands over the years, but they have been known to have quality control issues. They're also inherently more expensive to service. At the end of the day, I completely get the appeal of a mechanical movement, I really do. But a meca-quartz movement is a more accurate, reliable choice, and it's the one I myself prefer.

THE STRAP
The Vapaus Vorcut comes on a 20mm racing strap made from French calfskin leather. I wouldn't say it's anything special. It's exactly the sort of budget strap you'd expect from a watch in this price range. However, it is pretty supple and it's very comfortable on the wrist. Furthermore the lugs are drilled, which is always nice to see. That means that if you want to try out a new strap, it's very easy to change out the standard one for something different. Overall though the stock strap is perfectly good for such and affordable piece, and is easily on par with other straps on watches in this price range.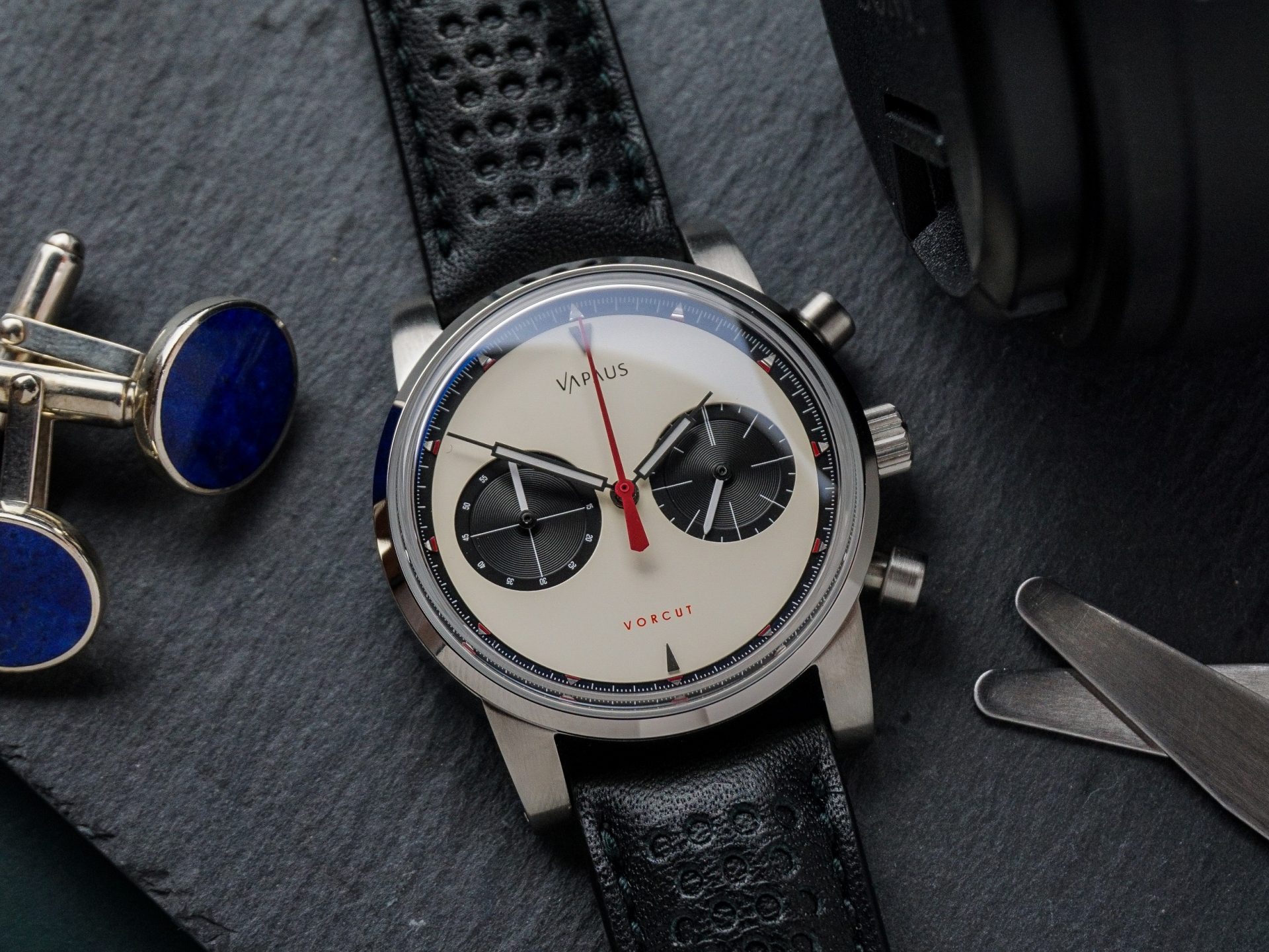 FINAL THOUGHTS
To sum up, I think that the Vorcut is one of the best designed microbrand watches I've seen. For me, it strikes the perfect balance between modern and vintage aesthetics. The case size, that beautiful domed crystal, and the simple colour pallet, are all clear nods to the chronographs of the 1960's. But in the Vorcut's execution Vapaus have given the watch a load of tiny details that bring this watch up to date. The end result is a watch that's reminiscent of the past, but which has a strikingly crisp, minimal look.
Of course, that's just the aesthetics, and it's all just my opinion. But I do think that the quality is there too. The fit and finish for a watch that's £295 is very good, with only that one small dial flaw that I can see. Besides that and the poor lume, there aren't really any other negatives. Overall the whole watch feels very solid.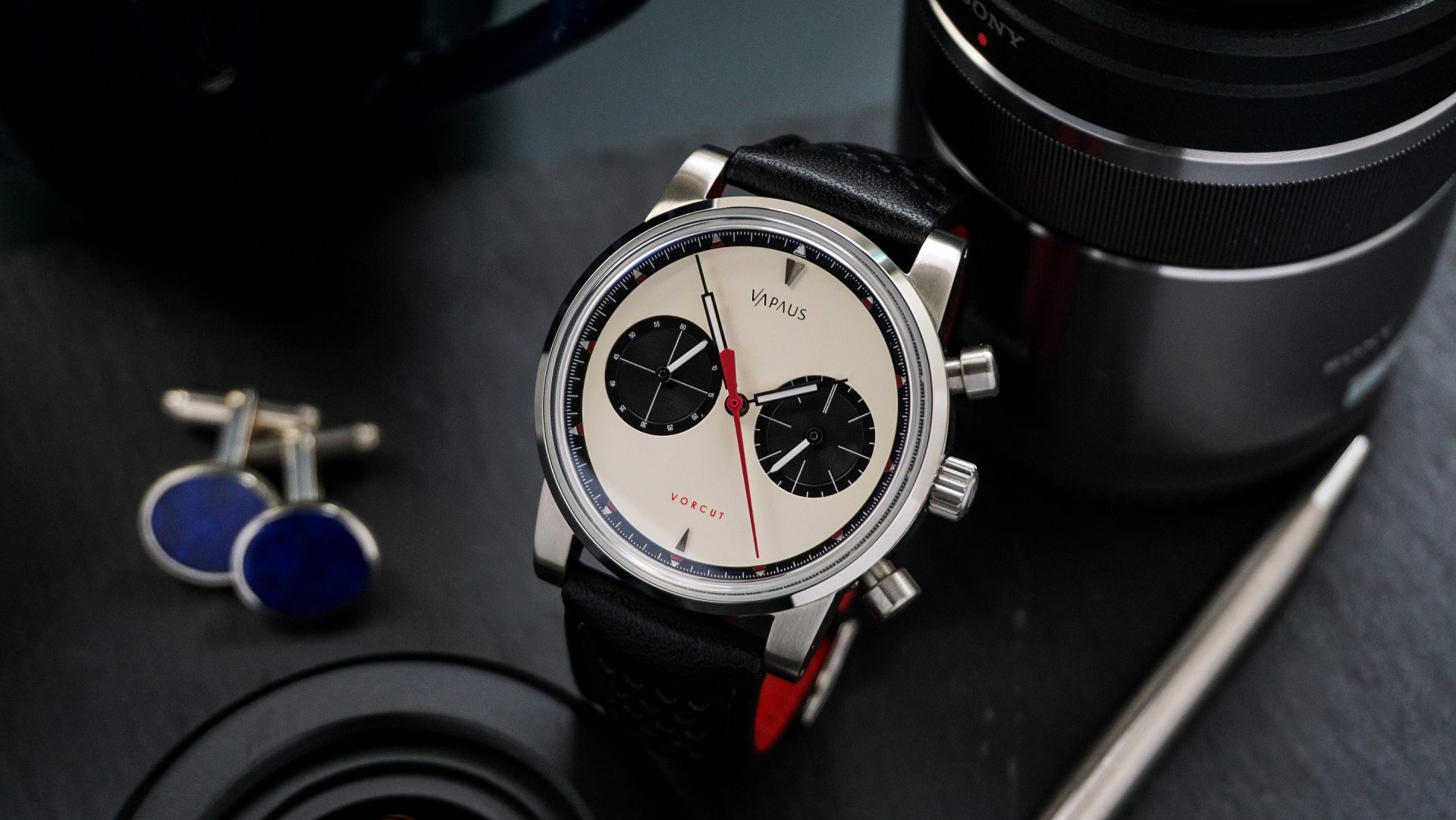 I know that there are going to be people who will decry the Vorcut for using a quartz rather than a mechanical movement. But, if you gave me the choice between a complex Chinese mechanical movement, and a functionally identical meca-quartz one, I'm going to choose the quartz every time. It just makes practical sense in a watch at this price point.
Now I am aware that I'm placing a good deal of value on the design of the Vorcut. And whilst that's subjective, I don't think you can deny it adds something to the value of the watch.
If you're after an affordable chronograph with a fresh look, I'd say you couldn't do any better than the Vapaus Vorcut.
And if you agree, you can purchase the watch from their website here.