As I (and pretty much every other watch site) have said countless times before, the vintage watch market is going from strength to strength and reaching dizzying heights. Just check out Hodinkee's report of a 1958 Tudor Submariner that sold the other week.
One trend in the vintage market is the pursuit of "tropical" dialled pieces. These are watches whose dial paint has deteriorated over the decades, turning what was ones black into varying shades of brown and yellow. The effects of this patina can be visually striking, and of course the appeal lies in the fact that each watch is unique, meaning particularly beautiful samples can fetch significantly higher prices. Of course it's also worth noting that a patinated dial isn't always worth more. (No Mister Dealer, your generic skindiver is NOT worth ten times the market value because its dial has rotted into an indistinguishable mass of green-grey with barely legible markers.)
Hong Kong based Undone Watches specialise in affordable customised watches and have capitalised on this trend by giving people the opportunity to buy a "tropicalized" watch at an affordable price. Enter the Urban Tropical chronograph.
It's a watch with a fairly standard racing chronograph layout, but what's unique about Undone's Urban Tropical is that they let you mix and match from a choice of colours for each part to build your own unique watch. To give you a flavour of the amount of options you have you get:
4 colours of case: steel, black, and yellow or rose gold.
Either a tachymeter or stepped bezel in the same 4 colours.
3 shades of tropical dial.
A couple of dozen straps of various colours and designs.
Solid or glass case back.
Custom dial engraving (£15 extra)
Case back engraving/photo printing (£15 extra)
Intrigued by their offerings, I emailed Undone, asking if I could borrow a watch to review, and they very kindly let me build and customise my own to keep! As you can see, I opted for the Tropical Caribbean model on a dark brown rally strap, and used Undone's personalisation service to add the blog's initials to the dial and engrave the logo on the case back.
The watch arrived packed in a very smart grey box, that exudes a classic feel whilst remaining contemporary. It also makes the watch feel more expensive than it is, which is always a nice feeling to have when unboxing.
THE CASE
The basic shape of the steel case is fairly standard, but Undone have capitalised on its clean crisp lines by adding a slightly raised brushed centre section that contrasts wonderfully with the polish of the rest of the case. This breaks up the case profile nicely, and at this price point the finishing is great. Thanks to the overhanging bezel the case wears larger than you'd think at 41.8mm. Despite my skinny wrists I think it wears well, though I wouldn't want it any bigger to be honest. At 13.5mm thick the watch isn't too tall either, something that is often an issue with modern automatic chronographs (the urban tropical is quartz by the way).
The steel bezel has a tachymeter scale crisply engraved and filled with black paint. Despite the small font it's nice and easy to read, should you ever need to calculate an objects speed, though let's be honest, the number of us who'll ever use it are very small! With a brushed top and sides the bezel also has a chamfered edge, which also complements the case polished edges to help catch the light.
THE DIAL
The dial comes in three different shades: Sahara (light brown), Caribbean (dark brown) and Amazon (black). I chose the Caribbean as I didn't want anything too over the top, having never had a tropical dialled watch before. I must admit that the artificial aging looks great in the flesh. Some parts of the mottled pattern are matte, others shiny, so the light plays across the surface in some very interesting ways. The dial layout is pretty standard, with the two sub-dials at 3 & 9, one recording the minutes for the chronograph, the other a 24 hour dial. The printing of these is nice and crisp, and I'm a big fan of the chunky rectangular creamy hour markers, which look oh-so-vintage with the complementing minute track.
The hands are simple sticks, but their white colour helps them pop out nicely against the dial (no legibility issues here!) and the vintage lume on the hands and hour markers adds some warmth that pairs nicely with the mottled chocolate brown of the dial itself. To be honest I'd prefer it if the date wheel was black so as to better match the dial, and if it's border was chamfered to give some detailing, but it's a small complaint – especially on a customisable sub £300 watch.
Somewhat unusually, Undone placed their name at six o'clock in the minute track, rather than on the centre of the dial beneath the 12 o'clock marker. This sterile dial makes the watch look a bit plain for me if I'm honest, but for £15 GBP you can add text of your choice instead, which livens the watch up a treat. It's quite a small charge if you're willing to splash the £260 for the base model and you get a choice of 12 characters in 4 fonts. Most importantly for some, it allows you to truly make your watch your own – something Undone are keen to emphasise with their business strategy.
THE LUME
Whilst the hands and markets are luminous they are not particularly bright, but it's something you should expect from a watch at this price point, especially on a chronograph – where lume is more of a bonus than a necessity.
THE CRYSTAL
For the crystal the Urban Tropical has a nice domed K1 mineral crystal. I'm a big fan of domed crystals for the extra detail they create, and the one used on the Urban Tropical is nice and clear with little noticeable reflection. Now obviously a sapphire crystal would be better, but at under £300 I have no trouble with Undone using a mineral crystal, especially as I'm not that reckless with my watches. Unless you like dragging you watches over bricks or your penknife collection you should be fine!
THE MOVEMENT
The movement is the trusty Seiko VK64 meca-quartz. Basically it's a quartz movement that functions like a mechanical with a sweeping seconds hand that instantly resets with the chronograph. Seiko make quality movements that are built to last, and the fact it feels something like a mechanical piece adds a bit of character to the watch. That said, I'm sure there will be those for whom a mechanical piece will always be king, and that's fair enough. Of course the problem with that is you'll be hard pressed to find a mechanical chronograph anywhere near this budget, unless you go for something with a Chinese Seagull movement, and they've been known to have terrible QC issues. (Good luck getting one serviced too, because I doubt many watchmakers will touch a Chinese movement they can't get parts for.)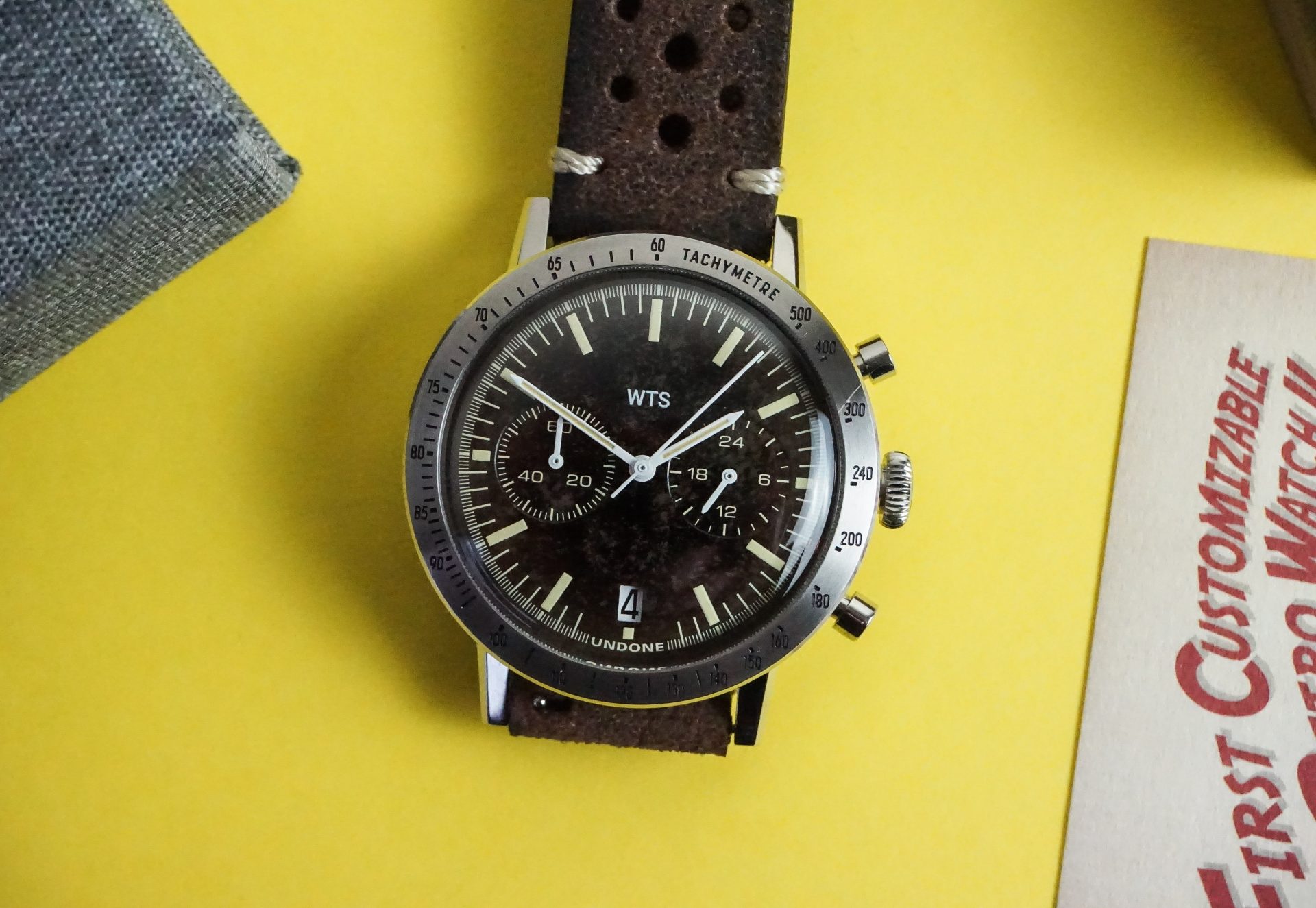 THE WATER RESISTANCE
The Urban Tropical comes with just 30m water resistance, meaning it's basically just splash proof. That isn't something I'd really think of as a negative though, as it's not a watch you should be buying with the intention of swimming in anyway.
THE STRAP
In keeping with its function, I thought it appropriate to put Undone's Urban Tropical on a dark brown leather rally strap. It's got a slightly distressed finish and it's a nice thickness – solid, but not so chunky as to be stiff. In fact it's fairly supple, and most importantly it's super comfy on the wrist, so all in all I'm quite impressed with its quality.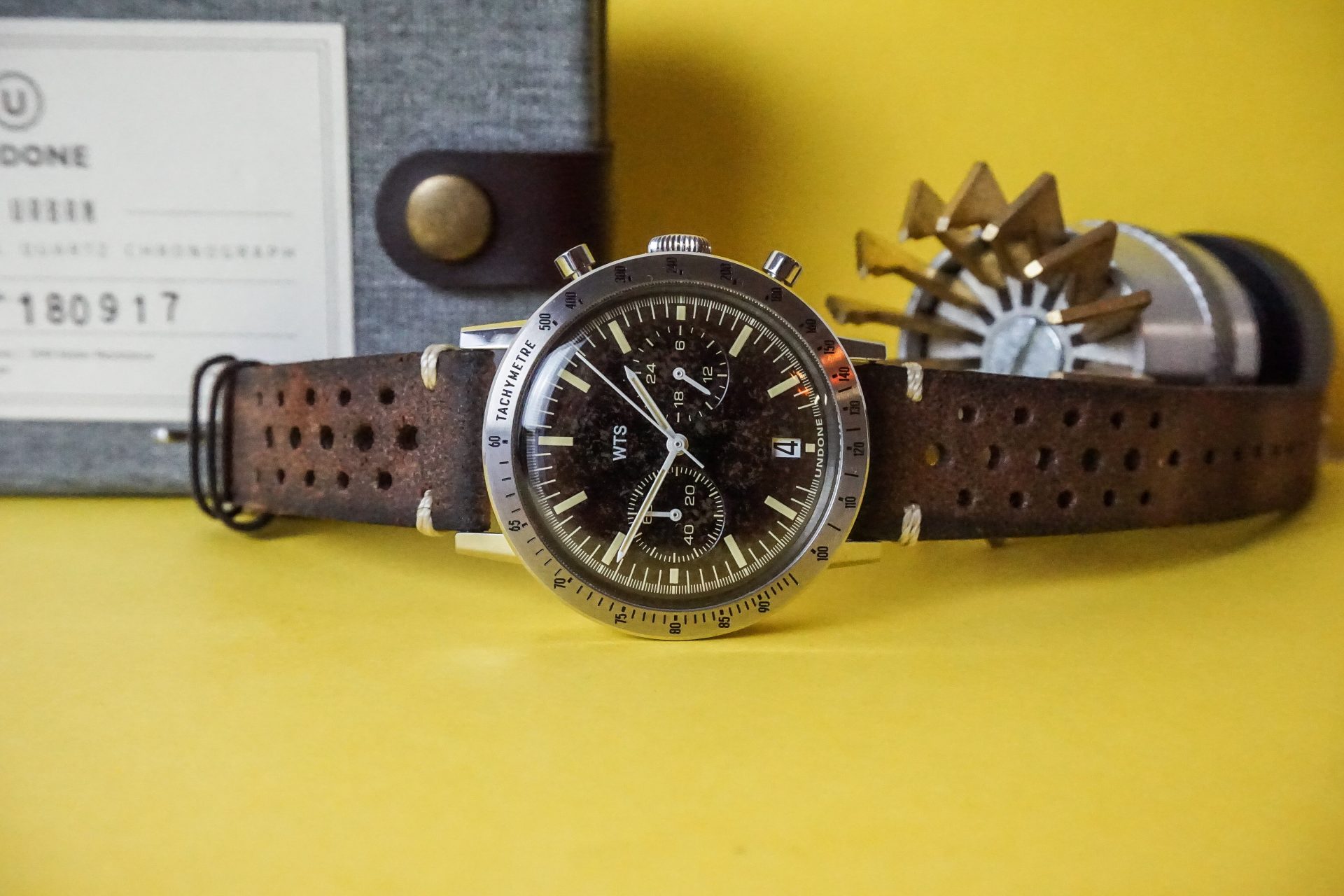 FINAL THOUGHTS
The base model Urban Tropical Chronograph is available from Undone's website for £260 GBP, with free international delivery and a 12 month warranty. That's a pretty good deal for a watch which you can customised to your tastes as much as this. As a value proposition, I think the Urban Tropical takes some beating, and I think it does a great job of blending vintage elements like the dial with a clean and crisp layout. This means you get watch with clear nods to vintage chronographs, but which looks firmly modern. My advice is that if you're after a chronograph with a unique look, a strong build quality that can take some knocks, but which won't break the bank, then this is the watch for you.
If it takes your fancy, you can view more details (and purchase) the Undone Urban Tropical on their website here.