A few months ago I was approached (along with half of Instagram it seems) by Sternglas. They're a young German brand that were founded in 2016. They wanted to send me a free watch to promote on social media a part of a widespread campaign they were running. Their pieces seemed to have some decent features, and be competitively priced, so I agreed to their offer.
Sternglas were not a brand I'd heard of before. But since their launch they've grown to a team of 12 staff, and built a collection of 4 models. Their watches use both quartz and automatic movements, and all are designed in the Bauhaus style.
The Topograph is one of their automatic models, and it caught my eye thanks to its more complex dial design with the sloped rehaut. It's this angled rehaut that gives the Topograph its name- supposedly because of the reminder it presents to the study of topography.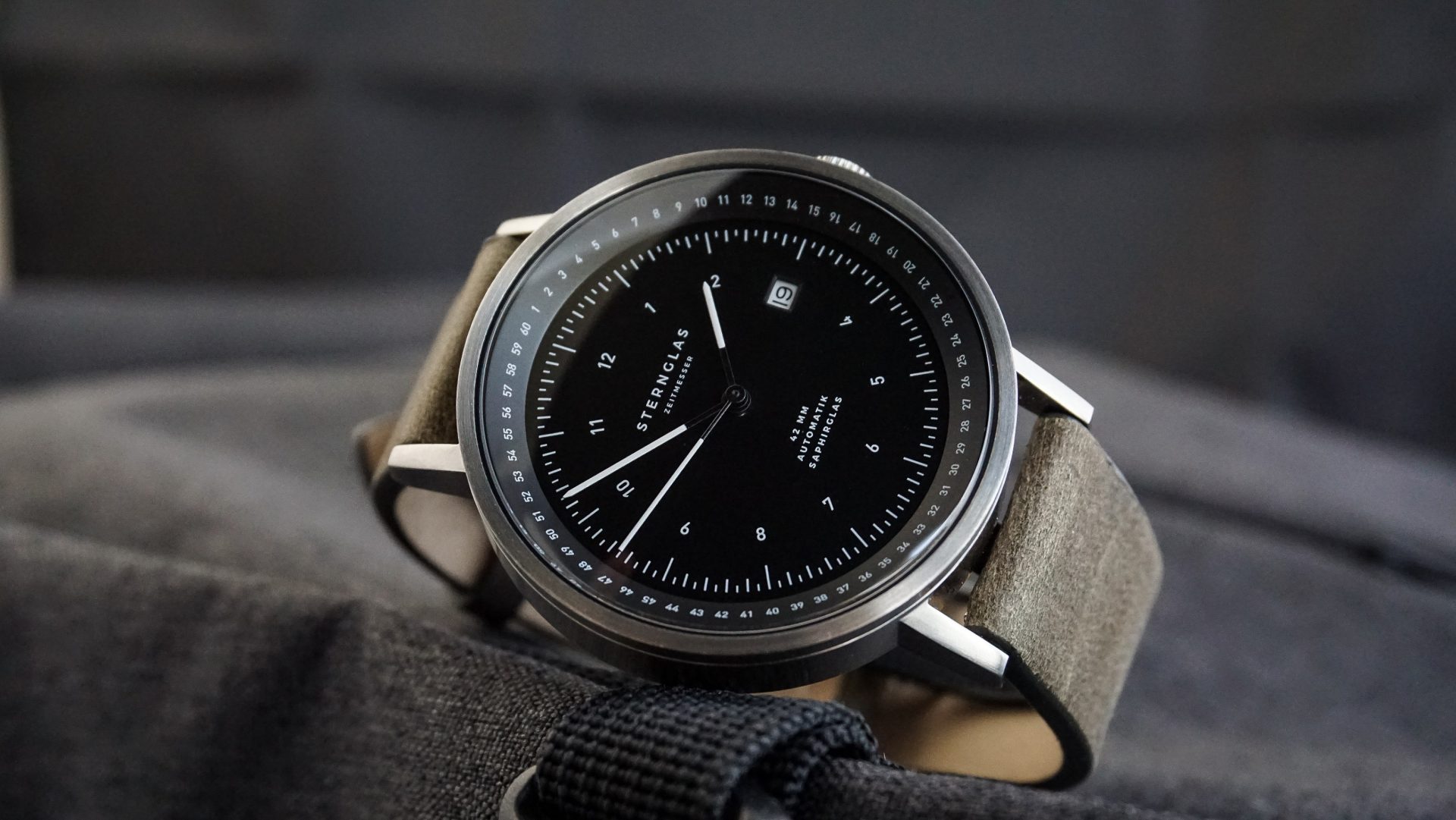 THE CASE
In keeping with the overall minimalist aesthetic of the Topograph, the 42mm steel case is clean and sharp. The design is fairly straightforward, as you'd expect from a Bauhaus themed piece, but the brushed finish is nicely executed.
Thanks to the narrow bezel it wears well on small wrists, but I do wish it was thinner.  At 12mm the Topograph isn't actually that thick, but the straight sides give the impression that it is. I think that if Sternglas added a curve to the case, as on their Naos model, then the Topograph would look much more appealing.
The crown is pretty small, and is unfortunately unsigned. To be honest it's a bit tricky to pull out, but once it is I've no trouble actually setting the time.
As you might expect the Topograph is only water resistant to 50m. As it's not a tool watch I wouldn't have expected Sternglas to give it a higher depth rating, so it's not a big deal.
THE CRYSTAL
I'm pretty impressed to see that Sternglas use a domed sapphire crystal on the Topograph. It's got a double anti-reflective coating too, which is an extra bonus. As a result the crystal is perfectly legible in most situations, as well as incredibly scratch-resistant. It's certainly a choice that puts them a notch above most of their competition.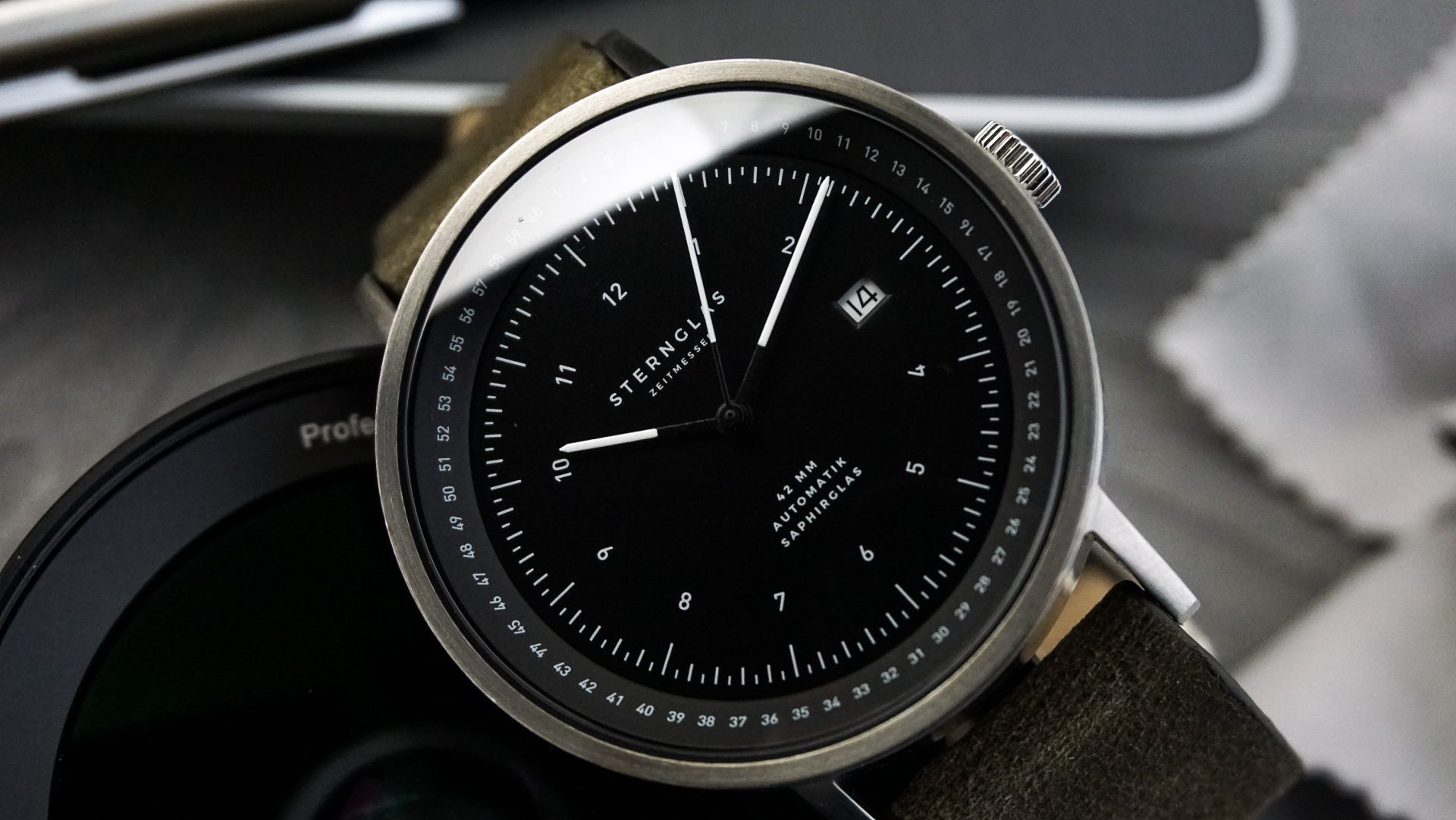 THE DIAL
The dial is what drew me to the Topograph in the first place. Whilst it's undoubtedly minimalist, there's still enough going on to keep things interesting. The layout itself is pretty straightforward. You've got Arabic hour numerals and a fully graduated minute track around them. The extra minute track of one to sixty on the sloped rehaut adds a layer of depth that lifts the design and stops it from being too simple.
I'm sure there will be some who wish that the date wheel was black to match the dial, but I think the contrasting white helps with legibility. The window itself is also bevelled, which is a consideration you don't often see at this price point.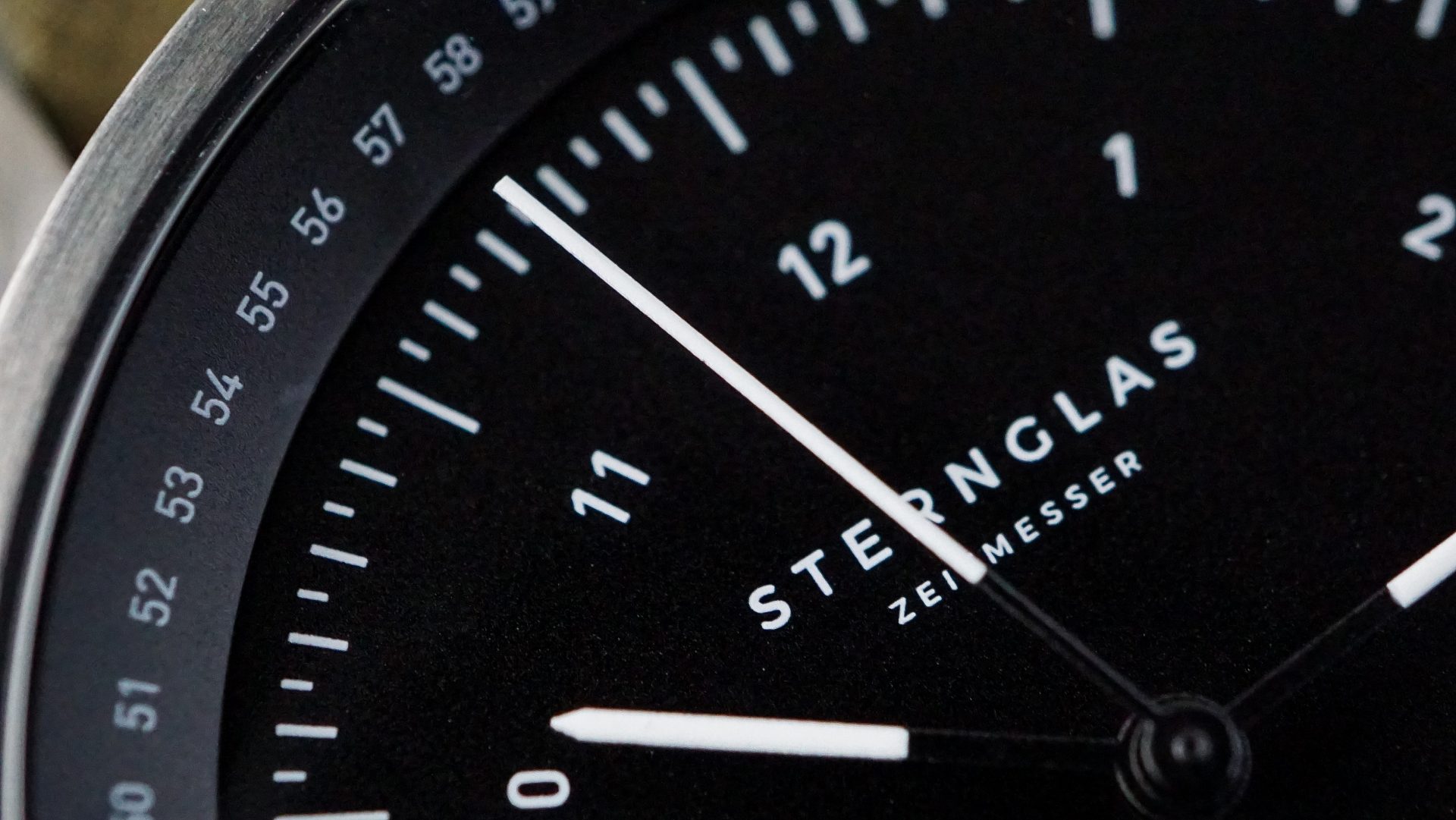 The hands are incredibly simple, and feature no lume, but they match the dial well. Despite their thinness I've no problems reading them thanks to a heavy coat of white paint on each.
Overall I think Sternglas have done a good job of designing a minimalist watch face that is still interesting to look at. The execution is great, with nice clear dial print and some good contrast between the hands and dial.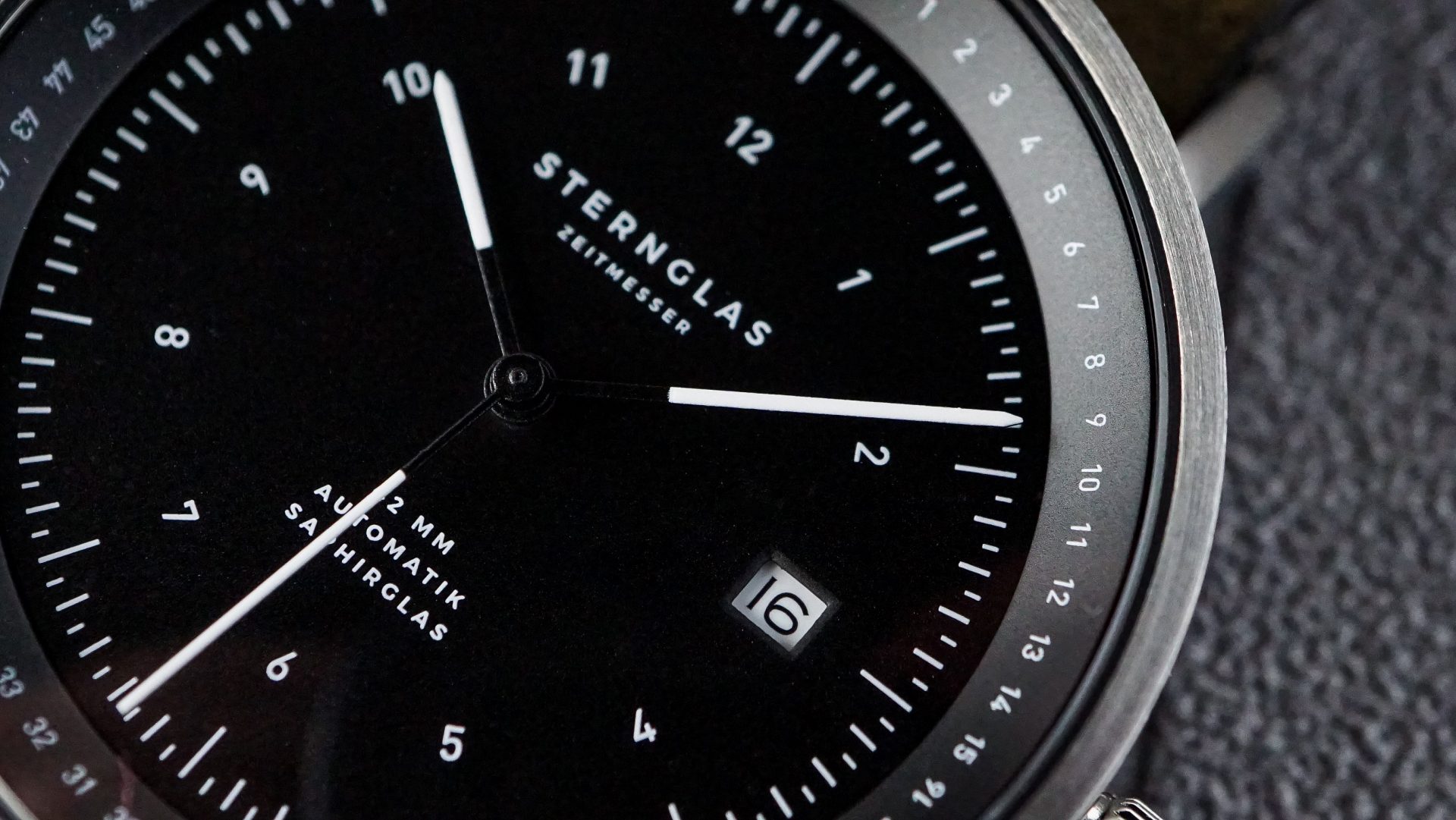 THE MOVEMENT
Powering the Topograph is the Miyota 821a. It's really the bog-standard choice for mechanical watches in this price range. However, that's by no means a bad thing. Miyota have a well-known reputation for producing durable movements.
The cal. 821A Sternglas chose has 21 jewels, a decent 42 hour power reserve, and beats at 21,600 bph. All in all those are a decent set of specs. Sternglas even opted to add some decoration to the movement, in the form of Geneva stripes, which you can view through that display caseback.
THE STRAP
The leather strap the Topograph came on is delightfully supple and soft. On the wrist it's very comfortable, and requires no breaking in whatsoever. The lug width is 20mm, so there's plenty of options out there if you want to change things up.
However my impressions of the strap were soured somewhat by the fact that the strap was too large for me. It's a problem I've never had before, and it's rather frustrating to get a watch, only to have to immediately swap the strap.
Though, to end on a positive note, the strap is fitted with quick release spring bars. It's another small touch that's nice to see, and means that swapping straps will be a breeze.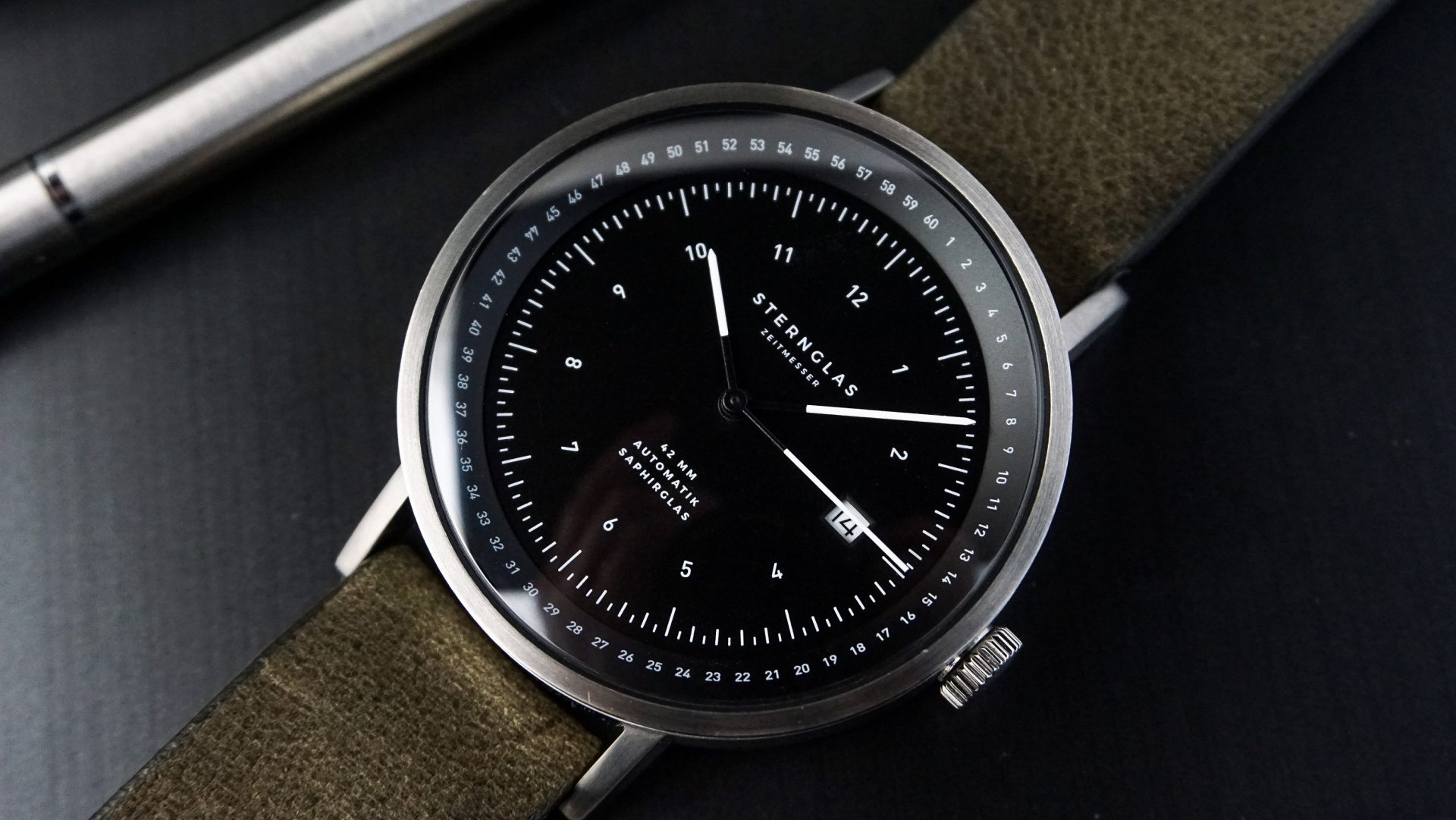 FINAL THOUGHTS
I haven't come across many entry-level Bauhaus pieces, and I think Sternglas have produced a fine example with the Topograph. Its design is crisp, clean and balanced. As I said earlier, there's enough going on with the design for it to be interesting, but not so much that the face appears cluttered.
Of course, there are things I think could be improved. The watch could be thinner, with a more interesting case, and the strap should be a bit smaller. However these are minor complaints in the scheme of things.
At the end of the day I think the Topograph is an excellent choice if you're after an entry-level mechanical watch that won't break the bank. The specs are solid, with the reliable Miyota movement many of us will be familiar with, and the use of an AR coated sapphire crystal. The Topograph is available for a mere £286, which I think you'll agree is a fair price for the watch. Sternglas are still a young brand, but I think that if they stay on the course they're on, they'll go from strength to strength.
You can purchase the Topograph from Sternglas' site here.