If you're in to watches in any serious sort of way, it's pretty much guaranteed that you'll know of the Seiko SKX. Hell, a fair chunk of you reading this will probably have owned one at some point. It's probably Seiko's most iconic watch, and is renowned for offering serious dive watch specs at an affordable price.
But after 23 years of production, in 2019 Seiko made a surprising announcement. They had revamped their entire Seiko 5 brand, and launched a new sports range to replace the aging SKX.
What's more, Seiko released nearly 30 variants, with prices ranging between £250 and £300. There's a plethora of colourways and strap options to choose from, so there's something to appeal to everybody.
Now I'm ashamed to admit that I've not owned an SKX myself. But I thought that after all the talk around them, and these new Seiko 5 replacements, I'd bite the bullet and pick one of these up.
I got this one second hand, and though I didn't know it at the time, it came on an old SKX rubber strap, not one of the new Seiko 5 ones. So, I'm sorry guys, but on this occasion I can't comment on the quality of any of the strap options. Of course, most of us like to change the straps out on these anyway. I've put mine on a Watch Gecko Sennen NATO, which is a great affordable strap and one I thoroughly recommend.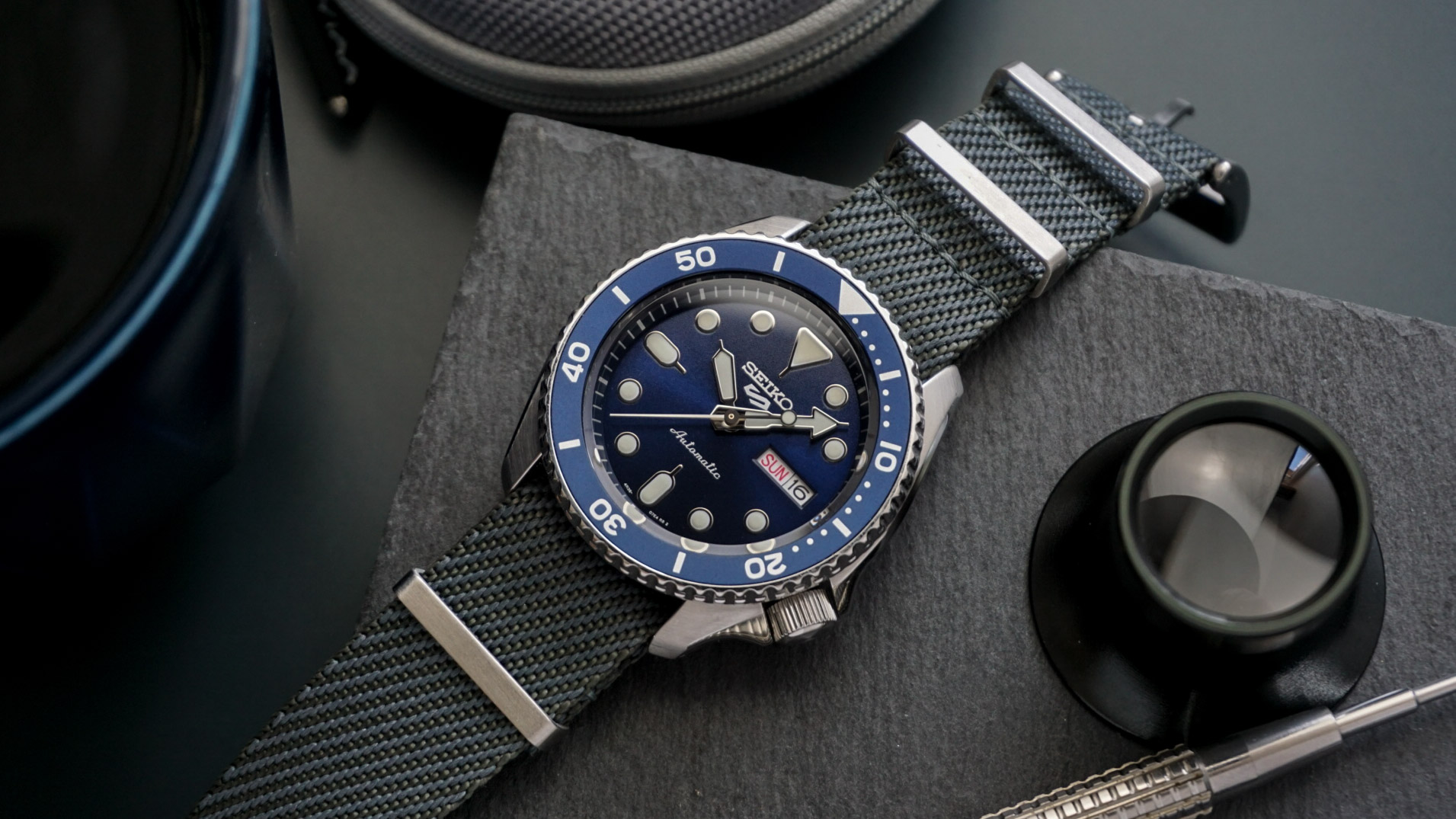 THE CASE
Getting on to the watch itself, the case is pretty much the same as the SKX's. It's 42.5mm wide and 13.4mm thick. This isn't too bad, and I find the watch has a good presence on the wrist without being too bulky. But in all honesty I find the watch wears pretty tall on a NATO, so you might want to consider a bracelet or rubber strap.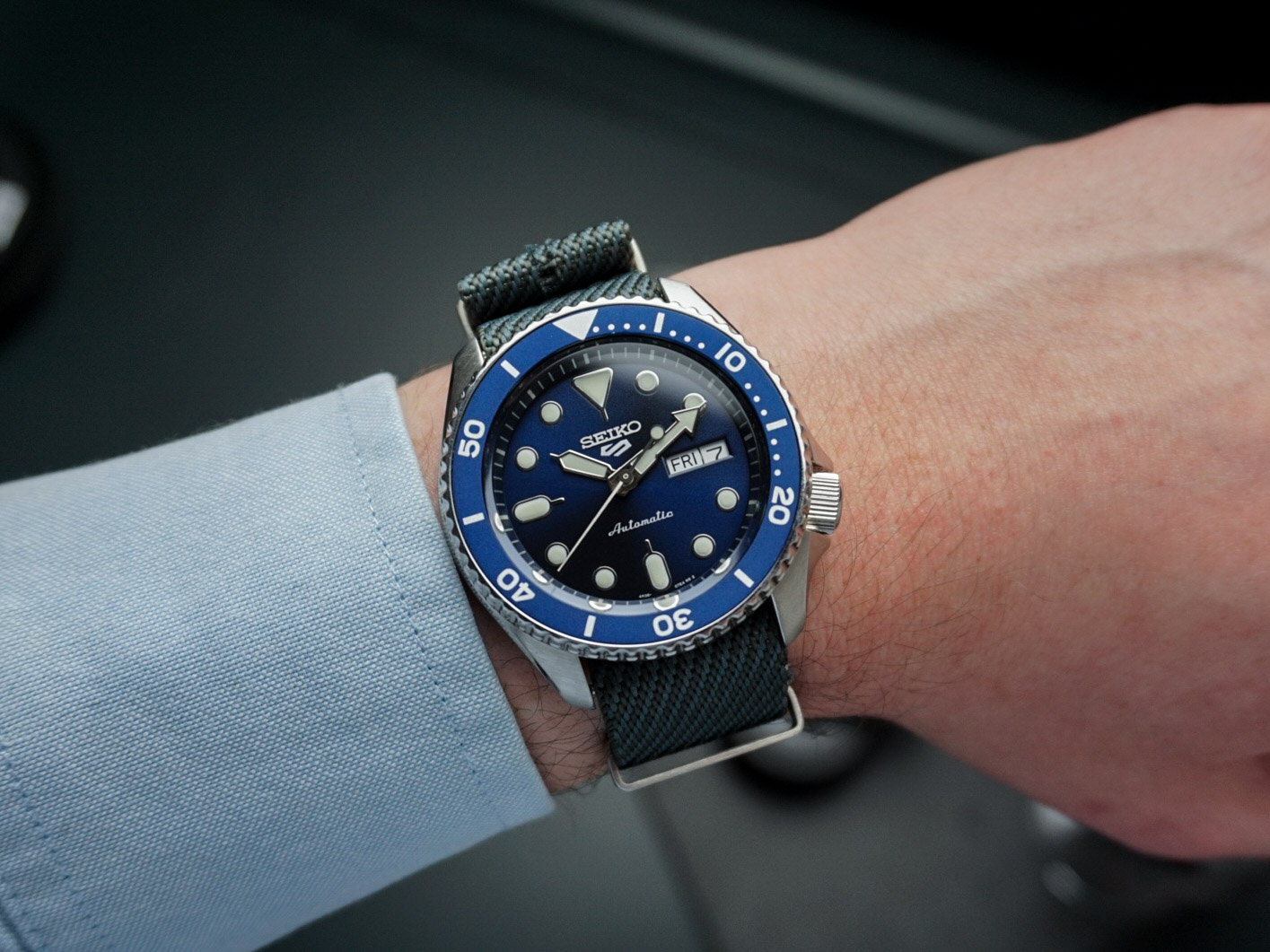 The shape of the case isn't quite like anything else out there. It's completely original to Seiko and that distinctive "SKX" shape is instantly recognisable. The finishing is pretty good overall, though I think that the brushing on the lug tops could be a little better.
Speaking of the lugs, they are of course drilled for quick strap changes. The lug width is 22mm, and the 5KX will look great on pretty much anything.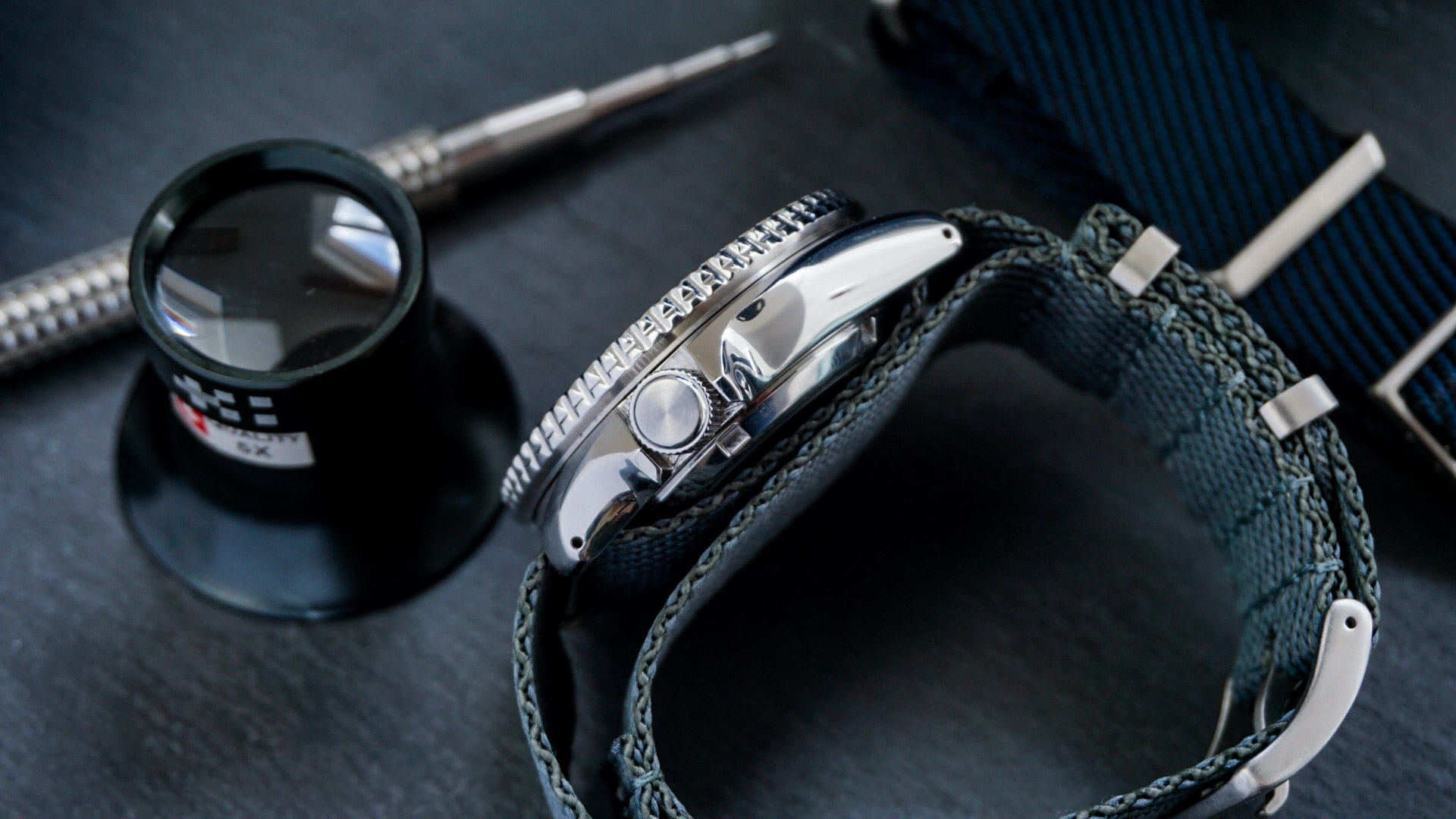 Of course, one of the biggest disappointments with the 5KX is the lack of a screw down crown. Whilst this is disappointing, I don't actually think it's as bad as people think. The crown is so well protected that I can't see how it could get pulled out accidentally.
However this brings us on to the Seiko's water resistance. It's 100m, which is adequate, but somewhat disappointing. One of the great things about the SKX was that it was an ISO rated 200m dive watch. In comparison it feels as though the 5KX leans more towards a fashion watch then a serious tool watch.
The bezel is 120 clicks and I must admit the action is pretty solid for a watch this cheap. There's barely any play, and it rotates smoothly. As you'd expect the insert is aluminium. Frustratingly it hasn't got a lume pip, which makes it a bit useless in the dark. It's not that important a feature, but it's yet another sign that the 5KX is not the tool watch the SKX is.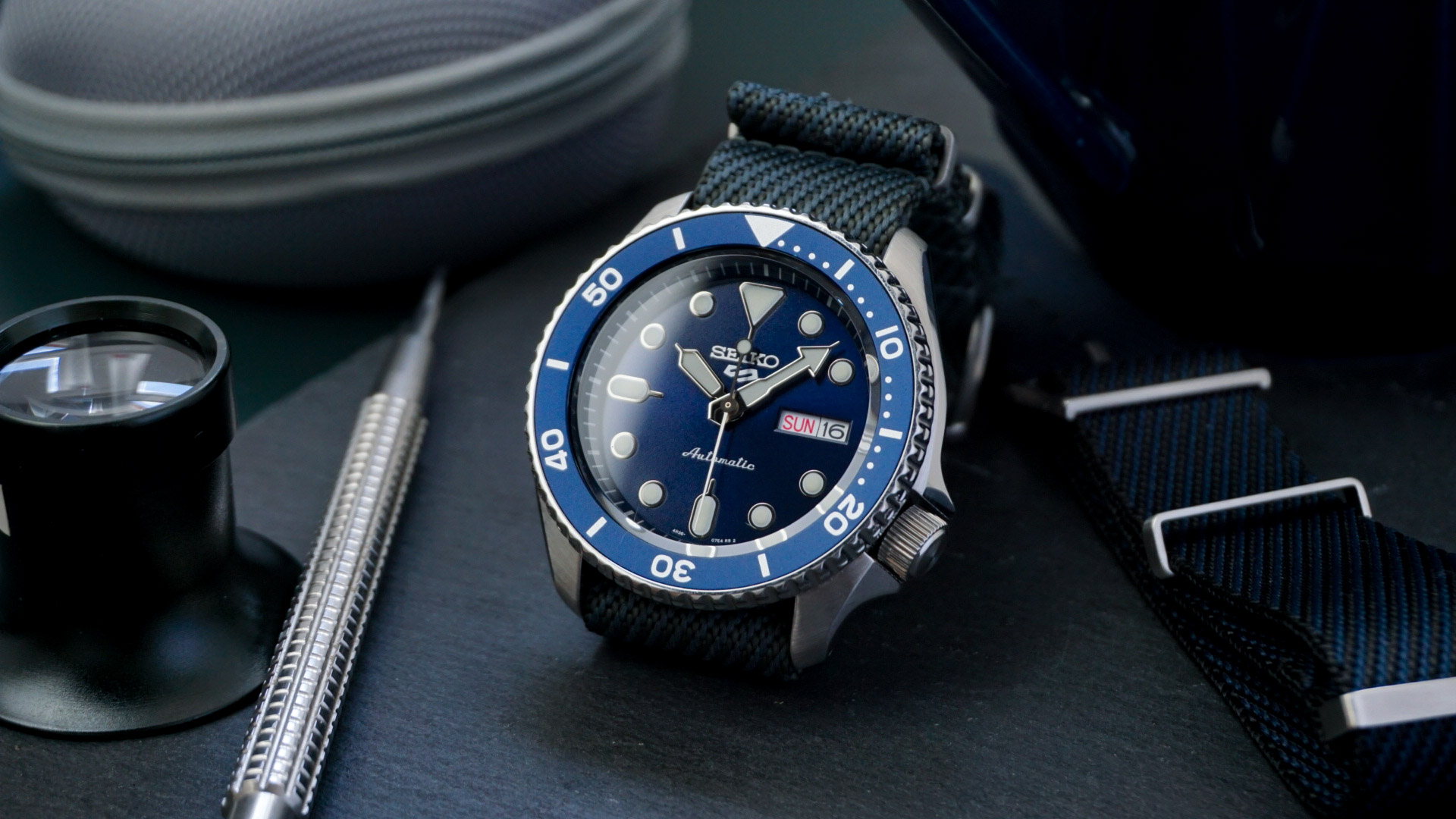 THE CRYSTAL
The crystal is nothing special. It's Seiko's proprietary Hardlex mineral crystal. Whilst not as scratch resistant as sapphire, it'll do fine for most people. What's more the crystal is slightly lower than the bezel, so any impact with a flat surface will damage the bezel before the crystal.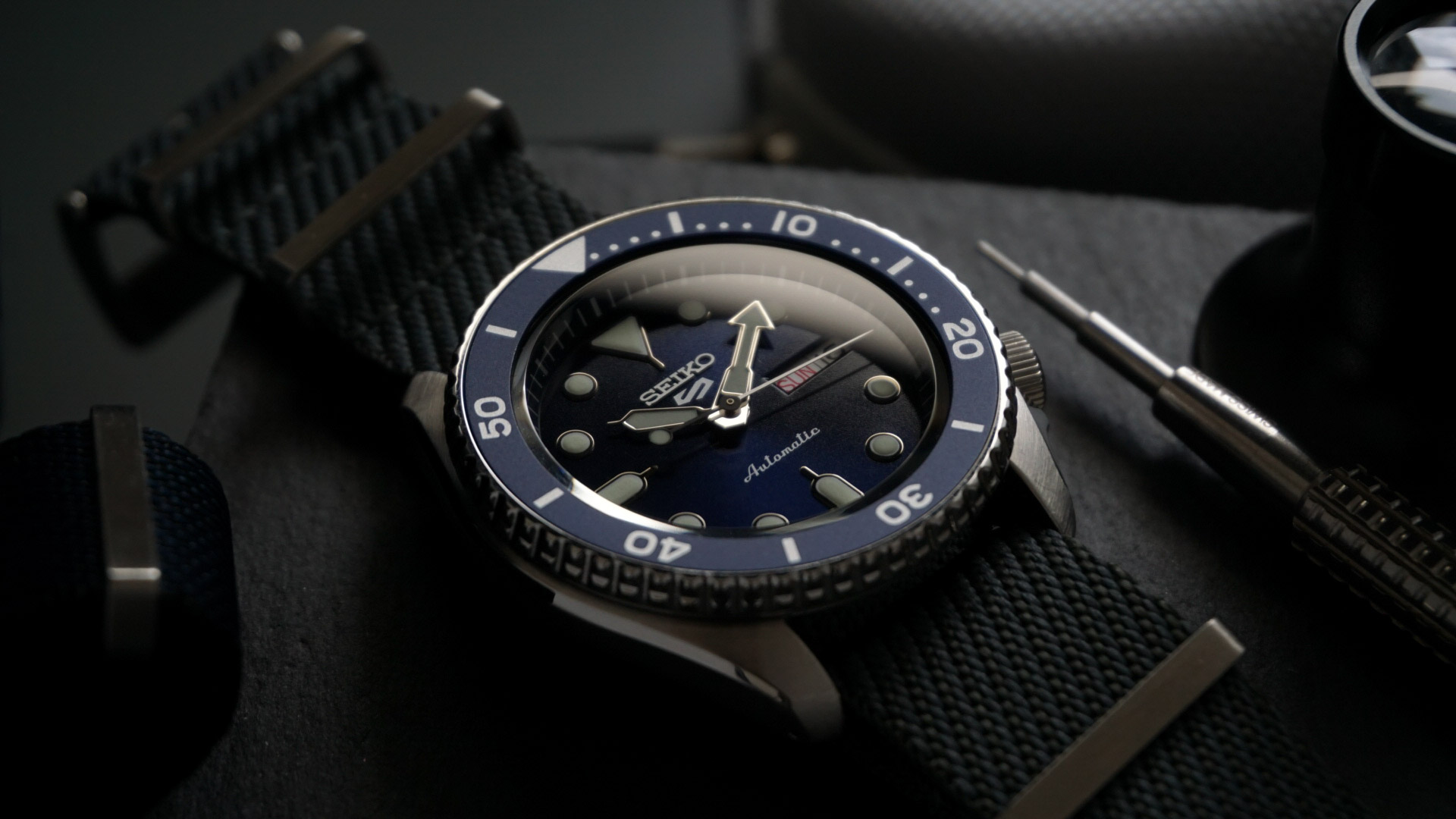 THE DIAL
The dial and handset are pretty much identical to those on the SKX, with a couple of minor changes. The biggest change is that the markers are now applied, rather than printed. This really lifts the dial and helps give it some polish. The dial itself has a gorgeous sunburst effect that adds another touch of refinement to this particular 5KX variant.
Of course this wouldn't be a budget Seiko without some QC issues, and the chapter ring is very slightly misaligned. It's also got a scratch between the 2 & 3 minute marks. What's more, whilst filming the macro shots for this review I noticed a quite a few specks of dust on the dial. Even on a watch this affordable, these flaws aren't really acceptable, but Seiko are notorious for it.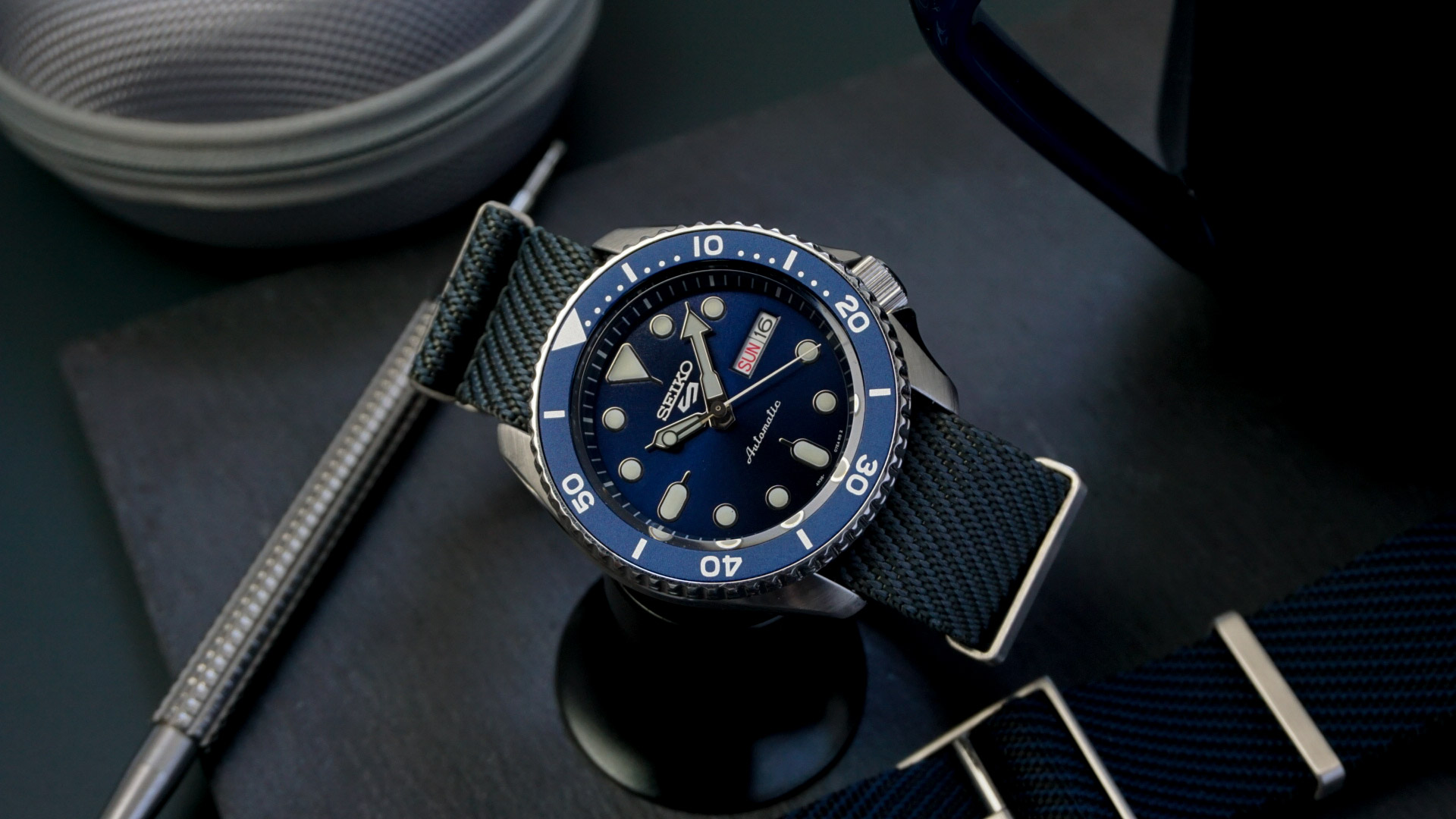 On a brighter note, the day/date window has a nice bevel to it, which you don't always see on cheaper watches. I also like the applied Seiko logo, and the new stylised "5" logo printed beneath it.
The handset hasn't changed from the old SKX. Thanks to their polished finish they match the hour markers really well, and their distinctive shape makes them easy to read.
Overall, the Seiko 5kx really doesn't feel like a watch that's as cheap as it is. The polished edges and sunburst dial really help lift the face and give it some refinement. Just don't look too closely, or you'll notice those flaws.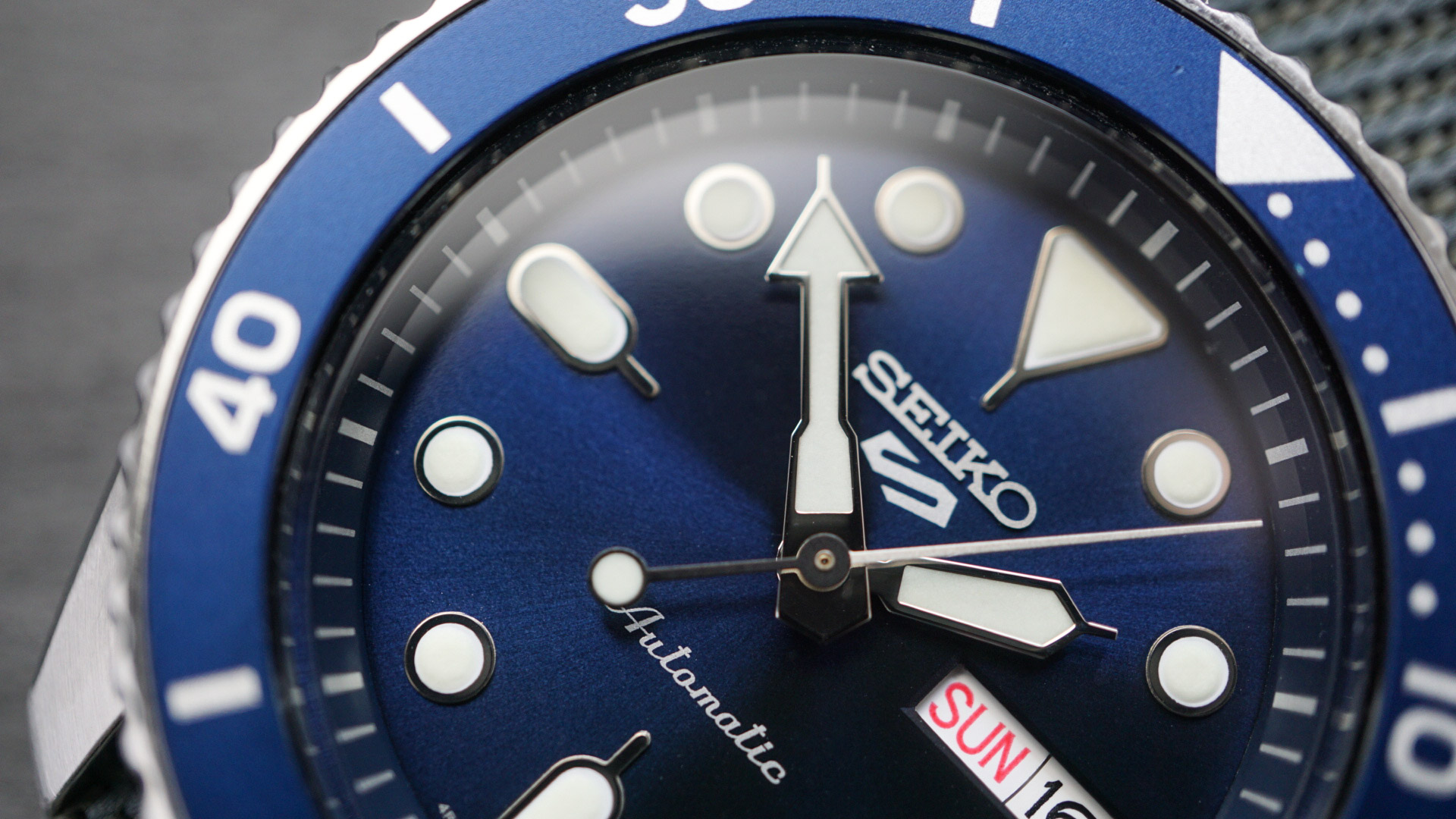 THE LUME
It'll come as no surprise to anyone that the lume of the 5KX is bloody good for a watch that's this cheap. It's not as good as that found on Seiko's higher end pieces, but it's better than you'll find on most budget pieces. I've certainly no complaints, and I find it's pretty bright and it takes a decent amount of time for the glow to fade.
THE MOVEMENT
With the transition from SKX to 5KX there comes a new movement. Seiko have replaced the aging 7s26 with a 4R36. It's a fairly standard movement, but its biggest improvement over the 7s26 is that it both hacks and hand winds. Besides that the 24 jewel movement has a beat rate of 21,600 bph, and a 40 hour power reserve. All in all it's a decent movement, and Seiko use it for all their entry-level mechanical pieces, including the Turtles.
FINAL THOUGHTS
So, to sum up, I think it's fair to say the Seiko 5KX has its faults. First, a few imperfections seem to slip through QC, which shouldn't happen on a watch with a £300 price tag. Second, the 5KX clearly isn't the true dive watch that the SKX is. The lack of a screw-down crown, bezel pip, and 200m ISO rated water resistance, are all small things. But they add up to one stark point. The Seiko 5KX is not a professional dive watch. That mantle has now been passed on to the Turtle and other watches in Seiko's Prospex line.
However, despite this, I think it's still a good watch. The specs are still decent and the watch feels solid. The 4R36 movement used in the 5KX is the same as you'll find in the Turtle, and 100m will still be enough water resistance for the majority of us. Overall the new Seiko 5 Sports are great entry-level tool watches, which is just what Seiko want them to be. They're something to cut your teeth on before moving on to Seiko's more serious offerings. Because, like it or not, Seiko are trying to move upmarket.
The full RRP is around the £250-300 mark, depending on the model. To be honest I think that's on the steep side, and you're better off spending a bit extra on one of the cheaper Prospex divers. However, the good news is you can get these discount on Amazon for under £200, and at that price I think the 5KX makes a tempting option for anyone on the hunt for a beater watch.