With the amount of new watch brands springing up these days, it's getting increasingly difficult for the average Joe to tell the apart those with a genuine passion from those out to make a quick buck. Well, if you don't know much about EMG, then you've nothing to worry about. It's a brand founded back in 2016 by Eric Goodlock and Derek Love, both of whom are prominent members of the WatchUSeek forum. Since they first started, they've released a trio of models. I reviewed their Nemo diver earlier this year, and this time I'm looking at one of their chronographs – the EMG DL63.
The DL63 "panda" chronograph was EMG's first piece, and Eric & Derek teamed up with another WatchUSeek member – Eddy Tse (a.k.a. HKED) to design the watch. The DL63 chronograph has now sold through several batches since it was launched, which is a sure sign of a winning combination of design, quality, and value.
THE CASE
From the top the case of the DL63 is fairly standard. It's all brushed surfaces and straight lugs. That's no bad thing though, because there's already enough going on with the dial. At 42mm it's on the larger side, but at 48mm the lug to lug is fairly short, so it wears well even on smaller wrists like my own. The DL63 is reasonably tall at 13mm, however EMG have detracted from the thickness of the case by tapering the sides fairly dramatically. This gives a beautifully streamlined profile of the case from the sides that also compensates for the 42mm diameter.
In terms of finishing everything looks pretty good. The sides are nicely polished and the brushing on the top is nice and even. Unsurprisingly for a chronograph the case only provides 30m of water resistance, so don't go swimming in it.
The DL63 has a display caseback, which shows off the Seagull movement. Whilst not the fanciest movement, it's always nice to see a mechanical piece in action, and I'm sure many will appreciate the choice.
Speaking of which the crown and pushers are nice and tactile. The crown is easy to grip and winds nice and smoothly, whilst the pushers activate with a satisfying click. They're neither too stiff nor too loose either, and the overall build quality of them (and the case in general) feels satisfyingly solid.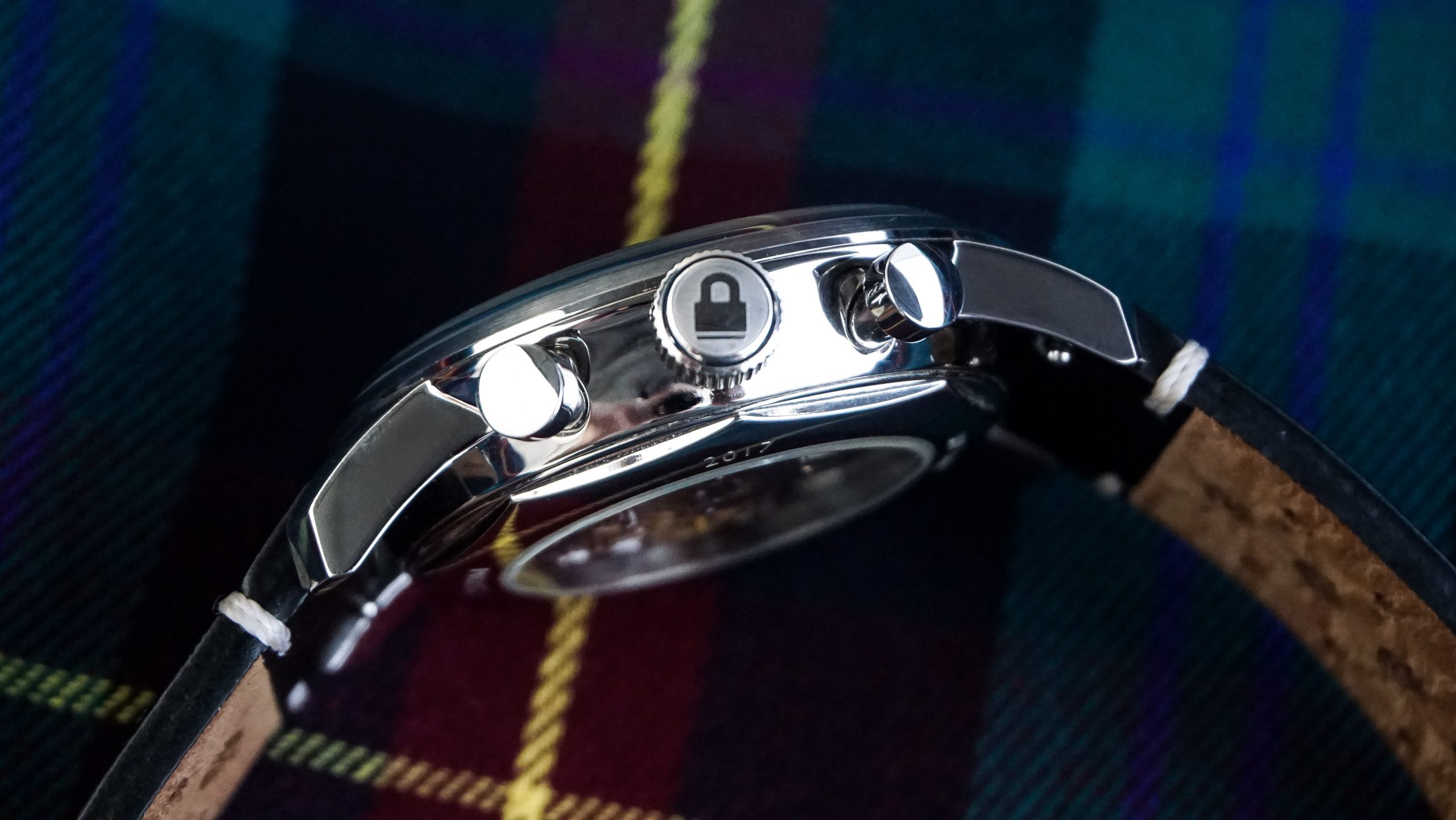 THE CRYSTAL
EMG have gone down the same route as a lot of other brands and used a domed crystal on the DL63. It's something a lot of watch collectors (myself included) like to see because of that sweet retro vibe it gives off. Whilst this review piece I have uses a mineral crystal, for the latest batch of DL63's EMG have upgraded to a sapphire crystal. It's nice to see EMG taking the time to make such improvements, and I'm sure the sapphire will be just as legible as this mineral crystal.
THE DIAL
It's plain to see that there's a lot going on with the face of the DL63. You've got a tachymeter running along the outer edge, a full minute track that goes down to fifths of a second and two sub dials. One of these is a running seconds hand, and the other is a thirty minute register for the chronograph. Despite the number of features on the dial, I think EMG have done a great job of keeping it legible.
The iconic panda-style layout is fairly common amongst chronographs, but that's because it looks so damn nice. There's just something about the simple contrast between the black and the white that makes it a great layout. I'm particularly fond of the U-shaped applied markers that add something different to an otherwise straightforward design.
THE LUME
The DL63 doesn't have much in the way of lume, but what's there is bright Super-LumiNova BGW9. It glows pretty brightly when charged, and whilst it doesn't completely compensate for the small plots, it is nice and legible. I'd expect nothing less from a watch from EMG. It would be all too easy for them to have used a lower grade of lume on a chronograph, but they've done things properly and not scrimped.
THE MOVEMENT
It's really nice to see an affordable mechanical chronograph. At this price point a lot of brands choose some form of quartz movement. EMG use the Seagull ST1901, which is a 21 jewel manual wind movement based off the Venus cal. 175. It has a reasonable 40 hour power reserve, and beats at 21,600 bph, though the movement does not hack. With such a decent set of specs you might be surprised to hear that the choice of ST1901 will be a controversial choice for some people. Well, despite its solid Swiss heritage, the ST19 series have a reputation for having a high defect rate. This means that you've got to rely on the QC of the brand using the movement.
The good news is that this isn't EMG's first rodeo. They've already produced several batches of the DL63, and have established a reputation for great customer service and excellent watches.
Personally I wouldn't have any concerns about purchasing a DL63 due to the movement, and it's nice to experience a mechanical chronograph without the hefty price tag that usually goes with it.
THE STRAP
The DL63 comes on a 22mm single stitch leather rally strap. For a $400 watch it's a pretty decent strap. It's nice and soft and pretty flexible. EMG also fitted it with quick release spring bars, which is a great choice as it can be very tricky to change straps. The signed buckle is fully brushed and pretty standard, though I wouldn't expect anything fancy on a watch at this price point.
I think the decision to use a rally strap for the DL63 lends it a really sporty look in keeping with the design roots of the watch. Of course, you can put the DL63 on whatever strap takes your fancy, and I think it's quite a versatile piece that would suit a variety of different straps.
FINAL THOUGHTS
As entry-level mechanical chronographs go, the EMG DL63 is pretty hard to beat. In all honesty I really can't think of any glaring negatives to speak of. I'm sure that some people would prefer a different movement to the Chinese ST1901, but if you want a sub $500 mechanical chronograph you don't have a choice. I also think that after they've made several batches of the DL63, EMG know what they're doing. Indeed, that's obvious when you look at the rest of the watch. Aesthetically the design is well thought out and equally well executed. There are no obvious flaws in the dial print, and the case feels very solid.
If you're looking to add a mechanical chronograph to your collection, then I'd say that the DL63 is a great place to start.
You can purchase the DL63 chronograph from EMG's website here.