Dan Henry is a small, but interesting microbrand that a lot of people might not have heard of. As you might have guessed, it was founded by Dan Henry, an avid collector of vintage watches with over 30 years' experience in the field and a collection of over 1,500 pieces. (He even set up a dedicated website for his collection- Timeline.Watch!)
Then, a couple of years ago, Dan decided it would be rather a good idea to provide fellow watch enthusiasts with modern vintage-inspired pieces that nailed the vintage aesthetic without the stroke inducing price tags so often carried by the original watches. And so, Dan Henry Watches was born.
I've been lucky enough to have handled a couple of Dan Henry's other models at various Watchuseek get togethers, and have been pretty impressed with their quality for the RRP. So, when Dan brought out his latest model, the 1964 Gran Turismo Chronograph, I couldn't resist asking him if I could review one. He very kindly obliged, and sent me a silver dialled model.
The watch arrived wrapped up in a nice canvas and leather 3-slot watch roll packaged in a cylindrical plastic case. It's a very practical choice, and the watch roll is a nice addition for those who like to travel with multiple watches.
THE CASE
As with most Dan Henry watches, the 1964 looks like it came straight out of the period, and in this case is clearly based off the Omega Seamaster chronographs of the era. The stainless steel case is 38mm in diameter, which makes vintage fans like myself very happy. Too often modern reissues have cases that have been scaled up too much to 42mm or bigger. It's also relatively slim at 12.9mm thick and you'll have no problems slipping it under a shirt cuff. The case finishing is excellent for a watch at this price point, with a polished bezel and lug tops, and a band of brushed satin on the sides. The corners and edges of the case are nice and sharp too, always a good sign of a nicely built affordable watch.
I'm a sucker for a nicely designed case back, and the screw-down back of the 1964 is perfect for this racing chronograph. The sloped edges are polished, with a brushed centre ring containing the usual engravings of model details and specs. In the centre, engraved nice and deeply, is an image of the Aston Martin DB5 which was immortalised by James Bond in Goldfinger, which was released in 1964. See what Dan did there?
The watch has a water resistance rating of 50m. It's not much, but this piece was never meant for diving, and the 50m will keep it safe from everyday exposure to water.
THE CRYSTAL
For the crystal Dan opted for a sapphire coated double domed mineral glass with anti-reflective treatment. The choice of a double domed crystal is a no brainer when you're designing a homage to a classic Sixties chronograph, and what I really like about it is that the curve of the glass follows the same angle of the bezel, which shows some serious attention to detail. The use of a mineral crystal with a layer of sapphire bonded to its surface is another step up from what you'd expect at this entry-level price point, and the use of an anti-reflective coating is very welcome. Overall the glass is crystal clear and I never have an issue reading the time due light glaring off it.
THE DIAL
As with any watch, the dial is what makes or breaks it. As usual with his designs, I think Dan nailed it with the 1964 chronograph. The silver dial itself has an eye-catching sunburst effect, and the sub-dials are sunken with a different pattern of concentric circles to break things up a bit. The hour markers are simple applied faceted batons, and the outer tachymeter scale is in blue to complement the hands. The rest of the printing is simple, but perfectly crisp and easy to read.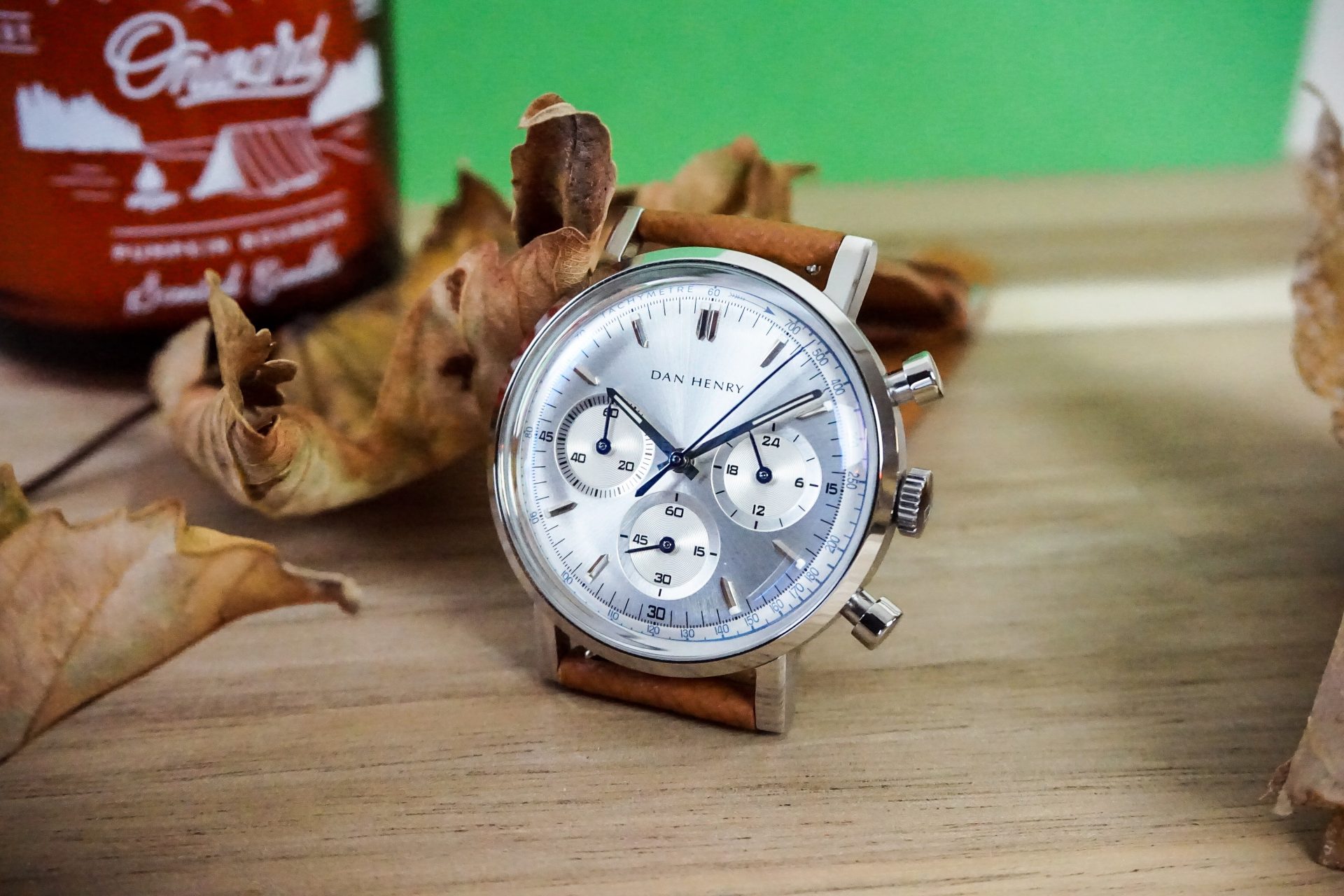 The hands are simple sticks, with the hour and minute hands being polished silver. Despite not contrasting with the dial, due to the mirror finish they catch the light well enough to be easy to read. The sub-dial hands and running chronograph seconds hand are all blued, and contrast against the silver dial brilliantly, flashing electric blue in the light. Though I must admit that, upon close inspection, the sub-dial hands are slightly out of alignment. It is minor enough not to notice though, and it's something you'll find on pieces far more expensive than this.
The 1964 is available with or without a date window at 4:30. Personally I prefer the no-date version I was sent, as it keeps the design symmetrical and balanced, but a date window is a useful thing, so I completely agree with Dan's decision to offer the watch with one.
The 1964 Gran Turismo Chronograph does have some small lume plots on the hour batons and hands, but it's fairly weak in all honesty. The lume is also somewhat unevenly applied to a few of the batons. That said, this is not a watch you buy expecting it to have strong lume, and at this price it really isn't much of an issue.
Looking briefly at the crown and pushers there isn't much to say. The tops are polished and the pushers operate with a satisfying click. The crown is simply engraved "DH" and easy to use.
THE MOVEMENT
To power the 1964 Gran Turismo Chronograph, Dan chose a Seiko calibre VK63 meca-quartz movement. For those who don't know, it's a quartz movement that has a smooth sweep seconds hand and instant reset, just like a mechanical chronograph. It's the perfect choice for this vintage piece, and gives the watch a truly vintage feel each time you use the chronograph. It also means that your costs of servicing this watch will be far less that the cost of servicing a vintage mechanical chronograph, and as a quartz piece it's far more accurate.
THE BRACELET
The watch comes with both a leather strap and steel beads-of-rice bracelet. The leather strap has quick release spring bars for easy strap changes, which is a welcome touch, but the leather itself feels a bit cheap & plasticky. It's adequate to wear, but I wouldn't mind paying a bit more for a nicer strap. The bracelet however is brilliant for the money. The beads-of-rice style dresses up the watch nicely and is very comfortable to wear. The stamped clasp is signed "Dan Henry" and whilst not as good as others, you'll find no complaints from me for an entry level piece like this. If you're the type of person who likes to swap out your straps often, the lug width of the 1964 chronograph is 19mm. It's an unusual size, but straps are available, though not as readily as 20mm or 18mm variants.
THE PRICE
I'm sure that by now you're itching to find out how much Dan Henry is charging for the 1964. Well, I won't keep you waiting any longer. The price for the 1964 Chronograph is $250 (£190/€216 at the time of writing), with worldwide free shipping and tax included for the U.S. and E.U. That makes the 1964 Gran Turismo probably the best value proposition I can think of in its price range. In a time where Kickstarters and other microbrands are charging ever higher premiums for fairly average designs and specs, it's a refreshing change to find one priced so competitively.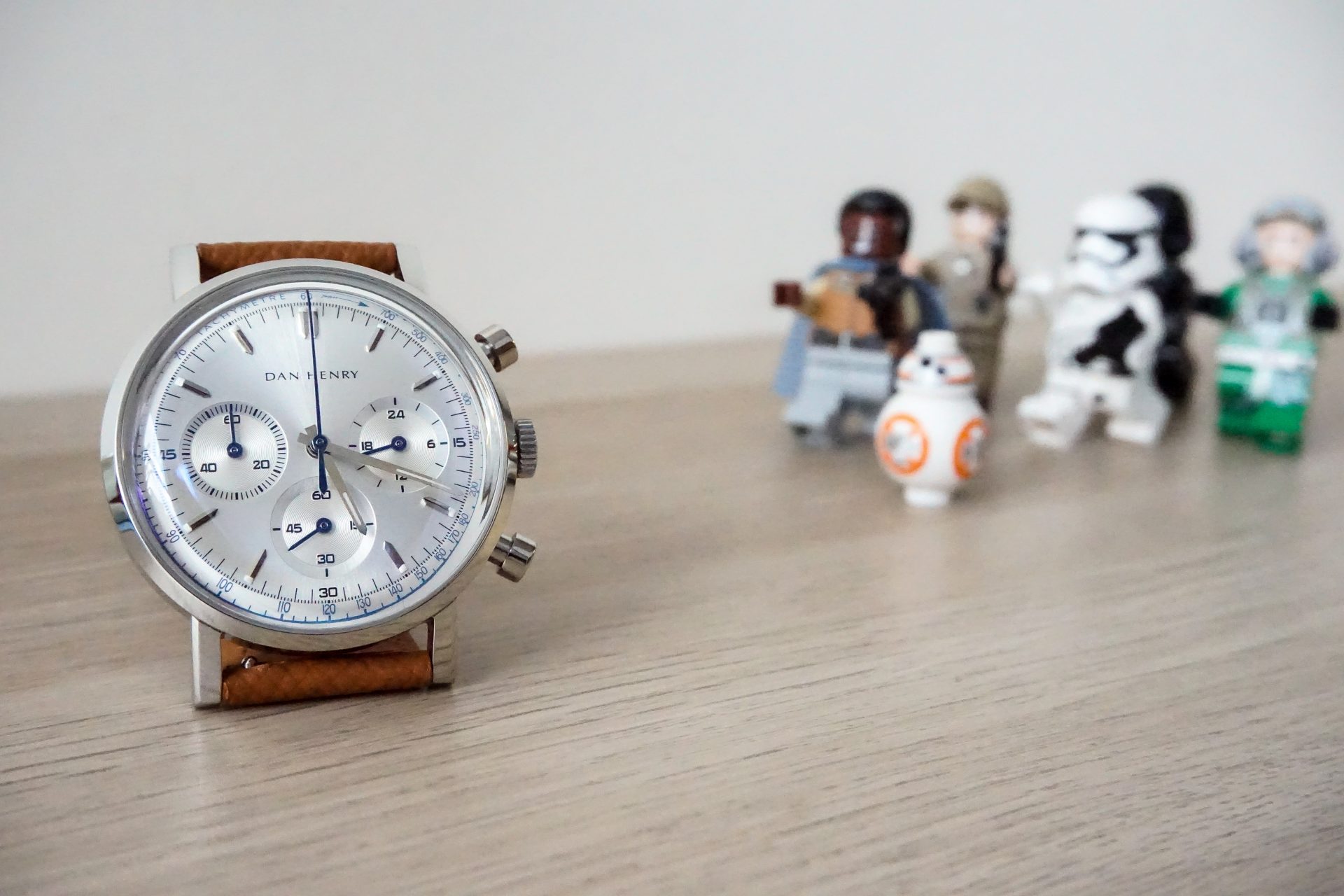 FINAL THOUGHTS
Personally, I think the Dan Henry 1964 Gran Turismo Chronograph is an excellent value proposition for anybody looking to either get into watches, or get a taste of vintage horology without the risk or hassle. Sure, there are a couple of issues with the sub-dial hands not being perfectly aligned, and the lume plots not being the neatest, but they're very (and I mean very) minor complaints on a watch that offers such good quality at such a low price point. Aesthetically it absolutely nails what a homage watch should be, by not straying from the design language of the vintage pieces it was based on. Were it not for the tick of the seconds hand, I could almost be fooled into thinking that I was wearing a vintage piece. For $250 you get a well-made watch that hits all the right vintage spots, a strap and bracelet, and a watch roll. It's the perfect package and it's clear to me that no corners were cut when making this piece. You really cannot go wrong with the 1964 if you're after a classic chronograph at an affordable price, and I can't give better praise than that.
If the Dan Henry 1964 Chronograph tickles your fancy, you can see the full specs and purchase the watch direct from his website here.