You'd be forgiven for not having heard of French micro-brand, Baltic Watches, before now. The brand only launched last year in April 2017 on Kickstarter, though it's already carved out a strong niche with a focus on 1940's aesthetics and the fact that each piece is assembled in France. Whilst there isn't much on paper to distinguish them from every other start-up watch company, it was these striking retro designs that caught my eye, and prompted me to pull the trigger and purchase one.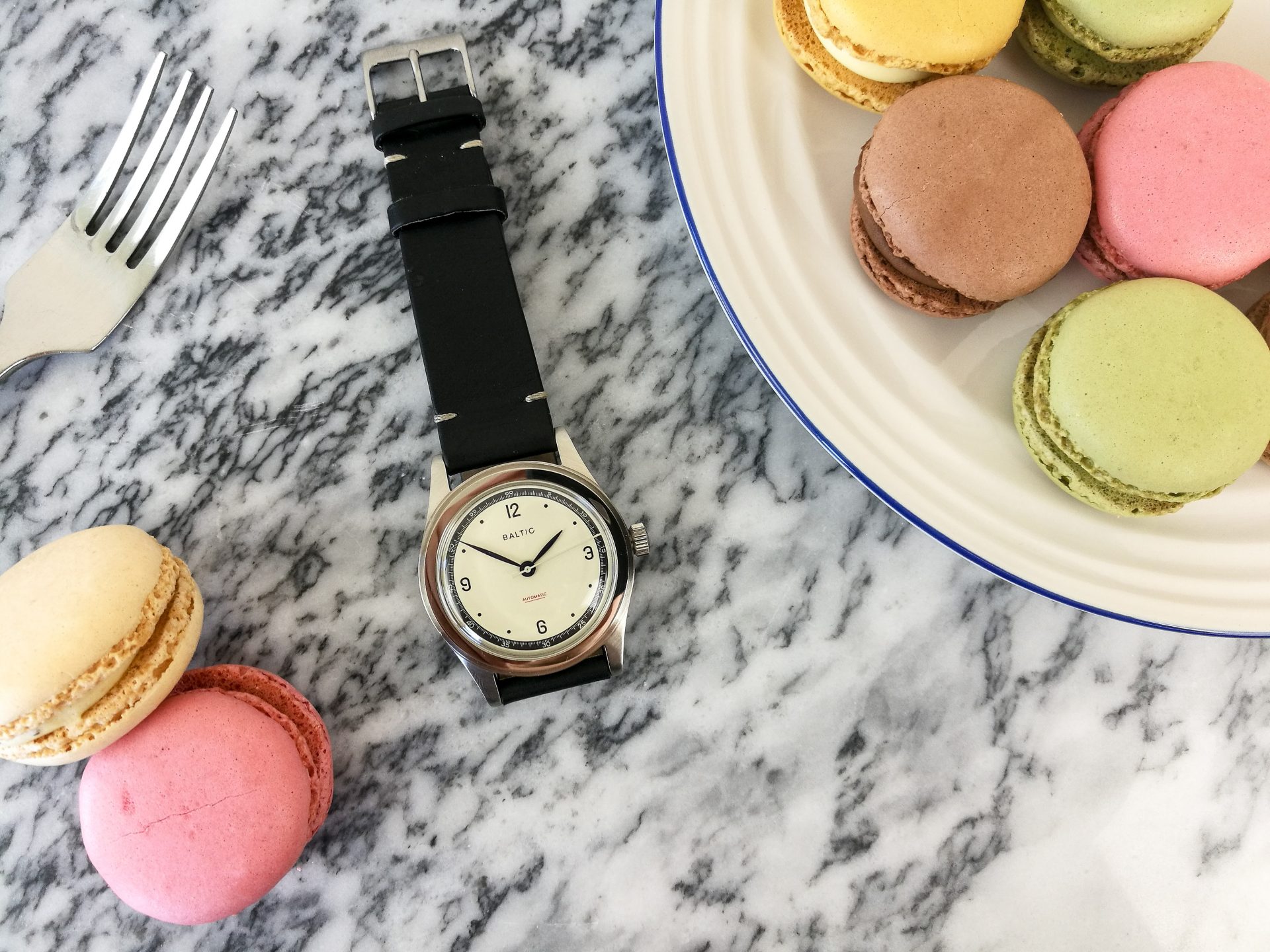 I opted for Baltic's HMS 001, their basic three hand model. It comes in 5 different dial colour combinations, and a gold plated case for the black and gold dial as well. I went with the cream dial and blued hands, as I'm a sucker for that mix, but the sunburst grey dial also looks pretty sharp. The watch comes in nice enough packaging, with a quality outer box, and an unusual inner box the lid of which is covered in cork.
THE CASE
For their watch cases, Baltic took inspiration from the signature stepped cases of the 1940's. Fashioned from 316L stainless steel, these cases do not feature sloped bezels like most timepieces, but a flat bezel that is stepped into the case at 90 degrees. It's an uncommon choice but it sets Baltic apart from the competition and the mix of polished top and brushed sides create crisp lines and catch the light well.
The case back is well executed in my mind. The design is a simple one, with a polished rounded edge and brushed top. The Baltic logo and watch's serial number are engraved nice and deeply in the centre, with the words "Self-winding watch assembled in France" & "This HMS 001 is amongst the first ever made" engraved around the edge. It's an element that shows Baltic's pride in their work and brand, not to mention their intention to stick around for a while.
The crown is simple, with an engraved "B" on its head, but is easy to grip and use, so I have no complaints there. In all honesty the Miyota movement isn't the smoothest to wind, but it's known for its endurance.
Overall I'm rather fond of the case Baltic chose. It's well made and looks good from every angle, with the stepped bezel providing some sharp and interesting lines. At 38mm the watch wears surprisingly large for its size, filling my skinny wrists nicely. It's an apt case size considering the design's vintage roots. 38mm is on the smaller size for a modern piece, but noticeably bigger than a vintage watch for the period, and will fit most wrists without looking like a kid's watch. The big crown complements the case nicely, and the whole thing comes together brilliantly if you ask me.
THE DIAL
In my opinion, the dial and handset are the best feature of the HMS 001. Like the rest of the watch they exude a neat Forties vibe, whilst being crisp and modern enough as to not look dated. The blued hands are vibrant and pop out at you when the light hits them, and the white seconds hand is perfectly legible against the dial.
The cream dial complements the handset nicely, and the 12, 3, 6 & 9 numerals are crisply printed in a distinctive font that brings a modern twist to the timepiece. Likewise Baltic's clean, minimal logo and the lone "Automatic" printed in red and underscored bring the watch firmly into the 21st Century. The black minute track frames the cream centre very well, and is fully graduated every fifth of a second with numerals every five seconds. When brought together you have a watch face that's far from crowded, yet has enough small details to capture your interest.
THE CRYSTAL
In keeping with the vintage theme, Baltic opted for a domed acrylic crystal. It's a choice that gives the watch a real vintage vibe, especially with the other design elements, almost as if it was made by a 1940's company that had access to modern machinery. However, that said I would have preferred a sapphire box crystal. It would have kept the retro feel but provided far better scratch resistance and added a little touch of luxury. As it stands, the acrylic scratches too easily, and a sapphire crystal should not affect the price too much, given that plenty of watches have them in this price range.
THE STRAP
The HMS 001 is available on a leather strap in a black or brown, of which two shades are available. The leather is nice and supple and clearly of good quality. As a result the watch sits well on the wrist and is extremely comfortable. The steel buckle is stamped "Baltic" and of good, if unremarkable quality.
THE MOVEMENT
Looking inside, you'll find a trusty Miyota cal. 821a powering the HMS 001. It's a solid choice on Baltic's part. Miyota have built a firm reputation for offering well-made, affordable watch movements to a full spectrum of brands, from start-ups to high street names. The 21 jewel movement beats at a humble 21,600 vph, has a neat 42 hours power reserve, and an accuracy deviation of -20 to +40 seconds a day.
However, the Miyota 821a does have a date feature, something you'll notice isn't present on the watch itself. This means that when you pull out the crown there is a "phantom" date position, which is an annoying cut corner. Personally, I'd have preferred Baltic to have chosen the Miyota cal. 9039 to power this piece for a number of reasons. Not only does the movement have no date window, it also has 3 more jewels, has a 20 second tighter accuracy tolerance, and beats at the higher frequency of 28,800 vph. It also winds noticeably smoother, and would have given the watch a little extra polish in the hand. That said, the cal. 821a is a solid, if a little basic, choice. It'll carry on ticking for years, and Baltic offer a 2 year warranty with your purchase, a decent commitment for such a young brand.
As I mentioned in my introduction, Baltic assemble each watch in the small village of Sancey near Besançon, France by watchmakers Novoparts. Each part is carefully inspected before assembly, and it shows- I cannot fault any of the components for sloppy printing or finish. Novoparts also regulate each movement, which is a neat extra step in quality control that Baltic have paid for, but it feels slightly wasted on the non-hacking Miyota used in this. Either way, it's nice to see Baltic going the extra mile and investing in local businesses, rather than farming out everything to their Far Eastern factories.
FINAL THOUGHTS
The HMS 001 is available from Baltic's website for €399 (£353 / $462 at the time of writing). Now what might be considered good value for money is subjective depending on the individual, but for me the HMS 001 is a tad expensive.
I don't want to come across as being too negative about the HMS 001. I can tell that a lot of thought went into the design on Baltic's part, and I think their hard work really pays off in that regard. They've developed a strong, distinct look (and brand) that makes them stand out amongst the deluge of Kickstarter watches out there right now. The watch itself is well executed and the overall quality is great. In fact, I don't think I can really fault the design itself in any way. It's all perfectly balanced and any gripes would just be based on personal taste rather than an objective flaw. I just feel that by not using one of the higher grade Miyota movements, and maybe a sapphire crystal, Baltic missed the mark slightly. As a result I think they didn't quite knock it out of the park, but they came damn close.
Ultimately, I think that this watch will appeal to those who fall in love with the Baltic 1940's image. If you don't place much value on the quirky, distinct image Baltic have developed for their products then you'll be disappointed. The HMS 001 is for those who look past what's on paper and see a watch as more than the sum of its parts, appreciating a good, original design when they see one.
If that sounds like you, then you can check out Baltic's website and buy the HMS 001 here.